How Much Is 10 T/H Poultry Feed Pellet Machine?
The 10 t/h poultry feed pellet machine price is usually between 30,000-40,000 USD, including metal packaging fee, inland freight, customs fee. Poultry feed pellet machine is the core equipment for poultry feed processing such as chicken, duck, goose, quail, etc. It is mainly used in the pelleting section of poultry feed factories with an output of at least 10 tons.
At present, RICHI has sent products to the United States, Uzbekistan, Russia, Thailand, New Zealand, Australia, England, Malaysia, South Africa, Argentina, Brazil, Zimbabwe, Cambodia, Saudi Arabia, Peru, Kazakhstan, Algeria, Afghanistan, Iraq, Ethiopia, Angola, etc. More than 130 countries have exported such equipment.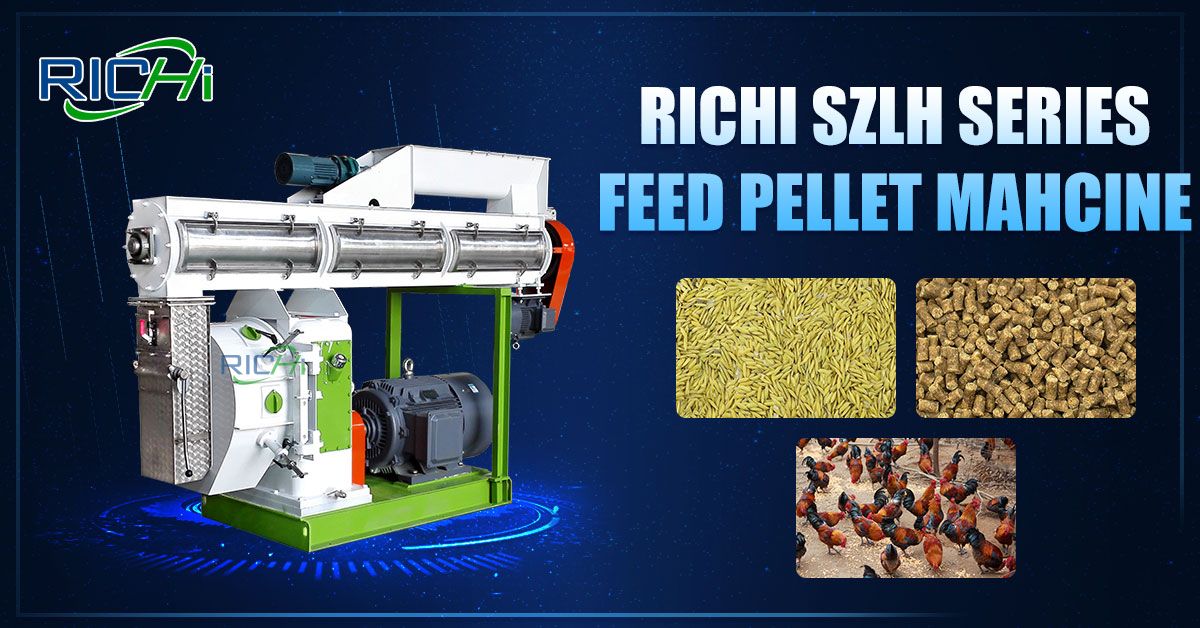 What needs to be reminded is that in the process of negotiating with global customers, regarding 10 tons per hour poultry feed processing, customers are not only asking about the 10 tons/hour poultry feed pellet machine price, but also the complete set of poultry feed machine price.
Below, RICHI will list the price of 10t/h poultry feed pellet making machine and a complete set of 10t/h poultry feed production line main equipment for you.
10 t/h poultry feed pellet machine price & details
Model: SZLH420
Capacity: 8-12Ton/Hour
Poultry feed pellet machine cost: 30,000-40,000 USD
Poultry feed pellet machine price includes pellet machine price + on-site electric control cabinet price + oiling machine
Ring die inter diameter: 420mm
Size of Conditioner: Length 3000mm* Diameter 380mm
Feature: Feeder, conditioner, ring die, door are made by stainless steel.
Motor: Siemens brand
Bearing: SKF brand

Different customization, different poultry feed pellet machine price
RICHI poultry feed pellet machine can be customized according to the customer's process requirements, some customization requires additional charges, and some do not. Therefore, for different customization models, the price of poultry pellet machine may also be different. Customizable content includes:

Voltage
Electrical components
Door opening method
Product color matching
Conditioner type
Layers of conditioner
…
Generally speaking, most customers use the standard SZLH420 poultry feed pellet machine. If you have special needs and want to customize feed pellet mills, we will provide you with customized poultry feed pellet machine price list, please feel free to contact Richi Machinery!
Complete set 10 t/h poultry feed machine price
We contract to design and build 1-100t/h complete poultry feed machine plant for a wide range of poultry feed species. The complete set of 10 tons poultry feed machine cost is generally 150,000 – 300,000 USD.
150,000USD is the minimum configuration of 10t/h poultry feed machine price, while 300,000 USD means the highest configuration (only production line equipment, excluding auxiliary systems such as silos, steel frames, boilers, etc.).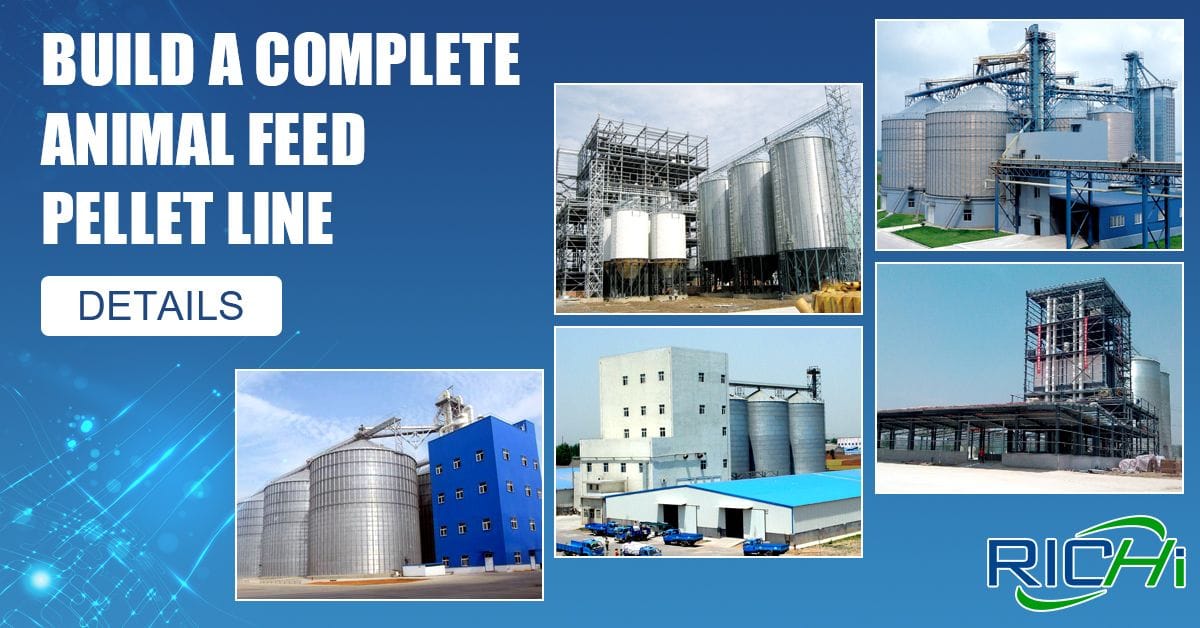 The process flow of a standard complete poultry feed production line includes raw material receiving – crushing – mixing – pelleting – cooling – screening – bagging. So, in addition to poultry feed pellet machines, there are many other equipment that make up a complete set of poultry feed processing systems.
These devices can all be called poultry feed machine, but their functions in the poultry feed production line are different. (Maybe you are interested in our project: Poultry Feed Manufacturing Plant In Tanzania)
These main equipment include: Feed Grinder, Feed Mixer, Feed Cooler, Feed Screening Equipment, Feed Packaging Equipment, etc.
Other auxiliary equipment includes: silos, batching scales, dust collectors, permanent magnet cylinders, screw conveyors, scraper conveyors, bucket elevators, pellet crumbler, etc.
Therefore, the whole set 10t/h poultry feed making machine price includes the 10t/h poultry feed pellet machine price and all other major equipment and auxiliary poultry feed machine price.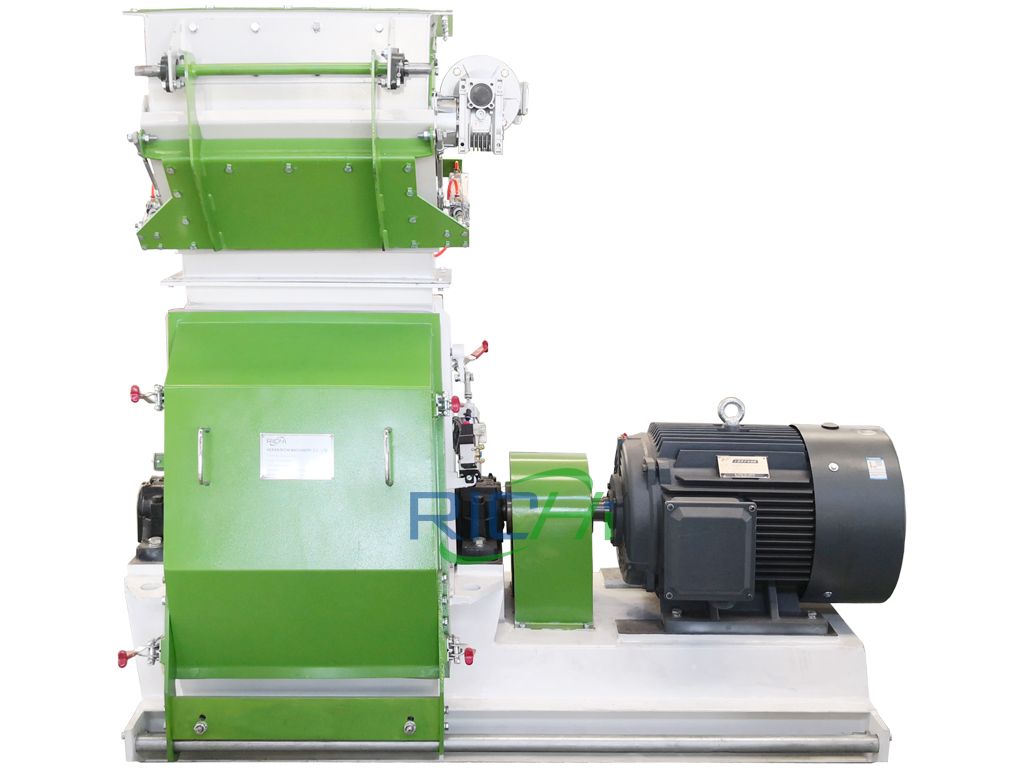 Poultry feed grinder machine
Mainly used to crush the feed materials to meet the size requirements.
Model of hammer mill for 10 t/h poultry feed line: SFSP66*80
Poultry feed grinding machine price: 20,000-30,000 USD
Power: 110KW
Spindle speed: 2970 r/min
mesh aperture: 0.8-1.5 is better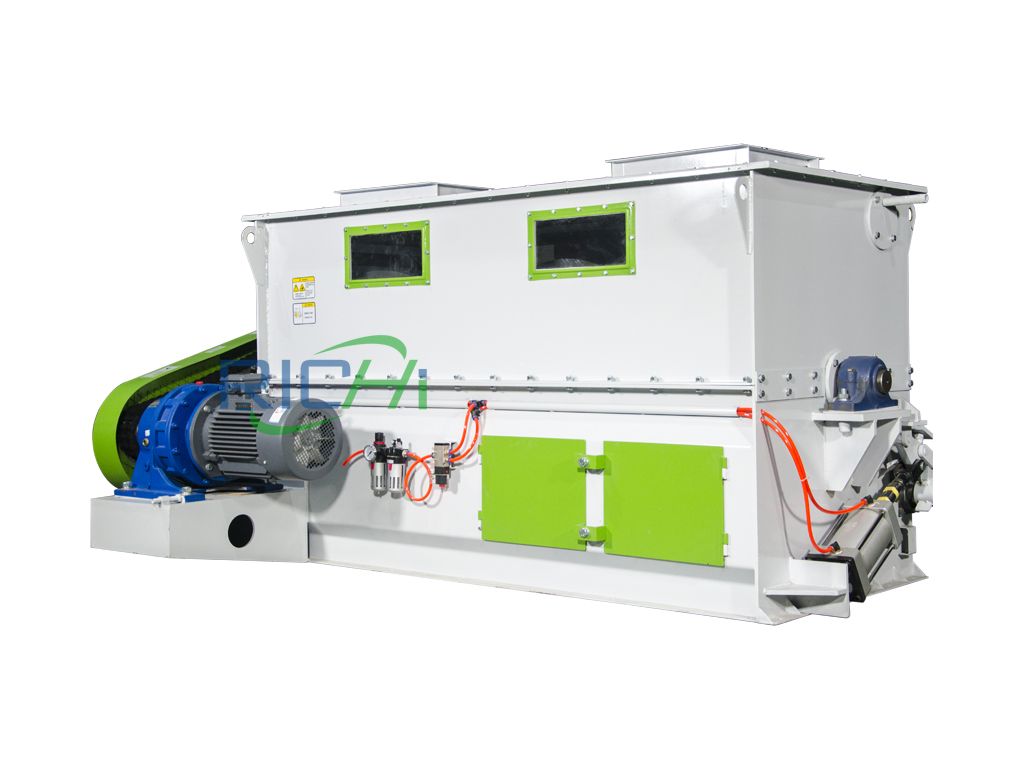 Poultry feed mixing machine
Mainly used to mix the crushed poultry feed materials thoroughly.
Model of mixer suitable for 10 tons poultry feed line: SLHY2.5L
Poultry feed mixer machine price: 10,000 – 15,000 USD
Capacity: 1000 kg/batch
Power: 18.5KW
Mixing period: 180-300s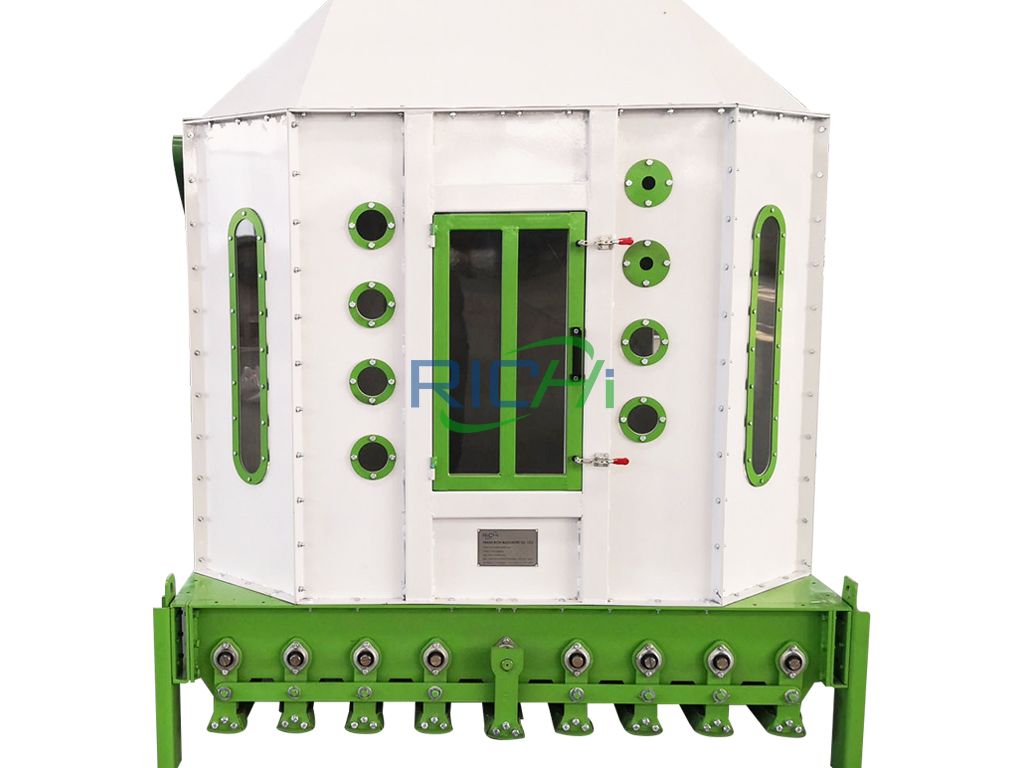 Poultry feed cooler machine
The temperature of feed after pelleting section is generally 80~90℃, and the moisture content around 16%, so cooling is necessary.
Model of Pellet Cooler Machine: SKLN20x20
Poultry feed cooling machine price: 7,000 – 8,000 USD
Capacity: 9-12 t/h
Power: 1.5KW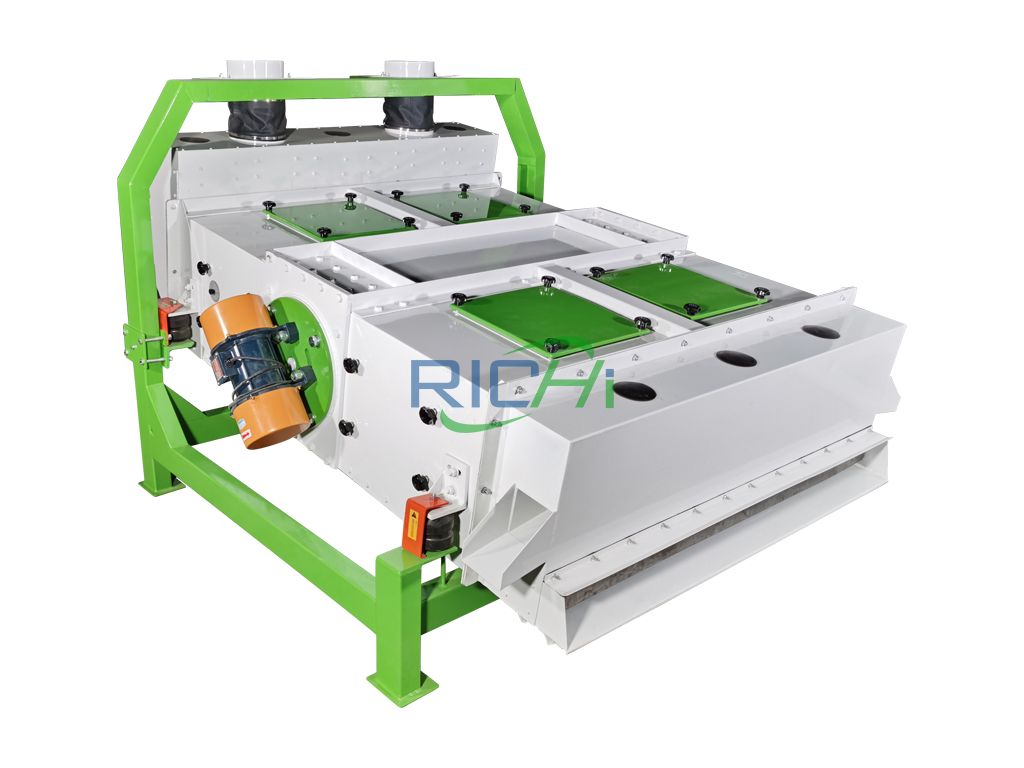 poultry feed screening machine
Separate the unqualified pellets and remnant powder from the qualified poultry feed pellets, so as to ensure the quality of finished fodder product.
Screening equipment in 10 t/h poultry feed line: SFJH125*2C
Poultry Feed screening machine price: 8,000 – 8,500 USD
Capacity: 8-15 t/h
Power: 4KW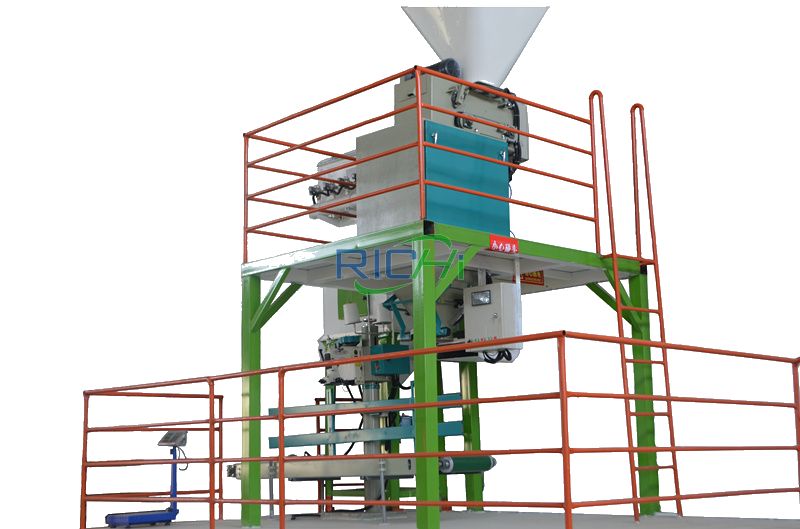 Poultry Feed Packaging machine
With the scale of 10 tons production line, a fully automatic packaging system is usually used, including sewing machine and belt conveyor.
Automatic Bagging Machine model: DCS-50
Poultry Feed bagging machine price: 9,000 – 10,000 USD
Speed: 6-8 bags/min
Power: 3KW
Temperature Range: -10~40℃
In RICHI Machinery, the poultry feed pellet machine price, complete poultry feed machine price and machine model are in one-to-one correspondence, which is also fixed, and the global unified price.
However, each customer has different needs, different plant areas and structures, different feed formulas, and different processes. Therefore, the configuration of all our poultry feed production line systems can be customized.
RICHI 10 tons per hour full-set poultry feed machine system has a variety of different designs, simple configuration, low configuration, standard configuration, high configuration, fully automatic, semi-automatic, PLC, etc., and can be customized according to customer needs and budget. (Maybe you are interested in our feed mill plant in Uzbekistan)

Therefore, different 10t/h poultry feed production line system designs have different corresponding poultry feed machine prices. Here are a few examples of 10 tons per hour poultry feed equipment systems that we have done: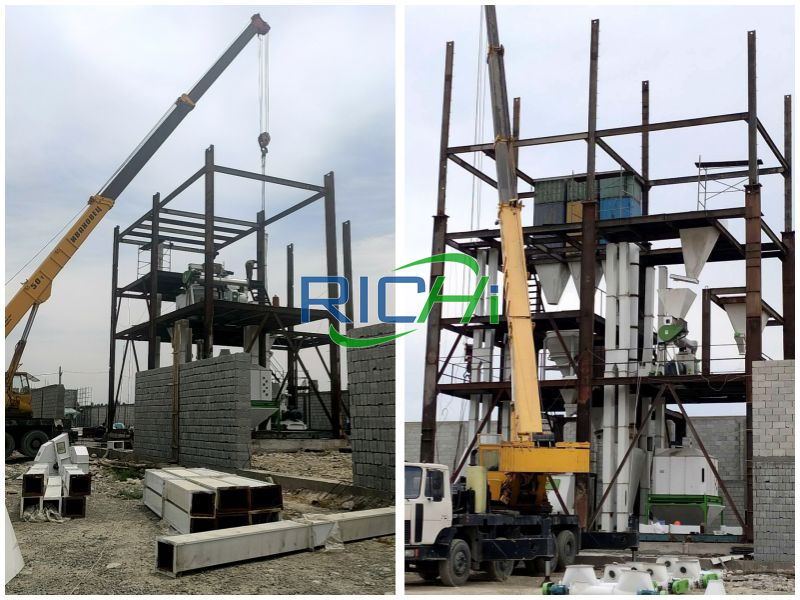 10T/H poultry feed machine in Uzbekistan
Complete poultry feed machine price: 400,000 USD (With silo system)
Project Date: July 1st, 2019
Feed Size: Poultry mash feed and 2-5mm pellets
MAIN Power: 520KW
Workshop size(L*W*H): 35m*20m*25m
Equipment: include galvanized silo*500T, poultry feed crusher machine, batching scale,poultry feed mixing machine, poultry feed pelleting machine, poultry feed pellet cooling machine, poultry feed pellet crumbler, screening machine and poultry feed ed bagging machine, etc.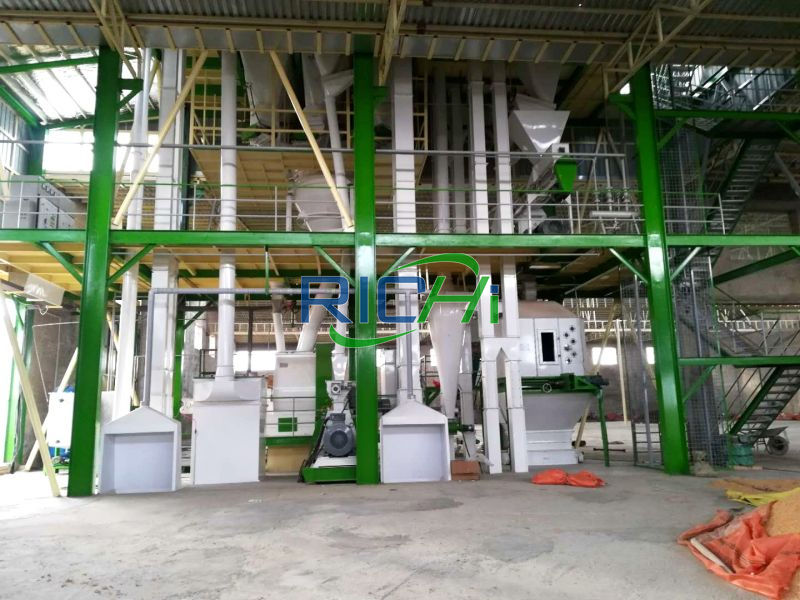 10T/H Poultry feed machine for sale Afghanistan
Complete poultry feed making machine price: 600,000 USD (Turnkey projects)
Date: Nov 18th, 2017
Feed Size: Powder and 3.4mm pellets
The install period: 60 Days
Workshop size(L*W*H): 12m*12m*25m
Equipment: include Chicken feed grinder machine, Chicken feed mixing machine, Rotary distributor, Chicken feed pellet machine, cooling machine, pellet crumbler, screening machine and Automatic Packing machine, Oil burning boiler*1000kg/h, etc.

As a reliable animal feed machine manufacturer, RICHI Machinery are specialized in turnkey poultry feed production project including process design, factory layout, poultry feed machine manufacture, animal feed mill plant installation and commission, and site training of electric control, plant operation, animal feed processing technologies and formulations. We have a lot of feed engineering cases, covering livestock and poultry feed, aquatic feed, pet feed, premix and other feed varieties.
If you also want to build a poultry feed processing system, please contact us to get the corresponding poultry pellet machine price or a complete set of poultry feed machine price! (Find RICHI on Facebook)
LEAVE YOUR NEEDS
Keeping in touch with us is an effective way to solve all your problems. If you have any needs or questions, please leave your contact information, then RICHI technical consultants will send design, quotation, videos to your mailbox. You can also contact us directly via WhatsApp: +86 13838389622