aqua feed plant
24-28T/H Floating feed production
---
RICHI 24-28t/h aqua feed plants are designed to produce extruded pellets in wide diversification in physical properties, shape and density to feed various fish species. Special feed options like for marine fish or shrimp are of course available upon request.
Start 24-28 T/H aqua feed plant
A 24-28t/h aqua feed plant from RICHI is a complete solution that start by converting your requirements and needs into a project specification. The first step to ensure a successful RICHI floating fish feed production solution is an analysis focusing on the customer's needs and future goals.
The 24-28t/h aqua feed mill plants are made up from modules combined with focus on simplicity in operation, energy efficiency, flexibility in processes, high controllability and traceability.

Our 24-28t/h aqua floating extruded feed manufacturing solution is future-proof and can be scaled by adding extra modules as your needs for a higher production may increase.
Process Design Of 24-28 t/h aqua feed plant
As there is huge variety in species and their nutrition needs of fish worldwide, there is no uniform procedure for formulating fish feed. However, there is a general flow of operations that happens at most 24-28t/h aqua feed plants.
The priority of a 24-28t/h floating fish feed mill is to create feed for fish that is nutritionally powerful as well as being optimally suited to meet the needs of the aquatic environments on fish farms.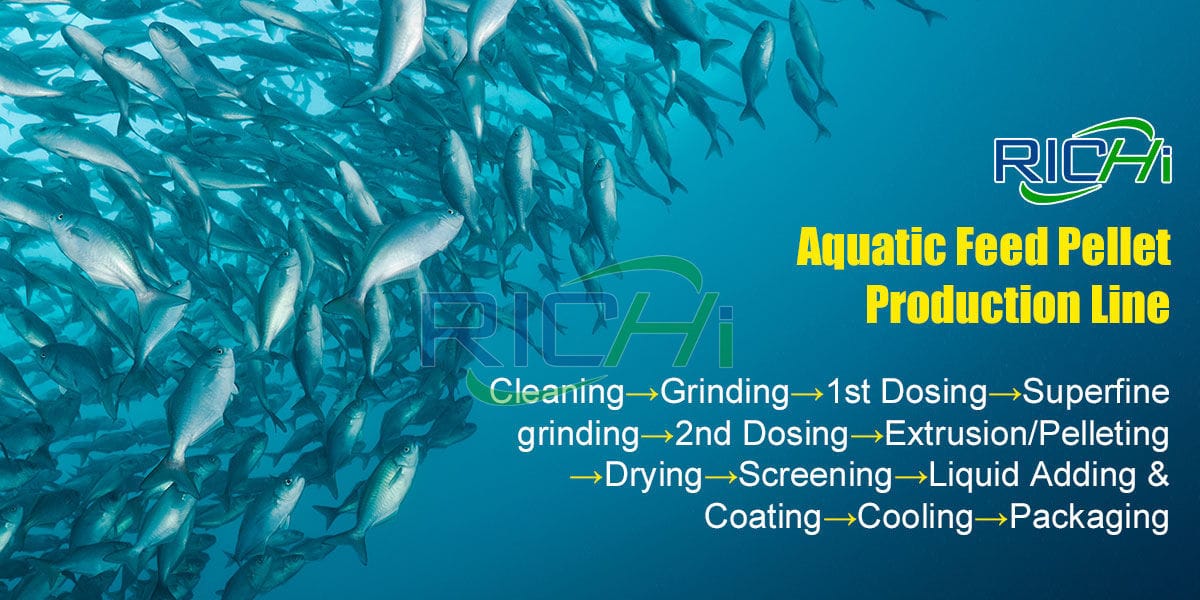 Steps of production at 24-28t/h aqua feed plants include:
Raw material intake:
You need quality intake and storage at the start of your process.
Conveying section:
Our conveyor systems cover all applications throughout your value chain, from raw material intake to conveying finished products.
Weighing and dosing section:
Our weighing and dosing equipment offers you the precision and accuracy you need.
Grinding section:
With our versatile grinding portfolio, consisting of horizontal fish food grinder and vertical micro pulverizers as well as roller mills, we can cover all of your size reduction needs.
Secondary dosing:
Our weighing and dosing equipment offers you the precision and accuracy you need to ensure you add just the right level of critical components such as vitamins, minerals, etc.
Secondary mixing section:
Secondary mixing is used to add new micro-components. Our broad range of mixing technologies can help you achieve a uniform distribution of your micro-components across almost every kind of pet food product.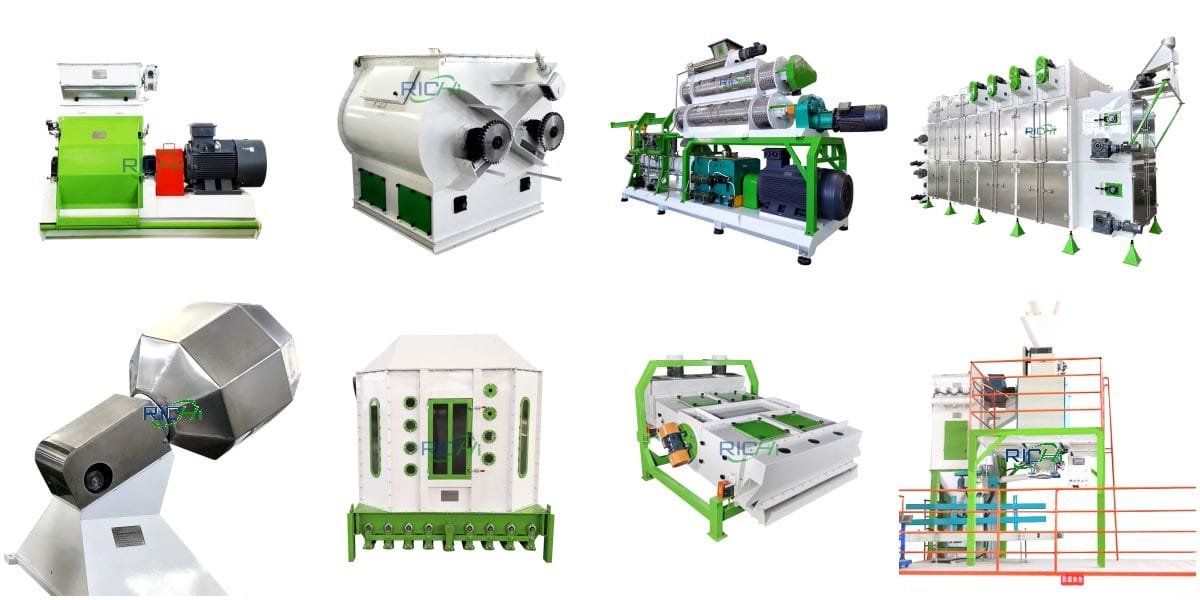 Conditioning section:
Preconditioning before extrusion allows replacing some of the mechanical energy with thermal energy and generates additional retention time.
Extruding section:
During extrusion by fish feed extruder machine, your solid raw materials are mixed, heated, cooked, gelatinized, dextrinized, shaped and granulated—— all in one process.
Drying section:
Our fish feed dryer machine offer an exclusive hygienic design that makes cleaning faster and easier, improving productivity and helping prevent costly recalls.
Coating section:
Coating of your extruded pellets can make your end product look, feel and smell more attractive to the aqua animals.
Automation solutions:
Our automation solutions enable you to align your processes for higher availability and faster cycle times.
Finished product:
Once the fish feed has been manufactured, it is then sent on to hatcheries and farms, which then lead into plant and finally, retail and food service for eventual consumption.

Without floating aqua fish feed plants working to increase the nutritional value in the diets of farmed aquatic animals, it is possible that the farmed species would not be as nutritionally valuable to the end consumer, and it's also possible the species would have greater disease outbreaks, which means decreased feed safety.
Build Your 20-24T/H Aqua feed mill plant
01 24-28 T/H aqua feed plant cost
02 Application
24-28 T/H aqua feed making plant can process floating fish feed, pet feed, and can also be upgraded to a combined feed production line, and can process shrimp feed, special feed, livestock and poultry feed, premix and other products at the same time.

03 24-28 T/H Aqua Feed Plant Can Be Customized
① The entire 24-28t/h aqua feed mill plant project adopts a modular design, which can be customized according to the actual needs of customers, formula, plant structure, floor space and other requirements;
② 24-28 T/H aqua feed manufacturing plants with various forms (extruded pellet, powder, pelletized feed), various raw materials and formulas can be customized;

③ In addition to floating fish feed, if customers also want to process shrimp feed, livestock and poultry feed, pet feed, premix and other types, they can customize the complete production line plan according to the customer's product plan;
④ If the customer wants to reserve the possibility of expanding the 20-24t/h fish feed mill factory capacity in the future, we will customize the plan according to the customer's plan.
⑤ In addition to the program customization of the process flow and aqua feed equipment layout, we can customize the layout and program of the whole 20-24t/h fish food making project according to customer needs, including the layout of laboratories, central control rooms, office buildings, boiler rooms, restaurants, etc.

⑥ All 24-28t/h aqua feed machine and electrical component laboratory equipment can be configured according to customer requirements, and motor and electrical component brands can also be changed according to customer needs.
⑦ In addition to new construction, it can also undertake technical renovation projects for floating fish feed production. There are several benefits to be gained from continuous upgrades, optimizations, and services on your equipment:
Maximum aqua extruded feed production
Process knowledge and experience
Reliability and cost efficiency
Reduced life cycle costs
Short and effective shutdowns
Improved energy efficiency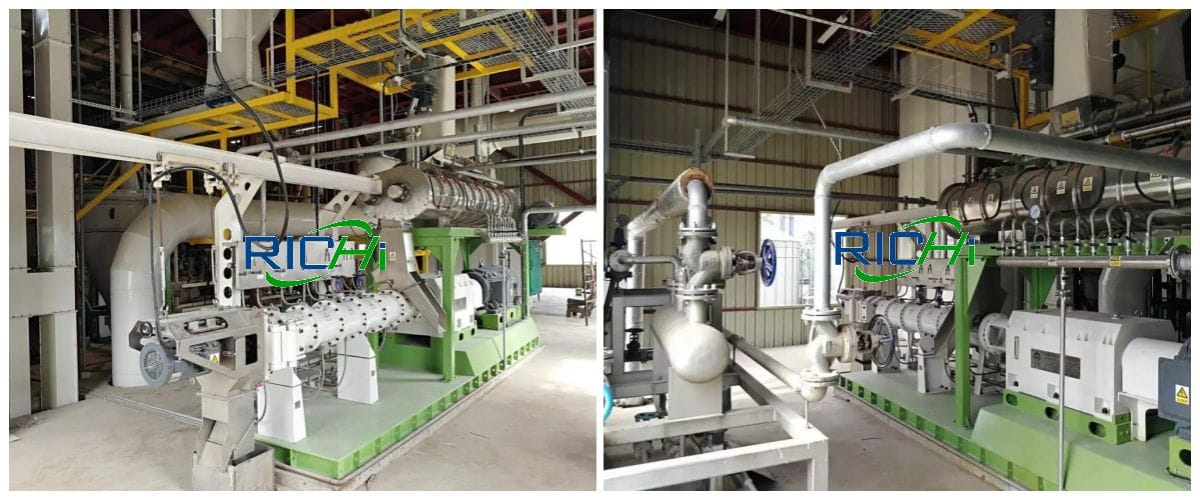 04 Composition of complete 24-28 t/h aqua feed plant
The following is only the composition of the standard 24-28 t/h aqua feed production plant system, which can be designed according to the actual product type, process, formula and investment budget.
Silo system
Raw materials revieving and crushing system
First-time crushing system
First-time batching and mixing system
Fine crushing system (Second-time crushing system )
Second-time mixing system
Extruding and pelleting system
Drying system
Crumbling system
Liquid adding & coating system
Cooling system
Screening system
Packaging system
Stacking
MCC Control Center; Mimic Control Panel (CPP Computer System, Batching System (Computer controlled), Cables & Cable Bridge Tube)

05 List of 24-28 t/h aqua feed machine
The following is only the core fish food processing machine list of the standard 24-28 t/h aqua feed line, and the equipment can be configured according to the actual product type, process, formula and investment budget.
Pulse dust collector
Scraper conveyor
Bucket elevator
Pnenmatic three-way
Drum pre-cleaner
Permanent magnet drum
Storage bin
Fish Food Grinder
Air-locked conveyor
Batching bins
Batching scale
Premix scale
High efficiency mixer
Buffer bin
Double cyclone
Micro Pulverizer
Screw conveyor
Square plansifter
Twin screw extruder
Coating machine
Fish feed dryer machine
Rotary screener
Screening system
Pellet Cooler Machine
Automatic Bagging Machine
Sewing machine
06 General layout design of 24-28 t/h aqua feed plant
The complexity of the general layout of the 24-28t/h aqua feed plant is closely related to the production scale and requirements. For a large feed factory, to operate normally, it is necessary not only to build a production workshop equipped with reasonable floating fish feed technology and aqua feed machine, but also to build a matching vertical cylinder warehouse, raw material warehouse, finished product warehouse, and variable distribution closely related to production (electric room, machine repair workshop, boiler room, material warehouse, weighbridge room and other auxiliary facilities, as well as office buildings, laboratories, dormitories and other office and living facilities).

The layout of these building facilities affects the production management and efficiency of the 24-28t/h aqua feed plant. Whether the in-plant logistics is reasonable is an important basis for running through and measuring the success of the overall layout.
In particular, the main buildings such as feed production workshops, vertical silos, raw material warehouses, and finished product warehouses should be arranged according to the floating fish feed production process, and the distance between the transportation lines from raw materials to finished products should be shortened as much as possible to avoid round-trip transportation of materials.
Routes, strive to avoid intersections, minimize footprint, and the spacing of buildings must also meet fire, hygiene and safety requirements.

Due to the limitation of land acquisition conditions, the boundaries of the newly built factories are mostly irregular polygons. The production area should be arranged in the middle of the factory area as much as possible, and the auxiliary facilities should be arranged by making full use of the surrounding angle sites to meet the production requirements.
At present, the layout of the main buildings such as raw material warehouse, processing workshop and finished product warehouse of the 24-28t/h aqua feed plant mainly adopts two forms of sub-connection layout and cluster combination layout.
The sub-item connection arrangement means that the production workshop, raw material warehouse, finished product warehouse, etc. are constructed independently of each other, and the main workshop and each warehouse are connected through corridors, trenches or overpasses to form an overall combined form.

In this arrangement, each building has good ventilation and lighting performance, but it occupies a large area, and the material transportation operation line is long during the production process, and the transportation cost is high and uneconomical.
The cluster combination arrangement is to build the main workshop, raw material warehouse and finished product warehouse organically and completely together, and they are separated from each other by walls, which has the advantages of high site utilization, short transportation operation lines, and flexible arrangement of functional units. Ventilation and lighting conditions are poor.
RICHI's highly qualified employees elaborate detailed 3D drawings to visualize positioning of the equipment and set-up of the complete 24-28t/h aqua feed plant, and the involved parties get full and comprehensive drawing material for buildings, foundations, installation, cabling, etc.
Cases of 24-28 t/h fish feed mill plant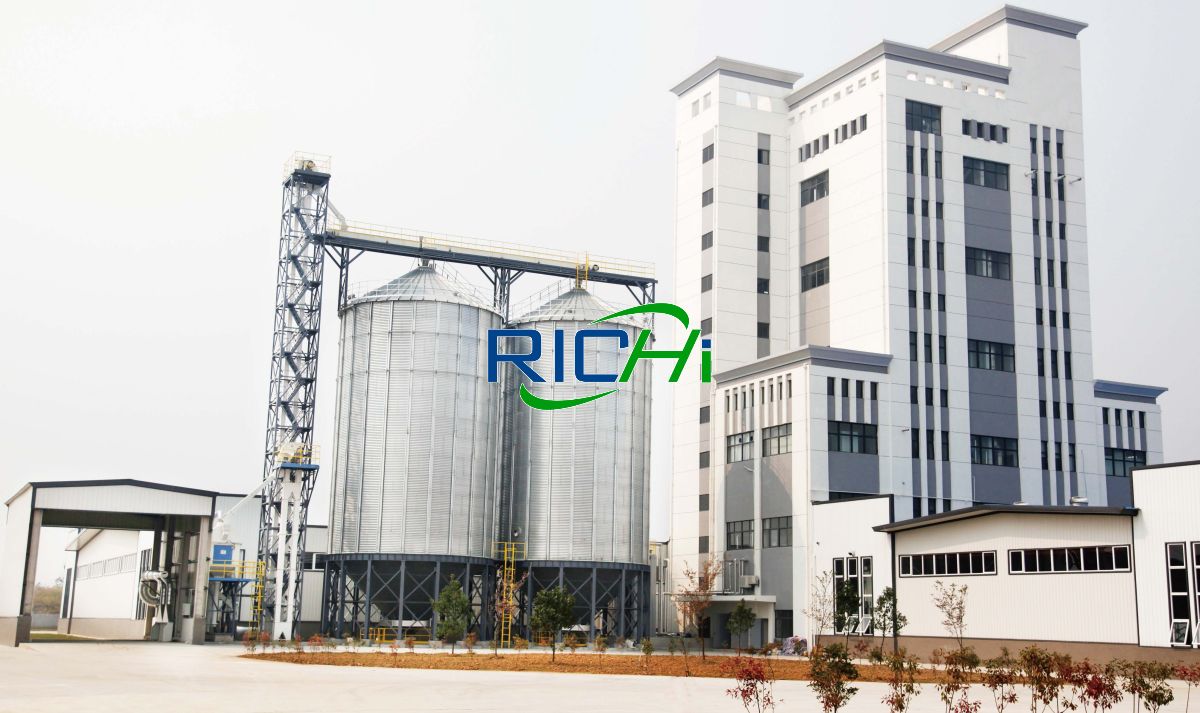 24T/H
24 t/h feed mill plant for fish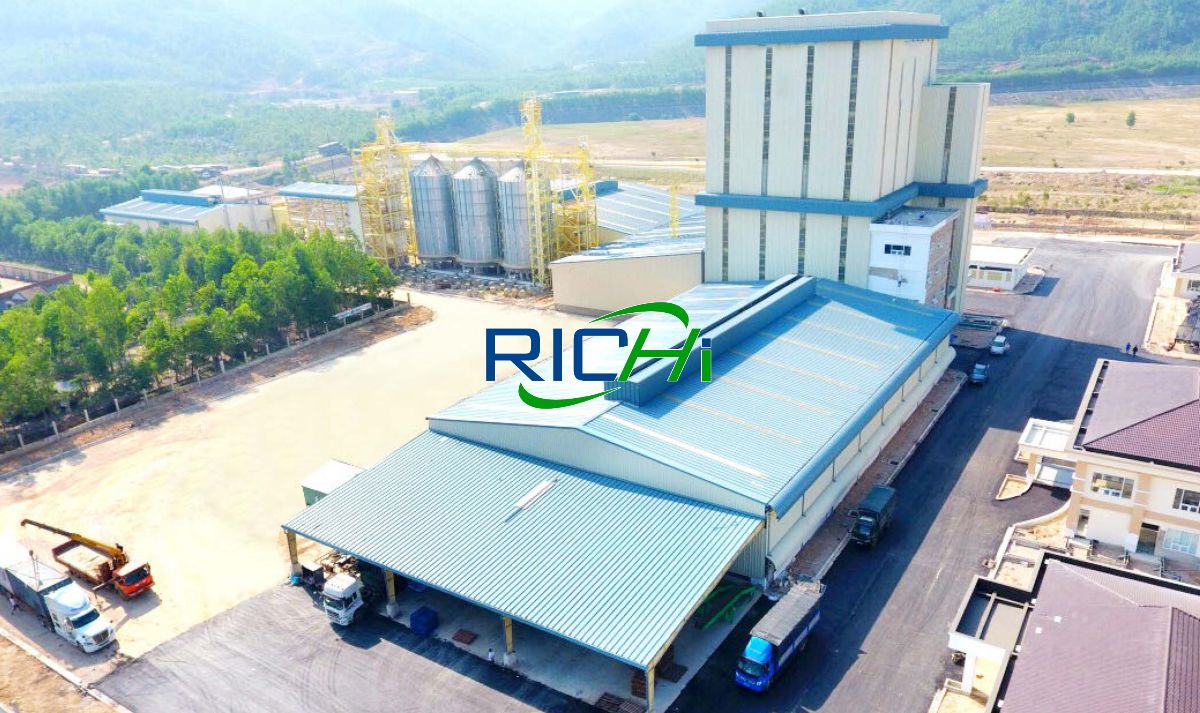 28T/H
28 t/h fish Extrusion feed plant
25T/H aqua feed plant Project Report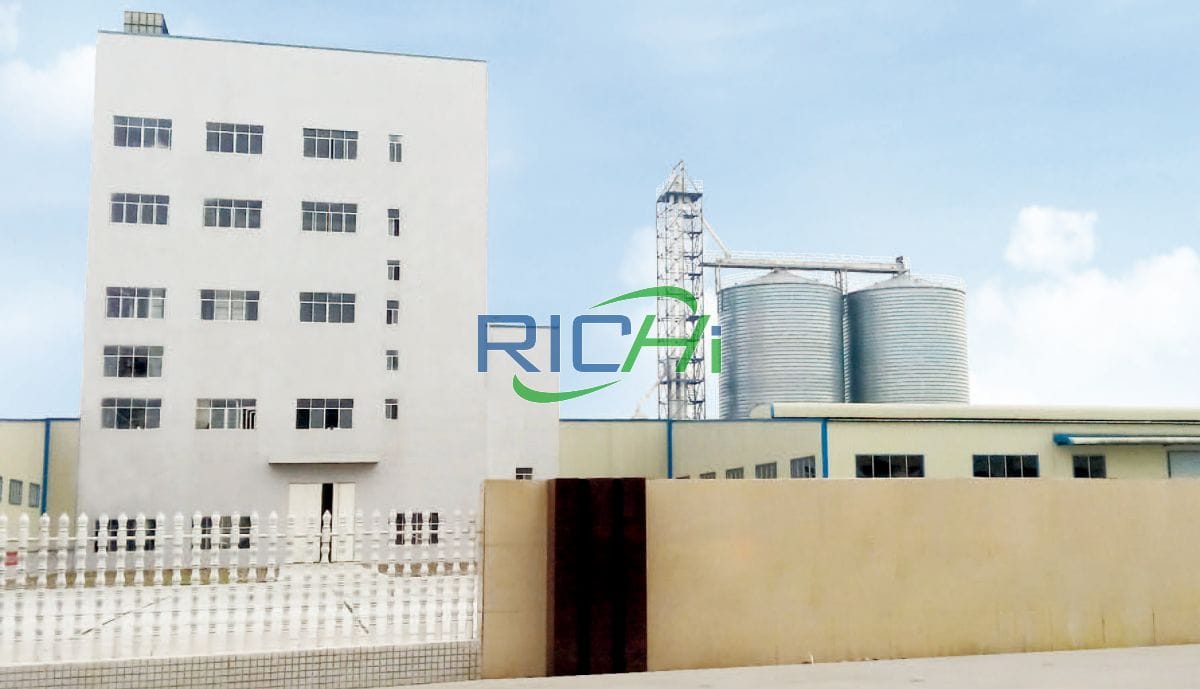 The customer of this aqua feed plant project is a feed enterprise whose business scope is: production, processing and sales: livestock feed, fish feed, feed raw materials: acquisition and sales: agricultural and sideline products; breeding and sales: live pigs, poultry, fish and shrimp.
The customer's aqua feed factory covers a total area of 33,340.6 m², and the original project has a total construction area of 11,000 m². The company originally has a feed production line of 200,000 tons. The main product is pig pellet compound feed.
The original project construction content mainly includes main workshop 1, raw material workshop, finished product workshop, office building, dormitory building and production auxiliary area (power distribution room, machine repair room) and so on.

Due to the needs of the aqua feed company's business development, the customer plans to expand the production scale, increase advanced production equipment, optimize the production process to make the project construction meet the requirements of environmental protection and industrial policies, and add an aquatic product with a scale of 60,000 tons per year aqua feed plant on the basis of the original production line, and increase some production equipment, correspondingly increase production capacity.
The expansion 25t/h aqua feed plant project covers an area of 305m² and a total construction area of 1347m²; after the expansion, the total area of the project is 33340.6m², and the total construction area of the factory is 12347 m²; the total investment of the expansion project is 2.3 million US dollars.
The main raw materials of this expanded aqua feed production line are fish meal, corn, soybean meal, rapeseed meal, etc. The main products are tilapia extruded compound feed, shrimp extruded compound feed, pond squid extruded compound feed, yellow catfish extruded compound feed, special aquatic products extruded compound feed feed. Mainly build a main workshop, waste gas treatment facilities and equipment, etc., and the rest of the facilities rely on the original project.
Working system: 300 days a year, 8 hours a day. Among them, 45 employees are accommodated in the factory.

Contents of the aqua feed plant project after expansion
| Project Content | Scale |
| --- | --- |
| Main Workshop 1 | The size of 6 floors is 3884.97m² |
| Main Workshop 2 | 6 floors are 1347m² |
| Finished Workshop | The scale of 1 floor is 2592m² |
| Raw Material Workshop | The scale of 1 floor is 3200m² |
| Office Building | 2 floors with a scale of 600m² |
| Comprehensive Building | 3 floors with a scale of 1500m² |
| Canteen | 1 floor, building area 140m² |

Raw material consumption
| Name | Annual consumption |
| --- | --- |
| Fish meal | 3180t/a |
| Corn | 10200t/a |
| Soybean meal | 19200t/a |
| Rapeseed meal | 10800t/a |
| DDGS (Dried Distillers Grains) | 9000t/a |
| Meat meal | 3000t/a |
| Calcium dihydrogen phosphate | 1200t/a |
| Amino Acids & Premixes | 3420t/a |
Product scheme of new 25 t/h aqua feed plant
| Product Type | Annual Production |
| --- | --- |
| Tilapia extruded compound feed | 36000t/a |
| Shrimp Extruded Compound Feed | 4800t/a |
| Grass carp extruded compound feed | 14400t/a |
| Carp extruded compound feed | 2400t/a |
| Special Aquatic Extruded Compound Feed | 2400t/a |
Energy consumption of 25 t/h aqua feed plant
| Name | Annual consumption |
| --- | --- |
| Water | 3000t/a |
| Electricity | 4 million degrees/year |
| Steam | 15000t/a |
| LPG | 5.0t/a |

Main aqua feed machines
Name
Model
QTY
Raw material receiving system
Cylinder Preliminary Screening
TDSCY.80
1
Pulse Dust Collector
TDMCa.4
1
Scraper Conveyor
TDGSS.32
1
Bucket Elevator
TDTG40/28
2
Cleaning Screener
SCQZ90*80*110
2
Permanent Magnetic Cartridge
TCXT25
2
Distributor
TDFPX-6
1
First crushing system
Silo To Be Crushed
12m³/piece
4
Pneumatic Gate
TDZF.45×45
4
Impeller Feeder
TWLY20×100
1
Pulse Dust Collector
TDMCa.4, TDMCa72
3
Feeding Screw Conveyor
TWLY20*125
1
Fish Food Grinder
SWFP66*100
1
Closed Air Screw Conveyor
TLSUF25
1
Bucket elevator
TDTG40/28
1
Permanent Magnetic Cartridge
TCXT25
1
The first batching mixing system
Ingredient warehouse
/
23
Ingredient Auger
TLSUW20
23
Single-cylinder unpowered dust collector
BLMB1
2
Ingredient Scale Bucket
1000kg/batch
1
Twin Shaft Paddle Mixer
SLHS2
1
Buffer Bucket
3m3
1
Air Shutoff
16L
1
Ingredient Scale
PLDY1000-C/PLDY250-C
3
Fish Feed Mixer
SLHSJ2A
2
Scraper conveyor
TDGSS25
1
Bucket elevator
TDTG.40/23
1
Permanent Magnetic Cartridge
TCXT25
1
Second crushing section
Silo To Be Crushed
/
2
Feeding Screw Conveyor
TDWLSS.200
2
Superfine Grinding Bin
15 cubic
2
Screw Conveyor
TDLS25
2
Superfine Pulverizer
SWFL017C
2
Cyclone
SKLX55
2
Air Shutoff
TCFZY-9
2
Pulse Dust Collector
TBLMy156
1
High Pressure Fan
TY55-1C
2
Square plansifter
SFJM125*4
2
The second batching & mixing section
Ingredient Warehouse
/
3
Ingredient Screw Conveyor
TWLL32
3
Ingredient Scale
PLDY1000-C
1
Mixer For Fish Feed
SLHSJ0.5A
1
Scraper Conveyor
TGSSP16
2
Bucket Elevator
TDTG40/28
1
Permanent Magnetic Cartridge
TCXT25
1
Extrusion and drying section
To Be Puffed Bin
2
Feeders
TXLP160A
2
Single Axis Conditioner
TDTZ450*3000
1
Dual Shaft Differential Conditioner
SCTZ39
1
Floating Fish Feed Extruder Machine
RCPH150*2
1
Suction Fan
2378A/505A
1
Cyclone
XKLX55
2
Air Shutoff
CFDWZB-45-E
1
Fish Feed Dryer Machine
TDHG.25/8F.4
1
Fan
4-72-5.5C
1
Bucket elevator
TDTG40/28
1
Classifier
SFJH180
1
Cooling and packing section
Finished Product Warehouse
/
5
Grease Sprayer
VPLV135
1
Feed Pellet Cooler
SLNF32*32
1
Cooling fan
TY55-1C
1
Cyclone
SKLX55
1
Air Shutoff
GF-12
1
Bucket Elevator
TDTG50/32
1
Classifier
FJH130*2C
1
Buffer Bucket
/
1
Auto Packaging Scale
PSC50
2
Conveyor
/
3
Robot
TPR-200
1
Palletizer
/
1
Process flow design of 25 t/h aqua feed plant

01 Raw material receiving and cleaning:
Bulk raw materials are transported into the factory by vehicles, and are automatically unloaded at the raw material discharge port. An exhaust gas collection and treatment system is installed above the discharge port. Reuse of raw materials. The raw materials enter the powder cleaning screen through scraper conveyor and bucket elevator to remove large impurities, then enter the permanent magnet cylinder to remove iron impurities, and then directly enter the batching bin.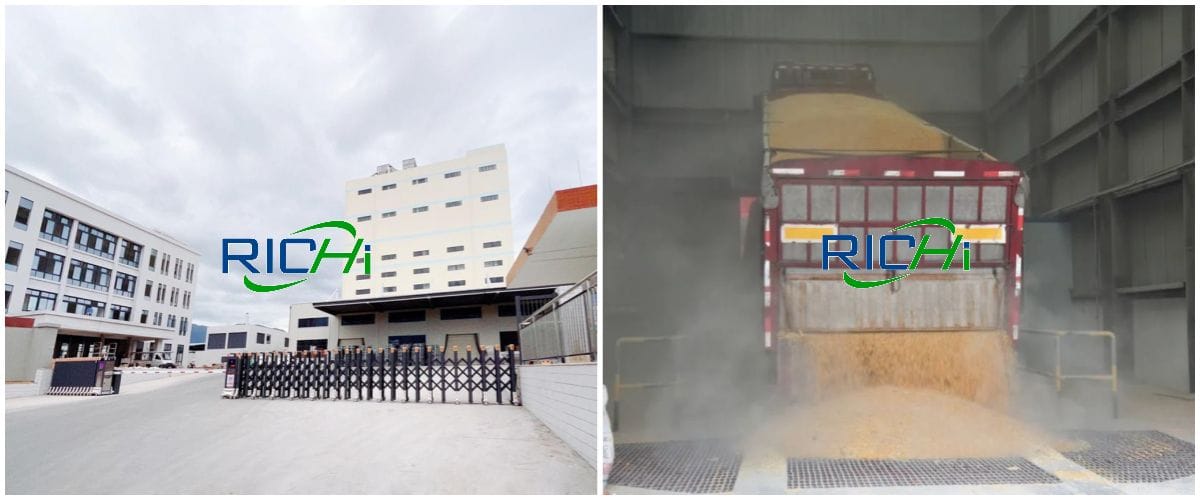 02 Crushing stage:
The materials to be crushed (corn, soybean meal) are fed from the top feeding port through the feeder matched with the machine, and then enter the crushing chamber from the left or right through the feeding guide plate. Under the action of the blow and the friction of the sieve plate, the material is gradually crushed and discharged from the outlet of the base through the sieve hole under the action of centrifugal force and airflow.
03 Batching and mixing system:
Batching: After PLC automatic measurement, various materials are transported into the batching scale through the auger in proportion to ensure that the material weight tolerance is within the range allowed by the company.
Mixing: After the material is automatically batched, it enters the mixing system, and the various materials are fully mixed, and the mixing uniformity exceeds 93%. This section is the key section to ensure the quality of feed. This section adopts a double-shaft paddle high-efficiency feed mixer machine, and multiple liquid adding devices can be set up according to the needs of the formula. During the mixing process, the flow rate of liquid addition and the optimal time of addition are controlled by a microcomputer to ensure that the liquid raw materials and the solid phase raw materials are fully mixed evenly. In order to reduce the cross-contamination of feed raw materials and improve the working environment, a pulse bag filter is installed in the feeding device of the opponent, so that the dust of the added raw material can be returned to the original process line. The mixed ultrafine powder feed enters the subsequent puffing and granulation process.

04 Processing stage of extruded feed:
Conditioning and tempering: Conditioning and tempering is a process of hydrothermal treatment and softening of the powder before the feed is puffed.
Expansion: Extruded pellet feed made by floating fish feed extruder machine has more advantages. Through the comprehensive effect of steam heat energy, mechanical friction energy and pressure, it can achieve many functions such as sterilization and improving feed digestibility. This project adopts the twin-screw extruding process, which improves the nutritional value of the feed and improves the puffing effect.
05 Drying system:
Use the steam provided by the natural gas-fired boiler to indirectly dry the feed pellets to remove water. This process will generate a certain amount of boiler flue gas, drying exhaust gas and a certain degree of noise.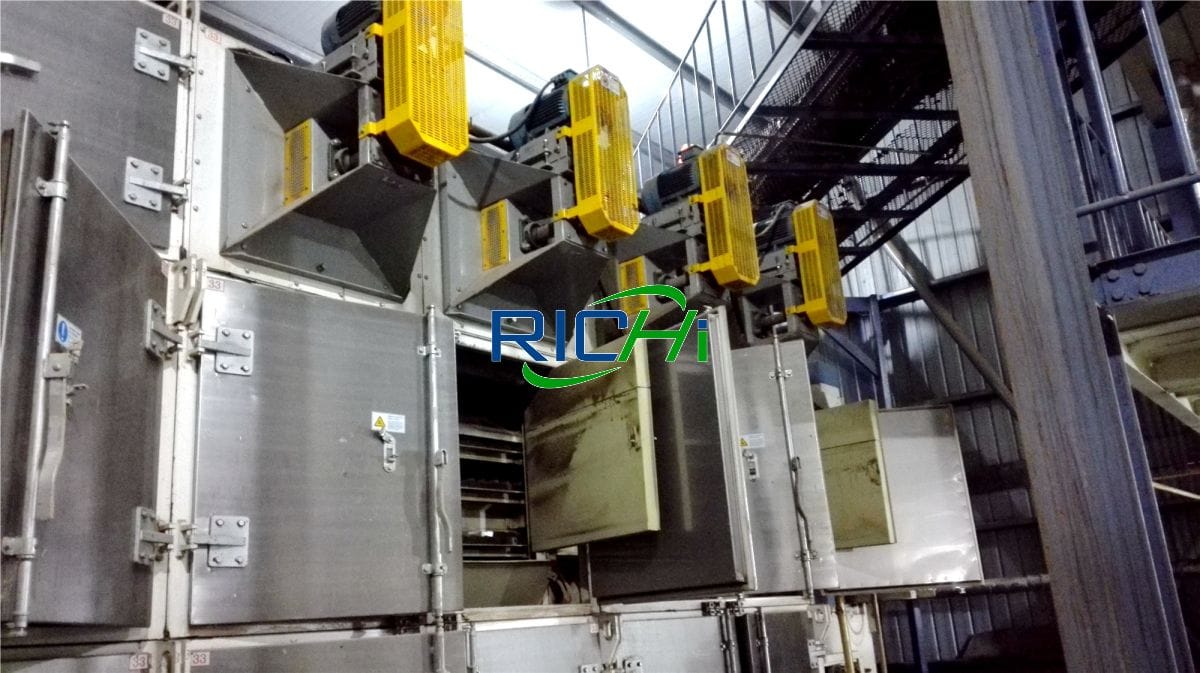 06 Cooling system:
A countercurrent cooler is used, so that the product can be cooled and dried to achieve a safe use level.
07 Metering and packing:
The cooled pellets or crumbled pellets are classified and screened out a small amount of finely crumbled pellets and then enter the finished product warehouse.
06 Finished products:
Qualified products enter the finished product warehouse and can then be sold.

Layout of 25 t/h aqua feed plant
The main buildings of the aqua feed mill project include office building, raw material workshop, main workshop, finished product workshop, warehouse, auxiliary room, etc. The wind direction of the project area is mainly southeast wind, the main workshop is in the middle of the factory area, and the office area and living area are in the south of the production area. Therefore, the general layout is simple and reasonable.

Our aqua feed plants are designed to minimize number of necessary operators. Also, process overview and a safe working environment has been taken into account when designing the fish aqua feed making plant.
Biosecurity is increasing in importance and the automated flow of raw materials through the plant, thermal processing and storage of the finished feed have been logically planned so that all is kept separate, eliminating contamination and ensuring a high level of biosecurity.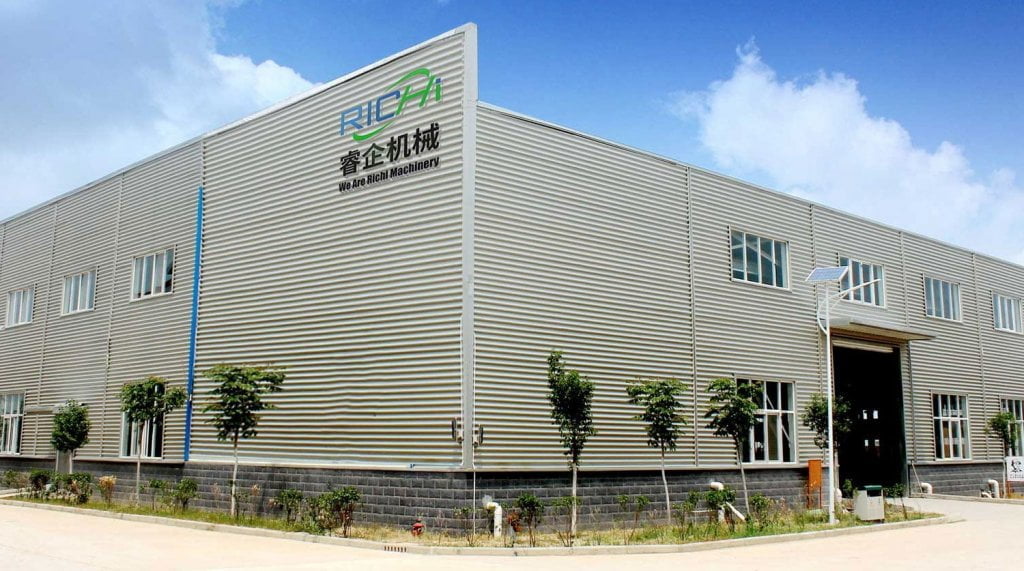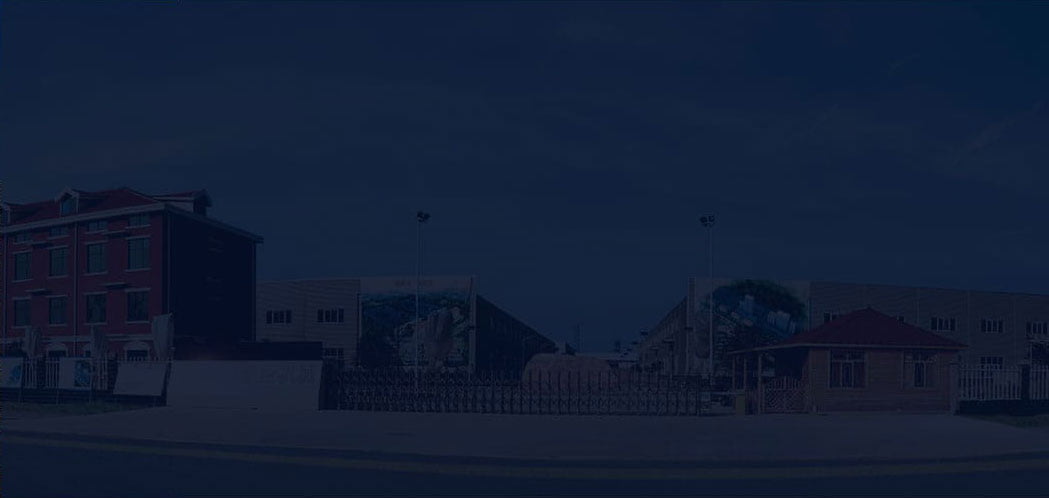 In the future, the entire feed industry will develop in the direction of large-scale, specialized, refined and intelligent. However, there are very few service providers who can provide large-scale professional aqua feed plant projects. At the same time, due to the lack of products to solve the automation and intelligent management platform of the entire large-scale project, the operating cost of the entire feed factory is high, and the market competitiveness is weak, etc. These have become bottlenecks and challenges for the development of the entire industry.
In the face of such challenges, we always adhere to customer-oriented, actively carry out research on cutting-edge technologies and products, and always keep our technologies and products ahead of the industry for 5-10 years. We have developed a series of large-scale high-end aqua feed equipment and advanced aqua shrimp floating fish feed production technology, these leading equipment and technology have been applied in many large aqua feed plants, solving many development pain points and helping customers achieve extraordinary results.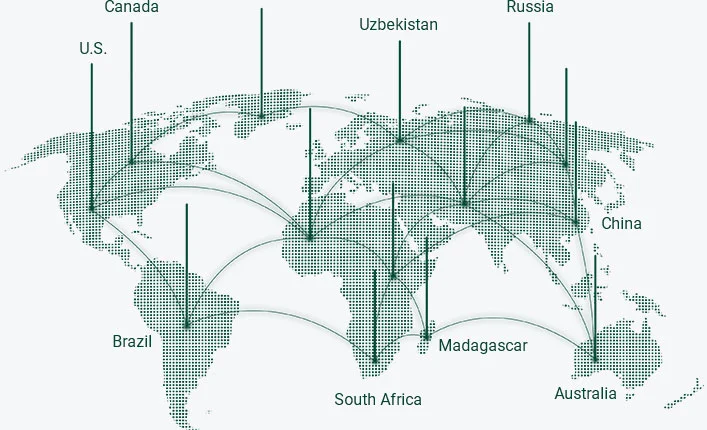 2,000+ /PROJECTS
In the past 30 years, as aqua feed plant supplier, we have accumulated rich experience. We has exported aqua feed equipment for sale the world, and has reached cooperative relations with more than 2,000 customers in more than 130 countries and regions, providing them with complete solutions and services covering the entire product life cycle.
130+ /COUNTRIES
Customer experience is the touchstone. Richi Machinery has benefited a lot from winning the market with connotative products and high-quality services. Richi Machinery specialize in aqua feed machine for sale, our aqua feed plant machines are carefully designed for customers according to the actual feed production requirements.
LEAVE YOUR NEEDS
Keeping in touch with us is an effective way to solve all your problems. If you have any needs or questions, please leave your contact information, then RICHI technical consultants will send design, quotation, videos to your mailbox. You can also contact us directly via WhatsApp: +86 13838389622