Reasonable Design 6-7T/H wood pellet production plant solution
6-7 T/H wood pellets production
---
The 6-7t/h wood pellet production plant is a medium-sized biomass pellet processing system, which is suitable for the comprehensive utilization of agricultural and forestry waste, and can be pelletized with multiple raw materials at the same time.
Cost: 140,000-600,000USD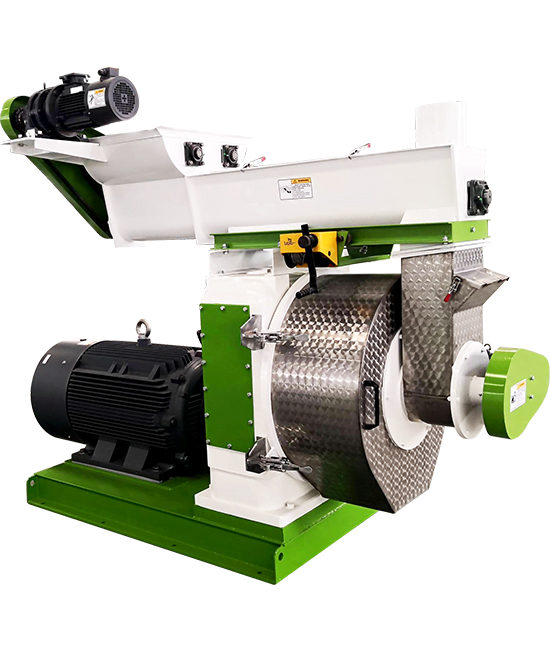 Want to build a 6-7t/h wood pellet line? The following Richi Machinery will provide you with some methods and examples for reference.
If you want to invest in a 6-7 ton per hour high quality biomass pellet fuel production line, it is not a simple matter, nor is it a hasty thing, especially for customers who want to invest more than 5 tons of production, it is not a small investment.
Richi Machinery will introduce to you how to successfully invest in a biomass pellet fuel production line as concisely and comprehensively as possible according to the customer's usage and accumulated relevant experience.
How to build a 6-7 t/h wood pellet plant?
How much money is ready to invest.
Determination of raw materials.
The building of the wood pellets plant.
Electricity.
Determine your pellet line process. Choose a complete wood pellet production line manufacturer. The price.
Equipment selection.

Standard wood pellet production plant process design
A single wood pellet machine cannot complete the production of wood pellets, which requires a complete production line. What equipment is needed for a 6-7t/h wood pellet line, and what is the processing flow of wood pellets?
(1) Slicing and crushing section
A chip shredder is required for this process, or it can be a combination of a wood chipper and a wood shredder. Both types of wood processing machinery are produced by our company. This process also requires a conveyor.
(2) Drying section
This process requires a wood chip dryer machine, installation pipes, cyclone dust collectors, shut-off fans, fans, and belt conveyors.
(3) Granulation section
This process requires bucket elevators, permanent magnet cylinders, material level indicators, U-shaped screw conveyors, pneumatic valves, silos to be pelletized, pneumatic valves, wood pelletizer machines, belt conveyors, bucket elevators, and shut-off fans, etc.

(4) Cooling section
This process needs to be composed of cooling machine, fan, cyclone, shut-off fan, supporting installation pipeline, grading screen, screw conveyor, dust removal air network pipeline and other equipment.
(5) Finished product packaging section
This process requires a bucket elevator, a finished product warehouse, a material level sensor, and a computer packaging scale.
The production of wood waste requires the coordination and cooperation of all parts and complement each other. Only when each part performs its respective functions accurately, can good wood pellets be processed.
However, the situation of each customer is different, and it may be various problems such as raw materials, factory buildings, and voltage. Below are two examples of 6-7t/h wood pellet production plants that we have done. You can refer to the situation of these two customers.
biomass wood pelleting plant Projects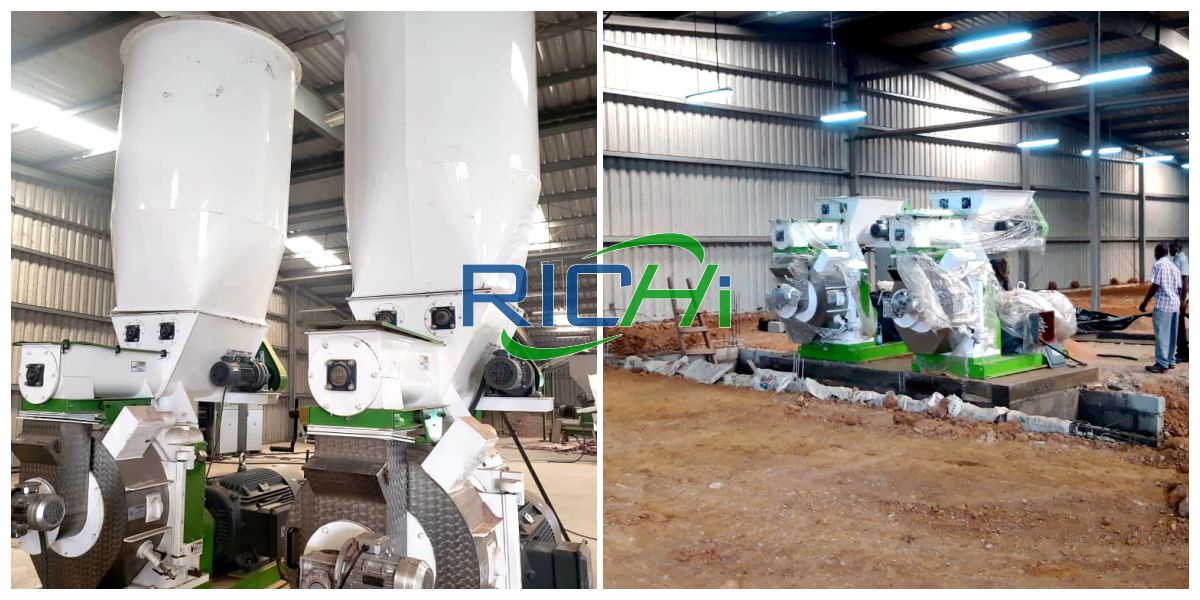 5T/H
biomass pellet production line in austria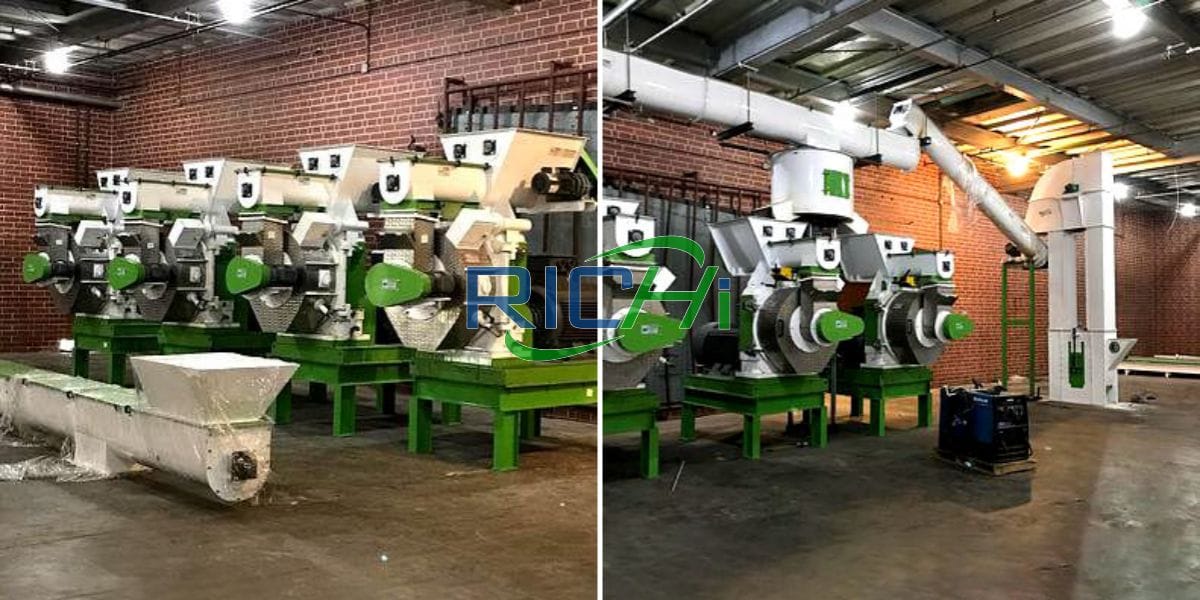 10T/H
biomass pellet mill plant in united states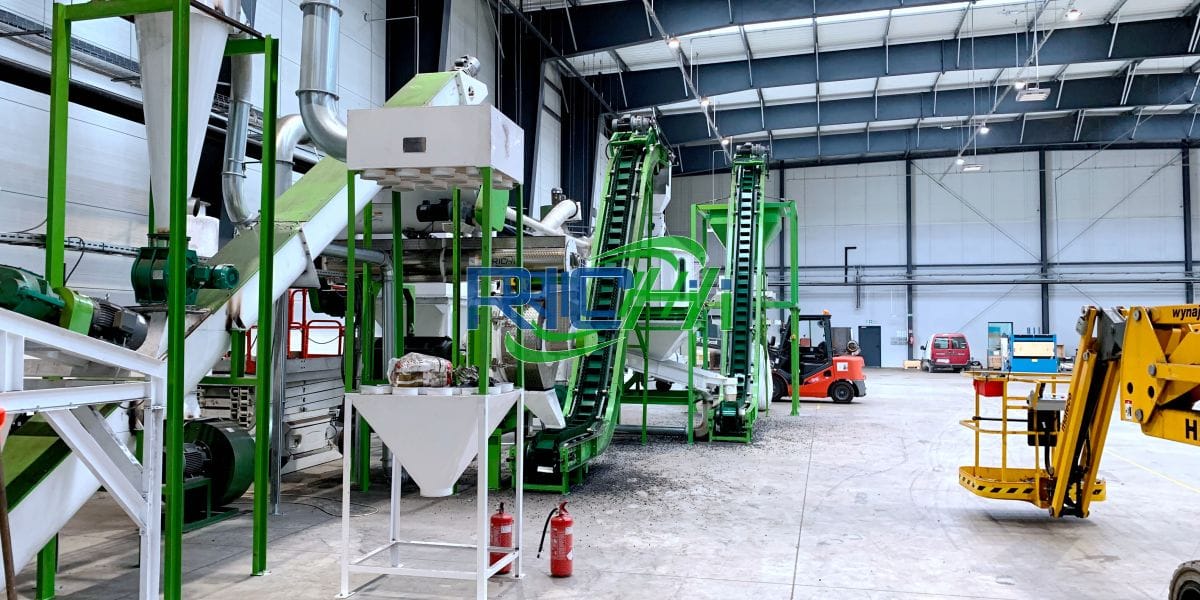 2T/H
biomass pellet processing plant in poland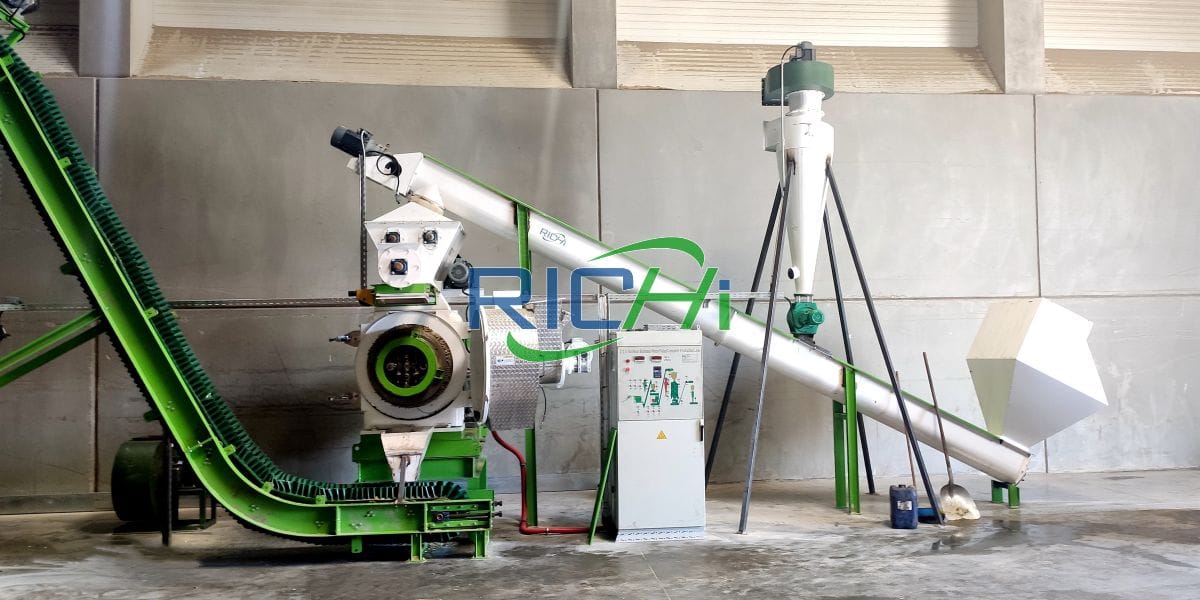 2-2.5T/H
biomass pelletizing plant in romania
6-7 t/h wood pellet business Project Report
Next, I will list two wood pellet processing plant projects we have done for you, hoping to help you.
【Case 1】6 T/H Wood Pellets Production Project (15000 t/a)
【Case 2】7T/H Wood Pellet Making Project (50000 t/a)
[Case 1] 6 t/h wood pellets production plant
The total investment of the project is 540,000 USD
Total area: 3385.31 ㎡,
Annual output: 15,000 tons of biomass pellet fuel
Nature of construction: newly built
Number of employees: 15 people
Working system: 300 working days per year, one shift (8 hours)
Annual electricity consumption: The power supply of this project is connected by the local power supply bureau, and a transformer is installed on the site, which can meet the electricity demand. The annual electricity consumption of the project is about 5000 kw·h.

Main construction content
Steel frame structure workshop: 560m²
Raw material warehouse: 630m²
Finished product warehouse: 384m²
Office space: rent the original building
Raw and auxiliary materials
The raw materials of this wood pelleting plant project are all stacked in the raw material warehouse of the factory area, and are not stacked in the open air.
| Raw and auxiliary materials | Annual Consumption |
| --- | --- |
| Wood processing waste | 20100t/a |
| electricity | 5000 |
| water | 7320m³/a |
Note:
The moisture content of the raw material (wood) of the 6t/h wood pellet production plant project is 40%, and the moisture content of the wood after drying is 17%.

So the drying process of the project will remove 23% of the moisture content of the wood, and the annual production of 15,000 biomass particles of the project will require 19,500t of raw materials.
Main wood pellet production equipment
6 t/h wood pellet production plant process flow design
The raw materials for the processing and production of the project are mainly scraps produced by the wood processing plant.
After the corner waste is crushed and pulverized, the raw materials are placed in the dryer, and the hot smoke in the drying kiln is introduced into the dryer through the induced draft fan to dry the raw materials.
Then enter the biomass wood pelletizer for granulation, and sieve out defective products through the vibration belt that comes with the wood pellet making machine.
Defective products are reused for production, and qualified products are packaged to finished products after natural air cooling.

Note:
The drying process of the project uses waste wood as the heat source. The wood pellet plant project places the raw materials in the dryer, and the hot smoke in the drying kiln is introduced into the dryer through the induced draft fan to dry the raw materials.
The raw materials are not in direct contact with open flames, so there will be no burning. Therefore, the gas generated when the raw materials are dried in the dryer is water vapor, and the waste gas mainly generated during the drying process is the fuel combustion waste gas in the drying kiln.
The drying process of the project needs to burn about 600 tons of waste wood every year to provide heat source for the project production.
The power of the induced draft fan used in the drying process of the wood pellet making plant project is 30kw, and the minimum air volume is 15000m³/h.
[Case 2] 7T/H wood pellet production plant project
Total project investment: USD 580,000;
Environmental protection investment: USD 90,000;
Land area: 6500m²;
Power consumption: 475,200 kwh;
Total water consumption: 144t/a;
Number of employees: 12;
Working system: Three shifts, 8 hours per shift; 24 hours in total, 300 working days per year;
Construction scale: The building where the project is located is a 1-storey steel structure factory building, which includes a production area, a raw material storage area, a finished product storage area and an office area.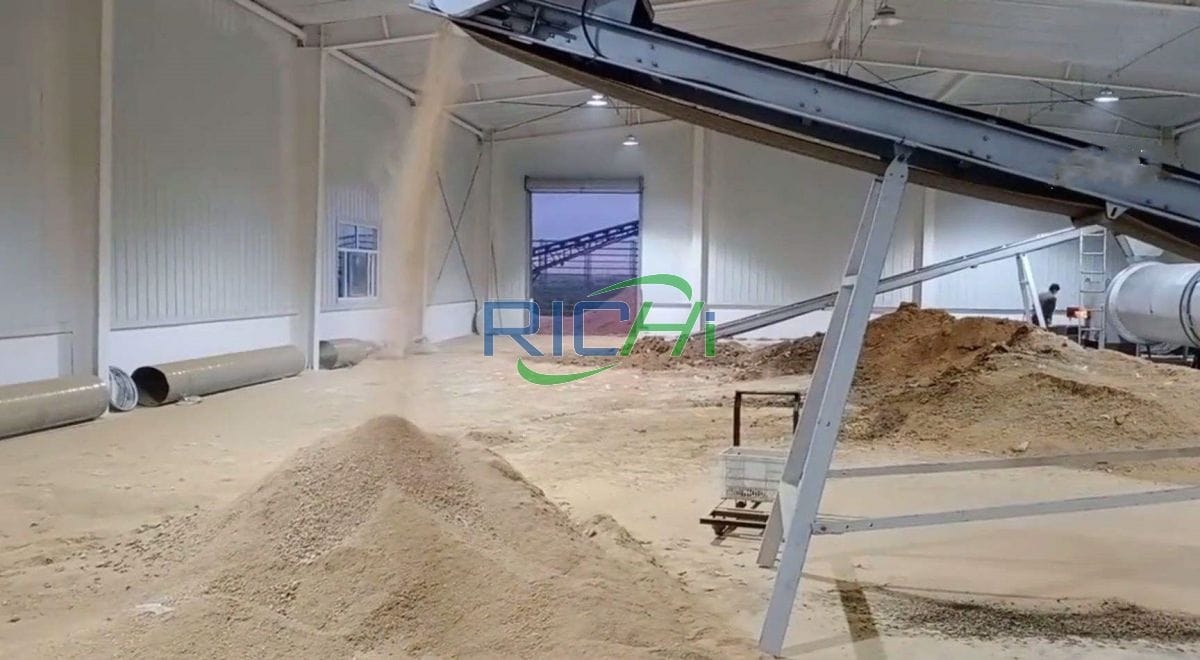 Products plan
| Product Proposal | Yield | Shipping Method |
| --- | --- | --- |
| Wood pellets | 50000 tons | car |
Use of raw (auxiliary) materials
Name: wood, wood chips
Annual consumption: 50,000 tons
Maximum storage capacity: 0.42 tons
Source: outsourcing
Usage: processed into biomass wood fuel pellets
Note: The wood and wood chips used in this 6-7t/h wood pellet production plant project are all wood materials that have not been painted.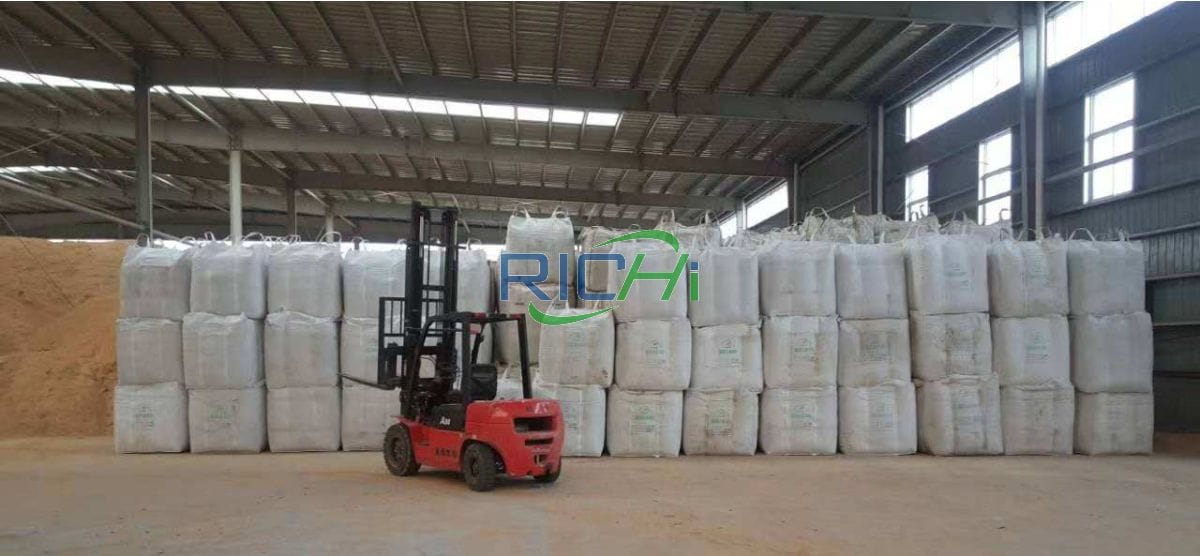 Engineering Composition
| BuildING content | Scale | Remarks (function, usage) |
| --- | --- | --- |
| Factory | 1 Storey, construction area about 6500m² | Set up production area (crushing, granulating, packaging, etc.), raw material stacking area, finished product stacking area, office area |
| Water supply | Municipal water supply network supply, annual water consumption 144t | Supply water for office and domestic use |
| Power supply | Provided by the municipal power supply network, the annual electricity consumption is 475,200 kwh | Supply of production and office electricity |
Equipment for 6-7 t/h wood pellet production plant
| Device Name | Quantity | Purpose |
| --- | --- | --- |
| Wood crusher | 2 | Crushing process |
| Cyclone separator | 2 | Gas-solid separation |
| Wood pellet maker | 6 | Pelleting |
| Wood powder machine | 2 | Auxiliary role |
| Finished product warehouse | 1 | Auxiliary role |
| Feed auger | 6 | Auxiliary role |
| Conveyor belt | 6 | Auxiliary role |
| Sieve | 1 | Auxiliary role |
| Packer | 1 | Auxiliary role |
| Loader | 2 | Auxiliary role |
| Forklift | 2 | Auxiliary role |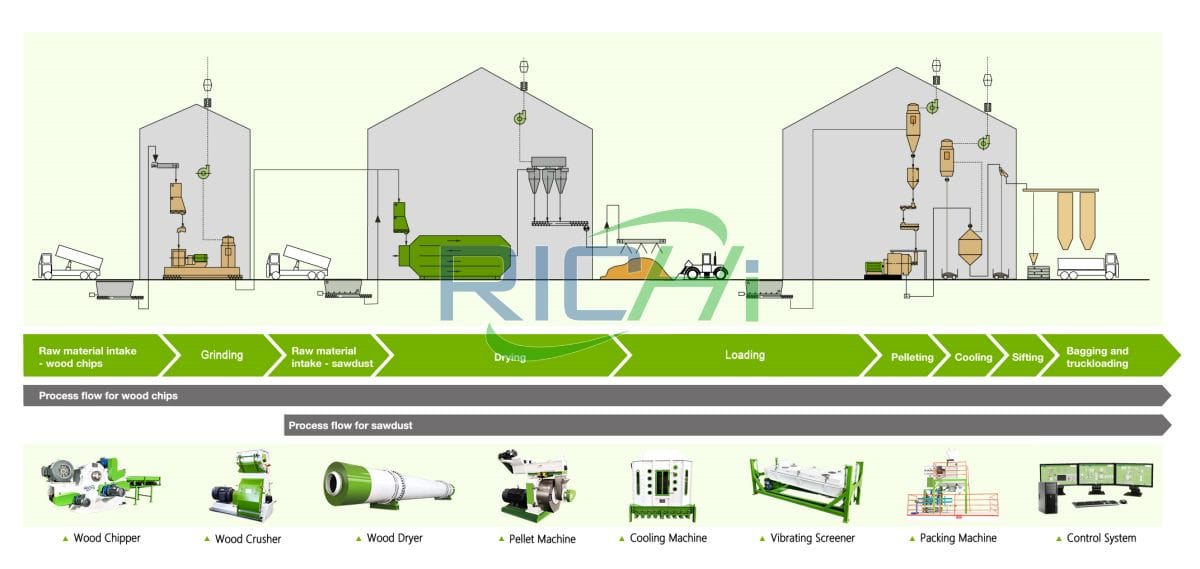 Note: The 6-7t/h wood pellet production plant project does not use generators and boilers for equipment. Electric energy is used in the operation of equipment, and no other energy is involved. (Related product: wood pelletizer machine)
Brief description of 7T/H Wood pellet making process
The purchased biomass raw material (wood) is transported from the raw material site to the workshop by car, and the biomass is input into the crusher for crushing by manual feeding.
Large pieces of wood in some raw materials need to be crushed a second time, and then the pieces are separated by a cyclone separator.
The material falls into the material pit, and the powder is conveyed into the wood pelletizer machine by the closed screw feeding dragon for granulation.
The wood pellets are naturally cooled, and when the granules are cooled from 130℃ to 80℃, they enter a simple sieve for sieving.
The screened qualified wood pellets are packaged by the packaging machine, and the packaged granules are sent to the finished product warehouse by the vehicle. Unqualified crushed materials are re-crushed and re-granulated.

Noise Prevention Recommendations
Since the location of the customer's wood pellets plant is close to the residential area, the local government has strict management on noise prevention and control. The following are our suggestions for the customer's noise prevention and control:
Set up separate foundations for equipment with large vibrations or take vibration reduction measures for equipment bases, and adopt flexible connections between strong earthquake equipment and pipelines to prevent damage caused by vibrations;
The production equipment of the 6-7t/h wood pellet production plant project is installed indoors, and the noise can be reduced by more than 20dB(A) after being blocked by the wall;
Select new low-noise equipment, and take appropriate noise reduction and shock absorption measures for equipment settings;
Strengthen the maintenance of equipment, add lubricant in time to prevent equipment aging, keep the equipment in good operating condition, and avoid the increase of noise caused by abnormal operation;
Place the equipment with high noise in a separate room, use sound-proof doors and windows, and reduce the impact of noise through the sound-proof effect of the wall;
Strengthen the education of employees' environmental protection awareness, promote civilized production, and prevent man-made noise.

Risk Prevention Suggestions
Since the wood pellet production plant is special, special attention should be paid to fire safety. In this regard, Richi Machinery provides useful suggestions for customers in project services:
Set up warning signs of "no smoking" in the workshop, especially where the wood is stacked;
Fire extinguishers should be arranged in places that are clearly accessible, and regularly maintained and inspected to ensure normal use;
Formulate and implement the fire safety responsibility system and fire safety rules and regulations. In addition to strengthening the training of fire safety knowledge for employees, regular fire safety knowledge training is also provided for fire safety responsible persons and employees;
The automatic fire-fighting system should be maintained regularly to ensure the normal operation of fire-fighting facilities;
Check the circuit regularly, and the power load should match the design of the circuit;
Keep safe evacuation channels unblocked.

If you want to start a wood pellet processing business, if you want to build a high-quality and profitable wood pellet production system, please feel free to contact us for a customized 6-7t/h wood pellet production plant solution!
LEAVE YOUR NEEDS
Keeping in touch with us is an effective way to solve all your problems. If you have any needs or questions, please leave your contact information, then RICHI technical consultants will send design, quotation, videos to your mailbox. You can also contact us directly via WhatsApp: +86 13838389622