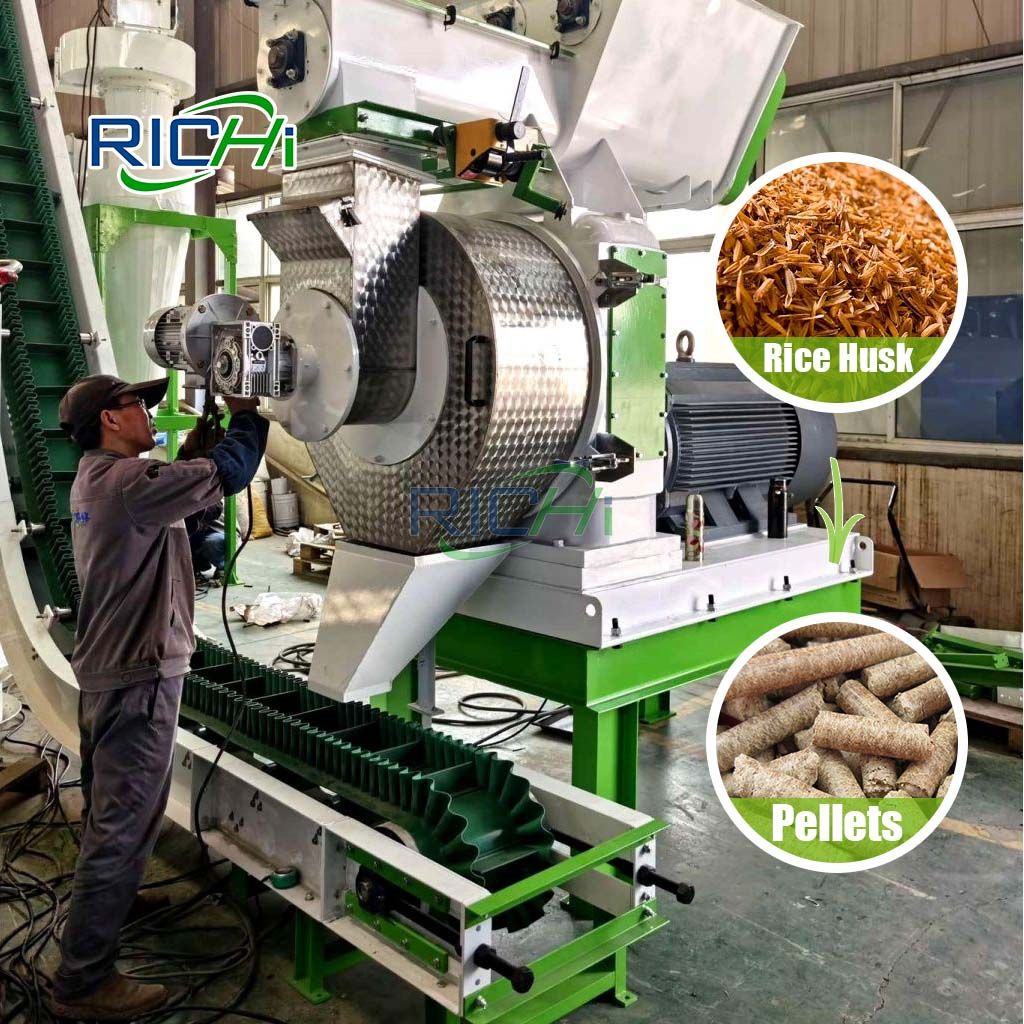 Rice Husk Pellet Machine
Rice husk pellet machine is mainly used for processing rice husk pellets. The processed pellets are mainly used as biomass fuel, feed and organic fertilizer.
The equipment has the characteristics of strong power, high production efficiency, high reliability and low power consumption. It is an indispensable pellet forming equipment for agriculture, biomass fuel industry, feed industry and organic fertilizer industry.
Rice husk pellet machine price: 10,000-100,000 USD
Capacity (single machine): 0.3-5 T/H
Main Power: 37-280 KW
Pellet Size: 6-12 mm

Richi Machinery can provide rice husk pellet making machine and a complete set of rice husk pellet plant equipment, all equipment has passed CE, ISO certification, and has been exported to Indonesia, Thailand, Russia, Uzbekistan, Kazakhstan, South Africa, Germany, Austria, Poland and other countries.
If you want to start a rice husk pellet processing plant, welcome to contact us for custom solutions.
Types of Rice Husk Pellet Machine
Our rice bran pellet machine can process single raw material pellets, such as rice husk pellets; it can also process mixed biomass raw material pellets, such as rice husk and sawdust pellets, rice husk and straw pellets, etc.
Therefore, the rice husk pellet equipment is suitable for a wide range of raw materials , such as peanut shells, sunflower shells, palm shells, wood, coffee shells, straw, bamboo, bagasse and other various agricultural and forestry wastes.
According to the application of raw materials and final rice husk pellets, RICHI rice husk pellet machines can be divided into the following categories: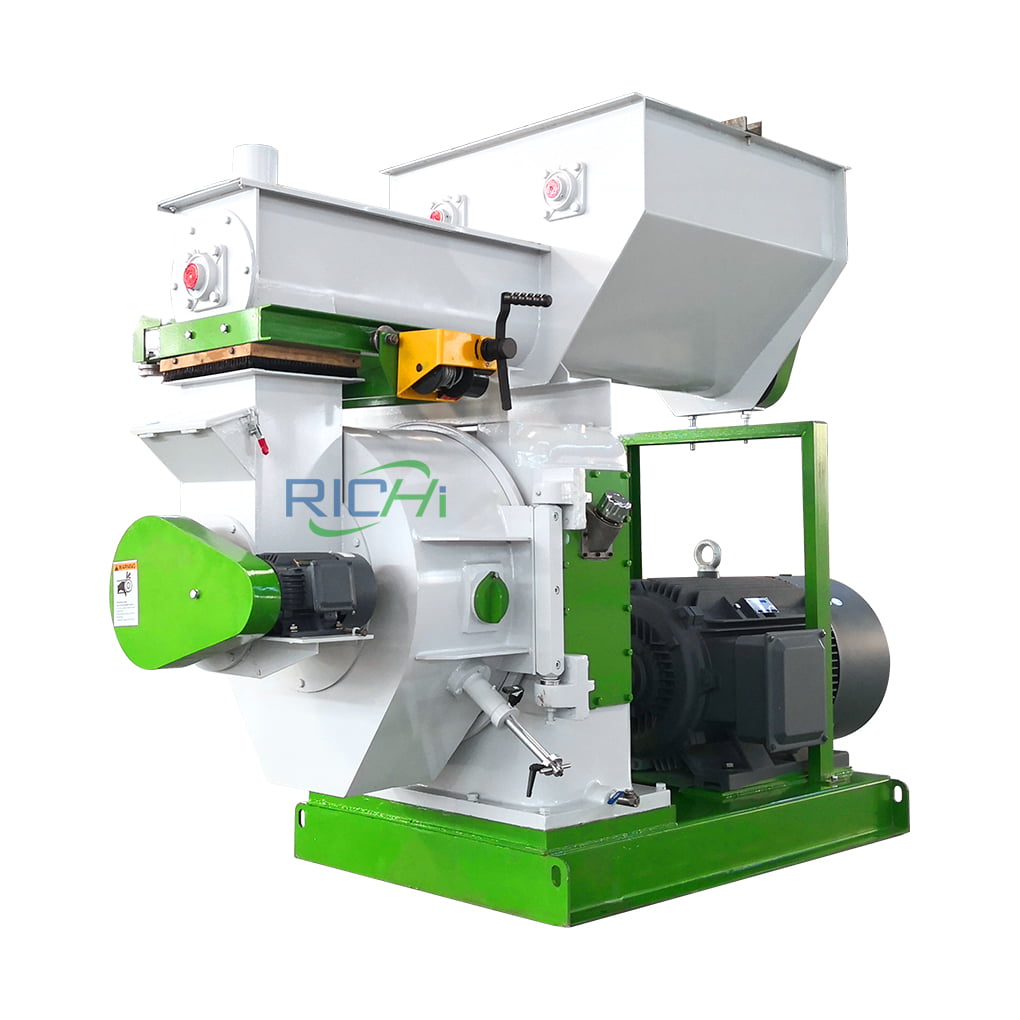 Pure rice husk rice husk pellet mill
Only rice husk is used as raw material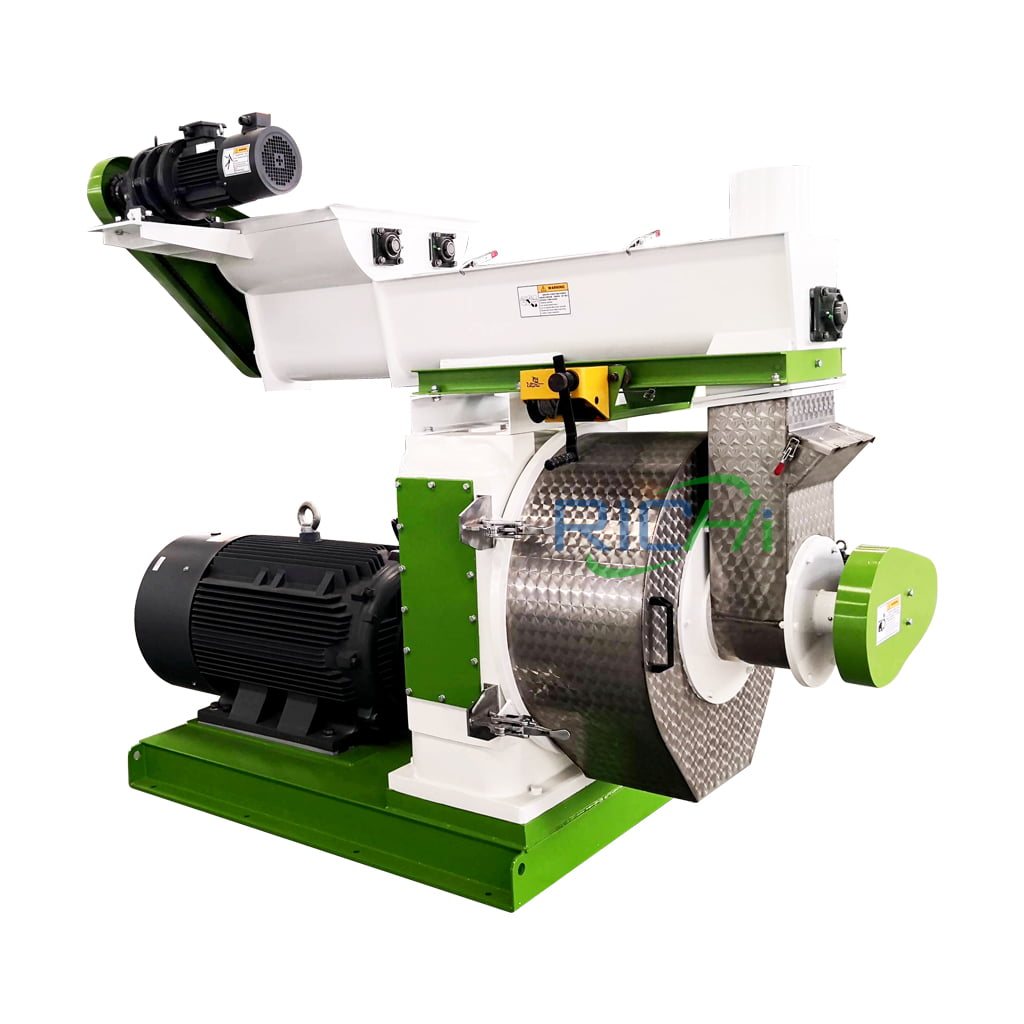 Rice husk and biomass Waste pellet mill
Using rice husk and other biomass as raw material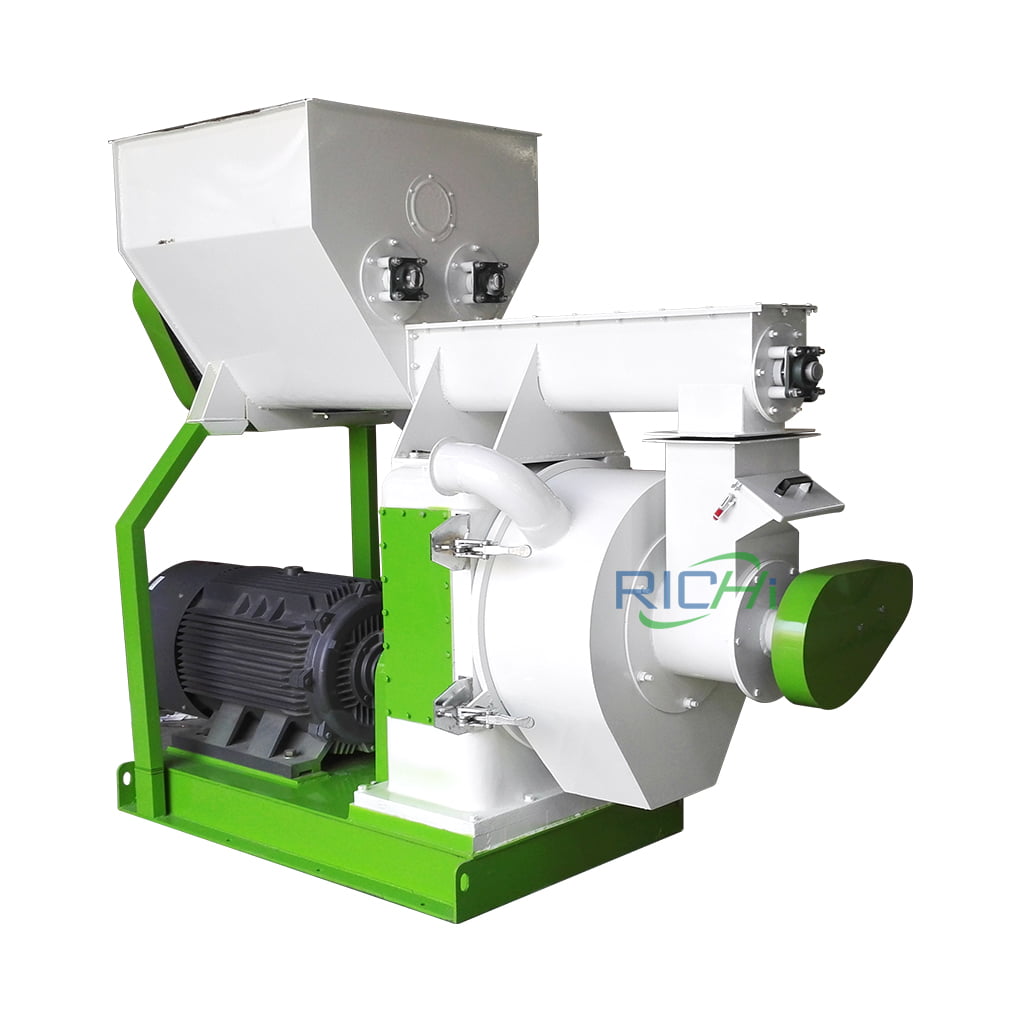 Rice husk organic fertilizer granulator
Using rice husk as main raw materials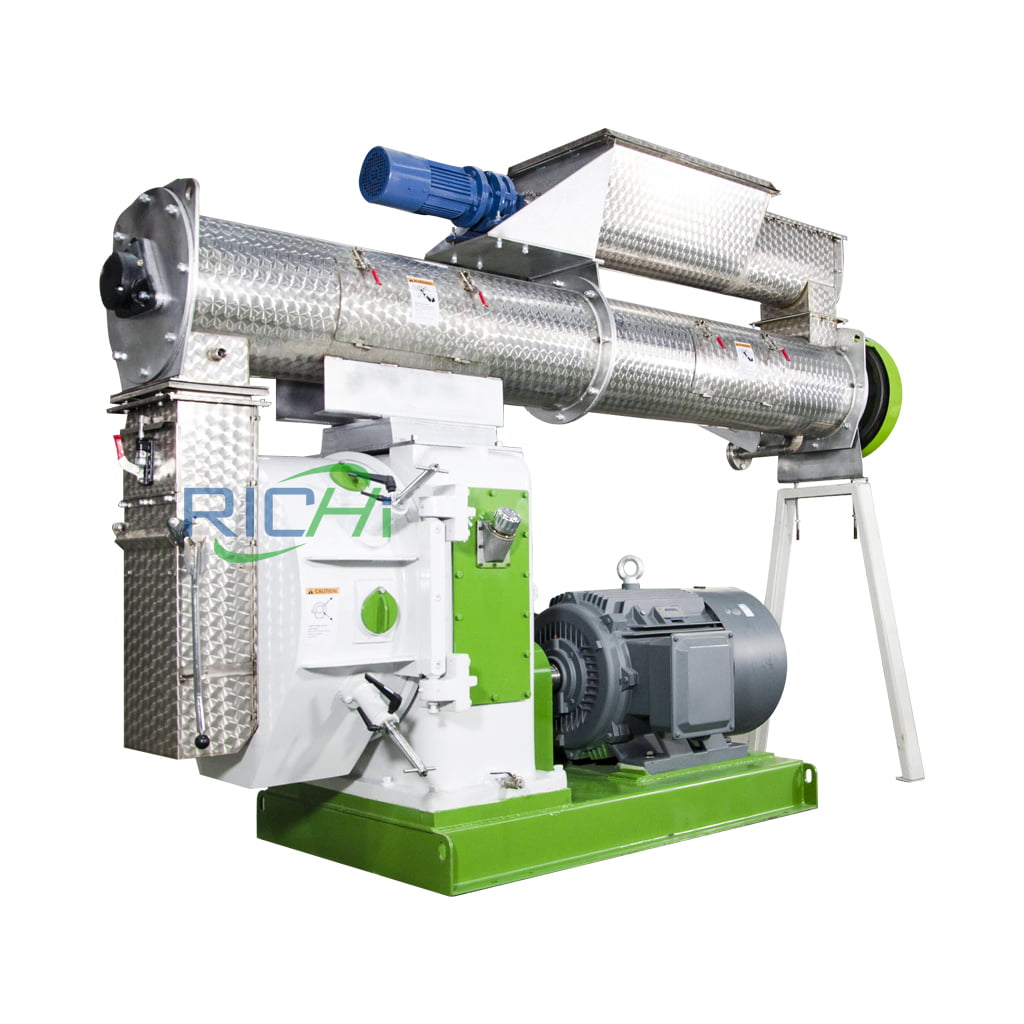 Rice husk feed pellet making machine
Utilize rice husk as main feed raw materials. Please refer to our animal feed mill plant solutions
Features of rice husk pellet machine
RICHI rice husk pellet mill is a kind of biomass pellet mill, mainly used to produce pellet fuel, and has the advantages of high productivity, high molding rate, good quality pellets, and continuous production.
This equipment adopts the basic structure of ring die rotation, pressure roller and ring die embedded combination. After the raw material enters the ring die, the pellets are formed by mutual extrusion between the pressing roller and the ring die.
The pellet fuel produced by RICHI rice husk pelleting machine is usually cylindrical, the diameter is generally not more than 25mm, and the length is not more than 4 times its diameter; the common diameters are 6, 8, and 10mm. The density of granular fuel is higher than that of briquette fuel, reaching 1.2-1.4t/m³.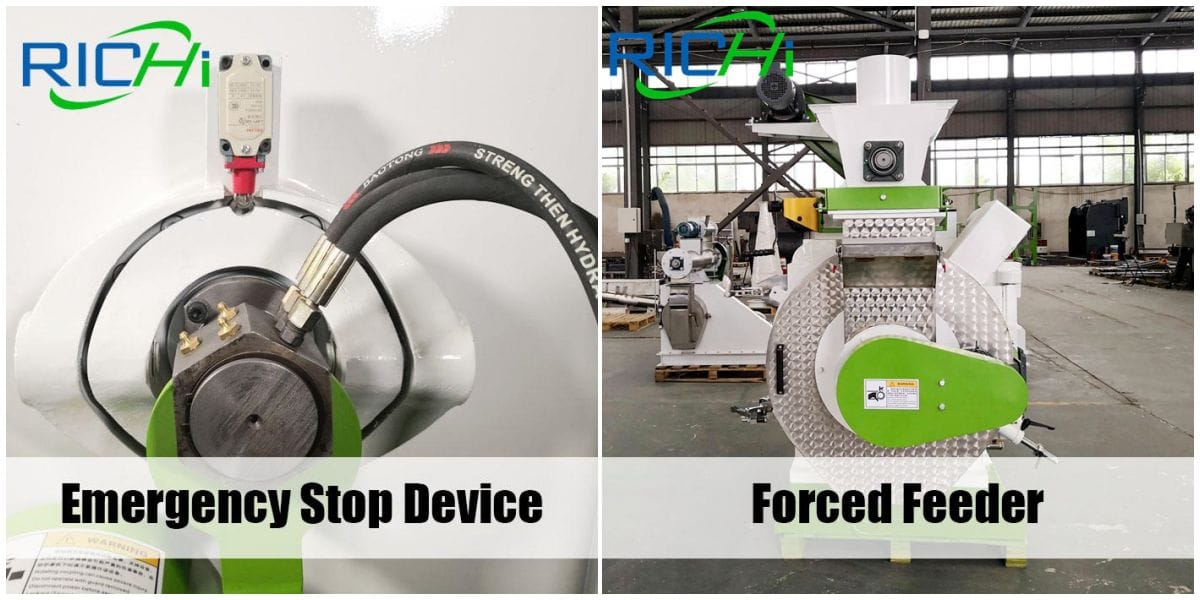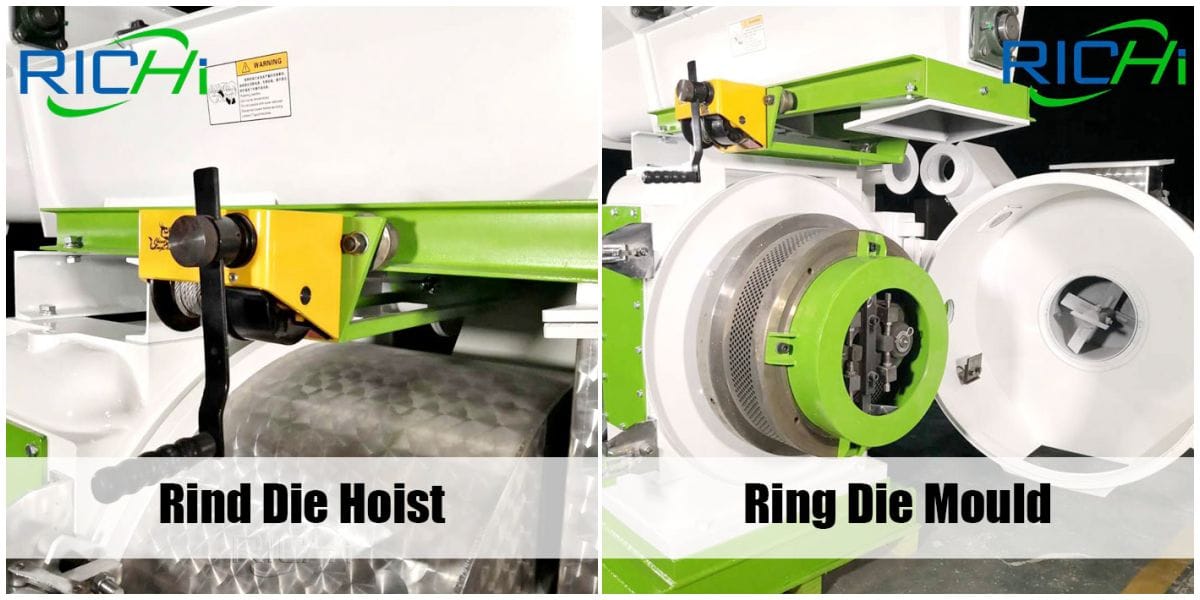 The equipment has a more stable working state and better adaptability to materials, and the granular fuel it produces meets the requirements of coal-fired power plants for the uniformity of biomass briquette fuel. It can realize industrial automatic feeding, which is the focus of current development.
Using rice husk to process granular biomass fuel can increase the utilization value of rice husks and achieve the purpose of value-added. The processing technology of RICHI rice husk pellets is characterized by labor saving, low cost and environmental friendliness.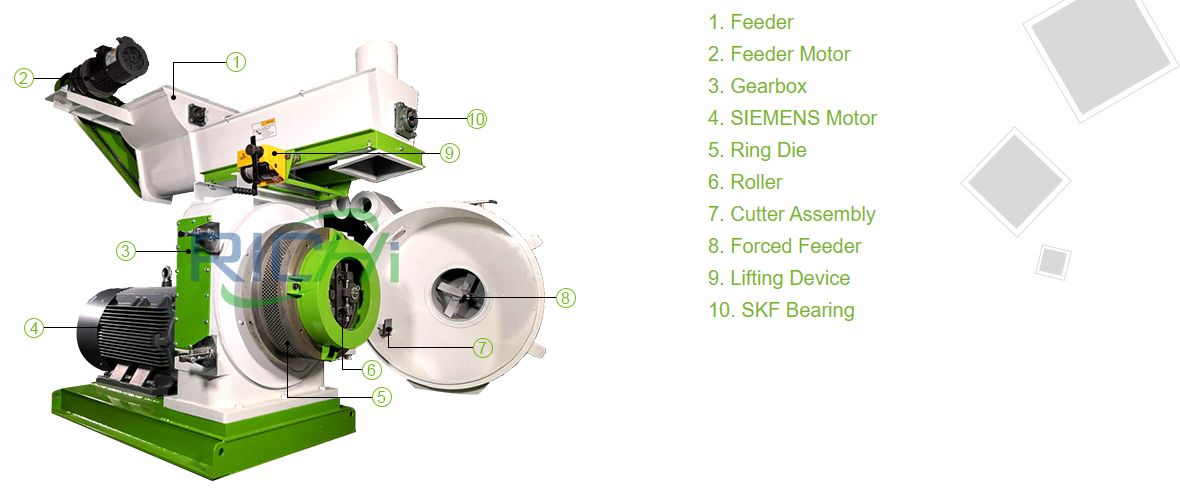 The rice husk pelletizing machine can be combined with other equipment to form a modular pellet processing system. The rice husk pellet production process mainly includes raw material crushing (optional), screening (optional), drying (optional), granulation, cooling, packaging, etc. According to the situation of raw materials, the process flow can be customized.
Rice husk pellet machine parameters
| Model | Main Motor Power(kw) | Anti-caking Feeder Power(kw) | Forced Feeder Power(kw) | Capacity |
| --- | --- | --- | --- | --- |
| MZLH320 | 37 | 1.5 | 0.55 | 300-400 kg/h |
| MZLH350 | 55 | 1.5 | 0.55 | 500-700 kg/h |
| MZLH420 | 90 | 1.5 | 0.55 | 1-1.2 t/h |
| MZLH520 | 132 | 2.2 | 0.75 | 2-2.5 t/h |
| MZLH768 | 250 | 3 | 1 | 2.5-4 t/h |
| MZLH858 | 280 | 3 | 1 | 3-4.5 t/h |
Optimum Process Conditions of Rice Husk Pellet Machine
Optimal production process of rice husk biomass energy pellets:
Raw material moisture content 12%
Ring die compression ratio 1:5.5
Raw material particle size≤7 mm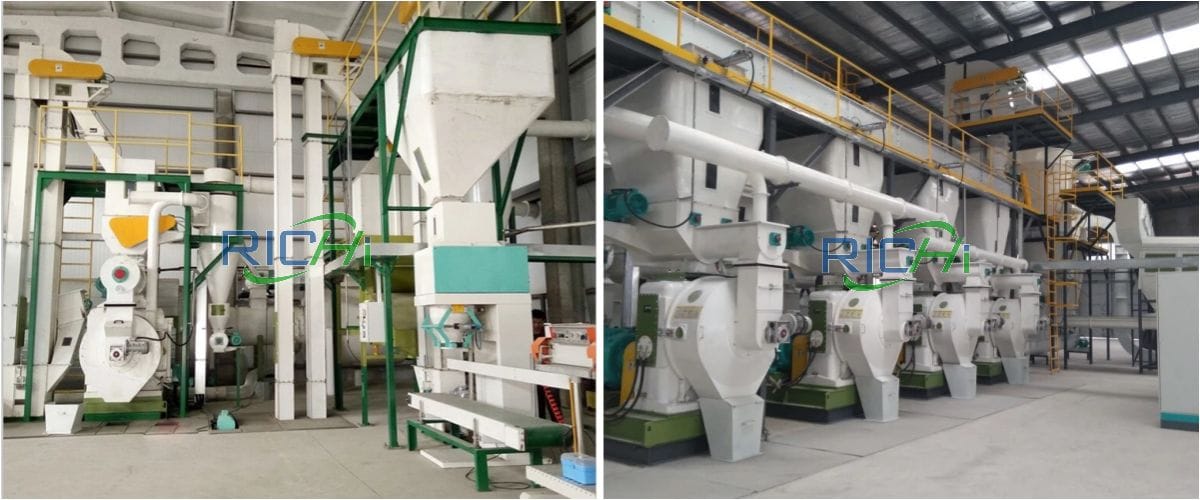 Using rice husk as raw material for production and using ring die forming equipment to prepare biomass energy pellets requires correct operating conditions as a support.
The particle size of the raw material has no significant effect on the molding rate and density of the finished product, but the moisture content of the raw material and the compression ratio of the ring die have a significant impact on the molding rate and density.
Analysis of rice husk pellet machine projects
We are committed to the processing of various agricultural and forestry waste pellet equipment, and provide comprehensive solutions and mature supporting products.
At present, we have done many rice hull pellet machine projects, and the export of equipment has covered many countries and regions in Asia, South Africa, Europe, Oceania, and Africa. Among them, most customers will use a variety of raw materials to process fuel pellets, and rice husk is the raw material with the lowest cost and the easiest to obtain.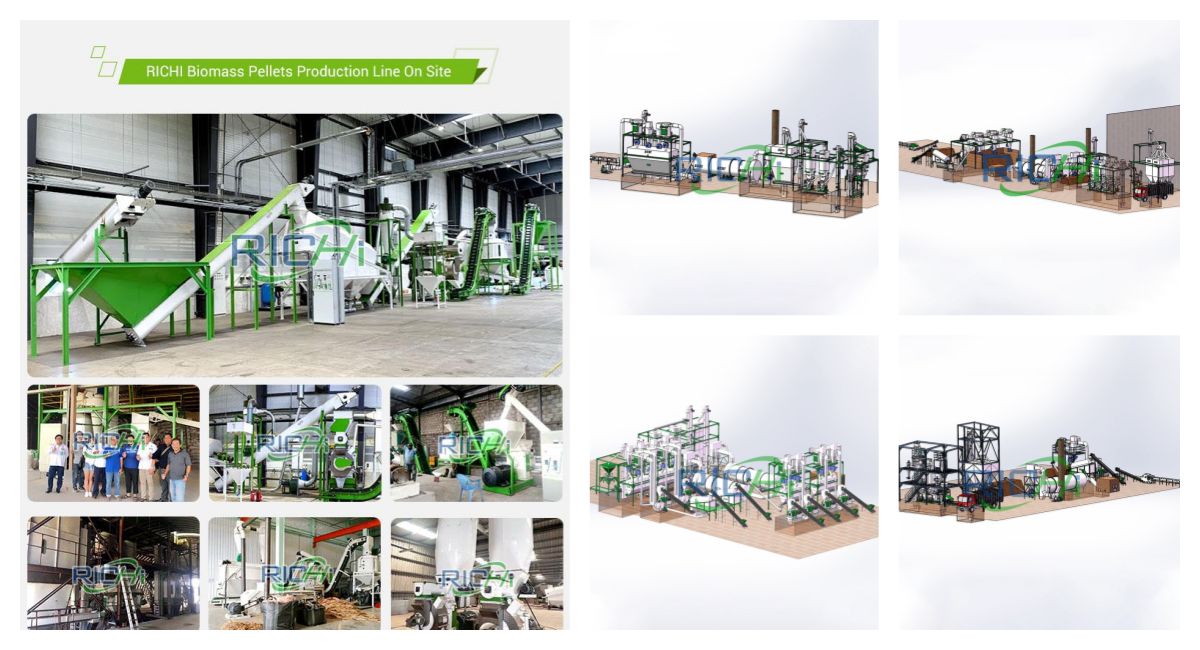 Below RICHI will show you several rice husk production projects. You can briefly understand our complete rice husk pellet production line and the selection of rice husk pellets machine.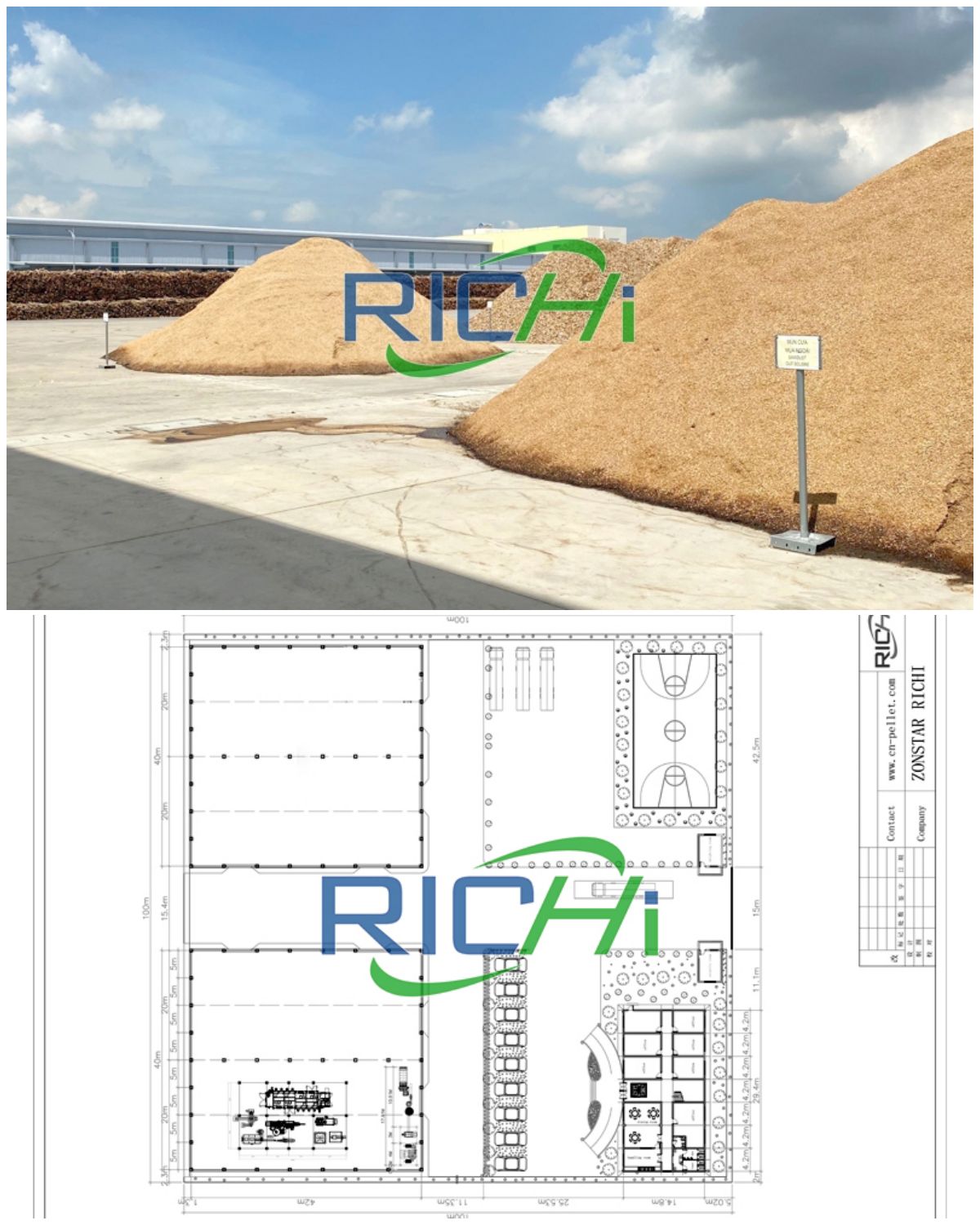 1.5-2T/H rice husk pellet production line
Annual output: 8,000 tons
Total investment: USD 100,000
Rice husk pelletizer selection: 1 set MZLH 420
Other supporting equipment: conveyor belt, packing scale, bag filter, transformer, etc.
Process flow: raw material storage – cleaning – pelleting – packaging
Main works: a total of 1 production line, equipped with a pellet mill. One production workshop, covering an area of 2740m².
Supporting engineering: production workshop, 2 finished product warehouses, 3 raw material warehouses, office building.
Main raw material: rice husk
Raw material consumption: 800.1 t/a
Annual power supply: 300,000 kW·h/a
Work system: 5 employees, 300 working days a year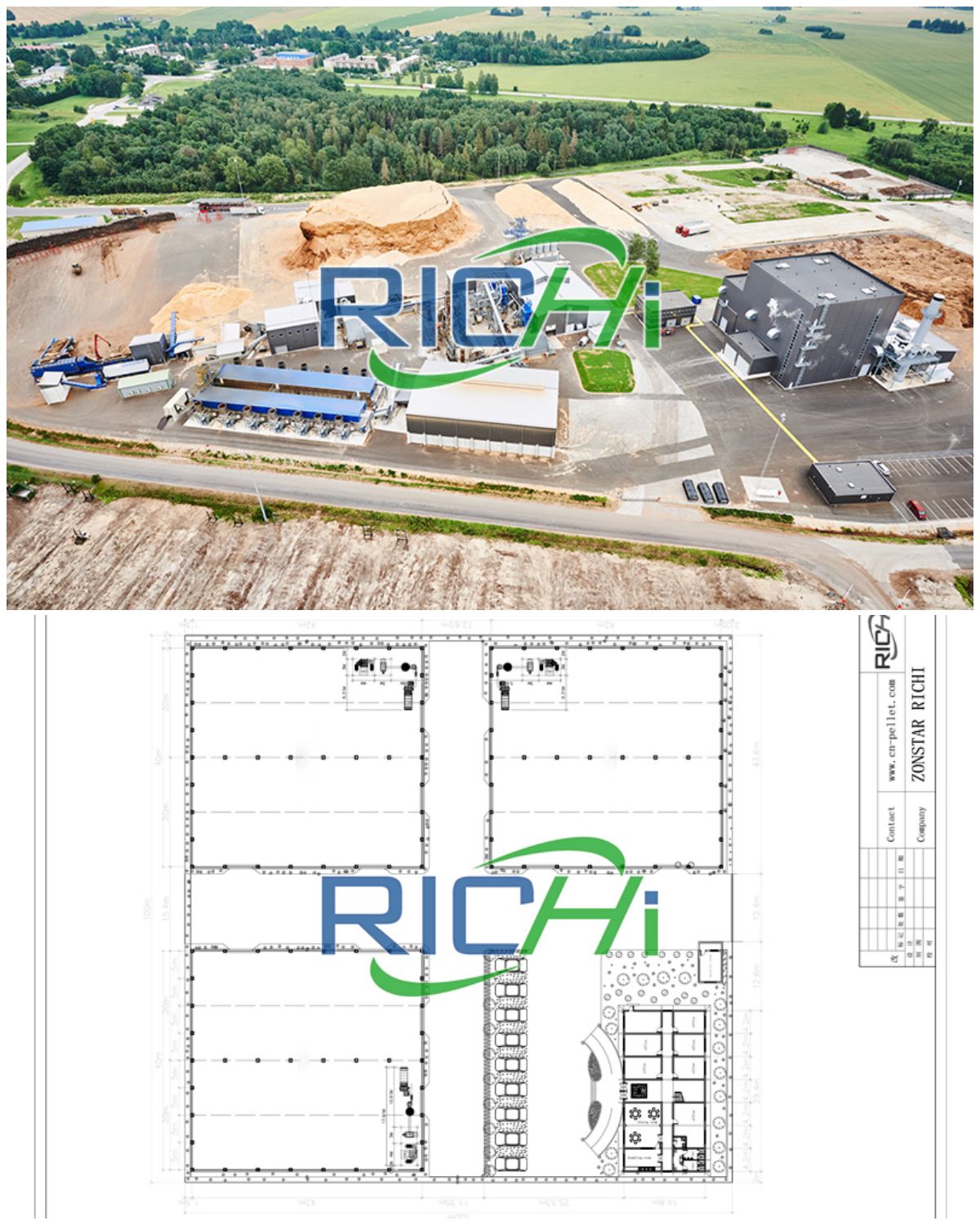 6T/H rice husk pellet production line
Annual output: 15,000 tons
Total investment: USD 250,000
Rice husk pellet machine selection: 3 sets of MZLH 520
Other supporting equipment: cyclone dust collector, belt conveyor, packing scale, transformer 400kw/h, etc.
Main process flow: raw material storage yard—granulation—natural cooling—manual packaging
Main works: Three production lines are set up, which are located in the production workshop. The production workshop covers an area of 1000m² and is a closed workshop with an estimated annual output of 15,000 tons of biomass pellet.
Main raw material: rice husk
Raw material consumption: 15031 ton
Annual water consumption: 120m³/a
Work system: 7 employees, 300 working days a year, 8 hours a day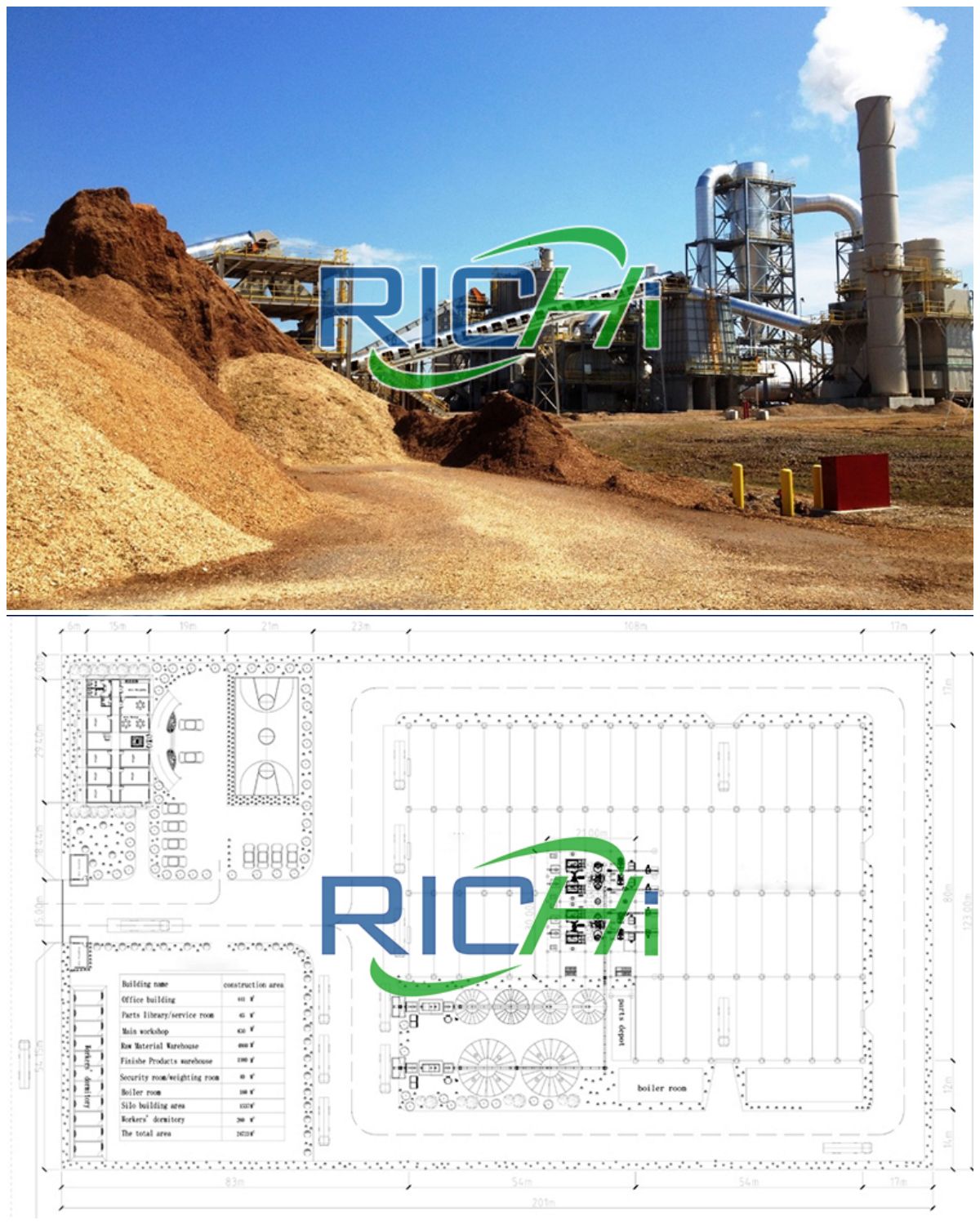 14-15T/H rice husk pellet line
Annual output: annual output of 30,000 tons of biomass pellet construction project
Total investment: USD 700,000
Rice husk pellets making machine selection: 4 sets of MZLH 768
Other supporting equipment: bag filter, air shutoff device, cyclone dust collector, belt conveyor, fan, bucket elevator, packing scale, transformer, forklift, etc.
Main process flow: screening—granulation—cooling—packaging
Main works: The first floor of the two-storey building, with steel frame structure, has 4 production lines, consisting of raw material storage yard, screening area, granulation area and finished product hopper, and its production scale is 30,000 tons/year. The built area is about 1000m².
Main raw materials: rice husk 28,800t/a, sawdust 3,200t/a
Annual power consumption: 125,000 kW·h/a
Annual water consumption: 100 t/a
Working system: 9 employees, 260 working days a year
Why use rice husk pellet machine to process rice husk pellets?
The main reason for using rice husk pellet mill machine to process rice husk pellets comes from the advantages and value of rice husk and rice husk pellets themselves.
Rice Husk Is Rich In Resources:
Rice husk biomass pellet fuel technology is easy to achieve large-scale production and use, and the convenience of using biomass pellets is comparable to that of gas, fuel oil and other energy sources.
Therefore, the use of rice husk pellet machines to make full use of agricultural and forestry wastes such as rice husks, sawdust, straw, etc. to produce pellet fuels has good economic and social benefits.
Simple Processing Technology Of Rice Husk Pellets:
Compared with other types of biomass pellet products, rice husk pellets have wider sources of raw materials, lower prices, better molding effects, and simpler production processes.
Rice husk occupies a large weight in the proportion of agricultural residues. Therefore, it is necessary to develop and manufacture rice husk pellet mills and production processes that use rice husks as raw materials to produce biomass pellets.
Rice Husk Pellets Can Save Storage Space:
During the rice processing process, about 20% of the rice husks can be separated by the huller, which are generally used as fuel for boilers for direct combustion or as raw materials for biological fertilizers.
Rice husks that have not been crushed require a large warehouse capacity, inconvenient transportation, and a small sales area.
The crushed rice husk can be transported over long distances, but the power of the motor of the grinder is large, and the dust pollution during the crushing process is large.
Performance advantages of rice husk pellets
Rice husk pellets have excellent performance, and some indicators are better than raw coal, especially the environmental performance indicators. Its use performance and pollution discharge indicators can fully meet the requirements as an alternative energy source. It is certain that the rice husk energy pellet product has a huge utilization prospect.

01 Transport performance
As a commodity, rice husk energy pellets made by rice husk pellet machine are inevitably transported.
During the transportation process, rice husk biomass pellet products will be bumped and vibrated to varying degrees, and some pellets with low bonding strength will be broken into powder, which will seriously affect the performance of biomass pellet products.
The mechanical crushing rate of rice husk pellets is 2.5%, which fully meets the requirements for the transportation performance of pellet products.
02 Storage performance
After the rice husk pellets are ignited, the heat release rate increases rapidly, reaching the peak at 305 s, and can maintain a relatively high heat release rate above 100 kW/m² for a long time. After testing, the effective value of the heat release rate of rice husk biomass pellets is 138.9 kW/m², which is similar to most wood and is in the safe range.
03 Thermal performance
The calorific value of rice husk pellets is above 18 003.2 kJ/kg, while the calorific value of raw coal is generally around 20 934 kJ/kg. This shows that the calorific value produced by the combustion of rice husk biomass pellets is close to that of raw coal, which fully meets the thermal efficiency requirements of alternative energy sources.
04 Soot Emission Performance
The blackness of exhaust smoke when rice husk pellets are burned is determined to be less than grade 1. It fully complies with the regulations of many countries on the emission of smoke and dust.
05 Carbon performance
The effective value for the amount of carbon dioxide (CO2) released when rice husk pellets are burned is 1.42 kg/kg. The effective value of the amount of carbon dioxide (CO2) released when raw coal is burned is 2.6 kg/kg, which is almost twice that of the mixture of biomass pellets. In addition, rice hull pellets do not have pollution emission problems at all.
FAQ of rice husk pellet making machine
Am interested in buying a 2-10T/H rice husk pellet machine. What is the price and how much is freight cost up to Lusaka, Zambia? Please send me a quotation.
The price of our 2-10t/h rice husk pelletizer is 30000-100000USD. Please consult us directly online to get the latest quotation.
I'm from România. I'm interested to buy a rice husk pellets line machine.I want to produce 500kg/1000 kg /h. I want to produce pellets from rice husk and agro vegetables remains. I'm Waiting for your email with price offers. Thank you.
Our technical consultants will specially design the process for you, and send relevant product quotations and detailed information about equipment to your email.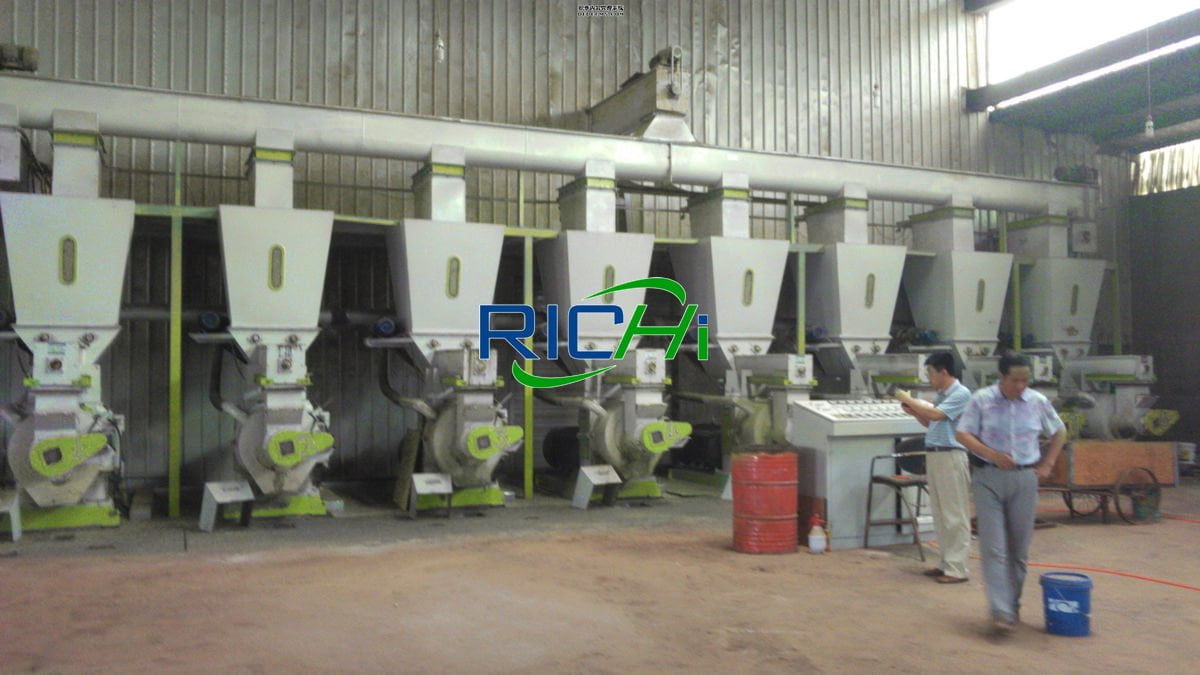 How much is a 5 t/h rice husk pellet making machine?
The price of the equipment is between 50000-100000 USD. Because most customers will use a variety of raw materials, according to the final raw material ratio, the final output of the pellet machine will also be different, and the corresponding equipment selection will also be different.
How much cost vertical rice husk pellet machine?
RICHI does not provide vertical ring die pellet mills. The horizontal ring die type rice husk pellet making machine is the flagship product of Richi Machinery. Whether it is in the field of biomass pellet processing or feed pellet processing, the horizontal ring die pellet mill has incomparable advantages.
 
Looking at the global pellet machine market, well-known international brands also use horizontal ring die pellet machines. Manufacturers who really understand pellet machines will not follow the trend to manufacture vertical pellet mills. This explains why horizontal ring die pellet mills are always the most widely used pellet forming equipment.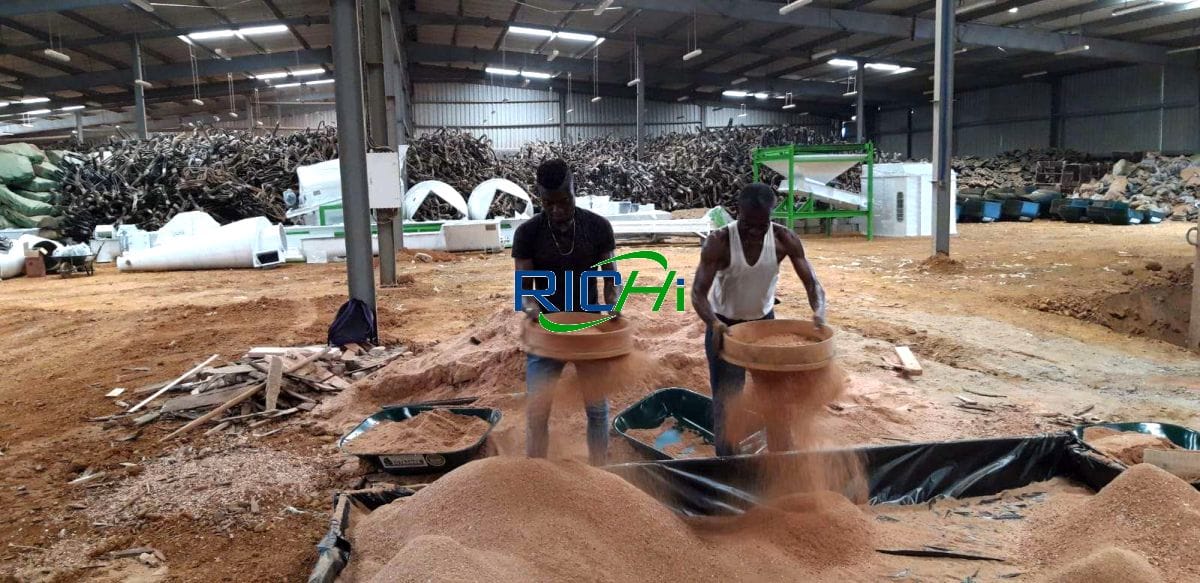 Rice Husk Uses?
As an additional product in the rice processing, rice husk has the characteristics of small particle size, light weight, flammability and compression, etc. It has abundant yield and convenient access.

At present, rice husks are widely used in social production. In addition to processing rice husk pellets by rice husk pellet machine, other applications can be divided into the following categories:

① Direct combustion
The bulk density of rice husks is small (about 120kg/m³), therefore, rice husks are usually compressed into granular, block or rod-shaped fuel during use, which can be used for combustion power supply or heating in winter, so as to facilitate collection, transportation and efficient utilization. Improve the utilization rate of rice husk in production and life.

② Agricultural life application
Due to the small particle size of rice husk, good air permeability, and easy fermentation in a wet state, it is often used in the cultivation of edible fungi or soil improvement in agricultural life. At the same time, the rice husk can be pressed into shape to prepare degradable tableware.

③ Building materials
Rice husk material has low density and soft texture. Adding an appropriate amount of rice husk material to building materials can help improve the mechanical properties of building materials, reduce the material density and have the functions of moisture-proof, waterproof and fire-proof.

④ Chemical products
Rice husk material contains a large amount of silicon, which exists in an amorphous state and has special application value. It is often used to prepare high-quality, high-precision silicon-containing compounds, including SiO2, SiC, SiCw and other materials.

⑤ Feed
At present, in many livestock and poultry feed factories, rice husk is often added as a raw material. Rice husk pellet feed can completely replace straw to feed cattle, and it is convenient to transport and store straw, thus reducing the production cost in feeding, and the feeding amount is generally controlled within 20% of the weight of concentrated feed.

Rice husk can also be used to process fermented feed and extruded feed. When you belong to this situation, you need to use our rice husk pellet machine for feed.
 
The above methods are currently several mature methods for the utilization of rice husks, but since each treatment method has its own limitations, in terms of current market application and technological development, rice husk molding pellet fuel is still the most important method for rice husks in the current market.

The mainstream of shell use is one of the cutting-edge technologies of biomass energy research.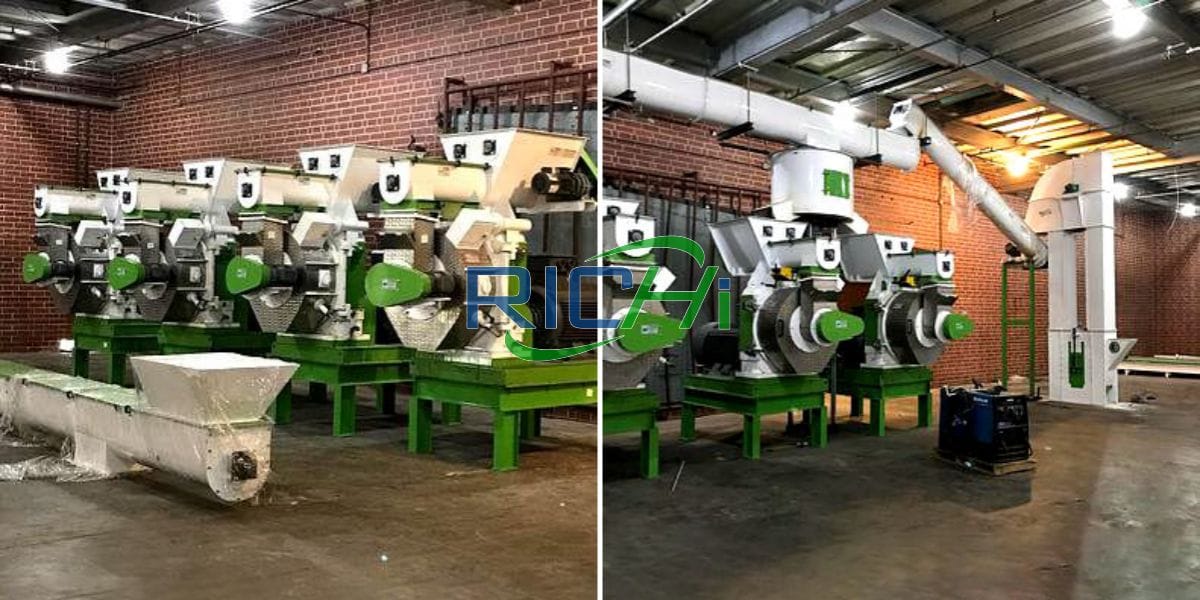 lease send me quotation for rice husk pellet machine 4 t/h. Please send me quotation + video Urgent Thanks.
The 4t/h rice husk pellet machine price is 30,000-100,000 USD. Generally speaking, our technical consultant will send our quotation to the customer within 24 hours, and attach the detailed information, pictures and running video of the equipment.
MY PLAN IS ABOUT PAKISTAN FOR INSTALLING A RICE HUSK PELLET MACHINE FOR FEED OF LIVE STOCK (CATTLES) SEND ME DIFFRENT CATAGARIES OF DIFFRENT CAPICITY WITH PRICES.
Adding rice husk to livestock and poultry feed formula is a good choice. But we need to further confirm some information, such as what are the main raw materials you use? Are there other special raw materials such as grass? Want to buy a stand-alone machine or a production line? What is the proportion of rice husk used…
 
The composition of raw materials and the proportion of special materials greatly affect the output of the pellet mill. In order to provide accurate quotations, our technical consultants will further confirm the above questions with you when talking about your project.
RICHI SERVICE
From a single rice husk pellet machine to a rice husk pellet plant, from site planning to design drawings, from technical training to installation and commissioning.
As large as a whole production line worth millions of dollars, as small as a seemingly insignificant gear, no matter where you are, you only need a phone call or an email, and you will get our response and help in a short period of time.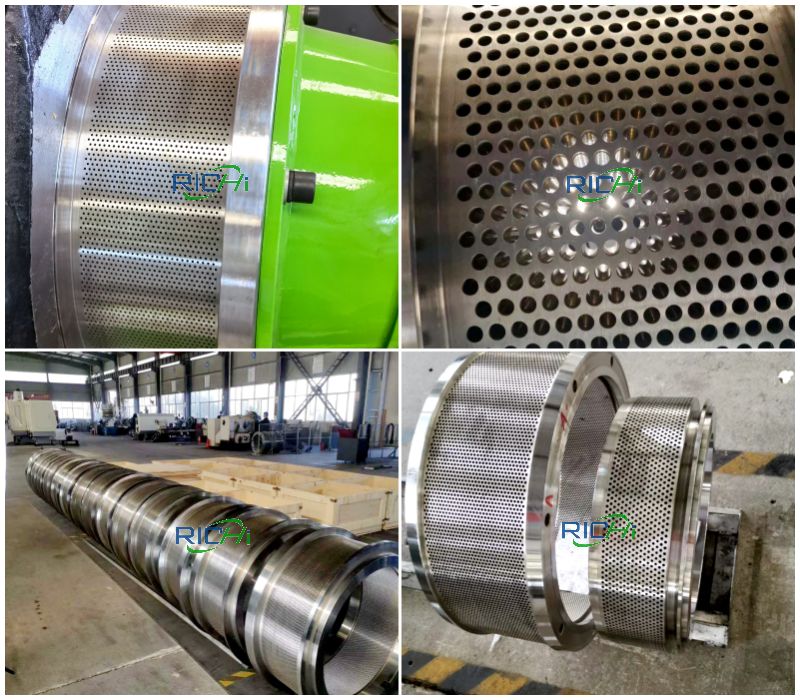 Complete supply of accessories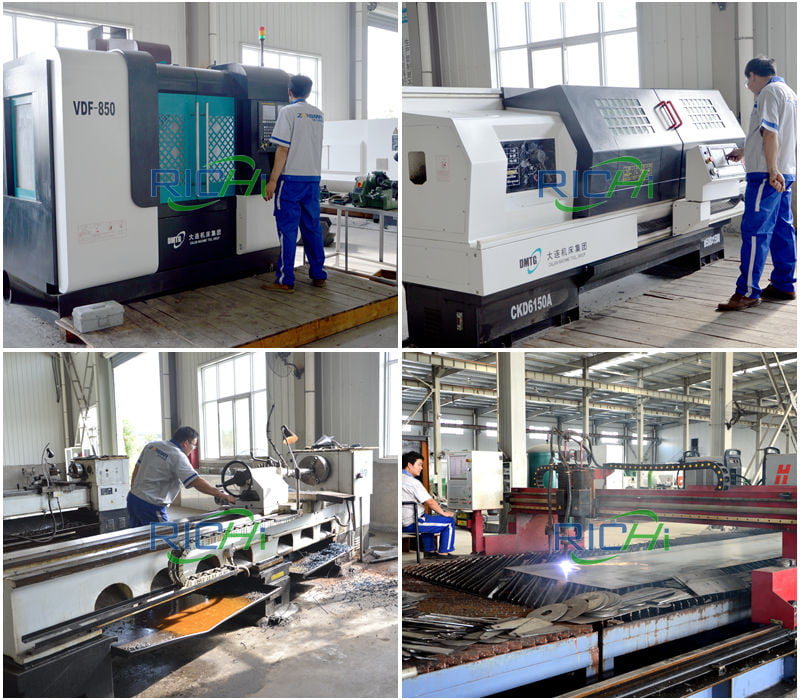 EQUIPMENT MANUFACTURING AND TESTING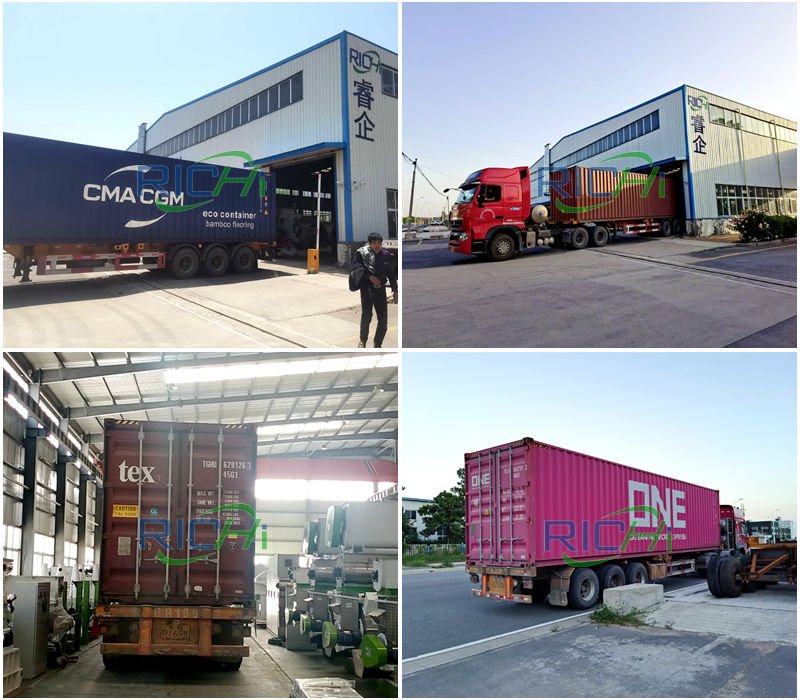 STANDARDIZE PACKAGING AND DELIVERY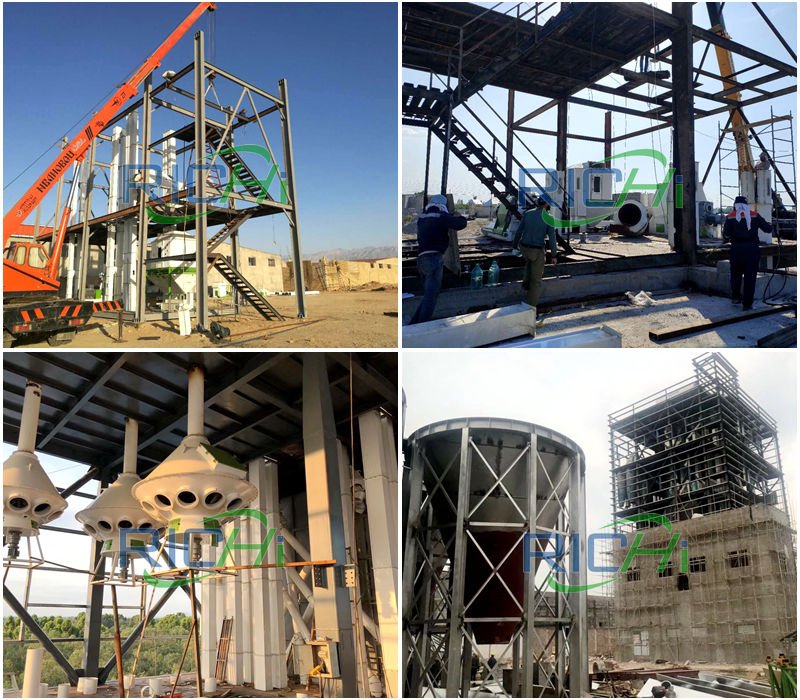 Skilled installation and debugging
Featured Biomass Pellet Production Solutions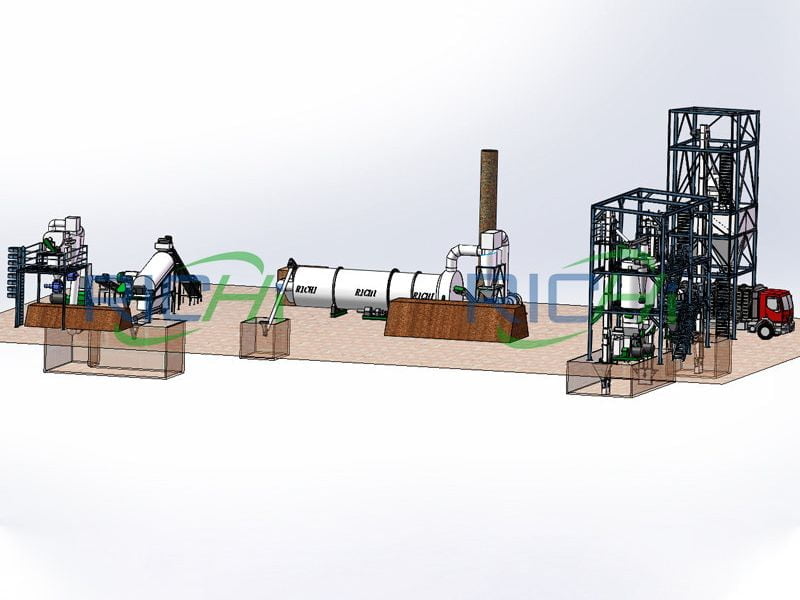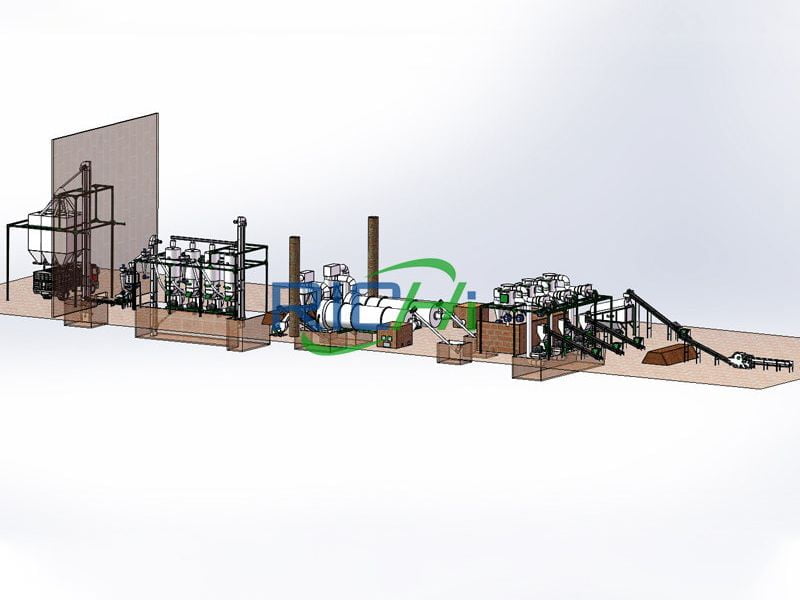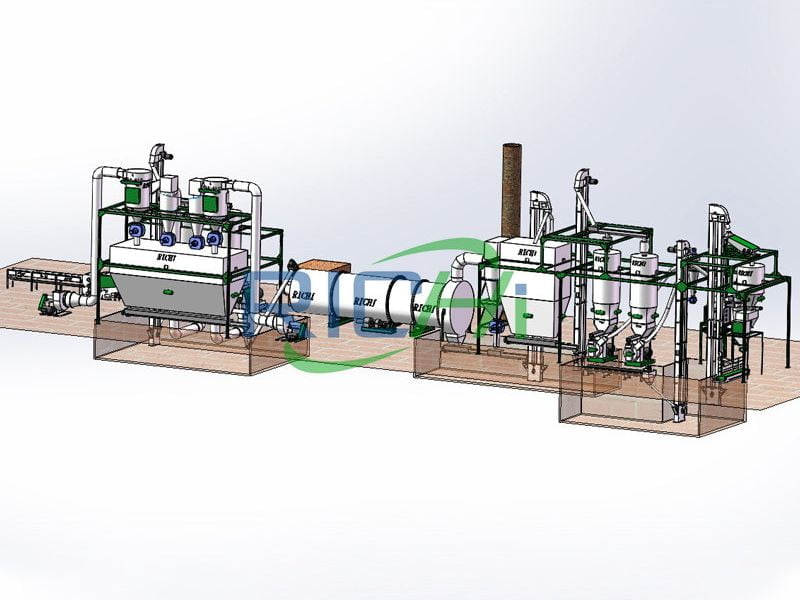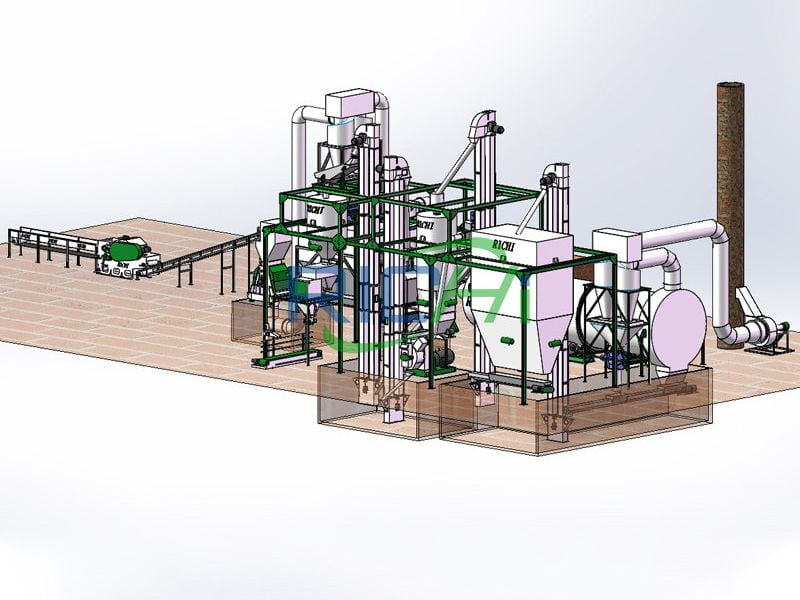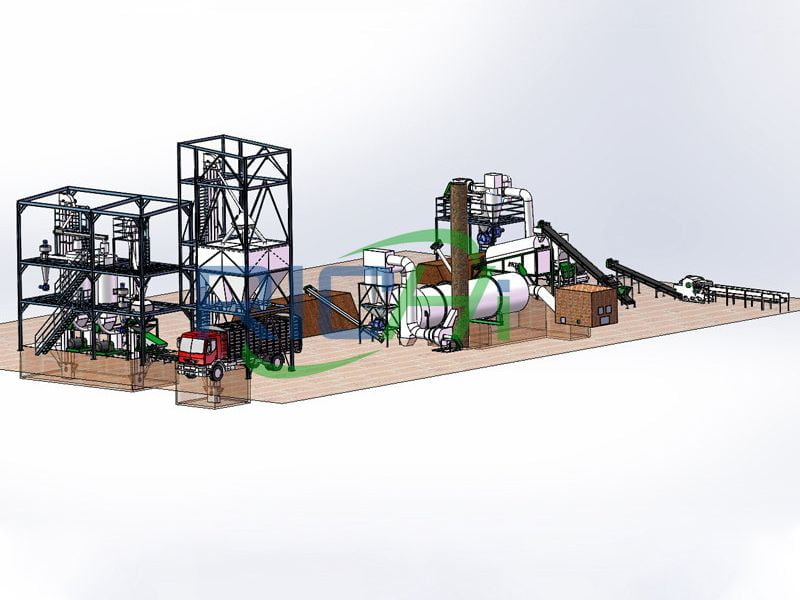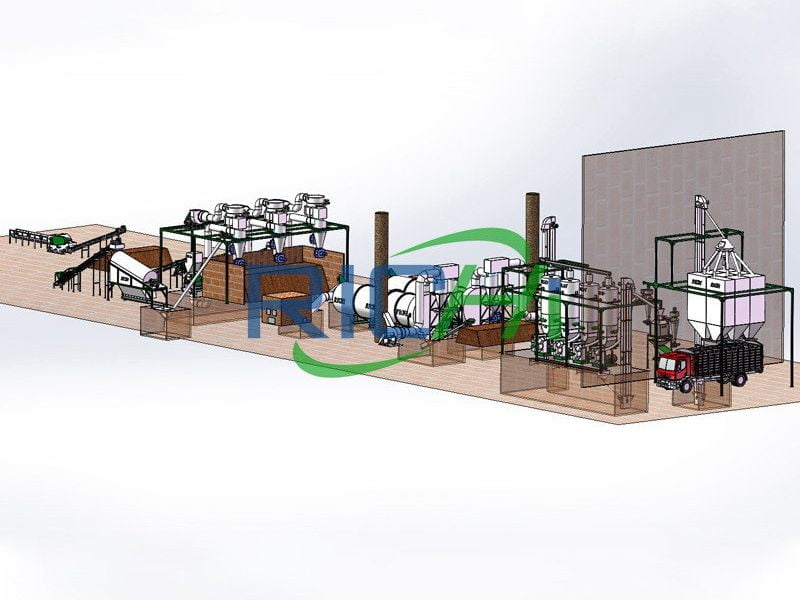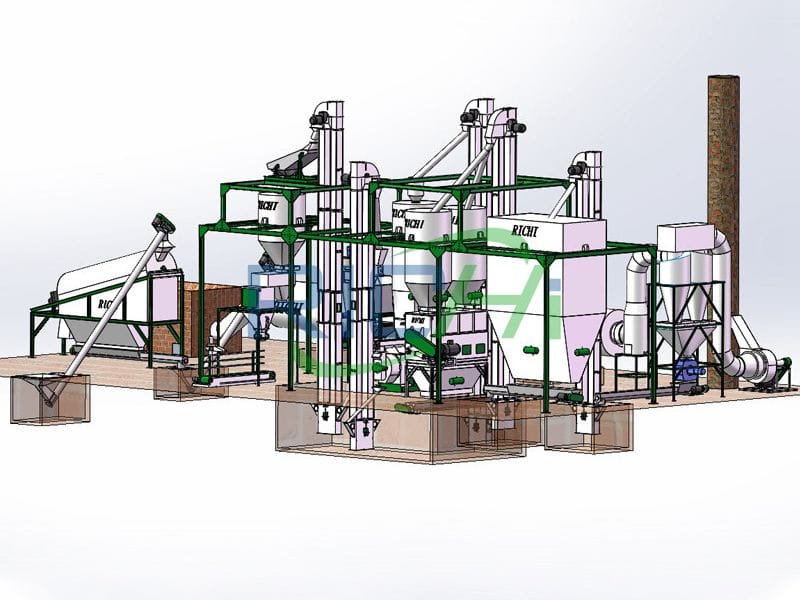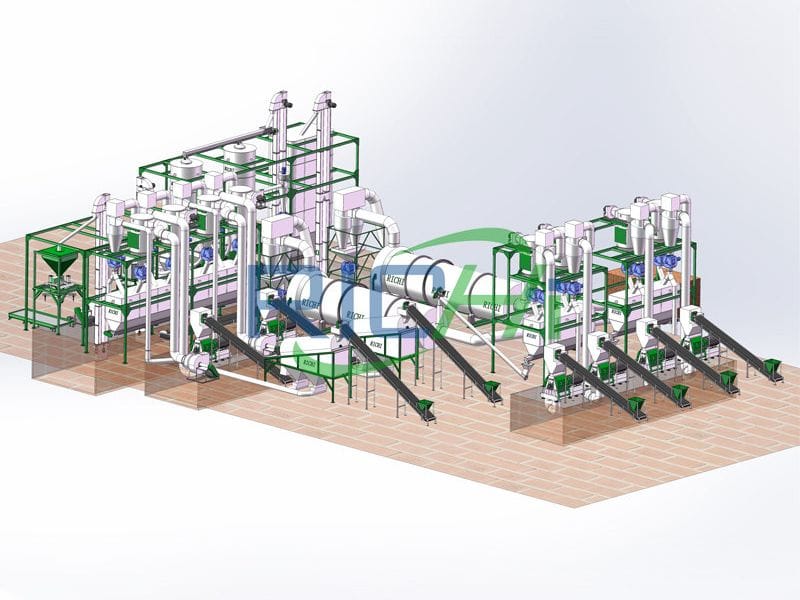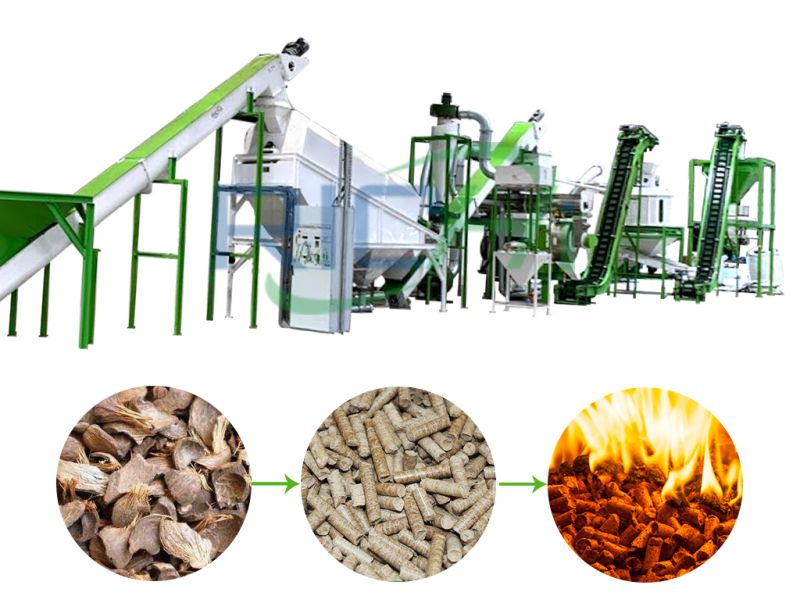 Palm Waste pellet plant
Capacity: 0.3-90 T/H

LEAVE YOUR NEEDS
Keeping in touch with us is an effective way to solve all your problems. If you have any needs or questions, please leave your contact information, then RICHI technical consultants will send design, quotation, videos to your mailbox. You can also contact us directly via WhatsApp: +86 13838389622