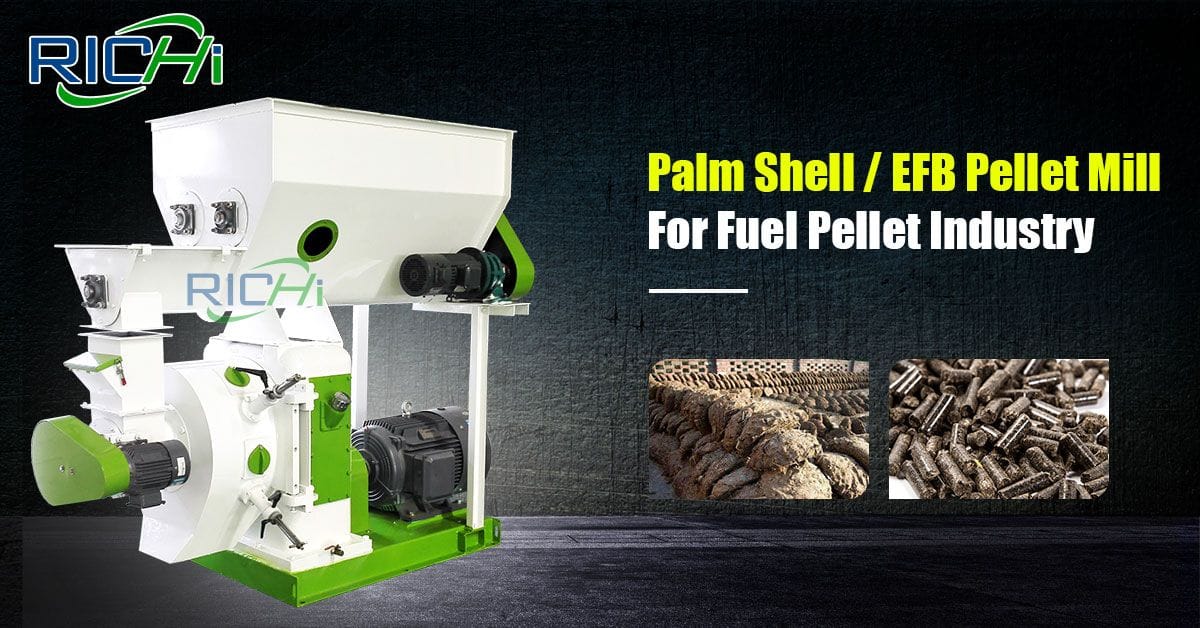 EFB pellet machine
EFB pellet machine is suitable for making EFB pellets, PKS pellets, palm trunk wood pellets, etc. , it's a special ring die pelletizing equipment, also named as EFB pellet extruder or EFB pellet mill.
RICHI empty fruit bunch pelletizer machine can be used in palm oil mills, biomass fuel plants, fertilizer plants, feed mill plant, chemical plants etc.
Capacity:0.3-4.5T/H(single machine)
Cost:10,000-100,000 USD
In addition to processing EFB pellets, this EFB pellet machine can also be applied to pelletize difficult molding materials with low adhesion rate, for example rice husk, sunflower husk, peanut shell and stem, bark and other biomass waste.
Since it requires less investment and yield quicker result and that no risk, RICHI MZLH series EFB pellet mill is an ideal pellet forming equipment for biofuel production.
What's EFB pellets?
EFB pellets are made from raw materials – Empty Fruit Bunch.
EFB stands for Empty Fruit Bunch, it is available throughout the year and it is regarded as one of sustainable source of biomass. It is a residual product of the palm oil mill industry when fruits is removed from fresh fruit bunch during bunch threshing process.
EFB has been converted into various kind of useful products, fuel, livestock feed, ferrtilizer…Currently, biomass energy is the largest conversion target of palm waste.
01
Benefits of EFB Pellets
High Energy Efficiency
Low Moisture
High Calorific Values
Minimal Smoke And Fume Emissions
Broad Application
Suitable For Most Boiler Grating Systems
Easy Handling And Storage
02
Uses of EFB pellets
Pellet can be used as an alternative fuel for biomass-based combined heat and power plants to produce heat and power, either for industrial use or grid connection and others in:
Co-firing in coal-based power plant/ industrial boiler
Furnace & foundries
Brick kilns
Residential & commercial heating
Application of EFB pellet machine
The palm fiber pellet machine can be used by individuals or factories, and is mainly used as biomass pellet raw material for large-scale biomass power plants and centralized steam boilers.
For individuals, they can produce palm fiber pellets for house use, like house heating, cooking and so on.
For factory, they produce pellets mainly for sale. The factory can sell the palm fiber pellets to anyone who needs the biomass energy, like the power station, central heating, etc.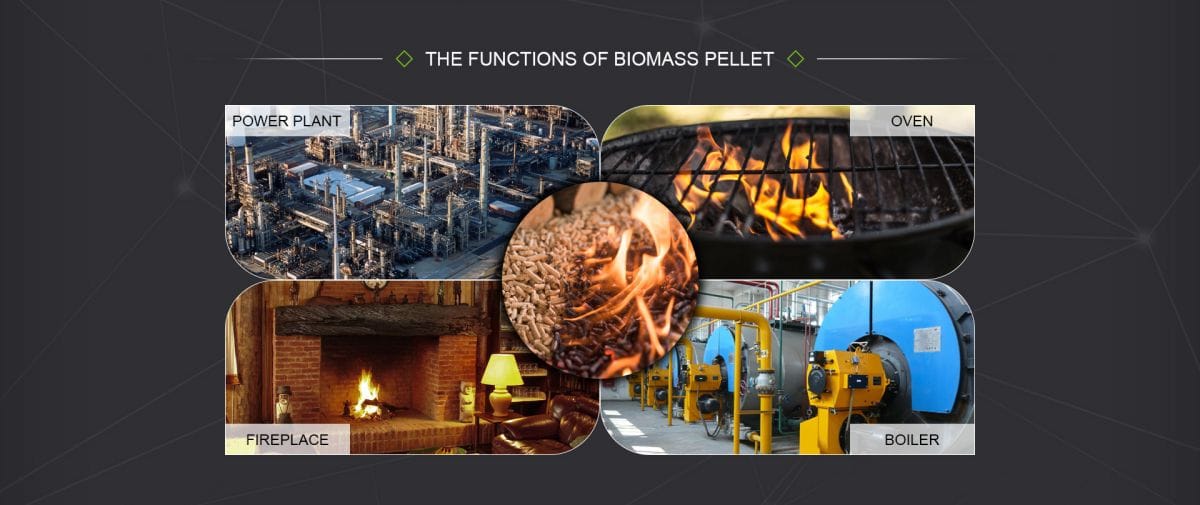 Features Of EFB pellet machine
Decades of pelleting experience and detailed know-how of the pelleting process have resulted in a range of well-proven ring die EFB pellet mills. We offer gear-driven pellet mill with horizontal types, to work with different biomass palm waste and suit your production demands.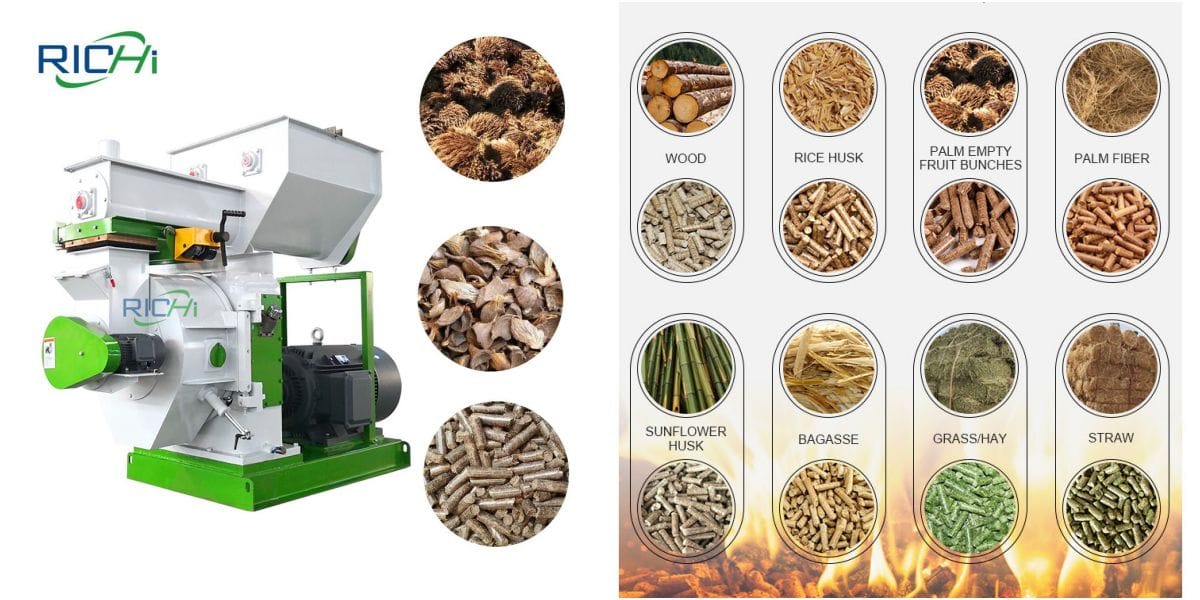 The EFB pellet machine is made from ductile iron, making the EFB biomass pellet mill more durable.
Designed with timing feeder, making the feed speed controllable. Largely reduce blocking problem.
Driven by high precision gears.
Utilize aerodynamics technology to keep the temperature of the machine chamber around 90°C while pelletizing, making it possible to run continuously.
This ring die pellet mill is designed with another force feeder which can help increase the feed spread area and highly improve the pellet production capacity.
Improved U type screw conveyor ensures continuous feeding without blockage.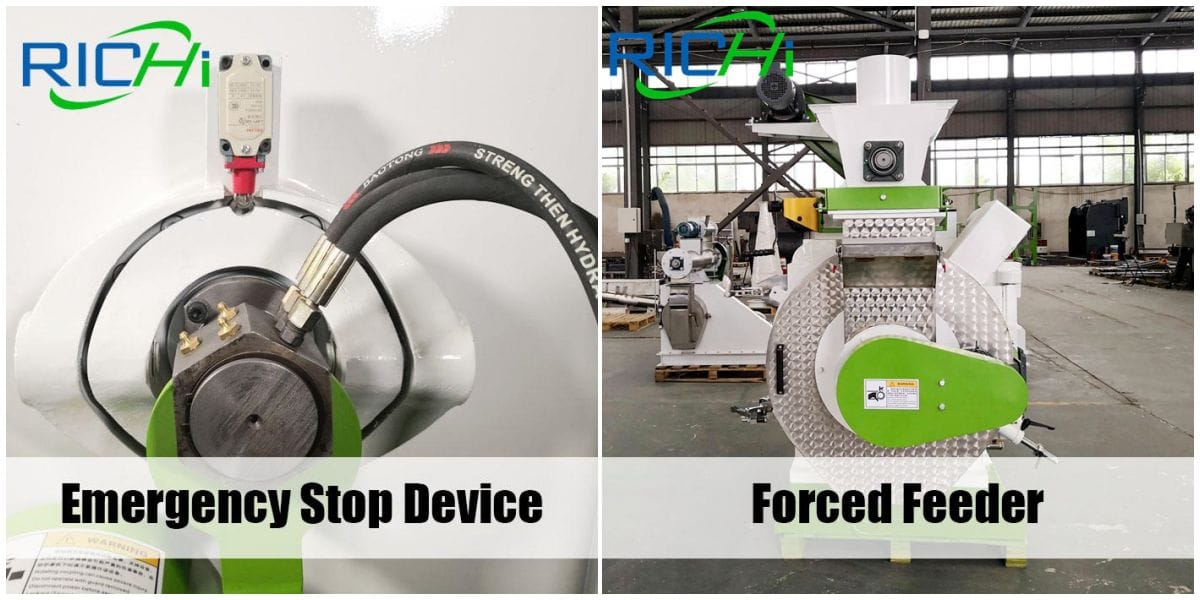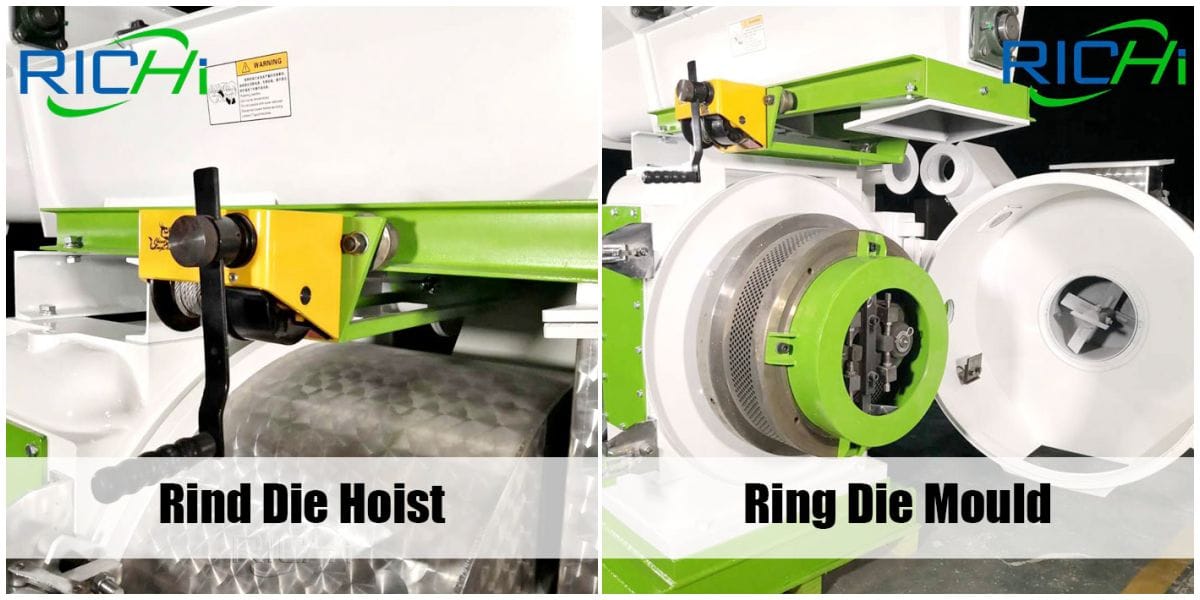 High hardness and tenacity of EFB requires high-power pellet machines. Ring die pellet machine is usually the best choice. These series of EFB pellet making machines adopt roller turned structure, they are good at processing palm waste and other biomass waste materials.
Technical parameters of EFB pellet machine
| Model | Main Power(kw) | Anti-caking Feeder(kw) | Capacity | Final Pellet(mm) |
| --- | --- | --- | --- | --- |
| MZLH320 | 37 | 1.5 | 300-400 kg/h | 2-12 |
| MZLH350 | 55 | 1.5 | 500-700 kg/h | 2-12 |
| MZLH420 | 90 | 1.5 | 1-1.2 t/h | 2-12 |
| MZLH520 | 132 | 2.2 | 2-2.5 t/h | 2-12 |
| MZLH768 | 250 | 3 | 2.5-4 t/h | 2-12 |
| MZLH858 | 280 | 3 | 3-5 t/h | 2-12 |
EFB pellet machine projects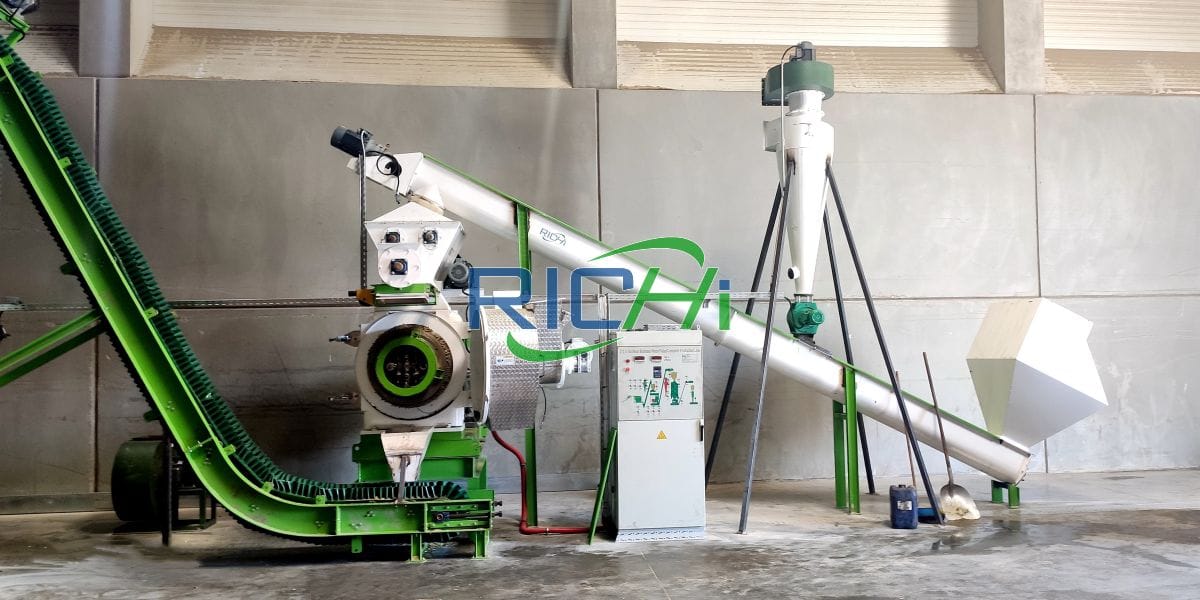 EFB pellet machine In Indonesia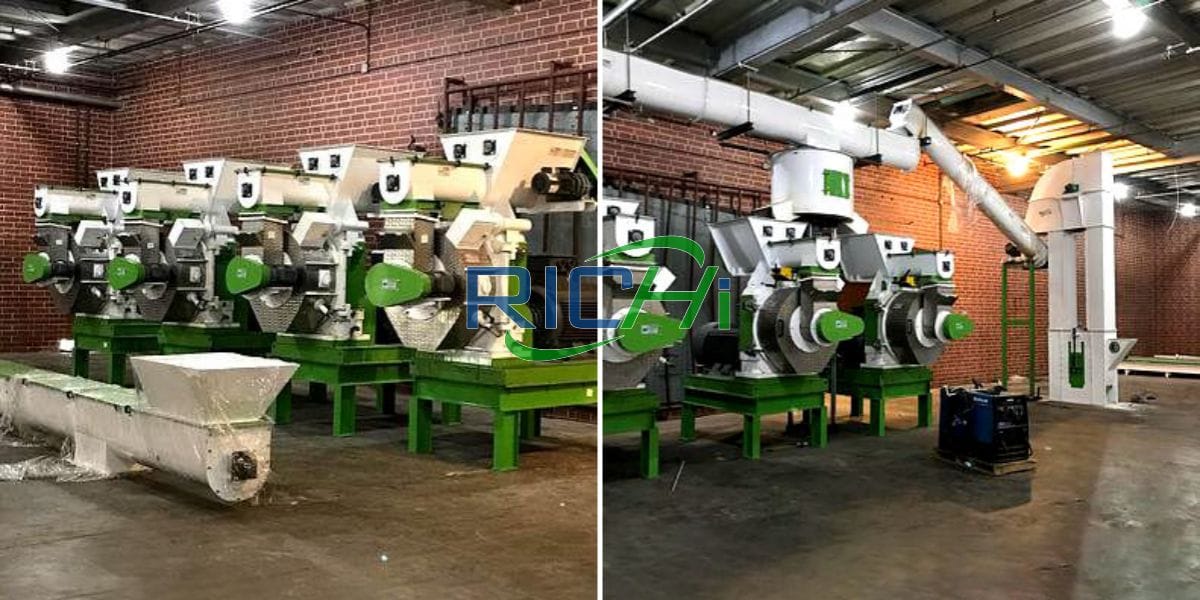 EFB pellet machine In Malaysia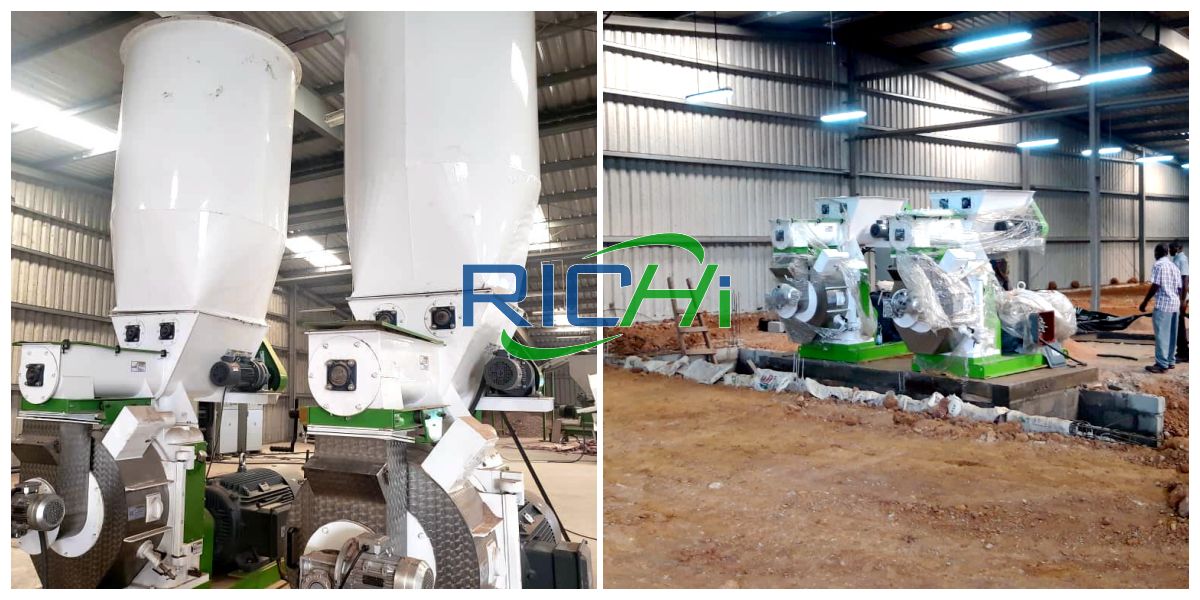 EFB pellet machine In Thailand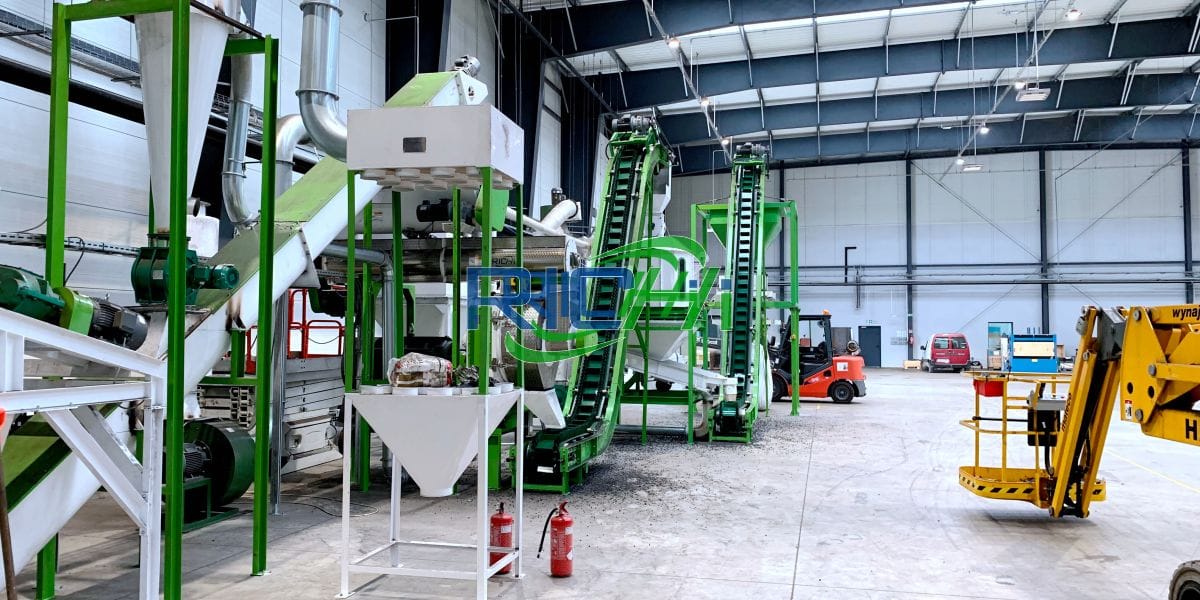 EFB pellet machine In Colombia
Product requirements from EFB pellet machine
EFB is featured of high content of oil and water, high hardness and strong tenacity. These features make palm EFB a great material for pelletizing, but also make it more difficult to pelletize. Specialized EFB pellet machine is needed to produce pellets from palm fiber or palm silk.
The tricks of making high quality EFB pellets is at the material preparation side. Appropriate material preparation with suitable EFB pellet making machine, there will be no problem in pelleting EFB.
Specification of EFB Pellets:
Length: < 30mm
Diameter: 6, 8 & 10mm
Heat Energy = 4000 kcal/kg
Carbon Content = 13%
Ash Content = 5%
Moisture < 12%
Volatile Material = 75%

Working principle of EFB pellet machine
Ring die palm pellet machines are considered the most suitable pellet mills for converting waste biomass into fuel pellets on a commercial production scale. They are well-designed and in compact constructions.
The working principle of palm fiber pellet mill is the same with other pellet mills. That is the palm fiber pellet making machine uses high pressure and high temperature to process the palm fiber with proper size and moisture into palm fiber pellets.
When you feed EFB into the EFB pellet mill, it is pressed by the friction between pellet mill roller and die. The lignin in the EFB will become soften and glutinous under high temperature. When they come out from the holes on pellet machine dies, the EFB materials have been pressed together and become high-density pellets.
RICHI EFB Pellet Machine is the one that give you good quality pellets and high efficiency with minimal maintenance and downtime.
If you want to produce large production of EFB pellets, we strongly recommend you building a complete and automated EFB Palm fiber pellet production line. RICHI can offer you customized EFB pellet plant and the most suitable equipment.
Complete EFB pellet machine system construction
Complete EFB pellet machine system means a whole set EFB pellet plant. If you want to engage in EFB pellets production, to build a complete and automated EFB biomass pellet production line is necessary.
We further process the EFB fibers through series of processes such as crushing, drying, cooling and packing to form a quality pellet and in doing so offer a fuel pellet with high Calorific Value. Another significant advantage is in low smoke and fumes emissions during combustion.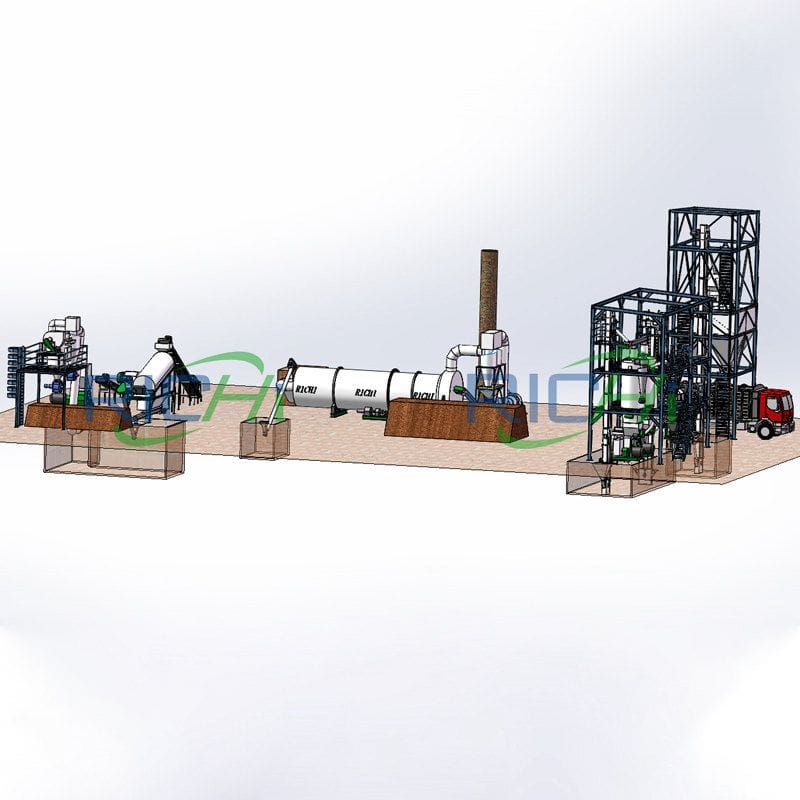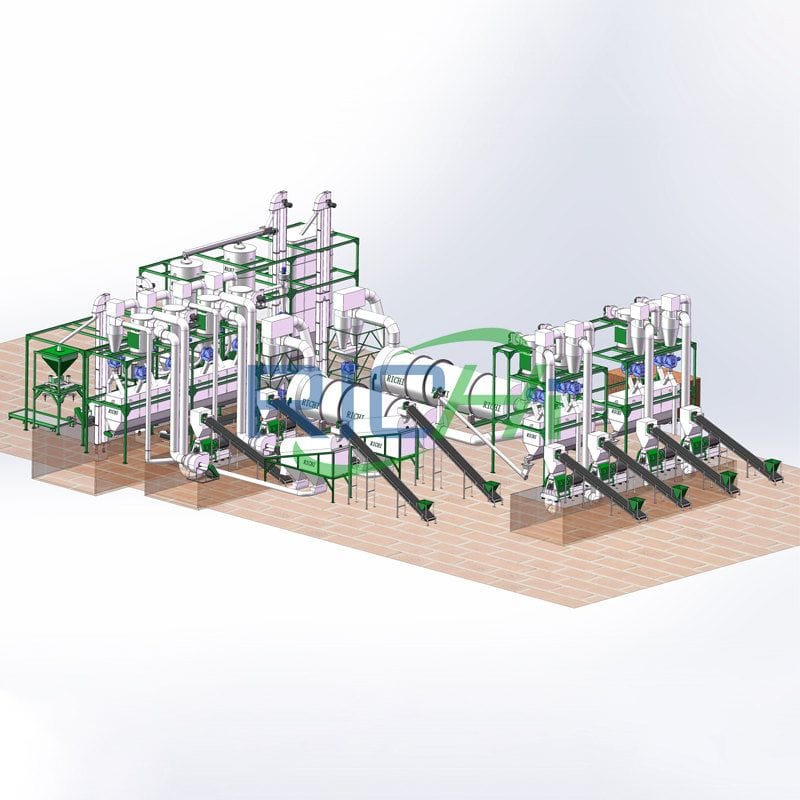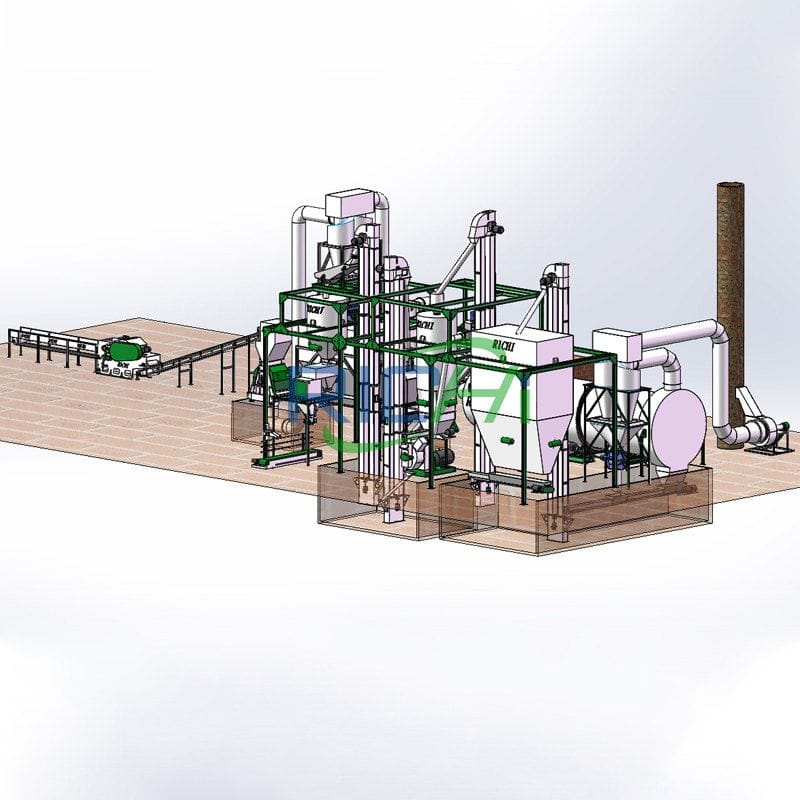 EFB pellet mill plant are custom made to your requirements and are available by request. Please share your fuel needs with us so that we may tailor your EFB pellet machine plant to your exact specification.
EFB Pellet Production process design:
Palm waste biomass fuel is a kind of biomass fuel made from palm waste by crushing, pressing, drying, pelleting and other technical sections.
First, raw fiber is to be shredded in a palm oil factory, and they will be put in a grinding machine to produce optimal size or length of the material.
Input the biomass dryer for drying. The crushed EFB will have to be dried out so that the moisture content will be kept at a minimum, and this is important because pellets should be consistently dry throughout its full usage.
The EFB powder that contains proper moisture will be fed into the EFB pellet machine and pressed into solid EFB pellets with high density.
Deliver to the cooler for cooling (The pellets just come out from the EFB pellet mill are hot, so they must be cooled first. ).
Transport to the packaging workshop. (Then they can be packed in small or large bags as needed.)
In our solution, raw EFB is crushed, cleaned, dried and pelletized before being bagged. Using RICHI technology, you can ensure that your EFB pellets are mostly-free of Sodium (Na), Potassium (K) and Chlorine (Cl) and the moisture content level kept at 8-10%.
Supporting Equipment for EFB pellet machine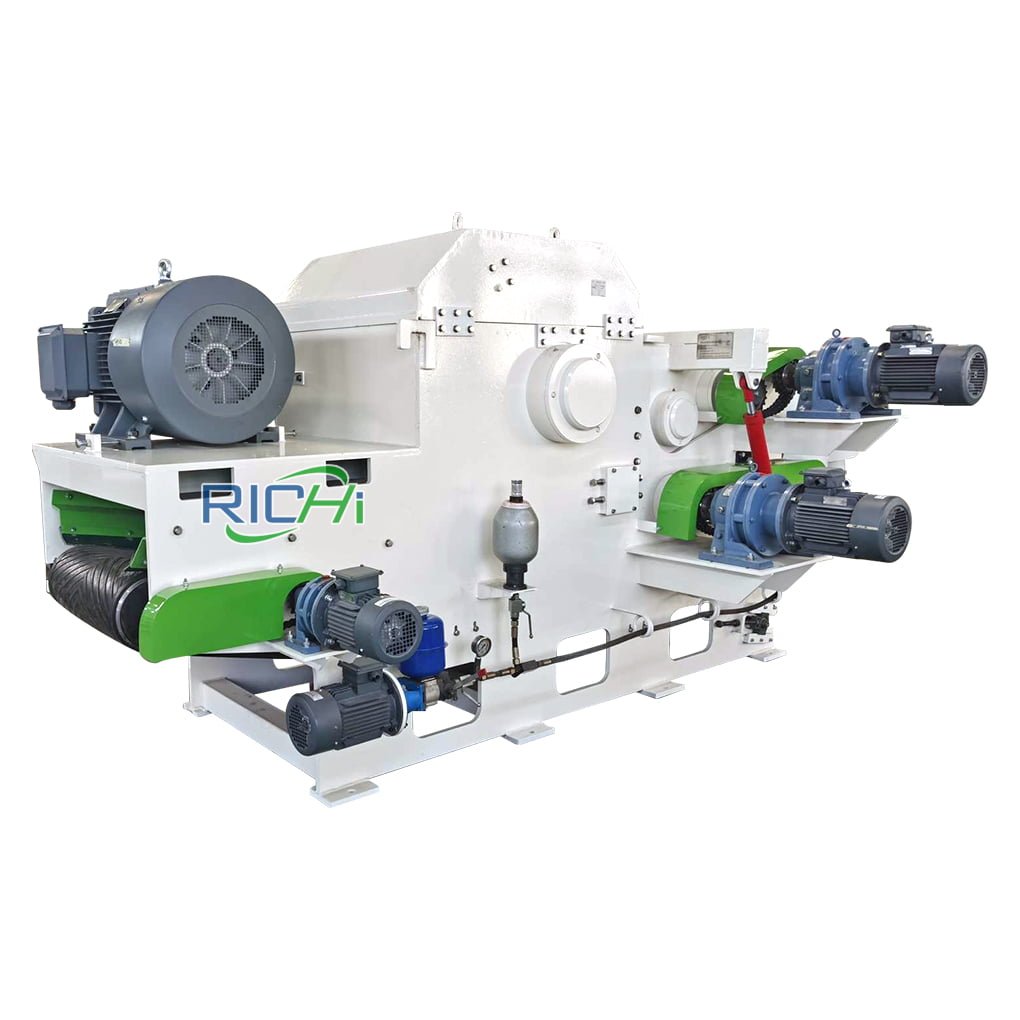 chipper machine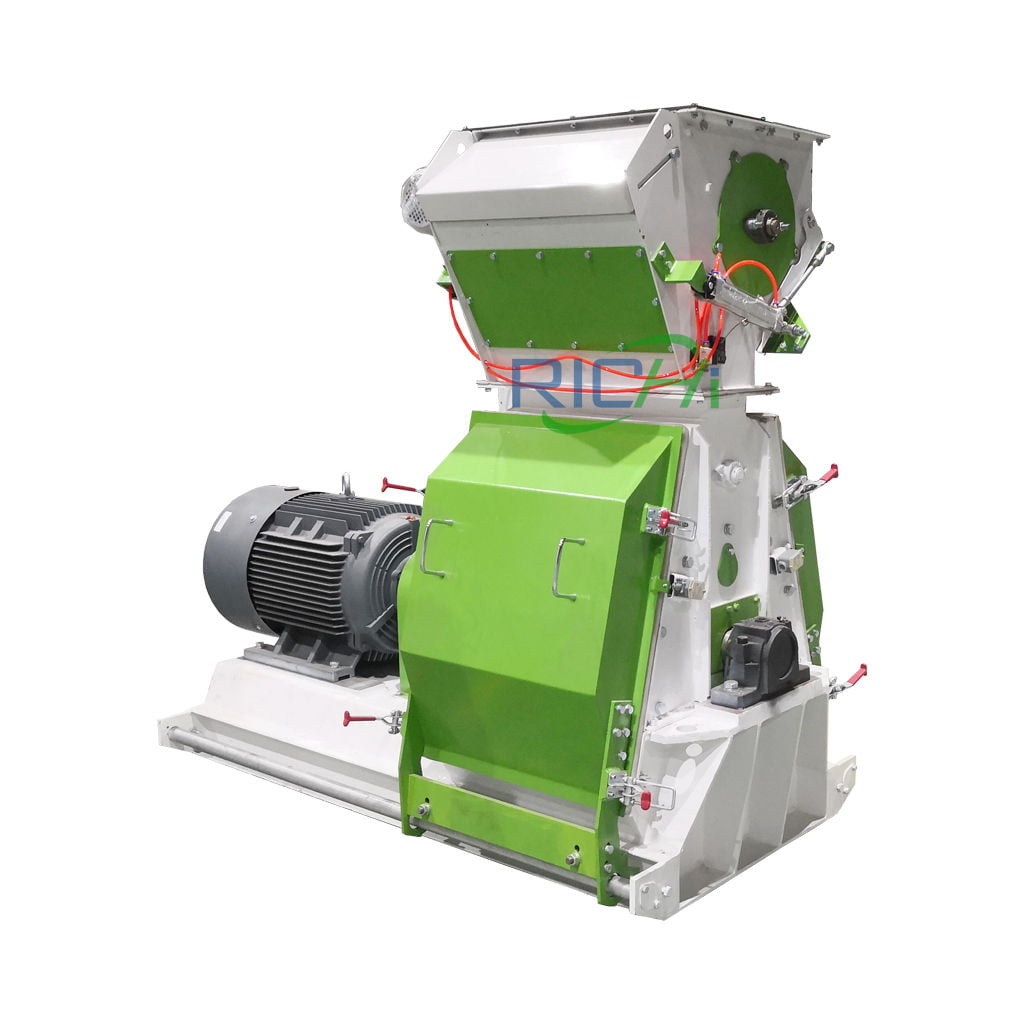 hammer mill Machine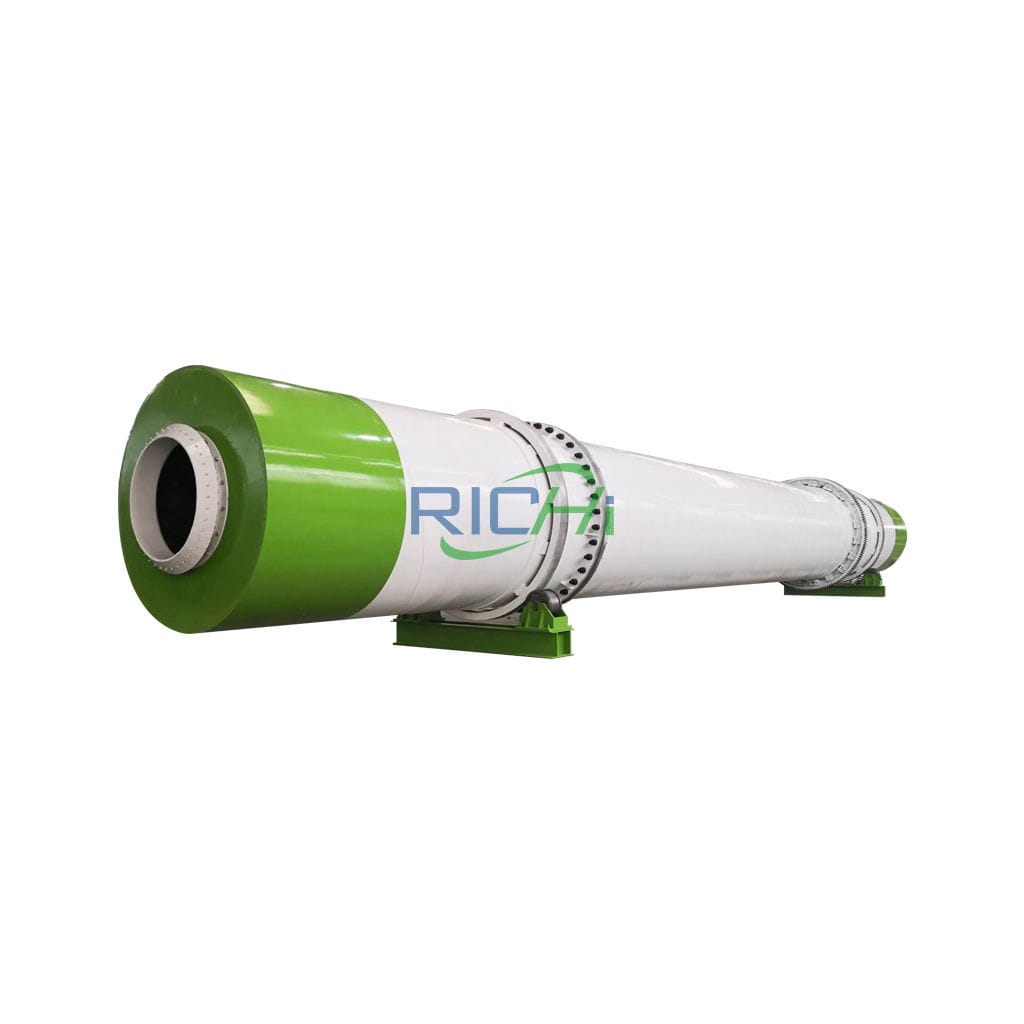 biomass Dryer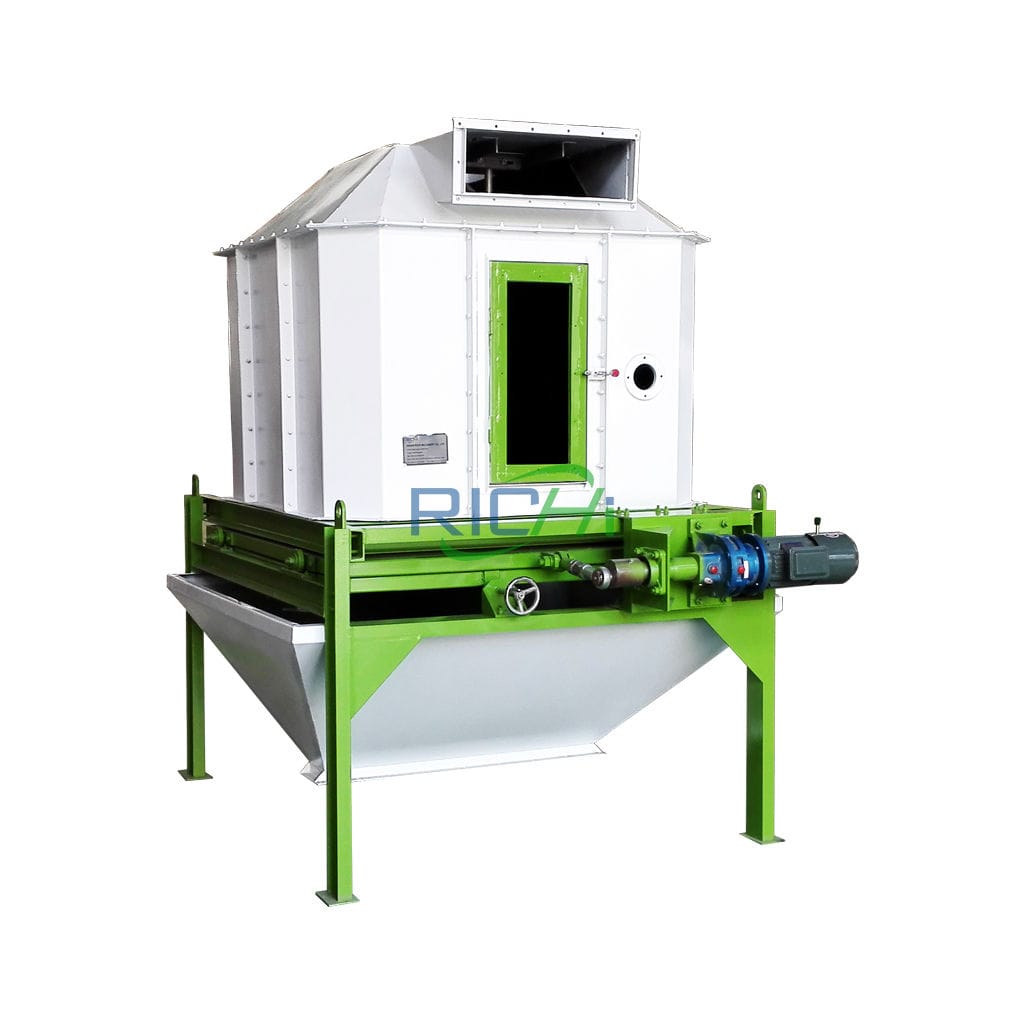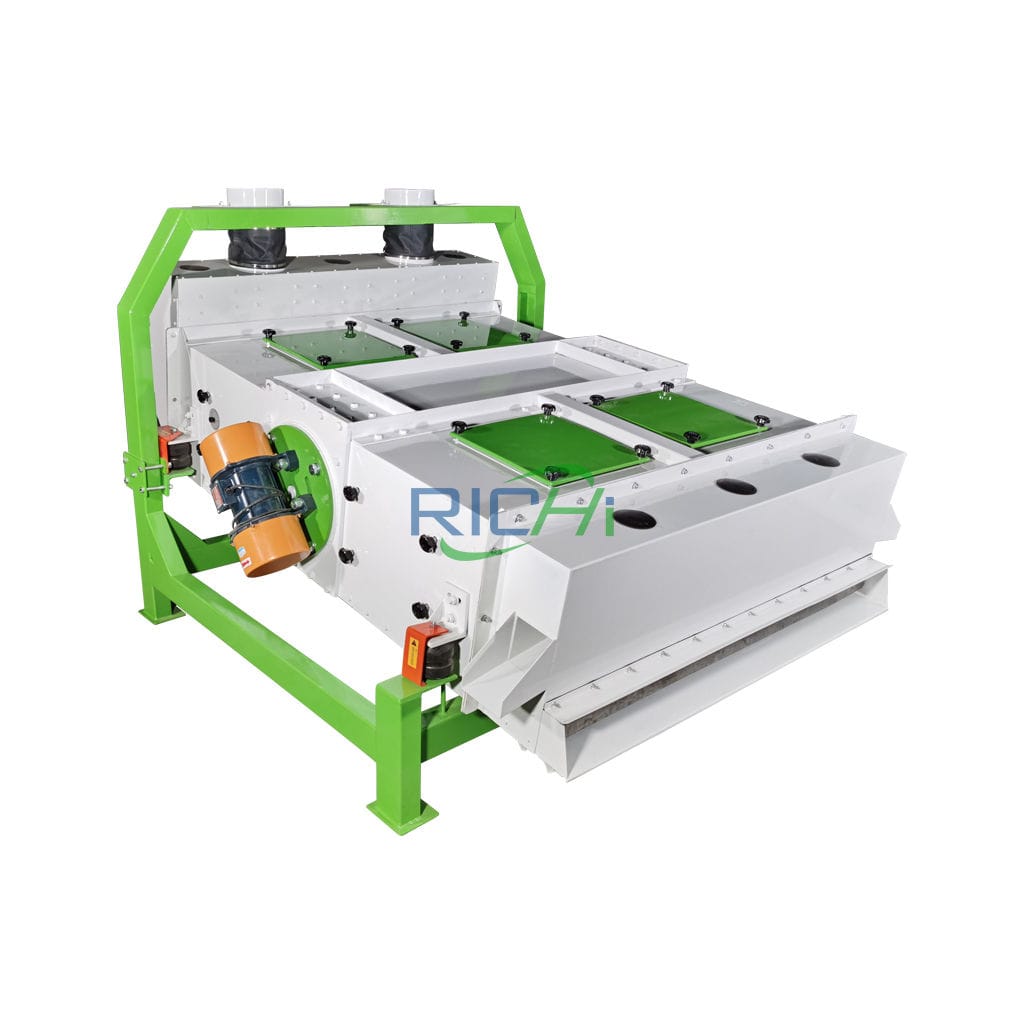 Screening Machine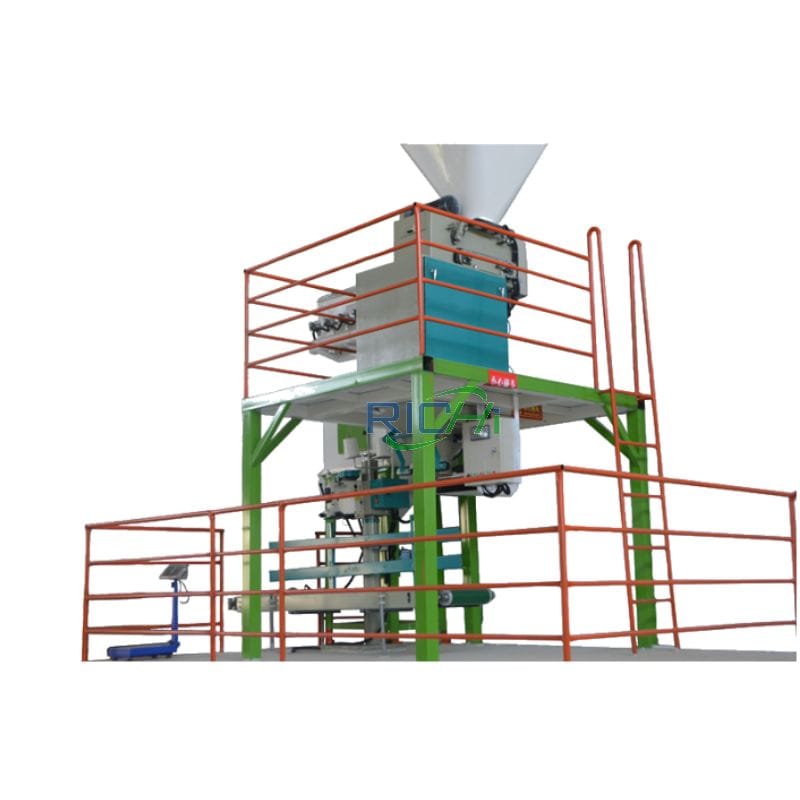 Automatic Bagging Machine
faqs of EFB pellet machine
Palm Shell, Palm Fiber And Palm Fruit Bunch, Which Is Better For Fuel Production?
According to the calorific value of combustion, fuel quality and combustion efficiency, the ranking of palm waste fuel from best to worst is palm shell, palm fiber and palm fruit bunch.

At present, in addition to burning in the self-supply boilers of palm oil factories, more palm shells have been collected and preserved as high-quality fuel for other industries to sell. Palm fiber and palm fruit bunches are obtained in large quantities and have good combustion characteristics and calorific value.


Why Choose Palm Fiber for Making Fuel Pellets?
① Need No Additives While Pelleting: Oil palm fiber is extracted from empty fruit bunches. It contains about 13-25% of lignin and 43-65% of cellulose. And the content of lignin is a key component for making pellets without adding additives.

② Low Moisture: The moisture content of EFB pellets is around 8-12% while the moisture of shredded EFB fiber is generally around 60%. It means that you can save your costs on transportation.

③ High Heating Energy and Thoroughly Combustion: EFB pellets have a high calorific value of 4300-4800kWhr/ton, which equals to sub-bituminous coal and high density wood pellets. Palm fiber is proved to be very effective when burning. EFB pellets can be burned thoroughly and there is only 5% of substance left over as ash content.

④ Generate Little smoke During Combustion: EFB pellets generate little smoke while burning which means very minimum particulate being discharge to the air.

⑤ Abundant Material Resources: It is very popular and common in Southeast Asia, especially Malaysia. You can easily get sufficient materials from palm oil plants with very low price.

Please feel free to contact us if you are interested in knowing more about EFB Pellet Processing Machines and Palm Fiber Pellet Making Process. (Find RICHI on YouTube)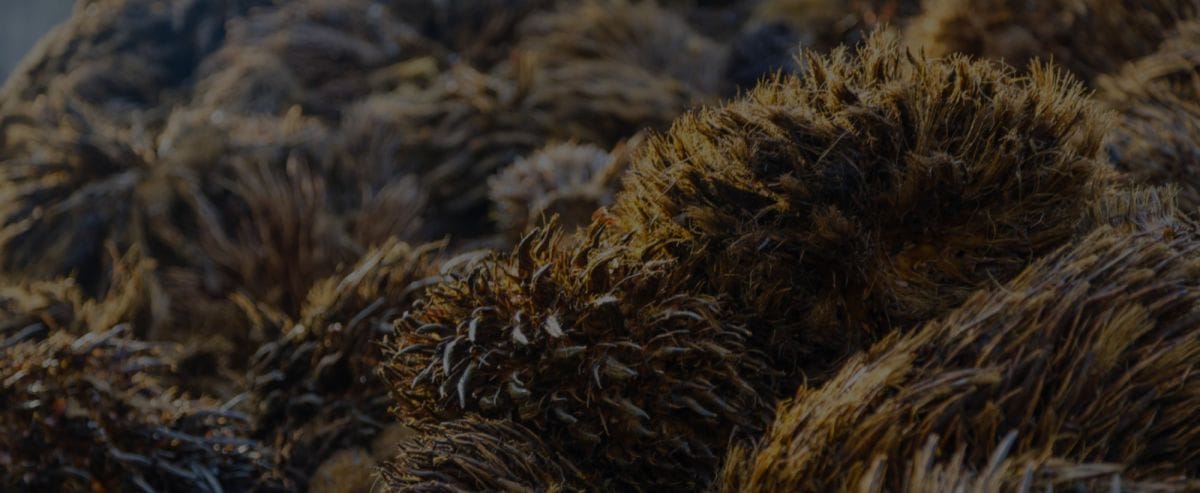 How Many Types Of EFB Pellet Machines Do You Supply?
RICHI supply MZLH series of EFB pellet making machine which including various custom designs. There are 6 standard models in total.
What Kinds Of Service Do You Provide For EFB Pellet Machine & EFB Pellet Plant?
RICHI have special pre-sale service and also provide timely after-sale service. We are committed to helping our customers in the best way. With sufficient spare parts and maintenance tools, our enthusiastic and professional technical teams are available to give you professional support and service.

(1) Pre-sale Service
● You will get professional advice from experienced consultants.
● According to your special requirements, we customize your unique EFB pellet machine and other palm waste pelletizing solution and the right balers for sale that most suitable for your exact needs.
● Drawings will be provided according to your special pelleting needs.
 
(2) After-sale Service
● No matter where you are in the world, we resolve your problems quickly and accurately.
● Meetings will be arranged between the customers and project teams.
● We arrange the best solution for your EFB pellet machines.
● We send engineers to your plant for machines commissioning and operation training.
● Machine operation and maintenance support will be always provided.
● We provide 24x7x365 service for all our customers.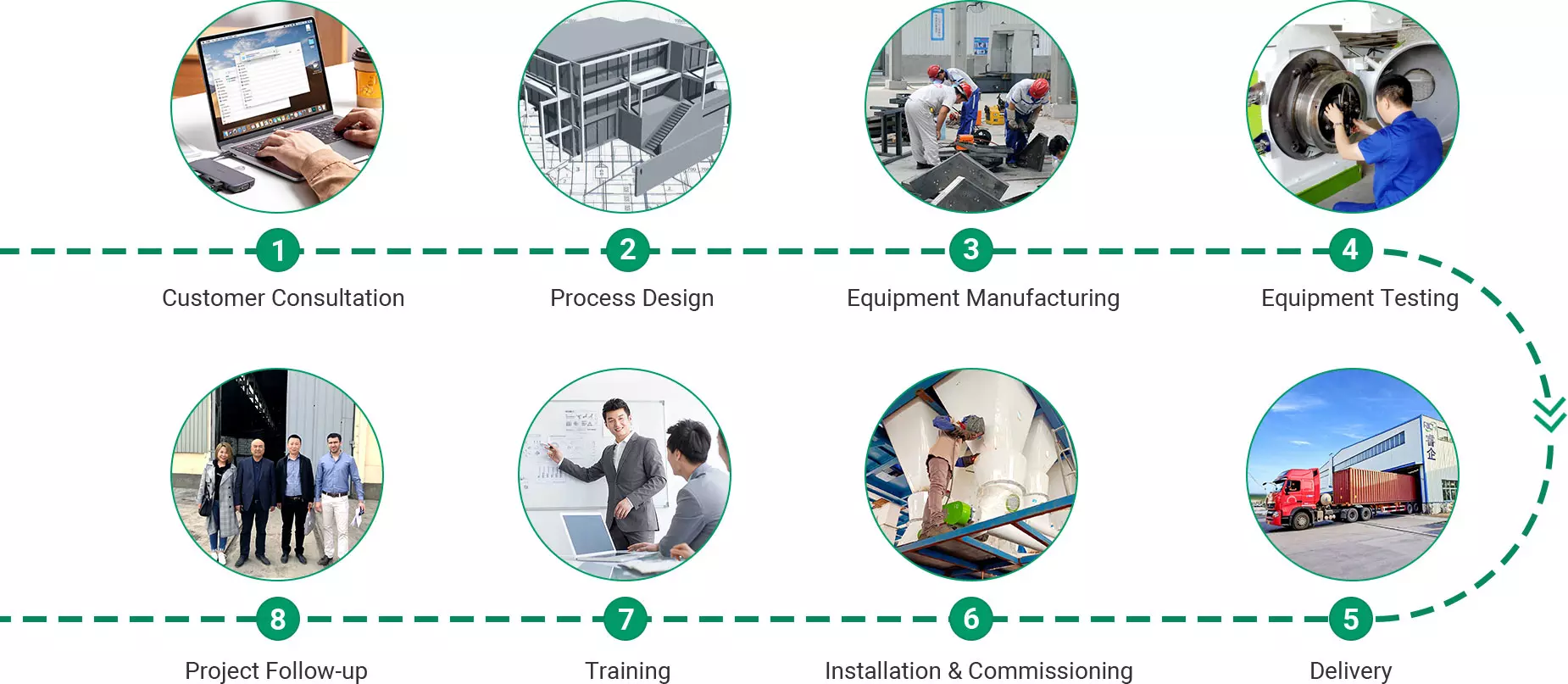 How You Provide The Most Durable EFB Pellet Machines?
RICHI have over 30years of biomass EFB pellet equpment experience and we own very strong R&D capability. We have our professional technical team and strict quality control system. The team consists of experienced engineers who have engaged in hydraulic industry for over 25 years and pelleting industry for over 20 years.
 
With the experienced and latest biomass pelletizing technology, they help to maintain our continuous development. The professional technicians and quality inspectors are all available to assist you with knowledgeable and practical solutions so that your EFB pellet machines can be well operated productively for many years.
I Want To Visit Your Factory In EFB Pellet Production, What's The Return On Investment (ROI)?
I am not sure how many of the potential investor have data on the profitability of EFB pellet manufacturing. But I believe most do not have complete and accurate data and depends on the fact that they want to go into this business as there is so many enquiries for this product.
 
This business are definitely lucrative as of now if you have this advantages :
(1) Sample supply of raw material
(2) High quality EFB biomass pellet plant
 
If you get the correct combination of raw material , machines and customer, you are simply printing money every second. Conservatively, our EFB pellet plant should have payback within 3-4 years.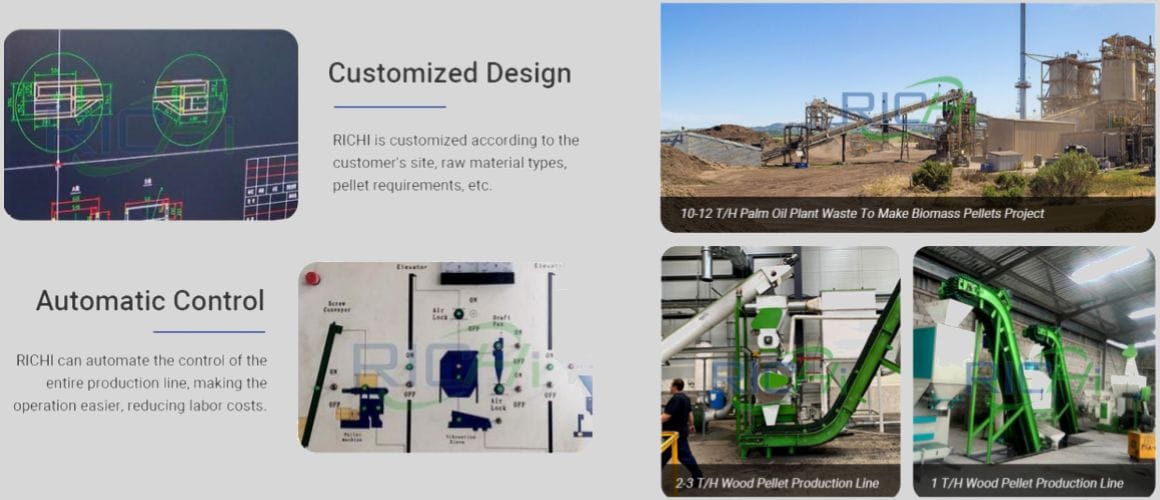 Why Should You Choose RICHI EFB Pellet Machines?
With RICHI EFB pellet maker machines, you no longer have to invest in non-renewable fuel or coal. Many people use raw wood for heating their homes in winter to cut down the cost of using electricity. But wood never burns fully, which will not be a problem because now you can make them into pellets. Pellets can easily combust in the stove, which eliminates the worries of polluted air.
 
As a leading pelleting machine manufacturer, the pellet machines we deliver are highly efficient. Using various innovative technology and quality materials, we manufacture and deliver highly reliable machines and offer a commendable performance. Our machines are also highly durable.
 
With our EFB pellet granulator machine, you can make full use of biomass waste. As reliable pelleting machine suppliers, we have made it possible for you to turn any waste into a valuable energy source.
 
We deliver our biomass palm pellet machines from the factory directly. You will find all components assembled, and this is easier for you to install. Remember to follow precautionary steps while installing the machine.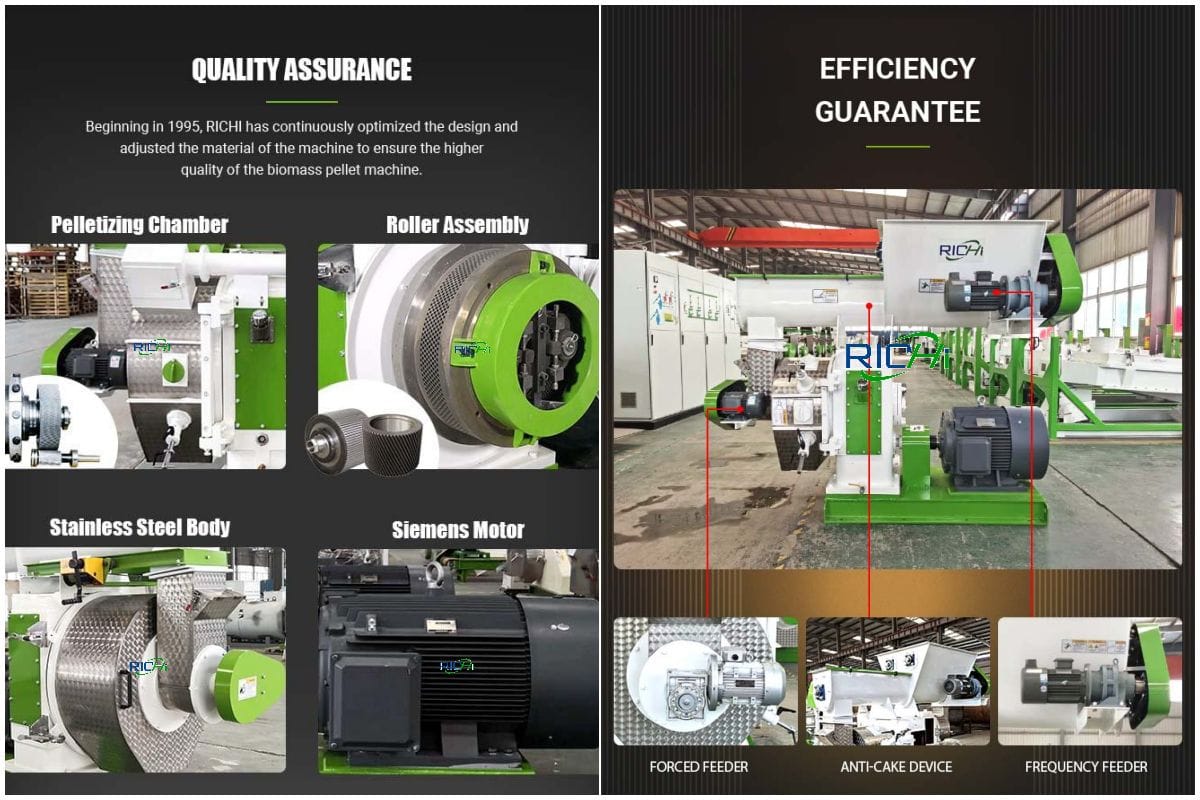 To make premium EFB pellet mill and help our customers make high quality EFB pellets, RICHI spend years researching palm EFB pellet production, considering each feedback from our customers, and finally we find the best way to make palm fiber pellets.
We adjust the main parts of pellet mill to meet EFB pellet making process. And we also adjust the crushing and drying machinery in palm fiber pellet plant. So far, Richi Machinery has many successful projects of wood biomass bamboo rice husk shell EFB pellet plant around the world.
If you want to produce empty fruit bunch pellets, palm kernel shell pellets, etc., feel free to contact Richi Machinery for complete solution and whole set EFB pellet machine, auxiliary equipment price.
LEAVE YOUR NEEDS
Keeping in touch with us is an effective way to solve all your problems. If you have any needs or questions, please leave your contact information, then RICHI technical consultants will send design, quotation, videos to your mailbox. You can also contact us directly via WhatsApp: +86 13838389622