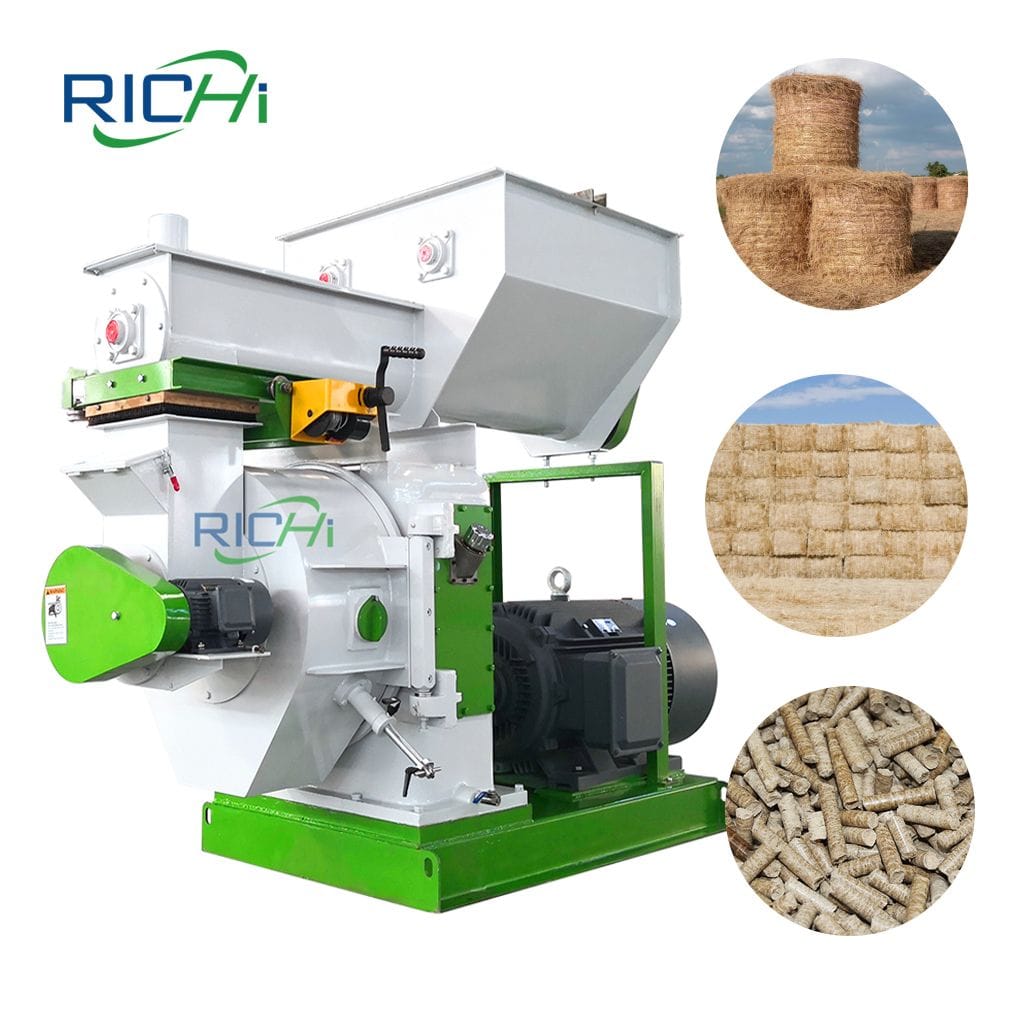 wheat straw pellet machine
Wheat straw pellet machine is a crop pellet equipment that processes wheat straw into fuel or feed. RICHI specially designed a more robust ring die series wheat straw pelletizer for pellets.
RICHI aims to minimize operating costs and maximize quality with the wheat straw pellet mill, which has a long-lasting and more rigid structure, specially designed for straw pelleting.
Capacity: For Fuel Pellets 0.6-10 T/H, For Feed 1-42 T/H, For Fertilizer 1-12 T/H
wheat straw pellet machine Price: 7,000-100,000 USD
Pellet Size: 2-12mm
We are Richi Machinery, our group is specialized in manufacturing and exporting agricultural waste crop wheat straw pellet machine and complete set of straw pellet plants equipment.
Using RICHI equipment, you can greatly increase the productivity of your straw pellet production line and obtain economic benefits from pellet processing.
Why use wheat straw pellet machine?
In order to solve the problem of loose and large volume of wheat straw before processing, which makes it difficult to store and transport the straw, RICHI squeezes the crushed wheat straw during the granulation process, so that the volume of the wheat straw after granulation is compressed, which facilitates transportation and storage and greatly reduces storage costs.
It reduces transportation costs, is not prone to mildew in summer, and is fire-proof and flame-retardant.
It is conducive to strategic reserves of feed and fuel and disaster prevention reserves, and creates favorable conditions for different customers' pellet processing and export businesses.
RICHI
Types of wheat straw pellet machine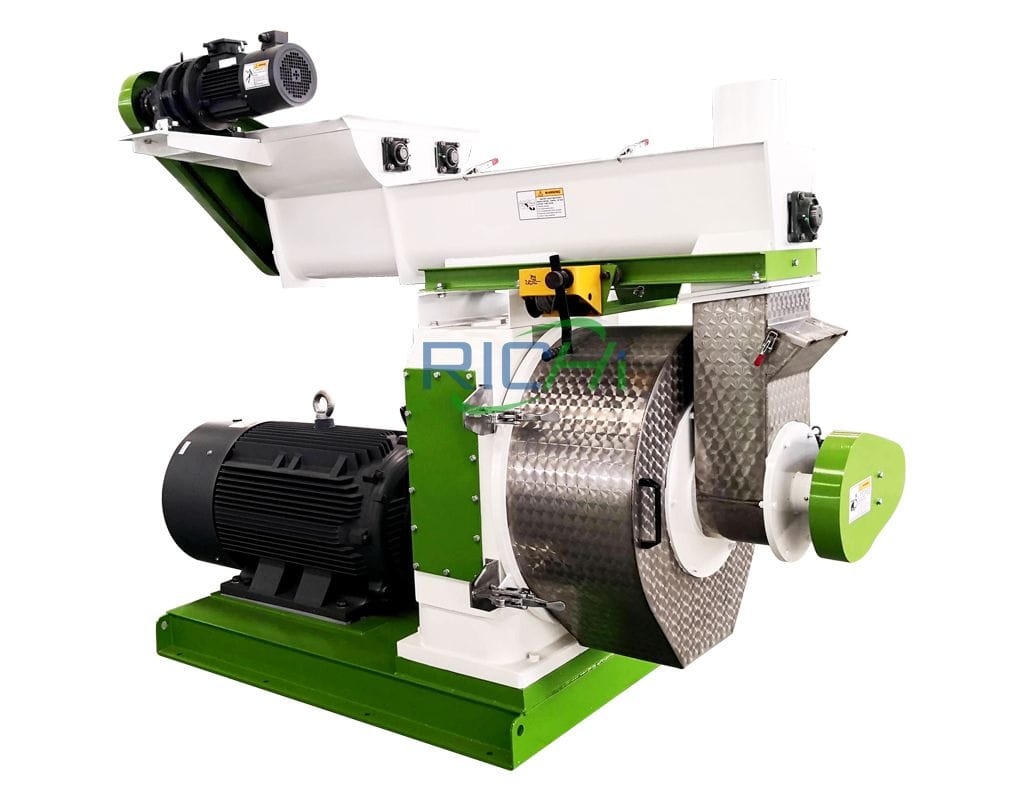 fuel type wheat straw pellet making machine
The wheat straw fuel pellet machine is a pellet fuel making machine that uses various wheat straw, rice husk, bamboo, corn straw, rice straw, branches, wood, wood chips, wood bran, wood powder, sawdust and other agricultural waste as raw materials. The pellets made by this machine can be used in fireplaces, boilers, and biomass power plants.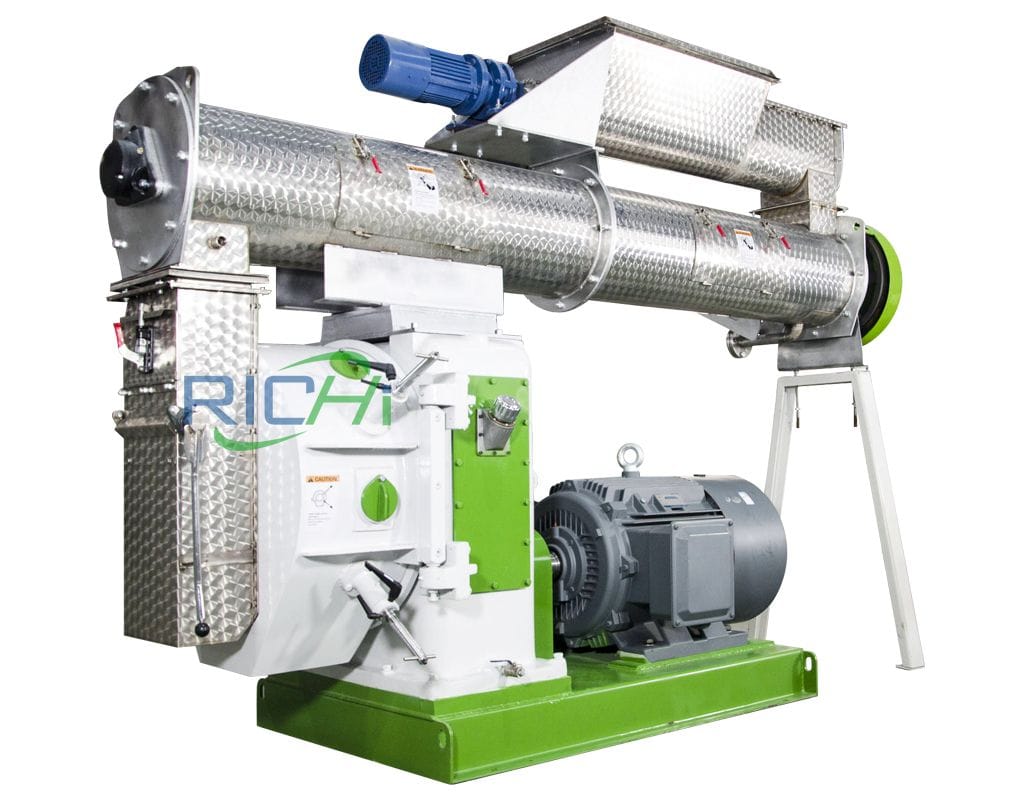 feed type wheat straw pellet making machine
Wheat straw pellet feed is one of the main utilization methods for feeding. The ring die wheat straw pellet mill machine with large output is mainly used to increase the straw feeding rate by 5%. At present, the straw pellet feeding technology is relatively mature and the pellet feed process is complete, and it has been fully commercialized.
Features Of wheat straw pellet machine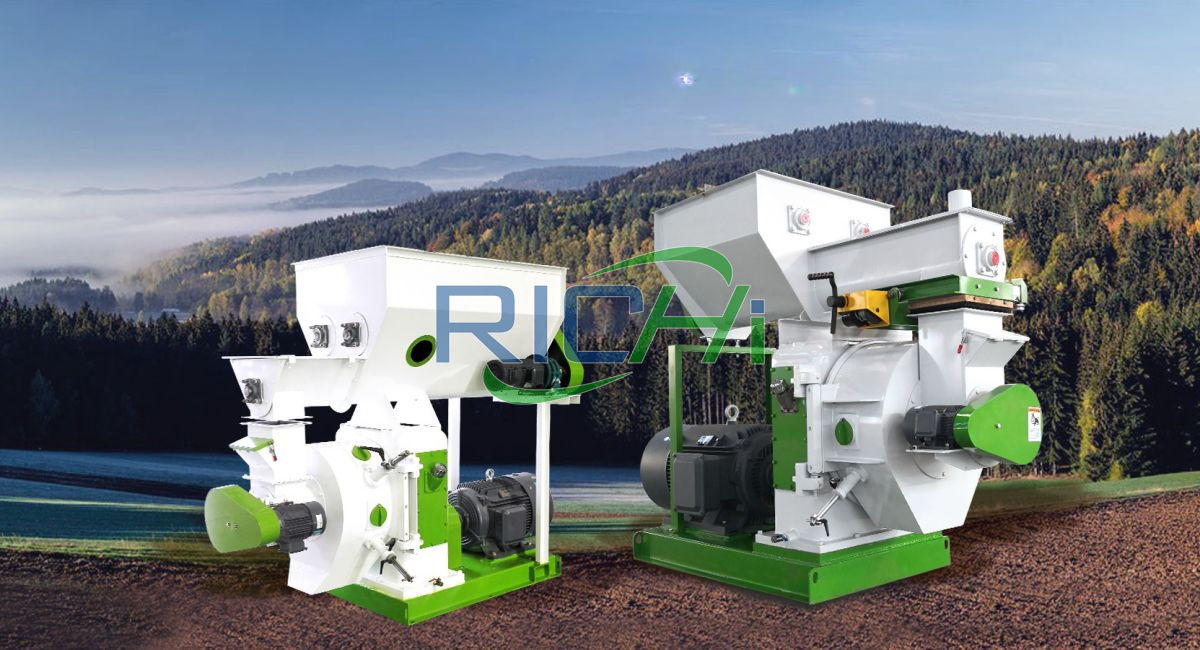 RICHI wheat straw pellets machine has the advantages of high productivity, high molding rate, good quality of molded pellets, and continuous production. It has a more stable working state and better adaptability to materials.
The wheat straw pellets it produces meet the requirements of coal-fired power plants for biomass pellet fuel.
Uniformity requirements can also meet the nutritional requirements of livestock and poultry pellets. The ability to realize industrial automated feeding is the focus of current development.
Its main working parts are the stamping die and the pressing roller. In the forming chamber, the stamping die and the pressing roller are formed by squeezing the raw material into the die hole.
High-precision gear transmission, transmission efficiency is as high as 99%, and production efficiency is higher;
The ring die with fine processing and reasonable design has higher granulation efficiency;
Casting box body and precision machined base ensure smoother operation;
The wheat straw pellet machine door is made of stainless steel;
Unique oil injection device makes lubrication more convenient;
The main bearing adopts SKF bearing;
Nearly perfect structure, high-standard material selection, and ultra-low maintenance costs;
Equipped with safety interlocking device to protect personal safety;
When used for feed pellet processing, single-layer, multi-layer, dual-axis differential or combined conditioning equipment can be selected according to actual needs.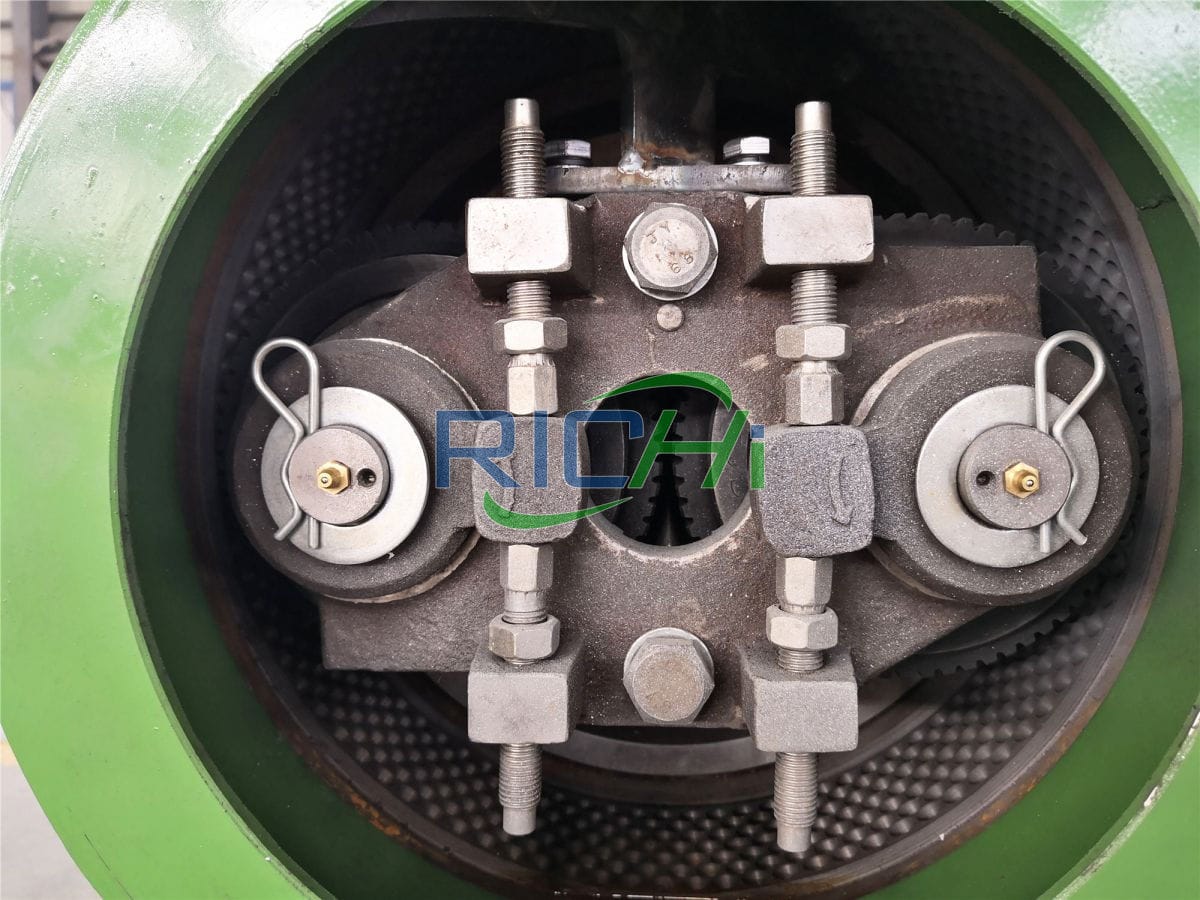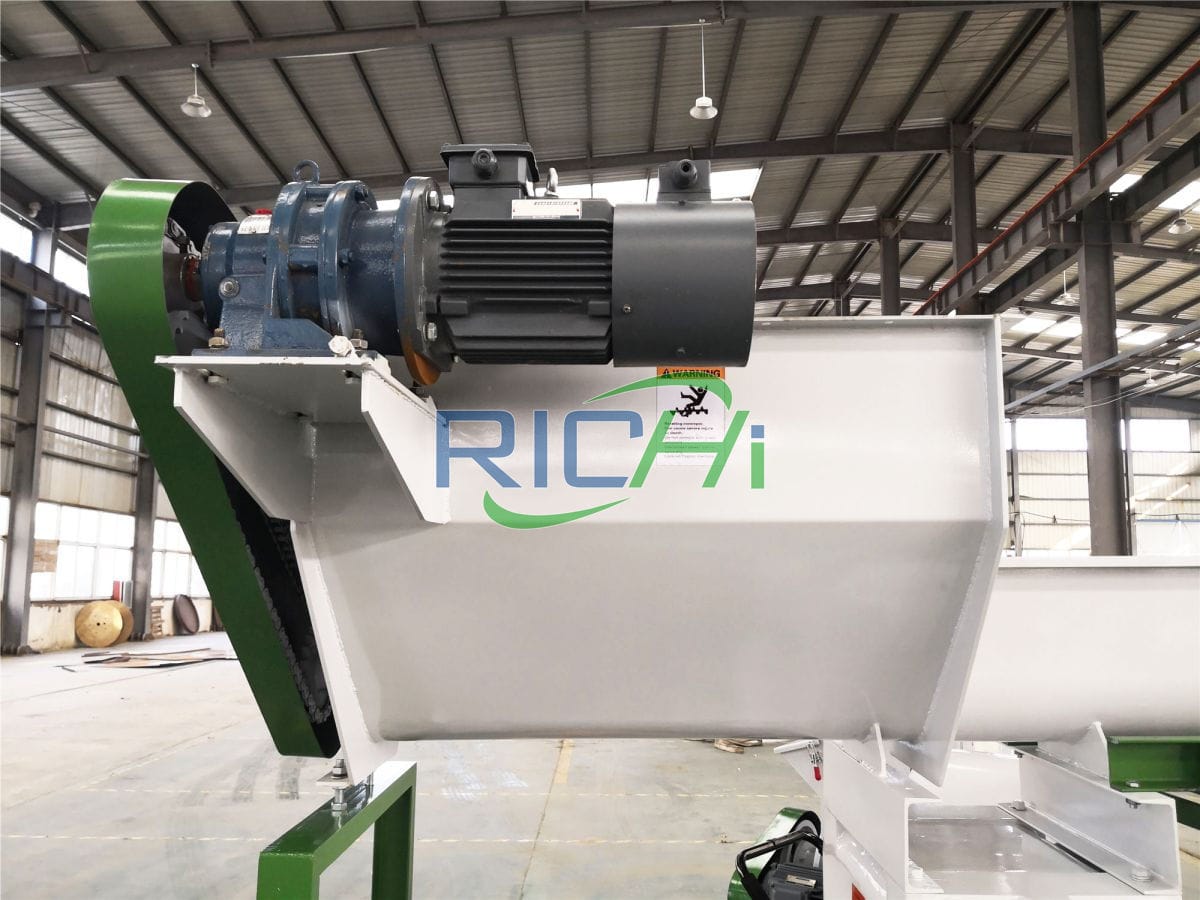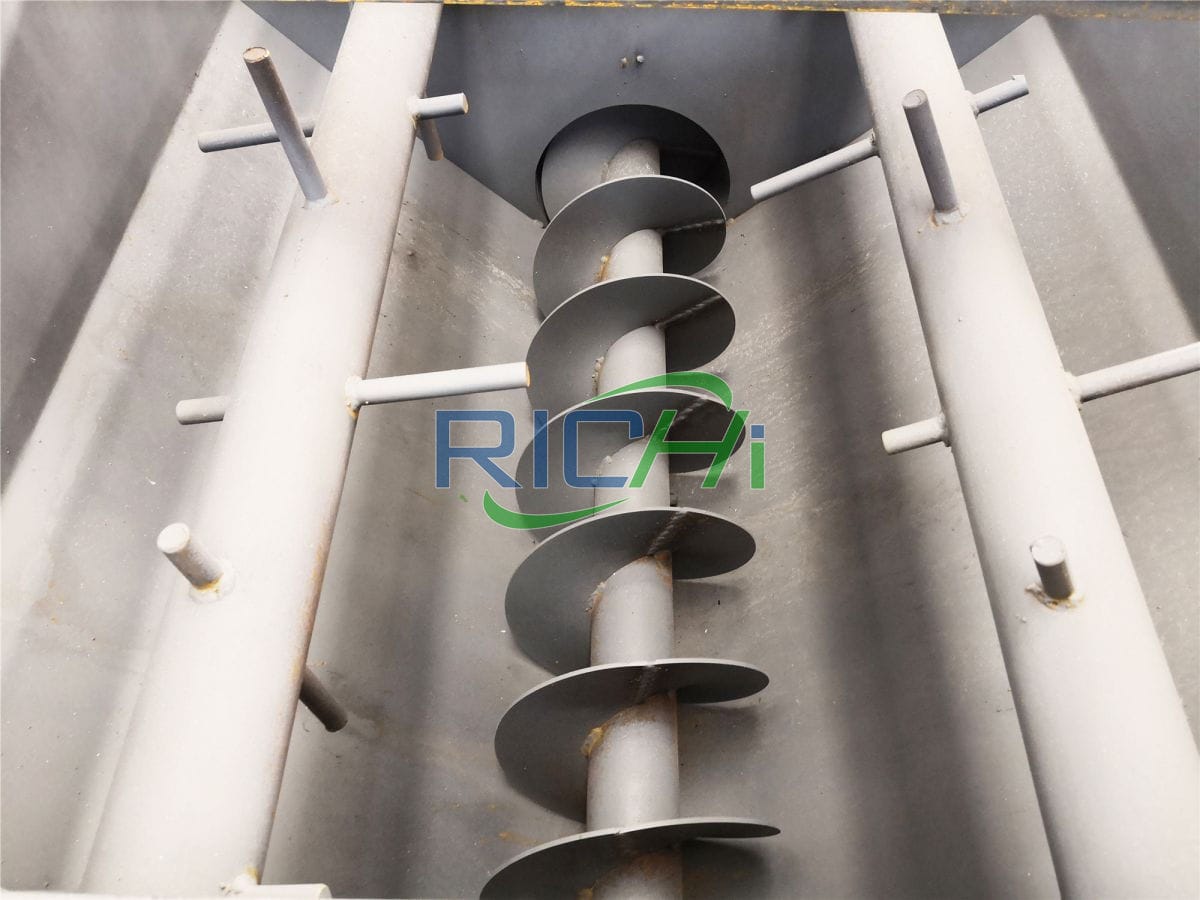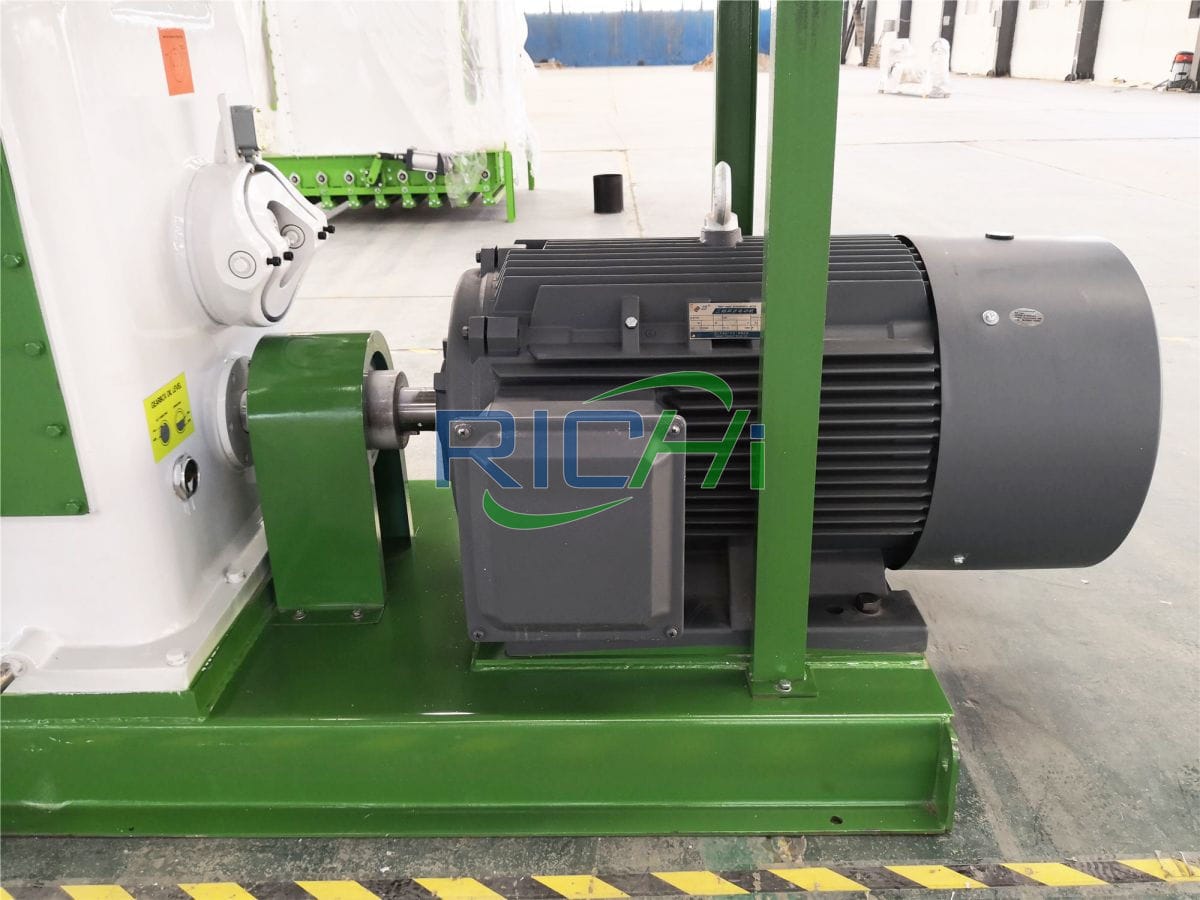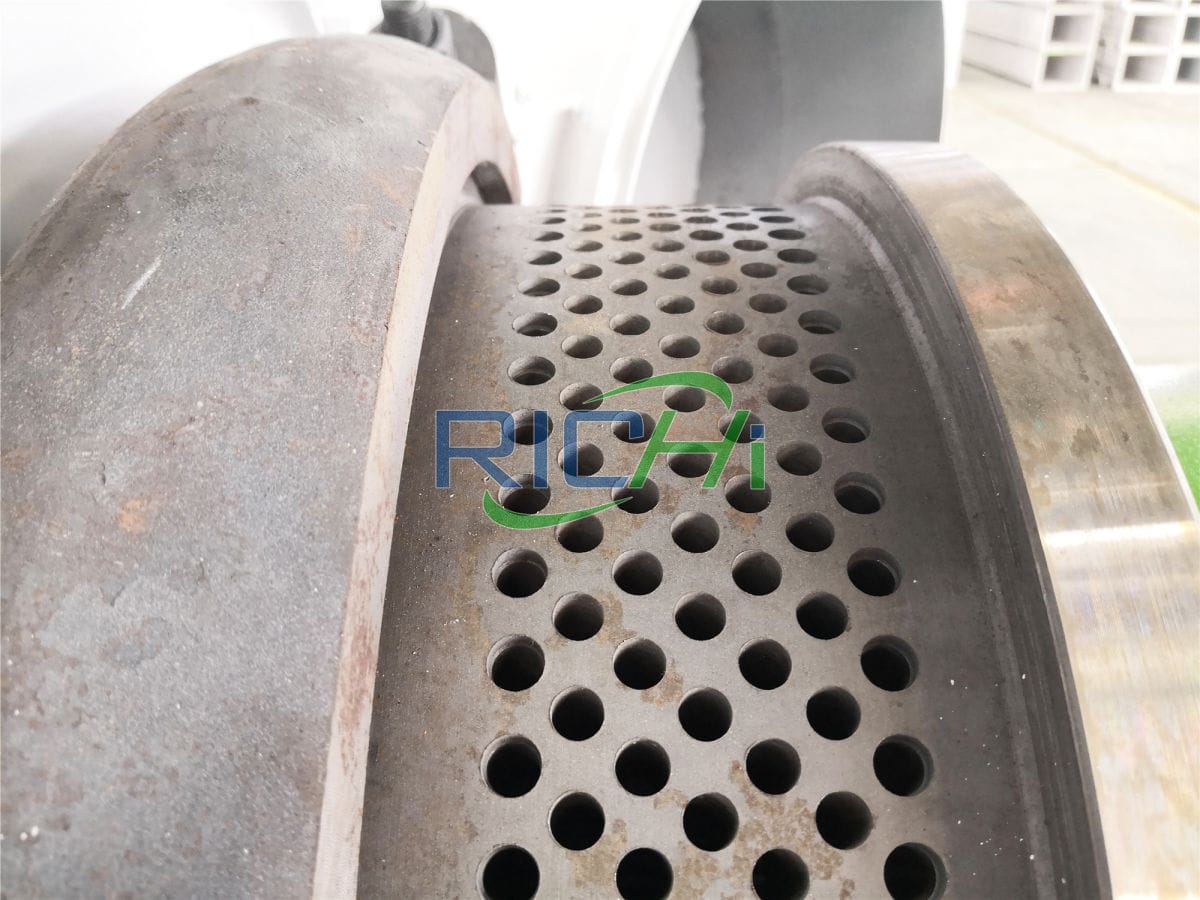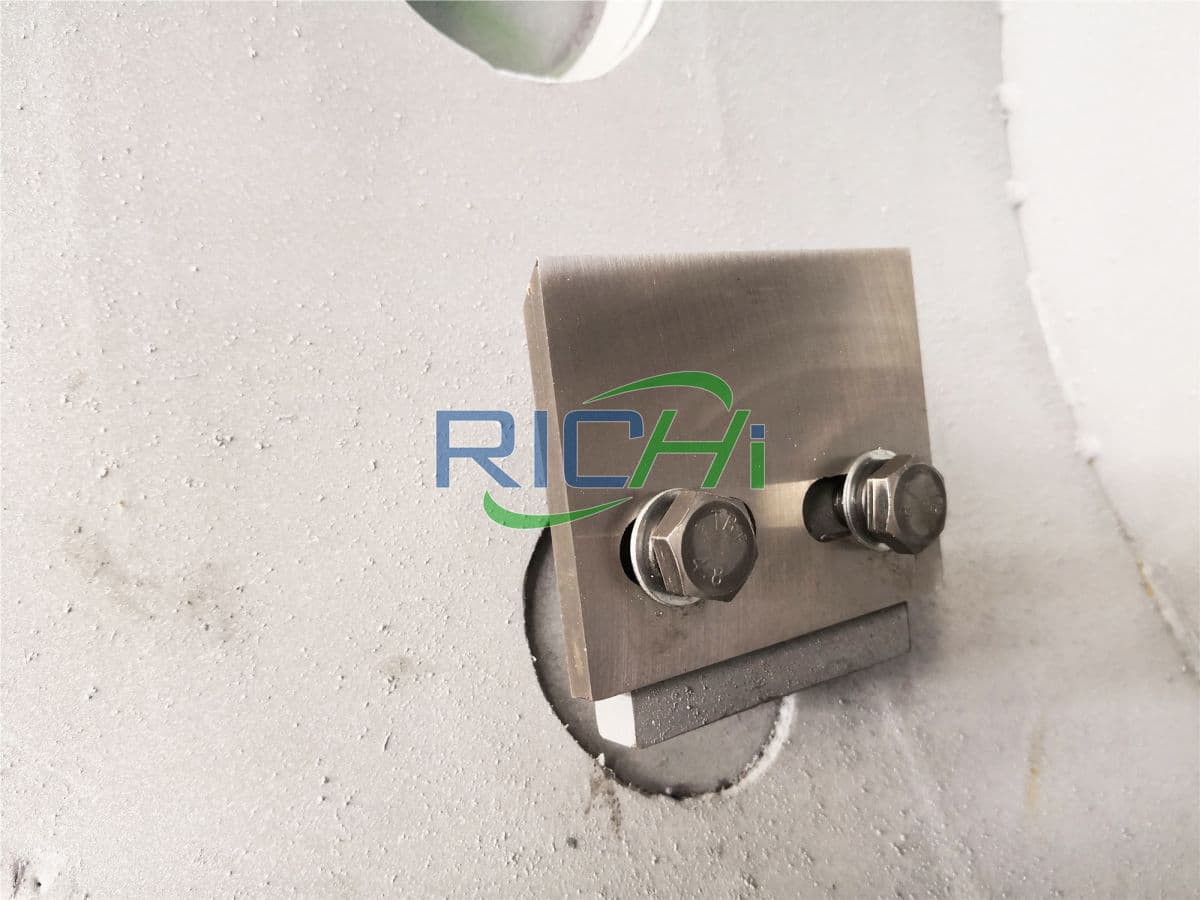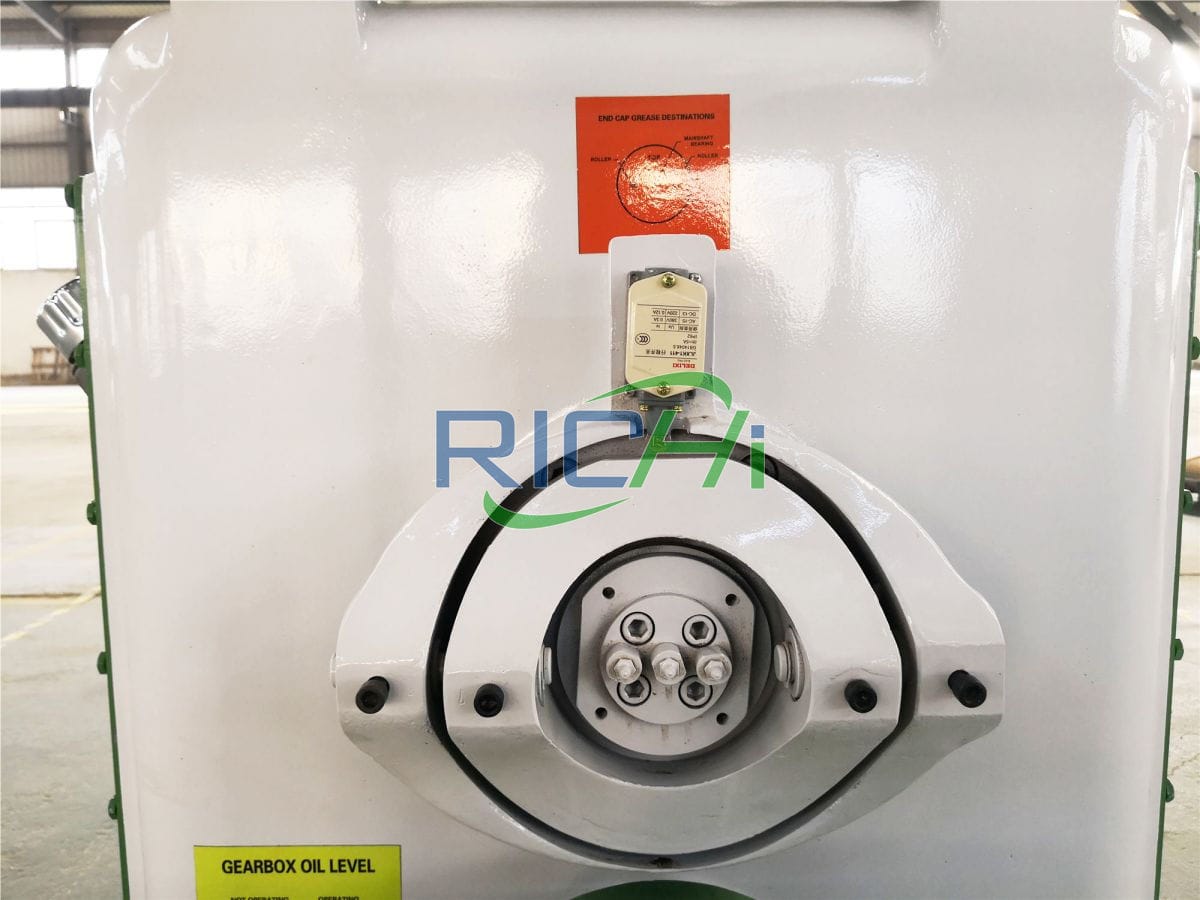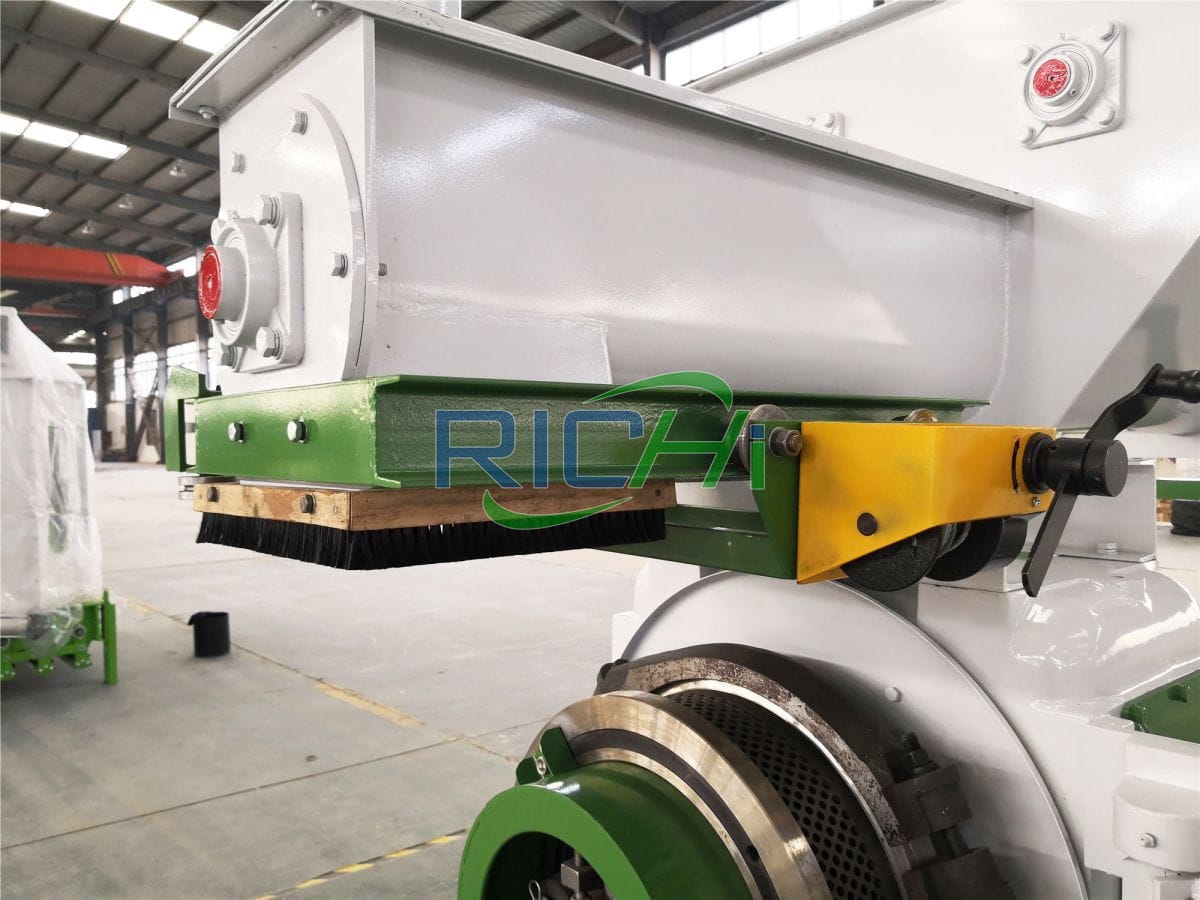 Working Principle Of wheat straw pellet machine
The straw wheat pellets machine uses an annular die and a pressure roller as the main working parts, and is mainly composed of a feeding system, a mixing and tempering system, a transmission system and a forming system.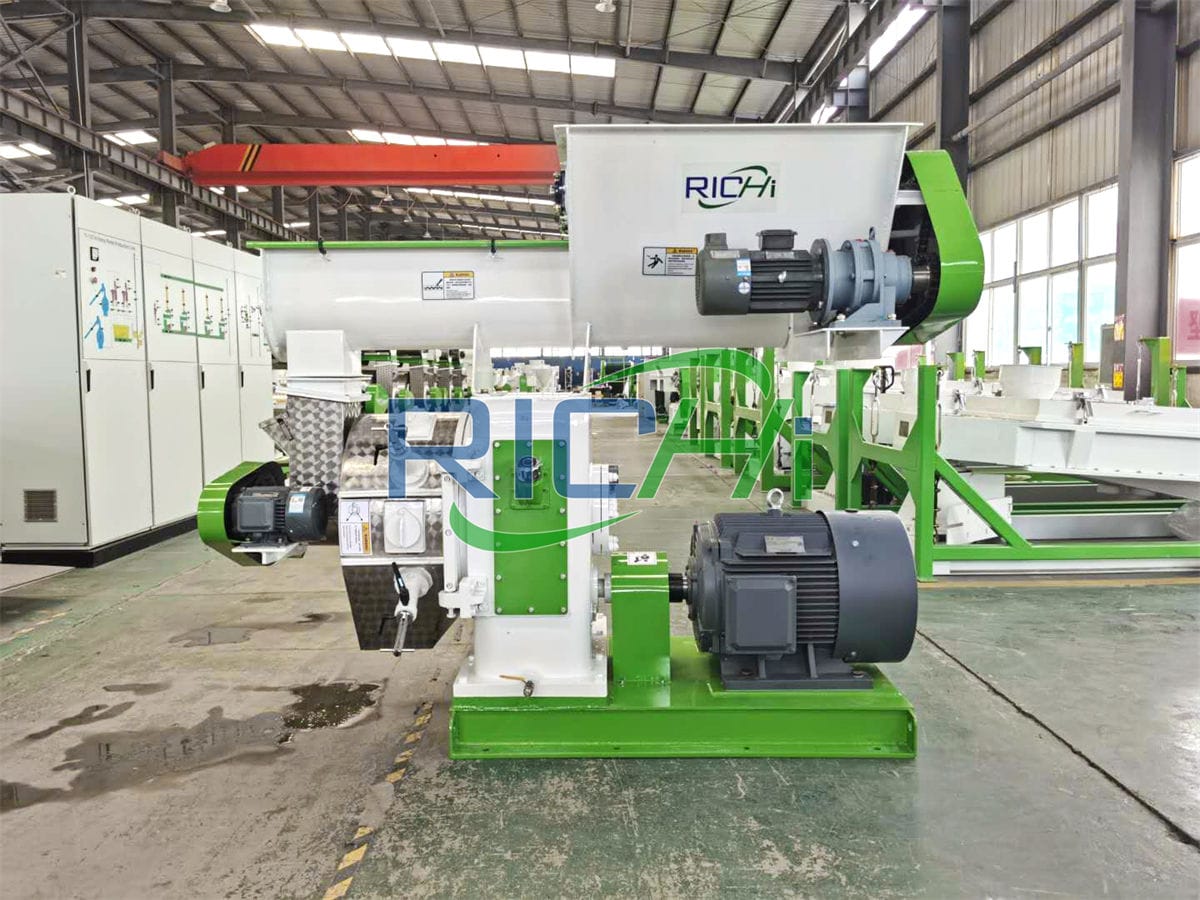 Working principle:
The motor drives the ring die to rotate, and due to friction, the material on the ring die drives the pressure roller to rotate.
After the material is sent into the pressing chamber by the forced feeder, as the ring die and the pressure roller rotate, they squeeze each other, and the material sandwiched between them is continuously compressed.
As the internal pressure and density of the material continue to increase, it reaches a certain density. The material is pressed into the ring die hole, and after a period of pressure holding and shaping, the wheat straw pellet with a certain density is formed.
Since the diameter of the wheat straw pellet is small and the compression ratio of the ring die is large, the moisture content of the raw material is required to be relatively high.
Generally, it is suitable for molding when the moisture content is between 12% and 15% and the raw material particle size is between 1 and 5 mm.
Videos of wheat straw pellet machine
Technical Parameters Of wheat straw pellet machine
| Model | Main Power(kw) | Anti-caking Feeder(kw) | Capacity |
| --- | --- | --- | --- |
| MZLH 320 | 37 | 1.5 | 600-800 kg/h |
| MZLH 350 | 55 | 1.5 | 800-1000 kg/h |
| MZLH 420 | 90 | 1.5 | 1.5-2 t/h |
| MZLH 520 | 132 | 2.2 | 3-4 t/h |
| MZLH 768 | 250 | 3 | 5-7 t/h |
| MZLH 858 | 280 | 3 | 8-10 t/h |
wheat straw pellet machine Projects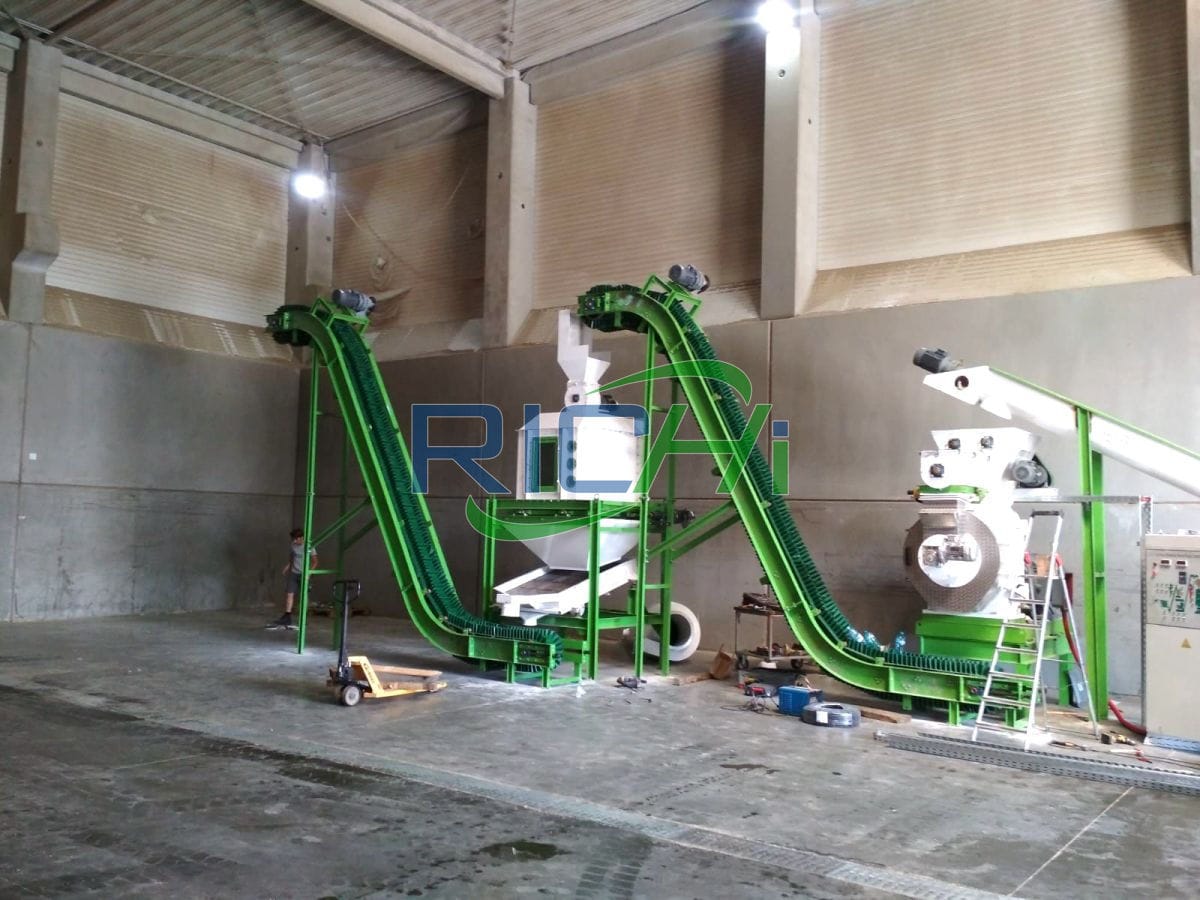 wheat straw pellet machine in Russia
project date: 2020.09.03
Pellet Size: 6mm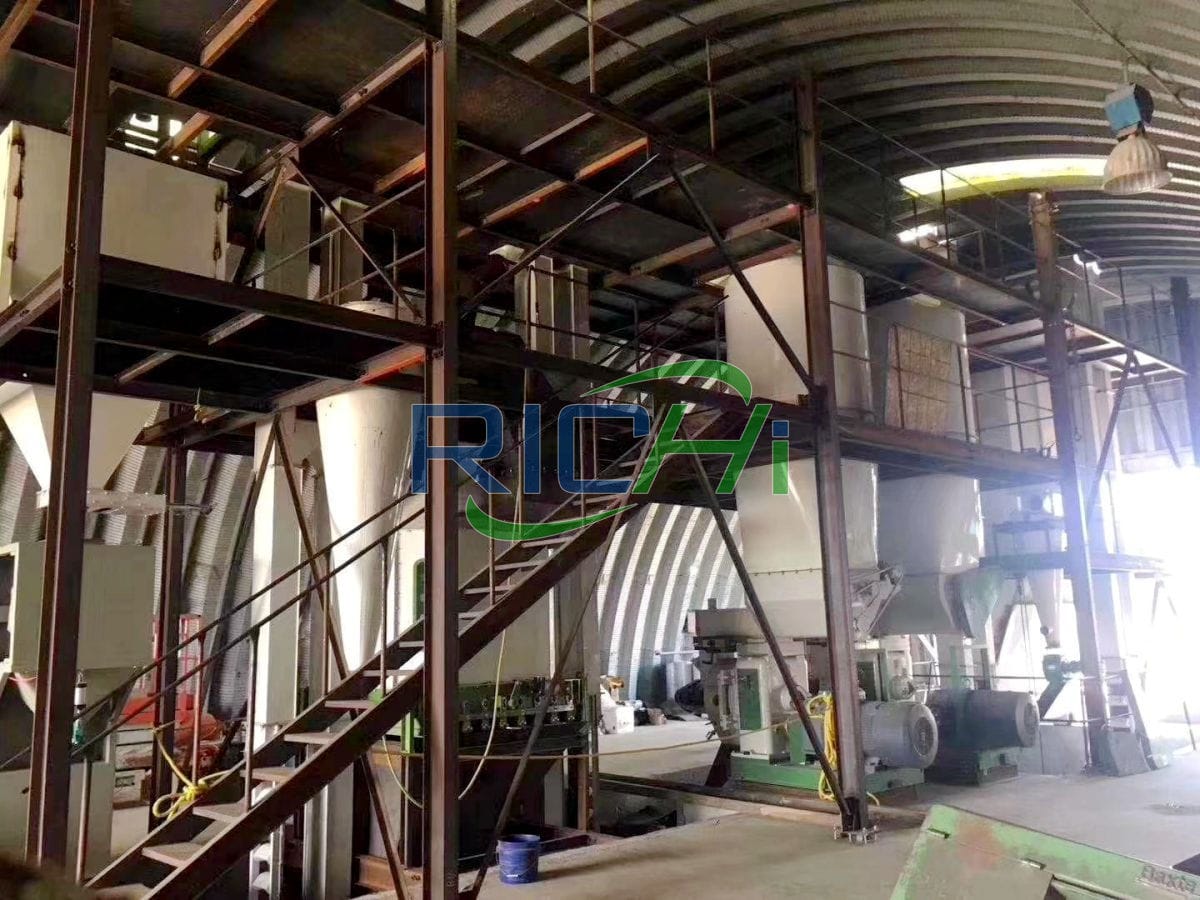 wheat straw pellet machine in Canada
project date: 2021.9.27
Pellet Size: 8mm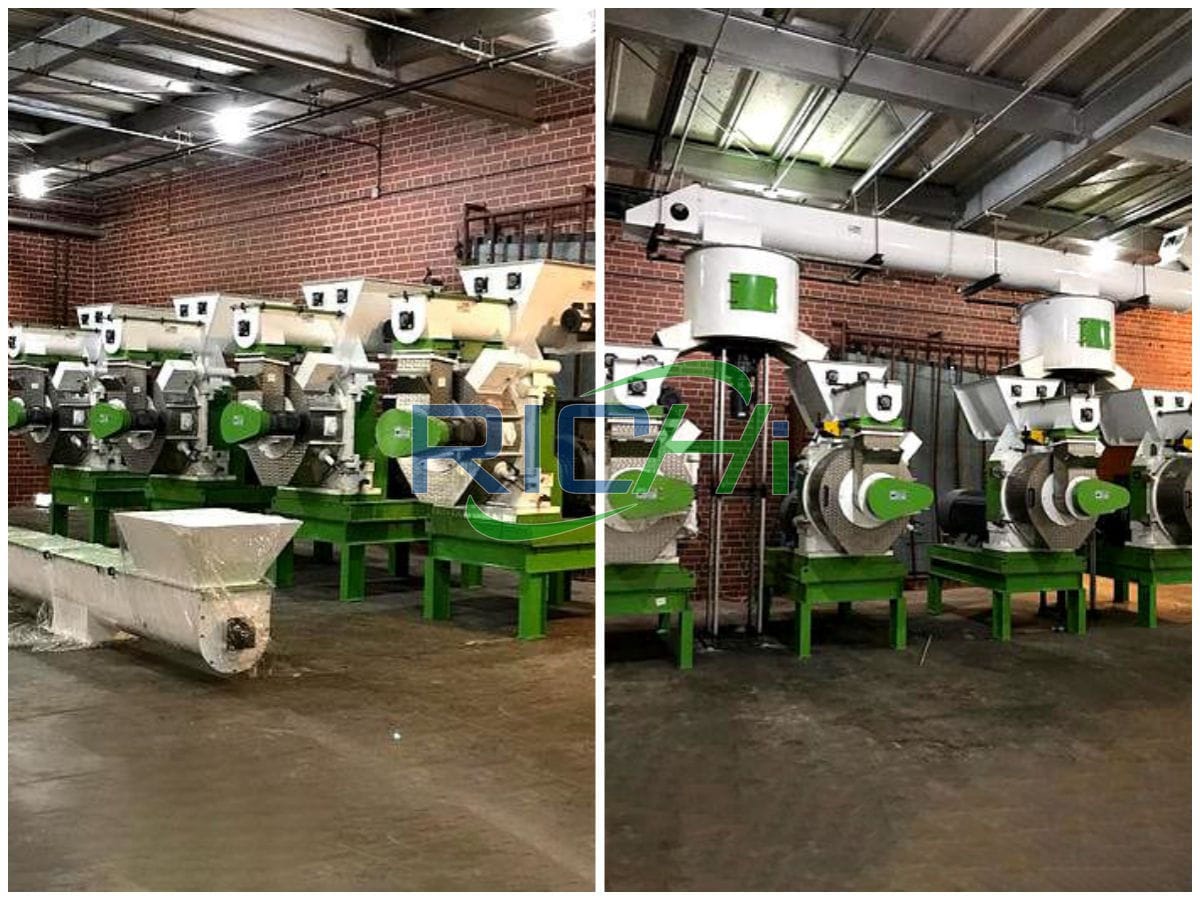 wheat straw pellet mill in USA
project date: 2020.10.11
Pellet Size: 6-8mm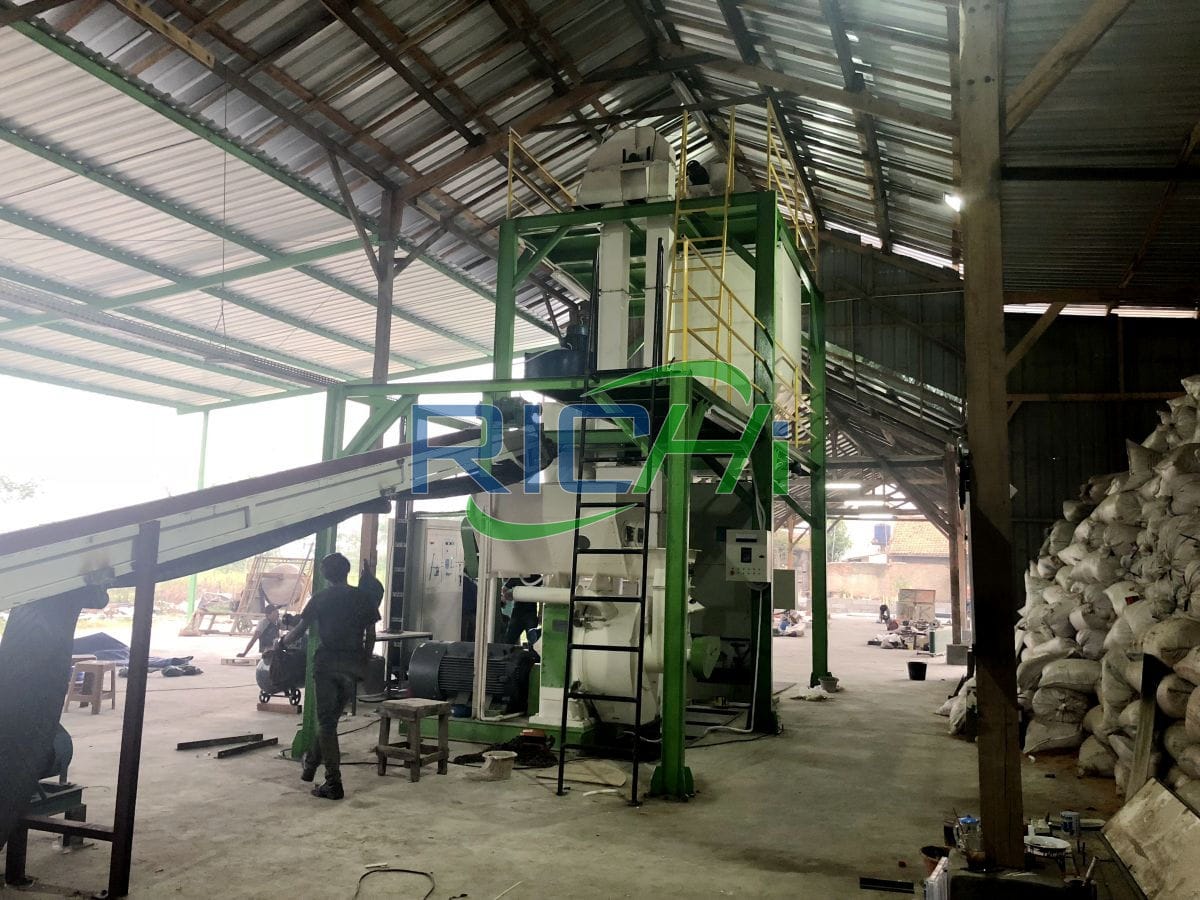 wheat straw pellet mill in Argentina
project date: 2020.06.15
Pellet Size: 8-10mm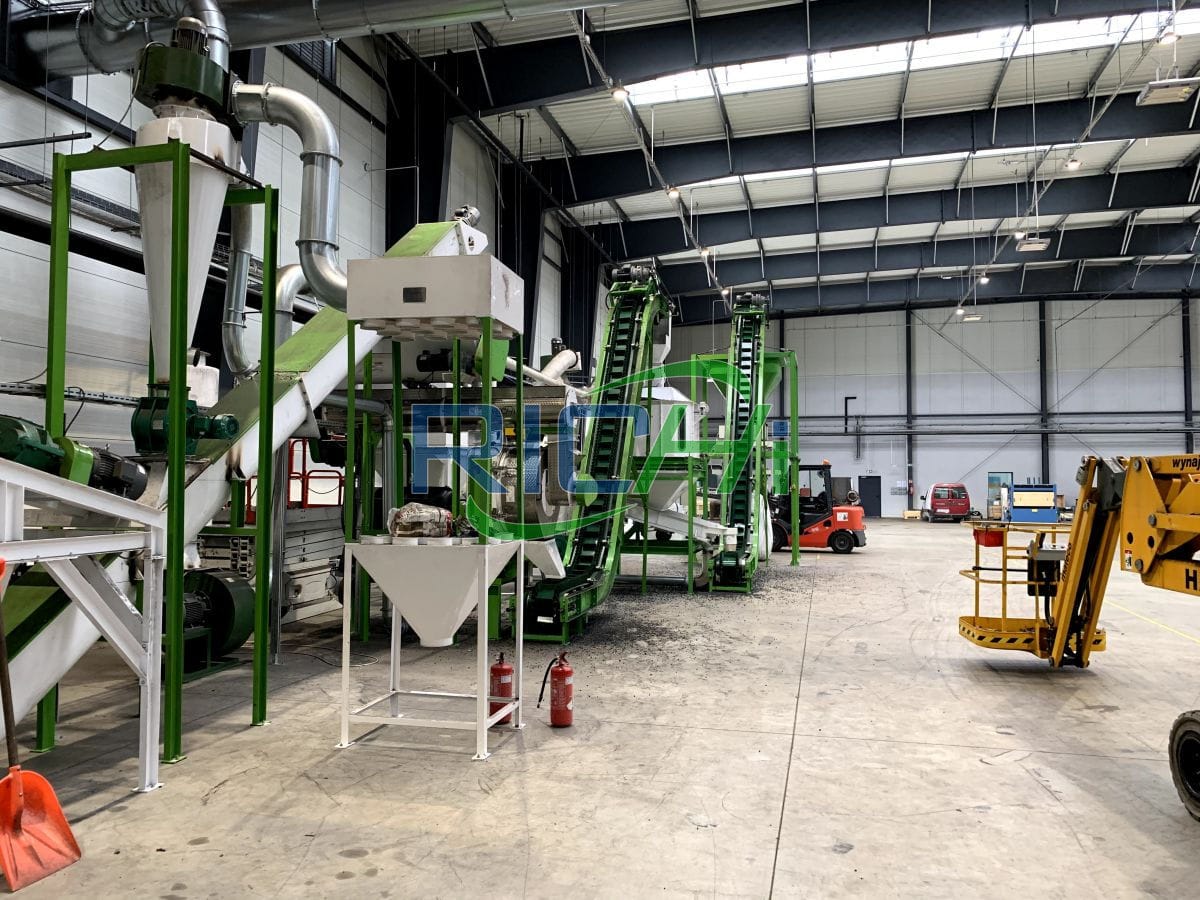 wheat straw pellet machine in France
project date: 2023.06.11
Pellet Size: 6-10mm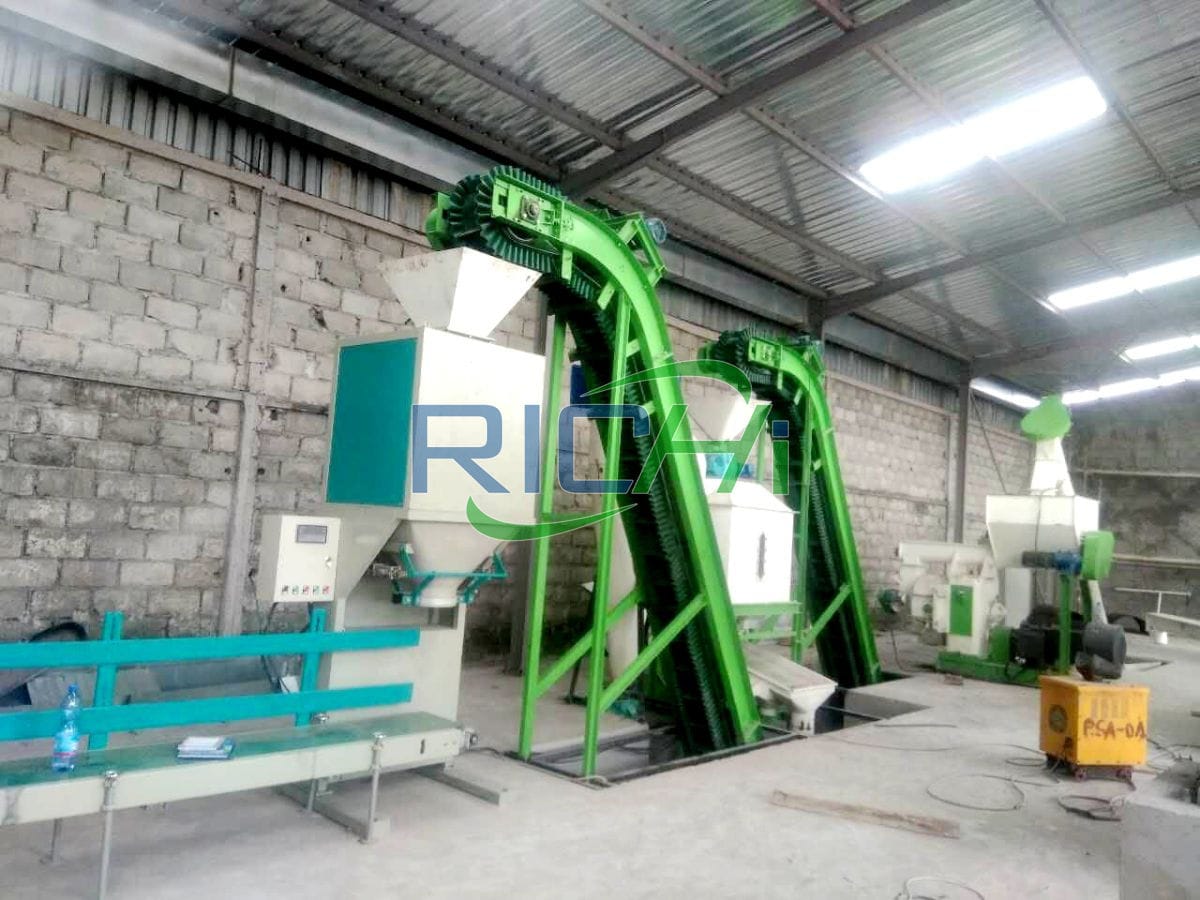 wheat straw pellets machine in Ukraine
project date: 2020.07.28
Pellet Size: 8-10mm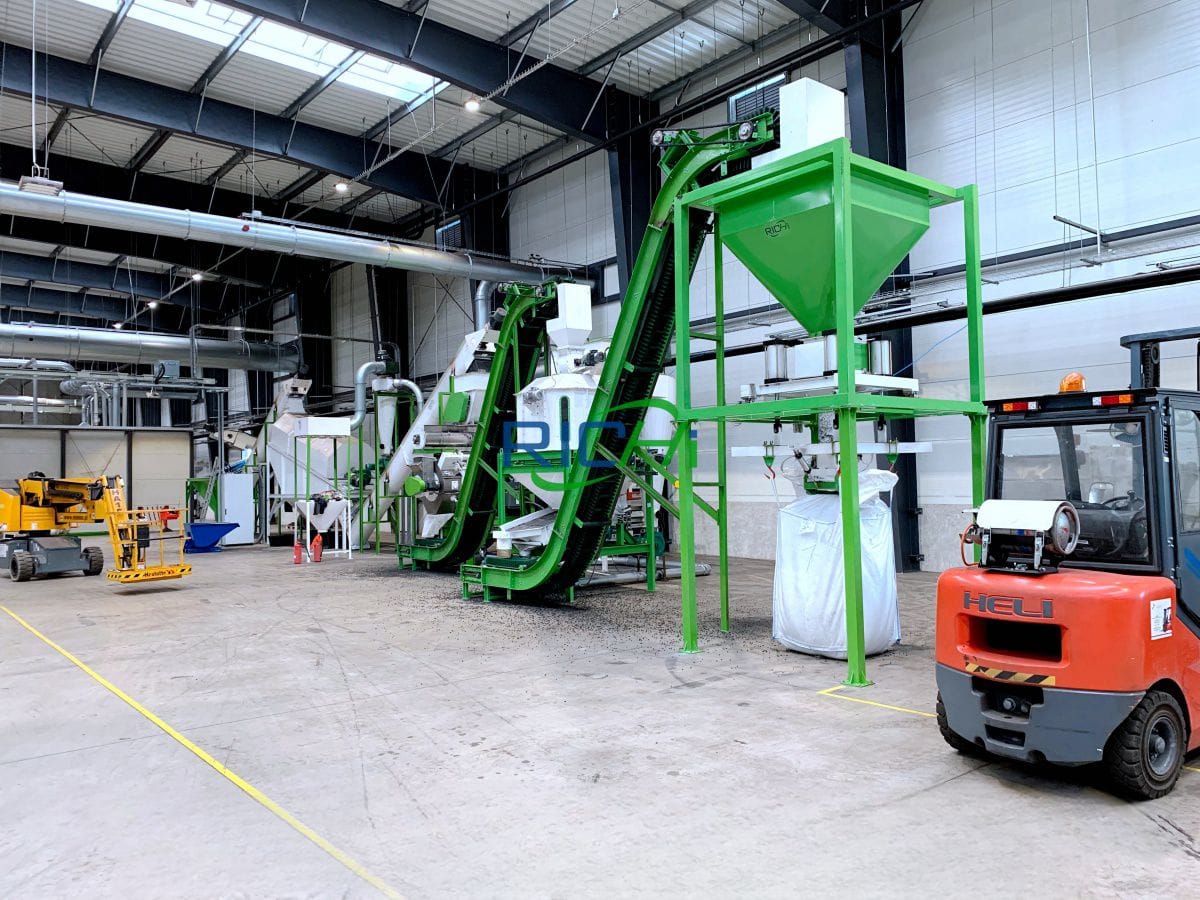 wheat straw pellet machine in Germany
project date: 2019.05.07
Pellet Size: 8mm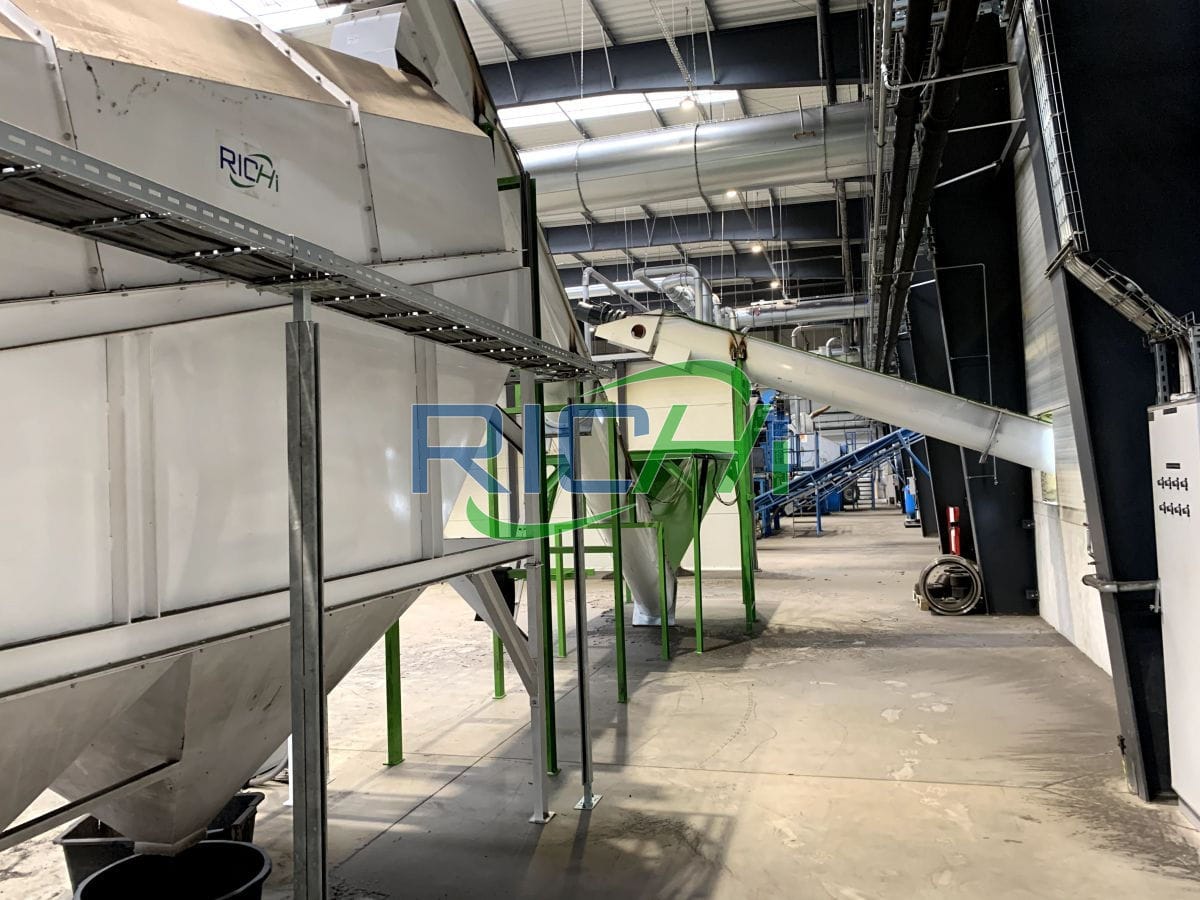 wheat straw pellet machine in India
project date: 2022.07.12
Pellet Size: 8-10mm
Wheat straw fuel pellet and wheat straw feed pellet, which to process?
Although they are both wheat straw pellets, there is a big difference between fuel pellets and feed pellets. Here is a comparison of the two pellets:
| | | |
| --- | --- | --- |
| Item | wheat straw Fuel pellets | wheat straw feed pellets |
| Pellet diameter/mm | 6~12 | 6~12 |
| Moisture content of finished pellets % | ≤8 | ≤14 |
| Finished pellet solidity% | ≥95 | ≥90 |
| Pellet density/(kg/m3) | ≥1.0 | ≥0.8 |
| Ash content/% | 7.71 | 9.7 |
| Crude fiber content/% | 60~71 | 34~50 |
| Crude protein content/% | | 3~6.3 |
| Storage period/month | >12 | 6~9 |
| Broken rate/% | <5% | <5% |
| additive | Limestone, etc. | Protein, starch, fat, sugar, etc. |
| use | For cooking, boiler or power plant fuel | Used for livestock feed such as cattle and sheep |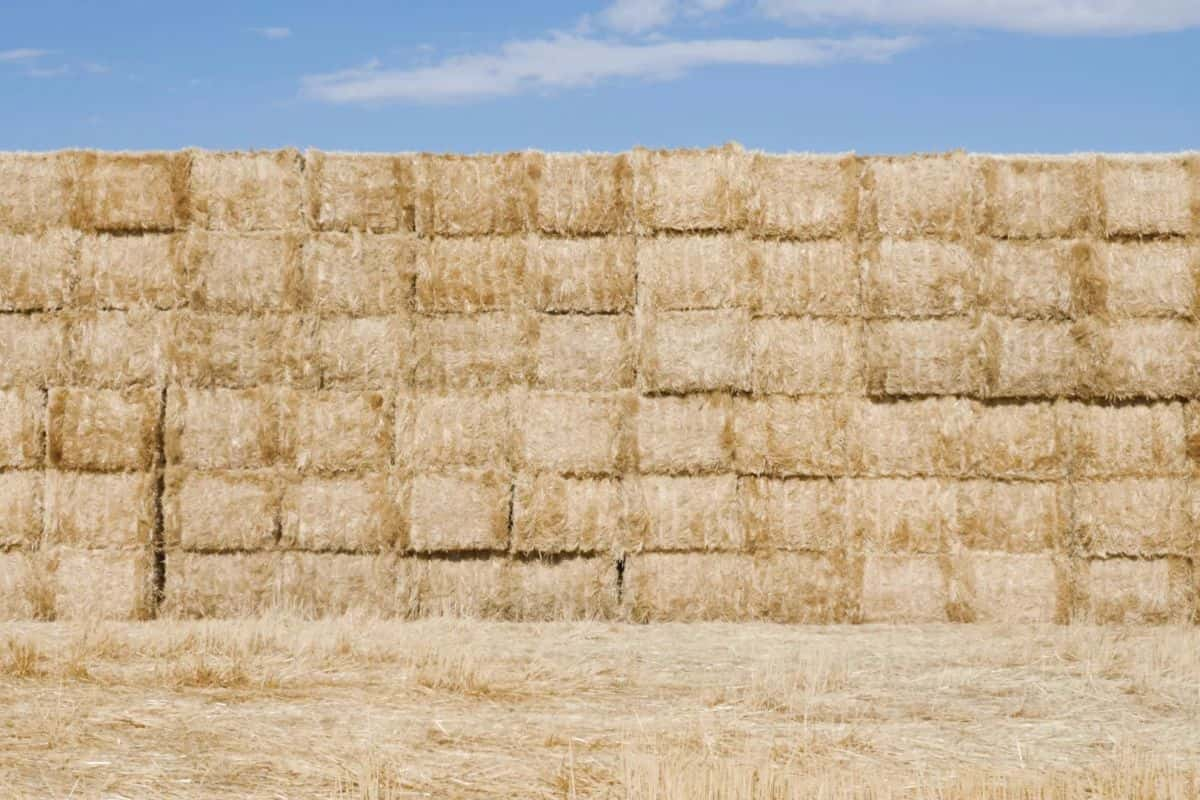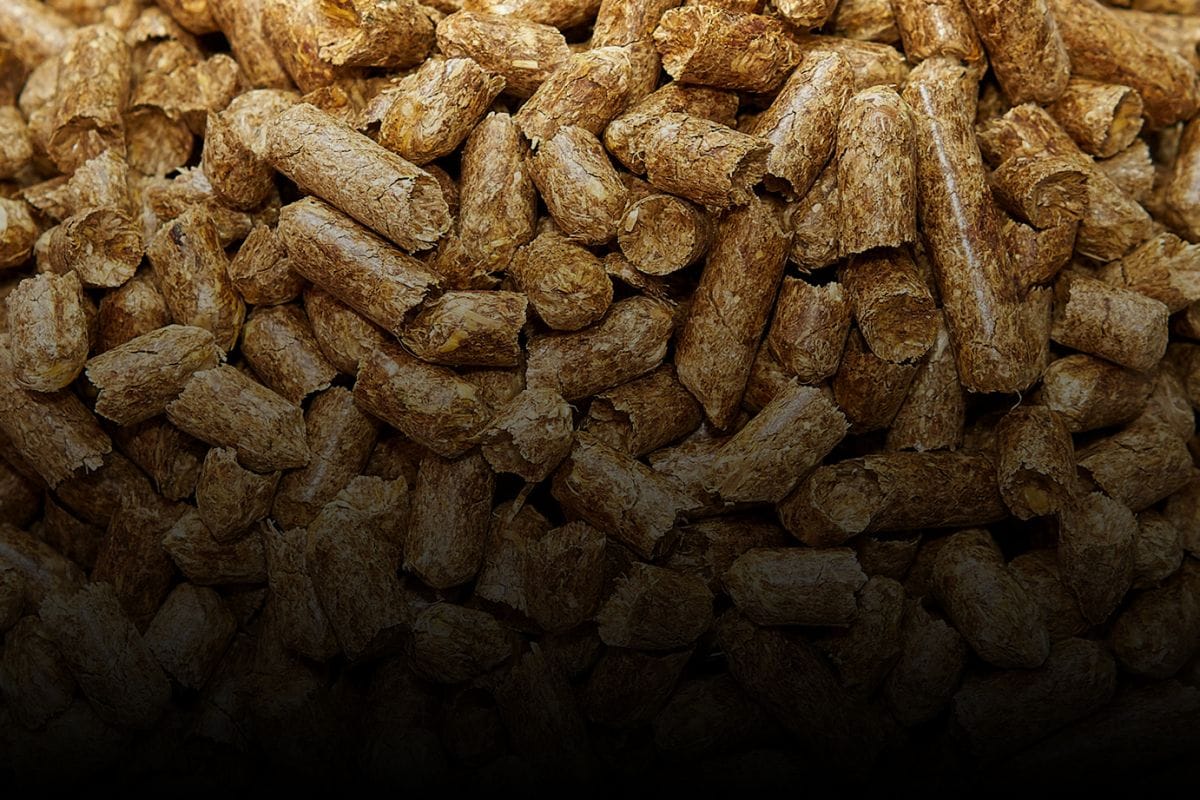 Below, RICHI MACHINERY will explain to you the processing technology and some granulation requirements of these two types of granules.
How to make wheat straw pellets? ——Different raw materials and wheat straw pellet plant process requirements
Below, for different pellet types, we will explain in detail the granulation requirements and complete processing technology of the wheat pellet machine from the perspective of raw materials, processes and straw biomass pellet equipment.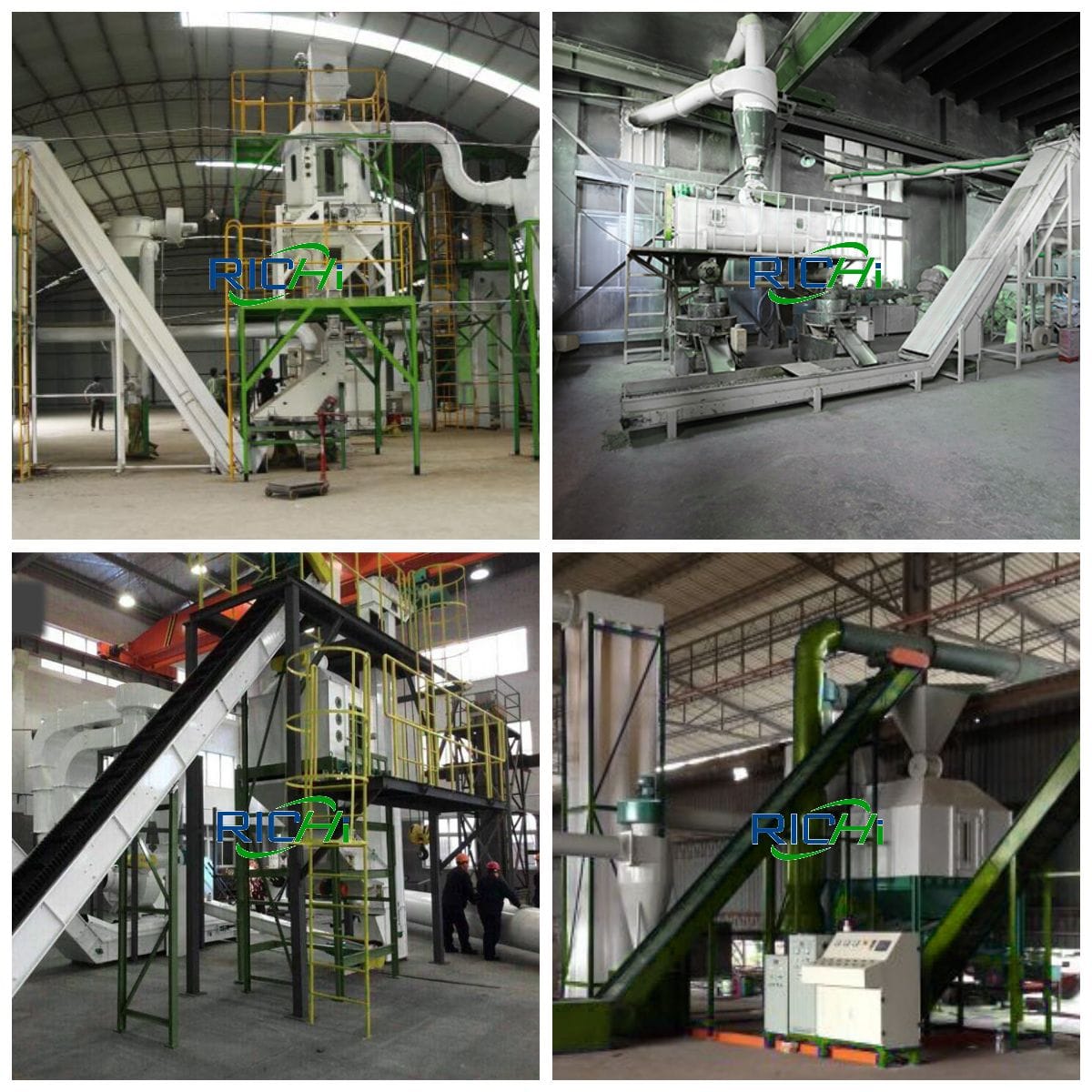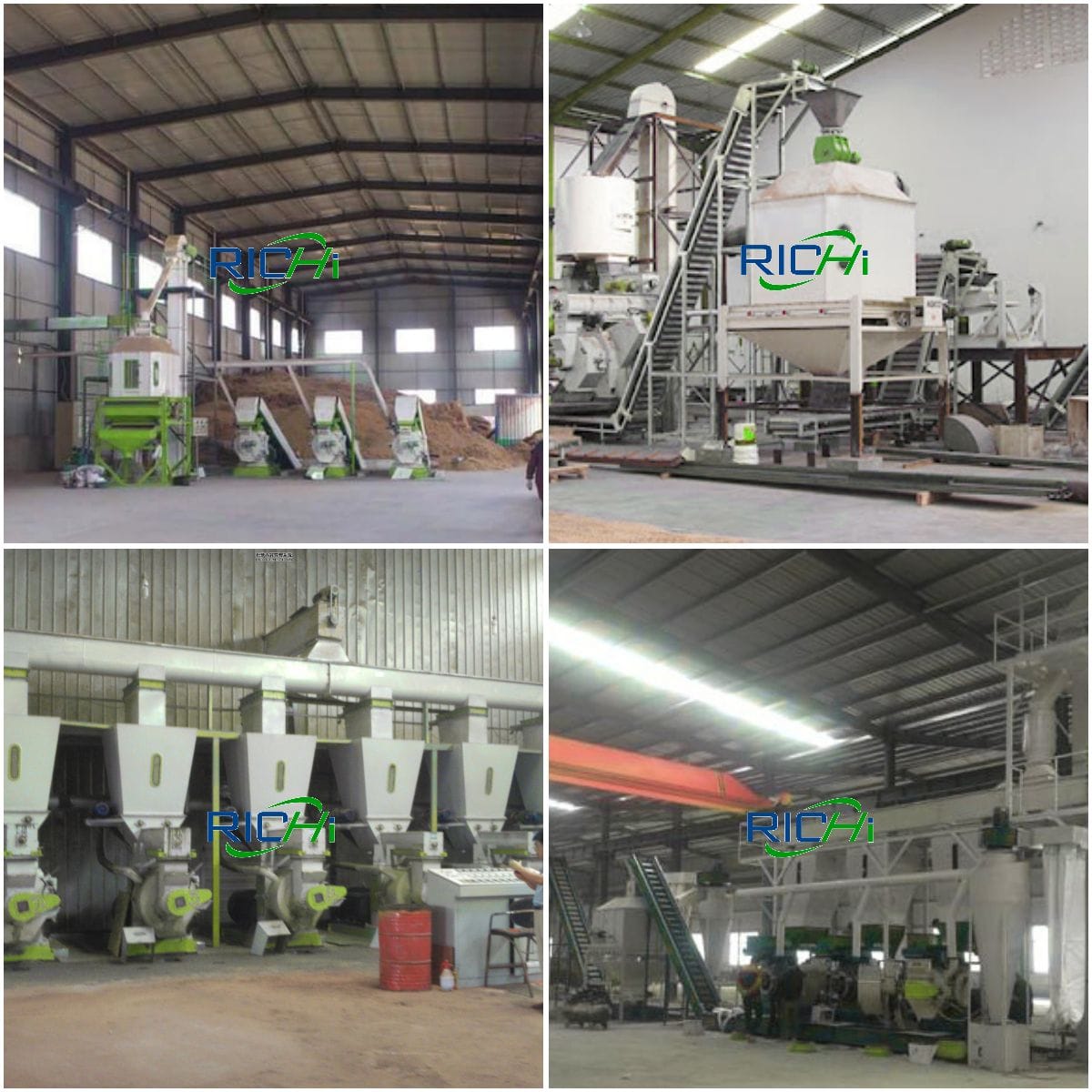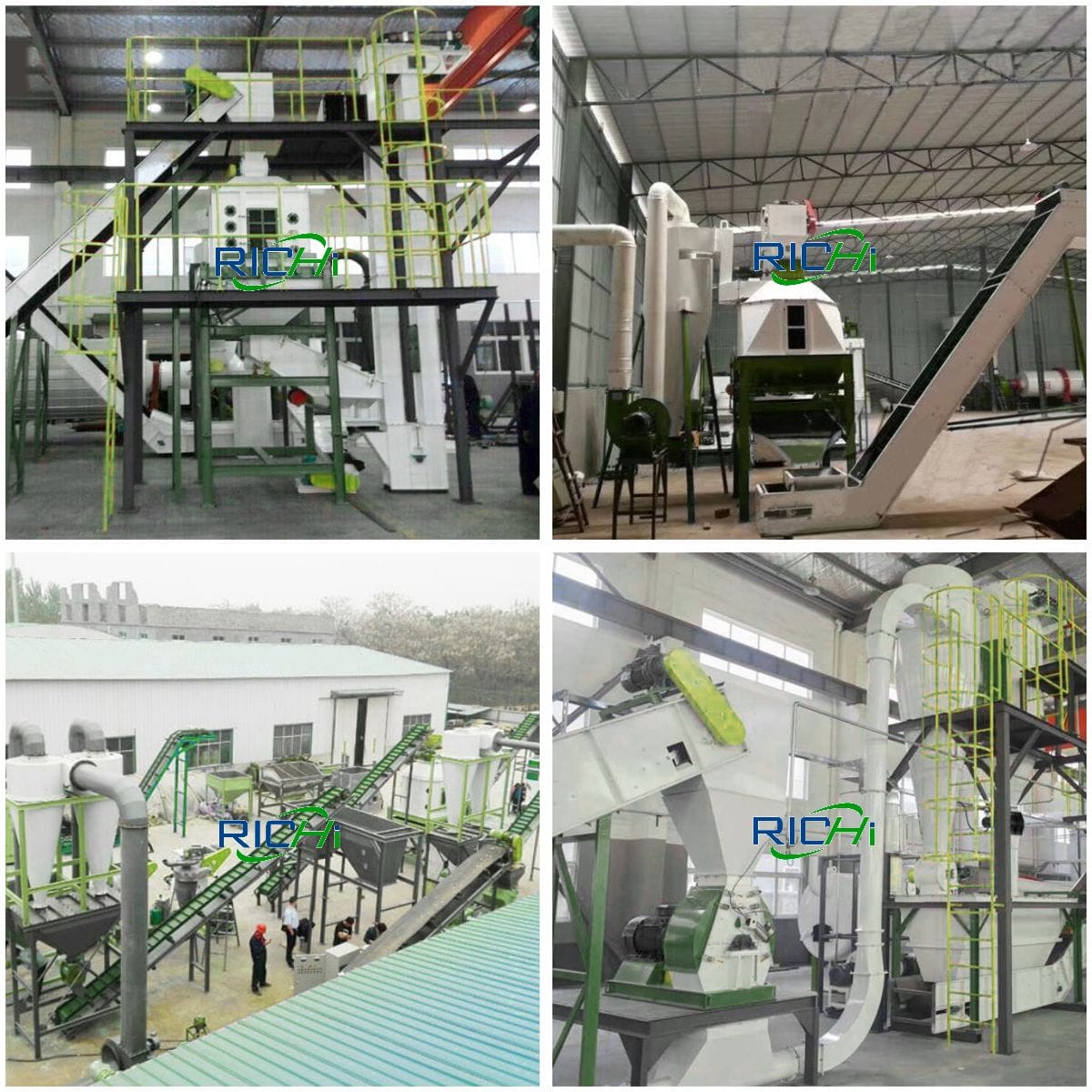 01

Types of raw materials

Both wheat straw solid pellet fuel and pellet feed use biomass such as straw as the main raw material.
Pellet feed generally uses crop straw as raw material.
ln addition to various crop straws, the raw materials for straw solid pellet fuel include fruit tree prunings, fruit shells, sawdust, etc.
02
Raw ingredients and additives
Wheat straw pellet fuel usually has a single raw material, and generally no or a small amount of additives are added. The ingredients of additives include CaO, MgO, dolomite, kaolin, diatomaceous earth, etc., but such additives have no significant effect on molding.
Feed pellets usually add some auxiliary ingredients to the raw materials to increase the nutritional content of the pellet feed. Protein, starch, fat, sugar and other substances are often added to pellet feed.
Pellets of feed are easier to mold than straw solid molding fuel and cause less wear on the mold.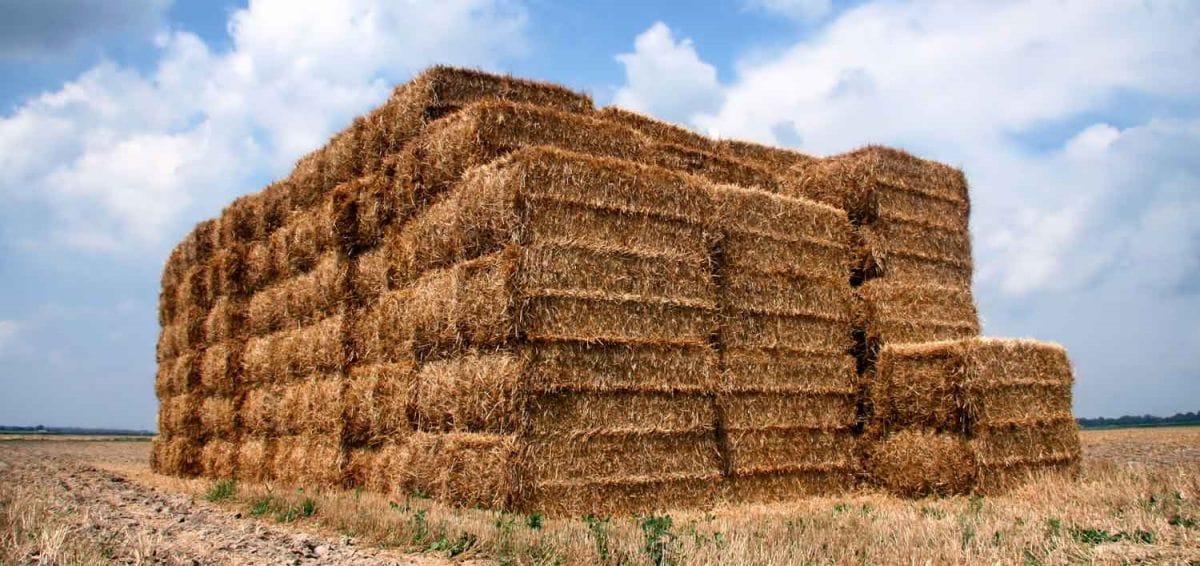 03
Raw material moisture
In pellet feed, in order to ensure the quality of the pellets, the moisture content must be limited. The moisture content can be divided into two types: contained in the raw material itself and added. The moisture content of the raw materials themselves should be 12% to 13%. For raw materials with high fiber and natural protein content, the moisture content should not exceed 13% to 14%. Generally, the total moisture content of materials is 16%~18%.
Wheat straw pellet fuel generally requires the moisture content of raw materials to be less than 15%, which is basically the same as the moisture content requirements of pellet feed.
04
Particle size of raw materials
The particle size requirements for straw crushing are basically the same for feed and fuel. Generally, particles with a diameter of 8mm are produced. The particle size should be <10mm, and materials >6mm should not exceed 20%.
Wheat straw pellet fuel is more difficult to form than feed, mainly because of the different types of additives, and the additives in feed are all conducive to forming.

05

Wheat straw production Process design

According to the location of the wheat straw pellet machine plant project and surrounding conditions, in accordance with national specifications and production process flow requirements, and in conjunction with the site topography, Richi Machinery ensure smooth process flow and convenient connection.

Strictly abide by relevant standards and specifications to ensure safe production, consider fire prevention, sanitary safety distance and maintenance requirements, carry out reasonable functional zoning according to local conditions, strive to have a compact and reasonable layout, save land, and unified planning, which is conducive to production management and environmental protection.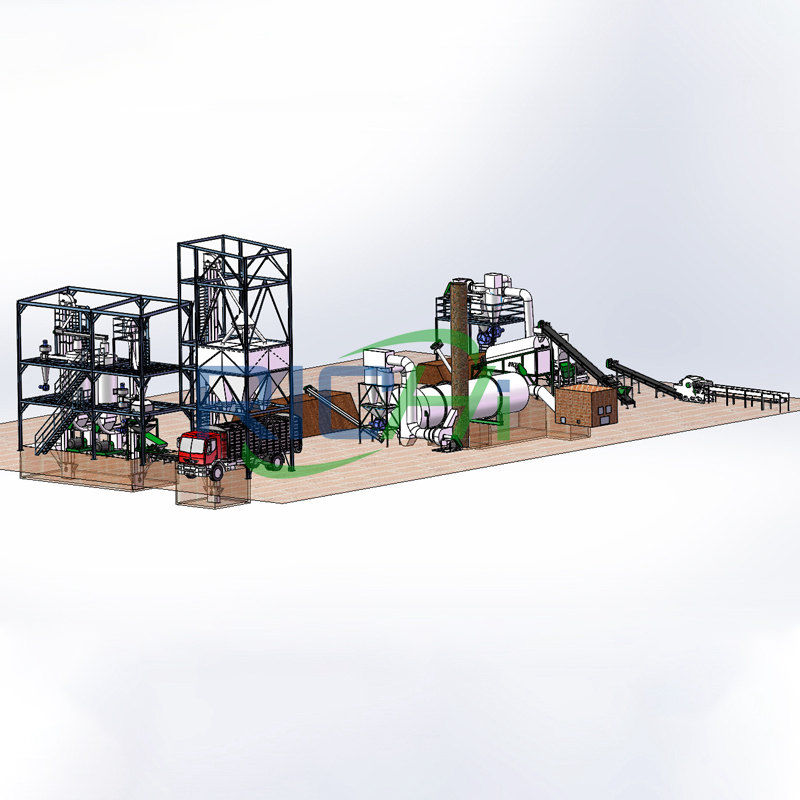 wheat Straw fuel pellet processing technology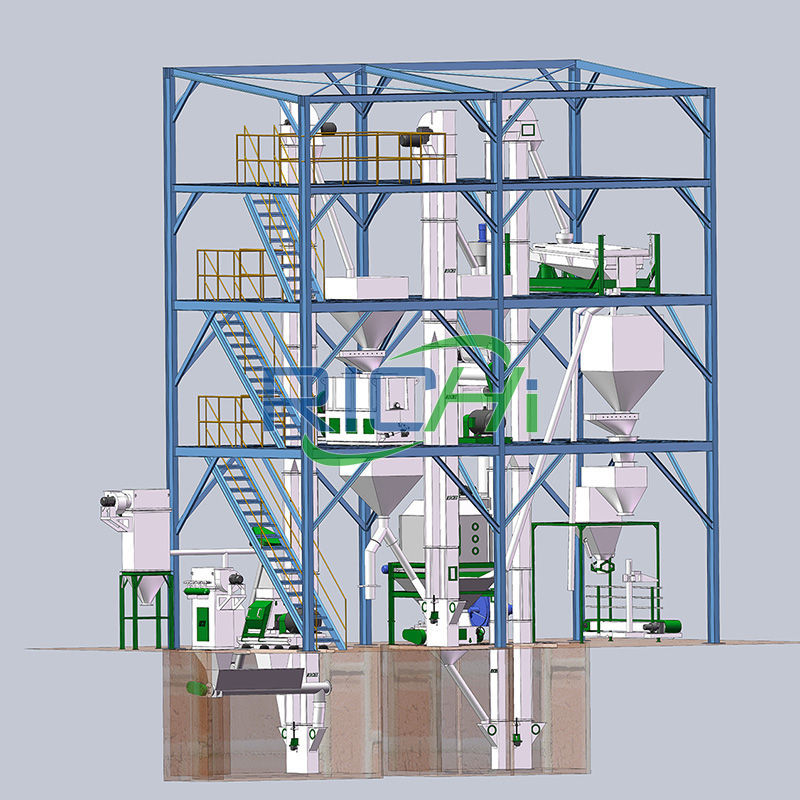 wheat Straw feed pellet production technology
There are certain differences in the process flow of the two type wheat straw pellet plant. The processing technology of pellet feed is more complicated than that of straw solid pellet fuel, and it adds processes such as impurity removal, mixing, conditioning and external coating.
No matter what kind of wheat straw pellets you want to process, you are welcome to contact us directly to customize the straw pellet processing plan and configure the appropriate equipment.
Supporting Equipment For wheat straw pellet machine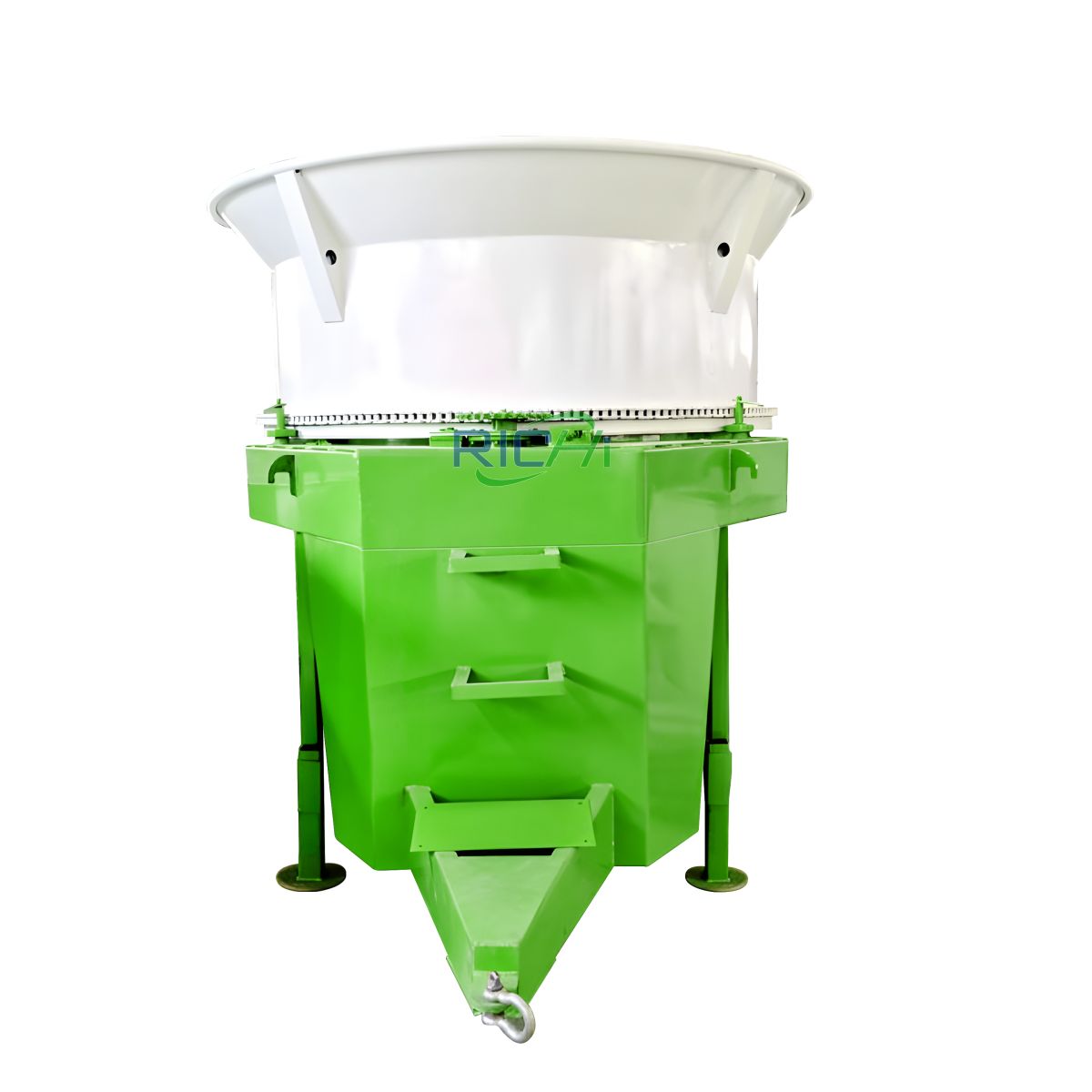 Bale breaker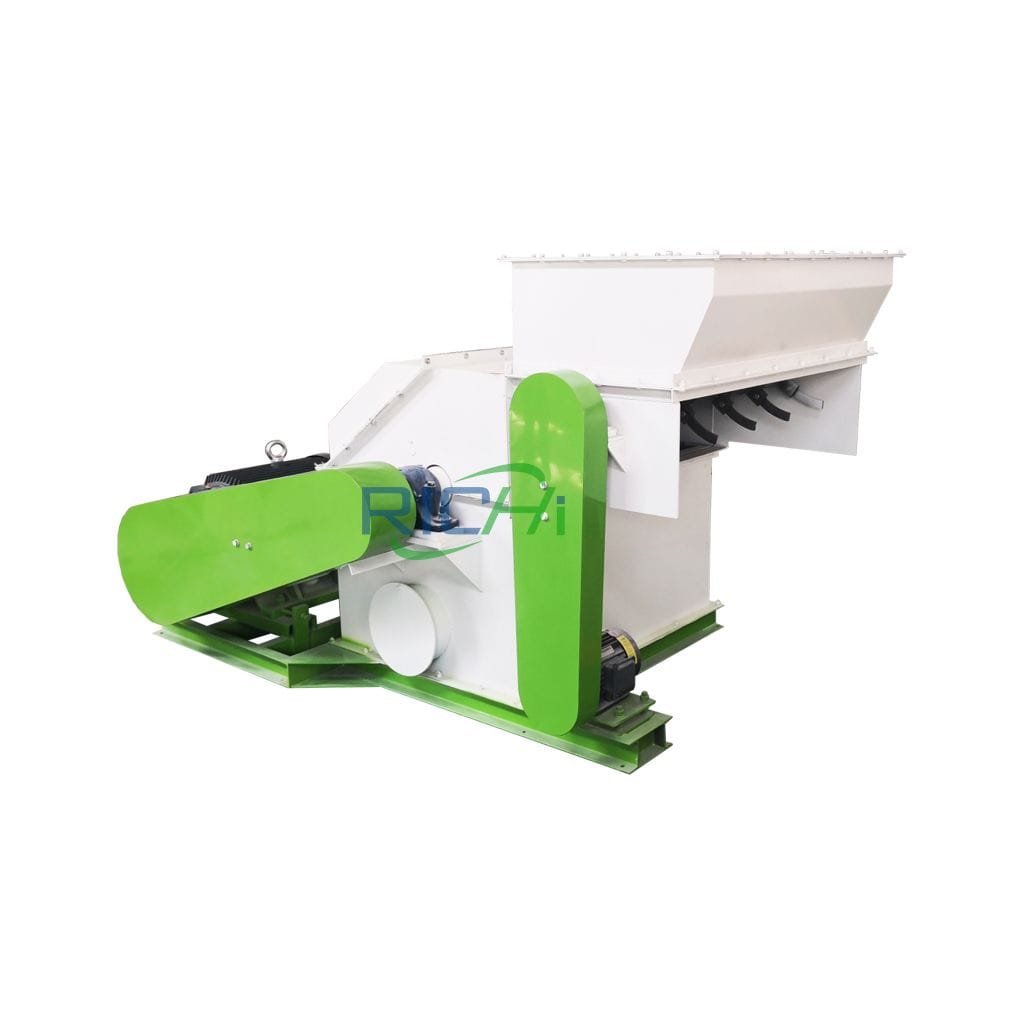 wheat straw crusher Machine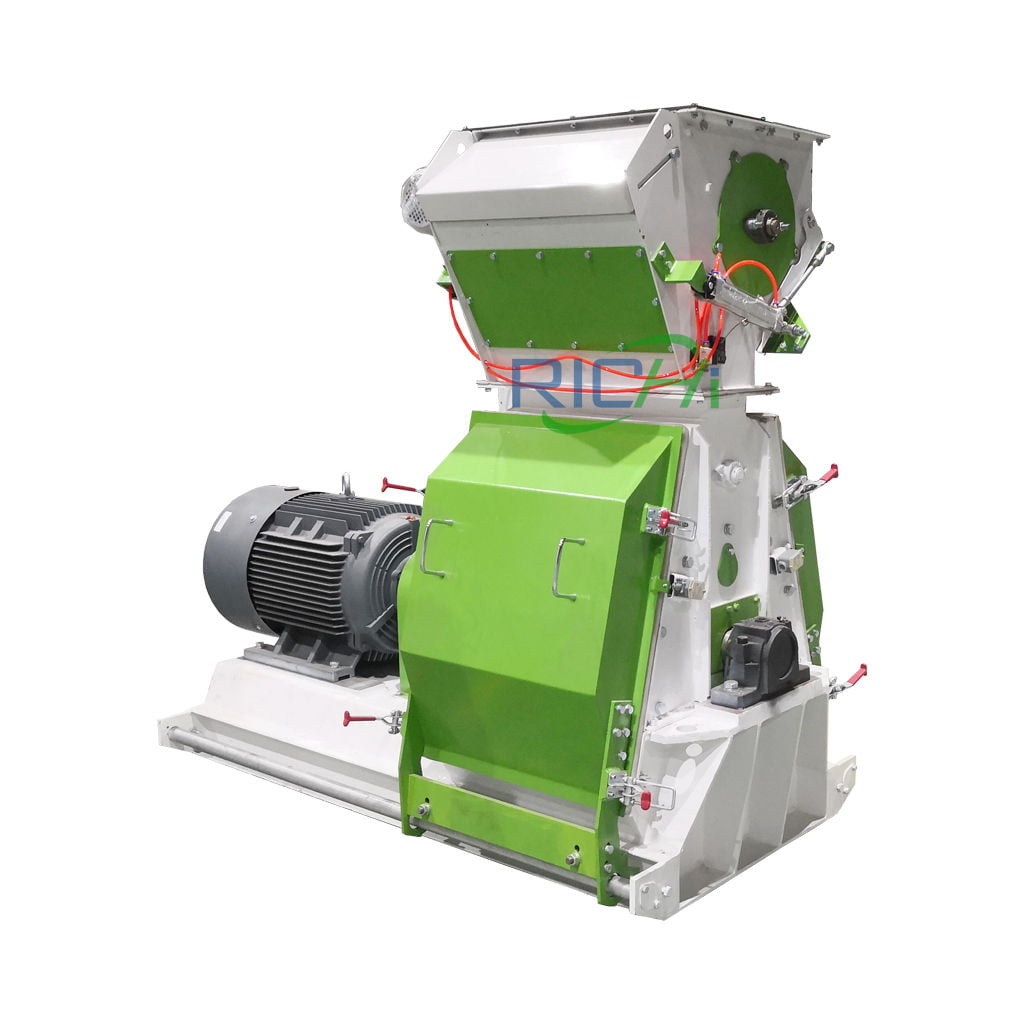 Hammer Mill crusher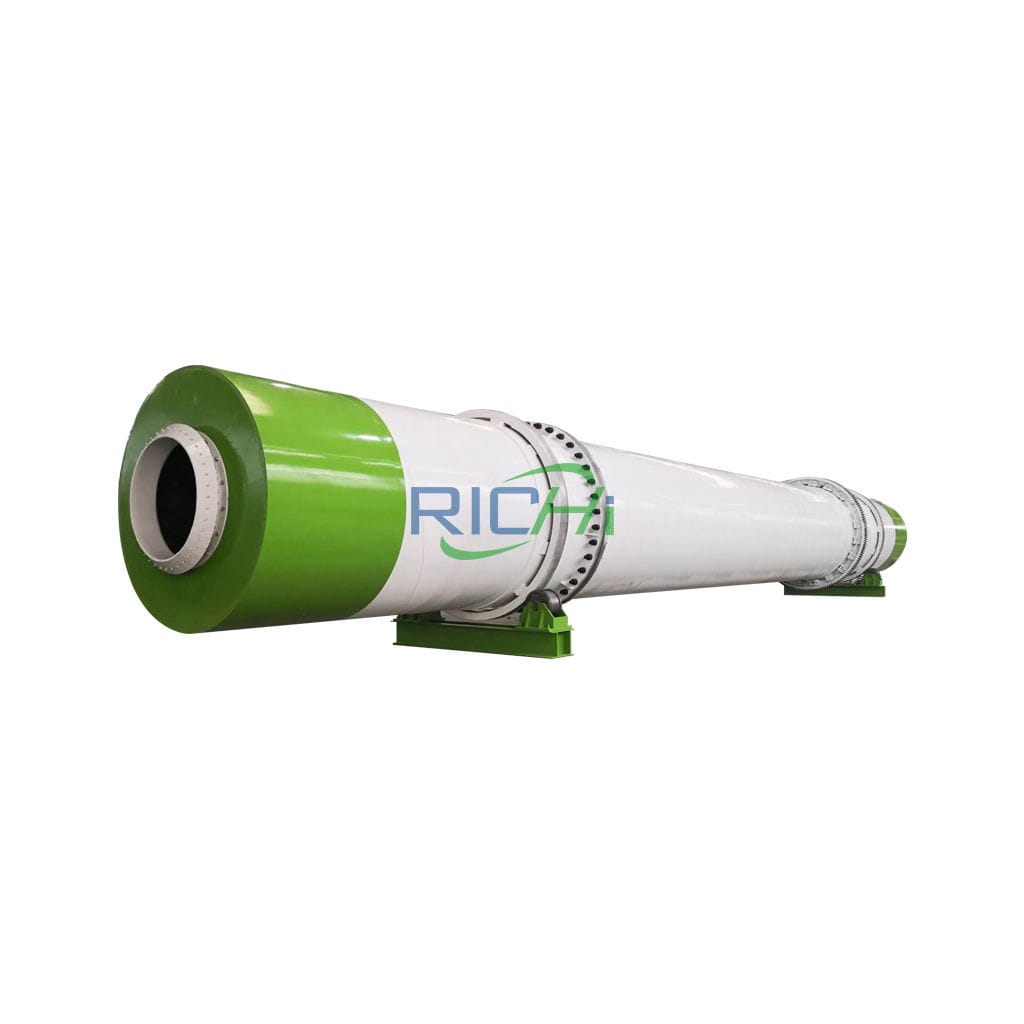 Featured wheat straw pellet machine plant solution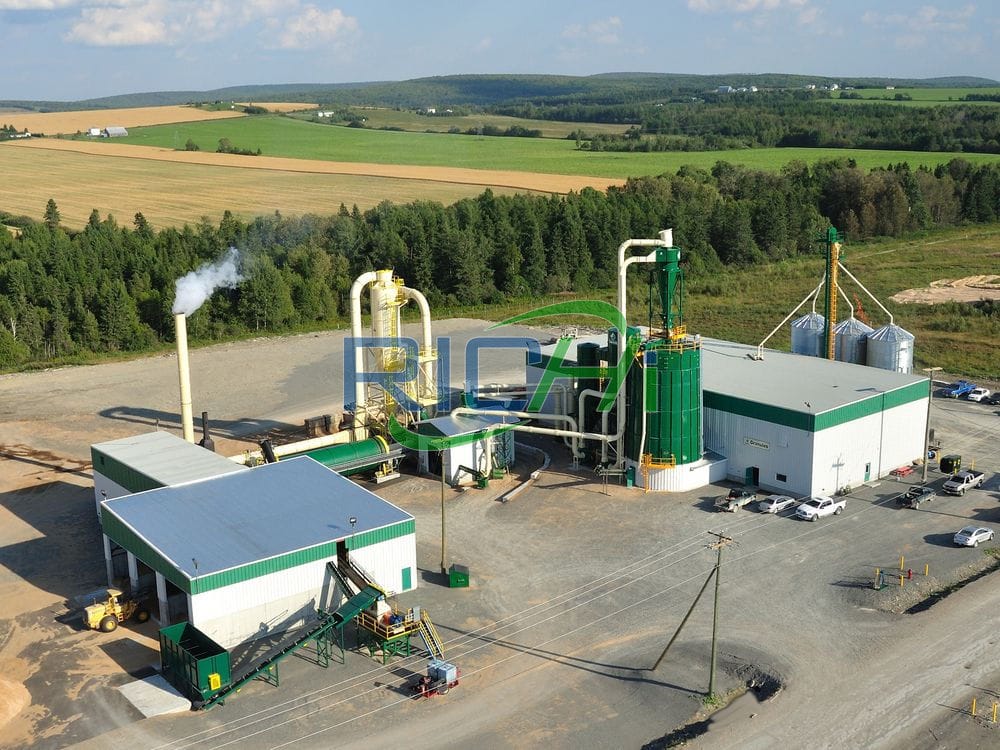 Whole set 2 tons/hour simple design wheat straw pelleting plant
—— RICHI MACHINERY ——
Production scale: 10,000 tons/year.
Construction type: new construction.
The total investment: 90,000 USD.
Project area: covers an area of 7,000 square meters, including one office (for employees to rest and work. Two warehouses for product storage), two warehouses, and one workshop.
Work system: The production position has a capacity of 10 people, working 16 hours a day, and 300 production days a year.
Raw material consumption: 15,000 tons of straw
Energy consumption: water 180 tons/year, electricity 60000 kw/year
Main equipment: 1 straw crusher machine, 2 biomass wheat straw pellet machines, 1 conveyor, 1 fan
2 tons/hour simple design wheat straw pelleting plant process flow
Raw material straw: Biomass wheat straw raw materials are temporarily stored in the stockyard.
Crushing and screening: Due to the large size of crop straw, it cannot be directly used for molding and processing. The main task of the crushing process is to use a crusher to crush larger straw into short and fine granular raw materials.
Pelleting: The raw materials are extruded by the wheat straw pellet machine. The crushed materials are fed into the wheat straw pellet maker machine. Project product – solidified fuel. The cylindrical solidified fuel is continuously extruded from the pellets machine and cut into required lengths by a cutter according to market demand. The cut solidified fuel is conveyed to the packaging section by a conveyor belt. During the transportation process, the solidified fuel is naturally cooled.
Packaged finished product: The solidified fuel that is cooled during the transportation process is measured, packaged, and sealed in sequence, and then stored in the warehouse.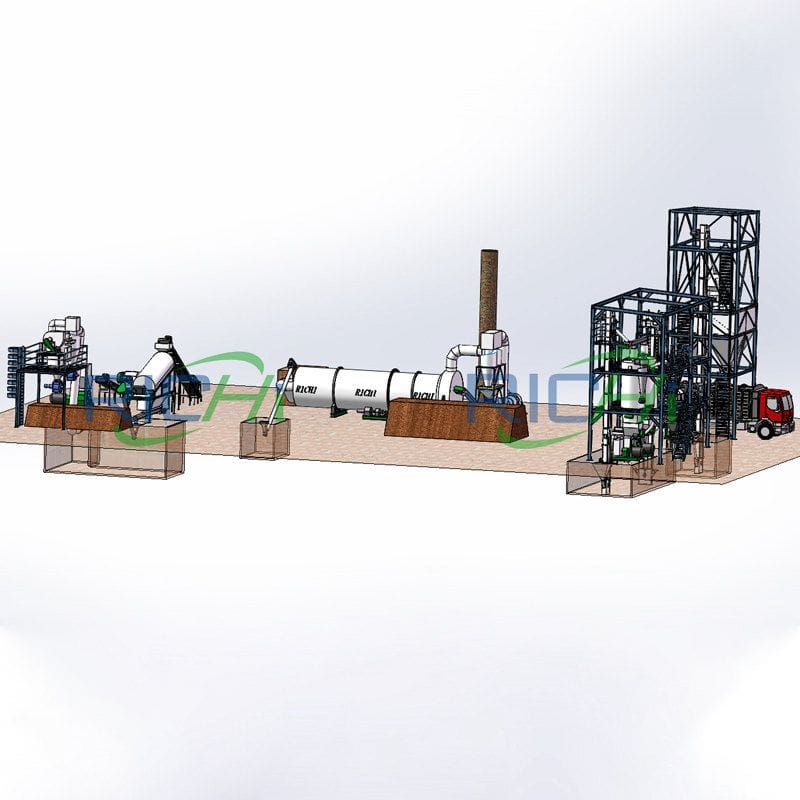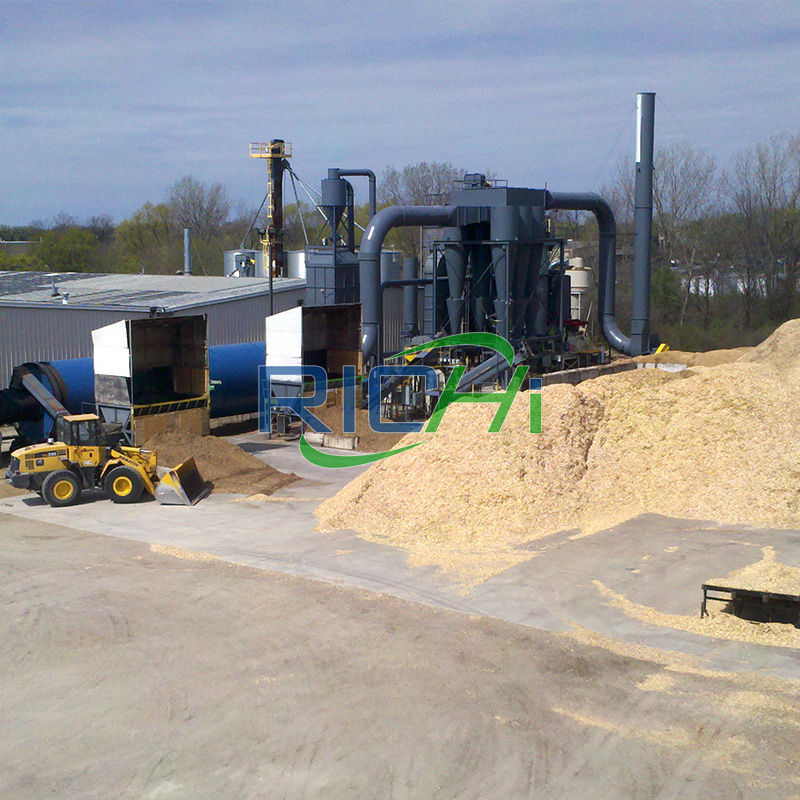 6-6.5T/H wheat straw pellet machine plant solution
—— RICHI MACHINERY ——
Annual output: 45,000 tons
Total investment: 360,000 USD
Project construction content: The project covers an area of 7337m² (about 11 acres). It mainly constructs 1 drying yard, 3 production workshops, 1 office building, guard room, power distribution room, employee shift dormitory and other supporting facilities. facility.
Raw material consumption: 30,000 tons of wheat straw/a, 6,000 tons/a of chaff, 10,000 tons/a of corn stalks
Final product specifications: diameter 6~8mm, length: 30~50mm, density: 700~1400kg/cubic meter, ash content: 1~20%, moisture ≤15%.
Water supply: The water consumption of this project is 2415m3/a.
Power supply: The electricity for this project is supplied by the local industrial park substation, which outputs 380V power for production and 220V power for office and daily life.
Work system: 50 employees. Two-shift system, with 20 hours of work per day and 350 working days per year.
Main equipment: wheat straw biomass pellet mill machine, double-spiral auger, pulverizer, bag dust collector, cooling fan, automatic baler and other production equipment for production.
6-6.6T/H wheat straw pellet machine plant Process flow
Raw materials: The raw materials of this project come from wheat straw, chaff, corn stalks, etc. from surrounding rural areas. The purchased and bundled straw is transported to the factory area and temporarily stored in the raw material warehouse in the project area. The purchased bales of wheat straw are delivered to the workshop warehouse through loaders, forklifts, etc., and are manually loaded and unloaded onto the conveyor. Some raw materials with higher moisture content will be dried in the drying field before use.
Crushing: Wheat straw and corn stalks are crushed using a crusher. Only after crushing can they be granulated. The raw materials after crushing are less than 5mm.
Pelleting: The crushed materials are sent to the wheat straw pellet machine through the bucket elevator. The feeding machine sends the materials evenly into the wheat straw pellet granulator, and the granules produced have a smooth surface and moderate hardness.
Cooling: It must be cooled by an air cooling system and cooled to normal temperature before being bagged and stored. It is sent to the cooling machine through the belt conveyor for cooling. The cooling is completed in 2-3 minutes. The cold sealing process is completed inside the pellet machine.
Packaging and warehousing: This design uses a packaging conveyor for measurement, tape packaging, and delivery to the finished product warehouse.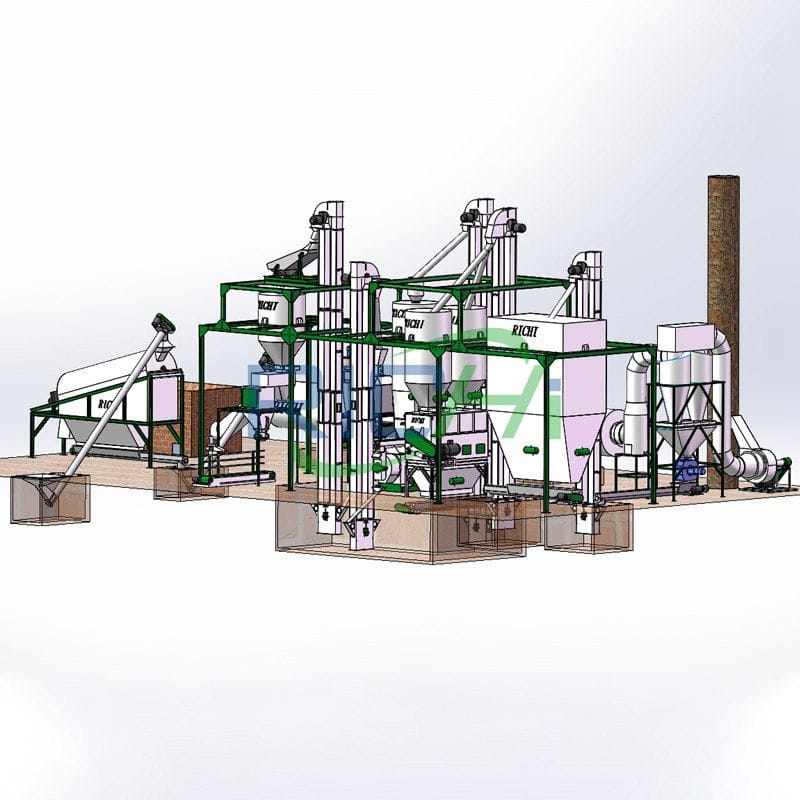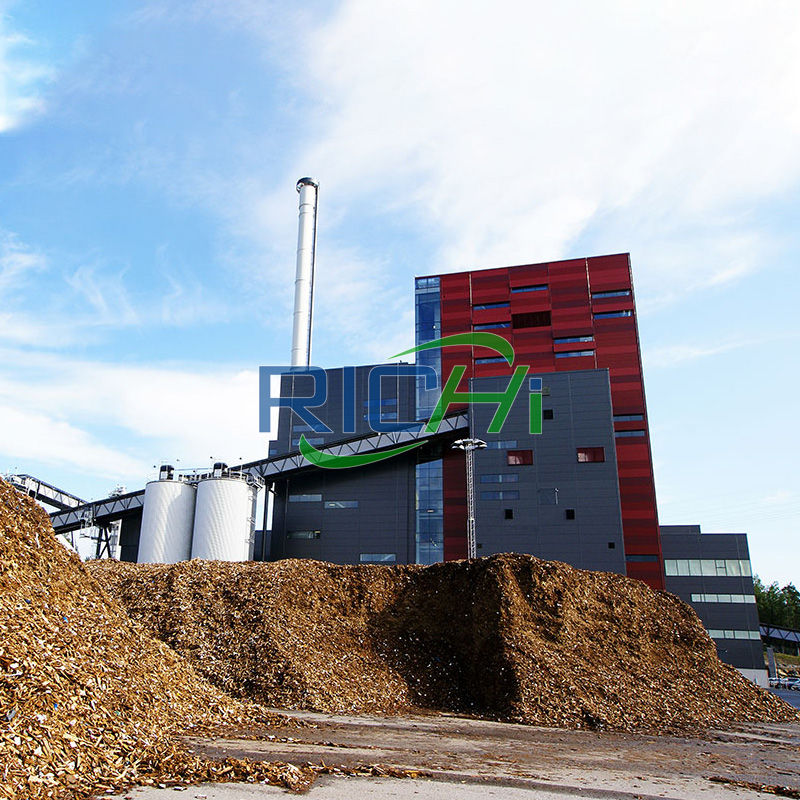 1.5 t/h wheat straw pellet machine line solution
—— RICHI MACHINERY ——
Annual output: 10,000 tons
Total investment: 190,000 USD
Nature of construction: new construction
Work system: The labor capacity is 12 people (including management personnel), and food and accommodation are provided. Work 330 days a year, 8 hours a day.
Project construction content: covers a total area of 9933.33m², with a total construction area of 4868.3m², including a new production workshop of 900m², a raw material pile of 3333.3m², a finished product warehouse of 420m², and an office and living area of 200m². The project site is fully hardened and equipped with corresponding power Equipment and auxiliary production equipment, etc.
Raw and auxiliary materials: 8000t/a of sawdust and straw, with a moisture content of about 16%; 2000t/a of waste wood.
Energy consumption: water 292.8m³/a, electricity 400,000KWh/a
Finished product moisture content <10%
Main equipment of the project: integrated slicing and crushing machine, pulverizer, gasoline-powered saw, bucket elevator, material level indicator, pellet bin to be processed, permanent magnet cylinder, wheat straw pellet machine, fan, hot air furnace, cyclone dust collector, screw conveyor , dust removal air net duct, finished product warehouse, automatic bag sewing machine, belt conveyor, etc.
1.5 t/h wheat straw pellet production line solution Process flow
The raw materials in the yard, such as sawdust, straw, etc., are put into the crusher for crushing. They are screened and mixed, and then enter the crusher for crushing.
Then the raw materials are transported to a fully enclosed drum dryer, and the combustion is introduced through the induced draft fan. The hot flue gas of the hot blast stove is used for drying the material.
The induced draft fan introduces all the sawdust and hot flue gas in the drum dryer into the drying moisture separator.
The terminal facility of the dryer in this project is processed by a drying moisture separator. The dried sawdust is discharged through the discharge port of the drying silo and sent to the wheat straw pellet machine.
Finally, it enters the separator, and the finished product is packaged after the dust is separated.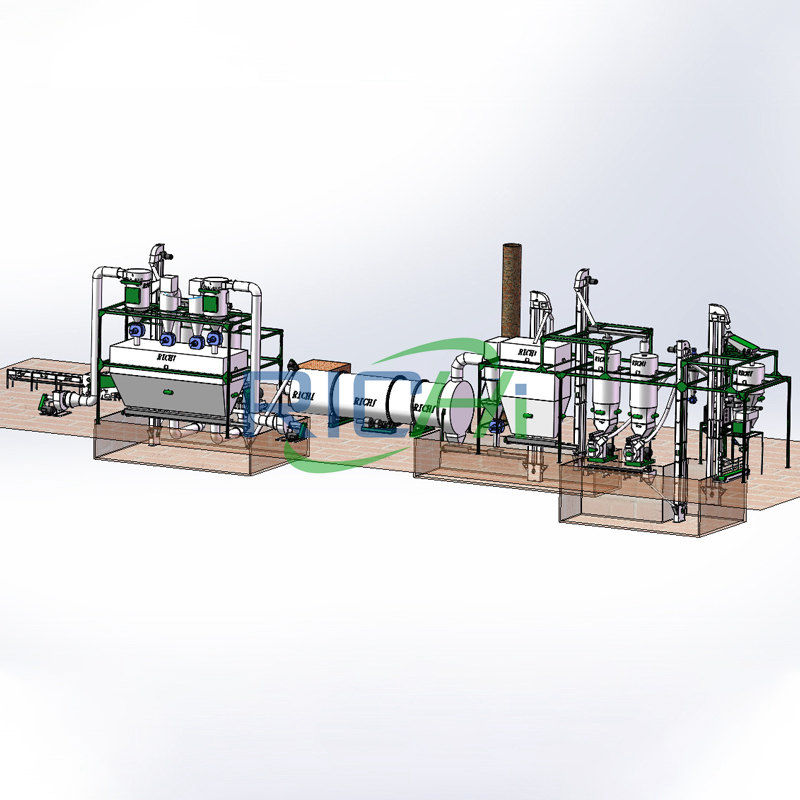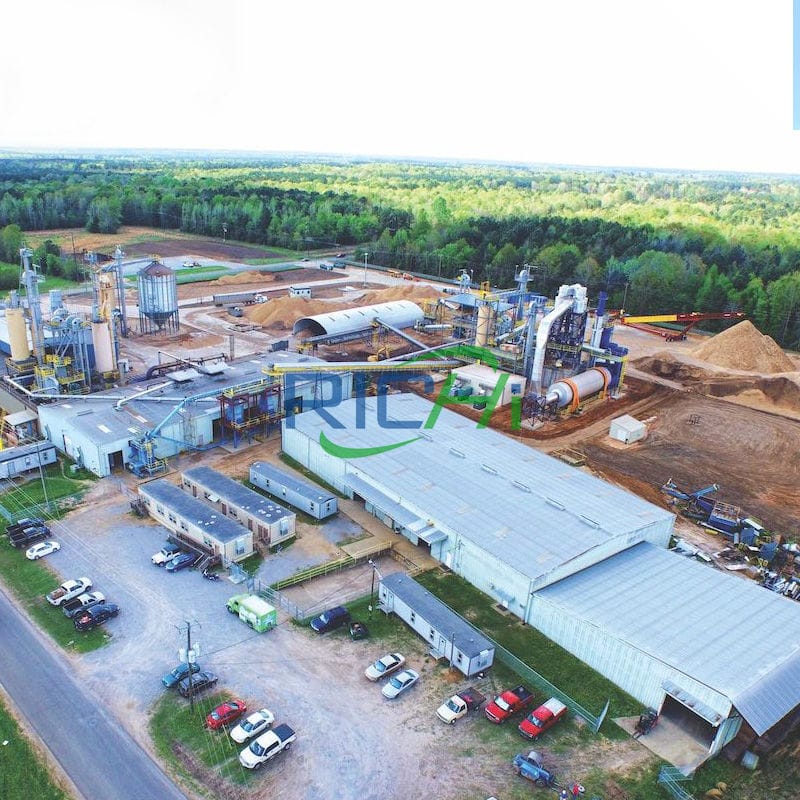 8T/H wood waste wheat straw pellet machine combined plant
—— RICHI MACHINERY ——
Annual output: 20,000 tons/year
Total investment: 540,000 USD
Project content: the actual land area is 4400m², the processing plant is 2200m², the raw material storage yard is 2000m², and the comprehensive office building is 200m².
Source of raw materials: The project uses agricultural and forestry processing waste wood chips, crop rice straws, rice husks, bark, tobacco rods, etc. as raw materials, which are recycled from local farmers and wood processing companies.
Work system: The actual labor capacity of the project is 8 people, a two-shift system is implemented, and the annual working hours are 300 days.
Environmental protection project: 1 set of water film dust collector and sedimentation tank (5m³); 1 septic tank (10m³).
Raw material granulation standards: fineness less than 8mm, moisture around 15%
Main production equipment: feed inlet, multi-function crusher, air shutter, fan, bag dust collector, 1 hot air stove, 1 biomass dryer machine, 1 conveyor, 1 raw material warehouse, ring die wheat straw pellet machine, cooler machine, vibrating screen, cyclone separator, finished product warehouse, packaging machine, etc.
8T/H wood waste and wheat straw pellet machine plant process flow
Crushing: Use a crushing machine to coarsely powder wheat straw, wooden boards, wood blocks, edges, branches, tree branches, tree trunks, and building templates;
Screening: Large wheat straw and wood is screened out and broken again, and fine materials enter the dryer for drying;
Drying: Dry the straw and wood chips through a drum dryer, and reduce the drying rate to 10%-15%;
Hydraulic silo: The dried coarse powder material enters the silo to wait for fine powder;
Fine powder: The material is further crushed through a high-efficiency pulverizer to meet granulation requirements;
Hydraulic silo: Crushed materials enter the silo to wait for granulation;
Granulation: Depending on the output, one or more centrifugal high-efficiency wood wheat straw pellet machines can be equipped for granulation;
Cooling: The temperature of the pellets coming out of the pellet machine is above 90 degrees and needs to be cooled before packaging;
Packaging: It can be equipped with ton bag scale and pellet packaging scale.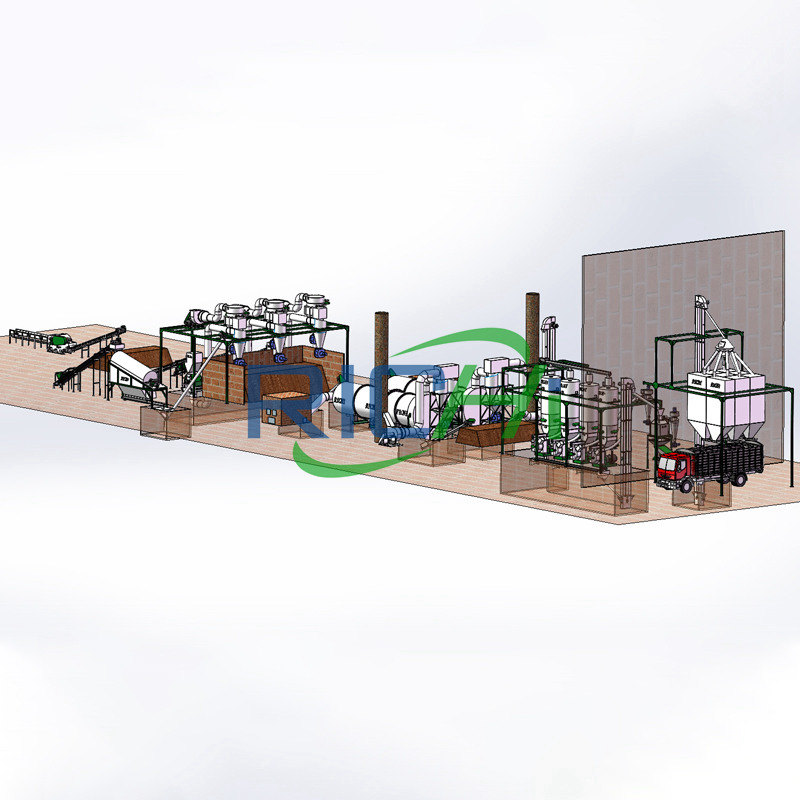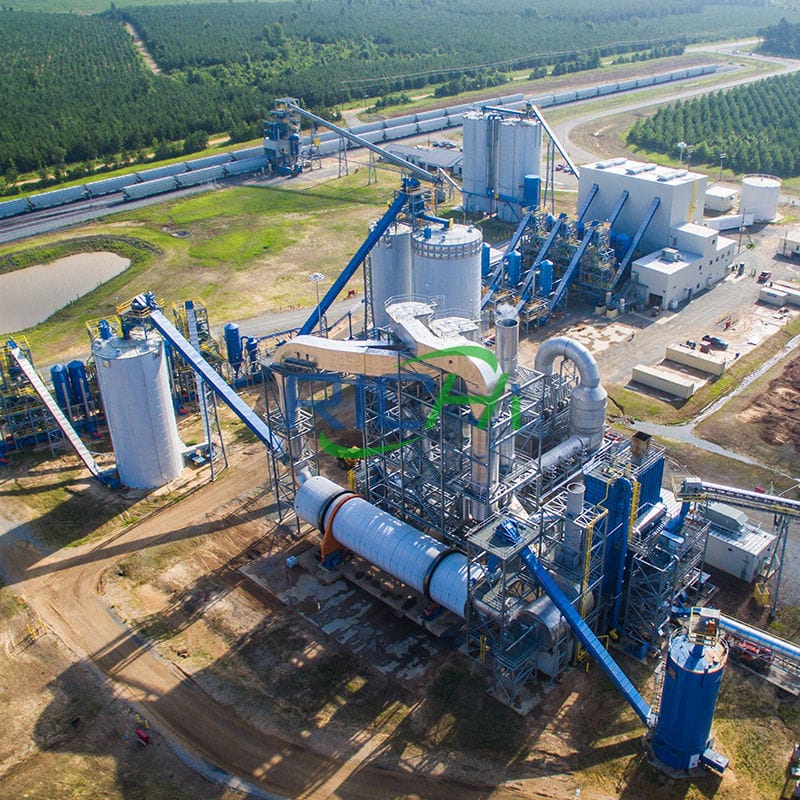 20-22 T/H large scale wheat straw pellet machine plant solution
—— RICHI MACHINERY ——
Total investment: 630,000 USD
Design capacity: Biomass crop fuel pellets (diameter 8mm), 20,000 tons/year (Phase I project); Biomass pellets (diameter 10mm), 30,000 tons/year (Phase II project)
Covered area: 4200 square meters (raw material warehouse 600m², product warehouse 3500m²)
Main raw material consumption: straw 31,000t/a, wood and sawdust 19,000t/a
Annual electricity consumption (kWh/year): 680,000
Work system: Capacity is 8 people, implements 8-hour system, annual working days are 300 days, and annual working hours are 2,400 hours.
Main equipment: newly purchased wheat straw pellet machines, shredders, pulverizers, belt conveyors, air compressors and other equipment to engage in biomass pellet production projects.
20-22T/H large scale wheat straw pellet machine plant Process flow:
Shredding: Transport natural biomass raw materials such as wood into a shredder through a closed belt to shred large materials into small materials.
Crushing: The shredded wood together with wheat straw and sawdust are transported into the crusher by a closed belt, and are further crushed into powder in the crusher, with a discharge particle size of about 10mm.
Granulation: The crushed material flows into the wheat straw pellet machine automatically, and the powder is made into columnar finished products. The finished product specifications are 8-10mm in diameter. According to the information provided by the owner, the granulation temperature is around 90~100°C. This process will produce dust, water vapor in the raw materials and equipment noise.
Cooling: When the pellet machine is discharging, the temperature of the pellet fuel is as high as 80~90°C, and it must be cooled to normal temperature through a cooler before being stored in the warehouse. The finished product is transported to the cooler via a belt, and a fan is used to flow the normal temperature air through the superheated product to cool it down. This project uses air cooling.
Packaging: The cooled wood straw pellet products are packaged and sent to the finished product warehouse for storage.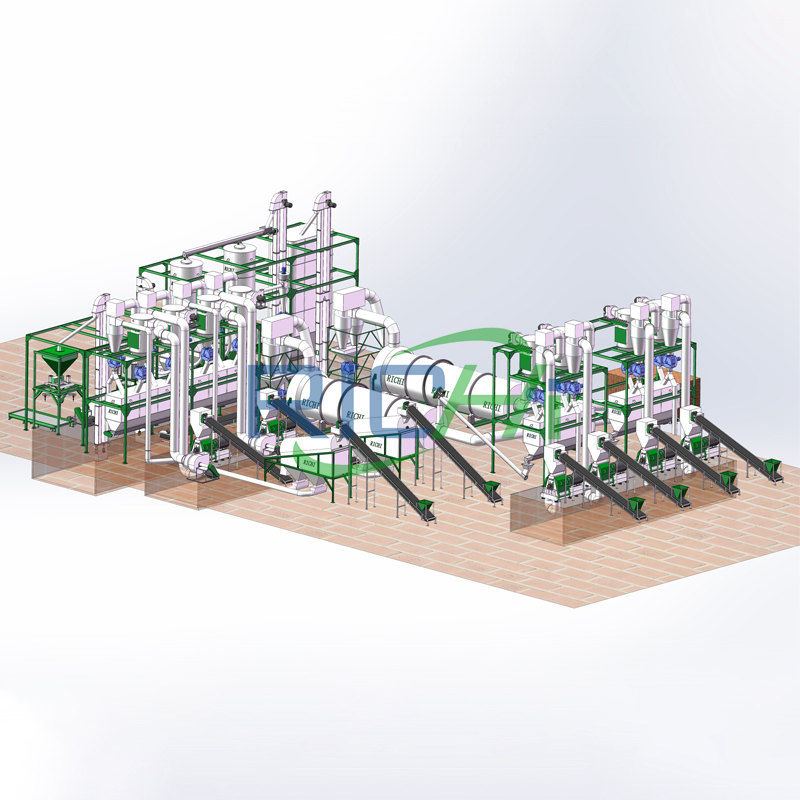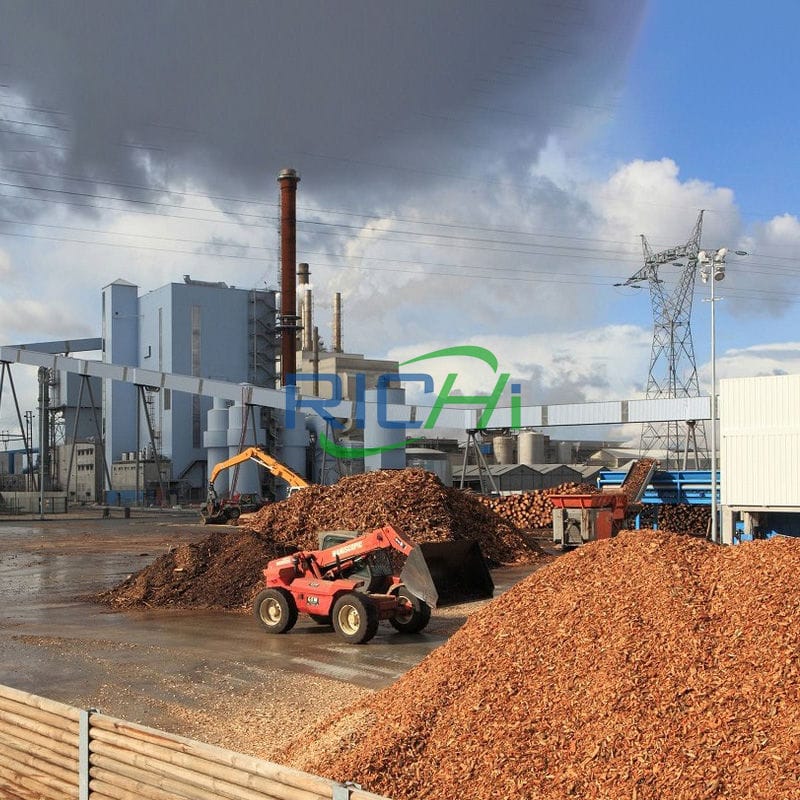 4-4.5T/H wheat straw pellet machine plant solution
—— RICHI MACHINERY ——
Annual output: 10,000 tons
Investment: 290,000 USD.
Project content: This project covers a total area of 1727.8m² and the total construction area of the project is 1727.8m². The main buildings include: 1 production workshop, pellet product storage yard, etc.
Raw material consumption: 12467t/a. Raw materials mainly include wheat straw, bamboo chips, sawdust, wood shavings, branches and other agricultural and forestry waste.
Annual water consumption: 96.3t/a
Annual power consumption: 873,000 kW.h/a
Product plan: diameter 6-10mm, length 0.5-5cm, suitable for various boilers and furnaces.
Working system: This project has a labor capacity of 12 people, including 3 management staff and 9 production staff, none of whom will be accommodated in the factory. The company works 300 days a year and adopts a one-shift system of 8 hours each.
Production equipment: screening machine, slicer, pulverizer, dryer, horizontal ring die wheat straw pellet machine, negative pressure dust collection room, bag dust collector, water film dust collector, etc.
4-4.5T/H wheat straw pellet machine plant Process flow
Slicing and crushing: Use a slicer to cut wheat straw, branches and large pieces of biomass waste material that cannot be crushed directly into small pieces. Then, crushed through a crusher to make the particle size less than 5mm.
Drying: About 30% of the total raw materials have a moisture content of 55%, which does not meet the requirements for granulation require. These raw materials with excessive moisture content need to be dried to make the moisture content meet the requirements for granulation.
Granulation: The raw materials are fed into the wheat straw pellet machine through the feeding auger and made into finished products through extrusion molding.
Cooling: The granulated biomass straw pellets are naturally cooled through transportation, so that their temperature can reach the conditions for packaging and storage, and are finally transported to the finished product warehouse.
Packing: The pressed hot pellets pass through the screening at the end of the conveyor belt, and the qualified biomass pellets fall into the finished product bin. The bottom of the finished product bin is a funnel-shaped outlet, and the finished product can be directly dropped into the packaging bag. After the machine is packaged, it can be stored and sold.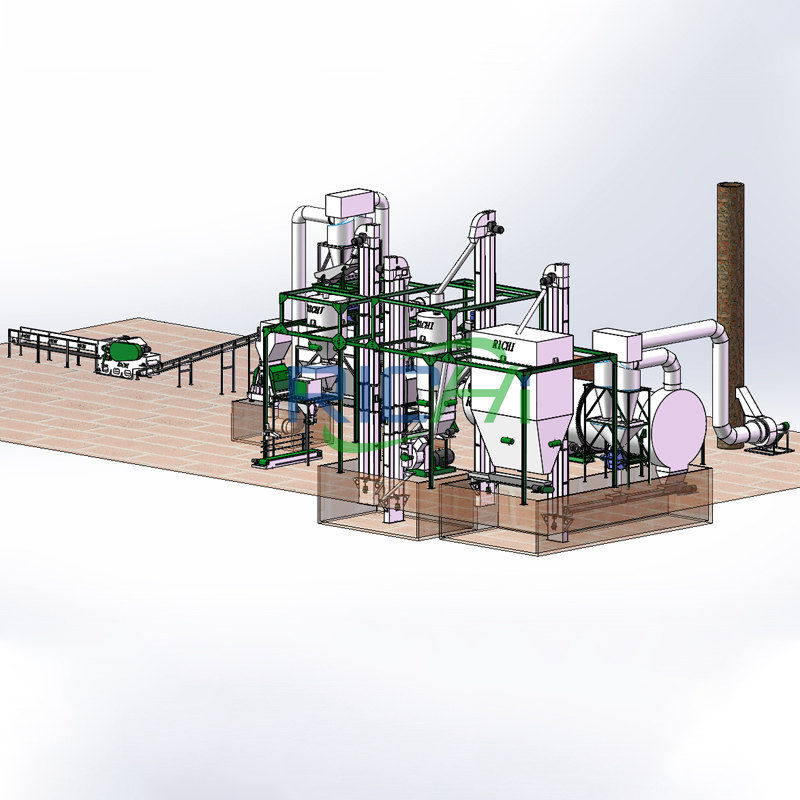 We offer our wheat straw pellet machine products as well as our on-line consultation service, contact RICHI, we will try our best to meet your requirements and budget.
Faqs Of wheat straw pellet machine

What are the technical parameters of wheat straw feed pellet machine?
The following are the parameters and specifications of the wheat straw pellet machine for animal feed production:
| Model | Capacity(T/H) | Main Motor Power(kw) | Feeder Motor Power(kw) | Conditioner Power(kw) | Dia.of Ring Die(mm) | Final Pellet(mm) |
| --- | --- | --- | --- | --- | --- | --- |
| SZLH250 | 1-2 | 22 | 0.75 | 1.5 | 250 | 2~12 |
| SZLH320 | 3-4 | 37 | 1.5 | 2.2 | 320 | 2~12 |
| SZLH350 | 5-7 | 55 | 1.5 | 3 | 350 | 2~12 |
| SZLH420 | 8-12 | 110 | 1.5 | 7.5 | 420 | 2~12 |
| SZLH508 | 10-18 | 160 | 2.2 | 11 | 508 | 2~12 |
| SZLH558 | 15-25 | 180/200 | 2.2 | 11 | 558 | 2~12 |
| SZLH558D | 14-22 | 160/180/200 | 1.5 | 7.5 | 558 | 2~18 |
| SZLH678 | 20-30 | 220/250 | 2.2 | 11 | 678 | 2~12 |
| SZLH678D | 15-25 | 200/220/250 | 2.2 | 11 | 673 | 2~18 |
| SZLH768 | 25-40 | 280/315 | 2.2 | 11 | 768 | 2~12 |
| SLZH858 | 25-42 | 280/315 | 2.2 | 15 | 858 | 2~18 |

What models are there for wheat straw organic fertilizer granulators?
The following are the technical parameters of the wheat straw pellet machine for organic fertilizer, or you can visit page: organic fertilizer pellet making machine for details.
| Model | MZLH320 | MZLH350 | MZLH420 | MZLH520 | MZLH768 | MZLH858 |
| --- | --- | --- | --- | --- | --- | --- |
| Power (KW) | 37 | 55 | 90 | 132 | 250 | 280 |
| Capacity (T/H) | 1-2 | 3-4 | 5-6 | 7-8 | 9-10 | 10-12 |
| Final Pellet (mm) | 2-6 | 2-6 | 2-6 | 2-6 | 2-6 | 2-6 |
| Weight(KG) | 2500 | 3500 | 4000 | 4500 | 5000 | 5500 |

What are the differences between the technological processes of processing wheat straw fuel pellets and processing wheat straw feed pellets? Can you elaborate?
(1) Raw material preparation process
The raw material preparation process for pellet feed production is one: generally there is the process of removing large impurities and iron impurities.
At present, there is no impurity removal process for the production of biomass briquettes. The condition of the raw materials is very complicated, and it is easy to be mixed with soil, gravel, iron filings, etc., which affects equipment production.
(2) Powder crushing process
Fuel and feed requirements are roughly the same. This process directly affects the particle size of the material. Generally speaking, the finer the grinding degree of the raw material, the higher the molding quality, but the greater the energy consumption.
Due to the small surface area of coarsely crushed raw materials, the transfer speed of heat and moisture is slow. Sometimes the formed particles lose their plastic deformation ability before they are extruded out of the die holes, and are finally blocked in the die holes.
If the crushing particle size is too coarse, it will be easier to break after molding and have poor stability. At the same time, it will also produce a grinding effect on the contact parts, increase friction, increase energy consumption, and reduce output.
Whether it is producing straw solid molding fuel or pellet feed, the size of the crushed particles directly affects the quality of molding and the life and energy consumption of the mold. This process is an indispensable part of the process.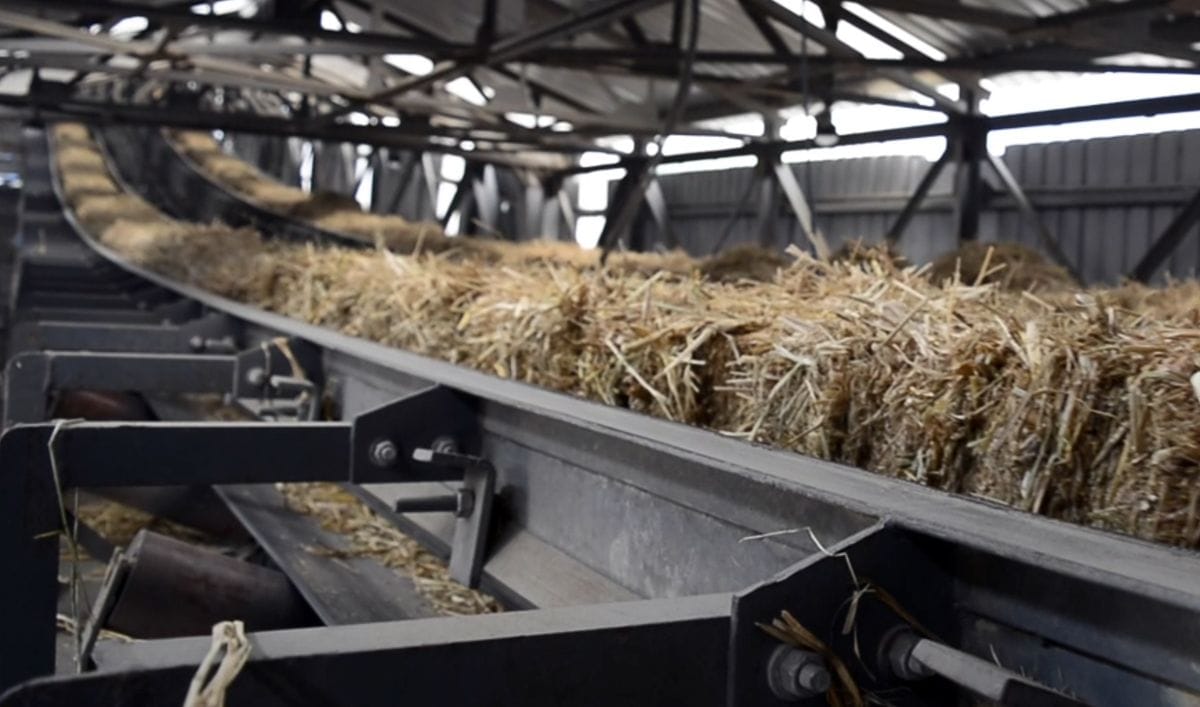 (3) Mixing process
In pellet feed, in order to ensure the nutritional component content and uniformity of the product, the requirements for batching accuracy and mixing uniformity are relatively high. Special mixing equipment is used to mix the material more uniformly.
The production of straw solid briquette fuel is crushed and then pressed. There is no special mixing equipment, the mixing process requirements are not strict, the uniformity of the material is poor, and the particle size of the material may be different.
(4) Quenching and tempering process
The conditioning effect in the feed process has a particularly important impact on the molding process. Conditioning is a process of preparing for molding. It is a hydrothermal treatment of feed. This process gelatinizes starch, denatures protein, and softens the feed. It not only improves the quality and effect of pressed granules, but also increases the nutritional value of the feed and improves the palatability of the feed. properties and their digestion and absorption rate.
Wheat straw pellet fuel generally does not have a conditioning process. The material is only transported to the wheat straw granulator through a screw conveyor. This process only has a certain stirring effect and does not change the characteristics of the raw materials. In order to maintain the range of moisture content during the pressing process, some straw solid molding fuels add a humidity adjustment process during the transportation process to achieve the appropriate moisture content for raw material molding.
(5) Granulation process
The SZLH ring die wheat straw pellet mill is mainly used for processing straw feed pellets. The equipment can be equipped with a single-layer or double-layer conditioner.
The MZLH ring die wheat straw pellet mill is mainly used for processing straw fuel pellets. This equipment is not equipped with a conditioner because the molding process used for fuel processing does not require aging.
Some fuel plants directly use feed molding equipment to produce straw solid molded fuel. Problems such as fast wear of key components, easy clogging, and discontinuous production have arisen during the work. The reason is that the production conditions of straw solid molding fuel are poor, containing many impurities, large dust, simple production process, large losses to the molding machine, high energy consumption, reduced productivity, and the ring mold and pressure roller are easily damaged.
Therefore, pellet feed molding equipment cannot directly produce straw solid molding fuel. RICHI wheat straw fuel pelletizer is innovatively designed on the basis of pellet feed straw pelletizer.
Based on the basic characteristics and working conditions of straw solid pellet fuel, a reasonable and efficient straw pelletizer equipment is improved and designed, which can completely Meet the production requirements of straw solid pellet fuel. It is currently running stably in pellet production lines in many countries.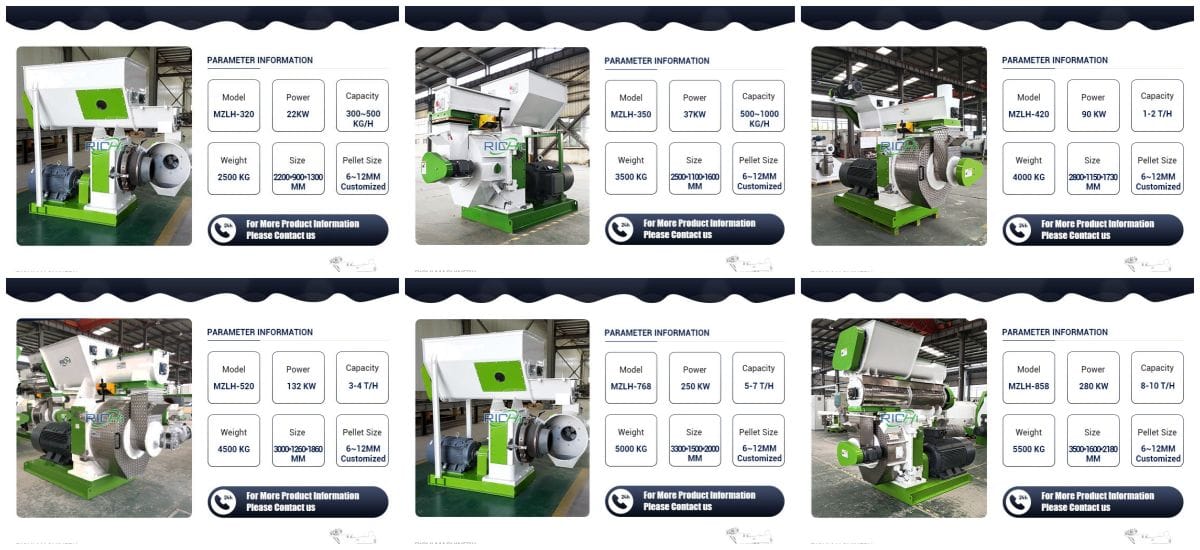 (6) Spraying process
The production of high-energy feed generally adopts the method of external coating. Some animals obtain necessary fatty acids from fat. It is obviously inappropriate to add these fatty oils to the feed before molding. In order to ensure its nutrition, a layer is coated on the surface of the pellets after molding, to facilitate the absorption of fatty acids. The external coating makes the surface of the feed pellets smoother and glossier, making it less likely to fall off.
Wheat straw pellet fuel does not require an external coating process.
The mixing, conditioning and external coating processes of pellet feed are beneficial to the molding of pellets, reduce wear on the molding machine, and ensure the normal service life of the mold roller. These are not required in the straw solid molding fuel production process.

Which countries are suitable for customers to purchase wheat straw pellet machines and establish wheat straw pellet production lines?
As one of the three largest food crops in the world, wheat plays an important role in the dietary structure of most countries around the world. There are many countries that grow wheat in the world, but the production is mainly concentrated in China, India, Russia, the United States, Australia, France, Ukraine, Pakistan, Germany, Canada, Argentina, Kazakhstan, Turkey and other countries.
Therefore, correspondingly, there will be a lot of wheat straw left after the wheat harvest. Making good use of these wastes and investing in the field of pellet processing is very promising. (Find RICHI on YouTube)

Why should we use wheat straw pellet machine to process straw pellets?
The world produces more than one billion tons of crop straw every year. However, so much straw has not been fully utilized.
A large amount of straw piles occupy land and become a habitat for crop diseases and insect pests, resulting in reduced food production and increased pesticide expenses.
Straws are burned or discarded, which not only wastes precious fiber resources, but also causes serious environmental pollution, which cannot be prevented.
Straw fires also cause heavy losses to farmers and pose a great threat to the traffic safety of highways and railways and the take-off and landing safety of civil aviation flights.
Therefore, the production technology and complete set of equipment for processing wheat straw pellet feed and fuel using a wheat straw pellet machine are of great significance.
It can not only turn waste into treasure and return it to the fields, but also increase the income of farmers and solve the employment of a large number of farmers. It can reduce environmental pollution, protect the ecological environment, and promote a virtuous cycle in the agricultural industry.

What are the characteristics of wheat straw pellet fuel?
Under the action of a certain external pressure, biomass raw materials such as wheat straw reach a certain temperature due to the friction between the materials and between the materials and the mold roller. Coupled with the bonding effect of lignin, the plant body becomes dense and uniform.
When the external pressure is removed, the original structure and shape cannot be restored due to the entanglement between fiber molecules. After cooling, the strength increases and becomes a pellet fuel.

Biomass wheat straw pellet fuel usually refers to cylindrical biomass solid molded fuel made from crushed solid biomass raw materials that are compressed by a molding machine. The diameter is ≤25mm and the aspect ratio is ≤4. Common diameter sizes are 6, 8, and 10mm;
The density of wheat straw pellet fuel is significantly increased and the volume is significantly reduced, making it easier to transport and store;
Small size and large contact area with air, which is conducive to combustion;
Consistent specifications facilitate automated transportation and combustion;
Can be used as fuel for industrial boilers, residential area heating and household cooking and heating.
The higher the volatile content of the wheat straw fuel, the easier it is to ignite and the better the combustion performance. The volatile content of biomass wheat straw pellet fuel is as high as 60% to 70%, which is much higher than that of coal, so its ignition performance and combustion performance are better than that of coal. coal;
The carbon content is 35% to 42%, which is much lower than coal. This makes its calorific value lower than coal; the N content is 0.5% to 3%, and the S content is only 0.1% to 0.5%t. The emissions of NOx and SO2 during combustion are much lower than coal. The emitted CO2 and wheat straw photosynthesis absorb The CO2 reaches a balance and basically achieves zero emissions;
Compared with biomass resources in their original state, wheat straw pellet fuels burn for a longer period of time. It can be seen that biomass pellet fuel is a "high-quality, clean and efficient" fuel.

Among the five raw materials: wheat straw, cotton straw, corn straw, corn cob and rice straw, which raw material has the best granulation effect?
Different types of straw raw materials have large differences in their biological structures. In addition, the chemical composition, such as ash content, is different, so the ease of compression molding is also different.
In terms of maximum pressure, wheat straw is the smallest, 82.7MPa, and cotton straw is the largest, 88MPa;
In terms of maximum deformation, wheat straw is the largest, 93.8mm, and corn straw is the smallest, 86.6mm.
For example, compression molding of five raw materials:
The order of pressure from large to small is: cotton straw>corn straw>corn cob>rice straw>wheat straw.
Under the same pressure, the order of deformation of raw materials from large to small is: wheat straw>rice straw>corn cob>corn straw>cotton straw
For the maximum compression density, the order from large to small is: wheat straw>rice straw>cotton straw>corn straw>corn cob.
Through analysis, it can be concluded that the compression molding effect of wheat straw is the best in terms of low maximum pressure and high maximum compression density.
However, it needs to be clear that some raw materials are really good, but for many customers the cost is too high or cannot be obtained, so these raw materials are not suitable for these customers.
No matter which country you come from, no matter what kind of straw pellet processing you want to do, please remember that the raw material that suits you (low cost, easy to obtain, and economically effective) is the best choice.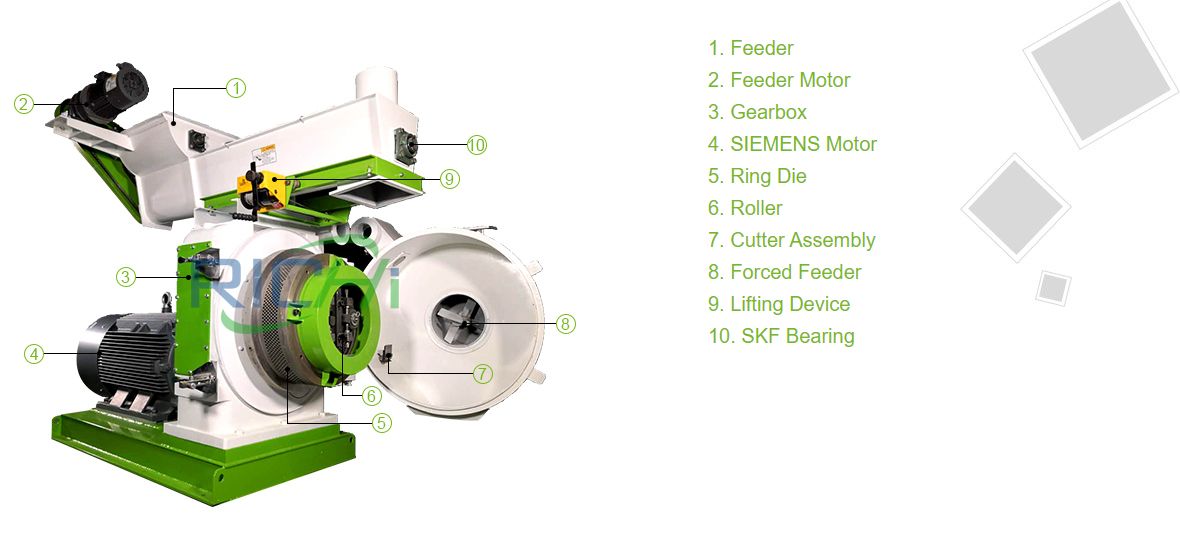 I want to invest in a straw recycling project. Is it better to process straw pellets or use straw gasification?
At present, the investment in straw gasification equipment is relatively large. Moreover, since straw is directly gasified, its use must be in rural areas. The low living standards in rural areas limit the promotion of gasification technology. In addition, straw is large in size, light in weight, and cannot be transported, making it unavailable to high-end consumers in cities and towns.
Compared with straw gasification, straw pellet fuel is safer and more reliable. On the basis of absorbing foreign research results and combining its own years of design experience, RICHI has achieved the production of straw pellet fuel by improving the wheat straw pellet machine and granulation technology.
We add two kinds of mineral raw materials during the wheat straw pelletizer machine granulation process. Without affecting the combustion value, we can ensure that the tender pellets prevent the overall deformation and fall apart during the burning process, and achieve the complete combustion effect of the tender hardwood pellets, which has firepower. It is strong, pollution-free and suitable for various burners.
No matter which kind of wheat straw pellet machines you are looking for, you can choose the right one with Richi Machinery. So waiting no more, leave Richi Machinery messages and get professional advice now.
LEAVE YOUR NEEDS
Keeping in touch with us is an effective way to solve all your problems. If you have any needs or questions, please leave your contact information, then RICHI technical consultants will send design, quotation, videos to your mailbox. You can also contact us directly via WhatsApp: +86 13838389622