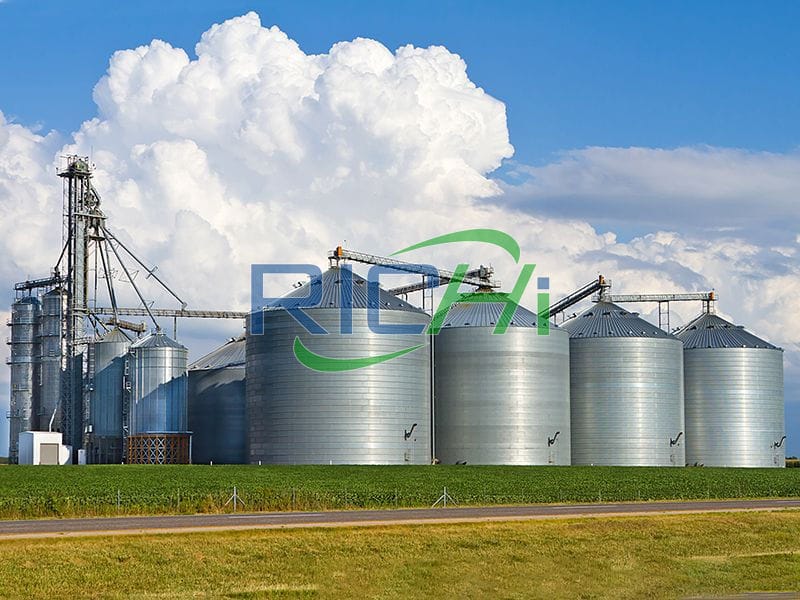 Storage Silos
Storage silos are basic equipment used to store, transport and process various bulk materials. They are widely used for storing grain, seeds, cement, fly ash and other granular and powdery materials.
Richi Machinery specializes in the research, development, design, manufacturing and sales and services of steel silo equipment and warehousing system engineering technology. RICHI storage silos can meet the storage capacity of materials, have sufficient strength, and smooth unloading.
Our stainless steel silos can be used in: animal feed mill plants, grain depots, flour mills, starch factories, oil factories, alcohol plants, wineries, ports, farms, grain processing centers, cement plants and other enterprises as grassroots storage warehouses and temporary storage warehouse, transfer warehouse, raw material warehouse, reserve granary and other purposes.
In addition to large grain silo storage, we also provide various small storage equipment for feed mills, grain and oil mills, wood pellet factory, biomass pellet plant and other industries, all of which can be customized according to customers' process needs.
Features & Advantages of storage silos
RICHI Machinery specializes in the professional design, manufacture, and installation of spiral silos and prefabricated steel silos for domestic and foreign feed mills, grain and oil mills.
We provide turnkey projects from process, civil engineering design, automation control system and lifting, transportation, cleaning, magnetic separation, metering, drying, fumigation, ventilation, dust removal, temperature measurement, humidity measurement and other supporting equipment manufacturing, installation, commissioning and personnel training, etc.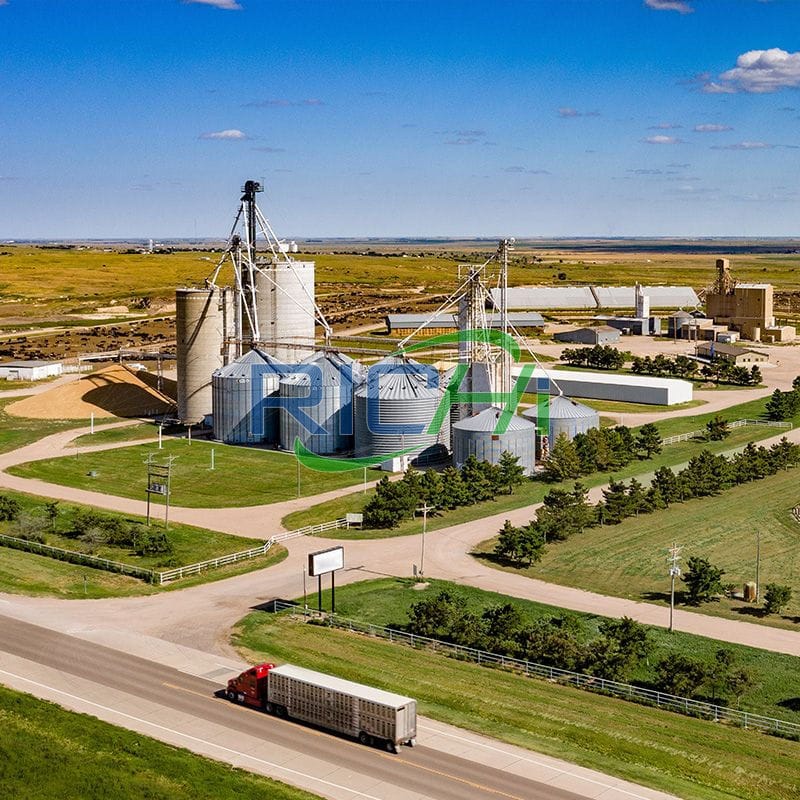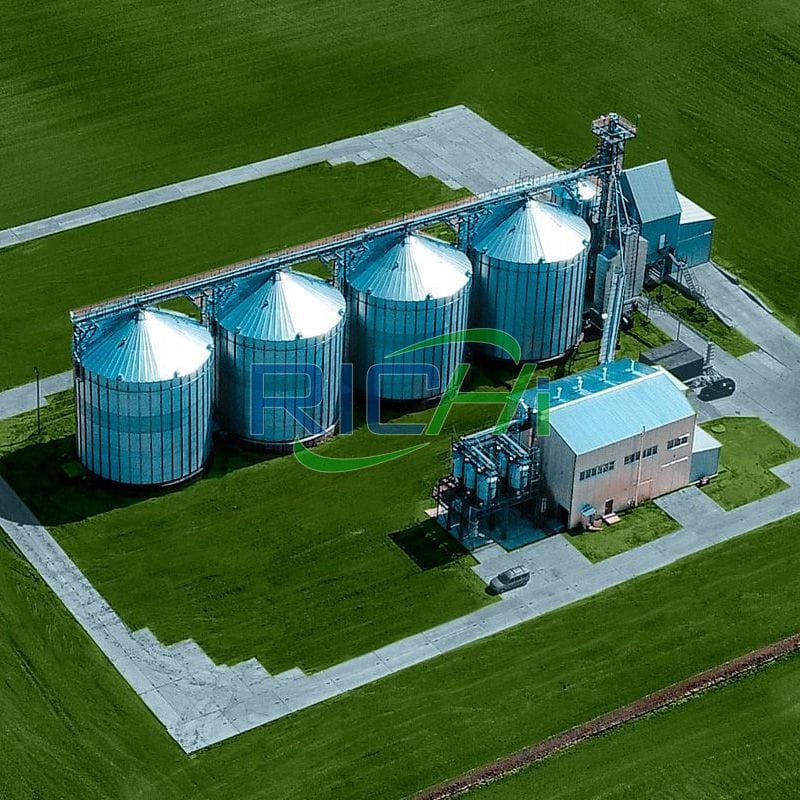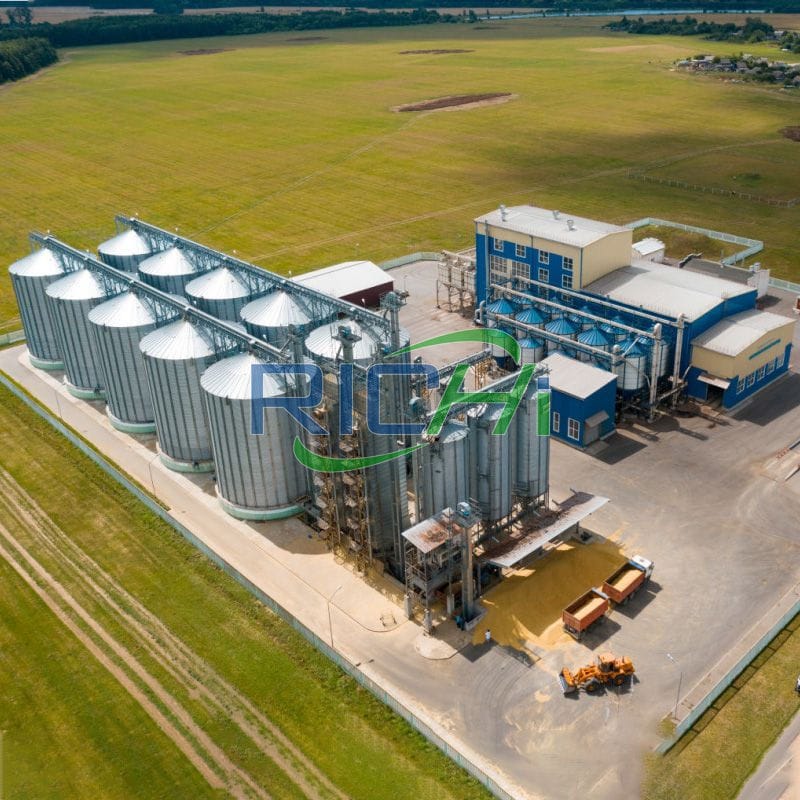 RICHI steel storage silos have the following advantages:
Grain silo has the characteristics of light weight, low foundation requirements, low cost, short construction period, good sealing and moisture resistance, strong and durable, wide range of use, easy management, etc.;
Its supporting system is relatively complete and the degree of mechanization and automation is high, which can better meet the safety of grain storage and process operation performance, and adapt to the requirements of the development of granaries.
Because of its deep grain layer and thin warehouse wall, it is greatly affected by the external environment. However, reasonable technology, supporting systems and effective grain storage management measures ensure the safety of grain storage in steel plate warehouses.
The assembly warehouse also has the characteristics of detachable relocation, easy disassembly and replacement of components, expandability (for example, the original warehouse can be heightened or increased in diameter, etc.), and easy access to the warehouse for maintenance or sampling of stored materials. Therefore, storage silos are increasingly accepted and used by users.
With the development of society, large-scale production industries require large-scale vertical storage silos.
Therefore, the design and application of high-quality grain silos play an extremely important role in safe and continuous production of enterprises and improving labor intensity.
types of storage silos
According to the material, design, output and different applications of the silo, our storage silos can be divided into the following:
grain silos
maize silo
animal feed storage silos
silage storage
wood chip silo storage
biomass storage silos
bulk silo
galvanized grain bin
small grain silos
paddy silo
poly silos for sale
wheat storage silos
rice storage silos
silo 5000 ton
100 ton silo
1000 ton grain silo for sale
1500 tons feed storage silo
500 tons grain feed silo
20 tons grain storage bin for sale
2000 tons maize storage silos
2500 tons silos for storing grains
…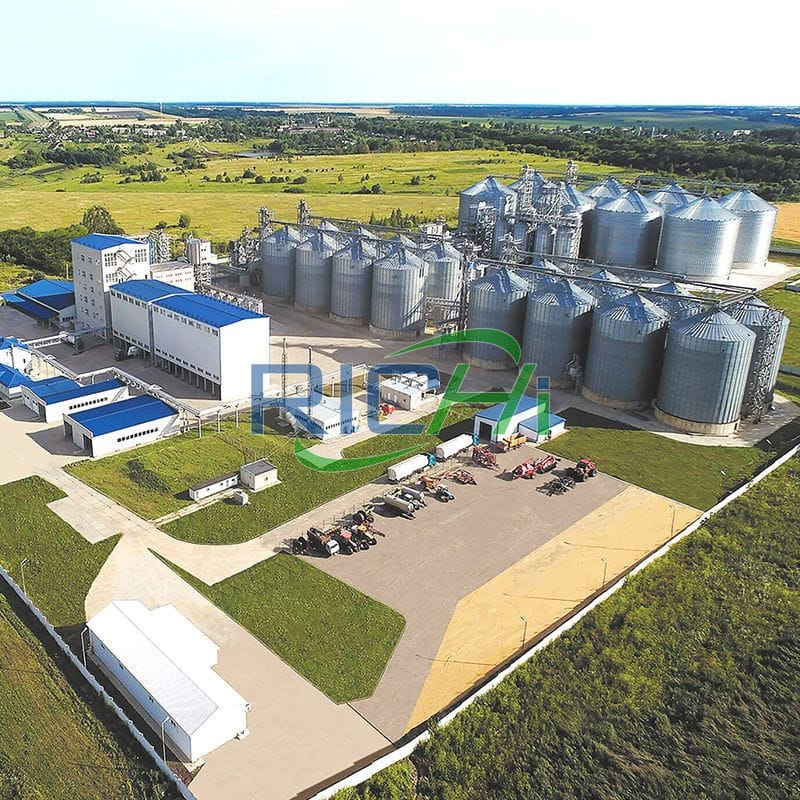 The storage silos we provide mainly include the following two types: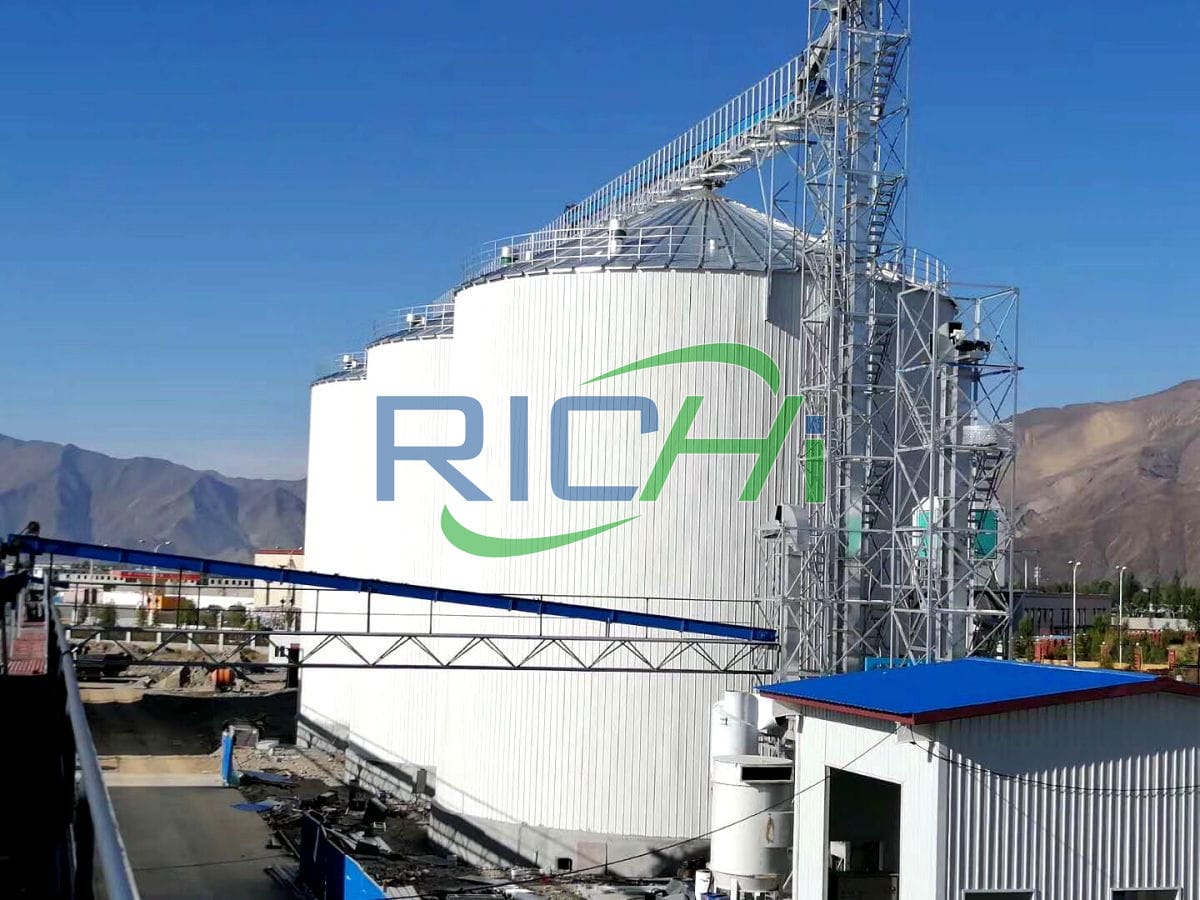 Prefabricated storage silos
RICHI has introduced the world's advanced manufacturing technology, and rolling, punching and bending are all controlled by computers.
Design and processing scope: we can produce flat-bottom, cone-bottom, porous discharge and other steel plate silos with a diameter of 3.65 meters to 32 meters and a single warehouse storage capacity of 30 tons to 12,000 tons.
Storage silos components such as corrugated plates, columns, and silo roofs have high punching accuracy, strong interchangeability, and easy installation, which greatly improves the quality and reliability of the product.
The steel silo project can provide customers with large-scale conveying equipment projects for assembling single warehouses of 10-10000T and 50-1000T/H.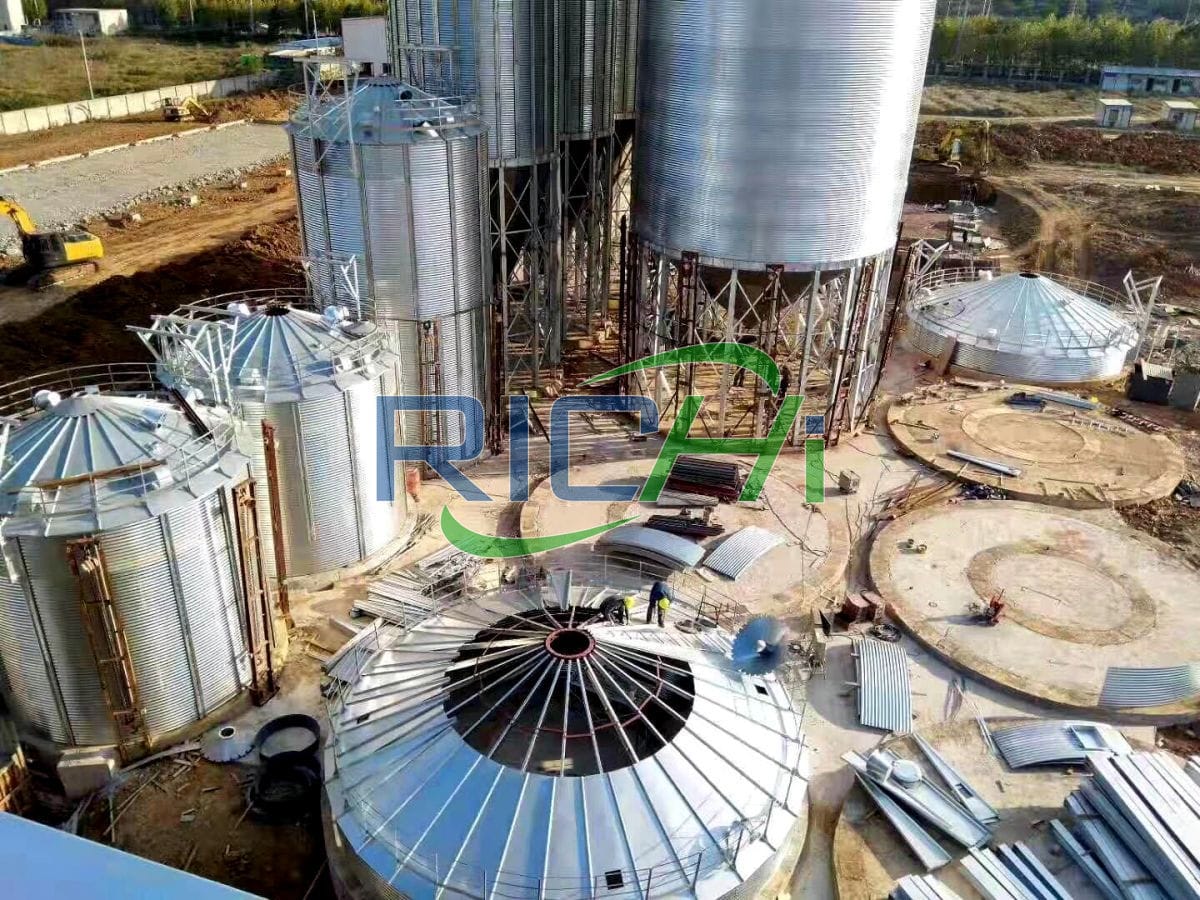 Spiral storage silos
The silo is constructed on-site and installed on the ground on the top of the silo, without the need for scaffolding or other auxiliary facilities. Silo construction equipment forms and bends at a speed of 3-5 meters/minute, so the project is extremely short.
It is also superior to other steel silos in that its height and diameter can be selected arbitrarily within a wide range.
Spiral steel storage silos can be used in: grain industry, feed industry, oil industry, building materials industry, brewing industry and port industry.
RICHI can provide customers with spiral single warehouse 50-6000T, assembled single warehouse 10-10000T, and 50-1000T/H large-scale conveying equipment projects.
From the moment RICHI silo equipment and solutions are delivered and put into operation, we provide professional services throughout their life cycle to ensure optimal performance.
Our service engineers ensure that your production line is always in optimal working condition, providing a full range of on-site maintenance, including installation, commissioning, inspection, maintenance, overhaul and upgrades.
storage silos Projects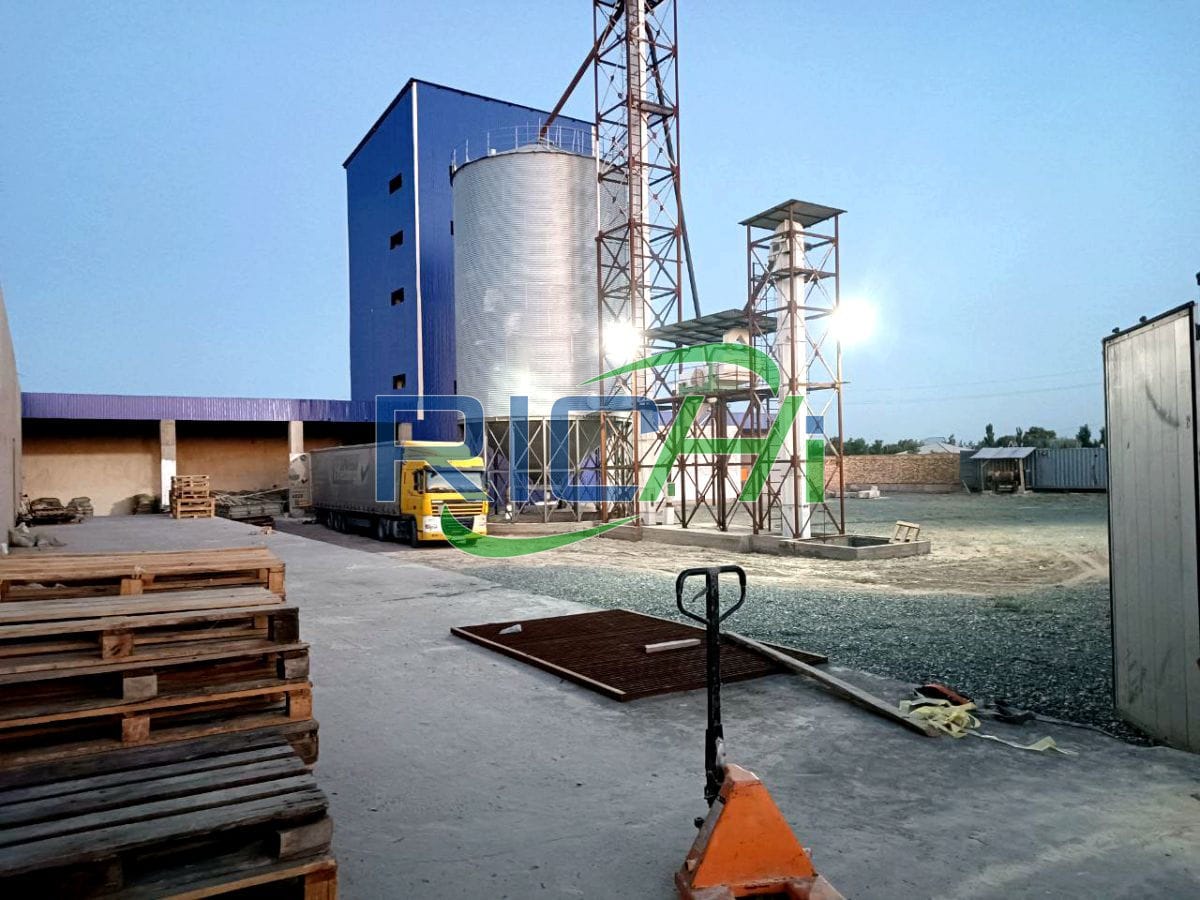 feed silo for sale Uzbekistan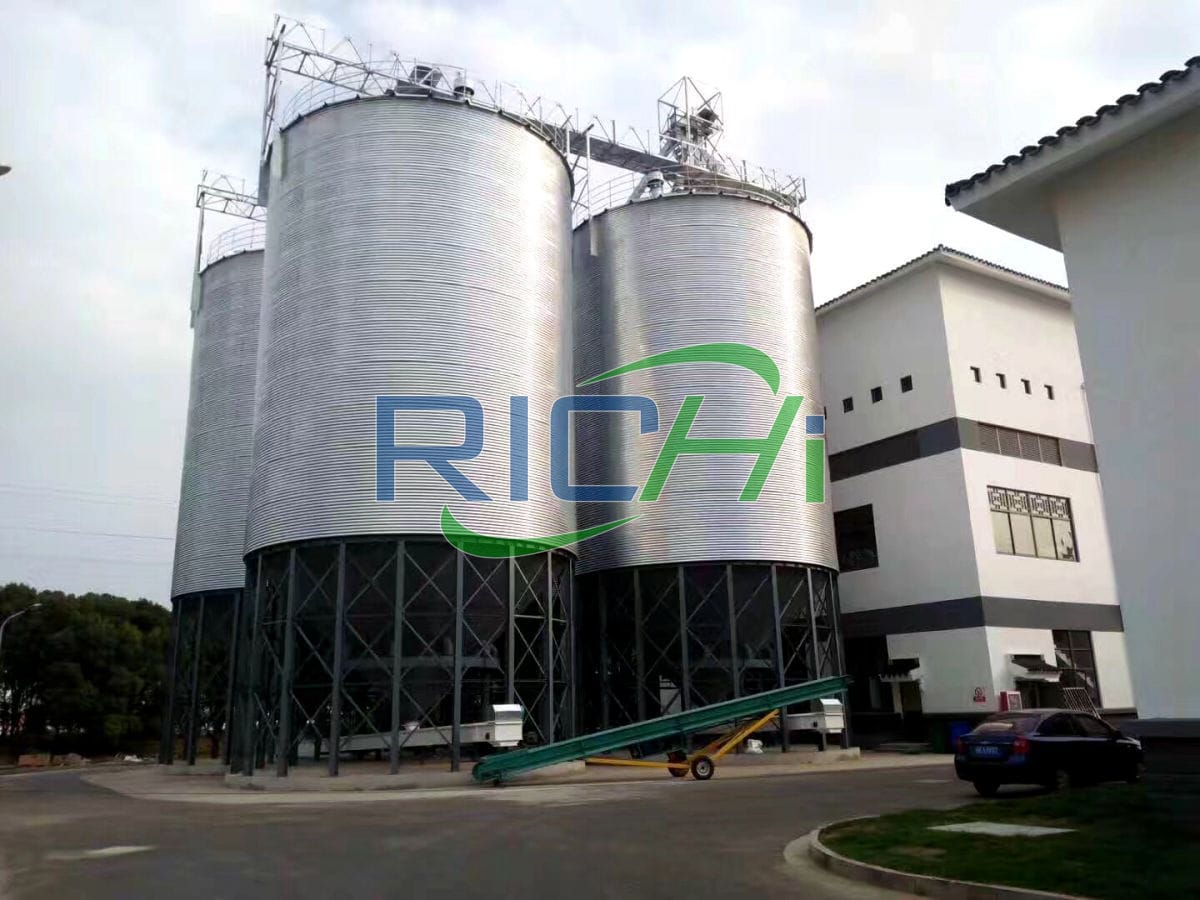 maize silos for sale USA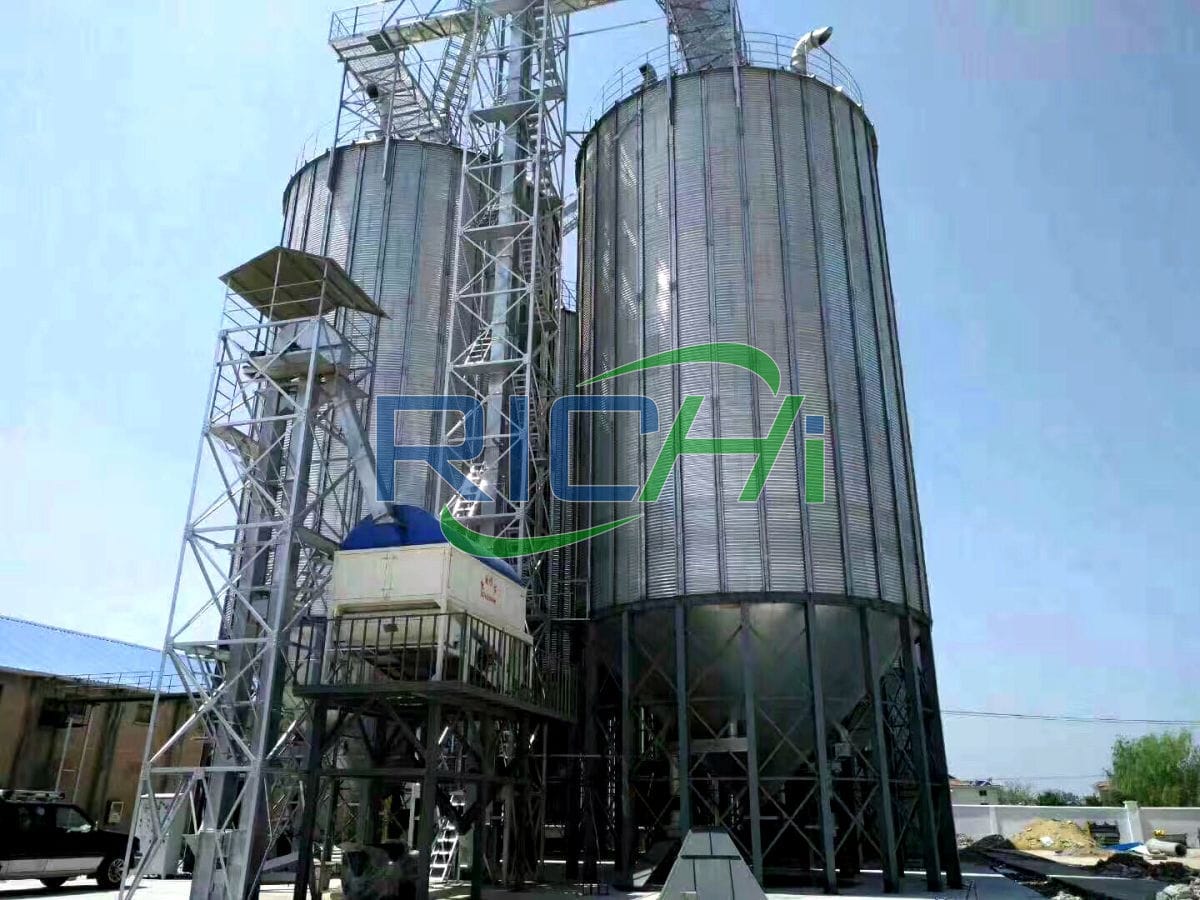 grain storage silos for sale Canada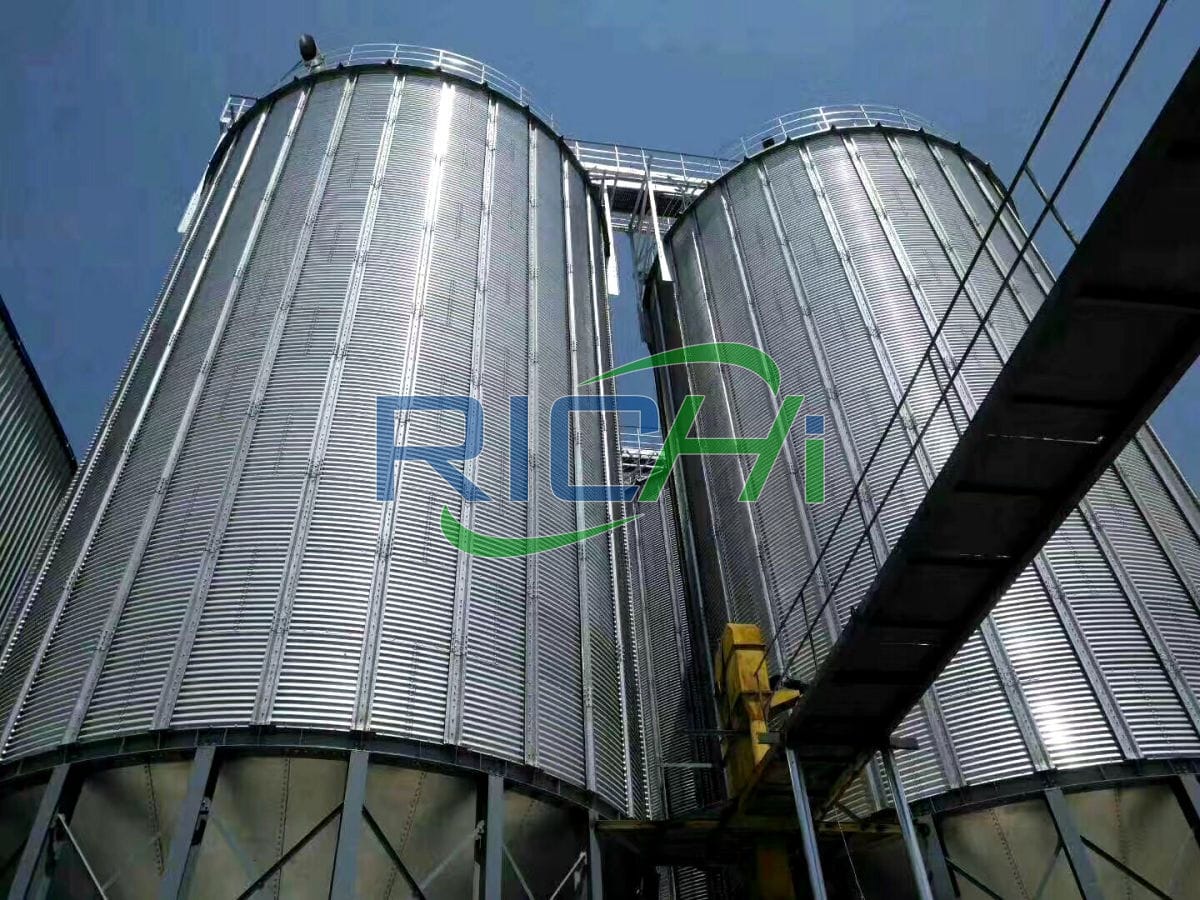 Storage Silos For Sale Russia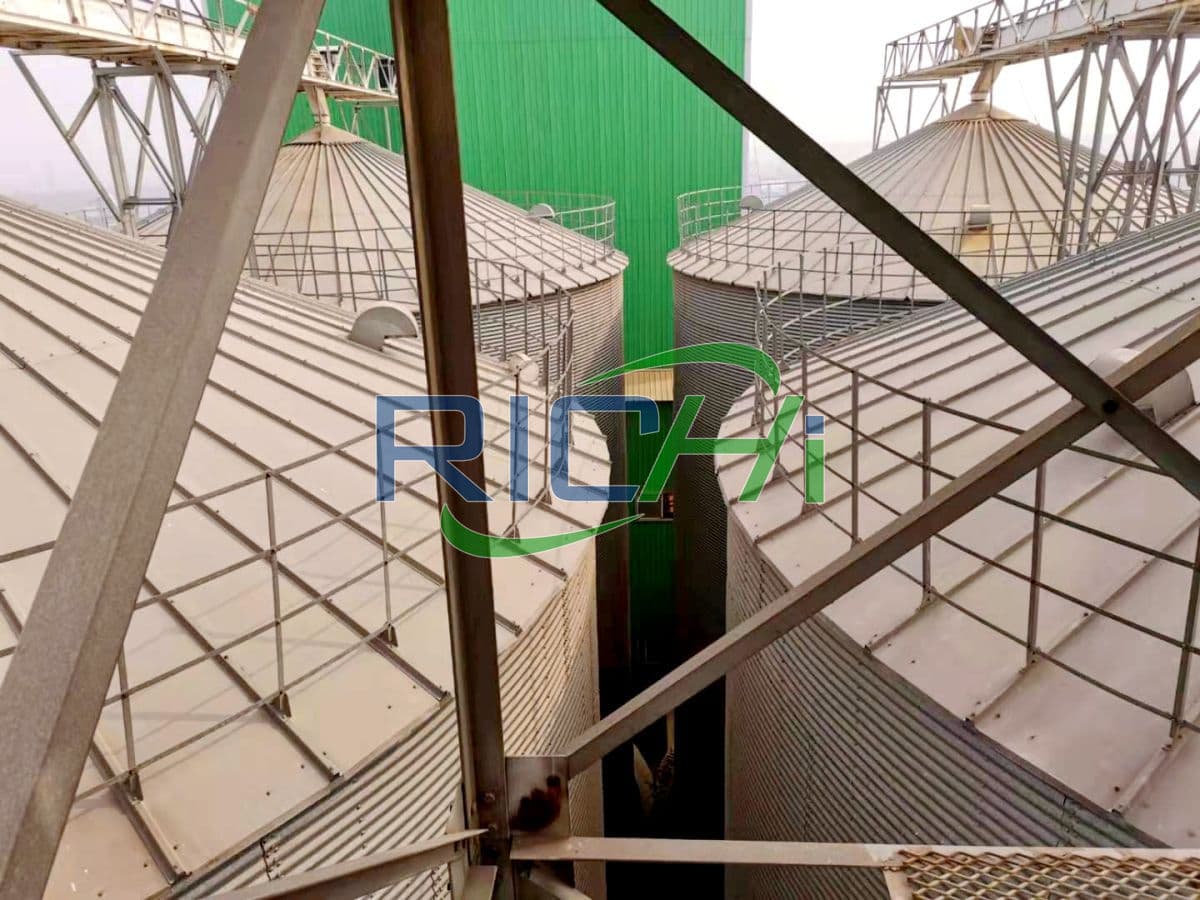 1000 ton grain silo for sale Peru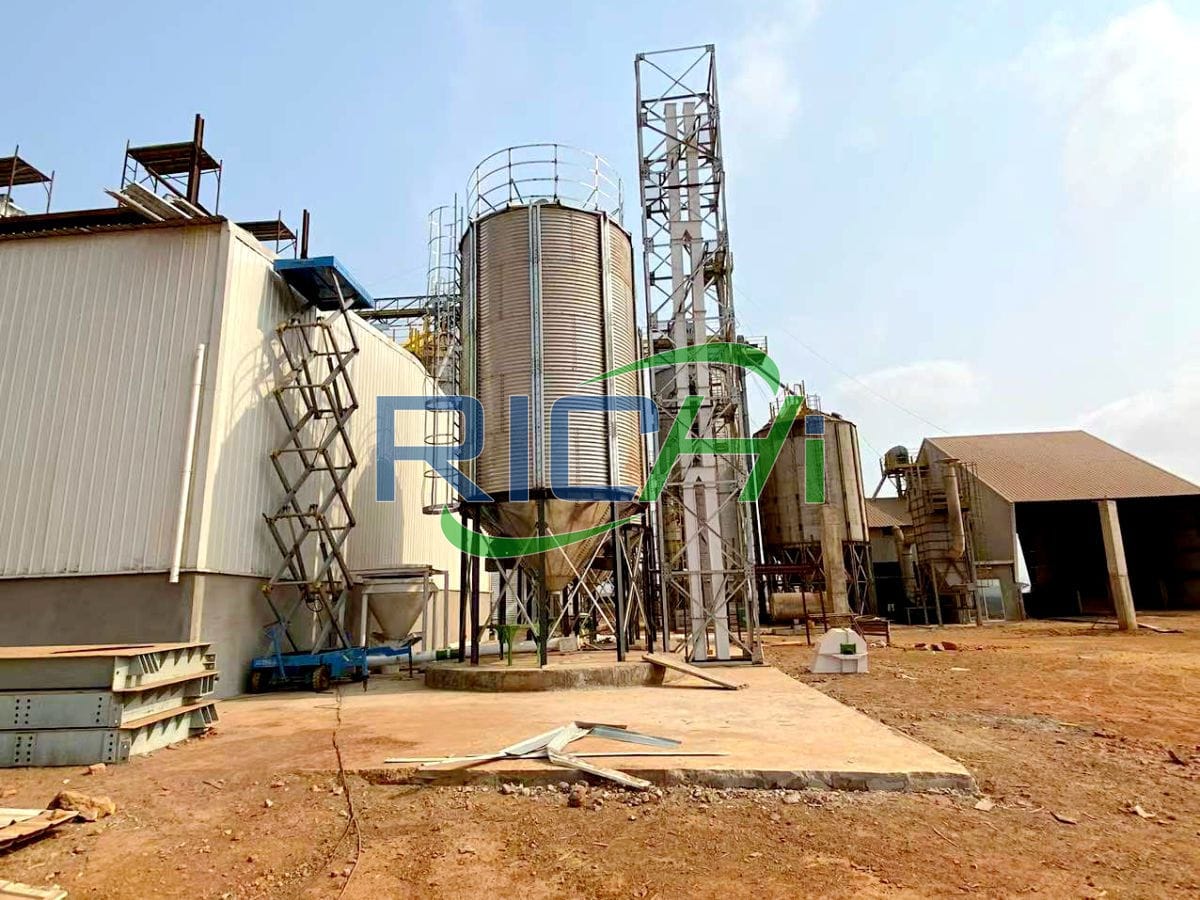 pellet silos for sale Angola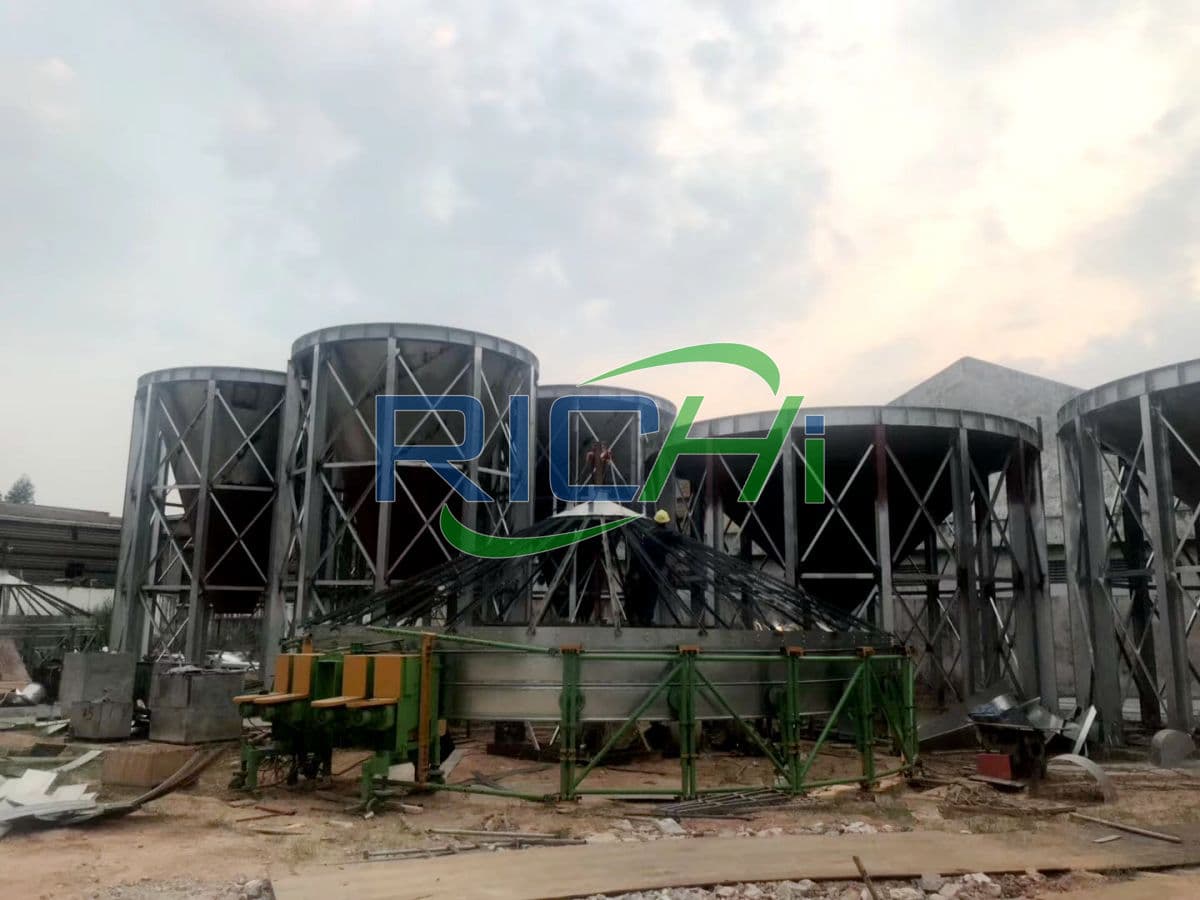 poly silos for sale Indonesia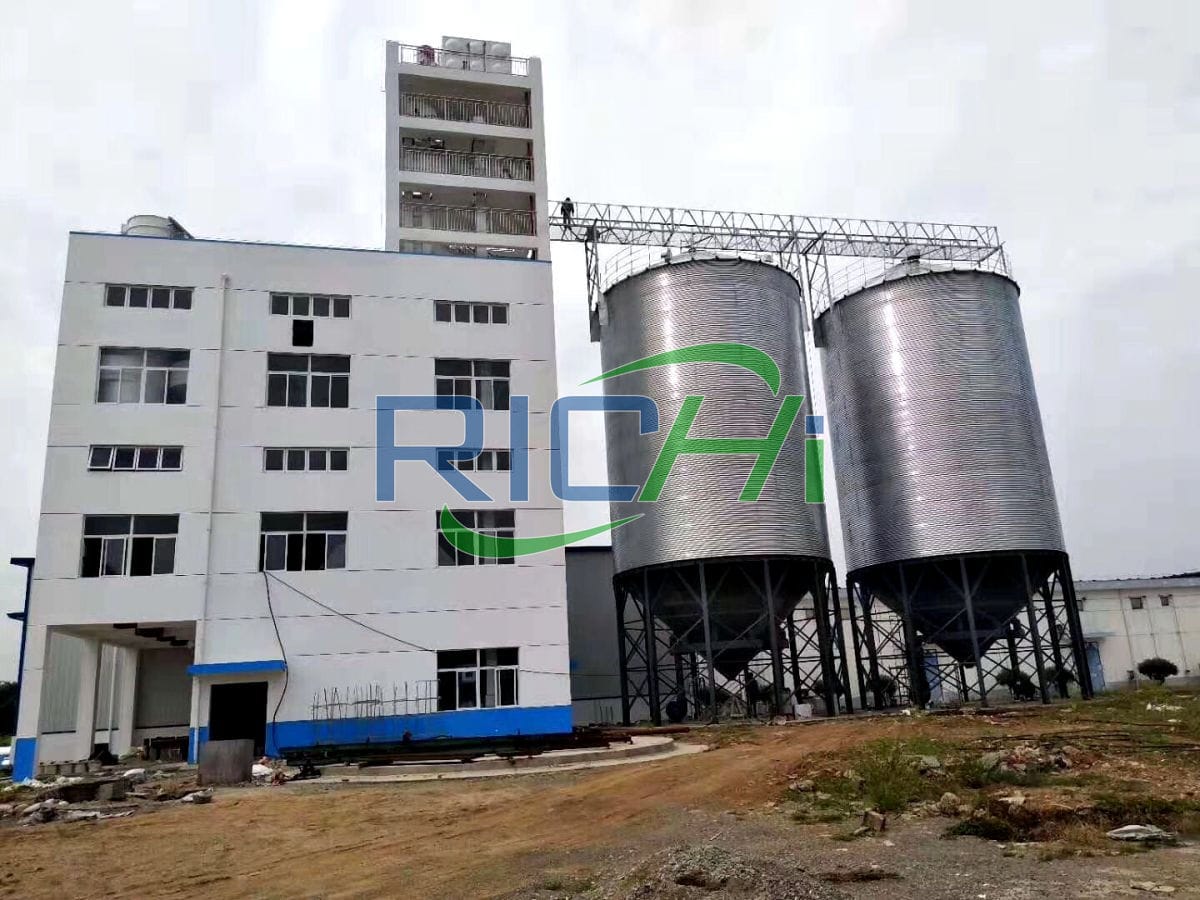 grain storage bin for sale South Africa
Principles for designing storage silos
When designing a silo system, all aspects must be considered:
On the one hand, RICHI warehouse design depends on warehouse capacity, number of raw materials, number of products, local conditions, customer functional requirements, convenience, safety and durability.
On the other hand, discharge performance depends on the fluidity of the material itself, the design of the silo and discharge hopper, and the selection of the discharge device. Because the quality of unloading is largely determined by the material characteristics, RICHI will analyze the customer's materials initially to avoid unloading problems in the future, so that preventive measures can be taken into consideration when designing storage facilities.
Review the overall feed production process characteristics as they can also affect storage silos discharge performance. Needless to say, storage and unloading are a complex and integral part of the entire production process. From initial conception to completion, each storage facility requires a design tailored to its specific circumstances. RICHI will provide everyone with a complete set of solutions from "0" to "1".

01 storage silos engineering process design
The feed mill steel silo project generally consists of a silo and a working tower, equipped with necessary process equipment and conveying machinery.
When it comes to silos, the first thing to consider is silo size.
To determine the size and capacity of the silo, multiple factors such as land occupation, procurement, cargo flow, loading and unloading, feed production scale, and production and processing technology need to be comprehensively considered.
For the work tower, it is necessary to consider the mechanical equipment and related floor layout required to realize the various process system functions of the steel plate silo.
For the process design of steel plate animal feed storage silos in feed mills, a design brief must first be prepared based on production needs and land area.
It roughly includes:
Project composition and layout
Select the warehouse type and determine the warehouse capacity
Choose process equipment
Design workflow
Carry out technical and economic comparison of process plans.
Select the best process design plan with high production efficiency, small investment and low management costs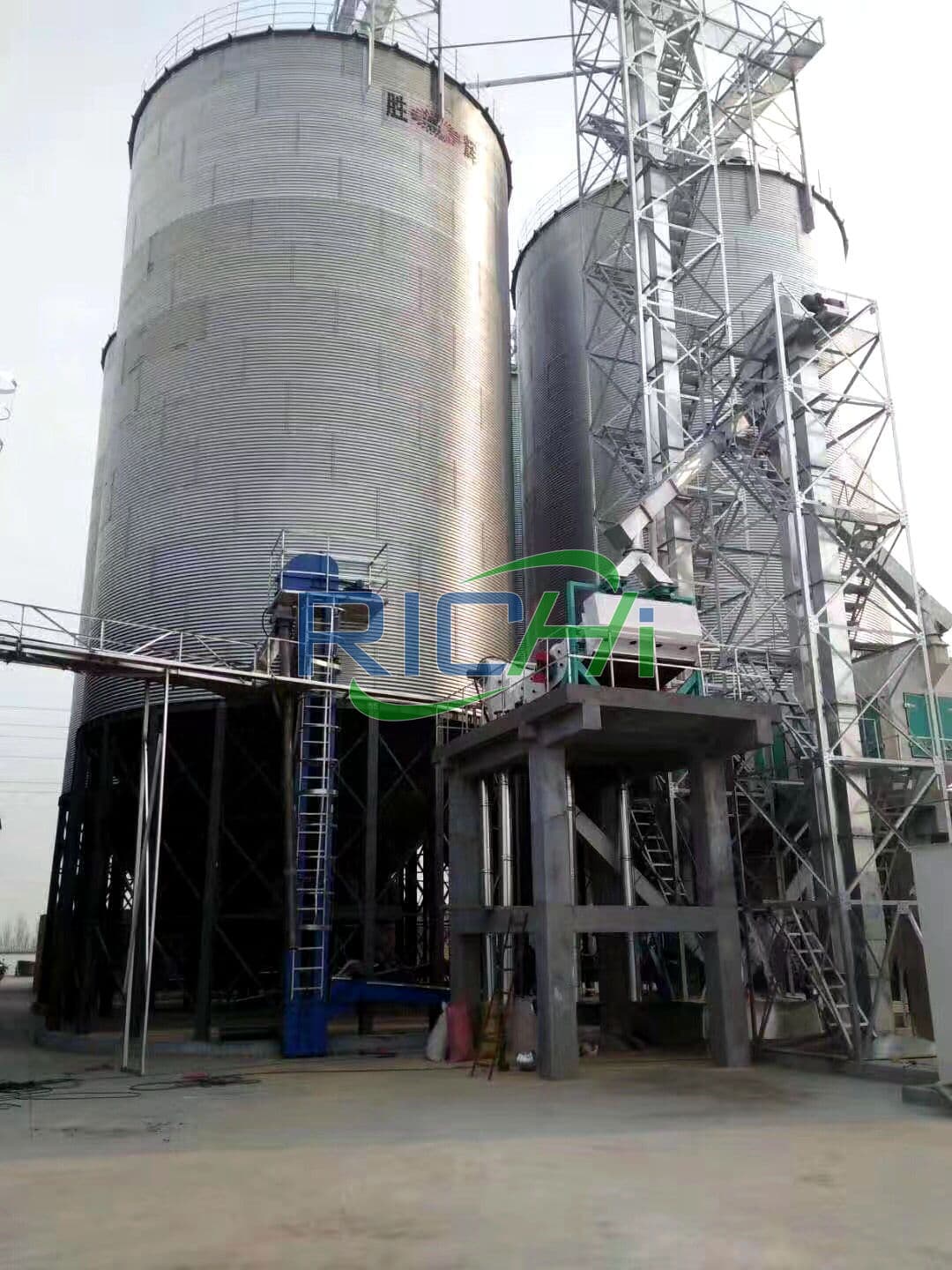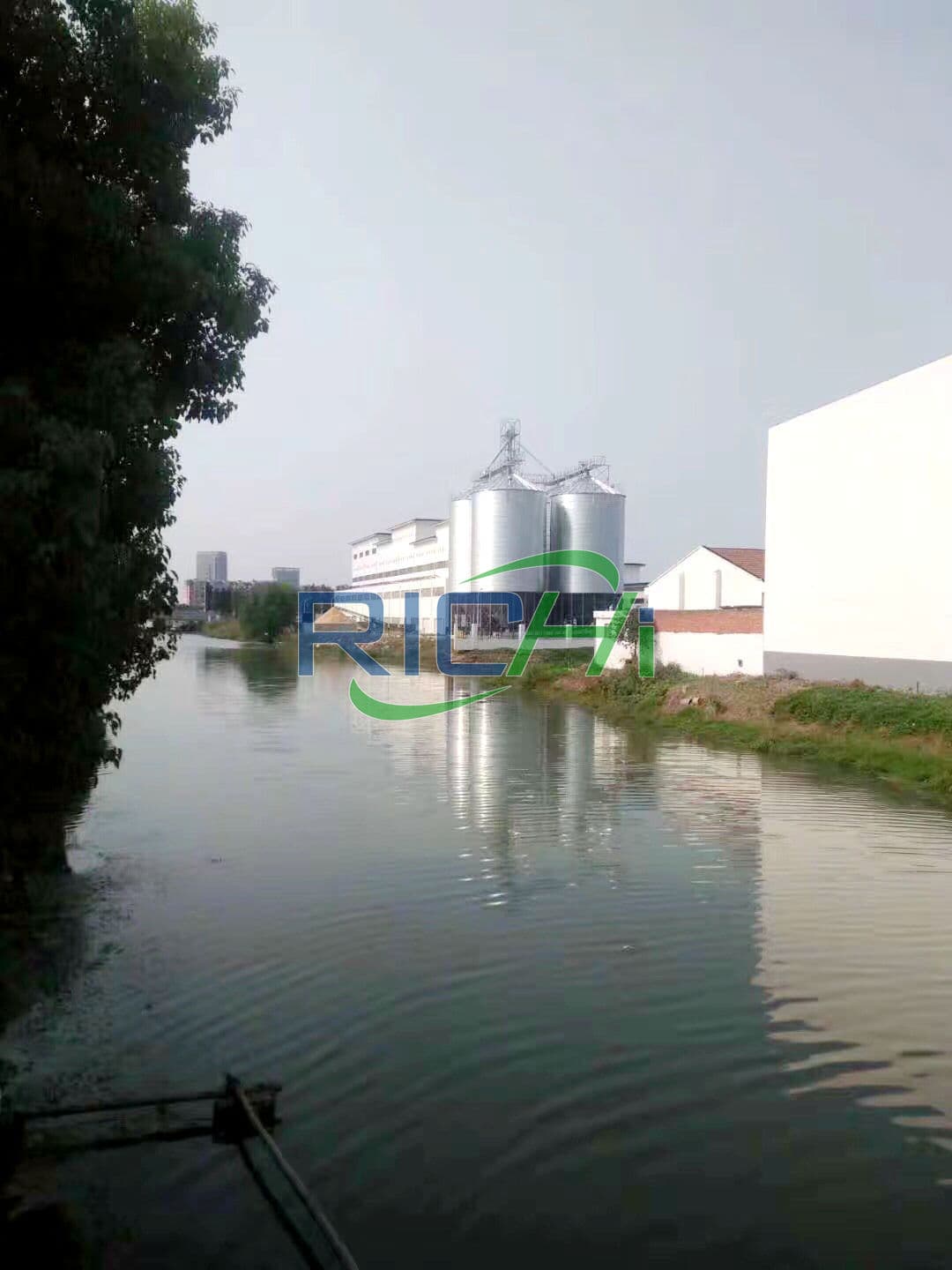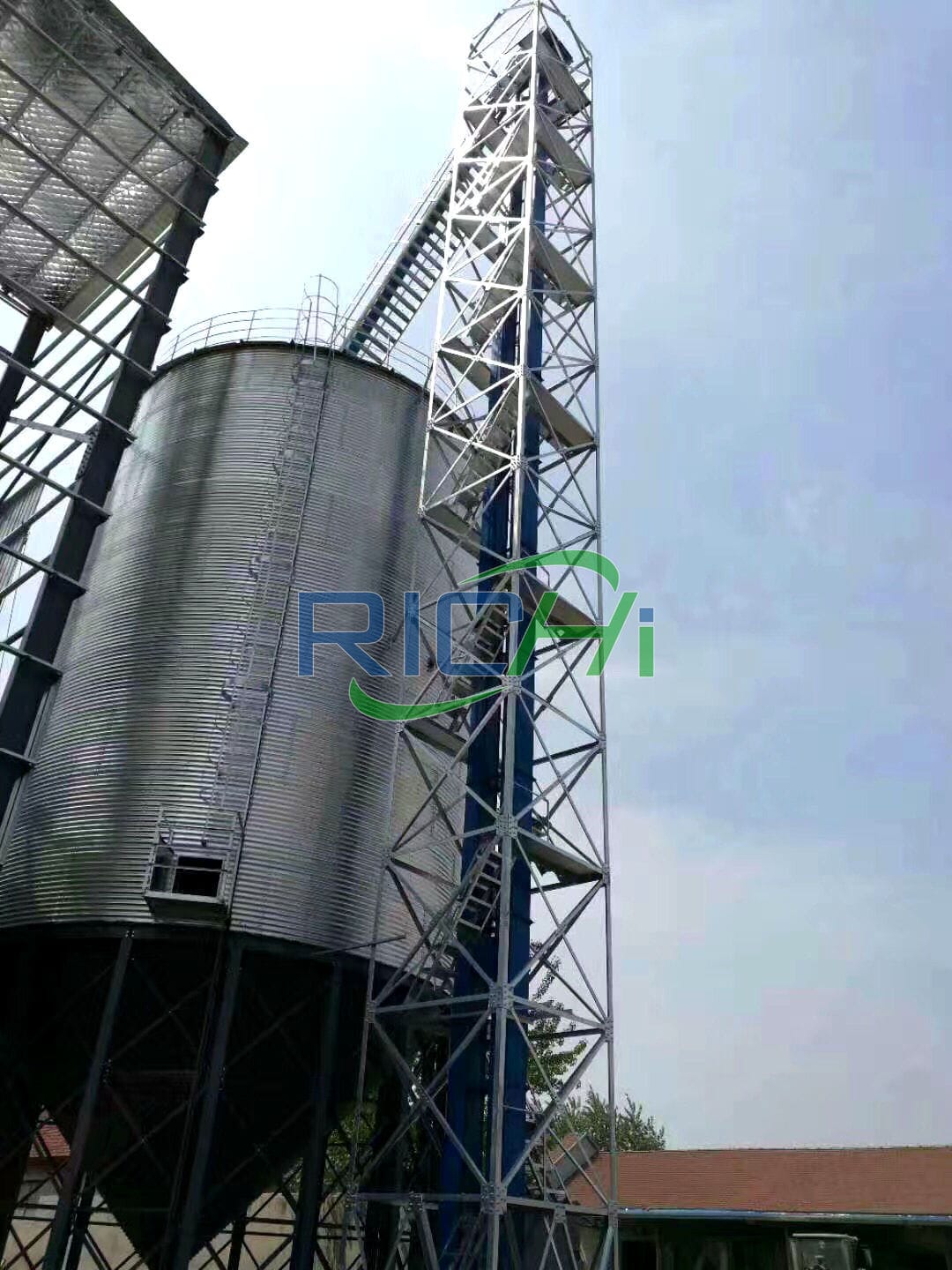 02 Process master plan layout
The general plan layout of steel plate storage silos should be as feasible as possible to adapt to production, save land, be economical in cost, facilitate construction, and have smooth cargo flow. The following layout principles should be considered:
It must be combined with the overall development plan of the animal feed mill and reasonably arranged according to geological and hydrological conditions.
Reasonably arrange according to the grain loading and unloading process to ensure the continuity of grain receiving and distribution operations, and make all transportation routes reasonable and smooth.
Correctly combine buildings, shorten the distance between each other as much as possible, and shorten the process operation route as much as possible to reduce investment and management costs.
Construction requirements must be met, and sufficient passages should be left between buildings.
Must meet fire prevention and hygiene requirements. There will be a lot of dust during the transportation of grain, which seriously affects environmental protection and workers' operations, and may cause dust explosions. Therefore, fire prevention, safety, and sanitary conditions must be carefully considered.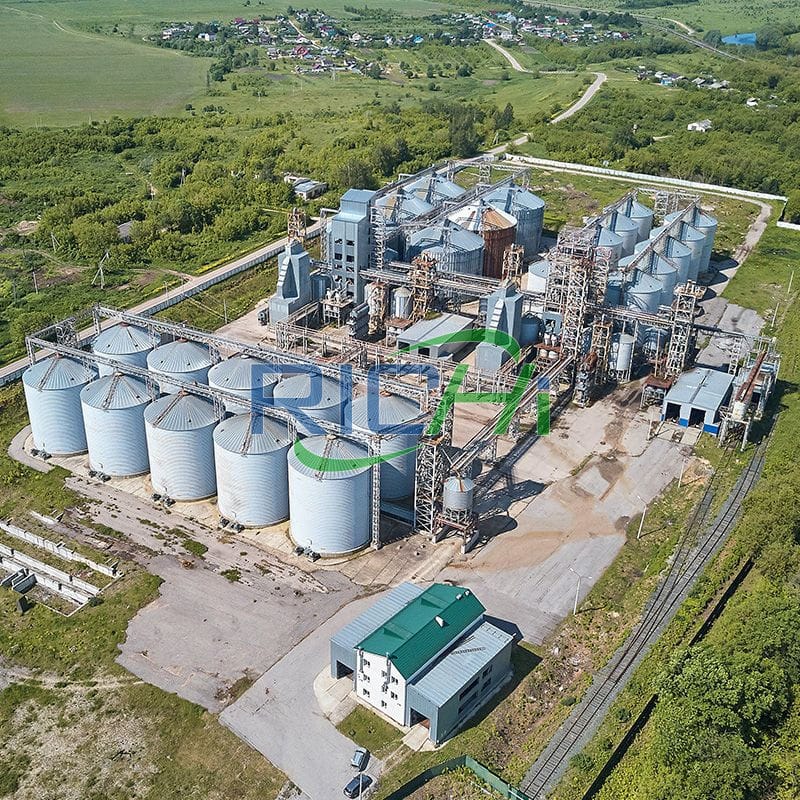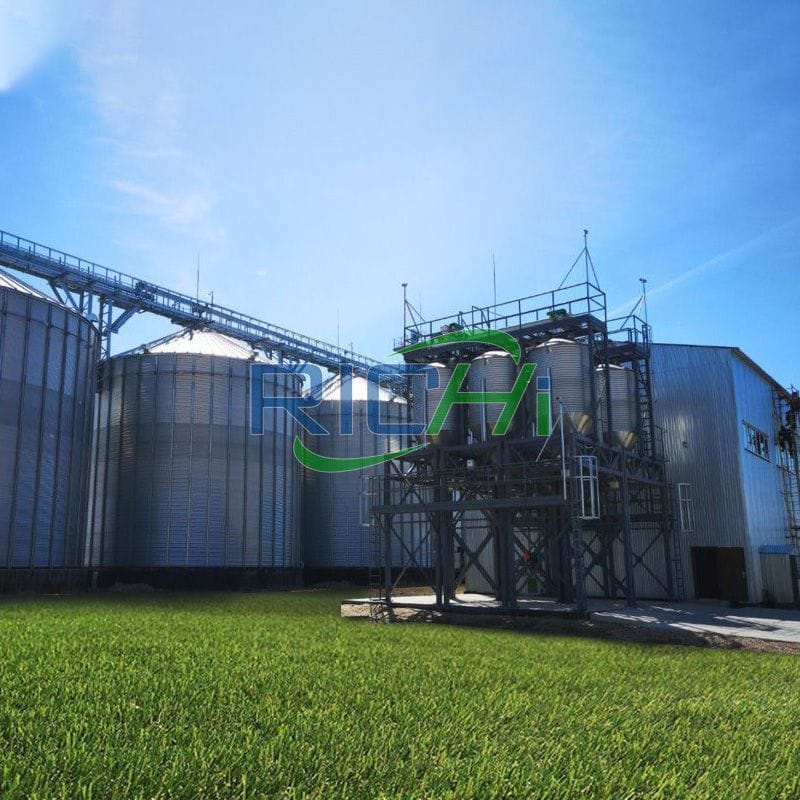 03 How to determine reasonable silo capacity?
Build a new feed factory, reasonably determine the storage capacity of the vertical silo, the area of the room-type raw material warehouse and the finished product warehouse, and control the reasonable inventory.
It is of great significance to ensure the continuity and stability of production, reduce feed costs, and improve the economic benefits of enterprises. It can also prevent the increase in investment costs caused by excessive storage capacity construction.
However, there is no consensus on how to determine reasonable warehouse capacity.
Warehouse capacity is too small, which affects production efficiency and continuity of production, may result in frequent procurement of raw materials, and increases procurement and inspection costs.
If the warehouse capacity is too large, in addition to the increase in investment costs, it will inevitably increase storage costs such as interest on funds occupied by raw materials and finished products and losses during the storage period.
The inventory of each raw material is related to the design daily output of the feed factory, the proportion of the raw material in the formula, and the storage days of the raw material.
For a feed factory, after its product plan, product formula, and production scale are determined, the daily demand for each raw material can be estimated, and then the amount of material that should be allocated is calculated based on the storage days of each raw material.
It is generally believed that for main raw materials such as corn with sufficient raw material supply and convenient transportation, the storage period is 7 to 10 days.
When the feed factory is far away from the main raw material supply area and requires a long transportation time, the storage period can be considered as 20 to 30 days;
For raw materials with strong seasonal characteristics, the storage period can be as long as more than 3 months.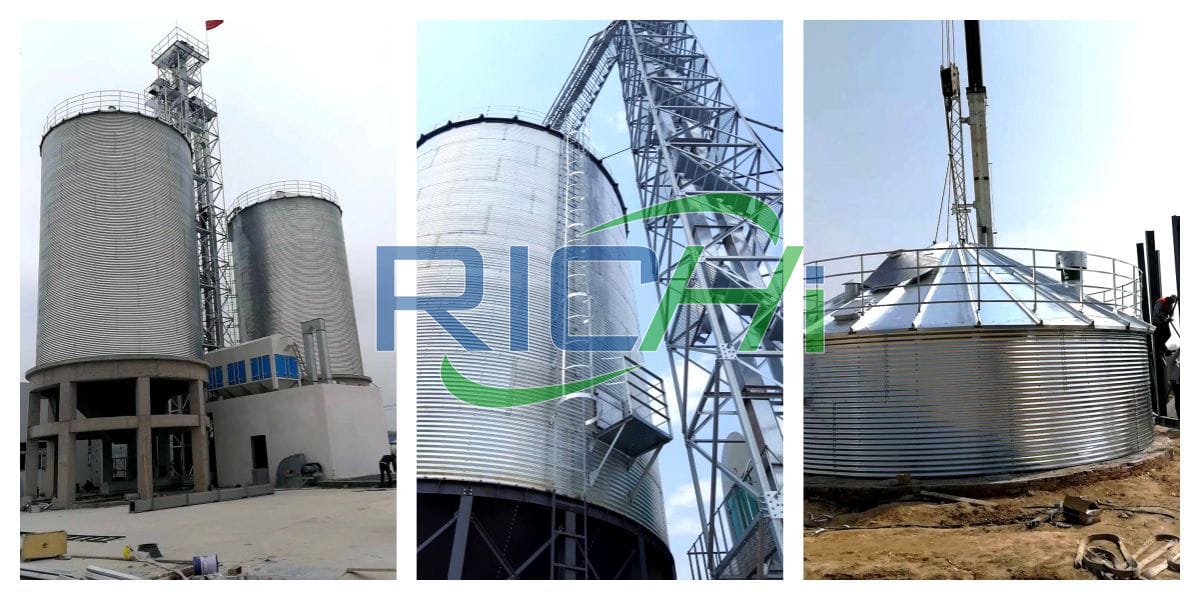 04 Determination of working tower area
The working tower is the production center of the steel plate storage silos. The working tower is equipped with the necessary mechanical equipment to complete various process systems of the steel plate silo.
Its task is to transport, lift, clean, measure, and remove dust from the received grain and then transport it to various silos for storage. It can transport and release the grain out of the warehouse as needed, or carry out silo dumping operations.
Some working towers are also equipped with drying equipment to process grains with higher moisture content.
The building area and height of the work tower are determined based on the size and layout of the process equipment selected on each floor.
The size of the entire work tower construction area should be calculated based on the floor with the largest equipment layout, and the layout locations of elevators, stairs, and hanging holes should be taken into consideration.
While arranging machinery and equipment reasonably, factors such as equipment maintenance and ease of loading and unloading should also be taken into consideration.
The height of each floor should be determined according to the height of the equipment on each floor, the convenience of installation and maintenance, and the angle of the grain gravity pipe.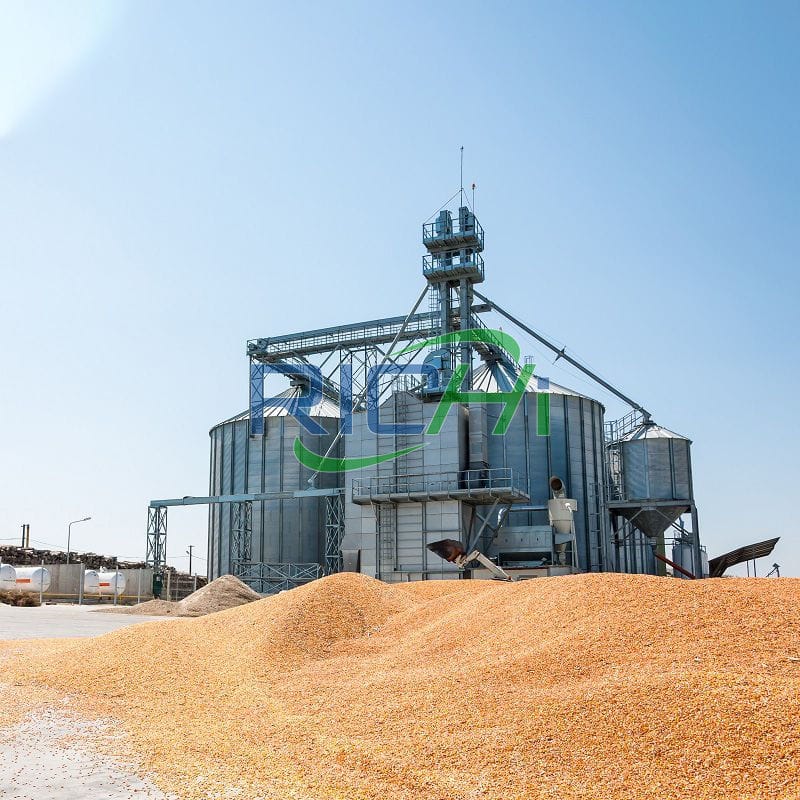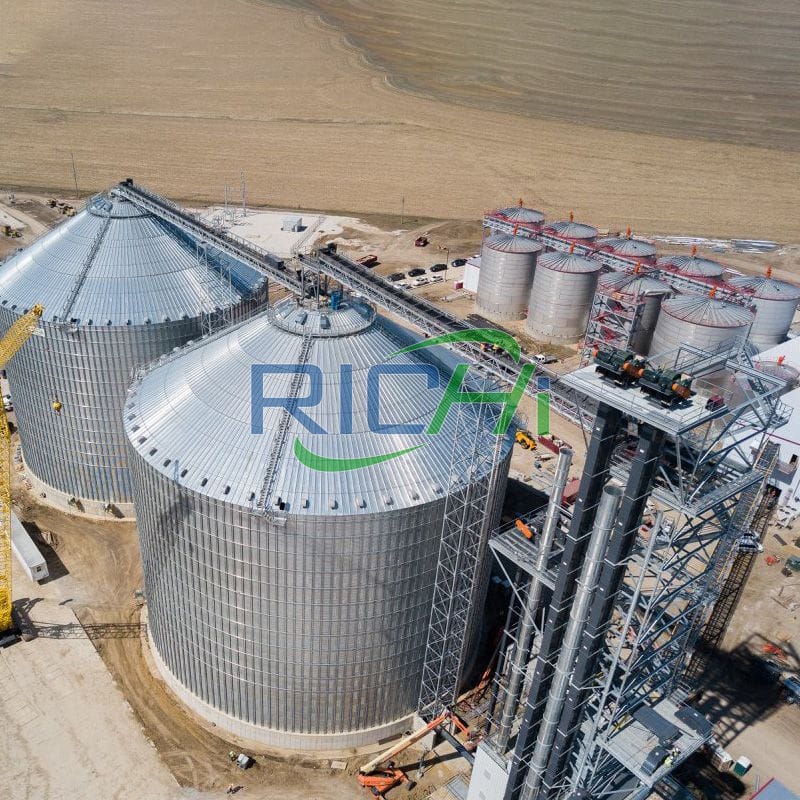 05 Selection of storage silos system equipment
In the working tower, the generally configured process equipment includes bucket elevators, automatic scales, cleaning screens, buried scraper conveyors, air cushion belt conveyors, magnetic separators and other equipment, which are configured on the upper and lower layers of the steel storage silos.
The equipment includes buried scraper conveyor, air cushion belt conveyor, ventilation and fumigation and other equipment.
The selection of feed mill storage silos process equipment is an important part of process design. Corresponding process equipment such as mechanical equipment, electrical equipment, automatic control systems, detection devices, etc.
Mechanical equipment mainly includes:
Grain feeding machinery: truck unloader, ship unloader, belt conveyor, air cushion belt conveyor, buried scraper conveyor, bucket elevator, etc.
Grain discharging machinery: bottom auger, clearance scraper, loading machine, ship loader, packaging machine, belt conveyor, scraper, etc.;
Weighing machinery: ground scale, truck scale, rail scale, mechanical scale, electronic scale, etc.;
Cleaning machinery: white balance vibrating screen, plane rotary screen, squirrel cage screen, cone screen, classification screen, magnetic separator, etc.;
Ventilation machinery: including ventilation and dust removal, mechanical ventilation, pneumatic conveying, cleaning equipment, etc.;
Storage machinery: sampler, fumigation device, etc.
With the above mechanical equipment, it is possible to complete the tasks of receiving, transporting, cleaning, weighing and other tasks required in the process.
Because the steel silo is relatively high, many of the silo roofs and tower top buildings are open, and the mechanical equipment is installed in the open air. Therefore, it is best to use remote control to operate the gate valves of these high-altitude mechanical equipment.
In the control room, a storage silos simulation control system is installed. The control equipment and various control signals of the motors of each machine are concentrated on the console and process flow simulation screen.

The operator only needs to operate in the control room to intuitively display the operating status of the equipment is revealed, the operation is simple and convenient, the work is reliable, and the efficiency is improved.
Detection devices must also be fully equipped. Commonly used detection devices include rapid inspection of raw grain quality, temperature measurement, and material level devices.
The selection and layout of equipment should comply with the following principles:
Configure equipment according to storage silos process requirements to make it a continuous automated production process.
The production capacity of connected conveying equipment should be coordinated. When the production volume of a certain operating equipment in the process does not meet the production capacity of the system, corresponding measures should be taken to ensure the continuity of process operations, such as adding a buffer bin.
The same equipment should be configured on the same floor as much as possible to facilitate operation and management.
The layout of the equipment should be compact while ensuring safe operation, and there should be sufficient slide pipe angle to make the work flow smooth.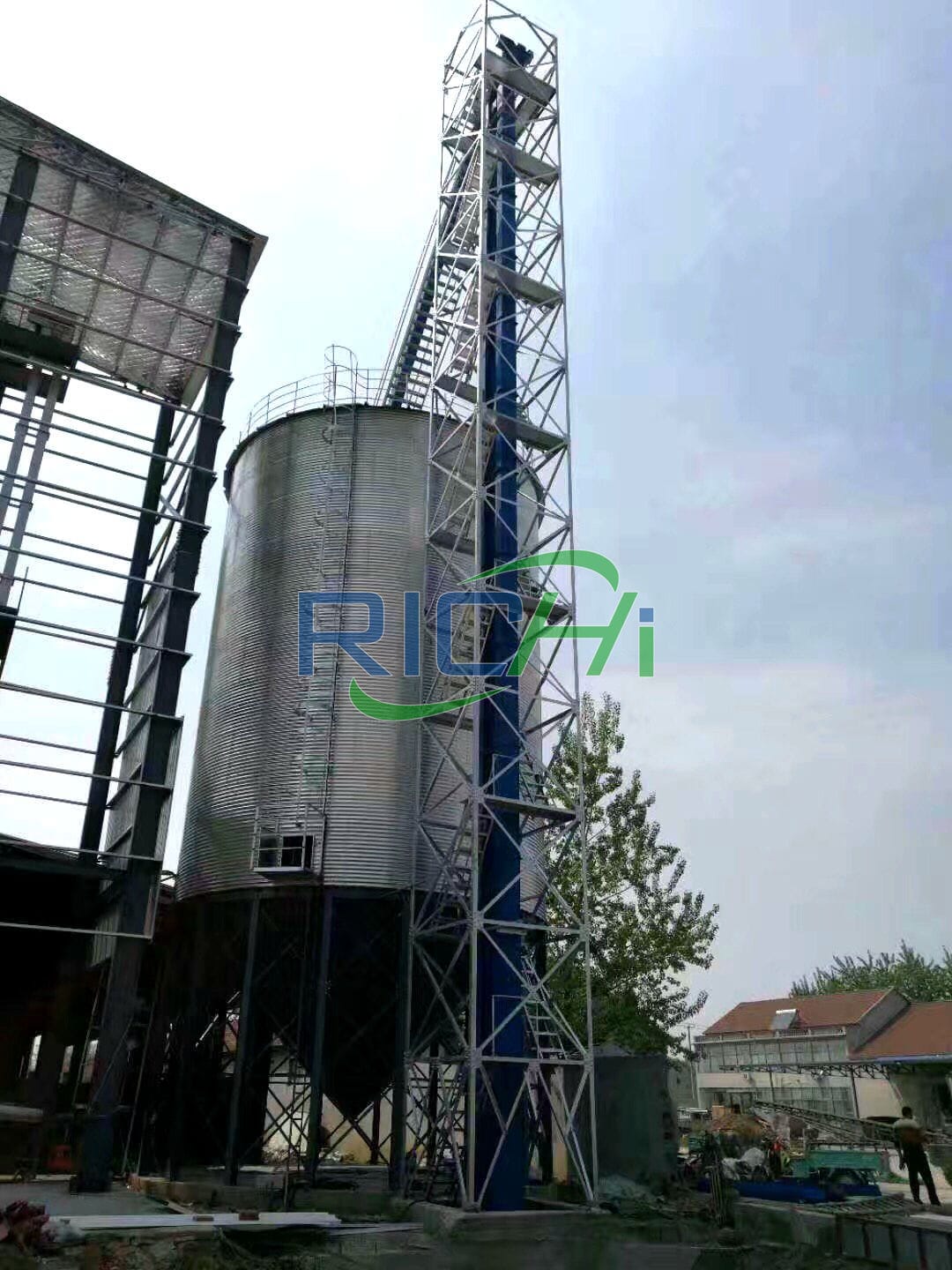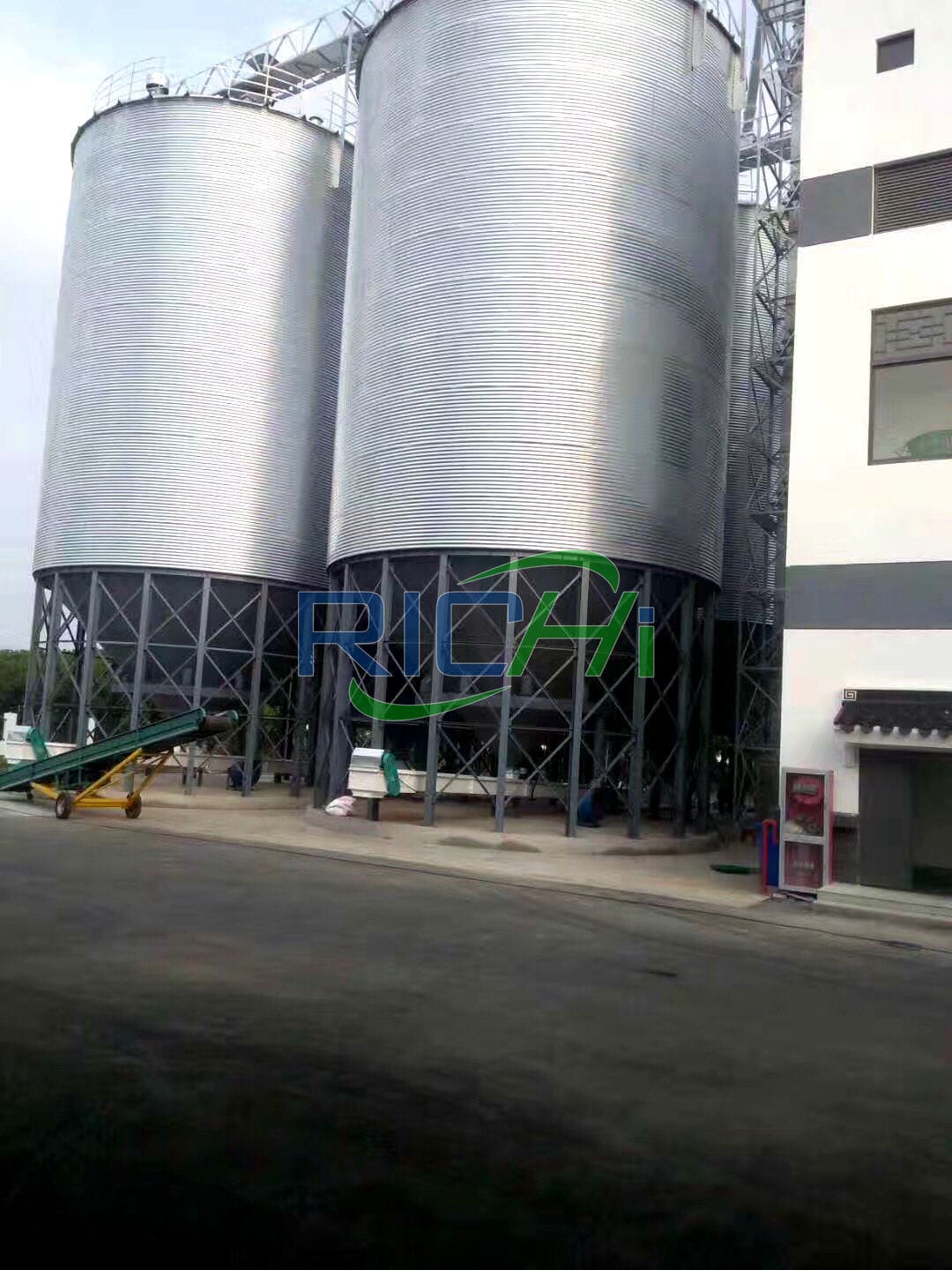 06 storage silos process design
The process flow is an important part of process design and must meet the following principles:
Meet the requirements for grain unloading, initial cleaning, grain feeding, storage and discharging operations in storage silos;
Meet the requirements for equipment installation, operation and maintenance, and long-term use requirements for energy consumption, environmental sanitation, fire protection, safety, etc.;
Have high flexibility, and the process should be reasonable and simple;
The production capabilities of various equipment should be selected to match each other and be able to work continuously to create conditions for the mechanization and automation of the system.
The technological process of the storage silos is determined based on the granary function, warehouse type, grain entry and exit methods, grain type, grain storage cycle and other conditions;
Consider the needs of grain loading and unloading, transportation, cleaning, dust removal, measurement, storage, packaging, drying, inspection and testing, mechanical ventilation, grain condition measurement and control, fumigation and other process operations;
The process flow should strive to be reasonable, simple and flexible;
Granaries usually combined with feed mills; process operations should be considered uniformly; equipment production capacity should be coordinated and matched;
Process design and equipment layout are an important part of the basic construction of storage silos. Different mechanical equipment can be used to form different process flows;
Whether the selection and layout of process equipment is reasonable and whether the process is simple and smooth, the design is very critical.
Reasonable technological processes can improve labor productivity, reduce food transportation costs, and improve energy efficiency.
Vertical and horizontal conveying equipment are generally used for receiving, distributing and unloading grain in storage silos. When designing the process flow, the principle of one machine for multiple purposes should be followed to avoid setting up too many conveying equipment.
When designing the cleaning and weighing process, it is generally a process of cleaning first and then weighing. For grains with high impurity content, a process of initial cleaning, weighing, and cleaning is set up.
RICHI provides customized storage silos design
RICHI provides a variety of raw material storage methods for poultry feed plant, pig feed mill, fully automatic cattle feed plant, animal feed production lines, fish feed production lines, shrimp feed mills, mainly to adapt to the diversity of different raw material packaging methods and transportation tools, improve the automation level of raw material reception and use, and ensure the quality of raw material storage.
01 Single-room factory model
This model aims to save one-time investment and is suitable for packaging and transportation of raw materials in bags. It is suitable for factories with smaller production capacity and areas with lower labor costs;
The disadvantages are the large number of workers, strong labor force, low production efficiency, and large floor space.
02 storage silos + room-style factory model
The main goal of this model is to achieve a high degree of automation and save labor. It adapts to the fact that the raw materials entering the factory are ready to use and do not require long-term storage;
Granular raw materials are received and stored in metal storage silos, powdery raw materials with good fluidity (such as soybean meal) are stored in small-diameter metal silos, and other powdery raw materials with poor fluidity, if they are bagged raw materials, are stored in room type factory storage;
The disadvantages of this model are: first, it is difficult to receive bulk powder with poor fluidity; second, in rainy and humid areas, the shelf life of raw materials stored in silos is short.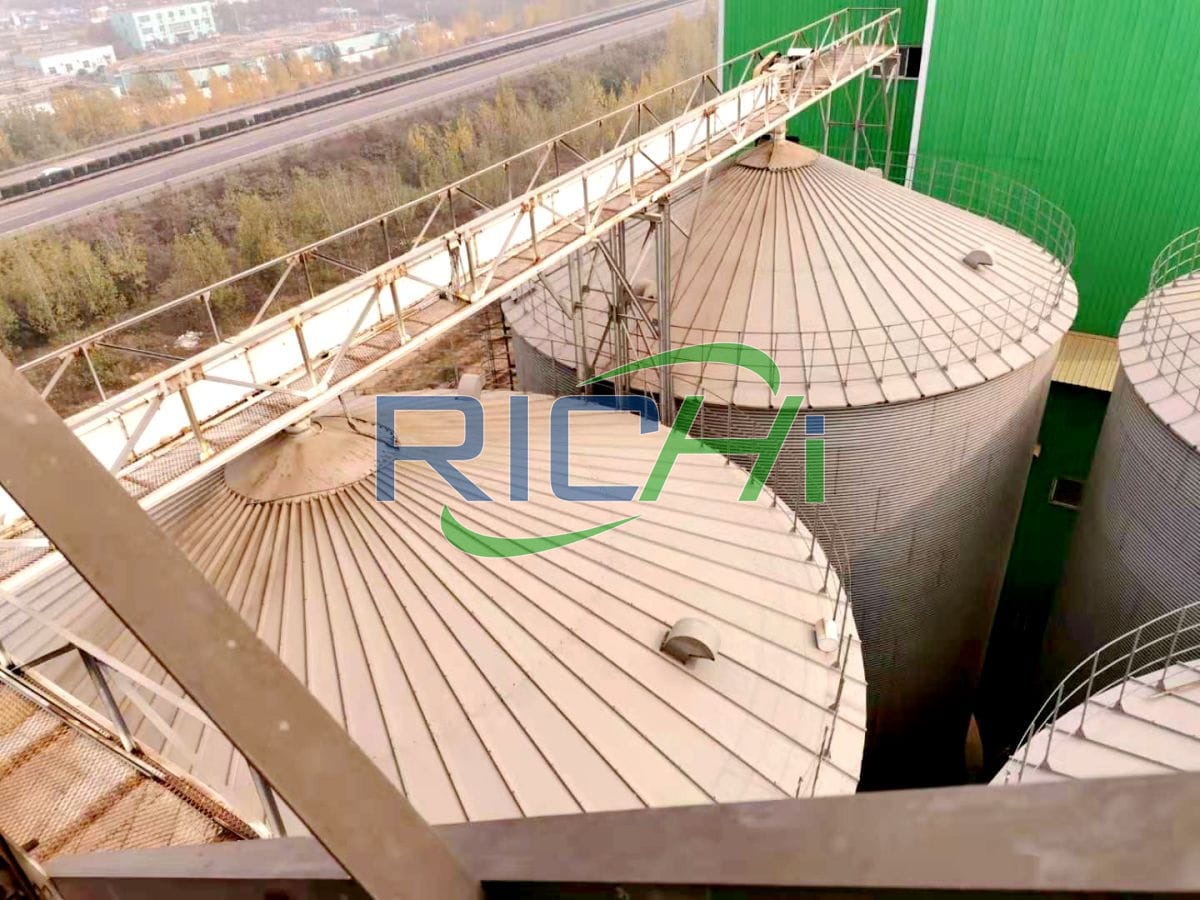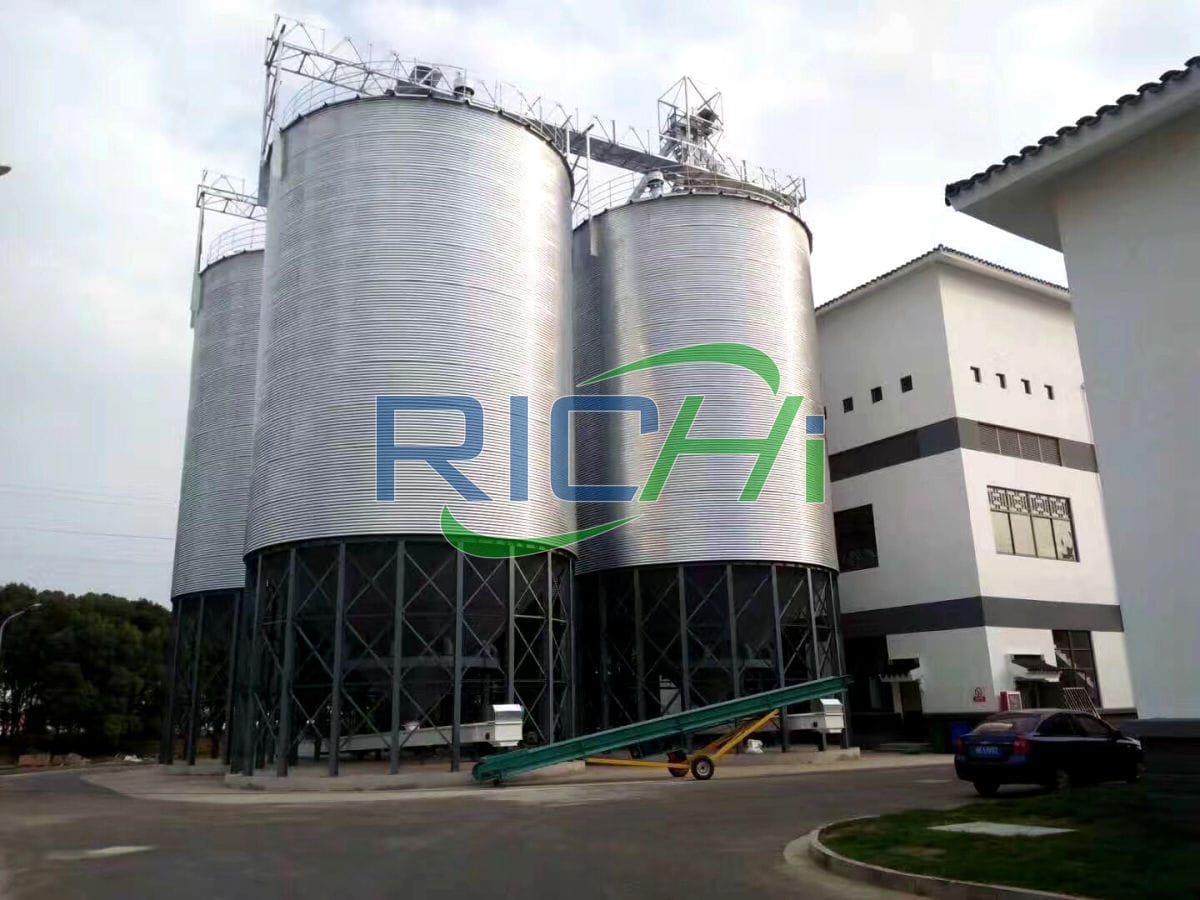 03 Room-style bulk warehouse + room-style factory model
This model takes long-term storage of raw materials as its first purpose, meets the procurement and storage of seasonal raw materials, and is suitable for the storage of raw materials with a variety of different properties. It has a high degree of automation and saves labor;
Bulk raw materials, whether in bulk or in bags, can be stored in room-type bulk warehouses, and small quantities of bagged raw materials can be stacked and stored in room-type factories;
The disadvantage of this model is that it is difficult to control the dust of powdery raw materials, and the cooperation of forklifts is required for powdery raw materials to enter the workshop.
04 Metal silo + room-type bulk warehouse + room-type factory model
This model is flexible in receiving and storing raw materials. Ready-to-use granular raw materials can be received and stored in metal storage silos or room-type bulk silos.

Seasonal raw materials that require long-term storage, regardless of granular or powdery raw materials, can be received and stored in room-type bulk storage silos. And storage, small batches of bagged raw materials can be stacked and stored in room-style factories;
This model can be implemented in stages in planning, and metal silos can be constructed after production and sales reach a certain scale. It will not affect production and operations, and can save initial engineering investment.
Safe use and protection of storage silos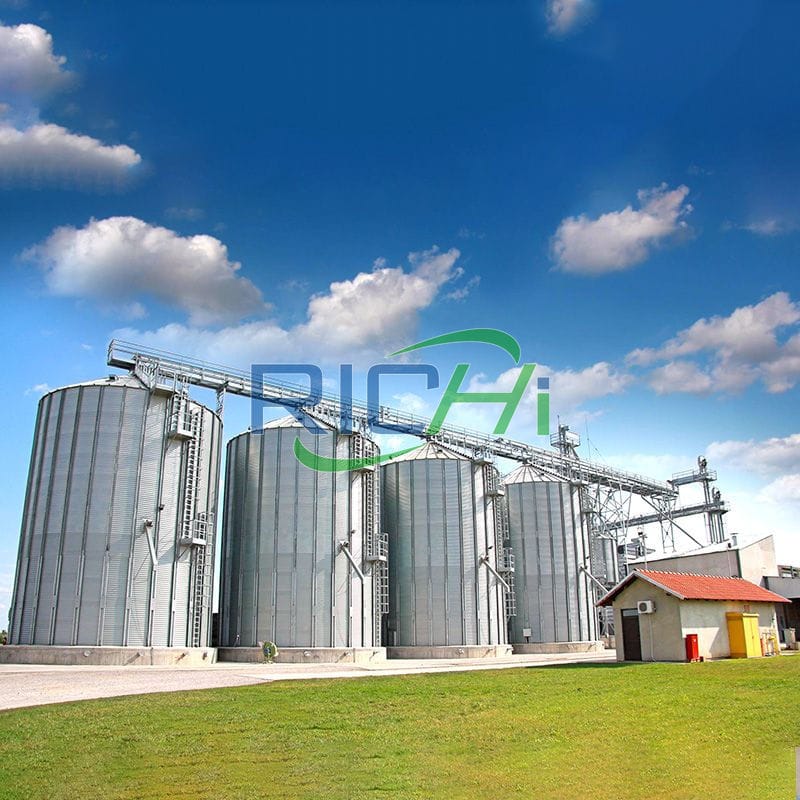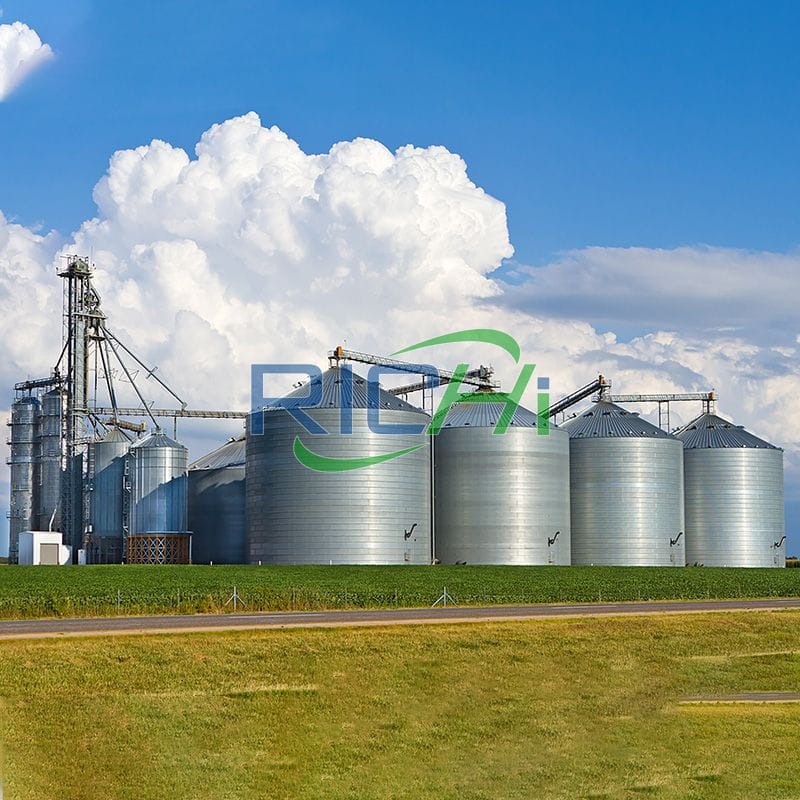 Dust explosion accidents in steel plate warehouse grain storage operations occur from time to time internationally, and more attention should be paid to the "scattering" operation of grain storage.
Storage silo corridors and derricks are mostly open type, which are easy to vent and have good explosion-proof properties.
They can better meet the requirements of dust-proof and explosion-proof properties for grain storage, and are easy to realize mechanization and automation, easy to operate, and safe grain storage.
In terms of lightning protection, the vertical reinforcing bars of the storage silos are connected to the silo roof purlins and the silo body itself constitutes a lightning protection network. At the same time, the down conductors should be grounded. When there are multiple down conductors, disconnection or test points should be set up and should be Protect.
Regularly check whether the warehouse wall is deformed, the annual corrosion of the warehouse wall plate, the corrosion of the welded parts of the reinforcement ribs in the warehouse, the connection with the warehouse wall, etc., and determine anti-corrosion treatment measures based on the inspection.
In areas with heavy rainfall, the inspection interval should be shortened to extend the service life of the storage silos through correct use and reasonable maintenance. (Find RICHI on YouTube)
LEAVE YOUR NEEDS
Keeping in touch with us is an effective way to solve all your problems. If you have any needs or questions, please leave your contact information, then RICHI technical consultants will send design, quotation, videos to your mailbox. You can also contact us directly via WhatsApp: +86 13838389622