1-160T/H fully automatic cattle feed plant solution
---
RICHI fully automatic cattle feed plant is mainly used for processing various formulas and types of cattle feed. Because cattle are mainly grass-eating and straw-eating animals, they can convert low-value forage grass, straw and some concentrates into high-value meat and milk. RICHI cattle feed plant is a project with relatively economical input and output, and has a good development prospect.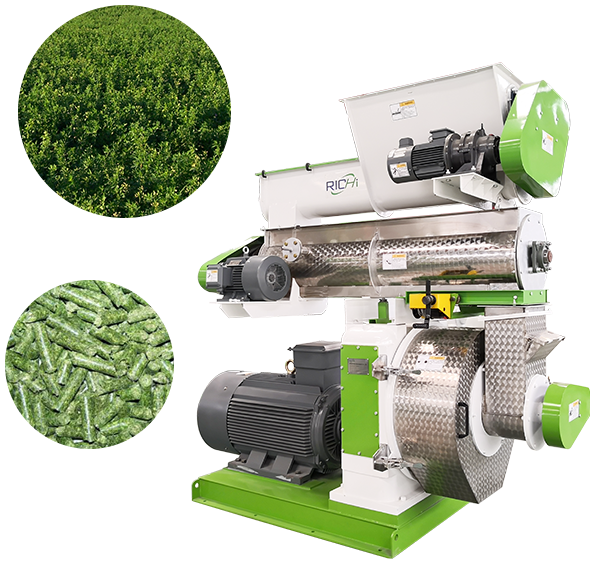 Capacity: 1-160 T/H
Cattle feed plant price: 20,000-5,000,000 USD
Business scope: new feed factory, renovation feed factory
1-160T/H fully automatic cattle feed plant is an integrated feed processing system for processing cattle feed pellets, dairy cow feed, beef cattle feed, maize cattle feed, green feed.
Whether your raw material is grain, soybean meal, rice bran, cotton seed meal, protein supplement, or hay, alfalfa, timothy, corn stalk, elephant grass, hemp, cow dung, we can customize the optimal solution for you, and provide a full set of feed mill equipment.
We specialize in the following fully automatic cattle feed plant processes: silo systems, transport systems, grinding, mixing, pelleting, extrusion, cooling, screening and bagging storage system depending on your needs.
Types of cattle feed plant
The cattle feed plants we can provide include the following:
According to the degree of automation: fully automatic cattle feed plant, semi automatic cattle feed plant and manual cattle feed plant;
According to product type: cattle feed pellet plant, cattle feed mixing plant, cattle feed mixing plant, cattle feed mash plant, cattle premix feed plant, TMR feed plant, creep feed plant, fermented feed mill plant, concentrate feed plant, compound cattle feed ed plant;
According to the type of raw materials: maize cattle feed plant, Straw cattle pellet plant, alfalfa cattle feed plant, Timothy pellet plant, hemp pellet feed plant, grass pellet plant, etc.
According to the application of feed mill: Ruminant feed mill, poultry and cattle feed plant, fish and cattle feed plant, chicken and cattle feed plant, goat and cattle feed plant, aqua and cattle feed plant, etc.
Richi Machinery has a long history of designing, engineering, and building custom cattle feed plants for our clients in the agricultural industry. We know how to create innovative, turn-key solutions that improve animal feed mill plant efficiency, reduce operational costs, and improve the overall safety of your operations.
fully automatic cattle feed plant Construction Process
If you're thinking about starting an automatic cattle feed plant, there are a few things you need to know. A cow food plant is a factory that produces cattle animal feed, usually from corn, wheat, hay, alfalfa and soybeans, etc. It's important to have a good understanding of the process and the equipment required to get started.
The steps involved in setting up a commercial cow feed plant are:
Draft cattle feed plant business plan
Choose a location
Acquire the land
Get the required approval and licenses to operate an automatic cattle feed plant
Draw the cattle feed unit architectural plans and have them approved
Hire a professional for constructing your cow food plant
Purchase the machinery and equipment for the cattle feed unit
Install the machinery and equipment in the cow feed plant
Hire cattle feed unit workers and other personnel
Purchase the supplies and raw materials required for feed production
Start cattle feed production
Start marketing the cattle products
Improve on the cattle feed products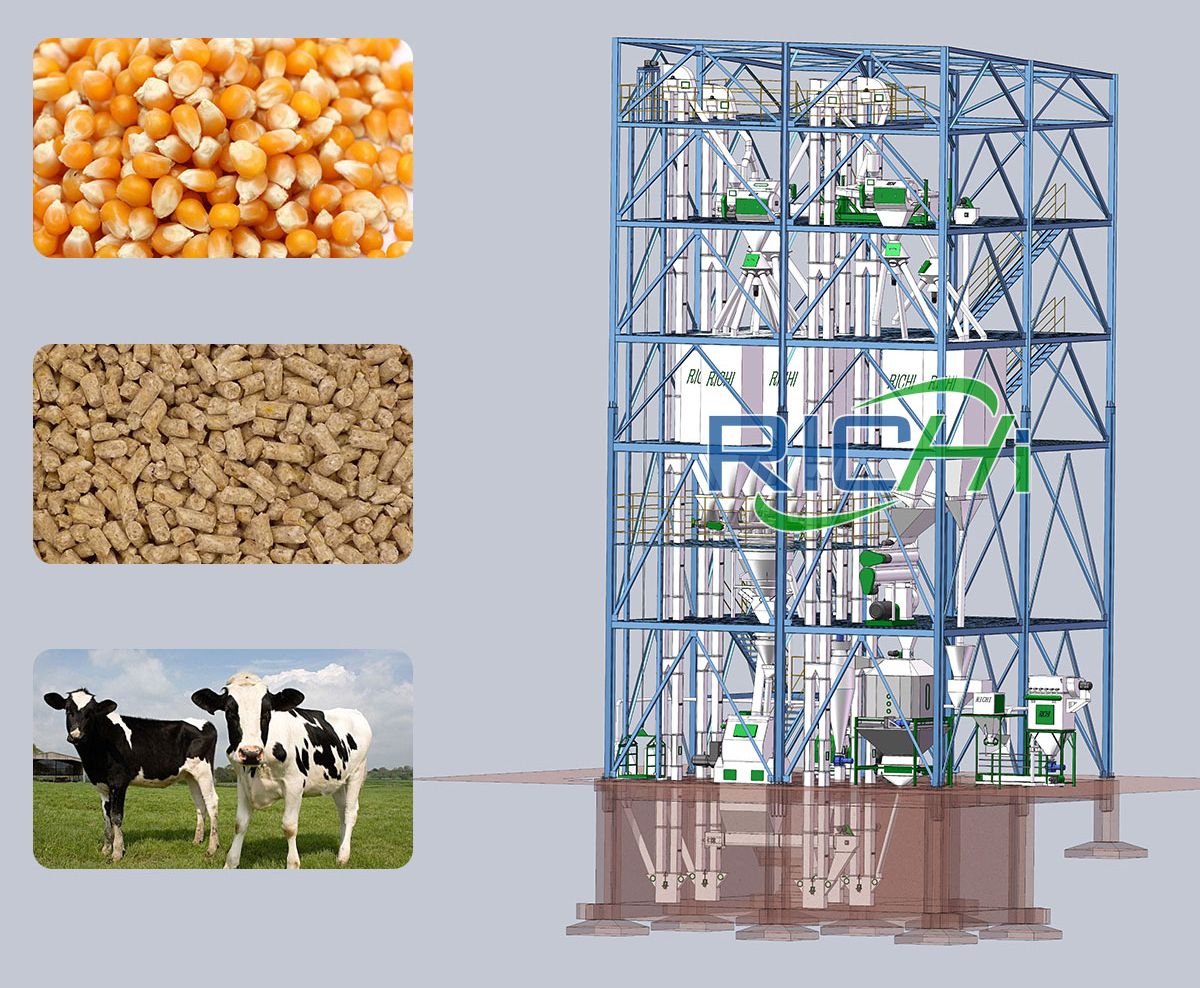 It should be noted that, in addition to handling fully automatic cattle feed plant approval in the early stage and product promotion in the later stage, we can undertake all engineering tasks such as design, manufacture, installation, commissioning, and maintenance of cattle feed plants and cattle feed equipment. We can also give auxiliary advice on feed raw materials, feed formula and other needs.
Featured cattle feed plant project
At present, our automatic cattle feed plant equipment has been exported to the United States, Saudi Arabia, Argentina, South Africa, Uzbekistan, Indonesia, India, Zimbabwe, Ethiopia and other countries.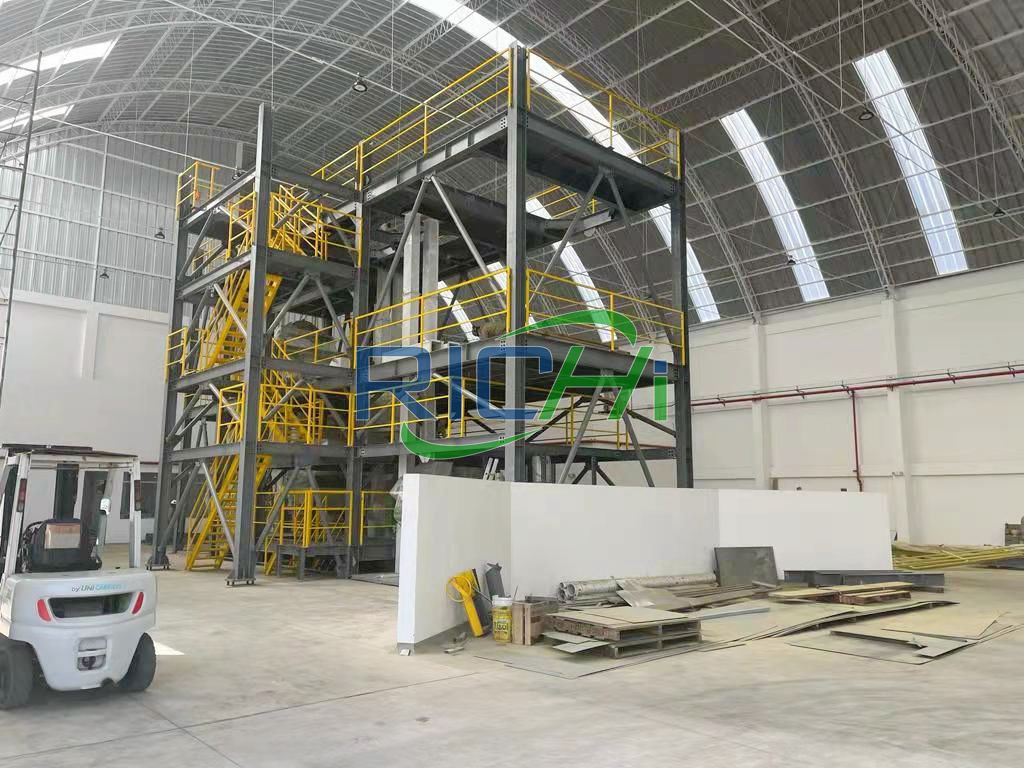 3-5T/H fully automatic cattle feed plant in Indonesia
The 3-5 tons per hour complete ruminant cattle feed pellet making plant can produce dairy feed pellets, cow feed pellets, lamb pellets, ram lamb and ewe pellets, etc., pellet size 6mm.
Date: April 9th, 2018
The install period: 30 Days
Workshop size(L*W*H): 10m*5m*12m
cattle feed plant price: 110,000USD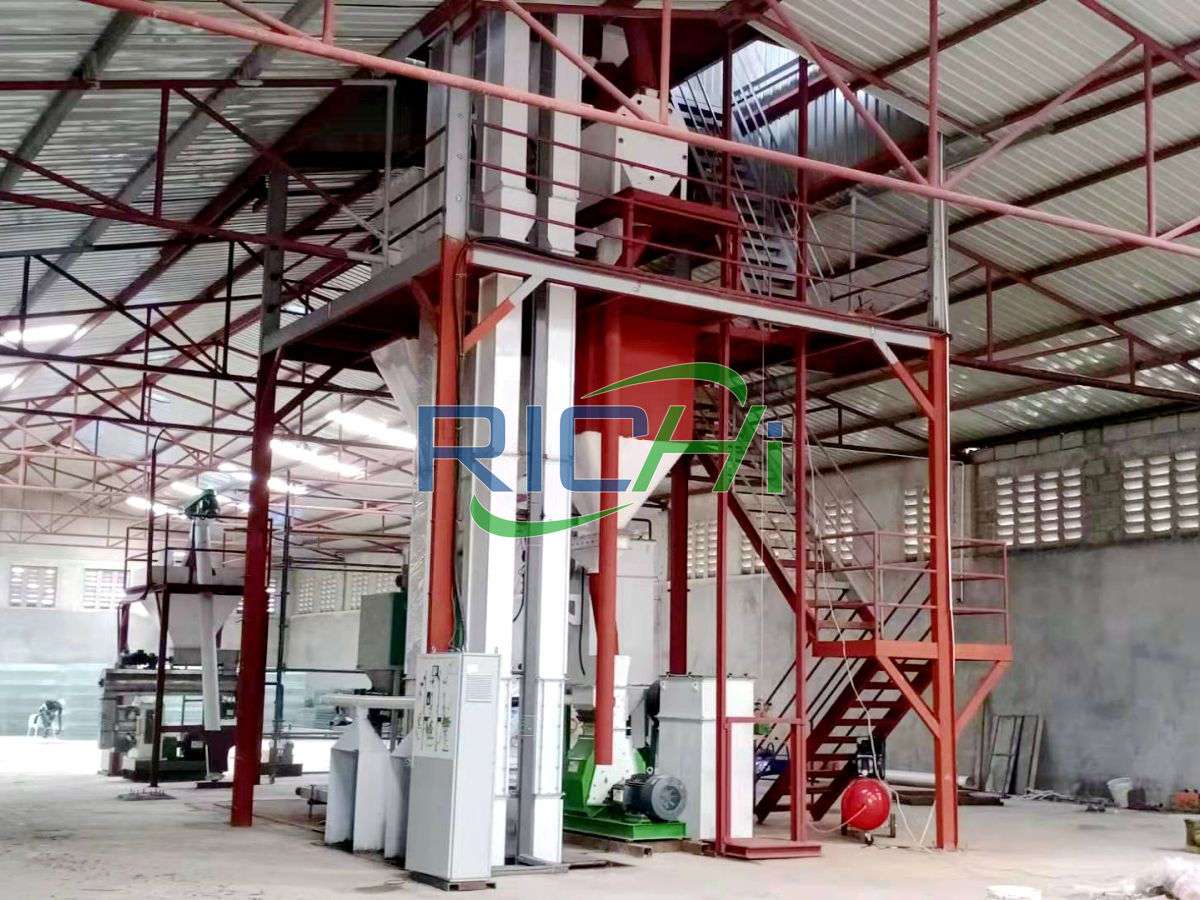 3-4T/H Cattle Feed Plant Project in Hong Kong
The customer invested this time is his first attempt in ruminant feed production. This project uses 80% elephant grass and grain formula for processing ruminant animal feed such as cattle and sheep.
Date: Nov 1st, 2019
The install period: 45 Days
Workshop size(L*W*H): 60m*24m*12m
cattle feed plant price: 150,000 USD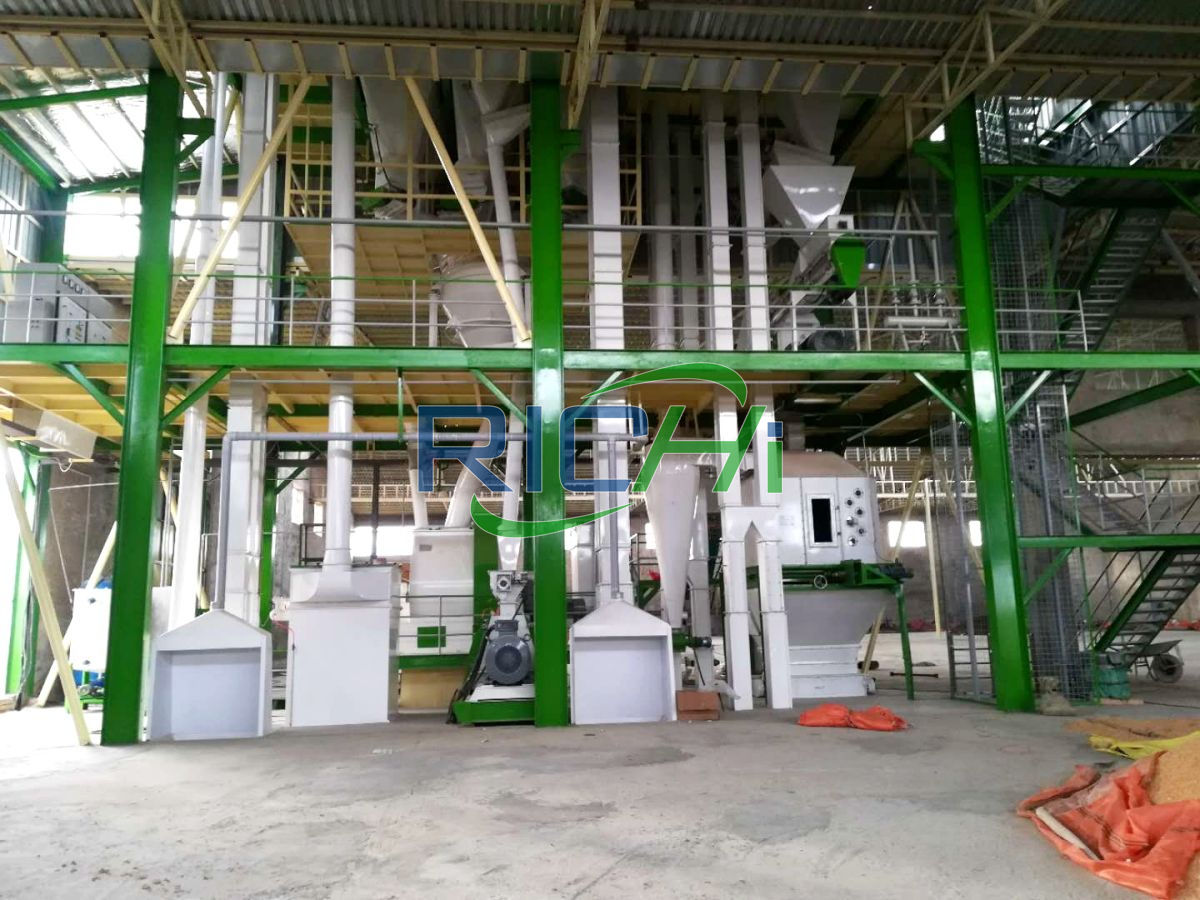 15-16T/H poultry and cattle feed plant in Saudi Arabia
This automatic cattle feed plant project is a compound feed production line project for poultry and cattle. The project's cattle feed is formulated with whole grain feed.
Date: March 30th, 2018
The install period: 60 Days
Workshop size(L*W*H): 16m*8m*12m
cattle feed plant machinery price: 480,000 USD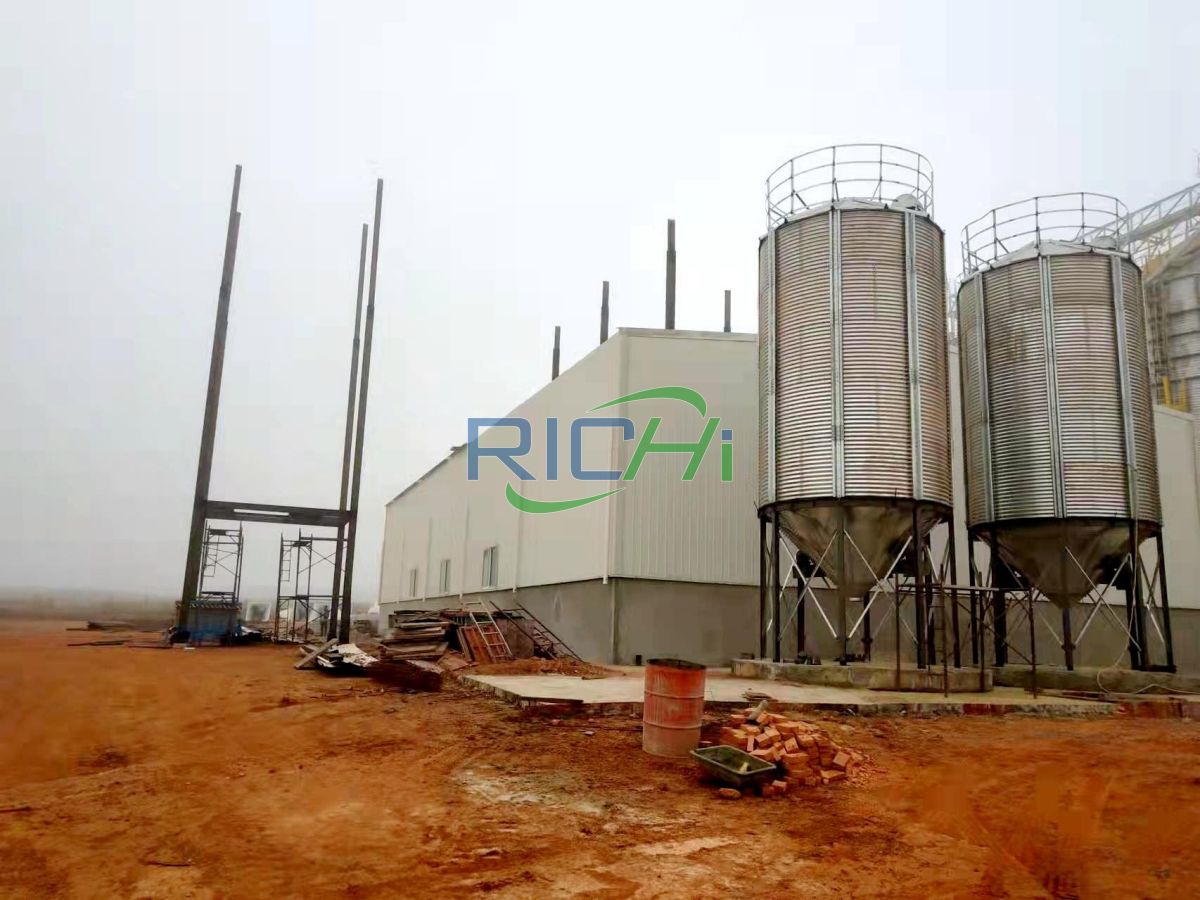 10-12 T/H fully automatic cattle feed plant in United States
This cow food plant project uses hemp as the main feed ingredient. The customer of this large cattle feed plant project is a cattle farmer and uses the largest part of its feed production for its own cattle farms.
Date: May 2019
Feed Pellet Size: 4-8 mm
The install period: 40 Days
cattle feed plant price: 380,000 USD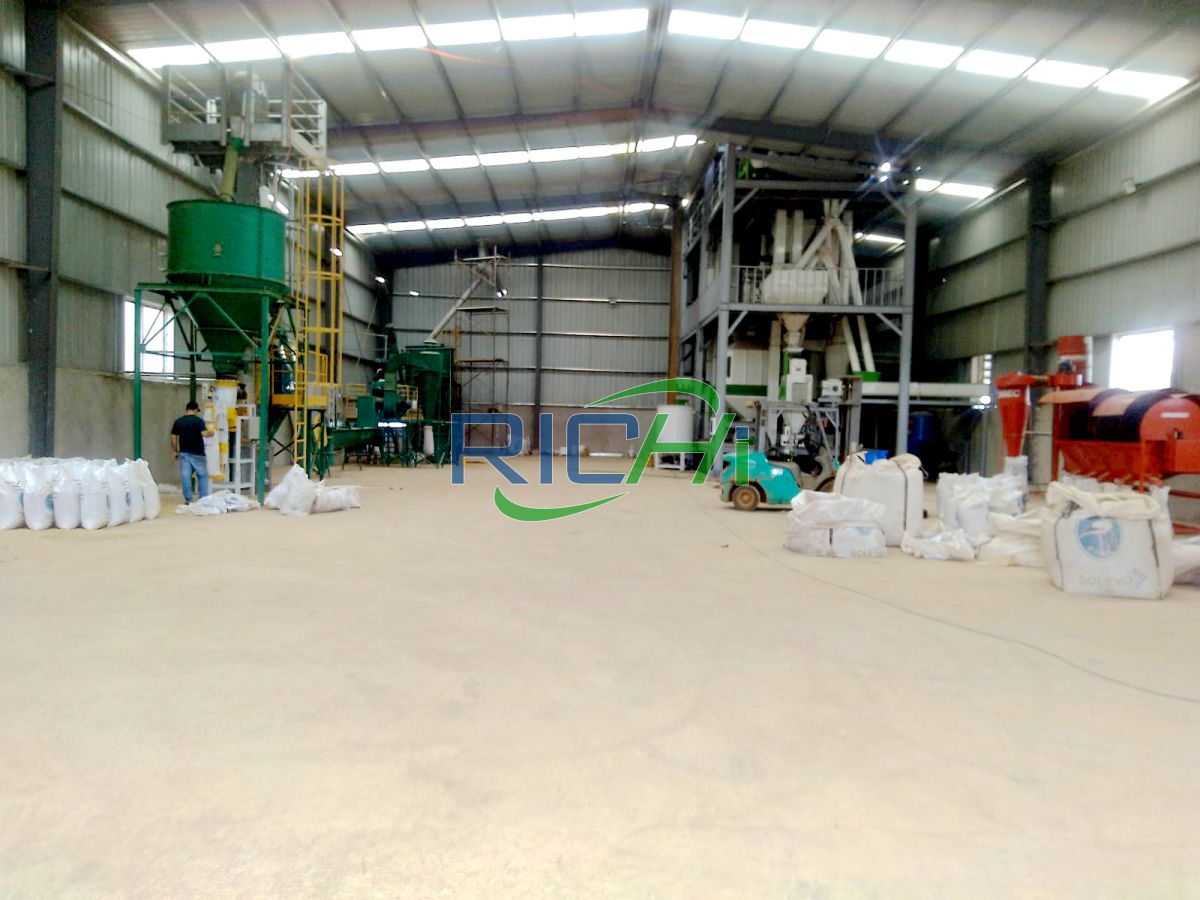 5 t/h alfalfa cattle feed unit in Argentina
This project uses 100% alfalfa as raw material for cattle feed. According to the raw materials and formula, our customized process is: bale breaking——crushing—grease adding—pelleting—cooling—screening—bagging .
Date:2021.10.11
Feed Pellet Size:6-8 mm
The install period:50 Days
cattle feed plant cost:184,500 USD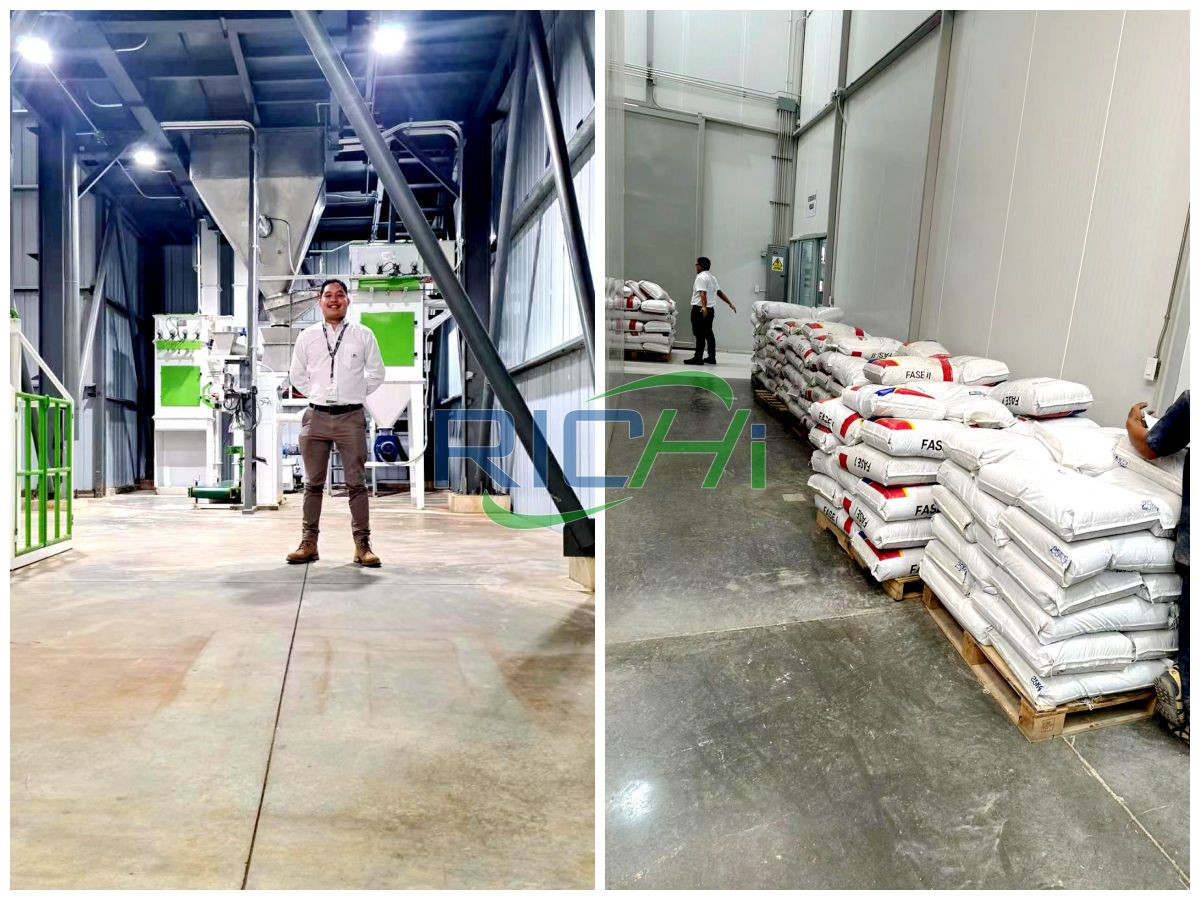 5 T/H Cattle Premix Feed Plant In El Salvador
According to the market demand, the El Salvador customer invested 450,000 US dollars to use the existing factory building and construct a 5 tons per hour high quality ncattle premix feed mill project.
Date:2020.11.19
Control Mode:Full Automatic
The install period:90 Days
cattle feed plant price:450,000 USD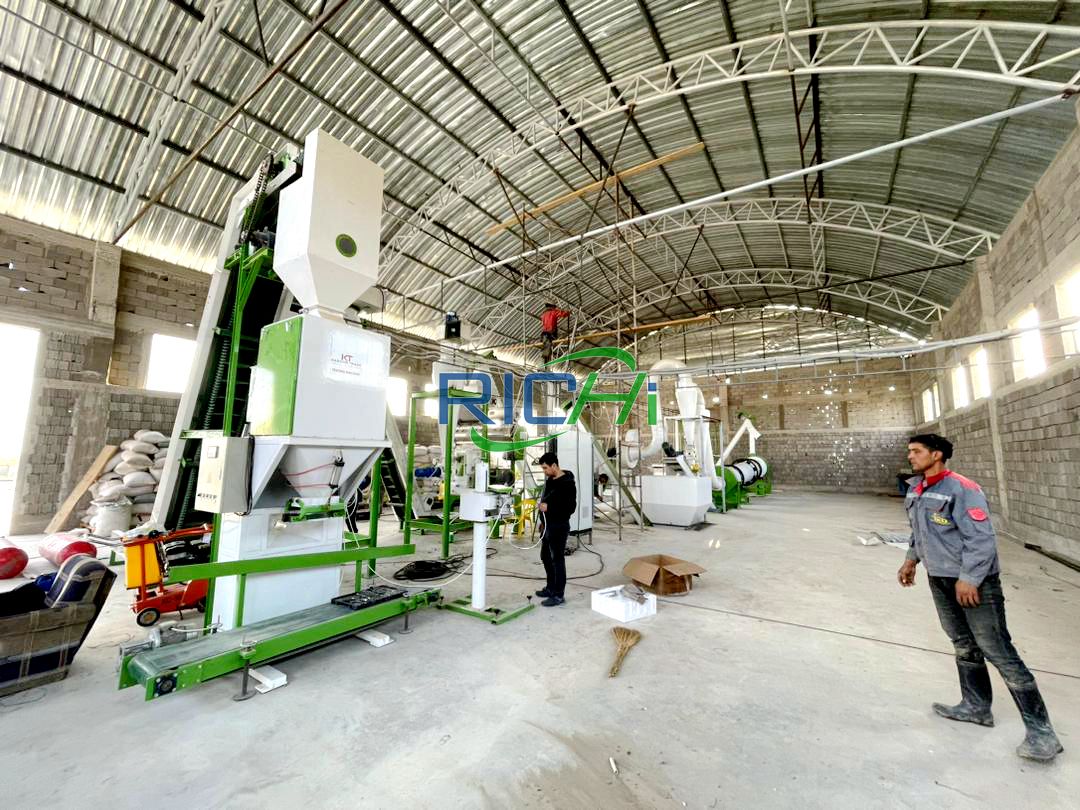 0.8-4T/H cow feed plant in Uzbekistan
The biggest feature of this cattke feed plant project is using hay and straw as the main raw material. According to different types and production stages of cattle, the proportion of wheat straw in the feed will be different.
Date:May 19, 2021
Pellet Size:6-8mm
MAIN POWER:283KW
cattle feed plant price:85000-95000USD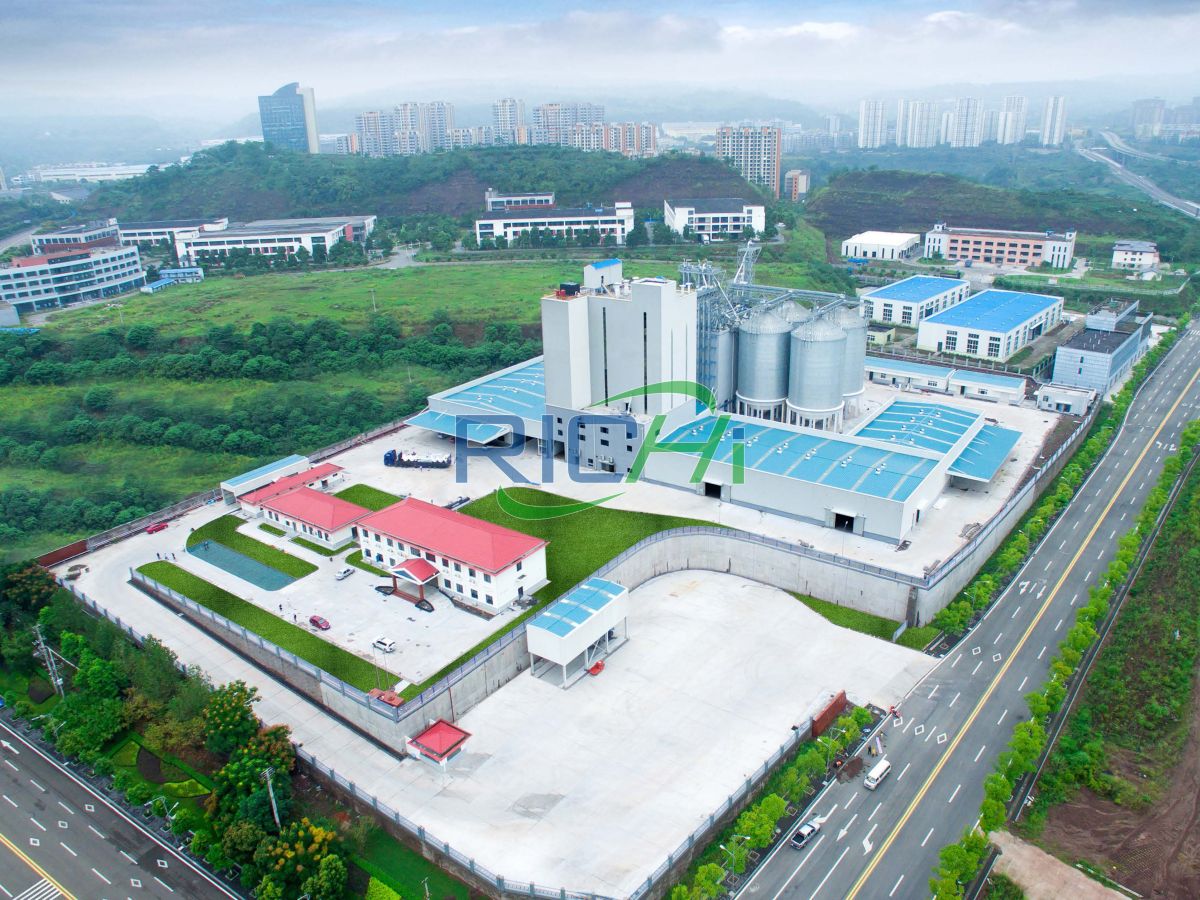 40-42T/H Large Scale cattle feed unit in China
This project is a new build animal cattle feed factory project, and the main construction content includes 7 production workshops, 2 office buildings, and 2 dormitory buildings. The total land area is 53,085m².
Date:June 2019
Feed Size:2-5mm pellets
The install period:10 months
cattle feed plant cost:1,800,000USD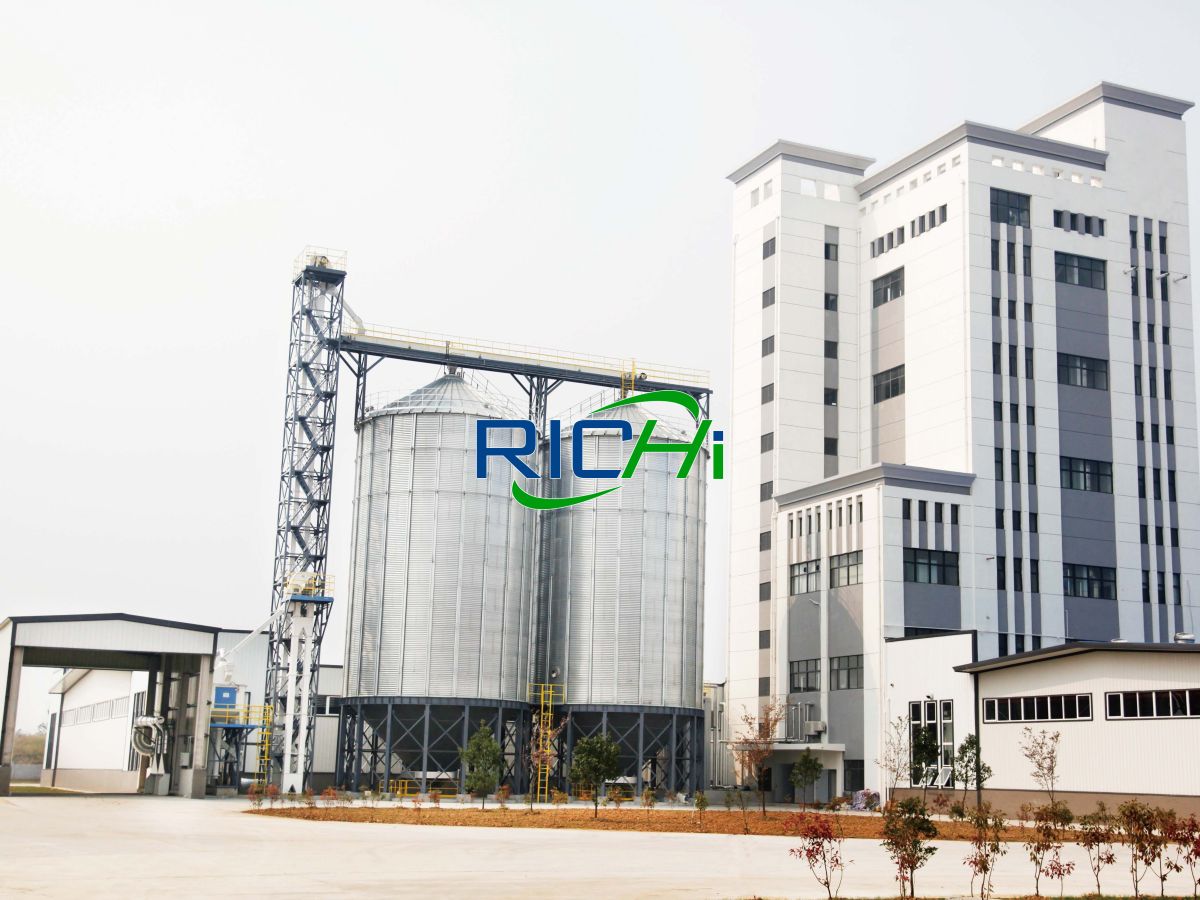 25T/H Ruminant Cattle Feed Plant in China
The total construction area of the 25t/h fully automatic cattle feed plant is 4300 m², and the main construction contents are workshops, warehouses, offices and other facilities.
As a cattle feed plant manufacturer, RICHI will not sell equipment for the purpose, let alone design for the completion of design tasks, because we want every piece of equipment to create value for customers, and the completed factory has complete functions and smooth operation, production and management Costs are low.
Every customer hopes to obtain the greatest operating return with the least investment in plant construction. Therefore, we must systematically think about the whole plant construction from the perspective of the builder, so as to design a feed plant that meets the real needs of customers, and to achieve construction and quality. The goal of win-win for the contractor.
Customized cattle feed production process
How cattle feed is made? Different feed types, different cattle feed production process. Depending on the raw materials, formulations, feed products, degree of automation, and plant conditions, the process of the cattle feed factory we customize for customers is different.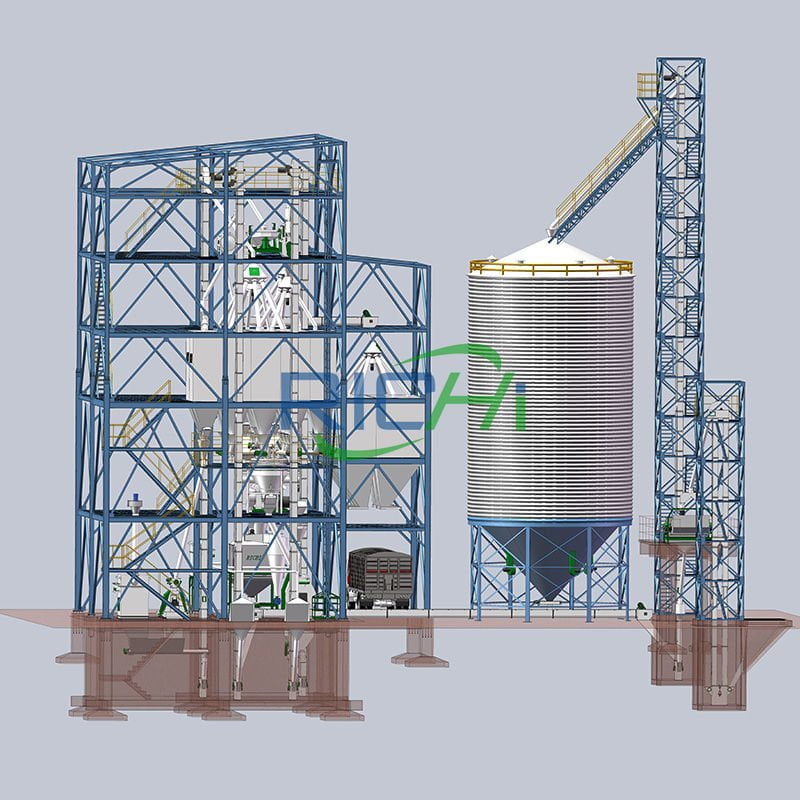 Cattle feed pellet plant process
Cattle feed pellet plant is currently is the most widely used, which can be used to process compound feed, concentrated feed and roughage. It can contain maize cattle feed plant, grass pellet plant, etc.
Cattle feed manufacturing process: raw material receiving, cleaning and iron removal, crushing, ingredient mixing, molasses addition, granulation, cooling, screening, packaging and other processes.
This system usually requires feed baler, forage grinder, grain grinder, cattle feed mixer, cattle feed pellet mill, feed pellet cooler, screener, packing scale and other equipment.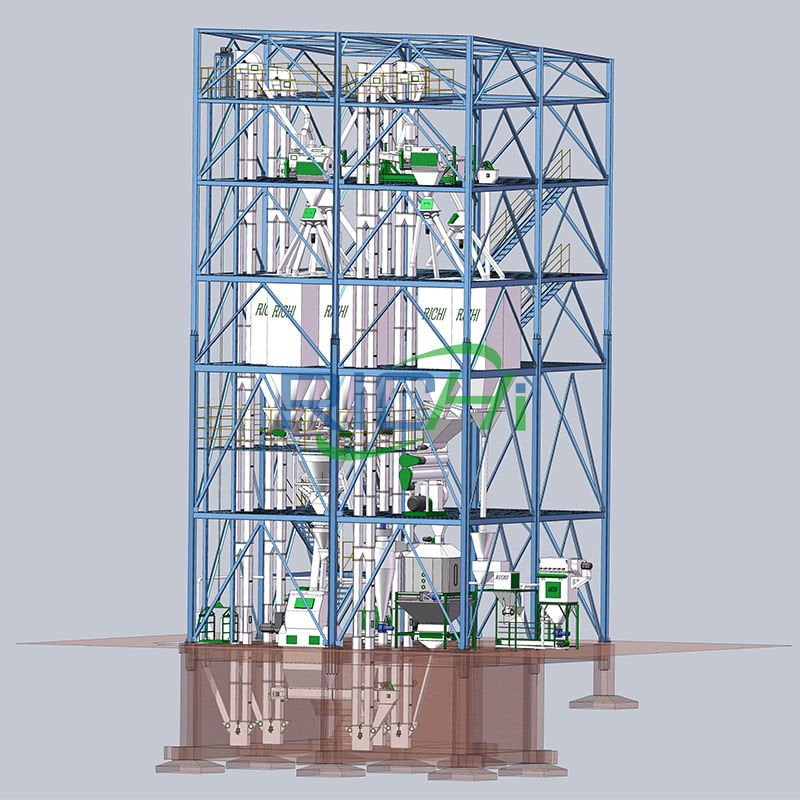 cattle feed mixing plant process
RICHI cattle feed mixing plant is a cattle feed processing system with relatively simple process.
Cattle feed manufacturing process: usually consists of cleaning, crushing, mixing, packaging and other systems. According to customer needs, you can choose to configure silos and other equipment.
Such cow food plant systems usually require equipment such as feed hammer mill grinders, cattle feed mixers, and packing scales. The system is also suitable for the production of other powdered feeds, such as poultry mash feed, chicken powder feed, etc.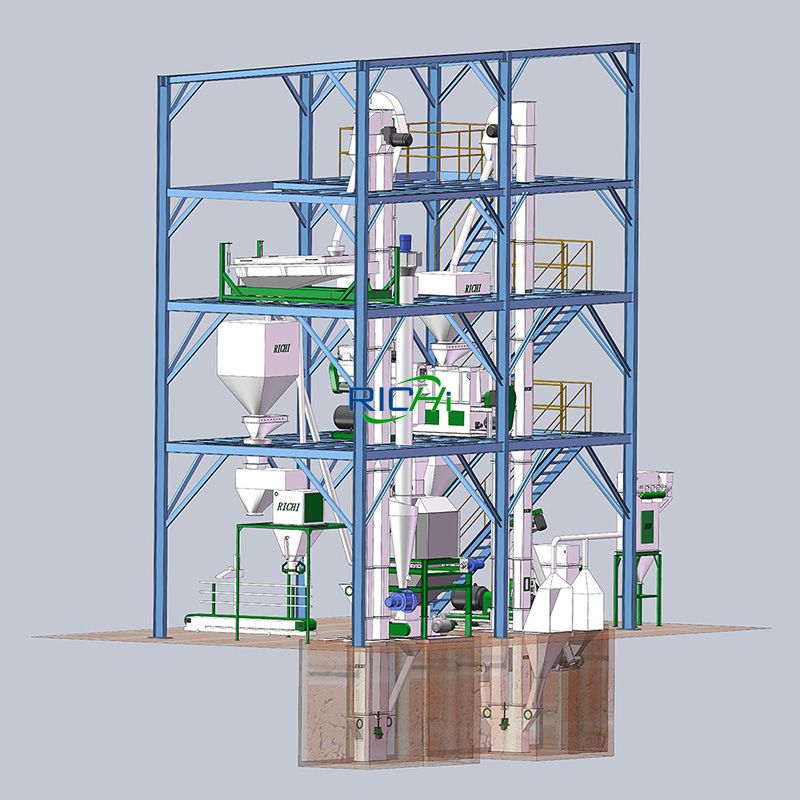 cattle premix feed plant process
Premixed feed is used as an additive in the production of cattle feed. Our cattle premix feed plant equipment can produce various premix cattle feeds. Cattle feed manufacturing process: usually includes cleaning, crushing, mixing, packaging and other systems.
The system usually requires pulverizers, stainless steel mixers, packing scales and other equipment.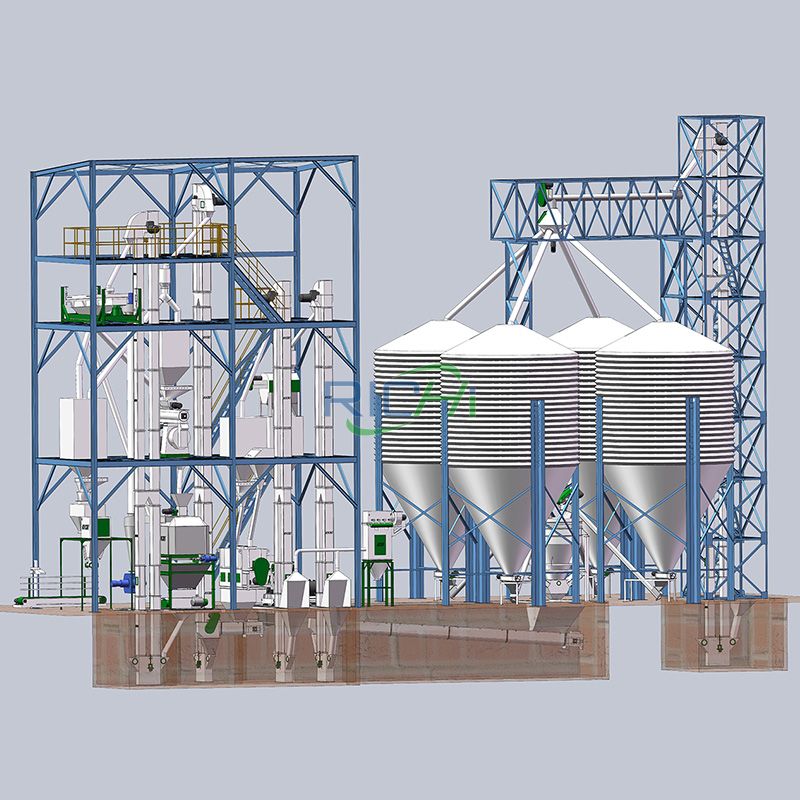 cattle TMR feed plant process
During the uniform mixing process of the components, the coarse feed and other components are chopped, kneaded, softened, and finely crushed to make the components evenly mixed. At present, some manufacturers have begun to produce TMR pellet compound feed.
This system usually requires equipment such as hay cutters, pulverizers, and cattle feed mixers.
Automatic cattle feed plant machine
After the processing technology of the fully automatic cattle feed plant is determined, the quality of the equipment selection will directly affect whether it can meet the expected requirements of the process, the quality of the products after the cow feed plant is completed, the reliability of equipment operation, the convenience of operation and maintenance, and the service life of the equipment. , production costs, plant investment, etc.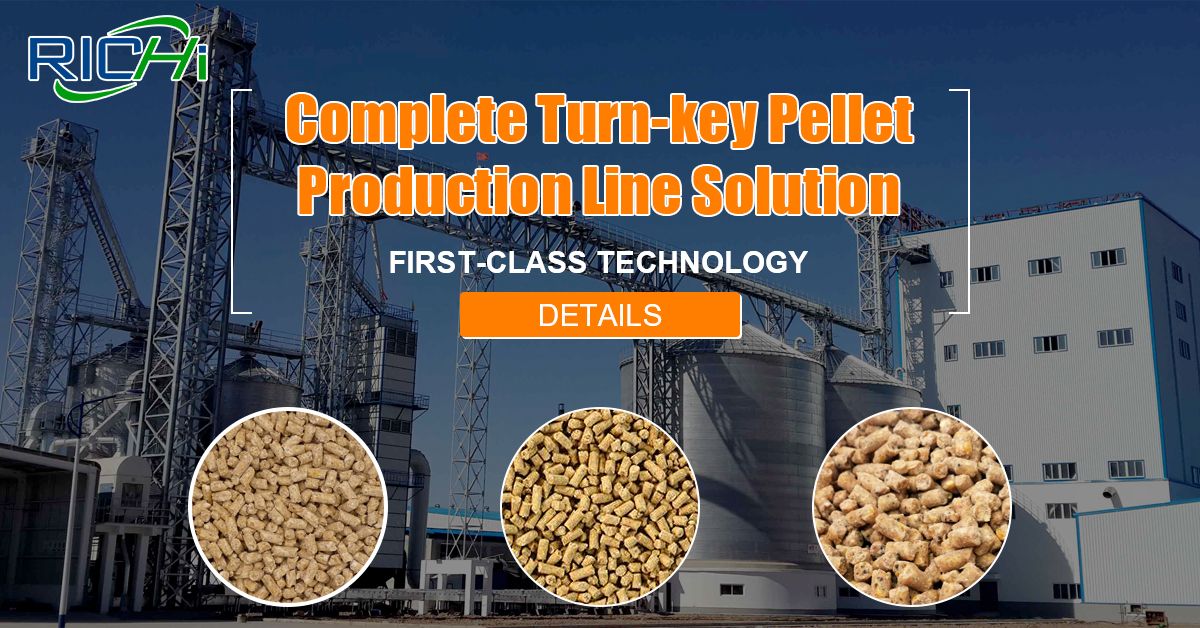 In short, cattle feed equipment selection directly affects the economic benefits of the factory, so equipment selection is of great importance. Since there are many types of feed mills, and there are more types and specifications of equipment, how to choose equipment correctly and reasonably is a more detailed technical work.
But don't worry, as a professional cattle feed plant machinery manufacturer, RICHI will provide you with the most optimized cattle feed plant equipment configuration combination.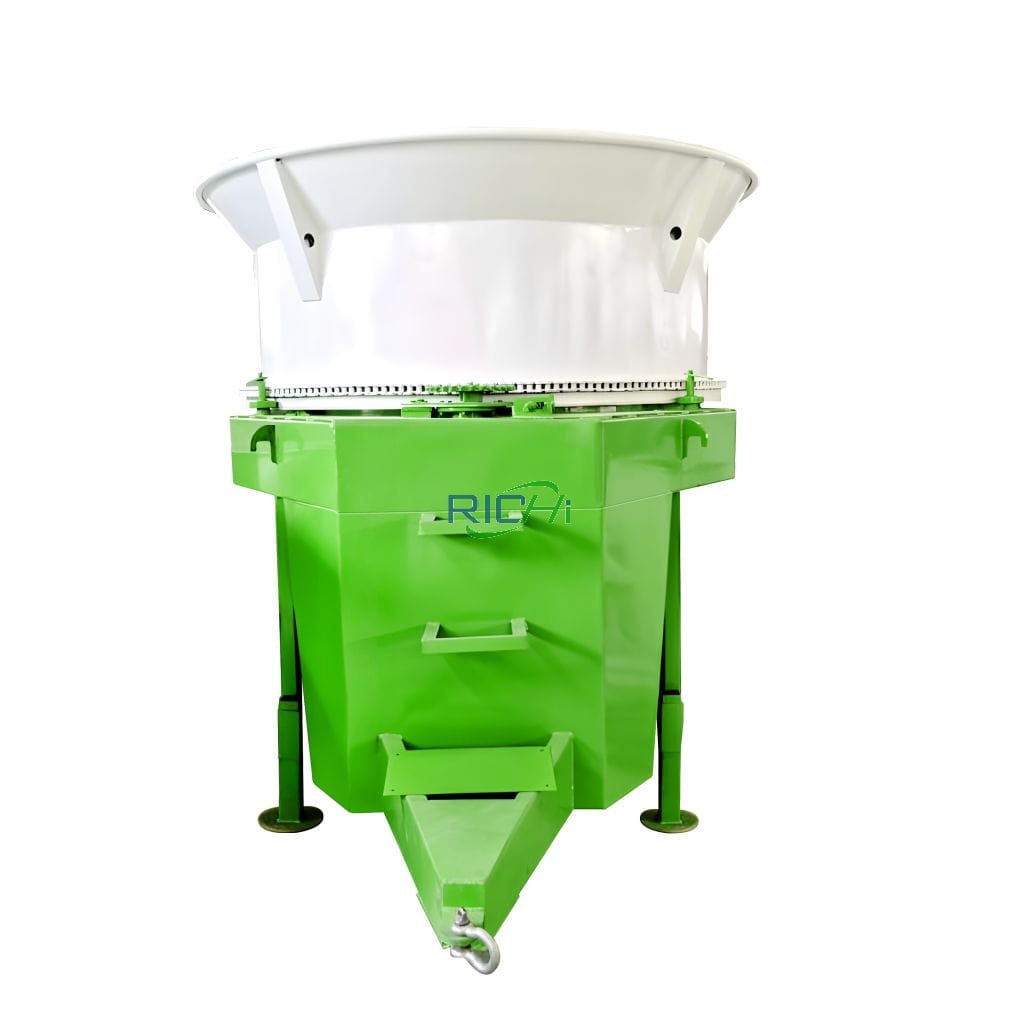 Bale breaker
It is suitable for crushing raw materials such as bales of alfalfa, hay and straw.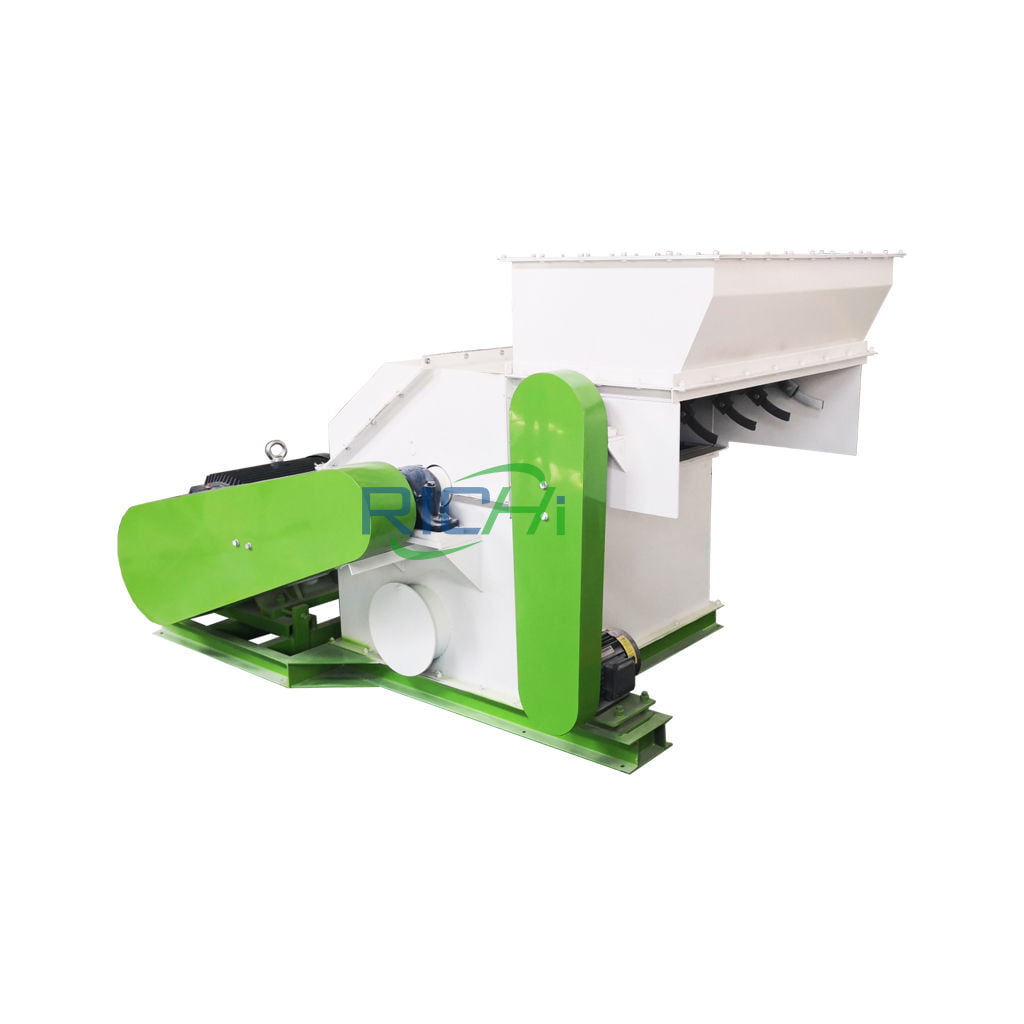 Grass crusher
Suitable for large-scale coarse crushing of forage grass, with high efficiency and low production cost.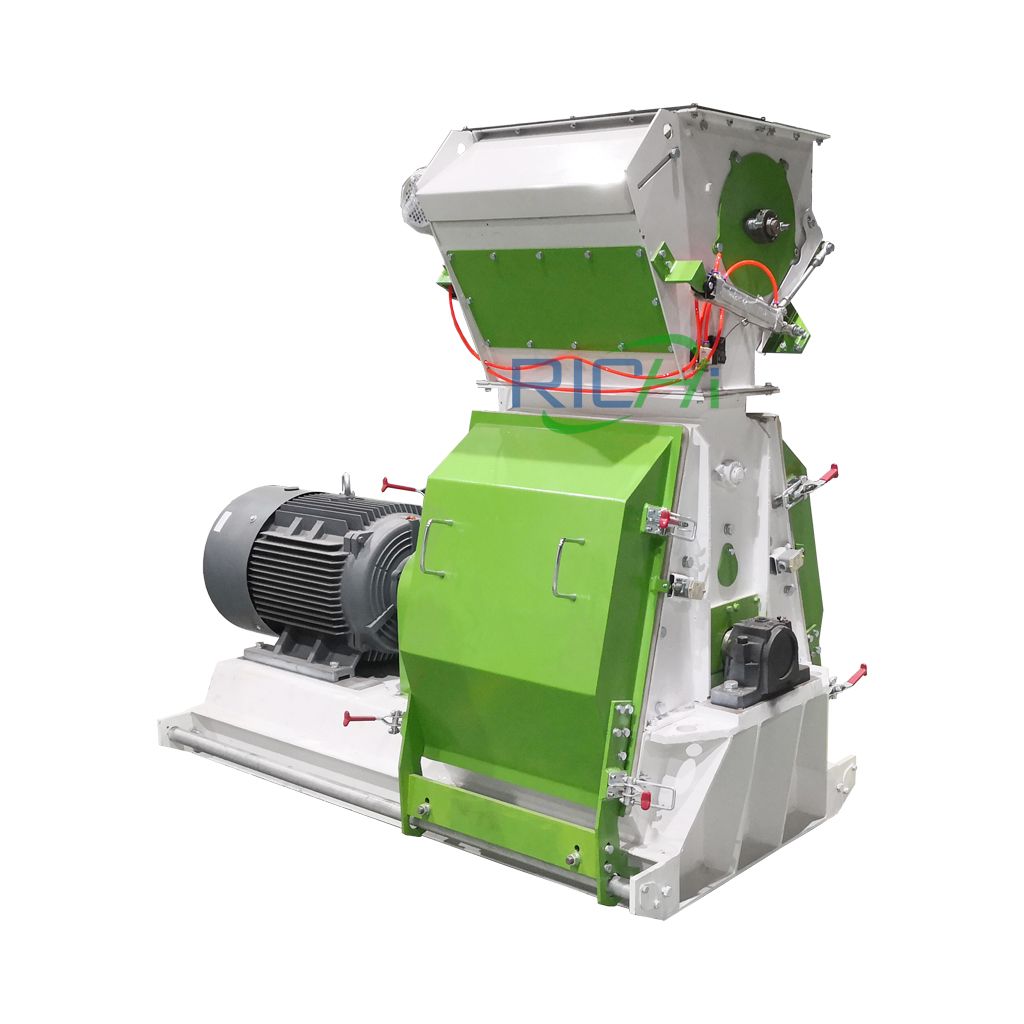 cattle Feed Grinder
Grinding is an essential operation which affects both pellet quality as well as the digestibility.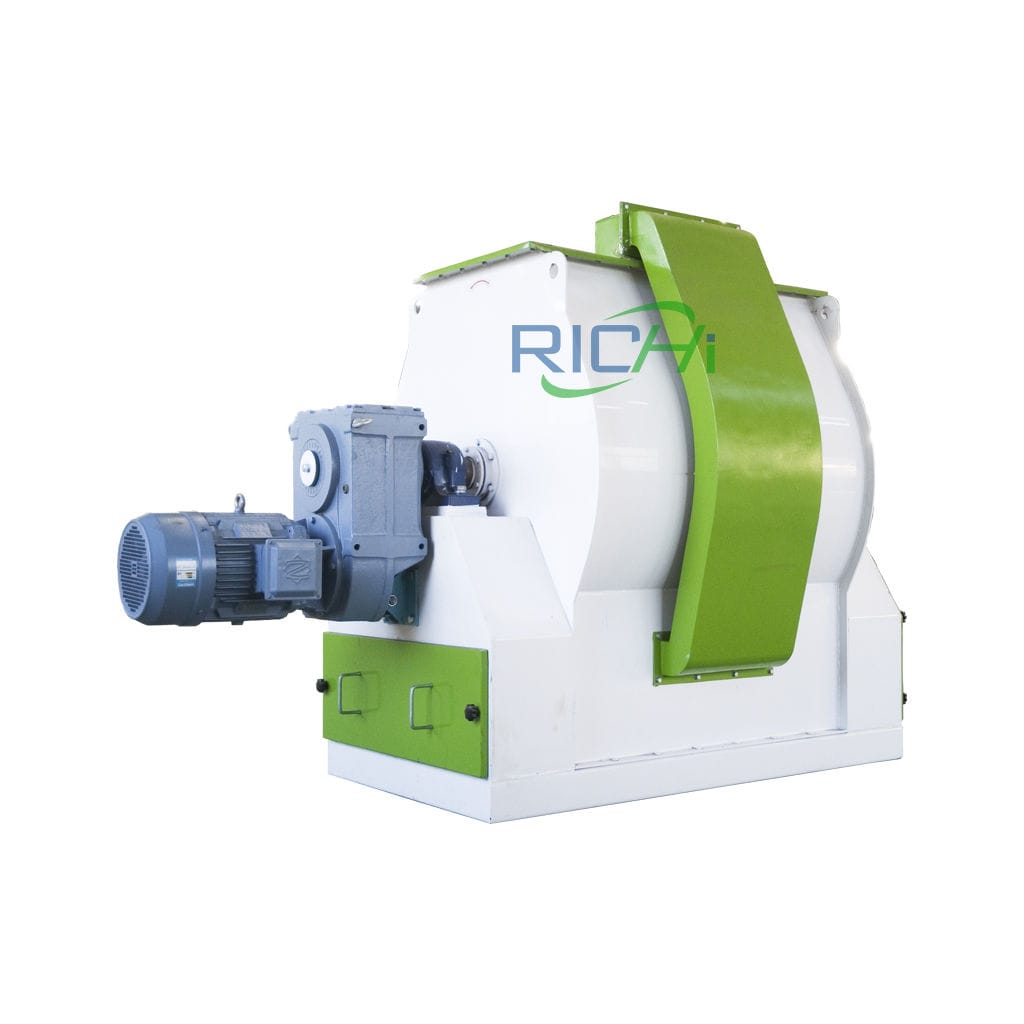 cattle Feed Mixer
Cattle feed mixer machine is applied to achieve a high homogenous mixture for more uniform grinding.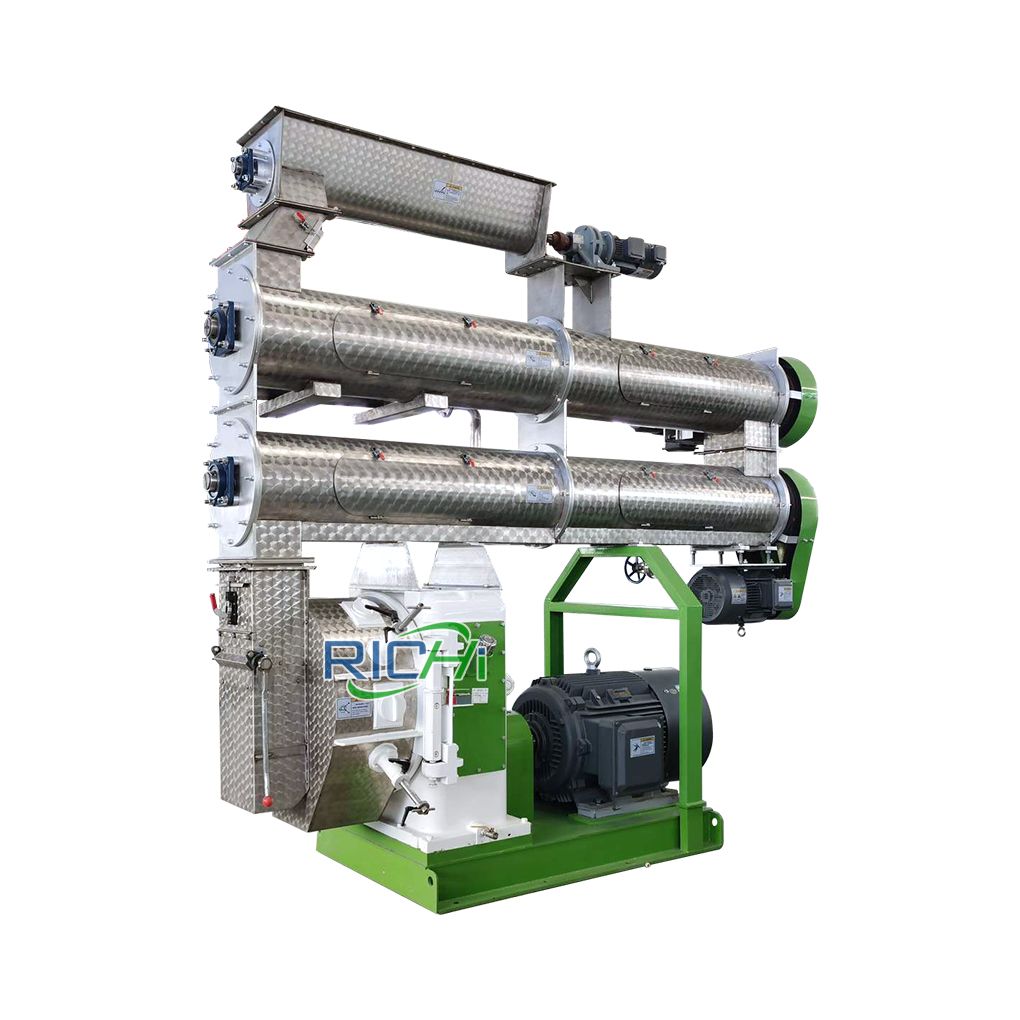 Can ensure high cattle pellet feed production efficiency at the lowest cost.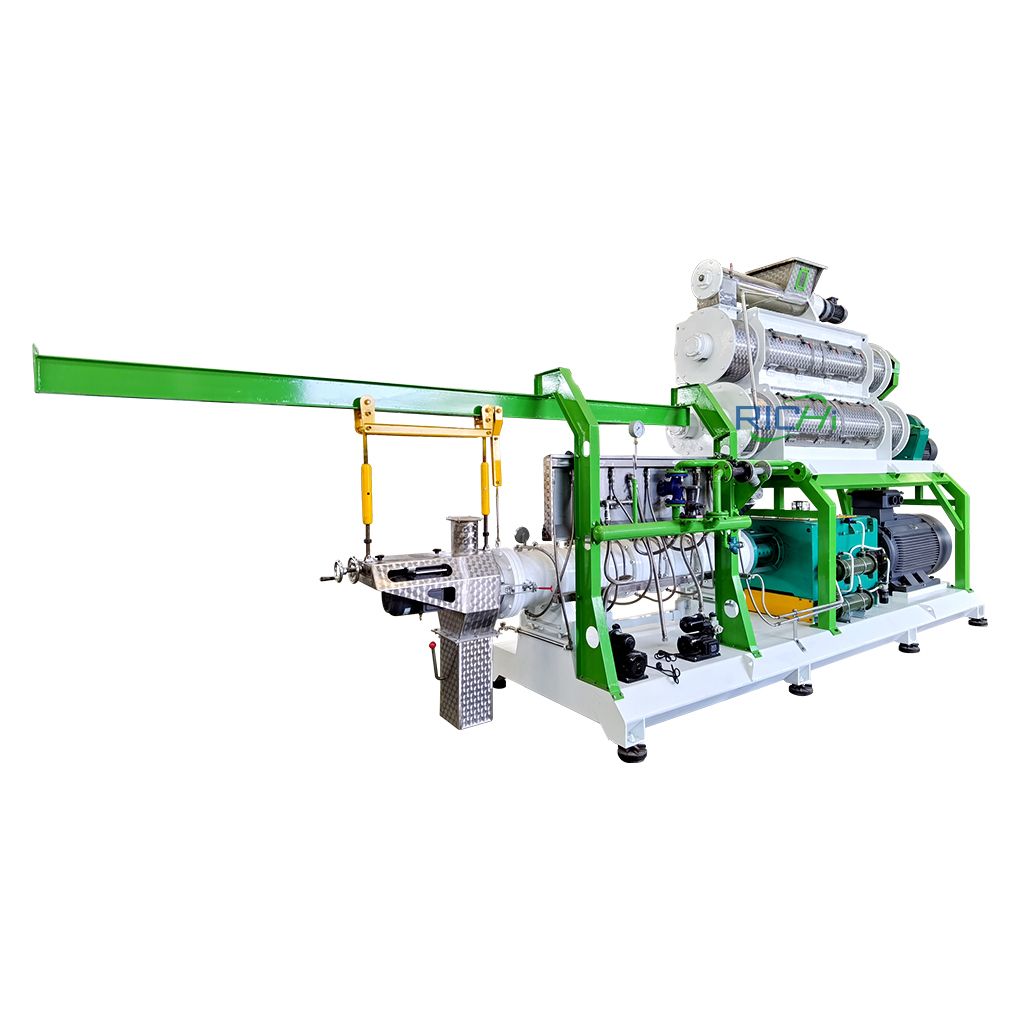 Cattle Feed Extruder
Producing high-quality extruded cattle feed pellets with good absorbability.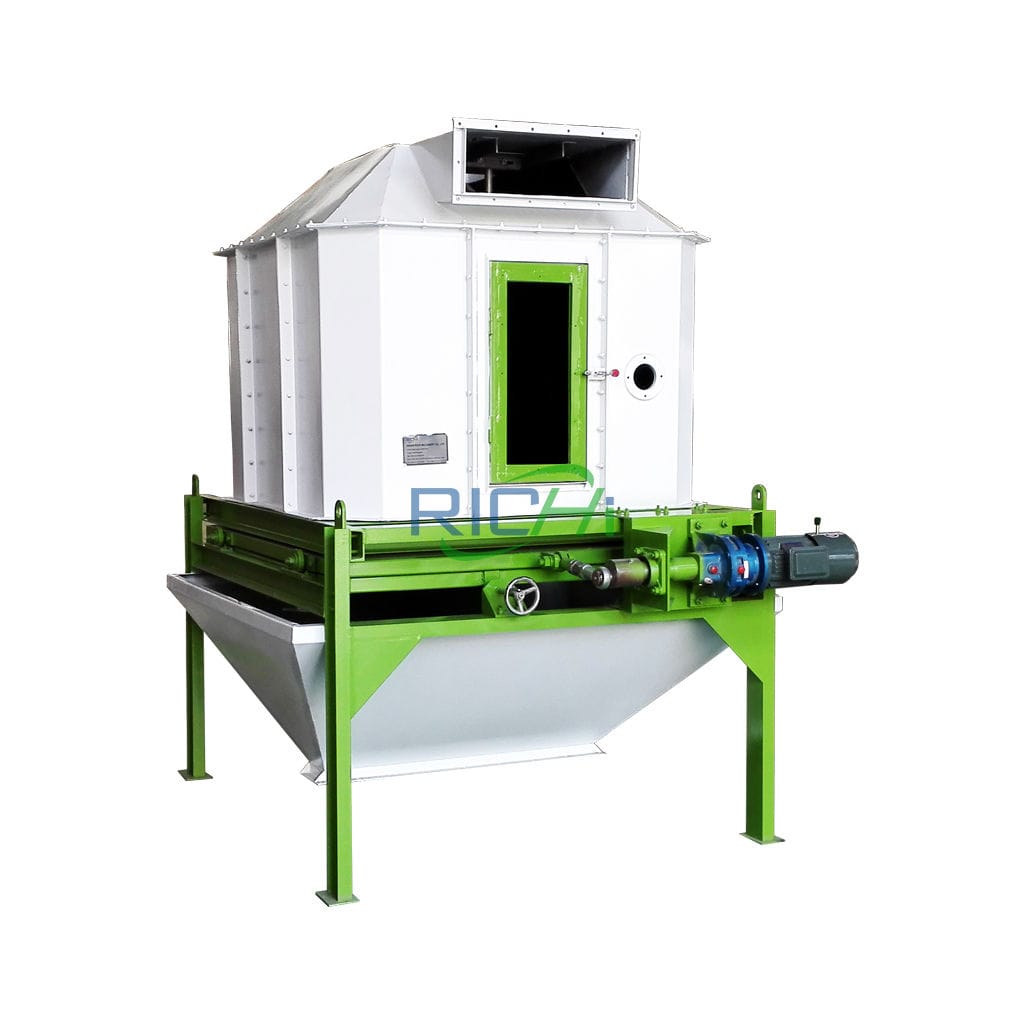 The counter-flow feed cooler machine is used for cooling cattle feed pellets.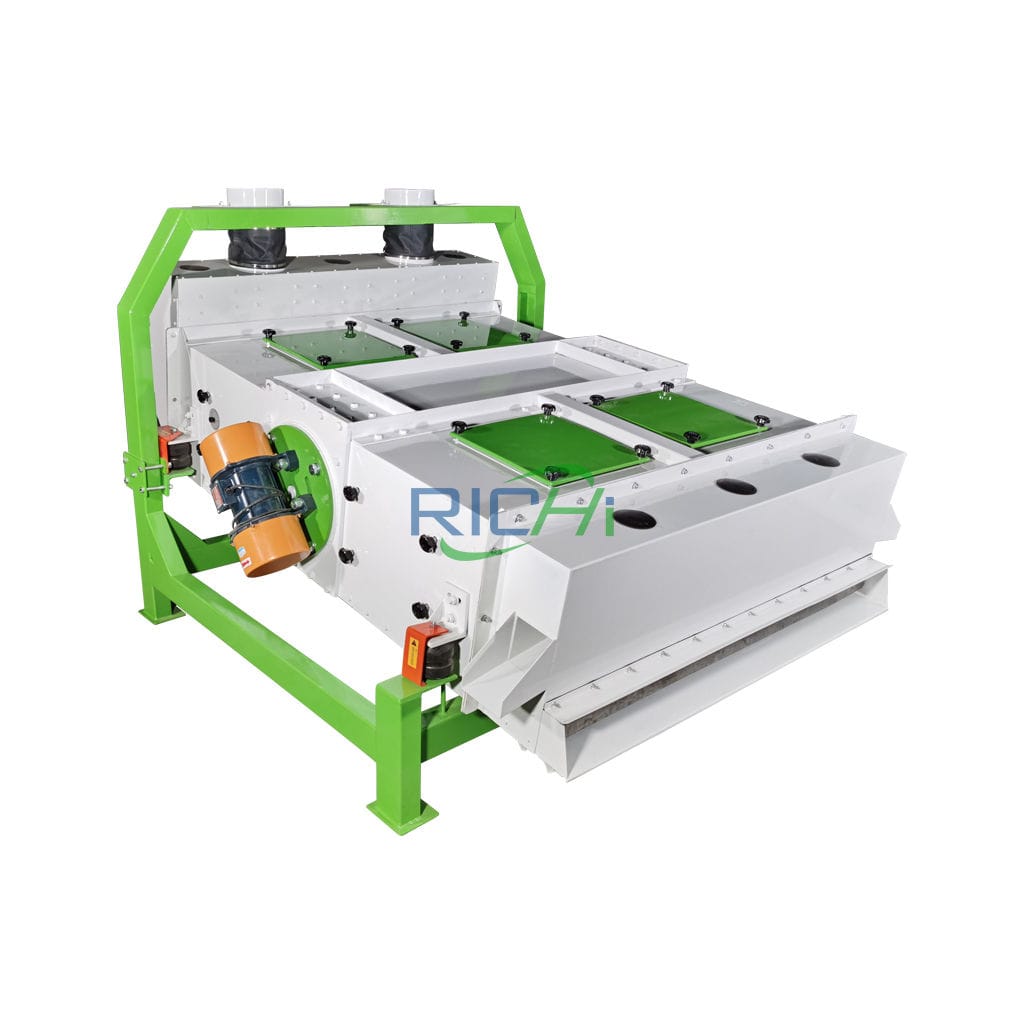 Rotary Screener
Screening machine is applied for separating wanted pellets from unwanted pellet.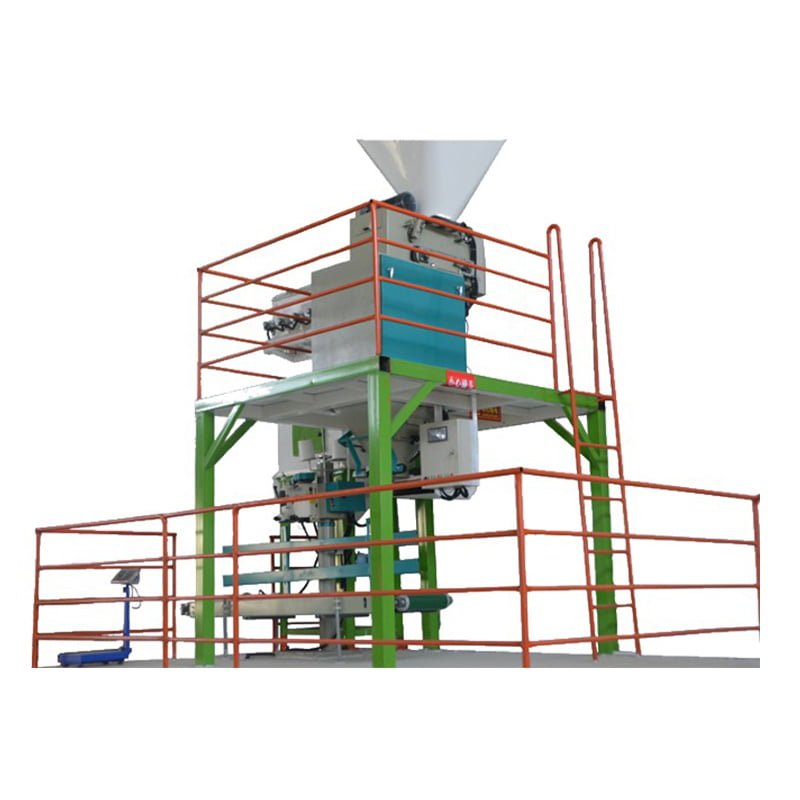 Packaging Machine
The finished cattle feed product is collected and bagged by automatic bagging machine.
We offer complete fully automatic cattle feed plants for the treatment and production of cattle feed pellets. According to the requests of the client and of the constructive characteristics, our cattle feed plants have different construction characteristics and production capacity.
automatic cattle feed plant layout design
The purpose of building a fully automatic cattle feed plant is to operate efficiently and economically in the future, not just to build the feed factory.
Therefore, at the initial stage of design, it is necessary to fully consider the needs of the production area, office and living area, and the future development of the enterprise according to the positioning of the automatic cattle feed plant construction, make a detailed construction and reservation plan, and then let us carry out process design and general plan design.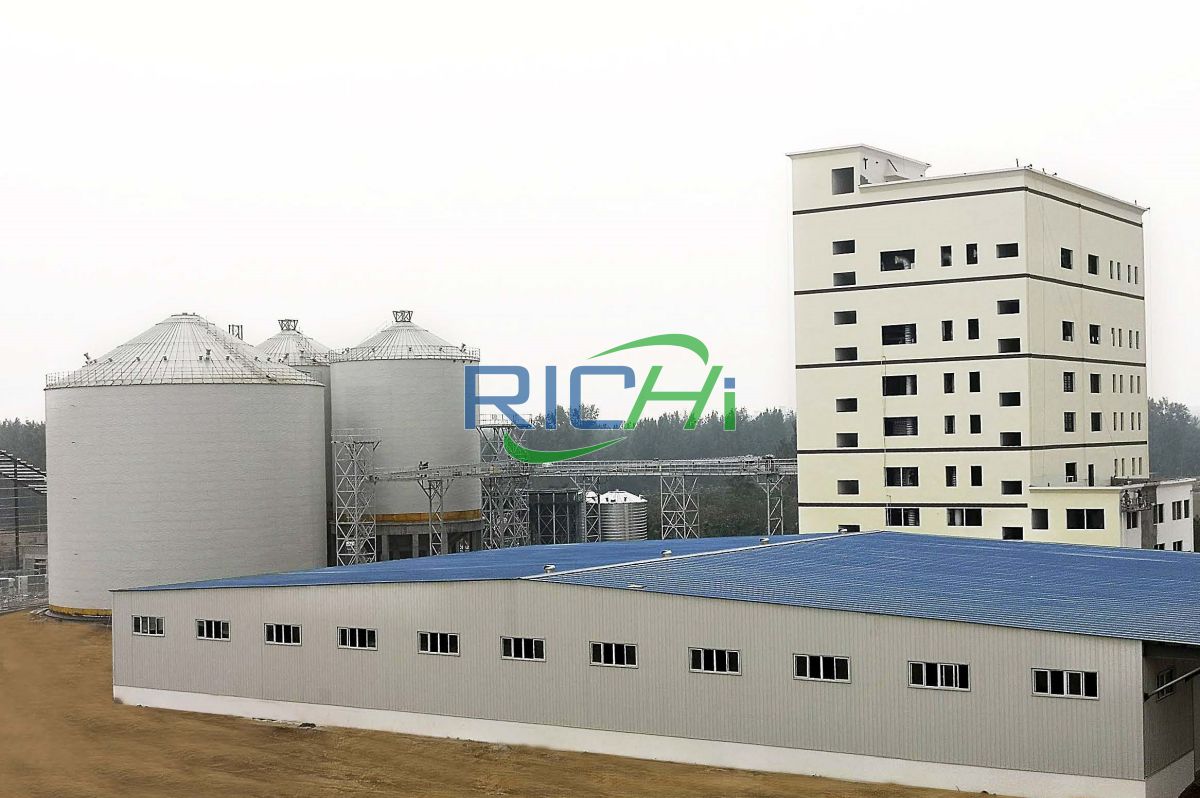 Overall Planning
According to the technical and engineering requirements, combined with the geological survey data, we will carry out the general layout design of the fully automatic cattle feed plant, rationally arrange various buildings, various engineering pipe networks and plant greening, and reserve areas to be built and possible construction of cables, telephone, network, and monitoring pipeline channels avoid secondary excavation and reconstruction after completion.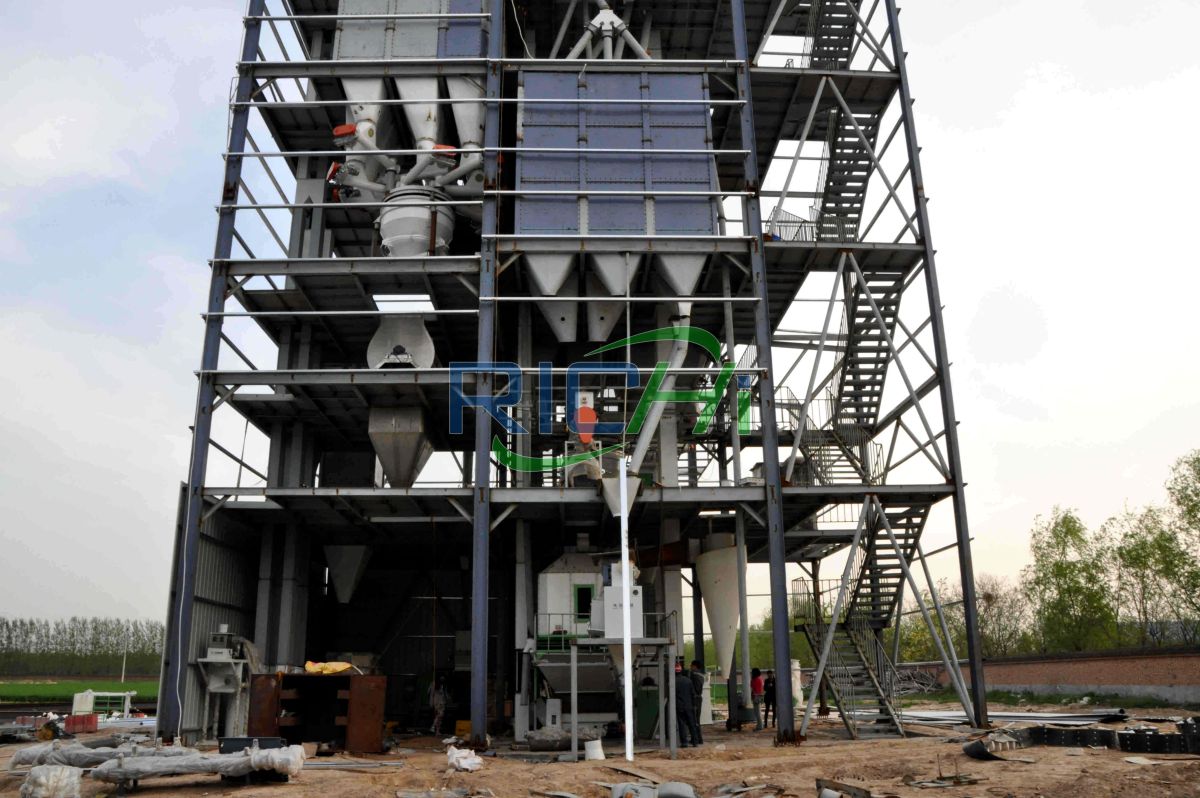 Detailed construction drawing design
Based on the data in the cattle feed production process design scheme, the general plan of the cattle feed unit area, cattle feed making equipment layout, individual buildings and facilities are designed in detail. During the design process, our engineer team will go deep into the plant design, check every cattle feed plant design detail, and conduct in-depth communication with customers to ensure that every cattle feed factory design meets the customer's intention.
Our engineers will go deep into the construction site, fully understand the needs and intentions of customers, master the functions and operation modes of the factory after completion, and propose system solutions.
For example, if the customer needs to build a full-price feed production line, then the designer must ask the customer about the matching of the premix production equipment and the premix small-material premixing equipment, instead of only considering the construction of the full-price feed production line. (You can find us on YouTube)
Faqs of starting fully automatic cattle feed plant

What issues need to be considered in building a cattle feed plant?
When building or designing a new cattle feed unit, there are plenty of different factors to consider. No two cattle feed plants are exactly alike. You'll need to adjust your plans based on the size of your facility, what you're trying to achieve, and what kinds of animals you're looking to raise, all the while maintaining the health and safety of your employees.
Keep these considerations in mind when designing a cattle feed plant for your business:
① What is the product or recipe that you're looking to process?
You'll need to consider the incoming product when creating your feed mill. Different products like flour, grain, and rice require different milling techniques. For example, roller mills cannot process flour, while hammer mills can. If you're combining different materials and products into the same feed mill, you'll need a mill that's designed for universal applications.
② What size granulation do you need?
Different animals require different sizes of feed based on their digestive systems. Cows require larger, coarser particles that are high in fiber, while pigs require finer particles of a certain size. Feeding your animals the wrong sized particles will lower your feed conversion rates. Consider the needs of your animals before investing in a fully automatic cattle feed plant.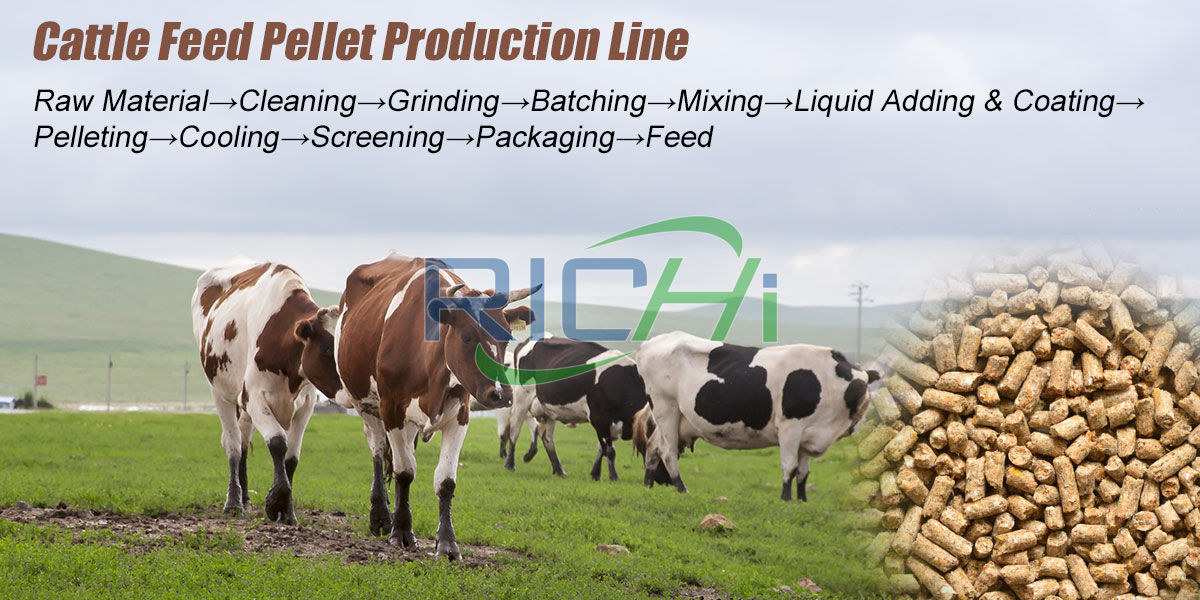 ③ What capacity is needed?
You also need to consider how much feed you'll need to produce at any given time. Some cattle feed mills come with strict throughput limits, so you may want to consider choosing a different model if you plan on producing large quantities of feed. Some models are prone to excess heat, friction, and costly repairs when operating at high volumes, so make sure your new system can handle the intake to maximize your milling efficiency.
④ Are there any limitations? Space limitations? Electrical limitations?
You should also know the limitations of your facility before investing in a fully automatic cattle feed plant, including the size of the space, how you plan on having your employees move throughout the facility, as well as any electrical limitations. Your employees should be able to move throughout the space freely without running into equipment or potential hazards. You'll also need to position your equipment for optimal efficiency, so your employees can complete their work in less time.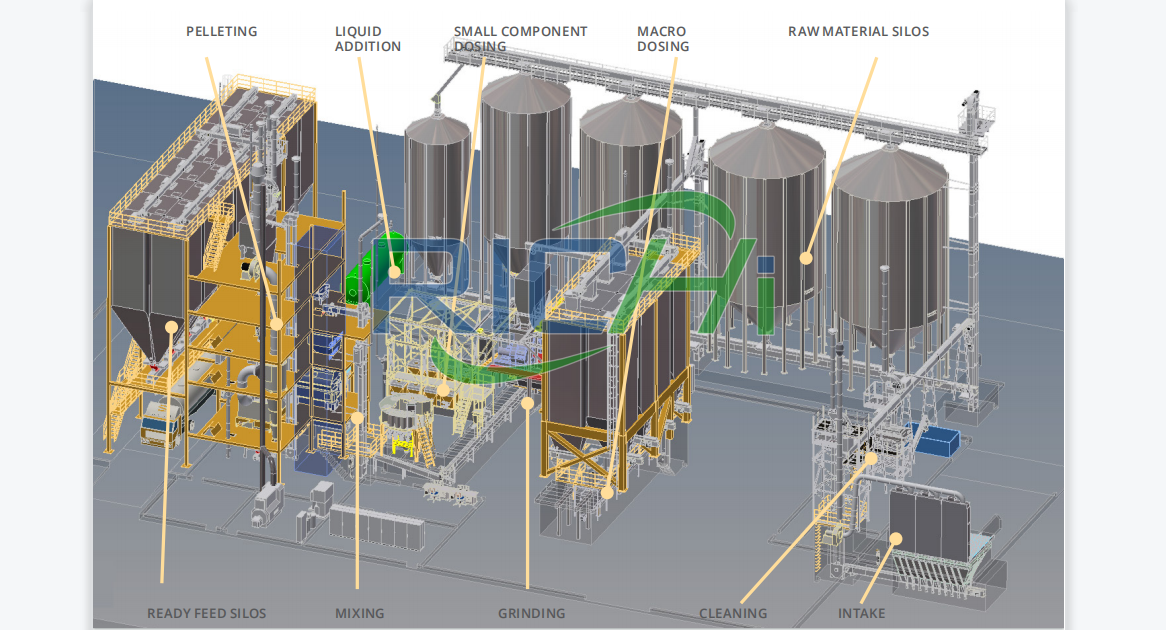 ⑤ Is this a new product, something that no one has produced before?
If not, what type of testing is needed? If you're creating a new product or working with a new recipe, you'll need to test the product beforehand to make sure it's safe for your equipment. Additional steps may be required before putting the material through the machine.
⑥ Cattle Feed Plant Safety
The health and safety of your employees should always be a top concern. Some cattle feed plants can generate excess heat and friction that may put your employees at risk. Some machines are prone to spontaneous combustion, so you may need to invest in explosion protection, as well.Once you've done your research, you can start planning out the details of your new facility. Consider partnering with an experienced fully automatic cattle feed plant design and construction firm, so you don't have to make all these decisions on your own.
The professionals at Richi Machinery can help you design and construct the perfect cattle feed plant for your business. We invest in the latest feed mill technology, to help our customers accomplish their goals.

How to make cattle feed pellets 10 tons per hour?
To process 10 tons per hour cattle feed pellets, you can refer to the following process with a fully automatic cattle feed plant:
Formulate a recipe. This is usually done by a nutritionist to ensure the target animal will get the nutrients it needs.
Weigh out the ingredients according to the recipe. You need several different size scales: large scales for macro-ingredients that make up more than 10% of the formulation, and small scales/manual hand-weighing to add micro-ingredients which make up less than 1% of the formulation.
Grind the ingredients to less than 2 mm. Consider grinding individual ingredients before mixing (pre-grinding), or grind the entire mixture (post-grinding) after weighing.
Mix the formulation thoroughly. Use a ribbon blender or a paddle mixer that can mix up to 10 tons at a time. You may add a pelleting aid and liquid-based ingredients at this stage.
Move the mix to the cattle feed pelleting machine. Use a bucket elevator to carry the feed to the top of the mill and then let it drop to a bin above the cattle feed pelletizer.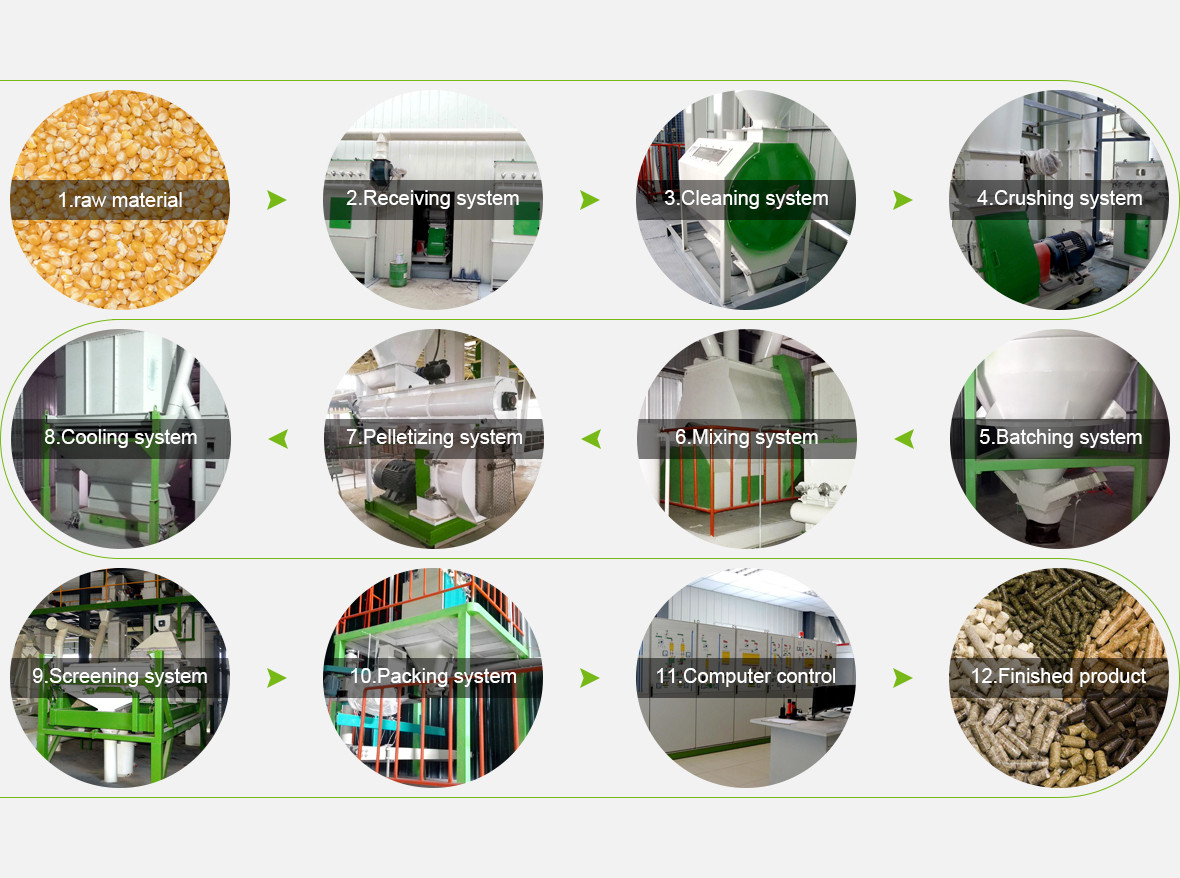 Condition the mix with steam immediately before it enters the feed pellet machine. You do this by adding steam directly into a horizontal mixing/transport chamber. Conditioning adds heat and moisture to the feed, which softens it and makes it easier to press the pellets.
Conditioned meal falls into the press where it is pelleted. Sometimes the pellets are cut to a specific length by a knife on the outside of the die.
Hot pellets drop into a counter-flow cooler where air is blown through them in the opposite direction. This cooling returns the pellet to within 3-5°C of ambient temperature, and at the same time removes the moisture that was added by condensing steam.
Transport the cooled pellets for storage or packaging. This usually involves another lift to the top of the mill by a bucket elevator and gravity flow to their destination.
The following is an example of the process flow of a 10t/h fully automatic cattle feed plant: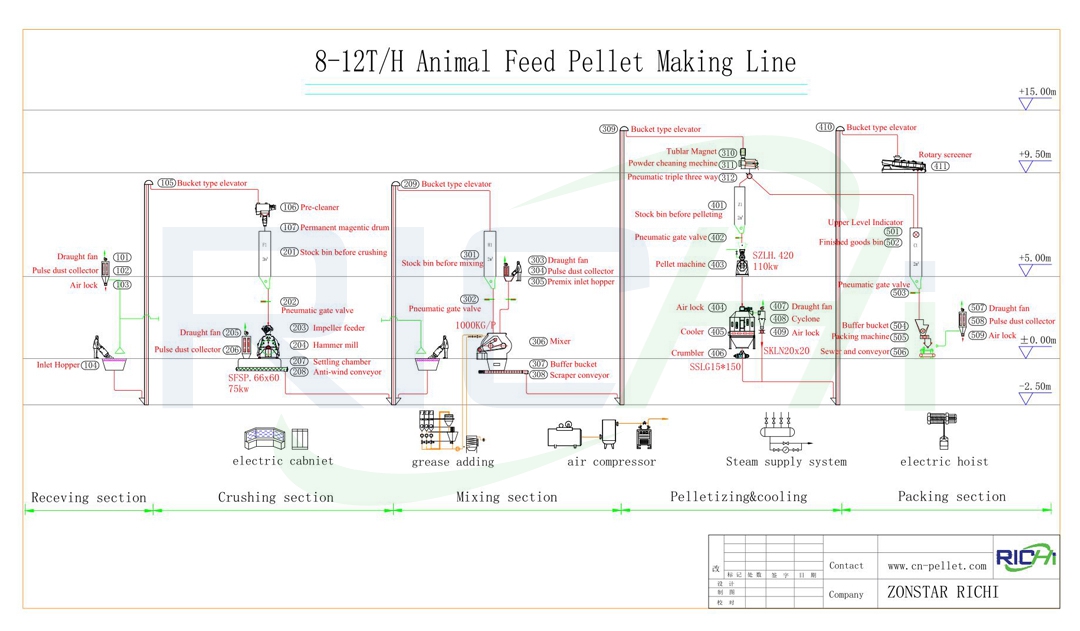 How to produce cattle feed 4-5t/h?
How to make cow feed 4-5t/h? The typical phases of a 4-5t/h automatic cattle feed plant are:
Receiving and storage raw material
Dosing components
Grinding
Mixing and adding micro-components
Storage flour and pelleting
Cooling, Sieving, dust recovery
Storage end product
Packaging

Accordingly, the main equipment you will need to start a fully automatic cattle feed plant includes:
Crushing equipment: designed to produce 5-6T/H.
Mixing equipment: 500kg/batch, mixing uniformity CV≤5%.
Granulation equipment: Pellet Making Machine For Cattle Feed, Model SZLH350, 55KW.
Cooling equipment: design capacity 5-6T/H;
Pellet crumbler: design capacity of 3-5T/H.
Screening equipment: design capacity 4-6T.

How to make cattle feed from maize 30 t/h?
Want to produce 30t/h cattle feed, your fully automatic cattle feed plant can refer to the following process:
(1) Receiving & Storaging Cattle Feed Raw Materials
In this initial phase the supply of substances for the desired recipe is determined. Normally a reception pit is foreseen where the raw materials are delivered. Through extraction screws and elevators the substances are loaded in the storage silo.
(2) Dosing Components Section
The raw materials are conveyed by a screw to the scale where they are weighed and dosed for the creation of the requested recipe.
(3) Cattle Feed Raw Materials Grinding Section
The material that needs to be smaller, passes through cattle feed hammer mill grinders, in order to reach the desired dimension.
(4) Feed Mixing Section
The product is loaded in a horizontal cattle feed mixer where it will be mixed and homogenized for a certain period; in this phase other micro-components can be added, like integrator or additives, necessary to the recipe.

(5) Cattle Feed Pelleting Section
The material is entering in the cattle feed pellet machine passing through the conditioner. Here other ingredients like steam, molasses and grease could be added, before the material goes into the pellet pressure chamber to be transformed into pellets by the ring die. the holes some knives cut the cattle feed pellets at the desired length.
(6) Cooling & Screening Section
After pelleting, the finished cattle feed product is very hot, therefore it's necessary to cool the product at approximately +5°C in respect to the room temperature, in order to give it the right hardness and the best consistency to store and handle it. In the sieving phase the product is cleaned from the dust, which is brought back into the production cycle.
(7) Conveying Section
The pelleted product is conveyed to the silo for storage before delivery. It can be loaded in a truck in bulk or conveyed to the packaging line.
(8) Packaging Section
The pelleted product is conveyed to the silo for storage before delivery. It can be delivered in bulk, loaded on trucks or packed in sacks or big-bag. The machines for packaging could be manual, semi-automatic or automatic, based on the requested production.
The following is an example of the process flow of a 30t/h fully automatic cattle feed plant: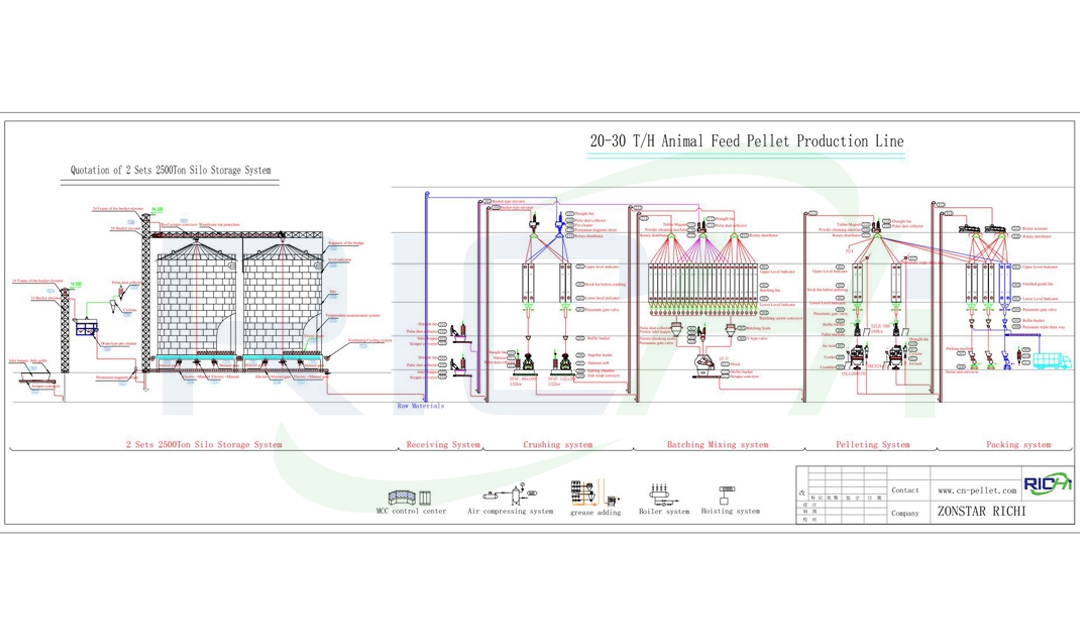 How to make concentrate feed for cows?
The concentrated feed of cattle feed includes energy raw materials, protein raw materials, fat, auxiliary materials, urea, trace elements, vitamins and molasses, etc. The processing technology of beef cattle or dairy cattle concentrate is combined with other processes.
Most of the processing procedures of cattle concentrate feed are basically similar to those of other livestock and poultry.
The biggest feature of cattle feed concentrate processing is that it is equipped with a grain pressing process, and the physical characteristics of feed, the thickness of material crushing, grain pressing and starch gelatinization degree, will affect the rumination of cattle and the production of volatile fatty acids in the rumen of cattle.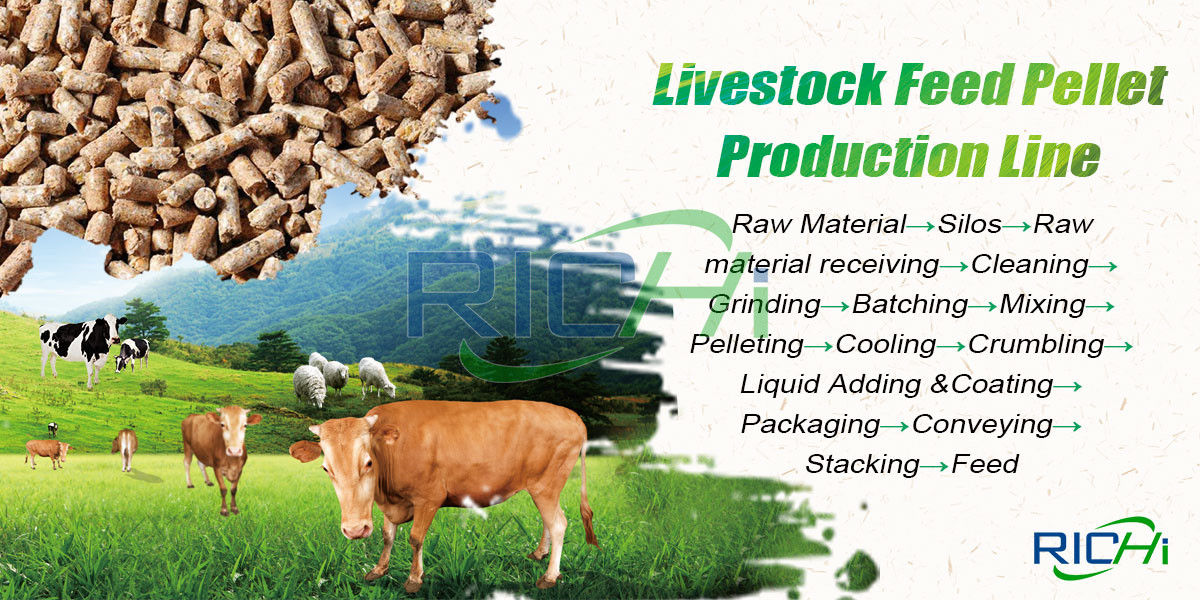 The processing technology of concentrated feed for beef cattle and dairy cattle is almost the same, but the process parameters are different, such as the thickness of crushing, whether the tablet is steamed or not.
The essence is the rumination of the cattle after eating the feed, so that the feed is fermented in the rumen of the cattle to produce volatile fatty acids. The beef cattle strive to mainly produce propionic acid in the rumen, and the dairy cows mainly produce acetic acid.
Dairy cow concentrate feed processing
It is not suitable for the starch gelatinization of grains to be too high in the dairy cow concentrate feed processing technology, and the starch gelatinization in the dairy cow concentrate feed should be controlled at 20%~30%.
When the concentration of acetic acid produced by the feed in the rumen of dairy cows is low, it is necessary to add exogenous acetic acid, which is beneficial to the production of milk. If too much acetic acid from exogenous sources is added, when the acetic acid is at a high concentration, it is not conducive to the production of milk.
Beef cattle concentrate feed processing
In beef cattle feed, if some grain puffing processing technology is compared with cooking and tableting, the gelatinization degree of grain starch can be increased to more than 50%, the volatile fatty acid in the rumen of cattle can be increased by 5.2%, and the ratio of acetic acid to propionic acid is from 2.68. 1 down to 1.99.1.
For example, the digestibility of sorghum puffed processing is 102.2% higher than that of crushing, and 41.3% higher than that of cooking and pressing. The digestibility of puffed corn and barley is increased by 76.0% and 19.7% respectively, and the puffed processing technology is more suitable for beef cattle feed processing.

How to prepare cattle feed 1-2 ton per hour?
How to make cow food 1-2t/h?
The process of producing cattle feed pellets can roughly be described as a plastic molding operation of the extrusion type. Feed ingredients are made up of various compounds such as proteins, acids, sugars, fibers, and minerals. These products can be softened (conditioned) by the addition of heat and water.
The following is our standard 1 t/h fully automatic cattle feed plant process design, we can also customize according to your needs. After such a process, 1 ton of cattle feed pellets can be processed by configuring a pulverizer, cow feed mixer, cow feed pellet machine, cooler, screening machine, and packing scale.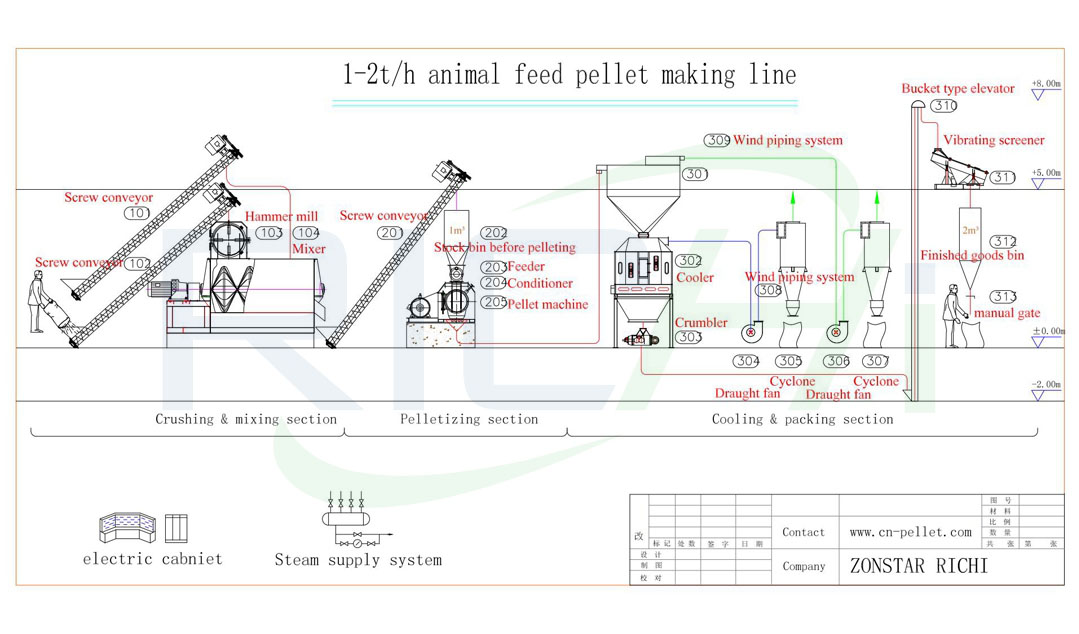 How to manufacture cattle feed 15-20 t/h?
How to produce cow feed 15-20t/h? With our cattle feed making machines we meet all the processing requirements within the fully automatic cattle feed plant:
Reception of raw materials and handling system
Raw materials cleaning system
Storage and batching system
Micro-ingredients and premixes dosing systems
Liquid batching unit system
Grinding with hammer mills system
Mixing system
Pelleting system
Cooling system
Screening system
Packaging system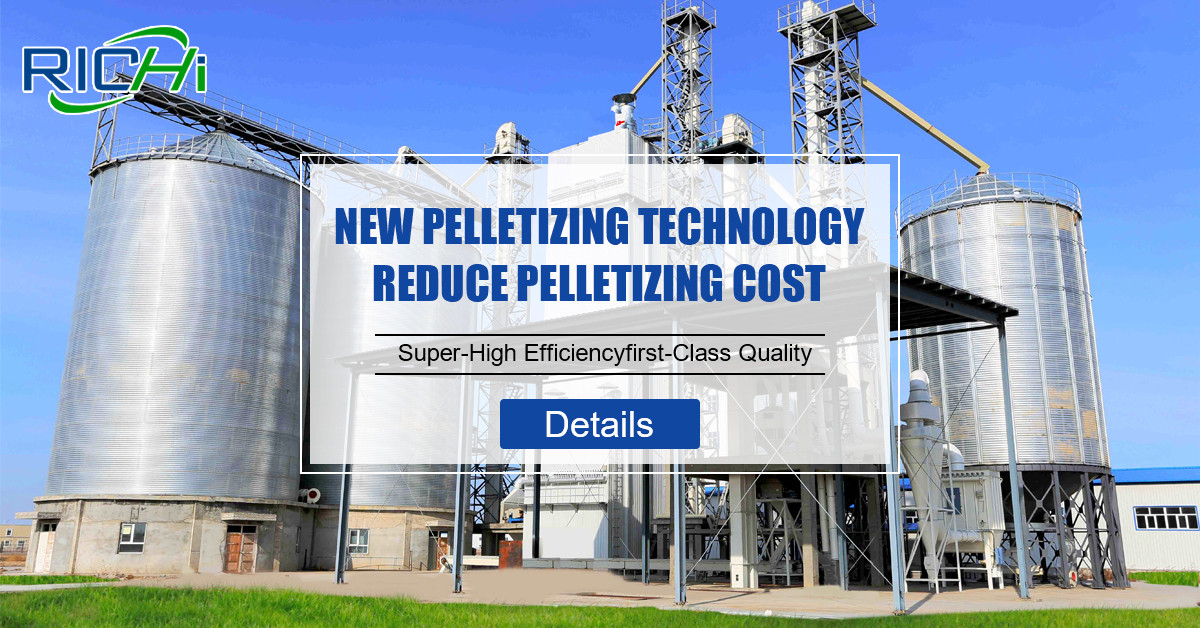 ①Raw materials receiving System
Raw materials can be corn, rice bran, soybean, grain, wheat, soybean meal / cake and etc. Precleaner can remove the impurities in raw materials.
②Grinding System
The cattle feed grinding machine can grind the raw material ingredients to the required size. There are various cattle feed hammer mills which can satisfy different requirements.
③Mixing System
Mixing is considered to be one of the essential operations in cattle feed pellet processing. Lack of proper mixing may lead to reduced diet uniformity, affecting the cattle feed pellet quality.
④Pelletizing System
Cattle feed pellet mill is the core equipment of the whole fully automatic cattle feed plant. According to different raw material, cattle feed formula and working condition, we can offer you different cattle feed pellet mills.
⑤Cooling System
The feed pellets pressed out by the cattle feed pellet making machine are hot and moist. They can't be crushed, screened or packed immediately. Counter-flow feed pellet cooler is designed to cool or dry the feed pellets. It can decrease the temperature and moisture of the feed pellets, preparing for the following processes.
⑥Screening System
The rotary grading sieve can be used to screen and grade the feed pellets. After processing, you can get the qualified cattle feed pellets without fine powder.
⑦Packing System
The cattle feed pellets should be packed for transporting, storing or selling.
The following is an example of the process flow of a 15-20t/h semi-automatic and fully automatic cattle feed plant: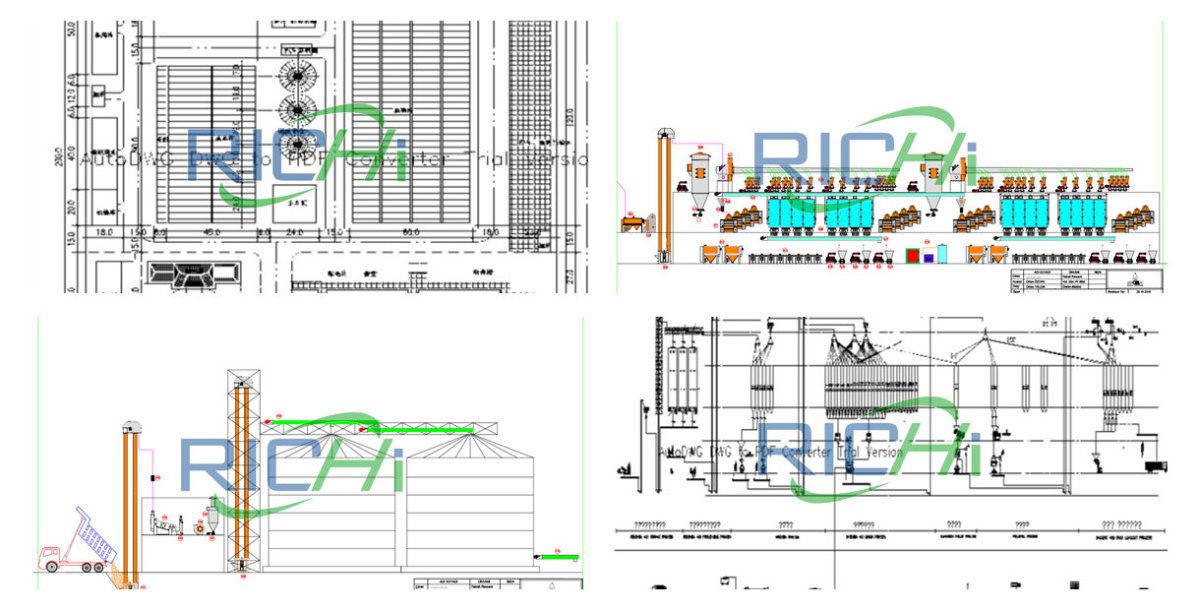 Richi Machinery has been linked to the feed sector since 1995 and covers every process within the automatic cattle feed plant. Today RICHI is the leading Chinese company in the production of animal cattle feed machines and turnkey cattle feed plants.
We design, build, assemble and start up our complete plants with hourly production ranging from 1 to 160 tons/h. Our machines and cattle feed plants are present in 5 continents.
If you want to start a cattle feed processing business, welcome to contact us for a customized semi-automatic and fully automatic cattle feed plant plan and equipment quotation!
LEAVE YOUR NEEDS
Keeping in touch with us is an effective way to solve all your problems. If you have any needs or questions, please leave your contact information, then RICHI technical consultants will send design, quotation, videos to your mailbox. You can also contact us directly via WhatsApp: +86 13838389622