12-15T/H Large Scale High Return Wood Pellet factory For Sale
12-15T/H wood pellets production
---
RICHI specializes in wood pellet factory for sale, we supply complete wood pellet factory with turnkey service, from concept to commissioning, the service include site layout, design, manufacturing, installation, commissioning, training and other support.
12-15 T/H wood pellet factory cost: 200,000-1,500,000USD
Our scope of work:build new wood pellet line, renovation of old wood pellet line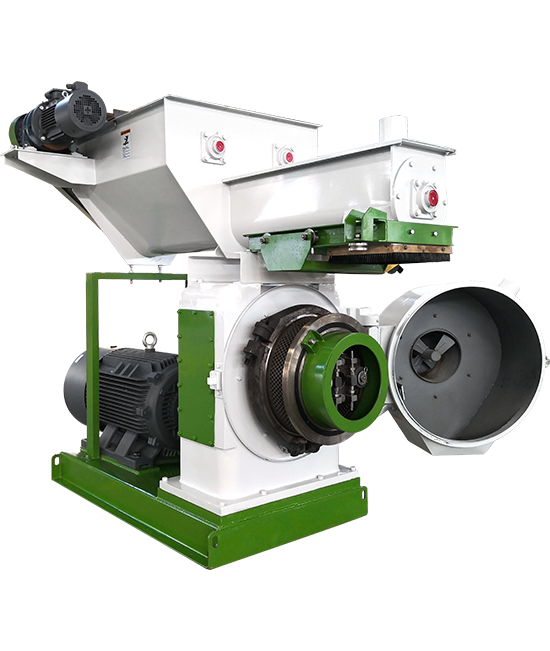 12-15T/H wood pellet factory is composed of several sections of devices, which is the union of continuous or semi-continuous production line. It can be also called wood pellet mill factory or wood pellet plant, for the complete pellet plant is always used to produce wood pellets.
As a manufacturer focusing on the biomass wood pellet factory for sale, whether you wish to build or expand a wood pelleting factory, RICHI can design, manufacture, supply, and optimize the machinery for producing high-quality biomass pellets. Our solutions are always backed by technical consulting, engineering, installation, and aftermarket service by our global service centers.
12-15 t/h wood pellet factory process design
According to the specific requirements of customers, we can tailor-made wood pellet factory for sale and supporting overall design. Wood pellet manufacturing process using wood waste as raw materials consists of the following stages:
Wood waste crushing;
Drying;
Grinding;
Pressing into pellets (pelleting);
Cooling;
Packaging.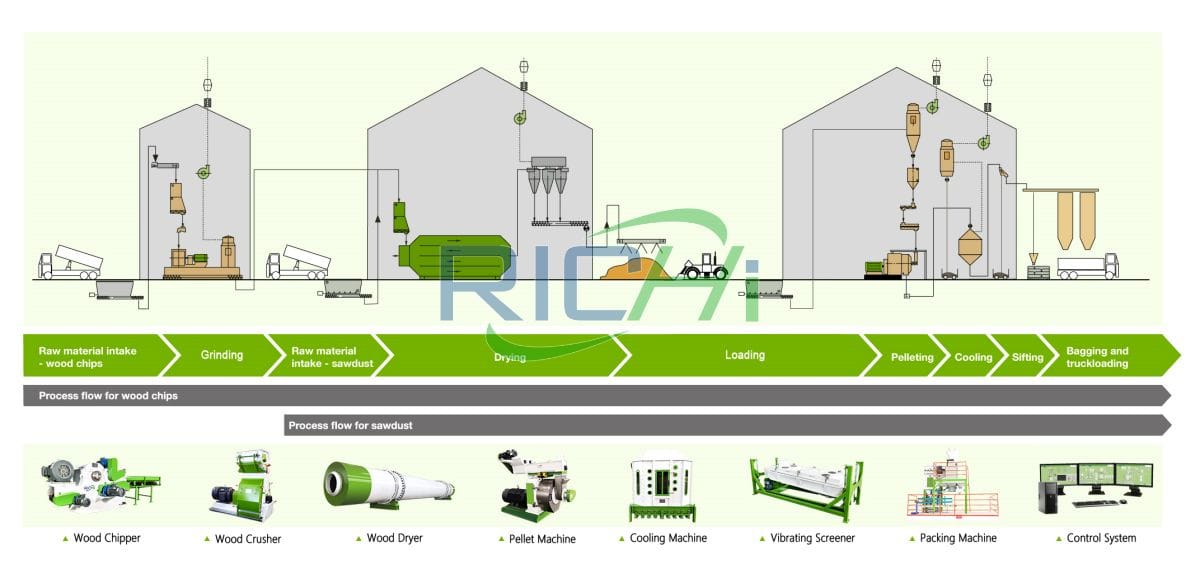 (1) Debarking System
Crushing of debarked logs into wood chips. If you use wood logs, timber or lumber as material for a wood pellet Plant, the first step is to debark logs to facilitate following steps of chipping and pulverization, therefore a wood barking machine is demanded.
(2) Chipping System
The step is to reduce size of the material from logs to wood chips with the universal size of about 2cm*2cm for pulverization.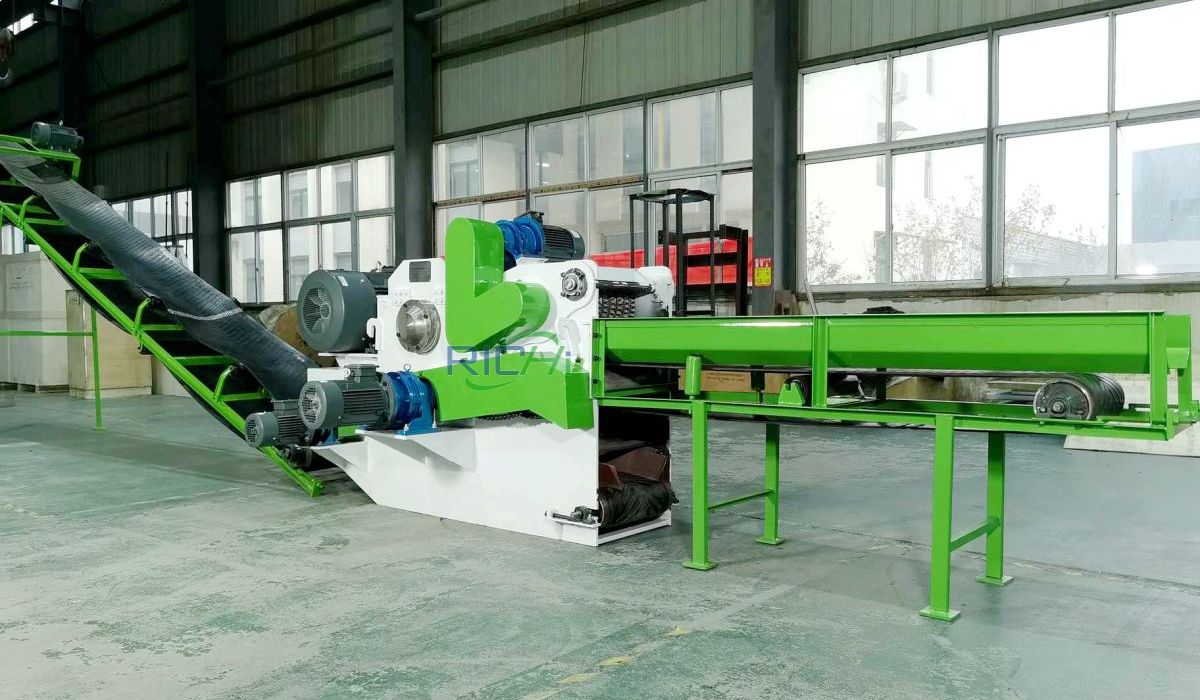 (3) Hammer Milling System
Generally, hammer mill will be applied to crush chips into smaller size of powder. However, a, integrated crusher can be used as well to decrease size of material for pelleting.
(4) Screening System
A sifter is bound to use if the material you possess are beyond purity. The step is to cleanse and purify material with iron scraps, oversized impurities and alleviate damages as well as wear and tear to successive machines.
(5) Drying System
The moisture content of material may remain higher than the required for pelleting. Therefore drying system is needed to reduce moisture content to about 12%-15% for pelleting.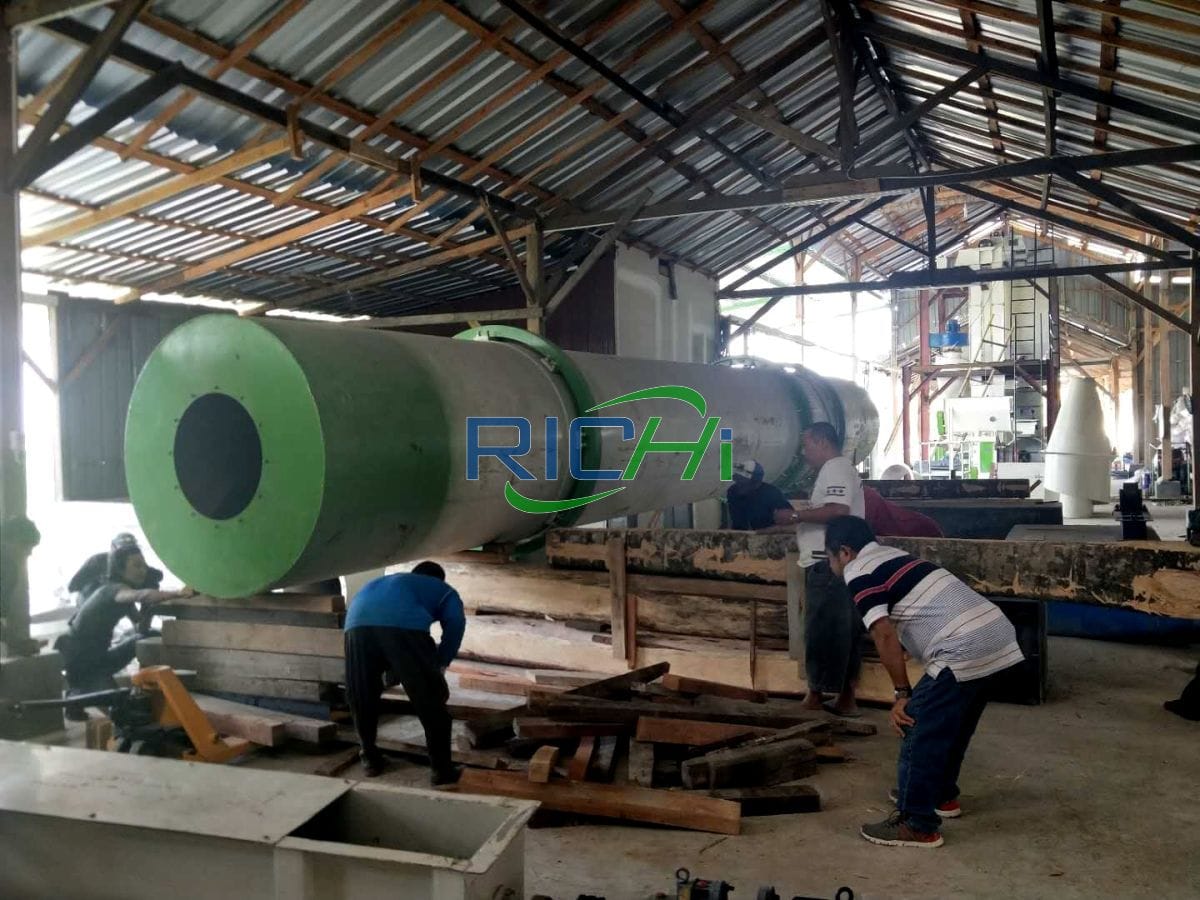 (6) Pelletizing System
Wood pellet mill is the most pivotal machine within a pellet plant. After being pelletized, material will be formed into granule shape or column/cylinder shape. For a larger scale plant, from time to time more than one wood pellet mill is needed.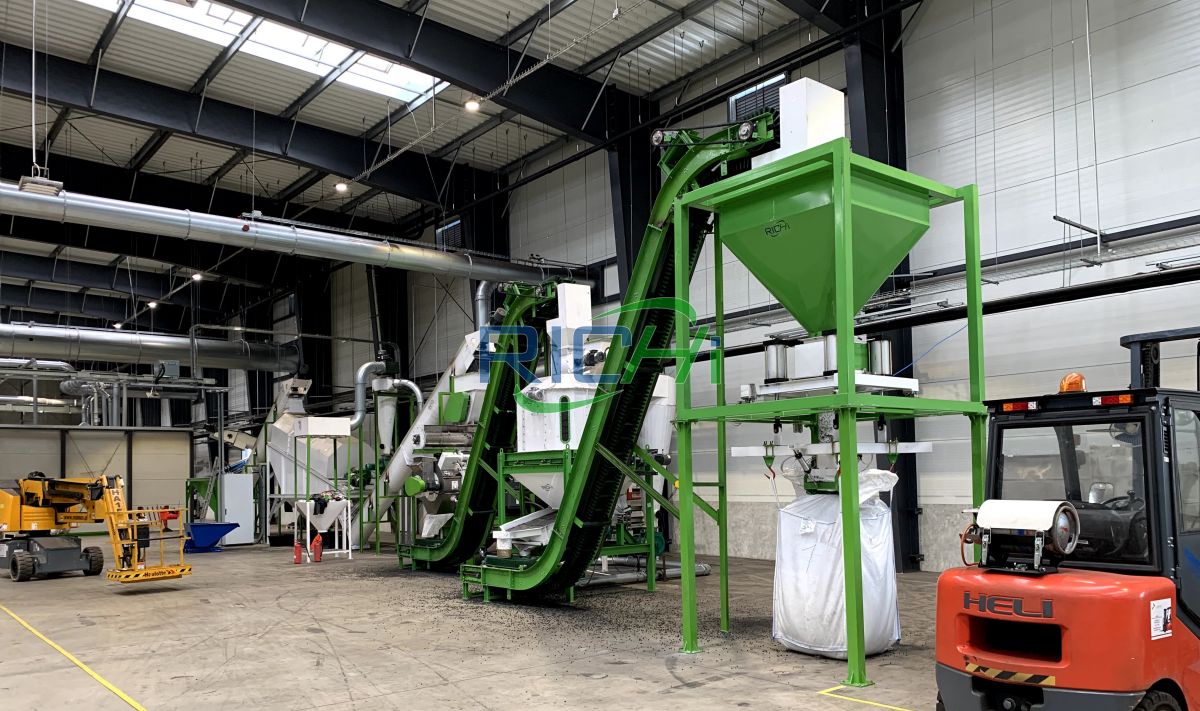 (7) Cooling System
Newly produced biomass pellets are scolding due to the high temperature and high pressure during pelleting. And a cooler will then be demanded to ensure the ensuing packaging and a longer storage time of pellets.
(8) Sifting System
Some powdery material may also flow from pellet mill with qualified pellets, in this regard, it is proved that a sieve will separate the small amount of disqualified mealy material from good pellets and also to qualify pellet packages.
(9) Packaging Section
Packing scale can be inquired with RICHI too. Pellets can be weighed and packed in bags to facilitate pellet storage, transportation and marketing. We can offer both small bag packing scale and bulk bag packing scale.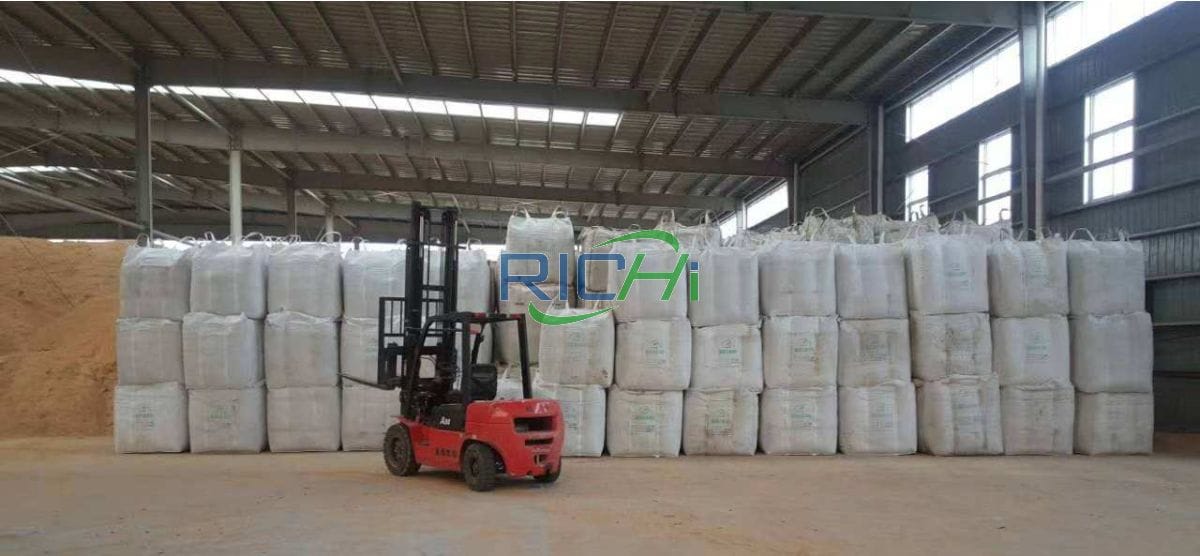 With more than 100 reference wood pellet production lines worldwide, RICHI is a clear global leader in biomass wood pelleting technology. We can customize the biomass wood pellet factory for sale the world according to the actual needs, and we have the experience and know-how to cover your biomass pelleting needs.
Main equipment needed for 12-15 t/h wood pellet factory
RICHI wood pellet factory includes the sections like grinding, drying, pelletizing, cooling and packing, etc and the conveying equipment connecting each section.
According to the different required production, the types of fuel pellet plant are different. It is not necessary to put all the above equipment and steps into use. RICHI machinery will arrange the best process and wood pellet making machines for you as per the processing of materials and the location of factory.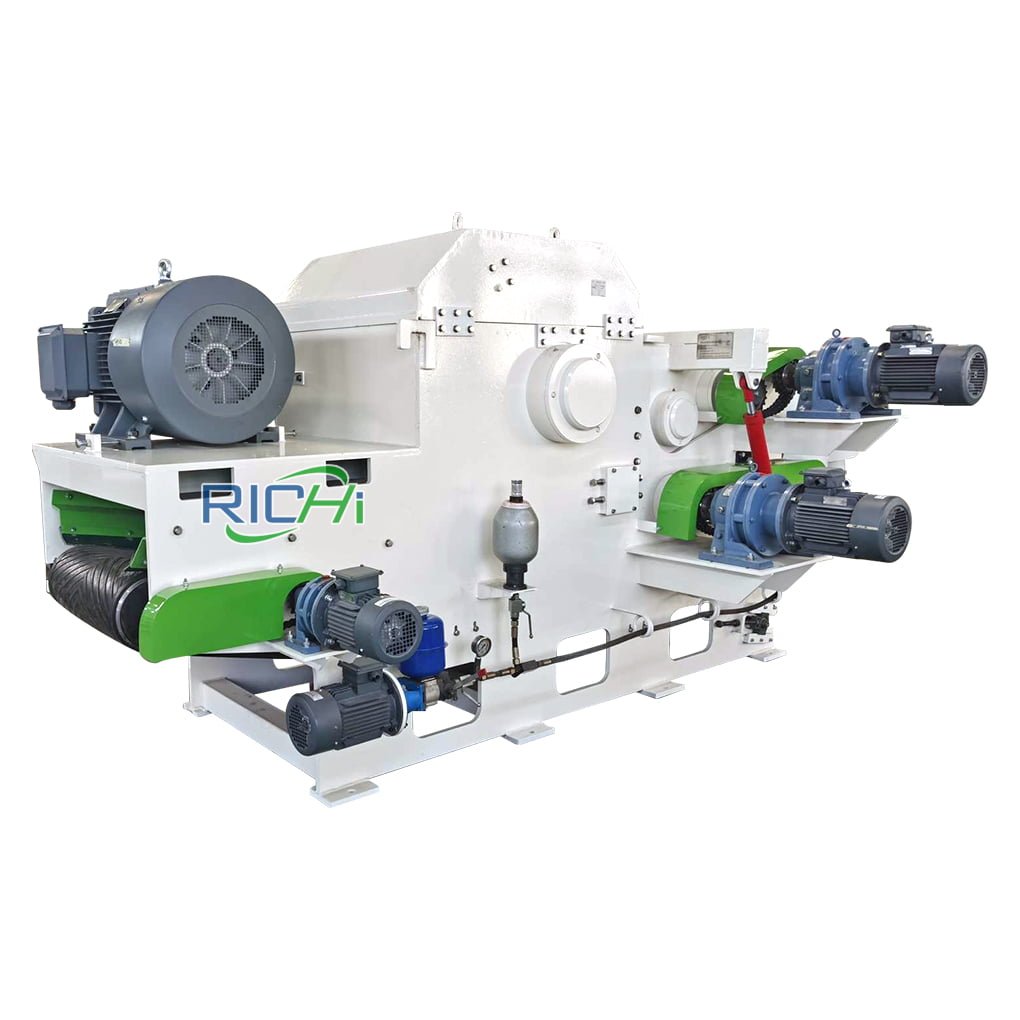 Ranges from sawmill disposal for the chipping of cross-cuts, slabs and chips to large chipping stations in wood-based material plants – individually adapted to your application.
Be known for its performance and quality, both nationally and worldwide.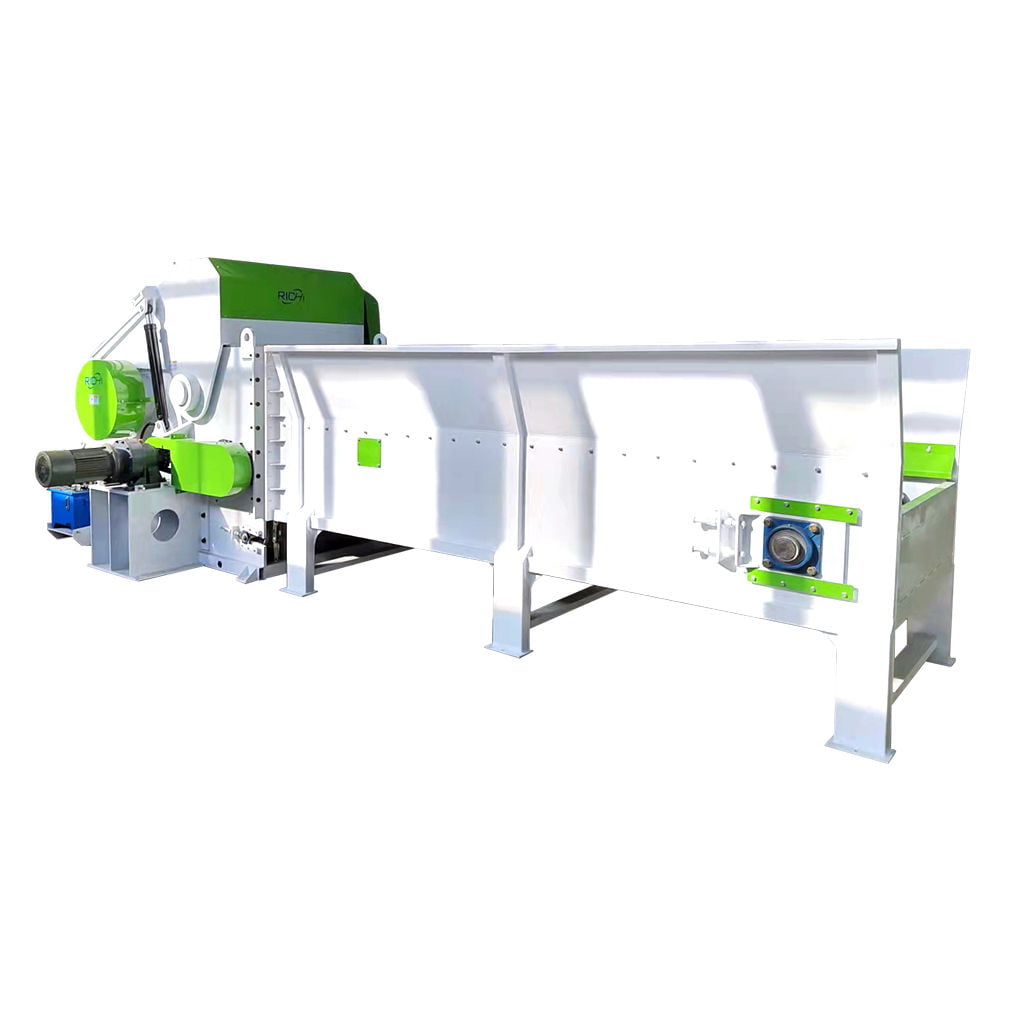 Pallet crusher
Can substantially reduce the expense of pallet disposal by reducing their bulk volume.
Can quickly pay for themselves by reducing the number of weekly waste containers needed as well as eliminating unsightly and unhygienic pallets from your property.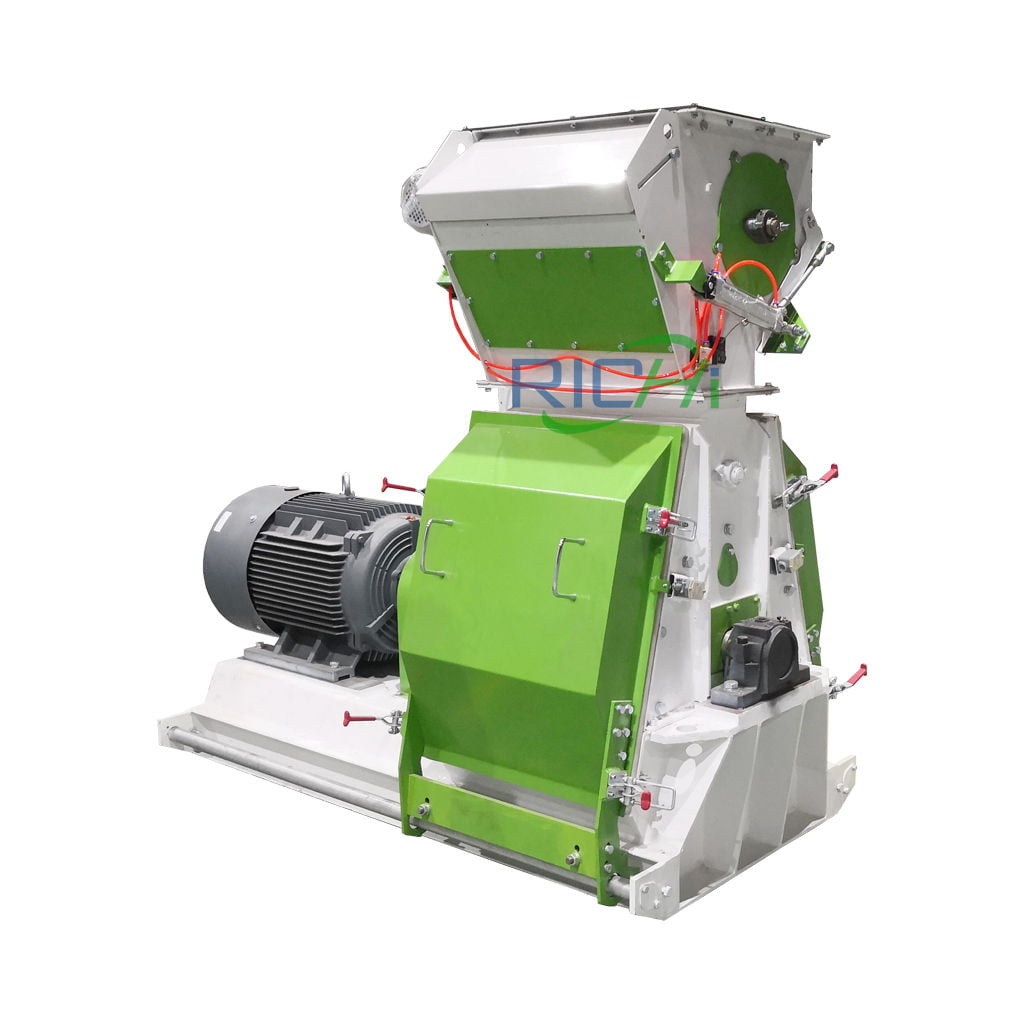 wood pellet Hammer mill
Crushing of various wood waste raw materials to a certain fineness for the next step. Can be pulverized to a finer powder, with different screen sizes according to customer needs.
High efficiency, energy saving, and good performance.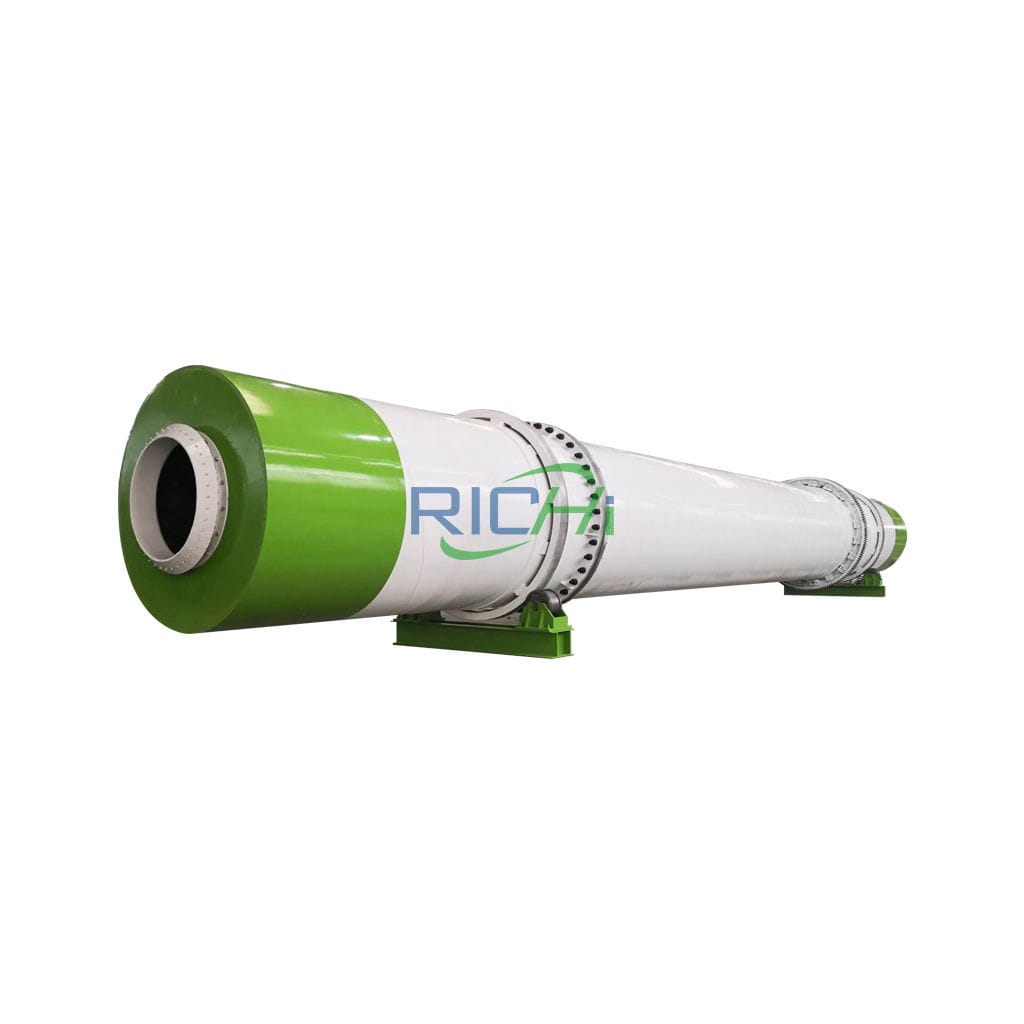 Reducing the moisture contained in the raw material in preparation for the next step of granulation.
The drum dryer allows for a uniform airflow and more even heating. Optional heating is steam, gas, and oil.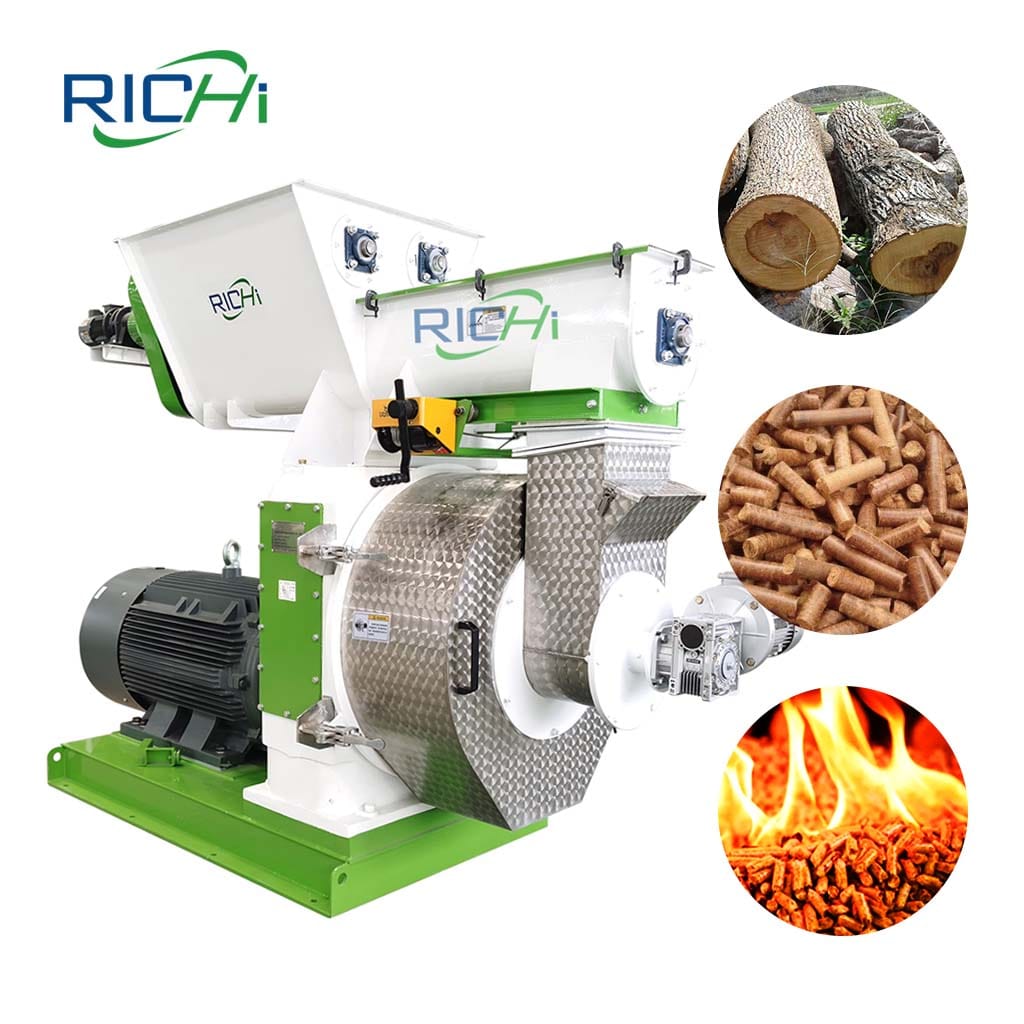 Core section, used to produce wood chip pellets.
The output can be configured according to customer needs. Fast production speed and good quality of the wood chip pellets produced.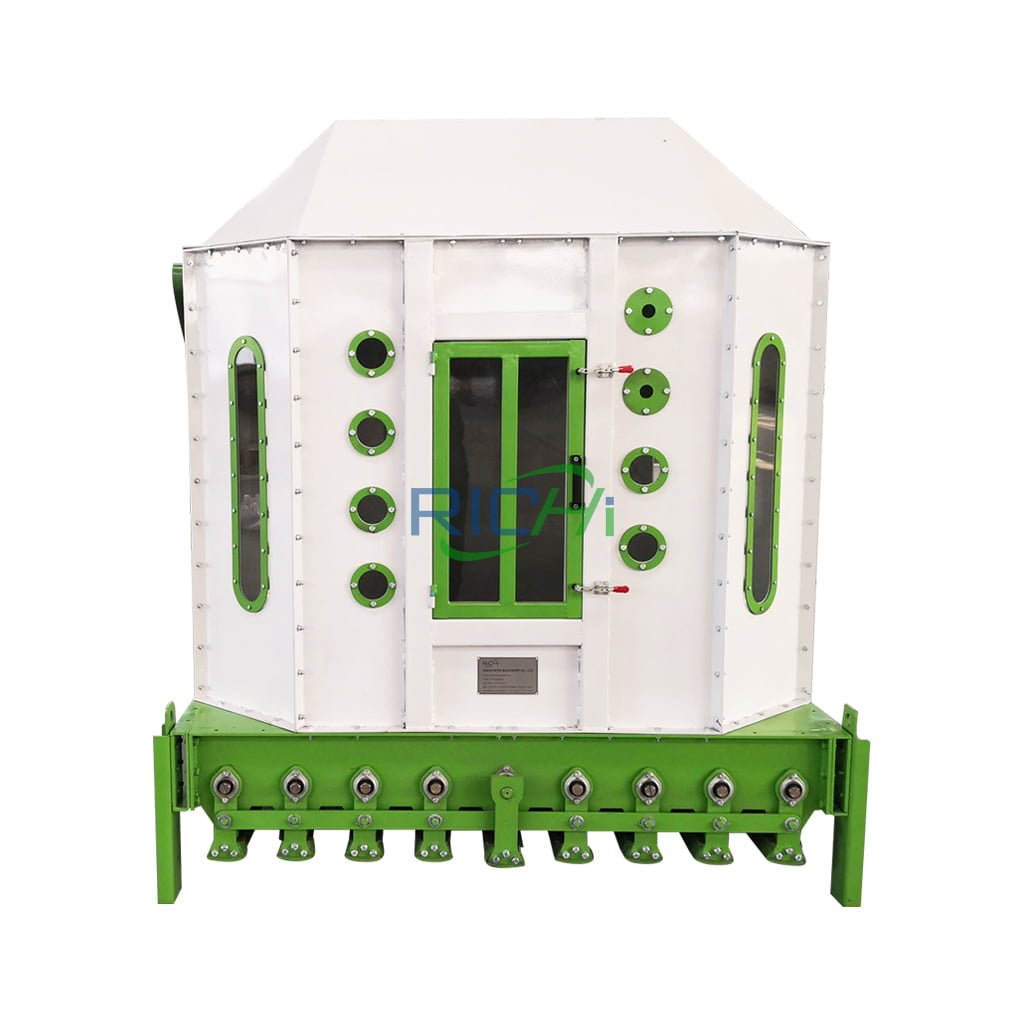 Once the pellets are produced, they will have a certain temperature and if you wait for them to dry naturally at this time, it will take longer, so you need a cooling machine to shorten the process.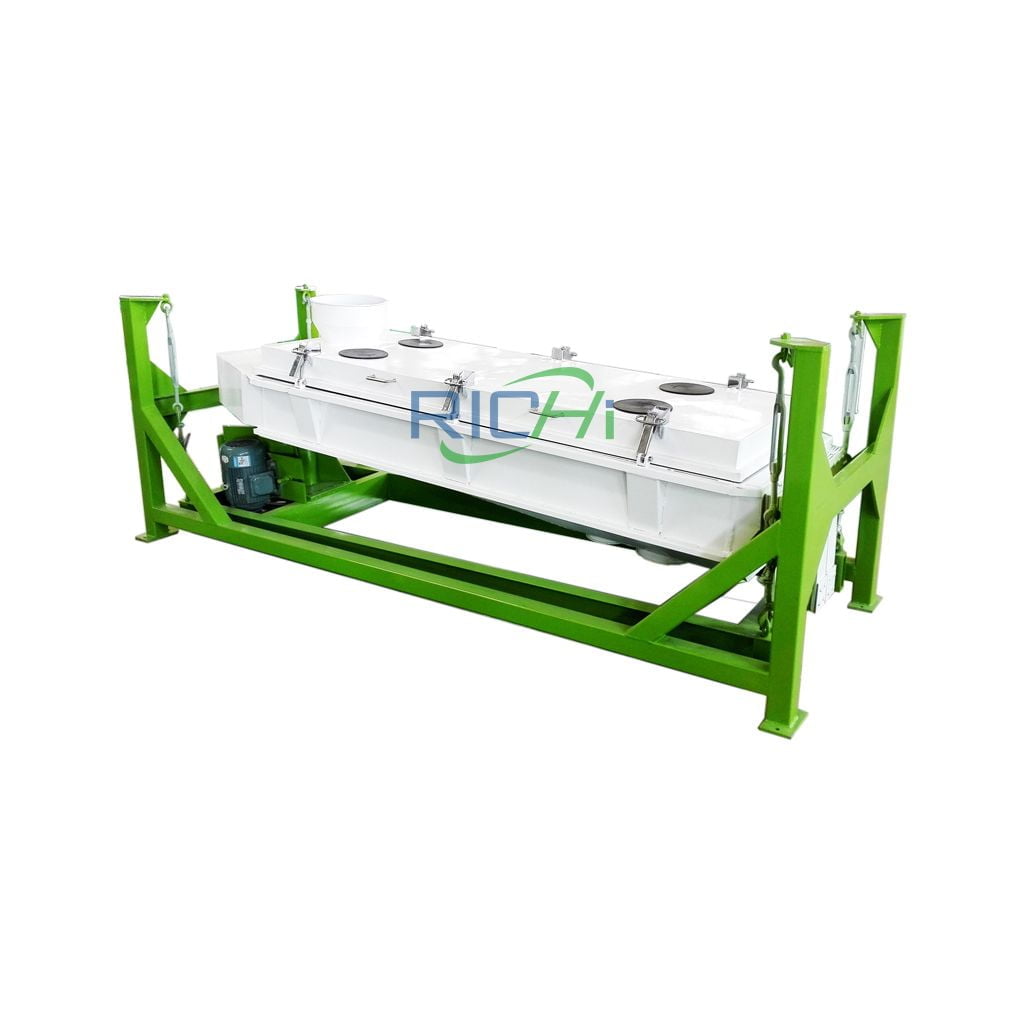 Screening machine
Its efficiency is ensured by the shape of the steps of the screening grid.
RICHI rotary screener is characterized by high capacity, low power consumption and absence of vibrations.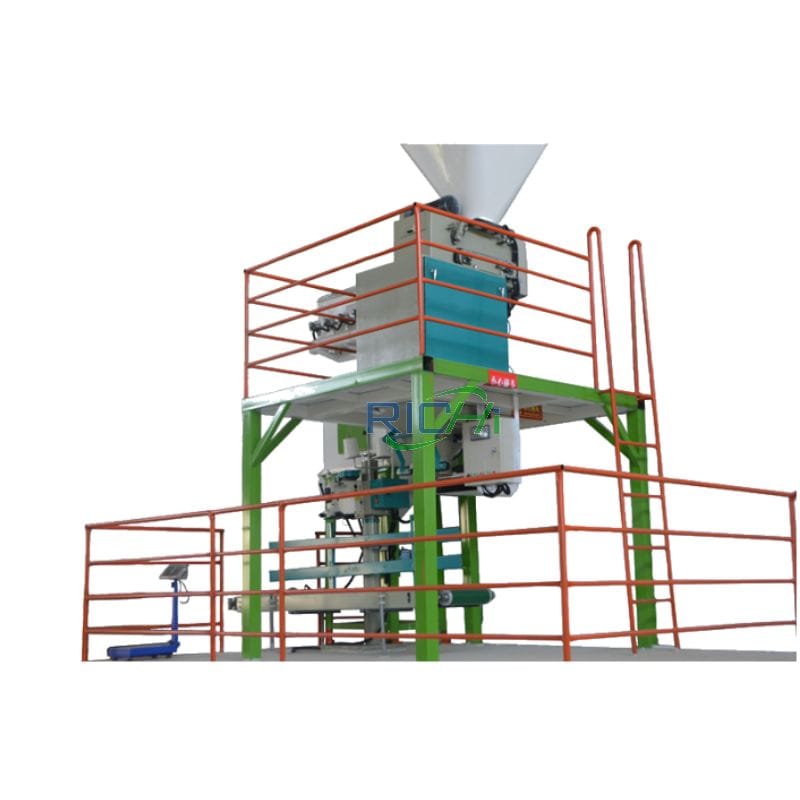 Used in the final step of the complete wood pellet plant line to pack the pellets.
The packaging range is from 5 to 50 kg, bagged as required and the weight of each bag can be adjusted.
If the raw material is round wood, equipment such as debarkers and wood splitters are also needed; if the raw material includes straw and other raw materials, it is also necessary to configure hay cutters, baler breakers, pasture crushers, etc. If you don't know the equipment configuration you need, please tell us your raw material type directly, and we will give you the optimal equipment solution.
Richi Machinery, a professional wood pellet factory manufacturer, has been focusing on wood pellet factory for sale for 25+ years. And we are engaged in R&D production.
The equipment produced by our company are sold to many countries and get great feedback. Besides, the price of our machine is reasonable, the quality is guaranteed, and the service is superior. So don't hesitate to contact us.
Wood pellet factory for sale worldwide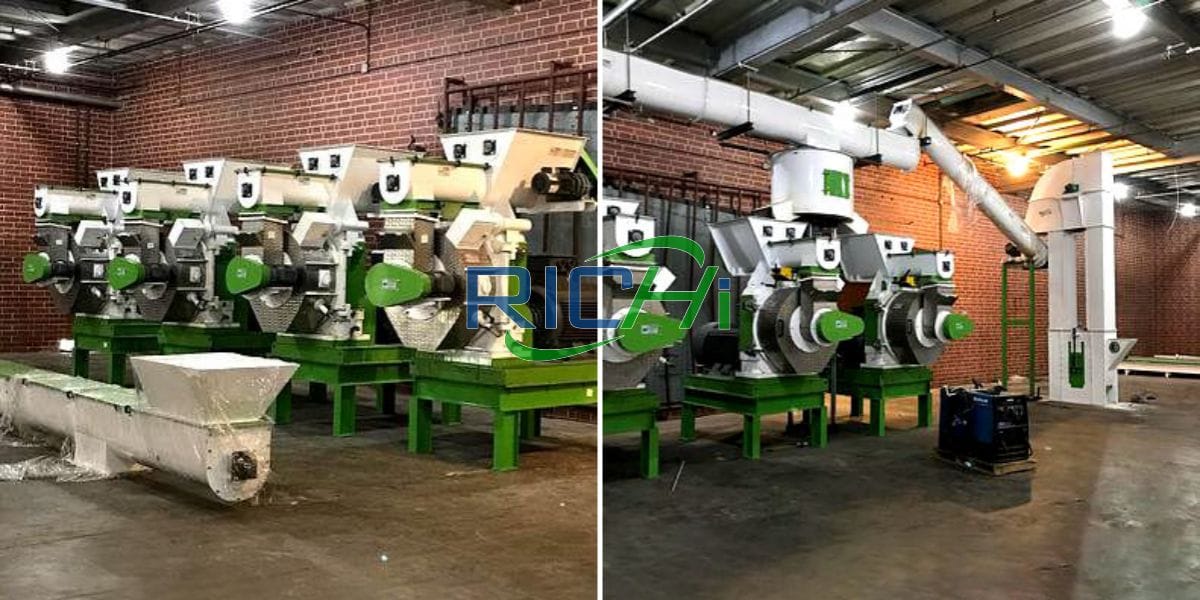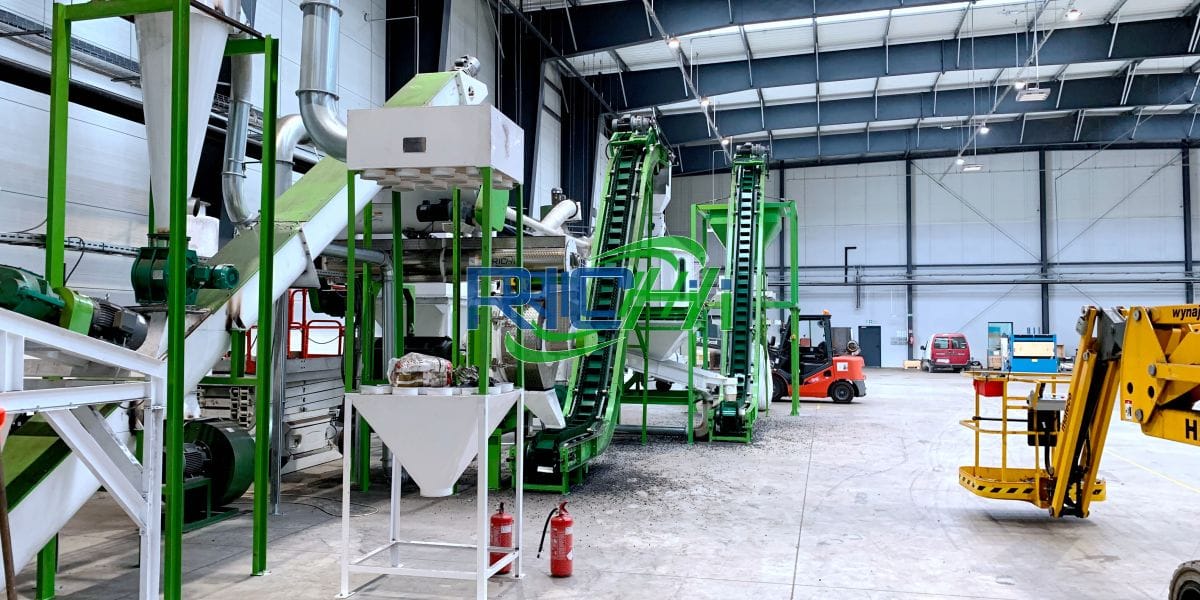 2T/H
wood pellet processing plant in poland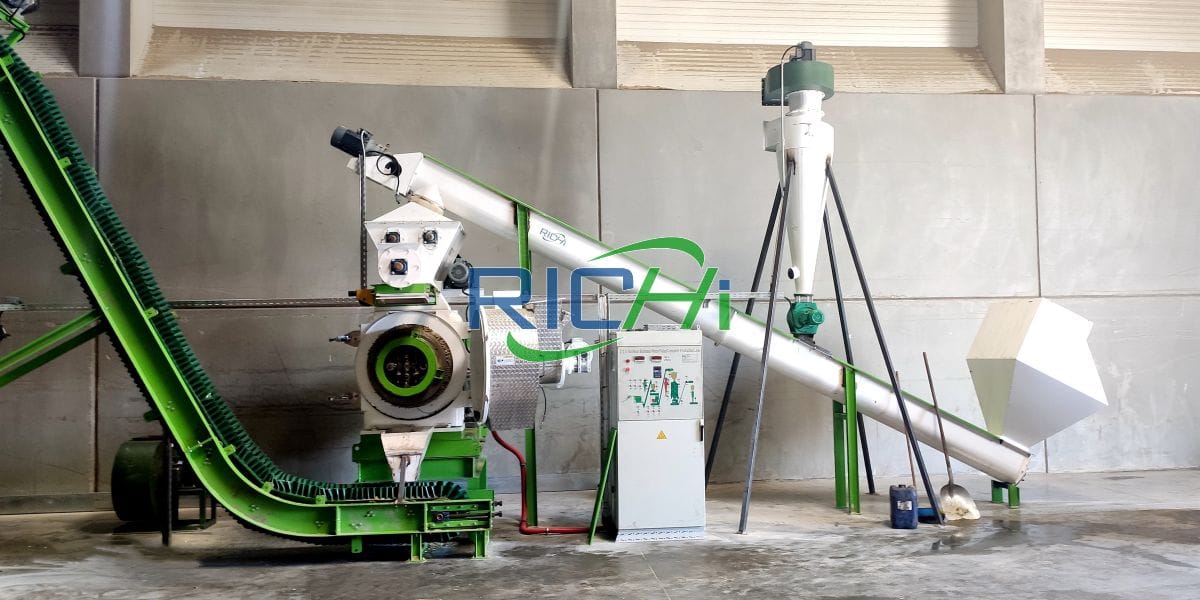 2-2.5T/H
wood pelletizing plant in romania
As a manufacturer specializing in wood pellet factory for sale, RICHI provides proven, effective solutions for biomass handling and processing. The scope of supply can vary from complete plants to individual equipment delivery.
RICHI is very experienced in project management, ensuring deliveries that are on-time and on-budget, and produce excellent economic results for energy producers.
Featured 12-15T/H wood pellet factory solutions
Below, RICHI will show you 4 typical 12-15 tons per hour wood pellet mill factory schemes:
12-12.5 t/h wood pellet factory construction solution
12.5 t/h wood pellet plant construction solution
12-13 t/h wood pellet line construction solution
13T/H wood pellet factory construction solution
14-15 t/h wood pellet factory construction solution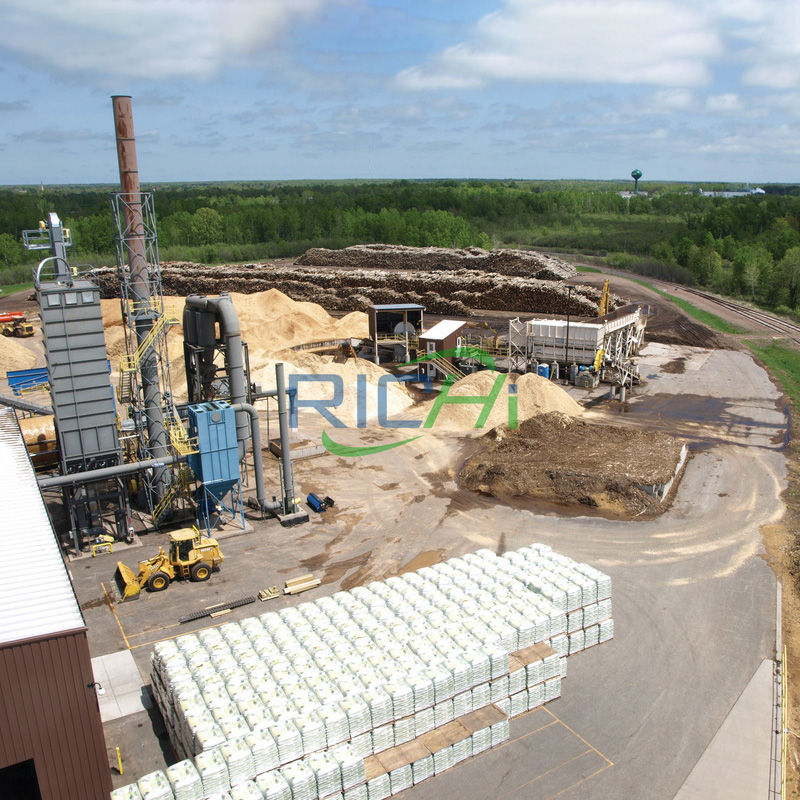 [sOLUTION 1] 12-12.5 t/h wood pellet factory for sale
—— RICHI MACHINERY ——
Investment: 500,000USD
Project area: covers an area of 6026.9 square meters, with a building area of 900 square meters
Annual output: 30,000 tons of biomass fuel.
Work system: The total number of employees in this project is 7, and they work 300 days a year, with 8 hours per shift.
Raw materials and annual consumption: sawdust*20000t/a, straw*12000t/a
Annual water consumption: 13510 m3/a
Annual power consumption: 1.4 million kWh/a
Main wood pellet processing equipment: 10 sets of production and processing equipment such as pulverizers, wood pellet mill granulators, weighbridges, belt conveyors, etc.
Brief description of the process flow:
Feeding: After the raw materials enter the factory, they are manually unloaded to the raw material area.
Crushing: The raw materials are conveyed to the pulverizer by the belt conveyor for pulverization.
Granulation: The pulverized material is sent into the extrusion chamber of the biomass pellet mill machine from the hopper, and the pulverized material is squeezed into the inner hole of the mold through the material roller, and is formed by hot extrusion of the mold. During the pressing process, the friction of the material generates heat, which dries the moisture in the material. The extruded material is cut into cylindrical particles at the outlet of the wood pellet mill machine. The whole process is extruded in the house without adding any sticky Binder.
Inspection, measurement, packaging and warehousing: After manual inspection, the products are packaged and put into storage for sale.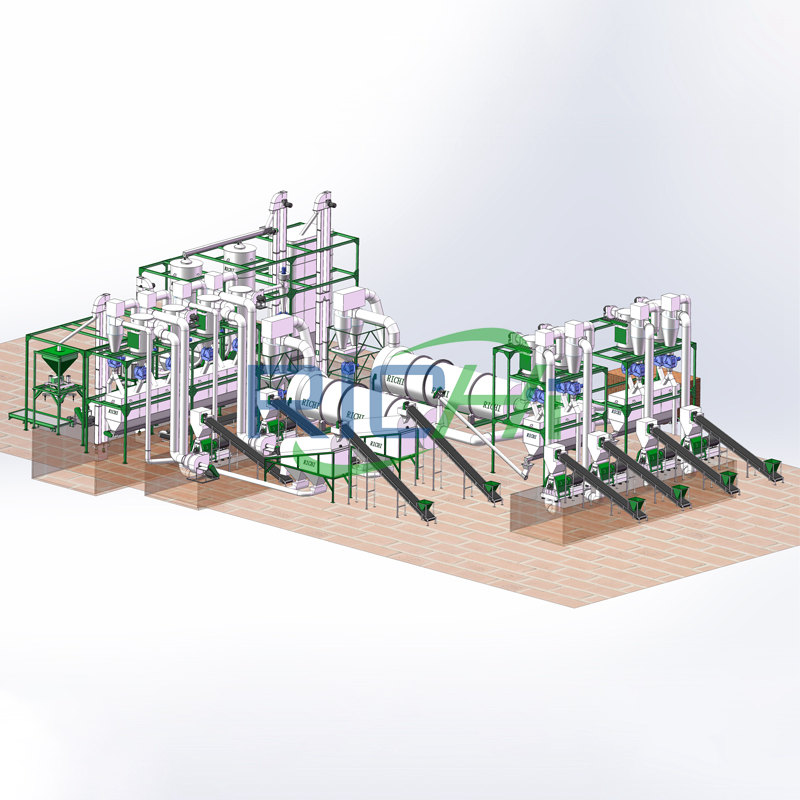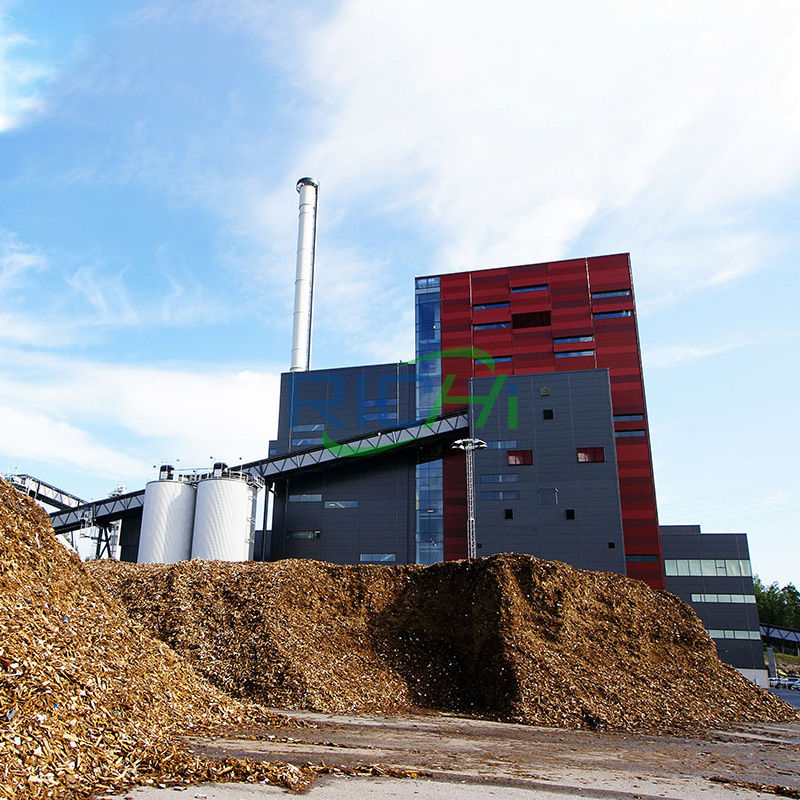 [sOLUTION 2] 12.5 t/h wood pellet factory for sale
—— RICHI MACHINERY ——
Total project investment: 600,000USD
Annual output: 30,000 tons.
Working system: 8 people are allowed in the labor force, and the annual working time is 300 days.
Land area: The project covers an area of 6661m2, with a total construction area of 3000m2, mainly including workshops and warehouses.
Raw materials: The project uses agricultural and forestry processing waste sawdust, crop straw, rice husk, bark, tobacco rods, etc. as raw materials, which are recycled from local farmers and wood processing enterprises. The biomass heating furnace is used as the heat source for wood drying, and a one-time extrusion molding process is adopted without carbonization treatment.
The main production equipment of the project: 1 pulverizer, 1 dryer, 5 wood pellet making machines, 4 conveyors, 1 packing scale, and 1 finished product warehouse.
Project electricity is supplied by the power company. The production and living water of the project is tap water, and auxiliary facilities such as environmental protection, fire protection, and safety, as well as public works such as water supply and drainage, and power supply will be built.
Brief description of the main production process:
Screening: Sieve the purchased raw materials (sawdust, straw) to remove impurities (large grains of sand).
Crushing: Purchase raw materials. The raw materials are manually put into the crusher for crushing, and the materials after preliminary crushing are sent to the hammer mill crusher for crushing by a bucket truck. Some of the raw materials have iron nails and need to be removed.
Drying: The moisture content of raw and auxiliary materials is about 40%, and drying can remove part of the moisture, but the process requires the moisture content to be below 20%, so the raw materials need to be dried. The dryer used in this project is an electric dryer.
Pelleting: In this project, the crushed powder is conveyed through the belt and sent to the hot-press wood pellet machine, which is pressed into granules under high temperature and high pressure.
Natural cooling: The formed product is transported to the stacking platform by the hoist, and after being hoisted by the hoist, it is naturally cooled in the hopper of the hoist. When the temperature drops to room temperature, the product is packaged and stored for sale.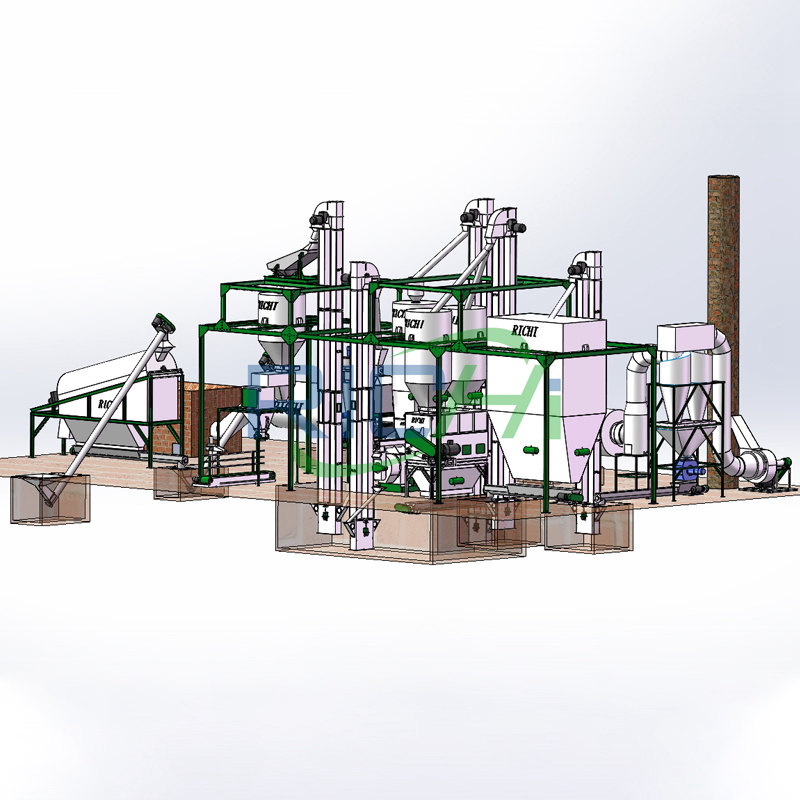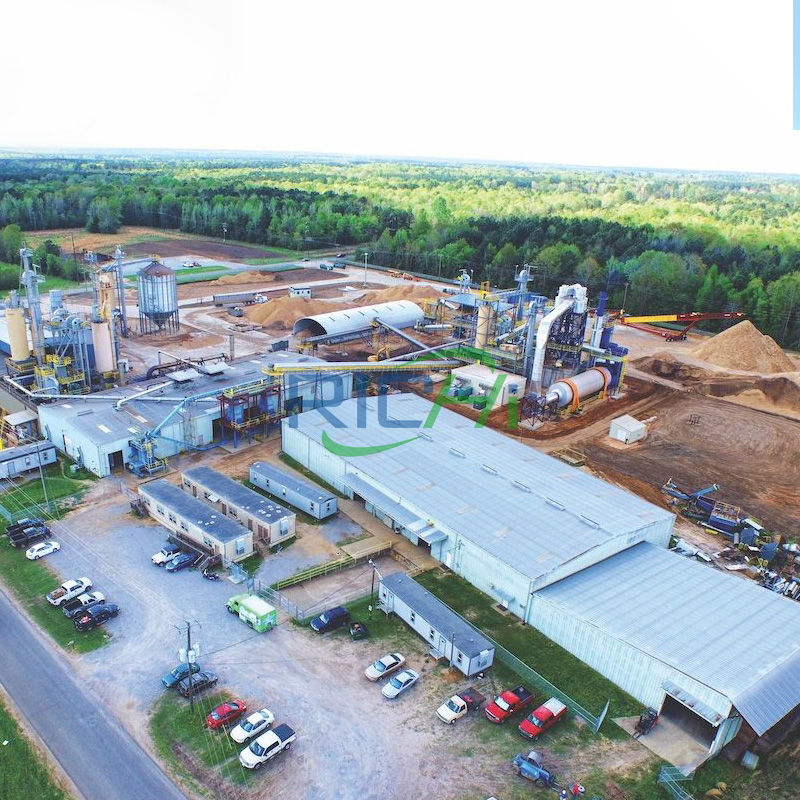 [sOLUTION 3] 12-13 t/h wood pellet factory for sale
—— RICHI MACHINERY ——
Project amount: 1,200,000USD
Project area: covers an area of 2899 square meters
Annual output: 30000t/a
Main raw materials: sawdust 10000t/a, straw 10000t/a, straw 10000t/a,
Annual water consumption water: 120 (tons/year)
Annual power consumption: 3.2 million (kWh/year)
Working system: 8 employees, 300 working days a year, day shift system, 8 hours per shift.
Main wood pellet manufacturing equipment: 1 slicing machine, 2 pulverizers, 1 dryer, 6 wood pellet maker machines, 11 belt conveyors, 3 cyclone dust collectors, 1 grading screen, 1 packing scale. 37 units.
Project Process Description:
Slicing: Sliced and strip-shaped straw and straw are sent into the trough with a forklift and a conveyor belt, processed by a slicer, and initially cut into small pieces of material.
Crushing: The sliced block materials and straw are sent to the pulverizer through the conveyor belt for pulverization. The discharge port is connected with the conveying pipeline, and the crushed material enters the dryer directly through the conveying belt.
Drying: Use a dryer to dry the residual moisture of the crushed raw materials, and this process uses electric heating.
Granulation: The screened material is transported to the granulation bin for storage through the closed conveyor belt, and then sent to the wood granulator.
Screening and cooling: As there is a small amount of unpressed powder on the pellets, the obtained particle products are sent to the finished product screening machine for screening through the conveyor belt, and the powder on the pellets is screened out, and the sieved pelles enters the cooling chamber through the conveyor belt for natural cooling.
Packing of finished products: The cooled products are sent to the packing machine through the conveyor belt, and then packed by the packing machine before leaving the factory.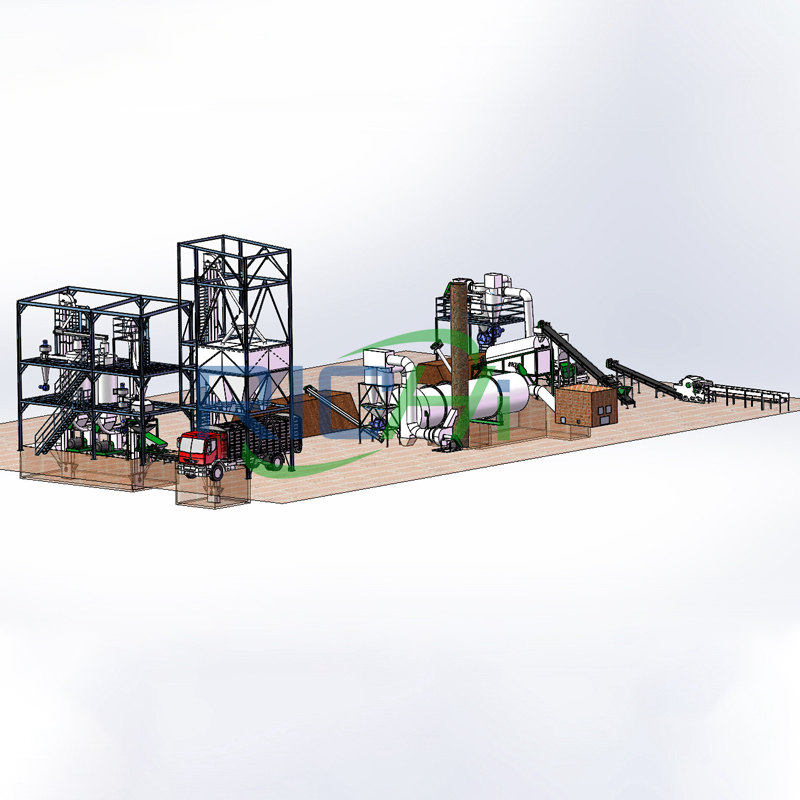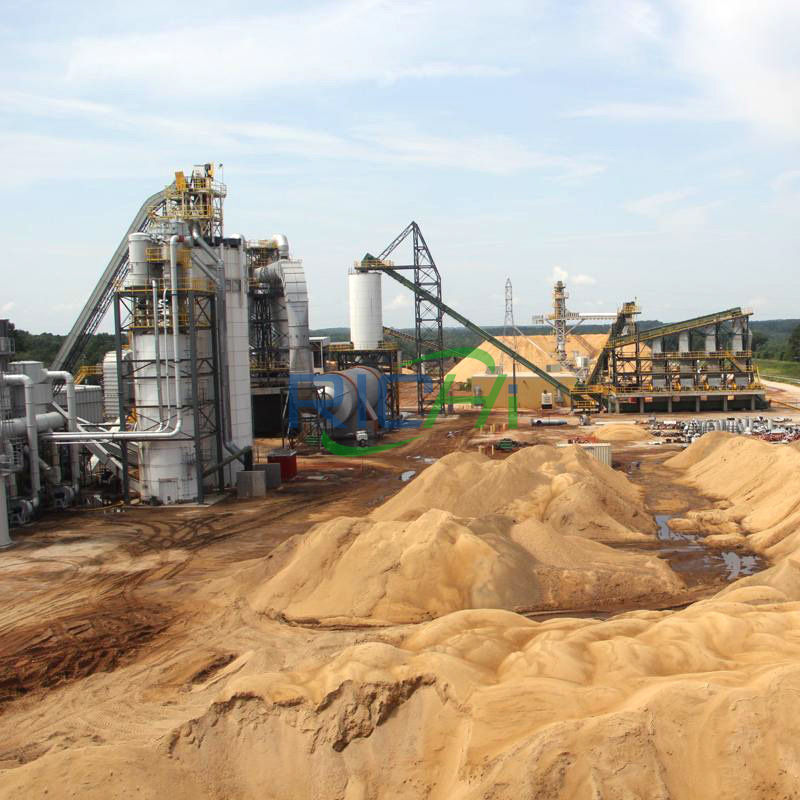 [sOLUTION 4] 13 t/h wood pellet factory for sale
—— RICHI MACHINERY ——
Investment: 800,000USD
Annual output: 30,000 tons of biomass pellet projects.
Raw materials: waste wood 30000t/a
Project area: covers an area of 1500m2, construction area of 1400m2, the main construction content includes production workshops, office buildings, dormitories and supporting auxiliary facilities, etc.
Labor quota: the number of employees is 10, and they do not have board and lodging in the factory area;
Working system: one shift (8 hours), 360 working days a year.
Annual water consumption: 240m3/year
Annual power consumption: 5000kw h
Main equipment: 3 biomass wood pellet machines, 1 pulverizer, 1 dryer, 5 belt conveyors, and 1 packing scale.
Process design:
Outsourcing of raw materials: Purchase raw materials (crop straw, bamboo and wood waste and sawdust) from the market via vehicles. After transportation, it is sent to the raw material warehouse for temporary storage.
Pulverization: due to the large size of biomass raw materials such as crop stalks and bamboo and wood waste, it cannot be directly be used for forming processing, and the pulverization process is mainly to pulverize the larger straw and bamboo and wood waste (small pieces), wood chips, etc. do not need to be crushed, and the particle size of the crushed material is 0.5-2cm.
Drying: Since the moisture content of some raw materials cannot meet the requirements, it needs to be dried by drying (electric energy)heating.
Pelleting: The uniformly mixed materials are sent to the wood pellet makiing machines through the closed belt corridor for processing.
Cooling: After pelleting, the internal temperature of the molding fuel is very high, and it needs to be cooled naturally. Make its temperature reach the condition of packaging storage.
Packing and warehousing: The qualified products are packed and put into the warehouse manually, and noise is mainly generated in this process.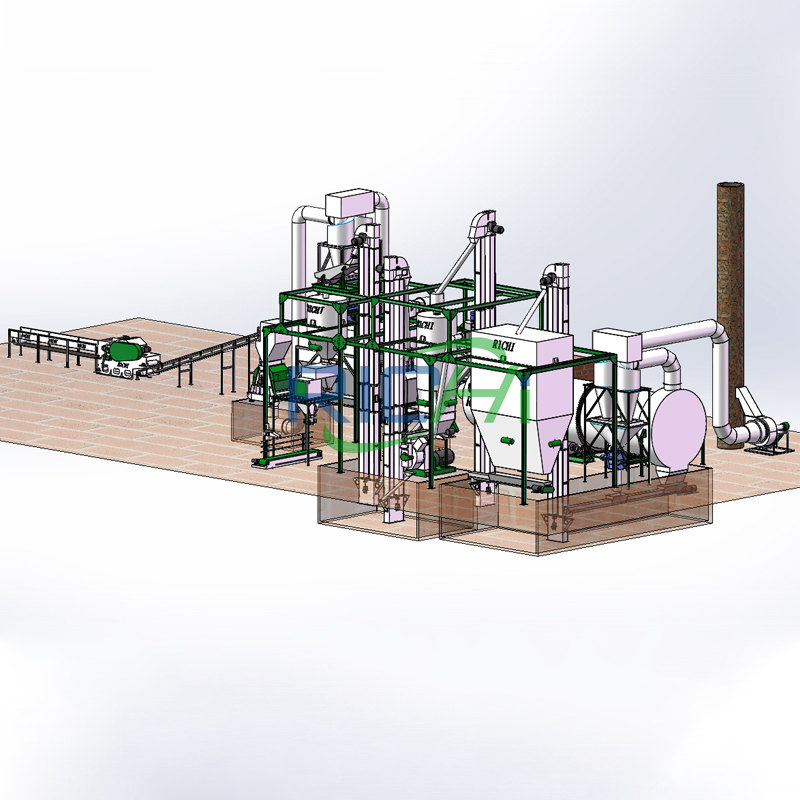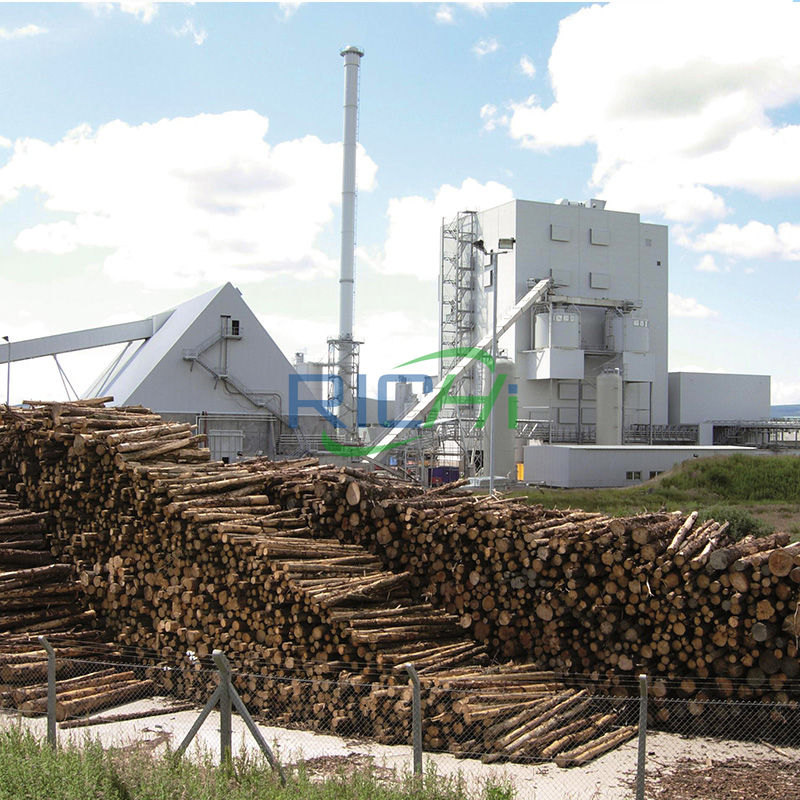 [sOLUTION 5] 14-15 t/h wood pellet factory for sale
—— RICHI MACHINERY ——
Total investment: 1,500,000USD (including environmental protection investment)
Annual output: 100,000 tons of biomass pellet production project
Working system: 300 working days a year, three shifts and 24-hour working system;
Number of employees: 20 labor quota for this project;
Raw materials: waste wood*40000t/a, waste wood chips*20000t/a, straw*55000t/a
Power supply: electricity consumption 3 million kwh/year
Water supply: 10,800 tons of water per year
Main wood pellet making equipment: 1 wood chipper, 1 hammer mill for wood pellets, 1 wood dryer, 8 wood pelletizer machines, 50 sets in total.
Project Process Description:
Chipping section: Chipping large pieces of waste wood to size suitable for production with an on selling 3-5 ton per hour industrial wood chipper shredder.
Pulverization section: The high quality wood hammer mill to grinding wood chips is an underground closed type, and the raw materials are pulverized by the super quality wood hammer mill for wood sawdust.
Silo section: The crushed waste wood sawdust materials are led to the silo by the fan, and the generated dust is processed by the bag filter, and the dust generated by the bag filter is reused for production.
Wood pelletizing section: In this wood pelleting process, the wood sawdust material is made into a round solid fuel with a diameter of 5mm by sawdust pellet press machine under high pressure and high temperature conditions.
Cooling & Screening & Packing section: After granulation, it enters the cooling machine for cooling, and then enters the screening equipment to screen out qualified granules for baling; unqualified granules are re-granulated.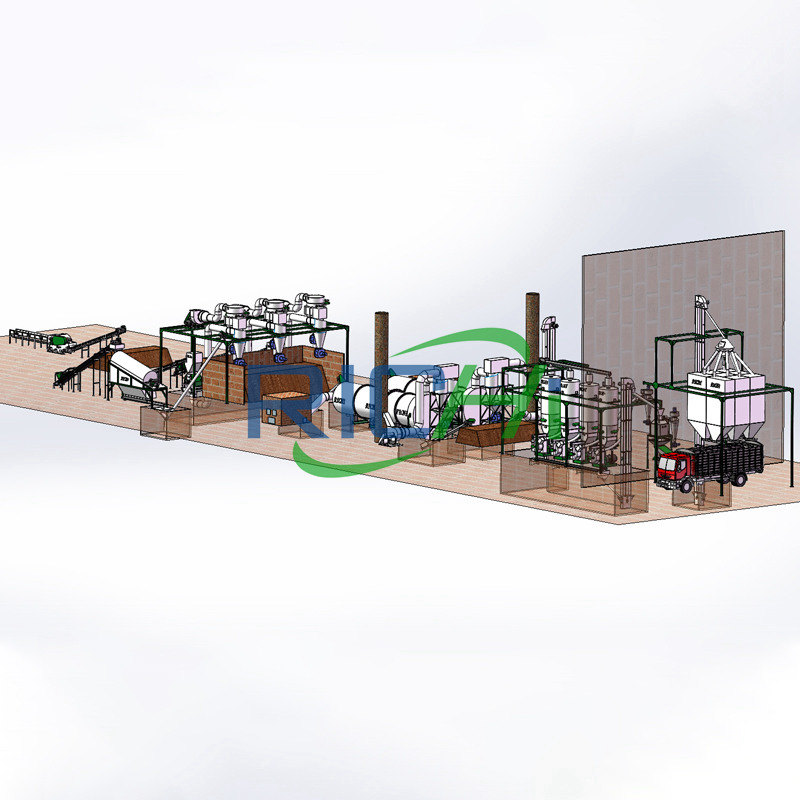 RICHI Machinery has already been in pellet industry for more than 25 years, so we have rich experience on wood pellet factory for sale: designing, constructing, and installing large and small scale wood pellet manufacturing equipment systems. We design the products that are more suitable for the requirement of clients. So don' t hesitate to contact us. (Find RICHI on YouTube)
Raw material for wood pellet production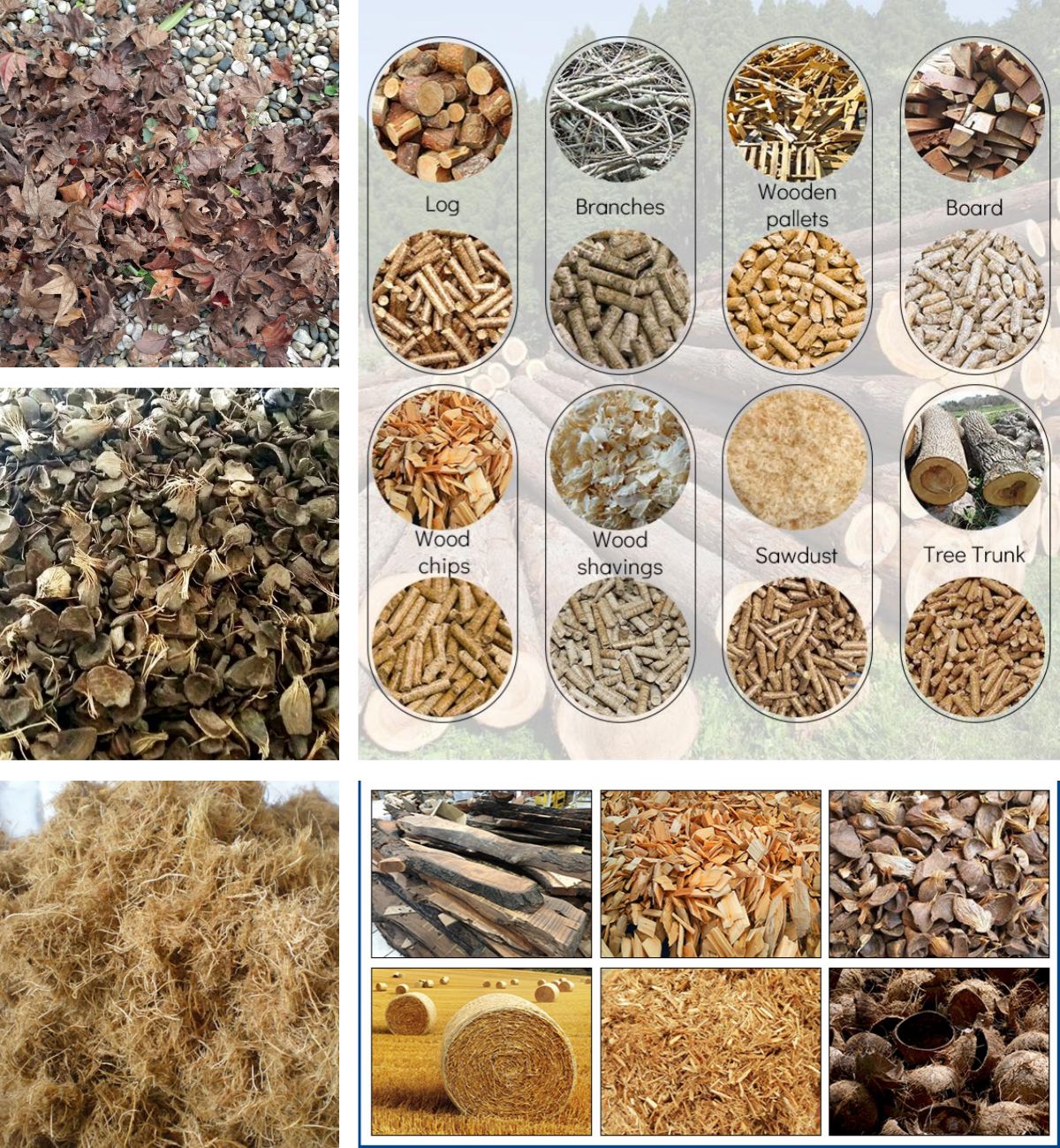 What biomass materials do you have? Do you have abundant supply? Are your biomass materials qualified for making pellets? These are the questions you need to consider before building a wood pellet factory.
If you have access to farms, you can use various agriculture wastes like crop straw, rice husk, grass, cotton stalks, etc. If you have access to forestry, you can use forestry wastes like leaves, branches, barks, bamboos, bagasse, EFB, etc. If you have access to saw mill or furniture factory, you can use sawdust, wood powder, wood chips, etc.
You can purchase biomass materials from wood processing factories or plantation owners. The cost of virgin fibers is $70-80/ton, while the cost of recycled wood is lower, about $55-65/ton. And you need consider your distance from the supplier to work out the transportation cost.
The raw materials cost is affected by the moisture content, because you need additional cost for drying. The higher the moisture content, the more you need spend on production. You'd better choose those with low moisture content.
How to Start a Complete Wood Pellet factory?
Notably, many people who have abundant and sufficient raw materials are overly concerned with how they can start a biomass pelletizing plant.
However, they don't have the necessary expertise or know-how to chase their dream. RICHI specializes in wood pellet factory for sale, next let us give you some tips and steps for how to start a wood pellet line that can assist you.
01 Assemble The Required Raw Materials
You should prioritize on the types of material species because they carry distinguished traits. They may be possessing different fiber and lignin contents that greatly affect the cohesiveness of your biomass pellet.
Many pellets take a column shape due to them being squeezed on the harsh conditions of super high temperatures and high pressure.
02 Consider The Ring Die And Compression Ratio
The different cohesiveness of materials always requires different compression ratio of the pellet mill die mold. The hardwood materials always require a lower compression ratio whereas the softwoods require a higher compression ratio.
As a manufacturer dedicated to wood pellet factory for sale, RICHI have broad knowledge about the material species and their cohesiveness which is essential for you.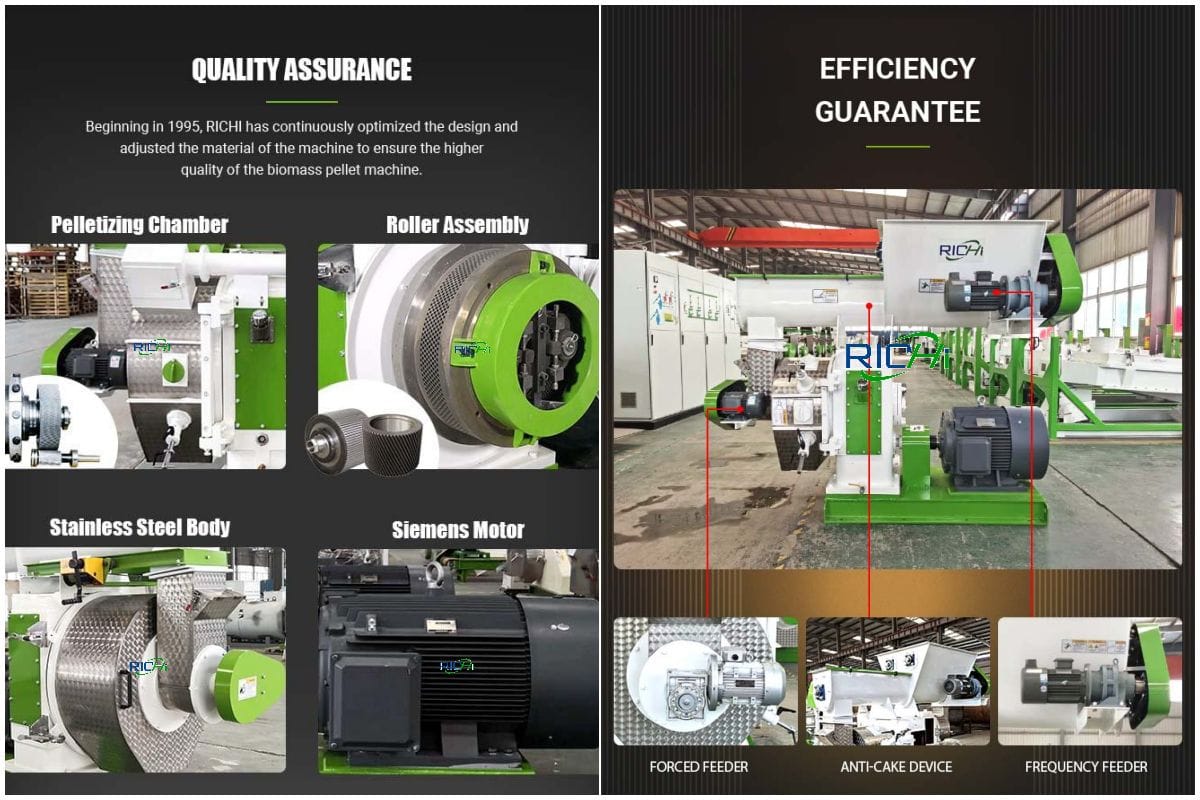 03 The Size And Quality Of The Raw Materials
The different sizes of raw materials always demand a different technological process to determine the design of the pellet plant. Some material such as rice husks will not require a machine such as a hammer hill that will dwindle them to the required sizes.
The required size of the materials for setting a pellet plant is approximately 4mm and 5mm. The oversized materials cannot pass through the die pores of the wood pellet mill rings. The diameter of the pellet mill that is demanded on the pellet markets is 6mm or 8mm. The oversized materials cannot be squeezed via the pores of the die ring.
You can use the wood chipper, wood debarker, hammer mill and the wood crusher to reduce the size of your materials effectively. You need to consider purchasing this equipment because they are essential in creating the needed sizes of raw materials to be used in the wood biomass pellet mill.
04 Consider The Moisture Content Of The Raw Materials
You require a drying system when setting up your pellet plant because the suitable materials species for use are required to have approximately 13-15% moisture content. When you have the fresh woods or agricultural waste, you are expected to dry them because the raw materials with excessive moisture content cannot be pelletized effectively.
The raw materials with high moisture content will stick together like paste hence would not be suitable for use. This will affect the efficiency of the pellet machine and will subject you to incurring more costs.
05 The Kinds Of The Wood Biomass Materials To Be Used
You can choose to use a kind of mixed materials or purely one type of the materials to be pelletized. This will require you to consider acquiring the materials that will not temper with the performance of your pellet mill. You should thoroughly deliberate on whether to mix the raw material species to ensure their proportional and thorough blending.
Choosing the best kinds is essential because you will avoid the choking and burping of the pellet machine that will greatly destabilize the running of your wood pellet press mill.
Besides, the wood pellet mill will also produce noisy sounds. For proper working of your pellet mill, you should consider decent mixing of the different materials that is essential in the smooth production of high-quality pellets.
There are many technological processes that are applicable and will improve the performance of the wood pellet mill such as the use of a mixer, but you will incur costs of acquiring them.
06 The Production Factors And The Scale
The factors of production such as the required equipment will greatly determine the production yields of your pellet plant. You should consider choosing efficient models though they have varying prices. You should set up your pellet production plant in a place where there is available large quantity supply of raw materials with no competing plant around it.
You should also consider the transportation of the raw materials such the sufficient and near supply of raw materials that will equate to the reduction of costs and makes the price of pellets competitive.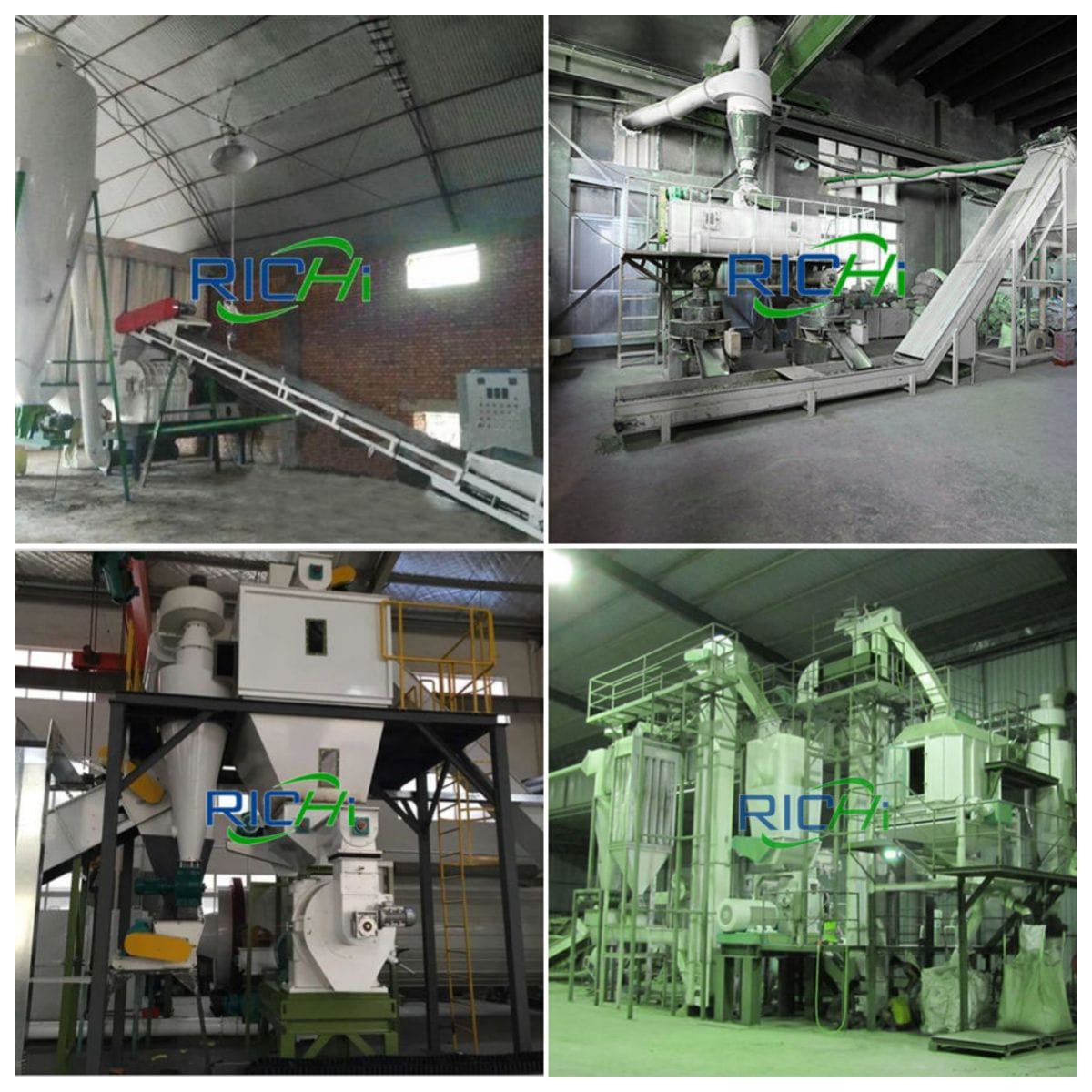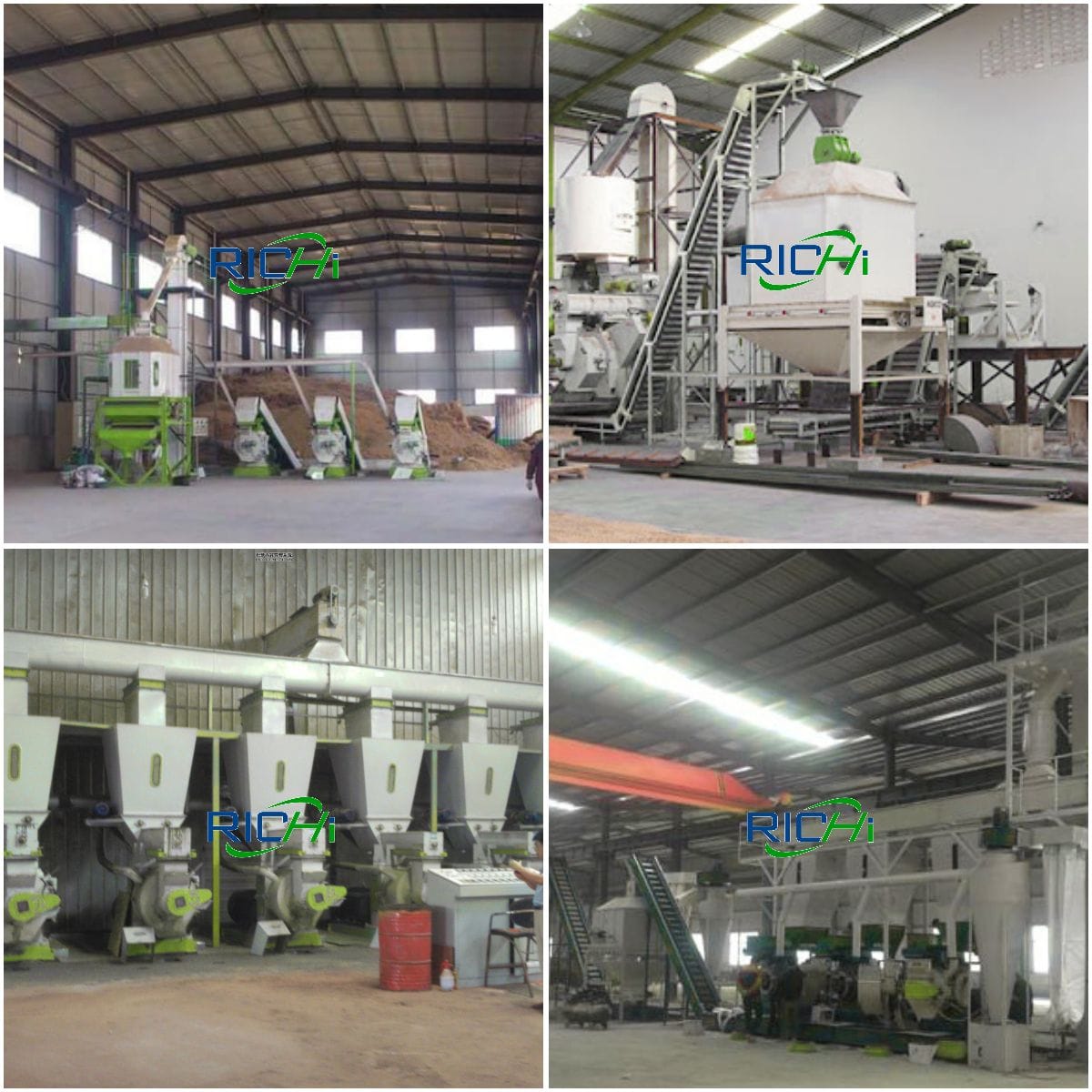 07 Size Of The Workshop For Making Pellets
You need space to store your plant`s raw materials and a vast space for your workshop. You should consider the available raw materials and the production yields you anticipate because they greatly determine the size of the workshop.
The presence of raw materials and transportation is essential in choosing the size of the workshop for your pellet mill plant. You should also consider a smooth and well-ventilated workshop.
Moreover, you are expected to set up a well-ventilated warehouse that will be a store for pellet packaged by bags and should be equipped with fire extinguishers.
The construction of a biomass pellet production line requires available equipment and raw materials that are the essential factors in ensuring you construct the best biomass pellet plant that will give your money value.
If you are looking for wood pellet factory for sale? Contact Richi Machinery for details.
Richi Machinery ——More than you expect
Richi Machinery is more than equipment manufacturer & suppliers. We develop biomass wood pelleting solutions that pay off for our customers. Our knowledge and expertise are available to help customers truly optimize their operations. By fully understanding customer needs and future trends, we work as partners to arrive at future-oriented solutions to deal with all kinds of biomass waste.
Are you wasting your biomass wood waste? How to a make profit from your wood waste? Building your own wood pellet processing plant. We offer complete complete wood pellet making plants for the treatment and production of wood or biomass pellets.
According to the requests of the Client and of the constructive characteristics, our wood pellet production plants have different construction characteristics and production capacity.
As a manufacturer specializing in wood pellet factory for sale, RICHI aims to minimize operating costs and maximize quality with the series biomass wood pelleting system , which has a long-lasting and more rigid structure, specially designed for wood biomass pelleting.
LEAVE YOUR NEEDS
Keeping in touch with us is an effective way to solve all your problems. If you have any needs or questions, please leave your contact information, then RICHI technical consultants will send design, quotation, videos to your mailbox. You can also contact us directly via WhatsApp: +86 13838389622