CE Completely 4T/H Biomass Pellet line Solution For Fuel Pellets
4 T/H Biomass pellets production
---
RICHI 4t/h biomass pellet line is usually composed of raw material pretreatment (slicing, crushing, cutting) section, drying section, pelleting system, cooling system, screening system, packaging and other systems.
The whole system mainly uses sawdust, wood chips, wood boards, bamboo chips, bark, branches, cotton stalks, corn stalks, sunflower stalks, soybean stalks, rice husks, bagasse, corncobs and other agricultural and forestry wastes as materials, the biomass pellets produced can be used as boilers fuel, cat litter, feed, fertilizer, horse bedding, etc.
Cost: 100,000-600,000 USD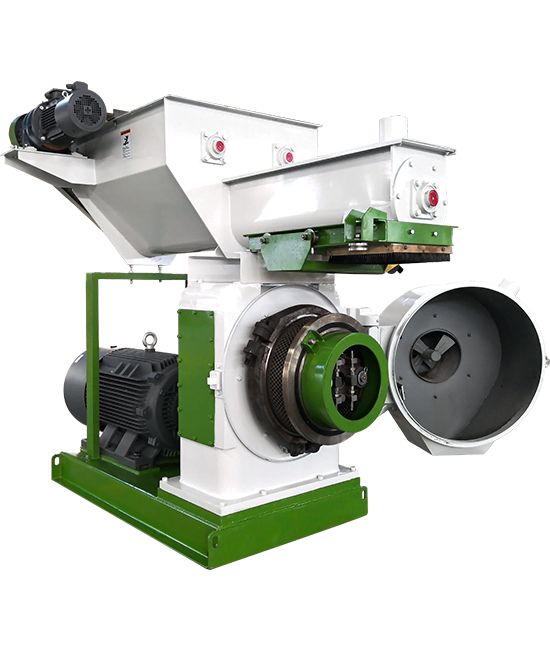 How to build a 4 t/h biomass pellet line?
With the arrival of the peak season of the biomass pellet market, many customers began to inquire about the equipment, and the two most frequently asked questions were:
How to build?
Factory cost?
Follow me and let's take a look at the necessary conditions for a biomass pellet plant:
(1) plant area and transformer
First of all, you need to determine your plant area and transformer, which need to match the output and equipment configuration of the 4 tons biomass pellet production capacity.
(2) raw materials
You need to have sufficient raw materials, this is the most basic guarantee for processing biomass pellets. The raw materials are as close as possible to the local area, which saves the cost of transportation to a certain extent.
A RICHI supply 4 ton hr biomass pellet line can use one or more raw materials, but the pretreatment process and equipment of these raw materials may be different. For example, after use, wood boards and long straws are processed together to process biomass pellets. The wood boards need to be crushed, and the straw needs to be crushed through straw crusher machine.
There are also customers who want to use more than 6 kinds of crop waste to process pellets, and this situation is even more complicated. Therefore, remind everyone again, please consider your raw materials first.
(3) Equipment
You should choose a biomass pellet machine and other auxiliary equipment with stable quality. High output, low failure, easy operation, easy maintenance, high safety, these are the key points you need to investigate.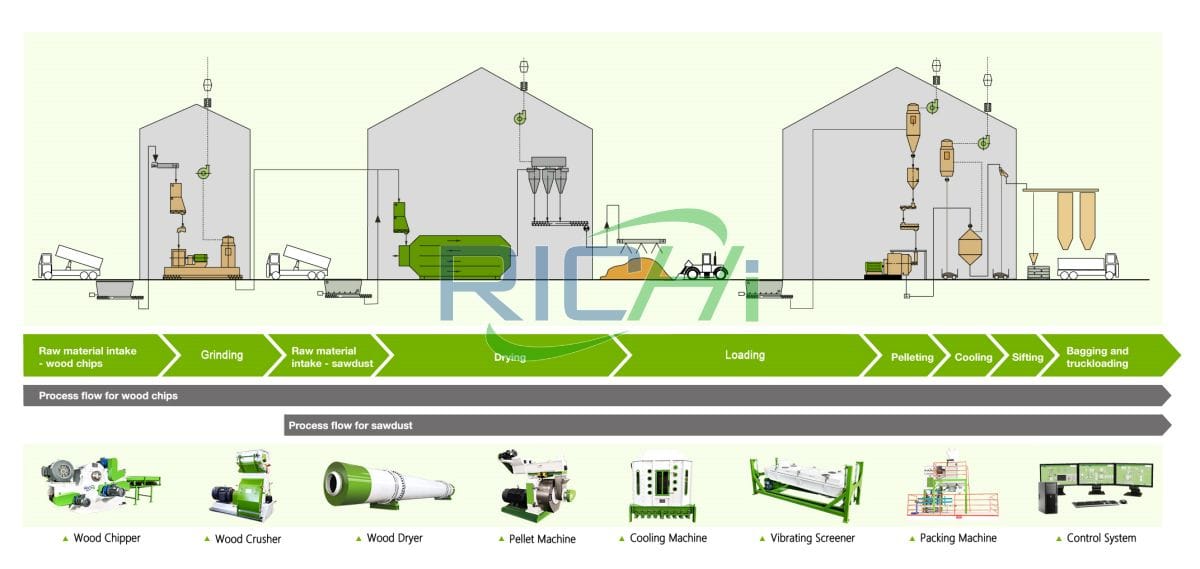 (4) Funds
The investment in equipment for a RICHI 4 ton per hour biomass pellet production line solution generally requires an investment of at least 200,000 US dollars, which is based on the specific conditions of the raw materials to match the equipment.
Different raw materials require different auxiliary equipment such as biomass crushers, and biomass materials dryers, and the investment in pellet production lines is also different.
Therefore, it is necessary to find out the specific conditions of the raw materials before selecting the appropriate mechanical equipment. (At present, the highest configuration price of the 4t/h biomass pellet line we have done can reach 600,000.
But each customer's raw material and process requirements are different, so we need to customize according to the actual situation of the customer.)

(5) How to sell your pellets?
Regardless of whether your future market is local or outbound, RICHI recommends that you try to control transportation costs and raw material processing costs, so that you can better control your profits.
After reading the above, RICHI believe you have a certain understanding of the preparations for the construction of the factory. We must remember: the raw materials must be prepared before consulting the biomass pellet equipment, because the biomass pellet production plan, equipment selection and configuration are all based on the type of raw material.
Main equipment used in 4 t/h biomass pellet line
What equipment is included in the process flow of a 4 tons biomass pellet processing line? Generally speaking, the biomass pellet machine production line includes crushers, pulverizers, dryers, wood pellet machines, cooling machines, packaging machines and other equipment.
But what you need to know is that RICHI customizes the biomass pelletizing plant according to the customer's raw material status, plant area, and customer's special process requirements.
Therefore, the equipment listed below is some main equipment, and may not be suitable for you. If you want to know which equipment is suitable for you, welcome to consult Richi Machinery online directly!

Log splitter/crusher/hay cutter/slicer: The function of these devices is to preliminarily process irregular agricultural and forestry waste such as straw, bamboo, palm shell, hops, hemp logs, and wood scraps into pieces that are conducive to crushing shape or strip (if the raw material is like sawdust, rice husk, this step can be skipped).
Pulverizer: Reprocess the size of raw materials to further reduce the size of raw materials.
Drying machine: If the moisture content of your raw materials is higher than 15%, it generally needs to be dried, which is also a requirement for entering the biomass pellet mill.
Wood pellet machine: This is the key of a RICHI 4t/h biomass pellet line. There are two requirements for entering the biomass granulator: one is the size of the raw material, and the other is the moisture content of the raw material. If your raw material meets the requirements, then you can enter the granulation section.

Raw materials fall vertically from the feeding port of the biomass wood pellet machine, and through the rotation of the pressing wheel, the material is evenly distributed on the surface of the inner cavity of the mold. Under the pressure of the pressing roller, the powdery material passes through the hole of the mold and is extruded into a cylinder shaped pellet.

Regarding the diameter and length of the granules, the customer can replace the ring die or adjust the position of the cutter of the biomass fuel pellet machine according to actual needs.
Cooling machine: When the prepared granules leave the biomass pellet granulator, they are very hot, the temperature is high, and water vapor will be released. Therefore, it must be cooled before it can be packaged. We usually configure the most popular counterflow cooler.
Packaging machine: At this point, the pellets are finished and ready to use. But in most cases, storage and transportation are required. Granules must be stored away from moisture. If the pellets absorb moisture, they will swell and become useless.

Pellets are usually sealed in plastic bags. For most consumers, the bag is an easy-to-carry size. Big bags up to one ton are also available for larger equipment. Store directly in large silos and ship in bulk to consumers.
Generally speaking, the biomass pellet making process we listed is just one of many cases. Each customer has different requirements for materials, moisture, output, configuration, etc., and the process design is also different. The final biomass pellet manufacturing plant price is also different. .
Richi Machinery has rich experience in the design and installation of pellet production lines, and can provide you with the most suitable biomass pellet production solutions. Choosing Richi Machinery means choosing peace of mind.
biomass pellet Line Projects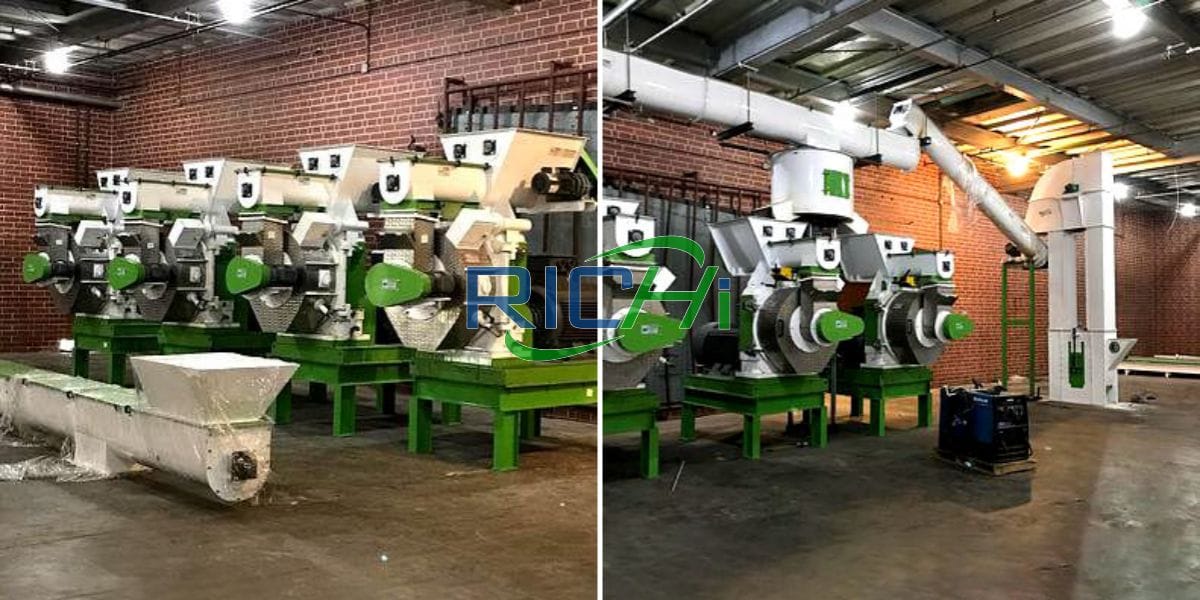 10T/H
biomass pellet mill plant in united states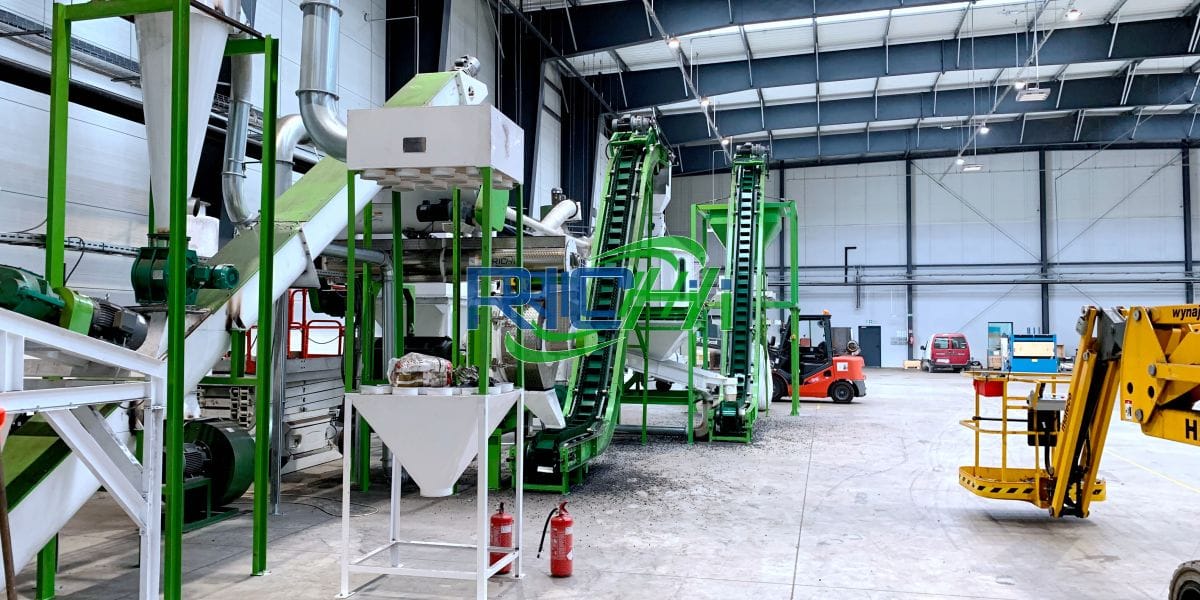 2T/H
biomass pellet processing plant in poland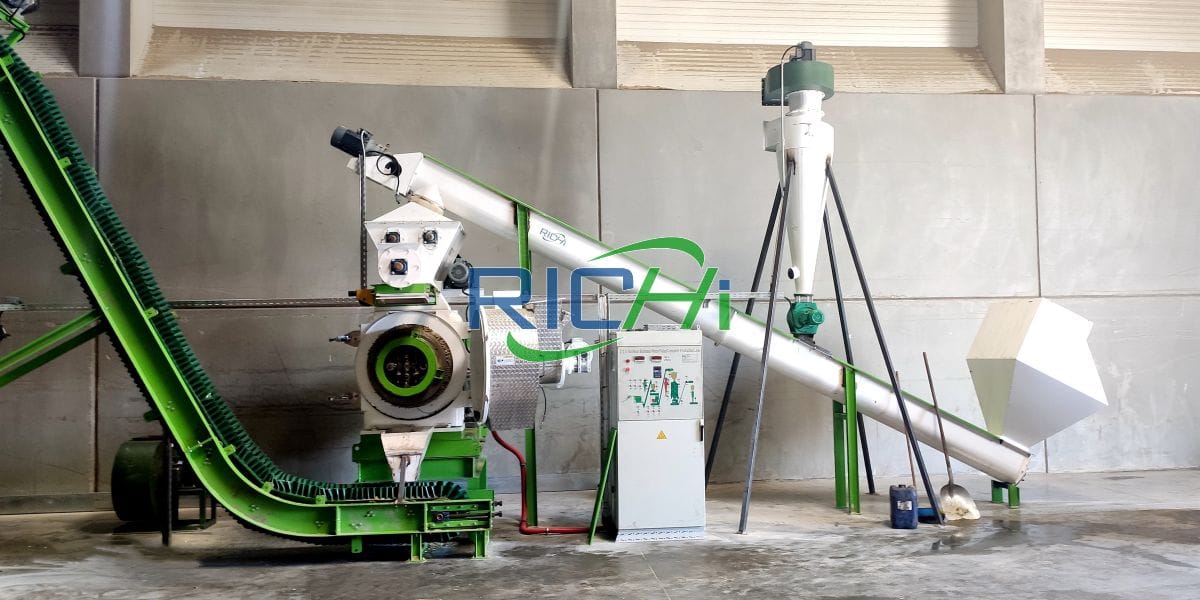 2-2.5T/H
biomass pelleting plant in romania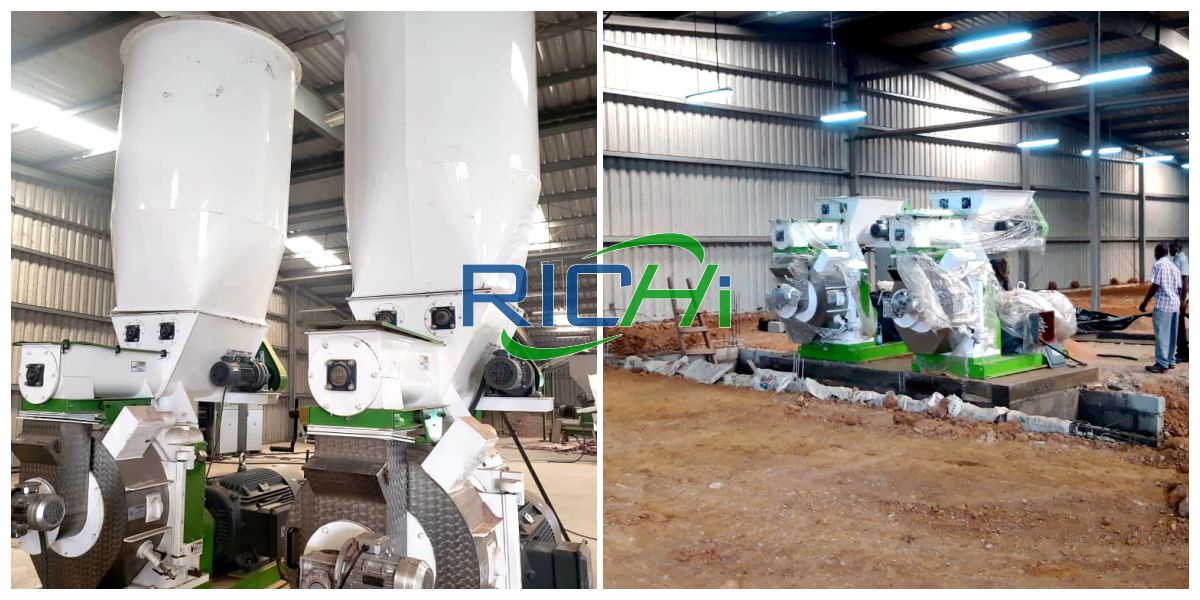 5T/H
biomass pellet production line in austria
4 t/h biomass pellet manufacturing Project Report
There are huge business potentials to start biomass pellets plant. Not only can one outsource to individuals or small communities, but also big corporations and industries. The selection of the right biomass pellet equipment and technology for a biomass pelleting plant is critical when establish your own biomass fure biomass pellet manufacturing business.
Next, I will list one biomass pellet production project we have done for you, hoping to help you.
[Case] 4 t/h biomass pellet line construction project
The client of the project is a company specializing in wood. For this client, it is very advantageous to set up a biomass pellet making plant because he has a lot of wood waste, including sawdust, shavings, wood strips, boards, etc.
The client directly uses its plant as a production site and uses the wood corner waste and sawdust generated in the plant as part of the raw material source for this project. It also bought walnut shells, which are abundant agricultural waste in its locality.
If your materials is walnut shell, it is special, or use this kind of raw material customers are few, because this kind of raw material has regional properties. Many raw materials have regional nature, do not worry about your raw materials without granules, as long as in the category of biomass, we can customize the most suitable particle production line program for you.

Production, annual output of 10000 tons
Total investment: 420000 dollars
The total area of the project: 4000 m²
Employees: 8 people
Working system: 300 work days, work 8 hours.
Construction scale
Production workshop: 800 m², the complete biomass pellet making line is installed here.
Warehouse: about 3200 m². The customer's warehouse is divided into indoor warehouse and outdoor storage yard. Among them, the indoor warehouse is 1000m², which is the warehouse of the original factory of the customer, but not newly built. The outdoor storage yard covers an area of 2200m² and is used for stacking raw materials.
Office: 100 m², also use existing room as office space.

Raw materials and energy consumption
This 4 ton hr biomass pellet business project undertaken by RICHI uses purchased walnut shells and scraps, sawdust and waste wood produced by its own wood processing plant as raw materials. Through crushing, grinding, drying and other processes, fuel pellet products are produced by high-pressure molding by biomass pelleting machine.
| Product Name | QTY |
| --- | --- |
| Scrap wood, scraps, sawdust | 16000t/a |
| Walnut shell | 4000t/a |
| Electricity | 18000 kw·h/a |
| Water | 260t/a |
| Packaging material (bag) | 0.6 t/a |
Main product plan
The customer explained his needs in detail when consulting Richi Machinery. His pellet products are sold to industrial and civil customers.
Therefore, this 4 ton biomass pellet manufacturing business project is customized according to different fuel equipment and application range, with a diameter of 6-10mm and a length of 0.5-5cm, so as to be suitable for all kinds of boilers, furnaces and household fireplaces.

Main combustion performance index:
Ash (%) : 0.61
Moisture content (%) : 7.92
Volatile (%) : 79.62
Sulphur content (%) : 0.02
Calorific value (Cal/g) : 4300 ~ 4500
Density (Kg/m3) : 1.1
Biomass Equipment in 4 t/h biomass pellet line
| Equipment Name | QTY |
| --- | --- |
| Crusher | 1 |
| Shredder | 2 |
| Belt conveyor | 1 |
| Biomass dryer | 1 |
| MZLH520 biomass pelletizer | 2 |
| Bag dust collector | 5 |
| Pulse dust collector | 1 |
| Loader | 1 |
4T/H biomass pellet production process
The main raw materials used in this RICHI 4t/h biomass pellet line project are purchased walnut shells, scraps, sawdust and waste wood produced by wood processing plants
According to the water content, particle size and other conditions of the raw materials to be broken, crushed, dried and other processing before granulation production.

Chipping and slicing system: Scrap wood, branches, scrap wood, scrap wood and other raw materials that can not be directly crushed are cut into small pieces by chipping and slicing machine.
Crushing: chipped small pieces raw materials, with walnut shell, through the hammer mill crusher machine,get the smaller particle size (less than 5mm).
Drying: the water content of more than 70% of raw materials is too high, up to 55%, which does not meet the requirements of granulation.So RICHI equipped a three-cylinder biomass wood dryer machine for the customer to dry the raw materials with excessive moisture content, make the moisture content meets the requirements of granulation (moisture content is less than 15%), and the moisture content of raw materials after drying is about 10%.

(Many raw materials in this 4t/h biomass pellet line project do not need to be dried.)Richi Machinery also equipped a biomass burner for the wood dryer machine, and the burner fuel is the biomass pellets produced by the customer.
Conveying system: Mix the materials that do not need to be dried and the dried materials, and transport them to the granulator process for granulation.
Pelletizing system: Through the principle of extrusion molding, walnut shells and waste wood are made into pellets.
Cooling system: The granulated biomass particles are naturally cooled by transportation, so that their temperature can reach the conditions for packaging and storage, and finally transported to the finished product warehouse.
Screening and packaging system: the cooled pellets are screened by the screening equipment, and the qualified biomass pellets fall into the finished product warehouse, and the finished products can directly fall into the packaging bag, which can be stored after being packed with a baler sale.

Note:
Biomass pellets required by the drying furnace are about 300t.
The walnut shells purchased in this 4t/h biomass pellet line project are transported to the storage yard in the factory area by transport vehicles for centralized stacking.The raw material yard of this project is divided into two parts, one is for coarse bulk material yard and the other is for fine material yard in the production workshop.
In order to ensure normal and continuous fuel production, Richi Machinery advised customers to stockpile about 1600t of raw materials for one month of production in the feedstock shed, with about 20% of the feedstock having a water content of 55%.
In the process of storage, due to the high moisture content of raw materials, the raw materials will produce odor due to high temperature fermentation. The ground is treated with cement hardening and seepage prevention, and natural ventilation is adopted.
If you also want to build a 4t/h biomass pellet line, please contact us for details! Our technical consultants will send you detailed production line plans, quotations, equipment configuration lists, completed project sites pictures and videos.
LEAVE YOUR NEEDS
Keeping in touch with us is an effective way to solve all your problems. If you have any needs or questions, please leave your contact information, then RICHI technical consultants will send design, quotation, videos to your mailbox. You can also contact us directly via WhatsApp: +86 13838389622