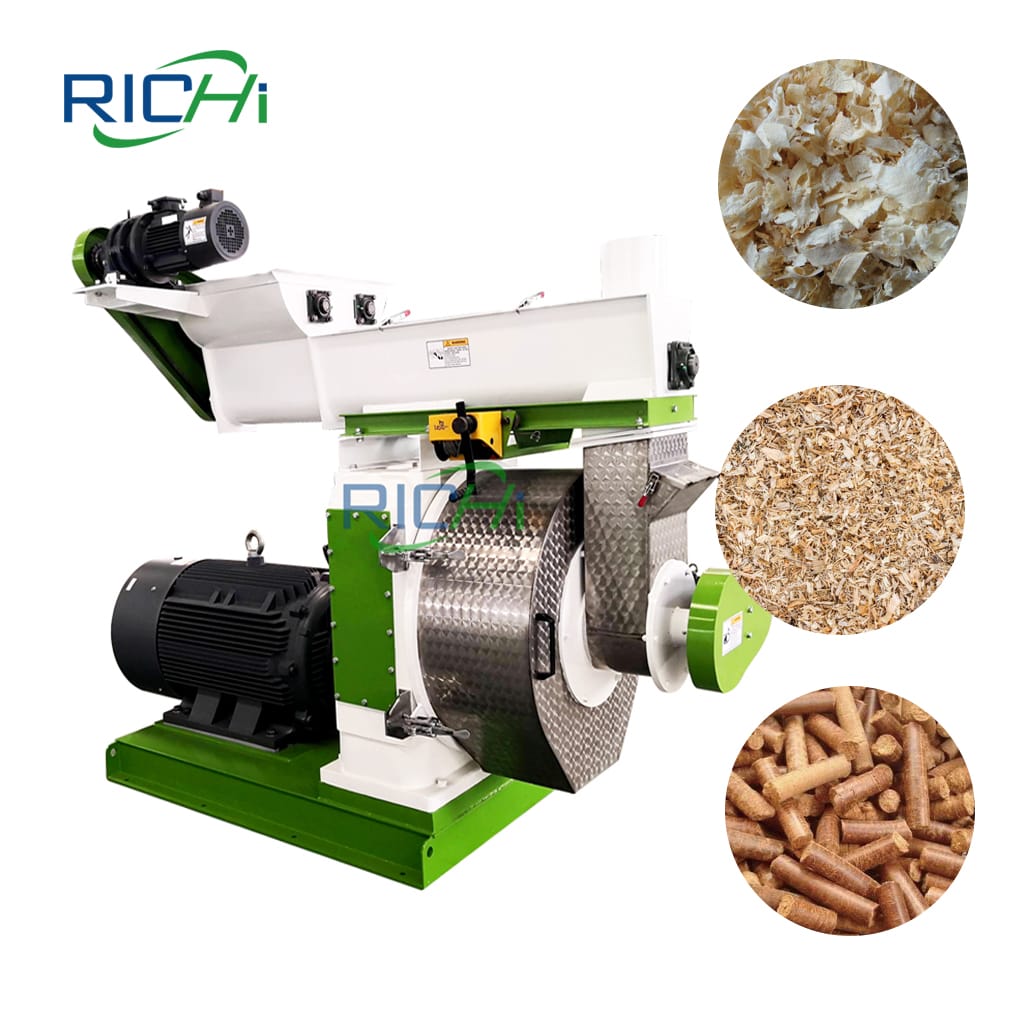 wood pellet maker for sale
We specially focuses on wood pellet maker for sale. Our MZLH420 wood pellet maker machines are designed to produce granules from raw materials that are difficult to granulate: wood, chips, shaving, sawdust, log, straw, husks, peat, bards, organic-mineral fertilizers.
Richi Machinery is one step ahead in the sector by designing a special machine for wood waste materials pelleting with its R&D studies on the wood pellet makers, which are the main machines of the biomass wood pellets manufacturing plants.
(Although the wood is high in volume due to its porous, irregular shape and bulky structure, its densities are low (30-150 kg/m³). When grinded, the density is increased up to 150-200 kg/m3, but it is still deemed necessary to increase its density to provide energy and ease of transportation and use. This is the reason why the wood needs to be pelletized by wood pellet maker machine.)
Features of MZLH420 wood pellet maker
Richi Machinery specializes in wood pellet maker for sale. Whether it's pounds of pellets per hour or tons of pellets per hour, you can depend on a RICHI wood pellet mill to meet your toughest requirements. Your pellet maker will come loaded with features like our gear drive train.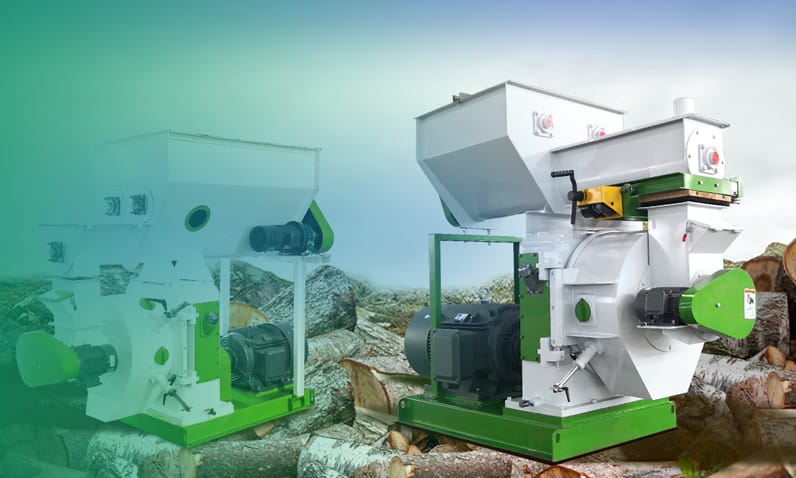 The main shaft system uses double support structure without shake to offer more extrusion force from ring die.
Control device of ring die and roller is external to realize gap adjustment without stop-working.
Rollers use circulating water cooling, realizing lower temperature and longer service time of bearings, and lower oil consumption.
The bearings of main shaft and roller with temperature measuring device, which can monitor the working status of bearings.
Key components like main shaft, driving wheels and gears are made of high strength forged alloy steel. Gears are processed by high precision gear grinding machine.
Driving system uses imported bearings to ensure the reliability and long service time of the equipment.
Ring die and roller use high strength forgings, automatic gun-drill drilling and vacuum heat treatment. The ring die service time﹥500 hours.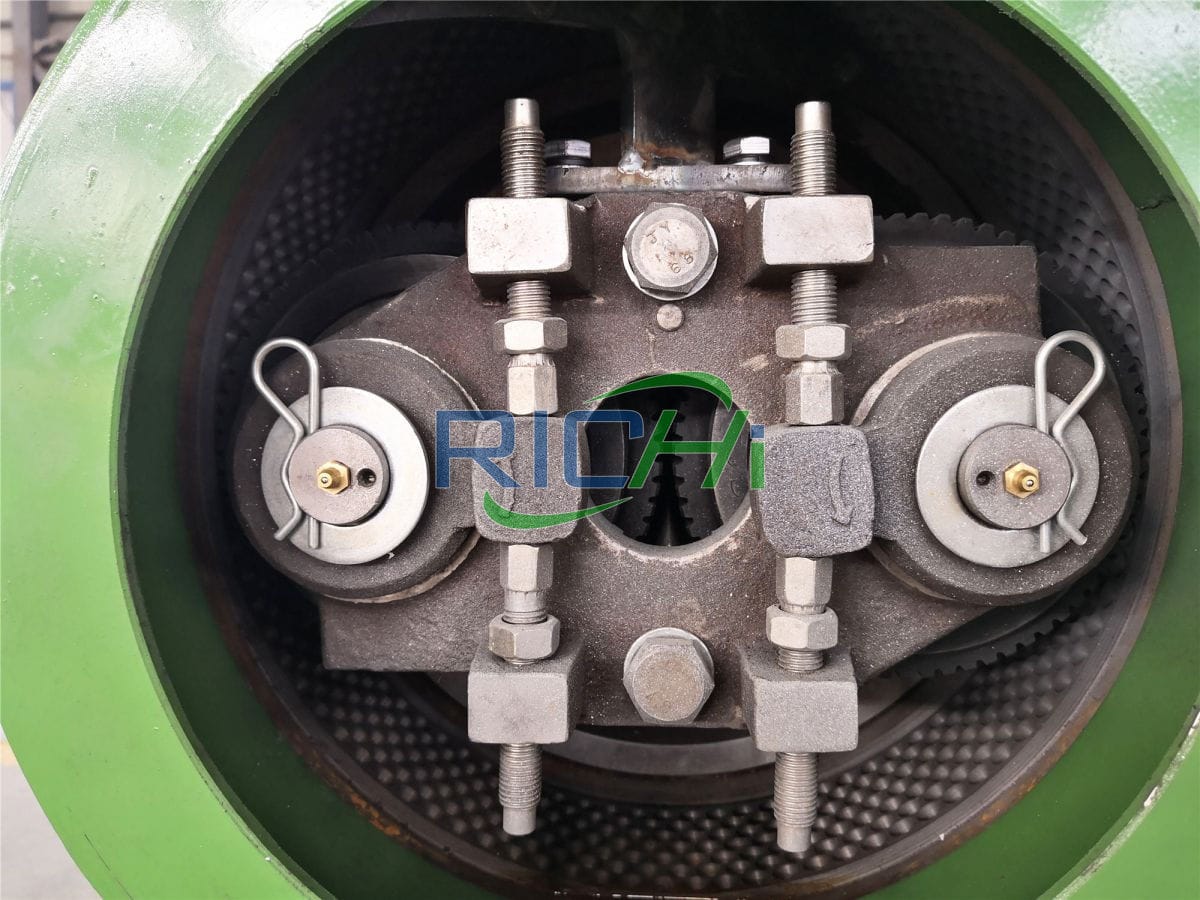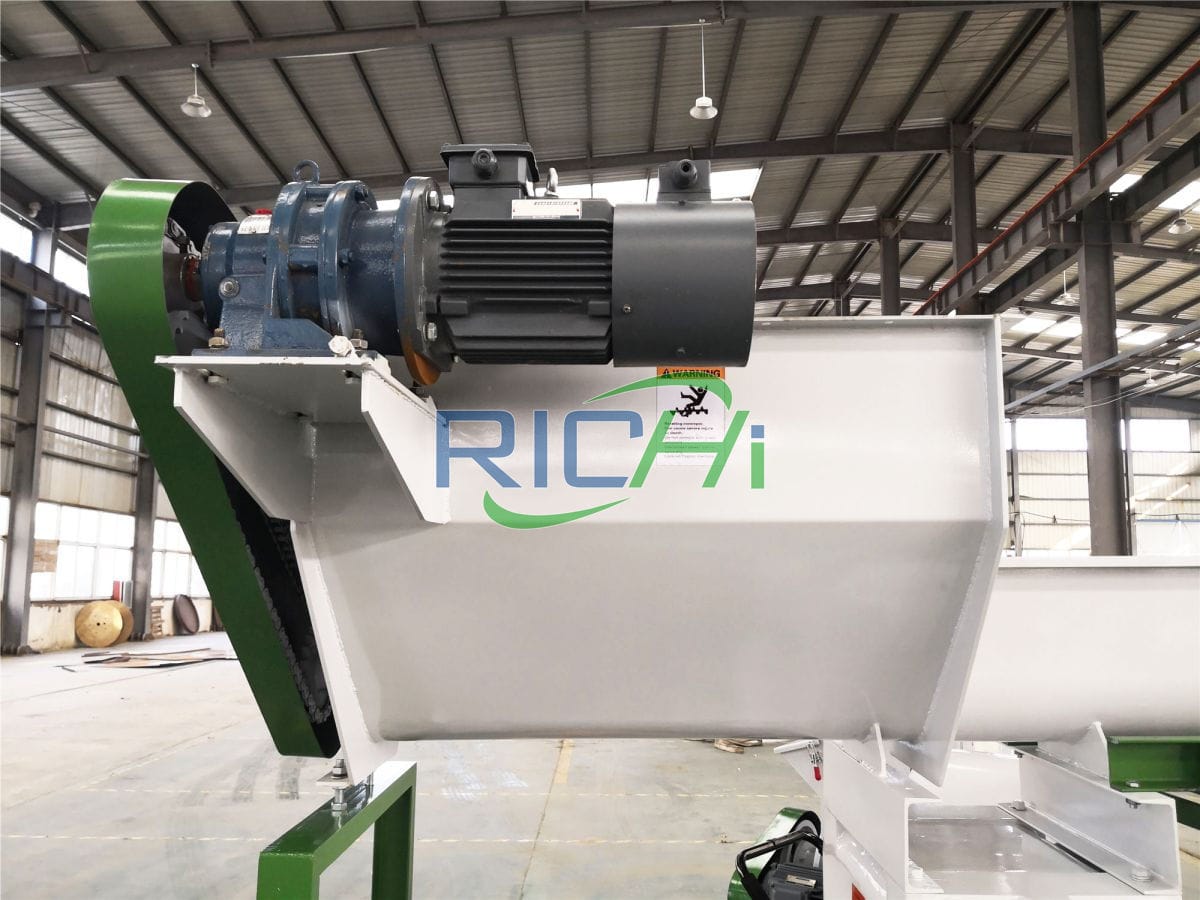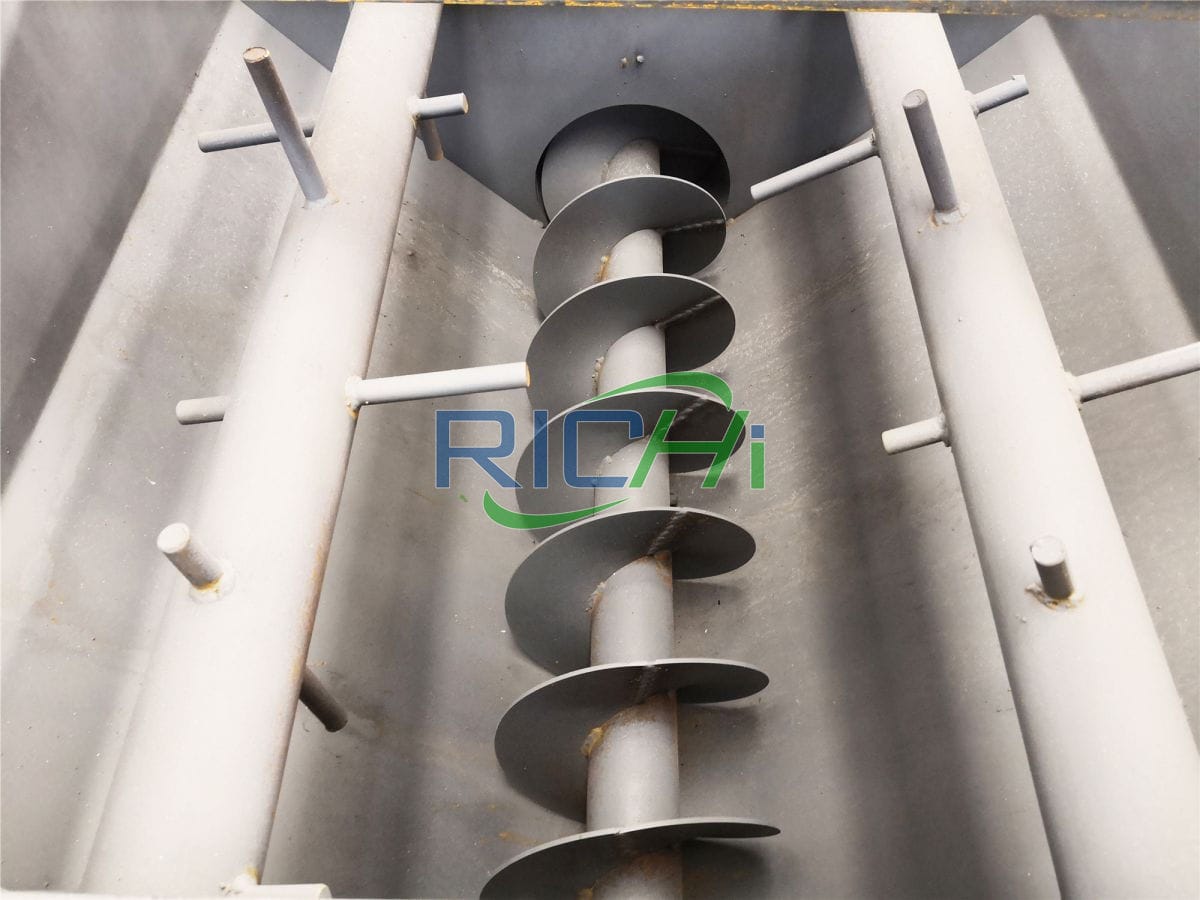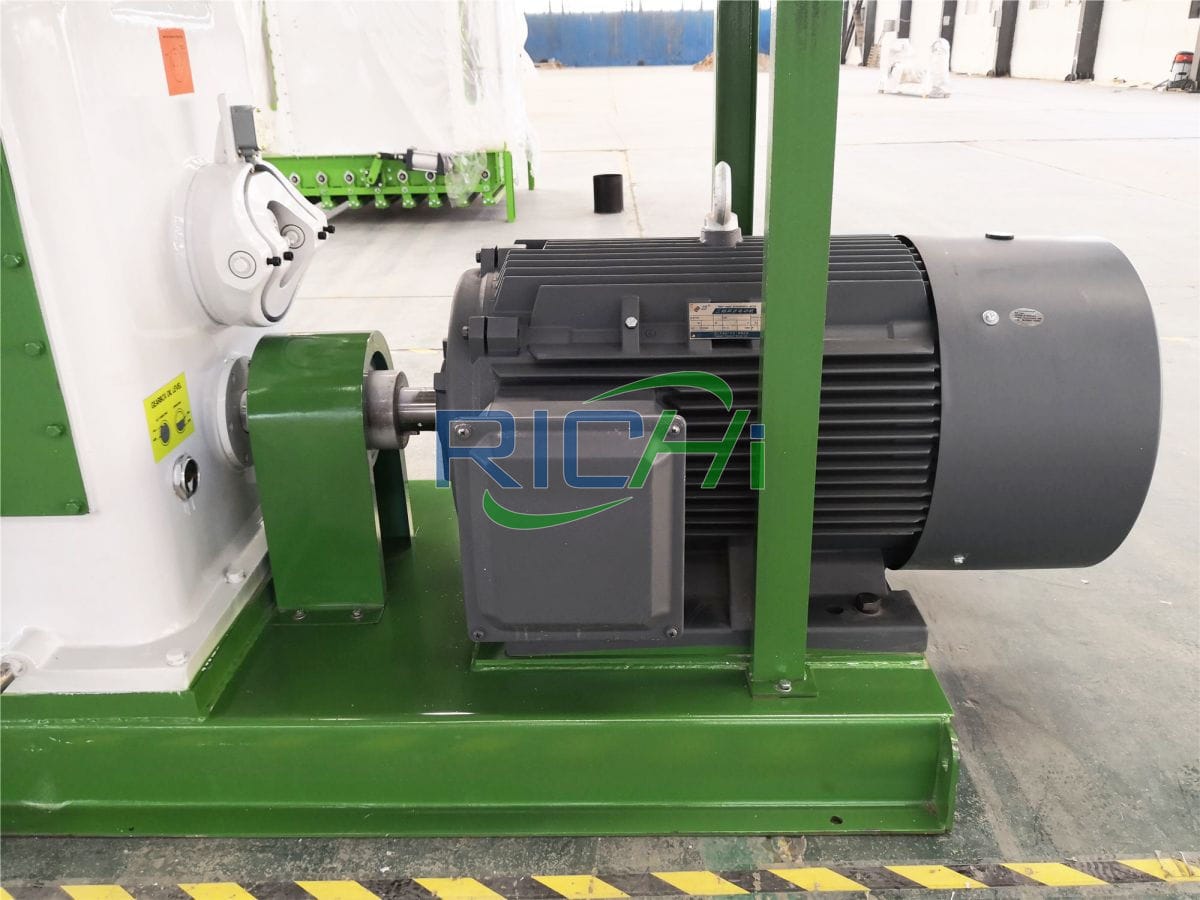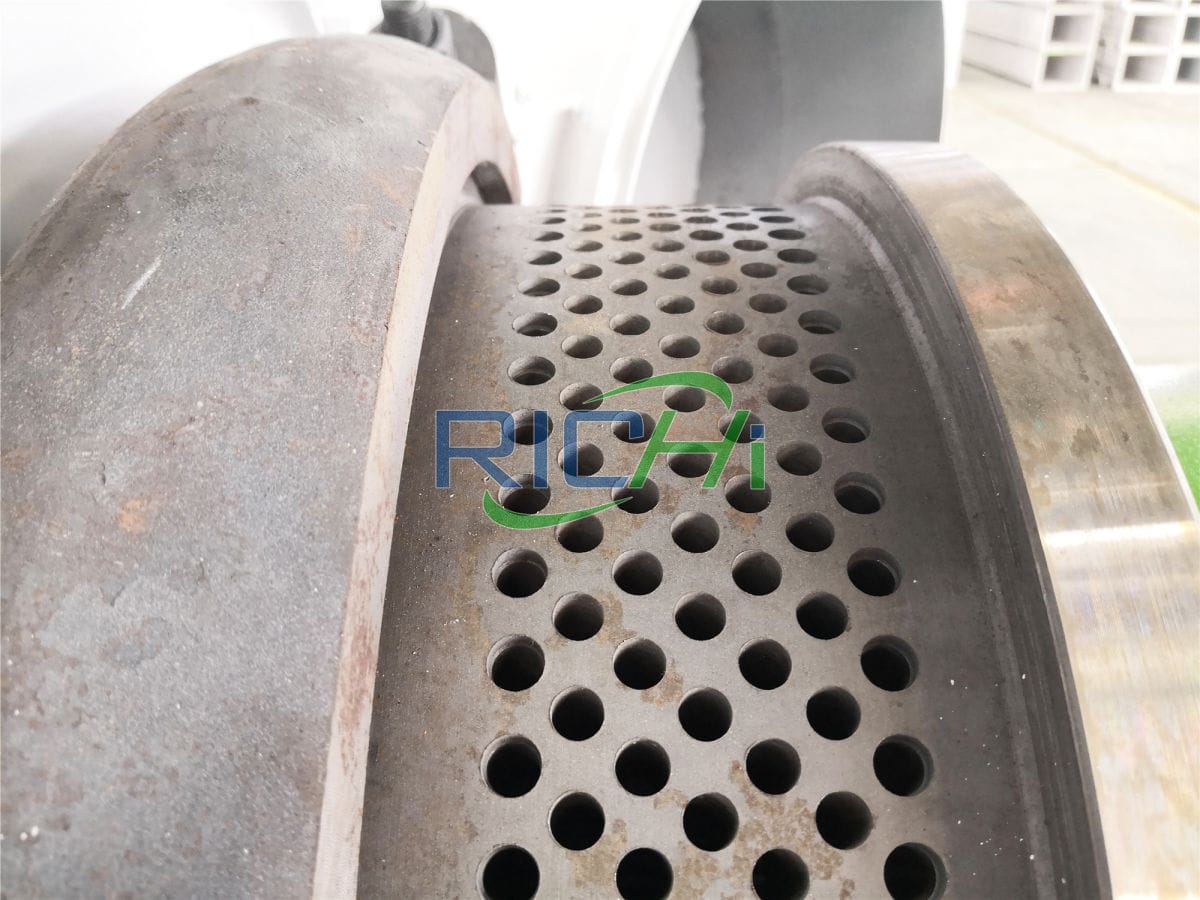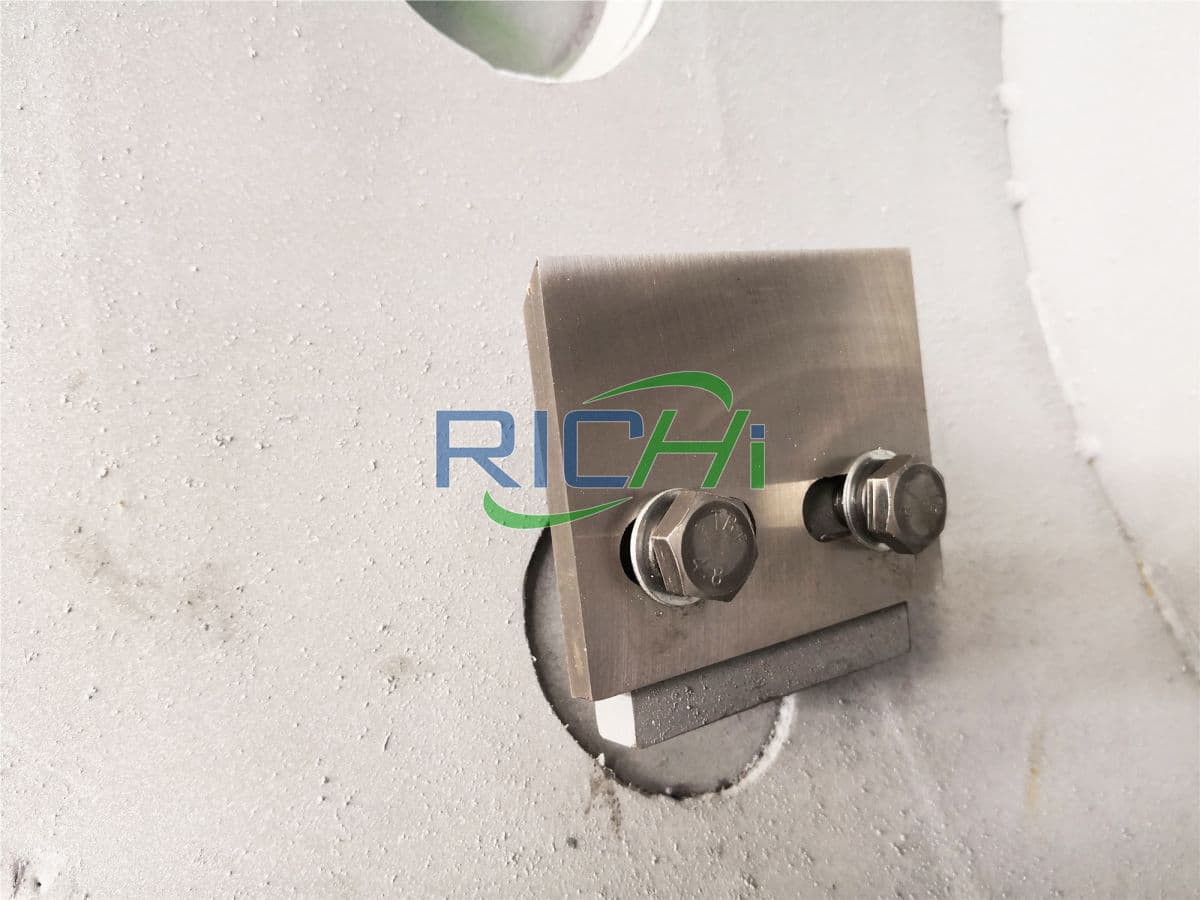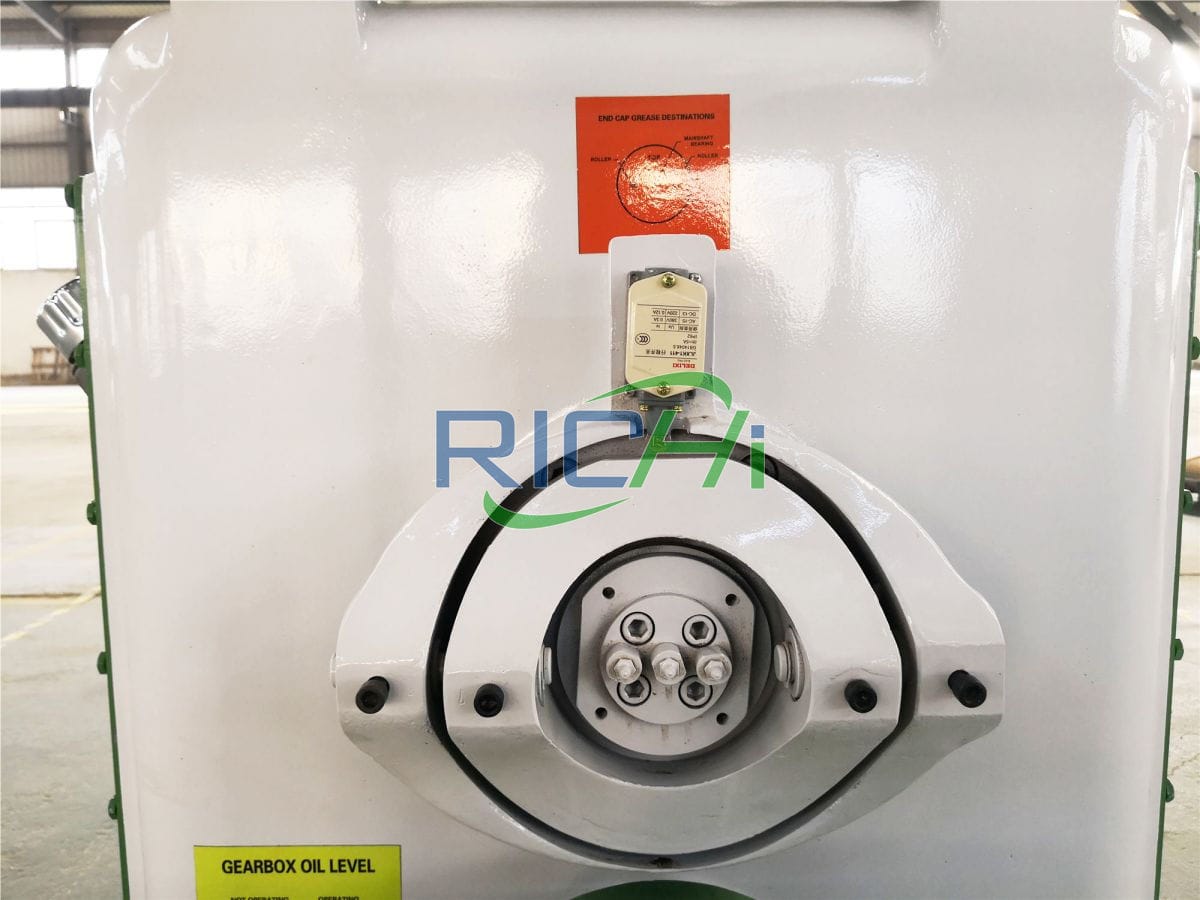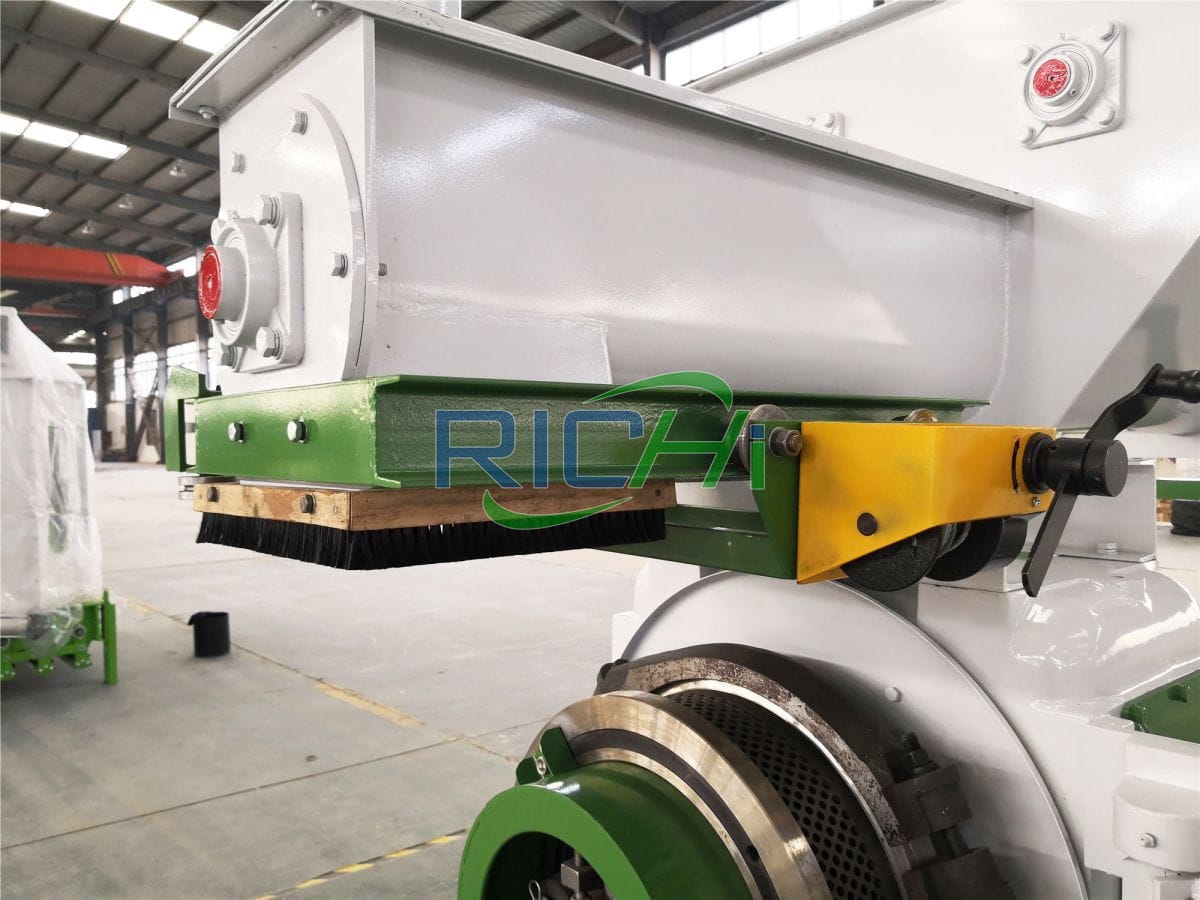 Advantages of MZLH420 wood pellet maker
It is highly efficient and eco-friendly.
Very durable and long-lasting.
It is a cost-effective way of recycling wood waste.
It helps in reducing the carbon footprint.
It is a renewable source of energy.
It is a great alternative to the traditional methods of heating and cooling.
It is a clean and green technology.
MZLH420 Wood pellet maker prices and parameters
MZLH420 wood pellet machine price:30000-35000 USD
| Model | Capacity | Power | Transmission form | Number of pressing rollers | Ring die clamping method | Final Pellet | Weight(KG) |
| --- | --- | --- | --- | --- | --- | --- | --- |
| MZLH420 | 1.0-1.2 T/H | 90KW | Gear drive | 2 | Hoop | 2-12mm | 4000KG |
(Note: Richi Machinery's products are always updated and improved. Therefore, if there is any difference between the pictures, feature descriptions and performance parameters of the actual model, please refer to the actual product.)
Wood pellet machine for sale the world
With over 25 years of combined experience in the biomass, wood, and farming industries; RICHI Pelletizing Systems is proud to bring to the market specialized grinding and pellet making systems. Designed for the operator who requires absolute quality.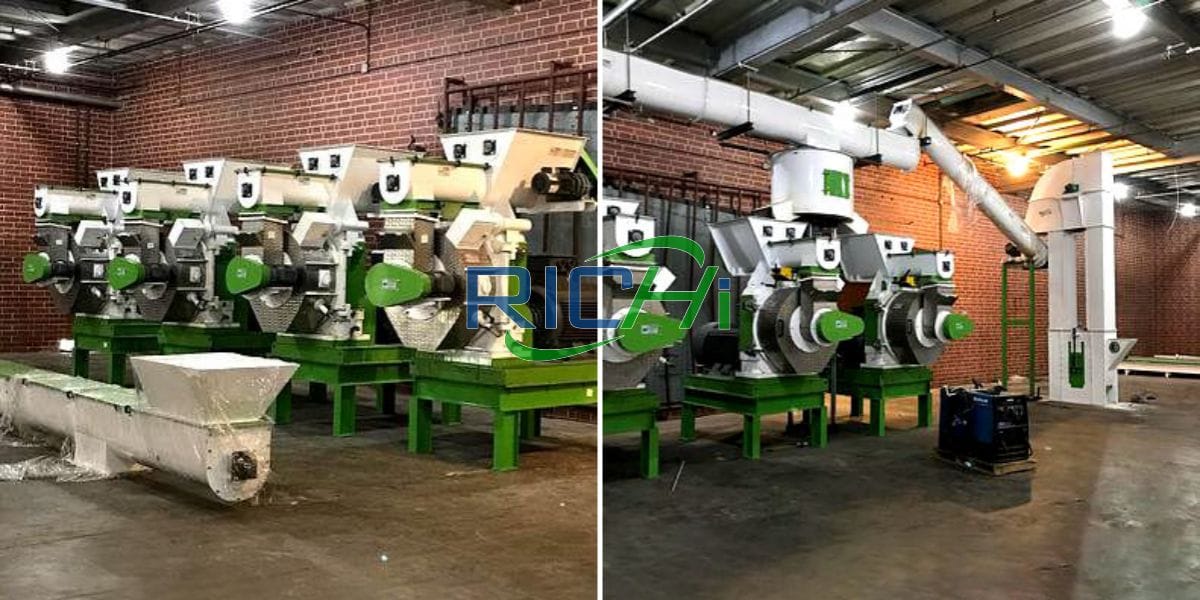 wood pellet Maker for sale United States
Appication: 10 T/H wood pellet factory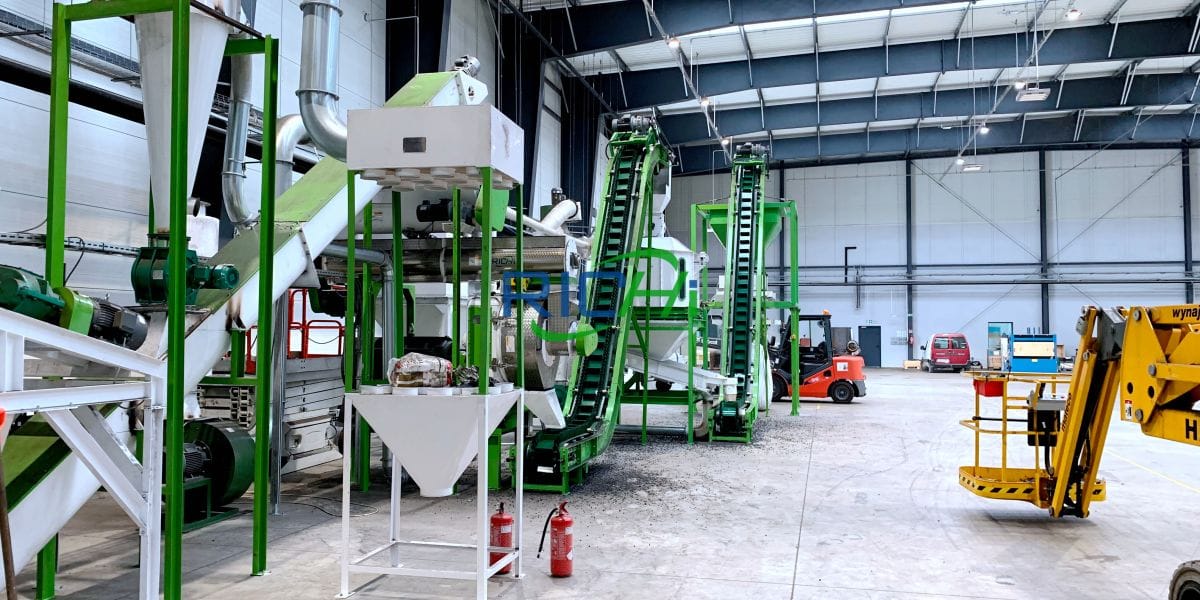 wood pellet Maker for sale Poland
Appication: 2-3 T/H automatic wood pellet plant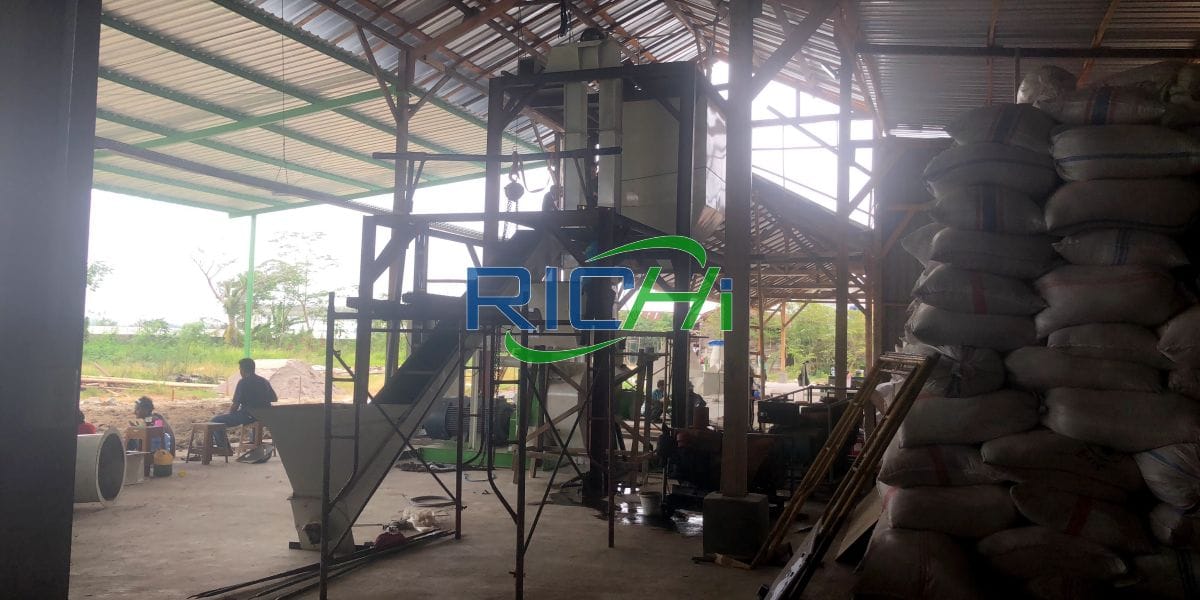 wood pellet Maker for sale Indonesia
Appication: 1.5 T/H wood sawdust pelleting plant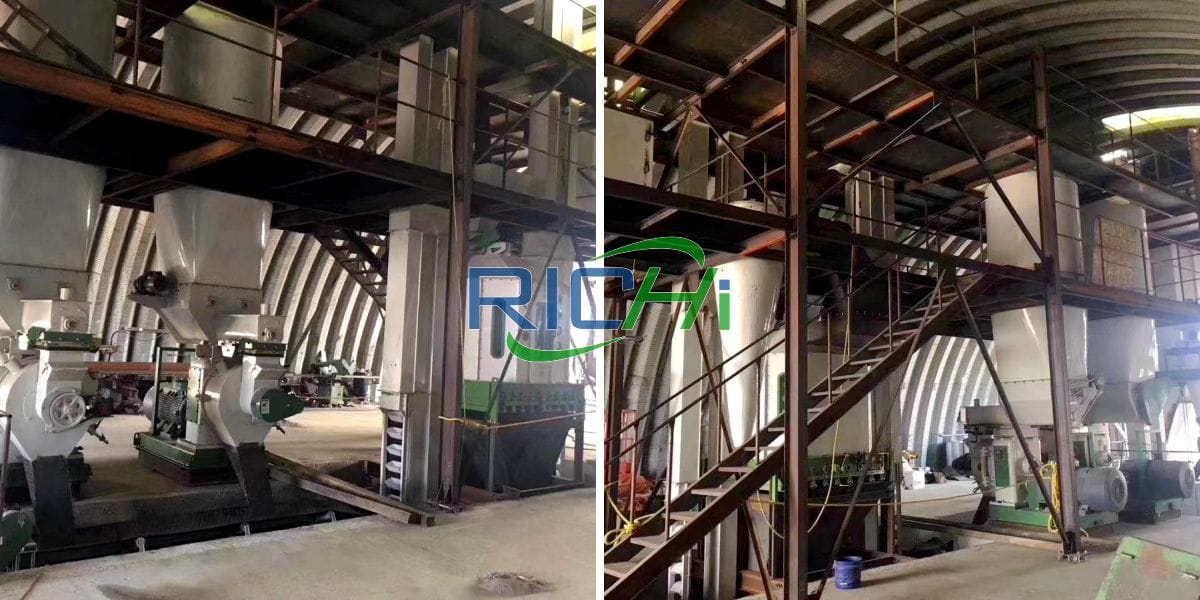 wood pellet Maker for sale Canada
Appication: 2-3T/H wood pellet manfuacturing plant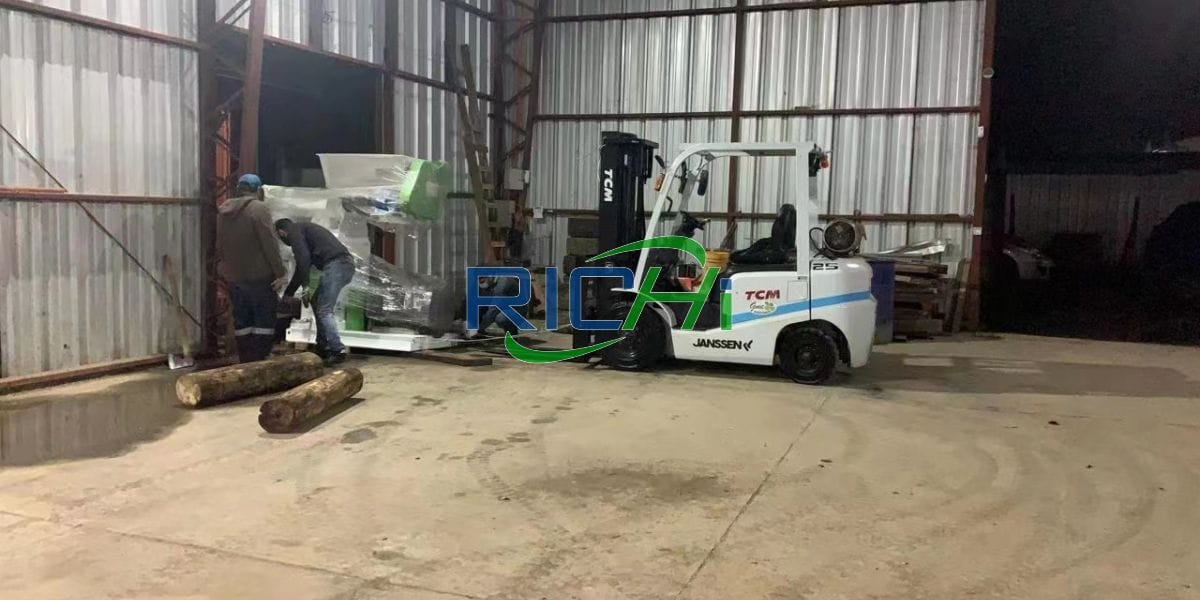 wood pellet Maker machine for sale Chile
Appication: 1-1.5 T/H wood pelleting line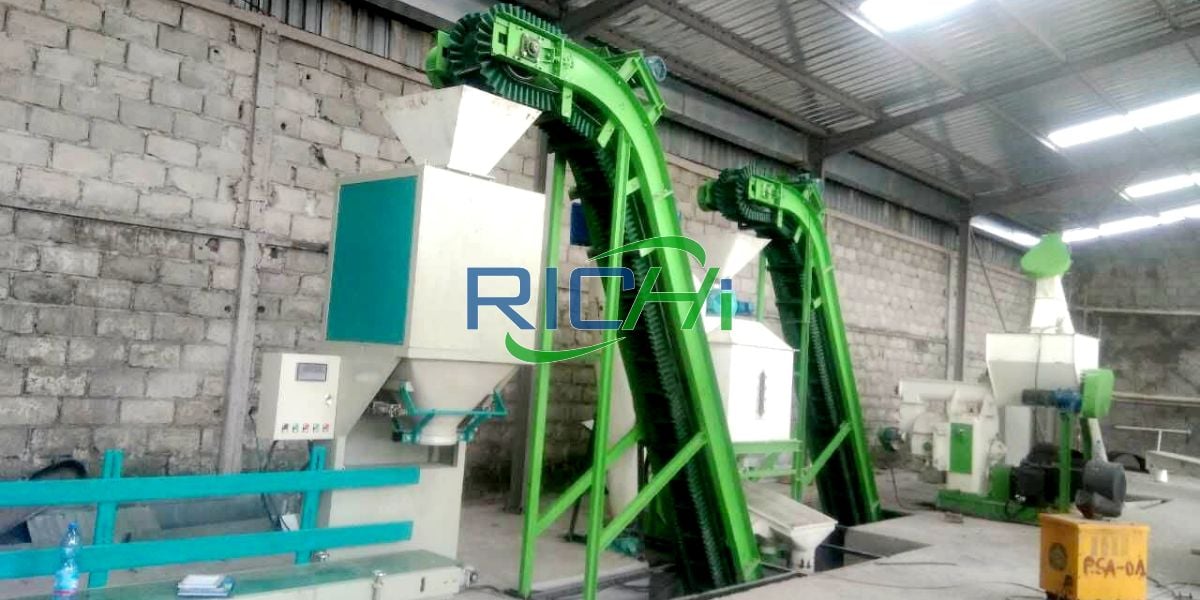 wood pellet Maker for sale Congo
Appication: 1-1.2T/H wood pelletizing plant

SOME EXPORTED COUNTRIES
Countries: Austria
Project: Wood Pelletizer For Wood Pellet Factory
Capacity: 5 Tons Per Hour
How does a wood pellet maker work?
The core working parts of the ring die wood pelletizing machine are the ring die and the pressure roller, and the ring die is the active working part. The material enters the material preparation area of the molding chamber through the feeding system. The ring die rotates at a high speed during work.
Under the action of friction and centrifugal force, the material in the preparation area is continuously thrown into the compaction area. After entering the compaction area, the material passes between the ring die and the driven by the friction force of the pressure roller, it continues to move forward.
In this process, as the space between the pressure roller and the ring die becomes smaller and smaller, the extrusion force on the material increases rapidly. When the extrusion force on the material can overcome the frictional resistance of the ring die hole to the formed pellets. At this time, the wood pellets are extruded from the die hole, thus completing the pelletizing process.
Are you looking for wood pellet maker for sale? Contact Richi Machinery for details.
Wood pellet Maker machine Video
MZLH420 wood pellet maker for sale 1 t/h wood pellet plant project
Richi Machinery not only focuses on the wood pellet maker for sale, but also have more than 25 years of experience in wood pelleting plant design.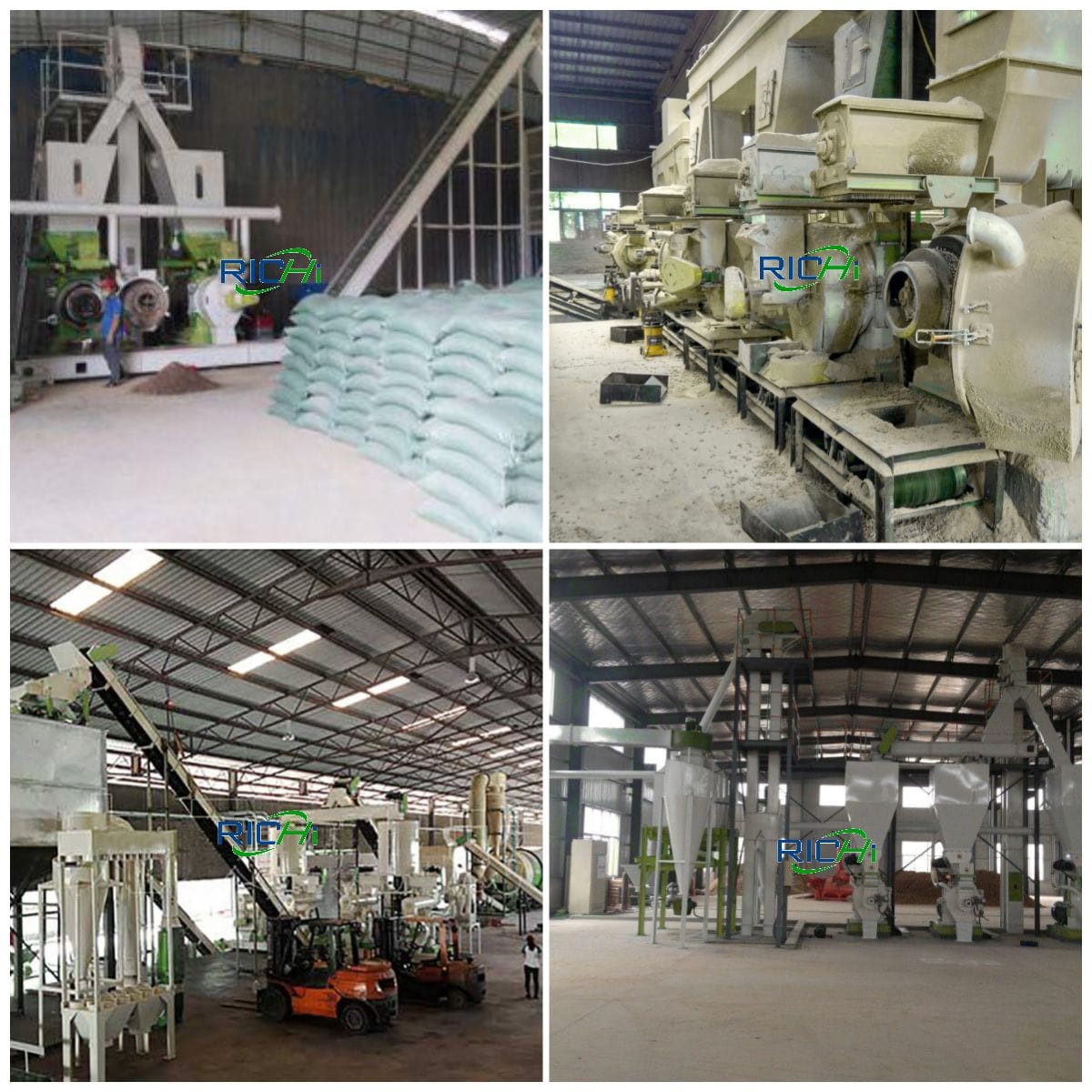 Background of 1 t/h wood pellet maker plant project
—— RICHI MACHINERY ——
Environmental protection and low cost are the advantages of biomass fuel instead of gas. Biomass energy is the energy carried by biomass. At present, biomass used as energy mainly refers to wastes such as crop straw, forestry and wood processing. Biomass can be converted into high-efficiency solid, liquid and gaseous fuels, which can be used to replace non-renewable energy sources such as coal, oil and natural gas.
With the application of biomass boilers, the demand for biomass fuels in the market is also increasing. With the current policy support of many countries to vigorously control air pollution, the market demand for biomass fuel will continue to grow.
In recent years, with the development of the economy and the continuous improvement of industrial demand, the demand for biomass fuel particles has increased year by year. According to market demand, the customer invested 200,000 US dollars to build a biomass pellet project with an annual output of 3,000 tons.
TECHNICAL SERVICE
Production capacity: 3000t/a, 1.2t/h
Annual running time: 2400h
Construction scale: covers an area of 1,100 square meters, with a total construction area of 1,100 square meters, and the workshop is leased;
Main construction contents: factory buildings, office areas, warehouses and supporting facilities, mainly engaged in the production and sales of biomass fuels;
Working system: The number of employees in this project is 10, and the annual production days are 300 days.
Total investment: USD 200,000;
As a manufacturer focusing on the wood pellet maker for sale, Richi Machinery insists on summarizing and summarizing the details of pellet equipment manufacturing process, product improvement, on-site process layout, etc., digging deep into customer needs in multiple forms, and always taking technological innovation as the main driver.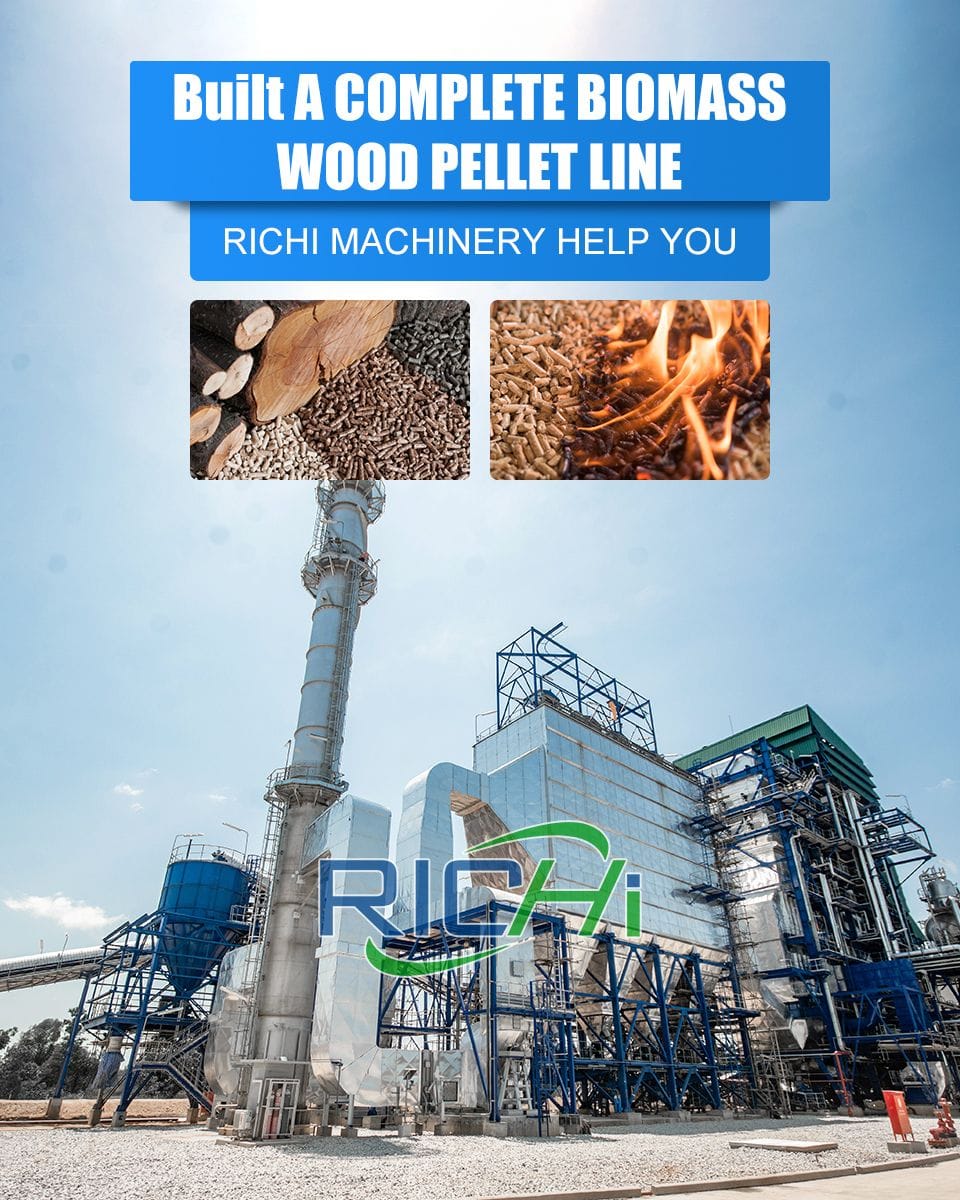 Main construction content
Production workshop: a closed steel structure workshop, covering an area of 900m² and a building area of 900m²;
Raw material warehouse: a closed steel structure factory building, covering an area of ​​100m² and a construction area of 100m²;
Product warehouse: a closed steel structure factory building, covering an area of 100m² and a building area of 100m².
Main Wood pellet production equipment
The total construction area of the wood pellet processing line project is 1550m². The main construction contents of the project are production workshops, raw material storage areas, office areas, dormitories, and canteens.
(Project office buildings, production workshops, canteens and dormitories all use the existing projects in the factory area and make reasonable renovations to them according to the needs).
| Device name | QTY | Remarks |
| --- | --- | --- |
| Wood pellet hammer mill | 1 | Raw material crushing |
| Drum sieve | 1 | Raw material screening |
| Belt Conveyor | 6 | Material delivery |
| Wood pellet maker (MZLH420) | 1 | Pelletizing |
| Air compressor | 1 | / |
| Wood chip dryer | 1 | Drying |
Main Raw and Auxiliary Materials
| Name | Annual consumption | source |
| --- | --- | --- |
| Sawdust (tons) | 1500 | Outsourcing |
| Bamboo powder (tons) | 1500 | Outsourcing |
| Biomass fuel (tons) | 240 | Outsourcing |
| Water (tons) | 150 | Outsourcing |
| Electricity (10,000 degrees) | 20 | Outsourcing |
Physical and chemical properties of raw and auxiliary materials:
Bamboo powder: Bamboo powder has a wide range of uses and is a new type of energy-saving and environmentally friendly raw material. It can be used as a raw material for various products such as bamboo and plastic products, mosquito coils, leather, clothing, papermaking, electrical appliances, daily necessities, paint, cat litter, chemicals, insulation materials, outdoor decoration materials, and building materials.
Sawdust: Wood chips refer to the sawdust and shaving powder left during wood processing. It is mainly used as fuel and light bone filler, or compounded into wood-based panels, such as MDF. It can also be used as a raw material for papermaking.
Richi Machinery specialize in wood pellet maker for sale, our biomass pellet mill is carefully designed for customers according to the actual requirements.
1 t/H wood pellet maker plant process flow
The raw and auxiliary materials of the project, bamboo powder and sawdust, are purchased nearby, with a moisture content of ≤20%. The raw materials are collected and stacked in the raw material yard for future use.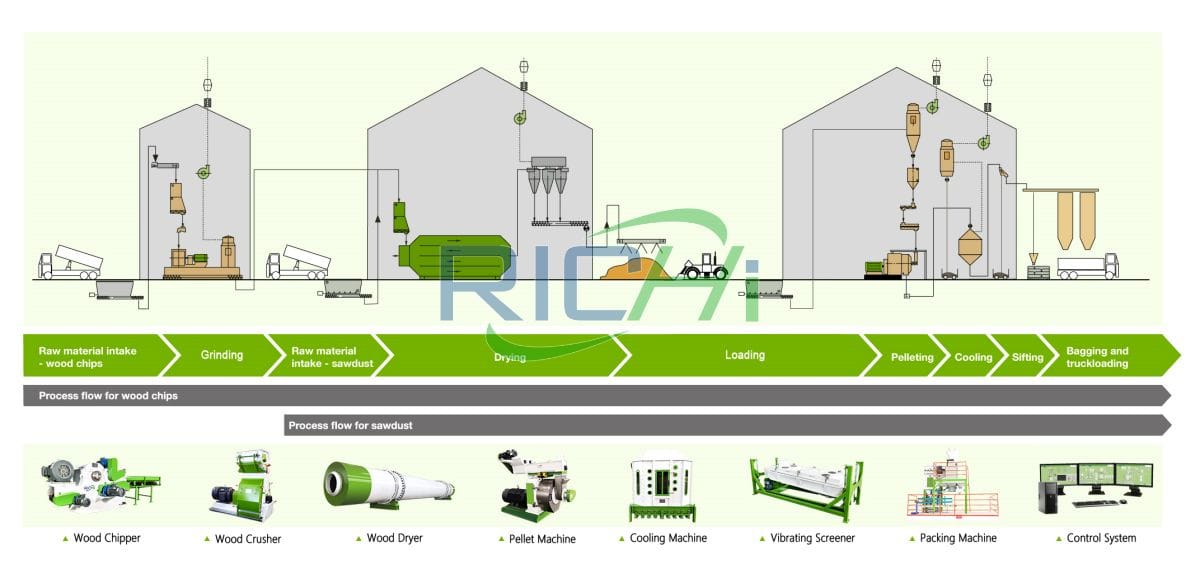 01 Screening
Raw materials such as bamboo powder and sawdust are screened by drum sieves, which are mainly used for sorting raw materials. The sieve hole of the rolling sieve is about 1cm, the large material enters the pulverizer, and the small material directly enters the granule processing machine for granulation.
02 Crushing
The screened bamboo powder and wood chips are sent to the crusher by the belt conveyor, and the bamboo powder and wood chips are sent to the crusher by the forklift. After being impacted by the blade and the knife seat, the rotating knife and the fixed knife are cut and pulverized at the same time.
Due to the action of the rotating centrifugal force, the material automatically flows out from the outlet and enters the material pit, which is sealed with a cover.
04 Granulation
The crushed material is sent to the extrusion chamber of the pellet maker machine by the screw conveyor, and the crushed material is squeezed into the inner hole of the mold by the pressure roller, and the extruded material is formed by hot extrusion of the mold.
Cut into cylindrical granules at the exit of the wood pellet maker, the whole process is physical extrusion without adding any binder.
05 Cooling
The temperature of the formed material can be 60~80C, and the product is cooled by the fan in the cooling chamber.
06 Packing and warehousing
The finished products coming out of the outlet are packed and put into storage.
1T/H wood pellet Production Line Layout
This wood pellet maker plant project meets the production needs, meets the relevant requirements of fire protection, safety and sanitation, rationally arranges the production workshops and sections, reduces the mutual influence between workshops and sections, and facilitates production management.
The production equipment is jointly arranged and the auxiliary facilities are merged and constructed as much as possible, which is convenient for operation, improve production efficiency, reduce product unit consumption; rationally organize material transportation, shorten transportation distance, and facilitate mutual contact, which is conducive to energy saving in the process.
While meeting production needs, give priority to supporting and extending functions with other factory areas, and optimize layout , Appropriately reserve room for expansion and downstream product development.
The general layout of the plant area should first meet the requirements of the production process, that is, the process flow of the whole plant should be smooth, the front and rear processes should be closely connected, the transportation distance should be short and straight, and detours and round-trip transportation should be avoided as much as possible.
The layout of the wood pellet factory area is conducive to production and to the physical and mental health of employees. For example, the living area should be separated from the production area, flammable and explosive products should be kept away from crowded areas, and safety facilities are complete.
The general layout of the 1 ton per hour pelleting plant project (including overall layout and traffic organization) is conducive to the energy transmission, storage, distribution, consumption and other links in the wood pellet factory area.
The general layout of the project is convenient for operations, conducive to improving production efficiency, and reducing unit consumption of process and product energy consumption.
Richi Machinery specialize in wood pellet maker for sale, according to the resource characteristics of different countries and regions, on-site operating environment and climatic conditions, to provide corresponding customized solutions for product and wood pellet production line design, so that customers have more protection in comprehensive investment.
How to start wood pellet production business?
There are many ways to make pellets, but one of the most popular is using a wood pellet machine. By using a pellet machine, you can create wood pellets that are perfect for heating your home or business.
Wood pellets are not complex to make. However, there is some preparation that needs doing beforehand and this will depend on what type of hard wood material you're using for production- either individual machines or complete plants respectively!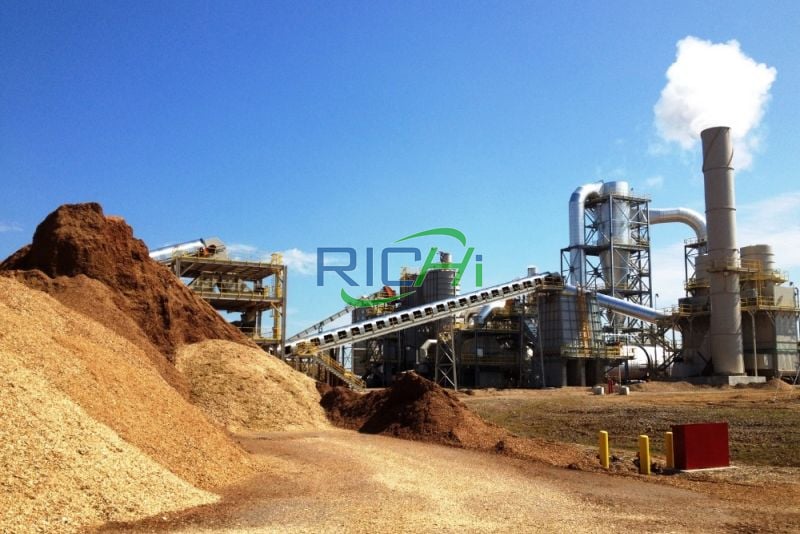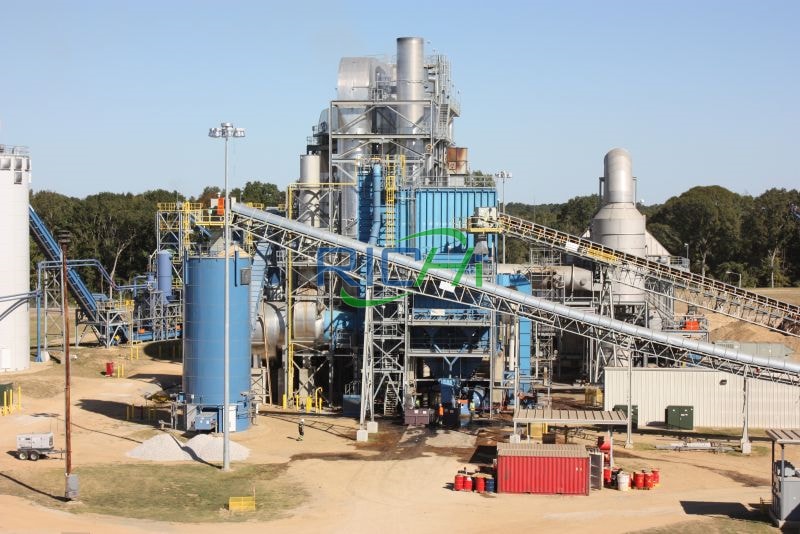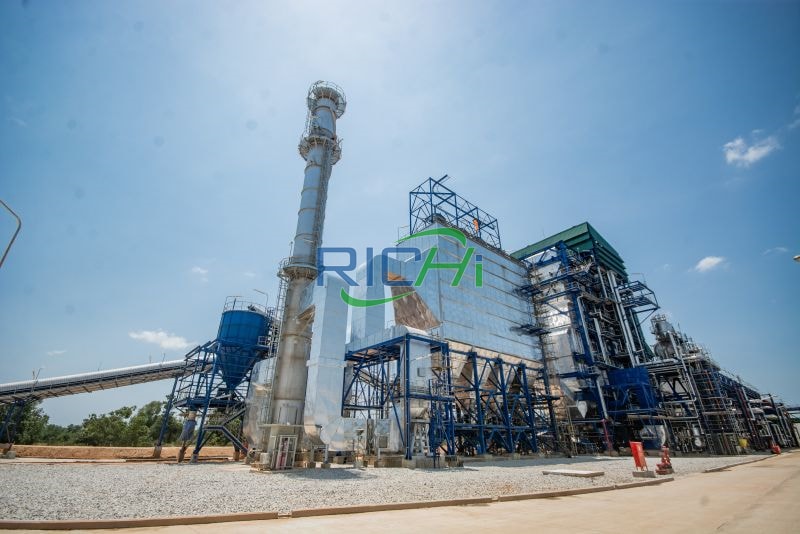 If you have decided on using a complete wood pellet maker plant, then the first step is to find a reputable supplier who can provide you with the necessary machinery and equipment.
Raw Material Preparation:
The next step is to prepare your raw materials. For hard wood pellets, this means ensuring that the wood is dry and free of any dirt or debris. The best way to do this is to use a wood chipper or crusher to reduce the wood into small pieces that are easier to work with.
Pelletizing System:
Once the raw material is prepared, it's time to start pelletizing! The first step is to add the wood chips or shavings into the wood pellet maker hopper. The pellets will then be extruded through the wood pellet maker and will drop into a collection bin below.
Cooling System:
After the pellets are made, they need to be cooled before they can be packaged or used. The best way to do this is to use a pellet cooler machine. The pellets will be fed into the wood pellet cooler where they will be blown around by a fan. This will help them to cool evenly and quickly.
Packaging System:
Once the pellets are cooled, they need to be packaged. This can be done by hand or with an automatic bagging machine. If you are packaging by hand, simply place the pellets into bags and seal them. If you are using a machine, the pellets will be fed into the machine and bagged automatically.
Now that you know how to make hard wood pellets, it's time to get started! Wood pellet pressing machines are a great way to create sustainable, renewable fuel that can be used to heat your home or business. If you're interested in learning more about pellet machines or other types of biomass equipment, contact us today!
Richi Machinery focuses on wood pellet production plant and wood pellet maker for sale, as a professional wood pellet mill supplier, in fact, Richi Machinery does not only regard wood pelleting plant as a "turnkey project", we hope it is a key to entering the new model of whole pellet plant project management, and jointly maintain the stable and healthy development of the market.
When developing a business plan the following things should be considered top priorities.
What raw materials will be used?
How much of this raw materials can be obtained at a price point that works within your business model?
What is the incoming moisture content?
What is your target market, residential fuel, industrial grade fuel, animal bedding, feed, etc.?
What is your market area?
Do you intend to sell your end product wholesale or retail?
What is the market volume potential for the end product in your target market area?
What is the value of your end product wholesale and retail in your target market area?
What volume do you plan to produce?

Wood pellets are the biofuels made from the compressed sawdust and similar industrial waste products. Commercial wood pellet manufacturing plants are now providing more wood pellets globally as the consumption of this biofuel is increasing due to an increase in the prices of other fuels.
The world is trying to take control of global warming, so, now governments are putting more emphasis on the consumption of eco-friendly fuels over fuels like petroleum, coal, etc.
Richi Machinery is mainly engaged in wood pellet maker for sale, promoting the global strategy, cultivates an international business model, and has accumulated rich practical experience.
We help ensure smooth project implementation by handling full-range planning services for biomass heat plants, biomass heat and power plants, and pellet and briquette production plants. As our client, you will benefit from our long-standing project experience and a 'stress-free planning package' that includes the following phases:
Establishing the basis of the project
Preliminary design
Final design
Building permission application
Execution drawings
Preparation of contract award
Assisting the award process
Project supervision
Project documentation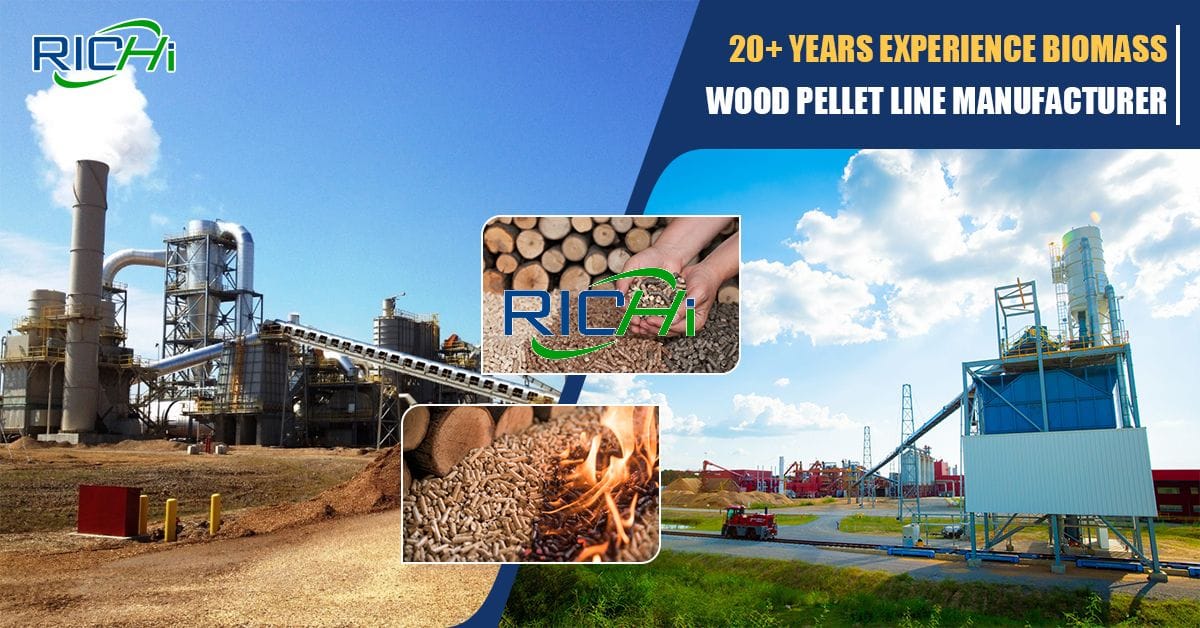 Such professional and thorough project planning, coupled with a precise and viable technical concept, lowers investment costs and results in a more profitable plant operation.
If you want to manufacture wood pellets or start wood pellet manufacturing business, it is wise to make a business plan first. The wood pellets plant business plan shall include your raw material, your capacity, your budget, your funds, your workshop, and so on.
Richi Machinery not only focuses on the wood pellet maker for sale, but also have more than 25 years of experience in wood pellet processing plant design. If you are planning to start wood pellet manufacturing business, but have related knowledge about how to choose a right wood pellet manufacturing equipment, please contact us, we are professional, we can offer the customized plan based on your budget, help you to get the BEST equipment. You're welcomed to contact us at anytime. We will give you reply asap!
Why choose RICHI Wood Pellet Maker?
We employ highly skilled, professional engineers devoted to researching and improving all our products. Our experienced and skillful R&D engineers can help solve your wood pelletizer problems and assist with after-sales service.
Quality is important to us. We are IS0 9001, CE, and SGS certified. All components used in our biomass fuel wood pellet makers pass our strict quality inspection. We carry out a trial run for each machine and wearing testing before shipment.
Manage your budget in a smart way and minimize your wood pellet manufacturing costs. We offer competitive prices for all our wood pellet makers. Contact our sales team for support for custom wood pellet processing line solutions.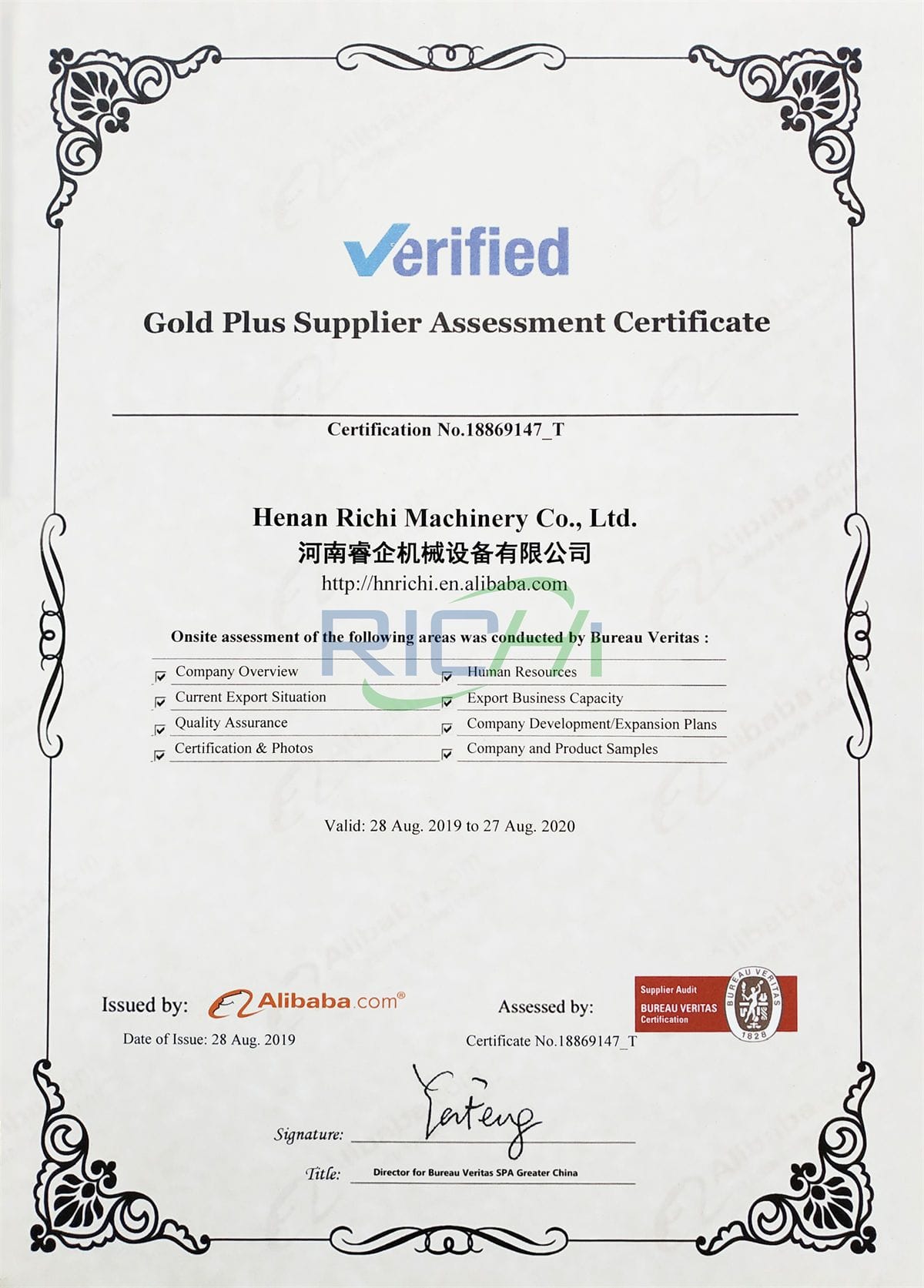 BV certification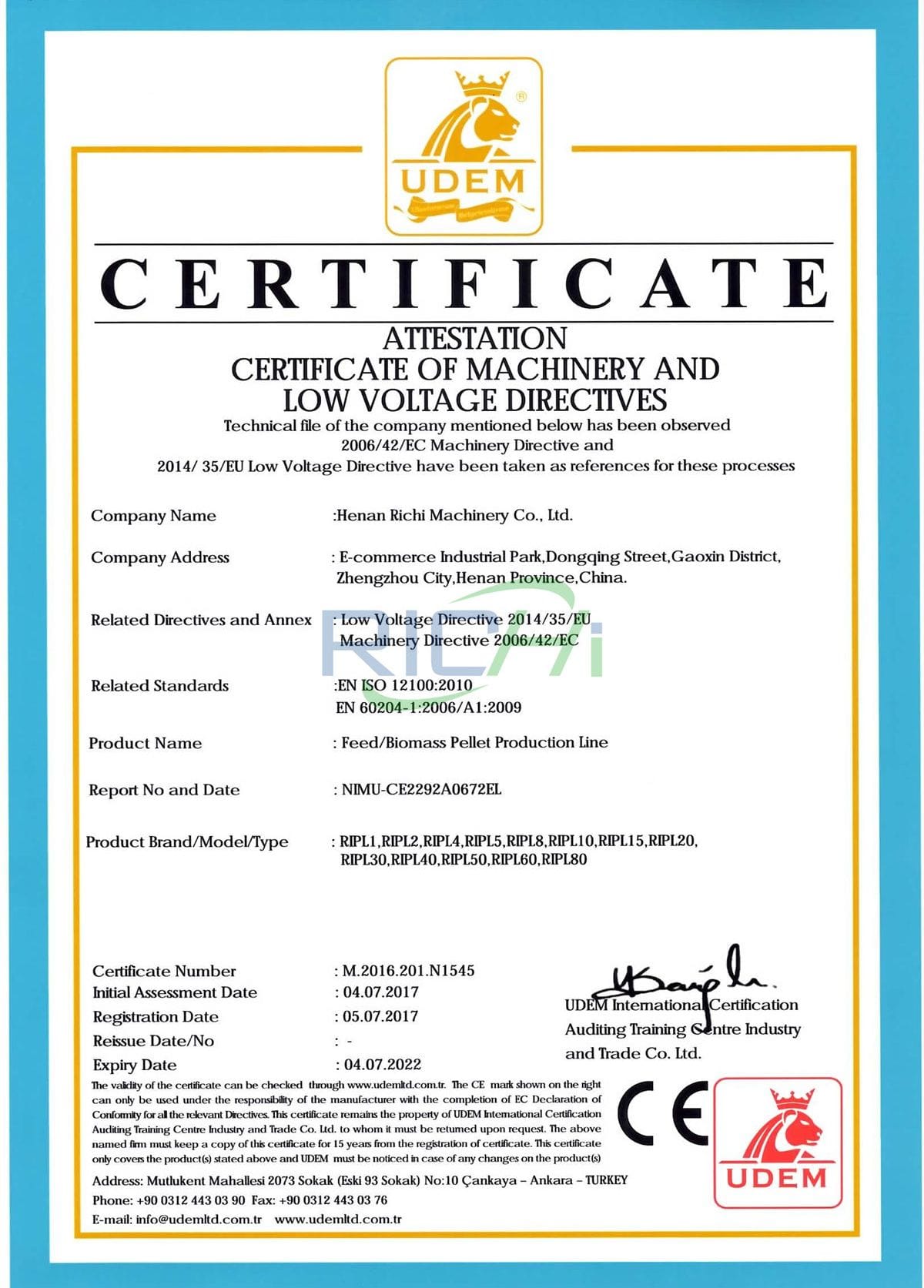 CE certification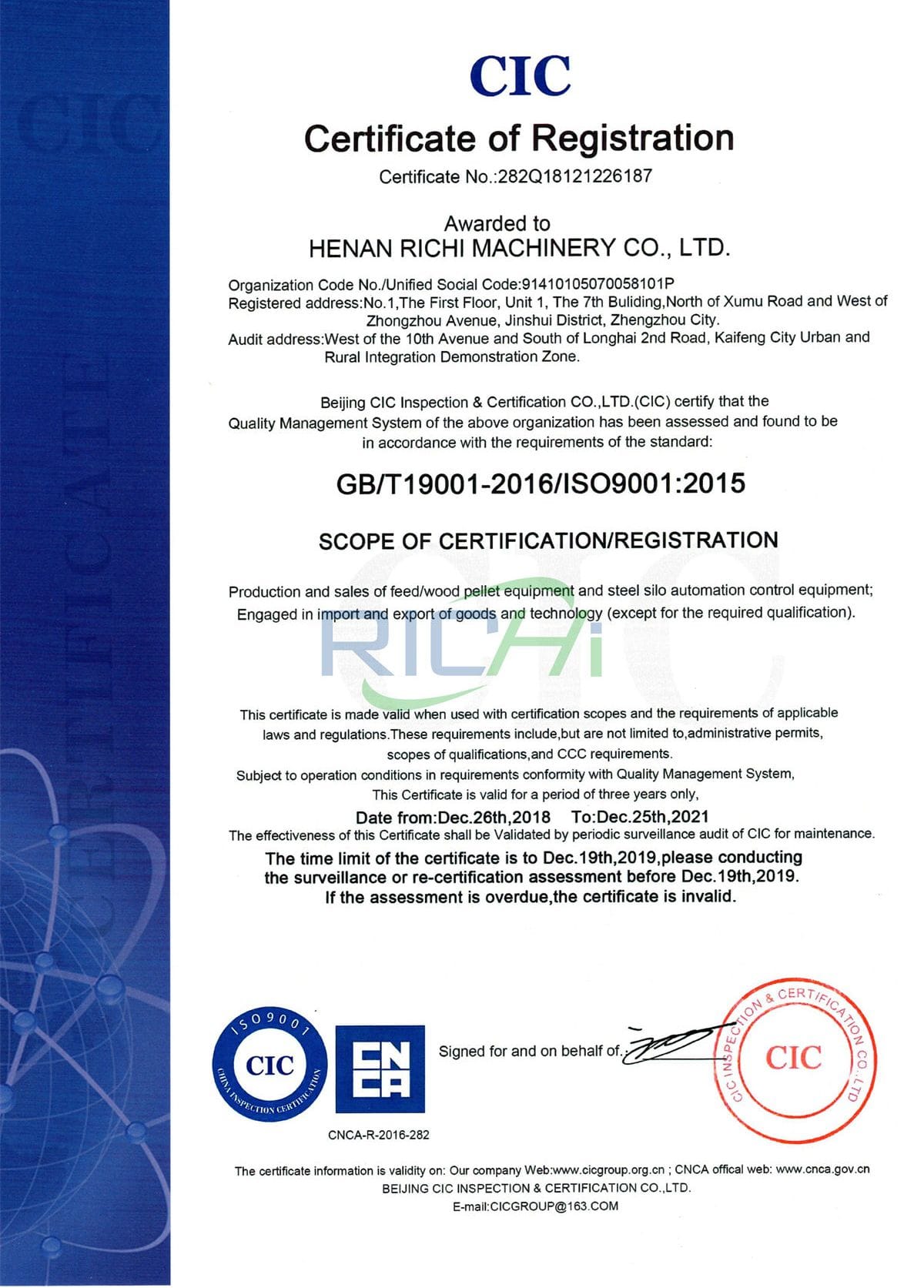 ISO certification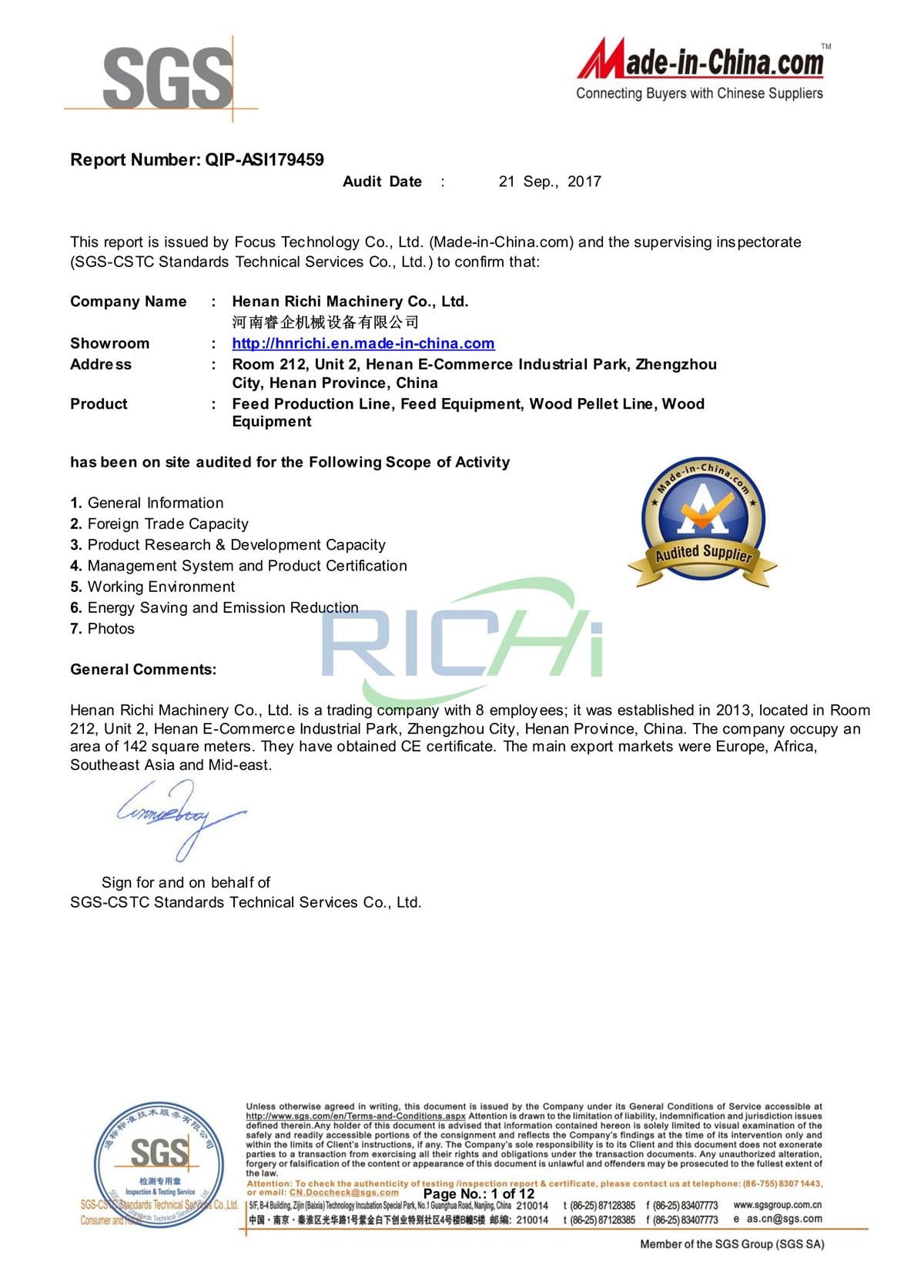 SGS certification
We have a highly qualified international sales team that will reply to you within 24 hours regarding any pre-sales questions you may have. After sales, we offer 24/7 email and phone communications, and can arrange onsite support.
Full 24/7 support both before and after your purchase. We offer free testing to develop the manufacturing process and are dedicated to find the best solution for your specific needs. If you are interested in partnering with us to sell our machines, we will offer 100% support.
Ordering with us is fast and convenient. Our professional sales team replies quickly to inquiries and strives to solve your problems, both pre-sales and after-sales. We securely accept all forms of payment including T/T transfer, LC at sight, PayPal, and Western Union.
Richi Machinery is a professional wood pellet maker equipment manufacturer in China since the year 1995. Our factory integrate research and development, production, sales and service, we have modern equipment for manufacturing and excellent technical research and development team.
We have experienced and skilled afters ales service team. Based on detailed customers requirements, we can always offer satisfying solutions for pellet production projects.
Quality and service is our soul for company development, we will try our best to support customers on pellet making, to achieve win-win cooperation.

CONTACT US
Richi Machinery focuses on wood pellet maker for sale, service process: preliminary investment guidance–plan formulation–equipment configuration–equipment maintenance–equipment maintenance parts replacement–personnel training and a series of services.
LEAVE YOUR NEEDS
Keeping in touch with us is an effective way to solve all your problems. If you have any needs or questions, please leave your contact information, then RICHI technical consultants will send design, quotation, videos to your mailbox. You can also contact us directly via WhatsApp: +86 13838389622