Reasonable Design 5-6T/H biomass pelletizing plant solution
5-6 T/H Biomass pellets production
---
RICHI 5-6t/h biomass pelletizing plant is based on market demand, targeted development of biomass pellet processing system. It is suitable for a variety of biomass agricultural and forestry wastes, such as wood chips, sawdust, bamboo chips, wooden chipping, shavings, waste wood, barley straw, wheat straw, palm shell, hops, bagasse, corn straw and other materials granulation.
Cost: 100,000-600,000USD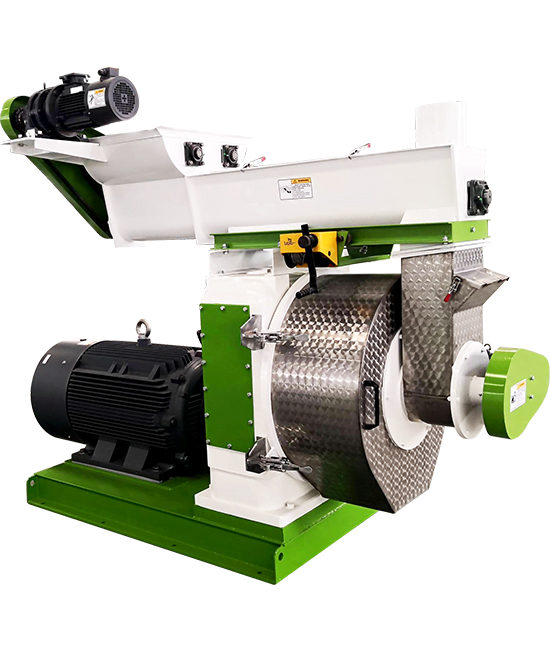 How to build a 5-6 t/h biomass pelletizing plant?
Richi Machinery can according to the characteristics of each biomass material, yield size, water content, application demand, cost control, degree of automation, site conditions and other factors, for customers to design the most suitable biomass pellet production process, and configuration of efficient and safe equipment.

Determine raw materials and land for production line. You must have land first, so you can build factories, stock up on raw materials and buy equipment. General biomass pellets plant is close to raw materials or convenient transportation place, both have is the best.
Budget: plant construction funds, equipment purchase funds, early operating funds, these are to be considered. Although we are biomass pellet plant manufacturer, we still hope that customers can fully consider their own financial situation before considering the development of biomass pellet processing business. Although this industry has a good future, it still needs capital to support it.
Plant construction: When designing the plant, try to reasonably plan every inch of land. This is the major of our engineers. We can reasonably plan land use for the layout of the whole plant, including the layout of functional areas and equipment of the whole plant.
Purchasing equipment: Before purchasing equipment, you must first learn about the product quality of biomass pellet manufacturing plant manufacturers and compare it with similar manufacturers. Compare product performance, compare customer cases, compare production strength, compare service, compare reputation, compare equipment prices, compare all aspects you care about. . .
Equipment installation: The equipment manufacturer needs to send technical personnel to the site for installation or directly arrange the installation team to enter the customer site. The second scenario is common for turnkey projects. RICHI can provide a variety of installation service modes according to customer needs, no matter what country you are in.

5-6 t/h biomass pelletizing plant process design
Raw material collection: there are many raw materials of pellet machine, such as crop straw, fruit shell, tree bark, sawdust and so on. Before production, at least nearly a week (or even a month) of raw material demand should be stored enough, so as not to delay normal production. At the same time, the storage of raw materials to do a good job of safety: fire, rain.
Raw material crushing: before pelleting, the requirement for raw materials is 3-5MM, so in addition to raw materials such as sawdust and rice husk, the rest of the raw materials we collected need to be crushed. According to the size of raw materials, we can choose different shredders, more details can consult RICHI technical center.
Raw material drying: biomass pellet machine is very strict on the water content of raw materials, water can not be higher than 15%. If the moisture content is too high, the particles are easy to break, or even not formed.
Raw material transportation: In order to save labor, we usually configure a transportation equipment. The treated raw material is sent to the feed port of the biomass granulator through the conveyor. According to the customer's process configuration and biomass pelletizing plant situation, conveyor optional belt conveyor, scraper conveyor, bucket elevator.
Raw material pelletizing: do not need me to say, you must know that biomass pellet machine is the most important equipment of the whole biomass pellet line. The RICHI MZLH series biomass pelletizer machine we usually configure for our customers is an expert in pressing poor adhesion of raw materials.

This kind of biomass granulating equipment is very stable, pressing capacity is very strong, the production of large pellet density, high molding rate.

Please don't ask me about vertical granulator, you only need to know that none of the internationally renowned high-quality ring die granulator manufacturers to manufacture vertical granulator, because it is not necessary. Horizontal ring die granulator is irreplaceable.
Pellet cooling: the temperature of freshly made biomass pellets is as high as 80 or 90 degrees. If bagging will cause a fire at this time, it must be cooled to room temperature by the cooling machine before bagging and storage.
Pellet packaging: The cooled and complete pellets are conveyed to the packaging machine by a conveyor, and the packaging machine performs metering and bag packaging, and finally sends them to the finished product warehouse. Then it can be sold directly.

The packaging equipment for biomass pellets can use ordinary automatic packaging machines, tens of kilograms per package; it can also use ton bag scales, one ton per package. At present, more and more customers use this packaging method, especially in Canada. , Germany, Poland, Indonesia and other countries.
biomass pelleting plant Projects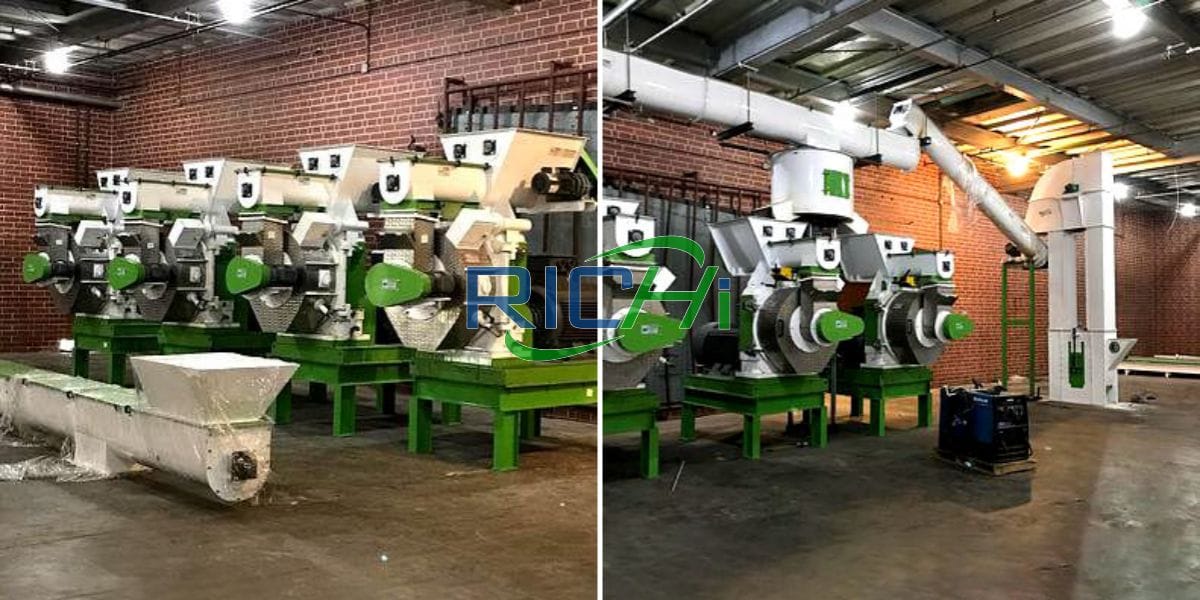 10T/H
biomass pellet mill plant in united states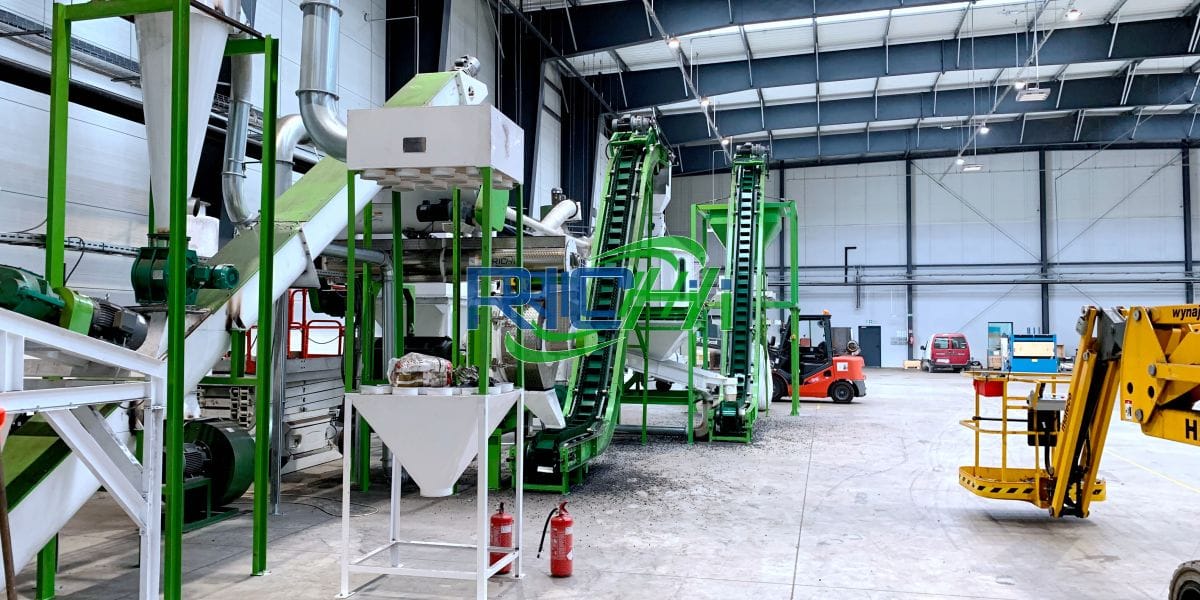 2T/H
biomass pellet processing plant in poland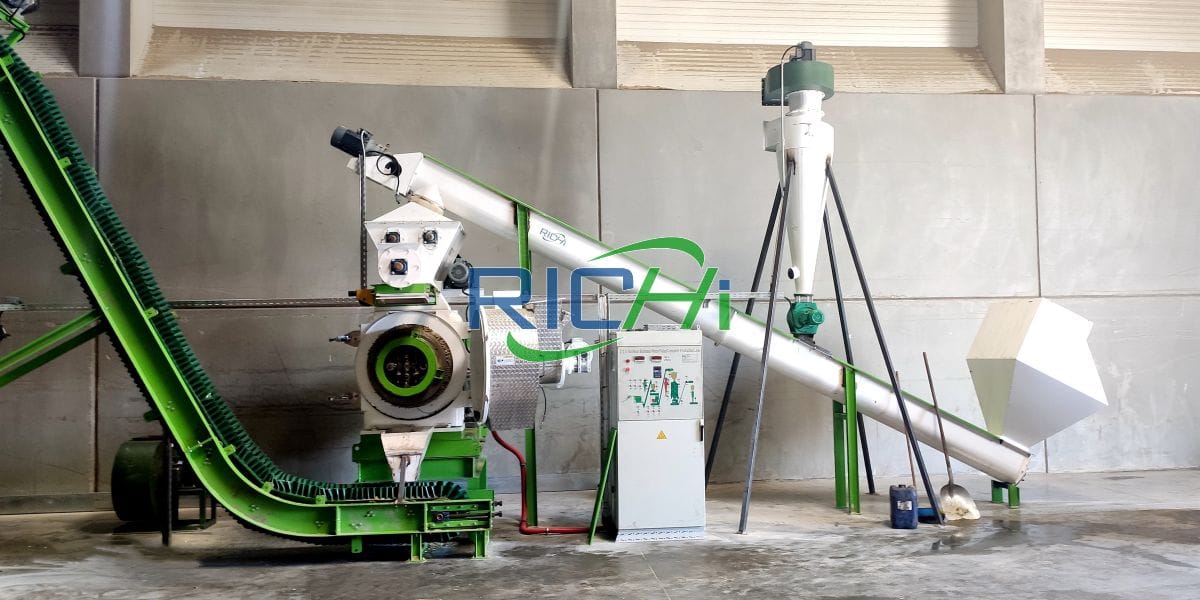 2-2.5T/H
biomass pelletizing plant in romania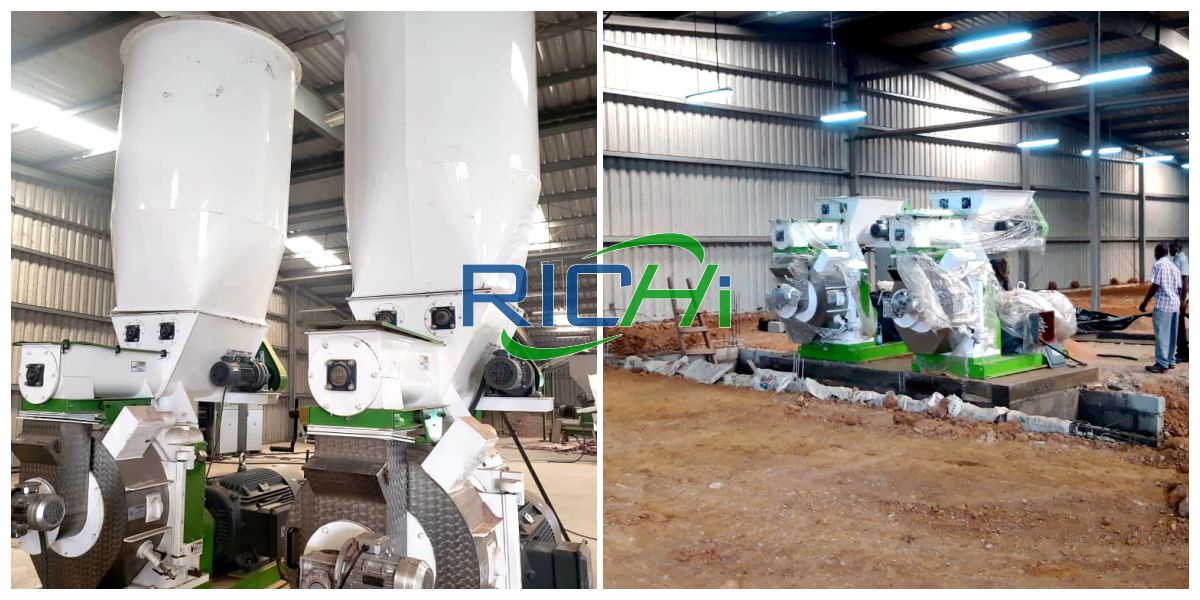 5T/H
biomass pellet production line in austria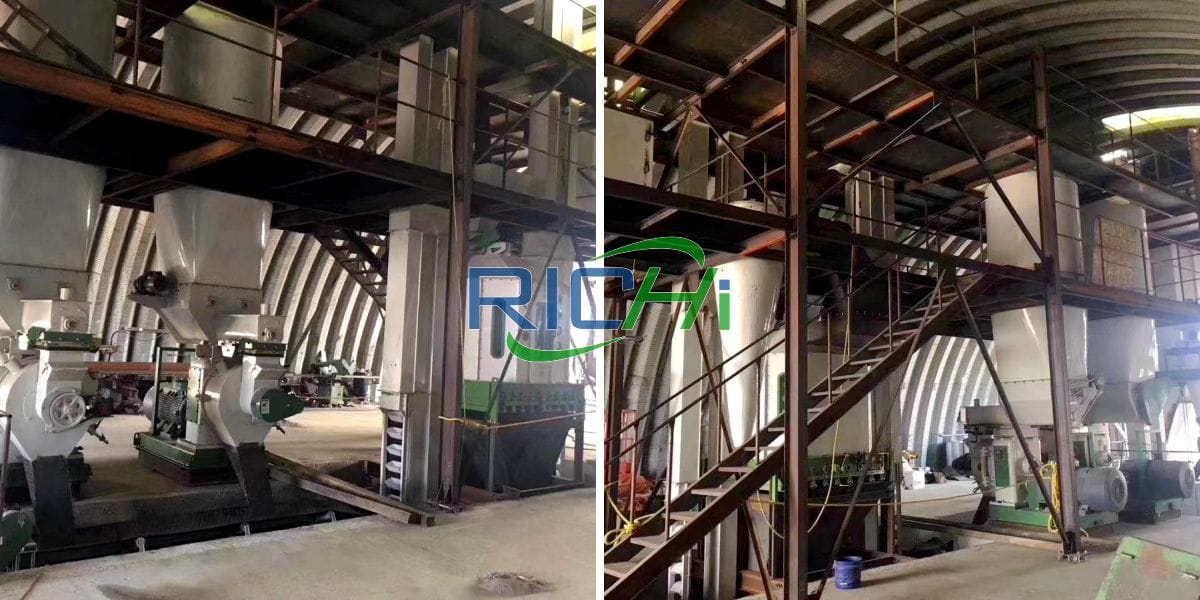 5-6 t/h biomass pellet business Project Report
There are huge business potentials to start biomass pellet plant. Not only can one outsource to individuals or small communities, but also big corporations and industries. The selection of the right biomass pellet equipment and technology for a biomass pelleting plant is critical when establish your own biomass fure biomass pellet manufacturing business.
Next, I will list two biomass pellet making plant projects we have done for you, hoping to help you.
[Case 1] 5.5 t/h biomass pelletizing plant construction project
The client of this project is a biotechnology company, which invested 450,000 US dollars to build a biomass pellet production line with an annual output of 30,000 tons. The customer chooses very common chaff and wood chips as raw materials, and the extruded products will be exported as solid fuel.
After the project is completed and put into operation, it will not only be able to use a large amount of waste, solve the reuse of waste such as chaff waste and wood processing waste, but also increase local jobs and protect the environment, which has very good economic and social benefits.

Products plan: annual production 30000 tons of biomass pellet fuel, when to produce 5.5 tons per hour
Total investment: 450000 dollars
Power: 800000 Kwh
Employee: five people
Working system: working days 340 days throughout the year, working time is 16 hours a day (two shifts)
Factory transportation: main raw material through external acquisition vehicle transport into the plant raw material yard, across the road is smooth, cargo distribution, meet the requirement of transportation, and raw material is entered into the biomass pellet line, conveyor belt products all adopt the car out of the factory sales.
Construction content
Major projects: 1 production workshop (900 m²), biomass pellet production line, a total of 4 (with chaff as raw materials to produce 3, 1 of wood raw materials production lines), the configuration of pelletizer, its annual output of 30000 tons of biomass pellet fuel.
Supporting engineering: the office (100 m²).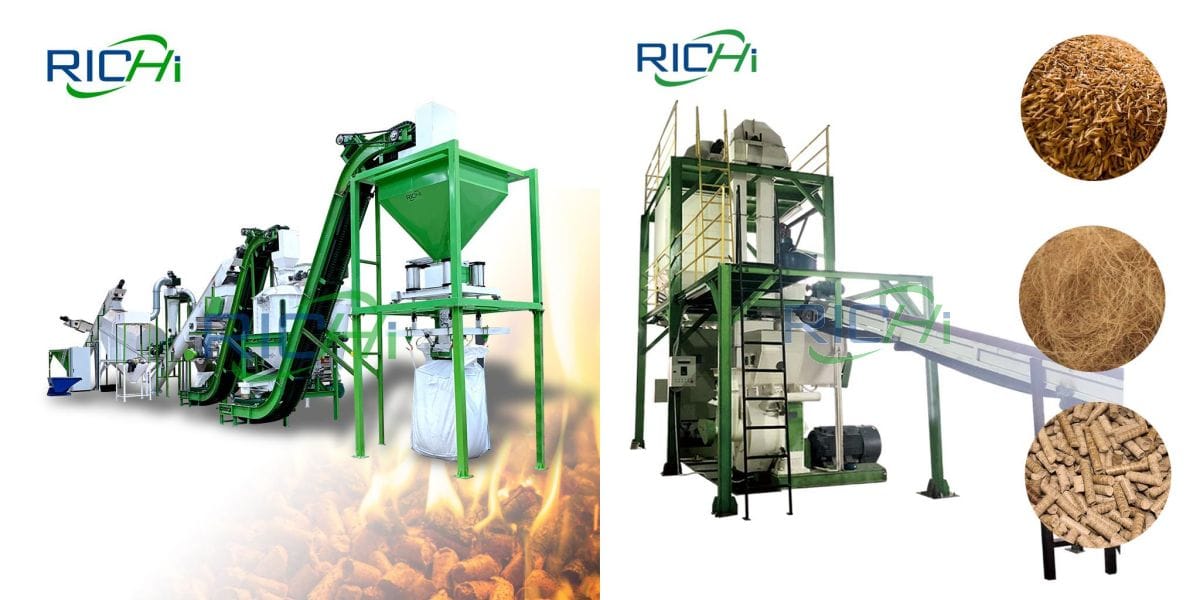 Main raw and auxiliary materials
| Name | Dosage | Finished product |
| --- | --- | --- |
| Chaff | 25000 t/a | 22500 t/a |
| Wood chips | 10000 t/a | 7500 t/a |
Main biomass pellet processing equipment
| Name | QTY |
| --- | --- |
| Biomass pellet making machine | 4 |
| Cloth bag dust collector | 1 |
| Belt conveyor | 4 |
| Crusher | 1 |
| Biomass dryer | 1 |
| Microtome | 1 |
| Forklift | 1 |
| Weighbridge | 1 |
| Transformer | 1 |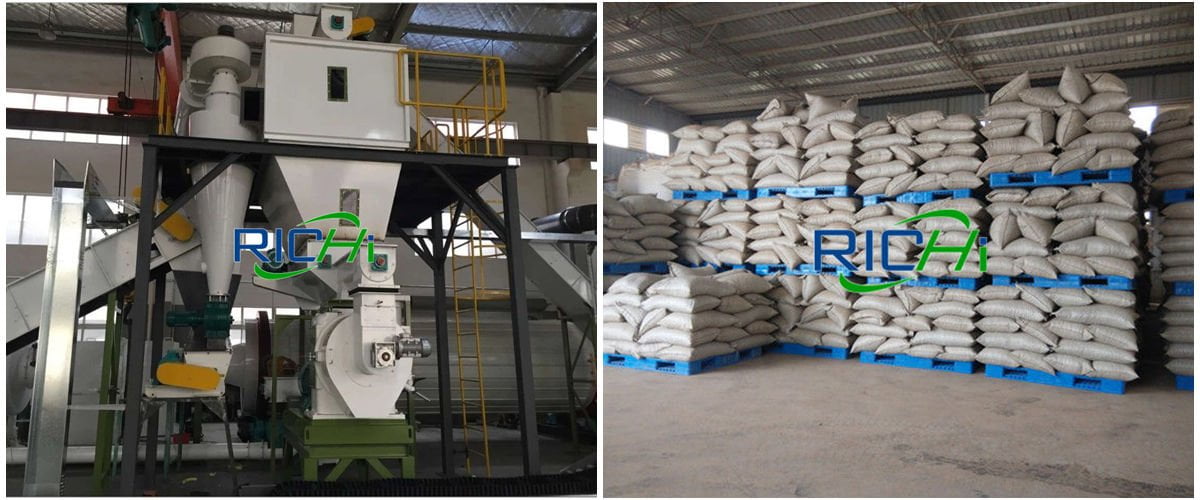 Biomass pellet production process design
Brief description of 5.5 t/h biomass pelletizing plant process flow:
Raw material preparation section: raw materials of the project are transported by car for reserve in the raw material storage yard.
Slicing and crushing: the wood raw materials are sent to the slicing machine and then to the crusher for crushing into raw wood chips.
Drying: The crushed sawdust is transported to the dryer for drying through the belt, and the dryer uses a biomass pellet drying furnace for heating.
Granulation: the husk and dried wood chips are transported into the belt to the granulation machine, and the raw materials are pressed into granule shape under high pressure.
Cooling: The temperature of the pressed biomass pellets is generally 50-60℃. In the case of packaging, they need to be cooled and transported to the finished product yard for packaging after cooling by the suspension plate.

For unqualified products can be repeated as raw materials, reprocessing, recycling. The biomass fuel after molding is small in volume, heavy in ratio, resistant to combustion and easy to store and transport.

Note:
The 5.5t/h biomass pelletizing plant project raw materials, auxiliary materials and finished products need to be transported into the factory from the outside, large volume. Vehicles entering and leaving the project and driving in the project every day are mainly raw material transport vehicles and finished product transport vehicles. Among them, raw materials need to be transported 4,000 times a year and finished products need to be transported 3,500 times a year.
The 5.5t/h biomass pellet making plant project used in the process of wood drying heat drying furnace burning biomass pellets will blow to the dryer drying way, according to the RICHI engineer calculation, the dryer every year to consume 200 tons of biomass granule.
The project configuration of drying furnace, every year will produce 20 tons of ashes, RICHI advising clients to set the storage yard of wind rain, after the unified collection sold to neighboring farmers for ashes farmland as inorganic fertilizer.
5.5 t/h biomass pelletizing plant layout
The general layout provided by RICHI engineers has made the functional zoning clear, with production area and office area set up. Combined with the characteristics of customer production, we organize the flow routes of raw materials, finished products and production personnel respectively, so as to achieve the requirements of distribution and convenient management.
We placed the production area in the south of the factory, and the auxiliary buildings and office buildings in the north. This can meet the production and use requirements and the reasonable layout of the production line, convenient transportation.
We set the entrance and exit of raw materials and finished products in the west of the factory. From the perspective of streamline organization, the flow of people and logistics are distinct and basically do not cross each other, which is conducive to enterprise management and the safety of enterprise employees.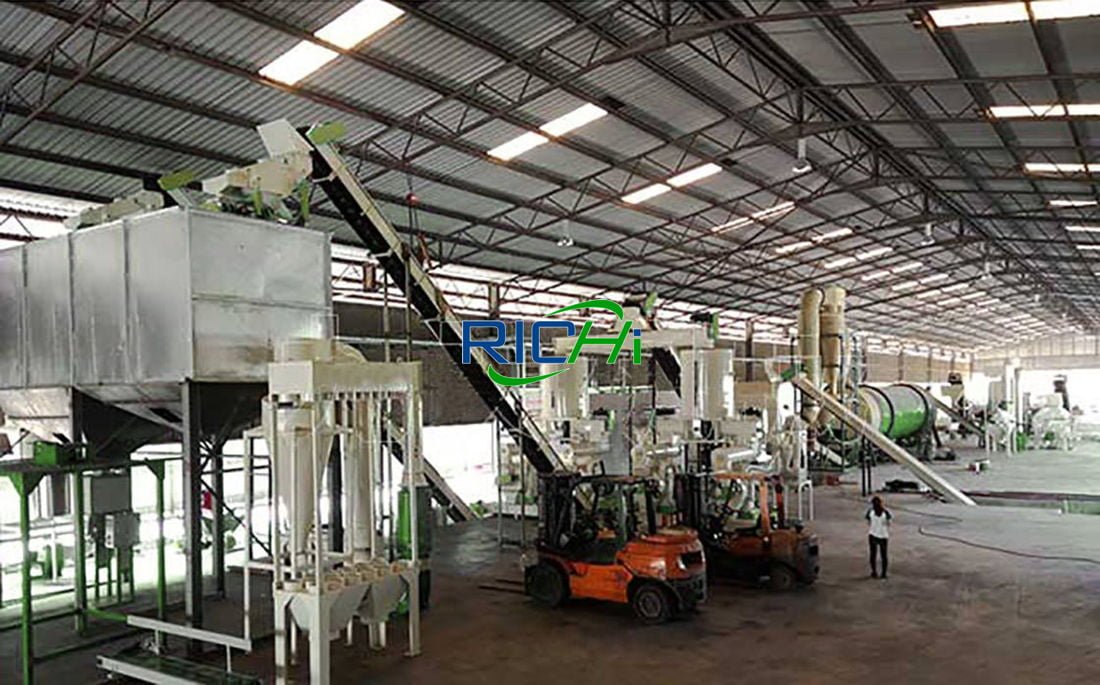 According to the completion of the final project, from the perspective of environmental protection, Engineer RICH suggested that the customer strengthen the planning of plant greening, increase the greening rate of the factory, carry out turf greening and planting trees on the existing open space, ensure the green area, so as to improve the plant environment and beautify the plant.
[Case 2] 6 t/h biomass pelletizing plant project
Origin of the project
The client company is an agricultural and forestry technology development company with its own research and development center.
Also the customer company has been studying the reasonable proportion of wood waste powder, straw powder, lignin as raw materials, the production of efficient biomass pellet fuel with higher combustion efficiency, and more environmental protection.
In order to make use of its own technological achievements, the customer company decided to invest in the construction of the project with an annual output of 15,000 tons of biomass pellet fuel through research, so that the production of this biomass pellet fuel can be more widely used as soon as possible, and quickly promoted to industrial production and civil fields.
In fact, the use of a variety of raw materials processing biomass pellets is the current trend of biomass pellet processing industry. But the ratio of different raw materials is also relatively important, especially for customers who want to process high calorific value biomass pellets.

The client of this project is quite typical, because he wants to export the final finished pellets, so as to obtain higher benefits with lower raw material cost.
Total investment: 650000 dollars
Construction properties: the new
Plant area: 1000 square meters.
Scale of production, annual production of 15000 tons of biomass pellets
Labor capacity: 25 people, including 20 people live factory, five people don't live plant.
Working system: work 300 days, 8 hours of work, system of a single class.
Consumption of raw and auxiliary materials
This 6t/h biomass pelletizing plant project makes full use of surrounding enterprises to produce waste wood scraps powder, straw powder and lignin powder to process biomass forming fuel pellets, and consumes about 15,000 tons of various biomass scraps every year.
| Name | Annual consumption (t/a) |
| --- | --- |
| Wood Scraps powder | 9600 |
| Straw powder | 3400 |
| Lignin powder | 2000 |

Energy consumption
| Name | Consumption |
| --- | --- |
| Water (ton/year) | 1526 |
| Electricity (kwh/ year) | 270,000 |
| Biomass waste (t/a) | 2200 |
Project composition
This 6t/h biomass pelletizing plant project leases a local open space for construction and production, with a total land area of 1000m² and a main building area of 1000m². The production workshop, finished product yard and raw material yard of this project are all newly built.
Production workshop, covers an area of 1000 square meters
Finished product storage area: in the production workshop with a finished product stacking area, covers an area of 200 square meters
Raw material yard, in the production workshop with a raw material stacking area, covers an area of 200 square meters

The biomass pellet factory designed by RICHI for customers is composed of finished product warehouse, production workshop, boiler room, bag dust collector for waste gas treatment facilities, etc.
According to customer requirements and process flow, our project is to arrange the production workshop of the factory from northwest to southeast into raw material storage yard, granulation workshop, bag dust collector for waste gas treatment facilities, finished product warehouse and boiler room.
Main production equipment
| Device name | QTY |
| --- | --- |
| Biomass pellet mill machine | 3 |
| Conveyor belt | 2 |
| Screw conveyor | 1 |
| Feed bin | 1 |
| Finished product warehouse | 1 |
| Electric cabinet | 3 |
| Double Cloth Bag Vacuum Cleaner (with side hood) | 2 |
| 4 tons biomass boiler | 1 |
6 t/h biomass pelletizing plant Process flow
Because the raw materials of the customer are directly purchased clean wood scraps powder, straw powder, lignin powder, so the whole process is not need to be crushed, only need to mix and dry after feeding into the silo.
And then through the screw conveyor into the biomass pellet mill, compression granulation molding, finally the biomass granule finished products with packaging bags, storage.
Drying: Raw wood leftover powder, straw powder, lignin powder, etc. are dried by a 4t/h biomass boiler. According to the information provided by customers, not every purchase of raw material moisture is too high.

If the acquisition of these powdery biomass water is low, there is no need to dry, our engineer specially designed customers feed port, can directly send raw materials into the biomass pellet granulator.
(A 4t/h biomass boiler is built in this project. Its main function is to provide steam for the drying process of this project, and the excess energy is to supply gas for production in nearby factories.)
Feeding: scrap wood powder, straw powder materials purchased, lignin powder blend to input into the bunker;
Granulation: after mixing of the raw material by a screw conveyor into biomass pellet mill granulator, made by extrusion products, extrusion process for physical process, not add any glue adhesion agent, don't react, in addition to the feeding ground dragon joint and discharging mouth and outside, production equipment and material transportation process for sealing;
Packing: by the biomass pellet press granulation after the completion of the product packing, packaging, warehousing.
If you are interested in building a 5-6t/h biomass pelletizing plant, please contact Richi Machinery for solutions! Our technical consultants will customize pellet production line plans for you, and send pelleting system equipment quotations, equipment configuration lists, completed project sites pictures and videos.
LEAVE YOUR NEEDS
Keeping in touch with us is an effective way to solve all your problems. If you have any needs or questions, please leave your contact information, then RICHI technical consultants will send design, quotation, videos to your mailbox. You can also contact us directly via WhatsApp: +86 13838389622