1-160T/H customizable pig feed mill solution
---
The pig feed mill is a system for processing pig feed at various stages. By adopting advanced technology and high-quality equipment, and adopting strict quality control measures, we ensure that our pig feed production line contributes to the overall profitability of your feed mill.
Capacity: 1-160T/H
Cost: 10,000-5,000,000 USD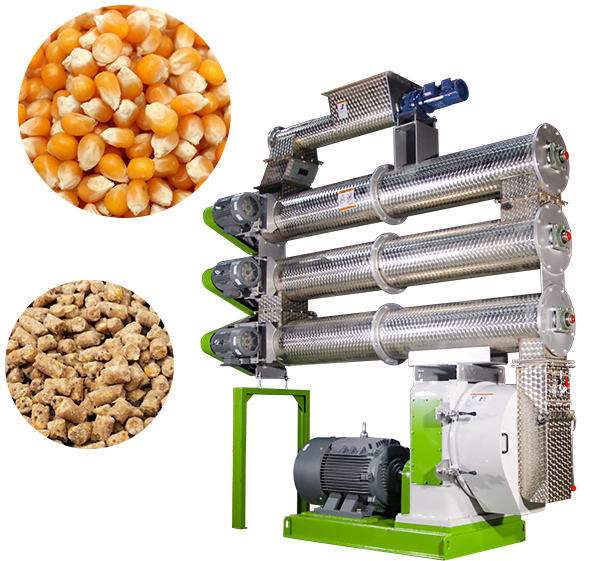 Pig feed is an important part of successful pig farming as it directly affects the animal's growth, health and overall performance. how to make pig feed? how to make hog feed? Start your complete pig feed mill plant!
Our pig feed mills solution can meet the processing of pig feed in different growth stages. From the starting feed of piglets to the rations of growing pigs and finishing pigs, we provide corresponding pig feed production processes and equipment.
Application: for manufacturing pig pellet feed, powder feed, pig premix, etc.
Business scope: build new pig feed factory, expansion of pig feed plant, transformation of pig feed factory
Richi Machinery has been recognized as a leader in pig feed mill design and construction for many years. Throughout our history we have built small, specialized pig feed mills and enormous commercialized feed mills.
RICHI builds with both steel or slip form concrete mills depending on which method provides the greatest benefit at the best value. RICHI pig feed mill plants are used to feed swine and other livestock and poultry animals.
Types of Pig Feed mill
organic pig feed mill
hog starter feed mill
baby pig feed plant
commercial pig feed mill
hog finisher feed plant
pig creep feed mill
Swine Mineral Premix Mill
growing pig feed mill
fattening pigs feed mill
sow pig Feed Production Line
aqua & pig feed mill
poultry & pig feed mill
cattle & pig feed plant
…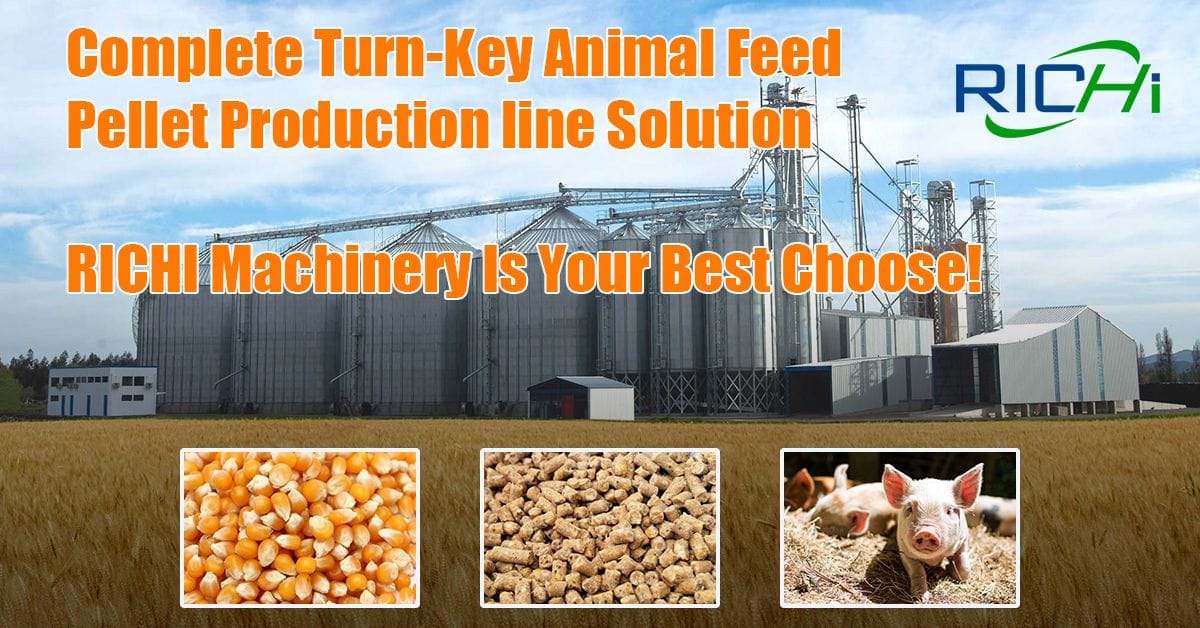 With our custom pig feed production line, you can process pig feed products with confidence, maximize feed mill output, and ultimately contribute to the success of your swine feed mill.
Pig feed mill process design
RICHI has been linked to the feed sector since 1995 and covers every process within the pig animal feed mill plant. Today RICHI is the leading Chinese company in the production of machines and turnkey plants for the production of pig feed.
We design, build, assemble and start up our complete plants with hourly production ranging from 1 to 160 tons/h. Our machines and swine feed mills are present in 6 continents.
How to make pig feed? With our pig feed making machines we meet all the processing requirements within the hog feed mill: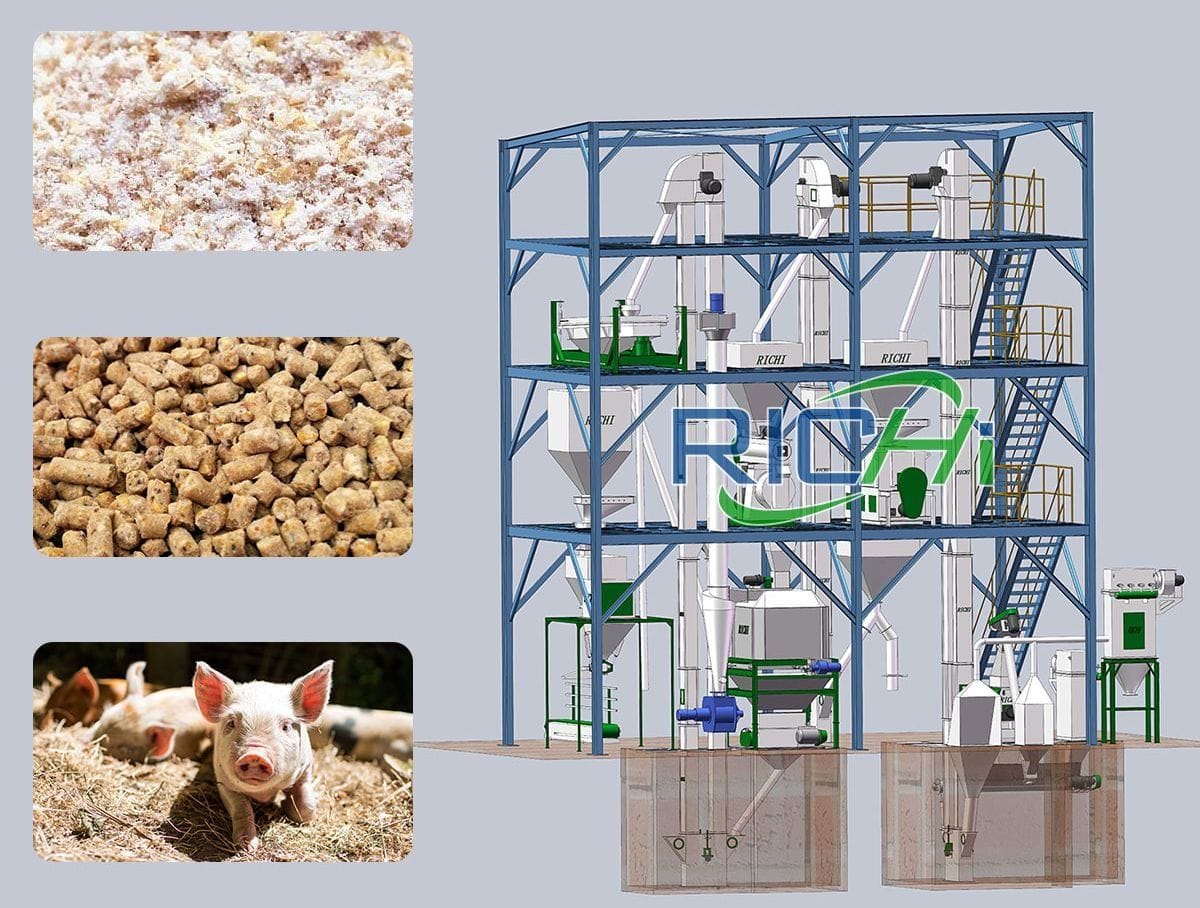 Reception of raw materials and handling
Raw materials cleaning
Storage and batching
Microingredients and premixes dosing systems
Liquid batching unit
Grinding
Mixing
Conditioning and pelleting
Cooling
Crumbling
screening
Bagging
storage
The above pig feed production process is mainly for pig feed pellets, if you want to process powdered feed or pig feed premix, if you need more information about our pig feed mill solutions, fill out the form and we will assist you as quickly as possible.
Pig Feed mill Equipment list
Our swine feed mill equipment manufacturing division is dedicated to producing top-of-the-line machinery that guarantees superior performance and durability. Coupled with our expertise in feed mills, we help you streamline your production process, enhancing productivity and profitability.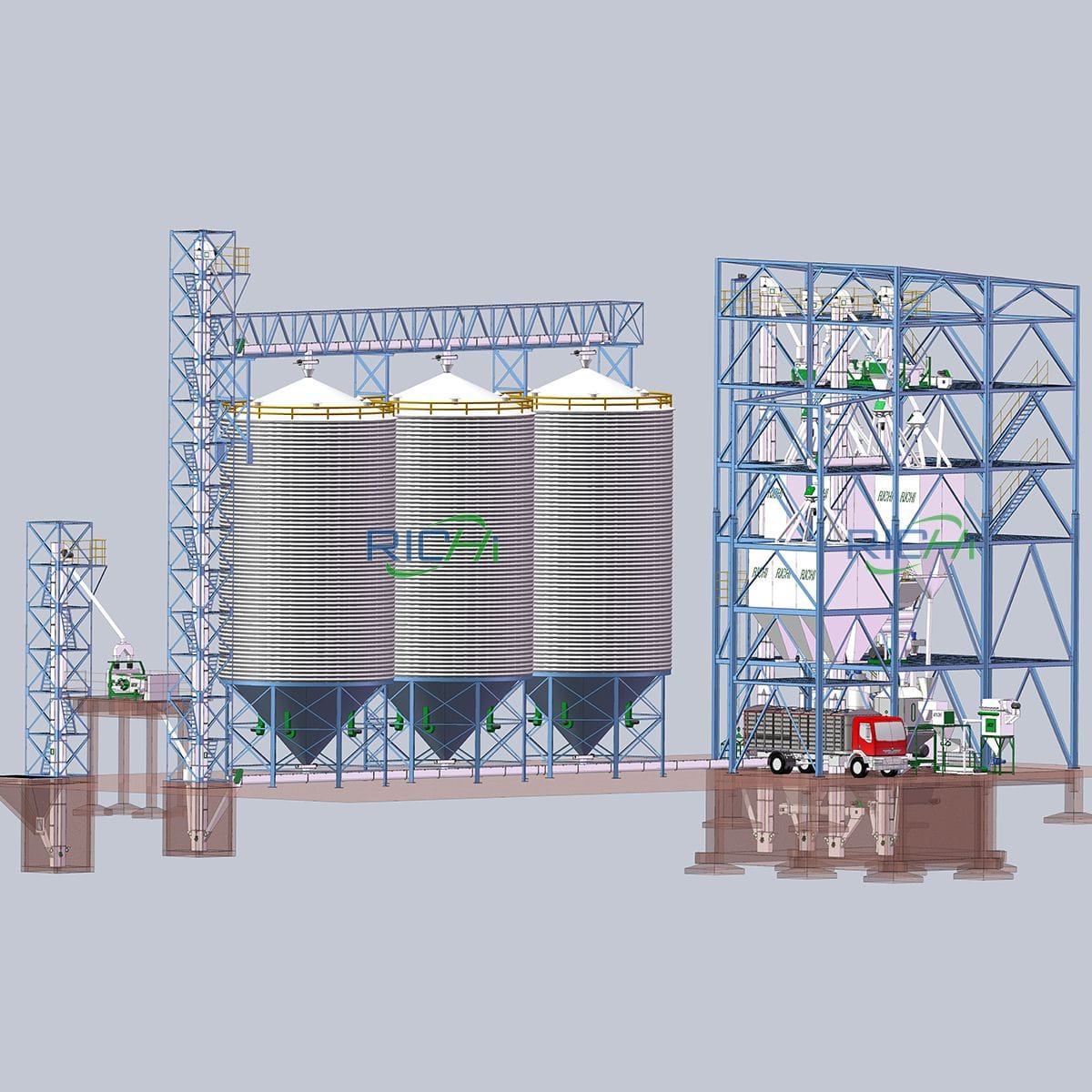 pork pig feed machines, including but not limited to:
Feed grinder
feed Mixers
pig feed Pellet mills
grain extruder, Pig feed extruder
Coolers
pellet crumblers
Screeners, feed cleaners, scalpers
Material handling equipment – drag conveyors, belt conveyors, bucket elevators
Packing machine
Feeder Screws
Batching and load out bins
Grain storage bins
Structural steel
boiler
Dust removal equipment
Main equipment to start swine feed production line: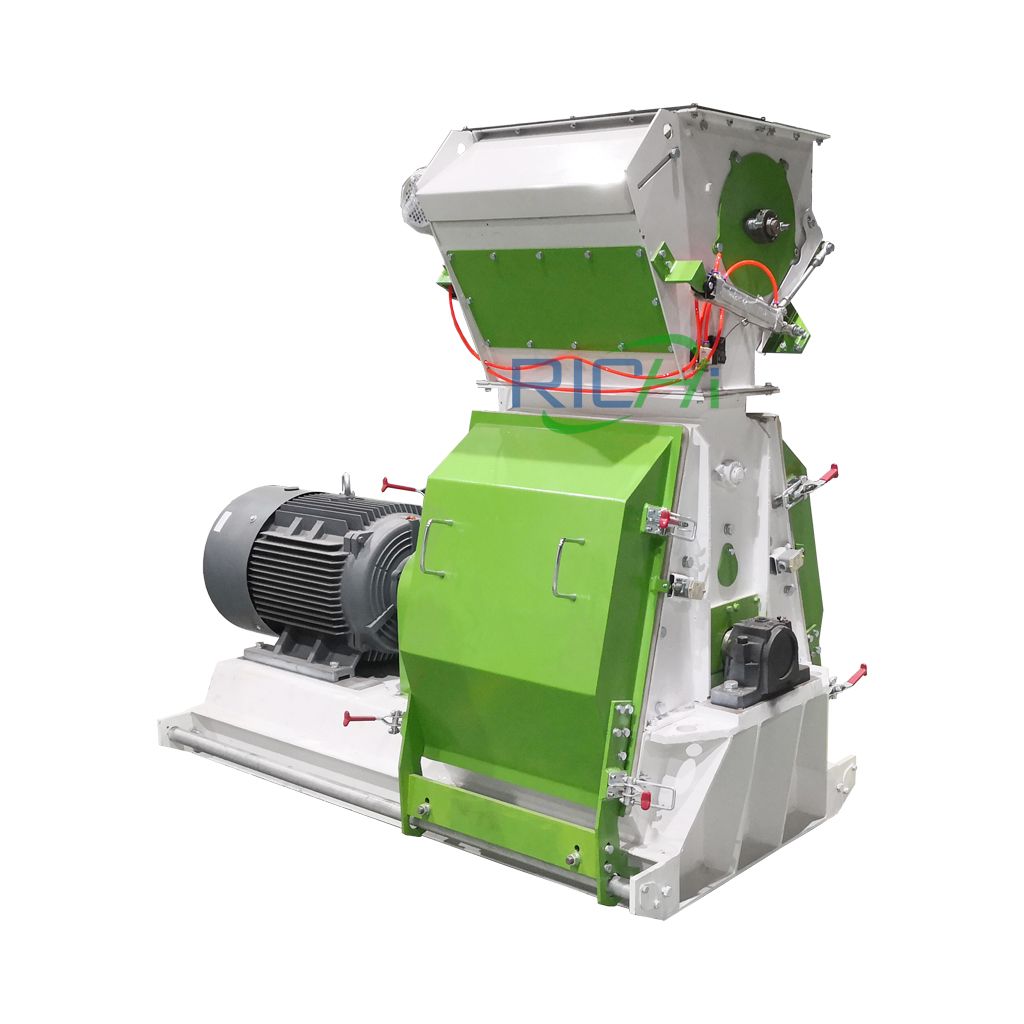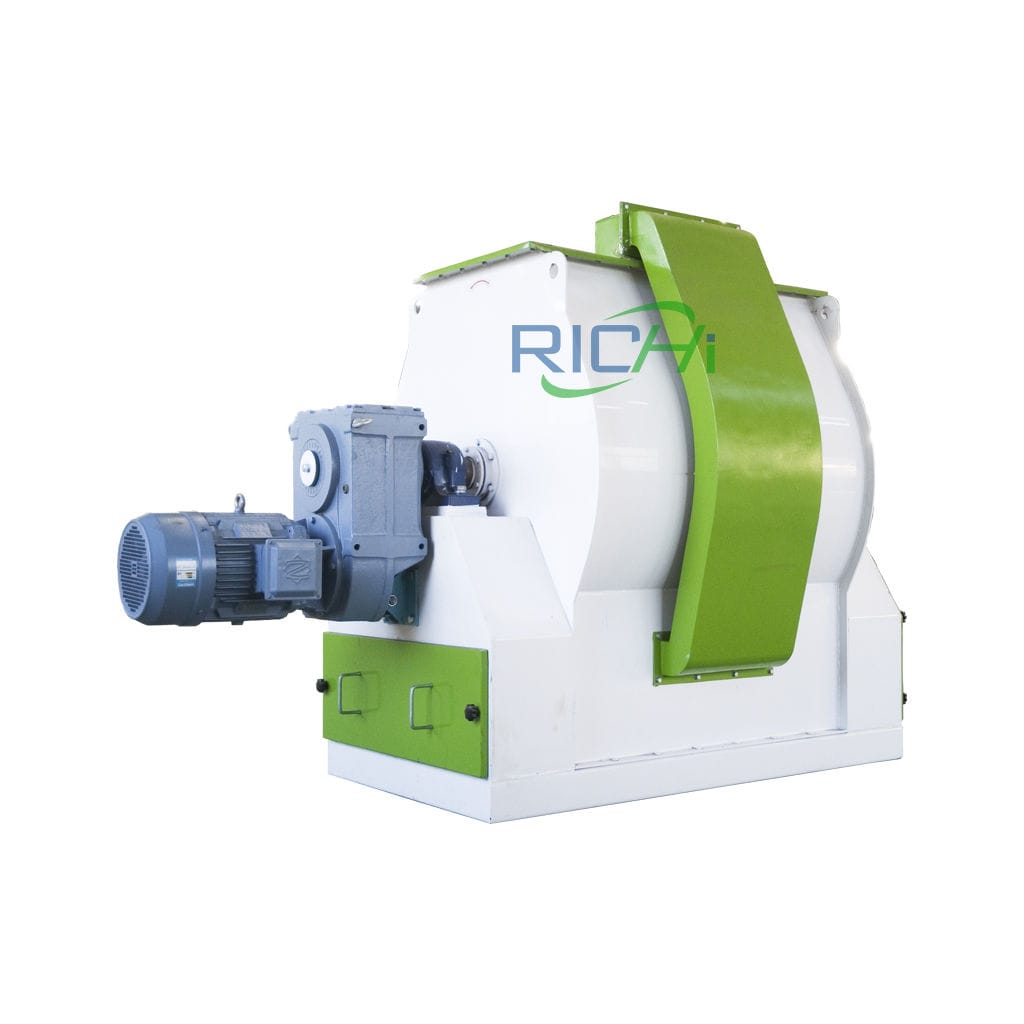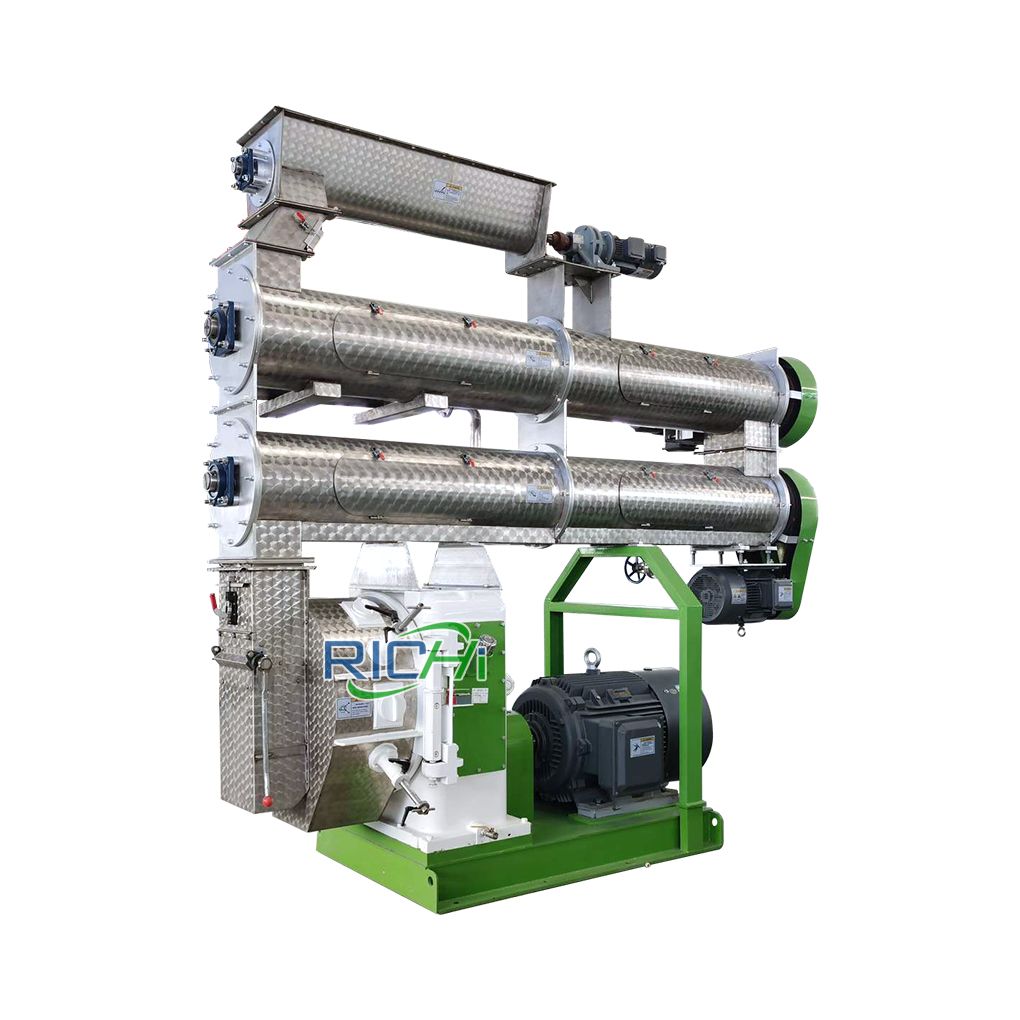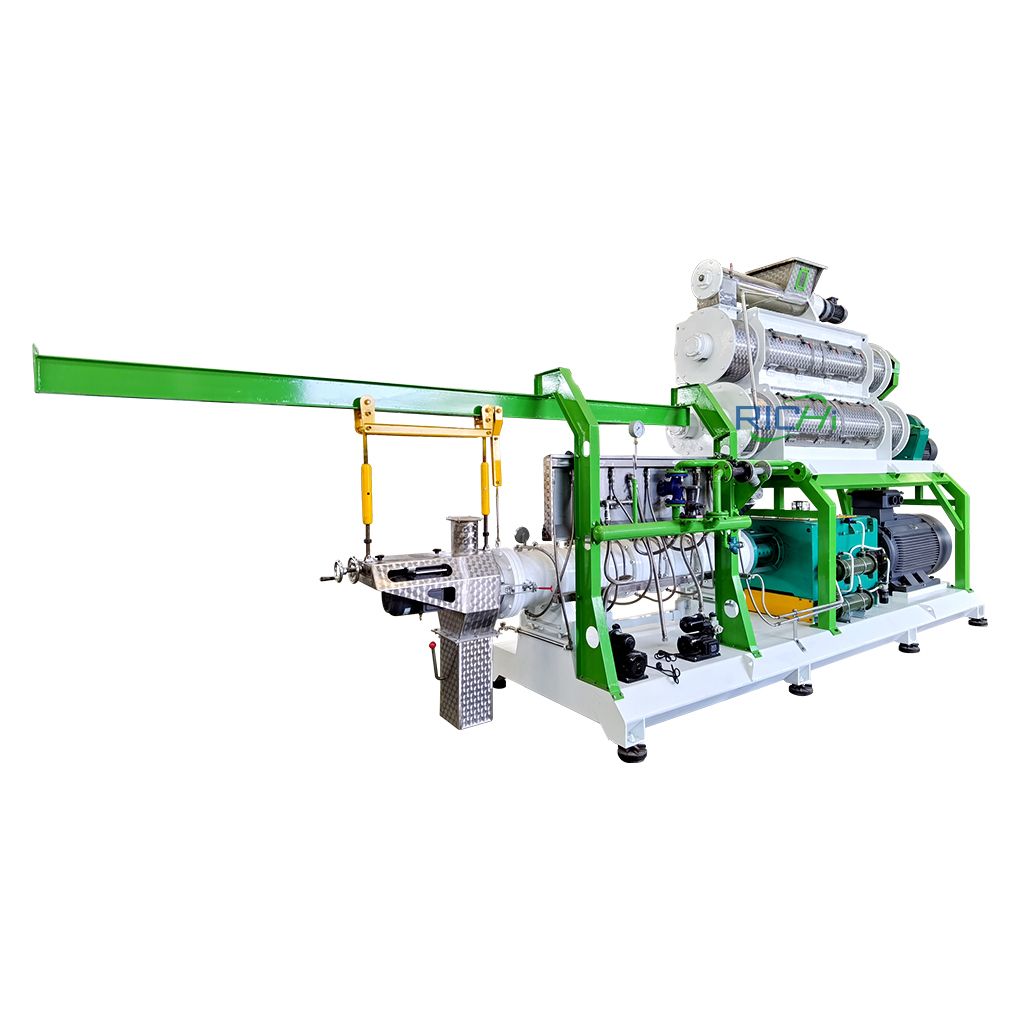 animal Feed Extruder
About pig feed mill equipment installation
Whether the construction of the pig feed mill factory meets the design requirements depends on seven points of technology and pig feed processing equipment, and three points on installation. Effectively controlling the quality of equipment installation process is the key to the construction of pig animal feed production line.
Before installation, the installation plan must be discussed and studied; during the installation process, process supervision must be implemented to ensure that every detail of the installation meets the requirements of the specification;
After installation, inspection and individual acceptance shall be carried out to ensure that the installation of each pig feed mill equipment has been quality confirmed.
Richi Machinery provides pig feed plant project scheduling and procurement of equipment, fabrications, building materials along with proven strategies that maximize value.
We do this by optimizing materials and processes, negotiating to minimize costs, maximizing tax benefits, and helping to maintain productivity and efficiency.
Pig feed mill projects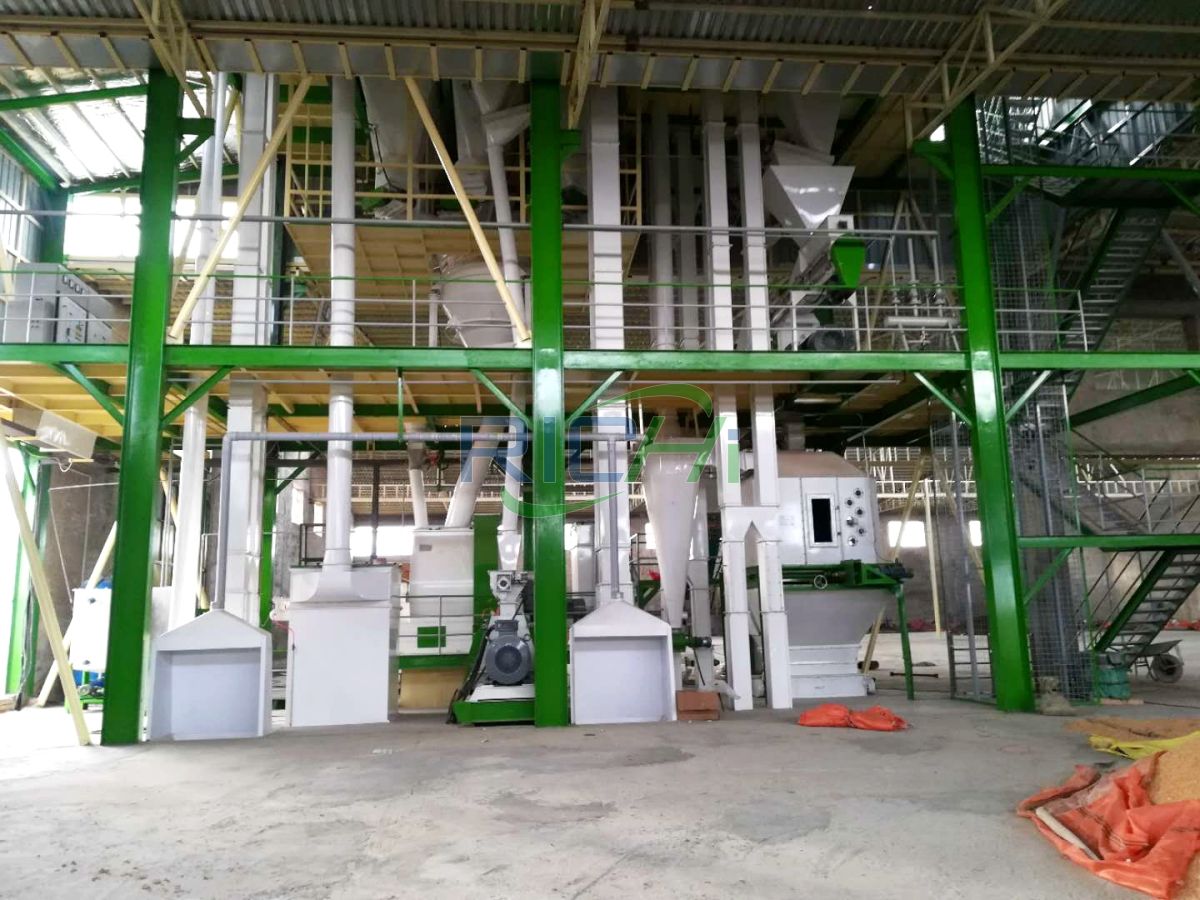 6-10T/H pig feed mill in United States
cost:320,000 USD
Date: Sep 31th, 2015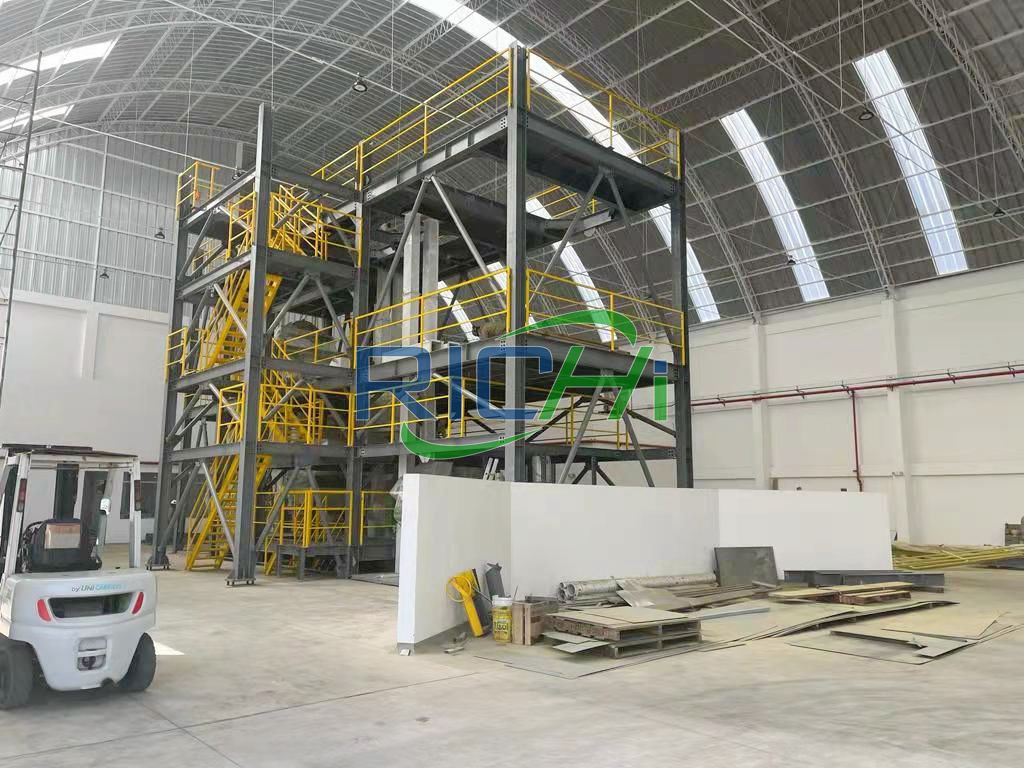 5T/H pig feed mill In Japan
cost: 220,000 USD
Date: February 2021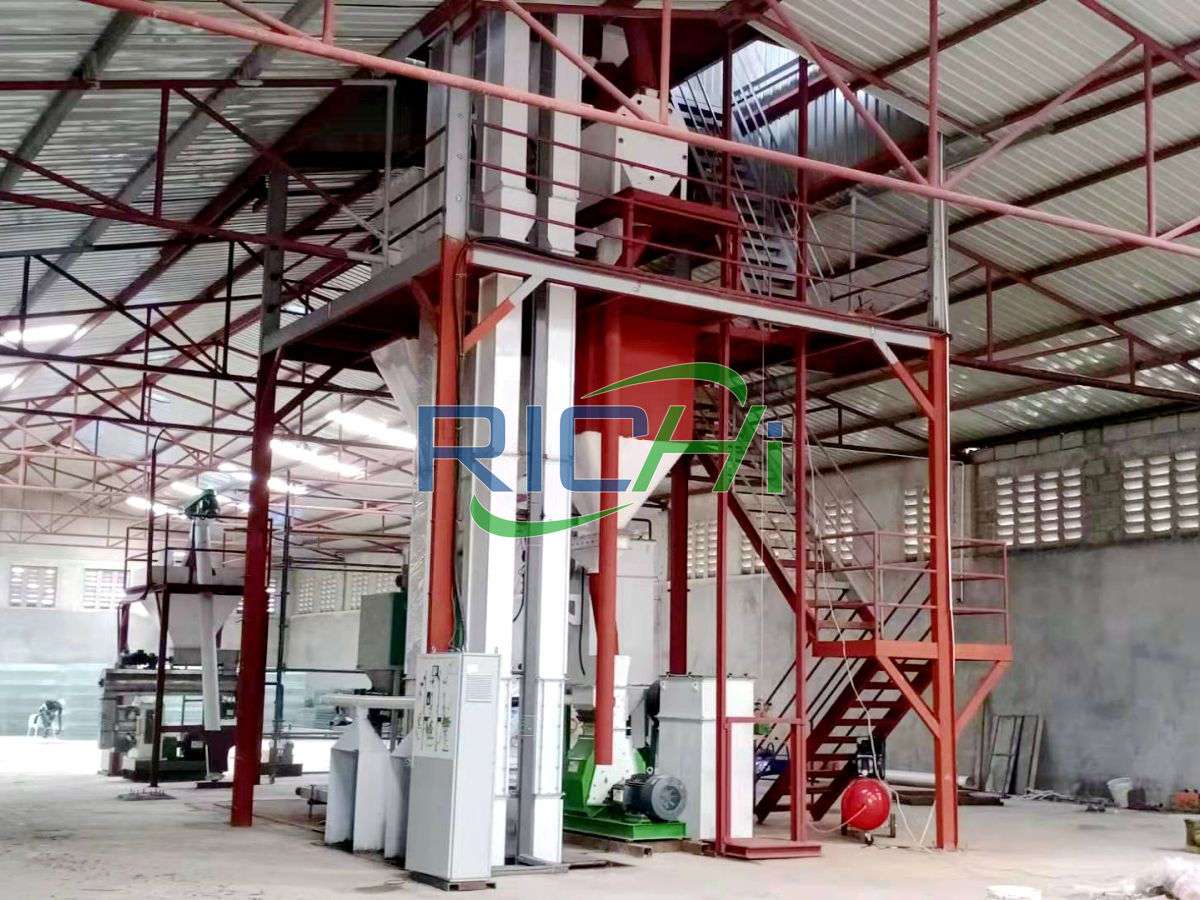 3-5T/H pig feed plant In fance
cost: 150,000 USD
Date: October 29, 2021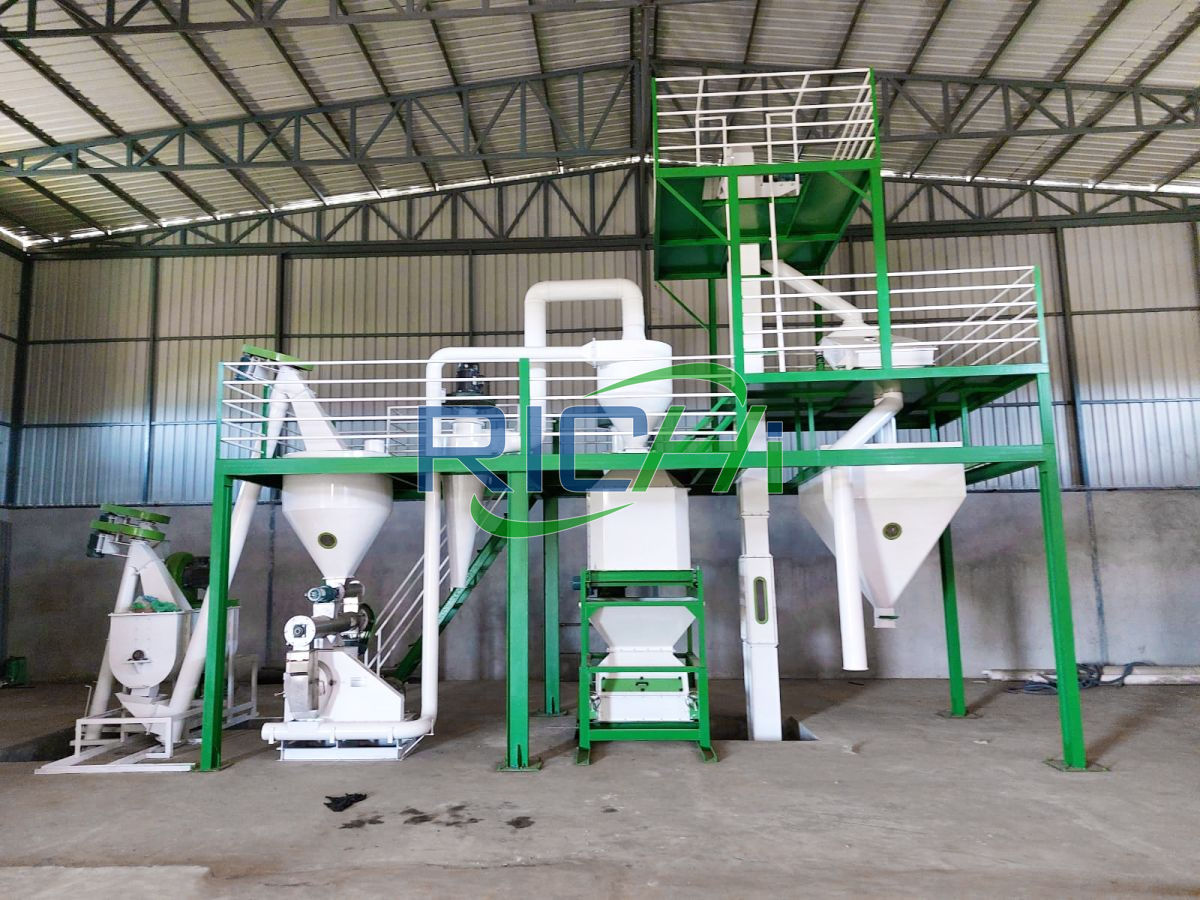 1-2T/H pig feed plant in the Philippines
cost: 29,000 USD
Date: June 30, 2020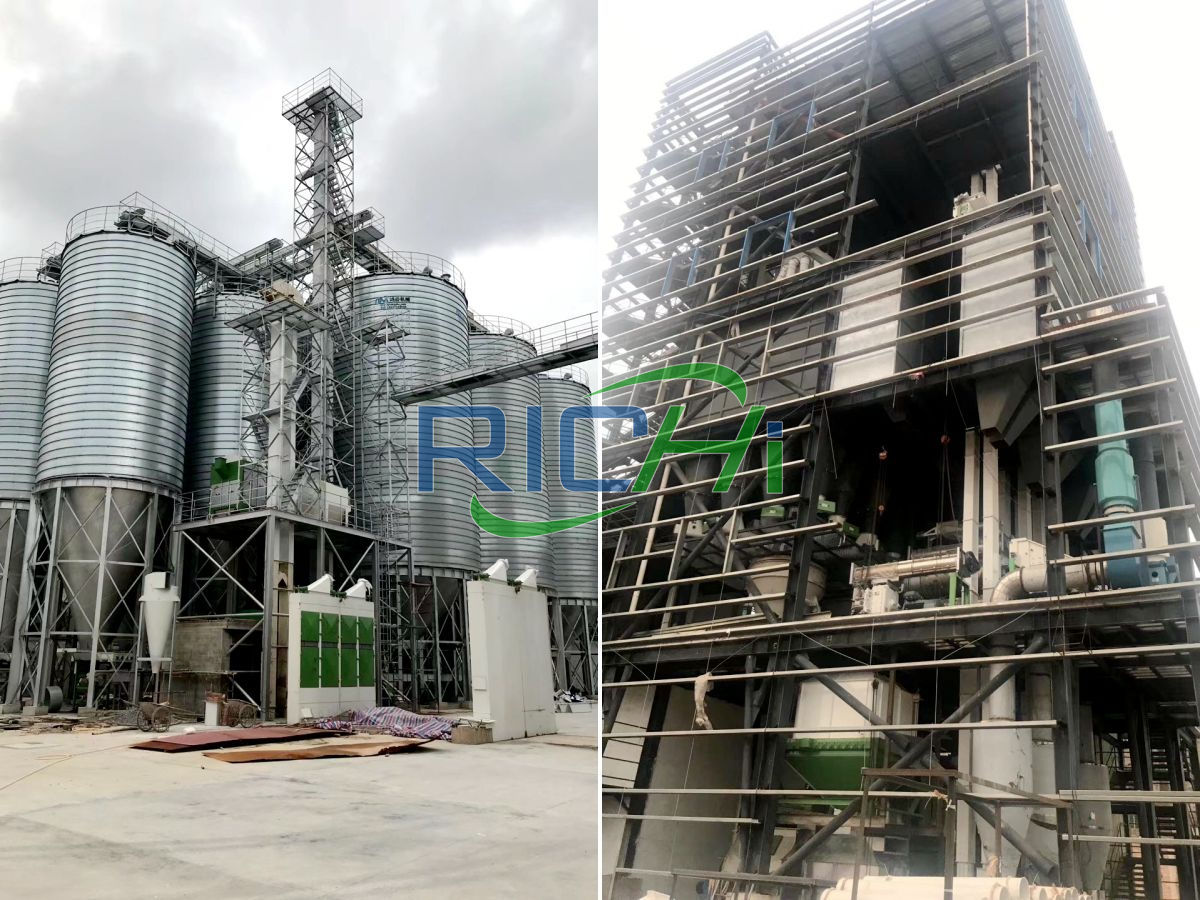 16T/H stock pig Feed Plant in Thailand
cost: 500,000 USD
Date: December 2020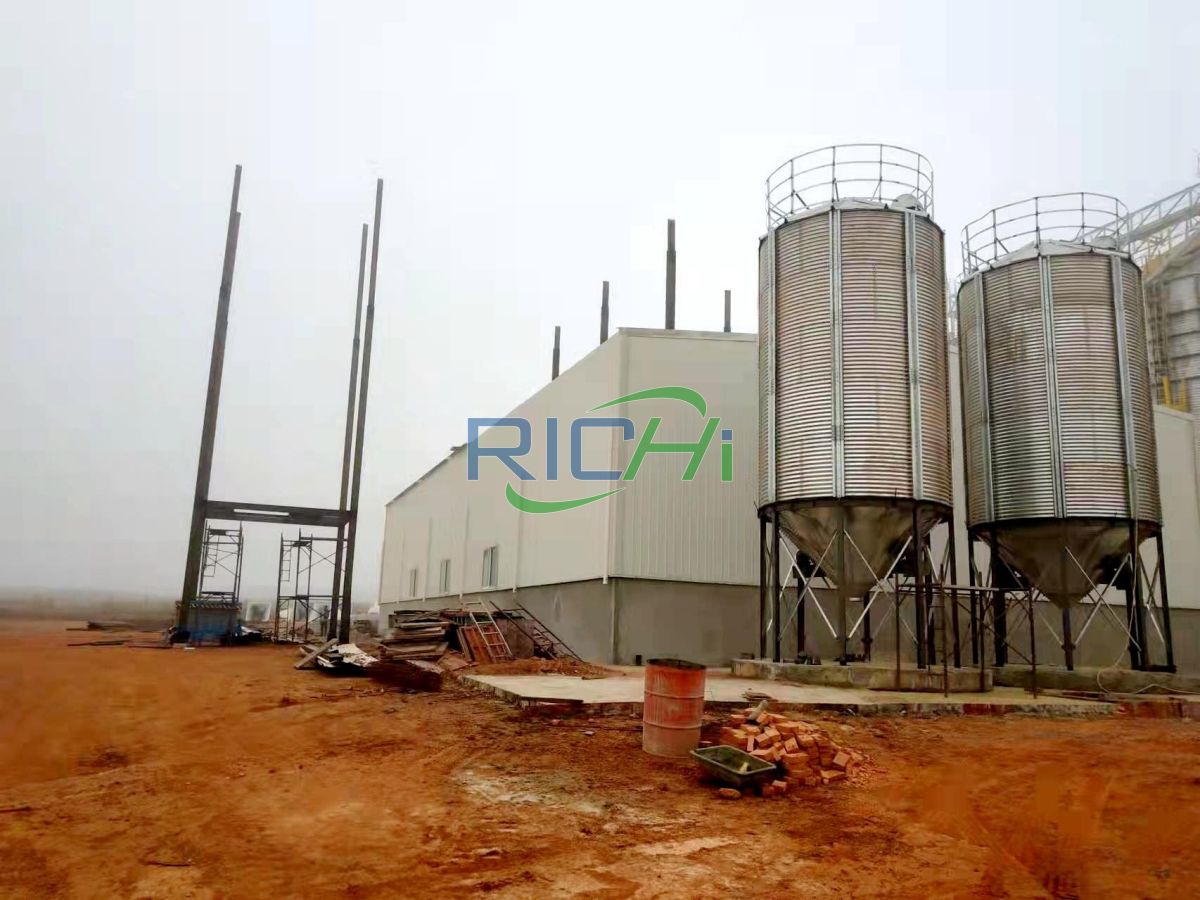 10T/H Livestock pig Pellet Plant in Mexico
cost: 460,000 USD
Project date: 2018.09.13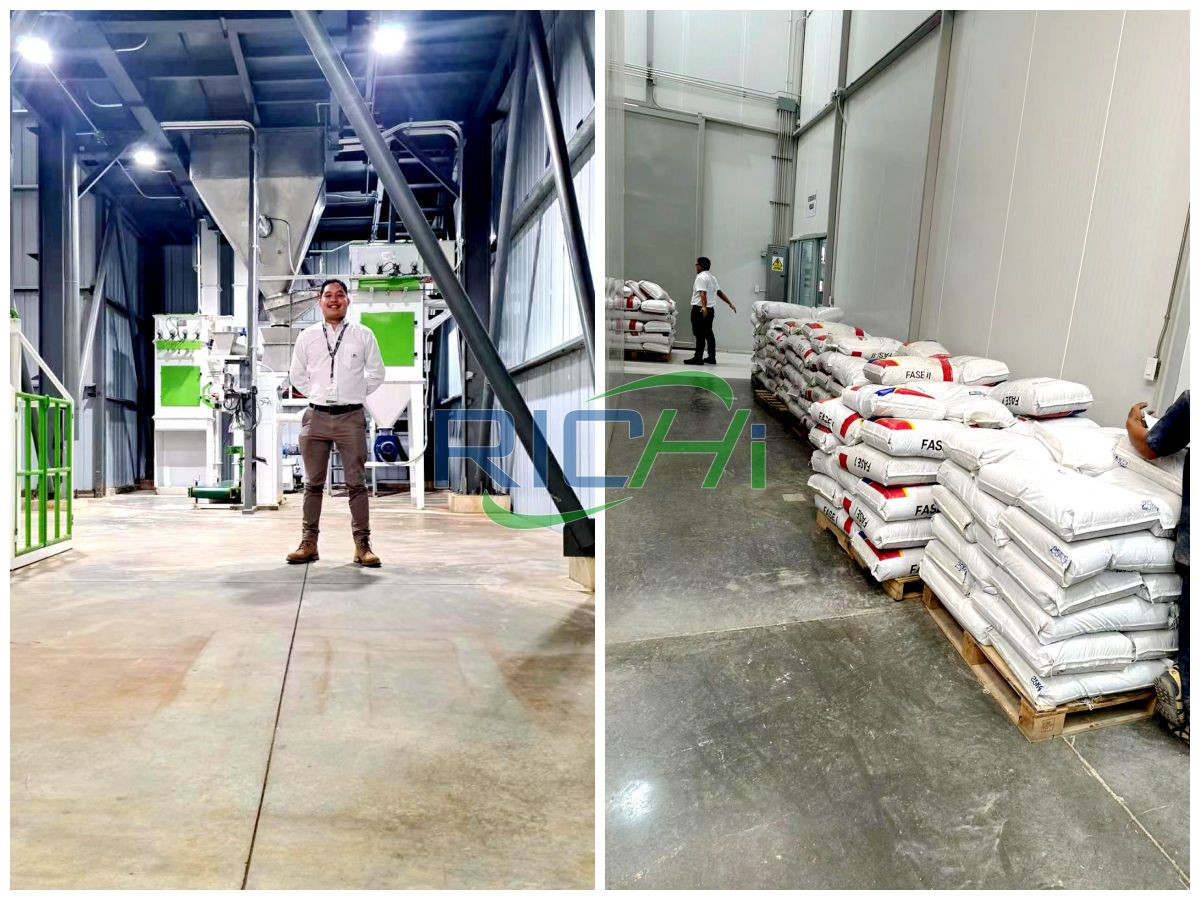 5 T/H pig feed mill for premix In El Salvador
cost: 480,000 USD
date: 2022. 09.13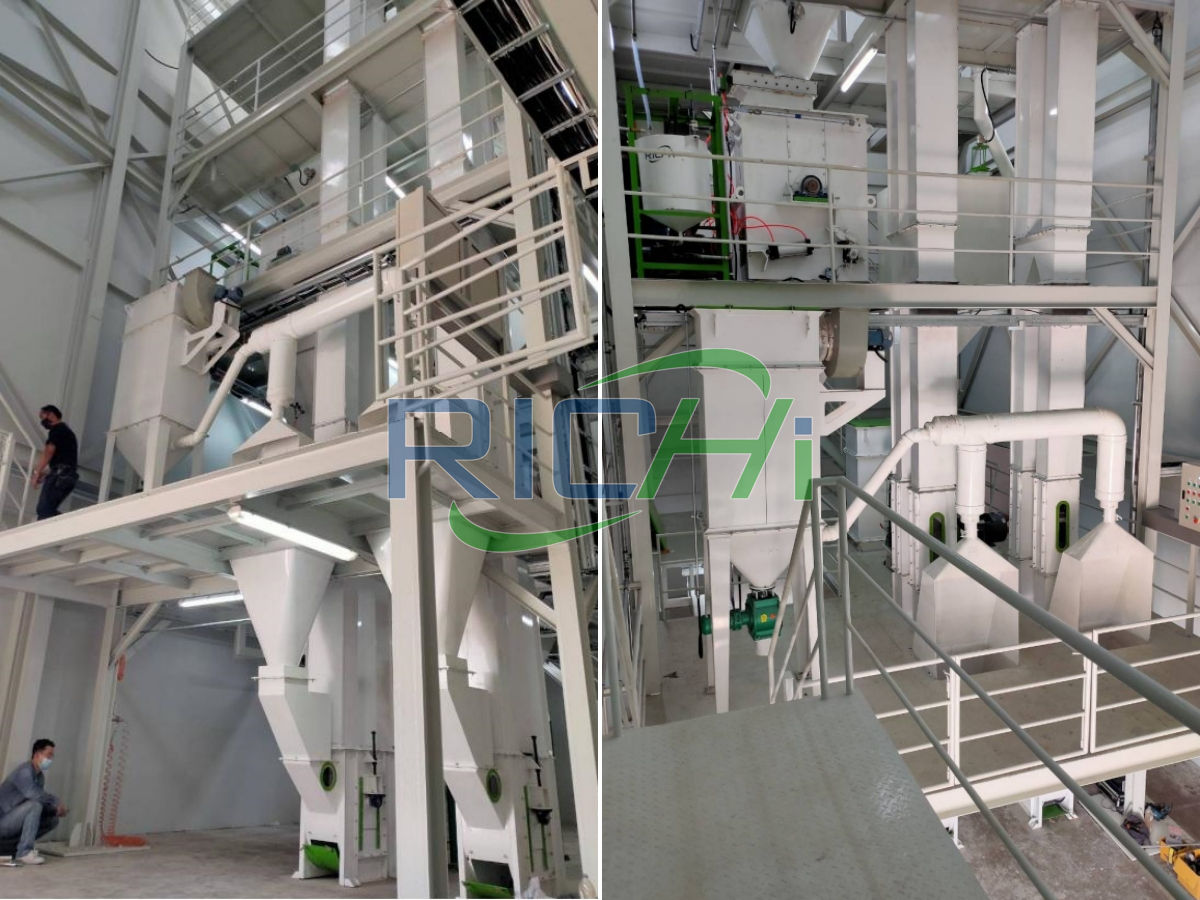 16T/H stock pig Feed Plant in Thailand
cost: 120,000 USD
date: 2021. 07. 22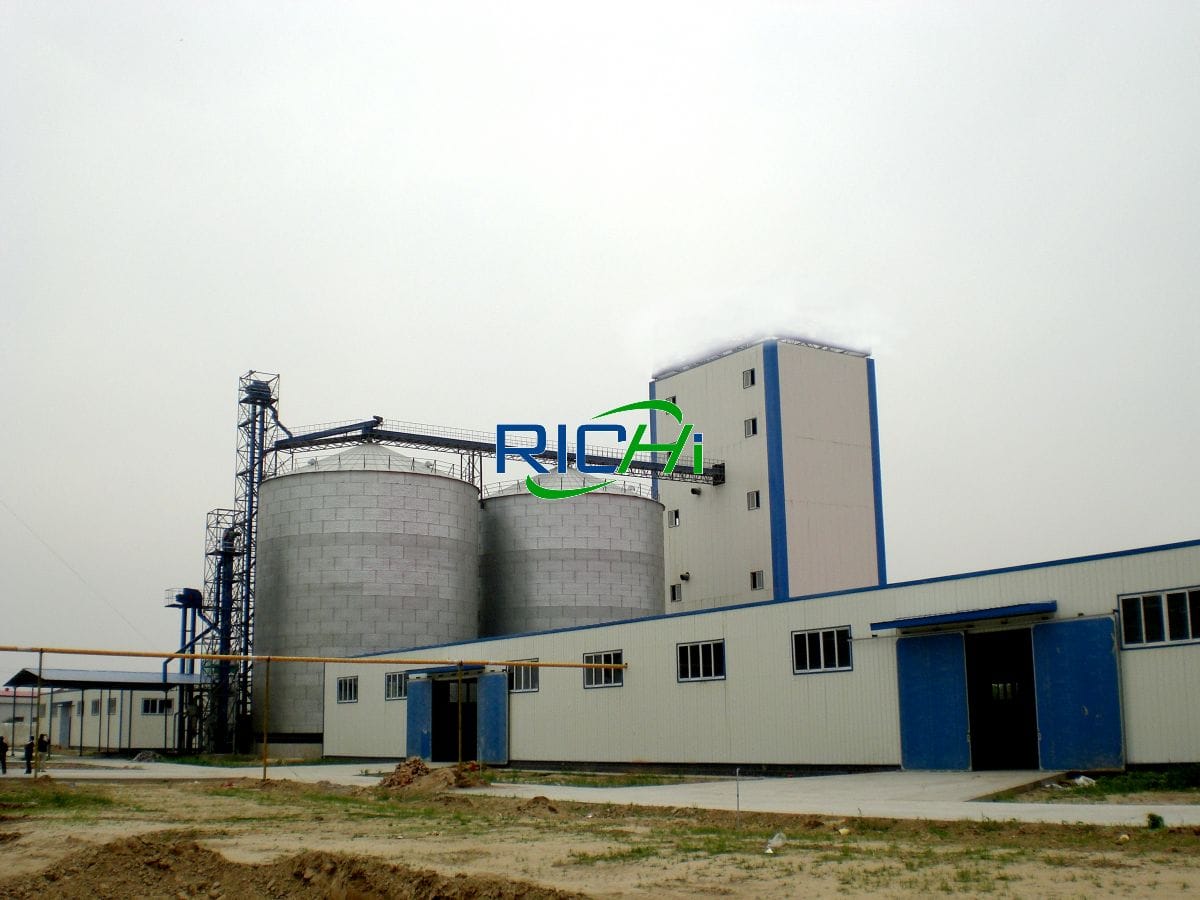 30-40T/H pig Feed mill in China
cost: 960,000USD
Date: June 2019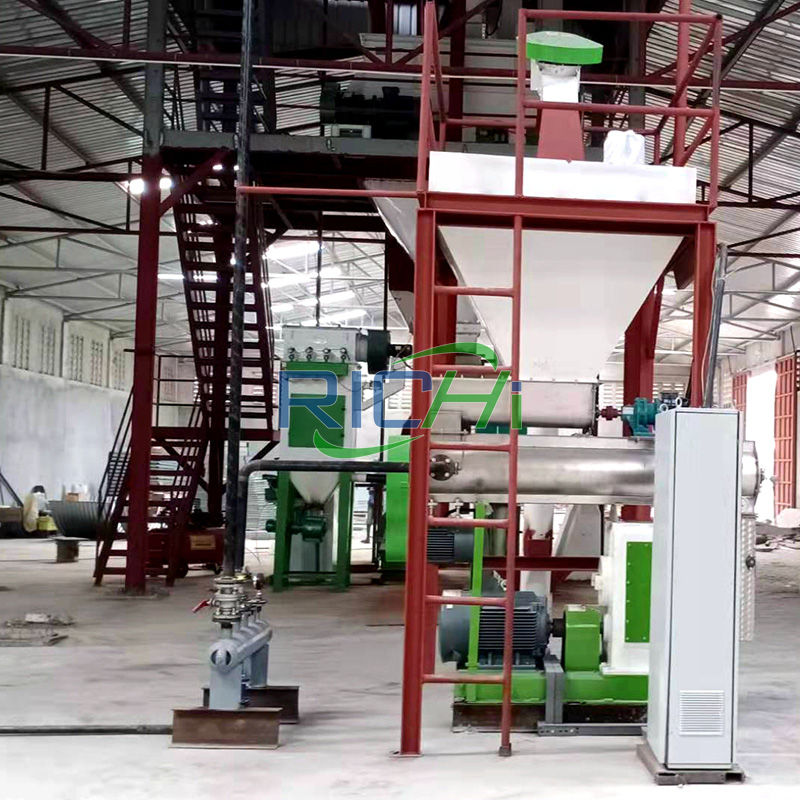 5 t/h pig feed plant in Argentina
cost: 184,000 USD
Project date: 2021.10.11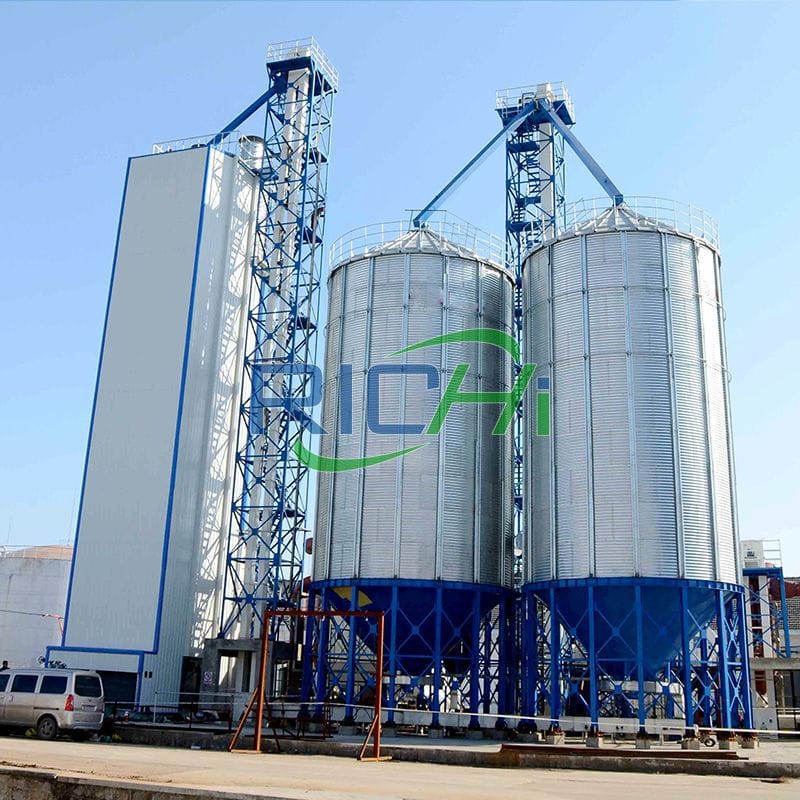 35-40T/H pig Feed mill Plant in China
cost: 1,250,000 USD
Date: December 2018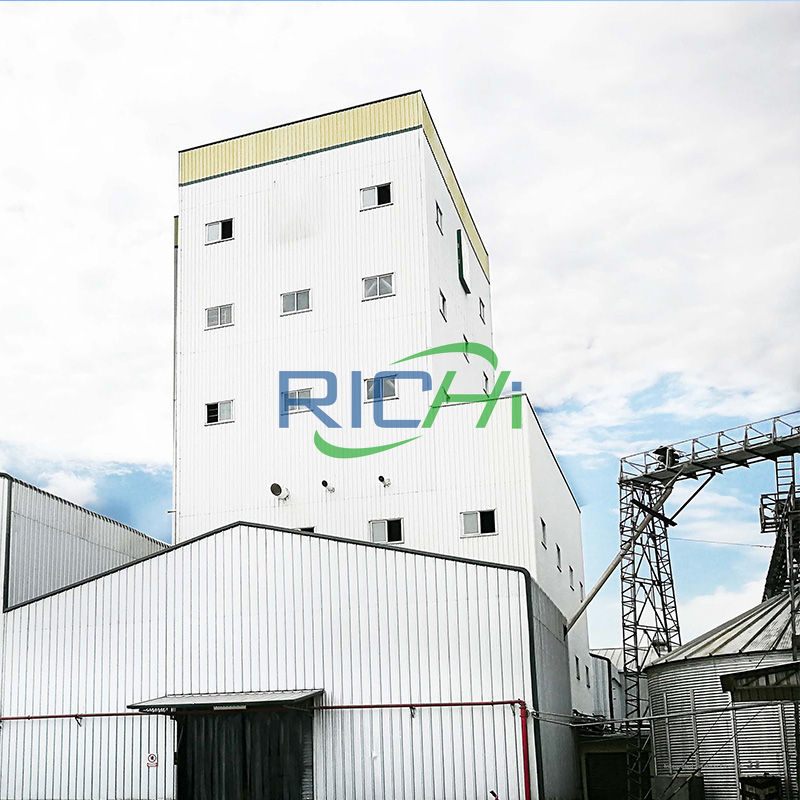 5-10 t/h fish pig feed mill in New Zealand
cost: 132,000 USD
Project date: 2022.10.14
With our expertise in bulk materials storage facilities spanning the pig feed milling plant engineering, construction, operations, and maintenance, RICHI beats the competition. We'll help you weather the shutdown and minimize interruptions with methodical project execution.
Construction process of pig feed mill
Compile project feasibility study.
Compile the design task book, stipulate various design principles, clarify the content of the design, and select the location of the factory on the basis of the preliminary survey.
Determine the project.
According to the feasibility study report, the client makes a decision to build a pig feed factory, and proceeds with the approval and approval of the pig feed plant construction project in accordance with the local construction application process.
After the project is established, select a qualified feed equipment manufacturer and issue a design assignment.
Carry out technical survey on the construction site, collect basic data, negotiate with local water, electricity, road, gas and other departments, connect public facilities and resources, and make design preparations.
Determine the pig feed mill process and pig feed equipment.
Determine the production and processing capacity, technological process and animal feed mill equipment scheme, and submit the equipment floor space parameters.
Determine supporting facilities.
Including warehousing, office, living and other auxiliary supporting facilities, calculate the building area required for production, living and office, and the consumption of various power, water, electricity and steam (gas).
Overall planning and design.
According to the process and engineering requirements, combined with the geological survey data, carry out the general layout design, rationally arrange various buildings, various engineering pipe networks and plant greening, reserve the areas to be built and possible construction of cables, telephones, networks, monitoring Pipeline channels, to avoid secondary excavation and reconstruction after completion.
Detailed construction drawing design.
Based on the data in the hog feed mill process design scheme, the general plan of the plant, pig feed mill equipment layout, individual buildings and facilities are designed in detail.
During the design process, we will let customers go deep into the design, check and check every design detail, and communicate with our engineers to ensure that every design detail meets your needs.
After all the above work is done, the construction of the pig feed production line can be started. If you want to inquire further about "how to build a pig feed plant", welcome to consult us online for details!
pig feed mill plant video
Pig Feed Mill Design Services We Provide
The scope of the pig feed plant design includes the production area, office and living area, as well as the relevant off-site railway and highway special lines, etc.
The content of the complete pig feed manufacturing plant design includes the general plan, technology, auxiliary production system, information system and civil engineering, etc.
Process Design:
Mainly includes the formulation of pig feed production process flow and pig feed equipment selection, workshop structure and equipment layout, transportation network and ventilation and dust removal network, workshop self-made equipment and facilities, and silo layout, etc.;
Auxiliary Production System Design:
Mainly includes steam supply system and compressed air system, power distribution and transmission system, water supply and drainage engineering, environmental protection engineering and machine repair, accessories room, woven bag warehouse, label warehouse, etc.;
Information System Design:
Mainly includes information management system (management software, monitoring, network), testing and testing system and production automatic control system;
Civil Engineering Design:
Mainly includes the general plan, various buildings and structures, and roads.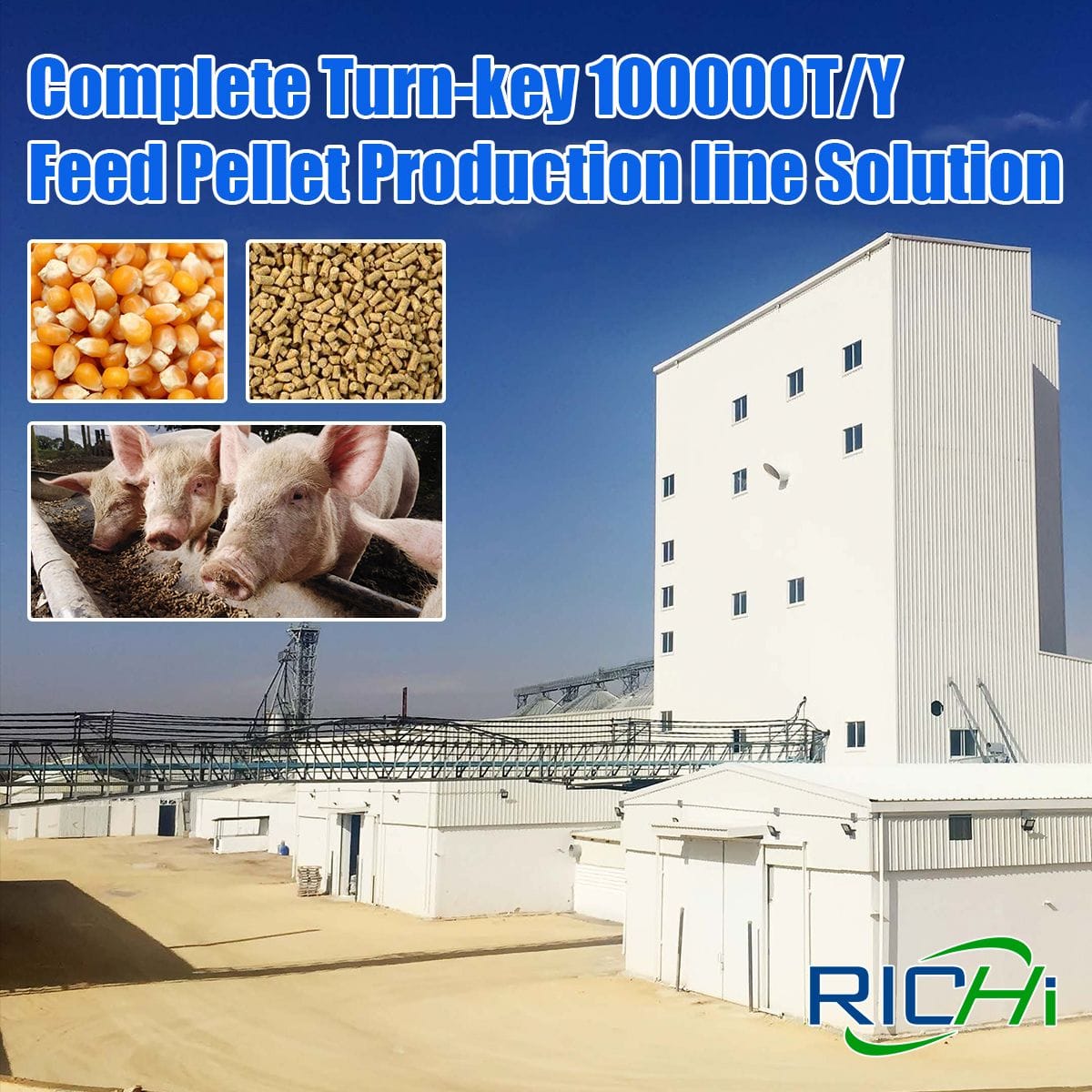 The feed and building codes upon which pig feed mills are designed include:
"Code for Engineering Design of Feed Mills"
"Hygienic Standards for Compound Feed Enterprises"
"Feasibility Study Report"
"Code for Seismic Design of Buildings"
"Code for Design of Steel Structures"
"Hygienic Standards for Noise in Industrial Enterprises"
"Hygienic Standards for Design of Industrial Enterprises"
"Industrial "Three Wastes" Emission Standards"
"Code for Fire Protection Design of Buildings"
"Dormitory Building Design Code"
"Code for Design of Catering Buildings"
"Code for Design of Boiler Room"
…
Richi Machinery offers comprehensive engineering services; from general arrangements and process flow, to complete structural and mechanical detailing.
Our engineering team collaborates with architects, building owners and builders to design practical and reliable solutions for projects s of all types, sizes and levels of complexity. (Maybe you are interested in post:1-40t/h animal feed manufacturing plant cost )
1-160 t/h Pig Feed mill Overall Design
With the production workshop as the core, on the basis of the workshop design, the whole pig feed plant design is carried out. Before the design of the whole pig feed production plant, it is necessary to determine the operation and management mode, work process, and resource allocation of the pig feed plant after completion.
On the basis of the feasibility study and preliminary design, combined with the use functions of storage, office, living and supporting facilities, consider the future development needs, determine the design content, and design detailed construction drawings according to the current national design specifications and requirements.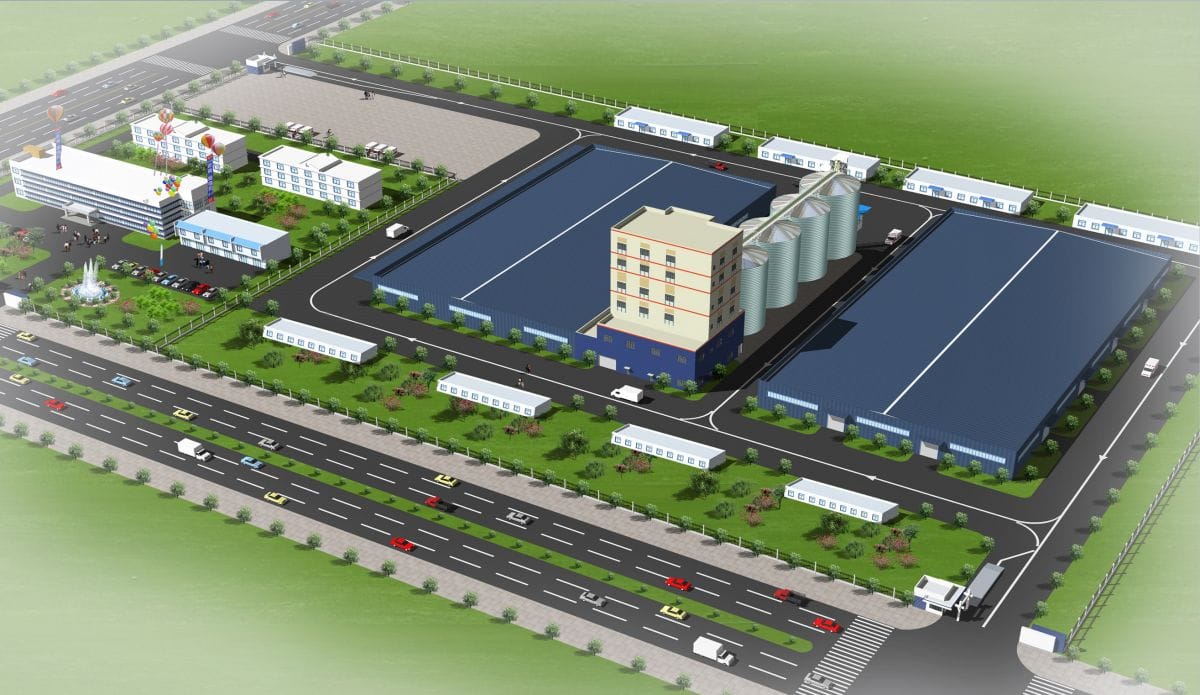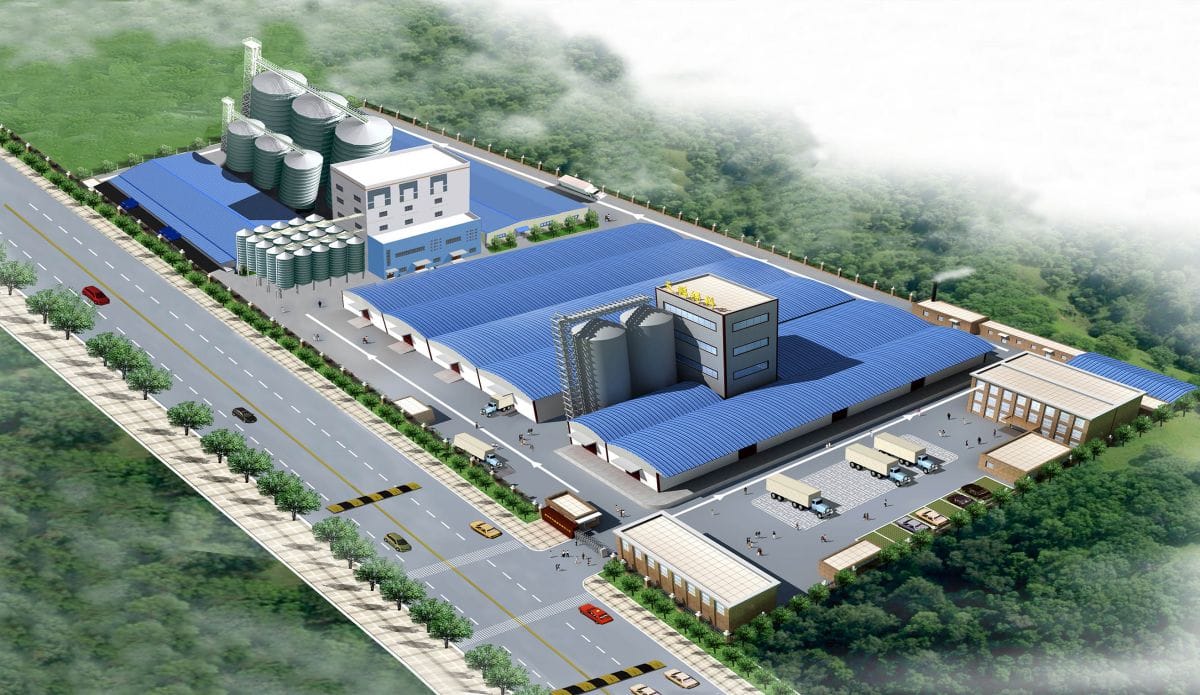 When designing, the storage capacity and storage method compatible with the production workshop are the core of the design, the office and living building facilities are the focus of the design, and the auxiliary supporting facilities are the key to the design. There should be a clear demarcation between the production area and the office and living area.
Generally speaking, the packing room should be designed in the finished product warehouse; two large and small scales should be used. If there is one scale, its weighing range should meet the requirements of the largest vehicle measurement;
The initial inspection of raw materials is best carried out outside the pig feed mill factory. After sampling, the raw materials can directly enter the inspection laboratory for blind inspection;
The unloading of bulk raw materials should adopt a hydraulic flap mechanism as much as possible, and the unloading space should be well sealed, and the raw materials in bags should be stacked and stacked with pads;
Bulk raw materials should consider the storage of corn, wheat, soybean meal, cotton meal, rapeseed meal, stone powder, DDGS, etc., and the silo group can be built in stages according to the need to reduce the investment in fixed assets;
The storage of bulk raw materials has two storage methods: cylinder silo and chamber silo, which can be selected according to material characteristics and needs;
The distance between the transformer and power distribution room and the pig feed mill workshop with the largest power should be close; considering the operating cost and meeting the demand, the tonnage of the boiler should not be too large or too small, and it should be the closest to the workshop;
Machine repair room, spare parts warehouse, new woven bag warehouse, waste woven bag warehouse, workshop office, changing (hat) room, bathroom, forklift storage room, driver rest room, toilet, etc. should be designed near the workshop, and the logistics should be smooth;
The production area should be separated from the office and living area, the living area should be separated from the office area, the business hall should be separated from the administrative office area, and the car parking area should be separated from the bicycle and motorcycle parking area.
For more information about how we can help you and your business, contact us at 86-13838389622. We look forward to being your solution for all your pig feed mill plant construction needs.
Featured pig feed mill solution and equipment configuration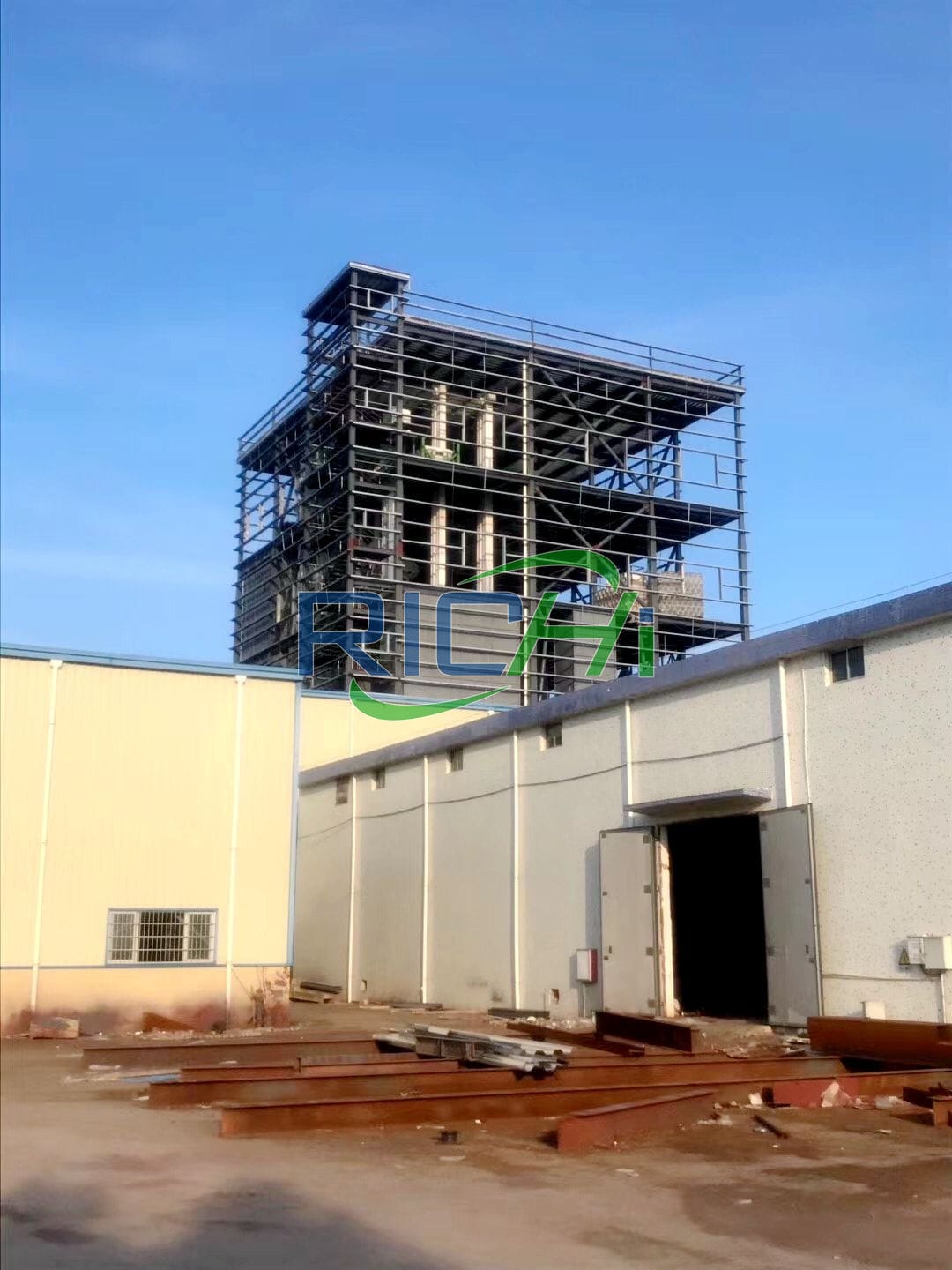 15T/H pig feed mill solution
—— RICHI MACHINERY ——
Annual processing: 36000 tons of feed
Construction investment: 450,000USD
Land area: 4000m². The main production workshop has 6 floors, a height of 31.5m, and an area of 300m²
Storage and transportation: 3 silos, with a total capacity of about 1500t
Production system: 10 employees, 300 days of annual production, 8-hour working system.
Raw materials consumption: corn*25000t/a, soybean meal*7200t/a, bran*2000t/a, calcium hydrogen phosphate*360t/a, amino acid*100t/a, premix feed*2540t/a, amino acid*2000t/a, vegetable oil*3140t/a
Main energy consumption: biomass pellet fuel*900 t/a, electricity*30000kW.h, water*5850m³/a, steam 4800* m³/a
Project equipment: silo system, rotary distributor, bucket elevator, double-shaft mixer, pig feed pellet machine, counterflow cooler, three-roller crumbler machine, rotary classifier, puffing machine, hammer mill, post-grease spraying machine, double-bucket belt packaging machine, air compressor, air storage tank, electrical control center, on-site control cabinets, etc.
15T/H pig feed mill production process:
Granular raw materials such as corn, beans, vegetables, wheat, etc., are first cleaned by cleaning sieves and magnetically separated, and then crushed by a pig feed hammer mill.
The crushed raw materials, powder and auxiliary materials are formulated according to the preset feed formula requirements, and a specific batching measurement system is adopted to batch and weigh different types of feed raw materials.
The prepared materials are sent to the mixing equipment, and then weighed according to the formula ratio and added to the premix, oil and water for stirring and mixing.
After the mixture enters the pig feed pellet mill to mature and granulate, the granulated compound feed with nutritional components and mixing uniformity meeting the qualified product standard is produced.
The pellets are cooled and then crushed.
After the crushed materials pass the finished product screening inspection, they are packed by balers and put into storage for sale; over-coarse particles are returned to the previous crushing link, and fine powders are returned to the granulation link.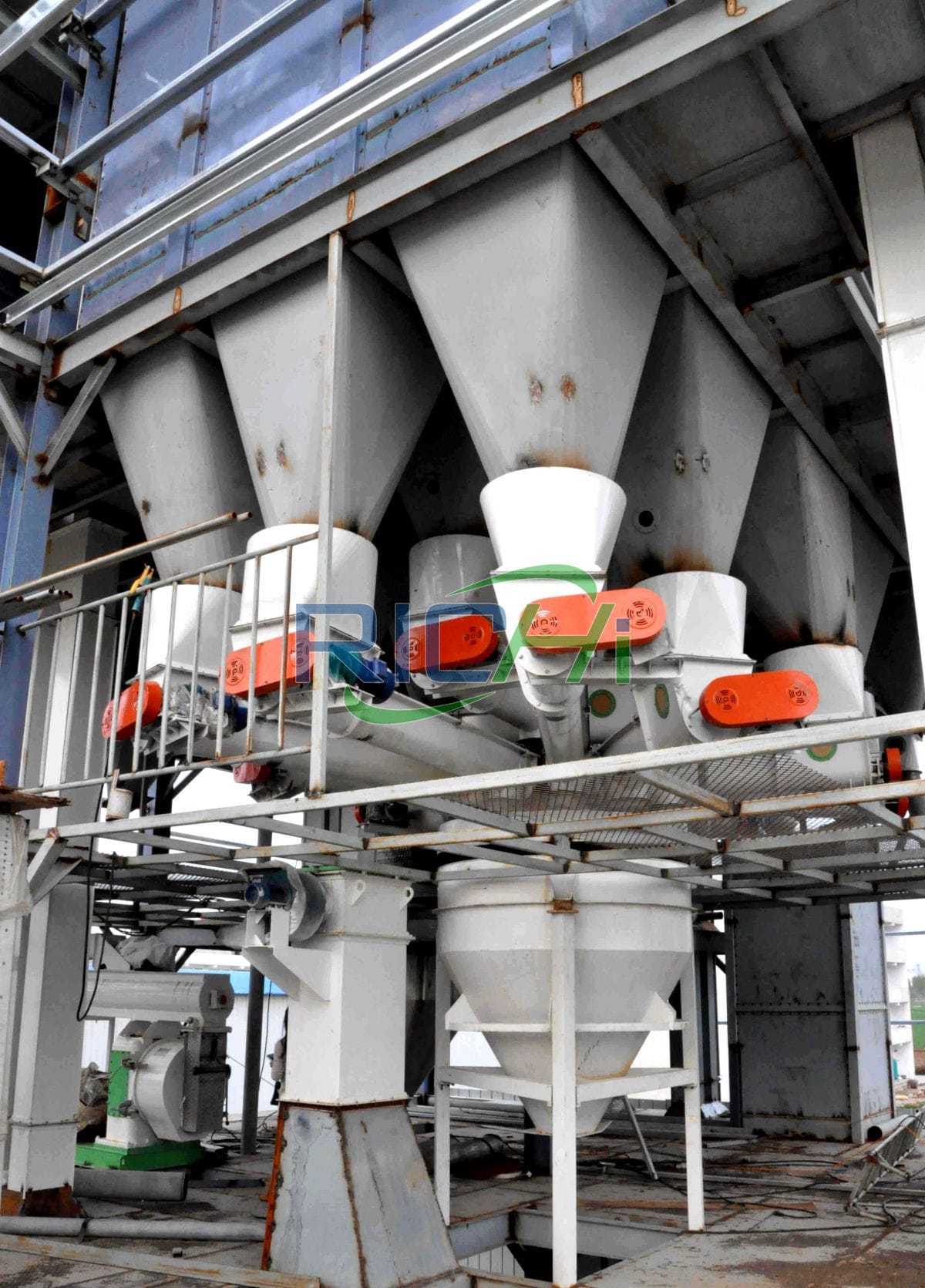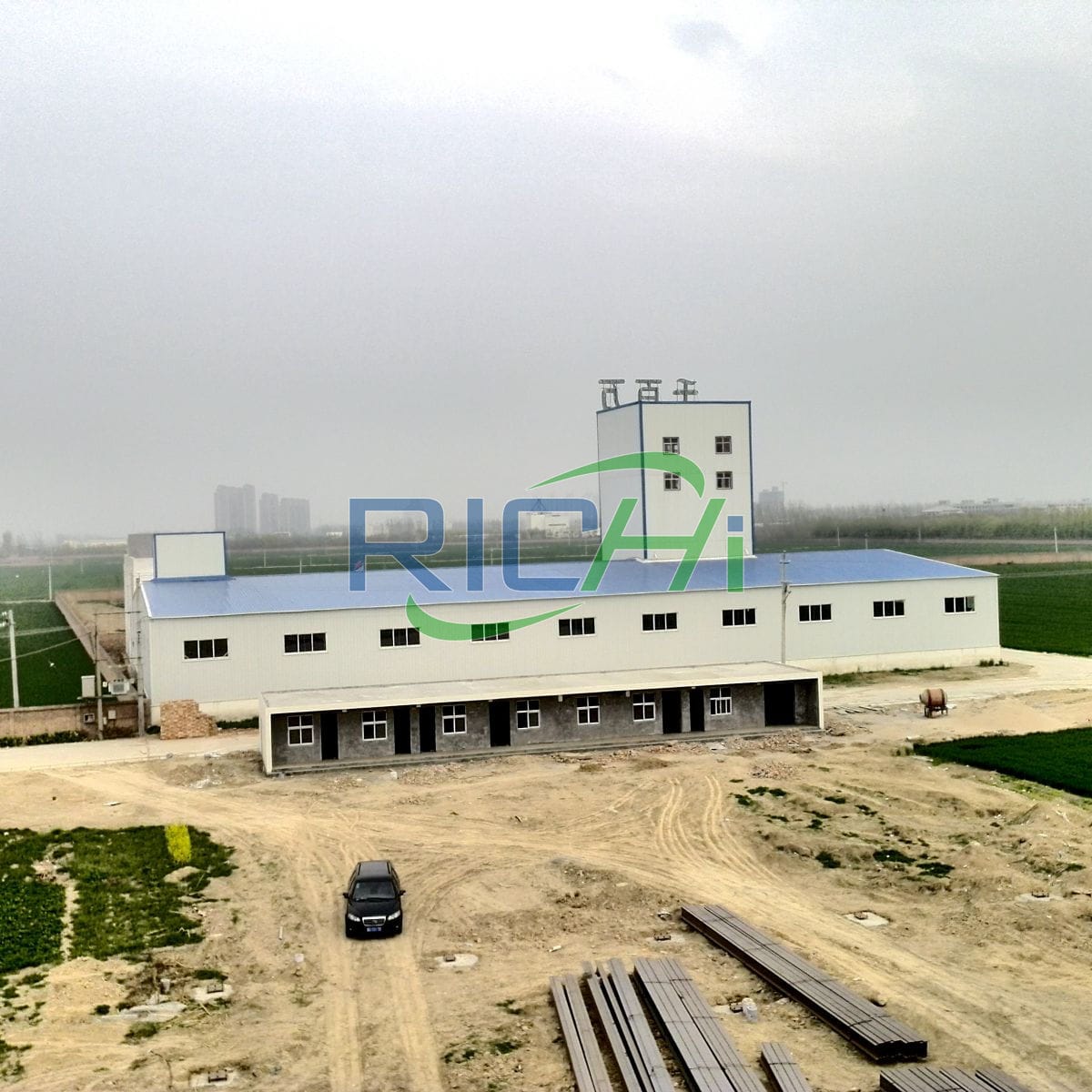 4 t/h pig feed mill solution
—— RICHI MACHINERY ——
Investment: 180,000USD
Annual pig feed production: 10,000 tons
Construction content: The project covers an area of 2700m2, with a total construction area of about 3500m2, including 1 production workshop, 1 boiler room, 2 raw material warehouses, 1 finished product warehouse, 1 office building and auxiliary facilities.
Consumption of raw and auxiliary materials: corn, soybean meal, bran*6650t/a, soybean oil*700t/a, trace elements*1400t/a, minerals*1400t/a
Main equipment and facilities: scraper conveyor, air compression system, bucket elevator, microcomputer control center, double cylinder initial cleaning screen, rotary distributor, liquid adding system, crusher, batching scale, double-shaft mixer, pig feed granulator, cooler, crumbler, rotary classifying screen, packing scale, natural gas boilers, etc.
4 t/h pig feed mill process flow
Receiving and cleaning: import the soybean raw materials purchased back to the factory into the grid screen, and send them to the cylinder primary cleaning screen through the scraper conveyor, clean out the large particles of impurities in the soybean meal and the soft impurities, and then send the soybean meal to the steel silo for storage.
Crushing: The corn and soybean meal temporarily stored in the powder bin are sent to the grinder for crushing, and the materials are sent to the batching bin for temporary storage through the material-sealed screw conveyor and bucket elevator.
Mixing and batching: batching is carried out according to the product requirements. The measured materials are mixed by the mixer and the double-shaft high-efficiency mixer. Sent to the granulation section.
Conditioning and granulation: the mixed powder feed is sent to the conditioner. The conditioned material enters the pig feed granulator, and the granulated feed is pressed out.
Cooling and screening: the pellet feed produced in the granulator is cooled through the cooling air net, and then passed through rotary classification and screening to separate the overlong grains and powder.
Packaging: Send the powdered feed from the mixing section and the granular feed from the granulating section to the finished product warehouse, and pour the product into the woven bag through the packaging system.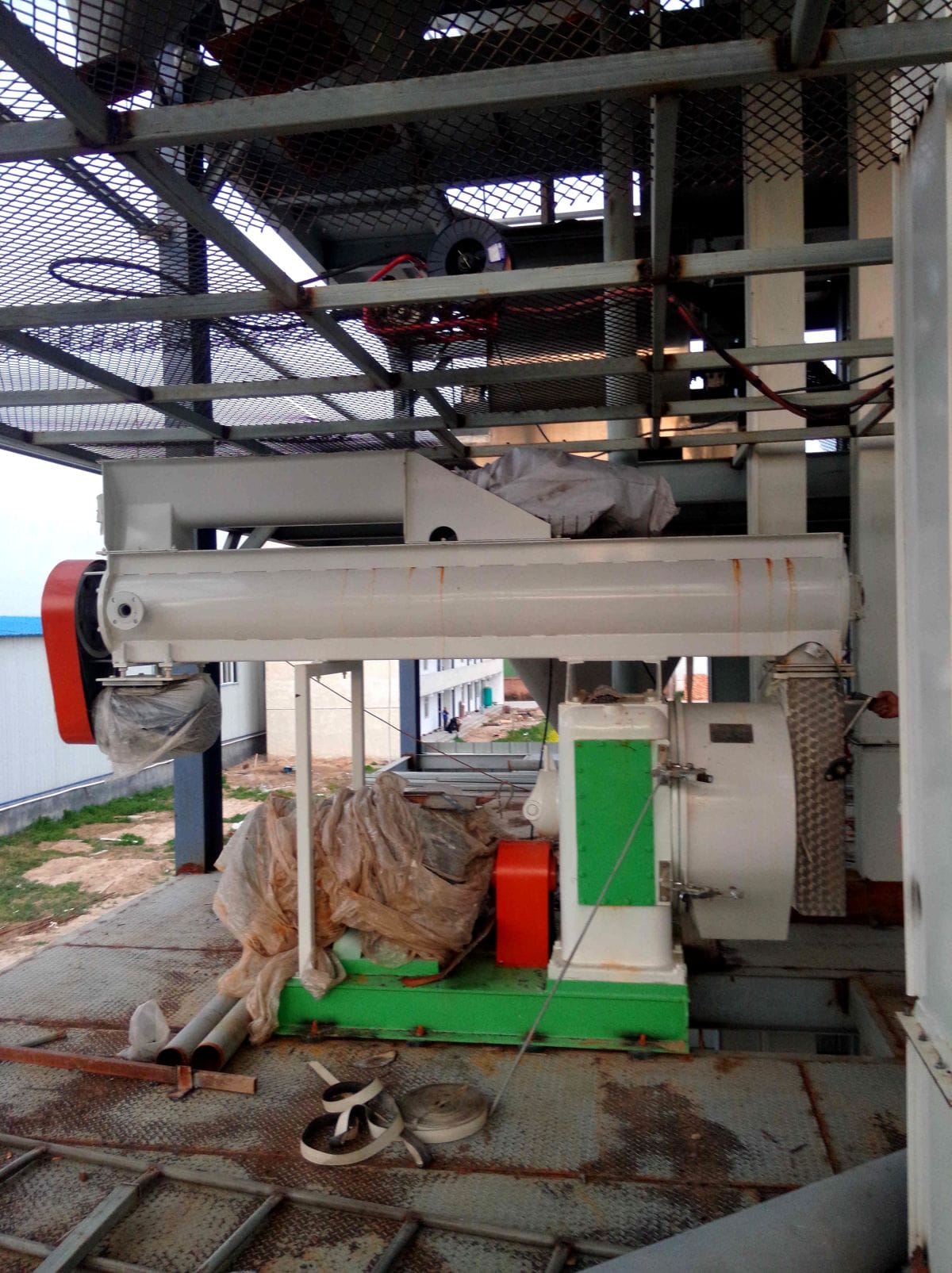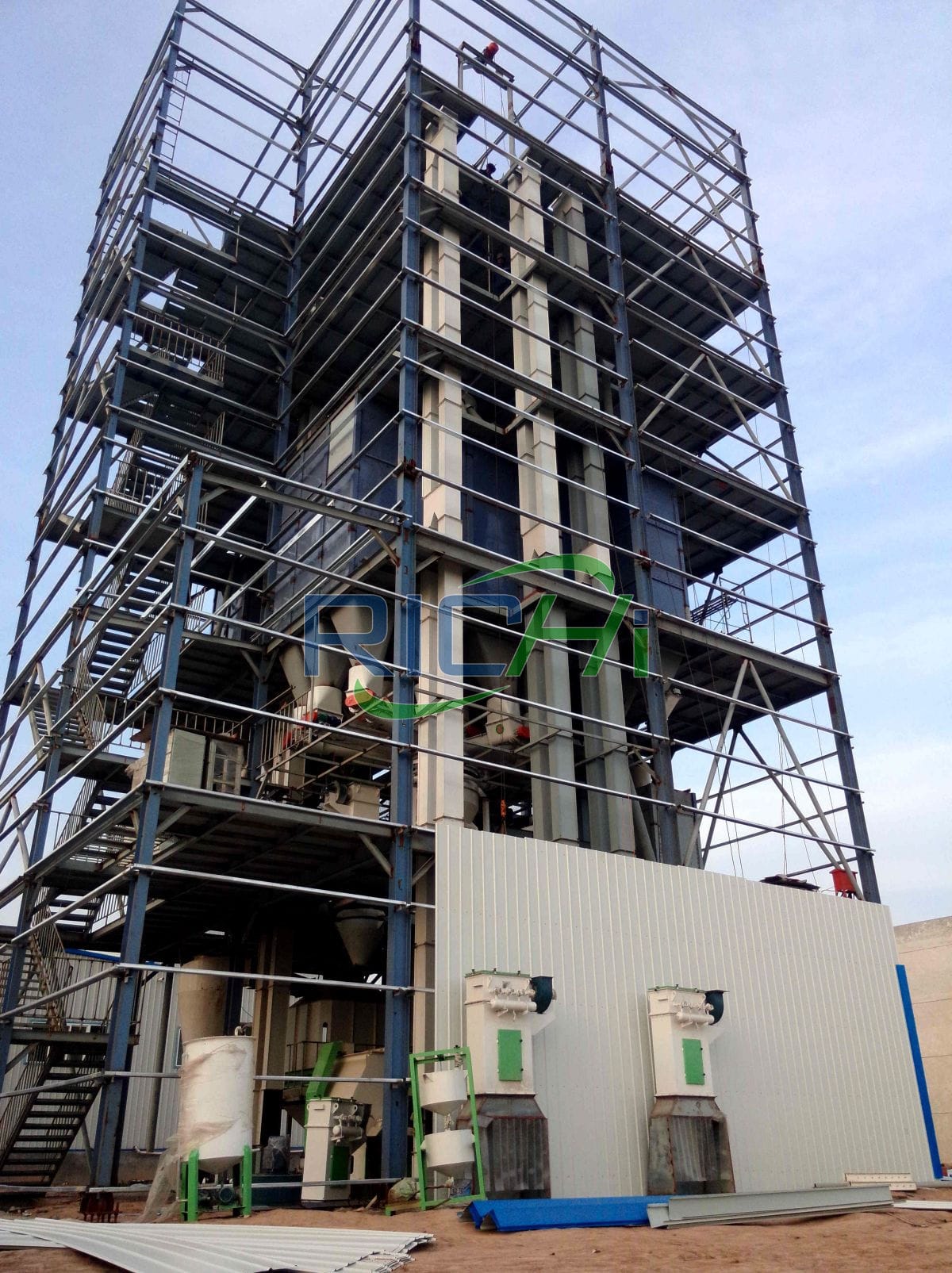 10-12 t/h pig feed mill solution
—— RICHI MACHINERY ——
Annual output: 60,000 tons
Total investment: 480,000 USD
Construction content: reconstruction and expansion
Production room: 1540 m², purchase and install a set of automatic compound feed and concentrated feed complete equipment, Office space is 300 m².
Energy consumption: power *5000KW·h, water consumption*6552 tons
Consumption of raw and auxiliary materials: corn*40361.15t/a, soybean meal*14568.26t/a, bran*2156.40t/a, sodium chloride*130.30t/a, minerals*1153.50t/a, vitamins*16.86t/a , etc.
Working system: 350 working days a year, with 2 shifts per day. There are 14 employees.
Main production equipment: impeller feeder, water drop pig feed pulverizer, computer batching system, twin-shaft paddle mixer, pig feed pelletizer machine, cooler, cooling fan, air locker, rotary grading screen, automatic packing scale, belt conveyor sewing machine, air storage tank, screw air compressor, 250kv power supply and distribution facilities, 80t weighbridge, carbonized biomass pellet burner, etc.
10-12 t/h pig feed mill process flow
Receiving, storage and cleaning of raw materials: Raw and auxiliary materials are packed in bags after purchase and sent to the raw material warehouse for storage. Then clean up the feed ingredients.
Pulverization: The impurity-removed materials enter the pulverizer for pulverization.
Ingredients measurement: When batching, the raw materials of each batching bin are cumulatively measured by electronic batching scales. The batching cycle is 3 to 4 minutes.
Mixed: The measured raw materials, auxiliary materials, feed additives and mixed oil are mixed, and the trace components (such as vitamins, amino acids, etc.) do not participate in the mechanical metering and batching process, but are accurately weighed manually by the project staff and pre-mixed.
Granulation: The dry powder after mixing by the mixer is sent to the pig feed pellet granulator, and the moisture and temperature are provided by the boiler steam.
Cooling: The feed pellets are cooled by gravity into the cooler, and the air-cooled type is adopted. During the air-cooling process, the water in the feed overflows through the reduction of heat, and the feed pellets cool and solidify.
Grading and screening: Feed pellets are screened by a screening machine, and the products that meet the standard requirements are transported into the finished product warehouse.
Inspection, measurement, packaging and warehousing: The finished pellet feed and powder feed produced are weighed after passing the inspection, and are automatically weighed and packaged with a packing scale. After packaging, they are temporarily stored in the finished product warehouse in the factory for takeaway.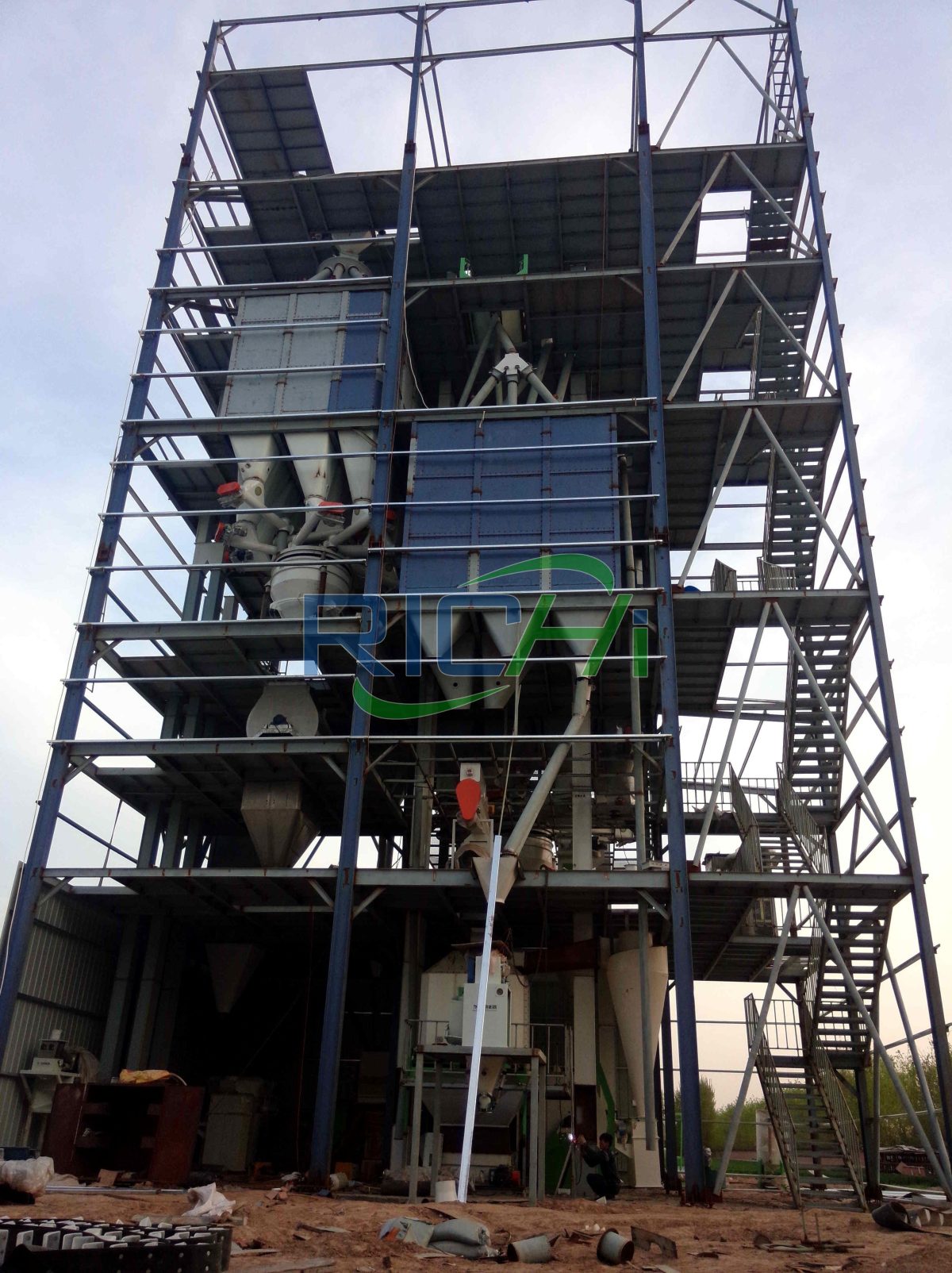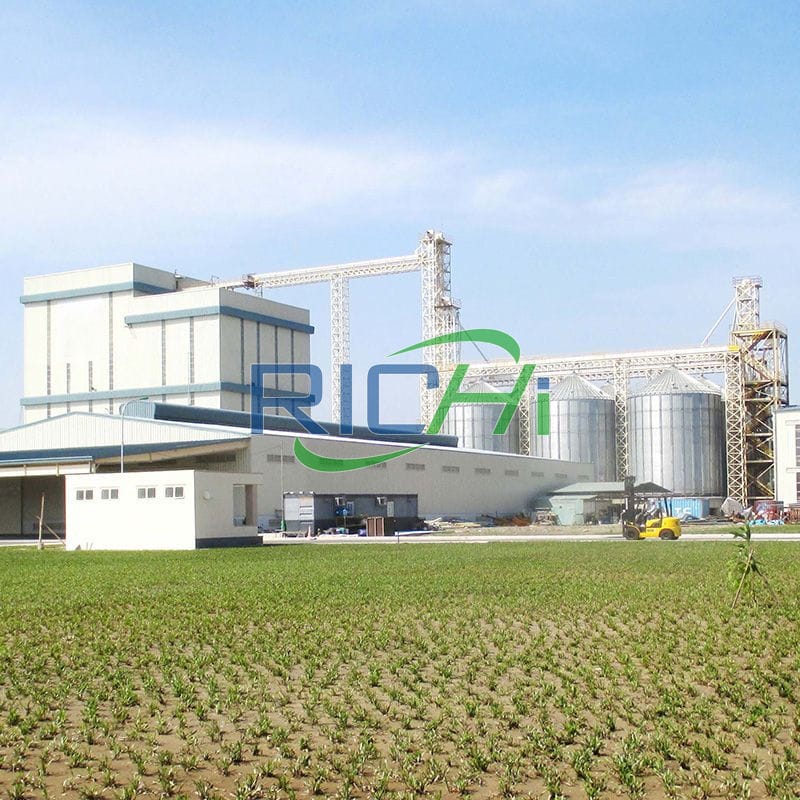 60 t/h pig feed mill solution
—— RICHI MACHINERY ——
Project name: Feed processing project with an annual output of 300,000 tons
Construction scale: covers an area of about 35351m², mainly include feed production workshop, raw material workshop, finished product workshop, production office building, administrative complex building, boiler room and LNG storage point, etc.
Total investment: 1,500,000 USD
Work system: The project labor quota is 60 people, and the production time is 4960h/a.
Consumption of raw materials: wheat (granular) and corn (granular)*243000t/a, meal (fragmented)*39200t/a, stone powder calcium powder*4800t/a, amino acid*3000t/a, whey powder*690t/ a. Soybean oil *390t/a, premix *6000t/a, other *3000t/a
Energy consumption: water consumption 32540.68m3/a, electricity consumption 7.8 million kwh/a, steam consumption 26,400 t/a, natural gas consumption 1.575 million m3/a
Main equipment: ppulverizer, single-shaft mixer, pig feed pelleting machine, cooler, corn extruder, double-bucket belt packing scale, sewing bag conveyor, air compressor, finished product warehouse, batching warehouse, gas boiler, water heater.
60 t/h pig feed mill Production Process
Cleaning process: Corn, barley, and sorghum material enters the cylinder for preliminary cleaning and screening to remove impurities, and after cleaning, enters the permanent magnet drum for iron removal.
3Crushing process: The cleaned granular raw materials are crushed, and 3 pulverizers are designed, of which 2 stand-alone power is 200kw, and one is 160kw.
Expansion process: design a warehouse to be expanded, with a total warehouse capacity of 27m³. Raw material extruder (for corn), capacity 1.5-2.0 tons. After cooling, the material is crushed by the pulverizer SFSP56*40, and then the material enters the batching bin.
Batching and mixing process: According to the product formula requirements, quantitatively weigh all kinds of raw materials and send them to the single-shaft mixer for mixing treatment.
Adding process of premix and small ingredients: Amino acid and small ingredients are fed from the manual feeding port, and the premix is fed from the big bag feeding port.
Granulation, cooling, and screening process: through the pig feed pelletizer, it is pressed into granules of different pellet sizes. The granules just extruded from the pig feed granulator need to be cooled with a cooler. After cooling, the pellets are transported to the grading screen, and then pellets enter the finished product warehouse.
Finished product distribution and packaging process: the product packaging is quantified by the automatic quantitative scale of the silo interface mechanical automatic quantitative scale, the sewing bag conveyor is sealed and then labeled, and then the conveying device is transported into the finished product warehouse.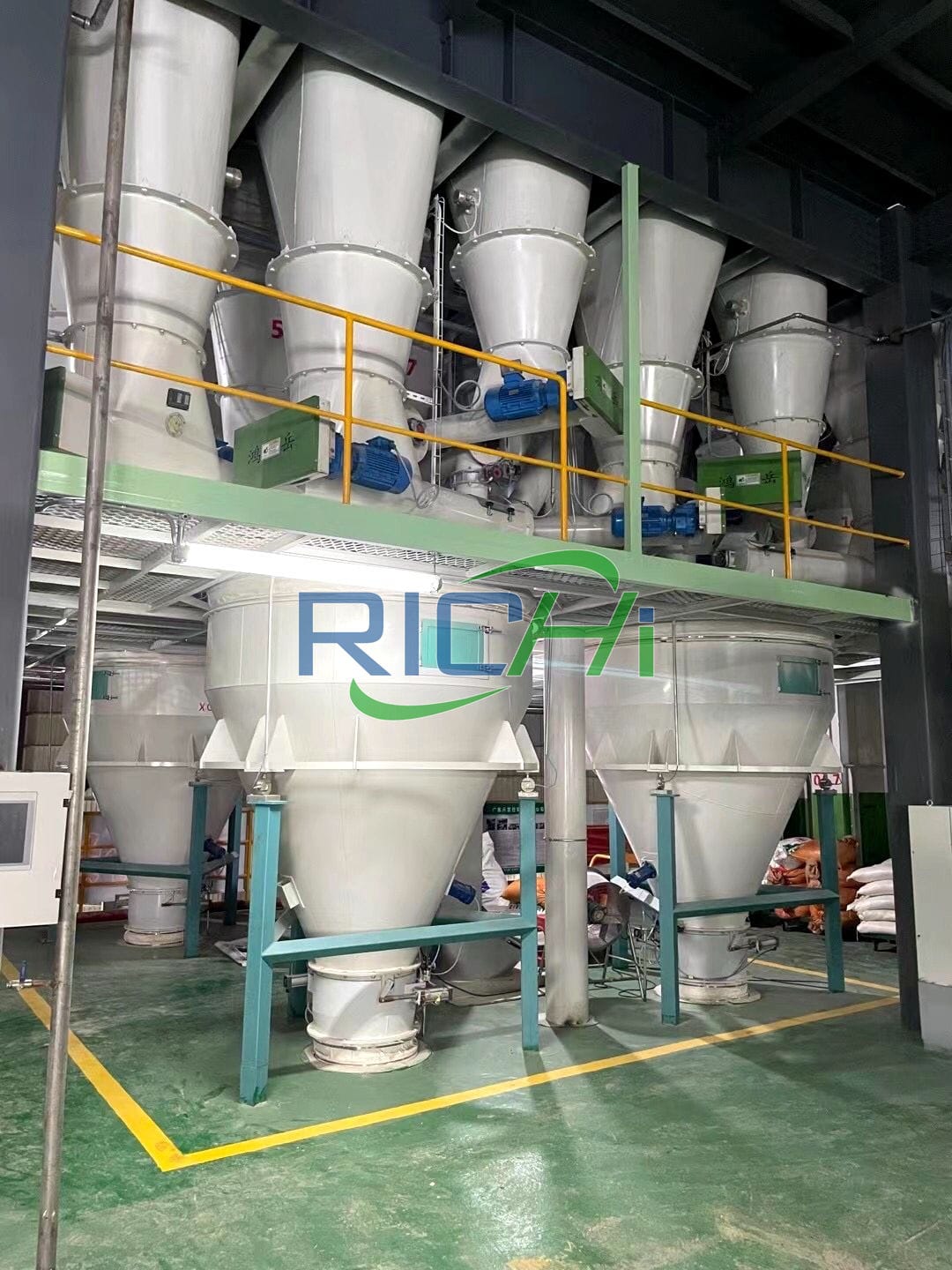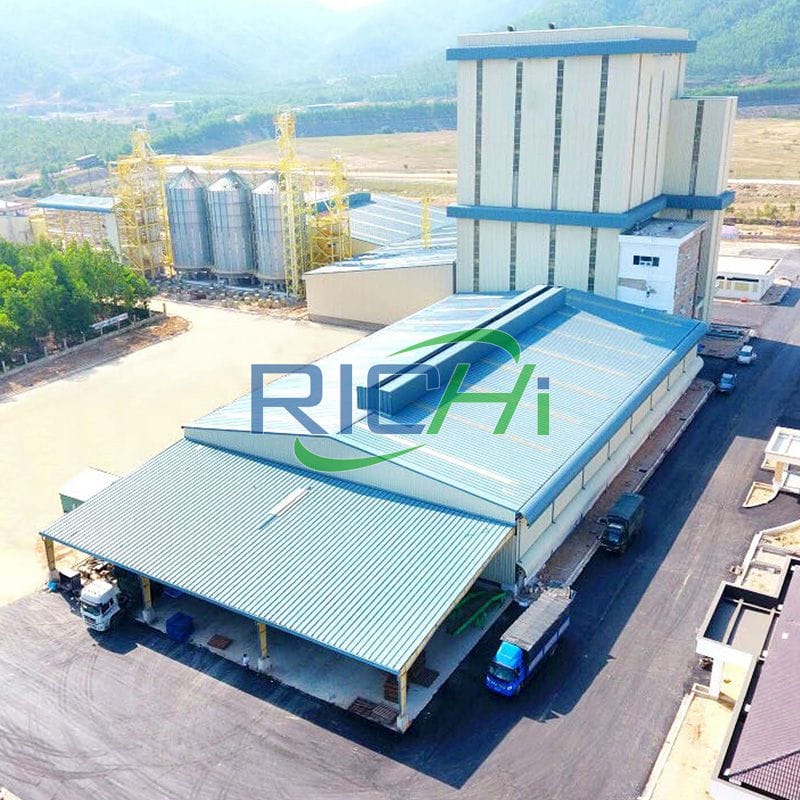 60-65 t/h pig feed mill solution
—— RICHI MACHINERY ——
Total investment: 1,900,000USD
Product plan: 550,000 tons of pig feed per year.
Construction content: covers an area of 33,300m², construction area is 13,764m² (the estimated construction area for filing is 28,000 m², including the construction area of the pig farm), including 1 production workshop, 1 boiler room, 2 disinfection sheds, and silos , 1 comprehensive building and ancillary facilities.
Raw and auxiliary materials of the project: corn, soybean meal, bran*370750t/a, soybean oil*80000t/a, trace elements 70000t/a, minerals*30000t/a,
Water consumption: 24552m³/a.
Annual natural gas consumption: 200,000 kW·h
Working system: 35 project workers, with board and lodging, 2 shifts, 12 hours per shift, 360 working days per year
Main equipment and facilities: feeding pit, grid screen, square dust collector, fan, scraper conveyor, powder cleaning screen, twin-shaft paddle mixer, expansion bin, jacket conditioner, grain extruder, cooler, cyclone dust collector, pulverizer, pig food pellet machine, liquid adding machine, air compressor, gas storage tank, air dryer, finished product bulk warehouse, natural gas boiler, etc.
60-65 t/h pig feed mill process flow:
Receiving and cleaning: Pour the purchased raw materials into the grid sieve, and send them to the cylindrical cleaning sieve to clean out the soft impurities such as impurities, strings, stones and soil clods in the raw materials , and then sent to the silo for storage through the bucket elevator.
Crushing: The granular materials are fed into the pulverizer for pulverization after passing through the pulverization bin.
Mixing ingredients: send the powdery raw materials and trace elements, minerals, etc. to the batching scale through the bin-out machine for measurement, and make ingredients according to the product requirements, and mix them in the double-shaft high-efficiency mixer.
Expansion, cooling, crushing, batching, tempering and granulation: corn raw materials are sent to the puffing machine through the closed screw feeder for puffing.
Batching: After mixing, the material is sent to the pig pellet machine, and the pellet feed is pressed out.
Cooling and screening: the granular feed produced in the pig pellet mill is cooled through the cooling air net, and then passed through rotary classification and screening, and the finished granules that meet the product specifications are transported to the finished product bulk bin.
Bulk: The finished products that enter the bulk warehouse are sold in bulk.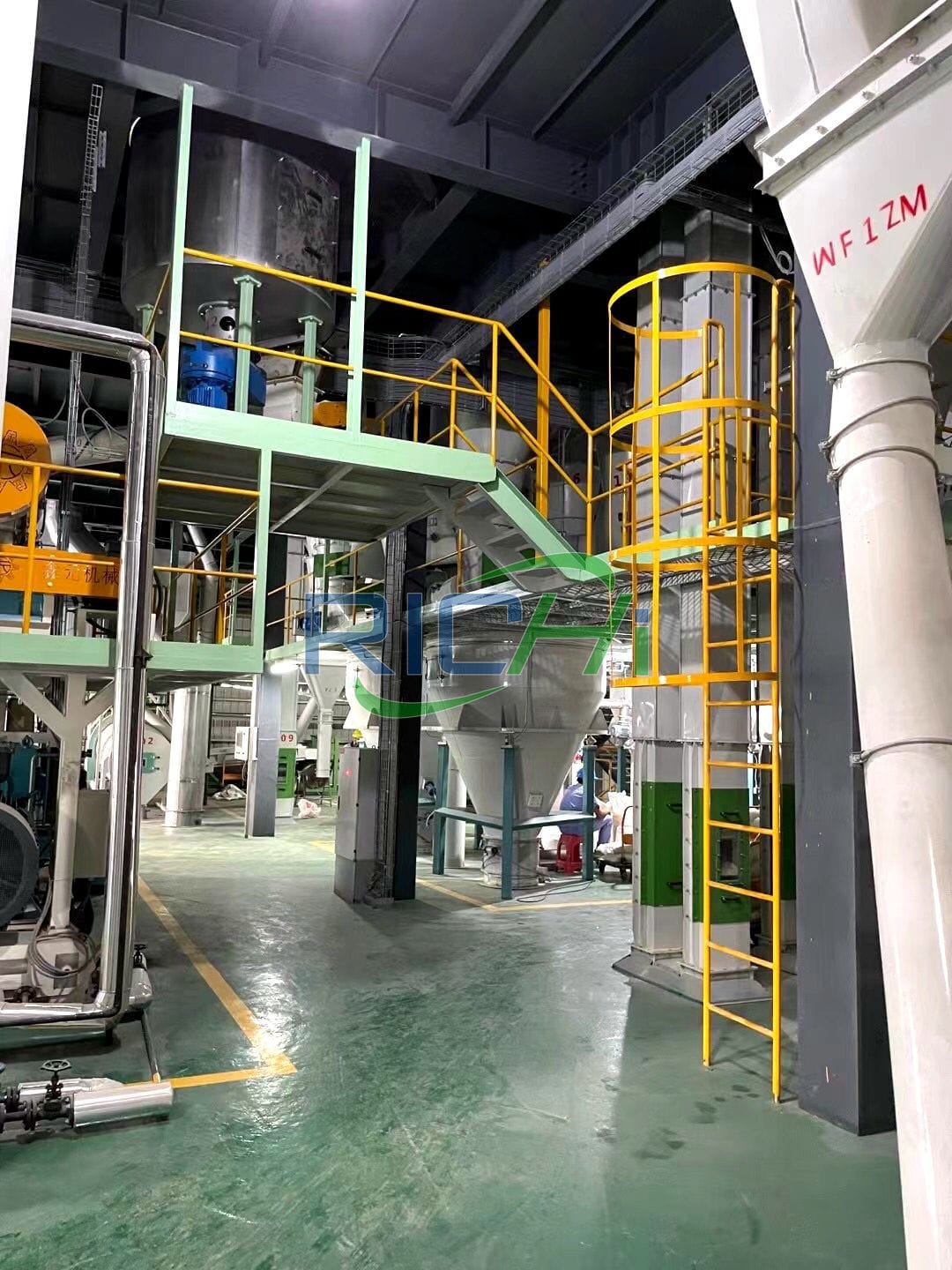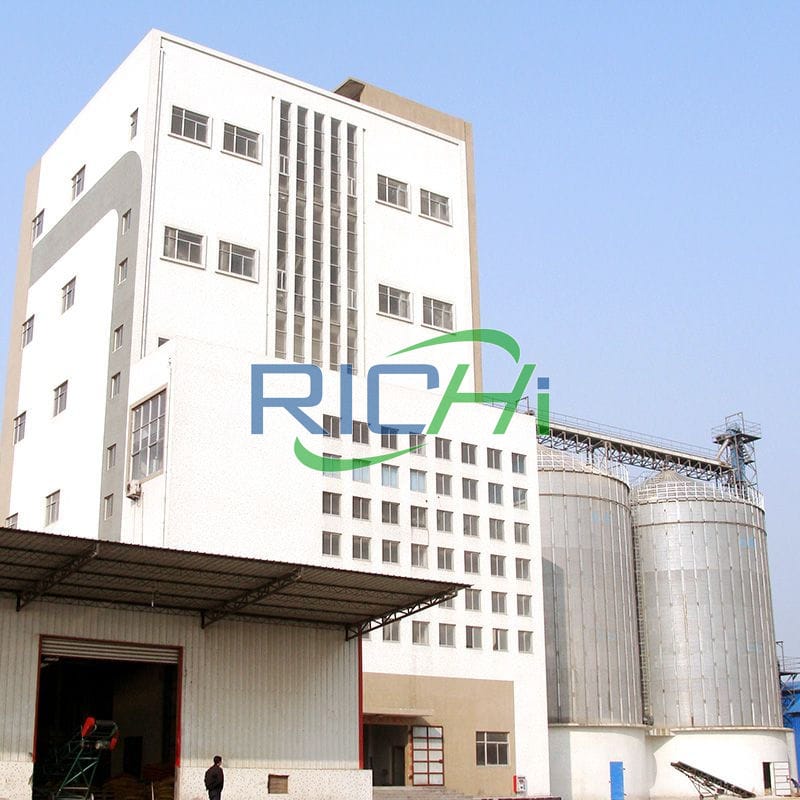 30 t/h pig feed mill solution
—— RICHI MACHINERY ——
Annual output: 180,000 tons per year
Cost: 590000USD
Construction content: 3,378m² of seven-story main workshop, 5,308m² of storage, 1,675m² of 2-story dormitory and office building, and 1,756m² of related production supporting buildings.
Investment: 660,000 USD
Product application: The pig breeding project produces 500,000 fattening pigs annually, and the required feed is about 220,000 head/year. The products are only for the pig breeding project's own use and are not sold externally.
Working system: The project has 30 people. The employee working system adopts a two-shift system, with 10 hours per shift and 300 working days per year
Energy consumption: water*7168.456t/a, electricity *20000kwh
Main raw and auxiliary materials: 91,000 tons *corn, 26,000 tons of barley, 38,200 tons of soybean meal, 11,000 tons*rice bran meal, 11,000 tons of fermented soybean meal, 1,800 tons of stone powder, 1,036.6425 tons of calcium dihydrogen phosphate, 1 ton of liquefied petroleum gas, etc.
Main equipment: hydraulic back turning, centrifugal fan, double-layer cylinder primary cleaning screen, wheat rotary vibrating screen, ventilation system, pulse dust collector, crushing machine, rotary distributor, twin-shaft paddle mixer, conditioner, pig feed granulator, countercurrent cooler, grading screen, weighbridge, multi-tube cyclone dust collector + bag filter, blower, induced draft fan, boiler feed water pump, etc..
30 t/h pig feed mill Production process
Raw material unloading, receiving and initial cleaning section
The project is divided into three receiving and cleaning production lines: pellet line, powder line and auxiliary material powder line. The particle materials enter the cleaning room to clean and remove impurities. Soybean meal, rice bran meal and fermented soybean meal (powder raw material) are sent to the raw material warehouse.
Granular raw material crushing section: the corn and barley after primary cleaning are transported to the grinder by the conveyor for crushing.
Batching and mixing section: The batching system automatically controls the amount of raw materials added in the batching bin according to the formula input into the computer in advance. After the batching is completed, , unload the material into the mixer through the conveying pipeline.
Granulation section: Extruding the pellets through the ring membrane, and then using a counter-flow cooler to make the pellets cool down. The cooled pellets are sieved by the fool grading sieve and then enter the finished product bin, and a small amount of fine powder is screened out and returned to the mixing bin for mixing.
Measuring bulk: After sieving, the finished feed pellets enter the finished product warehouse, and then are packed into the warehouse by automatic metering.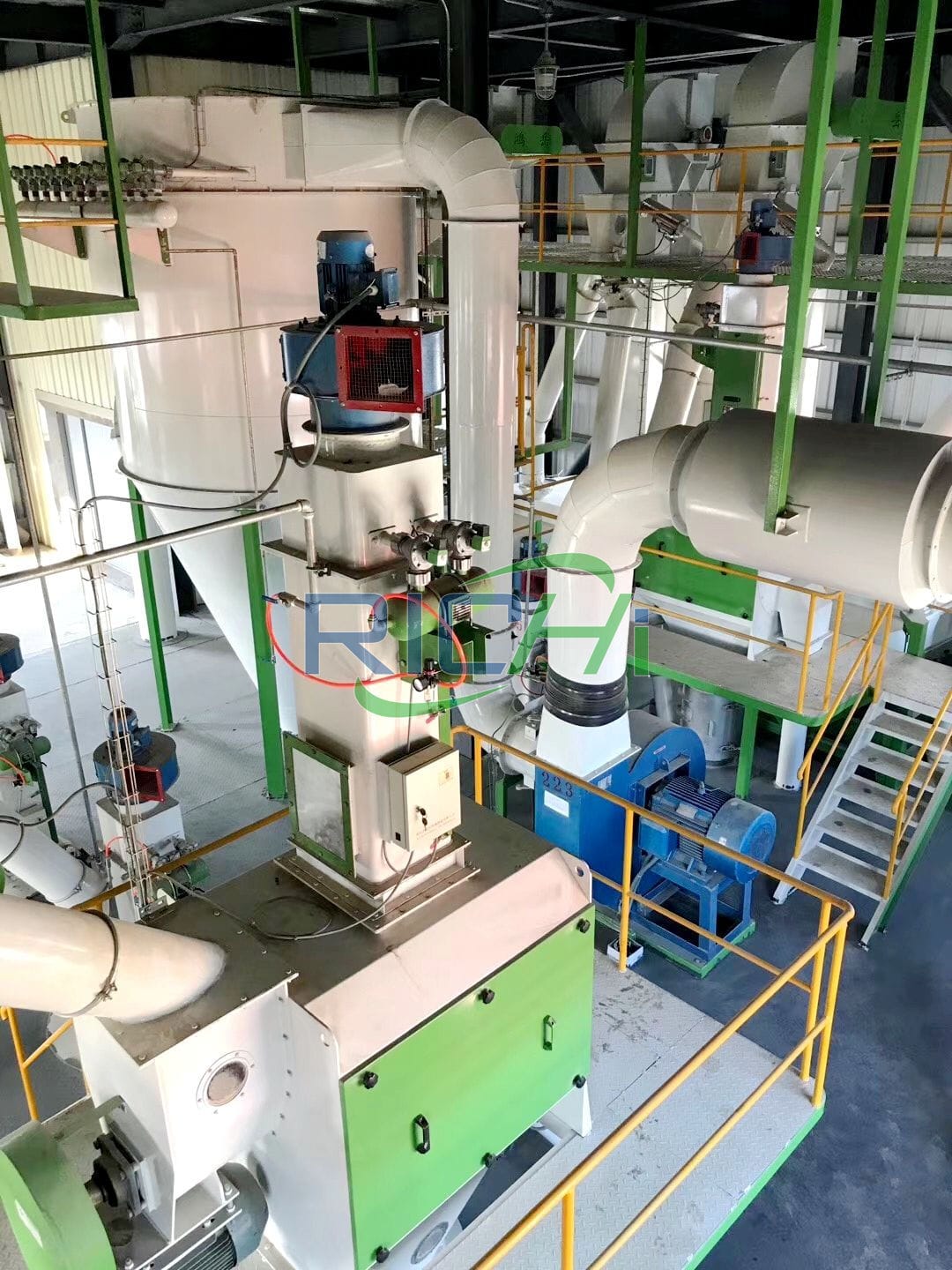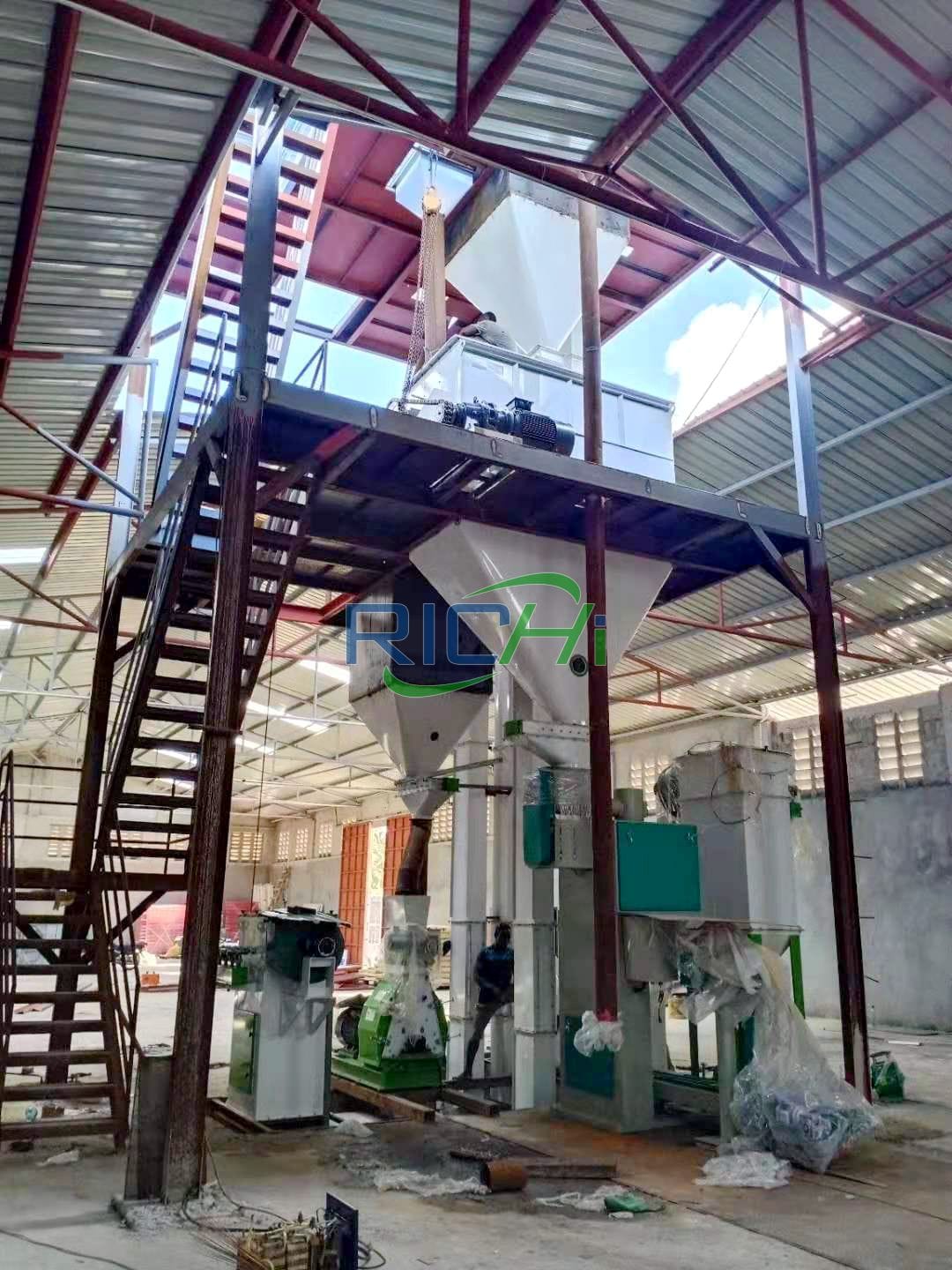 4 t/h pig feed mill solution
—— RICHI MACHINERY ——
Annual output: 10000t/a
Construction scale: The project covers an area of 1200m², with a building area of 2200m².
Total project investment: 240,000 USD
Feed type: Concentrated feed *4000t/a, and pellet feed* 2000t/a.
The main construction content: raw material warehouse, production workshop, batching room, finished product warehouse and packaging material warehouse, etc.
Main raw and auxiliary materials: soybean meal 4500t/a, rapeseed meal 36t/a, corn 4680t/a, wheat 60t/a, fish meal and bone meal 323t/a, stone powder (calcium powder) 276t/a, additive premix (including trace Elements, vitamins, growth promoters, antioxidants, amino acids, sodium chloride, glucose, etc.) 38t/a, packaging 3.5 million pieces/a, 75% alcohol 450kg/a, etc.
Eneygy consumption: Water* 179m3/a, Power*200,000 kwh, Diesel*12.2t/a
Main equipment: rotary grading screen, hammer mill, batching scale, small material adding machine, small material review scale, double-shaft paddle mixer, cone powder sieve, pig pellet machine, single-layer conditioner, countercurrent cooler, crumbler, rotary grading screen, packaging scale, belt feeding double bucket packaging scale, oil-fired boilers, etc.
4 t/h pig feed mill process flow::
Initial cleaning and screening of raw materials: All the raw materials are bagged raw materials, and the raw materials are temporarily stored in the raw material warehouse after purchase. Raw materials such as wheat, corn, and meal need to be crushed, while powders such as fish meal, stone powder, and bone meal do not need to be crushed.
Raw material crushing: This process is mainly carried out for the pellets that need to be crushed, and the materials in the crushing bin enter the crusher for crushing.
Batching mixing section: The raw materials are conveyed by the batching auger according to the formula amount and batching sequence set by the system, and then enter into the batching scale for cumulative measurement. Mixer to mix.
Cooling section: The pig feed mill project products include powder and pellet forms. After the ingredients are mixed, the powdery product can be obtained, and the powdery product directly enters the finished product warehouse; after the ingredients are mixed, the granular product can be obtained through the granulation process.
Grading and packaging section: the cooled finished pellet product enters the plane rotary grading screen, and completes the three-stage sieving, and the finished product entering the finished product warehouse passes through the vibrating screen and packs after classification storage. The powdery finished products that do not need to be granulated directly enter the finished product warehouse after completing the ingredient mixing, and are packaged and put into storage after vibrating screening.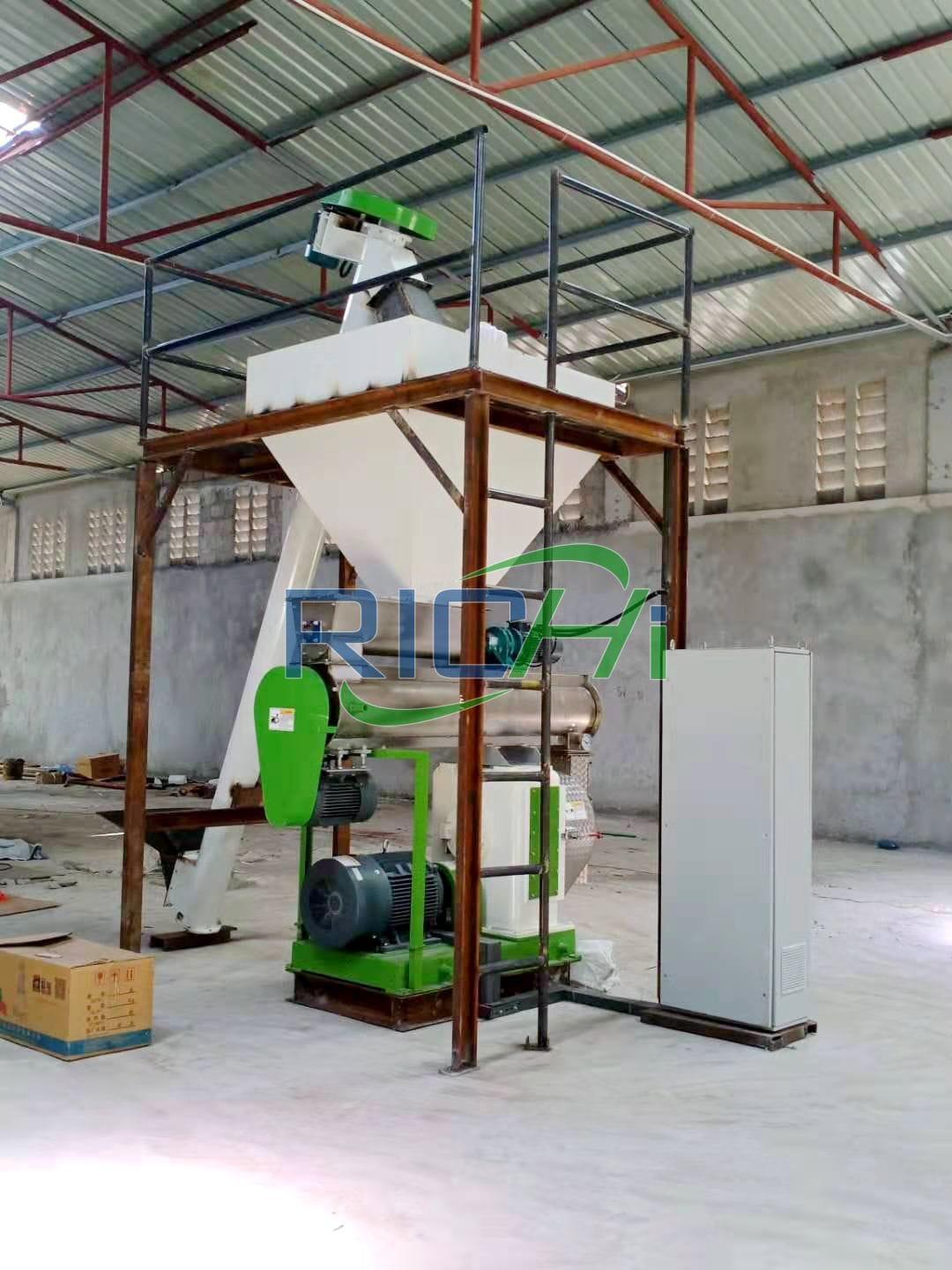 Richi Machinery takes the time to understand the specific needs of your pig feed plant project to ensure that our entire construction team is properly trained to complete the task at hand; safely and efficiently.
As your construction manager, RICHI will offer you all of the products, people, services and strategies needed to plan, build, commission, maintain, and service your facility.
Faqs of starting complete pig feed mill

How to determine the scale of raw material warehouse?
Raw material warehouse scale according to inventory demand and pig feed mill project operation capacity:
Flat storage area instead of bulk silos required more ground area. So, size of warehouse shed should match the project capacity and raw material storage. Practically 1 MT of material requires 5-6 square feet of area at 15 feet stacking height on maize density.
For example: if we have to store raw material stock for 2 months and our daily production is around 100 MT we need ; 100 x 25 days x 2 = 5000 MT of storage for 5000 MT storage on maize density we need minimum space of 28, 000 – 30,000 square feet.

How to prepare for future expansion for pig feed mill?
Selecting layout with no room for expansion is a mistake. Even with the best planning, most successful plants will make changes in future years that could not have been foreseen.

Therefore, it is wise to allocate some area of the site for future growth and expansion And always select the location of pig feed mill in such a way that there should be space for expansion towards the raw material godown (In direction of chain conveyor). Also provision can be kept for bulk silos.

How to consider the supply of water, electricity, labor and other resources?
Water is necessary for boilers, toilets and fire protection. However, if it is not available from utility, a well on the property may be necessary. In this case, underground water availability will need to be investigated. Sometimes both sources are used in the same plant.

A public sanitary sewage connection is desirable, but properly installed septic tanks and drain fields work very well in remote areas.

What are the considerations for personnel safety and fire protection of pig feed mill?
Roads Should Be PROVIDED in A Symmetric Manner to Serve All ARLAS Requiring Access for the Operation, Maintenance and Fire Fighting.
Should be provided for each operating area. Fire control room may be in the security room/administrative building. High Tension (HT) line and HT sub-station(s) shall be terminated / located outside the operating area.

Plant elevation should be higher than the outside boundary surroundings and approach roads inside the plant area should be on higher ground to avoid flooding. (Find RICHI on YouTube)

What kind of pig feed can your pig feed mill process?
PIG STARTER PELLETS
Feed Pig Starter from 8 weeks of age until pigs are about 75 lbs. in weight, (about 12 weeks of age). This will provide the needed nutrition and also aid in. the prevention of worm infections and swine dysentery.
PIG GROWER
Pig Grower contains protein, and is fortified with minerals and vitamins. It is designed to be fed from 75-125 lbs. in weight.

HOG FINISHER
This feed should be fed from 125 lbs. until market. It is formulated to produce both rapid gains and the quality carcass so essential for peak profits.
HOG CONCENTRATE
This supplement may be blended with your home raised grains to provide a balanced ration for your hogs during the growing and finishing periods.
GESTATION RATION
This protein ration is formulated to obtain optimum embryonic growth and to meet the nutritional needs of the bred sow and gilt.

LACTATION RATION
Lactation Ration is designed to provide for the nutritional demands of the lactating sow. This feed contains protein, added fat, minerals, and vitamins. It is formulated for maximum milk production, and minimum loss of body condition.
SOW CONCENTRATE
This feed is formulated to be a source of concentrated protein, minerals and vitamins. It is designed to be blended with grain to provide balanced rations which meet the demanding nutritional needs of the swine breeding herd.
Why Richi Machinery?
At Richi Machinery, we believe there's no substitute for experience. And we have well over 25 years of it.
We have been in business for 25+ years.
Our long-term business strategy lends stability to our client's pig feed mill projects.
We are innovators.
We don't stand still—we are continually finding ways to improve the design and pig feed plant construction process to add value and save you money.
We are a lean organization.
Our clients work with just one project manager and one project superintendent who have the authority to make decisions. This minimizes mistakes and expedites jobs, saving everyone time and money.
We have key employees with significant experience in the industry
Our key employees have an average of 10 years with the company. As a result, we deliver our jobs faster and help our clients get a return on their investment sooner than other companies in our industry.
We understand the importance of communication
We want to make sure our clients know what's going on at all times. We anticipate problems to minimize client risk, and we listen to ensure that client needs are accurately reflected from proposal to pig feed mill project completion.
We understand customer satisfaction includes being cooperative
We work as a team with the owner, subcontractors, and suppliers. We strive to make the construction process a pleasant experience for the client.
We are committed to quality
We see each project as a reflection of our values and build each one as though it were for ourselves. We strive to do it right the first time, improving the investment value of our client's property.
We work safely
We have minimal lost time due to injuries and our insurance costs are lower, which saves our clients money.
We work in tough environments
We understand the challenges, maintain flexibility in our work schedule, and minimize errors in order to deliver your pig feed mill equipment on time and on budget.
LEAVE YOUR NEEDS
Keeping in touch with us is an effective way to solve all your problems. If you have any needs or questions, please leave your contact information, then RICHI technical consultants will send design, quotation, videos to your mailbox. You can also contact us directly via WhatsApp: +86 13838389622