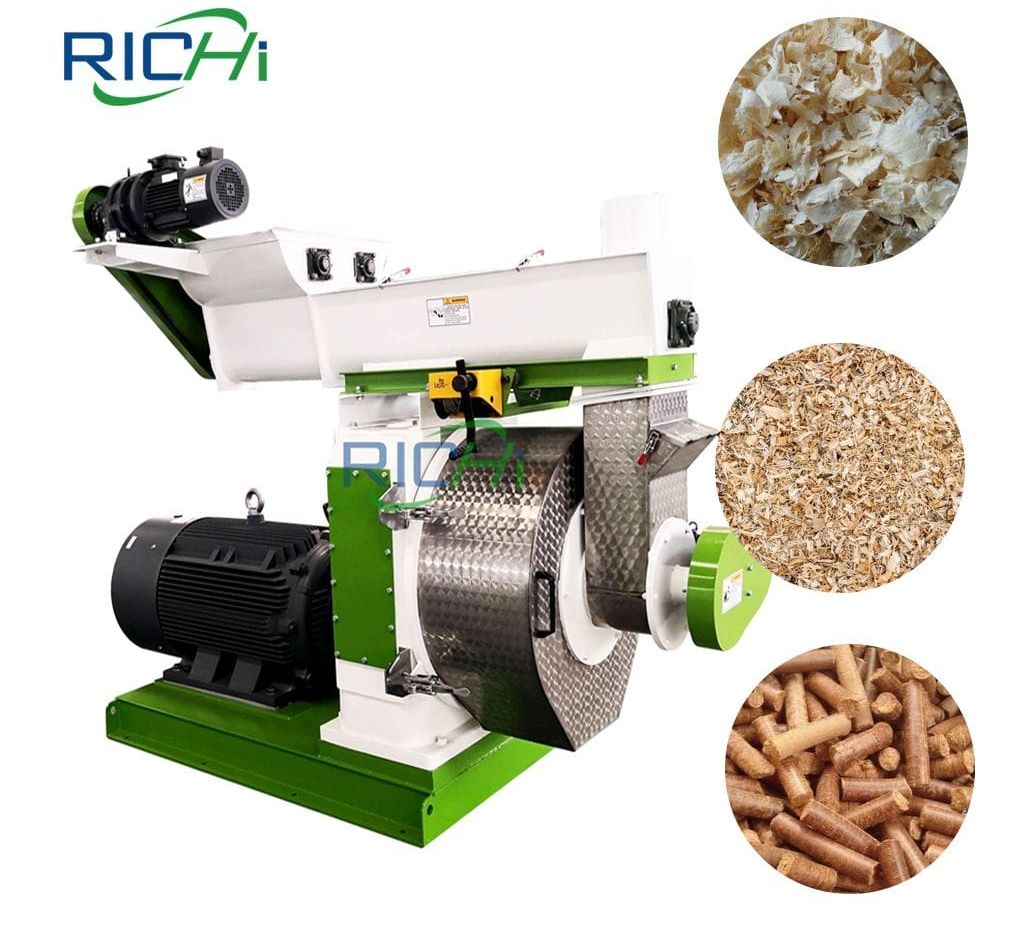 Sawdust Pellet Machine For Sale
Richi Machinery specialize in sawdust pellet machine for sale, our pellet machine for sawdust, with a single machine output of 0.3-4.5t/h, is an environmentally friendly mechanical equipment that processes various agricultural and forestry wastes into biomass fuel pellets at one time.
In addition to various tree sawdust and various wood wastes, our equipment is also suitable for granulating various other agricultural and forestry wastes, such as straw, rice husk, leaves, bamboo, bagasse, etc. Users can use one or more raw materials for pellet processing at one time.

MZLH series sawdust wood pellet machine is a granulation equipment that Richi Machinery has been constantly innovating and upgrading.
Because of its simple structure, high degree of intelligence, reliable operation, easy maintenance and repair, and relatively low production and construction costs, it is widely used in pellet processing systems. middle.
Application of sawdust pellet machine
Richi Machinery is mainly engaged in sawdust pellet machine for sale, our product can be used for pelletizing:

Oak sawdust, pine sawdust, cedar sawdust, beech sawdust, poplar sawdust, maple sawdust, teak sawdust, rubber wood sawdust, birch sawdust, acacia sawdust, apple wood sawdust, ebony wood dust, mesquite sawdust, hardwood sawdust, softwood sawdust, fine sawdust, wet sawdust, coarse sawdust, miter saw dust, table saw dust and other sawdust types.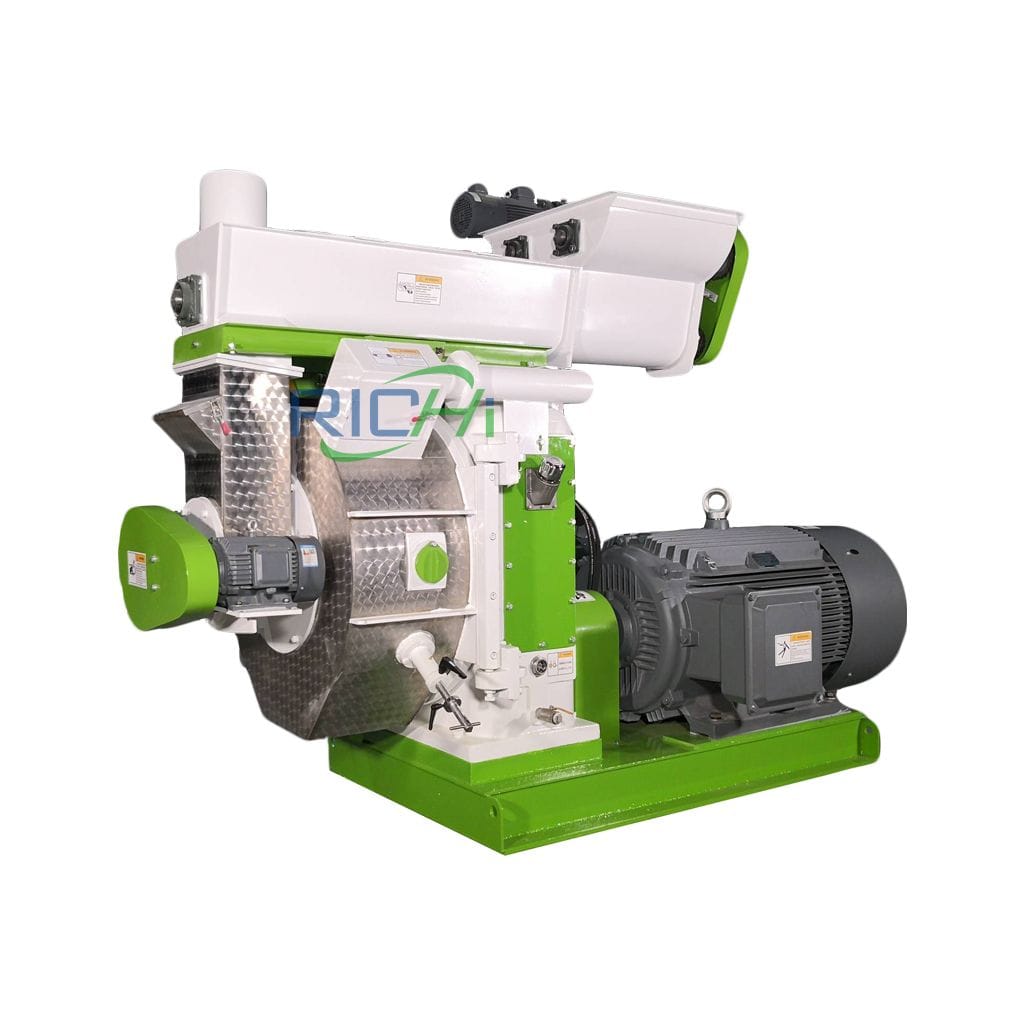 oak sawdust pellet machine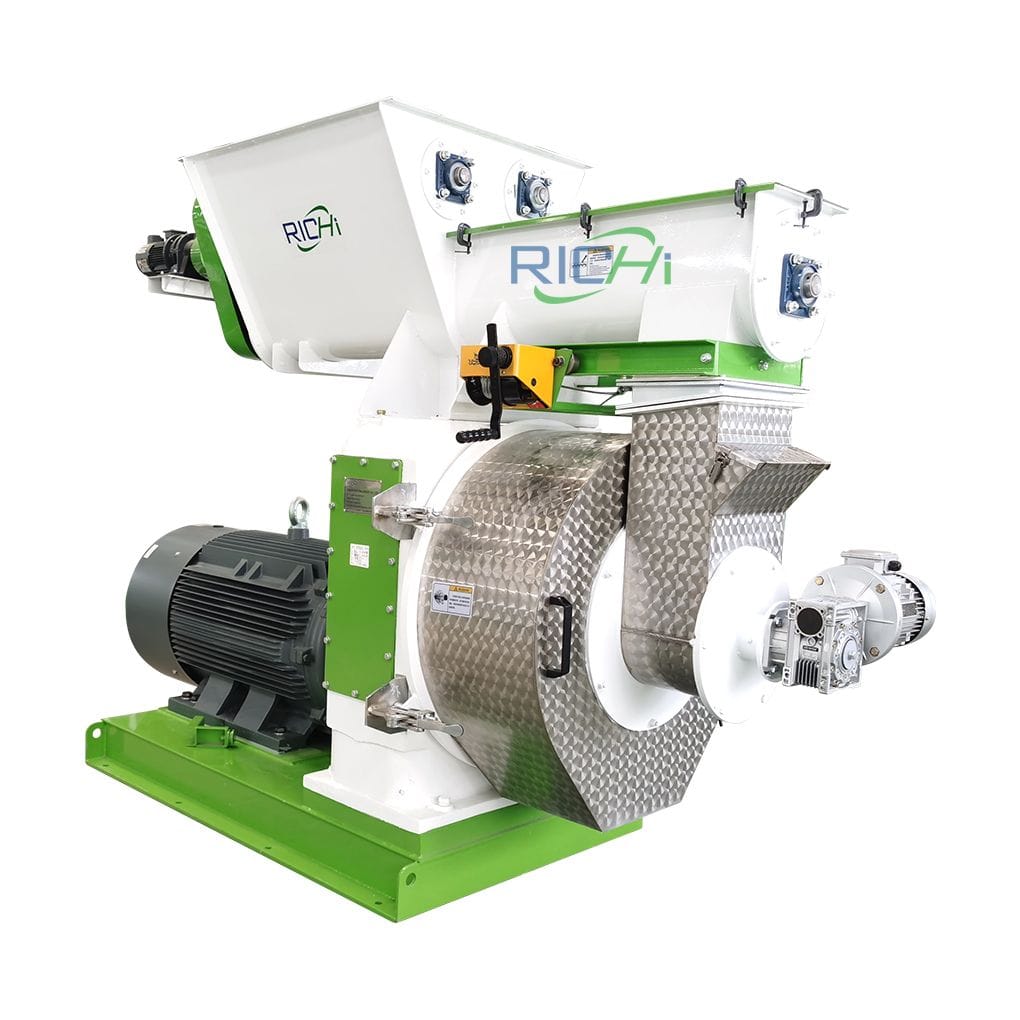 pine sawdust pellets machine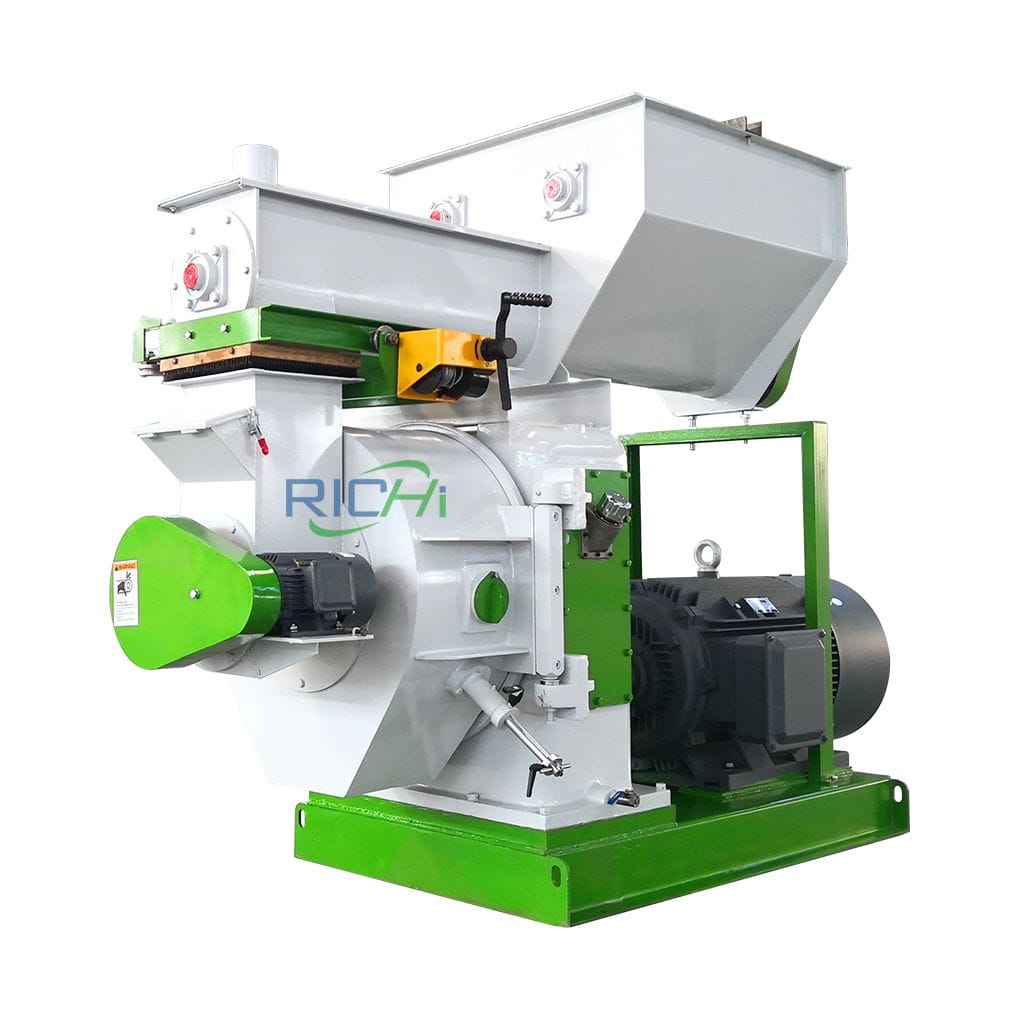 beech sawdust pellet machine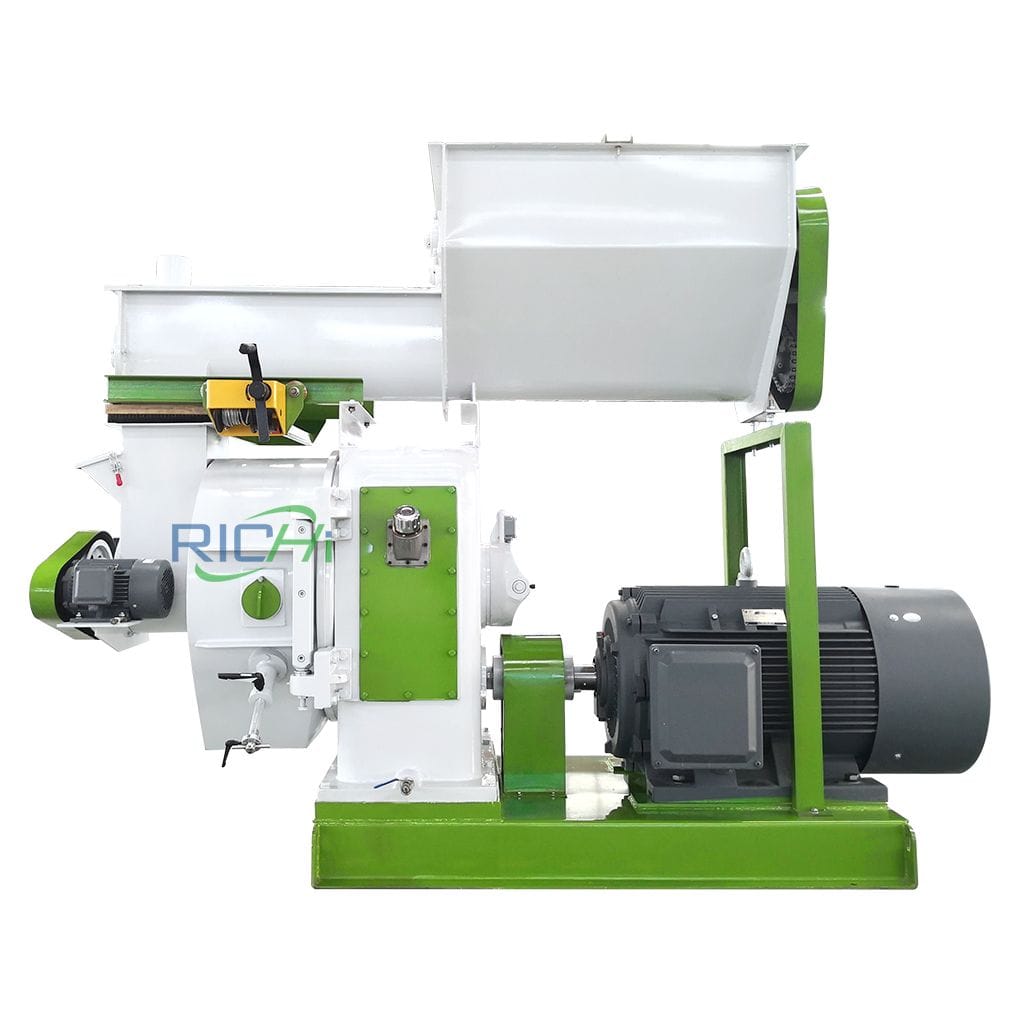 poplar sawdust pellets machine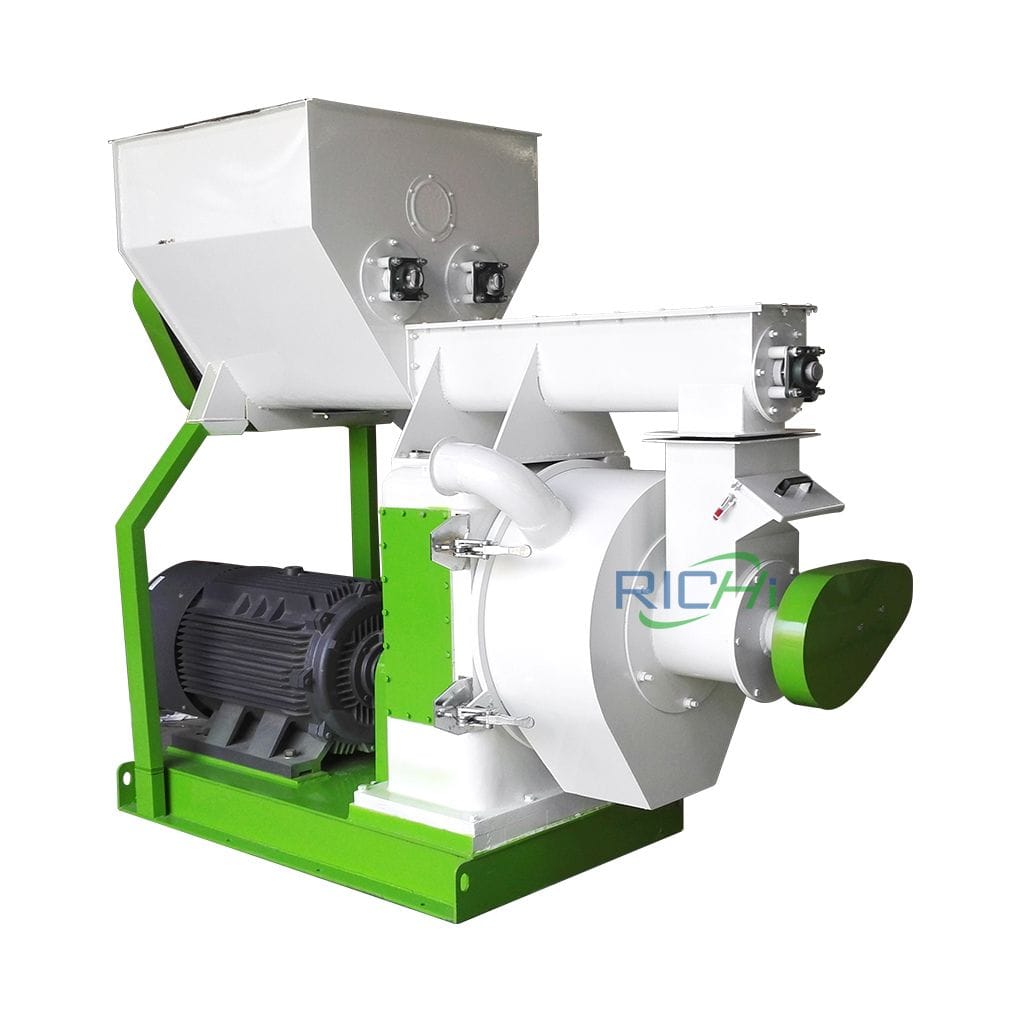 birch sawdust pellet machine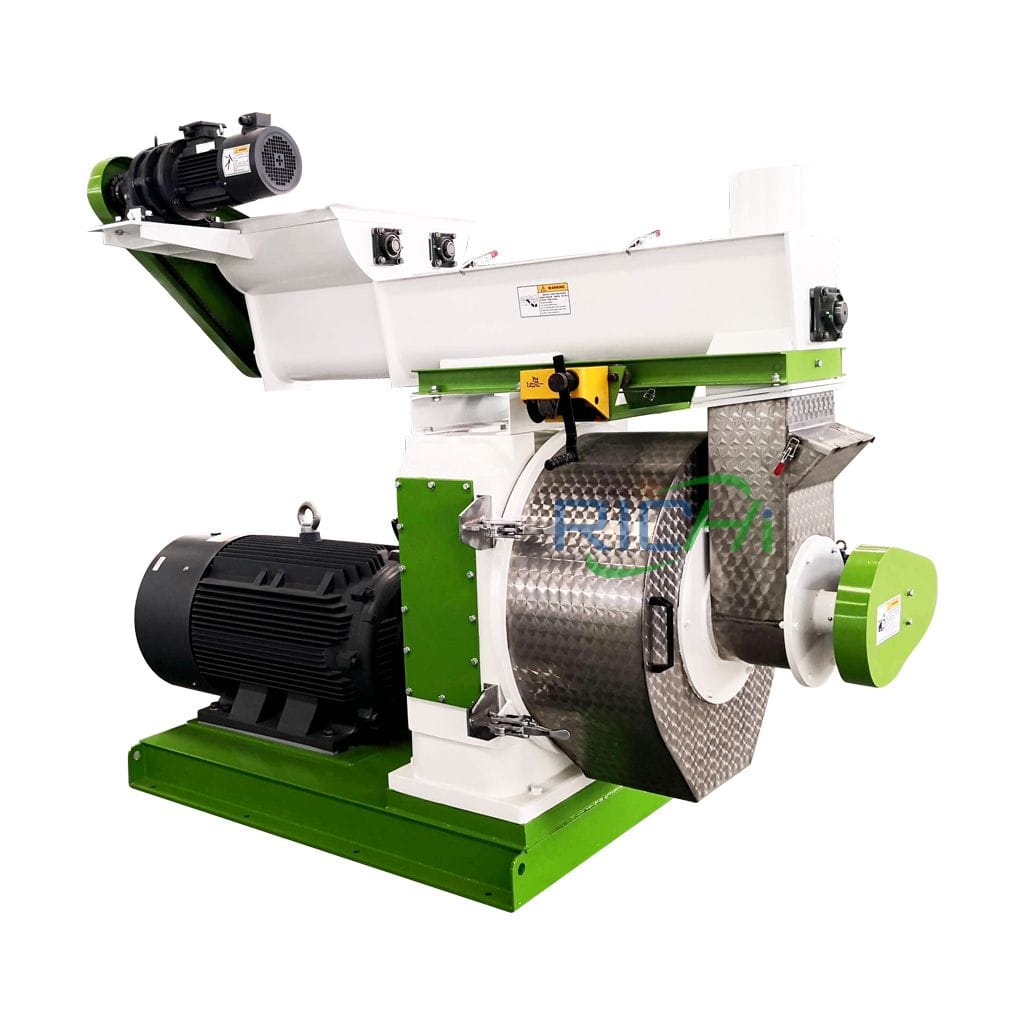 acacia sawdust pellet machine
Features of sawdust pellet machine
Due to the variety of raw materials and complex characteristics in biomass wood fuel processing, the requirements for production and processing equipment are relatively high.
RICHI equipment is required to be wear-resistant, versatile, stable in operation and high in productivity. What is commonly used now is the mold roll rolling forming process. The most widely used one is the horizontal ring die sawdust wood pellet making machine.
The requirements for the moisture content of the raw materials are relatively wide, and the energy consumption and cost are low; the compact molding method is adopted, and the materials can be softened and bonded by relying on the frictional heat generated when the materials are extruded.
RICHI sawdust wood pelletizer machine has high output, low energy consumption, low noise, low failure, strong machine fatigue resistance, continuous production, economical and durable;
Simplify the design of the pellet machine transmission system, and introduce a reliable material moisture content detection system into actual production.
We improve the safety protection and security devices, display devices and alarm devices, so that the safety and reliability of the equipment are fully guaranteed.
The pellet machine ring die adopts quick-release hoop type, and the output is about 20% higher than that of the belt-driven type. The whole machine adopts special high-quality materials and advanced coupling transmission device;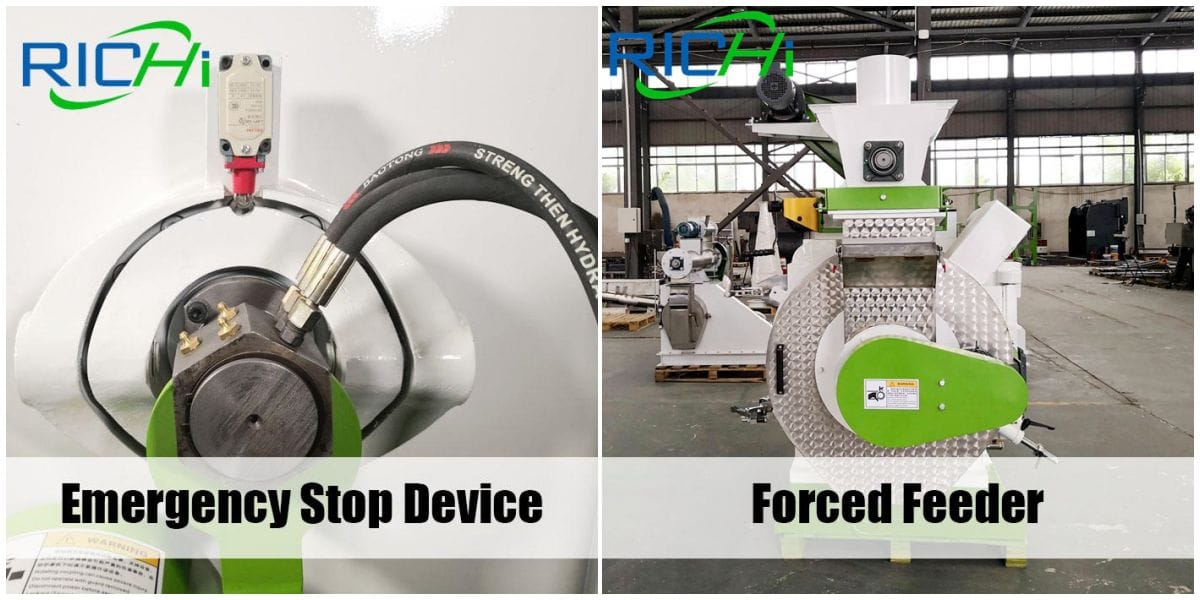 The transmission part of the whole machine adopts high-quality imported bearings and oil seals to ensure high-efficiency, stable transmission and low noise.
Frequency conversion feeding can be used for feeding, which can effectively prevent uneven feeding caused by unstable voltage.
The key components are made of high-quality alloy steel and wear-resistant materials, which are heat-treated in a German vacuum furnace, and the service life is extended by 5-7 times.
Parts and components adopt standardized design structure and size, with good reliability.
Internationally advanced compensating serpentine spring coupling with novel structure, compact, safe and low failure performance.
High production efficiency, greatly increased output, better product quality, uniform particle size and high density.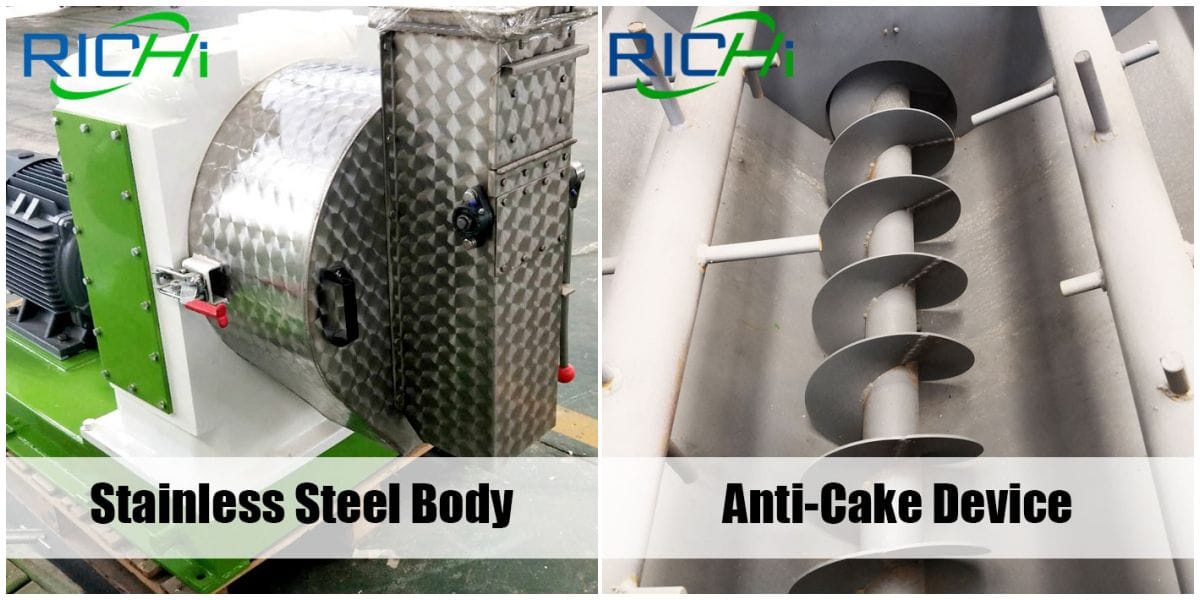 Richi Machinery focuses on sawdust pellet machine for sale, combined with 30 years of experience in engineering cases in the granulation industry, it is designed and advanced in technology.
The ring die pelletizing technology and the oil polishing and shaping process make the biomass wood pellets beautiful in appearance and compact in structure. Without adding any binder, the production cost is effectively reduced, and the product is more natural and environmentally friendly.
Technical parameters of sawdust pellet machine
Main parameters
| Model | Main Power(kw) | Anti-caking Feeder(kw) | Capacity | Final Pellet(mm) |
| --- | --- | --- | --- | --- |
| MZLH320 | 37 | 1.5 | 300-400kg/h | 2-12 |
| MZLH350 | 55 | 1.5 | 500-700kg/h | 2-12 |
| MZLH420 | 90 | 1.5 | 1-1.2t/h | 2-12 |
| MZLH520 | 132 | 2.2 | 2-2.5t/h | 2-12 |
| MZLH768 | 250 | 3 | 2.5-4t/h | 2-12 |
| MZLH858 | 280 | 3 | 3-4.5t/h | 2-12 |
Auxiliary parameters
| Model | Weight(KG) | Dimension(mm) |
| --- | --- | --- |
| MZLH320 | 2500 | 2200*900*1300 |
| MZLH350 | 3500 | 2500*1100*1600 |
| MZLH420 | 4000 | 2800*1150*1730 |
| MZLH520 | 4500 | 3000*1260*1860 |
| MZLH768 | 5000 | 3300*1500*2000 |
| MZLH858 | 5500 | 3500*1600*2180 |
Working principle of sawdust pellet machine
The working part of the RICHI ring die type sawdust pelletizing machine is a porous thick-walled ring die. The inner cavity of the die is equipped with 2 pressure rollers.
When working, the pressure rollers or the ring die rotate, and the pressure rollers press the powder in the cavity from the die hole.
And then cut into granules by a cutter. The granulation quality is good, the unit structure is large, and the cost is moderate, and it is mostly used in medium-sized or above pellet fuel processing plants.
Parts service
As a manufacturer focusing on the sawdust pellet machine for sale, in order to ensure the interests of users and high-efficiency operation of equipment, RICHI also provides spare parts supply services.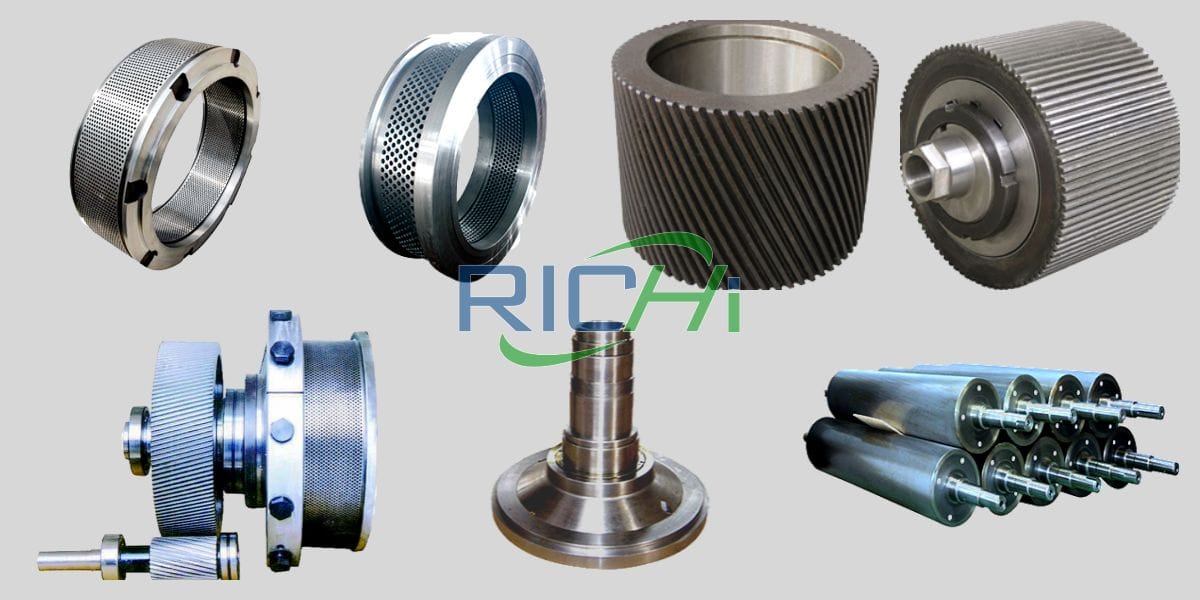 All spare parts of the equipment are complete in model, reliable in performance, stable and durable, so as to ensure that customers' spare parts replacement needs can be met in a short time and reduce customer downtime for maintenance.
Are you looking for sawdust pellet machine for sale? Contact Richi Machinery for details.
Sawdust pellet machine price
When you buy a sawdust wood pellet press, in addition to paying attention to the performance and quality of the equipment itself, its price is undoubtedly more concerned by customers, especially for equipment with many manufacturers on the market, you must buy it more cautiously. The price of sawdust pelleting machine is not cheap.
The sawdust pellet machine price is usually 10,000-100,000USD, which is affected by many factors, such as equipment manufacturer, specification, quality, region, market demand, etc.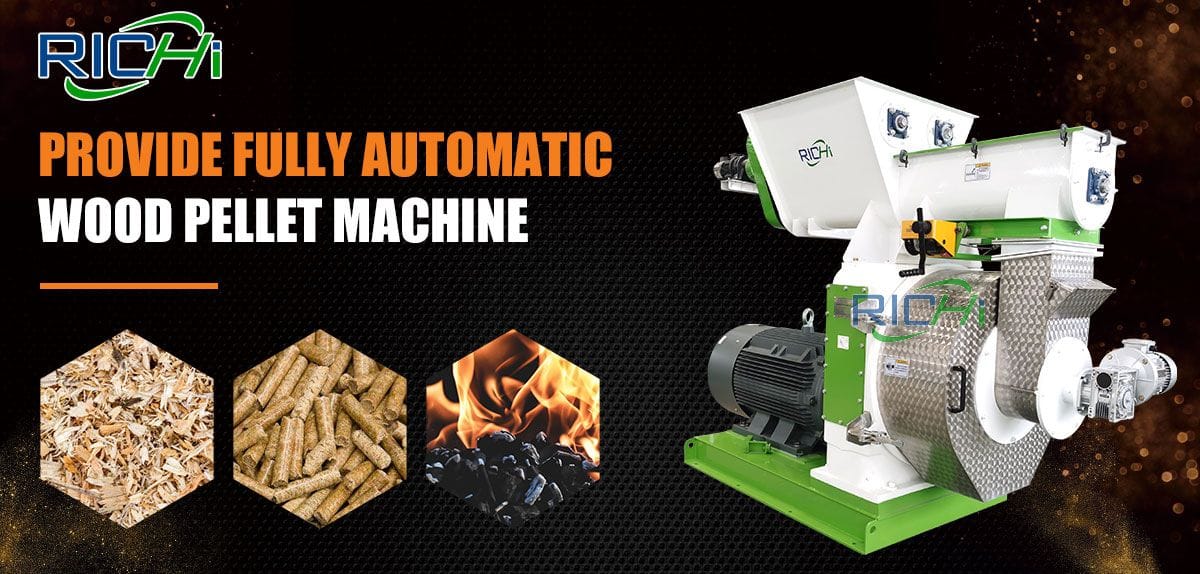 Different sawdust pellet machine manufacturers have different product performance and quality. There are also differences in prices. Therefore, when customers purchase equipment, they must purchase from regular manufacturers.
Richi Machinery has been focusing on sawdust pellet machine for sale for 30 years. The whole process of production, manufacturing and sales of each piece of equipment is scientific and strict. It has passed the quality system certification.
The specific price of sawdust pellets machine can be obtained through free online consultation, and you can also enjoy multiple discount, there are technical personnel for training and operation guidance, maintenance and other after-sales service, RICHI will serve you wholeheartedly 24 hours a day!
Sawdust pellet machine for sale the world
In the highly competitive international market, Richi Machinery aims to build a global strategy, actively participates in cooperation and competition in the global market, continuously enhances the international competitiveness of the enterprise, and realizes the development and take-off of the enterprise.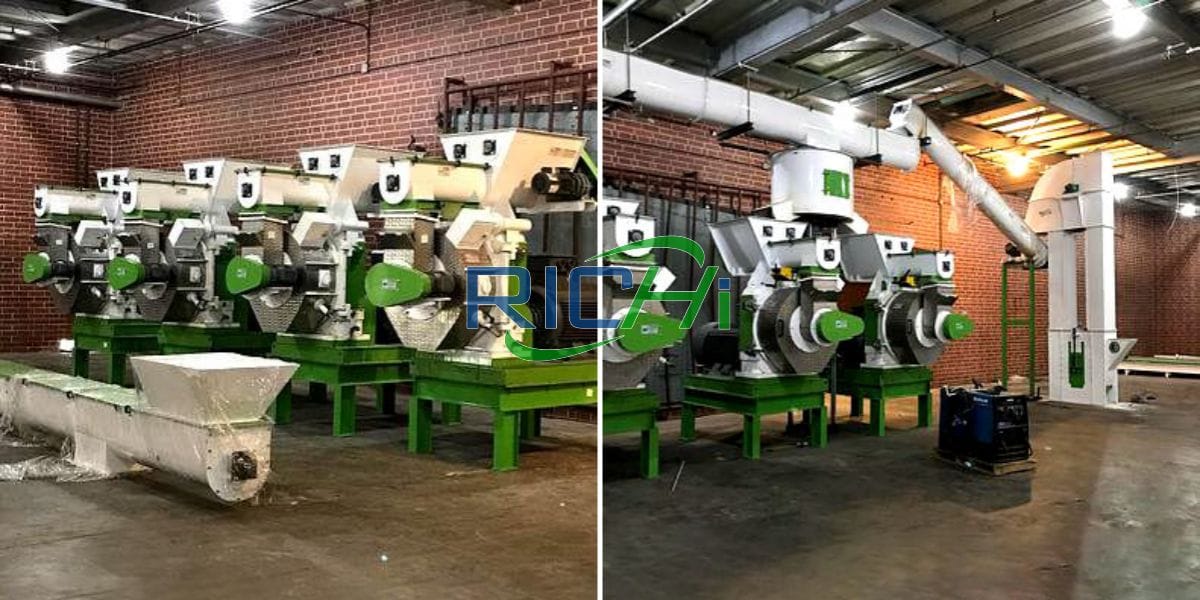 sawdust pelleting machine in United States
Appication: 10 T/H large sawdust pellet plant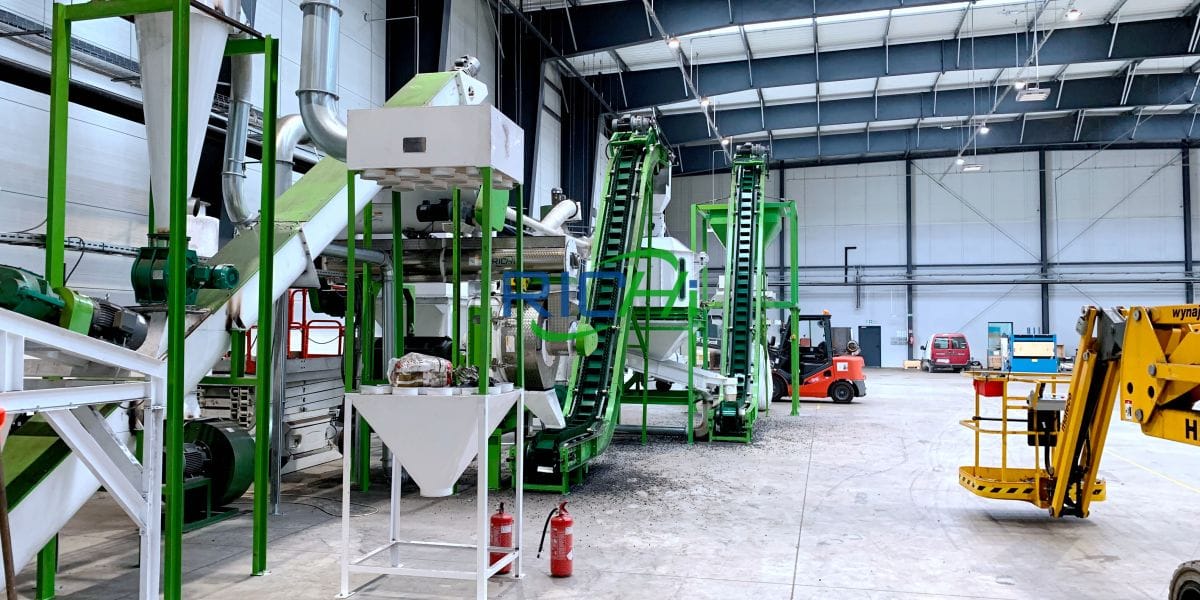 sawdust pellet machine for sale Poland
Appication: 2-3 T/H automatic sawdust pellet plant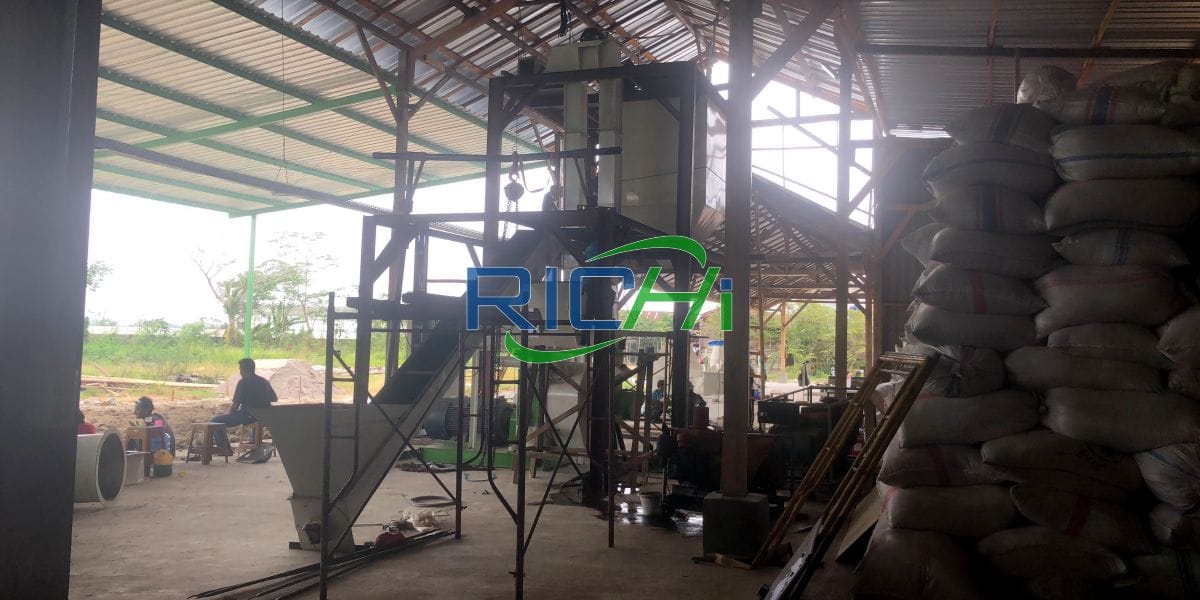 biomass wood pellet plant in Indonesia
Appication: 1.5 T/H sawdust pelleting plant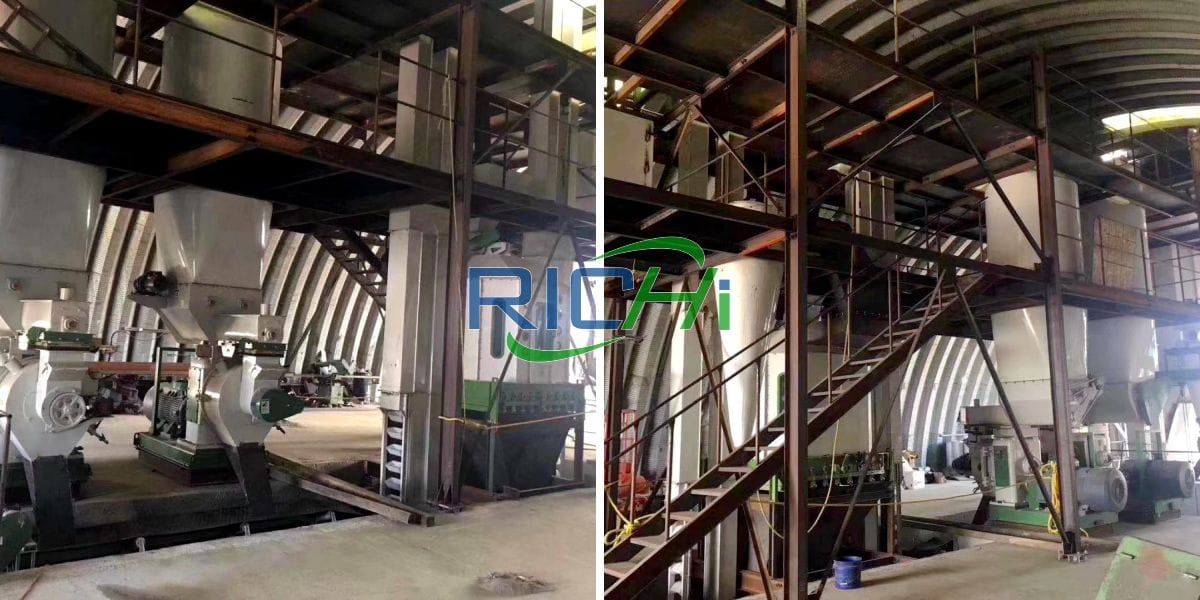 Appication: 2-3T/H sawdust pellet manfuacturing plant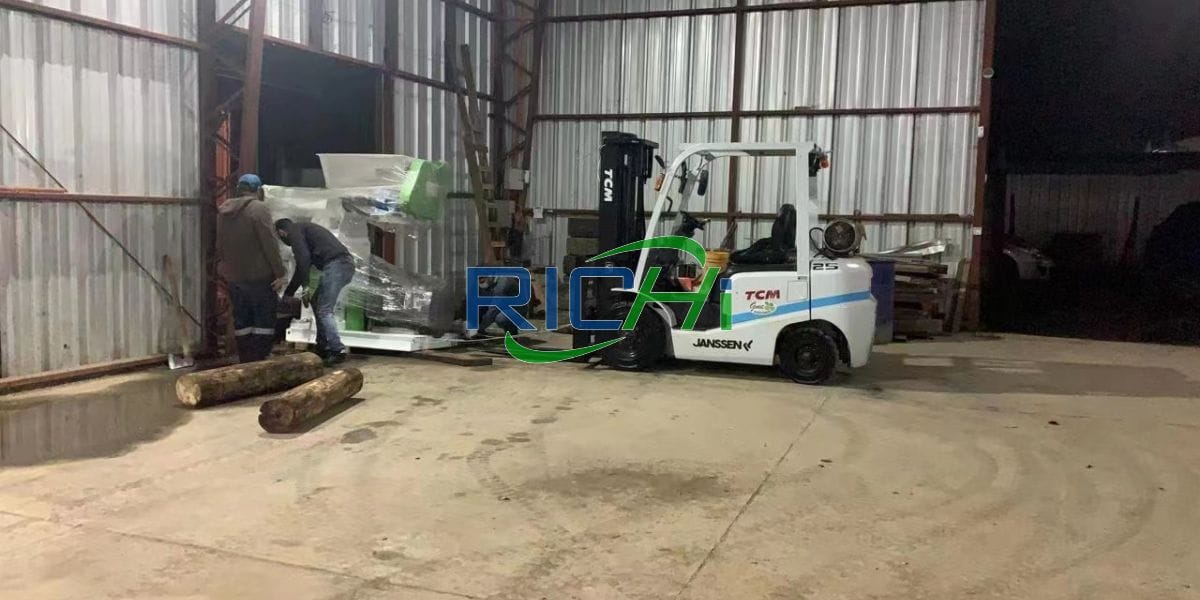 sawdust pellet machine Chile
Appication: 1-1.5 T/H sawdust pelleting line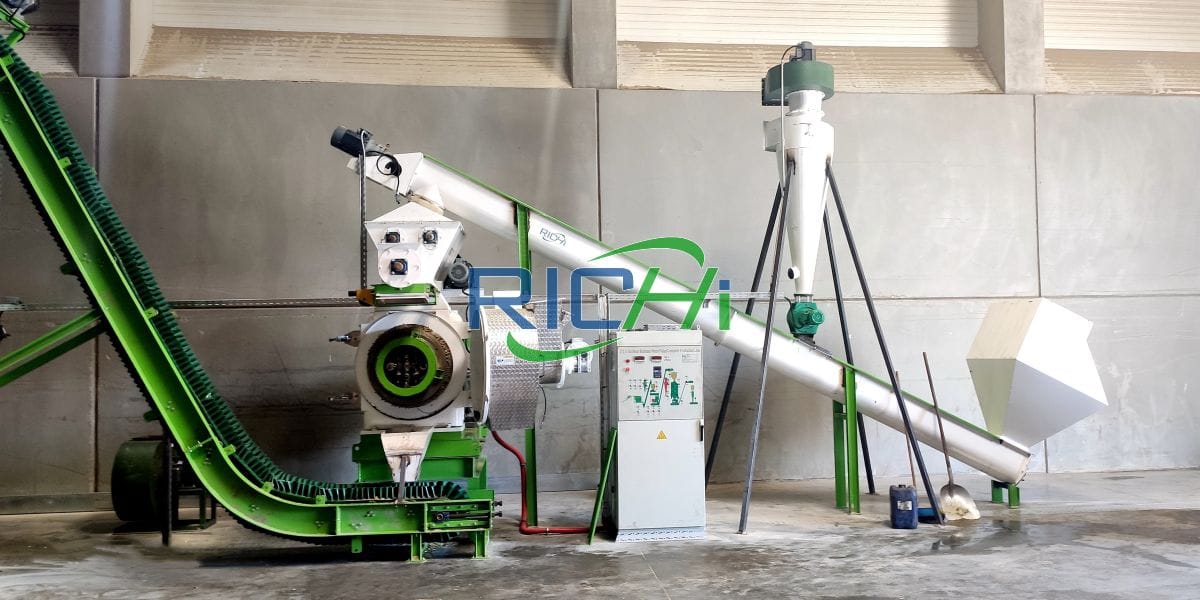 sawdust pellet machine Romania
Appication: 2 T/H sawdust pelletizing plant
RICHI's products have also been widely recognized and praised by the international market. The sawdust pellet machines have exported to the United States, Russia, Canada, Austria, Indonesia, Germany, Japan, Poland, Kazakhstan, Turkey, South Africa, Egypt, Malaysia, India, Australia, Chile, etc. 120 Many countries and regions.
Pellet Raw Material Requirements
Different types of raw materials, physical state, moisture content, presence or absence of impurities… various factors will affect the selection of the sawdust pellet machine and the final application. Therefore, for different materials, different pretreatment processes are required before entering the sawdust pellet machine.
Taking sawdust as an example, it is necessary to judge the moisture content and impurities of the sawdust.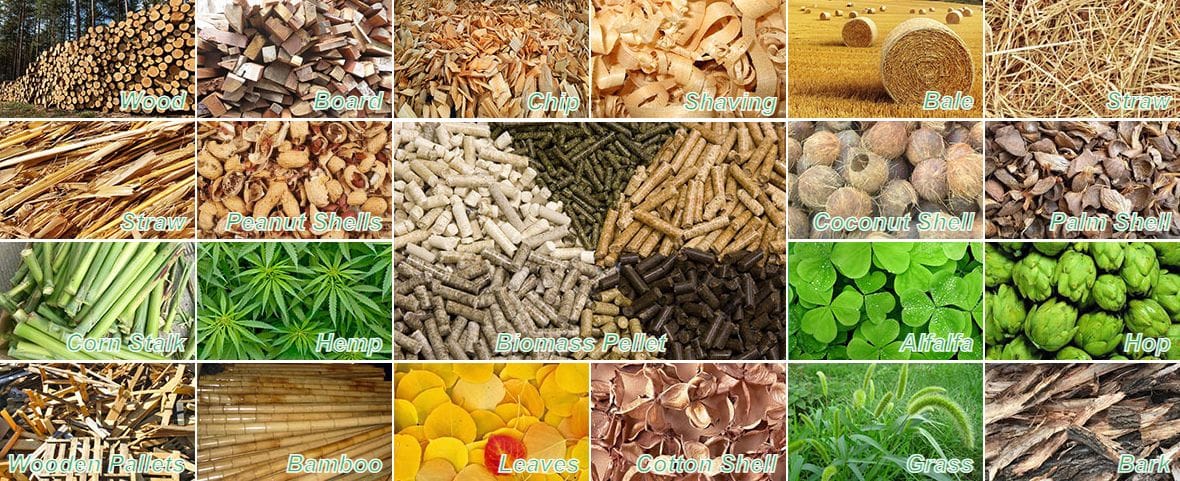 If it is clean and dry, it can be directly fed into the sawdust pellets equipment for granulation;
If it has impurities, it needs screening equipment to remove impurities;
If the moisture content If it is too high, it needs to be dried.
The pretreatment of sawdust is the simplest of all wood wastes. If it is logs, wooden pallets, straw, palm shells, bamboo, cardboard, how to pretreat them? According to the material condition, the pre-treatment process will be very different, and even the sequence of the process will be different.
Generally, the pre-treatment process required includes: splitting wood, cutting grass, removing iron, cleaning, drying, crushing, crushing, etc.
If you don't know how to deal with your raw materials, please contact us, we will formulate relevant plans for free according to your material situation and actual needs.
Ring die compression ratio of saw dust pellet machine
Many people don't understand what is the compression ratio of the ring die of the pellet machine. In fact, the compression ratio refers to the ratio of the effective working length of the ring die to the diameter of the die hole.
RICHI specializes in sawdust pellet machine for sale, next let us give you some advice.

The compression ratio of the ring die of the wood pellet machine can be selected according to the raw material formula and product requirements. To give a few common examples:
The compression ratio of eucalyptus is 1:3.7~1:4,
The compression ratio of mahogany is 1:4~1:4.5,
The compression ratio of hard miscellaneous wood is 1:4.5,
The compression ratio of pine wood is 1:5~1:6,
The compression ratio of poplar is 1:6~1:7,
The compression ratio of bamboo chips is 1:4,
The compression ratio of corn stalks is 1:6~1:8,
The compression ratio of grass is 1:9~1:10.
The geographical and climatic conditions of different countries and regions will also affect the status of raw materials. Therefore, the compression ratio of the ring die of the sawdust pellet machine must pass the actual grinding test before it can be considered a standard.
Comparison of ring die sawdust pellet machine and flat die type
Why choose a ring die sawdust pellet machine instead of a flat die sawdust pellet maker machine? People often compare the ring die pellet machine with the flat die pellet mill.
As a professional manufacturer focusing on the sawdust pellet machine for sale, we can say with certainty that their applicable situations are completely different, so there is no need to get entangled.

The ring die pellet machine has large output and low power consumption, which is unmatched by the flat die pellet machine.
| Item | Ring Die Pellet Machine | Flat Die Pellet Machine |
| --- | --- | --- |
| Power Consumption /kW·h·t | High power consumption, 60 ~ 110 | Low power consumption, 30 ~ 100 |
| Production/t·h | The yield is relatively high, up to 1.0 – 4.0 | The output is generally low, generally no more than 0.5 |
| Pellet density/kg·m | The production pellet density is high, up to 1.0 ~ 1.3 | The production pellet density is low, reaching 0.8 ~ 1.0 |
| Wear | Press roller and ring die wear equalization | Uneven wear of pressure roller and flat film |
| Maintenance | Easy disassembly and maintenance | Accessories are cumbersome to disassemble and assemble, and maintenance is troublesome |
| When applicable | Suitable for commercial and industrial serial production | Suitable for small-scale rural use |
It can be seen that the wood sawdust pellet machine in the ring die of production capacity can cooperate with auxiliary equipment to form continuous production, which is more suitable for large-scale automatic production, with high production efficiency and low requirements for raw materials.
During the use of equipment, the failure rate is low and maintenance is convenient.
But the flat die pellet machine requires less space and is suitable for small-scale production, but it has higher requirements for raw materials.
Today, the ring die sawdust pellet machine will be more suitable for market demand in today's industrialization and automation requirements.
Richi Machinery specialize in sawdust pellet machine for sale, our sawdust pellets machine is carefully designed for customers according to the actual requirements.
How to make sawdust pellet with complete sawdust pellet plant?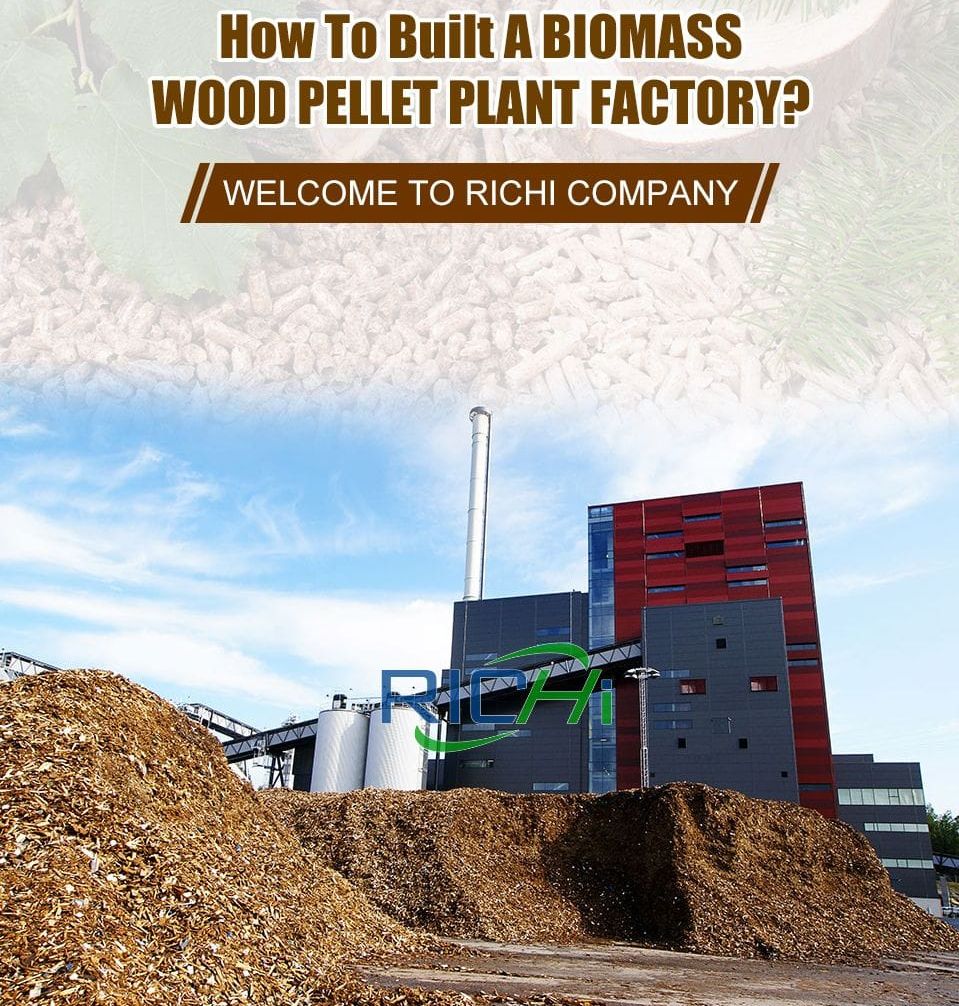 —— RICHI MACHINERY ——
How to make sawdust pellets? This requires a complete sawdust pellet production line. A complete sawdust pellet plant not only needs a sawdust pellet machine, but also needs to be equipped with wood crusher, wood chip dryer, conveyor, cooling machine, screening machine, packing scale, etc.
What equipment should be configured and which model should be selected for the complete wood pelletizing system? According to the customer's material characteristics, raw materials particle size, production capacity, finished product pellet size, etc., each customer's equipment configuration may be different.
Richi Machinery specializes in sawdust pellet machine for sale. No matter what kind of raw material you are, we can provide suitable sawdust pelleting process solutions.
Generally speaking, if you want to build a systematic pellet processing line, you need multiple sections and equipment. The following are common wood fuel sawdust pellet production line process: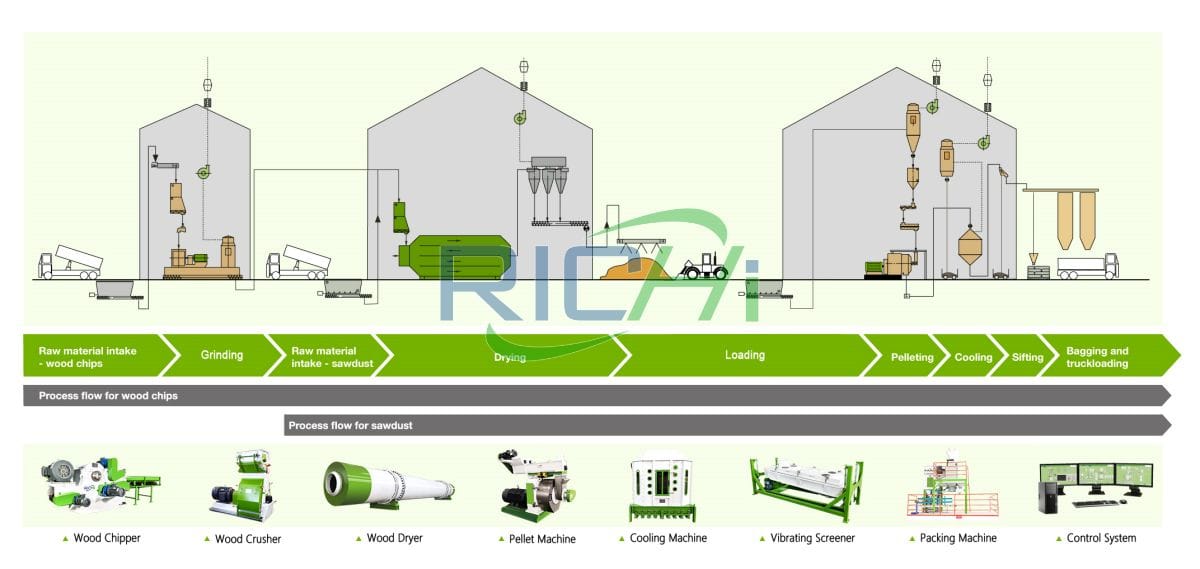 01 Raw material crushing section
If the raw material is only sawdust, then this section is not needed. If sawdust and other raw materials are used, other than the sawdust, the other raw materials used in the pelletizing process must be broken down to a small size, usually small enough to fit into the mould.
(According to our past cases, most customers not only use sawdust, but also add wood scraps and many other types of biomass raw materials. The more types of raw materials, the more complicated the crushing section of raw materials will be.)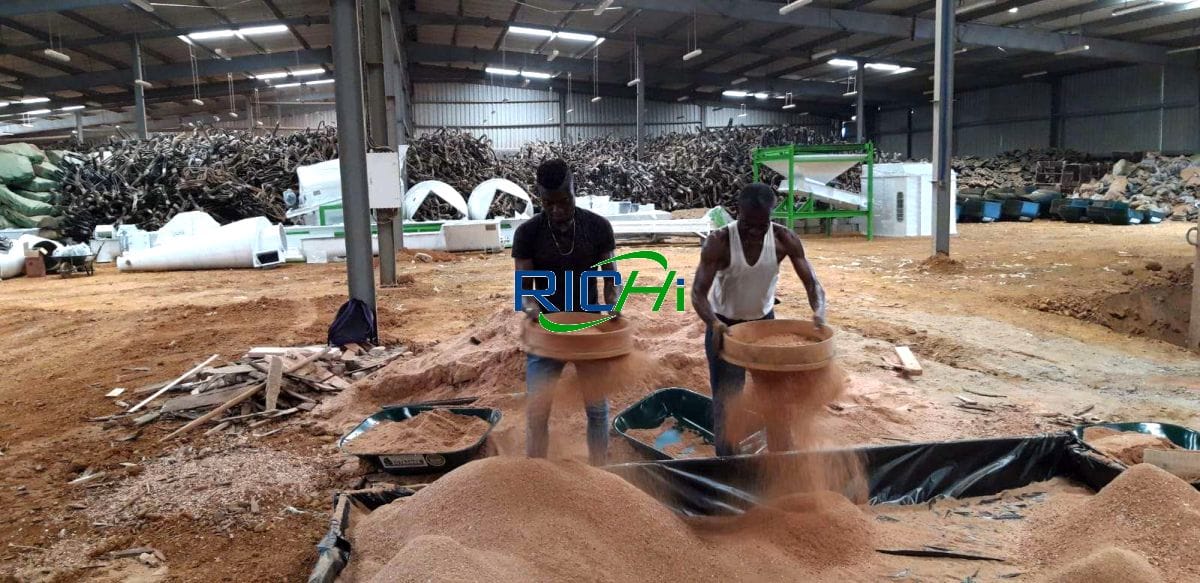 02 Cleaning section
The raw materials are conveyed to the screening machine by the auger conveyor for screening, and large wood blocks or wooden nails and other sundries are screened out.
03 Drying section
The production of wood pellets has certain requirements on the moisture content of the raw materials. After being sieved, it is transported to the drum wood chip dryer by the conveyor for drying.
04 Pelleting section
The moisture content of the raw materials is moderate after being dried, and then pressed into wood pellets by a wood pellet machine, without adding any additives during the pelleting process.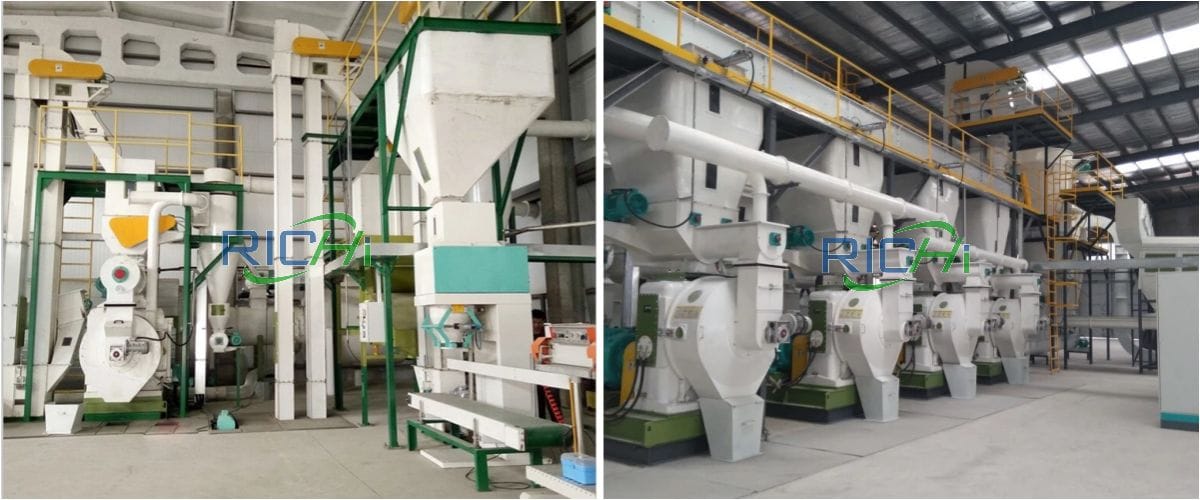 05 cooling section
The temperature of the finished wood pellets is as high as 80~90°C, the structure is relatively loose, and it is easy to break. It must be cooled to room temperature through a counter-flow cooling system.
06 Screening section
The cooled sawdust pellets are screened by a vibrating sieve, and the debris is screened out, so as to ensure the quality of the sawdust pellets.
07 Packaging section
When packing, generally use quantitative packaging machine for packing. It can be packed into 5kg, 10kg, 25kg, etc., and can also be made into tons of bags. Sawdust pellets must be stored away from humid environments.

When choosing a sawdust pellet machine for sale, you should purchase the corresponding supporting equipment and determine the model and quantity of the supporting equipment.
The MZLH series sawdust pellet fuel machine produced by Richi Machinery can be selectively combined with wood splitters, slicers, wood pellet hammer mills, magnetic separators, screening machines, conveyors, and cooling machine, dust collector, packing scale and other equipment according to your needs, raw material types and states.
Regarding the design of the sawdust pellet production line, RICHI has a technical team to help tailor-made, adapt measures to local conditions, simplify the process, vary with materials, and reduce investment costs. Welcome to click for consultation and get a production plan suitable for you for free.
Sawdust pellet production cost composition
According to the mature sawdust pellet production system abroad, the production cost includes the following aspects:
Local raw material cost (including raw material transportation);
Production energy consumption cost;
Equipment loss and maintenance costs;
Depreciation cost of other fixed assets;
Labor costs;
Operation and management costs (including taxation, sales, transportation, loan repayment and interest payment, etc.).
Solution recommendation
So, find a professional manufacturer who specializes in sawdust pellet machine for sale, and can supply you a variety of customized sawdust pelletizing solutions, and a full set of after-sales service.
Richi Machinery
Richi Machinery is a medium-scale joint-stock enterprise integrating R&D, production, sales and service. After 30 years of innovation and development, it has become an enterprise with both soft and hard strengths in China's particle equipment machinery industry.
The company is headquartered in Zhengzhou High-tech Industrial Development Zone, China, with 200,000 square meters of heavy industrial plants and more than 100 large and medium-sized metal processing, riveting and assembly equipment.

The company has successively introduced high technology and technology from the United States, Germany, Japan, Australia and other countries, and established an internationally mature production line and a new modern testing base.
Now all the products of the company have passed the ISO9001, CE and GOST international quality system certification. With years of production experience and combined with advanced technology at home and abroad,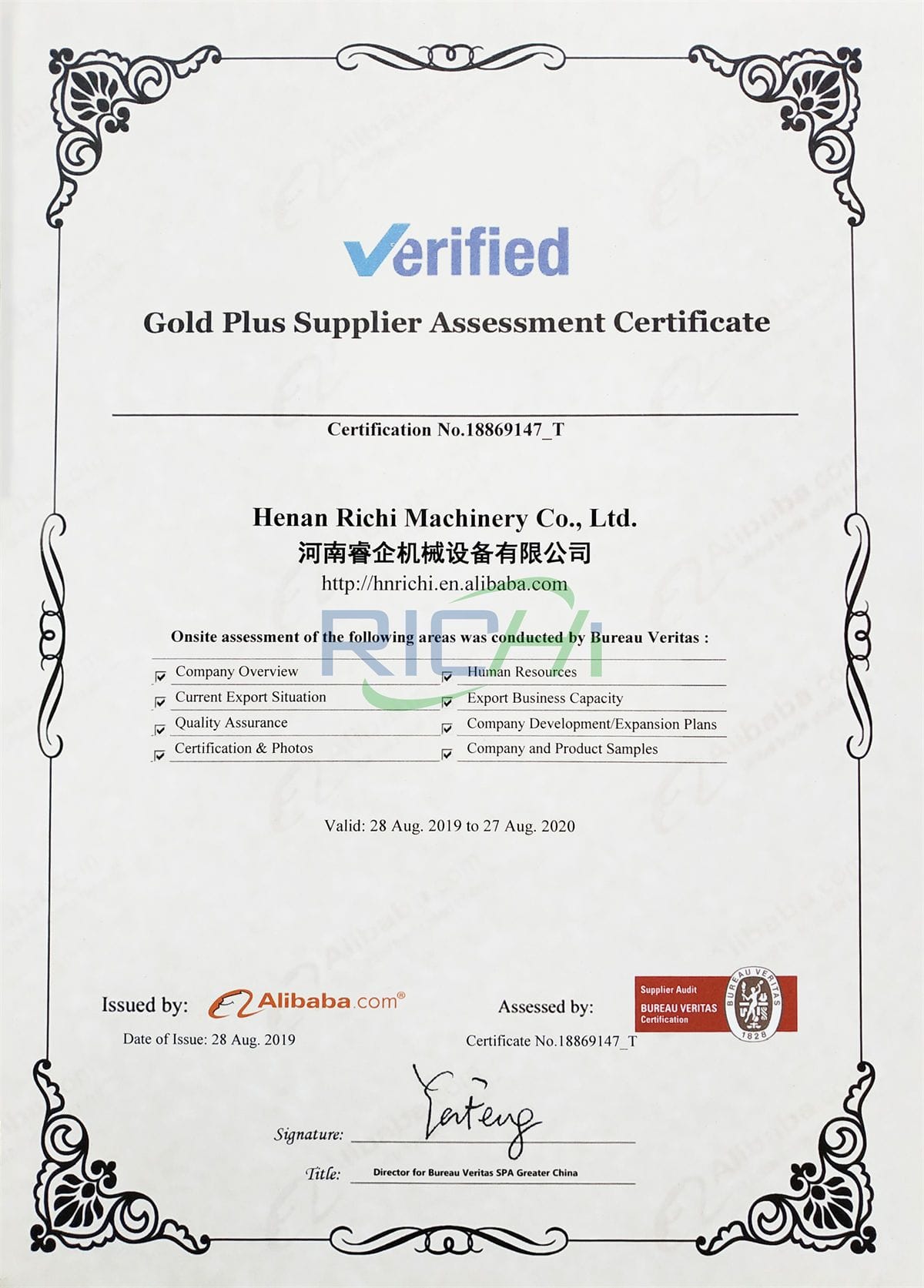 BV certification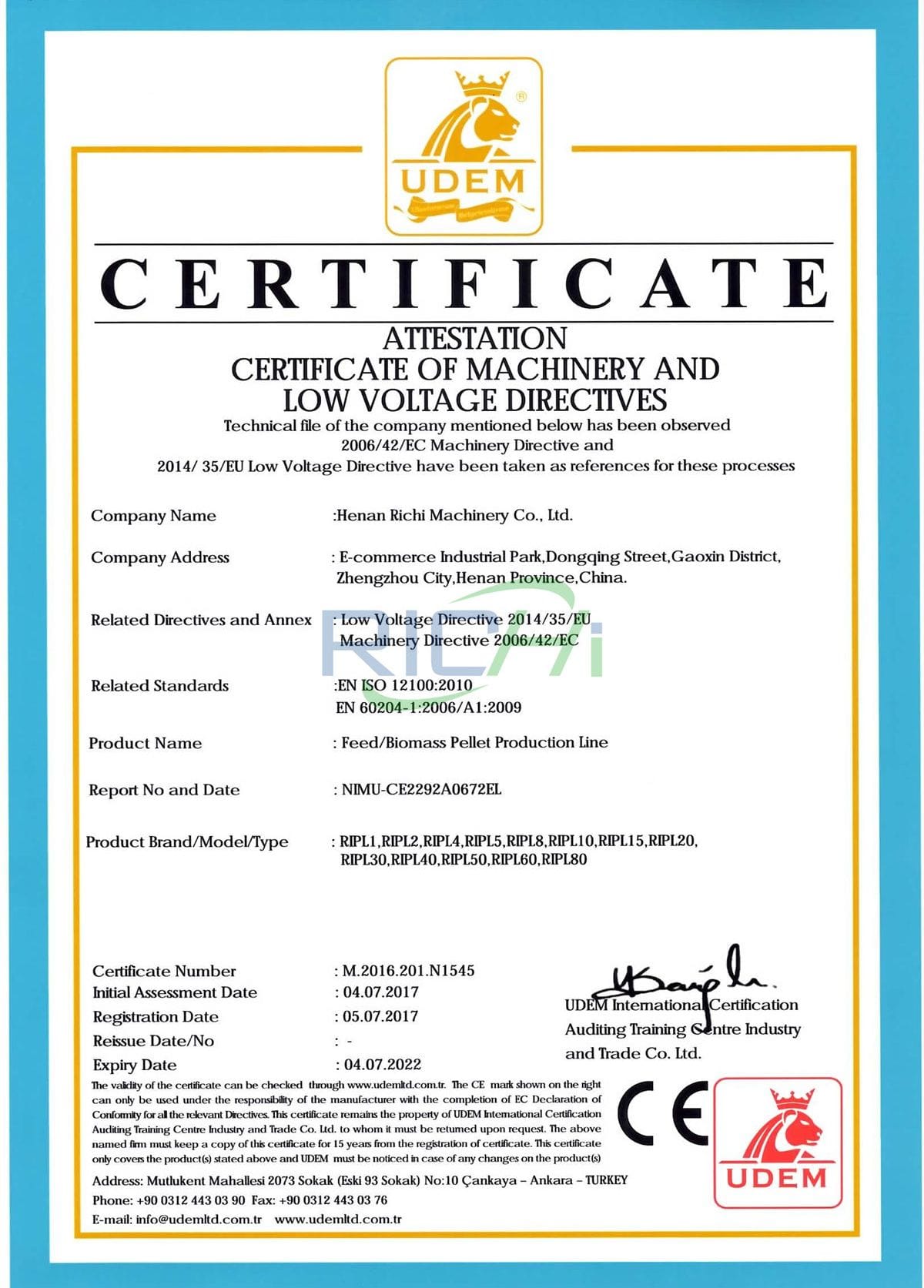 CE certification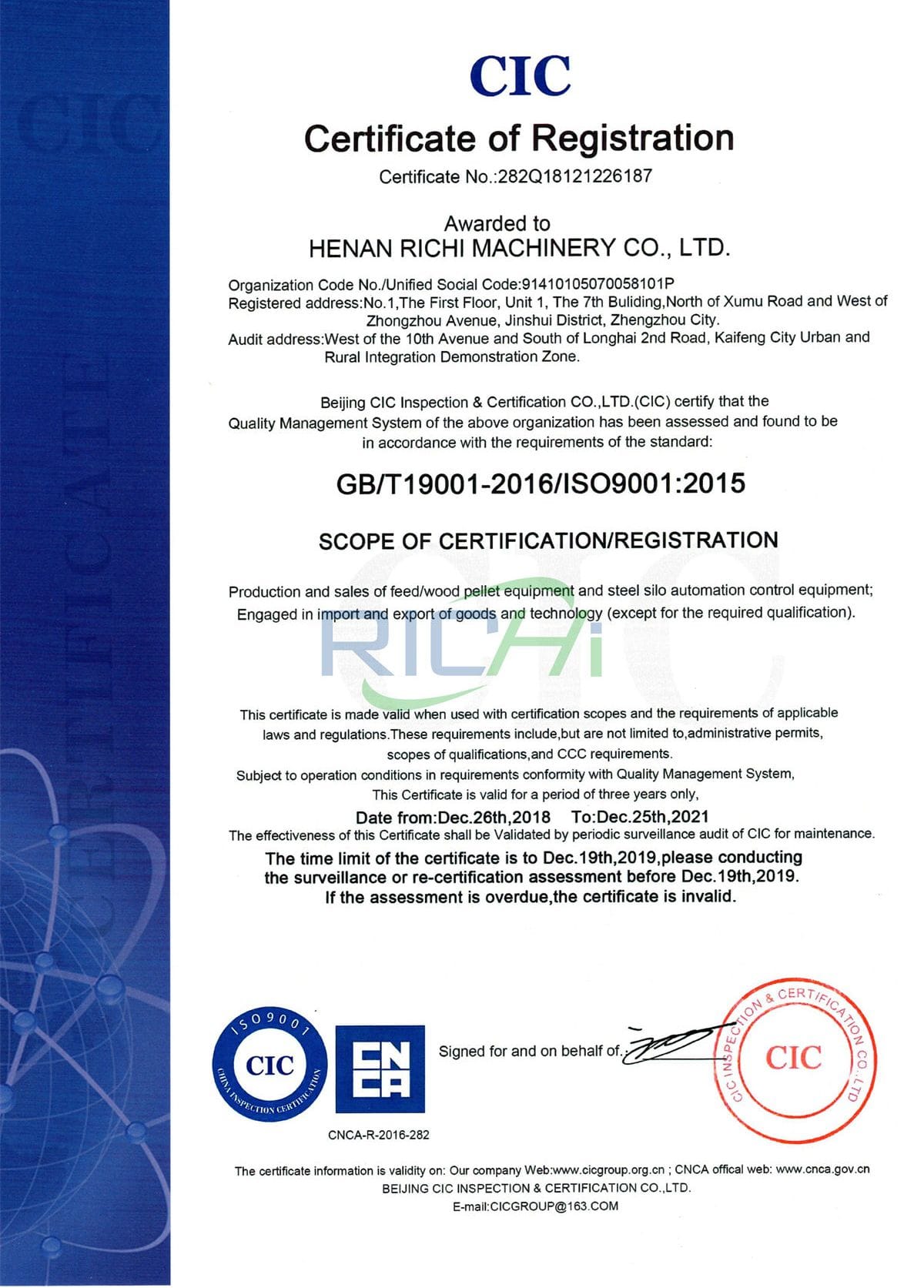 ISO certification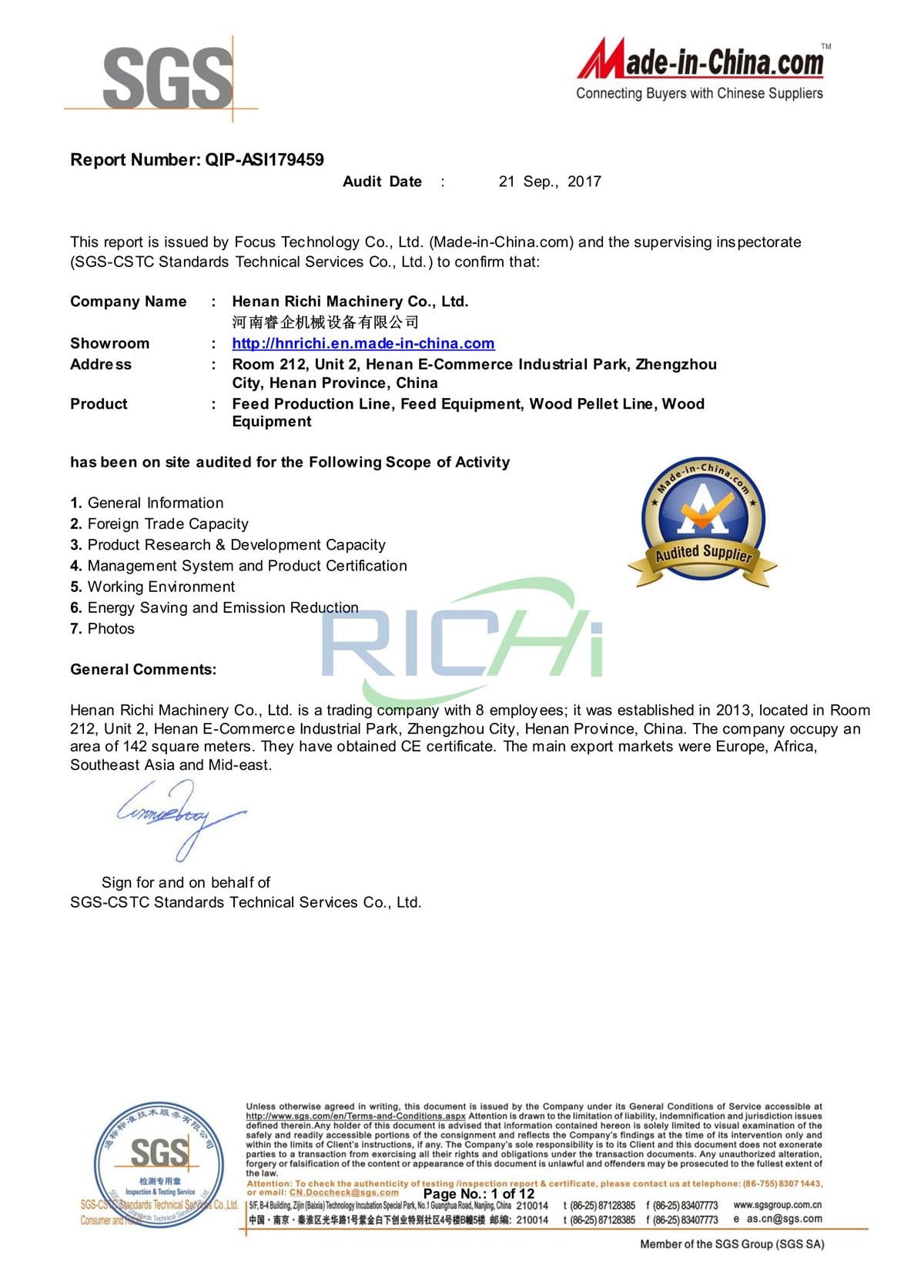 SGS certification
Richi Machinery has independently developed wood chip pelletizers, biomass pelletizers, straw pelletizers, Biomass pellet production line, high value-added products, etc., provide customers with higher quality and higher standard experience.
Investment income analysis, synthesize the market and analyze the cost.
Professional tailor-made, all-round solution to user needs. Reasonable planning process, scientific production will greatly increase your benefits. Provide free information, equipment information and reasonable configuration.
All equipment is processed and produced by ourselves, and a service team is dispatched to the pellet production site for installation and commissioning
Regular testing and visits to quickly solve equipment after-sales problems.



Richi Machinery focuses on sawdust pellet plant and sawdust pellet machine for sale, and can provide customers with one-stop, complete set of professional sawdust pelletizing solutions to solve the problems of customers, especially pure investment customers, such as technical difficulties and lack of understanding of equipment, which makes the project more cost-effective.
faqs of sawdust pellet machine
How much sawdust to make a ton of pellets?
A cubic of dry wood chips with a moisture content of about 15% is about 220kg, so basically 4.6 cubic meters can produce one ton of wood chips.
Where does sawdust come from?
Sawdust generally comes from sawdust mills, lumber mills, and furniture factories.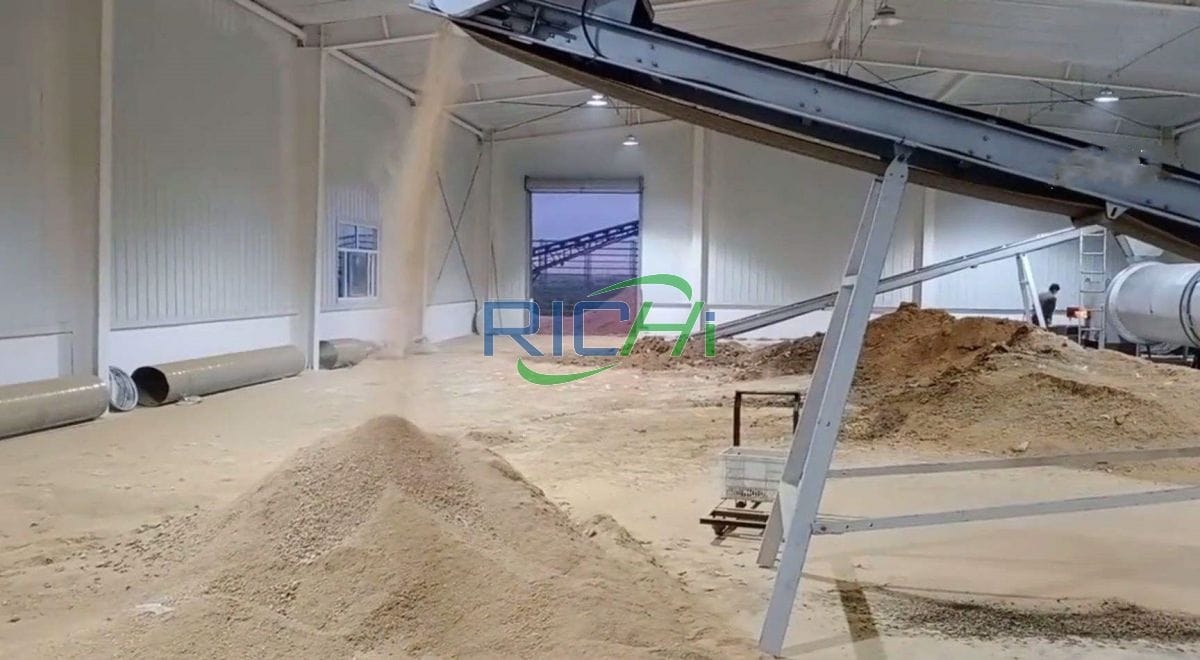 How to make pellets out of sawdust?
The standard sawdust pellet making process is cleaning, impurity removal-drying-granulation-cooling-sieving-packaging.
According to the specific requirements of customers, we can tailor-made sawdust pellet machine for sale and supporting overall design of sawdust pellet production line.
 Is it necessary to add binders when pellets are machined?
Unnecessary. Pure physical extrusion.If your raw material contains less lignin, then consider adding some all-natural additives.
What raw materials can the sawdust pellet machine make?
Sawdust, shavings, chips, straw, leaves, bentonite, attapulgite, branches, waste wood, construction templates, furniture scraps, rice husks, cloth strips, palm shell poppy shells, sunflower shells, waste paper, sludge, garbage, animal manure, waste tires, etc. You can directly consult online.
Only one raw material can be used?
No, multiple raw materials can be used. However, the pre-processing section and equipment configuration of raw materials should be determined according to the actual situation of the raw materials of the customer.
How much is the complete set of sawdust pellet machine equipment?
Generally, 1-20t/h sawdust production plant cost is 30,000-2,000,000 USD This needs to be customized according to the raw material and the required output, and each customer's needs are different. If you want a full set of production lines, please feel free to contact us for consultation and scheme design.

How long is the warranty period of the equipment?
12 Months.
Have you exported to Africa?
Yes, we have exported sawdust pellet machine for sale South Africa, Congo, Nigeria, Mauritius and other countries, and more and more countries are participating in the global energy construction team.
 Is the output of the sawdust pellet machine fixed?
The output in the model parameters given above is a common range. In the end, it will be determined according to the customer's raw materials. Some customers will use sawdust and straw, and some customers will use sawdust and rice husk. After these raw materials are mixed, the output of pellets is different.
Can your sawdust pellet machine be used for pelletizing fertilizer?
Yes. But when it is used to process organic fertilizer granules, the output of the equipment is different.
Can your pellet machine be used as feed?
Yes. But not this model, we have a special feed pellet machine.
 What is the size of the finished sawdust pellets ?
The diameter is 2-12mm, and the pellets length can be adjusted arbitrarily.
How much does it cost to produce one ton of pellets? What is the profit?
Different raw materials, output and equipment configuration are different, and the cost is also the same. Every country is different. You can contact us directly for consultation.

What is the calorific value of the pellets made by the pellet machine?
It depends on the type of raw material. If it is wood waste, the calorific value of the pellets will definitely be higher.
Do I have to dry the raw material
When entering the sawdust granulator, the moisture requirement is 10%-15%, and if the moisture is too large, it needs to be dried.
What are the uses of sawdust pellets?
Can be used as fuel, cat litter, animal bedding, organic fertilizer, etc. In other words, our sawdust pellet machine can also be used as a cat litter making machine and a horse beding making machine. If you are looking for sawdust pellet machine for sale, find Richi Machinery.
LEAVE YOUR NEEDS
Keeping in touch with us is an effective way to solve all your problems. If you have any needs or questions, please leave your contact information, then RICHI technical consultants will send design, quotation, videos to your mailbox. You can also contact us directly via WhatsApp: +86 13838389622