0.3-90T/H EFB pellet plant for Palm waste PKS OPT
---
We offer EFB pellet plant systems that handle everything from grinding to pelleting, packaging. Our turnkey EFB pellet plants are suitable for 0.3t/h up to 90 tons per hour (depending on model and material).
Application:Processing pellets from Empty Fruit Bunch (EFB), Palm Kernel Shell (PKS), Oil Palm Trunk, etc.
Cost: 50,000-3,000,000 USD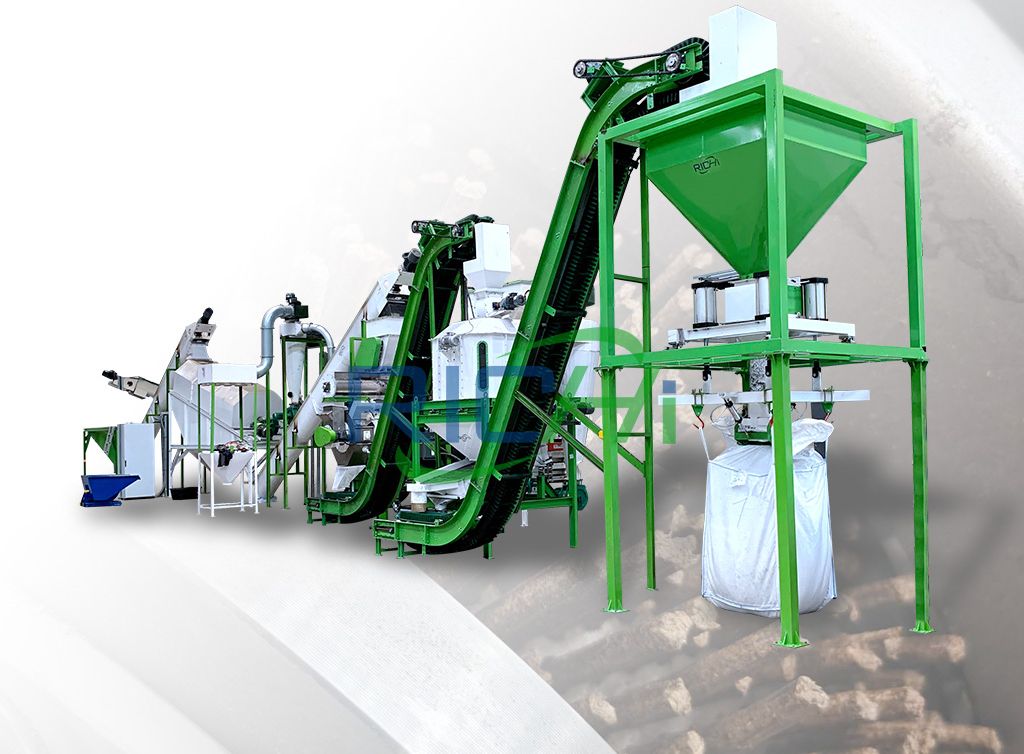 EFB pellet plant can produce biomass fuel from by-products of the palm oil production process, producing a sustainable energy source whilst reducing carbon emissions.
RICHI is one of China's earliest company engaged in biomass pelletizing. We can recommend you the most suitable efb dryer, efb crusher and efb pellet machine, efb pellet cooler, efb pellets bagging machine. We can work out customized solution according to your EFB pellet factory, floor area, landform and the function you need. We also provide patient pre-sale consultation and comprehensive after-sale service. Welcome to inquire us in the form below.
EFB pellets, of premium quality, is produced by our patented EFB pellet plant. It is a type of palm based bio-fuel pellet which is made 100% of Palm Empty Fruit Bunch (EFB) Fiber. It is an ideal fuel to substitute or to reduce dependency on coal, firewood, lignite and other types of fossil fuel. The properties of the EFB palm pellets are comparable to those of commercial wood pellets.
countries suitable for EFB pellet plant construction
RICHI EFB pellet plant can supply a method to convert and mass-produce EFB into high-quality low-ash pellets, making effective use of EFB as solid biomass fuel.
Indonesia, Malaysia and Thailand produces more than 50 million tonnes of EFB each year. Utilization of EFB is still at infancy stage, and EFB remains as no. 1 untapped biomass resources in these regions.

Countries suitable for setting up complete EFB pellet plant include:
01
Indonesia
Malaysia
Thailand
Colombia
Nigeria
Ecuador
02
Honduras
Papua New
Guinea
Ghana
Guatemala
…
EFB pellet plant process design
EFB type biomass pellet manufacturing plant applies a modern, environmentally-safe and sound technology to convert the palm EFB into a renewable Bio fuel (known as AgriPellet).
The proprietary technology with patent pending is energy efficient and produces no waste residue. Dust collected from the process will be recycled back in the process. The energy required by the processes will be supplied from the palm oil mill boilers.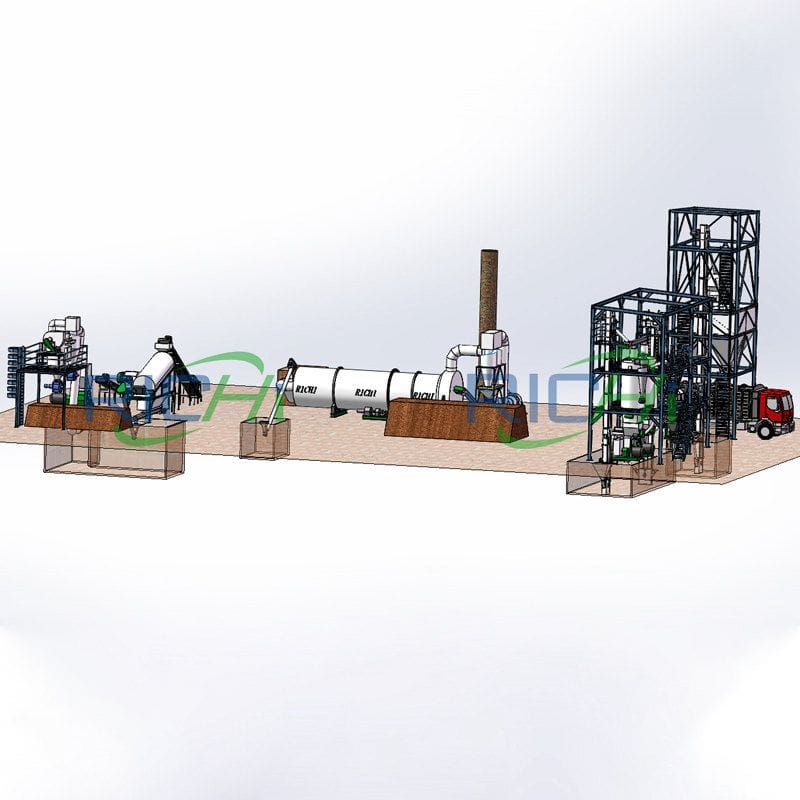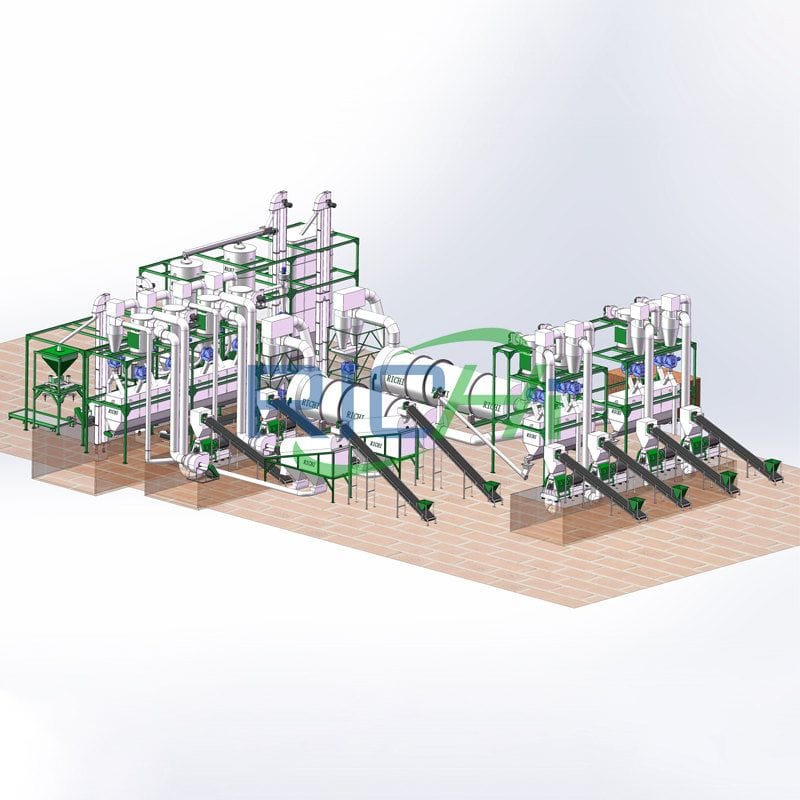 The manufacturing process of palm waste pellets starts from shredding and drying of palm biomass to bring down its moisture content from 60% to 15%. The raw materials is then blended and densified into high density pellets with uniform physical geometry.
By reducing moisture content, increasing density and forming into uniform geometry, the biofuel will have a higher net calorific value for more efficient transportation and combustion – concurrently lowering carbon footprint and energy cost.

EFB pellet production process:
Crushing Section. Crushing palm wastes into small particles by biomass hammer mill is important before pelletizing because this process enables better bonding and high density of finished palm waste pellets. You can choose different crushers to grind EFB, PKS, oil palm wood or palm frond.
Drying Section. If pellet materials prepared for pelletizing contain around 8%- 12% moisture content, they are suitable for direct pelletzing. If their moisture content is higher than 12%, you need the drying machine to lower their moisture content.
Pelletizing Section. After crushing EFB fiber you are left with EFB powder which contains proper moisture is then fed into the EFB pellet machine and pressed to form EFB pellets with high density.
Cooling Section. Pellets just pressed out by the EFB pellet mill are very hot, so they should be cooled naturally or by pellets cooling machine in order to be packed or for use.
Packaging Section. EFB pellets can be screened and packed either in small bags or large bags for difference selling purposes.

Note:
The standard EFB pellets made by EFB pellet plant comes in cylindrical shape of diameter 6mm with maximum length of 30mm. The net calorific value is 18'840 kJ/kg or 4'500 kCal/kg, on par with sub-bituminous coal and high density wood pellets.
The drying and crushing of EFB pellet fiber is different from other biomass because of its nature.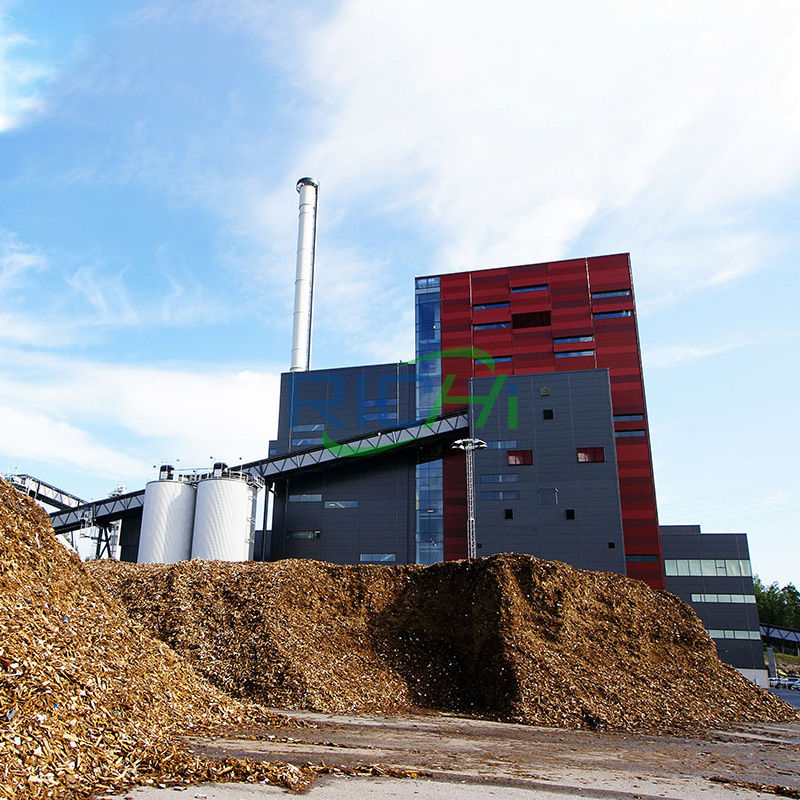 High return EFB pellet plant
The key tech of the palm EFB production is the pre-processing system and the EFB biomass pellet mill. RICHI is always committed to supplying simple and economical EFB pellet making solutions. Comparing with the conventional palm EFB pellet processing, we simplify the the production process.
ROI (Return on investment) > 3.5 years
IRR (Internal Rate of Return) > 16 %
Area of factory: design of pellet line will be based on area availability)
Minimum volume per month production: 1 EFB pellet plant – 1 mt/hr; minimum production of 500 mt per month
Raw materials for pellets: 3 mt of shredded & press EFB to produce 1 mt of high quality EFB pellet per hour
Power requirement:

Total connected power rating – 350 to 400 KW

Actual power consumption – 250 KW/h
The implementation of such EFB pellet plant technology model will definitely serve as a technology advancement model for managing palm oil biomass waste in Malaysia as well as other countries within the region.
EFB pellet plant projects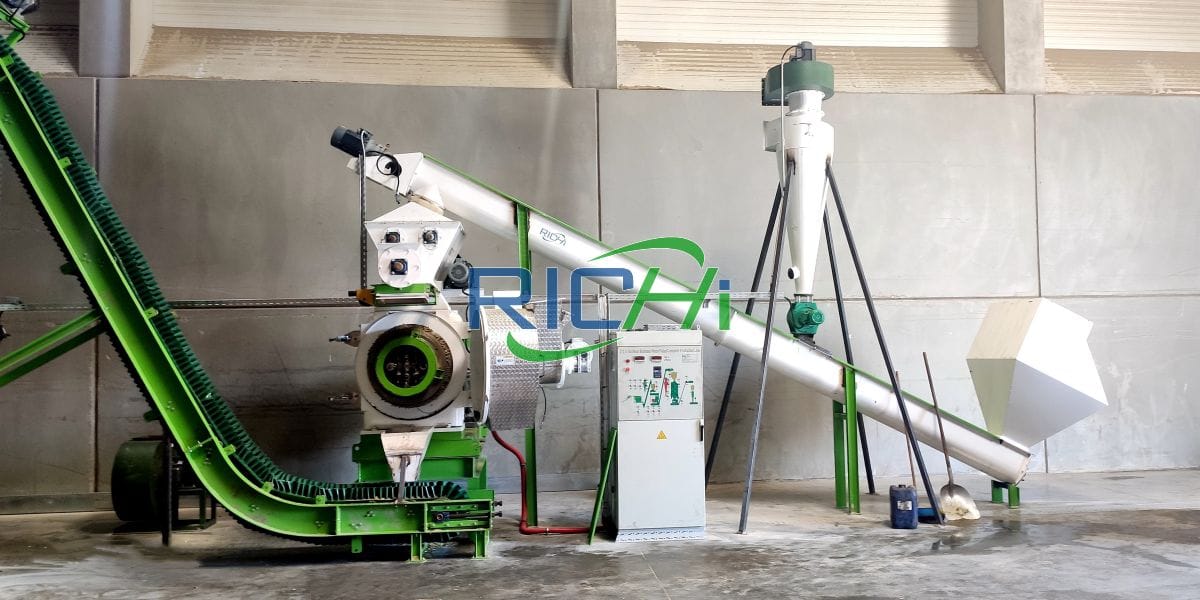 Palm Shell EFB pellet plant In Indonesia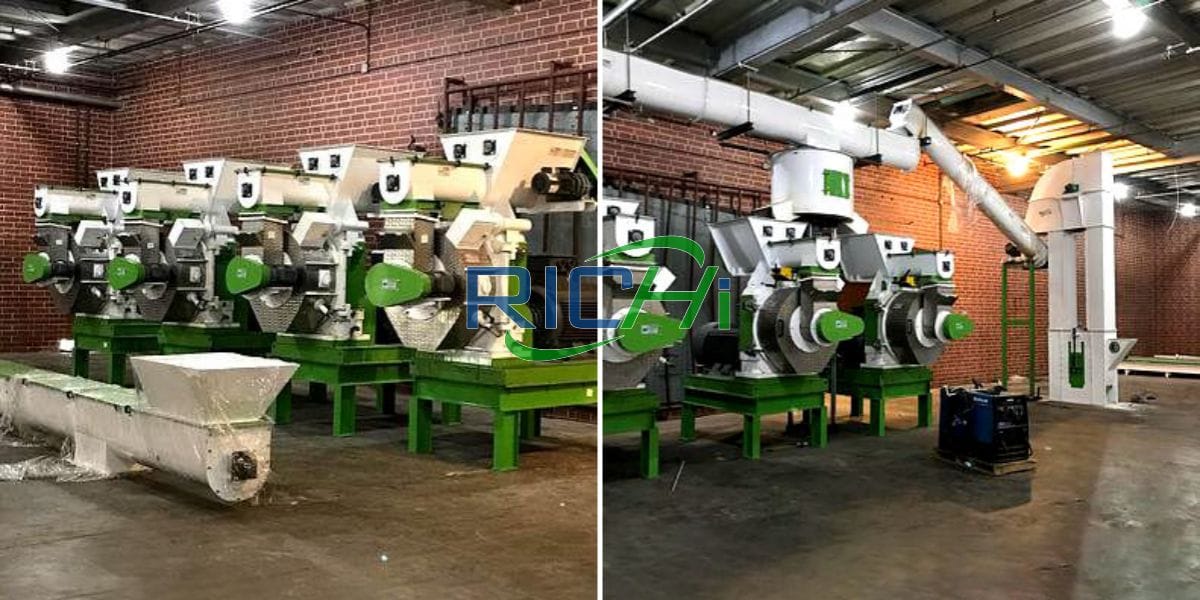 complete EFB pellet plant In Malaysia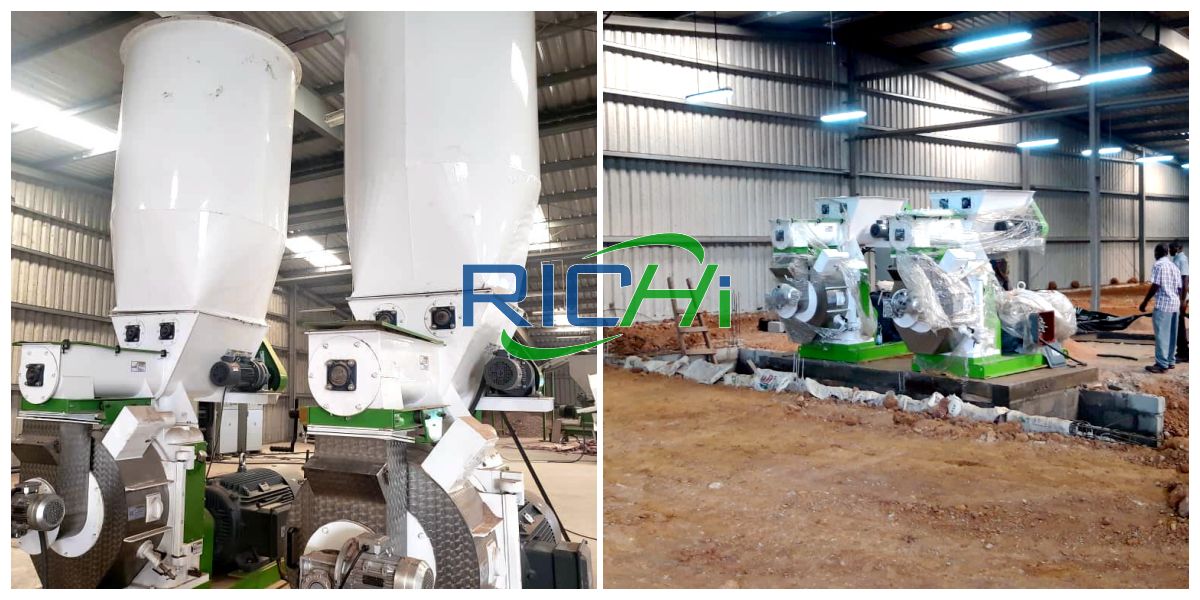 Palm Trunk & EFB pellet plant in Thailand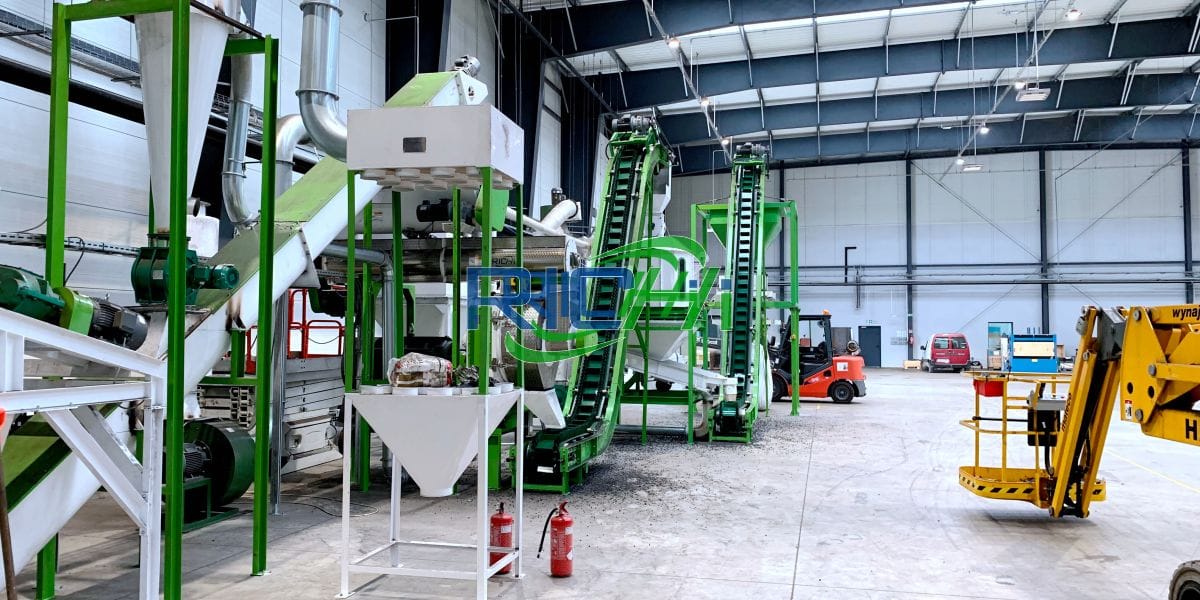 EFB & PKS pellet plant In Colombia
Equipment to start an complete EFB pellet plant
EFB Pellet plant is always made up such pre-treatment equipment like shredder or chipper, crusher or hammer mills, and moisture reducing equipment like a dryer, together with pellet mill, pellet cooler and separator, pellets packing machine.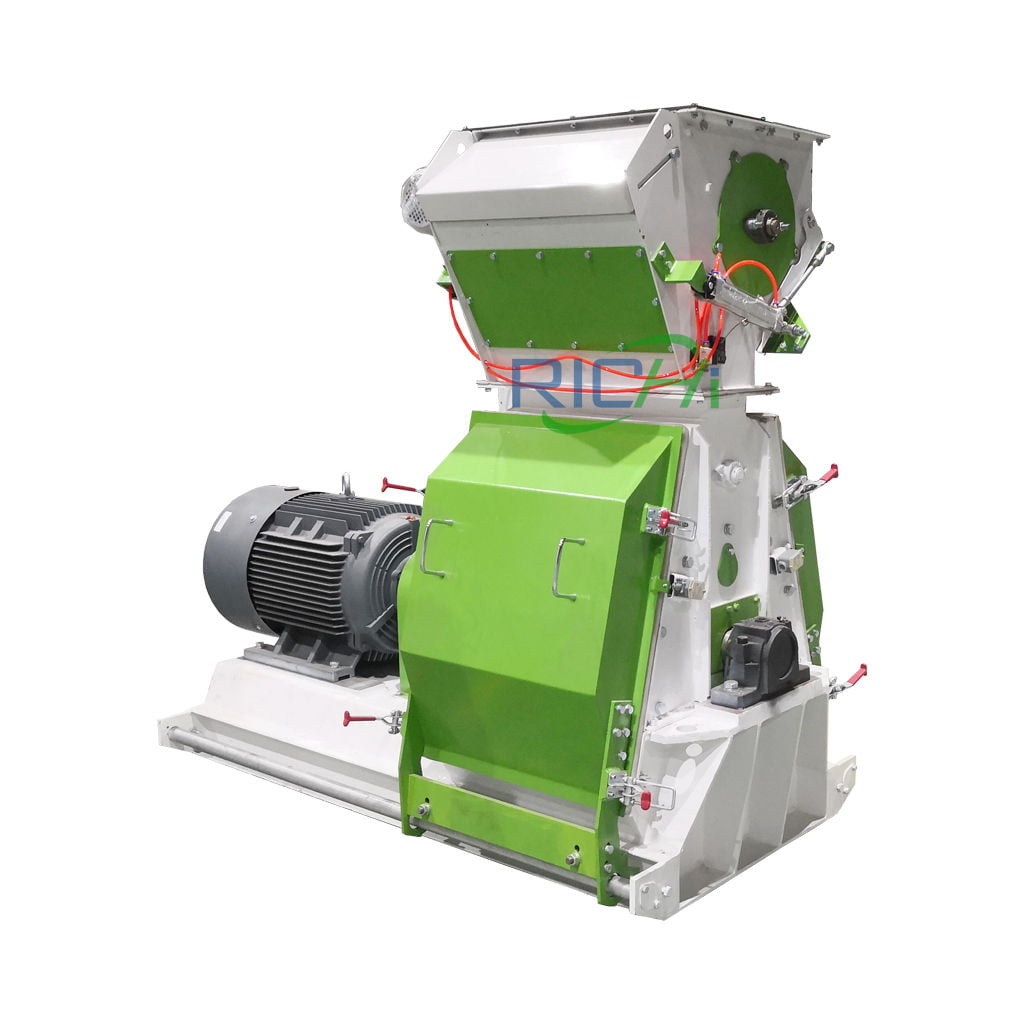 EFB Hammer Mill
Process the size of palm empty fruit bunch (EFB), Palm tree, Palm kernels, and residues from palm oil extraction to 3-5mm size. Sometimes need chipper machine.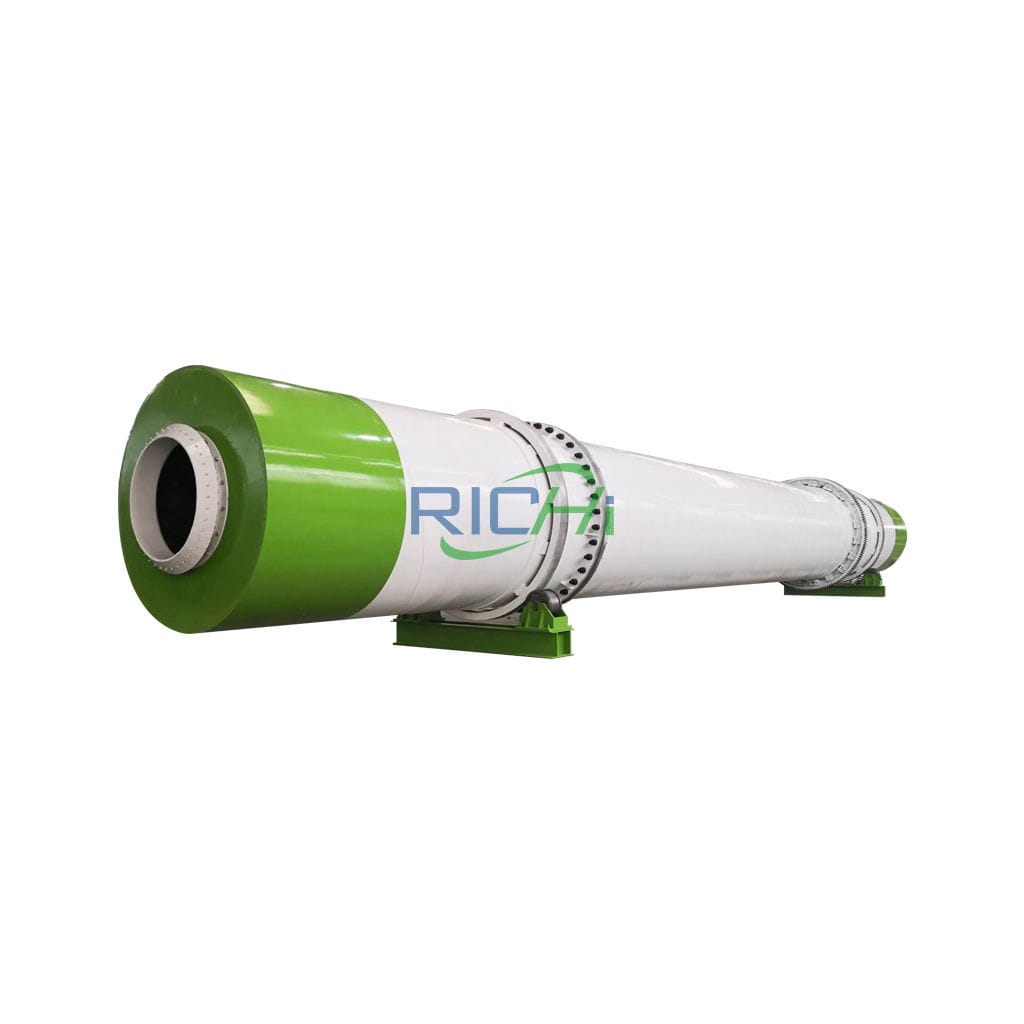 Palm EFB Dryer
It can dry the palm fiber and decrease its moisture content from 30-50% to 8-18%, which is suitable for pelletizing.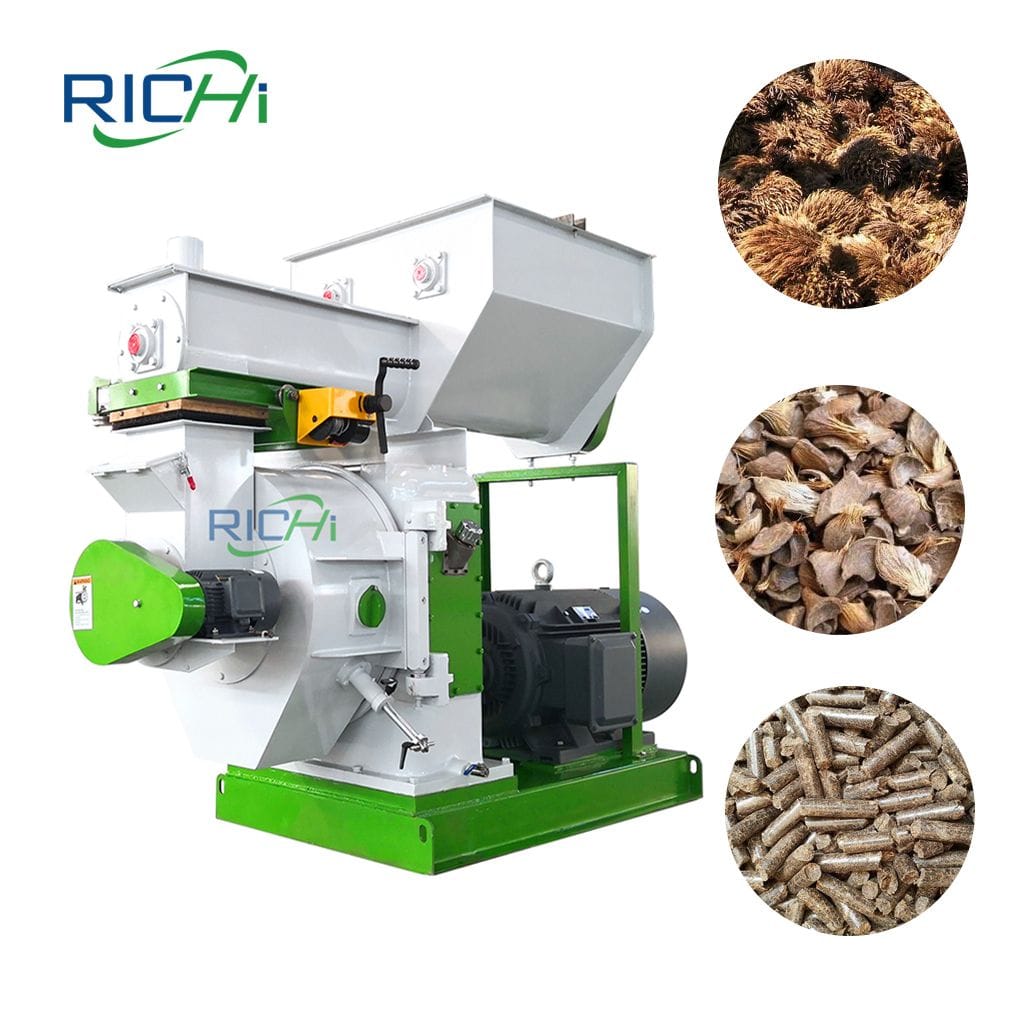 It can press the crushed palm fiber into dense cylinder pellets. The pellet mill designed by RICHI can make pellets without adding any binder.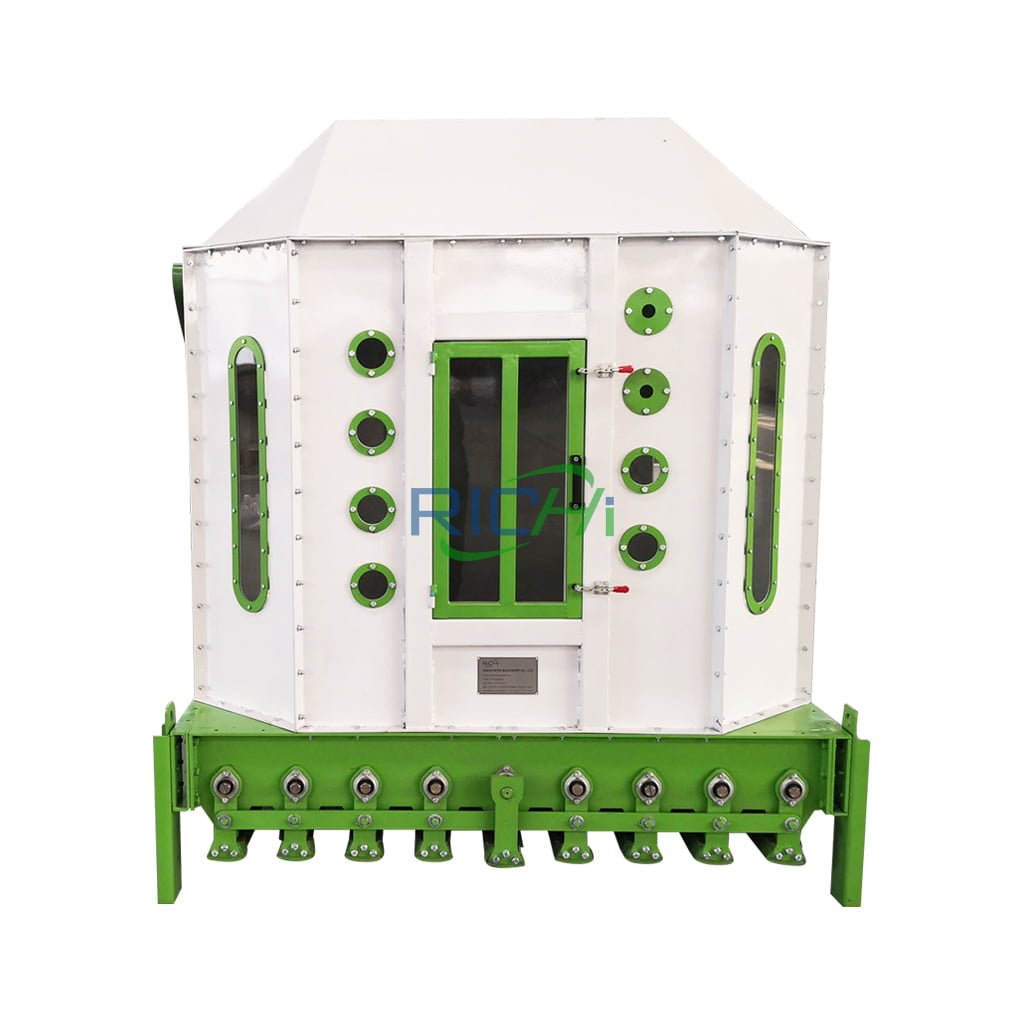 It is efficient in decreasing the temperature of hot EFB pellets, so that they can be packed directly after cooling.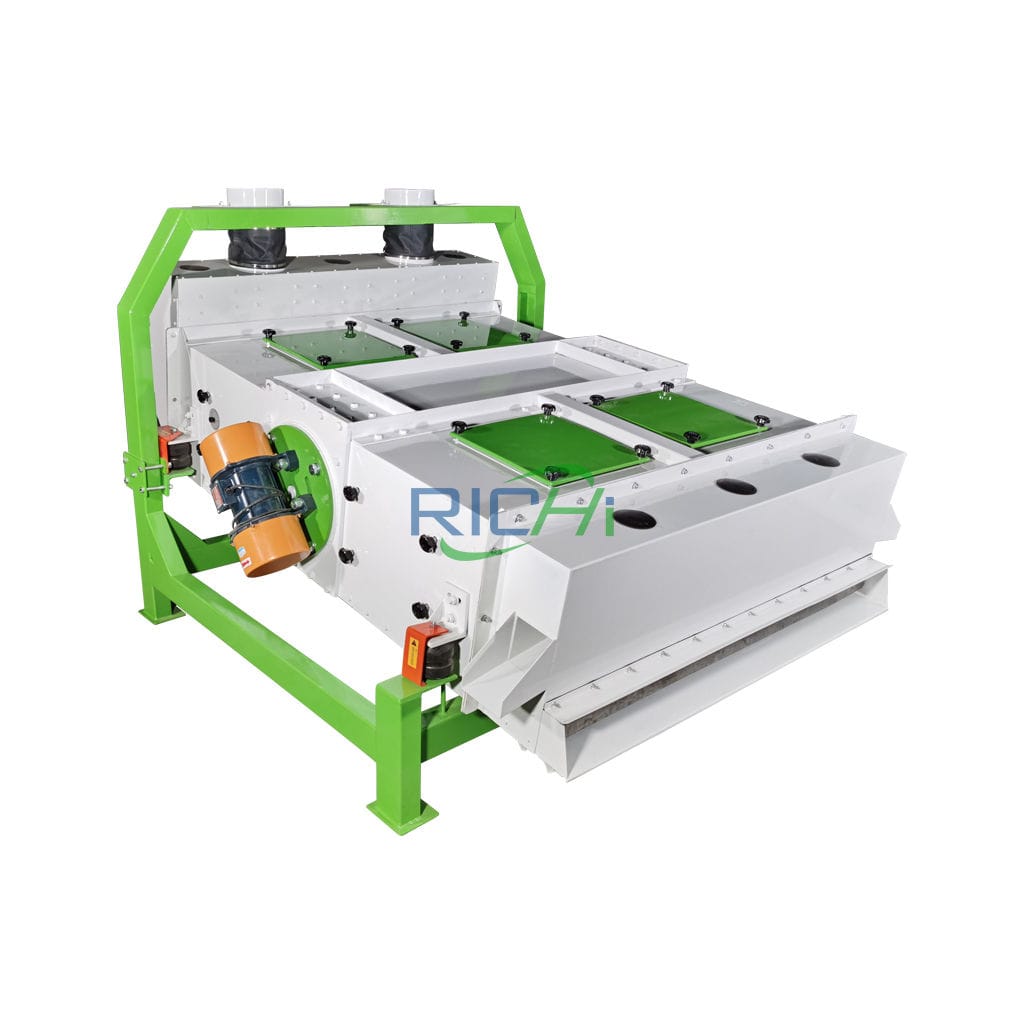 vibrating screening machine
It is used to clean up impurities in raw materials or screen out unqualified finished product EFB pellets.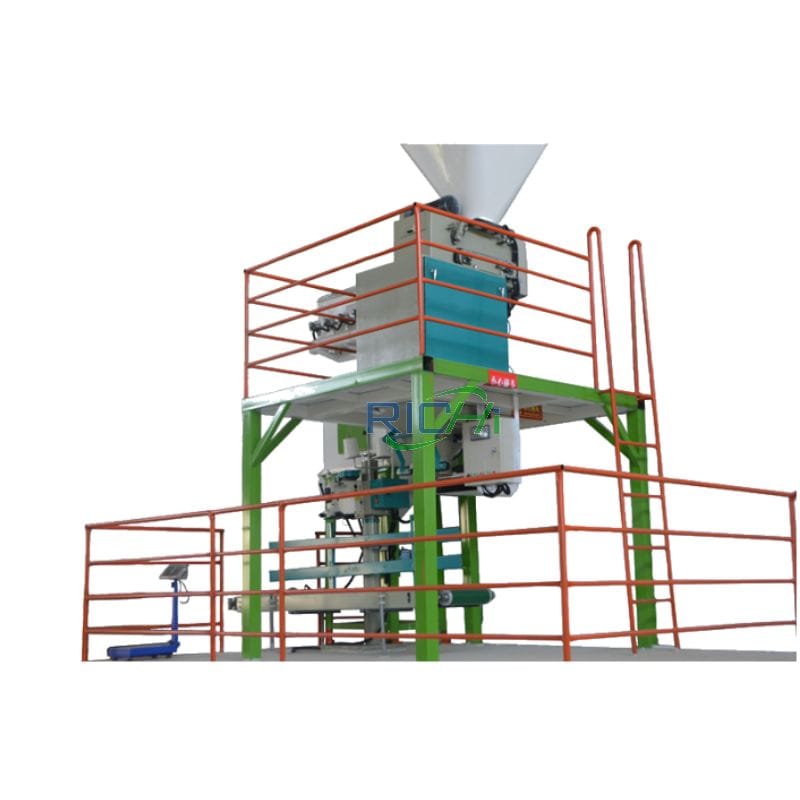 You can choose to pack the EFB pellets in small bags for sale, or large bags for sale or storage.
Contact us to customize your EFB pellet processing line equipment configuration list and quote.
How to choose machine for EFB pellet plant?
How to choose the EFB pelletizing system machines? We will help you to sort out the best machine for your EFB production, but first of all, we need to understand the basic information before providing you an outline price and specification of the EFB pellet line.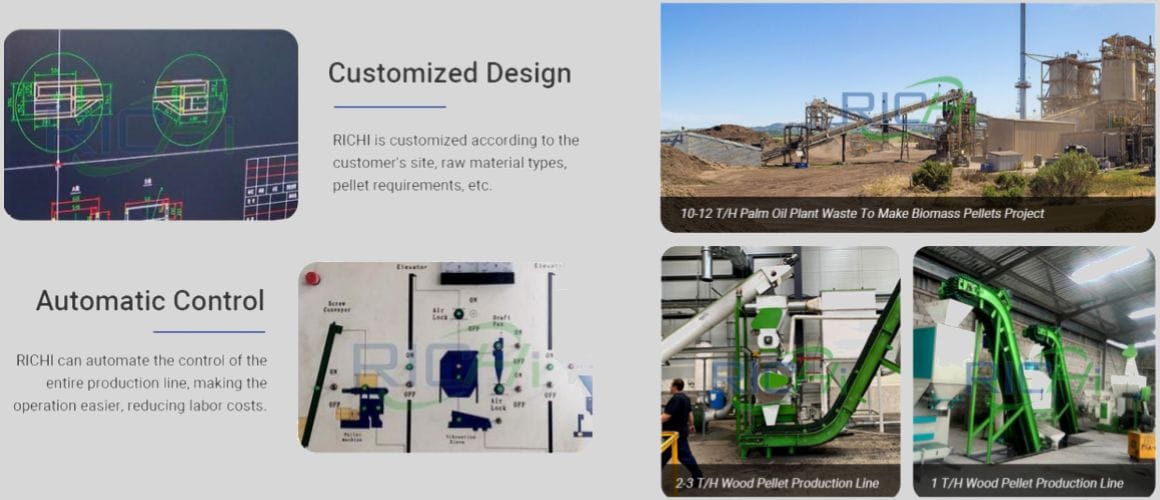 What type of palm waste raw material you are expecting to process?
How many different palm waste or other biomass materials are to be processed together?
Whether your material is "dry", moisture content under 18%?
Whether the size of your palm waste raw material is less than 4mm in diameter?
What output per hour is required for the EFB pellet plant?
The standards of your electricity. ie 380V/440V/415V/220V, 50HZ/60HZ. Because the situation is different in many countries, so we must supply a different element to match your electricity standards.
We will supply a tailor-made EFB pellet production proposal based on your basic information. We can install your entire EFB pellet manufacturing plant from the ground up or we can help you pick and choose what parts we will do and what parts you can do yourself to help keep costs down.
Our years of experience can help us the size and design of your palm pellet plant system to work right. Also, we have some sample EFB pellet plants for your consideration.
Cost to start an EFB pellet plant 0.3-90T/H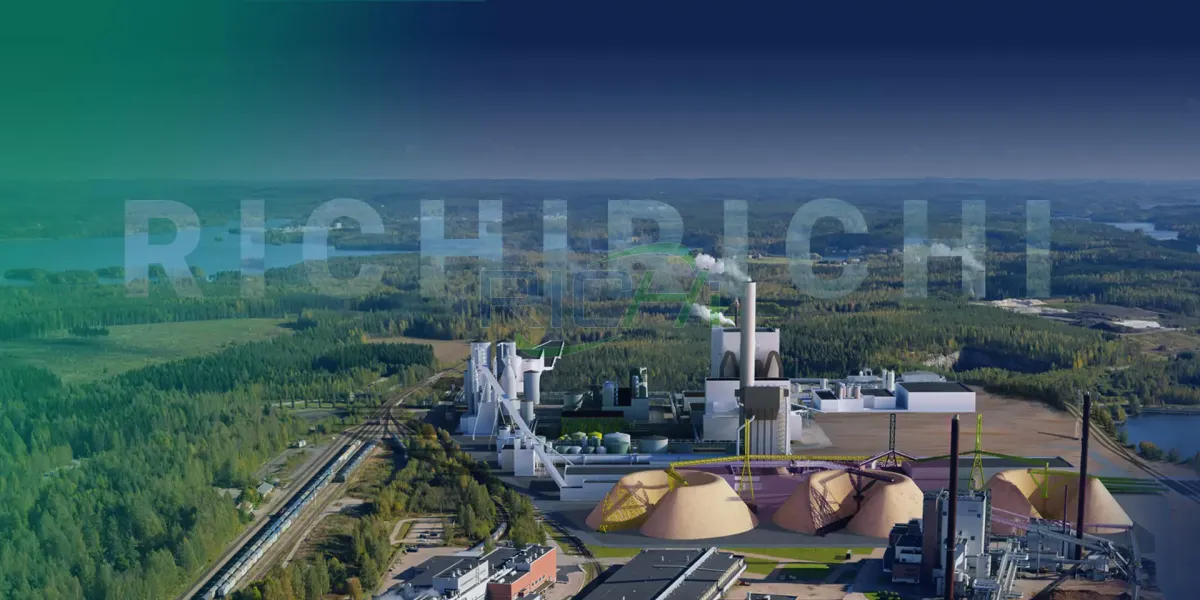 0.3-90T/H EFB pellet plant cost: 60,000-3,000,000 USD
The EFB pellet production plant cost is relatively higher than normal wood pellet plant. The setup of EFB pellet production line is also a little different from wood pellet production and thus planning ahead will bring tremendous profit later.
A reputable and reliable pellet mill manufacturer or supplier can offer all around after service. And you can get correct advice on biomass pelletizing. In some cases, the poor suppliers without skill to build a pellet plant just want to close sales in a rush and offer no after service. There are many customers buying from small factories and losing plenty of money before they can even start to make profit.
Tips for setting up EFB pellet plant
How to choose the EFB pelletizing system machines? We will help you to sort out the best machine for your EFB production, but first of all, we need to understand the basic information before providing you an outline price and specification of the EFB pellet line.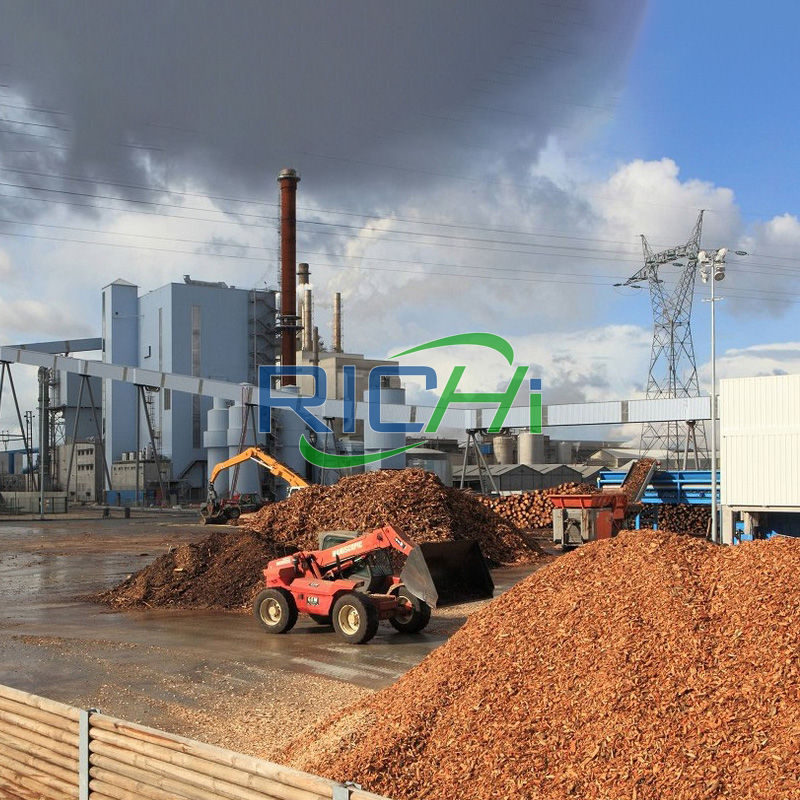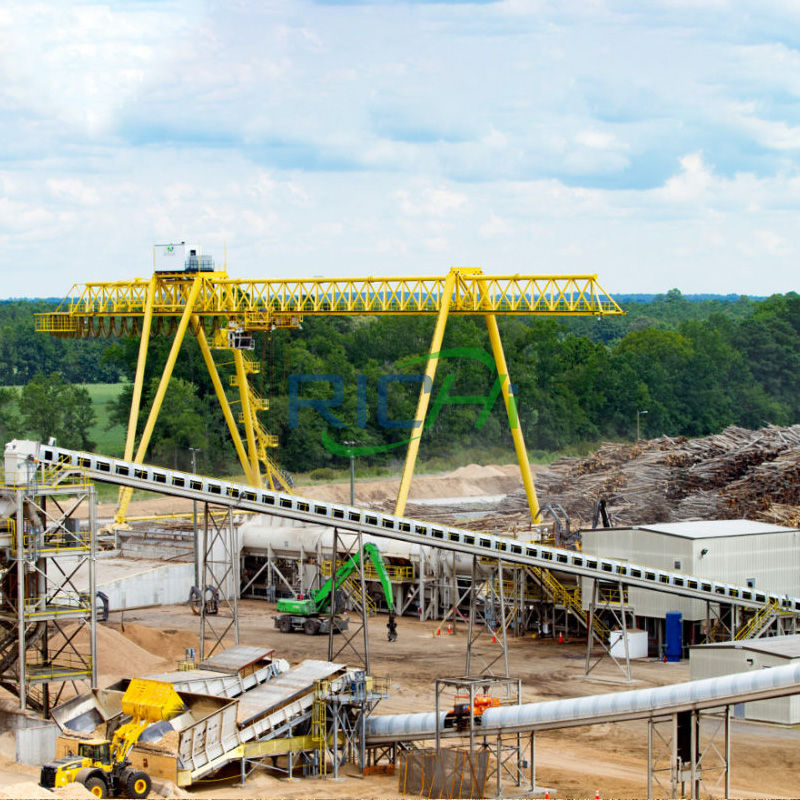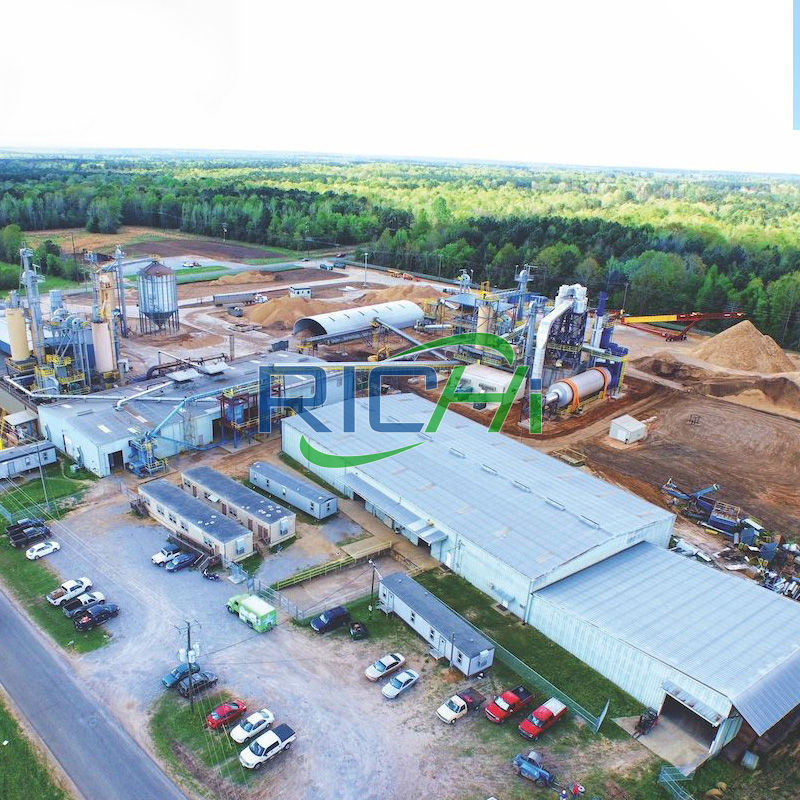 Large workshop. EFB Fiber has low density, needs large space for handling. Buffer storage solution with bin or screw conveyor will increase the chance of blockage.Don't use too much pipes to transport the fiber from one machine to another. Belt conveyor is better than screw conveyor. Less jam but easy to control the material flow, remember EFB fiber is easy to entangle.
EFB size reducing process and EFB fiber drying process are as important as palm EFB pelletizing process. Because if no short fiber with right moisture content, no pellets. The whole EFB pellet plant has to be stopped. That will be a big loss.
Choose a reliable supplier, who understand EFB. Has real experience with whole EFB line desinging and engineering. Responsible for after-sale. This is very important. It is often difficult to distinguish the quality of the product in the network environment. It is better to visit the manufacturer on the spot, and don't be fooled by the low price.
Whether produce pellets, or carbonized EFB kernel, depends on the market demands.
Make sure you will have stable EFB supplying, since more and more pellet line are being set up.
Make sure your power supplying is ready before machine arrives. Transformers, the biomass granulation industry consumes a lot of electricity. After determining the production capacity, choose the transformer that matches the production capacity according to the equipment power provided by the equipment manufacturer.
After the raw materials are determined, it is necessary to determine the workshop. The construction or search of the workshop is generally close to the raw materials or a place with convenient transportation. It is the best to have both.

If you want to start EFB pellets production and build an EFB pellet plant, and believe that we can make a difference together, we look forward to hearing from you. (Find RICHI on YouTube)
EFB pellet plant – Contribution to Sustainable Development
RICHI EFB pellet plant construction activity aims to improve the environmental conditions by providing a clean alternative for handling EFB residue (EFB). The EFB pellet plant projects will positively contribute to the sustainable development of the host country (Malaysia, Indonesia…) in several ways. The main contributions are elaborated below:
01

For Social
Creates employment and business opportunities for the locals;
Avoidance of methane production from biomass EFB that would have otherwise, been left to decay under clearly anaerobic conditions in a solid waste disposal site.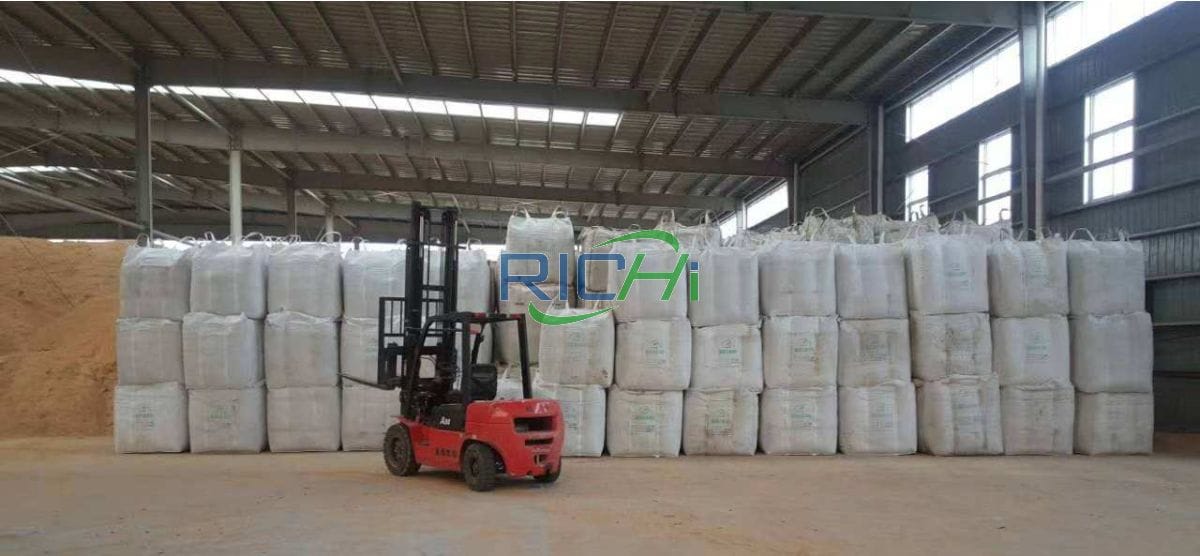 02

For Economic
Attracts foreign investment and cash flow to (Malaysia, Indonesia…) from Certified Emission Reduction (CER) buyer;
Technological improvement by promoting cleaner technology and reducing emissions of GHGs;
Promotes a green image for palm oil industry.
03

For Environment
Reduces air pollutants (GHG) that contribute to climate change and global warming;
Improves local air quality (reduction in methane from uncontrolled land disposal); and
Promotes waste recycling and produces a renewable biomass fuel.
Want to know more about EFB pellet plant? Feel free to contact Richi Machinery—— EFB pellet plant manufacture !
Prospects for developing EFB pellet plant business
As the increasing competition in the wood pellet supplying market, many pellet manufacturers or investors has turn their eyes on palm EFB pellet production. Comparing with the wood pellet production line, the following points of palm EFB pellet line attract the investors attention.
Much cheaper raw material available;
Abundant palm EFB supplying from the palm oil plant;
High final pellets CV;
Lower investment cost.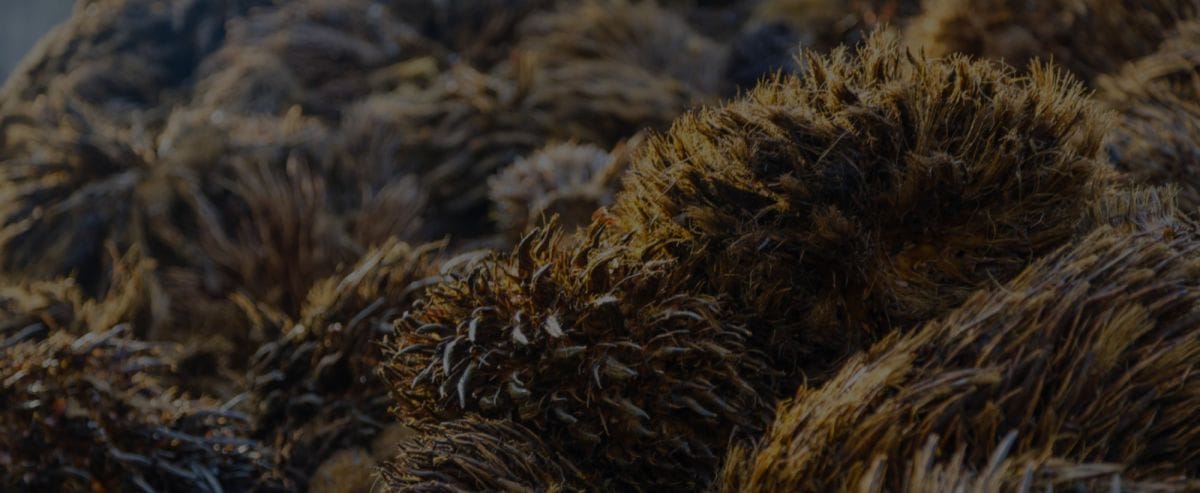 There remain large untapped potential in the development of the green technology industry in Malaysia, Indonesia and other countries.
The growth potential of green technology, such as conversion of renewable resources from biomass into higher value products is unlimited, with prospect and expectations to contribute sign significantly to the country's transformation into a high value added economy. Entrepreneurship, financing, capacity building and technology applications provide transformative solutions moving forward.
If you are interested in starting EFB pellet processing business, feel free to contact Richi Machinery for details!
Project Consulting
We can help investors with the following consulting services: biofuel market analysis, investment budget, feasibility study, business operation education, project management planning, etc. Any questions or concerns relating to biofuel EFB pellet plant project can be well dealed by RICHI experts team.
Project Design
We are committed to designing the most suitable biomass EFB pelletizing plant project for our customers based on the raw materials, budget, workshop condition, land area, environment protection and other requirements and conditions.
Installation & Commissioning
Our professional installation and commissioning team can guide our customers to complete the plant construction, civil work, workshop rebuilding, electrical construction till to install the machines in the right place and make the EFB pellet plant operation steadily.
Reliable equipment Supply
With more than 20 engineers, our R&D center focus on researching and developing new products, improving mature products, assimilating and applying new technology in the biomass EFB pellet filed. The whole wood pellet line can be customized and delivered very soon to our customers, thanks for RICHI's professional technicians and workers, complete and reliable manufacturing ability.
Operation & Maintenance Training
Due to the correct operation and maintenance relating to the life span of the main machines, we are conscientious about training the technicians and workers on how to operate and maintain the machines based on the manual and the practical conditions, which makes the complete biomass pellet plant operate stably and efficiently, produce high quality biomass palm pellets and serve for longer time.
Spare Parts Supply
We guarantee the quality of all of the original spare parts. All standard and customer-specific designed spare parts can be shipped to your EFB pellet making plant workshop within a short delivery time – whether by sea or air.
If you want to produce palm pellets, EFB pellets, PKS pellets, etc., feel free to contact Richi Machinery for complete EFB pellet plant solution and whole set equipment price.
LEAVE YOUR NEEDS
Keeping in touch with us is an effective way to solve all your problems. If you have any needs or questions, please leave your contact information, then RICHI technical consultants will send design, quotation, videos to your mailbox. You can also contact us directly via WhatsApp: +86 13838389622