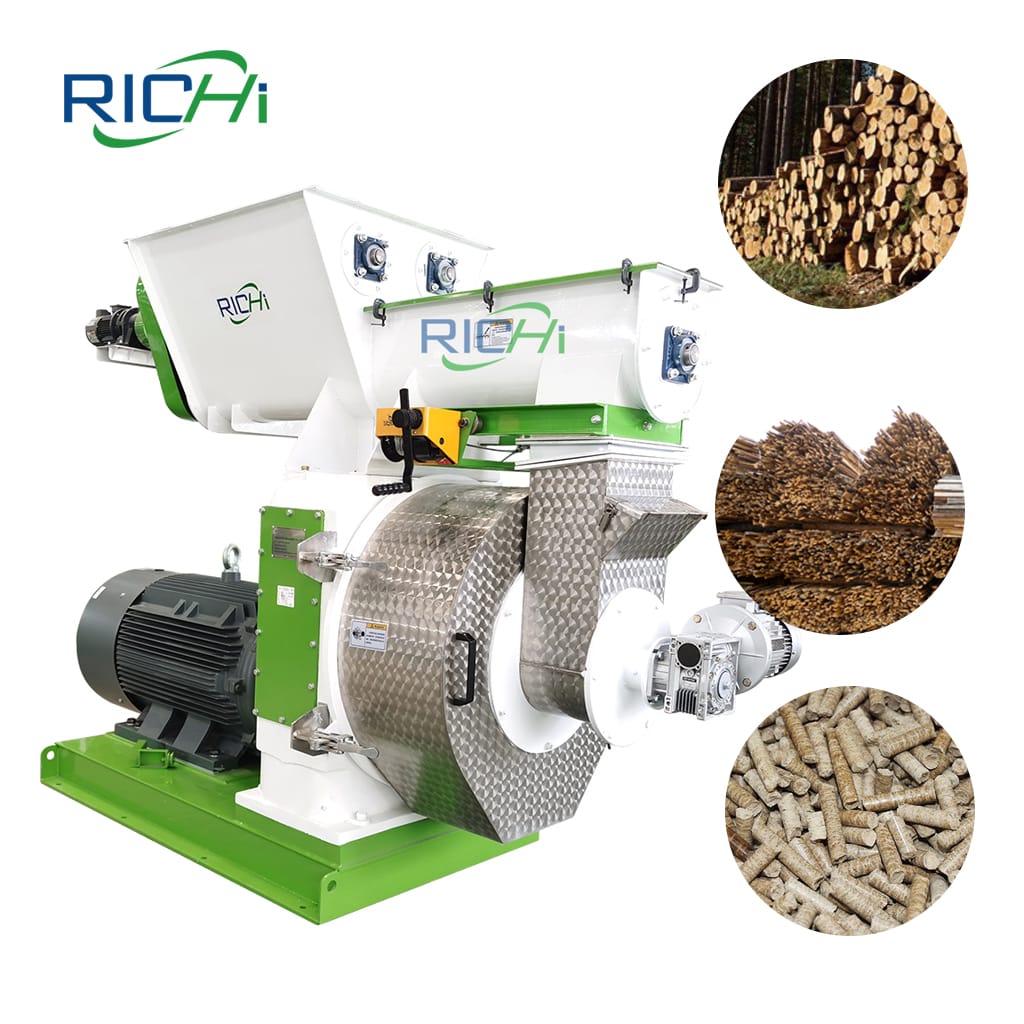 wood pellet press for sale
RICHI specializes in wood pellet press for sale, our MZLH520 pellet press machine offers all the benefits of horizontal ring die pellet mill machine. It can work with all kinds of materials, including wood, sawdust, shaving, chips, log, straw, rice husk, sunflower husks, rubber, ash, cement, branches, peanut and other fruit shells, trunks, bark, and much more.
Widely used in industry and recommended by experts, the wood pelleting mill can be used in fertilizer, wood processing, power, biomass energy fuel, and chemical plants. For low investment and high profit, the RICHI pelleting press is the way to go.

Our wood pellets press machines are solid and strong, their captivating design, studied for a long problem free life, continuously evolves in order to be more and more versatile, and tailor made: different models, versions and optional answer to all the operators' needs, to all production fields necessities and to requirements of process' automation.
Features of MZLH520 wood pellet press mill
From wood pellets to biomass pellets to recycling or other raw materials that can be pelletized. Richi Machinery specialize in wood pellet press for sale, our machine is carefully designed for customers according to the actual requirements.
RICHI offers solid and reliable pellet presses Made in China. Energy efficiency is very important to us. Our pellet presses can save up to 20% energy.
High gear transmission efficiency, large transmission torque, large roller friction, production is increased by 15%.
Design of spiral feeding plate to ensure uniform intake of wood pellets and balanced extruding stress.
Easily operated control cabinets. Wood pelleting mill automatic control system is connected to central control room.
Wood pellet machine has intelligent system including working reports, working time, oil temperature alarm and lubricant replacement reminding.
Pellet making machine can be used for wood and straw, which is applicable for all kinds of biomass materials. When producing straw, the pellet mill is equipped with three-roller anti-block screw conveyor.

Greazing can be made by the rear of the wood pellets press, through the main shaft. In this way the machine can be lubricated without stop the motor.
The wood pellets equipment is fitted with a pneumatically operated inlet bypass to automatically release feeding overload situations, preventing time-consuming machine stoppages.
The pelleting press features an automatic lubrication system with a large grease container to ensure smooth, continuous production.

As a manufacturer focusing on the wood pellets press machine for sale, The long time experience in spare parts' production, in pellet pressing machines' production, in conduction and maintenance pant and installations, in refurbishing, modifying, repairing wood pellet machines even of different suppliers, allowed us to know in detail and analyse the technical characteristics of each machine on the market.
Advantages of MZLH520 wood pellet mill press
Innovative engineering and design to have been combined with the latest manufacturing technology to provide the highest quality wood pellet press for sale the World with best production levels ever achieved, along with excellent pellet quality.
Efficient
Reliable
Compact
User friendly
Robust
World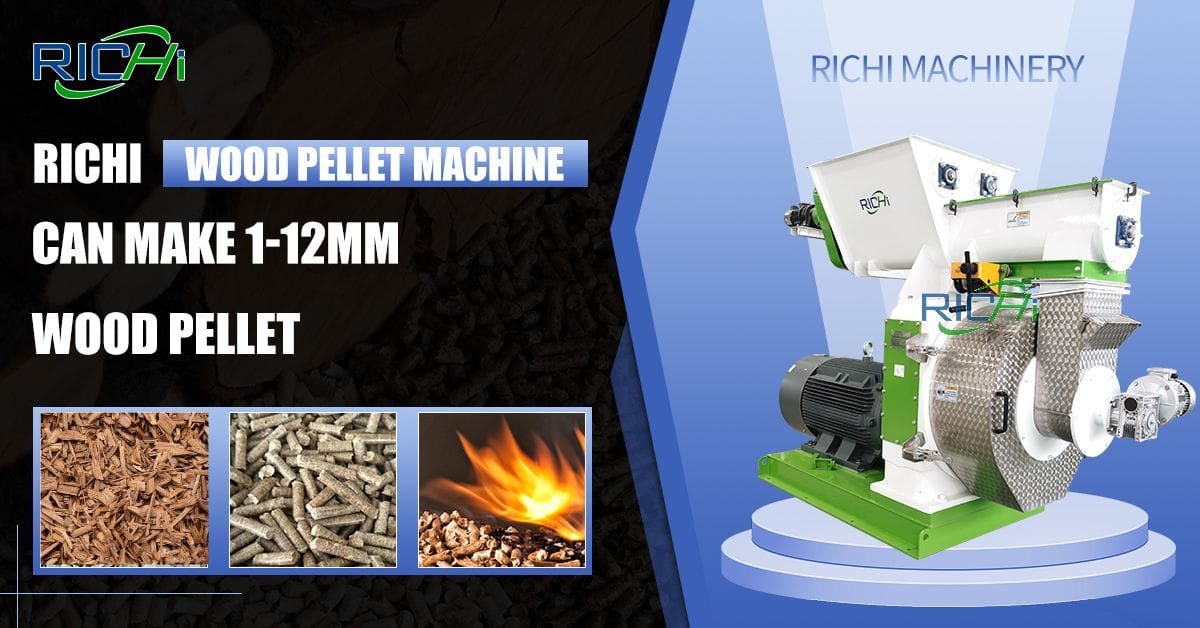 As a manufacturer focusing on the wood pellet press for sale, We have a team of highly skilled and experienced professionals who are always ready to help our customers in every way possible. RICHI also offer a great warranty on our products. Contact us today to know more about our products and services.
Wood pellet press price and parameters
MZLH520 wood pellet machine price:45000-50000 USD
| Model | Capacity | Power | Transmission form | Number of pressing rollers | Ring die clamping method | Final Pellet | Weight(KG) |
| --- | --- | --- | --- | --- | --- | --- | --- |
| MZLH520 | 2.0-2.5 T/H | 132KW | Gear drive | 2 | Hoop | 2-12mm | 4500KG |
(Note: Richi Machinery's products are always updated and improved. Therefore, if there is any difference between the pictures, feature descriptions and performance parameters of the actual model, please refer to the actual product.)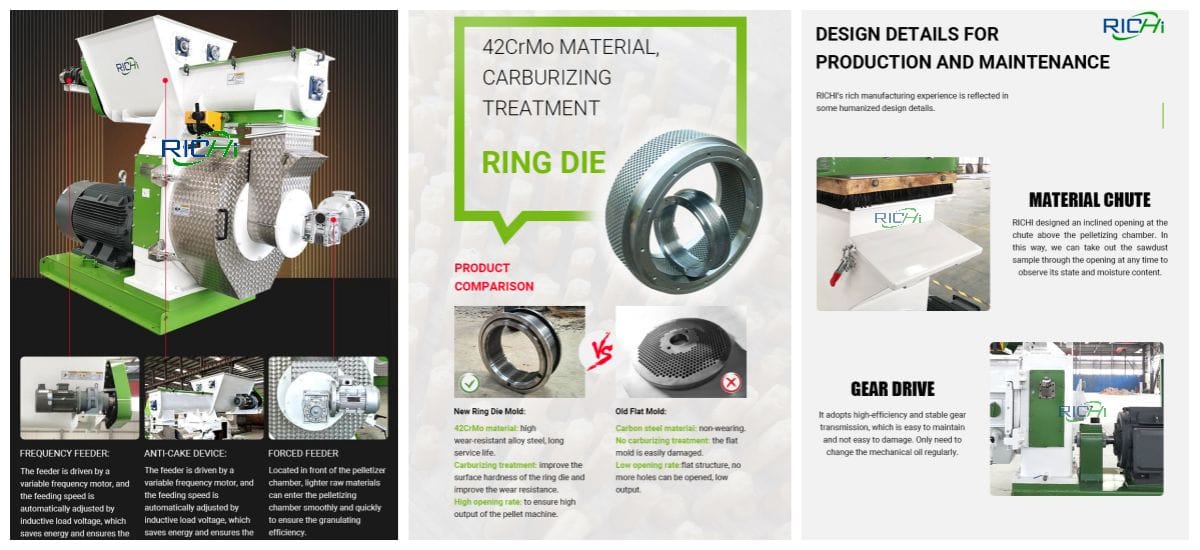 All our units come with a 2 year manufactures warranty
We build all the systems ourselves (factory tours available)
Premium CNC machined parts reduces wear and vibration
Built to last, long life bearings and stainless steel or galvanized frames
Fully stainless options available for food applications
Over 40 different die combinations for specific materials
25 years of pelleting experience
Simple to operate and maintain
7 days a week phone and internet support
As a manufacturer focusing on the wood pellet press for sale, our objective is to supply all our customers with a pellet press machine that best meets their needs. For this reason, all our models can be customized: the customer can choose the position of the motor, how the hatch has to be opened, the size and volume of the conditioners, the size of the feed screw, colour, etc.
Wood pellet Press for sale the world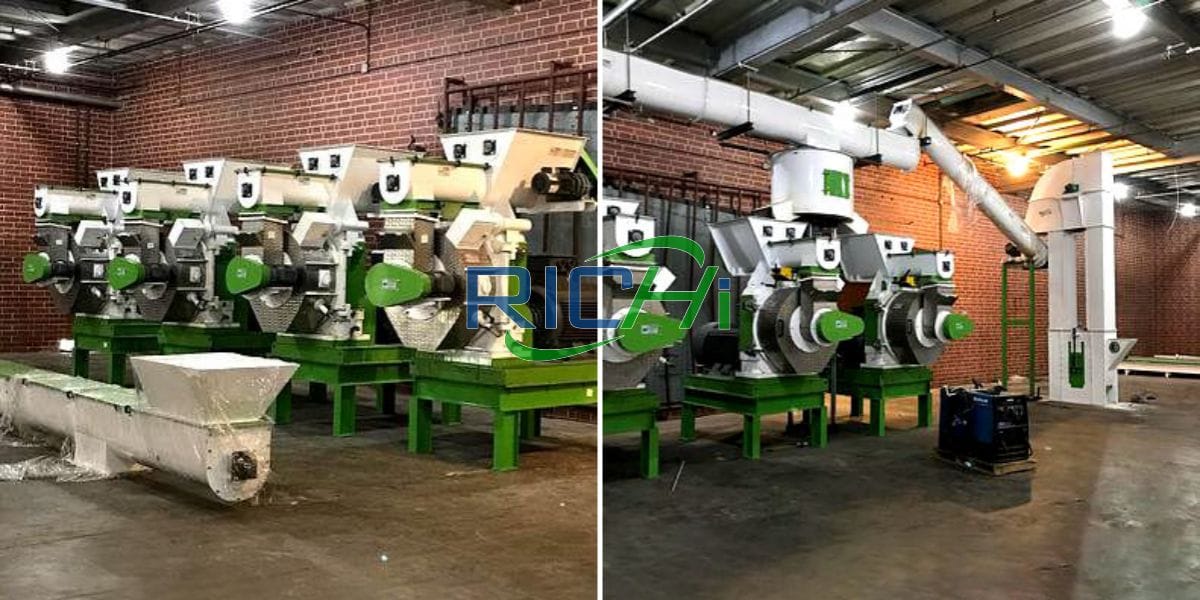 wood pellet press for sale United States
Appication: 10 T/H wood pellet factory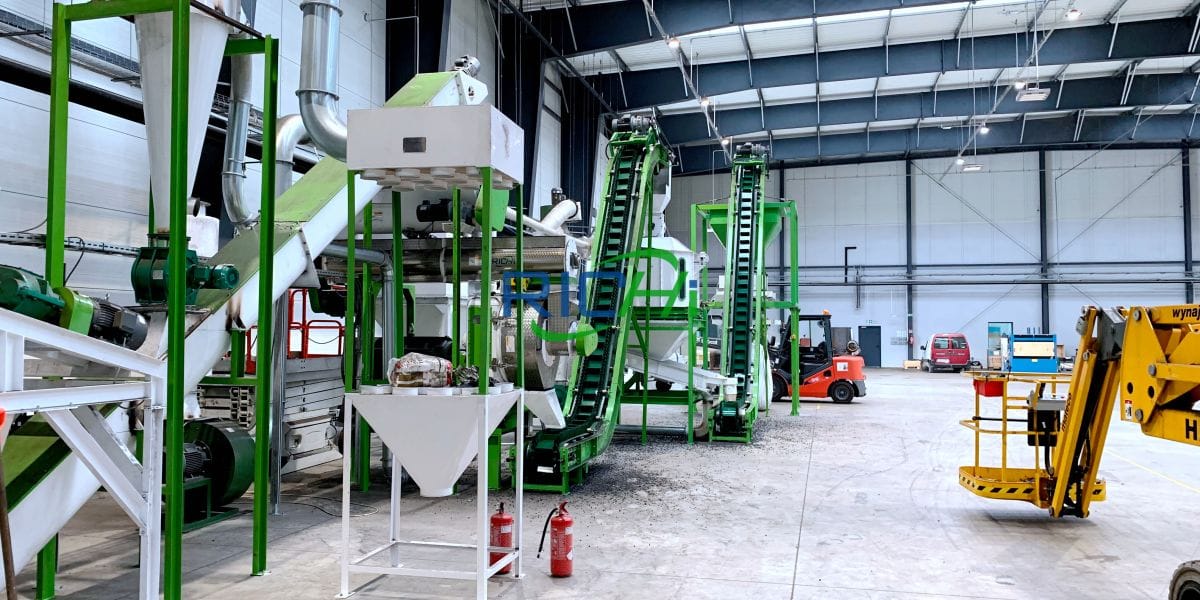 wood pellet press for sale Poland
Appication: 2-3 T/H automatic wood pellet plant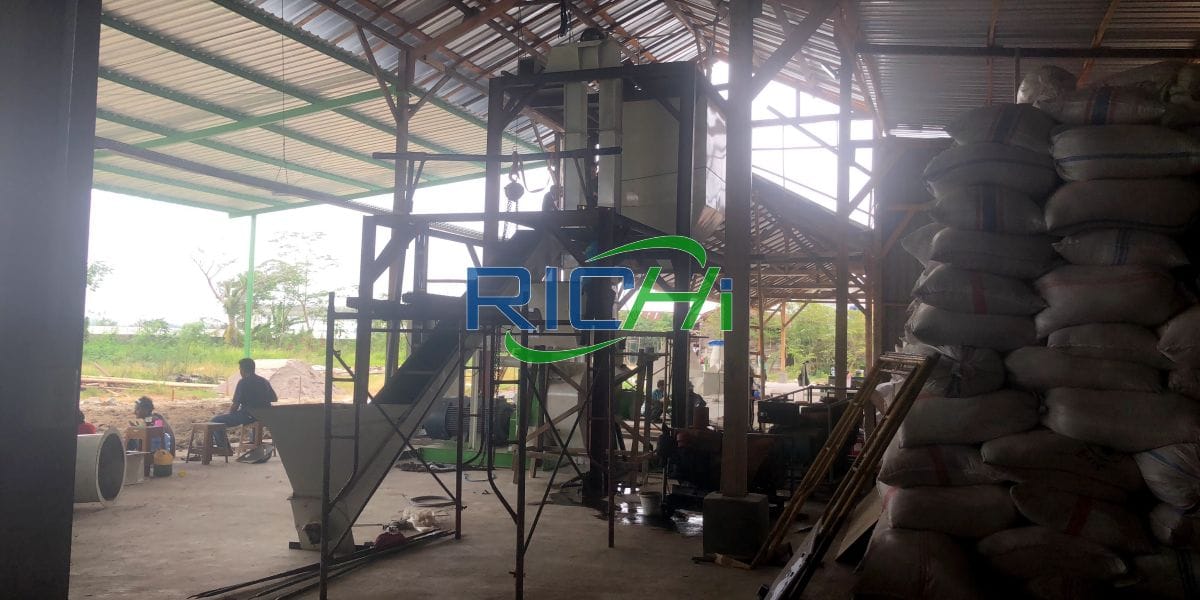 wood pellet press for sale Indonesia
Appication: 1.5 T/H wood sawdust pelleting plant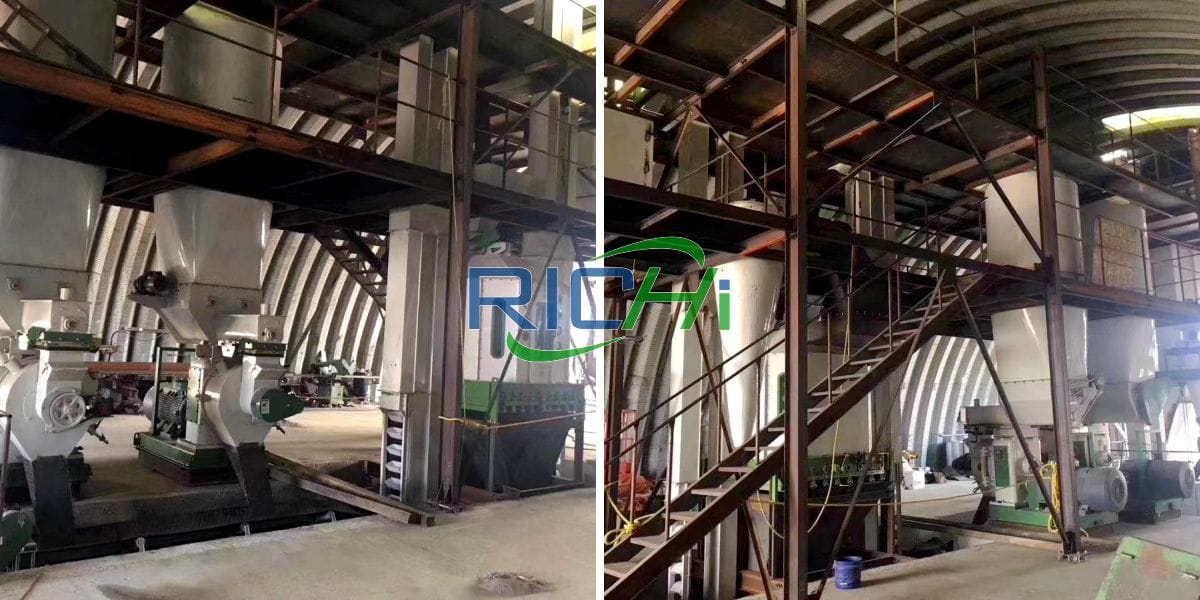 wood pellet press for sale Canada
Appication: 2-3T/H wood pellet manfuacturing plant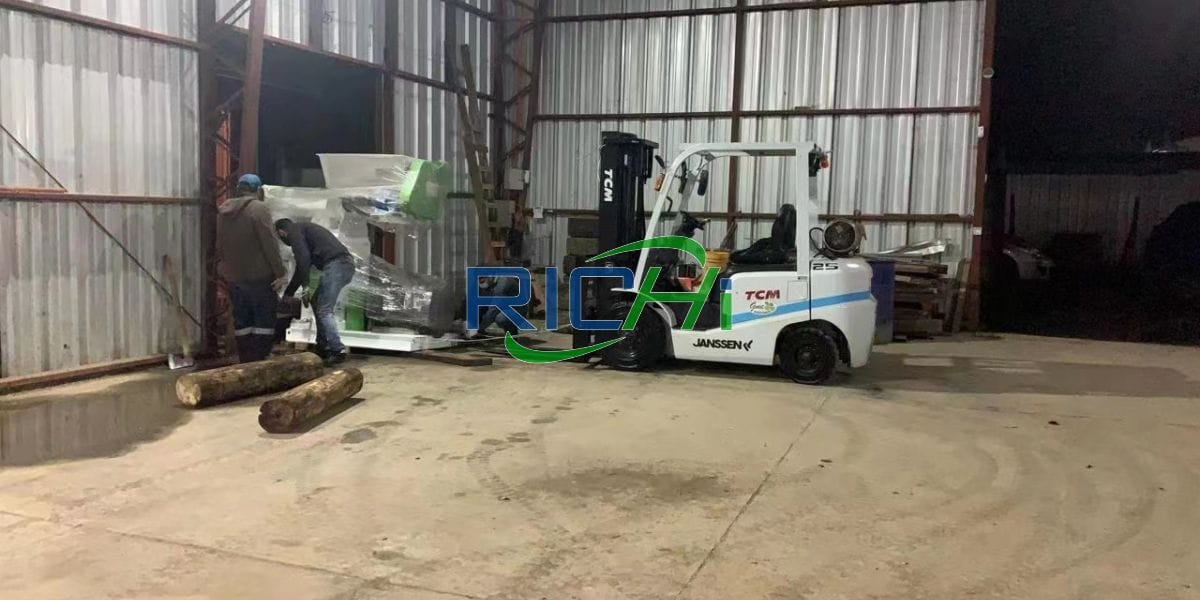 wood pellet press machine for sale Chile
Appication: 1-1.5 T/H wood pelleting line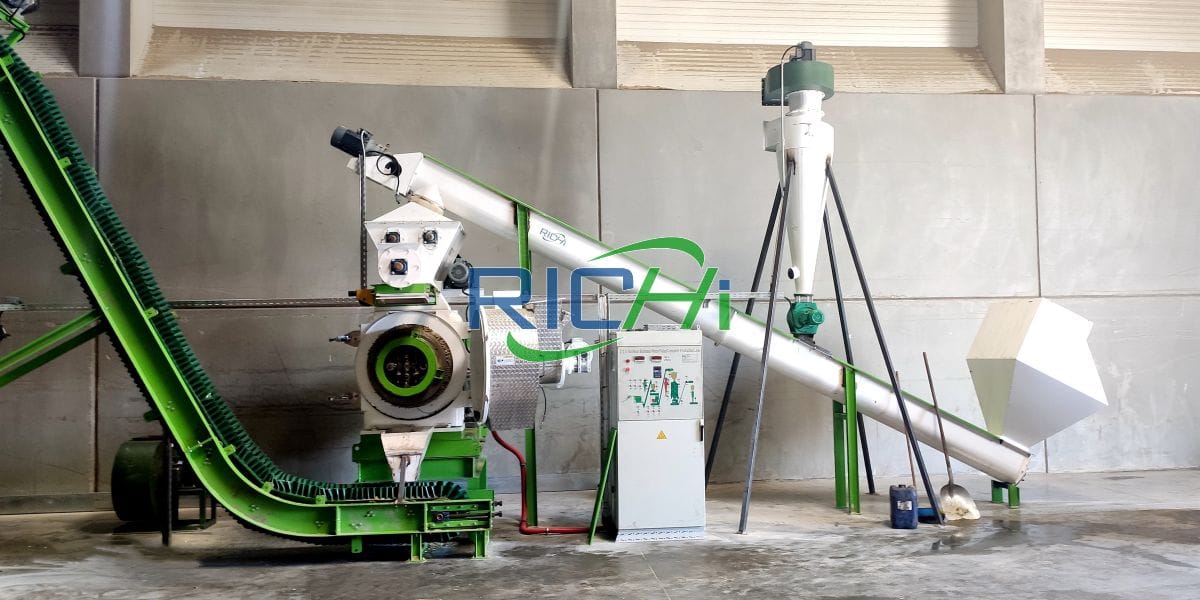 wood pellet press for sale romania
Appication: 2T/H wood pelletizing plant

SOME EXPORTED COUNTRIES
Countries: Australia
Project: Wood Pellet Press For Wood Pellet Line
Capacity: 2-2.5 Tons Per Hour
Countries: Austria
Project: Wood Pelletizer For Wood Pellet Factory
Capacity: 5 Tons Per Hour
Countries: Japan
Project: Wood Pellet Machine For Wood Fuel Pellet Plant
Capacity: 1.5 Tons Per Hour
Countries: Indonesia
Project: Wood Pellet Mill For Wood Pelleting Plant
Capacity: 4-5 Tons Per Hour
How does a wood pellet press machine work?
The pellet fuel produced by the biomass ring die pellet press wood is usually cylindrical, the diameter is generally not more than 25 mm, and the length is not more than 4 times its diameter; common diameter sizes are 6mm, 8mm, and 10 mm. The density of granular fuel is higher than that of pellet fuel, reaching 1.2-1.4 t/m³.
Due to the small diameter of the pellet fuel and the large compression ratio of the die hole, the requirement for the moisture content of the raw material is relatively high. Generally, it is suitable for molding when the moisture content is 12%-15% and the particle size of the raw material is 1-5 mm.
This MZLH 520 model wood pellet making machine adopts the ring die and the matching cylindrical pressure roller as the main working parts, and is mainly composed of feeding, stirring, transmission and lubrication systems. Because the die axis is usually arranged horizontally, it is often called a horizontal ring die pelleting press machine.
Richi Machinery specialize in wood pellet press for sale, our biomass pellet mill is carefully designed for customers according to the actual requirements.

Working principle of ring die wood pellets press machine:
The wood waste raw materials are stirred and mixed in the batching bin by a specially configured lifting plate, and then tempered, and then the screw feeder feeds the material into the wood granulator for granulation.
In the wood pellet maker, the leveling plate evenly distributes the tempered material between the die and the roller. The ring die is rotated by the motor, and the 2 pressure rollers installed in the ring die.
Under the action of the material between the mold rollers and the friction between them, it only rotates but does not revolve. Due to the rotation of the die and the roller, the material between the die and the roller is clamped and extruded, and finally it is continuously extruded from the die hole in a columnar shape, and then cut into pellets of a certain length by a fixed cutter installed outside the die.
The process flow of the complete granulation system mainly includes raw material drying, crushing (dust removal), air conveying, collecting, raw material mixing, screw conveying, granulating, cutting, cooling, packaging, storage and other processes.
Are you looking for wood pellet press for sale? Contact Richi Machinery for details.
Application of wood pelletizer mill
Richi Machinery, a professional wood pelleting machine manufacturer, has been focusing on biomass wood pellet press for sale for 25+ years. Our pelleting press systems allow the operator to make premium quality pellets for a vast array of materials for numerous purposes which includes but not limited to: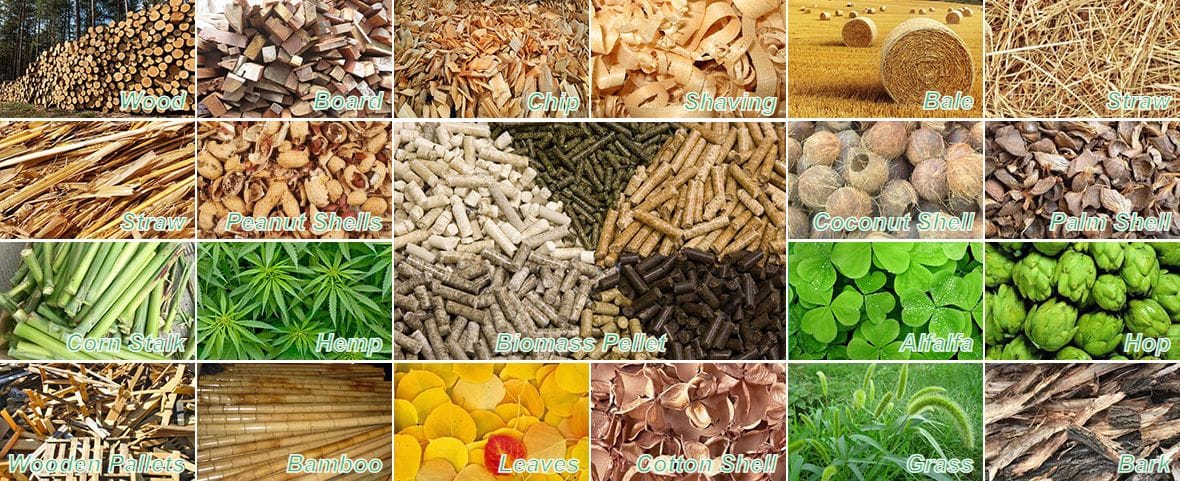 Fuel: Wood, Paper & Cardboard etc
Alfalfa & Hay
Hops: Low-Temperature Hops Pellet Press
Hemp: Low-Temperature Hemp Pellet Press
Plastics: Plastic pellets and other Waste Steam Pellet Press
Wool: Wool Pellet Press
Fertilizer: Manure Pellet Press
Whether softwood or hardwood, particle board or MDF, RICHI pellet mill systems focus on quality wood pellets produced at the lowest cost. We have turnkey wood pellet production plant systems that take small chips, shavings, or dust collector waste and transform them into quality, dust-free wood pellets with high BTU-value, low ash, and low fines.

As a manufacturer focusing on the wood pellet mill for sale, Richi Machinery is one of the leading wood pellet making machine manufacturers in China. We offer a wide range of wood pellet machines at very reasonable prices. Our pelleting machines are also very durable and long-lasting. We use the latest technology and state-of-the-art machinery to manufacture our products.
MZLH520 wood pellet press for sale 2 t/h wood pellet line project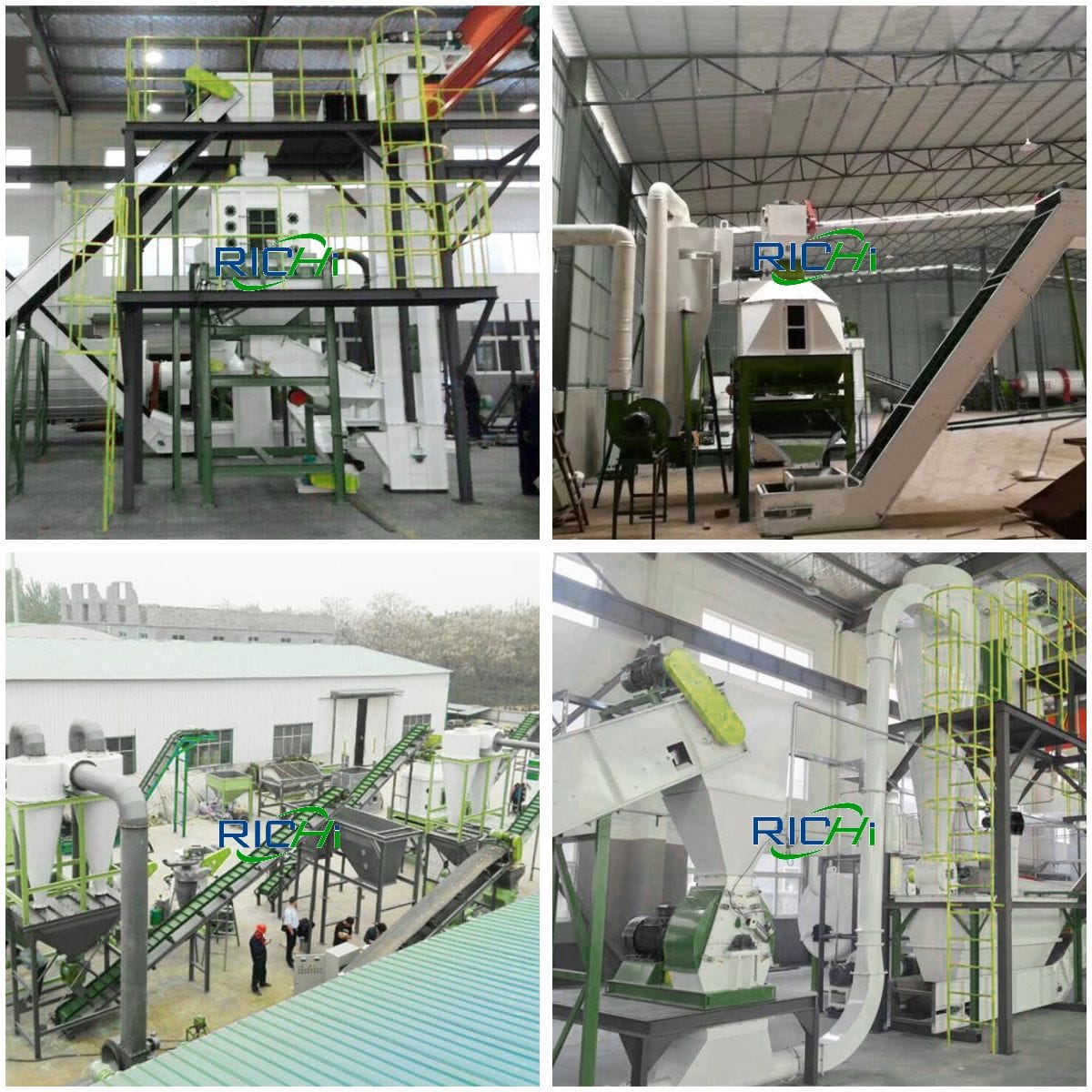 2 t/h wood pellet plant project
—— RICHI MACHINERY ——
The main business scope of the client company is: new energy technology research and development; biomass pellet manufacturing and sales. The customer invested 260,000 US dollars, rented an idle factory building, and built a biomass pellet plant project with an annual output of 5,000 tons.
Project output: 2t/h, 5000t/a
Pellet specifications: diameter 6mm and diameter 8mm
Pellet length: length 2~3cm
Production days: 6 employees, single-shift system, working hours from 8:00 to 17:00, no production at night, 300 working days a year, no canteen and dormitory.
Main Raw and Auxiliary Materials
| Material Name | Annual usage | Package Specifications |
| --- | --- | --- |
| Shavings | 5001 t/a | Bag |

Main wood pellet equipment
| Device Name | Model | QTY |
| --- | --- | --- |
| Belt Conveyor | / | 4 |
| Wood pellet hammer mill | SFSP68*75 | 1 |
| The silo to be granulated (closed) | / | 1 |
| Wood pellets press | MZLH520 | 1 |
| Feeding screw conveyor | / | 1 |
Richi Machinery specialize in wood pellet press for sale, according to the resource characteristics of different countries and regions, on-site operating environment and climatic conditions, to provide corresponding customized solutions for product and wood pellet production line design, so that customers have more protection in comprehensive investment.
Public works
(1) Water supply
Tap water is used for production, living and fire-fighting in this project.
(2) drainage
The wastewater discharged from the enterprise is mainly domestic sewage. The domestic sewage generated by the enterprise is pretreated to meet the third-class standard, and then discharged into the pipe, and finally enters the local sewage treatment plant for treatment.
(3) Power supply
The power consumption of the project is supplied by the local power grid.

2T/H wood pellet making plant design
The production process of this 2t/h wood pellet production plant project is relatively simple. The production process of shaving biomass wood pellet mainly includes feeding, crushing, granulating and packaging.
01 Crushing
Use a forklift to send the shavings to the belt conveyor and enter the wood pulverizer for crushing. The pulverizer is only equipped with an inlet and an outlet, and the inlet is closed after feeding to reduce the escape of dust.
The wood pellet hammer mill pulverizer is connected to the cyclone, and the cyclone dust collector uses the principle of centrifugal force to separate the crushed materials.
The crushed materials are deposited in the dust collector and discharged through the feed port. After the gas is discharged from the cyclone, it is treated by the bag filter, and all the collected dust is reused in the production line.

02 Granulation
The crushed raw materials are sent to the airtight granulation bin through the airtight conveyor belt, and then sent to the wood pellet mill press through the feeding dragon to pressurize and densify the pellet pressing machine. The feeding screw conveyor is a sealed pipeline, only a small amount of dust is emitted.
There is no need to add any additives during the molding process, and the wood pellets after molding have small volume and high specificity. The formed biomass wood pellets enter the finished product bin through the conveyor belt, and are packaged for sale.

As a manufacturer focusing on the wood pellet press for sale, Richi Machinery insists on summarizing and summarizing the details of pellet equipment manufacturing process, product improvement, on-site process layout, etc., digging deep into customer needs in multiple forms, and always taking technological innovation as the main driver We strive to do a good job in products and services, and continuously improve our production capacity and market influence.
How to start wood pellet manufactruing plant?
As a manufacturer focusing on the wood pellet press for sale, we offer complete wood pellet processing plant and pelleting press lines for the treatment and production of wood or biomass pellets. According to the requests of the Client and of the constructive characteristics, our plants have different construction characteristics and production capacity.

Look for raw materials that can be directly made into pellets, such as dry sawdust, rice husks, peanut shells, mushroom residues, bagasse and other biomass powders;
After the raw materials are determined, it is necessary to determine the workshop. The construction or search of the workshop is generally close to the raw materials or a place with convenient transportation. It is the best to have both.
Transformers, the biomass granulation industry consumes a lot of electricity. After determining the production capacity, choose the transformer that matches the production capacity according to the equipment power provided by the equipment manufacturer.
Before purchasing equipment, you must first understand the product quality of the wood pellet equipment manufacturer. It is often difficult to distinguish the quality of the product in the network environment. You must visit the manufacturer on the spot, and don't be fooled by the low price. The high-efficiency wood pelletizer machine is the invention patent of our company, and it has now been upgraded to the 8th generation. The strong technical strength of Richi Machinery will escort your pellets.
Customized Complete wood pelleting plant design
Richi Machinery focuses on wood biomass pelletizing plant and wood pellet press for sale. Based on different materials, we have suitable wood pellet making process. The whole process include Material Crushing Section, Drying Section, Pelletizing Section, Pellets Cooling Section and Pellets Packing Section. The production capacity can be 300kgs/h to max 90ton/h.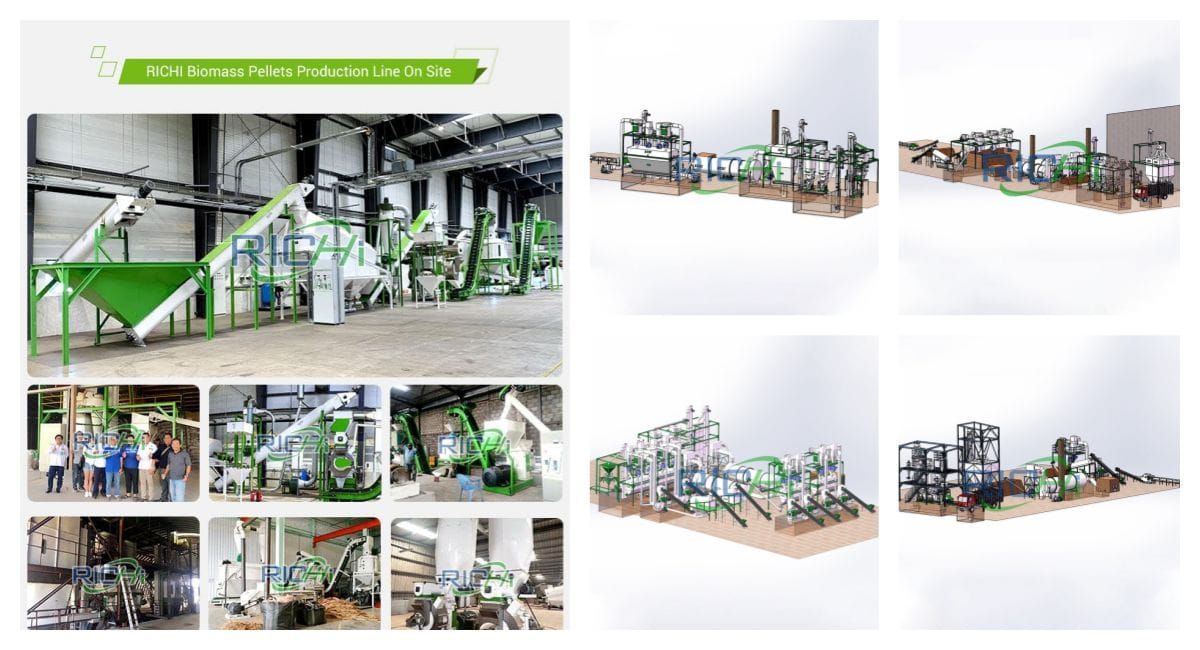 Manufacturing Process of Complete Wood Pellet Plant:
Waste materials are tested for their chemical composition to decide on their suitability and to select a proper mix.
Sun dried materials containing approx. 10-15 % moisture is suitable for pelletizing. However if material has higher moisture content it needs to be dried before use.
Material is screened, chopped and ground to get the desired size and bulk density is pneumatically transported into storage bins. This helps in separation of the heavier & metallic particles and also unifying the moisture content in the material. Air used is hot or wet as the case may be, for control of moisture.
Material from bin is discharged to the wood pelletizing machine through extraction and conditioning screw. Process does not require any binder or steam. Pelletizing is achieved at very low speed of pelletizing.
Pellets are cooled by pellet cooler machine or ambient air and packed in loose form or bags.
We develope complete wood pellet factory solutions for the entire spectrum of pelleting technology. We have the right machine of the best quality for each product and adapted to your individual requirements.
Choose RICHI complete wood pelletizing plant
Great experience and specialty in pellet production plants
Over the course of 25 years, we have exported wood pellet press for sale the world and have managed and successfully completed pellet production plant projects. From developing the very first concept to obtaining the necessary permits, analysing the energy efficiency and managing all entities involved. With our skillset and hand, we are the best partner for your next wood pellet manufacturing plant.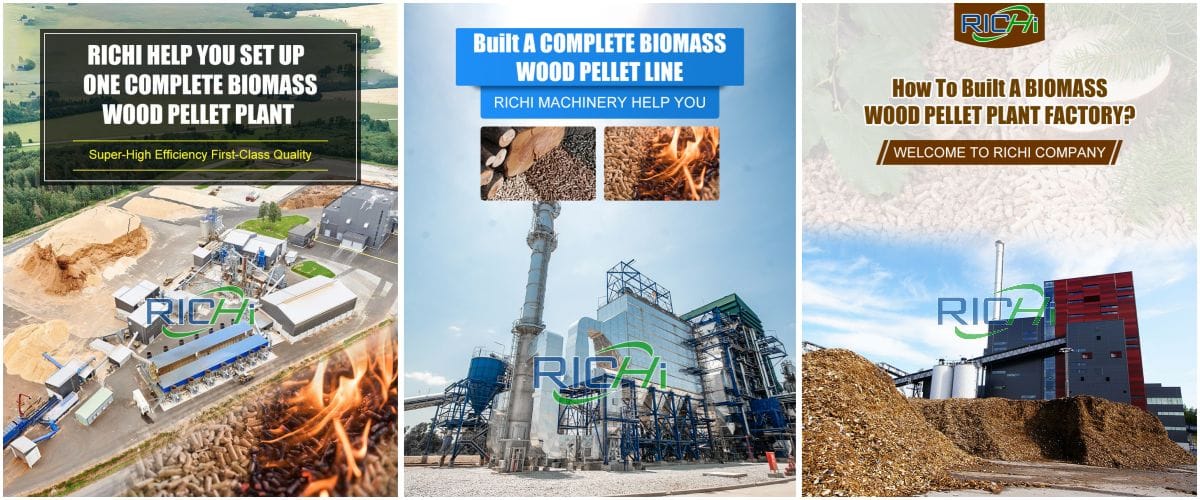 Project Management on the highest level
The lengthy nature of building effective wood pellet plants does bring its own set of challenges. Build on strong partnerships and all-encompassing know-how, we provide the perfect foundation for a successful project. Our leadership believes in pooling knowledge and experience, maintaining an open dialogue, and nurturing a culture of quality, all of which help guarantee a project's success.
Customized solutions for pellet production plant
Every wood pellet production project, partner and location is unique and therefore demands its own approach. There is no "one fits all" solution. At Richi Machinery we know all the variables and potential problems before facing them and excel at finding the best solution based on experience, project goals and requirements as well as the right amount of creativity.
Richi Machinery specializes in wood pellet press for sale. No matter what kind of raw material you are, we can provide suitable wood pellet line equipment and wood pellet making process solutions. The turnkey wood pellets pressing machine solution is the answer submitted by Richi Machinery under the new situation of the biomass wodo fuel pellet processing industry, and it also coincides with the future development trend of the industry.
LEAVE YOUR NEEDS
Keeping in touch with us is an effective way to solve all your problems. If you have any needs or questions, please leave your contact information, then RICHI technical consultants will send design, quotation, videos to your mailbox. You can also contact us directly via WhatsApp: +86 13838389622