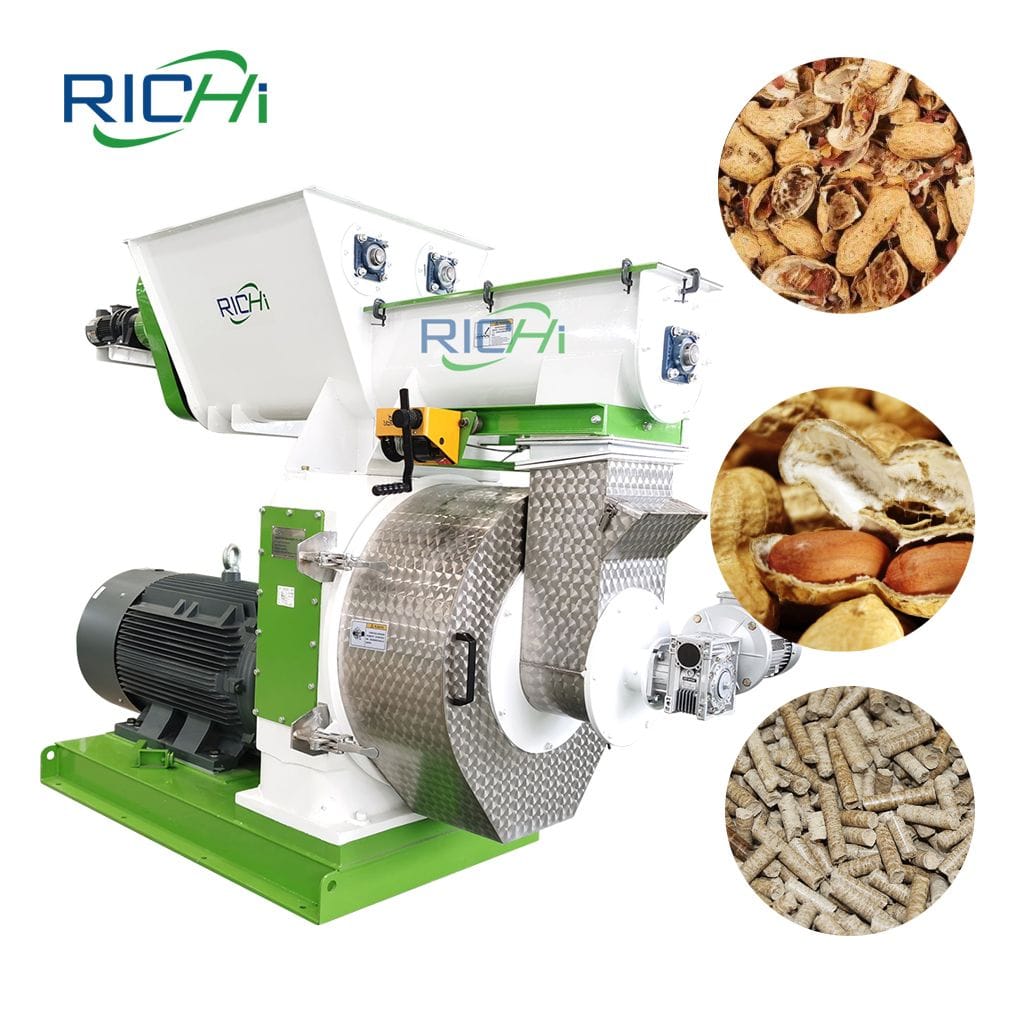 peanut shell pellet machine
The peanut shell pellet machine is a biomass pellet equipment that processes peanut shell fuel pellets and peanut shell feed pellets. It is mainly used in biomass pellet factory, feed factory, fuel pellet factory, fertilizer factory, etc.
Our peanut shell pellet mills adopt ring die design, which are known for their high efficiency and reliability, excellent controllability and competitive price.
capacity: 0.3-10 T/H
capacity: 1-42 T/H
price: 7,000-100,000 USD
Pellet size: 2-12mm
Over 25 years of experience in designing and manufacturing has proved our strong ability and great product quality. RICHI can offer complete peanut shell pellet plant solutions for 1-90 t/h fuel pellets, 1-160 t/h feed pellets and 1-60t/h fertilizer pellets.
At present, the peanut shell pellet production lines we have established include a 10t/h peanut shell feed pellet production line in Senegal, a 6t/h peanut shell pellet fuel production line in Canada, etc.
On this page, RICHI will mainly introduce you to fuel-based peanut shell pellet machines.
Types of peanut shell pellet machine
According to different application fields, peanut shell pellet making machines can be divided into the following three categories: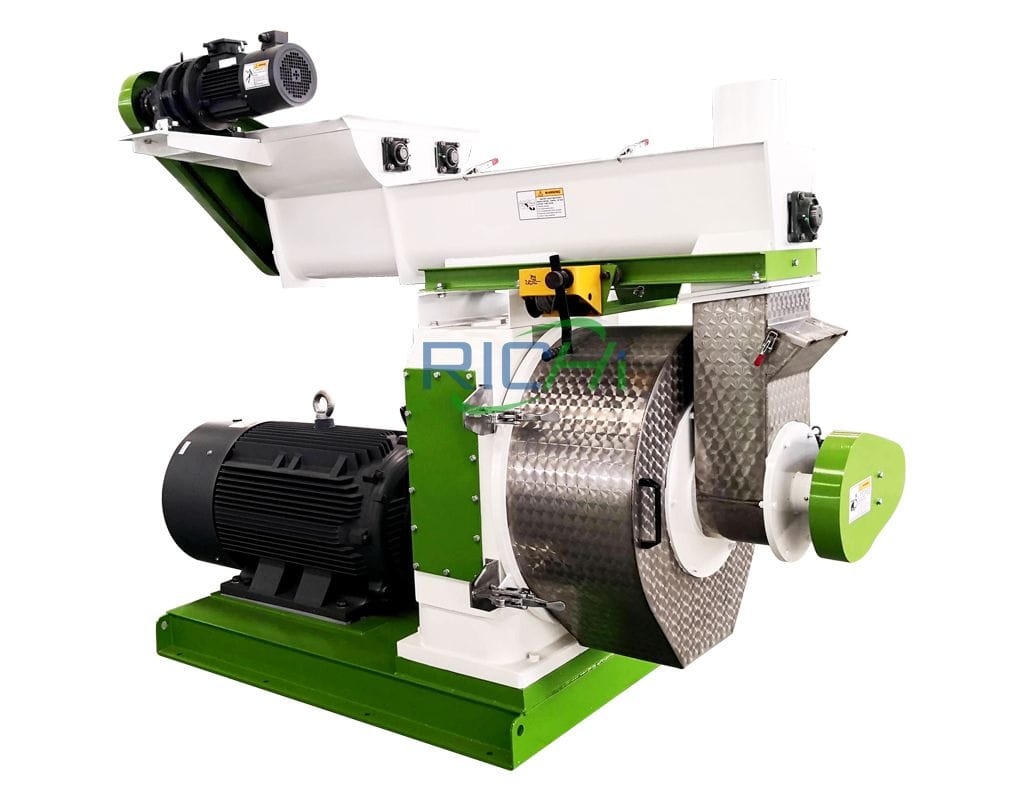 peanut hulls fuel pellet machine
Output: 0.3-4.5T/H (single machine)
Model: MZLH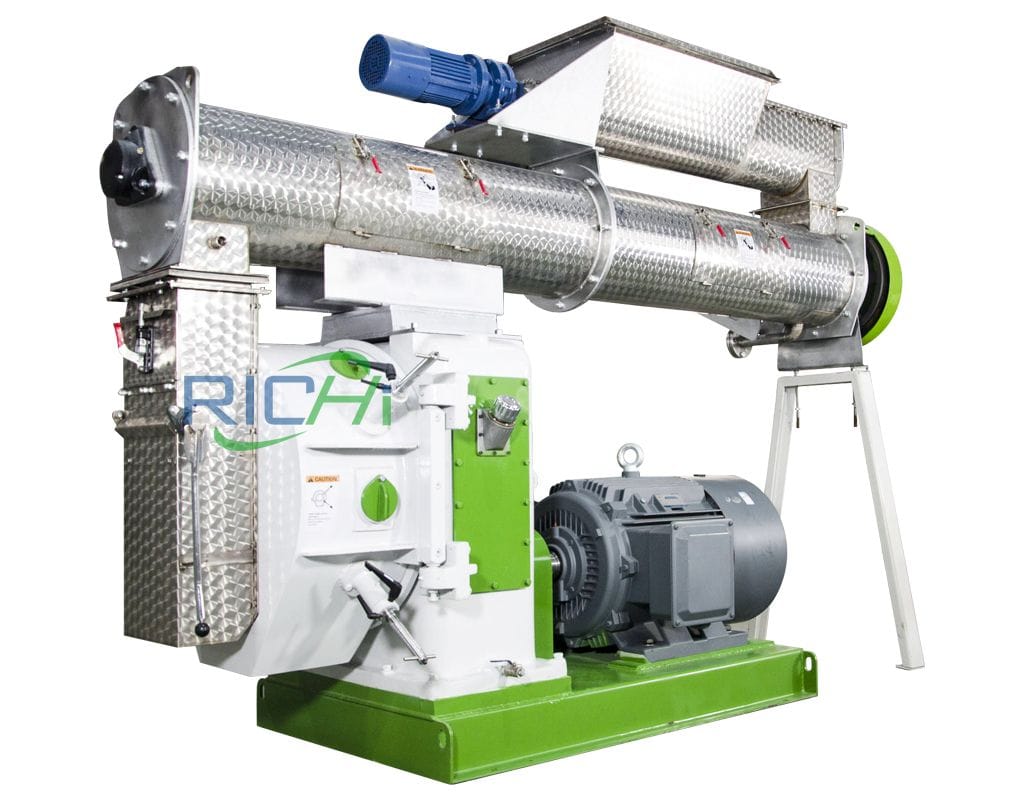 Peanut shell feed pellet machine
Output: 1-42T/H (single machine)
Model: SZLH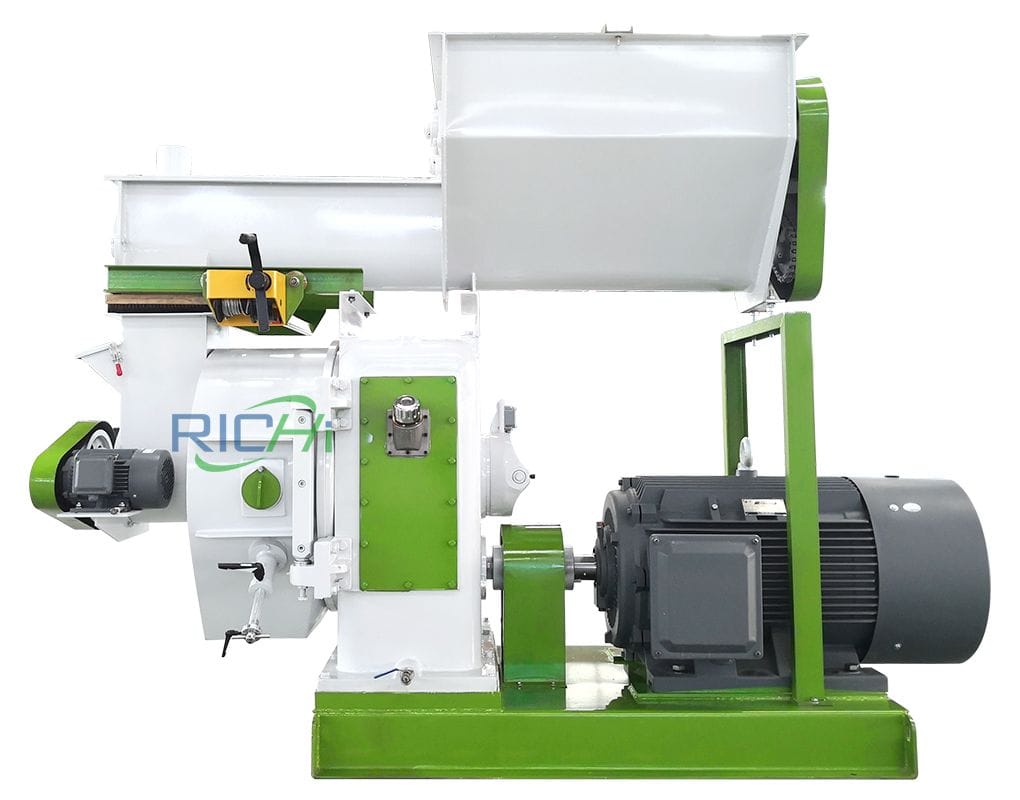 peanut hull organic fertilizer granulator
Output: 1-10T/H (single machine)
Model: MZLH
At present, except for a small amount of peanut shells that are processed and used in feed, organic fertilizer, chemical industry, and medicine, most of them are directly burned or abandoned on farmland, resulting in a huge waste of resources.
Therefore, peanut shell pellet mill and peanut shell pellet production line technology are used to compress peanut shells into denser solid molded fuel. After combustion, "zero" CO2 emissions can be achieved, which not only efficiently utilizes resources, but also protects the environment.
Features Of peanut shell pellet machine
The new generation biomass peanut shell pellet mill is developed and designed by the RICHI engineering team and is specially used for peanut shell granulation.
RICHI has its own production base of 50,000 square meters. This ring die biomass series peanut hull granulator is a stable, reliable, efficient, safe and economical model that has been tested and demonstrated in the RICHI factory for hundreds of times. The equipment can achieve 24 hours of continuous operation.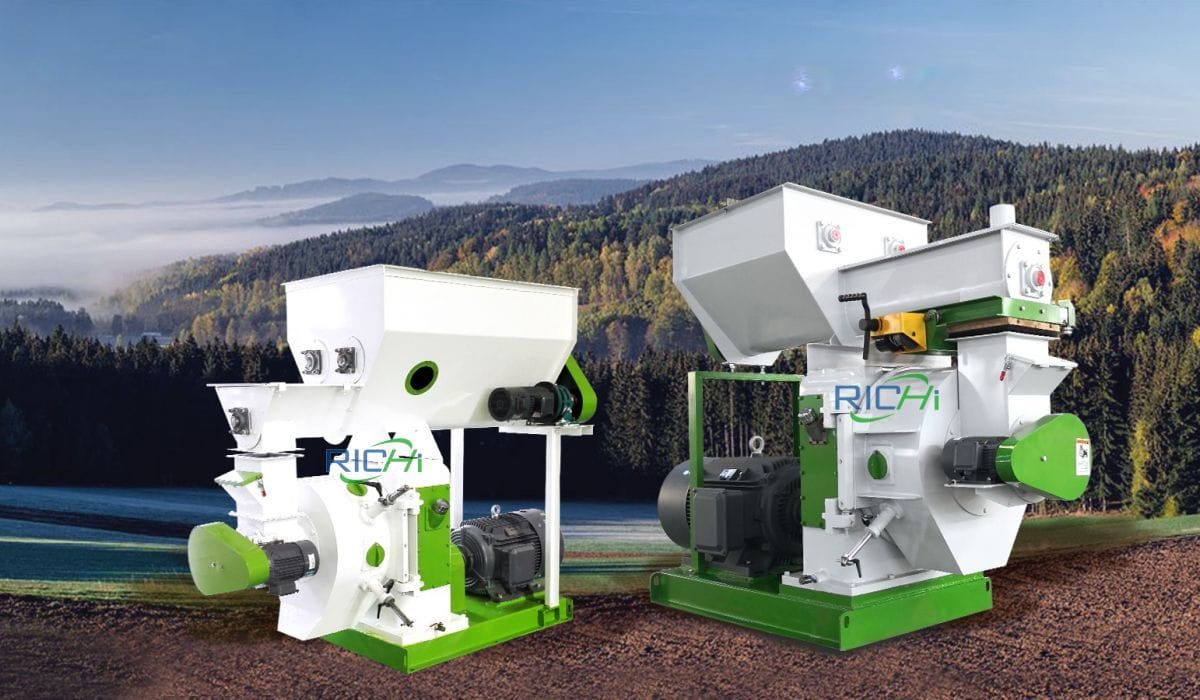 Using high-precision gears for direct transmission, the transmission efficiency is as high as over 98%;
The transmission gear tooth blank is water forged and then normalized and heat treated to increase the tooth surface hardness;
The tooth surface is carburized, and the carburized layer is as deep as 2.4mm, which enhances wear resistance and extends the service life of parts;
The hard tooth surface is processed by a silent precision grinding and edge trimming process to make the operation quieter and more stable;
The main shaft and conjoined hollow shaft are made of imported alloy structural steel through water forging, rough turning, heat treatment, fine turning and fine grinding;
The structure is reasonable and the hardness is uniform, which improves the fatigue resistance and wear resistance of the components and provides safe operation, give you more reliable protection;
The bearings used in the corn stalk pellet machine are all high-quality silent bearings, and a thin oil circulation cooling and lubrication system is added. The bearings have a longer service life and safer operation;
The ring die is precision manufactured from high-grade stainless high-nickel steel. The unique compression ratio design is reasonable, which ensures better product quality, longer service life of the ring die, and minimizes production costs.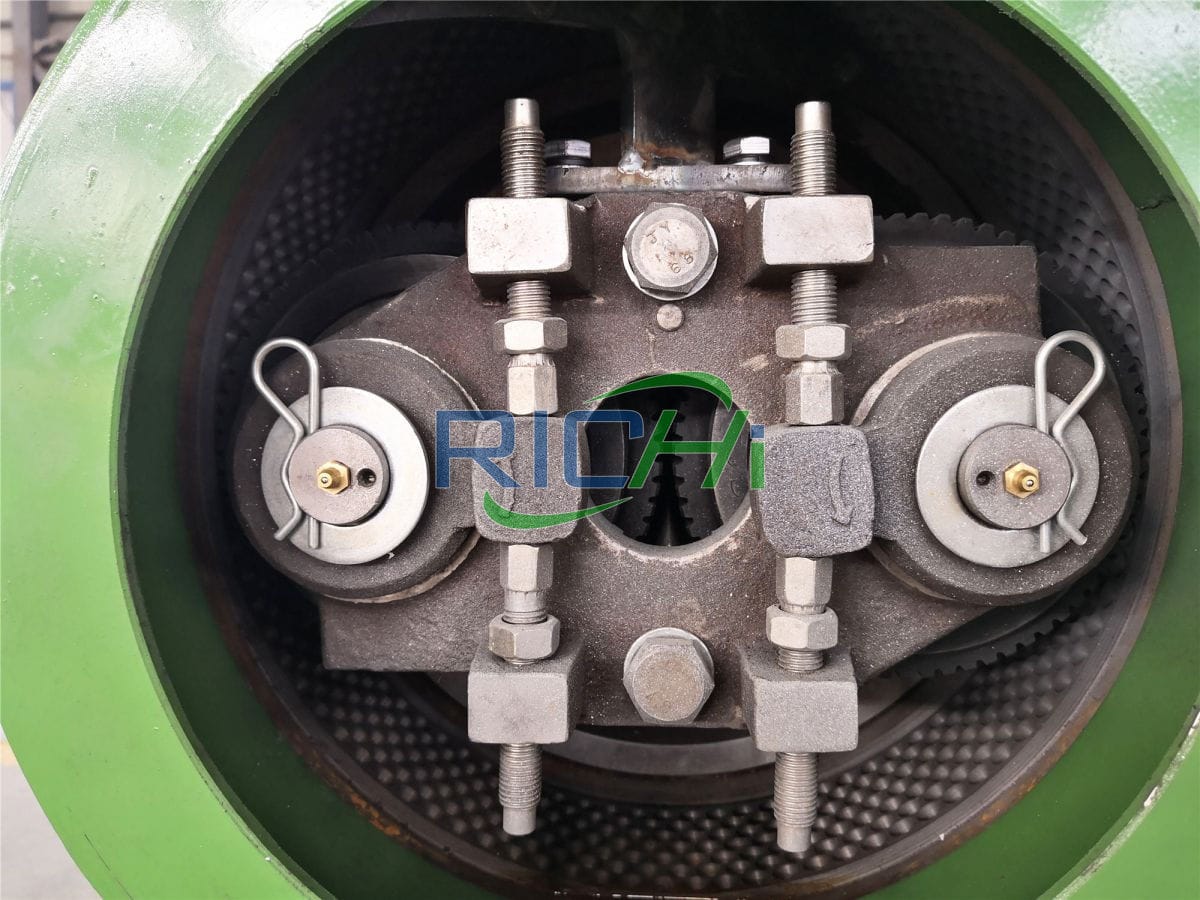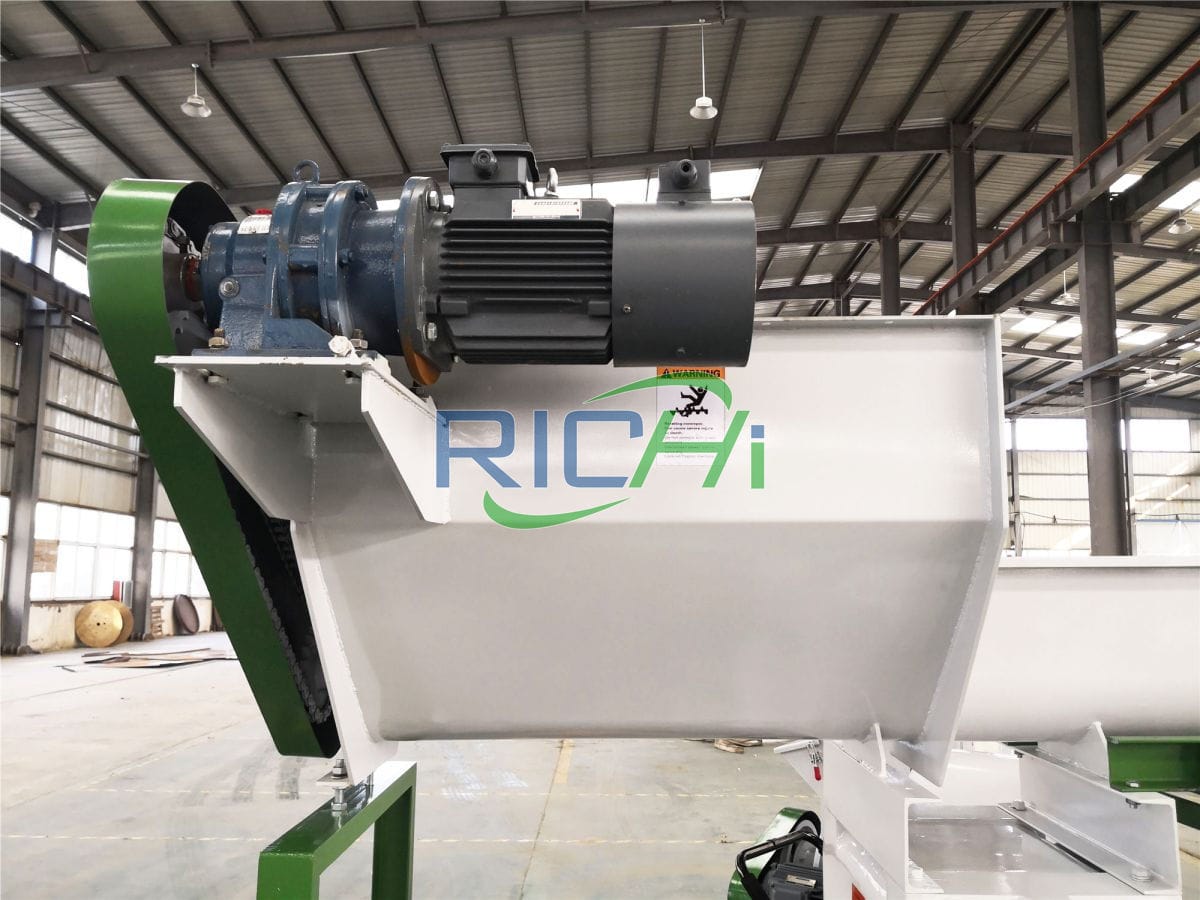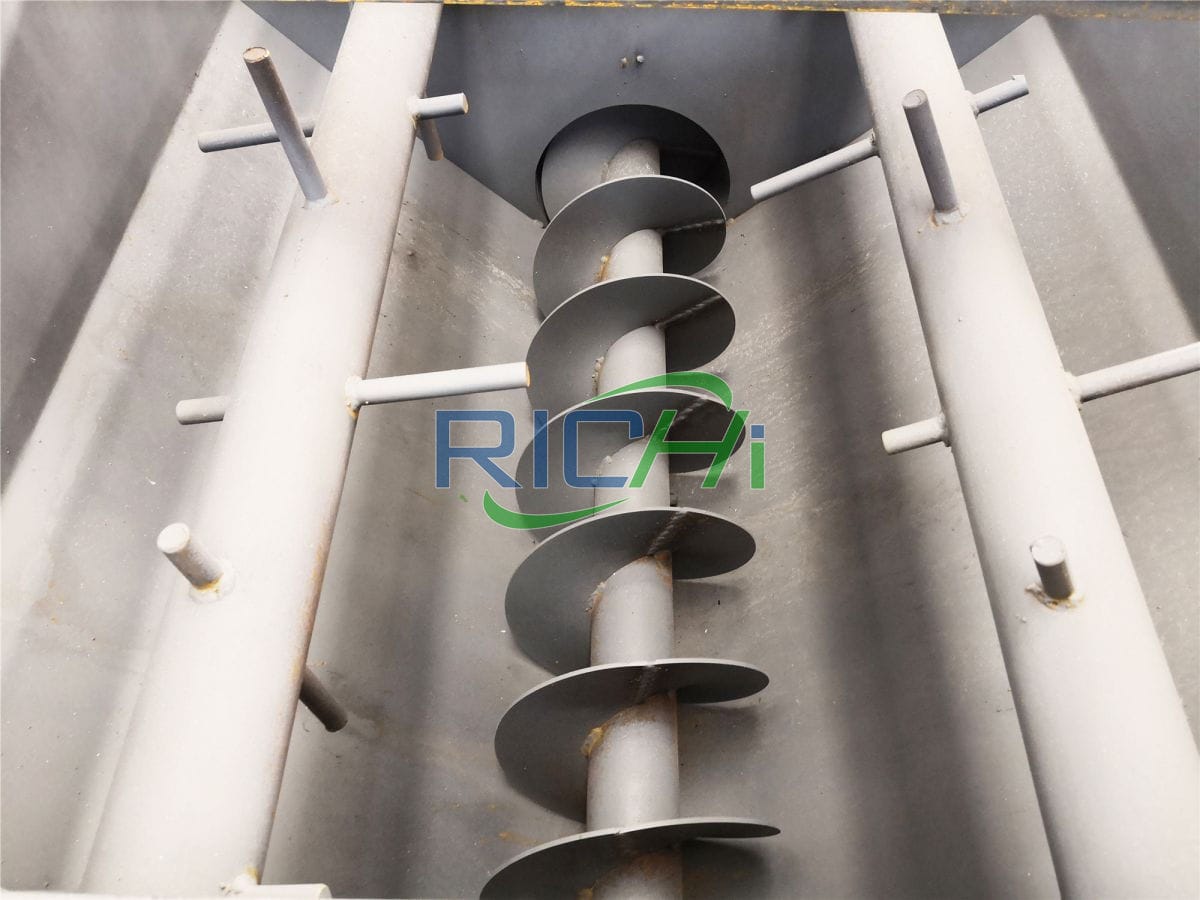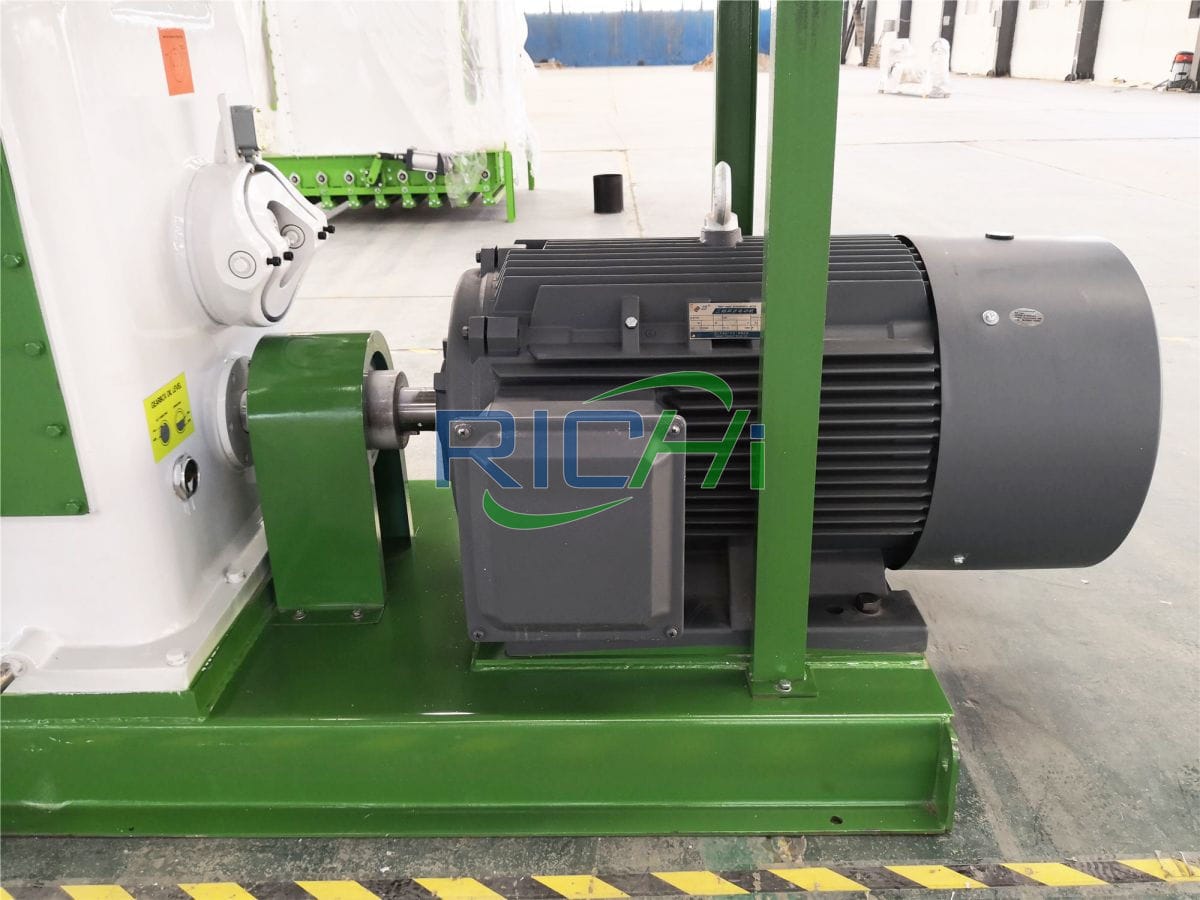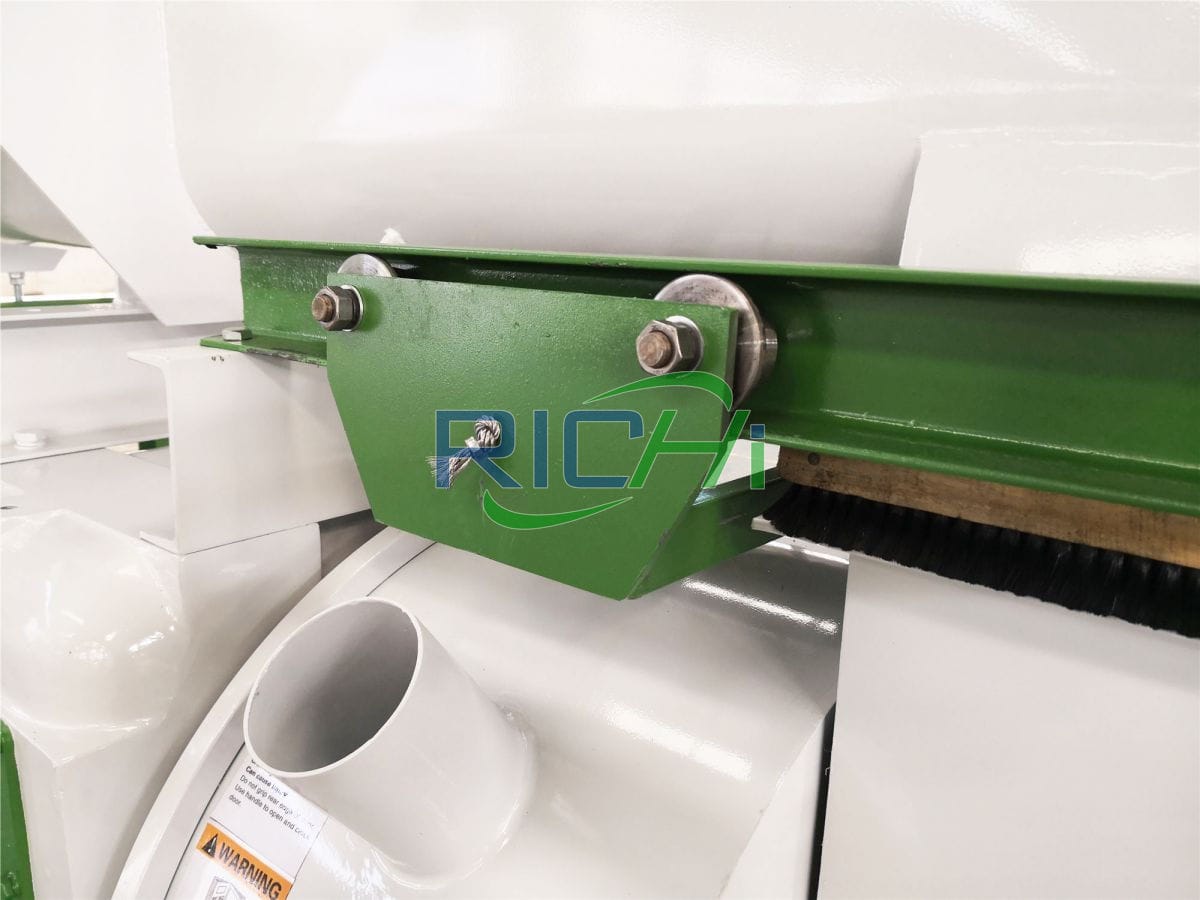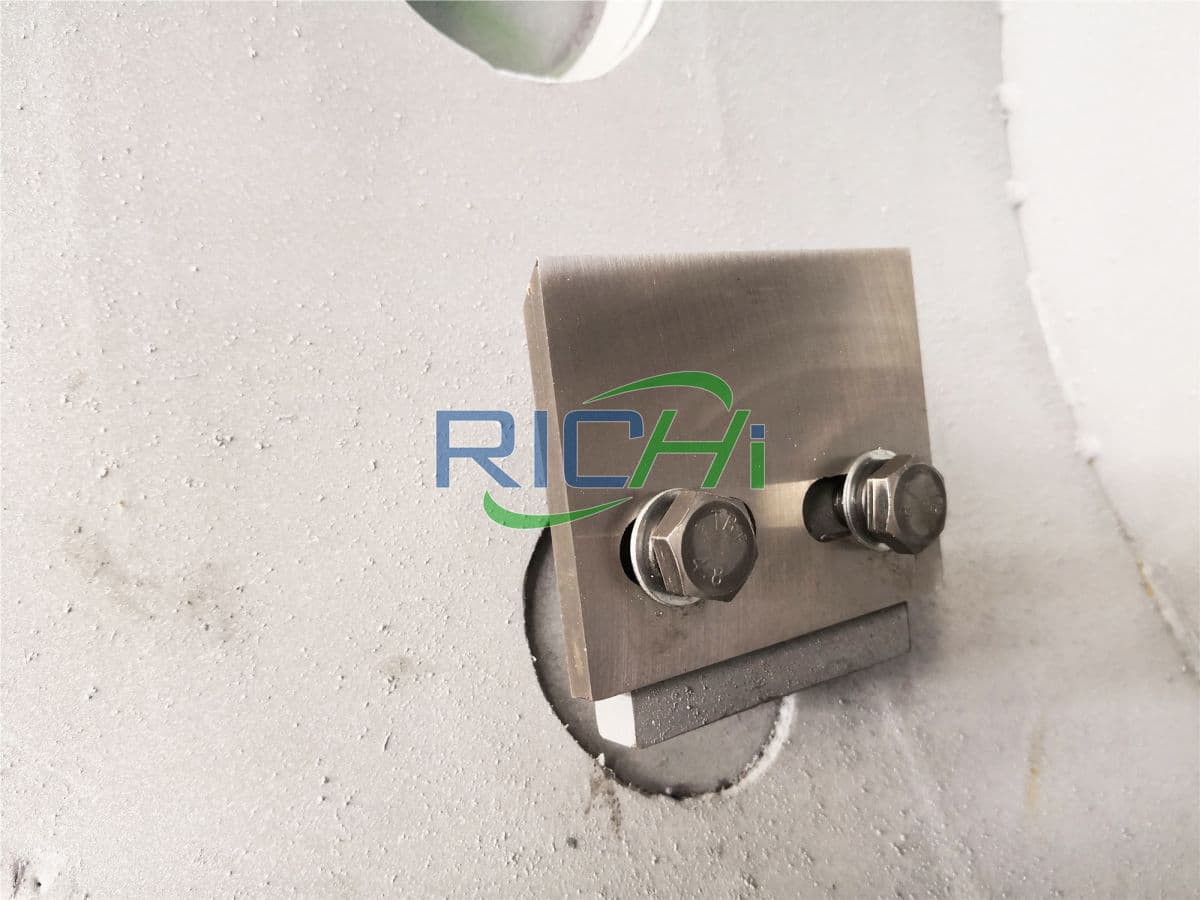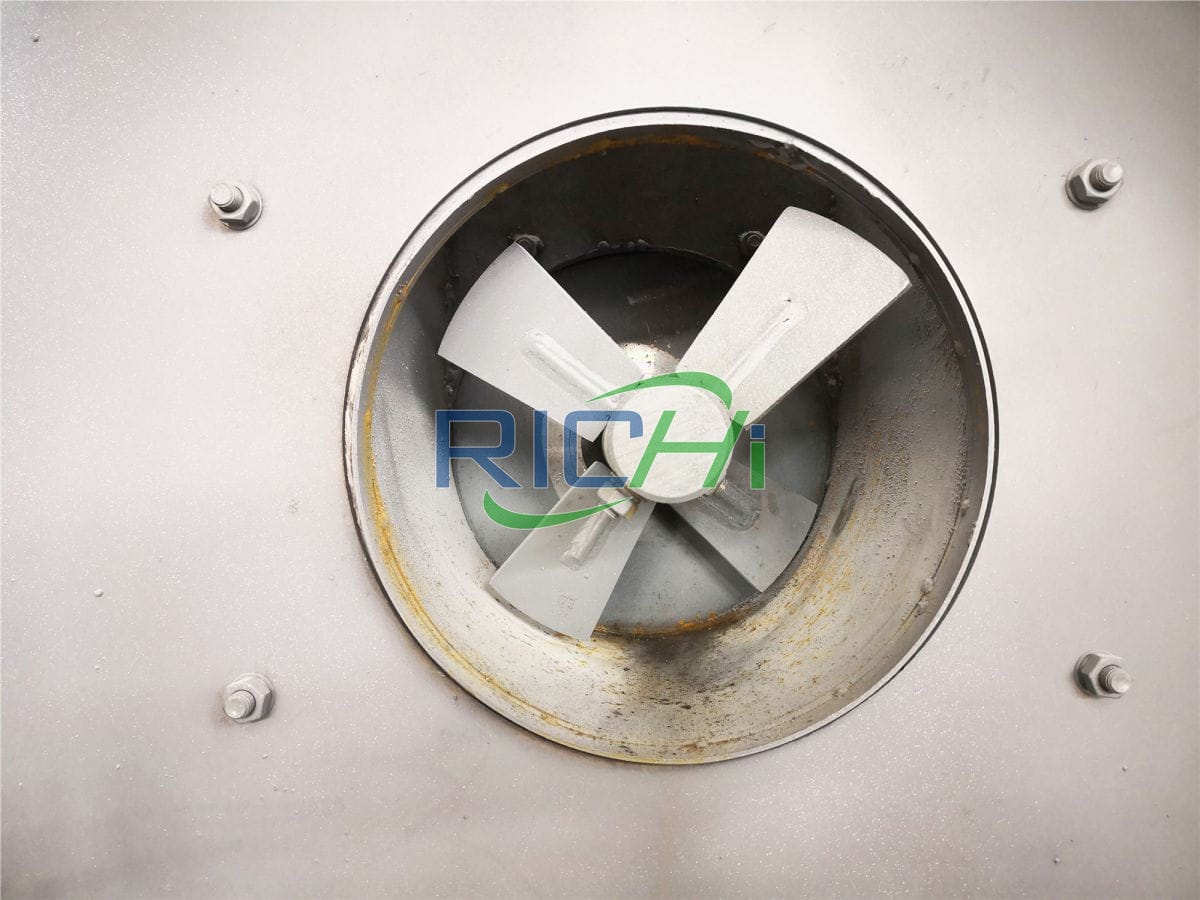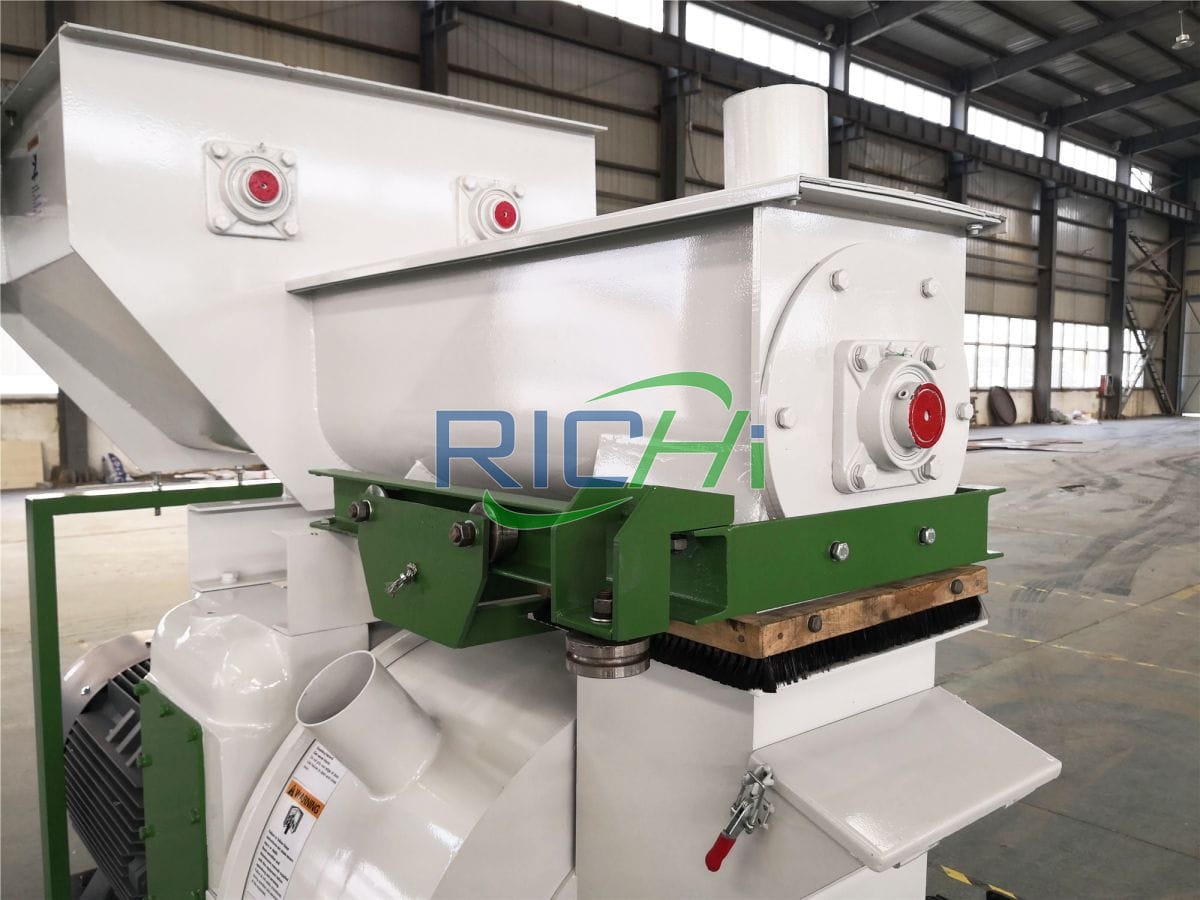 Globally, there is a huge annual production of agricultural waste, such as peanut shells, which are not only abundant but also "clean" and renewable.
From the perspectives of rational utilization of energy and environmental protection, peanut shell molding fuel has broad application prospects. Therefore, investing in peanut shell pellet equipment and peanut hulls pellet production business is also very promising.
Advantages of peanut shell pellet machine
Low energy consumption
Low failure rate
Low maintenance cost
Maintenance and repair are simple, fast and convenient
Low labor cost
Has a professional R&D team and after-sales service team
Due to the light bulk density of peanut shells, raw materials from distant areas cannot be efficiently and economically transported to the destination for processing.
In order to reduce transportation costs, peanut shells need to be compressed and granulated. Applying pelletizing technology and using a peanut shell pelletizer can increase the volume density of peanut shell particles by 4.44 times, effectively reducing the transportation cost and storage space of peanut shells.
Technical Parameters Of peanut shell pellet machine
| Model | Main Power(kw) | Anti-caking Feeder(kw) | Capacity |
| --- | --- | --- | --- |
| MZLH320 | 37 | 1.5 | 300-400 kg/h |
| MZLH350 | 55 | 1.5 | 500-700 kg/h |
| MZLH420 | 90 | 1.5 | 1-1.2 t/h |
| MZLH520 | 132 | 2.2 | 2-2.5 t/h |
| MZLH768 | 250 | 3 | 2.5-4 t/h |
| MZLH858 | 280 | 3 | 3-5 t/h |
Pelleting parameters of peanut shell pellets machine
Regarding the factors that affect the hot pressing molding of peanut shells, the optimal value range of the pelleting process is:
Heating temperature: 88 ~ 112 ℃;
Peanut shell moisture content: 15% ~ 16.2%;
Molding pressure: 9.5~11.3 MPa;
Mass ratio of peanut shells to binder: 2.8:1~4:1.
According to the practice of some of our customers, the molding process parameters used by many customers are:
Molding pressure: 10MPa,
Peanut shell to binder mass ratio: 3:1,
Peanut shell moisture content: 15%,
Heating temperature: 100℃.
Under these conditions, the relaxed density of the peanut shell molded block reaches 1.1008g/cm³, which basically meets the requirements for combustion and transportation.
RICHI's ring-die structure peanut shell pellet mill machine focuses on reducing production energy consumption, reducing product costs, and improving mold wear resistance.
It focuses on solving the problems of high energy consumption, frequent replacement of wearing parts, and frequent replacement of wearing parts in the biomass pellet fuel processing process. Maintenance difficulties and other issues.
If you are interested in this biomass pellet mill series equipment, please contact us for details!
peanut shell pellet machine Projects
We have set up many peanut shell pellet production lines in China and overseas market, such as India, Canada, Indonesia, Vietnam, Nigeria, Senegal, Sudan, Tanzania, Ghana, Bangladesh, Myanmar and other countries.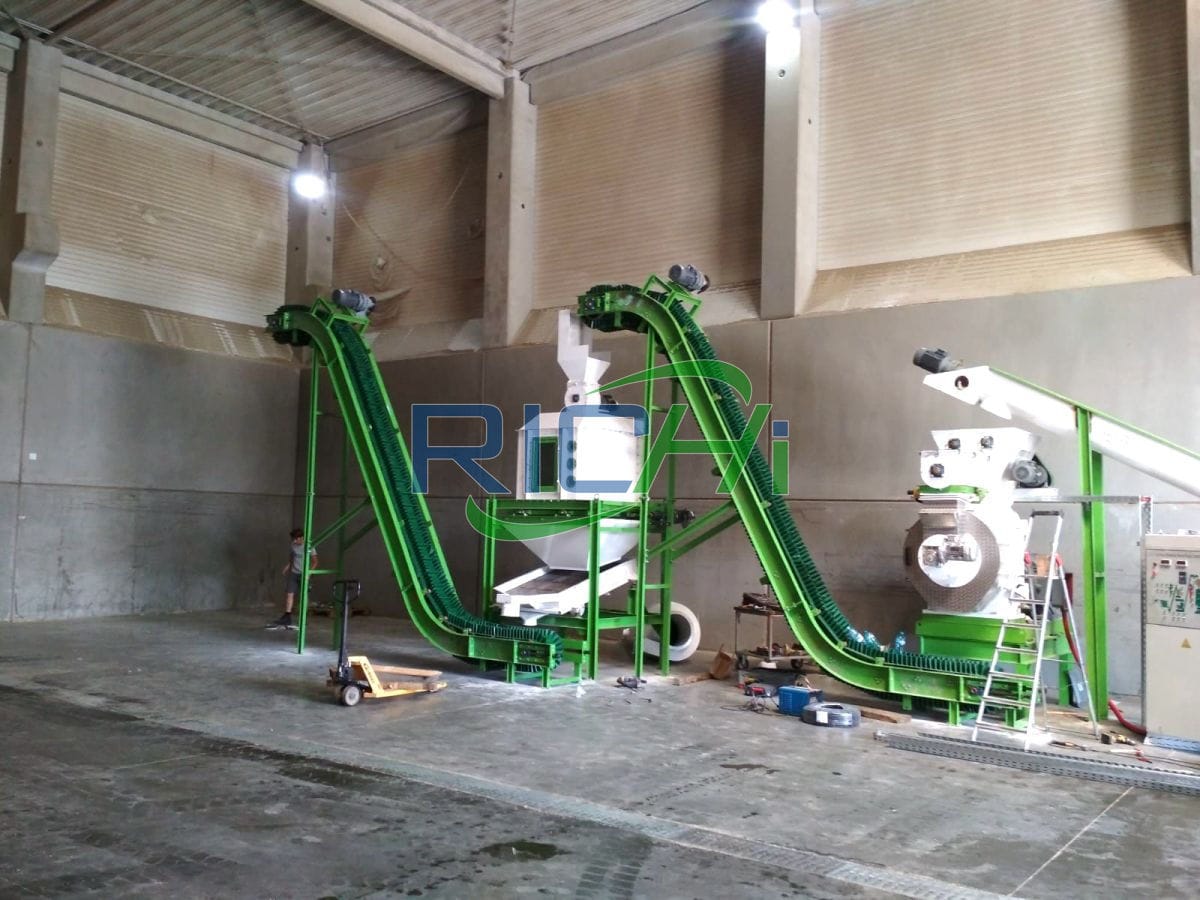 peanut shell pellet machine in canada
project date: 2020.09.05
Pellet Size: 6mm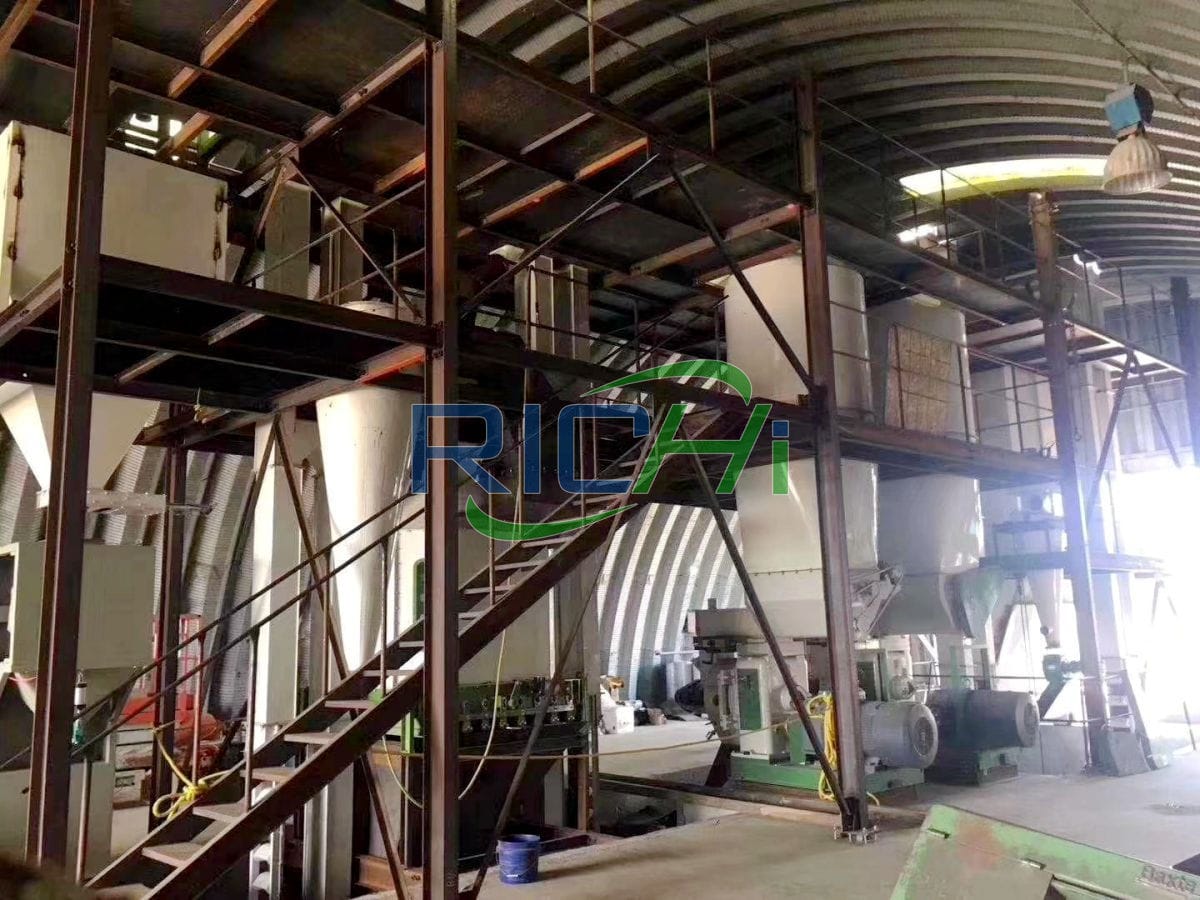 peanut shell pellet machine in Ghana
project date: 2021.9.26
Pellet Size: 8mm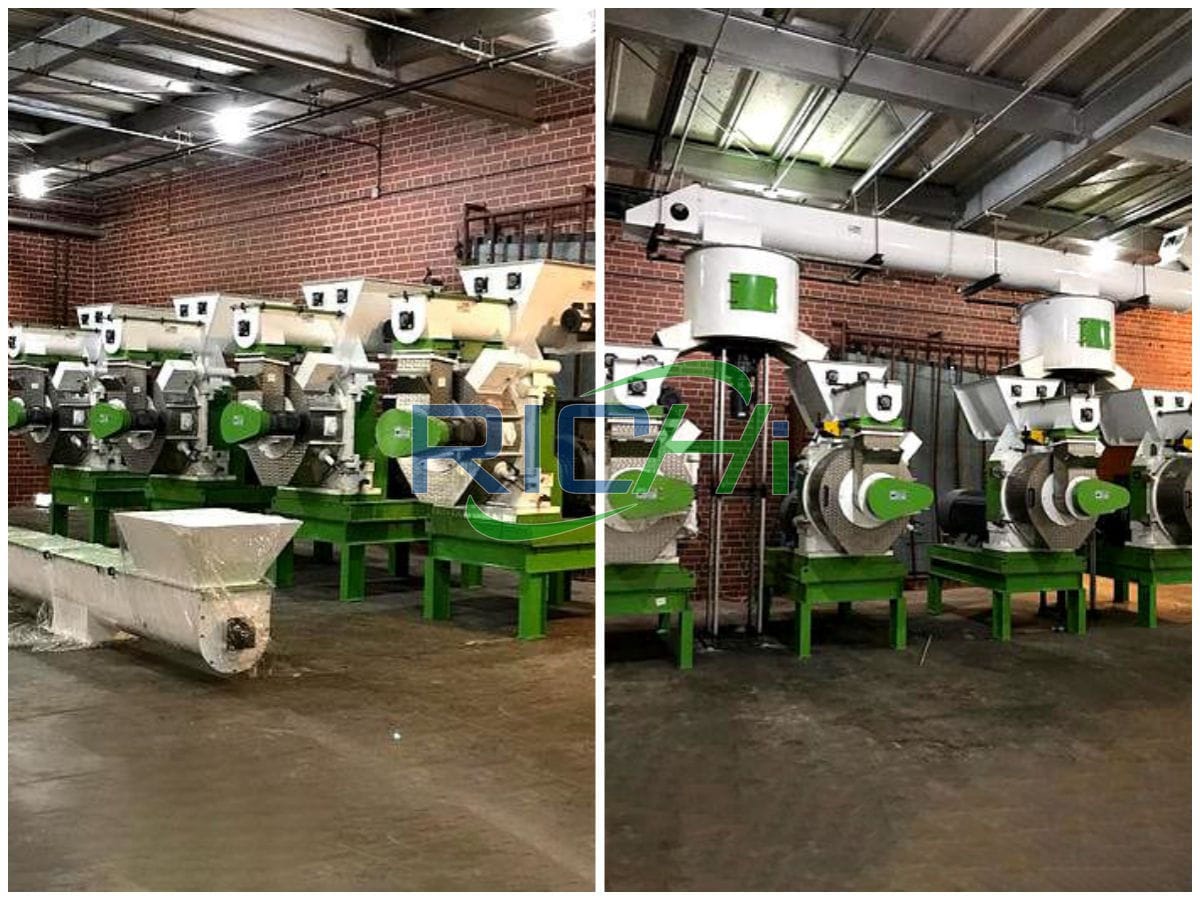 peanut shell pellet machine in Vietnam
project date: 2022.10.15
Pellet Size: 6-8mm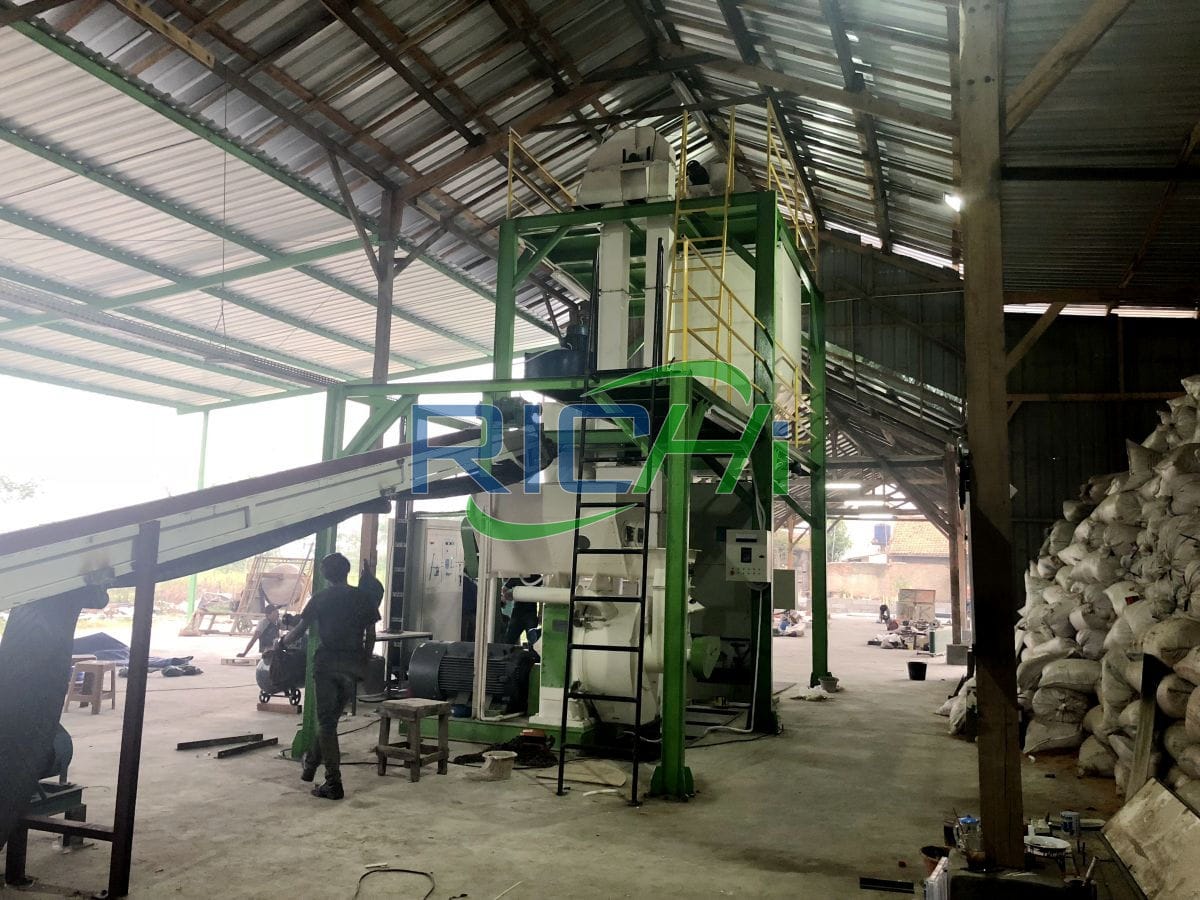 peanut shell pellets machine in Indonesia
project date: 2020.06.16
Pellet Size: 8-10mm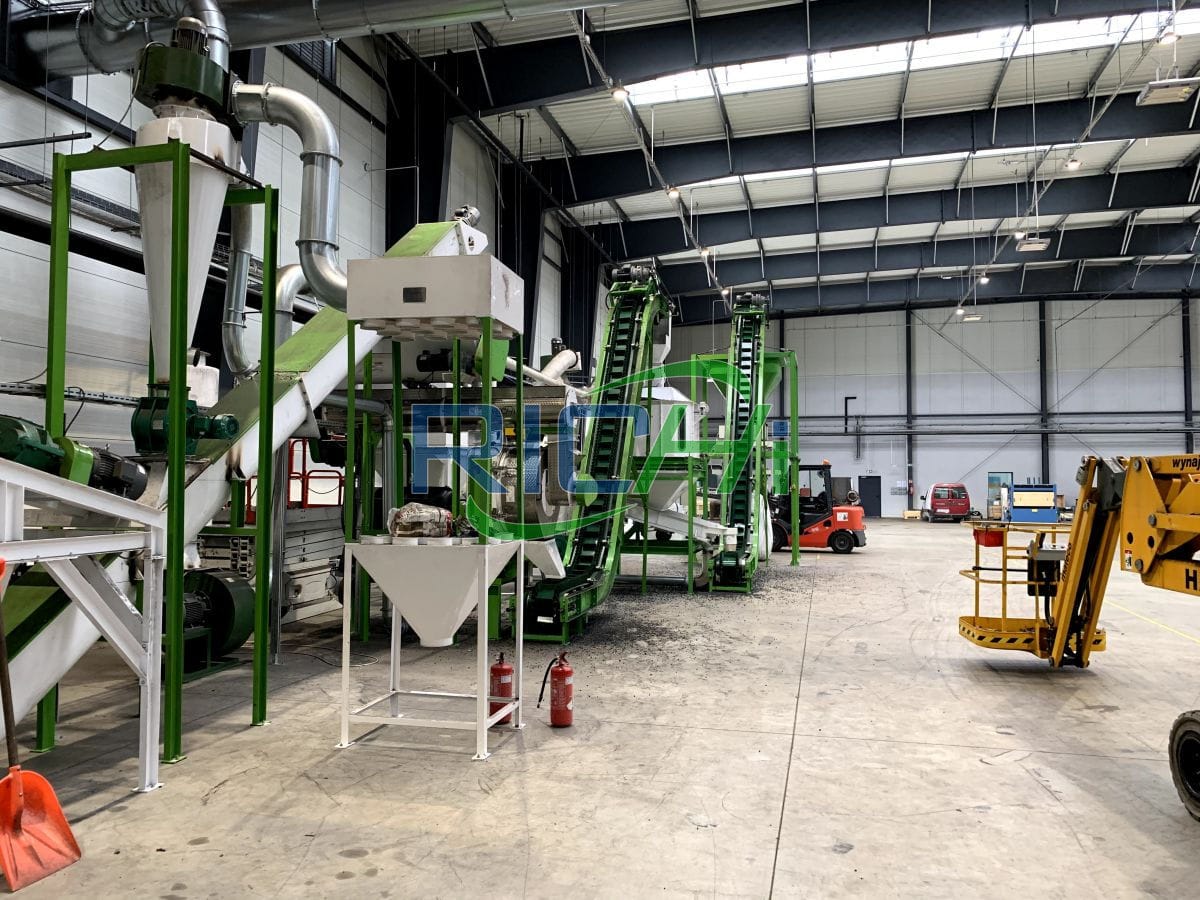 peanut shell pellet processing machine in Nigeria
project date: 2023.07.11
Pellet Size: 6-10mm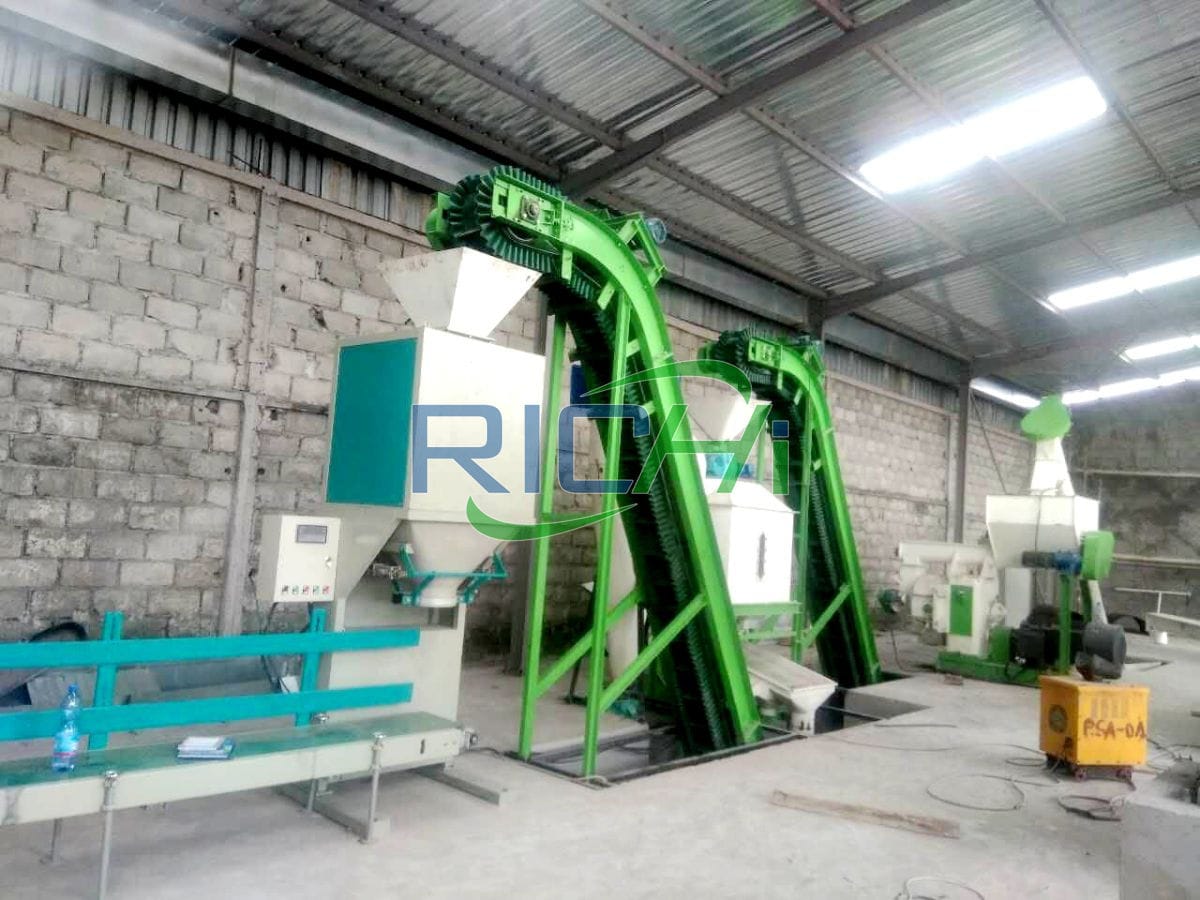 peanut shell pellet making machine in India
project date: 2020.07.24
Pellet Size: 8-10mm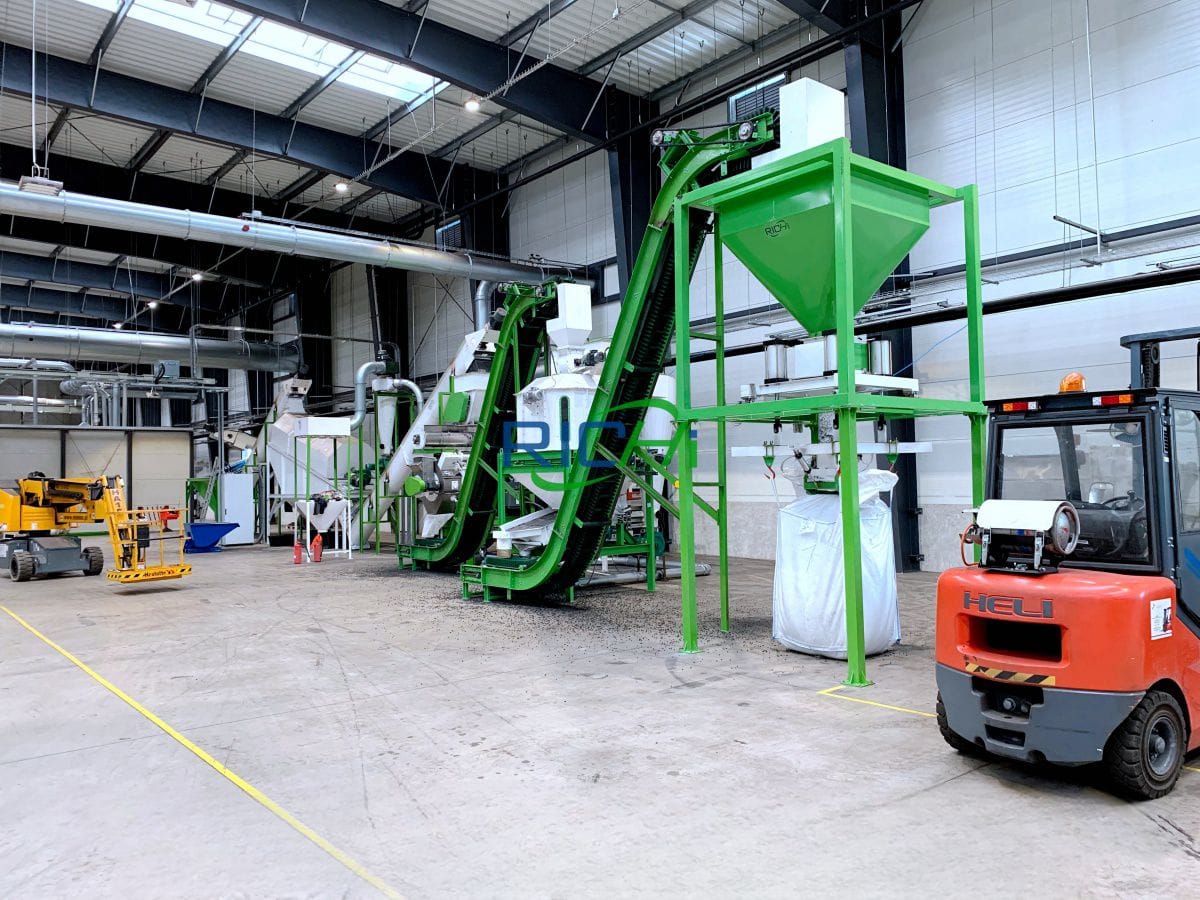 peanut shell pellet mill equipment in Argentina
project date: 2019.05.17
Pellet Size: 8mm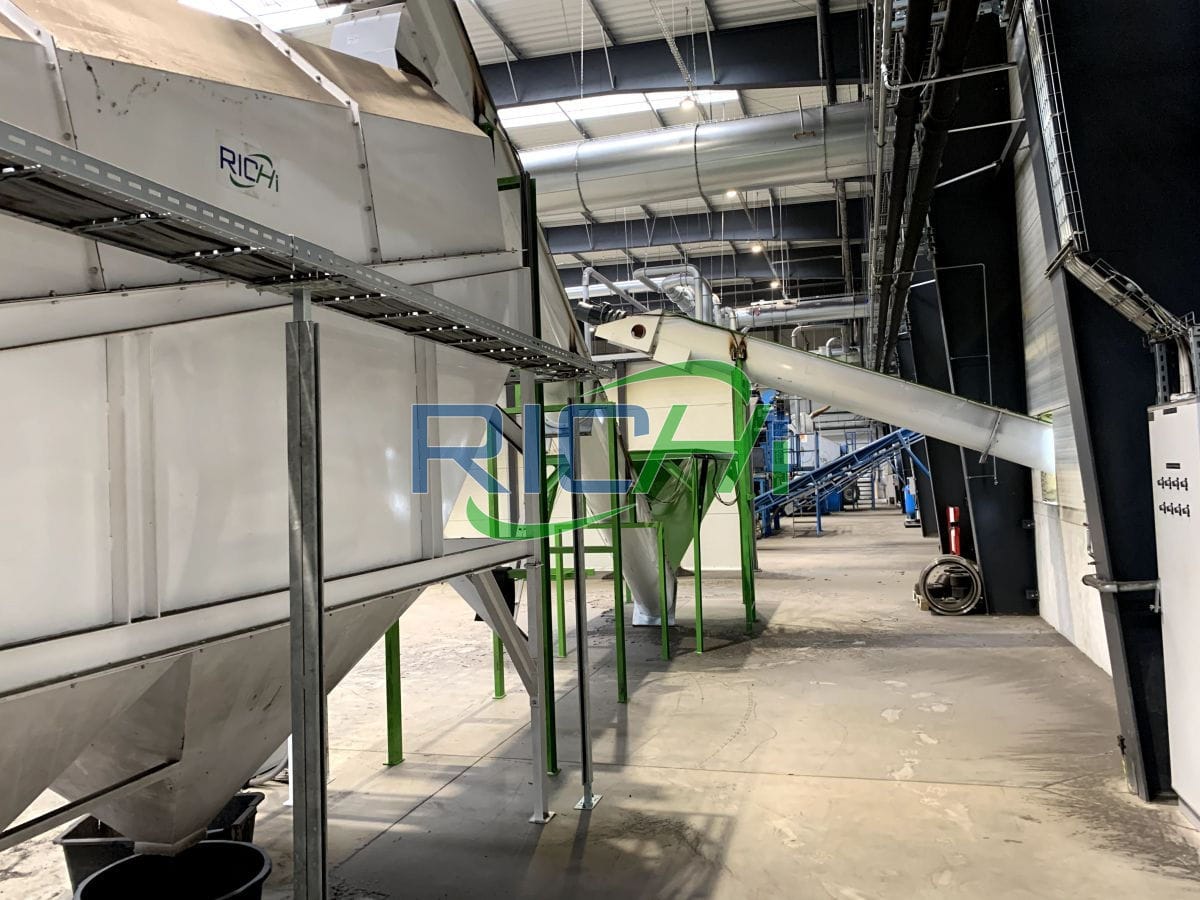 peanut shell pellet production machine in Brazil
project date: 2022.07.29
Pellet Size: 8-10mm
We are a modern enterprise specialized in the design, manufacture, installation, accessories, and after-sales service of machinery and biomass pellet production lines used in the biomass pellet industry. Feel free to contact RICHI for peanut shell pellet production solution!
Working Principle Of peanut shell pellet machine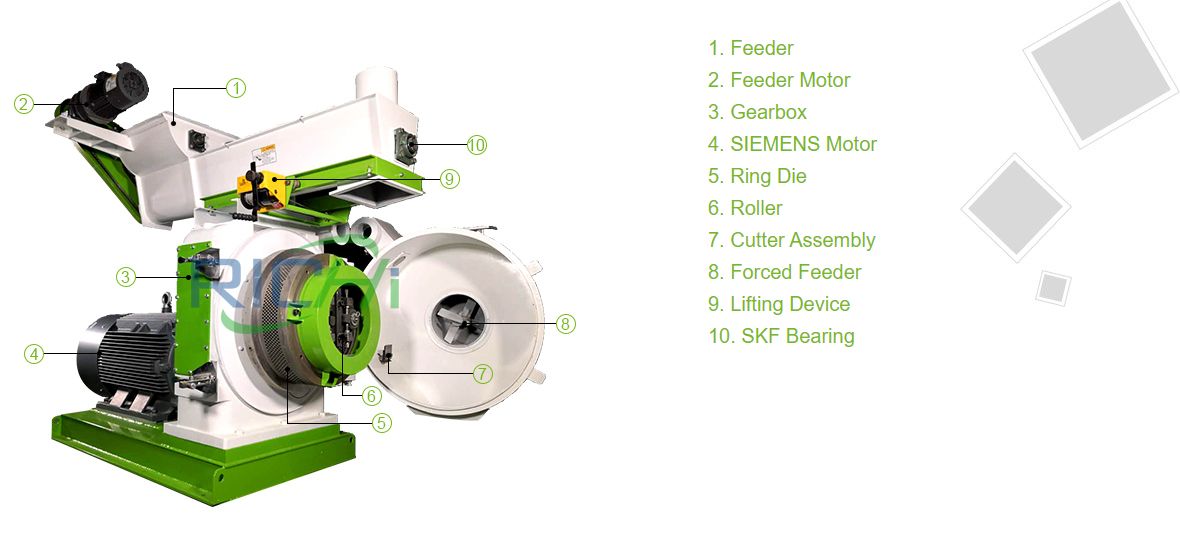 Peanut shell pellet machine is based on mechanical circular motion and powered by motor. Under the action of friction, the pressing roller rotates, and a temperature is generated between the pressing roller and the particles.
The powdery material is gelatinized at high temperature and discharged from the die hole under the extrusion of the pressing roller. After being sent out of the machine, the length of the pellets can be adjusted through the cutter.
RICHI peanut shell pellet machine is designed and manufactured using the principle of ring die extrusion. It has the characteristics of small equipment size and low operating energy consumption.
It can realize the production of biomass materials with natural moisture content without adding any additives or binders. Molding at room temperature.
Are peanut shells waste? No, statistics show that peanut shells make up about 20% of the weight of a dry peanut pod. It is a raw material for new energy materials. Peanut shells are used to make pellets for customers to replace coal as an important fuel.
How to unearth your own peanut fuel treasure from garbage? At present, the best answer I can give you is – peanut shell pellet machine.
How to choose a suitable peanut shell pellet machine?
When choosing peanut shell pellet mill, you can't just look at the manufacturer's propaganda, and you can't just listen to what the manufacturer says.
There are many specific technical parameters that can be compared, and it is required to sign a contract to use conditions to restrict the behavior of peanut shell pellet maker machine manufacturers and ensure rights and interests to reduce economic losses.
Generally speaking, those who can meet the following conditions can consider purchasing:
The peanut shell pelleting machine must be able to operate continuously for 24 hours (that is, an average of no less than 20 hours a day).
If the ring die life warranty is more than 800 hours, the mold consumption per ton of pellets should be smaller. Some manufacturers consume very large amounts of molds per ton, which is very unreasonable.
The number of openings in the ring die directly affects the mold's productivity and life costs. For the same type of mold, for each additional hole, the mold life capacity can produce about one ton more pellets, which can save mold costs. Therefore, when choosing a peanut shell pellet machine, you should consider the number of openings in the mold. The more openings, the greater the productivity and life of the mold.
The service life of the pressure roller bearings is more than 800 hours. Some manufacturers have a service life of less than 200 hours, and some even less.
The main machine and the main shaft of the pellet machine must be guaranteed for at least one year.
It is suitable for various biomass raw materials. No matter the type of raw material is selected, whether it is a single material or a mixture of biomass raw materials in any proportion, it can be produced normally and shall not be lower than the rated output.
When producing one ton of pellets, regardless of the type of raw materials, the power consumption is less than 55-75 kilowatt hours, and the power consumption is not allowed to exceed 80 kilowatt-hours/ton. There are manufacturers whose power consumption per ton is as high as 100-120 kilowatt hours or more.
Many manufacturers are promoting automatic oil filling, but this is only a superficial phenomenon. When buying a peanut shell pellet machine, you should pay more attention to how often oil is injected. How much oil is injected to produce one ton of granules is the most important.
Richi Machinery is a professional biomass peanut shell pellet machine manufacturer located in Zhengzhou City, Henan Province, China. RICHI is committed to the design and production of modern biomass pellet mills and various supporting equipment and accessories for biomass pellet plant.
We have technical elites engaged in production, design and installation, coupled with advanced inspection facilities, complete quality assurance system and strict management system, we are very trustworthy.
Complete peanut shell pellet machine plant Construction
Processing peanut shell pellets not only requires a peanut shell pelleting machine and pelleting system, but also requires crushing, drying, cooling, screening, packaging and other processes. However, the process flow will be different depending on the state of the raw materials.
For example, if the customer's peanut shell raw material has a moisture content of 10%, do not configure drying equipment; if the customer's raw material is very clean peanut shells, it can be crushed directly…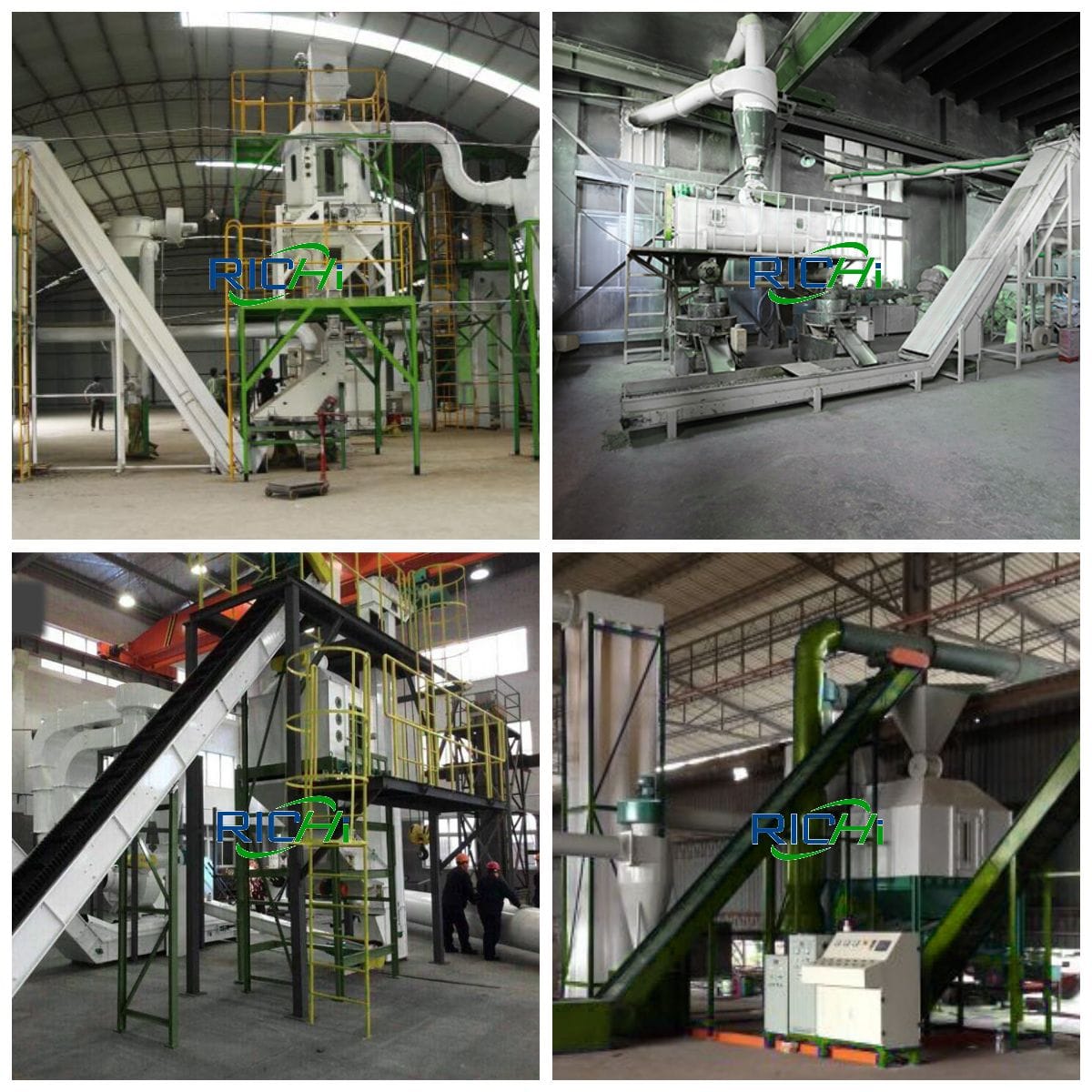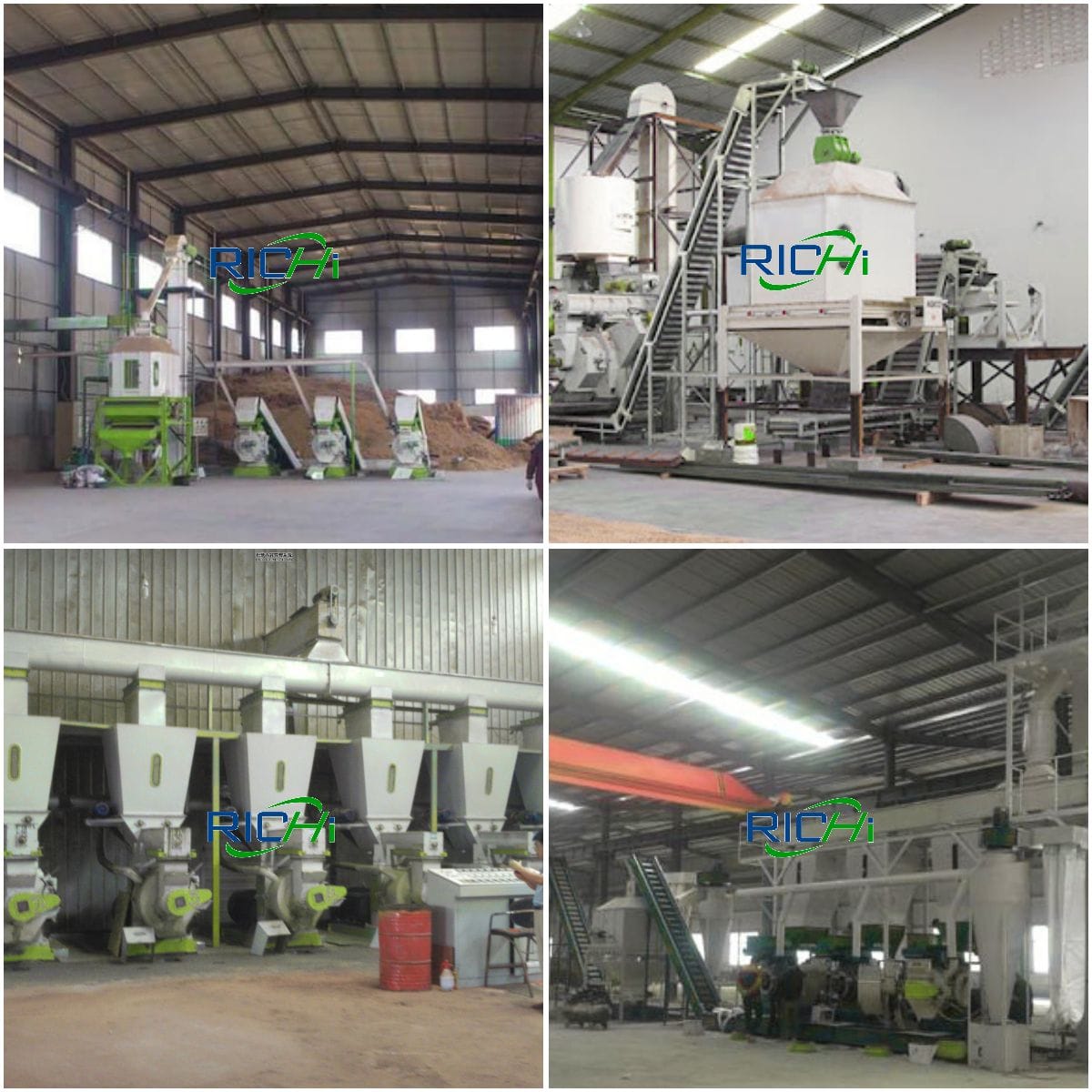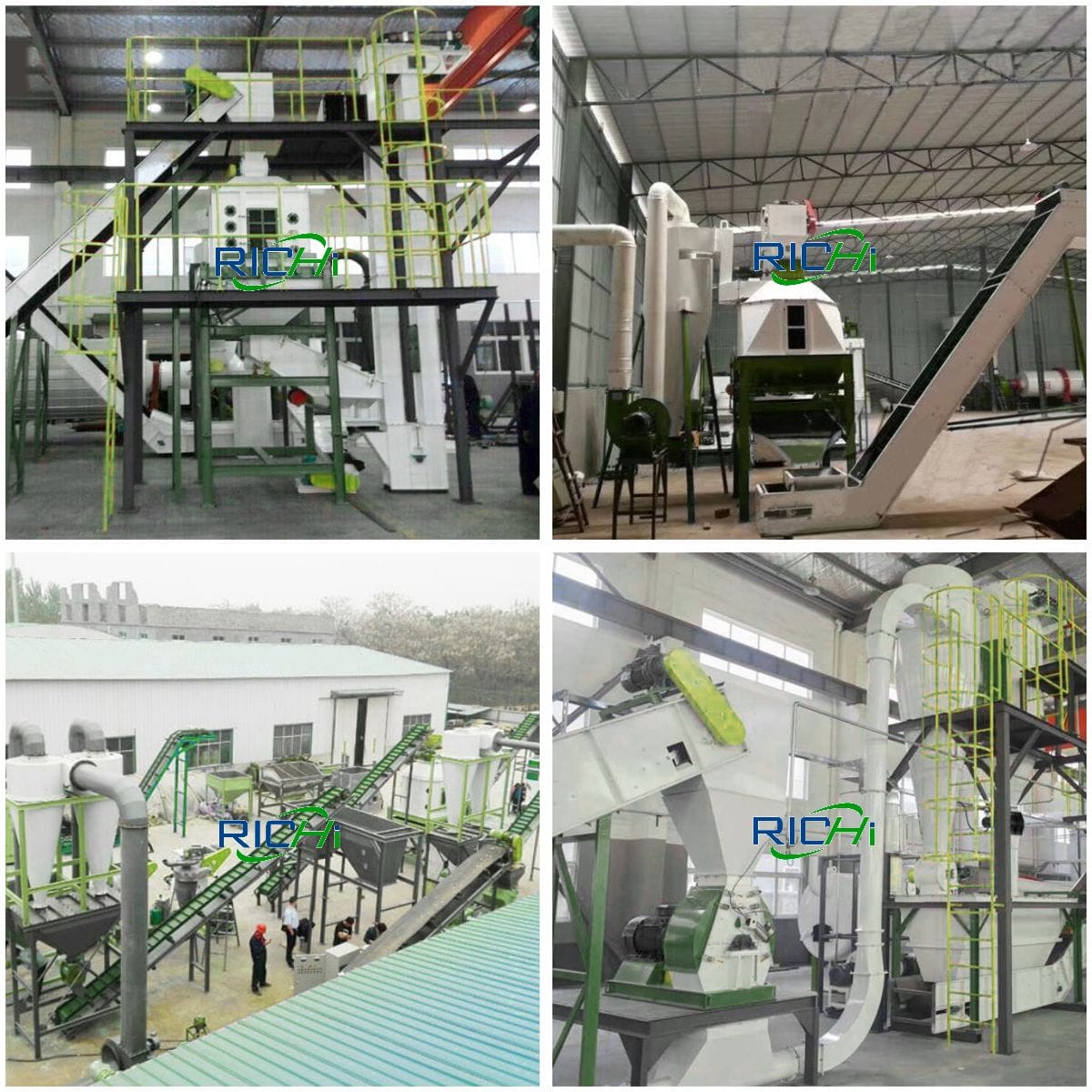 Standard peanut shell pellet production process
Cleaning and crushing:
First clean and screen the raw materials to screen out impurities; then crush them. The size of the crushed raw materials is required to be less than 5 mm. Make sure that the size of the raw material does not exceed the diameter of the particles to be made and the size of the ring die hole. Otherwise, the output of the peanut shell pellet machine will be affected, and the material may not even be discharged.
Drying:
Dry the crushed raw materials, and the moisture requirement is 8-15%. Too much or too little moisture will affect the molding rate of the pellets, so that the pellets produced will not sell well.
Pelleting:
After the raw materials are processed, it is the granulation stage. The crushed and dried peanut shell powder is granulated into granules. This step is the core of the entire peanut hulls pellet production line, so the stability and high productivity of the pellet machine are the top priority for customers.
Whether it is small-scale or large-scale pellet production, the ring die peanut shell pellet machine is currently the most used because of its high production capacity. As the core of pellet production, the pellet machine determines the bamboo quality of the entire production line.
The RICHI ring die peanut shell pellet mill is very suitable and is highly recommended due to its strong adaptability, simple operation, and easy maintenance.
Cooling:
Cool the newly extruded hot pellets and harden them. The process after the pellet machine is to cool the pellets. Natural cooling is too slow and the cooling is uneven. It is necessary to use a professional pellet cooler. If the output is very small, natural cooling can also be used.
Packaging:
Pack the peanut shell pellets as required, either in small packages or large packages. If you are using it yourself, you can collect it directly after cooling. There is no need to package it. If it is sold, it will be weighed and packaged. According to different customer requirements, peanut shell pellet fuel is generally available in bulk, bags, ton bags, etc.

RICHI biomass solidification technology converts various biomass resources and forestry processing waste into molded fuel, which is an important technical means to solve the waste and pollution of biomass resources.
Peanut shell pellet machine and peanut shell pellet production line are featured products in biomass pellet plant solutions. If you want to know more, please feel free to contact Richi Machinery!
Complete peanut shell pellet machine plant Construction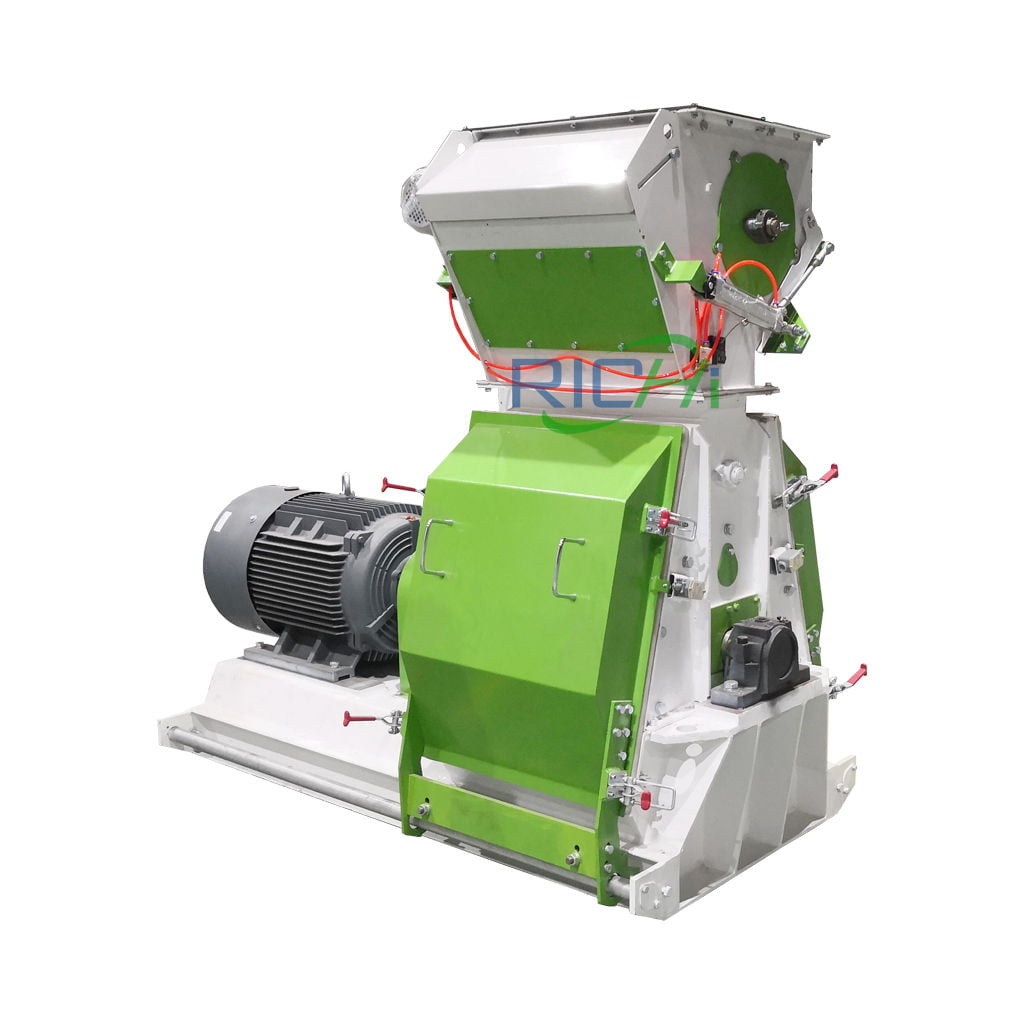 peanut shell crusher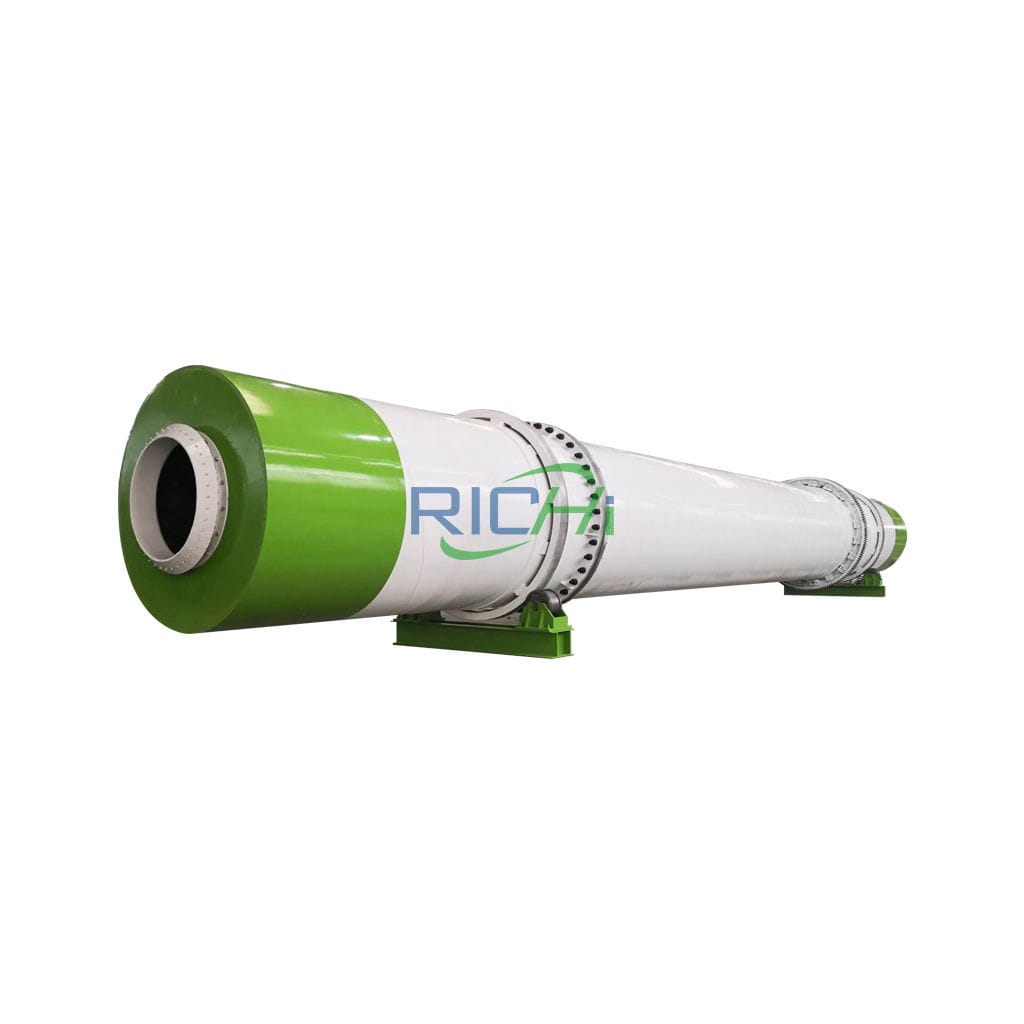 peanut shell Dryer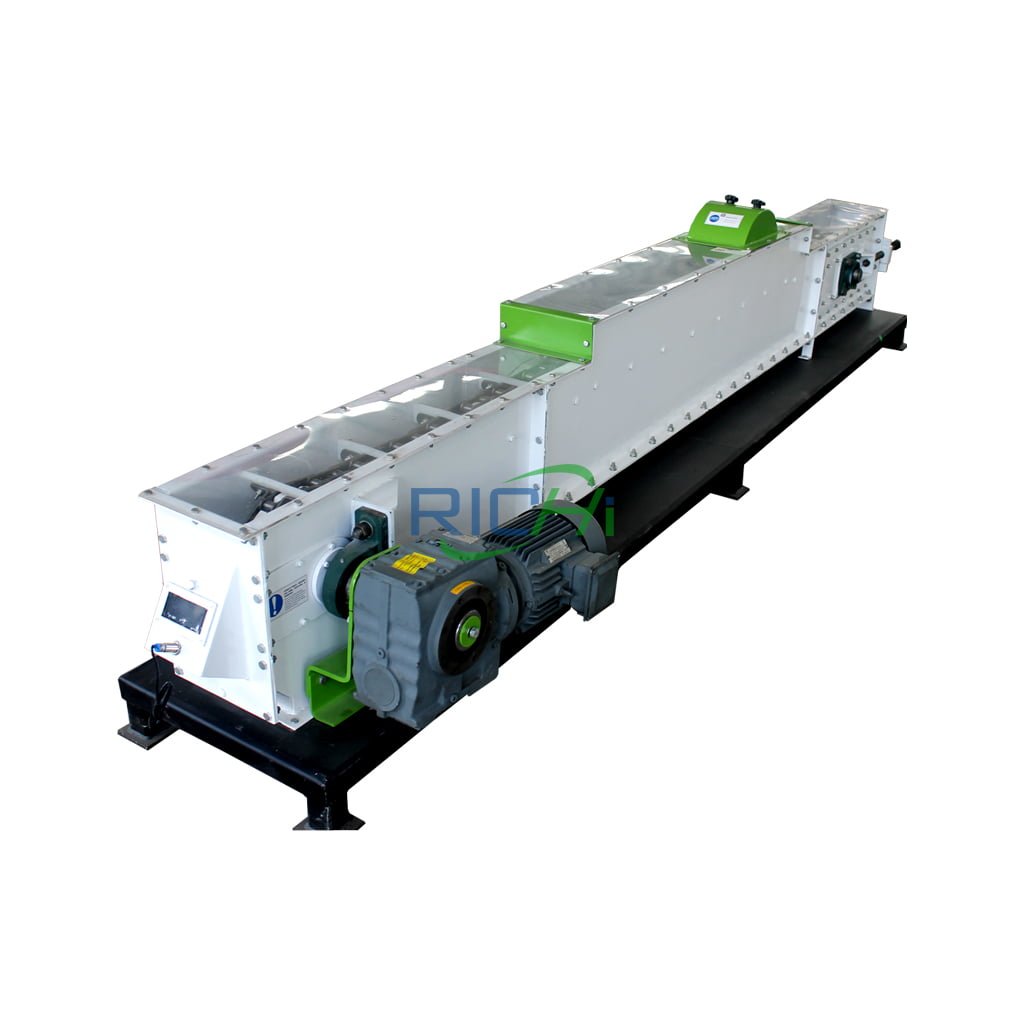 Conveying Distance:
3-71 T/H
Featured peanut shell pellet machine line solution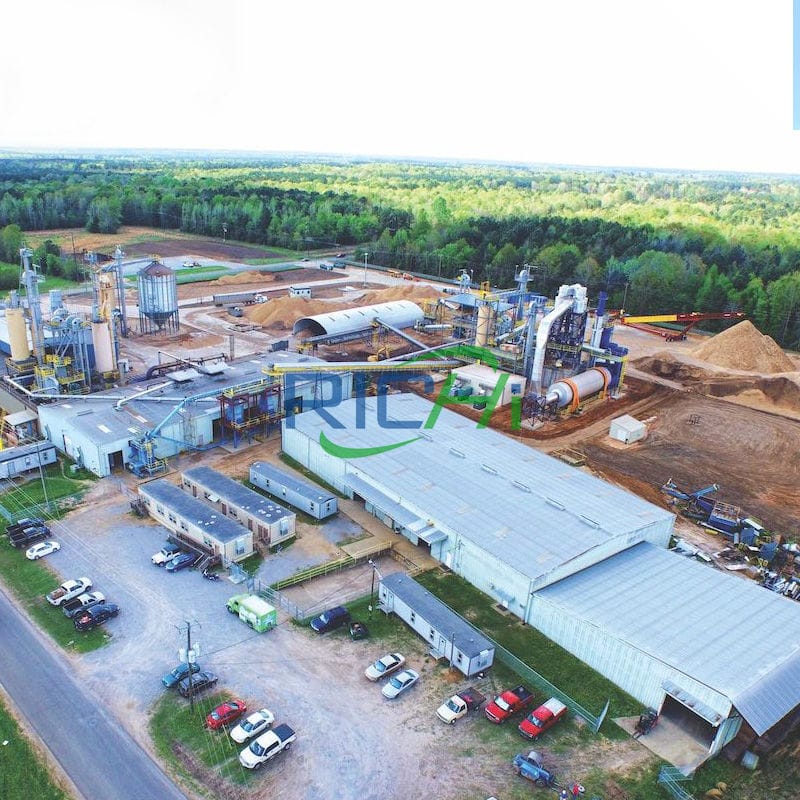 How to set up 4-5 T/H peanut shell pellet machine plant?
—— RICHI MACHINERY ——
Annual output: 10,000 tons
The total project investment: 220,000 USD
Construction content: Production workshop*600m², office*150m², warehouse*450m²*brick-concrete structure
Working system: There are 3 employees in this project. Considering the cost of electricity, the production in this project is basically concentrated at night.
Raw material consumption: peanut shells, dry sawdust, and crushed straw*10010 tons/year
Pellet specifications: diameter 6-8mm, length 4-5cm
Packaging bag consumption: 10,000 pieces
Main equipment: 1 auger conveyor, 1 peanut shell pellet machine, 3 belt conveyors, 1 cooling warehouse, 1 forklift, 1 forklift, 1 bag dust collector
4 t/h peanut shell pelleting plant Process flow design
First, manually spray water mist on the raw materials (dry sawdust, peanut shells, broken straw, etc.) and put them into the material mouth of the auger conveyor using a forklift;
Before feeding, manually sort out the raw materials whose appearance and volume do not meet the requirements to avoid damage to the equipment, and then send them to the closed peanut shell pellet mill through a closed auger conveyor for physical extrusion and granulation;
Then, the product is sent to the cooling machine via the belt conveyor for cooling, and then enters the screening machine for screening, and the qualified pellets will enter the packaging section;
Finally, the finished peanut shell pellets are put into ton bags by the belt conveyor.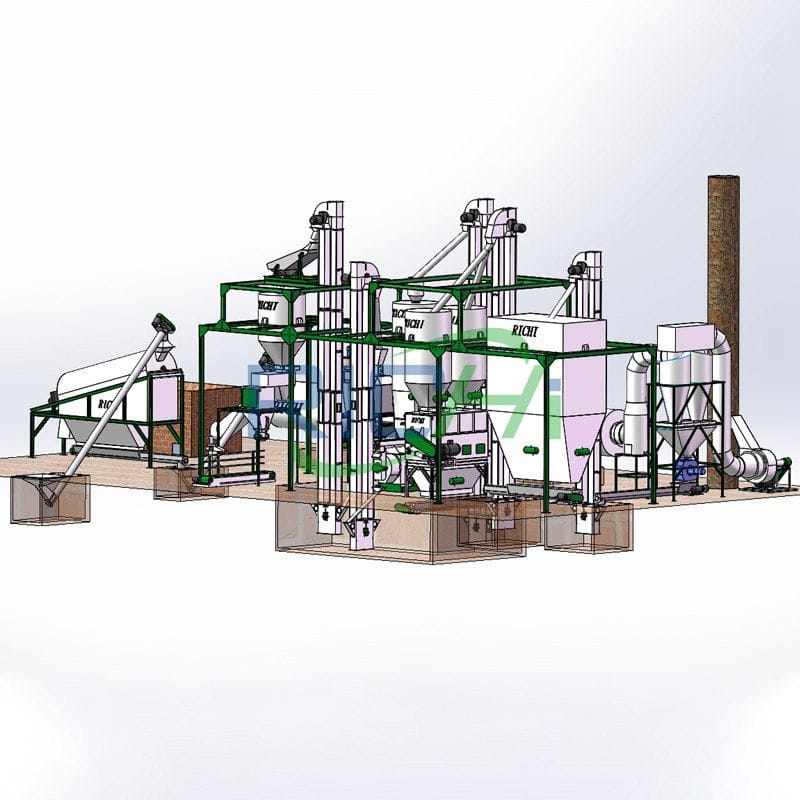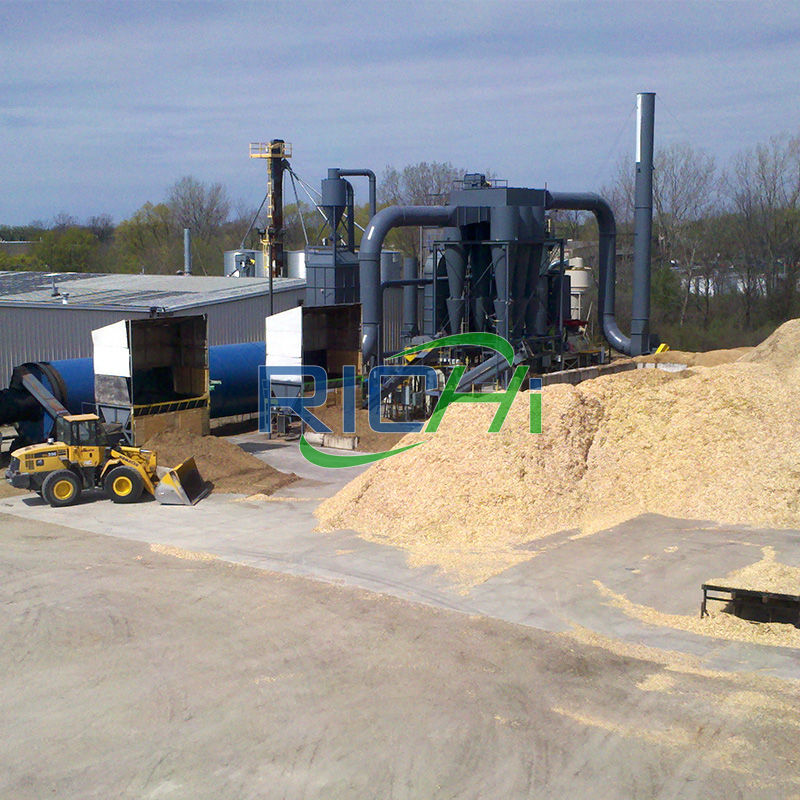 How to start 4T/H peanut shell pellet mill plant?
—— RICHI MACHINERY ——
Annual output: 10,000 tons
Total peanut shell pellet plant cost: 290,000 USD
Construction content: Production area*1600m², raw material area*1100m², finished product area*1100m², office area*200m²
Water consumption: 180m³/a
Annual power consumption: 350,000 KW·h/a
Peanut hull pellet specifications: diameter Φ10-12 mm, pellet length 20 mm
Raw and auxiliary material consumption: peanut shells, sawdust* 10000/a. The raw materials for this project are recycled from rural areas and transported to the factory by vehicle.
Working system: After the project is completed, the labor capacity will be 12 people, 1 shift, 8 hours per shift, 300 days of work per year
Main equipment: 3 peanut shell pellet machines, 1 crusher, 1 loading machine, 1 magnetic shaft, 1 forklift, 1 grab truck, 4 conveyor belts, etc.
4T/H peanut shell pellet Process flow:
Crushing: Larger materials such as peanut shells used in the project are crushed. The crushed materials and fine particles such as wood chips enter the magnetic separation process.
Magnetic separation: The crushed raw materials are magnetically attracted by the large magnetic block above the conveyor belt.
Granulation: The crushed mixture enters the peanut shell pellet machine for extrusion and granulation, and the powder is extruded into columnar finished products.
Finished product: During the extrusion and granulation process, the biomass generates a certain temperature. After being naturally cooled by the conveyor belt, it enters the finished product warehouse and is packaged directly in bags.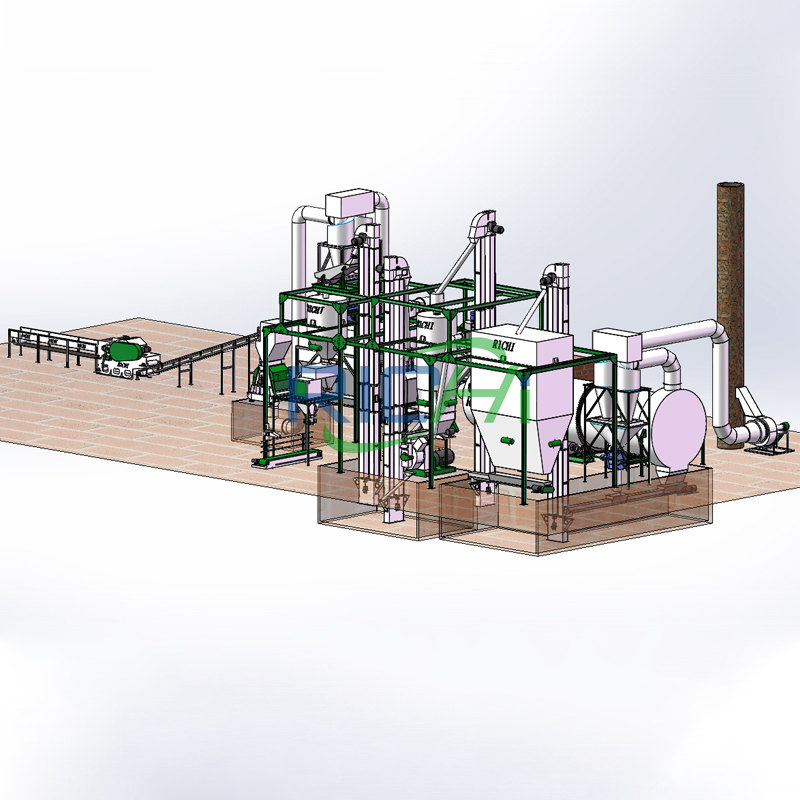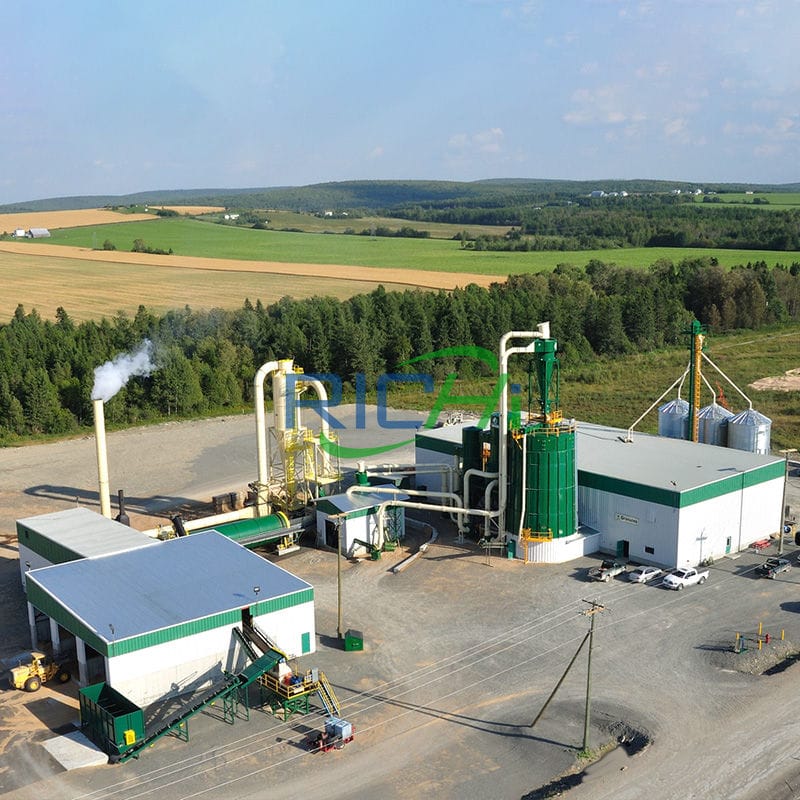 How to build 1.5-2T/H peanut shell pellet machine plant?
—— RICHI MACHINERY ——
Annual output: 5,000 tons
Total project investment: 70,000 USD
Covering area: 1560 m²
Main construction content: production workshop (total area 300m², equipped with a complete set of pellet production line), finished product warehouse * 560m², raw material warehouse * 500m², office, etc. In addition, an area of 200m² is reserved for incoming and outgoing transportation machinery and equipment.
Work system: The project labor quota is 5 people, the working day is 300 days a year, a single shift system is implemented, and the work is 10 hours a day.
Pellet fuel specifications: length 60mm, 90mm, 120mm, diameter 10mm
Main equipment: peanut shell pellet machine, screening machine, belt conveyor, dust collector (design air volume 2000~5000³/h, dust removal efficiency >99%), feed bin (60*100*400 (cm)), forklift.
1.5-2T/H peanut shell pellet plant Process flow:
Raw materials crushing: Mainly use crushed peanut shells after peeling by peanut shelling machine as raw materials. The particle size of crushed peanut shells is 0.5-2 cm. The transportation, loading and unloading of raw materials in this process produces unorganized emissions. The moisture content of crushed peanut shells is 8%-15%. This project does not require drying of raw materials.
Conveying: The raw materials are continuously transported to the feed bin through a closed belt conveyor. The feed bin is equipped with a stirring device to ensure that the materials can be mixed evenly.
Pressing and pelleting: The uniformly mixed materials are sent to 3 peanut shell pellet mills through the belt corridor (an additional 1 machine is set as a standby).
Cooling: After extrusion, the internal temperature of the molded fuel is very high, and it needs to be naturally cooled down so that its temperature can reach the conditions for packaging and storage.
Screening: After cooling, the pellet fuel enters the pellet fuel screening device. After screening, the unformed or unqualified pellet fuel will enter the pellets machine and be re-formed.
Packaging and warehousing: Qualified pellet fuel is manually measured and packed into warehousing. The packaging bags are woven cloth bags, and each bag has a specification of 1ton peanut shell pellets.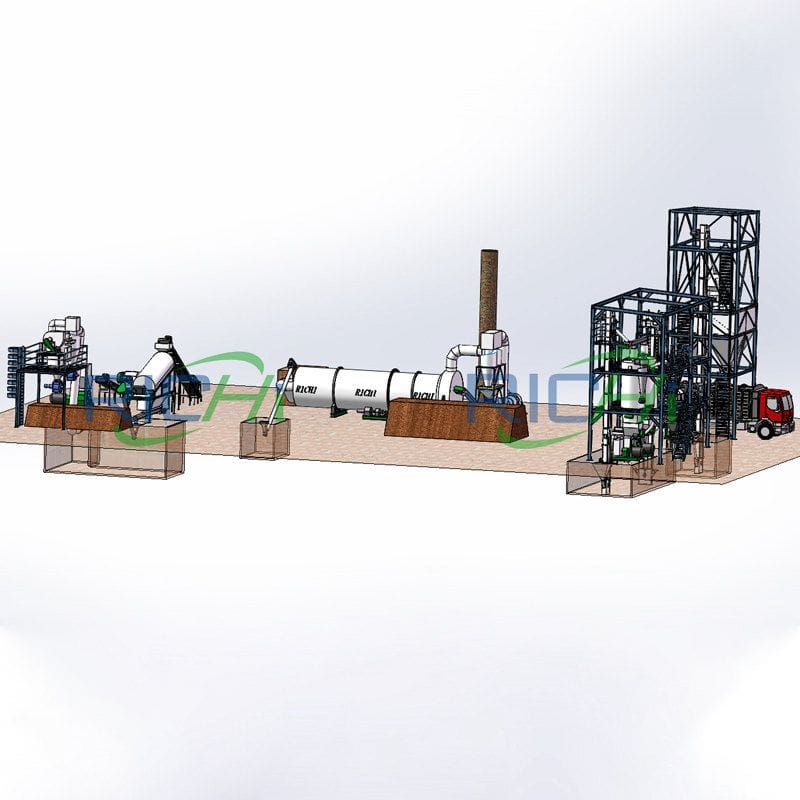 Faqs of peanut shell pellet machine

Which countries and regions are suitable for peanut shell pellet processing business?
In the global oilseed market, peanut production ranks fifth after soybeans, rapeseed, sunflower seeds and cottonseed. Peanuts originated in South America, and their planting areas are mainly concentrated in tropical and subtropical areas between 40°N and 40°S.
Asia is the region with the largest planting scale, accounting for nearly 70% of the world's total peanut planting area. In addition to China and India, peanuts are also grown in Indonesia, Myanmar, Bangladesh, Vietnam and other countries.
The scale of peanut planting in Africa is second only to Asia. Nigeria, Senegal, Sudan, Tanzania, Ghana, etc. are the main peanut producing countries.
The scale of peanut planting in the Americas ranks third among all continents. Argentina and Brazil in South America and the United States in North America are important peanut producers.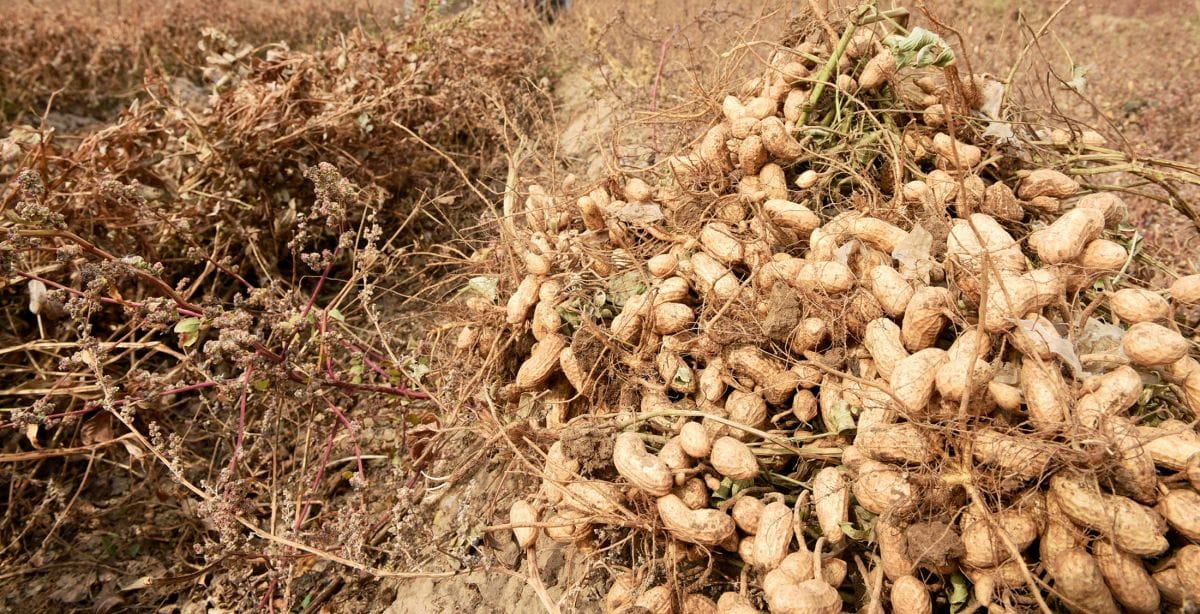 Obviously, the larger the scale of peanut planting, the richer the peanut shell resources, and the more advantages it will have to carry out peanut shell pellet machine plant and peanut shell pellet processing business.
In addition to these countries with resource advantages, peanut shell resources are abundant. Therefore, the selling price of these raw materials is also very low.
If there are channels to purchase cheap peanut shells, no matter which region you are in, if you can make good use of these resources, this will also be a profitable business for you.

Why should we process peanut shell fuel pellets?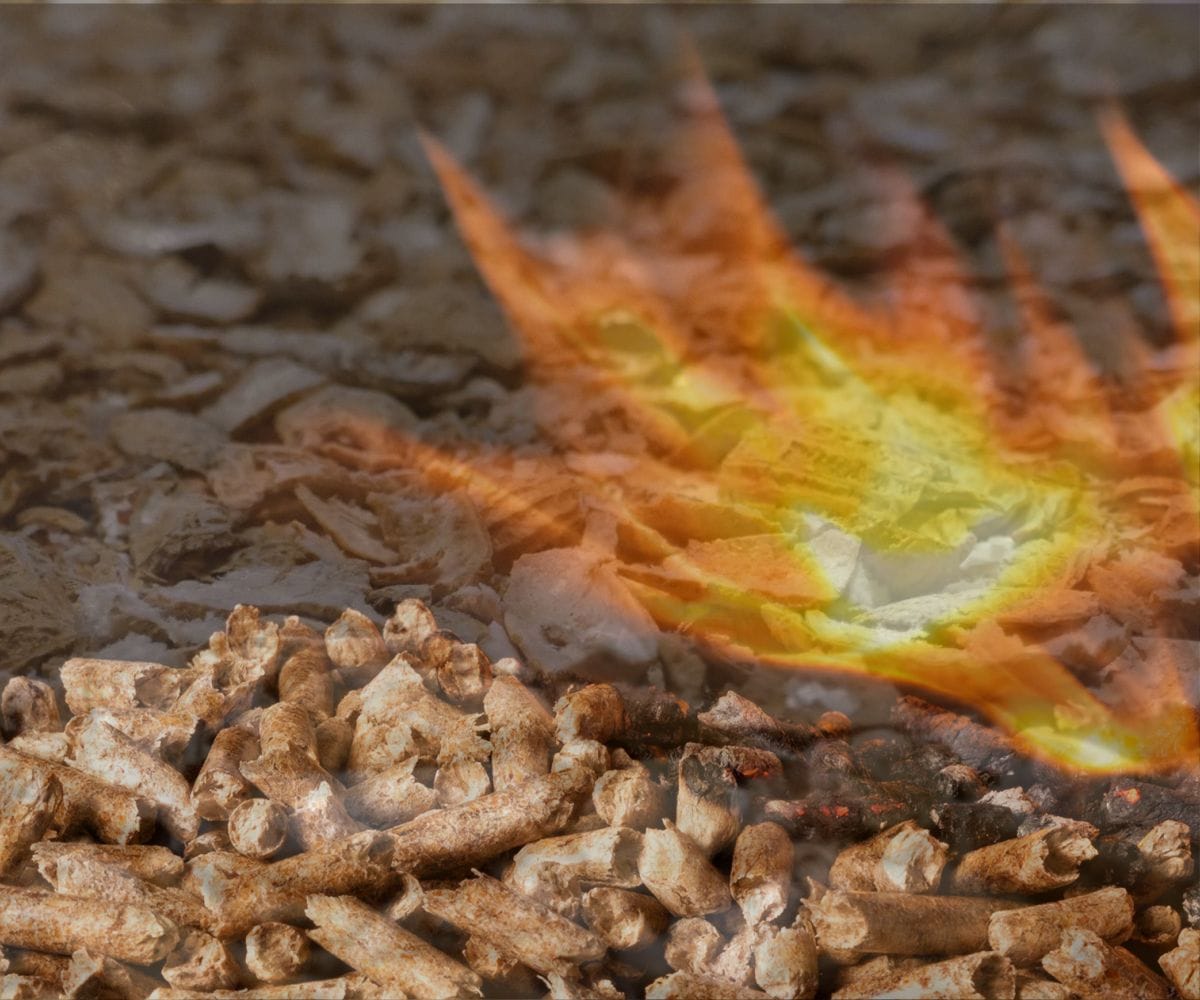 In order to make full use of peanut shells and develop new energy sources, peanut shells can be pressed into fuel pellets using a peanut shell pellet machine.
Peanut shell pellet machines are generally used for small and large scale pellet production, and are used by medium and large pellet producers for large boilers and power generation.
The calorific value of peanut shells is basically similar to the medium calorific value of lignite (14650 kJ/kg) and Class I bituminous coal (11300-15490 kJ/kg), which is lower than the Class II bituminous coal (15490-19680 kJ/kg) used as industrial boiler fuel.
The calorific value of molded fuel using peanut shells as the main raw material basically meets the demand as fuel.
Peanut shells are used directly as fuel. They are large in size, have a low combustion rate, and are difficult to transport. The granulation of peanut shells will greatly improve its storage and logistics.
Peanut shell pellets have the following advantages:
Using peanut shells to make molded fuel can not only recycle resources, but also has high density, high calorific value, and resistance to incineration. It can also reduce environmental pollution caused by oxides such as S and N.
High-density peanut shell pellets can ignite quickly, have good combustion performance, high combustion efficiency, and produce less ash.
Peanut shells are a common raw material and easy to obtain. This will reduce the production cost of peanut shell pellets and provide larger profit margins.
Peanut pellet fuel is a green biomass energy with low emissions and environmental friendliness.
Due to their high combustion rate and easy storage, peanut shell pellets can be widely used in civil heating and daily energy supply, and can also be used in industrial boilers to generate electricity.
RICHI peanut shell pellet machine is capable to process many different agricultural and forestry waste, including rice husk, corn stalk, wheat straw, rice straw, EFB, bamboo, etc., which gives you the flexibility to choose the most economic raw material based on availability and price.

Physical performance indicators of peanut shell pellets
Among the various quality characteristics of peanut shell pellet fuel, in addition to satisfying its combustion characteristics, physical properties are the most important quality characteristics of peanut shell pellet fuel.
Because peanut shell pellet fuel will inevitably fall and collide during production, packaging, storage and transportation. If the pellet fuel cannot maintain its original basic shape, causing the peanut shell pellet to become loose and broken, it will not be conducive to the combustion of the fuel in the furnace and reduce its use value.
Therefore, peanut shell pellet fuel must meet certain physical performance conditions to meet the requirements throughout production, transportation, and use.

Good physical properties can reduce the packaging, transportation and storage costs of peanut shell pellet and ensure that the peanut shell pellet maintains the necessary physical shape when entering the boiler. Relaxed density and mechanical strength are two important indicators for measuring the physical quality characteristics of the molded block.
(1) Relaxed density
After the peanut shell pellet fuel is compressed and released from the peanut shell pellet machine mold, its compression density will gradually decrease due to factors such as stress relaxation and elastic deformation. After a certain period of time, the density of the fuel block will basically become stable. The density at this time is the molding fuel the relaxed density. Relaxation density is an important indicator of the physical properties and combustion performance of molded fuel.
Different particle sizes, moisture contents, compositions and peanut shell pellet machine compression processes will ultimately achieve different relaxed densities. It is generally believed that peanut shell pellet fuels with a relaxed density greater than or close to 1g/cm³ are ideal for combustion, storage and transportation.
(2) Mechanical strength
Mechanical strength is the basic requirement that briquette fuel must have and is a basic criterion for measuring whether it can replace coal. During the production and transportation process of biomass briquette fuel, collisions and drops will cause the pellet fuel to break, affecting the durability of the biomass briquette fuel.
Therefore, peanut shell pellet must have a certain strength to resist external forces, so that it can maintain a certain shape and volume without being damaged during transportation and use. The mechanical strength of solid molded fuels can be evaluated by compressive strength and drop strength.
(3) Compressive strength
The maximum pressure that the peanut shell pellet can withstand when it breaks due to external force is called compressive strength, which is generally used to measure the bonding strength between the internal particles of the peanut shell pellet.
Experimental measurements are made using pressure transducers and the compressive strength is expressed as failure load.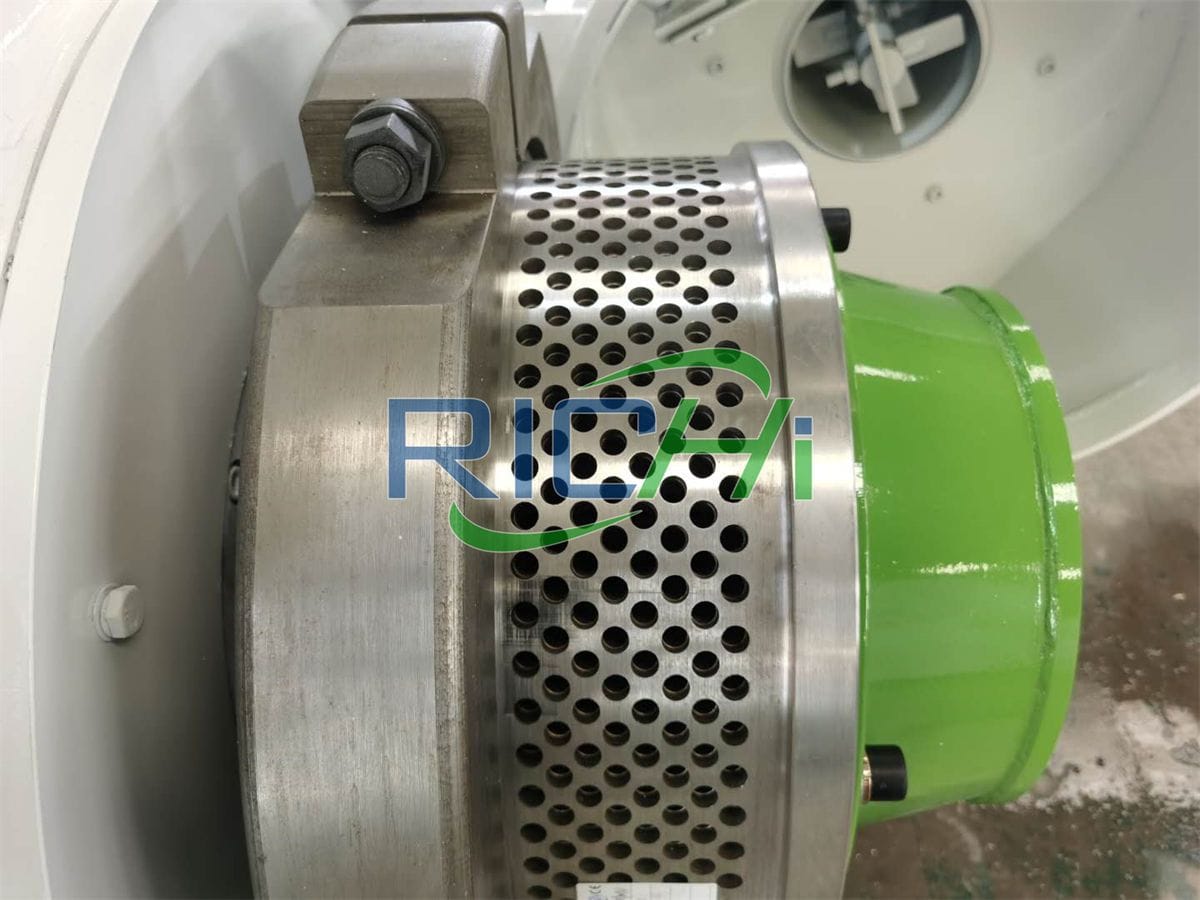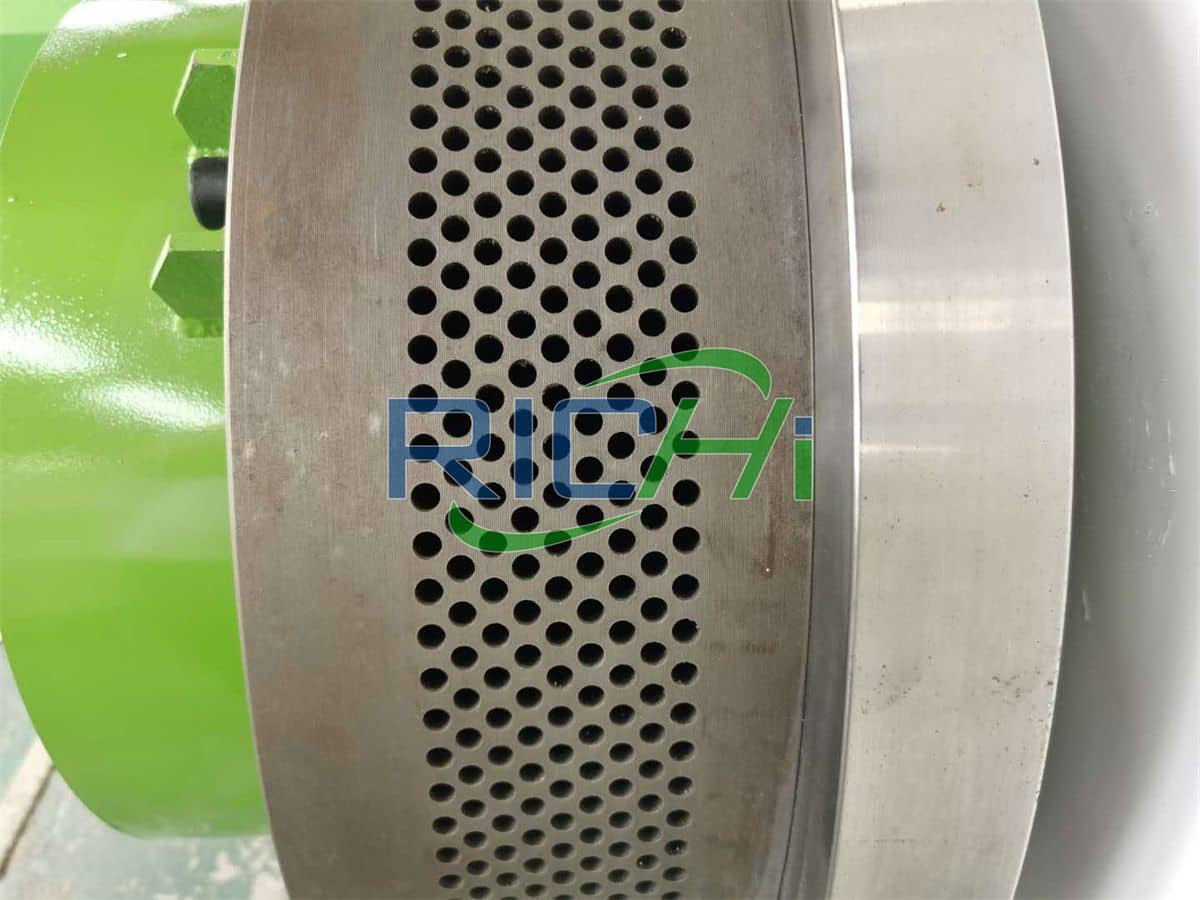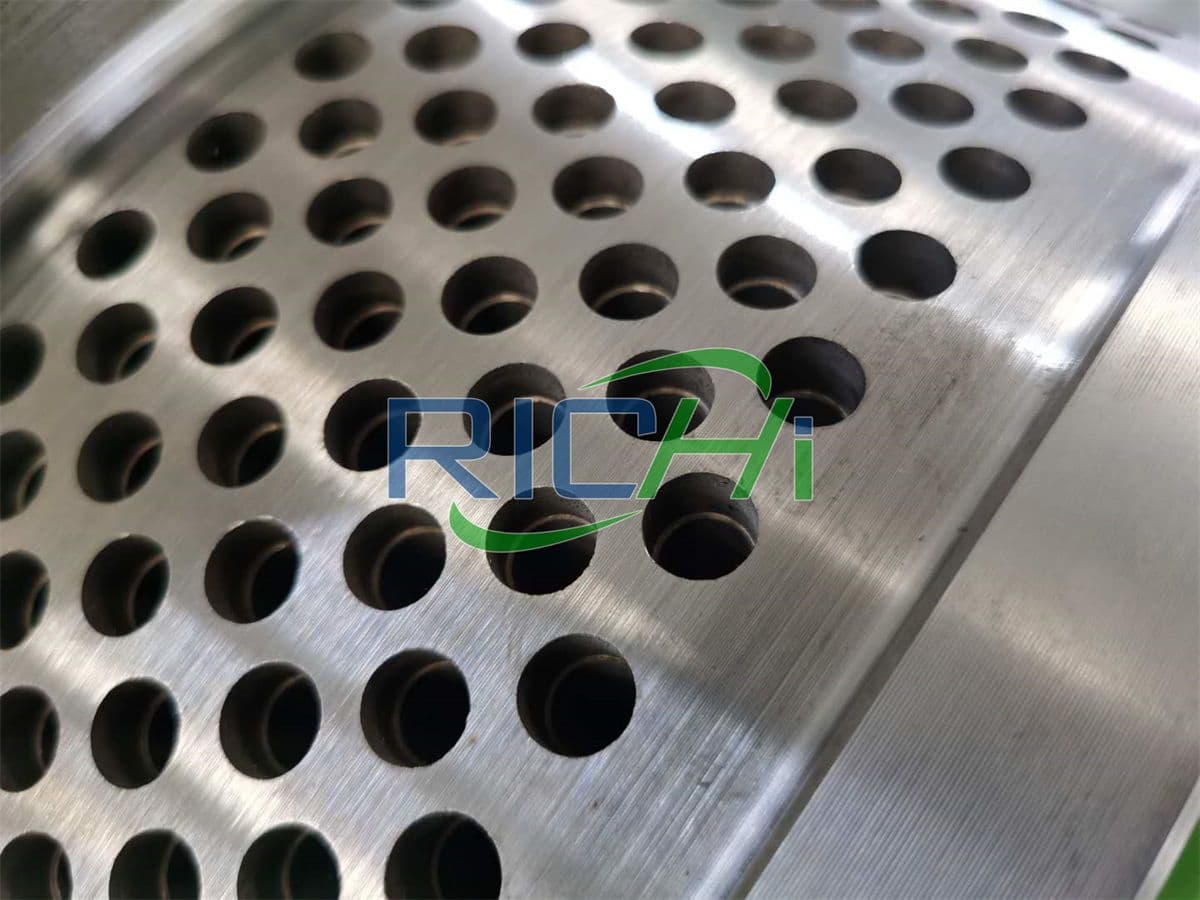 (4) Drop strength
During the transportation process of biomass peanut shell pellet fuel, mass loss caused by falling and collision will inevitably occur, so the pellet fuel needs to have a certain impact resistance. Therefore, the drop strength is used to measure the shatter resistance of molded fuel under multiple drops, and the weight loss rate is used to express the drop strength.
With the improvement of the overall machine efficiency and the improvement of the ring-die pellet machine, the RICHI peanut shell pellet machine has brought significant comprehensive benefits to the peanut shell molding fuel.
This fuel is a clean, renewable energy source and can completely replace traditional solid fuels such as coal from the perspective of molded fuel usage habits. This also meets the sustainable development requirements of various countries.
Biomass peanut shell pelleting technology complies with the energy development policies of various countries around the world and has broad development prospects. (Find RICHI on YouTube)

Parameters and prices of peanut shell pellet machine for animal feed
The price of feed type peanut shell pellet mill is 7,000-100,000 USD. The model of this type of equipment is SZLH, which also adopts the ring die principle. However, unlike the fuel peanut shell pellet mill, the feed pellet mill needs to be equipped with a conditioner.
The parameters of peanut shell feed pellet machine are as follows:
| Model | Capacity(TPH) | Main Motor Power(kw) | Feeder Motor Power(kw) | Conditioner Power(kw) | Dia.of Ring Die(mm) | Final Pellet(mm) |
| --- | --- | --- | --- | --- | --- | --- |
| SZLH250 | 1-2 | 22 | 0.75 | 1.5 | 250 | 2~12 |
| SZLH320 | 3-4 | 37 | 1.5 | 2.2 | 320 | 2~12 |
| SZLH350 | 5-7 | 55 | 1.5 | 3 | 350 | 2~12 |
| SZLH420 | 8-12 | 110 | 1.5 | 7.5 | 420 | 2~12 |
| SZLH508 | 10-18 | 160 | 2.2 | 11 | 508 | 2~12 |
| SZLH558 | 15-25 | 180/200 | 2.2 | 11 | 558 | 2~12 |
| SZLH558D | 14-22 | 160/180/200 | 1.5 | 7.5 | 558 | 2~18 |
| SZLH678 | 20-30 | 220/250 | 2.2 | 11 | 678 | 2~12 |
| SZLH678D | 15-25 | 200/220/250 | 2.2 | 11 | 673 | 2~18 |
| SZLH768 | 25-40 | 280/315 | 2.2 | 11 | 768 | 2~12 |
| SLZH858 | 25-42 | 280/315 | 2.2 | 15 | 858 | 2~18 |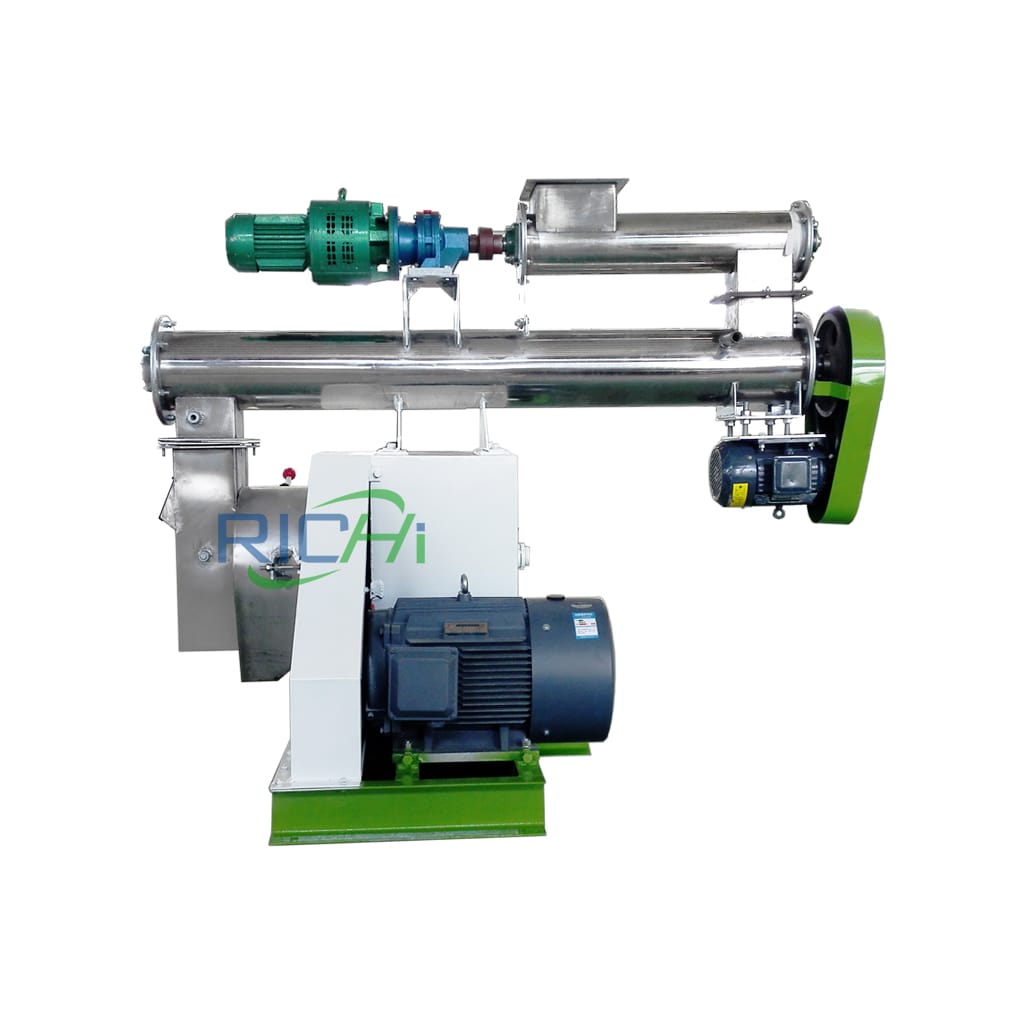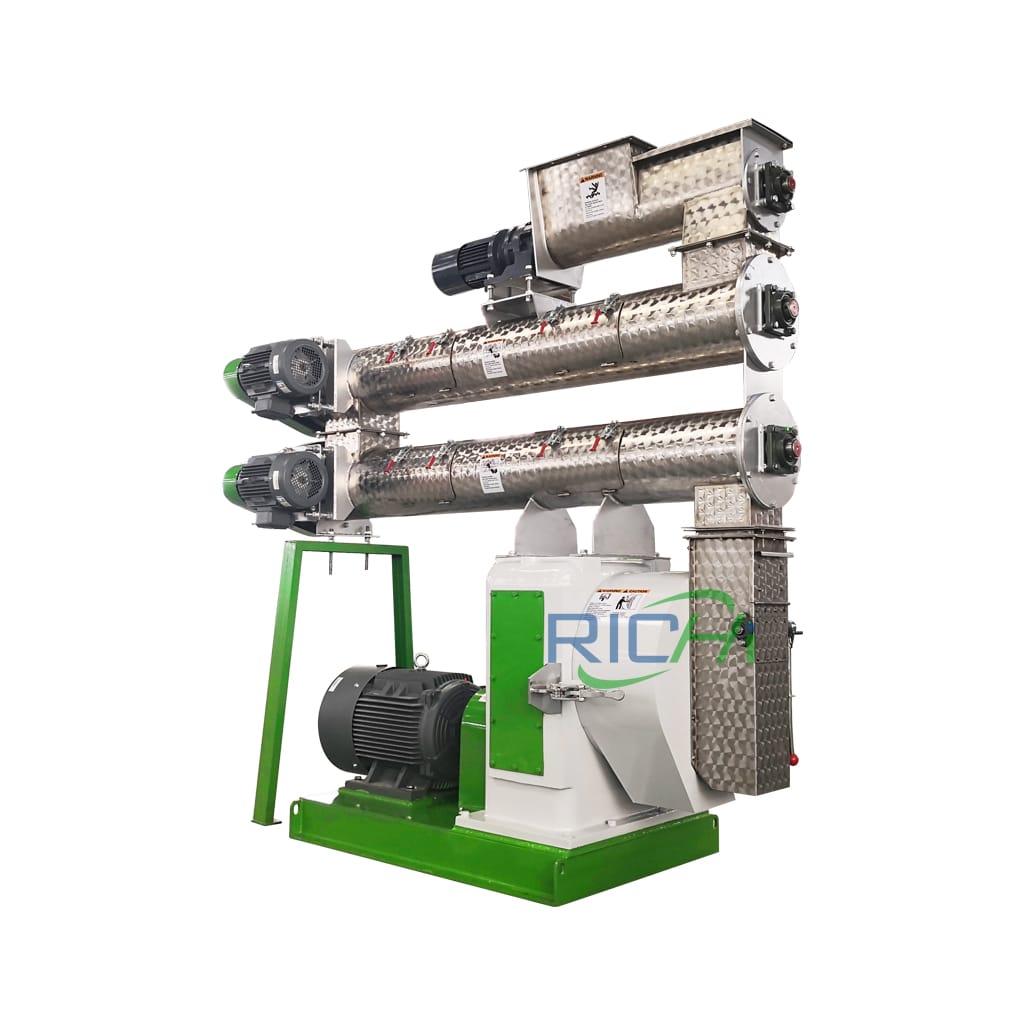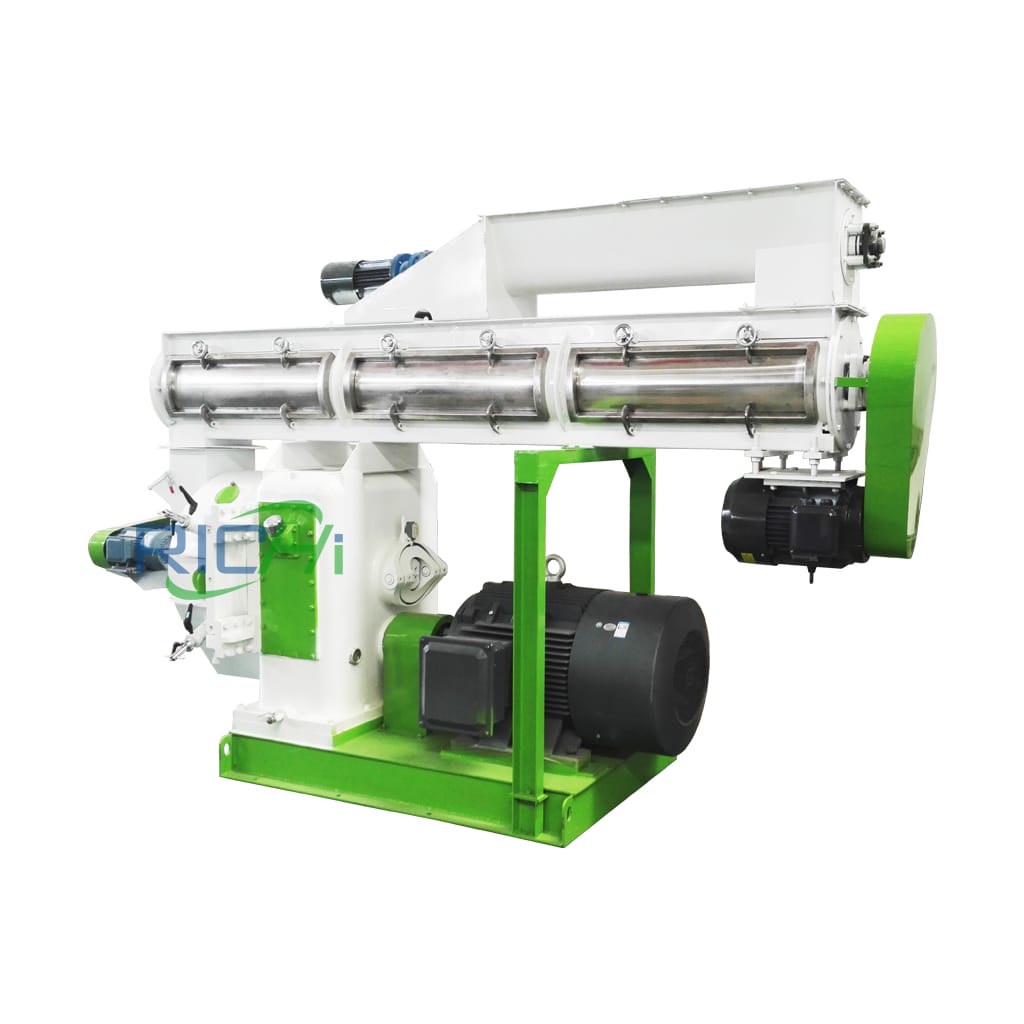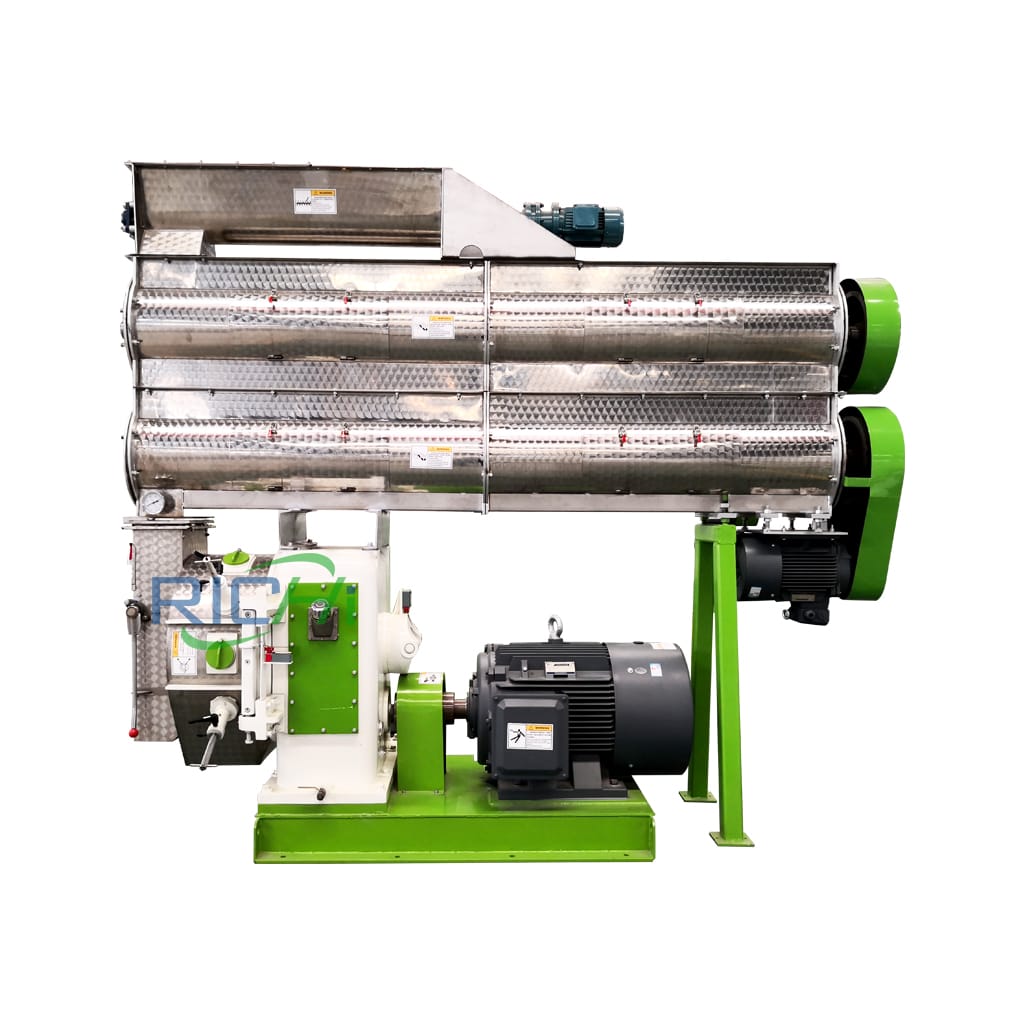 What factors will affect the peanut shells pellet quality ?
At present, the main factors that affect the biomass molding process and the performance of the molded products are: the type of raw materials, particle size and distribution, moisture content of the raw materials, peanut shell pellet machine molding pressure and binder, etc.
(1) Types of raw materials
Different biomass raw materials have certain differences in their own organizational structure, composition and physical properties, so there are also differences in their compression molding properties.
Usually the main components of various biomass materials are cellulose, hemicellulose, lignin, etc. The higher cellulose content indicates that the mechanical organization of plant cells is developed, and a larger compression ratio is required during pelleting.
Generally, if the fiber content is low, the molding pressure required is small, and conversely, the molding pressure required is high.

The comprehensive cellulose (cellulose and hemicellulose) content of peanut shells is 66.36%. Therefore, compressing the molding fuel that uses peanut shells as 100% raw material requires a large molding pressure.
Generally, the use of raw materials with low elasticity and good plasticity is beneficial to the molding effect;
On the contrary, the fuel molding effect is poor.
The sludge after urban sewage treatment itself has a certain degree of cohesiveness. After being mixed with peanut shells and coal, it can be well formed using a small pressure.
Therefore, adding sludge as a binder to the raw material can not only improve the molding quality of the molded fuel, but also reduce a certain amount of power consumption.
(2) Molding pressure
Molding pressure is the most basic factor in the process of preparing peanut shell pellet, providing external force to compress loose raw materials into dense block fuel.
In the normal temperature compression molding process, generally the greater the molding pressure, the greater the molding density can be obtained, but the energy consumption will be greater and the cost will increase.
As the peanut shell pellet machine pressure increases, the molding density becomes larger and larger, but when the pressure reaches a certain value, the molding density basically becomes flat and does not change.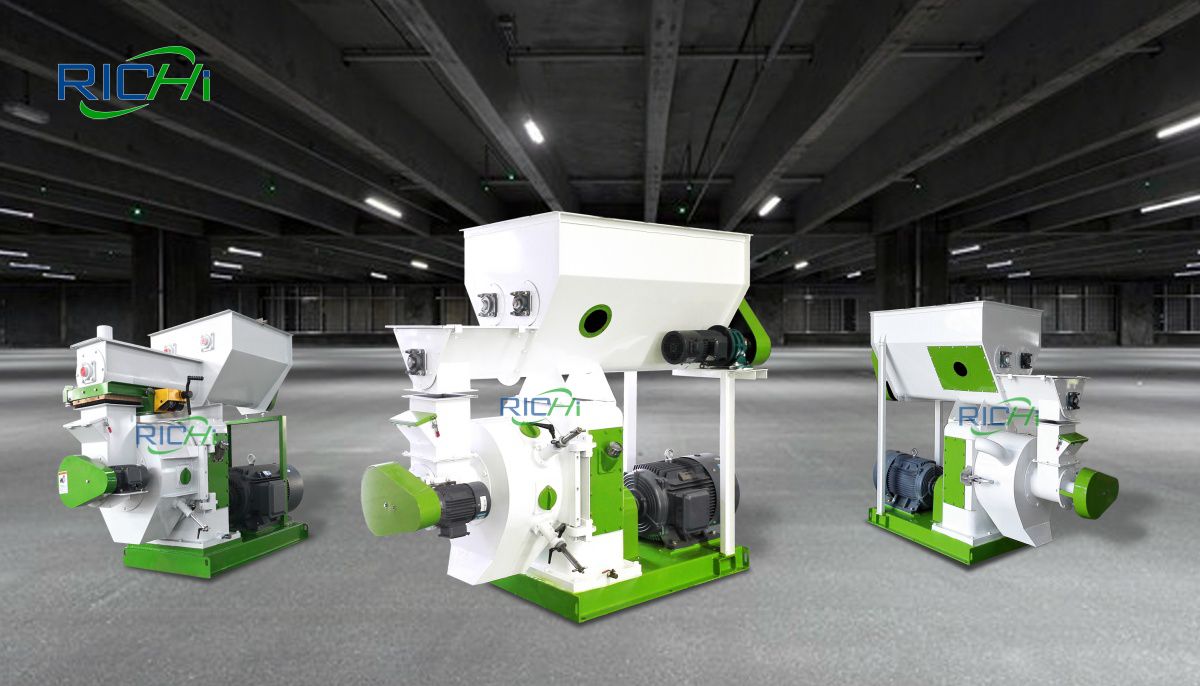 (3) Peanut hull particle size
The particle size of raw materials is an important factor in the quality of peanut shell pellets.
Generally speaking, the smaller the particle size of the raw material, the easier it is for the particles to bond, which is more conducive to the molding effect;
On the contrary, the larger the particle size of the raw material, there will be a certain gap between the raw materials during the peanut shell pellet machine compression process, the filling performance is poor, and the bonding effect between particles is not good, which is not conducive to molding.
However, the smaller the particle size of raw material crushing, the more power will be consumed and the cost will increase. Therefore, there should be a reasonable range for the selection of particle size.
(4) Moisture Content
Appropriate moisture content can play a certain role as a lubricant, reduce the friction resistance during the compression process, enhance fluidity, facilitate the mutual bonding between particles, and improve the mechanical strength of the peanut shell pellets.
If the moisture content is too low, the friction increases during the compression process, and the particles cannot be tightly combined, so it is difficult to shape; and the molded fuel absorbs moisture in the surrounding air after it is released from the mold, making the fuel block easy to deform.
If the moisture content is too high, the water will evaporate automatically after the fuel is molded, which can easily cause the molded fuel to dry out and break.
(5) Binder
Binders generally use materials with good plasticity, low elasticity and their own bonding effect. During the process of peanut shell pellet machine compression molding, adding binders can enter the gaps between raw material particles and strengthen the bonding effect between particles.
In the context of today's energy crisis, peanut shell energy has received widespread attention as a clean and renewable energy source. The government has also implemented many policies to support the development of related industries. The application of peanut shell energy has gradually become a trend.
The peanut shell fuel pellets processed by RICHI peanut shell pellet machine not only have a uniform shape and stable properties, but also have good thermal efficiency, which is one of the best ways to apply biomass energy.
Welcome to contact us and tell us your needs, our engineers will customize a plan for you to maximize the benefits of peanut shell pellets processing.

There are a lot of peanut shells in my country. Why are these wastes not used on a large scale?
At present, most peanut shells produced in various countries are still used as feed and fertilizer, with low added value and low utilization rate. In some countries, peanut shells are rarely further processed, resulting in a waste of resources.
The main reasons why the in-depth utilization of peanut shells is restricted are:
The products currently developed have not yet been used for large-scale industrial production and are only laboratory research results;
Peanut shells contain rich functional substances, but many current extraction methods have problems such as low yields and cumbersome extraction;
There are large differences in the substance content of peanut shells among peanut varieties, and research is lagging behind.
As green and low-carbon life becomes the mainstream of society, waste reuse has attracted more and more attention. Starting peanut shell pellet machine plant, and strengthening the resource utilization of peanut shells of great significance for improving the efficiency of peanut planting, increasing farmers' income, and reducing environmental pollution.

What is the Value and composition of peanut shells
There are various types of peanuts found around the world, characterized by their branching habit and branch length. Extensive peanut production leaves behind a wealth of peanut waste, such as peanut shells and peanut fiber, which are now considered potential fuel sources.

(1) The value of peanut shells
After harvesting and shelling, the peanut shells, or husks, separate from the nut and make up approximately 20% of the weight of the dry peanut pod, meaning a significant amount of shell residual biomass is left after processing. Peanut shells are used as cattle feed, poultry liters and garden mulch, and they are now viewed as a potential fuel source.
(2) Ingredients of peanut shells
Although the composition of peanut shells varies from species to species, the main chemical components of peanut shells do not change significantly from species to species.
The main components of peanut shells are 37.0% cellulose, 28.8% lignin, 8.2% protein, and 2.5% carbohydrates. The composition of peanut shells makes peanuts a treasure in disguise, which can be used for both fuel and feed production.

Do you have any cases where you can tell me the ratio of peanut shell pellet fuel?
In our peanut shell pellet machine projects, each customer's raw material ratio is different. This ratio is usually decided by the customer himself.
What we need to do is: configure the peanut shell pellet processing technology according to the customer's raw materials and special needs. and equipment, designing the layout and civil engineering of the entire peanut shell pellet production line.
In a recent case, a customer used the peanut shell pellet fuel ratio as:
Peanut shell 79%
Water 11%
Glyceryl palmitate 5%
Anthracite 5%

This customer believes that the pellet fuel pressed with this ratio is of the best quality, and through experimental verification, it is found that its calorific value is ≥17.5 MJ/kg, its crushing resistance is ≥98%, and its density is ≥650 kg/m3, which has reached the European production level industry standard for material pellet fuels (Agro).
On the basis of energy saving and consumption reduction, the method of using normal temperature and high pressure molding and using different additives to improve the quality of peanut shell pellet fuel is expected to be popularized and applied in biomass solid molding.

How about peanut shells as animal pellet feed raw materials?
At present, there are still some technical bottlenecks in the development of peanut shell feed made by peanut shell pellet machine, such as:
High lignin content: Peanut shells are limited in feed application due to their high fiber content, especially high lignin content, complex cell wall structure, and difficulty in digestion;
Peanut shells are hard, have poor palatability, and have low animal digestion and utilization rates, so their use as livestock and poultry feed is greatly limited.
Development and processing technology of peanut shell diet, including optimization of peanut shell diet formula, feed processing and modulation technology, etc. Except for a small amount of peanut shells used as roughage, a large amount of peanut shells are burned or thrown away without full and reasonable utilization, which is a waste of resources.
The lack of high-quality roughage resources and high feed costs restrict the development of animal husbandry. The utilization of food by-products has gradually become a research focus in many countries.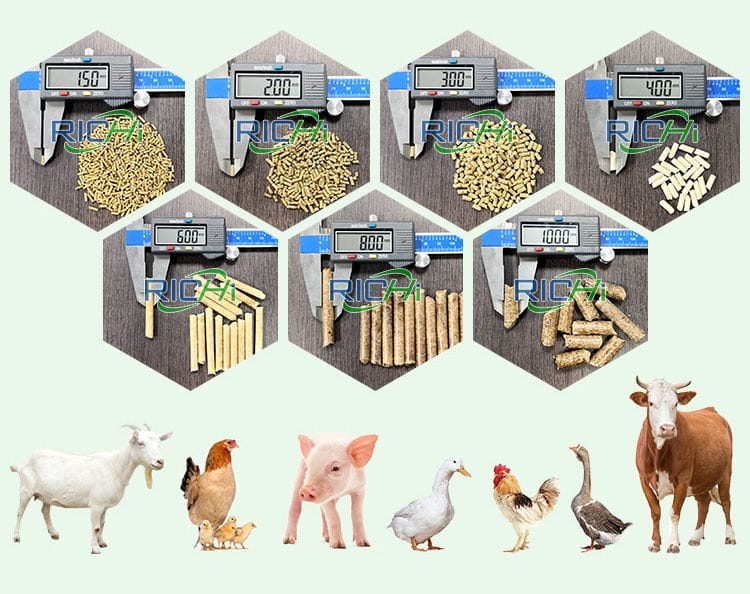 Peanut shells are cheap and easy to obtain as a by-product. They contain nearly 60% crude fiber, ranking first in roughage.
The nutritional content of peanut shells accounts for 90.3% of dry matter, of which crude protein is 4.8% to 7.2%, crude fat is 1% to 1.1%, crude cellulose is 65.7% to 79.3%, hemicellulose is 10.1%, and soluble carbohydrates are 10.6% to 10.6%. 21.2%.
In addition, peanut shells also contain vitamins, minerals and some amino acids. However, peanut shells are rough and have poor palatability. They have high wood fiber content and relatively low protein and shell-soluble sugar content, which limits their application in animal feed.
The nutritional value and digestibility of peanut shells after fermentation treatment with feed starter are greatly improved. They are suitable for use in farms of a certain scale. They cause less pollution to the processing industry and are of great significance to reduce costs in the breeding industry.

What are the current methods of processing peanut shell pellet feed?
The current methods of using peanut shell pellet feed are:
First crush the peanut shells, then chemically and biochemically treat them to decompose them, and then mix them with rice bran, bran, etc., and then use a feed-type peanut shell pellet machine to make mixed pellet feed;
In addition, peanut shell powder can also be mixed and fermented with rice bran, bran, etc., and then made into pellet feed. These feeds can be used to feed pigs, cattle, chickens, fish, etc. Feeding this kind of feed not only improves the health of chickens egg production rate, the meat production rate of broilers and pigs, and the fattening time of pigs can also be shortened. The digestibility of animals is improved to a certain extent, and the economic benefits are significant.
There are also customers who directly use peanut shells as feed raw materials. After crushing, they are directly mixed with other raw materials, and then granulated using a feed type peanut shell pellet machine. This method is a traditional complete compound feed pellet processing technology, usually used in animal feed mill plant, fully automatic cattle feed plant, poultry feed plant, pig feed mill, etc.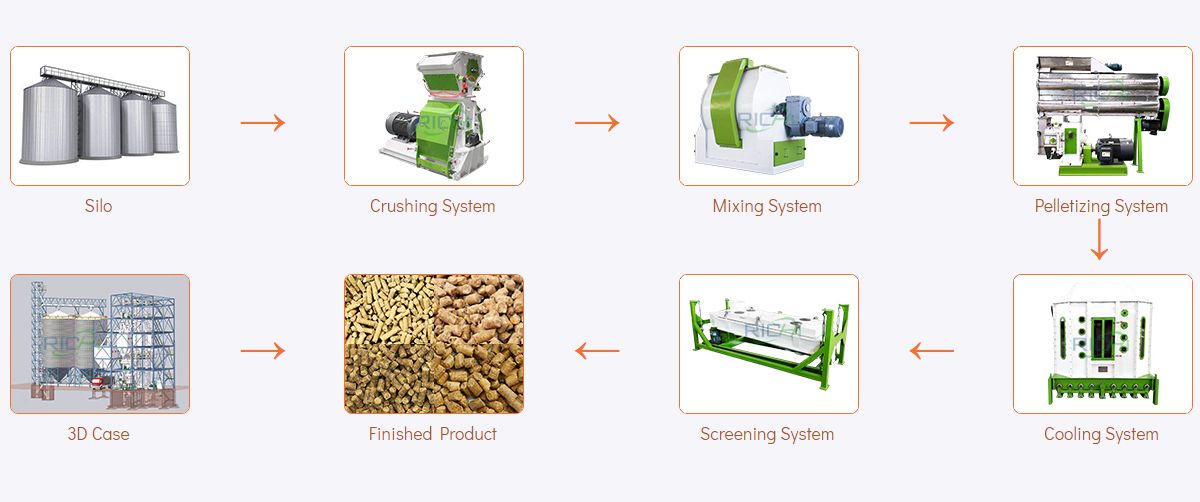 These methods have improved the palatability of peanut shells as animal feed to a certain extent, increased the nutritional value, and ultimately reduced the cost of the feed. However, the utilization rate of peanut shell feed for re-gastric animals after fermentation is still low, and It has not been widely used and promoted.
Compared with monogastric animals, animals with multiple stomachs have strong adaptability. Forage can be any type of forage grass and agricultural and sideline products, such as wheat straw, corn straw, peanut stalks, etc.
Using microbial conversion to convert peanut shells into animal feed, agricultural waste with low residual value is converted into feed ingredients that are more digestible and absorbable by livestock and have no toxic effects.
Compared with simple burning peanut shell and random discarding, etc., the processing method can better utilize the economic value of peanut shells, same as processing peanut shell fuel pellets.
As a by-product of consumer food processing, peanut shell fermented feed fermented by mixed strains can increase the growth rate of sheep and improve meat quality compared with unfermented feed, which has good breeding benefits.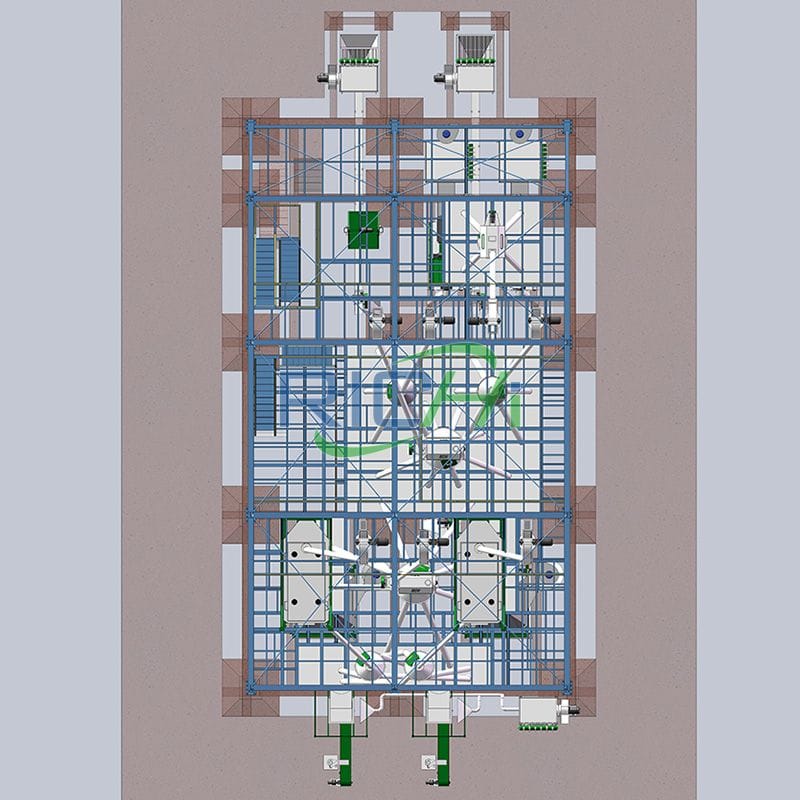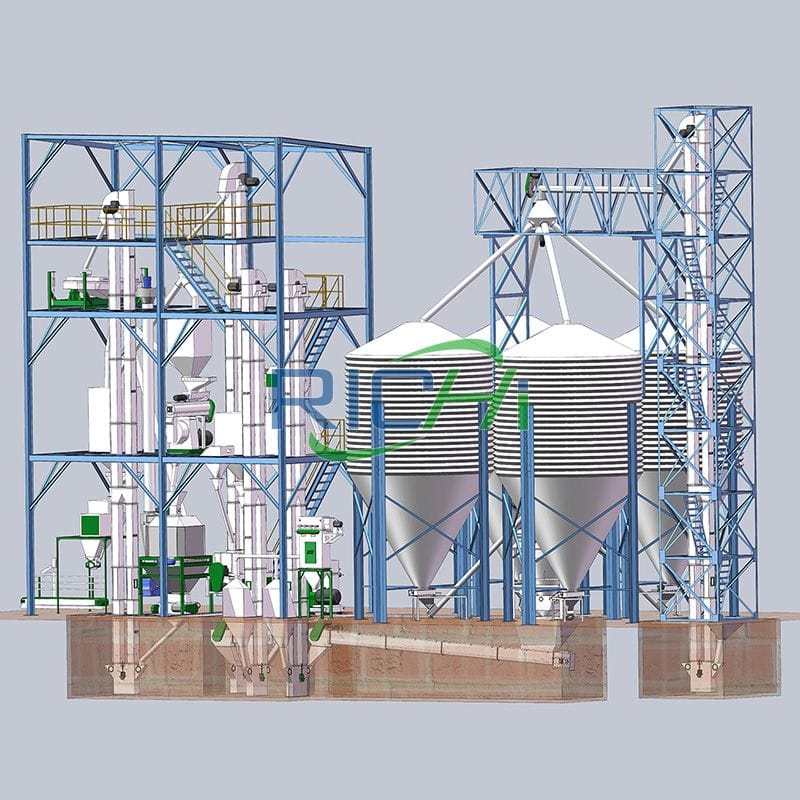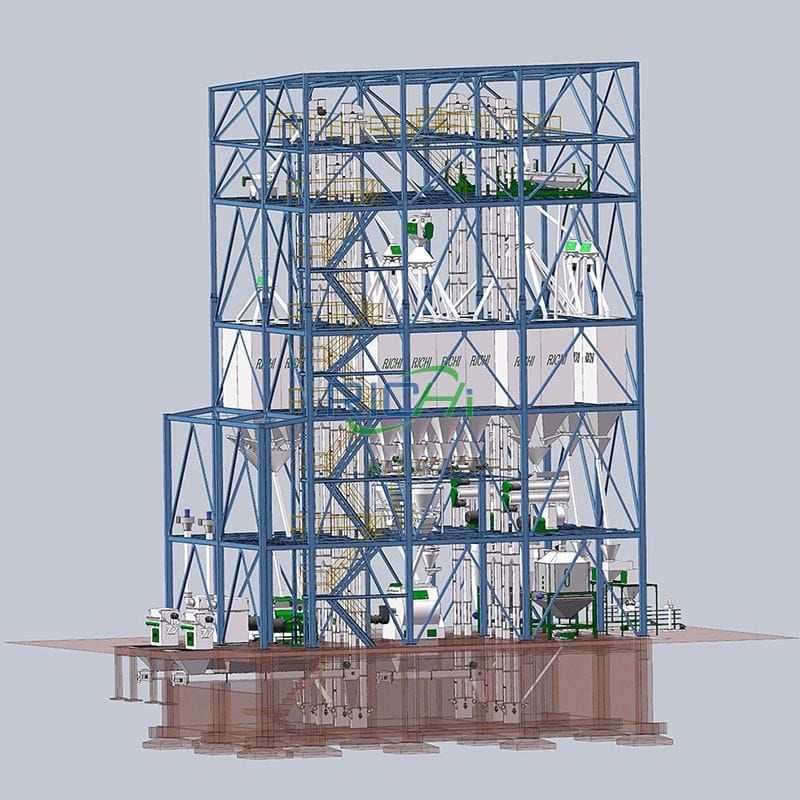 With the continuous development of peanut shell pellet processing technology and the continuous strengthening of comprehensive development efforts, it will provide new impetus for the development of the feed industry in the future, find a new solution to alleviate the contradiction between human and animal sharing food, and provide new opportunities for the realization of ecological agriculture.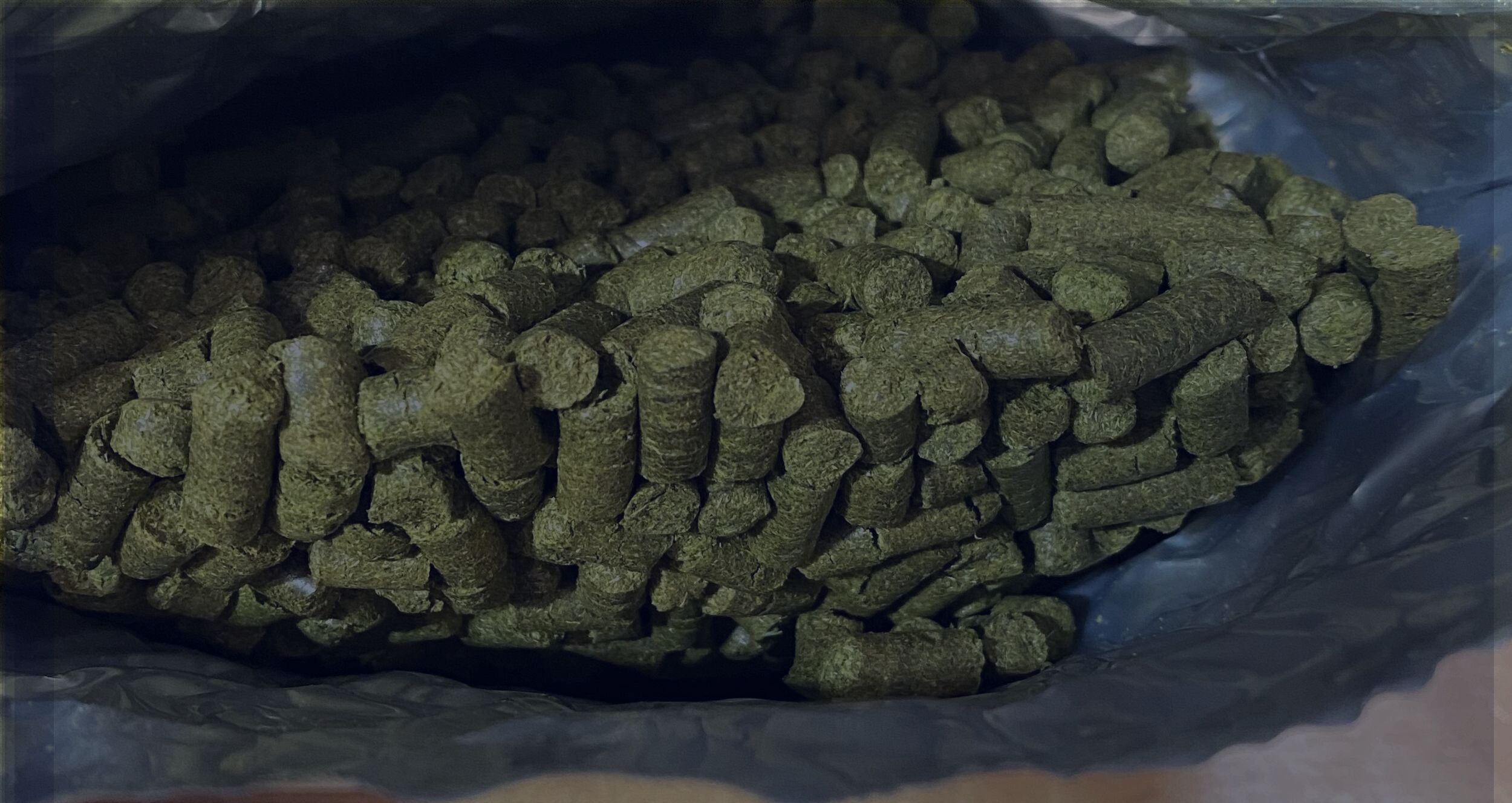 Start your Peanut shell pellet production business
Peanut shell is a renewable, abundant and easily available agricultural and sideline product, and it is also a non-toxic and excellent natural material. With the rapid development of economy and society, the supply of energy and resources is becoming increasingly tight, and the development and resource utilization of waste have attracted more and more attention from countries around the world.
Using peanut shell pellet machine and peanut shell pellets production line to utilize peanut shells as a resource can not only reduce environmental pollution to a certain extent, but also extract and utilize the potential value of peanut shells and maximize the added value of peanut shells as agricultural and sideline products, in line with the concept of green circular economy, and has practical significance in responding to the construction of national ecological civilization and the implementation of sustainable development strategies.
If you also see the prospect of peanut shell pellet processing and see the value of peanut shell pellets, contact Richi Machinery to learn about our peanut shell pellet machine and peanut shell pellet making plant, and get equipment quotations, process flows and complete solutions!
LEAVE YOUR NEEDS
Keeping in touch with us is an effective way to solve all your problems. If you have any needs or questions, please leave your contact information, then RICHI technical consultants will send design, quotation, videos to your mailbox. You can also contact us directly via WhatsApp: +86 13838389622