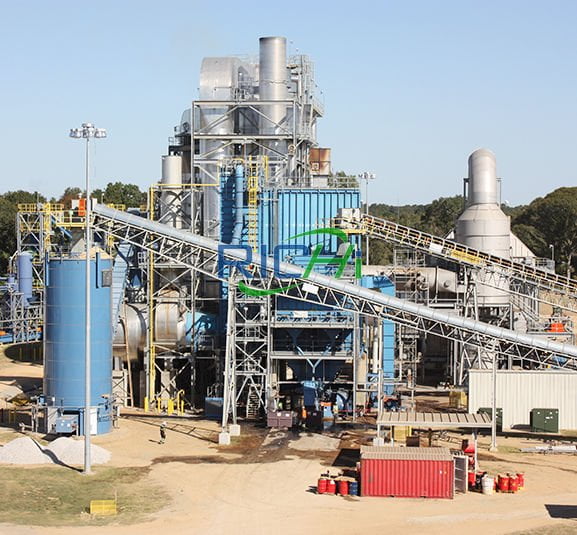 Bentonite cat litter production line
The bentonite cat litter production line system is enabled to meet the high-demand quality cat litter processing. In addition, the whole cat litter production process is carried out in a fully enclosed environment, realizing automatic production without manual operation, which is safe, clean and convenient.
It can also adjust the size and water absorption of cat litter pellets according to different customer needs, which is very popular among customers.

The 0.3-40t/h bentonite cat litter production line is primarily based on the production goals of green environmental protection, energy saving and consumption reduction. The entire bentonite cat litter line is configured very reasonably and has a compact structure.
The overall operation of the bentonite cat litter production plant is stable, the granulation efficiency is also very high, and the quality of the finished 2-6mm cat litter pellets are also very good, which can reduce the cost of investment for customers.
Richi Machinery has nearly 30 years of experience in the production of pellet production line equipment. When designing the cat litter production line, we will customize a reasonable production plan for the cat litter manufacturers, and configure and install it according to the customer's needs.
Types Of Bentonite Cat Litter Production Line
300-500KG/H bentonite cat litter line
500-700KG/H bentonite cat litter making line
800-1000KG/H bentonite cat litter machine line
1-2T/H bentonite cat litter processing line
2-3T/H bentonite cat litter pellet production line
4-5T/H bentonite cat litter pellet line
5-6T/H bentonite cat litter pellet production line
8-10T/H bentonite cat litter pellet production line
10-12T/H bentonite cat litter production plant
15-20T/H bentonite cat litter production plant
20-30T/H bentonite cat litter making line
30-40T/H bentonite cat litter processing line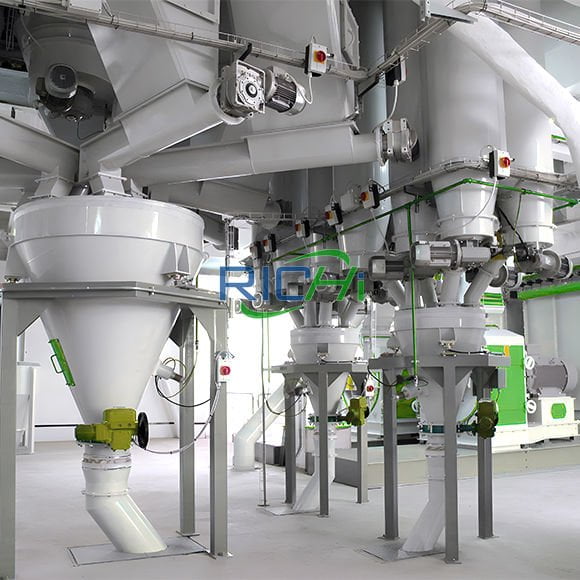 Advantages Of Bentonite Cat Litter Production Line
The bentonite cat litter production plant adopts the principle of extrusion granulation by cat litter pellet machine. Compared with other granulation methods, extrusion granulation by cat litter pellet machine has obvious advantages such as simple operation, uniform pellet size, and automatic production control.
The technological process is relatively simple, and the operation process is convenient;

It is suitable for the processing of various bentonite and clay cat litter particles;

The replacement of wearing parts can be completed quickly, reducing downtime and maintenance time;

Low upfront investment cost.
Since its establishment, Richi Machinery has always been "customer-centric, creating value for customers" as the embodiment of the company's core value.

Whether it is from business reception to technical solution support, or from cat litter making machine installation and commissioning to after-sales training, the standardized, value-oriented, and service-oriented system runs through the entire bentonite cat litter production plant building process, reflecting serialization, differentiation and specialization in an all-round way. So, we advocate "customer-based", customer's success is our success.
Design Of Bentonite Cat Litter Production Process
Complete cat litter production line includes the following cat litter equipments, from the storage of raw materials to the packaging of the final kitty litter pellets, each section has professional equipment to work.
Usually, the crushers, sand making machines, cat litter pellet making machines, mixers, pulverizers, screening machines, packaging machines and other equipment also need to consider the pellet size, output, and site of the raw materials. etc., and whether there are special quality requirements.
Processing flow of bentonite cat litter manufacturing line: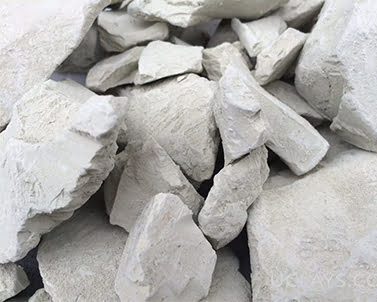 Pretreatment of bentonite, bentonite cat litter manufacturers can produce bentonite by themselves, or purchase bentonite raw materials.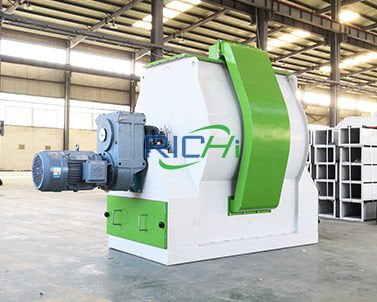 Place the required raw materials in the mixer for uniform mixing, add additives, flavors, adhesives, etc. and mix again, and mix evenly.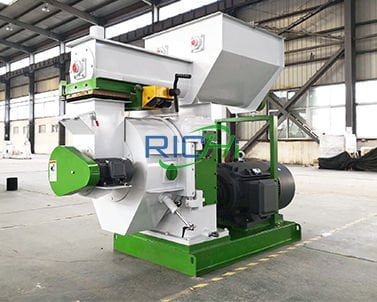 Granulate the mixed raw materials by cat litter machine , and the required size is determined by the kitty litter manufacturers.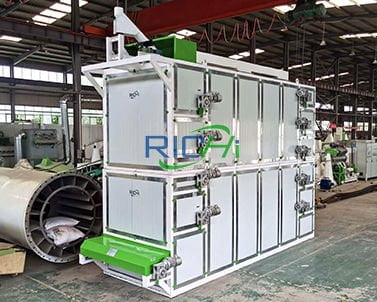 The bentonite clay pellets are dried in the cat litter dryer to remove the moisture contained in it, which is convenient for storage. The perfuming process can also be done during drying.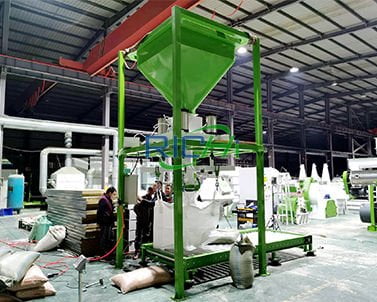 After drying, sieve the finished product. After the finished product is cooled to room temperature, add 0.5% of granular spices and package the finished bentonite clay cat litter product.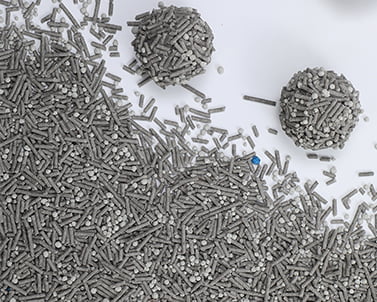 Finished cat litter pellets
Note: If cat litter manufacturers process it yourself, air-dry the selected raw materials of bentonite under natural conditions, so that the moisture of the bentonite is controlled at about 10%, add 2.5% of alkali, stir evenly with a loader, and wait for it to age naturally.
After about 5-7 days, use a pulverizer to grind the bentonite into a fine powder of 200 mesh and 90% pass rate. Next, add water and sanitizer to the fine powder.
According to the different cat litter manufacturer's needs, it may be the particularity of the raw materials or the limitations of the site. Our engineers will redesign the cat litter production line process, and the cat litter production equipment used will be increased or decreased.
Richi Machinery continues to follow the development direction of the industry and customer needs, we optimize the combination of various types of cat litter pellet making equipment to finally meet the customer's demand for high yield and low consumption of cat litter production, to achieve a win-win situation between customers and us.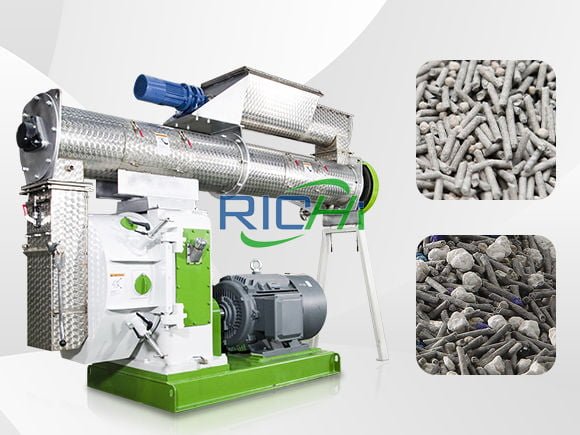 The Key Of Using Bentonite Cat Litter Pellet Machine
The key factor to control the granulation process with cat litter making machine is the total content of free water during spheroidization. If the powder particles are mixed with materials that can be combined with the injected liquid during the automatic kitty litter machine granulation process, the calculation should be appropriately increased. amount of liquid. When granulating cat litter by cat litter automatic machine, because the feed contains bentonite, the control of the amount of water added in the granulation must find an optimal point.
Too much water is added, the kitty litter machine granulation effect is not obvious, the pellet strength is not high, and the bentonite clay granules are not dense;
Too little water is added, the cat litter automatic machine granulation yield is low, the pellets are easily scattered, and the agglomeration strength is not high.
For different types of poultry processing needs, we provide you with one-stop poultry feed machine solutions for various types of poultry feed such as pellet feed, powder feed, mash feed, crumble feed, premix feed, compound feed, concentrated feed, etc.
Cost To Start Bentonite Cat Litter Production Line
How much does a small or large bentonite cat litter factory need to invest? Usually 30,000-900,000USD is required, and the cost mainly includes a set of bentonite cat litter machine cost, site cost and operating cost for producing cat litter. The cost budget varies according to the production scale, and the actual cost varies greatly. The following table is for reference.
| | |
| --- | --- |
| Items | Investment analysis |
| Cost of a complete set of cat litter making equipment | Prices vary according to the output of the bentonite cat litter pellet production line |
| Installation cost | Equipment installation |
| Substation | Total installed power |
| Energy consumption | Electricity charges are calculated according to the customer's location |
| Raw materials | Different raw materials have slightly different prices in different regions |
| Labor cost | Calculated based on the number of employees |
| Space lease | Yearly |
| Civil construction costs (under the premise that a new factory building is required) | Including production line foundation, yard hardening and roads. (According to the design drawings, a local team can be hired for construction) |
| Start-up and other unforeseen expenses | Raw material area, power distribution room, control room, water, electricity and pipeline, office, greening, etc. |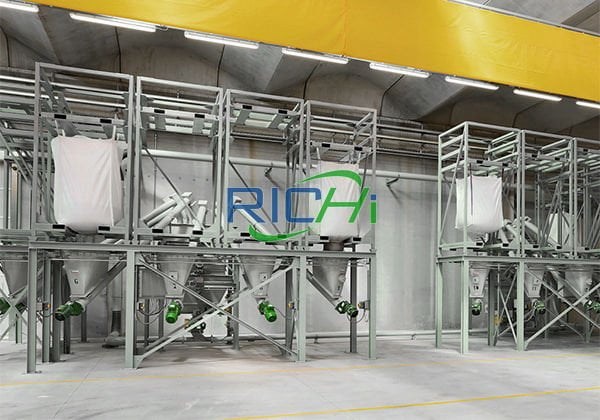 How much does it cost to set up a 0.3-40t/h cat litter factory? More detailed data also needs to be calculated by professional RICHI-engineers according to the customer's situation. You are welcome to consult online, and RICHI will provide more information such as bentonite cat litter production line investment analysis, income analysis, and factory construction plans.
Richi Machinery is a large-scale joint-stock enterprise integrating scientific research, production, sales and service. It has a complete bentonite cat litter line solution system to ensure the quality of equipment, direct supply from stock, and preferential wholesale prices for purchasing cat litter machines (also includes tofu cat litter, paper cat litter, wood cat litter, clay cat litter). Then a technical team will install and debug the cat litter production equipment,supply technical training and a series of services, welcome to visit Richi Machinery!
Bentonite Cat Litter Production Projects

5-6 T/H Bentonite & Attapulgite Cat Litter Making Machine for sale UK

5T/H Bentonite Cat Litter Processing Line Project in China

---
Project Analysis
8T/H Bentonite Cat Litter Production Line
Our cat litter production solutions come in a modular design so that you can customize them to match your cat litter production process. At RICHI we focus on solutions that pay off, whether it's supplying the smallest spare part or serving as a long term partner.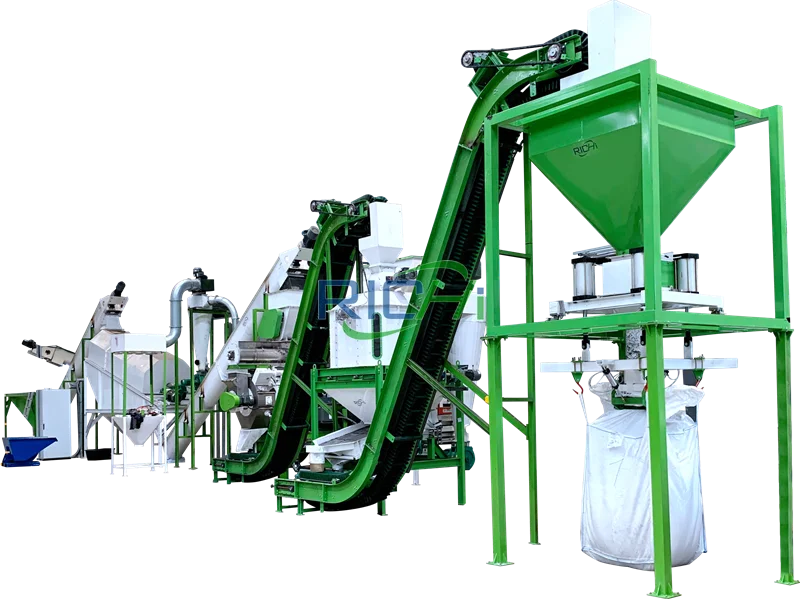 Example: 8T/H Bentonite Cat Litter manufacturing Line
Investment of bentonite cat litter pellet production line: 750,000 USD (The cat litter factory investment includes a full set of cat litter machine and plant leasing/renovation/construction)
Scale of cat litter company: 8t/h, 20000t/a (calculated according to the working time of the customer's cat litter pellet line)
Total area of the cat litter company project: 1600m²
Construction content: leased workshop, no civil works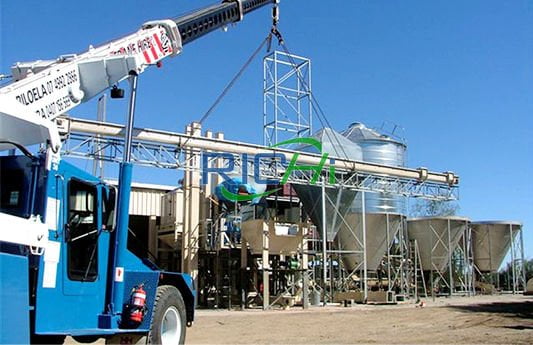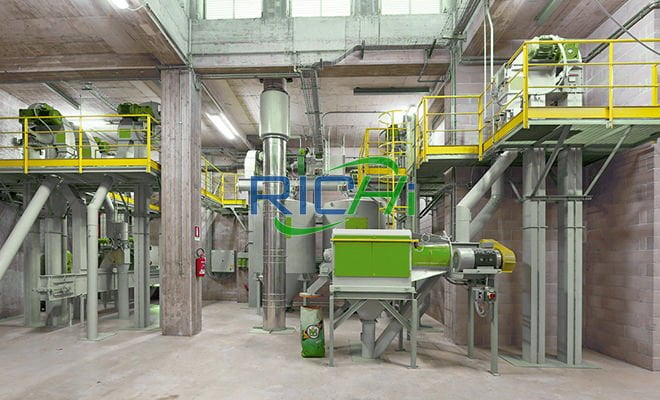 Project electricity consumption: 200,000 kW h/a
Project raw materials and consumption: finished bentonite (20002/a)
The main cat litter machine of the bentonite cat litter pellet plant project: cat litter pellet machine, mixer, tumble dryer, grading screen, automatic packaging machine, etc. The selection of these different types of bentonite cat litter equipment can be made according to production requirements and cost constraints. In addition, auxiliary equipment needs to be configured to jointly complete the production of cat litter.

Customized 8tph Bentonite Cat Litter Production Line Process:
The 8t/h cat litter company production process is mainly based on the purchased finished bentonite as raw material. After being granulated by a automatic kitty litter machine, it is directly transported to a drum drying kiln for drying. After drying, it is screened and finally packaged and put into storage.
Granulation section: Add a small amount of water to the sun-dried semi-finished bentonite, so that the moisture can be increased from 10% to 30-35%, so that it can be easily formed into granules in the best cat litter machine.

Drying stage: The granulated bentonite clay pellets are transported by the conveyor belt to the drying kiln for drying, and the drying temperature is controlled to be 130℃.

Sifting section:The above semi-finished products are screened by a grading sieve. The cat litter company project uses grading screening to take cat litter with a size of 1-4mm, and the sieved cat litter enters the next process. This section will generate dust and unqualified products, of which the unqualified products are recycled and reused.

Finished product packaging section: The dried bentonite clay cat litter product is transferred to the storage tank and packaged according to certain specifications.

Richi Machinery is customer-centric and provides pellet production lines for users around the world who are committed to cat litter pellet processing, biomass pellet manufacturing plant, wood pellet production plant, animal feed mill plant, organic fertilizer pellet making machine, special raw material pellet processing and other fields through a global service network, and equipped with a total pellet plant solution.
If you are interested in the process flow of bentonite cat litter production line, you can submit the specific bentonite raw material, output, required particle size and other information to the online customer service, and we will have professional and technical personnel to make a selection configuration plan and quotation budget for your reference, we can also arrange a site visit to the pellet production site.
Supplementary Information Of Bentonite Cat Litter
Bentonite Cat Litter Quality Standard
| | |
| --- | --- |
| Item | Index |
| Pellet size(mm) | 1.0~4.0, 0.5~2.0(Qualified pellets>98%) or according to customer requirements |
| Moisture(%) | ≤10.0 |
| Water absorption (2h,%) | ≥200 |
| Bulk density (g/cm3 ) | 0.75~1.0 |
| Cake shape | Spherical, hemispherical, elliptical |
| Caking strength | 15cm drops three times without breaking |
In bentonite cat litter production line, water absorption, agglomeration shape and agglomeration strength are all parameters that characterize the quality index of bentonite for cat litter. Low water absorption, poor adhesion of cat litter products, not easy to agglomerate; irregular shape of agglomerates, low usage rate; low strength of agglomeration, difficult to clean up with ordinary tools after use, easy to dissolve, and will also affect later use.
If things go on like this, it will cause certain pollution to the environment; the higher the water absorption rate, the better the shape and strength of the agglomeration, and the better the use effect of bentonite clay granules, which is more conducive to the expansion of the bentonite cat litter market.
Richi Machinery is mainly engaged in the R&D and manufacturing of cat litter machine and bentonite cat litter production factory projects using various raw materials, providing technical solutions and supporting products.
Main Raw Materials Of Bentonite Clay Cat Litter
Bentonite cat litter is also called condensed cat litter. It is the most commonly used cat litter. Bentonite is a non-metallic mineral with montmorillonite as the main mineral component. It has a hardness of 1-2 and is relatively loose after processing. The high-quality materials of the raw material have good environmental protection.

01
Bentonite
It is a kind of clay with high plasticity, which is milky white and has strong water absorption and swelling. It can absorb 5 times its own mass of water and can expand to 15 times its original volume. When selecting raw materials, it should be noted that the whiteness should be above 85%.
02
Zeolite
It is a micro-void structure that can be used to separate molecules of various sizes, and is often used as a molecular sieve in industry. In the cat litter production line process, a certain proportion of zeolite is mixed into the bentonite to absorb the odor and suffocation in the pet feces, and play a role in cleaning and sanitation.
03
Binder
It is best to use water as the binder which is economical and does not adversely affect the agglomerates. Because in the preparation process of bentonite clay granules, bentonite has high water absorption and good viscosity.
Which Bentonite Is Suitable For Cat Litter Production Line?
The bentonite used in the production of cat litter has certain selectivity, and not all bentonites are suitable for the production of bentonite clay granules. In everyone's impression, bentonite is equal to ore sand, which is cheap cat litter. In fact, bentonite is divided into sodium-based bentonite and calcium-based bentonite. The expansion ratio of sodium bentonite is as high as 20 to 30 times, and the expansion ratio of calcium bentonite is only several to ten times.
Sodium-based bentonite has a large water absorption, up to more than 500%, and has a long water absorption time (slow water absorption speed); calcium-based bentonite has a small water absorption, the highest is not more than 200%, and the water absorption speed is block, and it will reach saturation in less than 2 hours.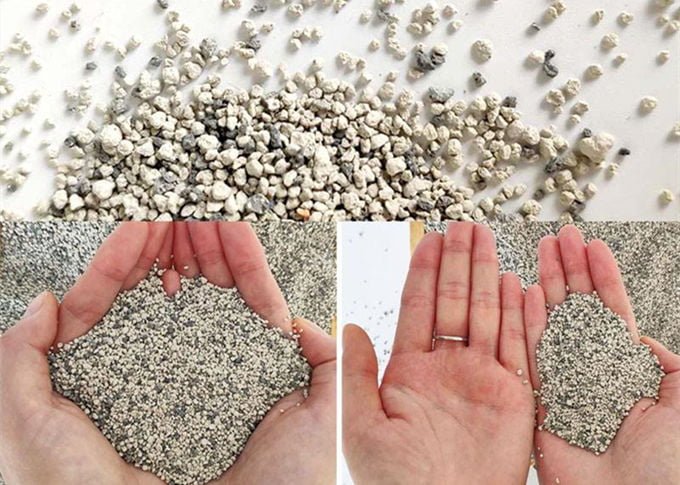 The price of bentonite cat litter is indeed lower than that of tofu cat litter. After all, bentonite is made from local materials, and the process is relatively simple.
If you want to produce bentonite for cat litter, what should you do?
The production process of bentonite cat litter production line is different from that for pellets and foundry. Since the technical indicators of the raw ore cannot reach the standard of bentonite for cat litter, the bentonite product for cat litter cannot be directly produced from the raw ore.
Currently, bentonite for cat litter is mainly produced through two distinct stages:
By sodium modification, the number of exchanged cations in bentonite is increased, so that the original soil can be dissolved in water to increase the number of hydrophilic groups, thereby effectively improving its water absorption rate and agglomeration strength;

Wet granulation by rolling with water to improve the uniformity of pellet size and the mechanical properties of the pellets.
Take root in the market and serve the world. Richi Machinery is committed to providing users with high-quality cat litter equipment and providing multi-faceted technical support. According to the different properties of the cat litter, the configuration and construction plan of the cat litter production line can be customized.
Typical Bentonite Cat Litter Types
Over the years, various new types of mineral-condensed bentonite clay cat litter products have been developed and utilized.
01
The pet bedding soil produced by the mixture of bentonite and attapulgite clay has a significant improvement in water absorption, agglomeration, color, peculiar smell, dust, disintegration time in the air and compressive strength.
02
Using bentonite and zeolite to produce cat litter, with the best ratio of bentonite and zeolite (95:5), the prepared cat litter has good water absorption, deodorization and agglomeration.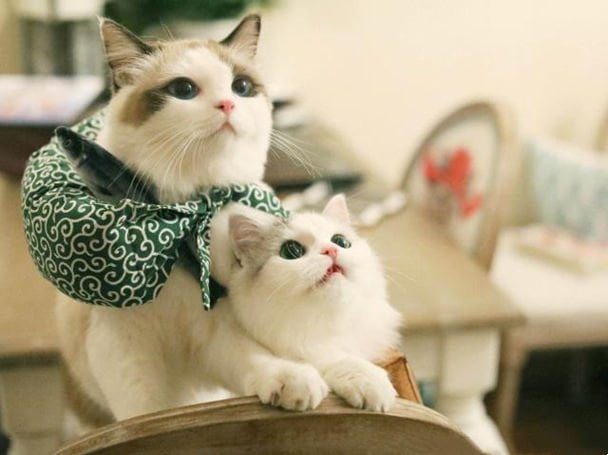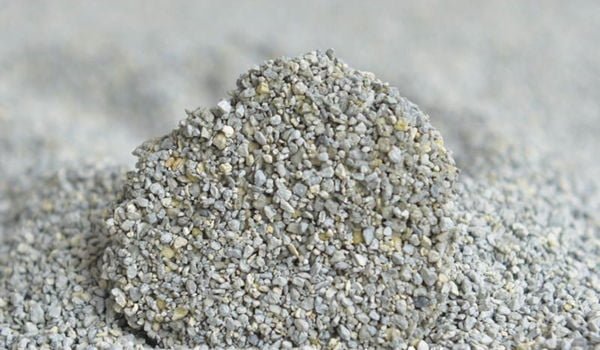 03
When using bentonite to process pet cat litter bentonite clay pellets, the addition ratio of modified zeolite (6%) and the addition amount of binder (15mL/ 100g), the processed cat litter products are in terms of ammonia absorption, water absorption rate, water absorption speed, and structure. It has good performance in terms of cluster strength, bulk density and pH value.
04
Using calcium-based bentonite as raw material, sodium modification optimizes the physical and chemical properties of the original soil and the cat litter production line, which not only overcomes the damage caused by chemical reagents to pets, but also provides a good solution to air environment and living environment pollution problems.
05
Based on the preparation of traditional bentonite cat litter, by adding porous material zeolite to enhance the ammonia absorption effect of cat litter, sodium bentonite is used as both an adsorbent and a binder, improving the strength of cat litter particles and reducing dust.
Bentonite Cat Litter Dominates High-End Markets
With the continuous improvement of people's living standards, people's demand for pets is also getting higher and higher, and cats, as a common pet, are loved by everyone, so cat litter also came into being. There are many kinds of cat litter pellets and kitty litter companiess, but the cat litter products made of bentonite clay occupy the largest share of the cat litter market.
At present, there are many types of cat litter on the market, including tofu cat litter, crystal cat litter, wood cat litter and paper cat litter. Bentonite cat litter is currently the most commonly used cat litter, with bentonite as the main component, commonly known as agglomerated cat litter, with small white or gray-white pellets. When used, the highly hygroscopic bentonite cat litter product quickly absorbs the moisture in the feces and forms a large hard mass.

When cleaning bentonite cat litter, use a cat litter shovel with a leak hole to scoop out these large and small hard lumps and throw them away. With the consumption of cat litter, it can be replenished, and there is no need to give up the whole pot, and it meets the quality standard of bentonite for cat litter.
Nowadays, in developed countries in Europe and the United States, bentonite litter from the bentonite cat litter production line is the mainstream in the market. Especially in the United States, which is also the most developed market for the cat industry, bentonite cat litter accounts for more than 80% of the market share. At present, plant-based cat litter, which seems to be very popular, actually only has a few percent of the market in the United States.
It is not that there is no plant-based cat litter in the United States. They were also popular for a while decades ago. Cat litter of various plant materials, Corn, wheat, pine, etc. Because the United States is a powerful agricultural country, there are many plant materials that can be used as cat litter, but why can't plant cat litter occupy the mainstream market in the United States?

Plant Cat Litter Is Not Really Suitable For Cats:
Because those plant materials are not really suitable for making cat litter, this is just to satisfy human beings who are unwilling to waste these plant scraps, so as to make full use of it to make cat litter, because everyone thinks that cat litter is also to be thrown away stuff, so just use these scraps to make it. However, these materials themselves are not suitable for cat litter.
The Disadvantages Of Plant Cat Litter Are:
First, it does not have the function of agglomeration itself, and it needs to artificially add glue to have the effect of agglomeration.
Second, these plant materials are prone to mildew and deterioration, and some of them will produce some toxins, and cats are accustomed to using their claws to scrape cat litter and lick their claws after going to the toilet, which will have a negative impact on the cat's health over time.
Third, due to the various odors caused by the plant material itself and easy moldy, humans will add fragrances to cat litter in order to cover up these smells. Therefore, many plant cat litter on the market will display various fragrances. It is necessary to know that the cat's sense of smell itself is better than Humans are thousands of times more sensitive, and the faint fragrance that humans smell is very stimulating to cats. The act of adding fragrance to cat litter is very likely to cause some respiratory problems in cats. Therefore, it can be said that plant-based cat litter is a commodity produced for pure economic benefits from a human perspective, but does not take into account the preferences and health of cats.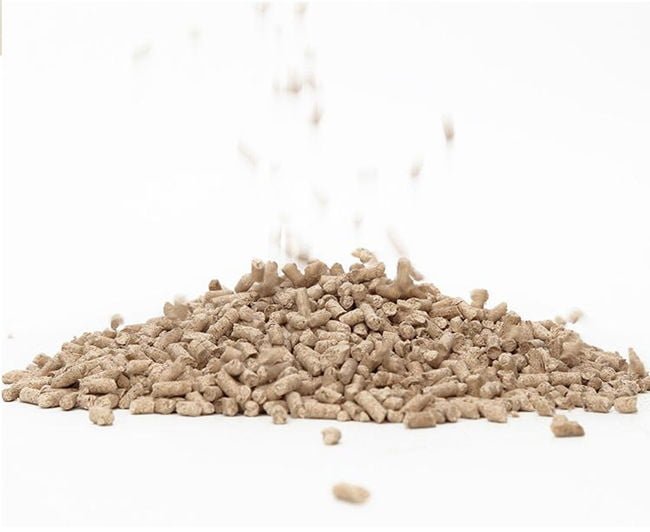 The Global Pet Bedding Market With Great Potential
Non-metallic minerals that can be used as pet bedding cat litter include sepiolite, bentonite, diatomite, attapulgite, etc. When countries develop this product, they are combined with local resource conditions, such as:
Spain is rich in sepiolite, so cat litter is produced with sepiolite as raw material. Spain's largest sepiolite manufacturer, TOLSA, produces 515,000 tons of sepiolite products annually, of which 353,000 tons of cat litter, accounting for 68.54%.

More than 70% of the sepiolite in Europe is used as cat litter.

Denmark is rich in mole-type diatomite, so diatomite is used as cat litter.

The khaki of the northwest coast of India has a relatively hard bentonite, which is also used as cat litter.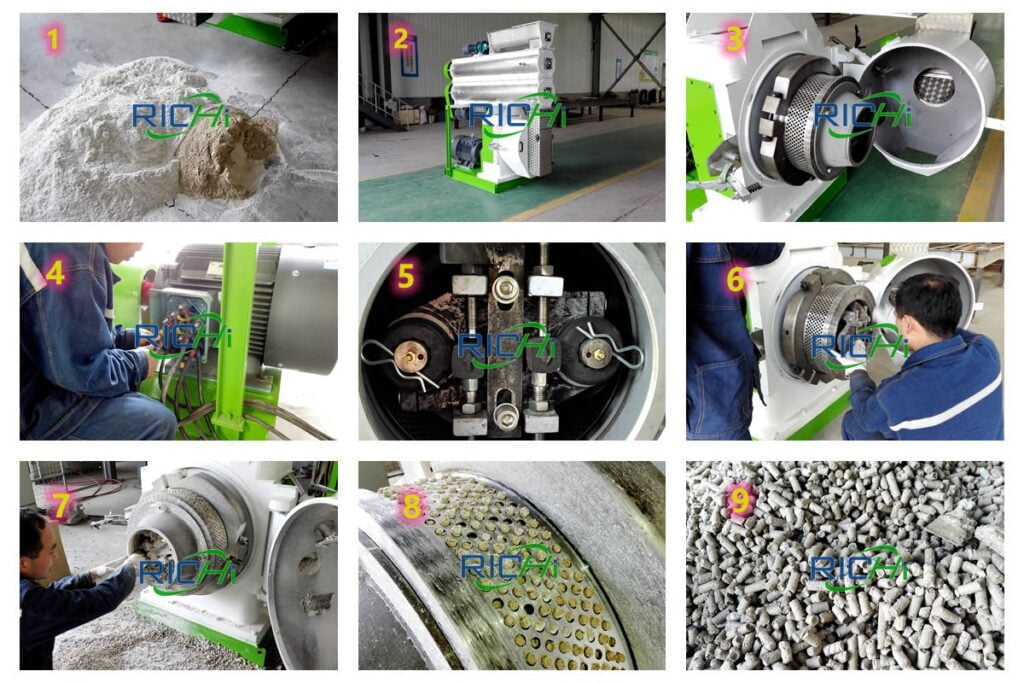 According to reports, developed countries in the West consume hundreds of thousands of tons of pet bedding soil every year. In recent years, with the improvement of people's living standards around the world, urban dwellings have been turned into high-rise buildings and gardens, and more and more padding soil is used for domestic pets. Pad soil is also used.
It can be seen that the market potential of pet bedding soil will become larger and larger. So starting cat litter production line is very promising.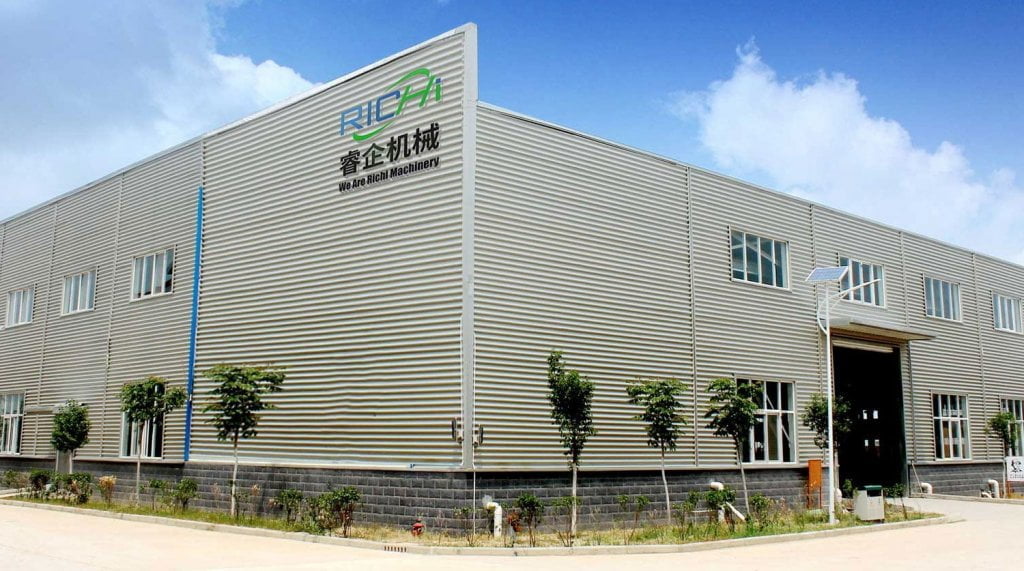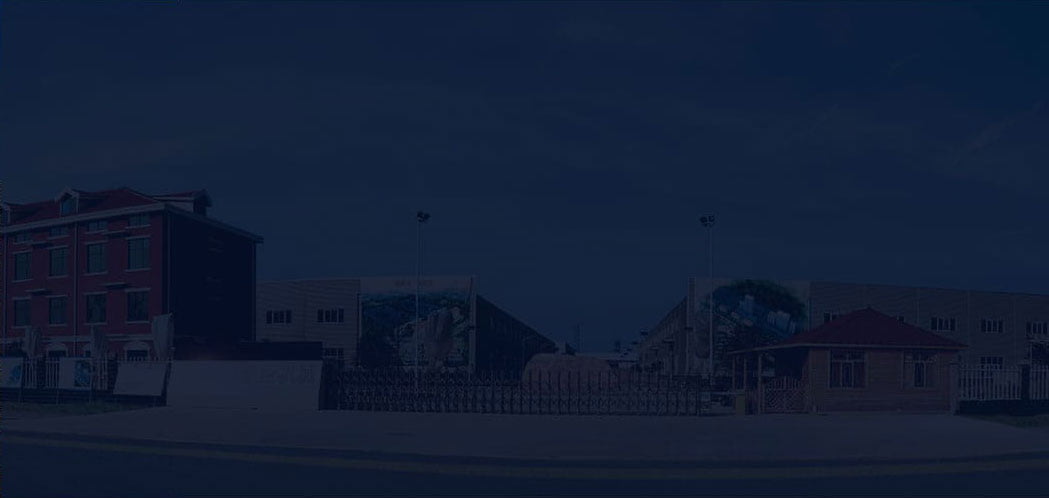 Whether you want to know the discount price, feed granularity, production capacity, particle size, etc. of bentonite cat litter production line, tofu cat litter making machine plant, pine cat litter production line, newspaper cat litter production line or cat litter pellet machine, please contact us for "online customer service", we have professional technical engineers to configure reasonable equipment for you according to your actual needs, and make reasonable quotations for the required cat litter machines.
LEAVE YOUR NEEDS
Keeping in touch with us is an effective way to solve all your problems. If you have any needs or questions, please leave your contact information, then RICHI technical consultants will send design, quotation, videos to your mailbox. You can also contact us directly via WhatsApp: +86 13838389622