Professional Design 2T/H Biomass Pellet Manufacturing Plant
2 T/H Biomass pellets production
---
2T/H biomass pellet manufacturing plant is a system for processing pellets. It refers to a complete set of pellet machine equipment. It not only reduces environmental pollution, but also saves energy resources.
Cost: 50,000-300,000USD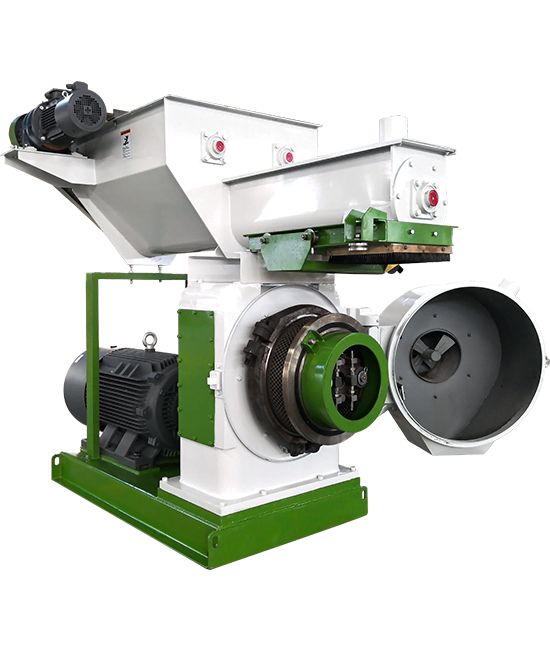 2T/H biomass pellet manufacturing plant Solution
The 2t/h biomass pellet manufacturing plant processes agricultural and forestry waste, such as wood chips, straw, rice husk, bark, sawdust, wood, branches, trunks and other biomass as raw materials, and solidifies them into high-density pellet fuels through pretreatment and processing , is an ideal fuel to replace coal and oil, which can save energy and reduce emissions.
Capacity: 2T/H
Raw materials: sawdust, rice husk, peanut shell, fungus residue, etc.
Application: sawdust, chaff, fruit husk, peanut husk, poppy husk, coffee husk, etc.
Suitable customers: Agricultural resource companies, large furniture factories, wood processing factories, rice factories, oil mills and other users who have advantages in raw materials.

Standard 2 t/h biomass pellet manufacturing plant design
Pre-treatment section: according to different raw materials, flexibly configure processes such as wood splitting, slicing, hay cutting, crushing, and cleaning, and select corresponding equipment; the larger the size of the raw material and the greater the humidity, the more complicated the pre-treatment process of raw materials, more devices need to be configured.

(If the raw material is only powder, then it is only necessary to pass the biomass powder raw material through the sieving machine to remove impurities such as sand, stone, iron and the like; the sieved wood powder enters the hydraulic granulation silo through the conveyor belt for caching and homogenization, automatic connection, reducing dust concentration, safe and clean, saving labor.)
Drying: The crushed materials are dried by a biomass dryer;
Pelletizing: The wood powder is fed through the frequency conversion of the screw conveyor at the bottom of the warehouse to ensure continuous and stable feeding of the biomass pellet making machine, reduce wear and tear, and ensure stable production and high efficiency;
Cooling: High-temperature pellets enter the pellet cooler through the conveyor belt for cooling;
Packing and warehousing: the cooled granules enter the packaging machine for packaging.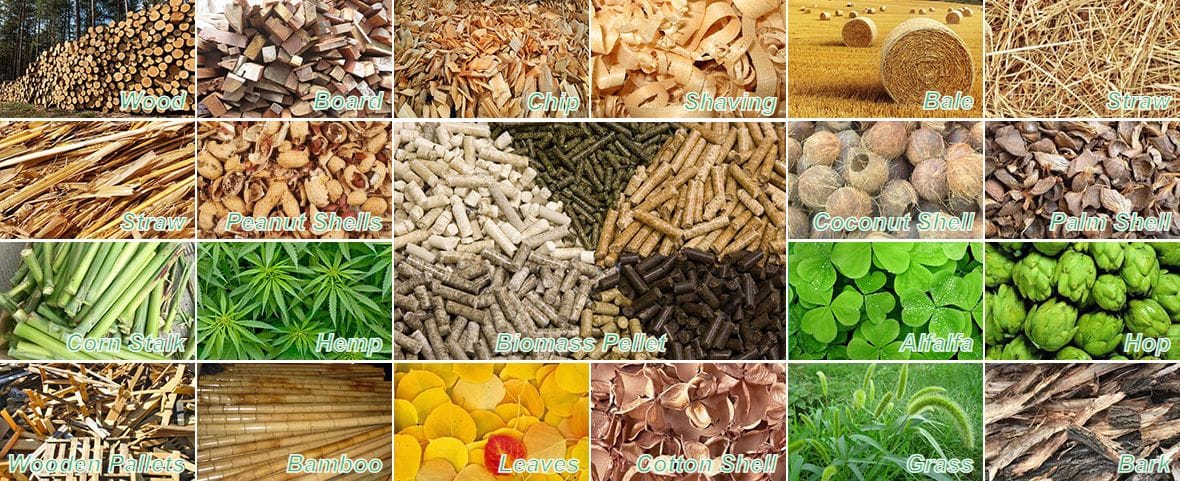 2 t/h biomass pellet manufacturing plant features
Advantages: Equipped with hydraulic treatment bins, automatic connection, reducing labor; closed buffer bins, reducing dust concentration, reducing dust storms; hydraulic leveling devices are installed at the bottom of the bins to prevent material bridging and ensure stable feeding of biomass pellet machines.
Note: This 2t/h biomass pellet manufacturing plant process requires the moisture of raw materials to be 10%-15%, and the moisture higher than this needs to be dried with a biomass materials dryer.
biomass pellet manufacturing plant Projects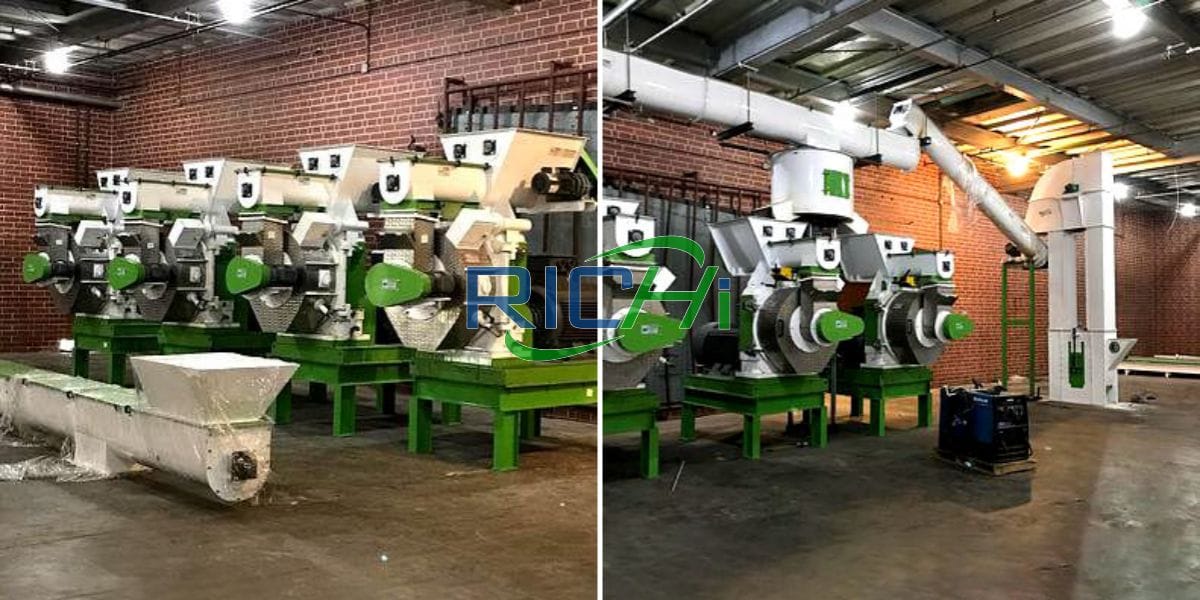 10T/H
biomass pellet mill plant in united states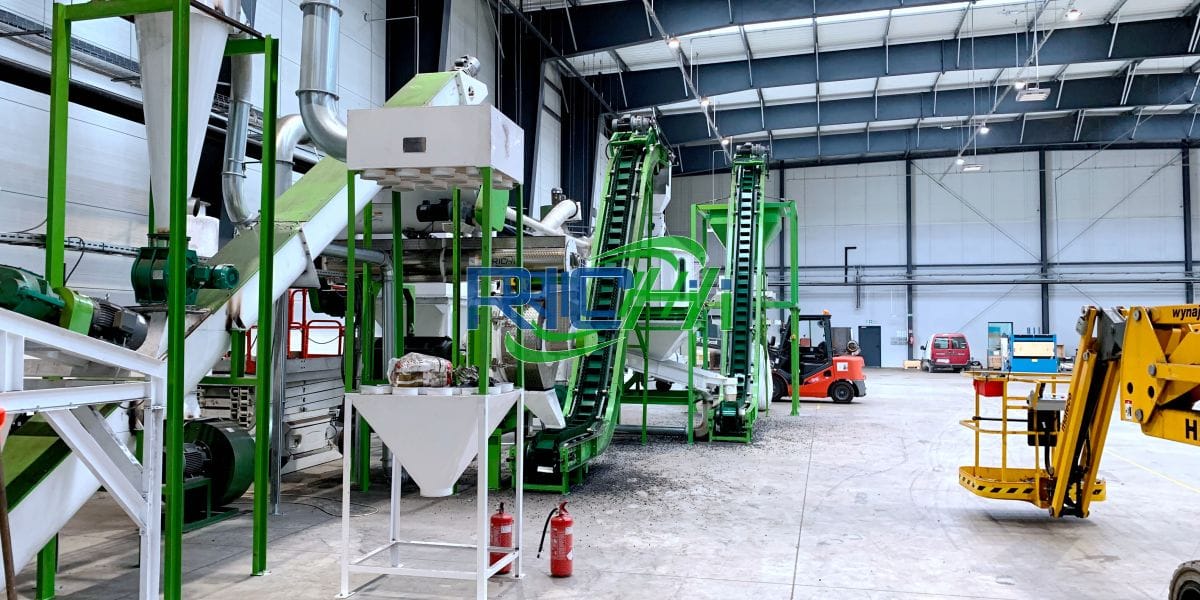 2T/H
biomass pellet processing plant in poland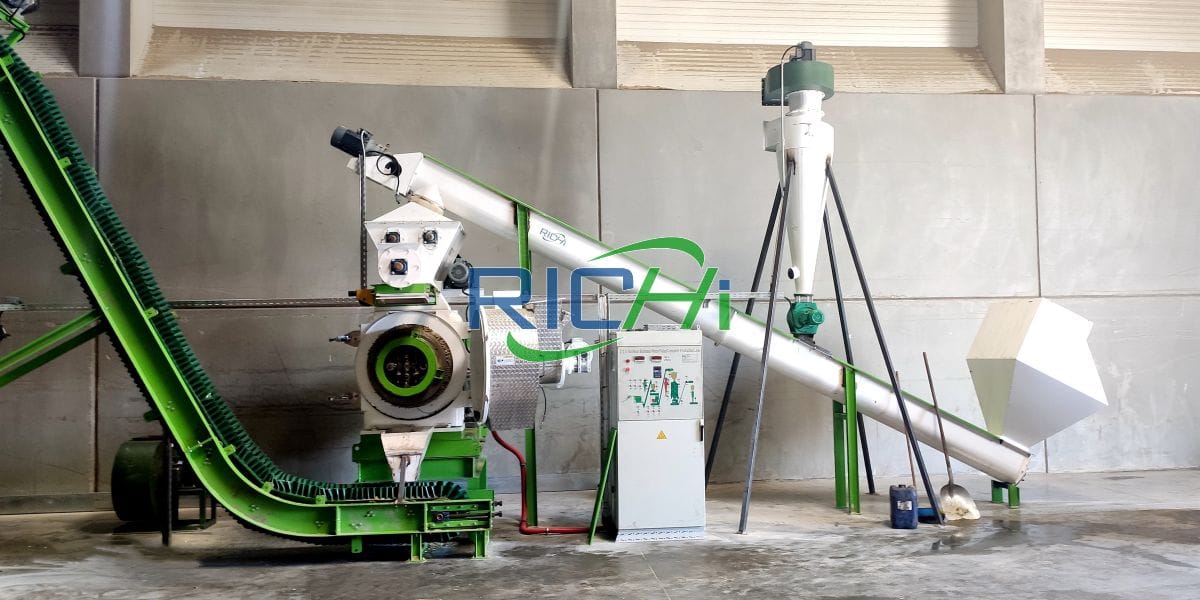 2-2.5T/H
biomass pelletizing plant in romania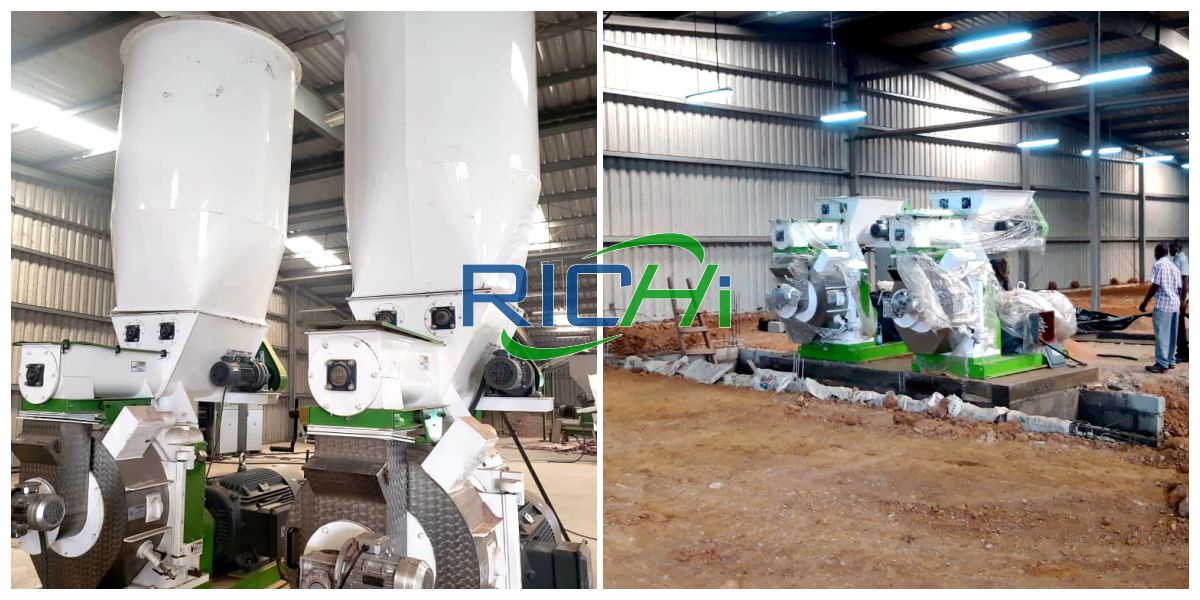 5T/H
biomass pellet production line in austria
2 t/h biomass pellet manufacturing plant Project Report
There are huge business potentials to start biomass pellet plant. Not only can one outsource to individuals or small communities, but also big corporations and industries. The selection of the right biomass pellet equipment and technology for a biomass pelleting plant is critical when establish your own biomass fure biomass pellet manufacturing business.
Next, I will list two biomass pellet production plant projects we have done for you, hoping to help you.
[Case 1] 2T/H biomass pellet manufacturing project
The client company was established in March 2019 and is engaged in processing and sales: wood products; production and sales: biomass pellets; afforestation projects; landscaping projects.
In order to meet the development needs of the market, the customer invested in the construction of "2t/h biomass pellet construction project", with a total investment of 600,000 US dollars, which was mainly used for civil construction, purchase of production equipment and environmental protection equipment, and technical investment.

The total land area of the 2t/h biomass pellet manufacturing plant project is 6000m², and the total construction area is 1000m², mainly including a production plant. After the project is completed, it is estimated that the annual production of granular fuel will reach 10,000 tons.
The client company has 12 employees, 2 shifts, 16 hours a day, and 300 days a year. The project was constructed in July 2019, completed the completion acceptance and put into production in August.
Project construction content
The construction content of the project includes a raw material warehouse, a production workshop and an office building with a construction area of 1000m². According to the function, it can be divided into production area, office and living area, etc.
Main works
The production workshop is 1 floor, steel frame structure, cement floor, covering an area of 6000m². Build a production line and other auxiliary buildings;
The office is a one-story frame structure room, covering an area of 1000m².
Public works
Water supply: well water supply
Drainage: rain and sewage diversion
Power supply: 500KV

Environmental engineering
Exhaust gas: 3 sets of bag filter
Wastewater: three-stage septic tank
Noise: Shock-absorbing pad
Solid waste: domestic garbage bins, cleaned and transported by sanitation workers on a regular basis
Except for the one-story frame structure of the office and living area, the above-ground buildings of the project construction, its auxiliary engineering and production workshops are all single-story steel frame structures.
The 2t/h biomass pellet manufacturing plant project does not involve basement construction, large-scale foundation pit excavation, piling and other foundation construction. The foundation construction process of the project is mainly to lay out lines according to the construction drawings, using a single-bucket excavator, supplemented by manual excavation.
Consumption of main raw and auxiliary materials
| Name | Annual usage (t) | Maximum storage capacity (t) |
| --- | --- | --- |
| Bamboo chips | 5000 | 7000 |
| Wood | 5000 | 7000 |
| Twig | 5000 | 7000 |
| Biomass pellets | 1440 | 3000 |
Note: Biomass pellets are the product of this project and are also used as fuel for the 2t/h biomass pellet making plant project.
Main biomass pellets plant equipment
| Name | Model/wattage | QTY |
| --- | --- | --- |
| Biomass crusher | 45KW | 1 |
| Belt motor | 1.5kw | 3 |
| Biomass dryer | 4kw | 1 |
| Biomass pellet machine | MZLH520 | 1 |
| Cooling machine | 1.5kw | 1 |
| Boiling furnace | / | 1 |
Biomass fuel pellet production process
(1) Crushing
The raw materials in the raw material warehouse are conveyed to the crusher for crushing through the belt, and after crushing by the crusher, it is convenient for the dryer to dry the moisture.
(2) Drying
Since the moisture in the raw materials may not meet the production requirements, the raw materials need to be dried. The drying process of this biomass pellet line project uses biomass particles as fuel, and the heat source of the dryer is provided by the fluidized bed furnace burning biomass fuel.

(3) Cooling and pelleting
The dried biomass material is conveyed to the biomass fuel pellet granulator by the belt conveyor for molding, and then cooled by the cooler, and finally the finished product is sent to the finished product warehouse by the bucket elevator.
Note: The fuel for the biomass fluidized furnace is the biomass fuel pellets produced by the project itself, and the annual biomass pellet fuel is 14400t. The exhaust gas production of the project is 5000m3/h. This kind of biomass fuel does not contain S component, and the consumption of biomass fuel in fluidized furnace kiln is about 300kg/h.
[Case 2] 2T/H biomass pellet manufacturing plant project
Project background
The client of this project is a biomass energy company. It purchased 4666 square meters of land in 2016. After several years of idleness, in order to make full use of it, and the current market prospect of biomass pellets is good, so after investigation and research, it was decided to Use this land to build a new biomass pellets production line.
Total investment: USD 150,000, raised by the enterprise itself.
Nature of construction: newly built.
Construction content and scale: Utilize the existing factory building of 1,200m², purchase 2 biomass pellet machines and related equipment to build a new biomass pellet production line, and plan to produce 5,000t/a biomass pellets.
There are 4 employees in this project, one shift is implemented, each shift is 8 hours, and the annual working time is 300 days.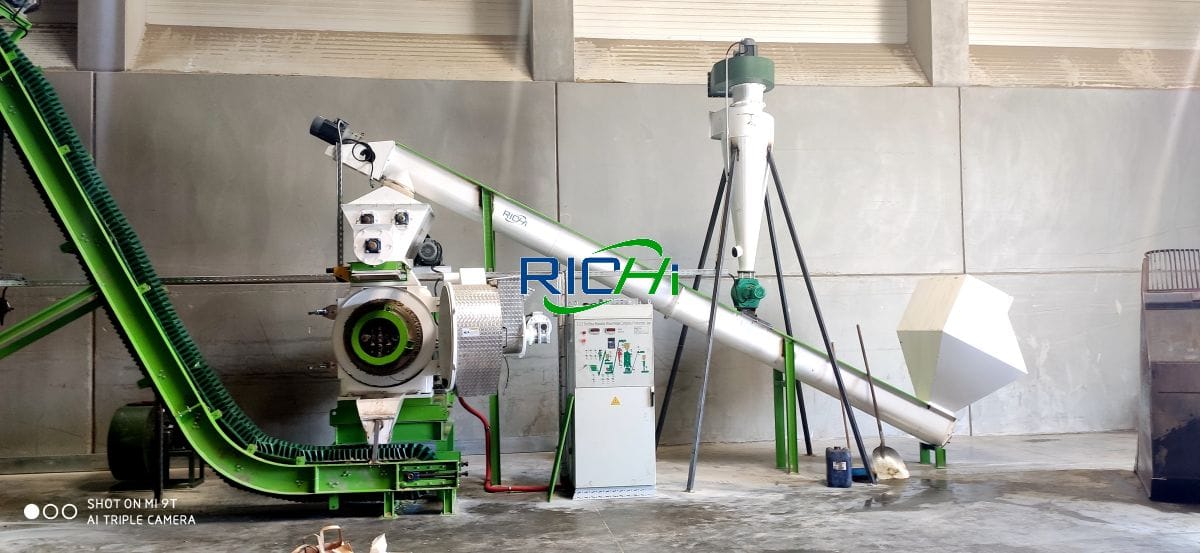 product plan
| Product Name | Specification | Yield |
| --- | --- | --- |
| Biomass pellets | Density 1~1.3t/m³ | 5000 t/a |
Product parameters:
Total moisture: ≤10%
Basic lower calorific value: ≥4000KCal
Air dry base total sulfur: ≤0.05%
Ash content on dry basis: ≤2.5%
Air-dry basis volatile matter: ≥75%
Fixed carbon: ≥10%
Note:
The product quality indicators of this 2t/h biomass pellet manufacturing plant project are formulated with reference to NY/T1878-2010 and relevant requirements of customers;
The quality inspection of this project is entrusted to a third-party authoritative organization.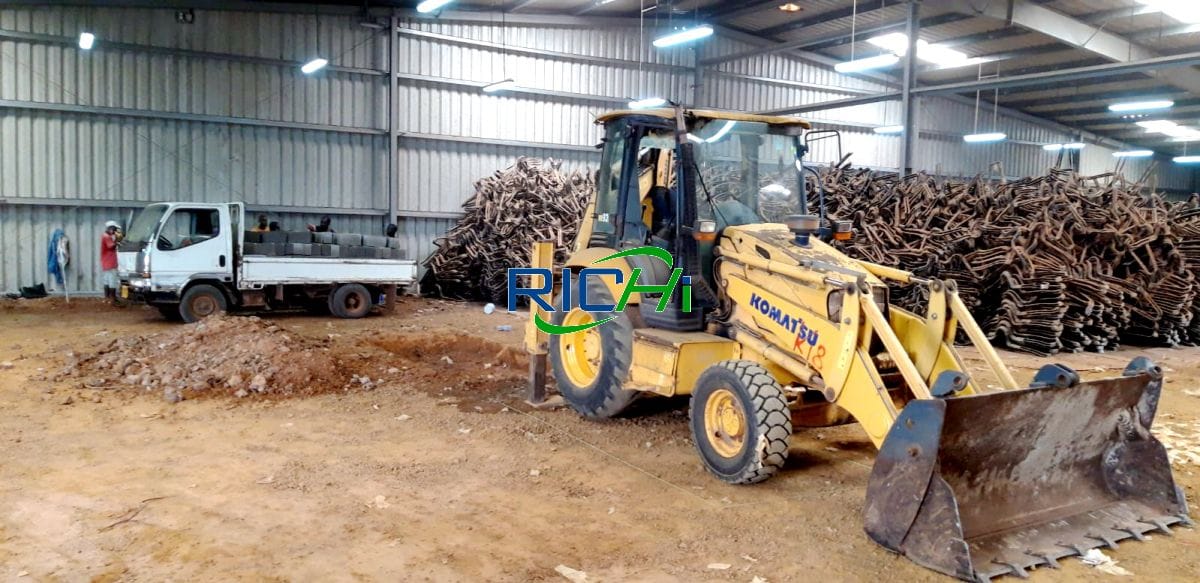 Main raw materials
| Name | QTY | Source |
| --- | --- | --- |
| Walnut shell | 3000t/a | Outsourced from local farmers |
| Sawdust shavings | 3000t/a | Outsourced from local timber mills |
| Electricity | 50000kwh/a | Local Power Grid |
2T/H biomass pellet manufacturing plant design
This project utilizes the existing factory buildings for construction, without civil construction, and can be operated after the purchased equipment is installed and debugged.
This biomass pelletizing plant project uses dry walnut shells, sawdust and shavings and other biomass raw materials to make biomass granules by removing impurities, crushing (raw materials other than sawdust), granulating and cooling, and then packaging and storing them for takeaway. The production scale is 5000t/ a.
(Note: The raw materials used in this project are sun-dried walnut shells and dried sawdust shavings, so no drying is required).
Removal of impurities: manual selection and removal of impurities in raw materials, mainly beverage bottles, cigarette cases, masks, cigarette butts, iron nails, etc.;
Crushing: use a pulverizer to crush raw materials other than sawdust, including walnut shells and shavings, into biomass fines with a particle size of less than 1mm;
Pelleting: The powdery raw materials are conveyed to the biomass pellet molding machine through the closed feeding auger. This project adopts the normal temperature molding process without adding binders. (Related product: biomass pellet mill for sale)
Cooling: Under the friction of normal temperature extrusion, the temperature of the extruded particles is 55–65℃, which is easy to break and must pass through a counter-flow cooling system.

In this 2t/h biomass pellet manufacturing plant project, a fan is installed on the finished product conveyor belt to pass the counter-flow cold air to the material. The surface is cooled, and after cooling to normal temperature, it can be transported to the packaging machine for bagging and storage. The cooling method is air cooling;
Packing and warehousing and sale: the cooled biomass pellets are sent to the packaging machine with the finished product conveyor belt for packaging, and then transported to the finished product warehouse or sold outside.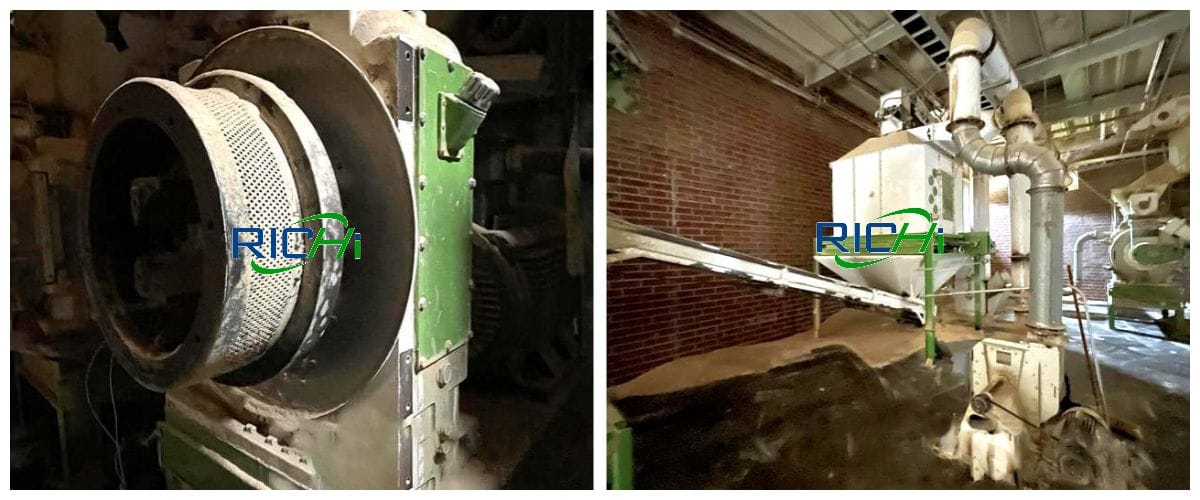 Main biomass pellet production machines
| Name | QTY |
| --- | --- |
| Biomass pellet machine | 2 |
| Feeding auger | 2 |
| Finished Conveyor Belt | 1 |
| Cooling fan | 3 |
| Shredder | 1 |
| Bag filter | 1 |
| Fan | 1 |
| Transport vehicle | 2 |
| Packing machine | 1 |
2T/H biomass pellet manufacturing plant layout
The total land area of the project is 1,200 ㎡, and the total construction area is 1,200 ㎡. A set of biomass pellet production line will be built using the existing workshop in the factory area. The specific layout of the factory area is:
The project is located in the southwest of the factory area as a whole, and the living and office facilities rely on the existing living and office buildings in the factory area (the living and office area is located on the south side of the project, and the toilet is on the northeast side of the project), and this project will not be newly built;
The production area uses an existing factory building with a building area of 1,200 ㎡ for partition layout, with a raw material storage area of 400 ㎡ in the east, a production workshop in the middle of 650 ㎡, and a finished product warehouse in the west of 150 ㎡;
The main entrance and exit are located in the east of the plant, connected to the road in the plant area.
| Workshop Name | Building Area | Structure |
| --- | --- | --- |
| Material storage area | 400㎡ | Single storey, steel-concrete structure |
| Production workshop | 650㎡, equipped with a biomass production line | Single storey, steel-concrete structure |
| Finished product storage area | 150㎡ | Single storey, steel-concrete structure |
| Office | 150㎡ | First floor, steel frame combined with brick-concrete structure |
| Staff canteen | 60㎡ | First floor, steel frame combined with brick-concrete structure |
| Toilet | 10㎡ | Brick and concrete structure |
| Transport road | 100m | Concrete pavement |
Public auxiliary works
Water supply project: Rely on the water supply pipeline that has been connected to the tap water pipeline network of town in the factory area.
Drainage project: The plant area has set up a rain and sewage diversion system. There is no production waste water in this 2t/h biomass pellet manufacturing plant project. Employees use the existing toilets in the plant area. The domestic waste water is treated in the original oil separation sedimentation tank and collected in the collection pool, and then reused in the vegetable field in the plant area. Watering, dust reduction, etc., so there is no discharge of domestic wastewater.
Power supply project: Relying on the original power supply system in the factory area, that is, one S13-250/10KV transformer in the factory area is connected to the local power supply grid.
Transportation conditions: The transportation outside the factory relies on the existing external roads, and the transportation inside the factory relies on the existing roads in the factory, and no new roads will be built.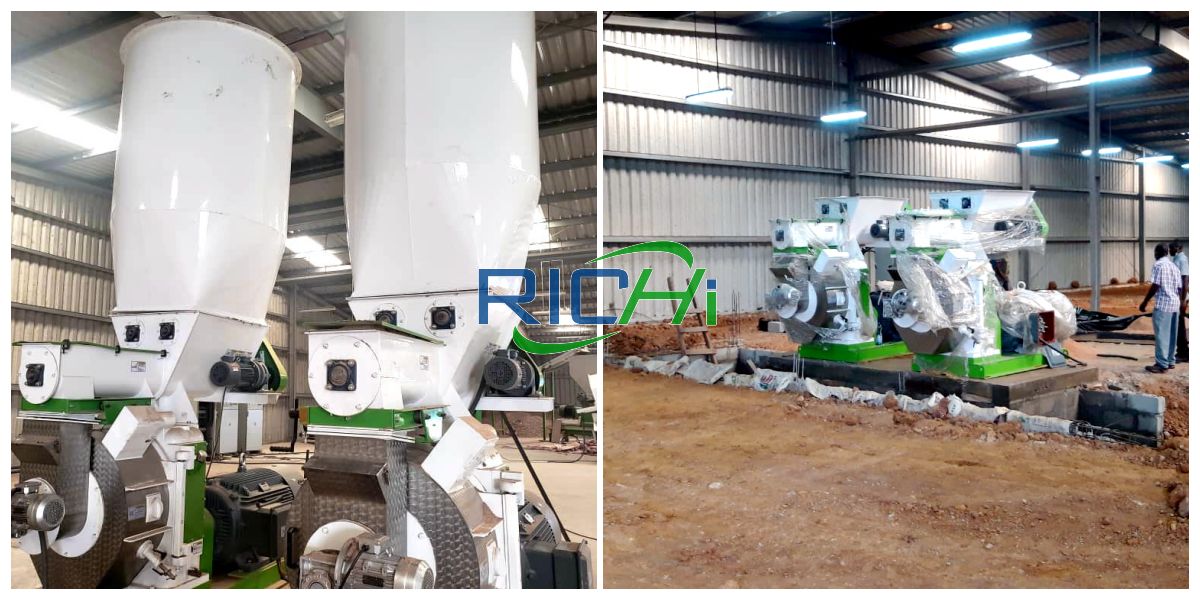 About Cleaning Production of 2T/H Biomass Pellet Manufacturing Plant
Cleaning production covers all aspects of raw materials, production process and products. Today, almost all countries have higher and higher requirements for environmental protection. Clean production is very important to biomass pellet producers.
It is necessary to consider both the use of resources and the generation of pollution. This requires the production process and equipment, resources Analyze energy utilization indicators, products, pollution generation, waste recycling, and environmental management requirements. Based on the characteristics of this project, select the following points for analysis:
(1) Resources and energy
The main energy of this project is electricity, which belongs to clean energy; at the same time, the electrical equipment of the project adopts new energy-saving electromechanical products such as energy-saving transformers and Y-series motors, which reduces power consumption. (Related solution: 1.5-2T/H wood pellet line)
The dust removal waste water of the project is recycled and not discharged, reducing the amount of fresh water; The raw and auxiliary materials used in the production process are not toxic and harmful substances.
(2) Production equipment and process
The production process of the 2t/h biomass pellet manufacturing plant project is the relatively mature RICHI complete set of production process at present, and the selected equipment meets the requirements of industrial policies, and equipment with low energy consumption is selected as much as possible.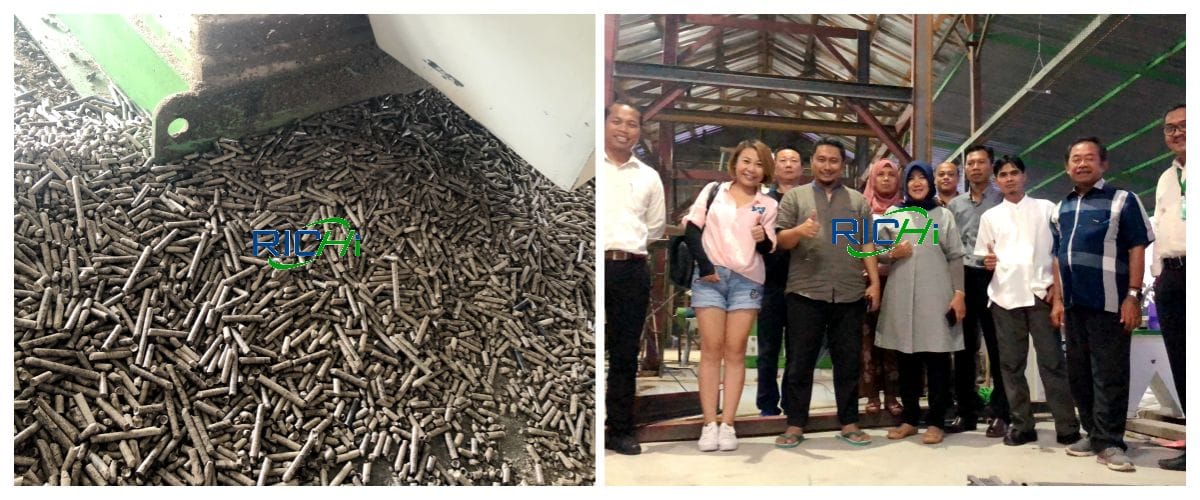 The project equipment is mainly powered by electricity synthesis and biomass fuel, and the amount of waste gas generated is very small. At the same time, the project has adopted corresponding environmental protection measures to reduce environmental pollution.
The process equipment produced by the project has a simple structure and is easy to maintain, all of which meet the requirements of clean production.
(3) Products
The products produced by this project are environmentally friendly biomass particles, which consume less energy and materials, which meet the current demand situation and policy requirements. The quality and service life of the products meet the requirements of clean production.
(4) Occurrence of pollution
The domestic sewage of this project, after pretreatment, will be used for surrounding agricultural fertilizers and will not be discharged outside.
The flue gas of the hot blast stove in this project is discharged at high altitude after dust removal, which has little impact on the surrounding environment. All kinds of unorganized waste gas are dust-reduced through the workshop purifier and workshop airtightness, which strengthens the production management of employees and workshops.
Noise equipment adopts measures such as indoor sound insulation, installation of vibration damping pads, sound insulation covers, mufflers, etc., and strengthened greening is reserved around the factory area.
The solid waste produced by this 2t/h biomass pellet manufacturing plant project is mainly general industrial solid waste, and zero discharge of solid waste can be achieved after proper disposal.
(5) Environmental management system
The project sets up a special environmental management organization, and formulates a sound environmental management system. Environmental management has rules to follow.

The environmental management systems established by the enterprise include: environmental protection management regulations, environmental monitoring management systems, environmental management post responsibility systems, environmental pollution accident management system, accident emergency response plan.
In addition, the client company implements the ISO14001 environmental management system and actively promotes clean production audits.
Our advice to clients
Regarding cleaning production, for the sustainable development of customers' business, we provide customers with the following services and put forward the following suggestions:
(1)Carry out clean production audit work
We recommend that customers carry out clean production audits, so that raw materials, products, water consumption, energy consumption and other factors can be checked, so as to determine the source, quantity and type of pollutants, and then propose corresponding technical measures to truly achieve "energy saving and consumption reduction" , Efficiency".


The implementation of clean production audit can also improve the management level of the enterprise, and ultimately improve the product quality and economic benefits of the enterprise.
(2)Arrange the workshop reasonably
We rationally arrange workshops and warehouses for customers to increase space utilization; at the same time, we recommend that customers stack items in the workshop by category and mark them when necessary to ensure smooth logistics in the workshop without blocking the logistics path and improve work efficiency.
(3)Strengthen management
Strengthening management is the most cost-effective solution among all cleaning production solutions. Therefore, we recommend that customers start with strengthening management, and formulate a cleaning production incentive and responsibility system to continuously carry out cleaning production.
If you want to customize your own 2t/h biomass pellet manufacturing plant, feel free to contact Richi Machinery!
LEAVE YOUR NEEDS
Keeping in touch with us is an effective way to solve all your problems. If you have any needs or questions, please leave your contact information, then RICHI technical consultants will send design, quotation, videos to your mailbox. You can also contact us directly via WhatsApp: +86 13838389622