alfalfa pellet production line Solution
---
The 0.6-100t/h alfalfa pellet production line is a grass pelleting system with alfalfa drying-crushing-ingredient mixing-granulating-cooling-screening-packing as the main process. The application of this pellet production line can process alfalfa into a high value-added feed.
Cost: 30,000-2,500,000 USD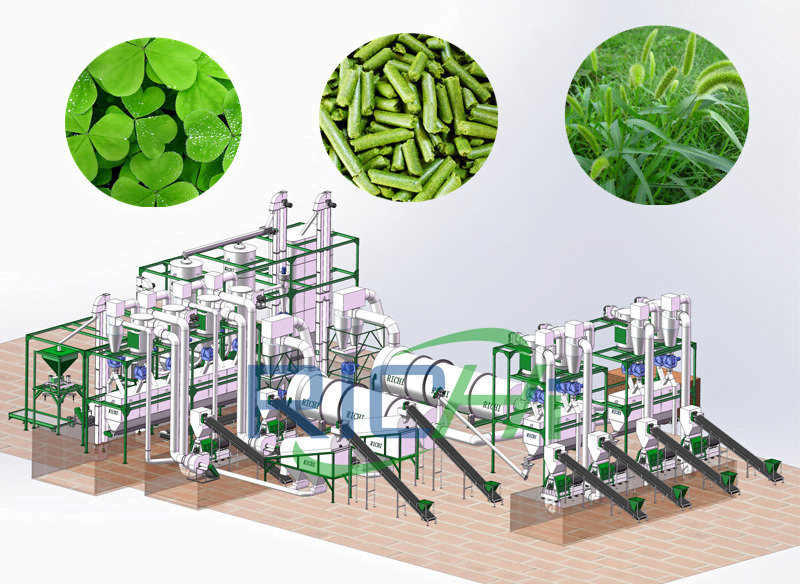 RICHI 0.6-100t/h alfalfa pellet line is a feed pellet processing system developed to improve energy utilization, reduce wear rate, extend maintenance cycle, reduce maintenance time, improve pelleting efficiency and control level.
It has energy saving, high output, high energy utilization rate, excellent product pellets, convenient maintenance and repair, wide application and other characteristics, can meet the needs of the global production of grass feed pellets.
As an excellent pasture, alfalfa not only contains high protein, but also contains a variety of vitamins, and more importantly, it contains the unknown growth-promoting factor UGF.
Therefore, alfalfa has the potential to become a regular ingredient in livestock and poultry batches.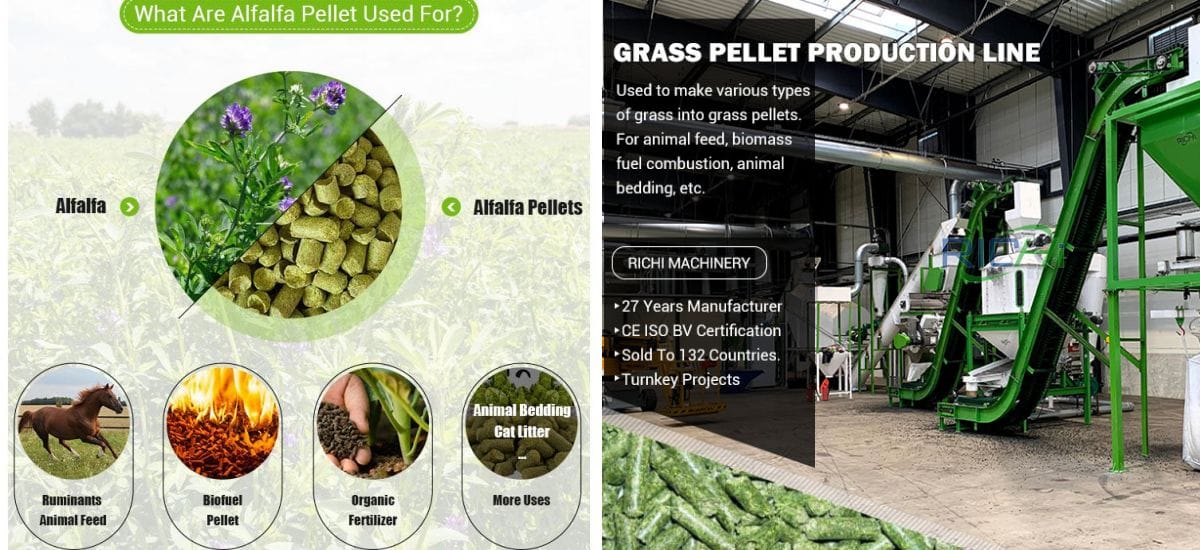 Alfalfa pellet feed is easy to produce and make, and the raw materials are very rich, so it is easy to store and transport to more remote areas, so it has a wide space for promotion and application.
Alfalfa pellet production line types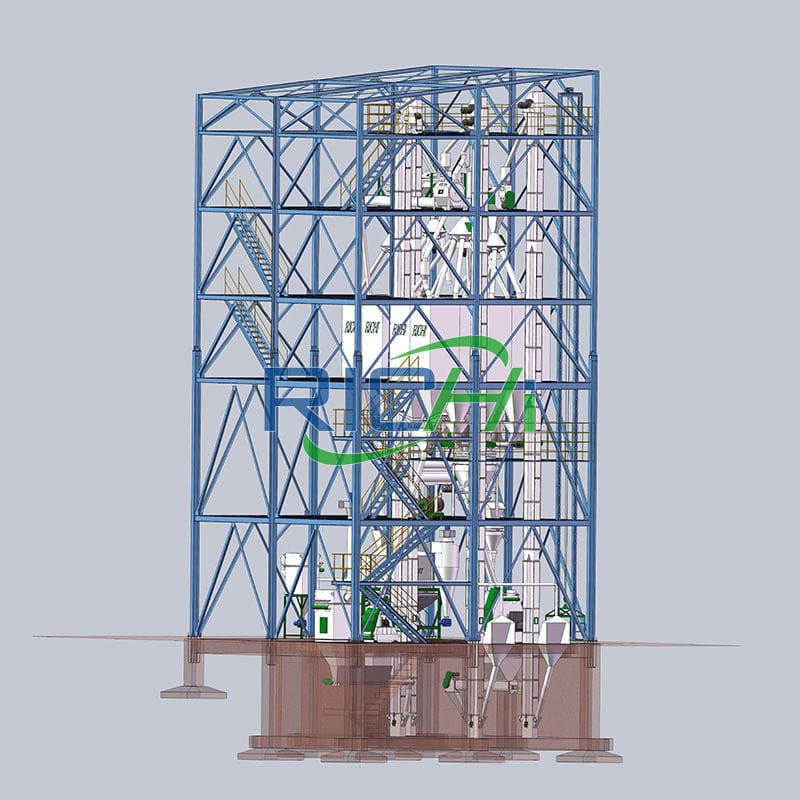 Single alfalfa pellet manufacturing line
Only alfalfa grass is used as raw material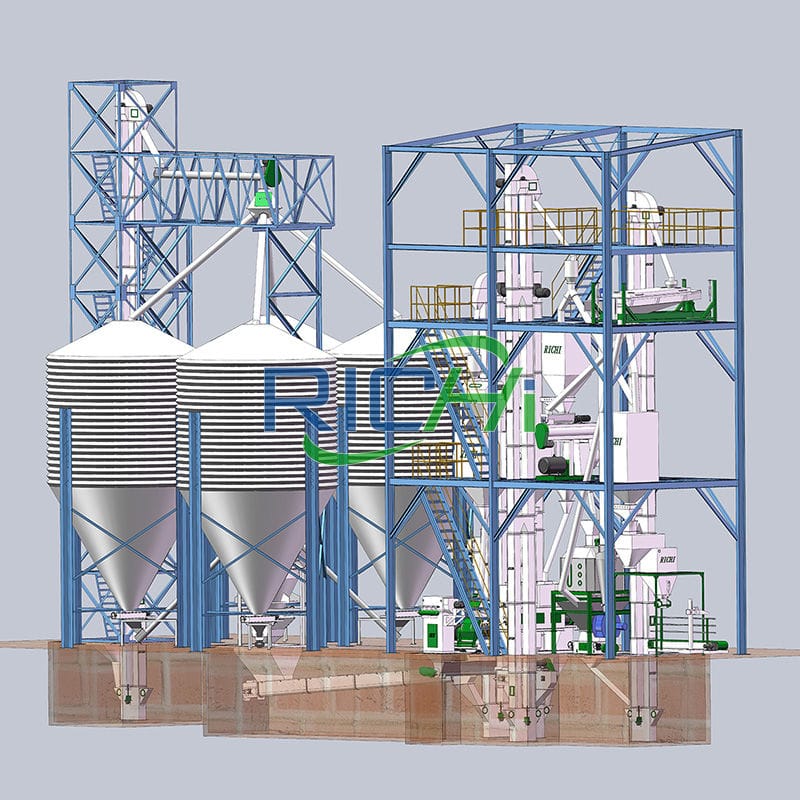 Grass and Grain Pellet Production Lines
Using alfalfa and grain as raw material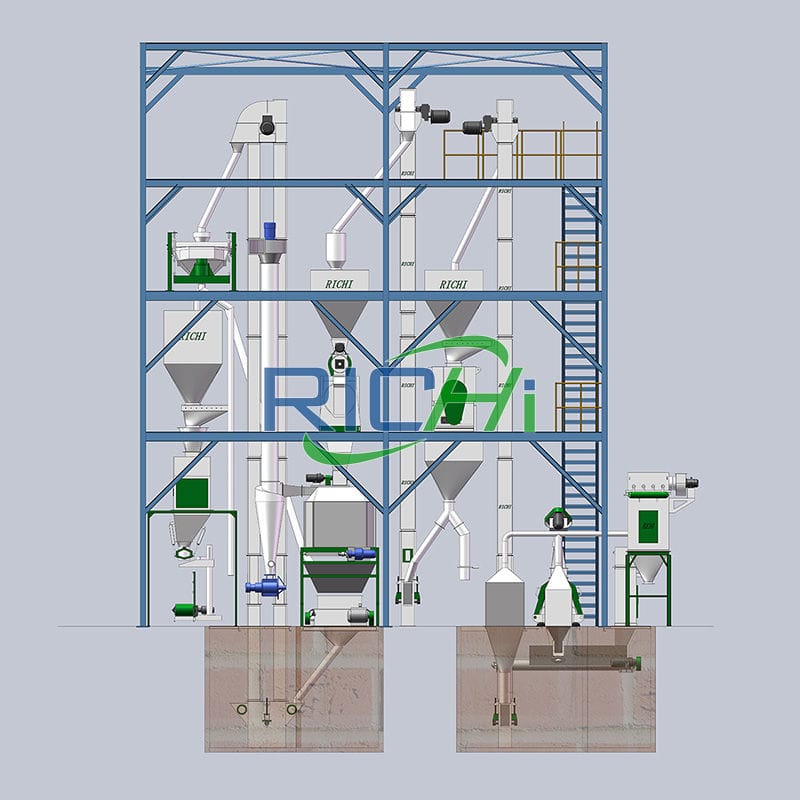 Mixed Grass Pellet Production Line
Using alfalfa and other pastures as raw materials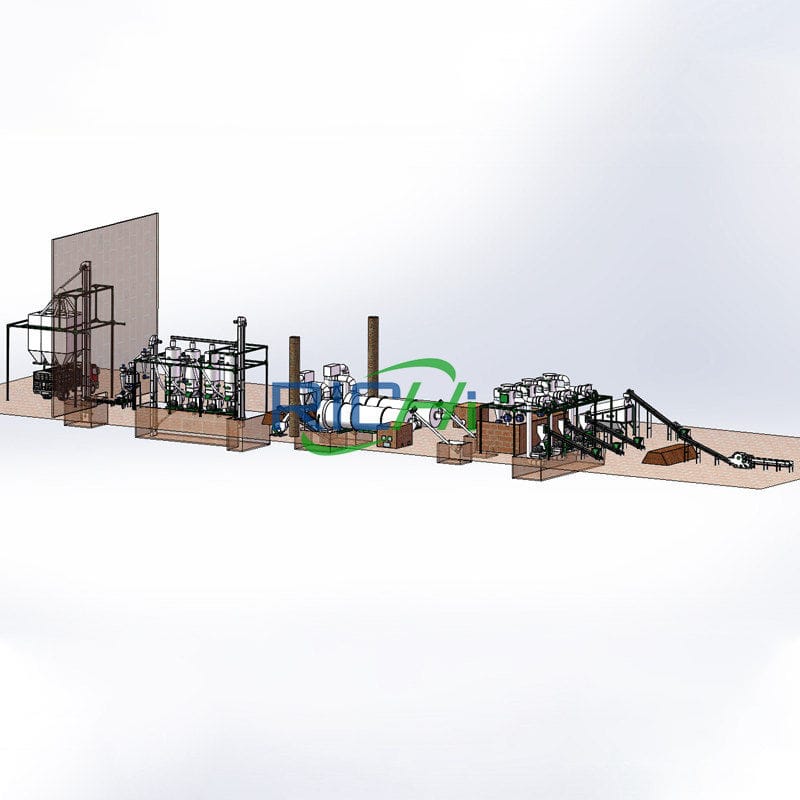 Waste Grass Pellet Fuel Production Lines
Utilize waste grass as energy source. Please refer to our biomass pellet solutions
Featured Alfalfa pellet production line solution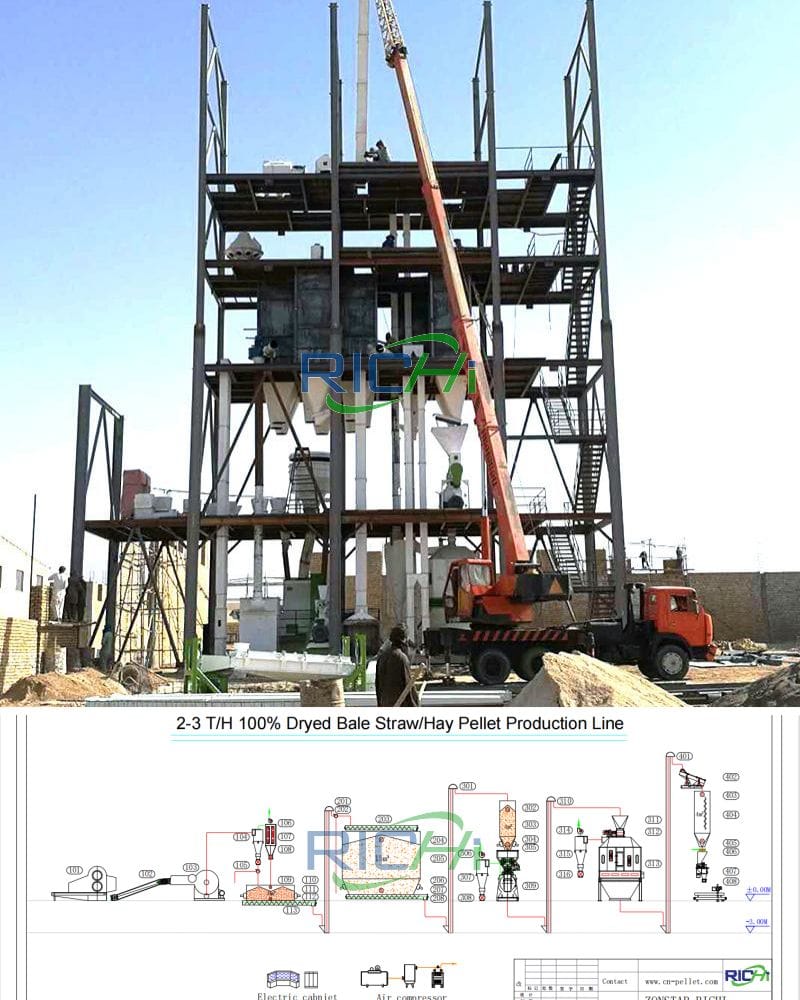 2-3 T/H 100% Dryed Bale alfalfa Pellet processing Line
—— RICHI MACHINERY ——
Application: for cattle feed, goat feed, rabbit feed, horse feed
Cost:80000-180000USD
Process design
Crushing system (Bale breaking machine for the processing of pre-treatment stage of the alfalfa, to break a bundle of alfalfa, make it easier for the following crushing section.)
Drying system
Mixing system
Pelletizing and cooling system
Packing system
MCC Control Center ;Mimic Control Panel
Main Equipment
| | | |
| --- | --- | --- |
| Bale breaker | MPKJ170*225 | 1 |
| Alfalfa crusher | 9FQ50-100 | 1 |
| Grass mixer machine | SLHJ1A | 1 |
| Grass pelletizer | SZLH420 | 1 |
| Cooling machine | SKLN11*11 | 1 |
| Vibrating screener | TDZS80 | 1 |
| Automatic Bagging Machine | DCS-50 | 1 |
| Belt and sewing machine | / | 1 |
Auxiliary equipment
Belt conveyor*TDSJ100*600, Cyclone*ф1000, Pneumatic three-way*YSTZ22A, U-Screw conveyor*TLSSU30, Bucket elevator*TDTG40/23, etc.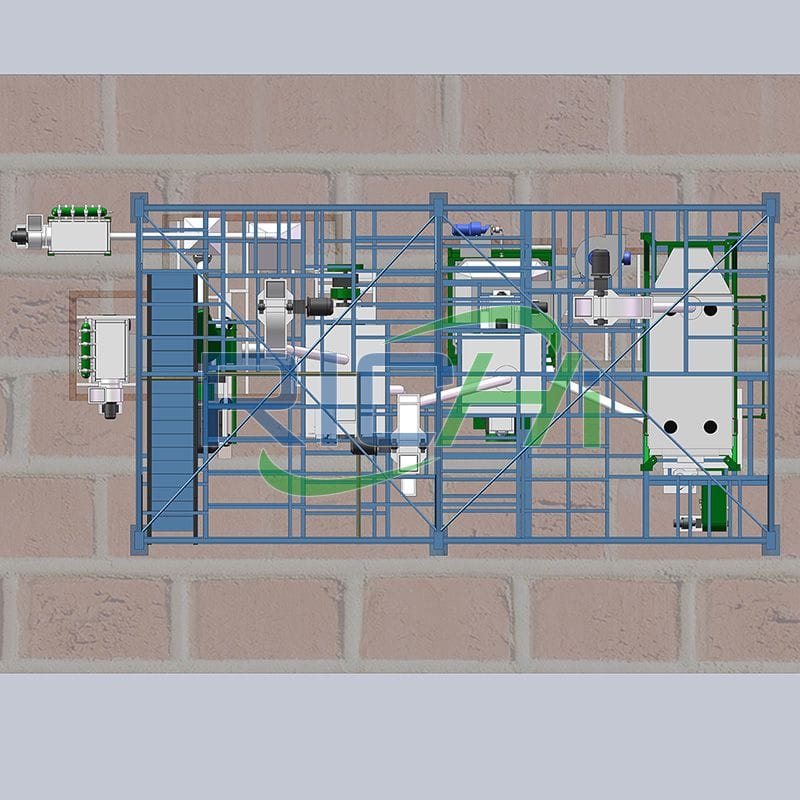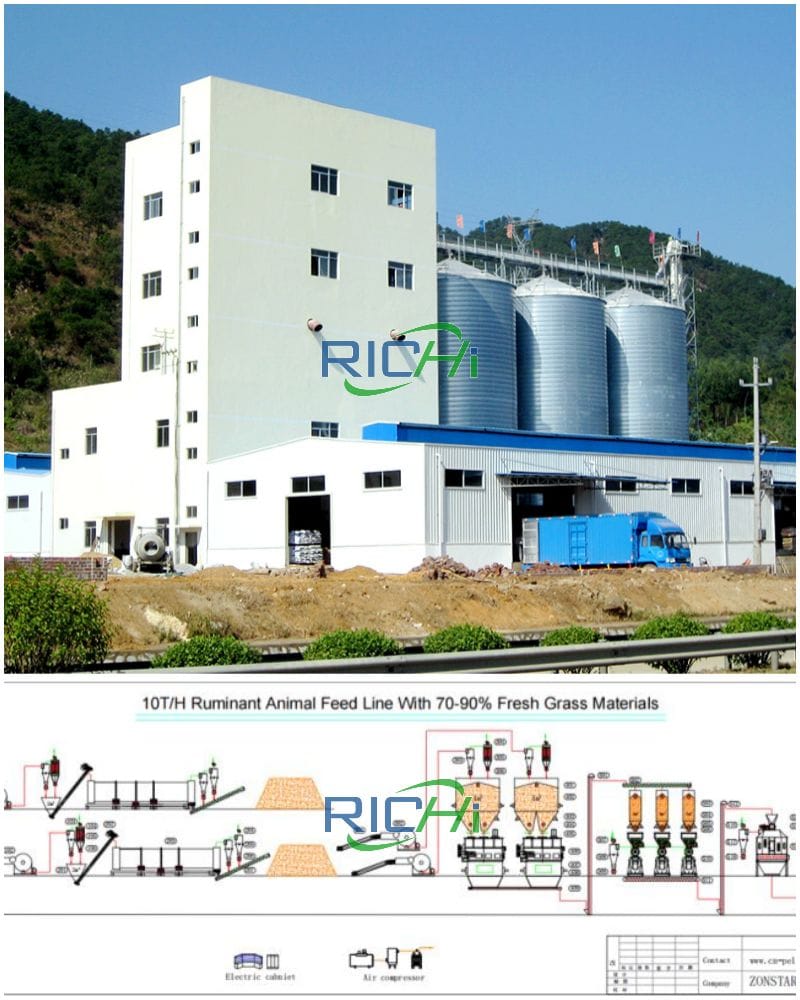 10T/H alfalfa pellet production Line With 70-90% Fresh Grass Materials
—— RICHI MACHINERY ——
Application: for ruminant cattle feed, goat feed
Cost:400,000-700,000USD
Process design
First crushing system
Drying system
Second crushing system
Mixing system
Pelletizing and cooling system
Packing system
MCC Control Center ;Mimic Control Panel
Main Equipment
| | | |
| --- | --- | --- |
| Straw/Grass crusher | 9FQ50-120 | 4 |
| Drum dryer | ф2400*100000*3 Layer | 2 |
| Single shaft double ribbon mixer | SLHY5.0L | 2 |
| Alfalfa Pellet machine | SZLH.508 | 3 |
| Stainless steel conditioner | TZ42*300 | 3 |
| Cooling Machine | SKLN20*20 | 1 |
| Rotary screener | SFJH125*2C | 1 |
| Packing machine | DCS-50 | 1 |
Auxiliary equipment
Belt conveyor*TDSJ120*600, Cyclone*ф800*2, Pulse dust collector*TBLMa.36b, Storage bin*2m³, Cyclone*SK1000, Buffer bin*4m³/bin, Scraper conveyor*TGSU32, U-screw conveyor*TLSSU35, Bucket elevator*TDTG36/28, etc.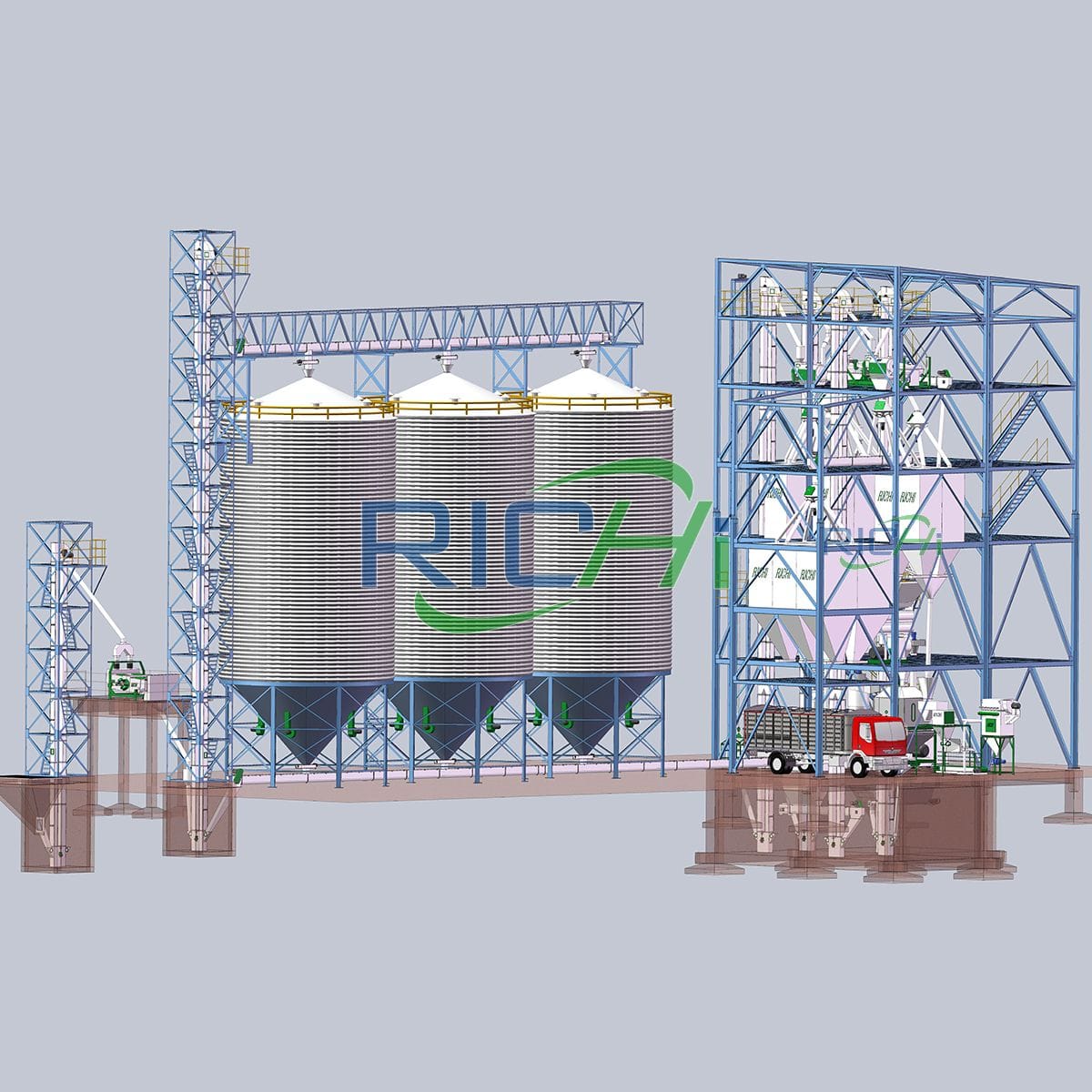 Alfalfa pellet production line projects
With rich practical experience, we have reached cooperation with more than 10,000 customers in more than 100 countries and regions. At present, our alfalfa animal feed mill plant has been exported to New Zealand, Russia, Argentina, the United States, Uzbekistan, South Africa, Kazakhstan, Mexico and other countries .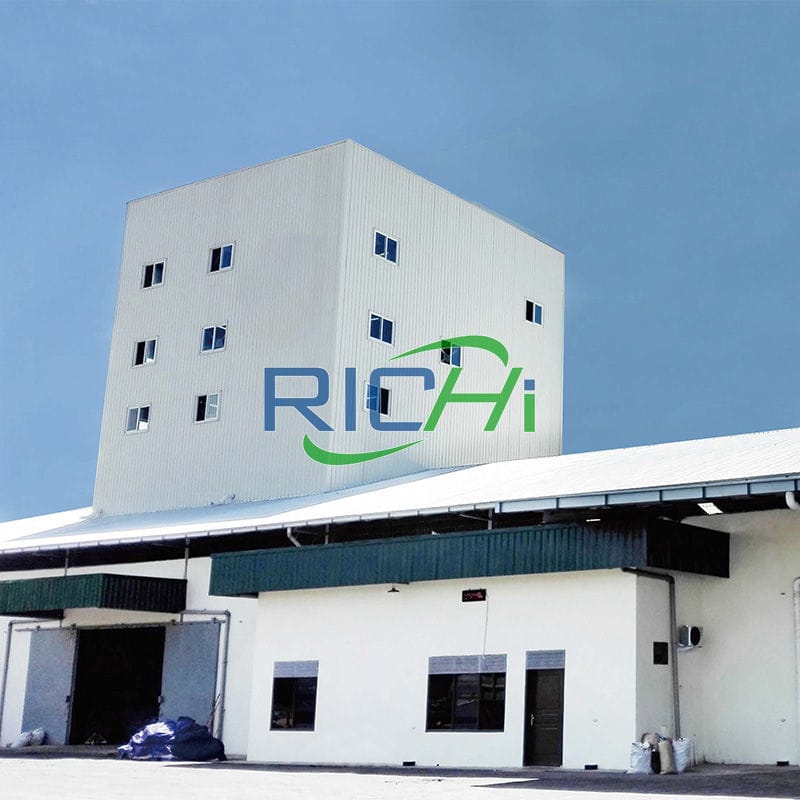 5T/H Alfalfa pellets making line
This customer is from Argentina, and this alfalfa pellet production line is specially used to process cattle feed. This project uses 100% alfalfa grass as raw material. According to the customer's raw materials and formula, our customized process is: bale breaking——crushing—grease adding—pelleting—cooling—screening—bagging. This project was completed in November 2021. Currently, The project has been completed and put into operation.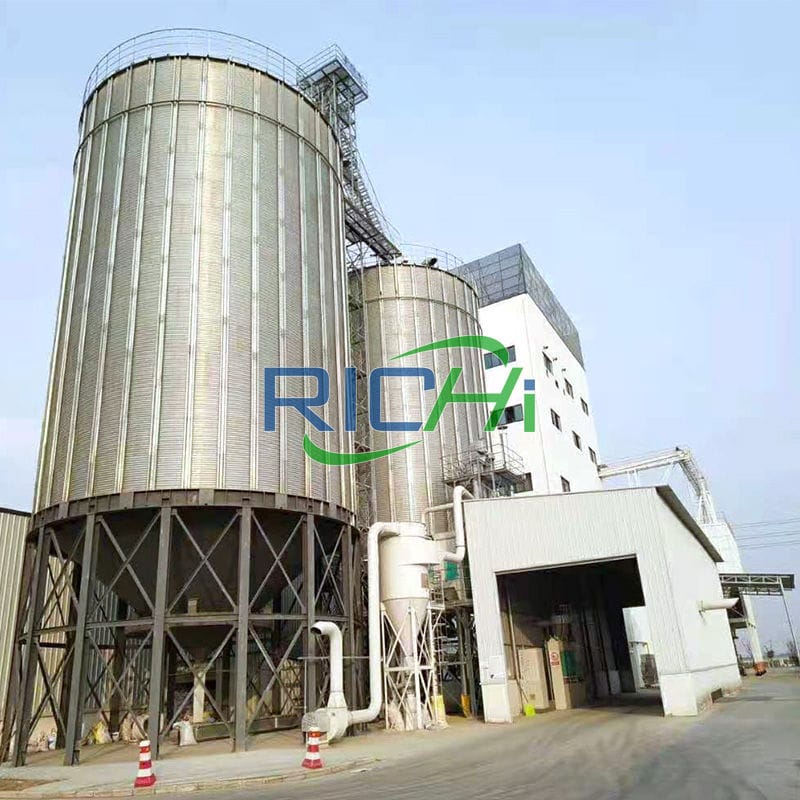 2-10 T/H Alfalfa pellets processing line
This customer mainly uses alfalfa hay, timothy grass, and other grains as raw materials. Since the customer has more than one formula, so the capacity of this alfalfa pellet production line will vary greatly according to different formulas. When the pure grass formula is used, the yield is lower; when the formula with a higher proportion of grain is used, the yield is higher. Our customized process is: crushing—mixing—pelleting—cooling—screening—bagging.
More Related Grass Pellet Production Line Projects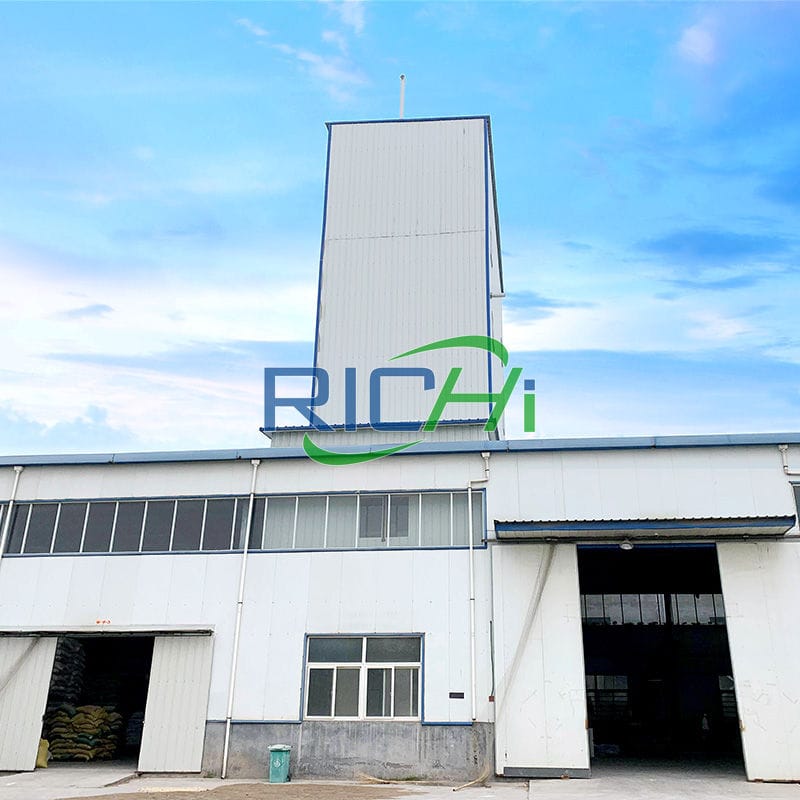 3-4 T/H elephant grass & alfalfa feed production line in Hong Kong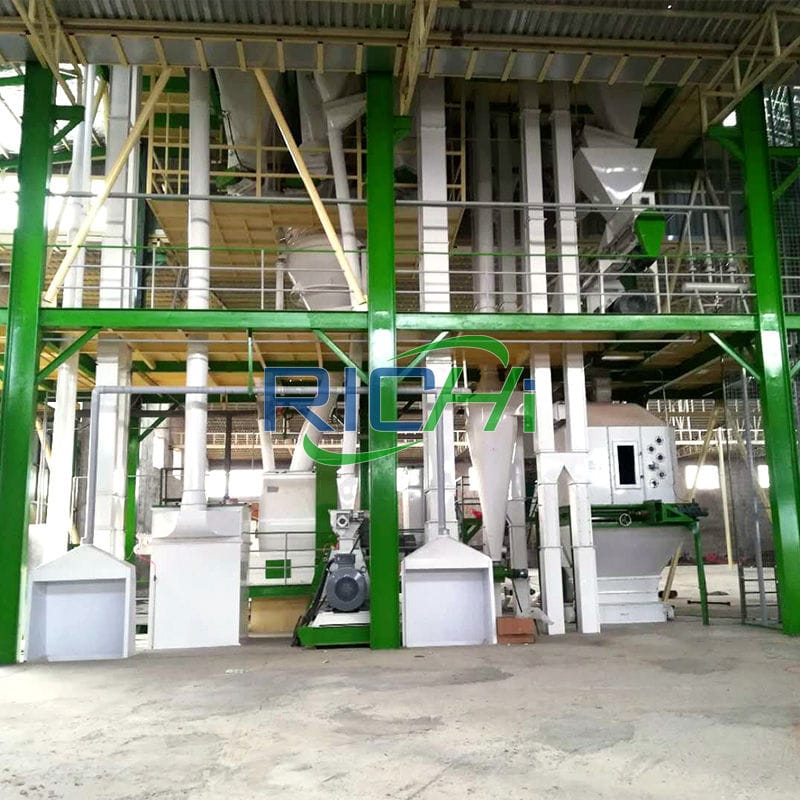 12T/H Alfalfa & Hemp pellet Production Line in USA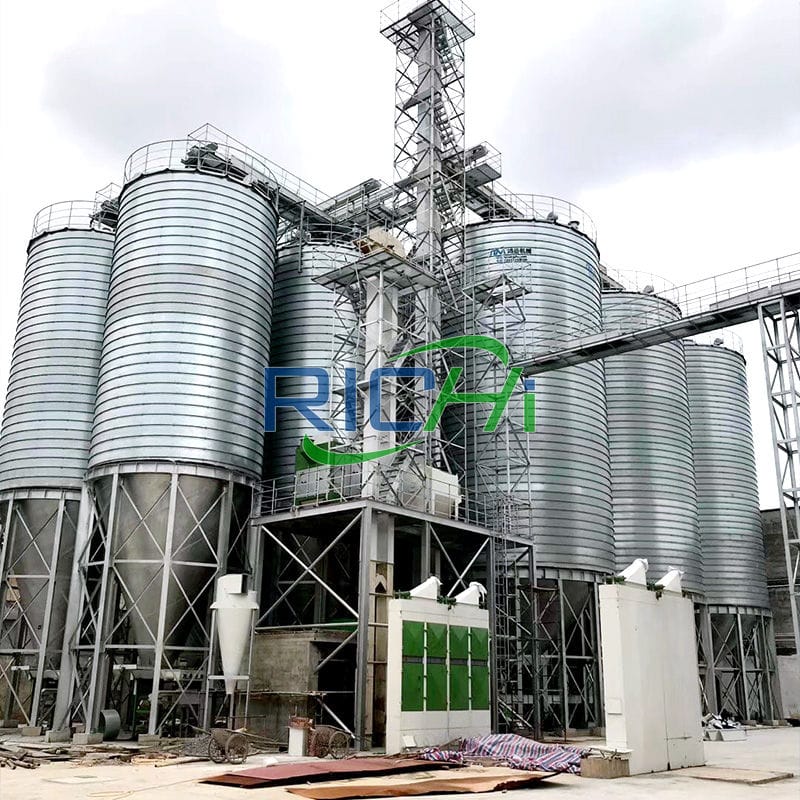 10 T/H Alfalfa Feed Line in Saudi Arabia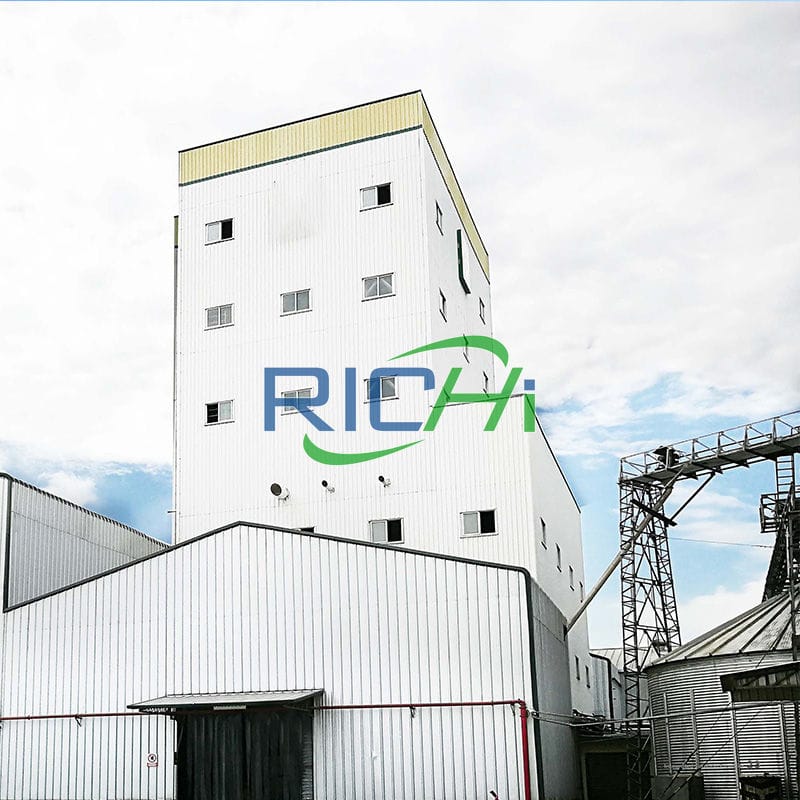 4T/H alfalfa grain feed Line in UAE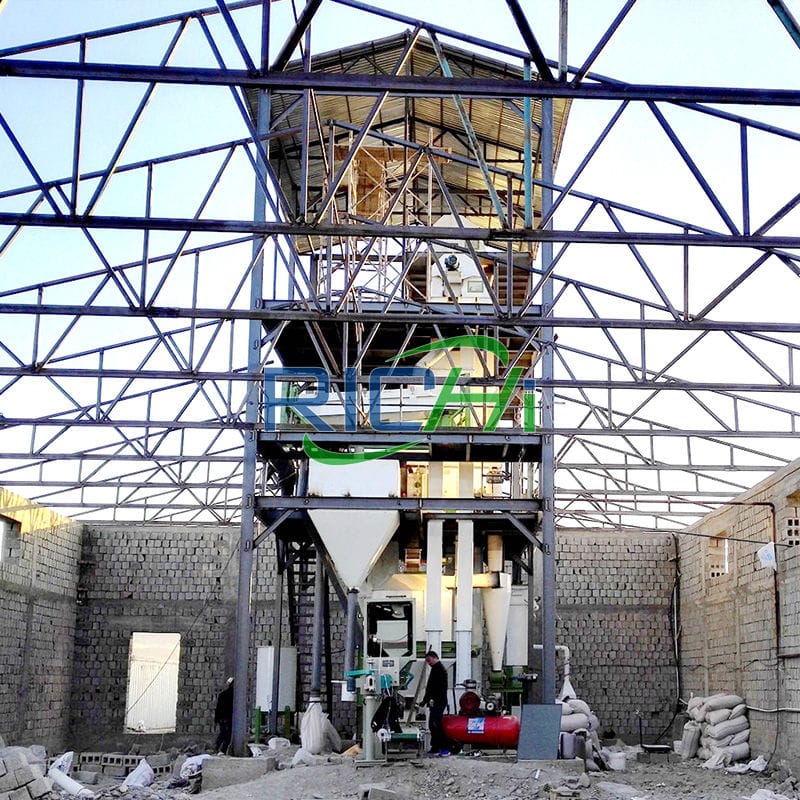 1-2T/H grass (50%-80%) animal feed line in Uzbekistan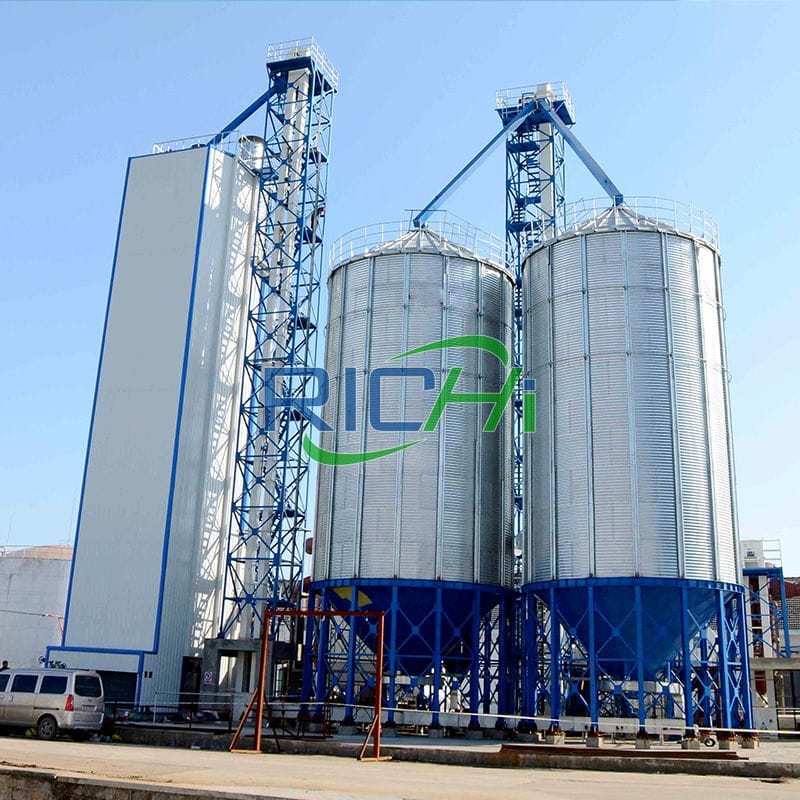 4-8 tons alfalfa Grass Feed Line in Kazakhstan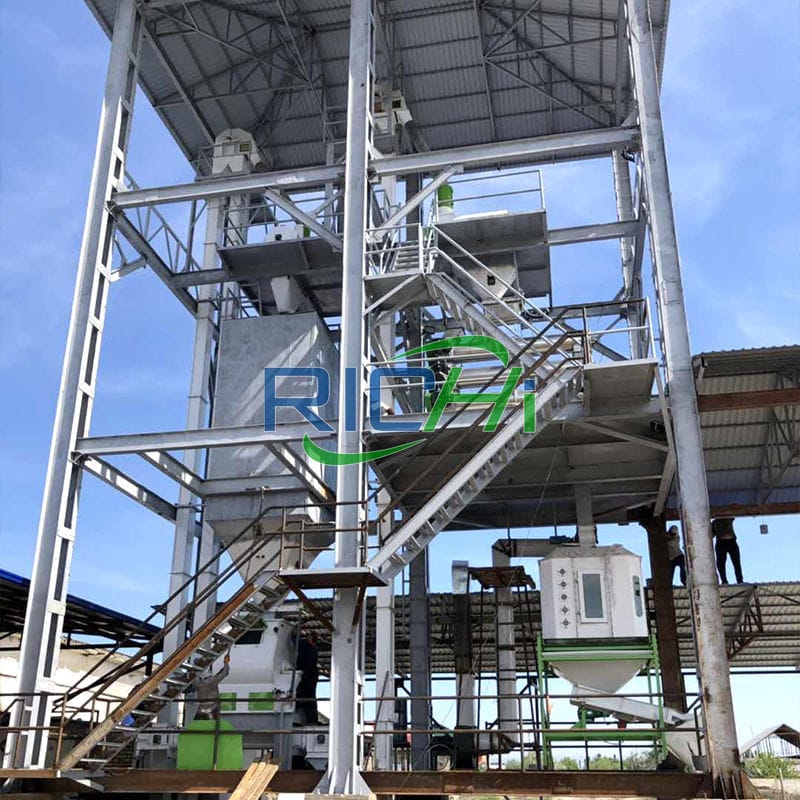 4T/H Alfalfa & straw Hay Feed Line in South Africa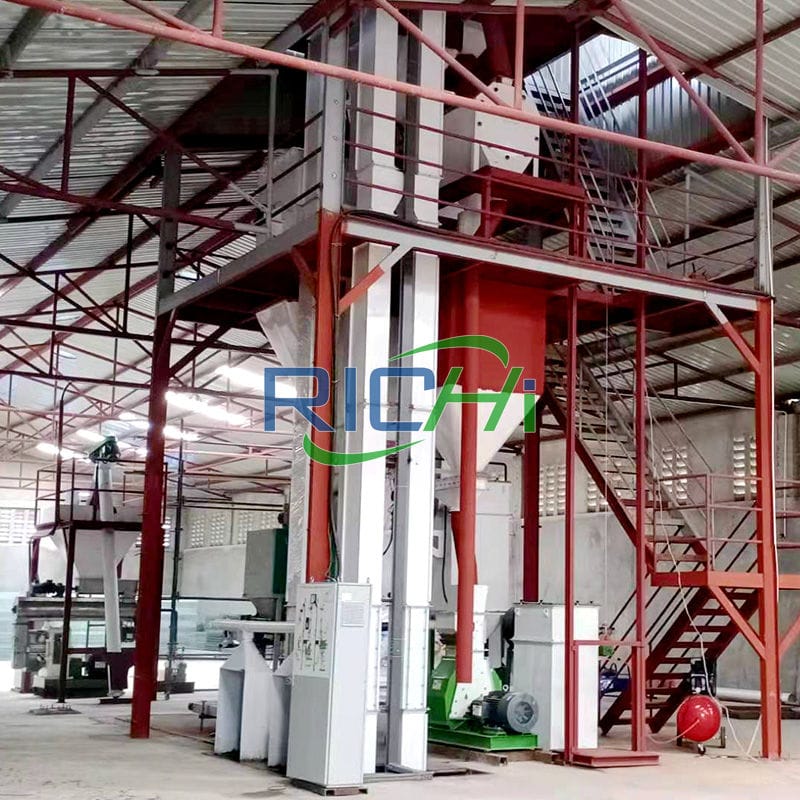 2T/H alfalfa hay grass lines in Mexico
Being highly recognized by customers is not only a reflection of the excellent quality of RICHI's products, but also a full demonstration of RICHI's profound heritage and market reputation. If you are also interested in our forage pellet production line, please feel free to contact us!
How to make alfalfa pellets?
The grass pellet processing equipment needed in alfalfa pellet production line is mainly alfalfa pellet machine.
In small-scale production, only a single alfalfa pelletizer is usually used for granulation.
In large-scale and commercial grass pellet production, a unit consisting of a pellet machine and various supporting equipment is more used, that is, the alfalfa pellet feed line.
The alfalfa pellet diameter ranges from 1mm to 16mm. Generally, the bulk density of alfalfa pellets is 550kg/m³~600kg/m³.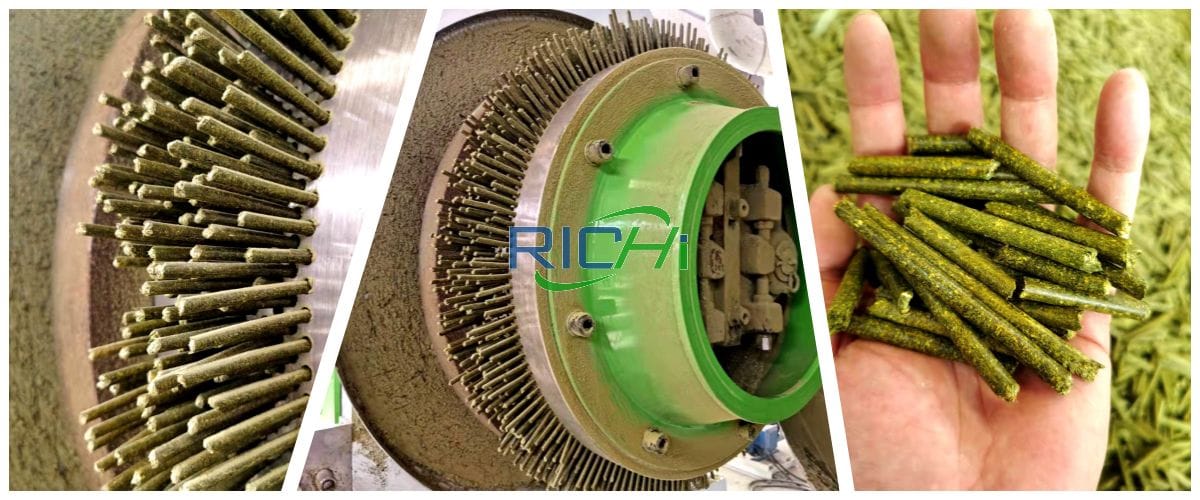 Process design of alfalfa pellet production line
Alfalfa grass pellet line usually includes raw material harvesting, chopping, transportation, drying, crushing, pelletizing, cooling, screening to finished product packaging and storage.
Most customers' alfalfa pellet making lines start from the baling and crushing section, because the alfalfa purchased by customers is usually in bales. And some customers directly purchase grass powder, and even some customers' raw materials are wet fresh Grass. Therefore, the pre-processing sections of different customers are different.
In order to meet the technological needs of most customers, we will introduce a more complete processing technology of alfalfa pellet production line to customers starting from the drying section of alfalfa. If your raw material is hay powder or hay, you can ignore the previous steps.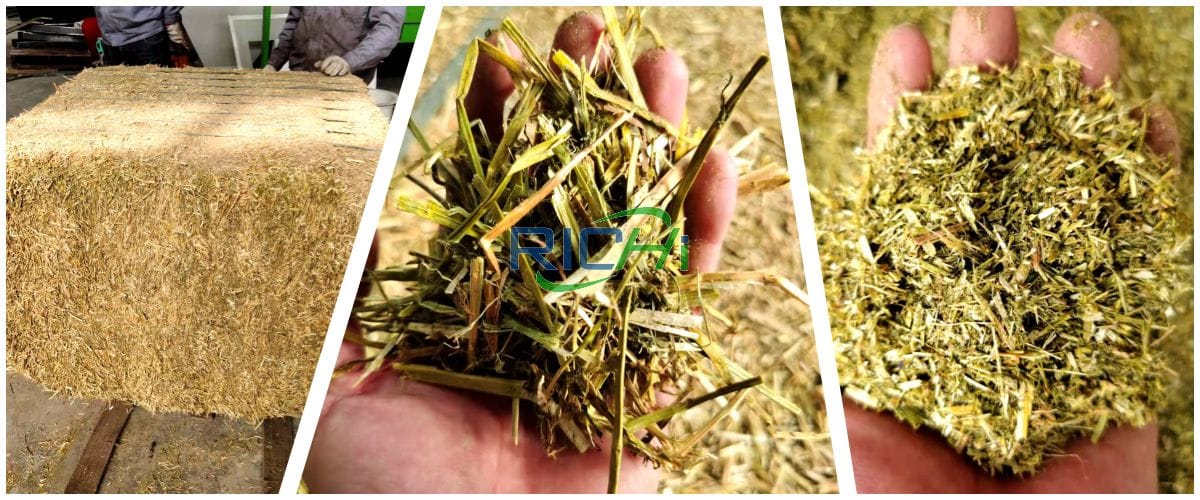 01

Drying of alfalfa grass

Drying methods include natural drying, artificial drying and mixed drying.
Natural drying: Harvest in sunny weather. After harvesting, spread it evenly on the spot for a day, turn it over and ventilate it once or twice, and transport it to the forage field to continue drying after losing a lot of water. The bulk grass is loosely stacked, and it can be turned over at any time when the leaves are not easy to break. When most of the leaves fall off and the stems are easy to break, it can be done when there is a crisp breaking sound.
Artificial drying: use drying equipment to dry in a short time, so as to preserve the nutrients in alfalfa to the maximum extent. Artificial drying is mostly used to produce high-standard and high-quality grass pellets, but the energy consumption is high.
Mixed drying: In order to save energy, when the weather conditions permit, the harvested alfalfa is first dried in the field until the moisture content is low (generally 40% to 50%). And then transported back to the drying equipment for further drying . The moisture content of dried alfalfa should be less than 14%, so as to meet the requirements of alfalfa pellet production line.
02 Storage of green alfalfa
Green alfalfa should be stored when it is not processed into grass powder in time. The storage is divided into open-air stacking and straw shed storage.
Open-air stacking: Choose a place with flat and dry terrain, good drainage, leeward and easy access, and stack them in rectangular or circular haystacks, covering them with plastic sheets to prevent rain and sun.
Bay shed storage: build a simple hay shed to reduce the nutrient loss of the green hay. When storing the shed, keep a certain distance between the roof of the shed and the hay to facilitate ventilation.

03 Crushing (grass powder production)
Raw material selection: Select the green or yellow green, grass-like, and high-quality green hay as the raw material for alfalfa powder processing, so as to prevent moldy and deteriorated hay from entering the processing procedure.
Alfalfa powder processing: choose 2mm mesh alfalfa feed grinder for processing. Please refer to the instructions of each pulverizer for specific operation.
Alfalfa powder storage: After the grass powder is processed, it is divided into quantitative packages, transported and stacked in a dry place for later use.
04 Formula design
Prepare alfalfa powder, flax cake, energy protein mixture, calcium hydrogen phosphate, artificial salt, compound additives for livestock and poultry, etc. According to the nutritional requirements of various livestock and poultry, prepare grass granules with different nutritional components. (For more details, find us on Facebook)
05 Mixing of raw materials
According to the design requirements of the alfalfa pellet formula, various ingredients are pre-mixed with a small amount of grass powder according to the unit output ratio.
And then all the grass powder is added to mix well and enter the next processing procedure of alfalfa pellet production line. Raw materials are accurately weighed before mixing, and small quantities of ingredients must be pre-mixed.

06 Alfalfa granulation
The pressing of alfalfa granules generally adopts the pellet feed molding process. Alfalfa powder has small bulk density and poor fluidity, so the die thickness and die aperture of the alfalfa pelletizer machine should be properly selected.
The uniformly mixed raw materials enter the alfalfa pellets machine for extrusion molding, and the broken parts are returned to the cage for further processing, and the alfalfa pellets enter the heat dissipation and cooling device.
The moisture content of cooled alfalfa pellets shall not exceed 13%. Due to the very low moisture content, it is suitable for long-term storage without mildew and deterioration.
07 Cooling of alfalfa pellets
After alfalfa pellets enter the cooling device for heat dissipation and cooling, they are sent to the finished product outlet.
08 Packing and storage
The finished product of alfalfa pellets is packaged quantitatively for export, sealed and sent to the warehouse for storage.

Note:
In alfalfa pellet production line, alfalfa pellets products should be packed in impermeable plastic woven bags, and the weight deviation should not exceed 0.5% of the net weight.
Alfalfa pellets products should be protected from rain, moisture, fire and pollution during transportation.
When alfalfa pellets products are stored, they should not be placed directly on the ground. It is better to put a wooden shelf underneath. They are required to be stacked neatly, and ventilation channels should be reserved at intervals of 3m.
Alfalfa pellets products should not be stacked too high, and the distance from the roof of the shed should not be less than 50cm. There must be rainproof facilities for outdoor storage, and the rainproof cloth should be uncovered to dry in sunny weather.
The volume density of general grass alfalfa pellets is 2 to 2.5 times that of loose grass powder. Compressed pellets can reduce the contact area with the air, thereby reducing oxidation and reducing nutrient loss. And in the process of granulation, antioxidants can also be added to prevent the loss of carotene and other nutrients.
In the process of alfalfa pellets processing, if appropriate amount of feed with high energy value such as corn, oilseed cake, etc. and other feed additives are added, it can become a complete compound feed.

The process of alfalfa pellet production line is various. In the process of designing the production line, it should be based on the reality of local planting and animal husbandry production.
According to the advantages and disadvantages of different harvesting and processing methods and the convenience of transportation, storage and transformation of livestock products, comprehensive and reasonable processing and application can make the yield and quality advantages of alfalfa fully play.
Equipment to start alfalfa pellet production line
The moisture and size of raw materials are the key factors affecting the quality of alfalfa pellets. Therefore, in addition to the alfalfa pellet machine, you also need other equipment to form the alfalfa pelletizing line.
Such as: alfalfa dryer (control the moisture of raw materials), alfalfa crusher (control the size of raw materials), pellet cooler (control the hardness of pellets), sieve (control the quality of granules) and packaging machines.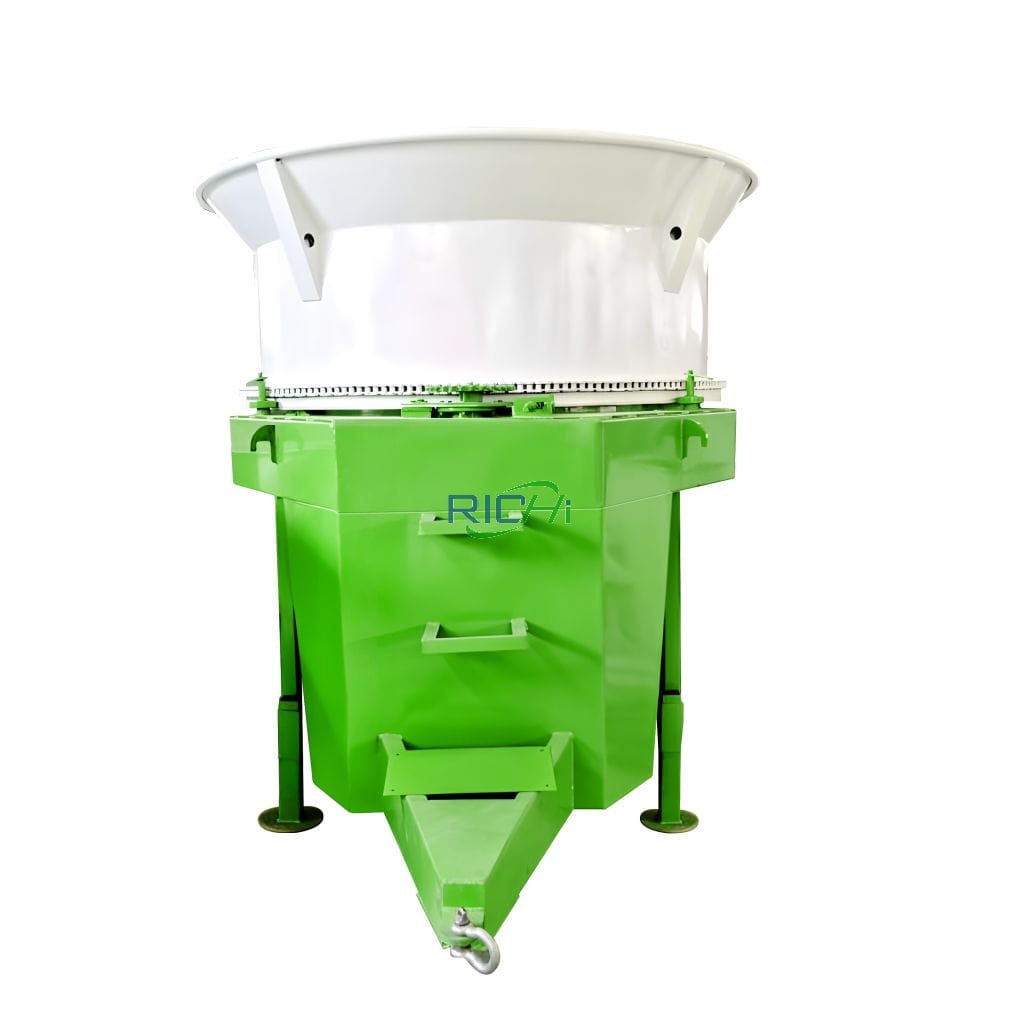 Bale breaker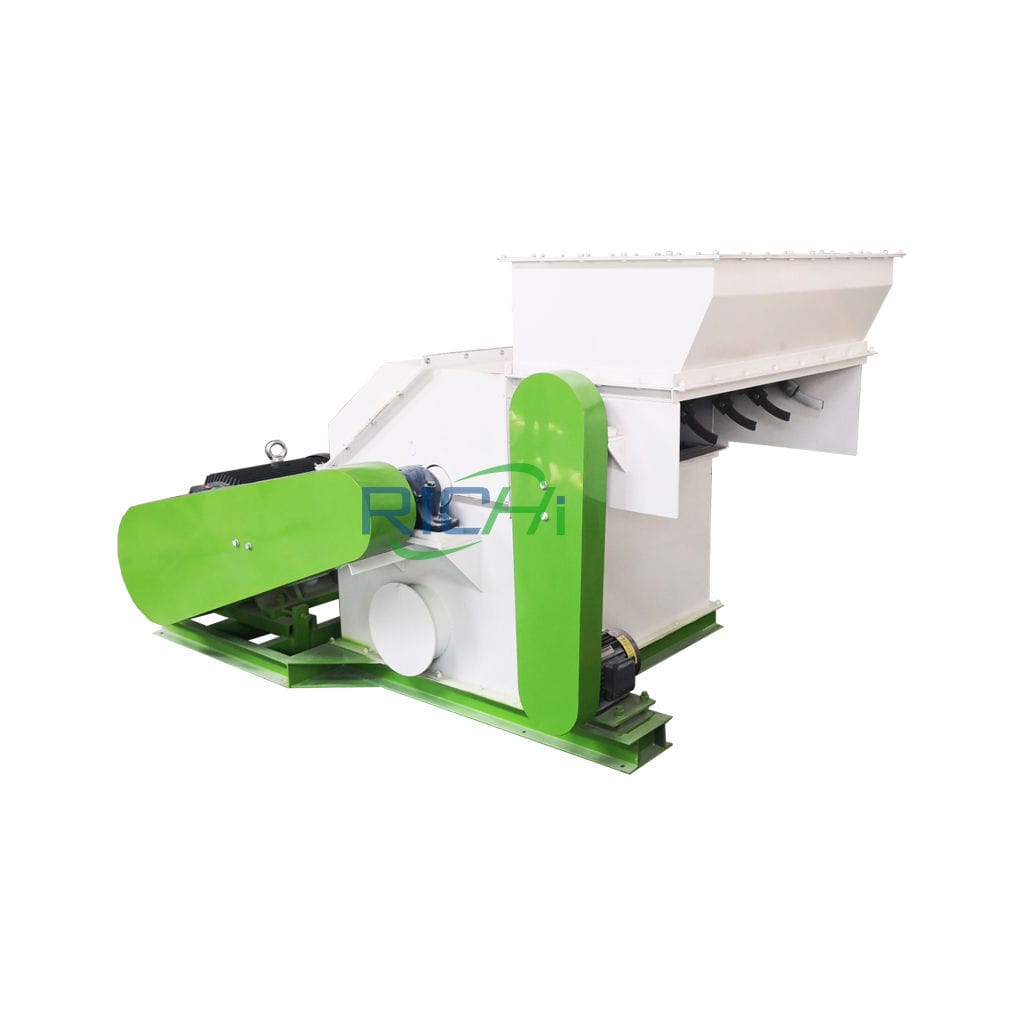 alfalfa Crusher Machine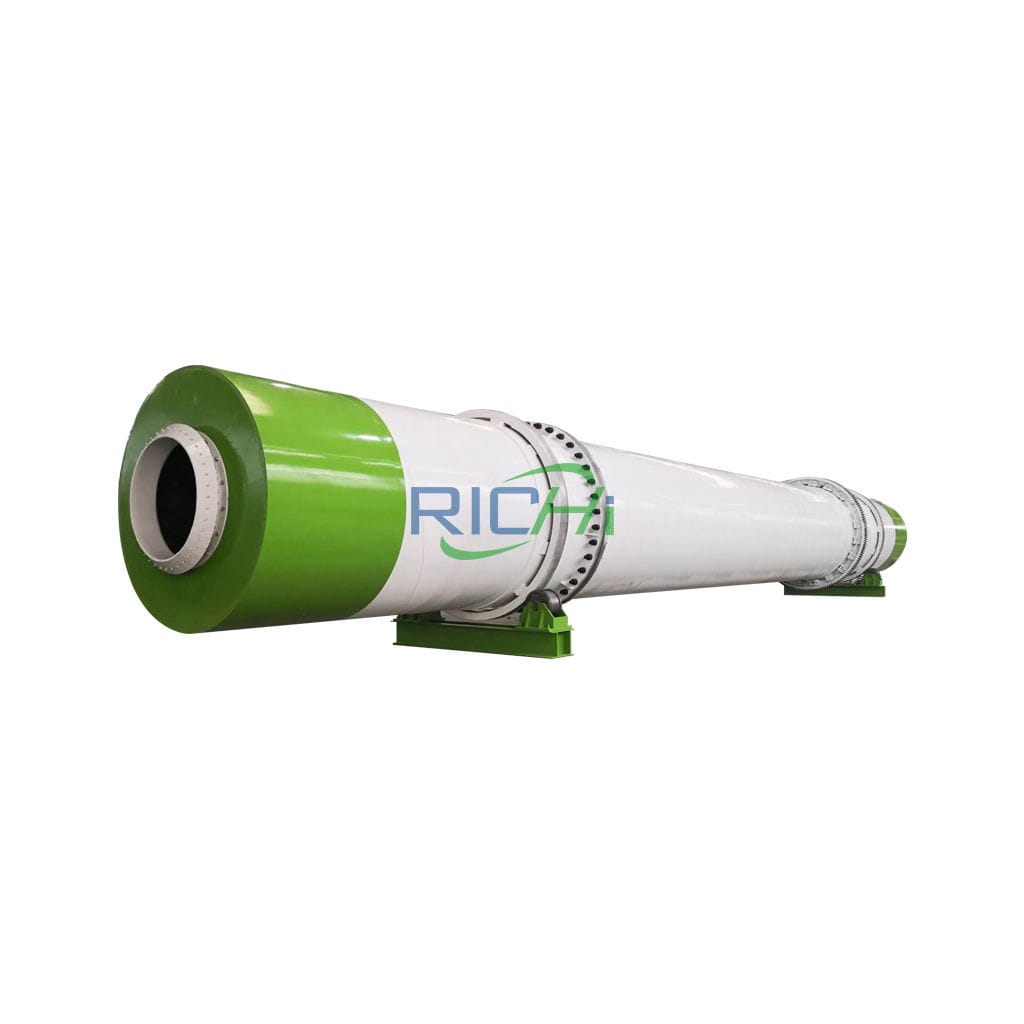 alfalfa Dryer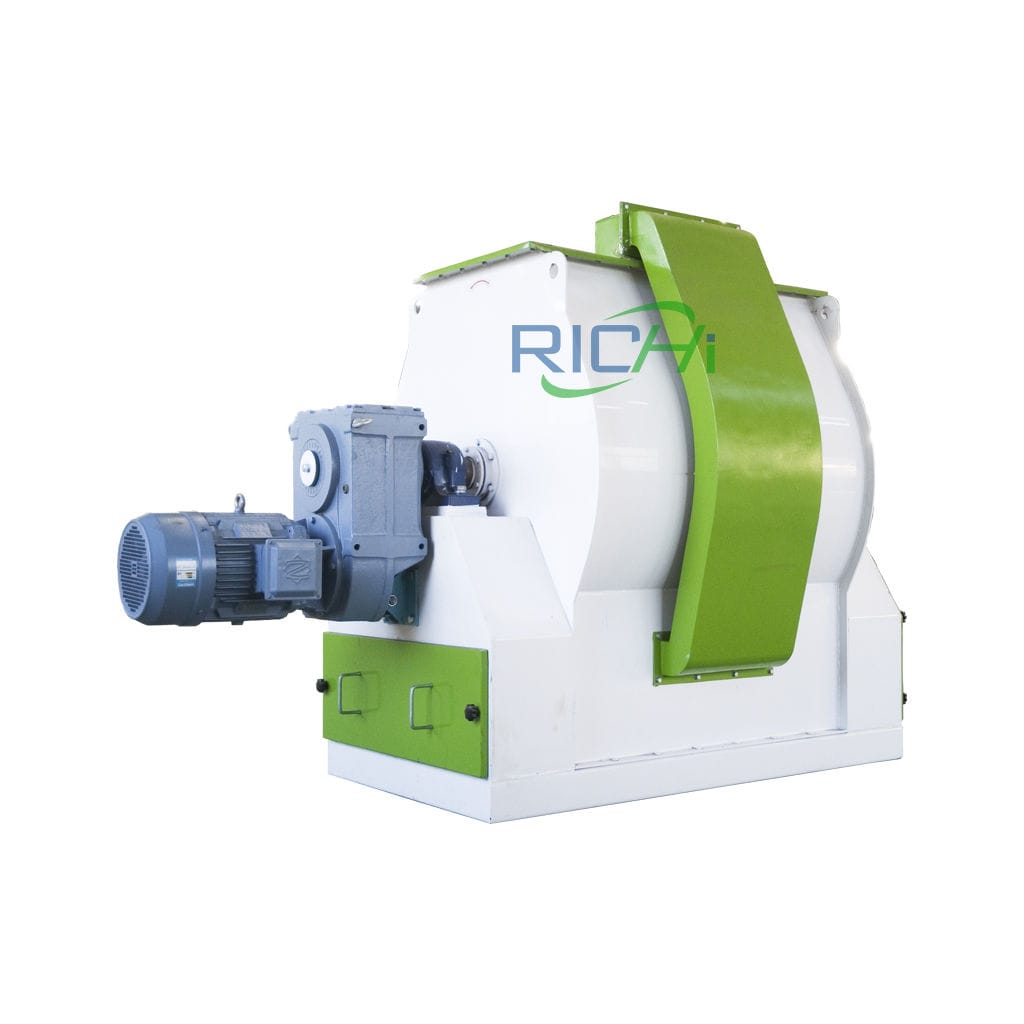 Mixing Machine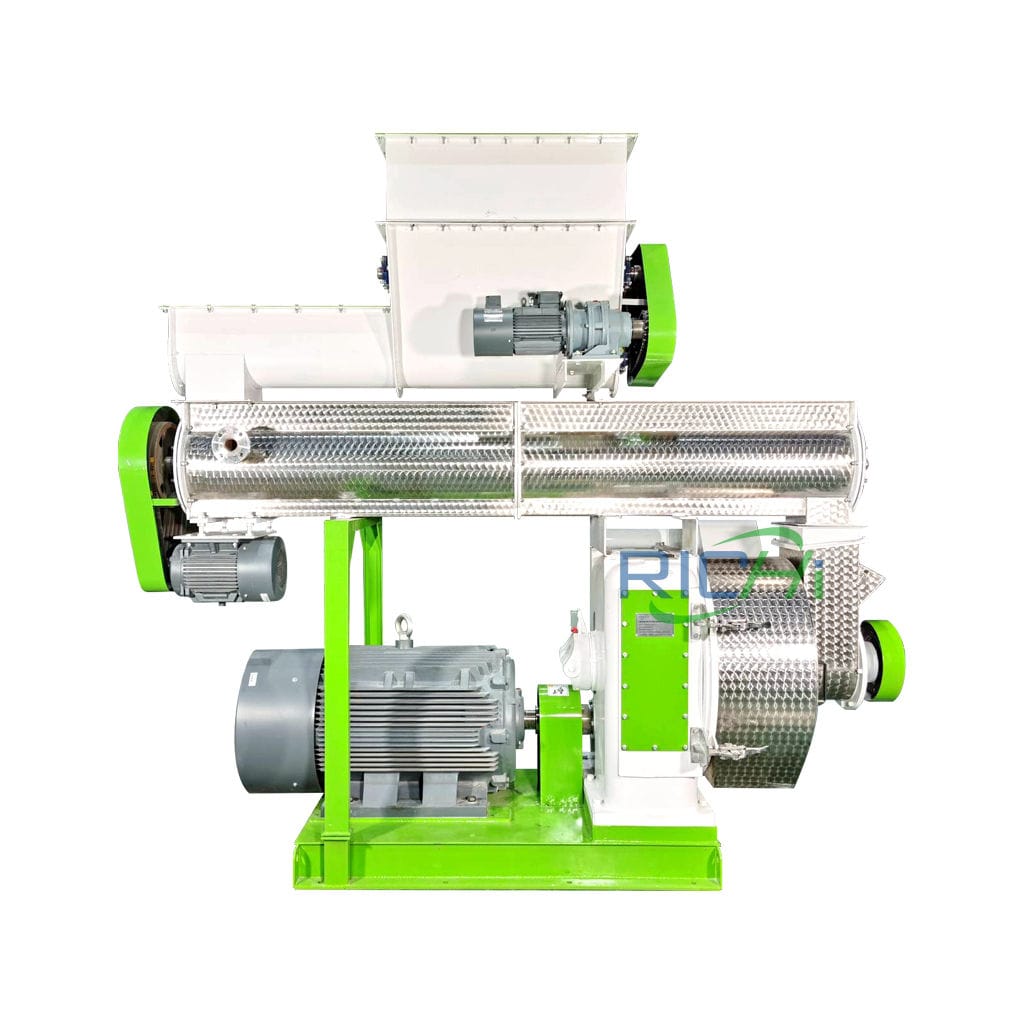 grass Pellet machine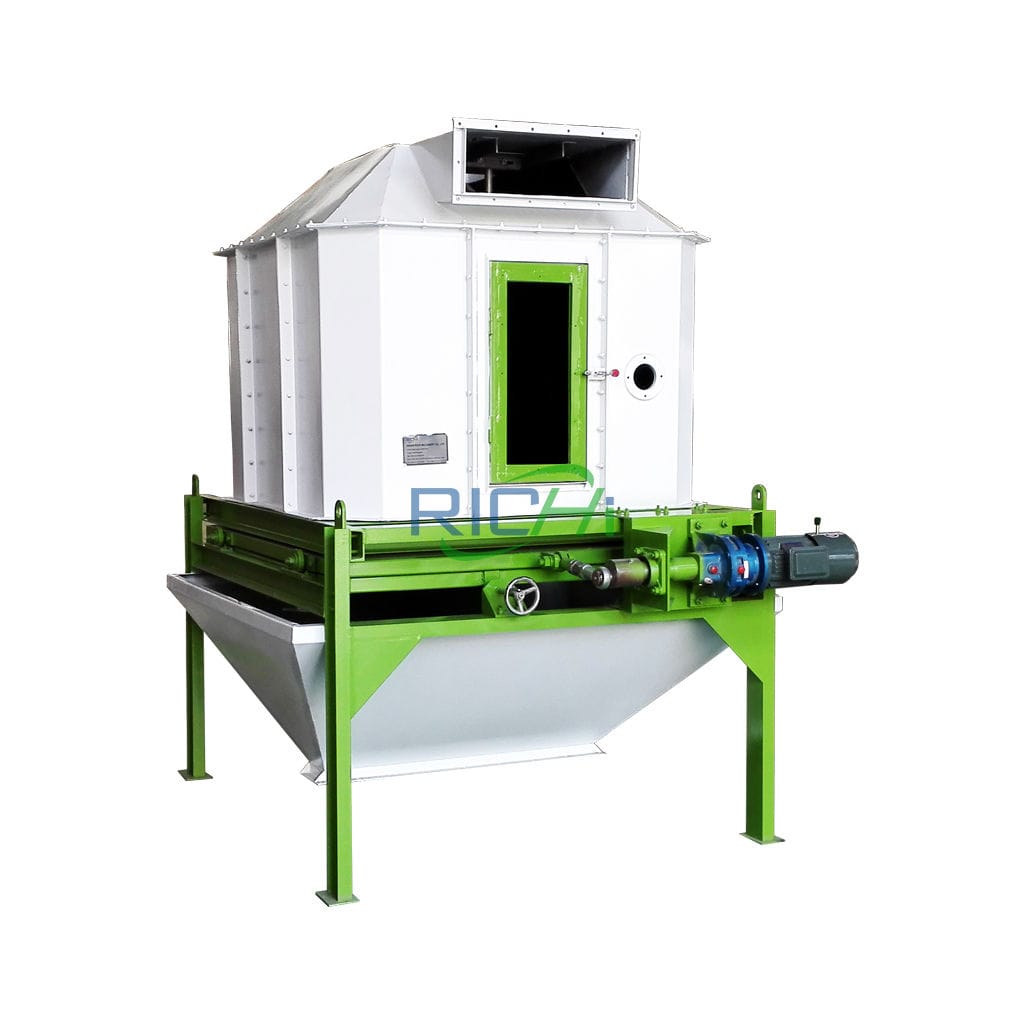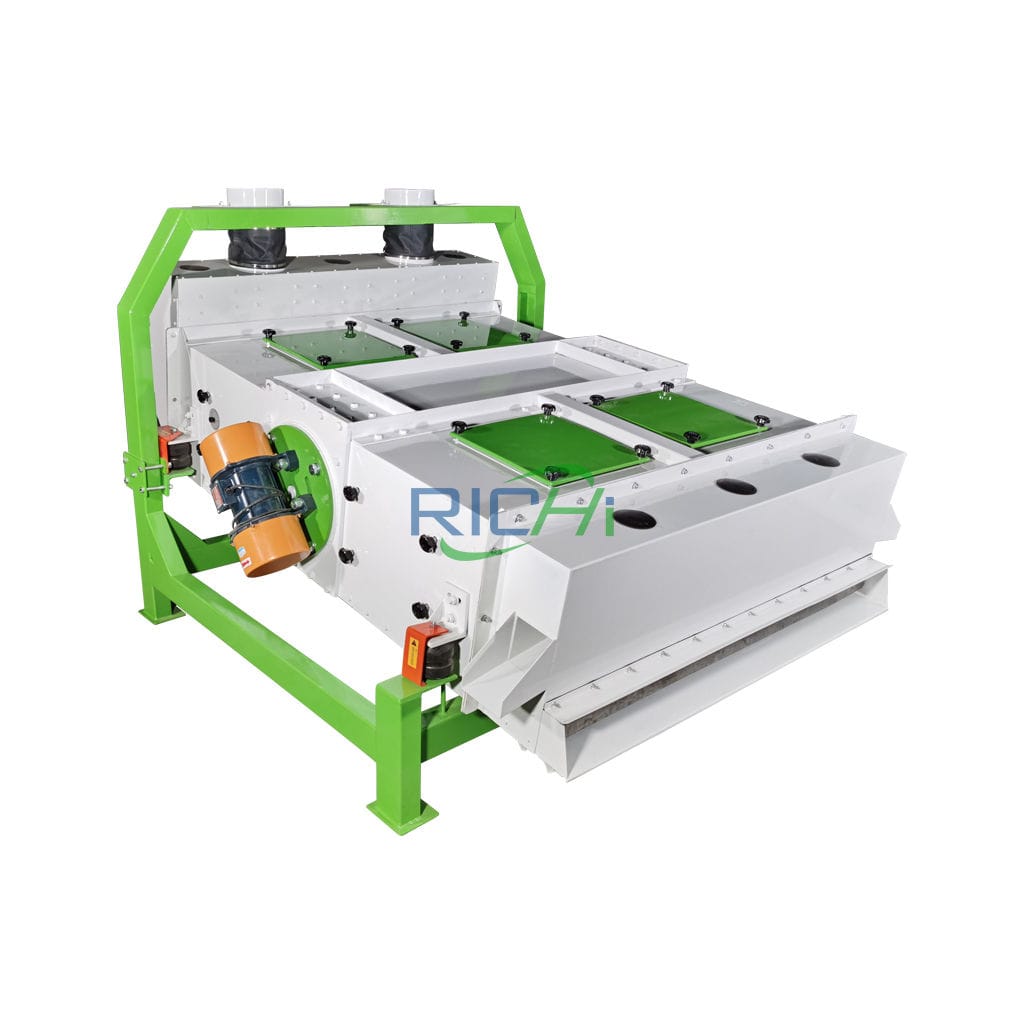 Screening Machine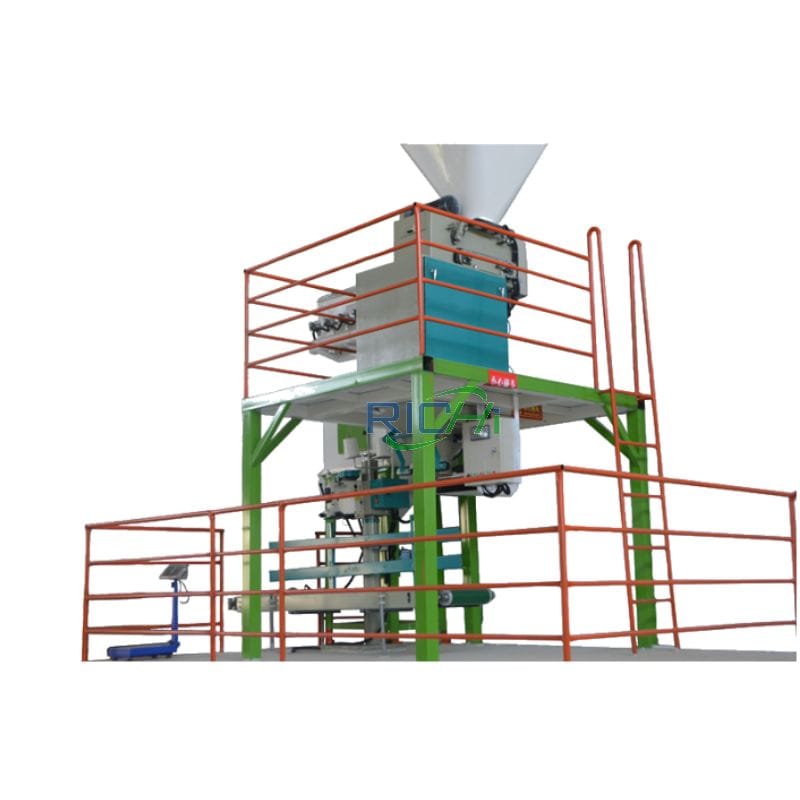 The processing, storage, transportation and feeding management of alfalfa pellet feed are relatively convenient, with a high input-output ratio, and the prospect of industrial development and utilization is extremely broad.
If you also want to build your own alfalfa pellet production line, contact us to customize your project!
Alfalfa pellet production line Capacity
Different customers, different pellet formulations, different proportions of alfalfa content. For different granule formulas and different proportions of alfalfa, the output of RICHI's alfalfa pellets production line will also be different. Here are some references for you:
| | | | | |
| --- | --- | --- | --- | --- |
| Item | SZLH 320 Pellet Line | SZLH 350 Pellet Line | SZLH 420 Pellet Line | SZLH 508 Pellet Line |
| Grass 10% Grain 90% (T/H) | 3.4 | 4.2 | 8 | 12 |
| Grass 20% Grain 80% (T/H) | 2.6 | 3.5 | 6 | 9.5 |
| Grass 30% Grain 70% (T/H) | 2.4 | 3.0 | 5.5 | 8 |
| Grass 40% Grain 60% (T/H) | 2.0 | 2.4 | 4.6 | 6.5 |
| Grass 50% Grain 50% (T/H) | 1.7 | 2.1 | 4.2 | 5.7 |
| Grass 60% Grain 40% (T/H) | 1.5 | 1.8 | 3.5 | 5.2 |
| Grass 70% Grain 30% (T/H) | 1.3 | 1.6 | 3 | 4.2 |
| Grass 80% Grain 20% (T/H) | 1.1 | 1.4 | 2.6 | 3.6 |
| Grass 90% Gran 10% (T/H) | 0.9 | 1.2 | 2.3 | 3.3 |
| Grass 100% (T/H) | 0.7 | 1.0 | 2.0 | 3.0 |
The above are just examples of 3 common capacity. If you need alfalfa pellet lines with other larger and smaller capacities, please contact us directly. Our technical consultants will send you the corresponding pellet line design and equipment configuration.
LEAVE YOUR NEEDS
Keeping in touch with us is an effective way to solve all your problems. If you have any needs or questions, please leave your contact information, then RICHI technical consultants will send design, quotation, videos to your mailbox. You can also contact us directly via WhatsApp: +86 13838389622