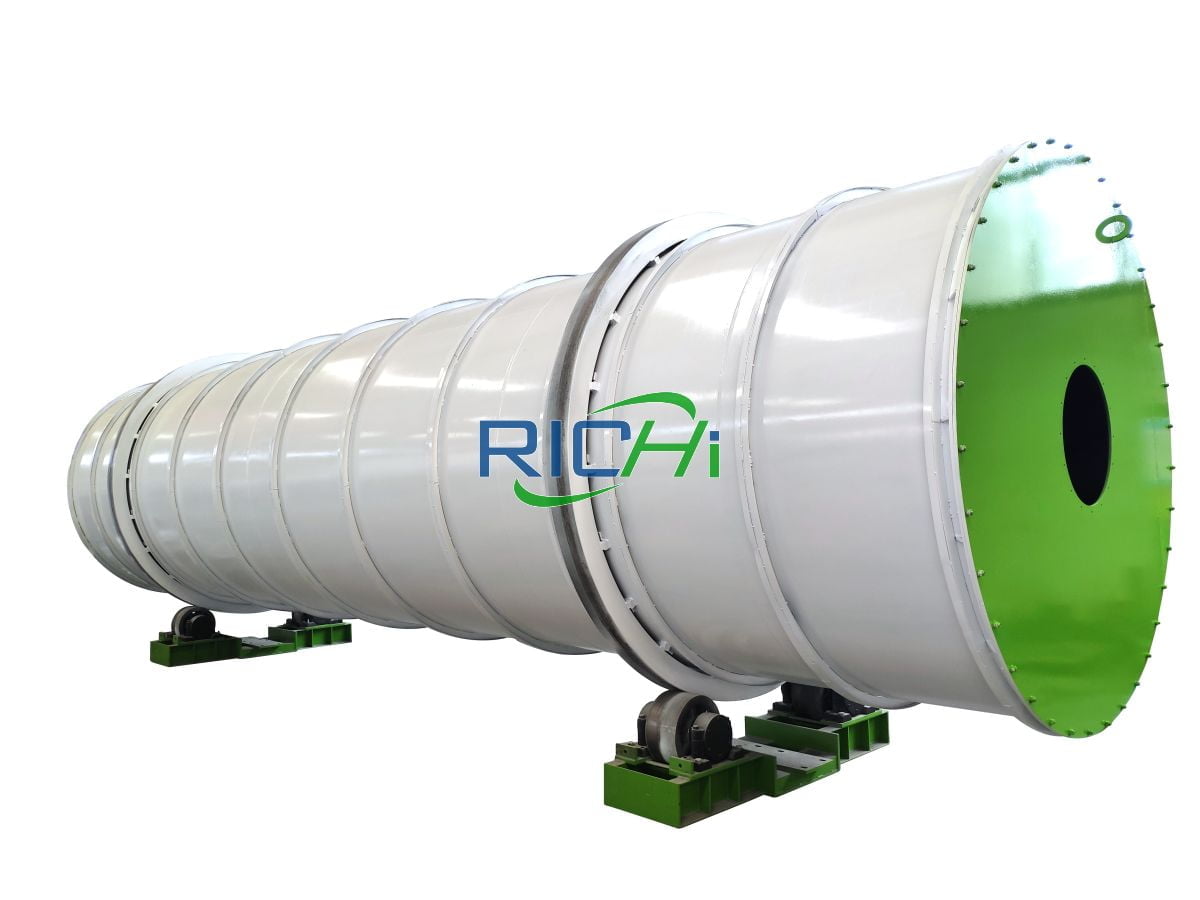 straw dryer
RICHI straw dryer is your best choice to dry high moisture content material like barley straw, oat straw, wheat straw, rye straw, straw, sorghum straw, corn straw, potato vines, bean stalks ( including materials like soybean straw, broad bean straw, pea straw, cowpea straw, lupine straw, peanut vine, etc.)
Our straw dryer machine is featured by low energy consumption, high drying efficiency, precise cost control and convenient operation.
Straw drying equipment is of huge production, high efficiency and energy conservation and small floor space. Compared with common biomass dryer machines, its energy consumption is decreased by 30%-50%, Thus, no matter in terms of energy consumption and running cost, RICHI rotary drum straw drying system is a ideal option.
Richi Machinery has helped more than hundreds of accurately designed and crafted rotary drying solution varying in size dimension and drying capability. Till dates we have delivered the rotary straw dryers for approximately for all possible type of industrial application, catering to such large diverse need of industry we have built the rotary straw drying system of many types for both batch type rotary drying as well as continuous type rotary drying applications.
Application of straw dryer
Straw drying machine is specially designed for drying the biomass materials, such as wood sawdust, small wood chips, rice hull, sunflower husk, peanut shell, etc.

Straw dryer is suitable for:
01
Alfalfa
Manure, cattle & poultry
Citrus pulp
Coffee grounds
Feather meal
Forest products
Fruit waste
Grain by-products
Hemp
Industrial waste
02
Paper pulp & sludge
Sawdust
Municipal sludge
Sugar beet pulp
Bagasse
Distiller's grains
Wet/dry miller's by-products
Wood chips
Wood waste
Biomass waste
Structural features of straw dryer
The straw dryer machine adopts a drum structure and can be heated by natural gas, steam, biomass pellets, coal, petroleum and other fuels. If the objective conditions permit, the boiler exhaust gas can also be used for heating, which can greatly reduce the operating cost of the straw dryer. As a weapon for straw drying, what are the advantages and features of straw dryers that deserve attention?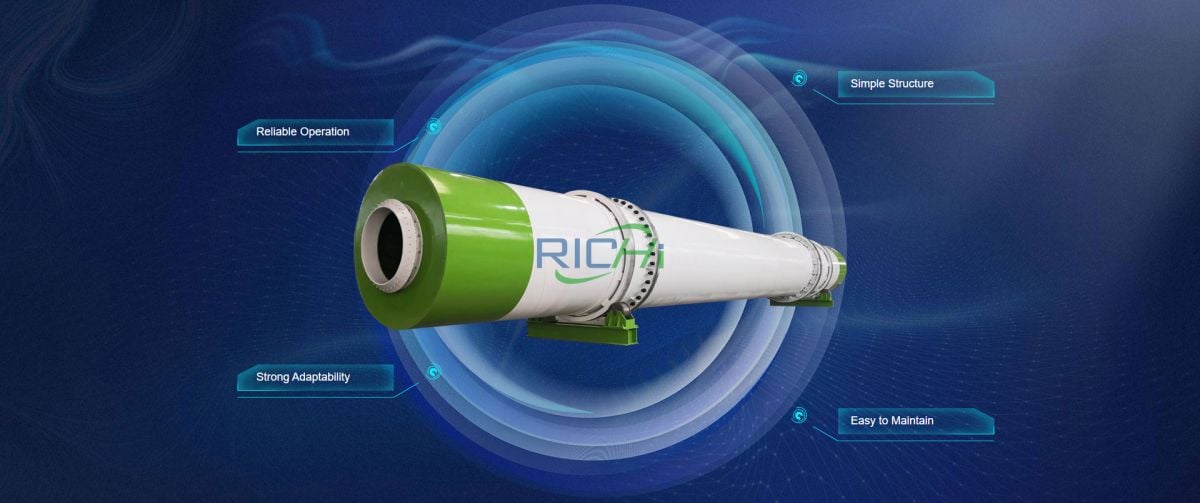 High degree of mechanization: The straw dryer adopts automatic production method, which can realize automatic production from heating, feeding, feeding, drying, discharging and other processes. The drying operation of the entire pellet production line can be completed by only 1~2 people, which effectively controls the labor cost.
The structure of the whole set of equipment is reasonable: the dryer equipment is easy to operate, stable in performance, can work continuously for 24 hours, has few failures and low maintenance cost.
The straw dryer adopts a three-layer sleeve structure, which occupies a small area and is very convenient to install and disassemble. By flexibly adjusting the parameters of the equipment, the drying effect of the equipment can be effectively controlled, so that the straw can be dehydrated quickly to meet the drying requirements of the finished product.
A special dispersing device is used inside the drum. After entering the drum, the straw quickly disperses and decomposes, effectively increasing the straw and hot air.
In order to prevent the straw from sticking to the dead corners of the cylinder wall, the straw dryer is also equipped with different angles and styles of guide and lifting devices, which can continuously lift and disperse the straw, so that the surface of the straw is fully contacted with hot air, thereby Improve the heat and mass transfer effect of the straw dryer site.
Sealing and heat insulation: For straw drum dryers, a good sealing system and heat insulation device are essential. The installation of the insulation layer can effectively reduce the heat loss during the operation of the straw dryer, thereby reducing energy consumption and cost. A good sealing system ensures that no dust escapes during the operation of the straw dryer, and the operating environment is good.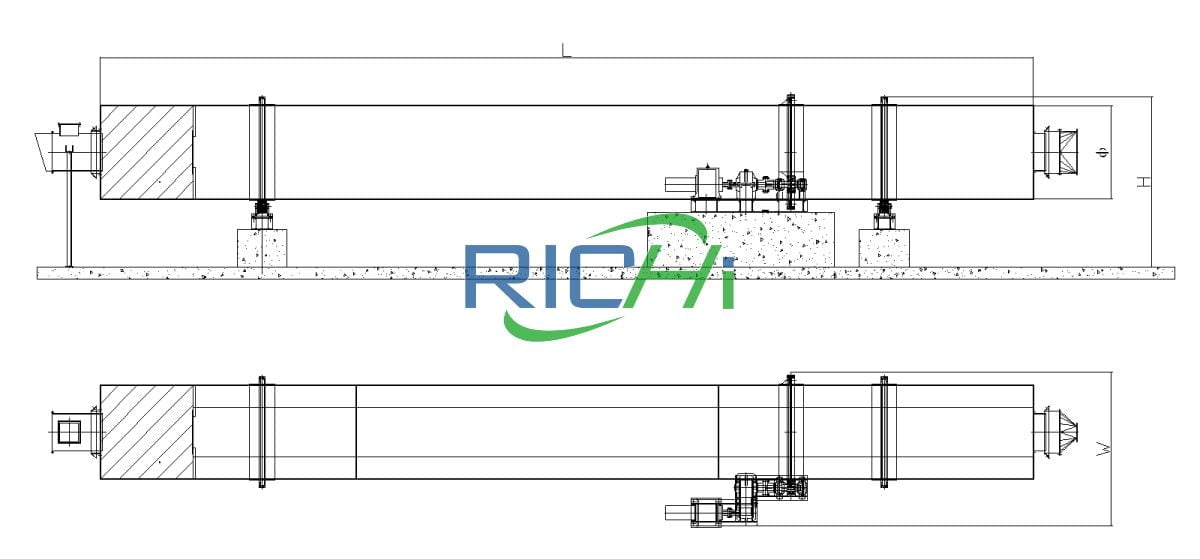 The entire straw drying system is equipped with a complete waste gas treatment device. The exhaust gas discharged from the gas cylinder is sent to the dust collector, and after purification, it reaches the local environmental protection standard and is discharged with strong environmental protection.
The dried product of straw rotary dryer has low moisture content, good uniformity and greatly reduced volume, which is convenient for transportation, storage or subsequent processing.
The stalk drying system consists of Feed Air lock, Screw Conveyor, Air Lock, conveying line as well as drying column and conveying through that moisture or moist material is transported within the presence of hot air to the cyclone. A strong low pressure centrifugal fan assures sufficient resistance time for complete removal of excess moisture. Material is discharged through cyclone by means of a discharge piece.
Advantage of straw dryer
At Richi Machinery, we are having more than 25 years' experience in helping various types of industries with designing, manufacturing and installation of various types of custom build industrial straw drying solution.
We help the client in selection by understanding the prerequisite for quality, size, shape and moisture content of the ultimate dried product have to be taken into contemplation, as well as production setting, construction materials most common stainless steel, energy consumption pattern.

Modular dust collecting and purifying heat recycling configuration, safe and protect environmental. Relatively, running cost of straw dryer is lower.
There are various inlet temperatures. This machine can make moisture of final product reach to standard for long-term storage which provides convenience for next process.
There is a whole set of drying straw equipment which holds 10 to 200t/h output capacity. We can also customize drying machine according to customer's demands.
After times' upgrading and improvement, no matter in terms of energy consumption or capacity, RICHI straw dryer holds better performance than common rotary drum dryer.
For rotary drum dryers, hot gas generation is normally used. The main gas generation technology is a step grate furnace using wet biomass. Alternatively, a cyclonic furnace can be used depending on available biomass for heating.
When required, the RICHI straw drying system also includes an air pollution control system. Depending on local regulations, there are different technologies to achieve the limits for particulate reduction and reduced VOC, CO and NOx.

RICHI straw drying technologies are developed and different materials tested in the world. Specially designed for drying all type of agro waste having moisture content up to four-hundredth. Biomass materials dryers are having vertical cyclone with three pass for drying biomass. This dryers are also best choice for those that have budget restraint.
Straw dryer price and parameters
Straw dryer machine price:10,000-300,000USD
Dry the moisture of materials from 55% to 15%
Diameter: Customizable, 1-3 Layer
Capacity: According kind of raw materials and moisture of materials
Rotate speed 3-8 r/min
Inlet temperature ≤ 700℃
Application: Applicable to low-temperature continuous drying material in large quantity, such as sawdust, wood chips, grass, dregs, etc.
Fuel Options: Bark, wood pellets, wood chips, wood waste, natural gas, LPG, coal, etc.
| | | | | | |
| --- | --- | --- | --- | --- | --- |
| Model | ф1200*120000 | ф1500*150000 | ф1800*180000 | ф2400*100000 | ф2400*100000*3 |
| Cyclone | ф800*2 | ф800*2 | ф1000*2 | ф1000*2 | ф1000*2 |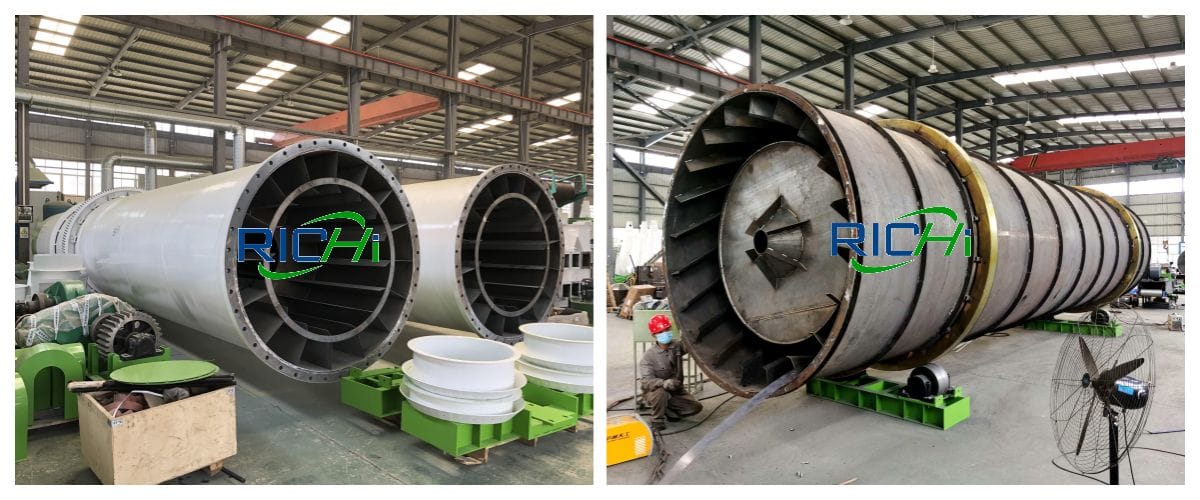 Cost Effectiveness of Straw Dryer Machine
Scenarios that improve the cost effectiveness of a straw stalk dryer include:
If drying reduces consumption of expensive fossil fuels
If the wet fuel creates a bottleneck that drying can eliminate
If boiler stack emissions of VOCs and particulates must be reduced to correct permitting problems
If low temperature heat from the dryer is recovered and used in the facility
If drying reduces disposal of materials
If green power can be sold at a premium price
If carbon offsets or Renewable Energy Credits (RECs) are sold
straw dryer Machine projects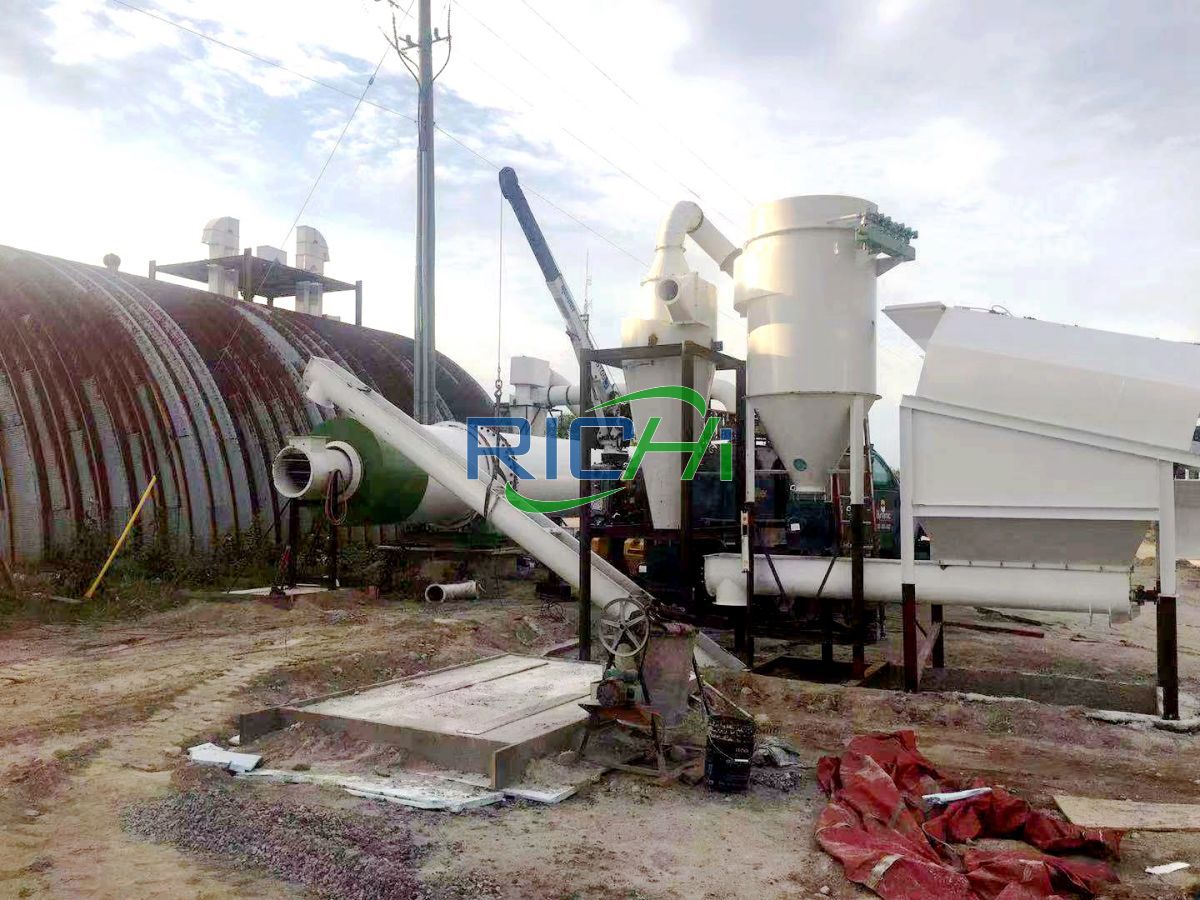 straw dryer for sale Canada biomass pellet plant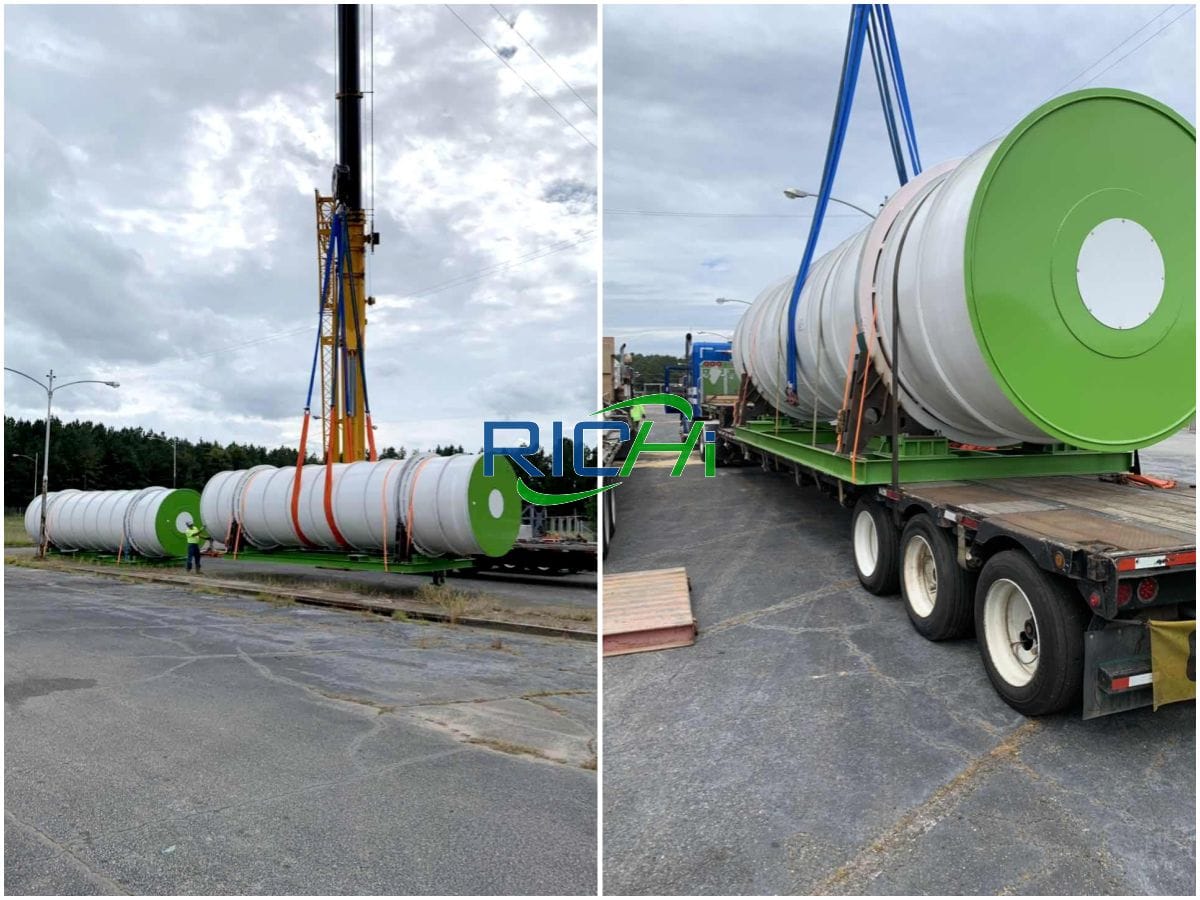 straw dryer for sale United States 10 t/h biomass pellet plant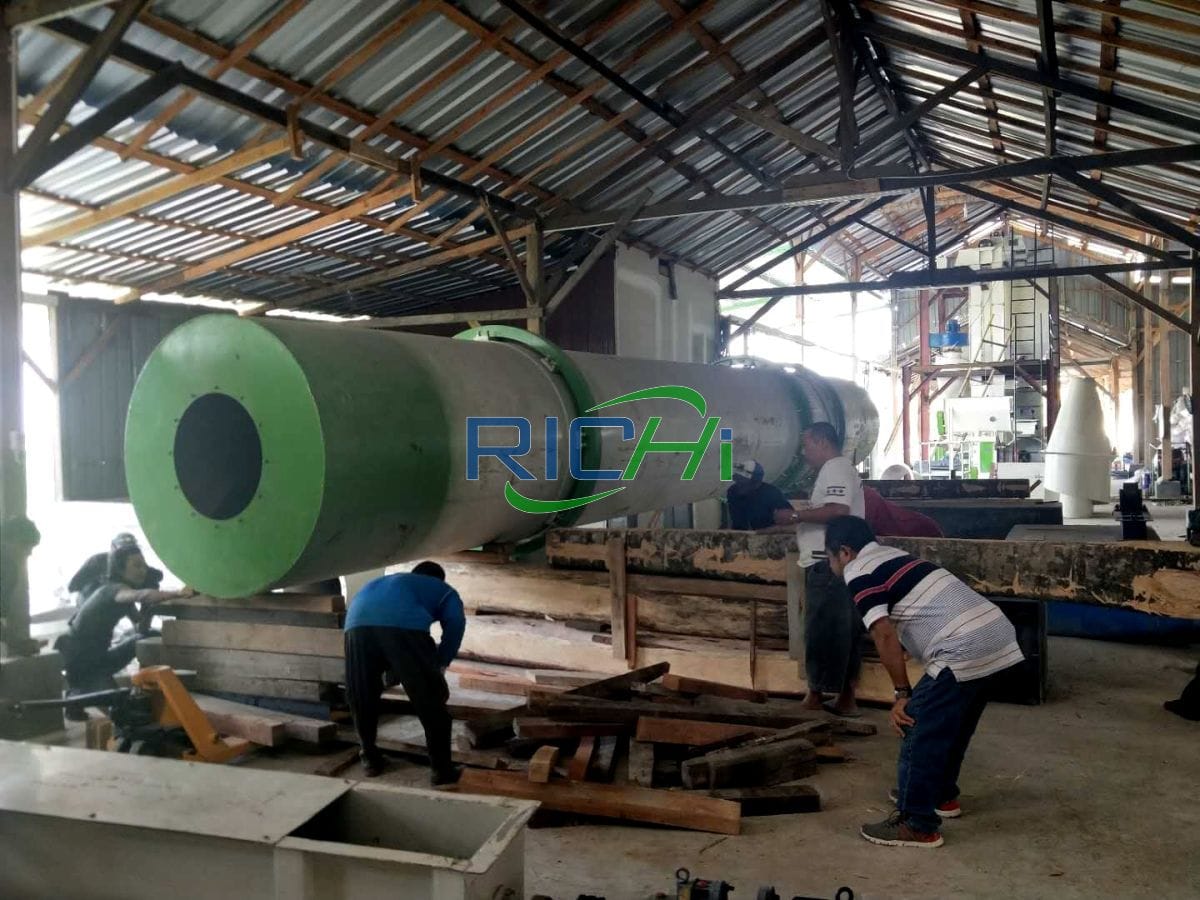 straw waste dryer for sale indonesia biomass pellet plant
Built for performance and reliability, RICHI dryer machines produce quality and replicable drying results. Our rotary dryers for drying straw are one of the most versatile industrial dryers on the market and have been used to dry or pasteurize a wide range of materials in many industries including the mining and minerals, food, chemical and agriculture industries. RICHI rotary dryers for straw are built to rigorous safety and performance standards because they are 100% designed, manufactured and tested in the China.
Working principle of straw dryer machine
Straw is delivered to the feed hopper mounted on a screw conveyor. Air from the auxiliary blower feeds the burner, delivering hot gas into the combustion chamber. This warm air will vaporize the moisture in the biomass straw without the flame coming into contact with the material.
Flights in the rotary drum move the dried straw material through the drum where it exits through the knockout box 6 and is discharged from the flap gate. The vapor continues to the cyclone for dust collection before being discharged through the exhaust stack.

With an objective to stand tall on the expectation of our prestigious customers, we are devotedly engrossed in offering straw drying machines. Suitable for the good preparation of resources previous to their pelleting, this drying machine is exactly designed by utilizing best quality material under the direction of specialists and latest technology. The offered straw drying machine can be availed in varied specifications according to the requirement of the clients.
How to choose straw dryer manufacturer?
With the strict monitoring of corporate environmental protection in many countries and people's special attention to urban cleanliness, the treatment and disposal of straw is very important. The emergence of straw dryer can solve the straw problem to a certain extent. Therefore, more and more users buy straw dryers. So how do users choose straw drying equipment manufacturers?
Here, Richi Machinery reminds users who buy straw dryers that the choice of straw dryer manufacturers is not only based on the price of the equipment, but the quality of the main equipment.

When purchasing equipment, users should visit and check as many manufacturers as possible to understand the basic situation, drying equipment and production cases. If possible, customers can visit the actual case site under the leadership of the straw dryer manufacturer, so as to understand the use and operation of the equipment more intuitively.
Before choosing a manufacturer, users need to understand their actual production needs, and then communicate with the technicians of the selected manufacturers, so that the technicians can recommend or formulate suitable straw drying equipment production plans to the users according to the information provided by the users to meet the needs of users. basic and individual production requirements.
When customers choose straw dryer manufacturers, the after-sales service is also what users need to pay attention to. Regular manufacturers have a complete after-sales service system, which can help users solve problems encountered during the purchase process, and can also help users solve some problems encountered after purchase, such as installation, debugging, training, post-maintenance and other assistance.

If the customers' equipment fails during use, the technicians of the straw dryer manufacturer will choose a remote solution or an on-site solution according to the size of the problem, so as to help the user solve the equipment failure as soon as possible and reduce the user's loss.
How to choose the heat source of straw dryer?
The straw dryer machine is a dehydration and drying equipment designed for high humidity and high viscosity straw straw. Obviously, it not only solves the problem of environmental pollution caused by straw, but also facilitates the recycling and utilization of straw by utilizing transportation and storage.
In the past, most straw dryers used coal as the main fuel, but with the country's emphasis on environmental protection, the coal-fired heating method has gradually been eliminated, so how to correctly choose the heat source for drying straw?
The straw dryer equipment can choose a variety of heat sources, such as natural gas, steam, biomass fuel, boiler waste heat, electricity, solar energy, etc. When choosing a heat source for a straw dryer, the following issues should be considered first: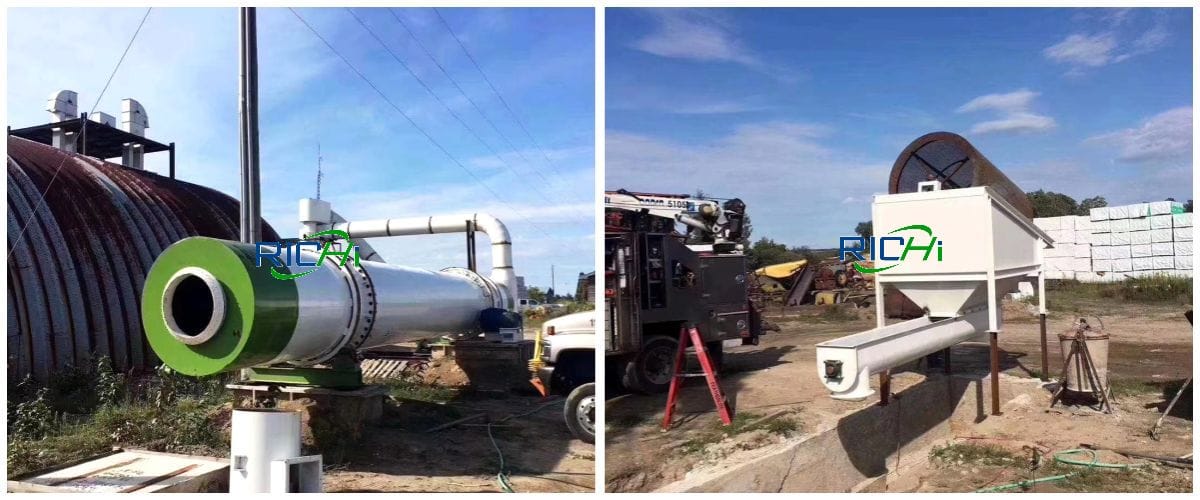 Whether it is convenient to obtain the heat source, the user should try to take measures according to the local situation, and choose the heat source that is easier to obtain in the local area, so as to cut off the heat source to a large extent.​​
Ensure that the price of the heat source is as low as possible, and the cost of heating accounts for a large part of the operating cost of the equipment. Only when the price of the heat source is low can the operating cost of the equipment be reduced.
When selecting a heat source, local environmental protection requirements and standards should be considered.
For example, natural gas, biomass fuels and steam are all relatively clean fuels. Friends who have higher requirements can choose these heat sources, which are very convenient to operate. Not only do they reduce contamination from heating, they also keep materials clean and the surrounding work environment hygienic.

The user advantage is obvious, and the purchase is also very convenient. In addition, qualified customers can also choose boiler waste heat as a heat source, which not only effectively utilizes waste heat resources, but also greatly reduces equipment operating costs, saving users a lot of fuel cost investment. (Related product: wood chip dryer)
To sum up, when choosing a heat source for a straw dryer, the first thing to consider is the convenience of heat source procurement, try to adapt to local conditions, facilitate procurement, and keep the price as low as possible to ensure long-term stable heating of the equipment and reduce heat source costs. Customers who have high requirements on the quality of heat source can choose the heat source according to the quality of the material after drying to ensure that the needs of drying production are met.
How to clean the dust collector of straw dryer?
In the drum type straw drying system, the dust collector is an important part. Due to the long-term dehydration and drying operation of the dust collector, it will inevitably be polluted by dust in the process of purifying dust-laden gas. If it cannot be cleaned in time, it will greatly affect the dust removal effect of the equipment. So, what is the cleaning method of the drum type straw biomass dryer dust collector.

01 Use mechanical cleaning method
In the operation of the drum type straw dryer, the use of mechanical vibration to clean the dust collector is a relatively simple method. Generally speaking, the movement forms of mechanical cleaning are divided into three types: horizontal movement, vertical movement and rapid vibration. However, although this method of using vibration can achieve the effect of ash removal, it will cause great damage to the filter bag, and the ash removal effect is not particularly good.
02 The method of sonic cleaning
The so-called sound wave cleaning is to achieve the purpose of cleaning dust through sound wave vibration. In the process of powder processing and production, the method of sonic cleaning is often used for glass fiber filter bags, and the effect is very significant, which can better ensure that the glass fiber is not damaged during the cleaning process.
03 Pulse cleaning method
When the drum type straw dryer dehydrates and dries the material, the pulse cleaning method uses the high-speed air flow generated by the pulse to deform the filter bag and the shock wave, so as to achieve the effect of vibration dust reduction and cleaning. Pulse cleaning can generally be divided into jetting. (Related case: pellet production line in Thailand)

04 Use reverse airflow to clean the dust
The so-called countercurrent cleaning is to use countercurrent to blow the bag filter back, promote the deformation of the filter bag, and generate vibration at the same time, so as to achieve the effect of separating dust from the green island.
Generally speaking, this countercurrent cleaning method has a certain influence on the dust removal efficiency of the drum type straw dryer dust collector. We can improve by increasing the filter area, increasing the frequency of cleaning, or increasing the flow of cleaning air.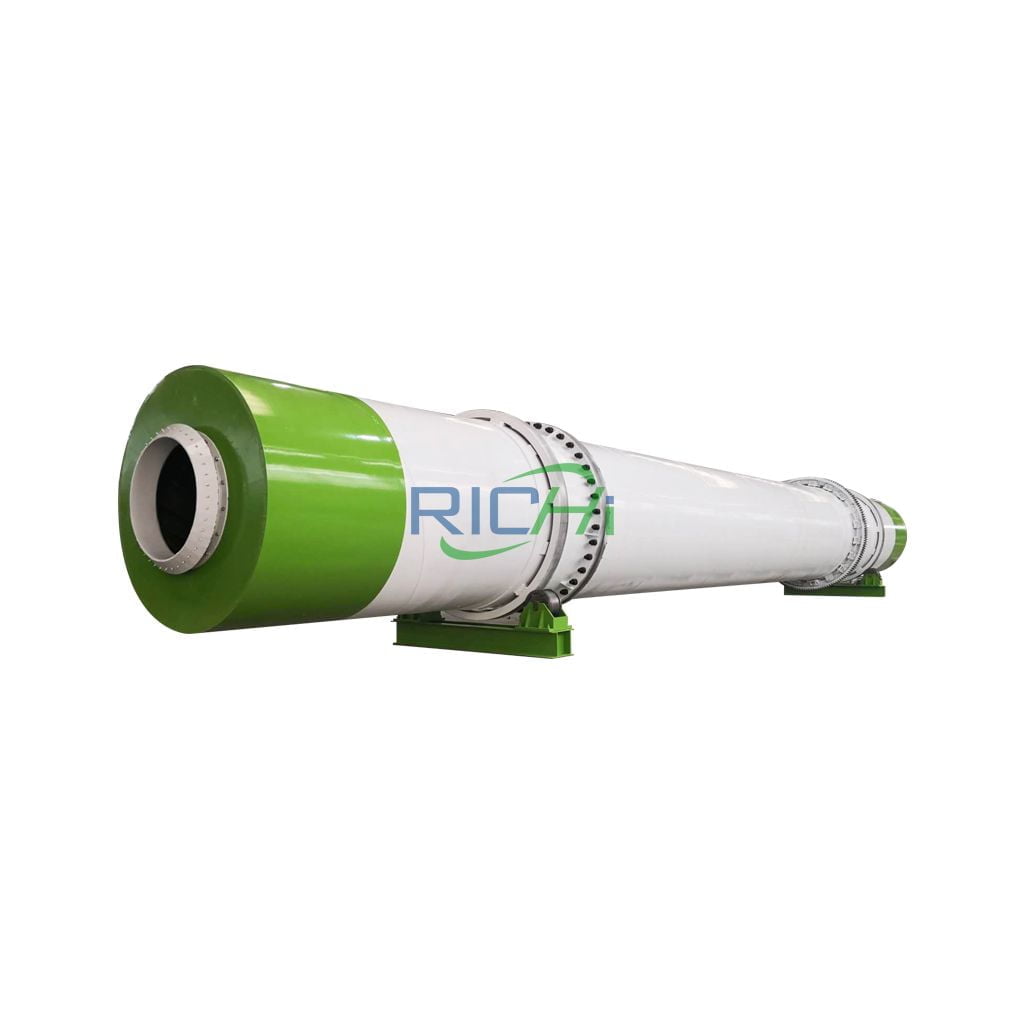 Prospects for dryers in biomass industry
—— RICHI MACHINERY ——
Biomass fuels are made from a variety of organic materials, including scrap lumber, forest debris, crops, manure, and even some municipal waste residues. Since organic waste is readily available, whether from construction and demolition or the paper-making process, biomass is a reliable source of renewable energy.
Possibly the oldest source of renewable energy on Earth, biomass produces cleaner energy that creates lower operating costs for power plants. Removing moisture from biomass makes for easier and more cost-effective storage and transportation. Biomass materials can be easily pelletized during this process, which creates higher energy density and results in a highly marketable product.
RICHI straw dryer machines are designed to increase the material's energy value and produce a high-quality source of energy. Our straw drying systems produce a high-volume, low-moisture product that is easy to ship and store and add efficiency to your process, helping you to cut operating costs and produce a quality product for market.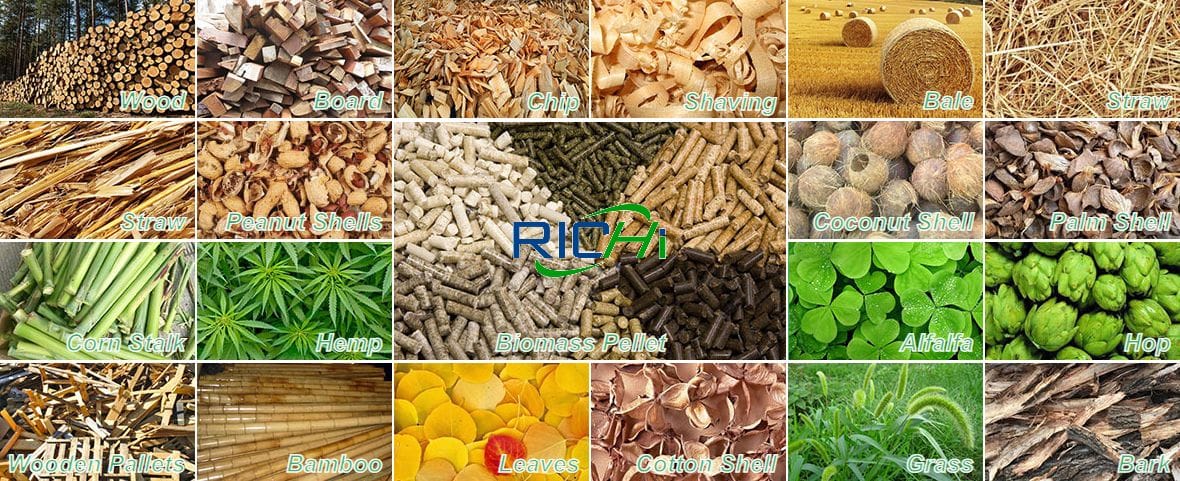 Necessity of straw dryer
The demand for energy is constantly growing, and with that the need to find sustainable solutions. One of these solutions is bioenergy produced from biomass or biofuels. Biomass is renewable organic material derived from plants or animals and can be used as fuel directly or turned into liquid or gas, also known as biofuel.
There are several renewable biomass resources that is used to produce energy either as is or converted into another form of fuel, like pellets. The most commonly used feedstocks are wood and wood processing residues, forestry residues, energy crops, agricultural crop residues, algae, municipal waste, and wet waste (crop wastes, forest residues, purpose-grown grasses, woody energy crops, algae, industrial wastes, sorted municipal solid waste, urban wood waste, and food waste).
Biomass needs to be processed and dried to 85-95% dry solids in a straw dryer before feeding to pyrolysis, gasifier or torrefaction plants. (The straw drying system is also required for straw drying for feed processing.)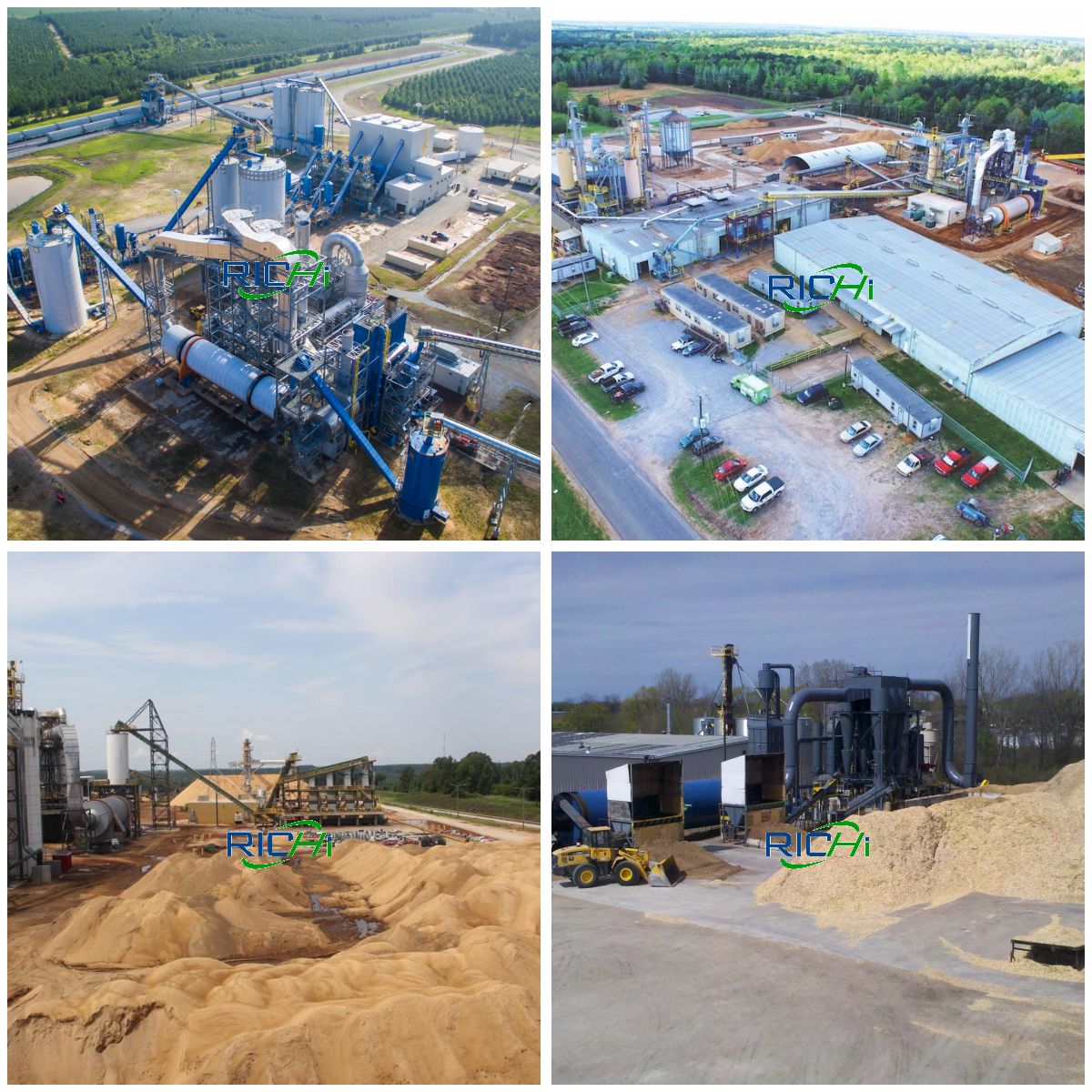 LEAVE YOUR NEEDS
Keeping in touch with us is an effective way to solve all your problems. If you have any needs or questions, please leave your contact information, then RICHI technical consultants will send design, quotation, videos to your mailbox. You can also contact us directly via WhatsApp: +86 13838389622