fish feed Mill
8-10T/H Floating fish feed processing
---
In view of the product diversification of the fish feed mill, we have intensified R&D and innovation to create customized 8-10t/h fish feed plant solutions.
At the same time, Richi Machinery is constantly upgrading its service system to make the service of the entire company more professional and refined, making us the most loyal and reliable partner for customer development.
8-10T/H fish feed mill for extruded feed
Richi Machinery's professional scientific research and technical personnel are tailor-made machinery for customers every day, and custom-made 8-10t/h fish feed machinery suitable for customers. How can the customer's fish feed palnt output be increased? How to save the customer's cost? How to make the feed made by customers sell well and the floating fish love to eat?
RICHI's core values have positioned Richi Machinery as a "comprehensive problem solver" with a sense of social responsibility and strong strength.

The company has long adhered to the innovative development of the new generation of 8-10t/h fish feed processing technology and the improvement of fish feed machine functions and efficiency to create value for customers. It allows customers to get great economic returns, and has been highly praised by domestic and foreign feed companies.
In addition to improving the efficiency of fish feed machine, Richi Machinery also creates value for customers in terms of 8-10t/h fish feed making process design, fish feed equipment selection, pipeline layout, and reasonable plant design.
The unique design of RICHI's 8-10t/h fish feed production process and products helps feed companies achieve the goal of reducing the feed-to-meat ratio and create a competitive advantage for customers.
I think our ultimate goal is to improve the quality of human life, which is also the mission of RICHI MACHINERY. In the entire industrial chain from raw materials to food, we have provided many services for fish feed enterprises, from raw material storage to the provision of core fish feed equipment and 8-10t/h fish feed manufacturing projects.

As the source industrial feed for all kinds of animals and aqua, we produce high-quality feed through our advanced fish feed equipment, which ensures the green, safe and healthy feed. At present, our fish feed making projects have covered more than 100 countries in Asia, Europe, South America, North America and Oceania.
Extrusion process design of 8-10 t/h fish feed mill
Raw material→cleaning→micro-grinding→mixing of ingredients→feeding conditioning (steam, hot water)→extrusion and puffing→drying→spraying of oil, vitamins and flavoring agent→cooling→packing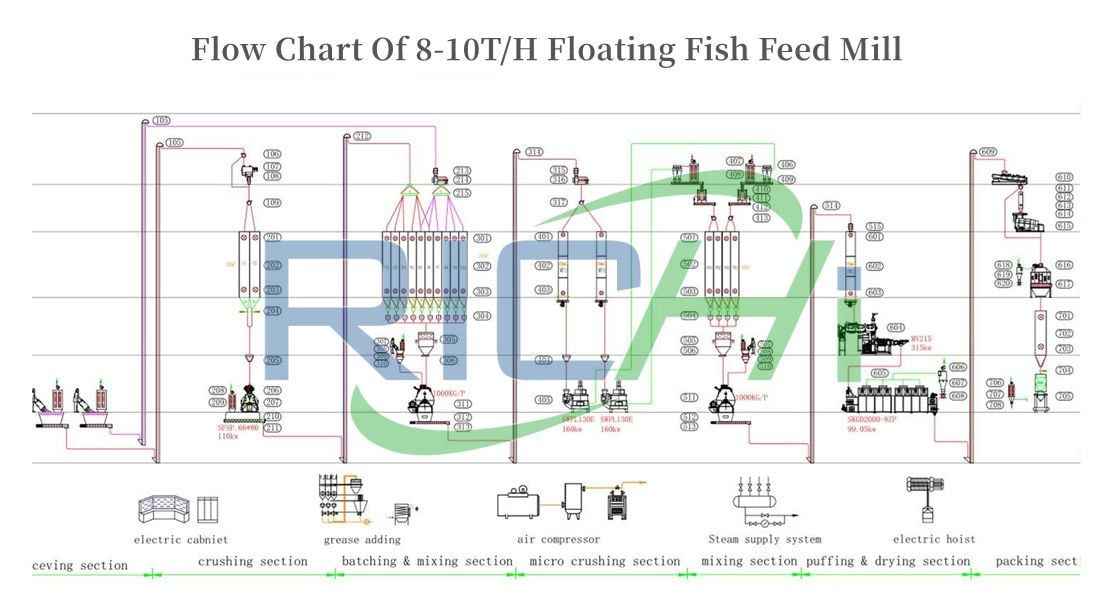 ① Silo system
To ensure continuous production, large quantities of raw materials such as corn, wheat and soybean meal need to be stored during feed processing. The raw materials of the steel silo are of good quality and easy to operate.
The steel silo adopts galvanized steel structure, which has the characteristics of low investment, convenient and quick installation, less maintenance, and long service life. It has become the preferred type of silo for bulk grain storage in fish feed production mills.
② Raw material receiving system
Reception is the start of 8-10t/h fish feed system production. In the production of animal feed or similar products, the receiving area covers the process of activities of various purchased materials used directly or indirectly.
Receiving equipment is used for materials to be stored in bulk before storage in silos or warehouses, including weighing systems, inspection instruments, unloading systems, cleaning systems, dust control equipment, receiving conveyors, distributors, nozzles, etc.
③ Raw material cleaning system
Bulk grains received from farms typically include grain by-products and impurities such as straw, stones, metals, paper, wood chips, small animal carcasses and powders.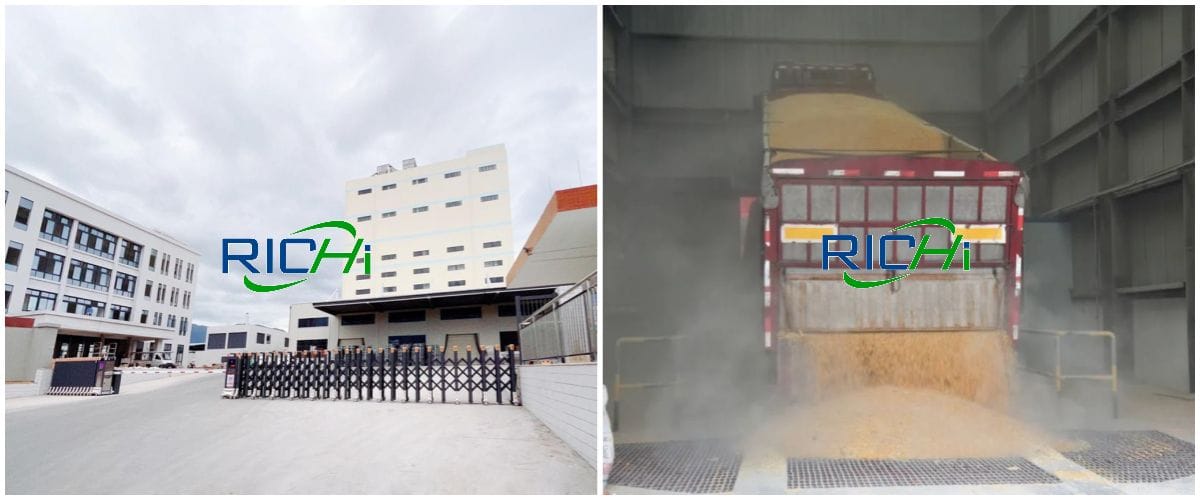 Cleaning operations are the use of magnets, screens, dust collectors and other equipment and systems to remove these impurities to ensure that the stored grain is of good quality and to protect the machinery during subsequent8-10t/h fish feed mill processing steps.
④ First crushing
Grinding is an operation to reduce the particle size of feed and increase its specific surface area, which can enhance animal digestion, improve feed utilization, and also improve the processing quality and work efficiency of 8-10t/h fish feed factory subsequent process steps such as batching, mixing, and extrusion.
⑤ First batching and mixing
The first batching process refers to the combination of bulk dry raw materials and liquid raw materials into a value-added, uniformly proportioned mixture. The first mixing is a critical process in compound feed production.

It combines ingredients with unique properties into formulated rations under the action of subsequent processing equipment that meets all the nutritional needs of the animal and adds value to the blended commodity.
⑥ Second crushing section
In order to meet the production process requirements of extruded aquatic feed, the raw materials need to be finely or ultrafinely pulverized to meet the requirements of processing finer-grained pellets to improve pellet durability and increase extruding/pelletizing capacity.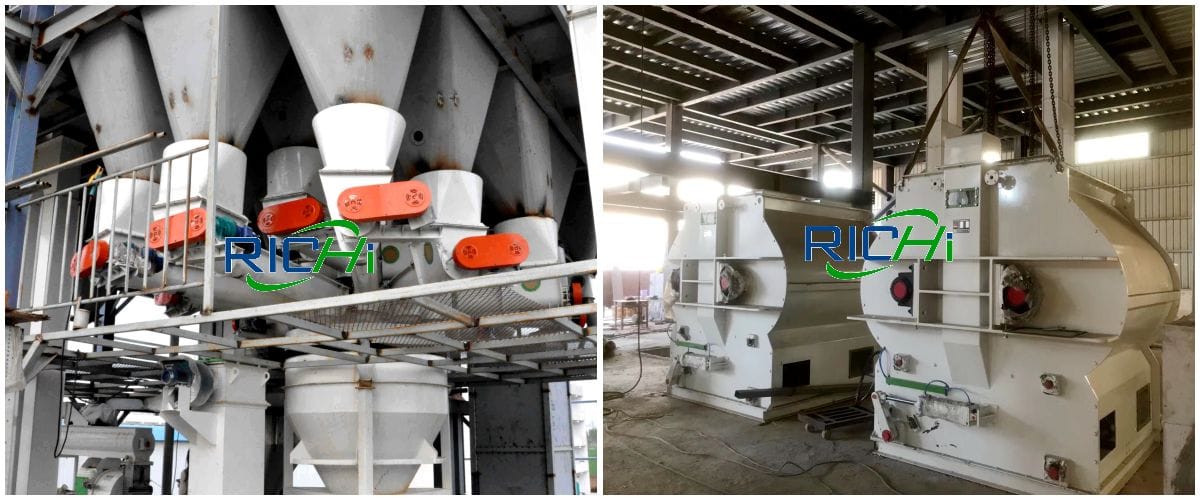 ⑦ Second batching and mixing
The second batching process in 8-10t/h fish feed mill refers to the scaling, addition and mixing of dry and liquid trace elements and premixes to form a complete feed mix, a formula ration.
Secondary mixing is a key link in compound feed production. Under the influence of external forces, ingredients with unique properties are blended together into formula diets to meet animal nutritional needs and increase the value of the blended product.
⑧ Extrusion system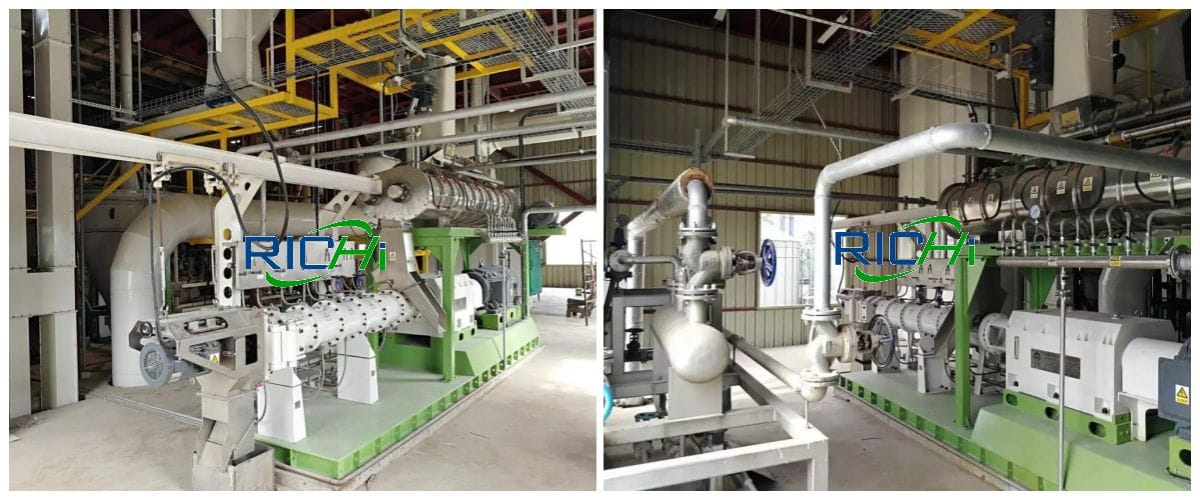 Puffing is the process by which moist, swellable starch or protein materials are plasticized in a tube by a combination of moisture, pressure, heat and 8-10t/h fish feed machinery.
This results in increased product temperature in the tube, gelatinization of the starch component, protein denaturation, stretching or reorganization of the tactile component, and exothermic expansion of the puff.
In the submerged feed process, the processed feed pellets enter the pelleting equipment and are compressed into pellets by rollers and molds in the pelletizing chamber. It is also possible to process fish feed with a floating fish feed extruder.
⑨ Drying system
The main purpose of drying is to reduce the moisture content in the product, thereby improving the stability and shelf life of aquatic products, reducing product weight and improving transportation conditions.
The extrusion-cooked product needs to be artificially dried, and the main purpose of reducing moisture is to make the product itself more stable. In some cases, elevated temperature drying can also give the product a "toasted" flavor and appearance. Drying too fast can reduce the density of the final product and cause the sinking feed to float when fed.

⑩ Liquid Dosing and Spraying Systems
Spraying is an industrial process in 8-10t/h fish feed mill. After the pellets have been dried and screened, and before the pellets are cooled, apply liquids or powders, such as oils/fats, pigments, flavors, functional modifiers or vitamins, to the surface of the extruded pellets to improve the taste and acceptability of the pellets .
⑪ Cooling system
In the feed extrusion process, the cooling of feed pellets is essential. When leaving the twin screw extruder, the extruded feed pellets are very hot, soft and rich in moisture, the cooling process cools them down to 3℃-5℃ slightly above room temperature and reduces their moisture content to a safe standard (≤12.5%), for easy transportation and storage.

⑫ Screening system
After cooling and drying, the whole extruded fish feed pellet is sieved to remove fines and spills and bring the pellets to acceptable size.
⑬ Packaging and Palletizing Systems
The packing operation begins when the finished feed enters the supply bin above the packer and ends when the bagged feed is placed into the warehouse. The procedure involves weighing each bag of feed, placing the weights into the bag, closing the bag mouth, labeling the bag, coding the bag, palletizing the bag, and moving the bag to warehouse storage.

Every fish feed mill project undertaken by RICHI is a prototype project, which has a comprehensive competitive advantage over its peers. A strong R&D team and innovative technical concepts, three-dimensional digital fish aqua feed mill design, precise planning, and one-step implementation.
Standardized fish floating feed mill module design and production of engineering prefabricated parts, shortening the installation period and improving engineering quality; equipped with high-efficiency host equipment comparable to the best in Europe and America, Stable, reliable, and more competitive in the market; comprehensively control the progress, safety, and quality of project implementation to ensure that the fish extruded feed mill project is completed on time; provide customers with various fast and thoughtful training services, solve customer problems in a timely manner, and strive to build really valuable fish float feed mill plants for customers !
01 8-10T/H fish feed mill cost
02 Application
8-10T/H floating fish feed plant can process floating fish feed, pet feed, and can also be upgraded to a combined feed production line, and can process shrimp feed, special feed, livestock and poultry feed, premix and other products at the same time.

03 8-10T/H Fish Feed System Can Be Customized
① The entire 8-10t/h fish feed making plant adopts a modular design, which can be customized according to the actual needs of customers, formula, plant structure, floor space and other requirements;
② 8-10T/H fish feed processing plants with various forms (extruded pellet, powder, pelletized feed), various raw materials and formulas can be customized;
③ In addition to floating fish feed, if customers also want to process shrimp feed, livestock and poultry feed, pet feed, premix and other types, they can customize the complete production line plan according to the customer's product plan;
④ If the customer wants to reserve the possibility of expanding the 8-10t/h fish feed mill plant capacity in the future, we will customize the plan according to the customer's plan.
⑤ In addition to the program customization of the fish extrusion feed mill process flow and fish feed machine layout, we can customize the layout and program of the whole 8-10t/h fish compound feed mill according to customer needs, including the layout of laboratories, central control rooms, office buildings, boiler rooms, restaurants, etc.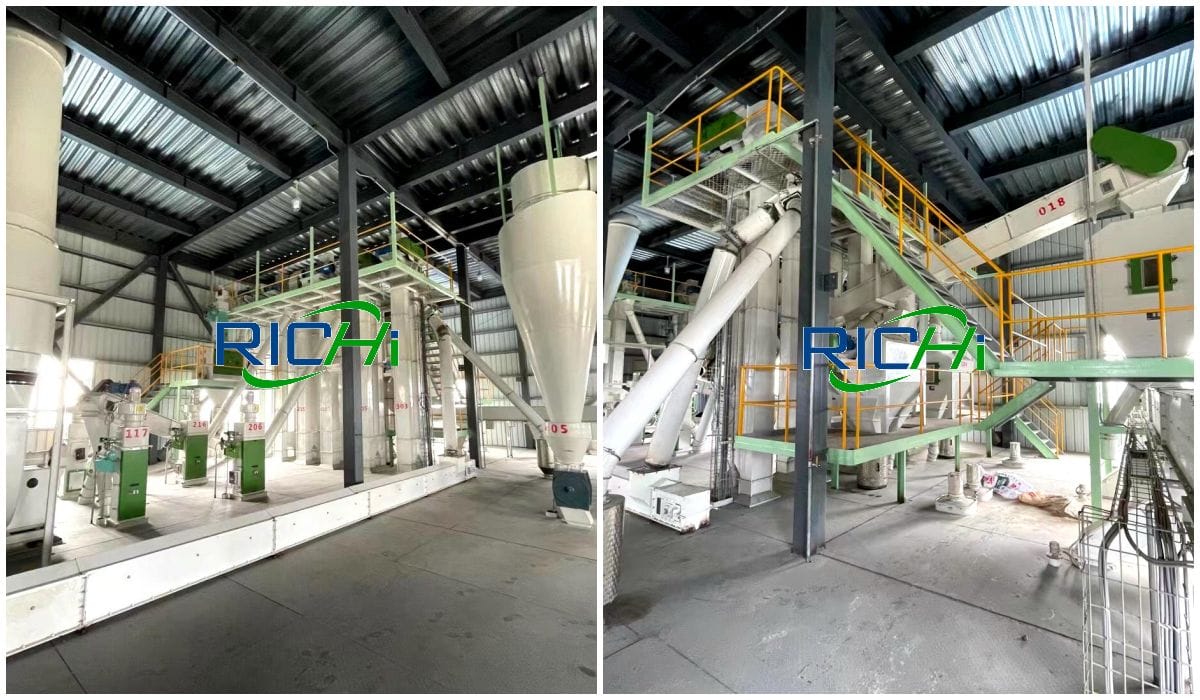 ⑥ All 8-10t/h fish feed equipment and electrical component laboratory equipment can be configured according to customer requirements, and motor and electrical component brands can also be changed according to customer needs.
⑦ In addition to new construction, it can also undertake technical renovation projects for floating fish feed production. There are several benefits to be gained from continuous upgrades, optimizations, and services on your equipment:
Maximum extruded fish feed production
Process knowledge and experience
Reliability and cost efficiency
Reduced life cycle costs
Short and effective shutdowns
Improved energy efficiency
04 Composition of complete 8-10 t/h fish feed mill
The following is only the composition of the standard 8-10 t/h fish feed production system, which can be designed according to the actual product type, process, formula and investment budget.
Silo system
Raw materials revieving and crushing system
First-time crushing system
First-time batching and mixing system
Fine crushing system (Second-time crushing system )
Second-time mixing system
Extruding and pelleting system
Drying system
Crumbling system
Liquid adding & coating system
Cooling system
Screening system
Packaging system
Stacking
MCC Control Center; Mimic Control Panel (CPP Computer System, Batching System (Computer controlled), Cables & Cable Bridge Tube)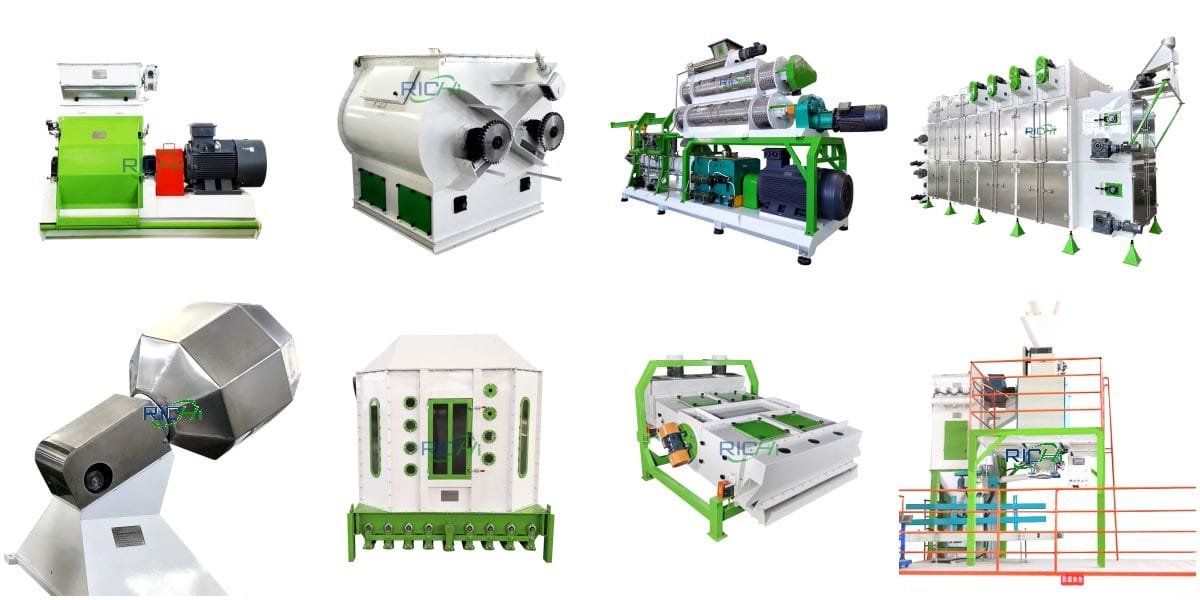 05 List of 8-10 t/h fish feed mill equipment
The following is only the core fish food processing machine list of the standard 8-10t/h floating feed mill, and the equipment can be configured according to the actual product type, floating fish feed manufacturing process, floating fish feed formulation and investment budget.
Pulse dust collector
Scraper conveyor
Bucket elevator
Pnenmatic three-way
Drum pre-cleaner
Permanent magnet drum
Storage bin
Hammer mill
Air-locked conveyor
Batching bins
Batching scale
Premix scale
High efficiency mixer
Buffer bin
Double cyclone
Ultrafine grinder
Screw conveyor
Square plansifter
Twin screw extruder
Coating machine
Fish feed dryer machine
Rotary screener
Screening system
Cooling machine
Automatic packing machine
Sewing machine
Cases of 8-10t/h fish feed mill
As a strategic partner of hundreds of 8-10t/h aqua fish shrimp feed mills, Richi Machinery has always been highly recognized by customers for its high-quality service, advanced fish feed machine and efficient fish feed production lines.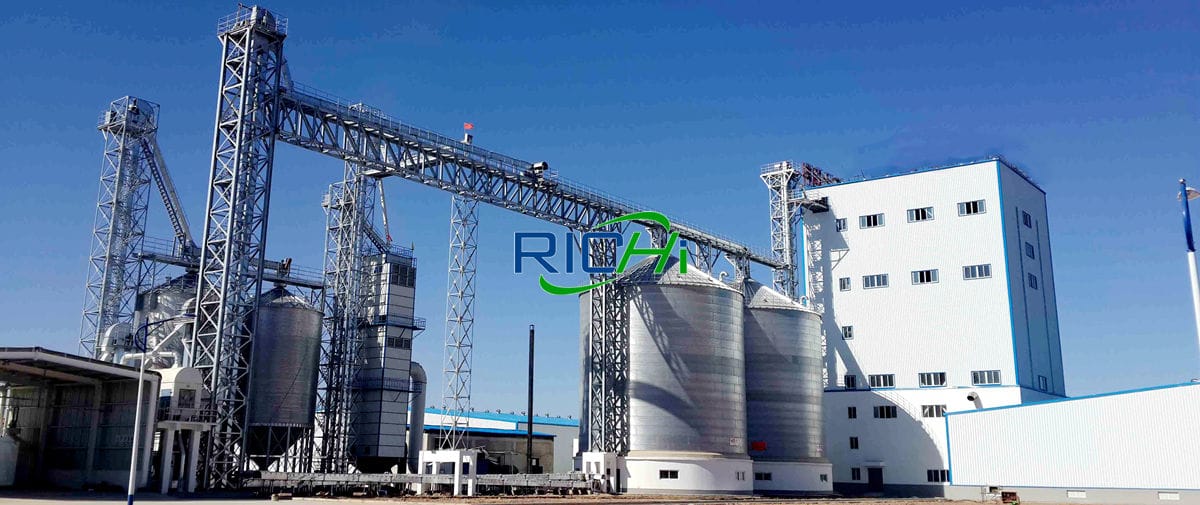 8T/H
8 t/h floating fish feed plant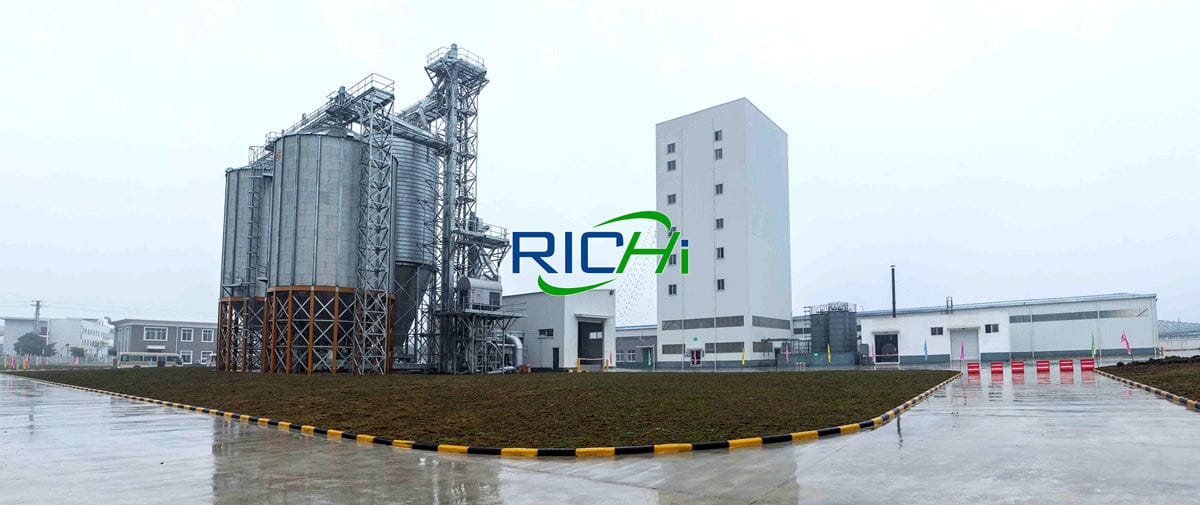 10T/H
10 t/h floating fish feed plant
Extruded floating fish feed is very suitable for modern aquaculture and has good market potential. Therefore, various floating fish feed manufacturers should develop and develop extruded floating feed varieties as much as possible. For high-end varieties, medium and low-grade varieties such as domestic fish and tilapia that are widely raised should also be developed.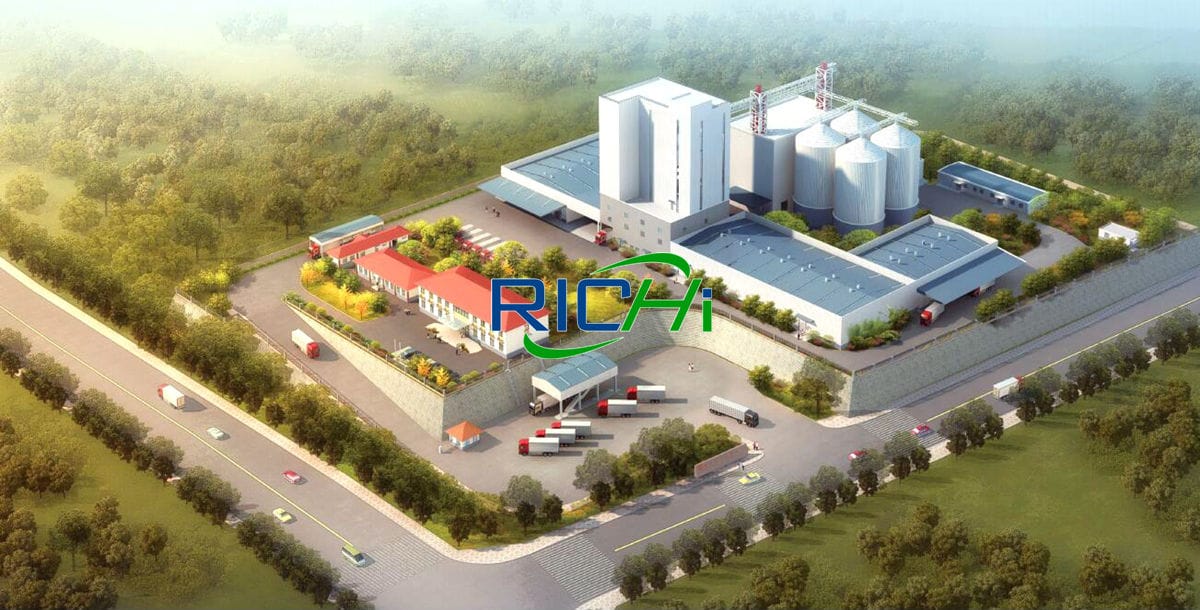 At the same time, formula quality and production technology should be improved, fish feed production scale should be expanded, production costs should be reduced, and feed quality should be improved. And through experiments and extensive publicity, the majority of aquaculture farmers try and use extruded floating fish feed.
Why choose RICHI 8-10 t/h fish feed mill?
First of all, we focus on technological innovation, especially forward-looking technology research, and invest a lot of human, material and financial resources in product research and development. We have introduced the world's most advanced 3D digital practice platform to practice our engineering and develop customized automatic 8-10t/h fish aqua feed mills.
Secondly, on the stand-alone machine, the customer's feed and raw material needs are converted into our technical formula, and converted into a technology that matches the process stand-alone machine to meet the individual needs of the customer, and create the best 8-10t/h fish feed production solution and the most reasonable process technology for customers.
Creating value for customers is the most effective and core method for RICHI to become a leading enterprise in the feed industry for many years.

Richi Machinery has been committed to providing professional services and one-to-one customization for all users for many years. I think this is also the most advantageous competitiveness of Richi Machinery to become the leader of fish feed equipment enterprises.
Selection of 8-10 t/h fish feed equipment
It can be seen from the above that the floating fish feed needs to be cleaned, pulverized, mixed, conditioned, shaped, extruded, and coated with seven or several of them before it can become a finished product in the hands of farmers. In each section, 8-10t/h fish feed mill has the following requirements for fish feed machine and processing parameters:
(1) Cleaning section
In the cleaning section, due to the small amount of granular raw materials such as corn and barley in aquatic feed processing, and the large amount of powdery or fine granular raw materials such as fish meal and cake, the cleaning section must be strengthened to clean up the powdery raw materials.
On the one hand, it is necessary to ensure the cleaning efficiency of the powder cleaning equipment, and on the other hand, it is necessary to ensure the production capacity of the powder cleaning equipment.

The actual production capacity of the powder cleaning section is not only affected by the model of the powder cleaning equipment. If the artesian pipes, silos, and conveying machinery before and after the cleaning equipment are improperly set, the production capacity of the cleaning section will also decrease, and even lead to cleaning in severe cases.
(2) Crushing section——8-10 t/h fish feed mill
Secondary crushing can be used in the crushing section. Conventional pulverization is carried out first, and then micro-pulverization is performed to reduce the working pressure of the micro-pulverizer and reduce the temperature rise of the material caused by pulverization.
Material classification is carried out between conventional pulverization and micro-pulverization, and only the part with unqualified fineness is allowed to enter the micro-pulverizer, so as to increase the pulverization output and reduce the energy consumption of pulverization. The use of secondary crushing increases the flexibility of the crushing section.

When producing some adult fish feeds that do not require high fineness of raw materials, conventional pulverizers can be used alone for 8-10t/h fish feed production plant. In order to shorten the technological process and reduce feed mill machine investment, some small and medium-sized aquatic feed factories can also use a micro-pulverizer for pulverization.
Regardless of whether primary or secondary crushing is used, setting a grading device behind the micro-grinder to form cyclic crushing is beneficial for increasing the output of micro-grinding, controlling the fineness of crushing, and preventing overheating of materials.
(3) Batching section——8-10 t/h fish feed mill
Aquatic feed has high requirements and many kinds of raw materials. The batching form is generally made by computer-controlled automatic batching scales, and the batching error can be controlled within the range of 0.25%.
It can also be manually batched by an eight-bar scale. The scale is equipped with eight small buckets, which is easy to operate and is not prone to failure. The batching error can be controlled within the range of 0.5%.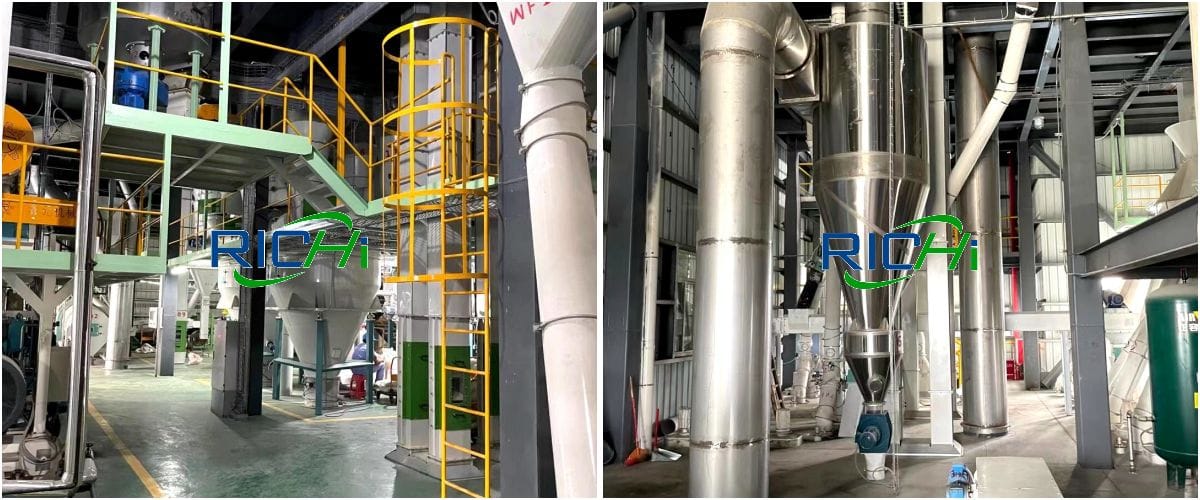 (4) Mixing section
Materials with fine particle size have poor fluidity, such as adding liquid materials or high-moisture materials during the mixing process, the fluidity will be even worse. Materials with poor flow properties require a longer mixing time to mix well.
Using an ordinary ribbon mixer, the livestock and poultry materials can be mixed evenly in 3-4 minutes, but it takes 4-5 minutes to mix when producing aquatic feed.
However, once the materials with poor fluidity are mixed evenly, the phenomenon of automatic classification during processing such as transportation and storage is relatively mild, and the material uniformity is relatively stable.
(5) Extrusion section——8-10 t/h fish feed mill
The puffing section is the key to ensuring product quality. The quality of the product depends on the processing conditions of granulation or puffing. Due to the low output of the micro-pulverizer, the pulverizing section should also be matched with pulverization. The floating fish feed extruder machine adopts twin-screw extruder with low power consumption and high equipment utilization rate.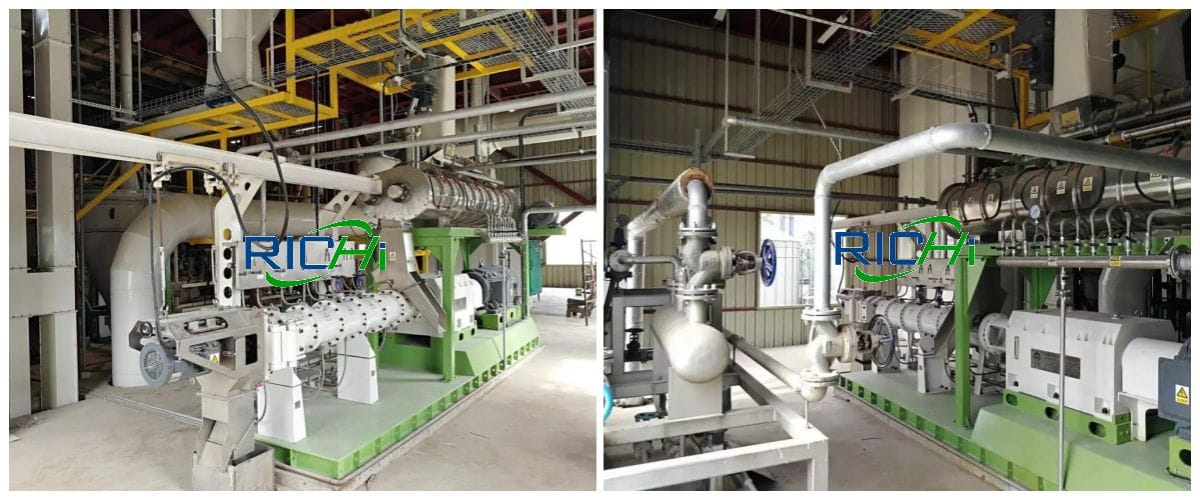 (6) Drying section
Because aquatic feed contains too much water before puffing, the pellets before drying have high moisture content, so efficient fish feed drying equipment is necessary. The drying section should adopt secondary drying.
The first time using a vibrating fluidized bed dryer, the moisture of the pellet feed after the first drying is generally about 16%, and then after the second vertical drying, the moisture content of the pellet feed can reach the target. Two fish feed drying machines are equipped with two fans to cool the packing section.
Due to the high moisture content before drying and the higher temperature of the feed after drying, it is necessary to have good feed pellet cooling equipment. The cooling must be uniform, and a counter-flow cooler is generally used.
Packaging equipment can be manual, semi-automatic and fully automatic, depending on the economic situation of the user. The powdered material is packaged by the fish feed mixing machine.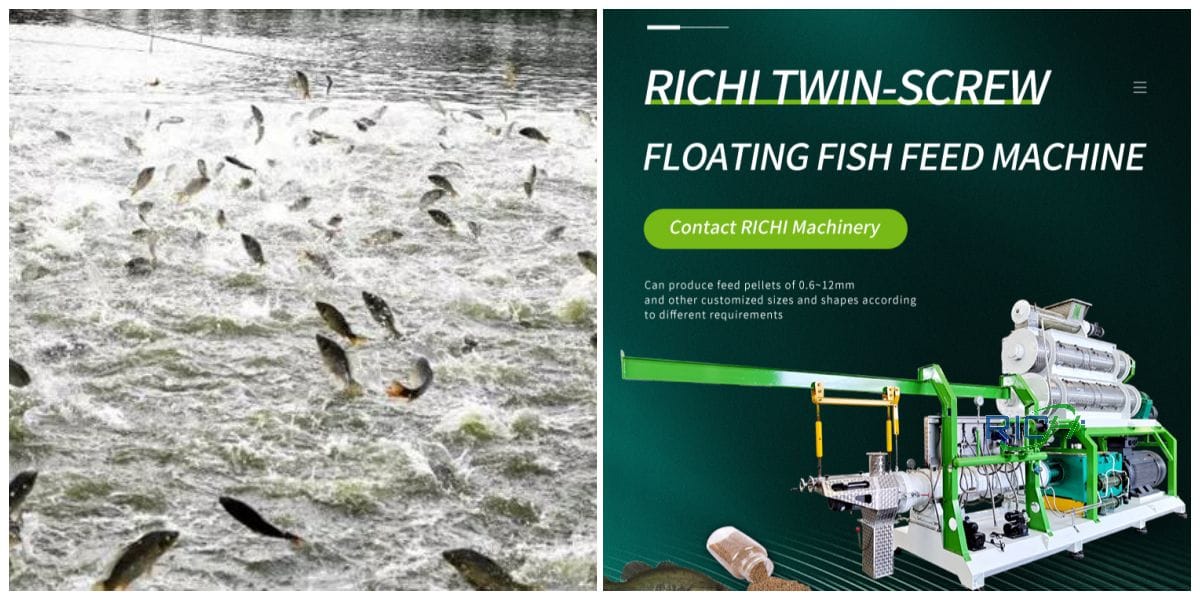 (7) External coating——8-10 t/h fish feed mill
There are three types of external coating machines widely used: turntable type, drum type and self-flow type. The common point is that during the falling process of the pellets, the mist-like liquid material is sprayed to the pellets, so that the pellets and the droplets are in contact in the air.
Due to the continuous operation, the weighing of pellets is repeated at a very high frequency. Some equipment can measure the instantaneous flow rate 800 times per minute, and the measured value is processed by special computer software to control the amount of liquid added.
With this matching method, the minimum spray volume can reach 1/10,000, that is, at least 100mL of liquid can be sprayed into 1t of pellets, and the proportioning accuracy can reach 2%, and multiple liquids can be added at the same time. The water-solubility of the coating liquid used in the coating machine should be considered to avoid the loss of the coating agent to the water during feeding.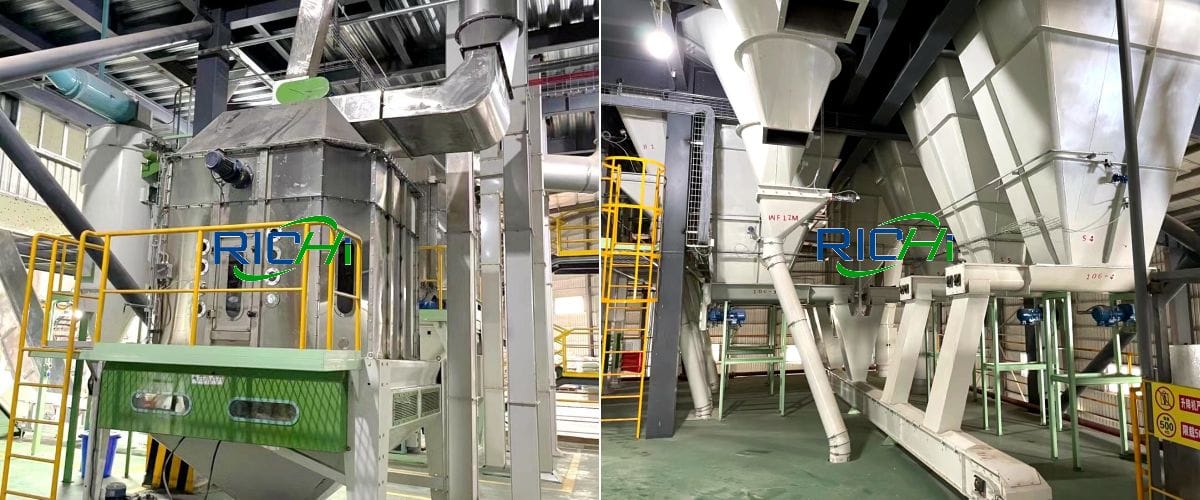 (8) Ventilation and dust removal
Since most of the raw materials of aquatic feed have a fishy odor and are crushed very finely, the workshop must have a good ventilation and dust removal system. In order to reduce the dust and noise in the 8-10t/h fish feed mill workshop, the dust removal equipment should be installed outside the workshop as much as possible. For dust removal and extruded feed, the shape of cylindrical pellet feed should be pulse dust collector.
How to select suitable 8-10t/h fish feed making equipment is also affected by many other factors such as investment scale and fish feed plant process layout, but in any case, it is necessary to correctly and effectively select and use aquatic feed processing equipment on the premise of ensuring product quality.
Richi Machinery always insists on contributing to the development of the feed industry through its own efforts. The same fish feed mill investment, the same management, the same technical formula – Richi Machinery always thinks of an engineering service provider that creates more benefits for customers!
Adhering to the concept of creating value for customers, Richi Machinery develops feed machinery with high production efficiency, low energy consumption, good stability, long service life, and saves processing costs for customers. Richi Machinery also provides customers with good and continuous technical training and after-sales service, solve technical problems for customers in a timely manner.
10T/H fish feed mill project report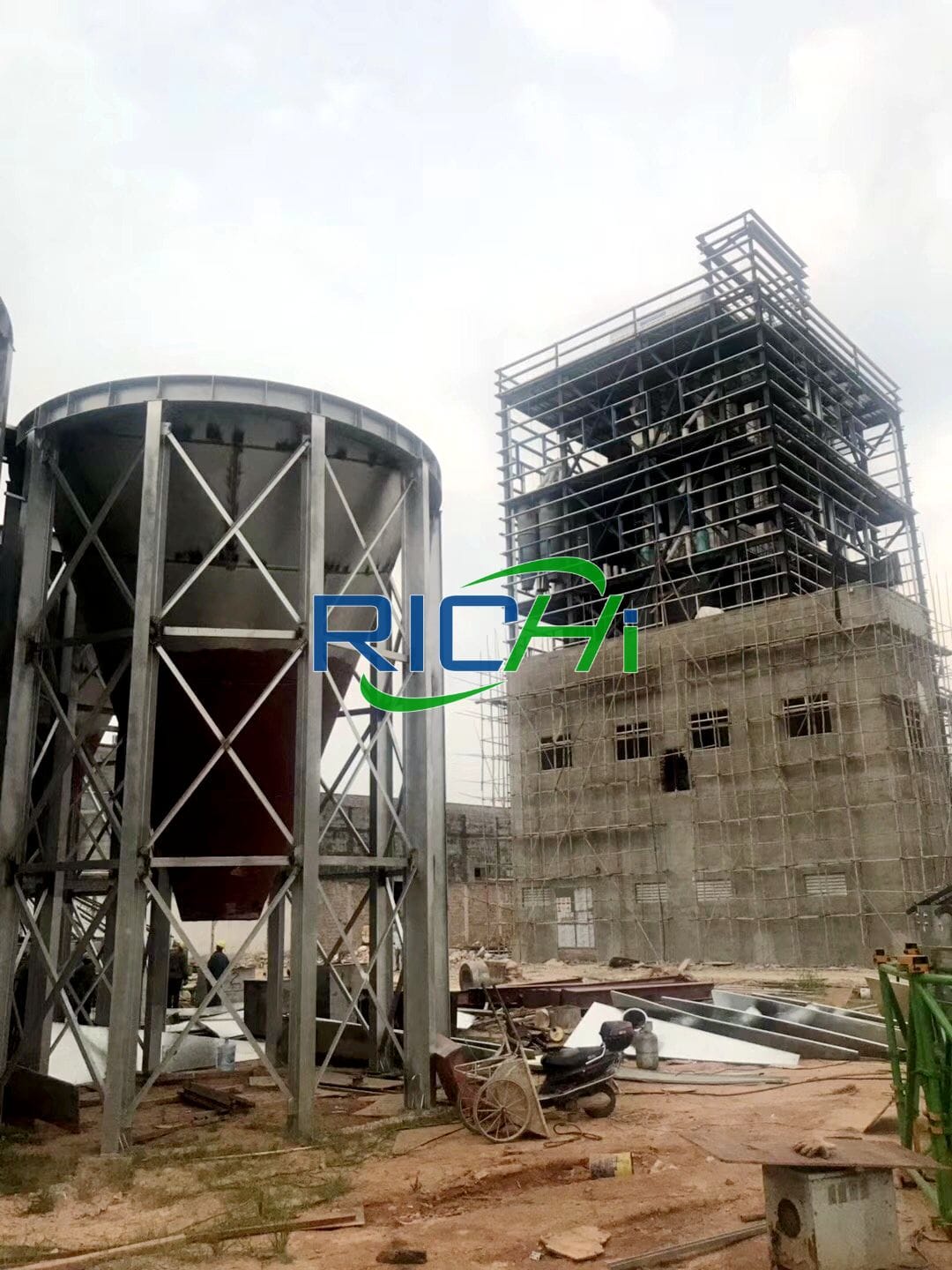 The aquaculture industry is currently experiencing explosive growth, with FAO forecasting that global fish production will increase by 40% over the next 12 years. Taking China as an example, China is the world's largest aquaculture country, with an annual industrial scale of nearly one trillion yuan in output value, a total output of more than 50 million tons of aquaculture, a 10 billion animal output value, and more than 20 million tons of feed. These data show that the aquaculture industry has huge development space: not only a huge production capacity, but also a huge market.
The client of this 10t/h fish feed mill project is from China, a well-known feed manufacturer in northern China. The client company closely followed the market trend and further deployed the southern market in 2017, aiming at the feed market such as channel catfish, yellow catfish, and California perch, and planned to build a high-end 10t/h fish feed system.
After more than 8 months of communication, comparison and selection of engineering projects, finally, advanced technology, solid reputation, and high-quality service, the customer finally chose to cooperate with Richi Machinery in depth. The 10t/h fish feed project includes a variety of aquatic feed varieties, from extruded aquatic products to seedlings, and the categories are very rich.
Engineering scale
| | |
| --- | --- |
| Raw Material Workshop | 1 layer, mainly for corn, soybean meal, flour, rapeseed meal, peanut bran, vegetable oil |
| Main production workshop | Layer 1, the main equipment is pulverizer, mixer, dryer, baler |
| Finished Workshop | Layer 1, store packaged finished products |

Main fish feed machines
| Name | QTY |
| --- | --- |
| Material Receiving System Equipment | 1 |
| Coarse crushing system | 1 |
| Ingredient System | 1 |
| Second Crushing System | 1 |
| Second batching system | 1 |
| Extrusion drying system | 1 |
| Spraying Packaging System | 1 |
| Forklift | 2 |
| Biomass boiler 6t/h | 1 |
Main raw materials
| Name | Annual consumption |
| --- | --- |
| Corn | 3600t/a |
| Soybean meal | 4400t/a |
| Flour | 4000t/a |
| Rapeseed meal | 3000t/a |
| Peanut Bran | 3000t/a |
| Vegetable Oil | 2000t/a |

Work system
Number of employees: The number of floating fish feed plant project employees is 18, all of whom live on-site.
Working system: One shift system is adopted, the daily working time is 8 hours, and the annual production is 300 days.
Water and electricity consumption
The production power supply of this 10t/h fish feed mill project is powered by double-loop mode. The power supply is introduced from a nearby high-voltage line and is stepped down by a transformer to 380/220V three-phase four-wire, and then sent to the workshop by a low-voltage power distribution cabinet. The total electricity consumption is 270,000 kWh/year.
All the water in the 10t/h fish feed processing plant is provided by the municipal water network, which is used for daily office and production operations of employees. The coefficient of domestic water use for employees in accommodation is 180L/person·d, and the coefficient for non-residential employees is 50L/person·d.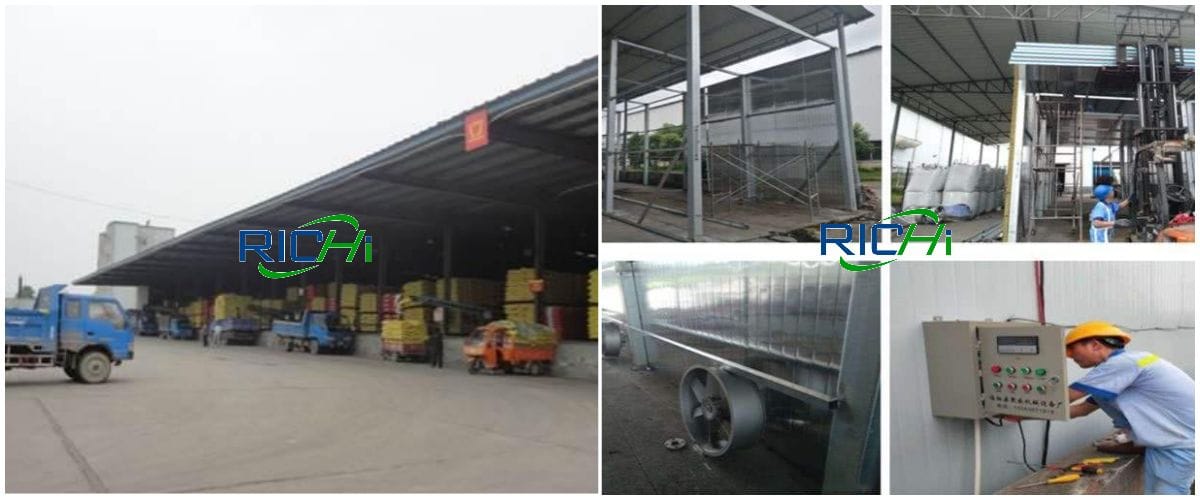 There are 18 employees in the 10t/h floating fish feed production line project, 3 are lodging and 15 are non-lodging, so the water consumption of the project is 1.29t/d, 387t/a. The boiler water consumption is about 1760t/a, and the boiler waste water is directly discharged into the sewage pipe network as clean water into the nearby ditches. The supplementary fresh water for boiler equipment is 300t/a.
Process flow of 10 t/h fish floating feed mill project
After the purchased raw materials are transported to the raw material warehouse in the 10t/h fish feed mill plant for storage, they are respectively transported to their respective feeding ports.
First, coarsely pulverize the larger-sized raw materials, add other raw materials into the pulverized raw materials according to the specified proportion and stir and mix, and then all the raw materials enter the ultra-fine pulverizer.
After further superfinely pulverized and fully mixed, and then transferred to an airtight container, and the raw materials are expanded by heating and pressurizing, and finally dried and packaged as required to obtain the product.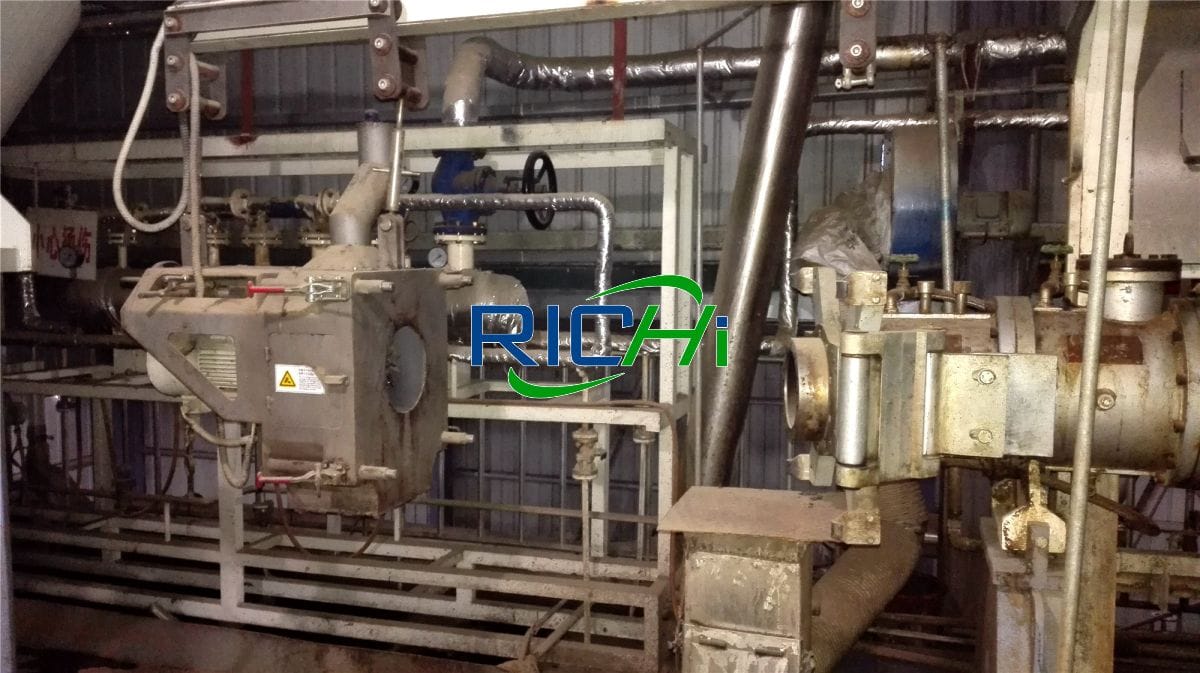 Receipt of raw materials: The raw materials of the 10t/h fish feed factory project are all packed in plastic bags, and the raw materials are temporarily stored in the raw material warehouse after purchase. Put the raw materials that need to be pulverized into the raw material tank.
Pulverization: This process is mainly for coarse pulverization of the granules that need to be pulverized. After the granules in the pulverization bin are pulverized, they enter the batching bin.
Mixing of ingredients: According to the preset feed formula requirements, add raw materials that do not need coarse crushing, and enter the batching scale for cumulative measurement through the conveying of the screw conveyor. The mixing is mainly carried out by a double-shaft paddle high-efficiency feed mixer machine. After each material enters the feed mixing machine, the mechanical action of the paddle makes each material gradually and uniformly mixed.
Ultrafine pulverization: The pulverization process of the whole production process of 10t/h fish food mill includes pulverization and ultrafine pulverization. After the materials are initially mixed, they enter the ultrafine pulverization. The amount of ultrafine pulverization is adjusted according to the product requirements, and the pulverized materials enter the secondary mixing.
Secondary mixing: The mixing process of 10t/h fish feed processing line includes ingredient mixing and secondary mixing. The secondary mixing mainly fully mixes the raw materials after ultrafine pulverization to prevent the uneven mixing of the ingredients and the initially pulverized raw material particles.
Extrusion: The raw material is in a closed container, and the product is expanded by heating and pressure with fish feed extruder machine.
Drying: It is heated by biomass pellet fuel steam boiler to dry the moisture in the feed.
Packaging: The dried products are packaged in bags.
The general layout of the 10t/h fish feed factory mill project has been unified and coordinated, the functional divisions are clear, the buildings and structures are not only compact and reasonable, but also have smooth circulation, and the 10t/h fish feed making plant layout is reasonable.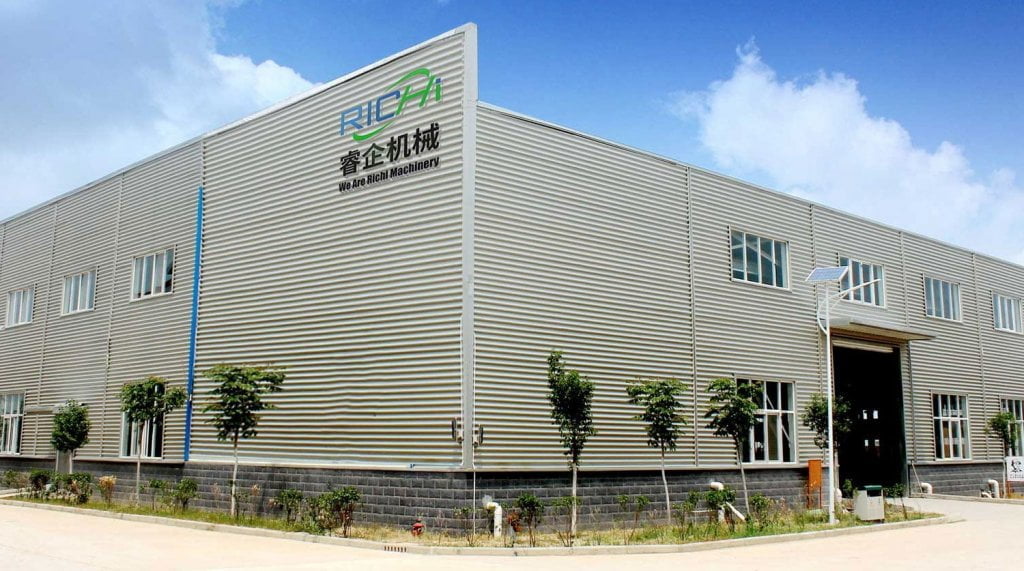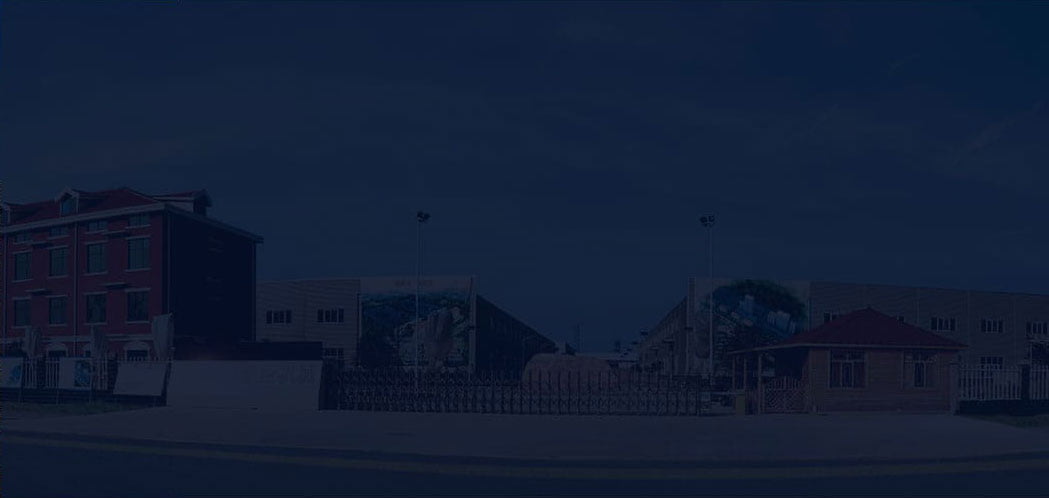 As the world's leading feed equipment, storage equipment and complete fish feed system service provider, in recent years, Richi Machinery has made continuous breakthroughs in the continuous promotion of core technology construction, new product research and development, and expansion of market layout, especially in aquatic products. Many high-tech products help customers create a full range of high-end aquatic feeds.
In the future, Richi Machinery will continue to stand from the perspective of customers and the market, focus on creating differentiated core competitive advantages and animal aqua fish feed mills, creatively meet customers' real and value-added needs, create more value for customers, and help the industry move forward.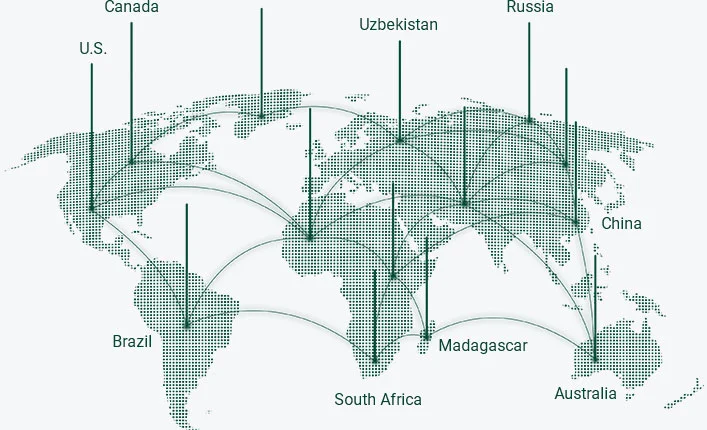 2,000+ /PROJECTS
In the past 30 years, as fish aqua feed mill manufacturer, we have accumulated rich experience. We has exported floating fish feed equipment for sale the world, and has reached cooperative relations with more than 2,000 customers in more than 130 countries and regions, providing them with complete solutions and services covering the entire product life cycle.
130+ /COUNTRIES
Customer experience is the touchstone. Richi Machinery has benefited a lot from winning the market with connotative products and high-quality services. Richi Machinery specialize in fish feed making equipment for sale, our fish feed mill plant machines are carefully designed for customers according to the actual feed production requirements.
LEAVE YOUR NEEDS
Keeping in touch with us is an effective way to solve all your problems. If you have any needs or questions, please leave your contact information, then RICHI technical consultants will send design, quotation, videos to your mailbox. You can also contact us directly via WhatsApp: +86 13838389622