How To Start A Wood Pellet Business 1-10 T/H Capacity?
How to start a wood pellet business 1-10 t/h? Starting a wood pellet business is building a wood pellet making plant! We all know that starting a wood pellet business requires careful planning and execution. So, in this article, RICHI will cover the essential steps you need to take for a successful venture.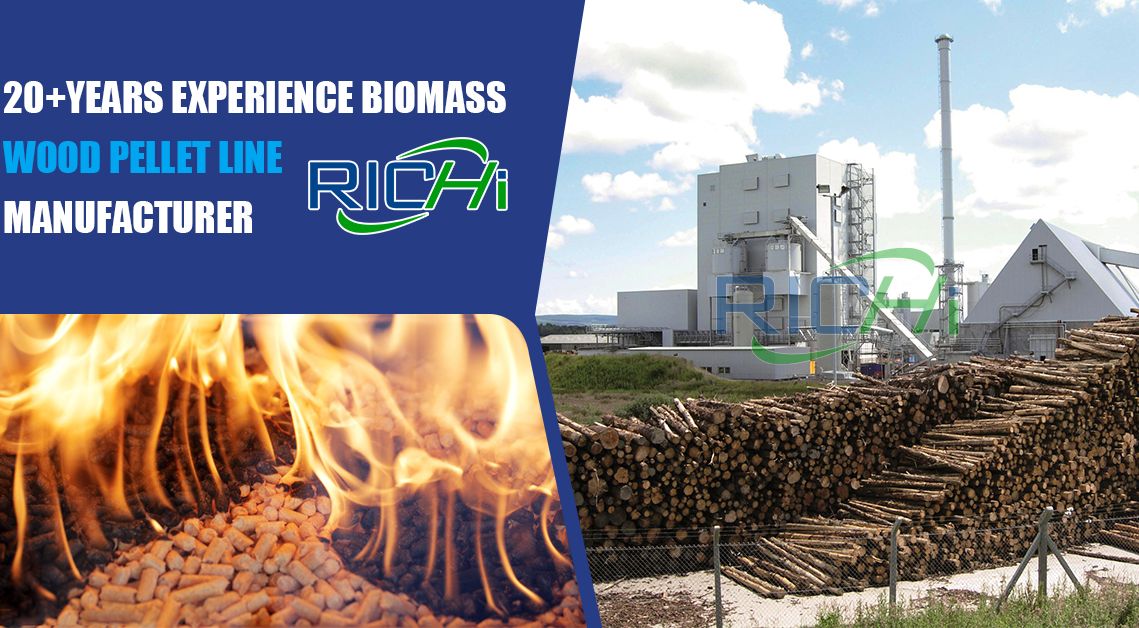 From conducting feasibility studies and securing the necessary permits to selecting suitable locations and buying the right wood pellet making equipment, we will guide you through each stage of the process.
Whether you are an entrepreneur, an investor, or simply passionate about wood pelleting or sustainable energy, this column will provide you with comprehensive information and step-by-step guidance to help you start your own wood pellet manufacturing business.
Steps of starting a wood pellet business
01 Learning the market demand, competition to determine the feasibility of the implementation of the plan is the basis for the subsequent steps. And obtain the required licenses and certifications is imperative to ensure regulatory compliance.
① Inspect local environmental protection policies. For example, in some countries, local environmental protection policies are not strict, and coal is allowed to burn, so there is no market for local wood pellets.
② Inspect the user unit. The biomass-burning unit is the object of your investigation. Power plants, chemicals, smelting, heating, schools, enterprises, bathing centers, etc. can use wood pellets.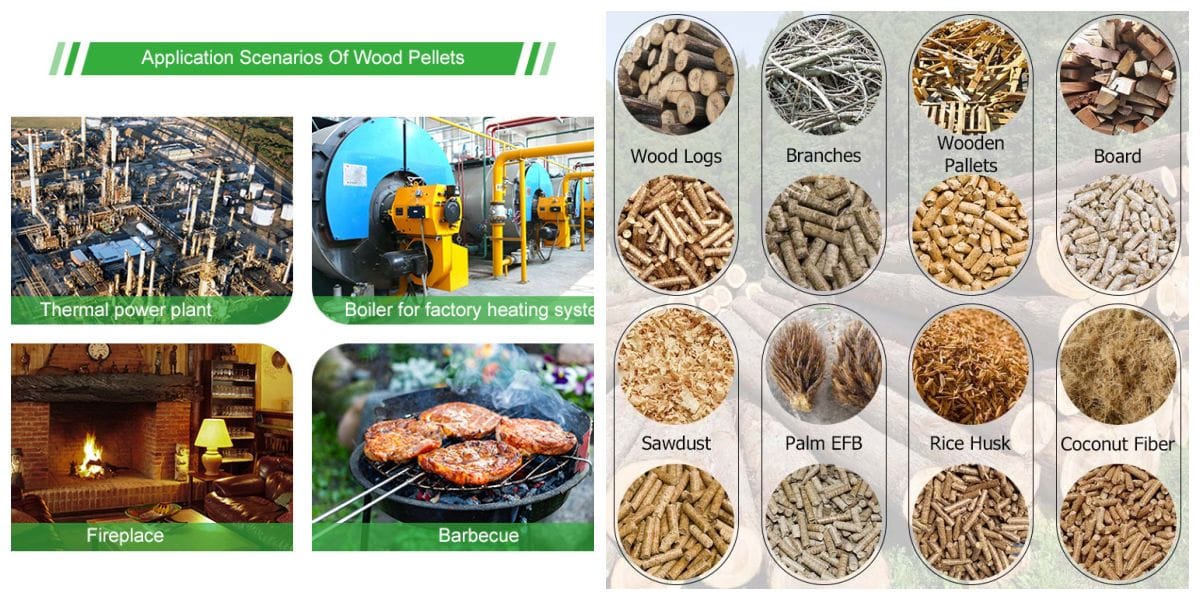 ③ The market size of wood pellets is basically clear after the inspection, but only a small part of the market for wood pellets is examined, and more importantly, the raw material market. You should know that a small wood pellet machine consumes more than one ton of wood pellets an hour, at least ten tons a day. If there are not so many raw materials in the local area, you will not be able to start your wood pellet business even if the market is good.
④ Wood pellets are a kind of biomass pellet fuel. Straws, rice husks, peanut shells, waste boards, etc., can all be processed into fuel pellets, so when investigating raw materials, we should not only examine wood, but also expand it.
02 Finding a suitable location and purchasing the necessary wood pellet equipment is another crucial step.
When the raw materials and sales channels have been investigated, and the wood pellet processing business can be determined, you can look for the best solution biomass wood pellet making plant supplier like Richi Machinery.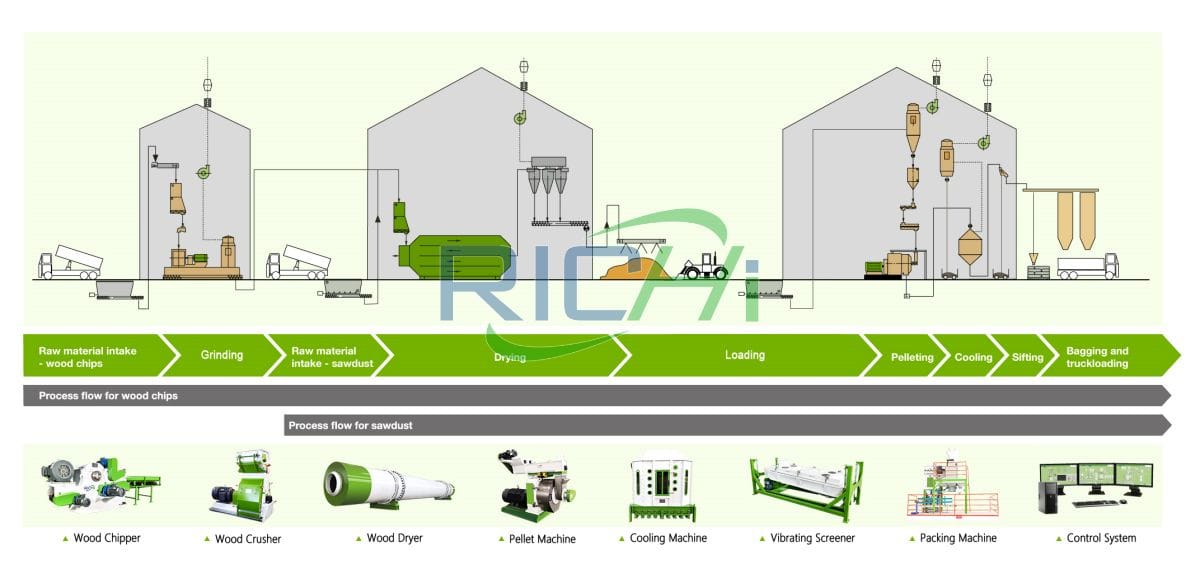 03 Getting enough capital through self-financing, bank loans or co-operation in various ways.
Your funds and budget are the first things to consider in your wood pellet plant design. Your budget tends to tell the scale of the wood pellet production line regarding large size or small scale. In case you do not have sufficient funds, then consider lowering your capacity.
Consequently, you can get even lower some relatively unimportant equipment. However, in cutting cost, it is never advisable to substitute the necessary equipment with low price and low-quality ones. You might end up regretting the move.
04 Your workshop is another thing that you need to consider in designing a wood pellet line.
In fact, the funds available to you will tend to determine your workshop size in that the higher the resources, the bigger the workshop you can build. Again, consider having your wood pellet plan design near your raw material to ensure that you cut the cost of raw material transportation.
Consequently, if you have a workshop, determine its height, width, and length. Consider then designing your wood pellets depending on your workshop size to ensure it is enough to lace the wood pellet processing equipment. Addressing logistical and storage issues through supply chain is also critical.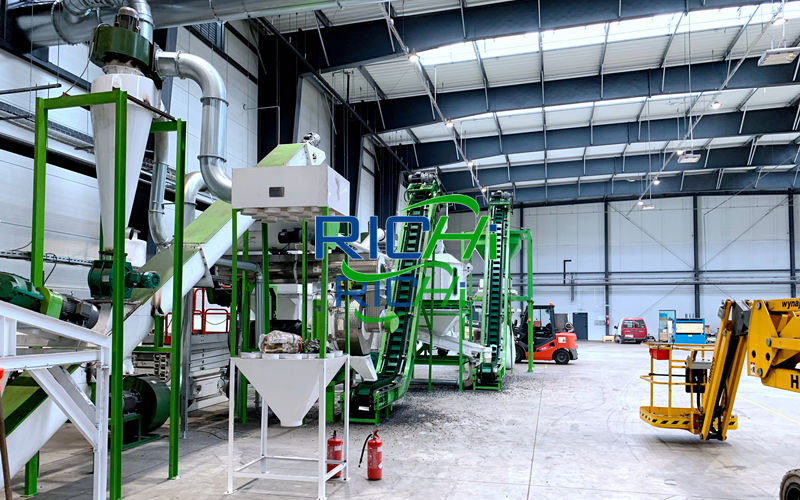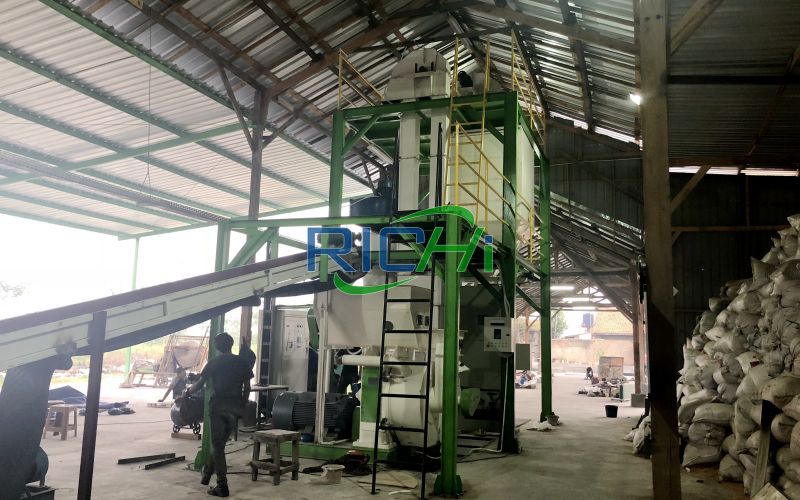 05 Finally, identifying sales channels and establishing a brand image will help the business to succeed.
There are many sales channels for wood pellets, including:
Direct sales to companies that use biomass pellets/briquettes as fuel;
Sales to pellet/briquetting traders;
Help industrial factory customers to do energy-saving technological transformation, and then sell pellets/briquetting to the factory;
Contract the energy supply of factories by ourselves, make energy-saving technological transformation to factories, and sell steam or hot air to industrial factories.
In addition, there are some other channels, such as selling on e-commerce platforms, selling in logistics companies, and so on.
If you want to start wood pellet business and don't know how to start a wood pellet business, please feel free to consult Richi Machinery!
How to start a wood pellet business with different capacity?
For different output, different production scales, different plant conditions, different investment amounts, different raw materials, and different energy costs, we provide customers with different solutions, process designs, and wood pellet making equipment configurations.
Next, RICHI will introduce some of the wood pellet business projects we have done, and briefly look at the basic situation of these projects. If you are interested in our project, please contact Richi Machinery directly for details!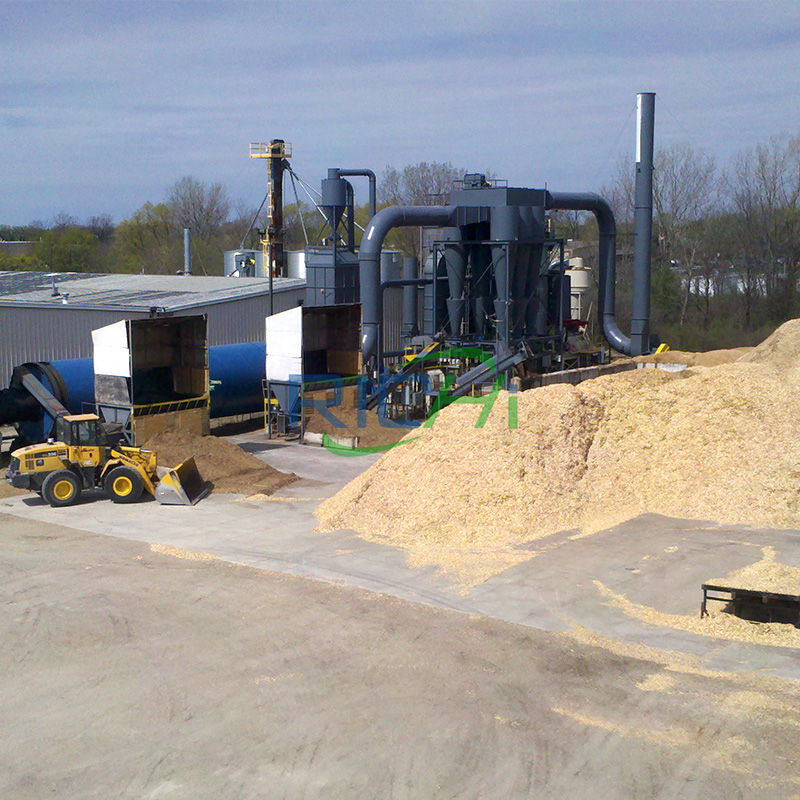 How to start a wood pellet business 2.5-3 t/h?
—— RICHI MACHINERY ——
Annual capacity: 6,000 tons pellets per year
Raw materials: sawdust*10000t/a
Area: 3000 (square meters)
Total investment: 370,000 USD
Main construction contents: crushing area, drying area, granulation forming area, raw material storage area, packaging area, warehouse, living area
Product specifications: about 2-4cm in length and 8mm in diameter.
Main equipment: Crusher, dust removal and wood sawdust dryer, wood pellet press machine, screening machine, cooling warehouse, packaging line
Working system: There are 9 employees in this project, working 8 hours a day and 270 days a year.
wood pellet production Process flow
Crushing: The raw materials need to be pulverized by a pulverizer to meet the briquette forming process requirements (about 50mm). The project crusher is an underground device, and the crushed materials are conveyed by belts into the next drying process.
Drying: Because the moisture content of the raw materials is between 10% and 15%, the raw materials need to be dried. The drying process of this project uses biomass fuels such as bamboo heads and bamboo nodes, and the drying time is about 30 minutes.
Compression molding: The dried wood chips and sawdust are sent to a wood pellet machine in a certain proportion, and pressed into a pellet shape in the pellet machine without any additives.
Packing and storage: The qualified finished products produced are packed in bags, weighed, packed, and put into storage for stacking.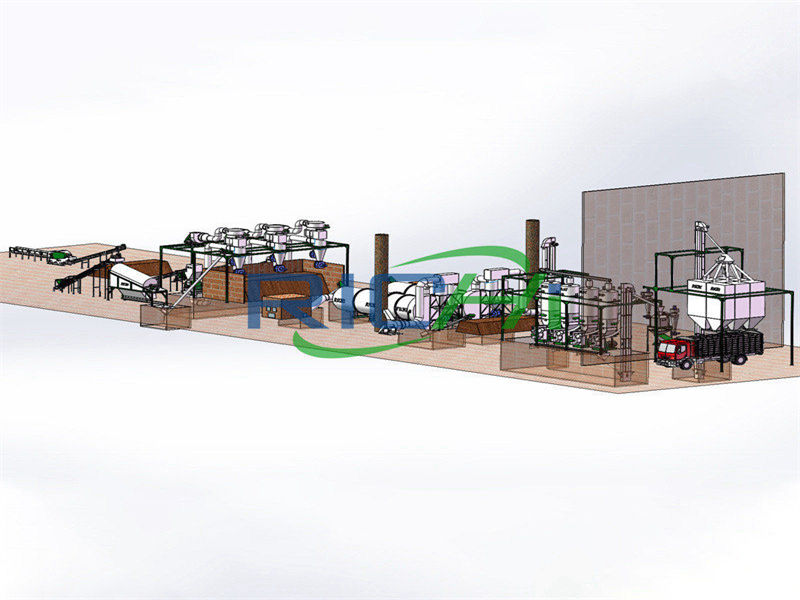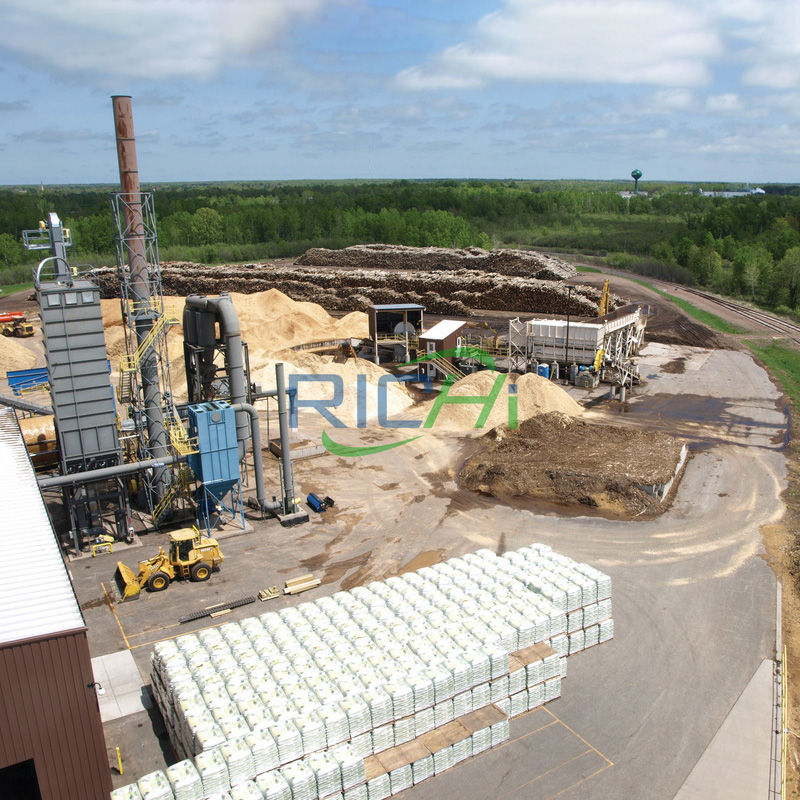 how to start a wood pellet business 4 t/h?
—— RICHI MACHINERY ——
Annual output: 10,000 tons of pellet fuel produced annually
Raw materials: waste wood, waste wood chips*10000t/a (solid waste processed for furniture factories)
Area: 800 (square meters)
Total investment: 450,000 USD
Working system: There are 9 employees in this project, working 8 hours a day and 270 days a year.
Water consumption: 100t/a
Power consumption: 500000 kWh/a
Product specifications: about 2-4cm in length and 8mm in diameter.
Main equipment: wood crusher, wood chip mill, wood pellet mill, packaging machine
wood pellet process design
The production process mainly includes crushing, milling and extrusion.
After the wood is crushed, it is transported to the mill for grinding through the conveyor belt, and then sent to the biomass pellet machine through the conveyor belt for extrusion molding, and the finished product is bagged and packaged for delivery.
The raw materials used in the production of this project are wood and sawdust waste produced in furniture production. After the front-end dust removal and other processes are performed in the production process of this raw material, its moisture content can meet the moisture content requirements in the "Technical Conditions for Biomass Solid Molding Fuel Molding Equipment" ( The moisture content of wood pellet fuel is ≤13%), so the process of this project does not include drying and heating and other water removal processes.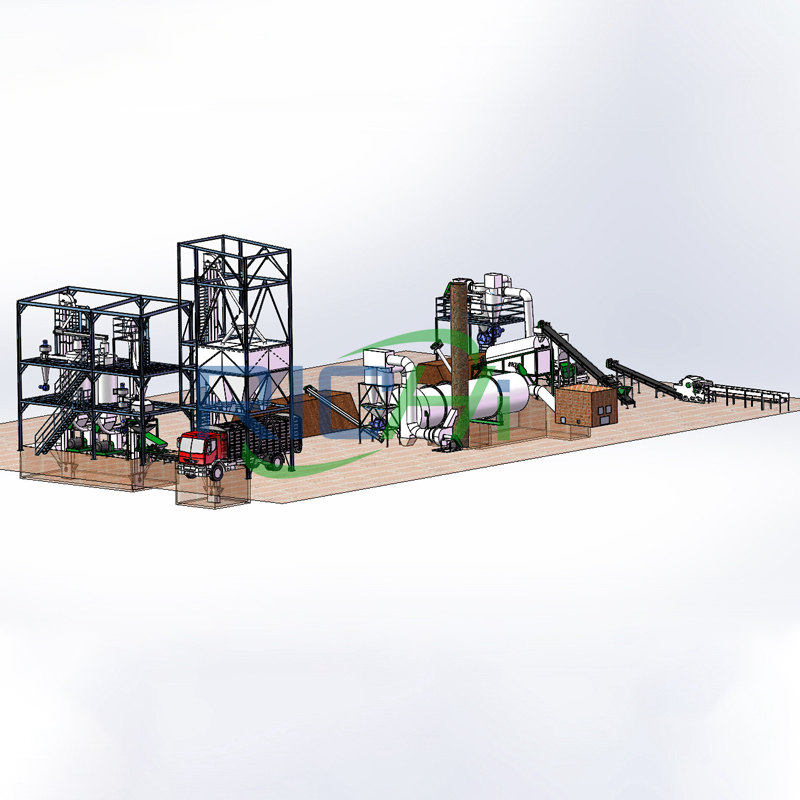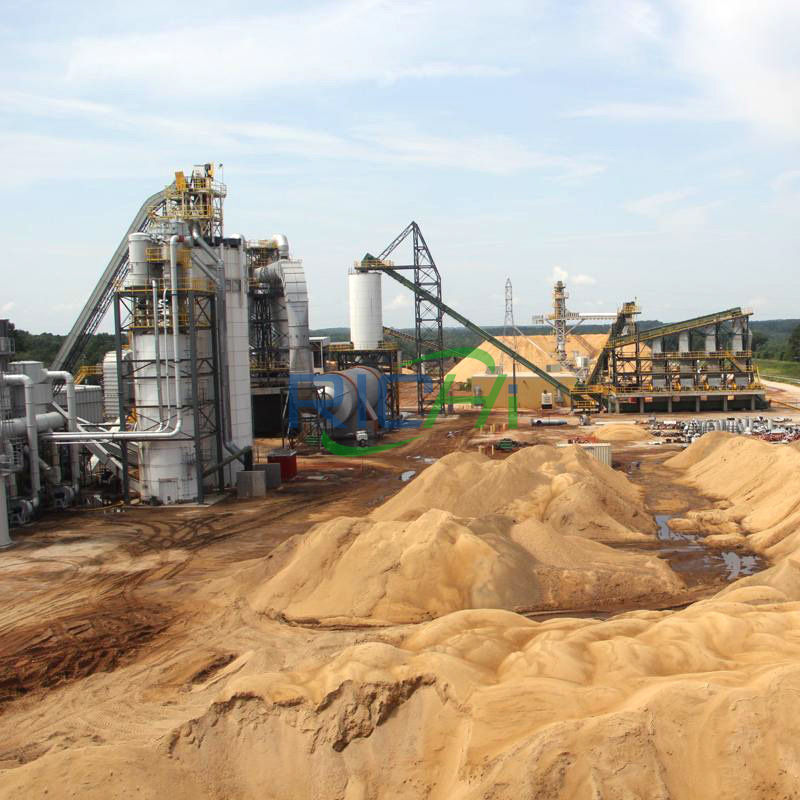 how to start a wood pellet business 6-7 t/h?
—— RICHI MACHINERY ——
Annual output: 19,000 tons of biomass pellets per year
Raw materials: wood chaff, wood shavings, firewood
Area: 1600m2
Total investment: 630,000 USD
Main construction content: brick-concrete structure production plant. The auxiliary works are mainly the stockyard outside the factory building and the access road.
Working system: The production time is 10 hours a day, and the annual working time is 300 days.
Total number of project employees: 12
Water consumption: 50t/a
Power consumption: 1200000 kWh/a
Product specifications: about 4-5cm in length and 8-10mm in diameter.
Main equipment: drying line, sawdust mill, screening machine, wood pelletizing machine, conveyor belt, packing scale
wood pellet Production process design
The raw material is already a semi-finished product and does not need to be crushed. It is sent from the feeding machine to the screening machine for screening and sent to the air-flow drum dryer. In the wood chip dryer, the raw material is dried by hot air and sent to the exhaust fan through screw conveying. The water vapor and dry material are separated from the bottom, the water vapor and smoke are sucked from the top, and finally absorbed by the pool, and the dry material is sent from the bottom to the pellet machine for solidification and molding.
The wood pellet maker machine pressurizes and heats the raw materials into granules, and the diameter of the granules is 8mm~10mm. The pellets extruded by the wood pelletizer machine are conveyed into the discharge device through the belt, and an air induction pipe is arranged in the middle of the discharge device, which is connected with a set of dust recovery device. The unqualified products and scraps are crushed and reused after spin-packing, and the qualified products are naturally cooled and packaged for sale.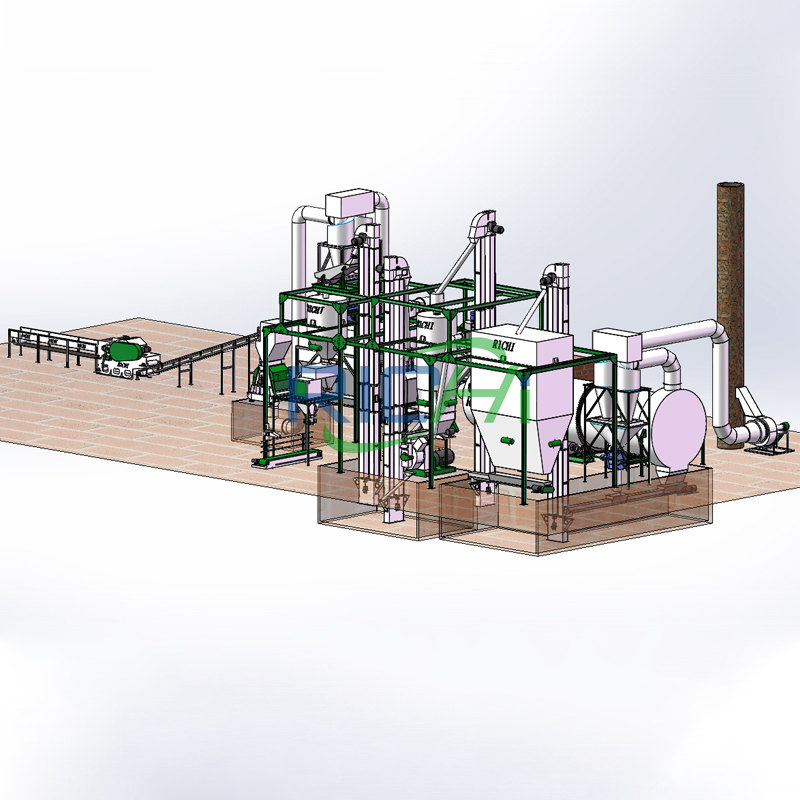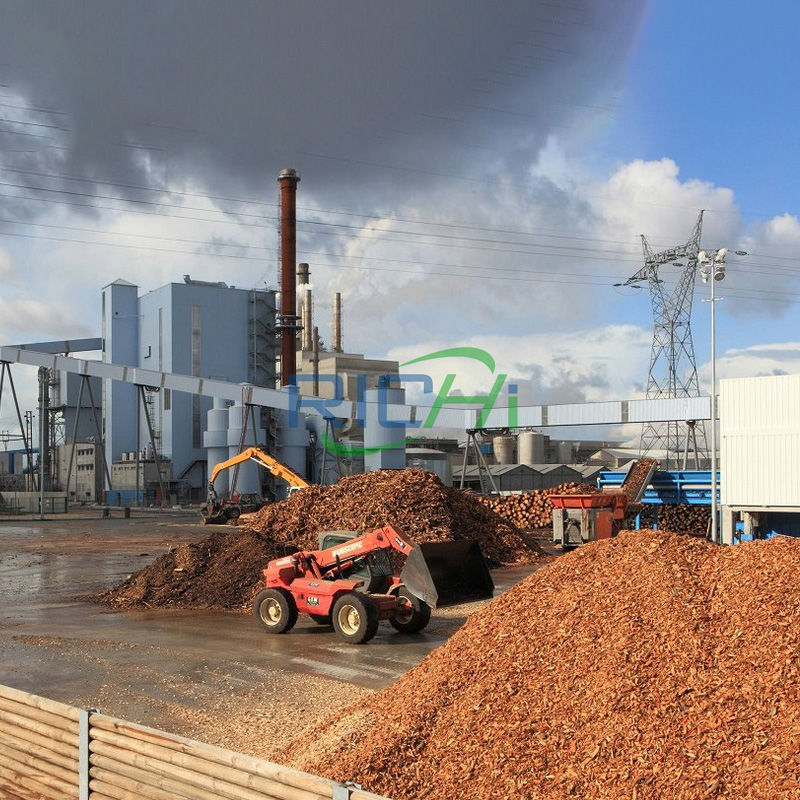 how to start a wood pellet business 8 t/h?
—— RICHI MACHINERY ——
Annual output: 20,000 tons of biomass pellets per year
Raw materials: wood scraps*10100 t/a, three leftovers (shavings, sawdust powder, waste wood boards, branches, etc.)*10000t/a
Area: 2710.95m2
Total investment: 790,000 USD
Main construction content: production workshop, raw material warehouse, finished product warehouse, office area
Number of employees: 10 people, no staff dormitory and canteen
Working system: 8 hours, 300 working days per year
Water consumption: 150t/a
Power consumption: 200000 kWh/a
Main equipment: crusher, pulverizer, belt conveyor, bucket elevator, wood pellet granulator, air compressor, packing scale
wood pellet Production Process
Raw materials come from qualified suppliers, inspected and put into storage.
When the purchased raw materials are put into storage, plastic and other sundries are first screened out, and then crushed. The leftovers (such as nails, plastics, paper scraps, etc.) It is transported to the wood pelletizer machine to start granulation; finally, the excess dust is screened out, and then it enters the silo to cool and is bagged into the warehouse. The dust generated in the production process of the project comes from the crushing, crushing and screening process of raw materials.

Considering the most unfavorable factors, the dust generation coefficient in this evaluation is calculated as 175g/t of raw material processing, and the project produces 20,000 tons of biomass pellets annually. The project consumes a total of 20,100 tons of raw materials annually, and the total amount of dust generated by the project is expected to be 3.52t/a.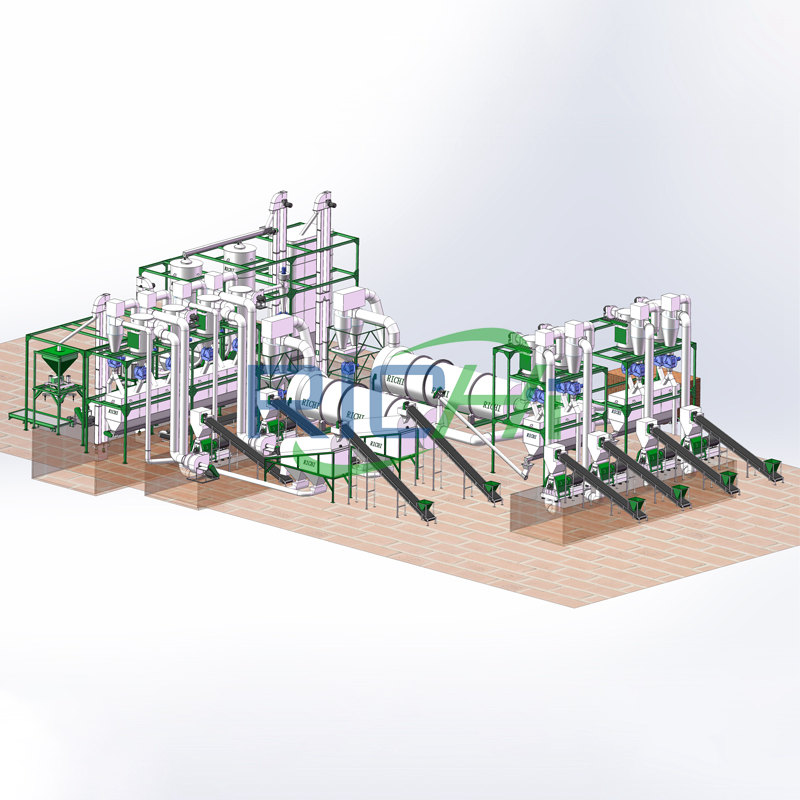 Why start wood pellet business?
Above, you have learned about "how to start a wood pellet business". Here, RICHI will tell you about the prospect of starting a wood pellet processing business.
What are the benefits of investing in a wood pellet production business? Actually, In the new era, new pellet energy fuels are products in the field of environmental protection in modern society.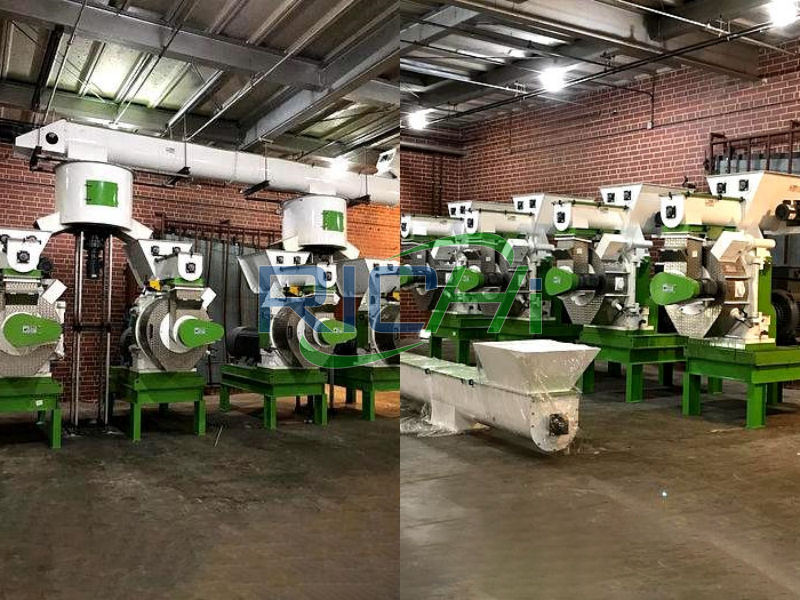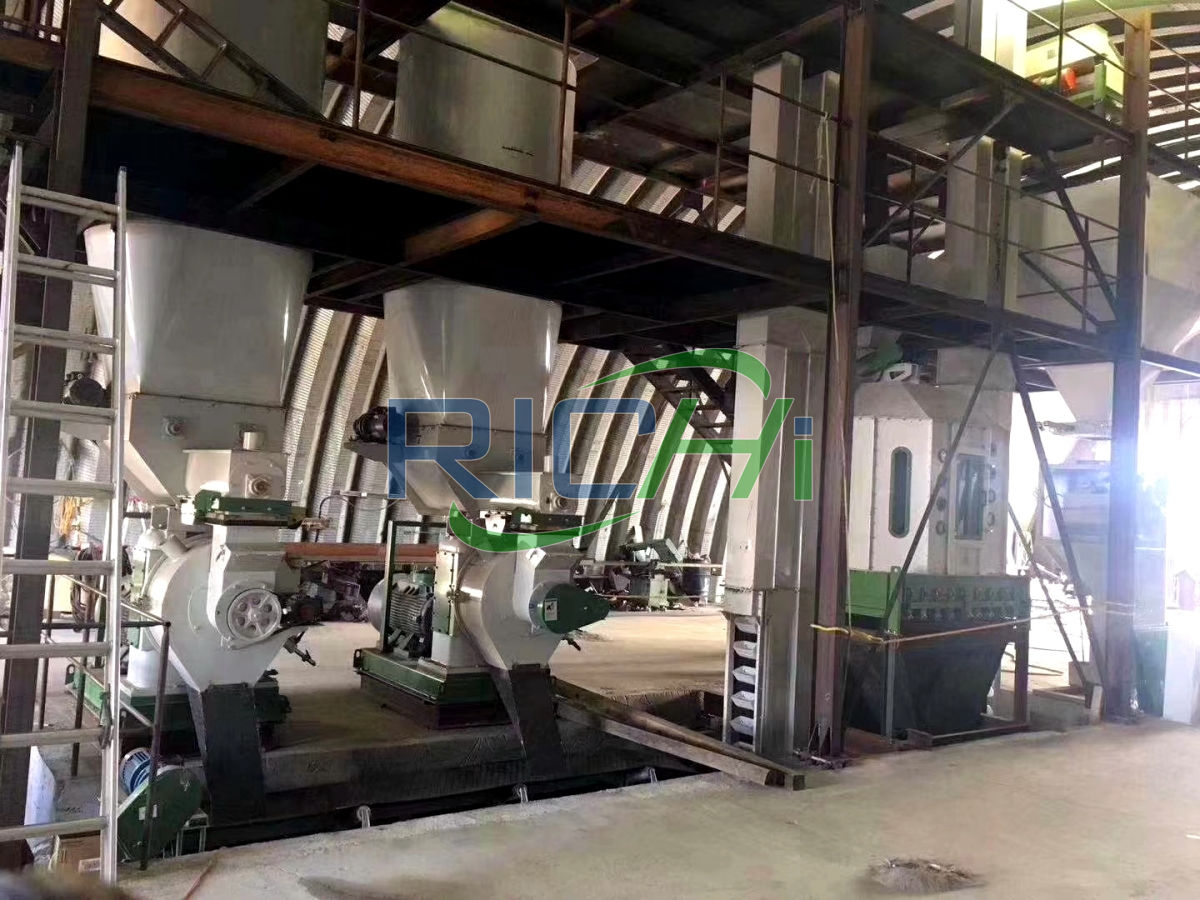 The prototypes of these pellet fuels are some waste materials such as sawdust, branches, corn stalks, straw stalks, wood bran, and wood chips, after crushing, drying, the pellets are produced by a wood pellet making machine. Pellet fuel has low cost, high calorific value, and is more environmentally friendly than coal. It is an ideal choice for biomass boilers. It can not only be used as fuel, but also as organic fertilizer to loose soil, and has broad investment prospects.
The global market for wood pellets has increased significantly over the past several years, and this trend is anticipated to continue due to the awareness of environmental benefits of wood pellets and their efficacy as a renewable energy source.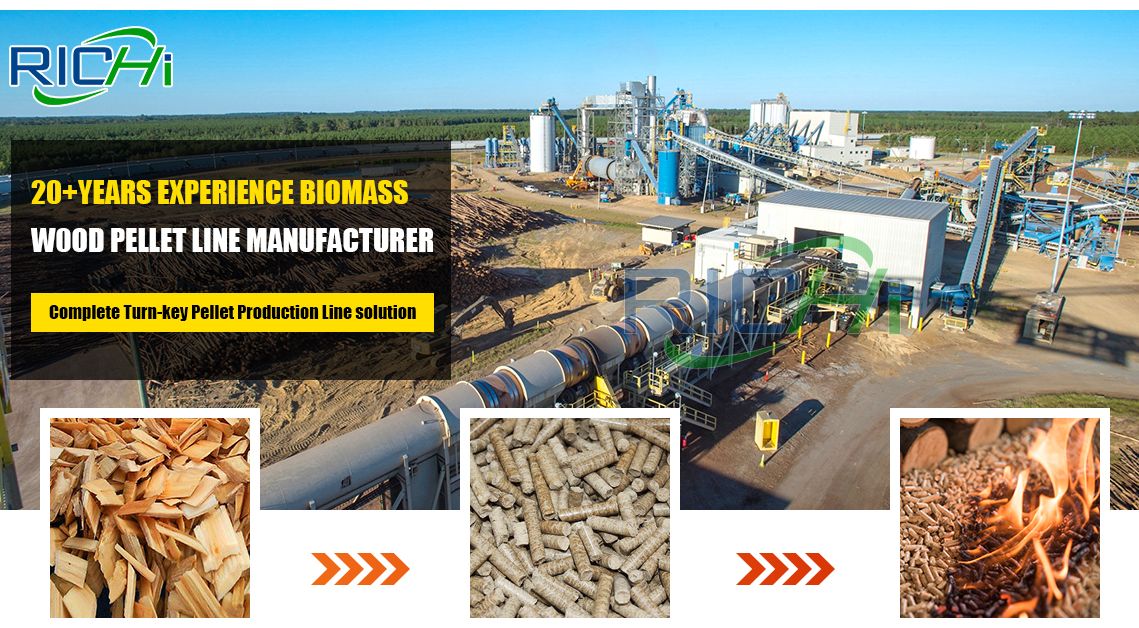 Starting a business in wood pellet manufacturering can get significant financial returns , with a return on investment of up to 20% and a payback period of around 2-4 years, which attracts more and more investors in this sector.
Increasing fossil fuel prices;
Policy supports and measures by national governments;
Raw material availability and low cost;
Sustainability standards, certified production and traceable chain management;
Technical requirements for industrial wood pellet fuels;
The wood pellet business is a guarantee for you to produce quality pellets. Also, you are sure that with the right procedures of the wood pellet factory design then the operational factors will flow appropriately. Consider then having a wood pellet processing plant designed fittingly to your advantage.

How to start a biomass fuel wood pellet production plant is usually raised by clients or potential clients who possess abundant and sufficient biomass material such as wood blocks, wood sawdust or saw shavings, bark, tree branches and twigs as well as rice husk, wheat straw, cotton stalks , corn stalks, corn cobs, bagasse, palm EFB, bamboo, shell, etc.
As long as the material you have belongs to biomass substance, you are able to turn it into pellet fuel actually. Therefore, it comes another question. Since you have constantly sufficient raw material supply, then how should you start a biomass wood pellet factory or w hat should draw your attention for running a pellet business.
If this is what you think, then you need RICHI. If you are interested in wood pellet processing business, please feel free to contact us, our technical consultants will provide the most professional solutions. (Find RICHI on Facebook)
LEAVE YOUR NEEDS
Keeping in touch with us is an effective way to solve all your problems. If you have any needs or questions, please leave your contact information, then RICHI technical consultants will send design, quotation, videos to your mailbox. You can also contact us directly via WhatsApp: +86 13838389622