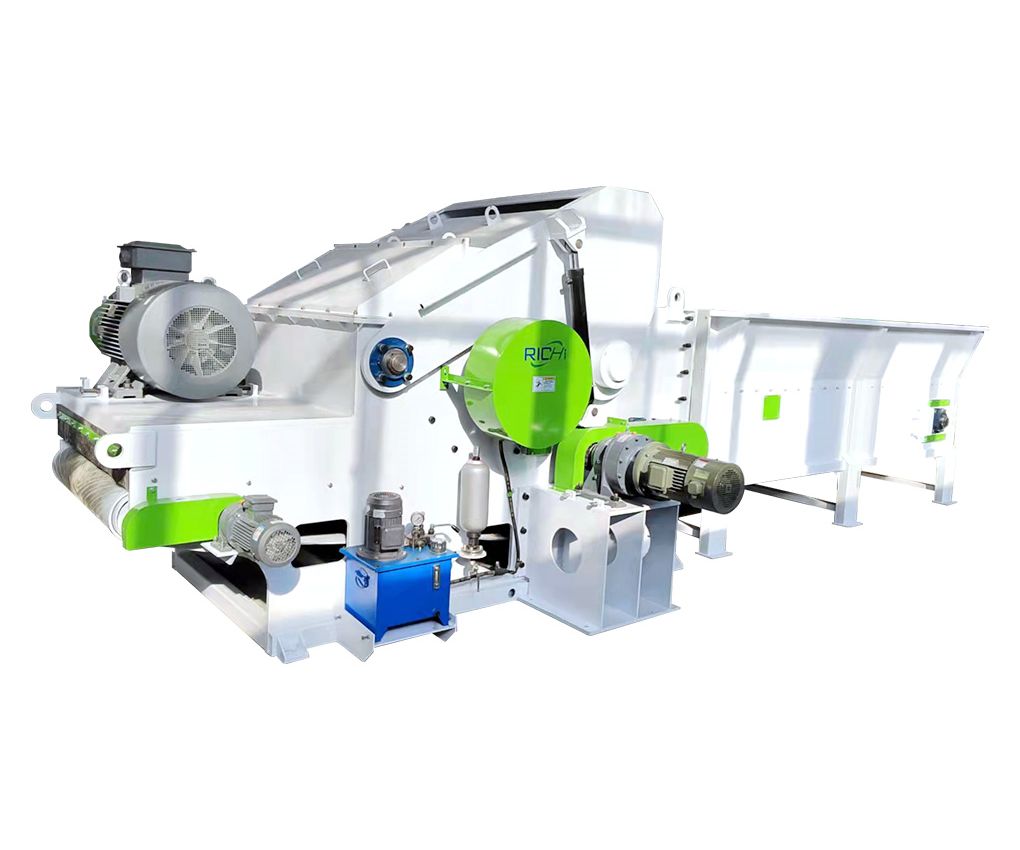 Wood Pallet Crusher
Wood pallet crusher is an efficient equipment for companies that need to quickly and cost-effectively dispose of waste wooden pallets.
It is a new, large-scale machine specially developed for waste pallet, bamboo plywood, shelves, brackets, pallets, etc. on construction sites. Wood pallet crusher is the fastest, ideal and most affordable equipment for crushing wood among the wood crusher machines.
This pallet crushing machine is widely used in waste formwork processing plants, bamboo plywood processing plants, artificial board plants, composite board plants, power plant boiler raw material combustion, etc., as well as individual wood processing plants.
Capacity: 3-20T/H
Pallet shredder cost: 20,000-20,000 USD
With the rapid development of the crushing industry, people have higher and higher requirements for the grinding process. Low energy consumption and uniform product particle size are the goals pursued by crushing workers. And this is also the goal that RICHI template crusher can fully achieve.
Why use wood pallet crusher?
The main raw material suitable for this pallet crusher equipment is a large number of discarded formwork used in construction sites everywhere. Templates are different from ordinary wood. Ordinary wood can be crushed directly with a wood chipper crusher, but templates cannot.
There are often metal objects such as nails and wires on the templates. These wood carrying metal objects can only be crushed using a pallet grinder.
With the development and construction of cities, waste pallet and bamboo plywood can be seen everywhere on construction sites. These materials must be crushed before they can be used by enterprises.
Pallet crushing machine plays a vital role in this link. It is urgent to develop efficient and energy-saving crushing equipment.
The research and development of pallet chipping machine will promote the development of new energy development projects, while saving construction resources and reducing the pressure on the human living environment.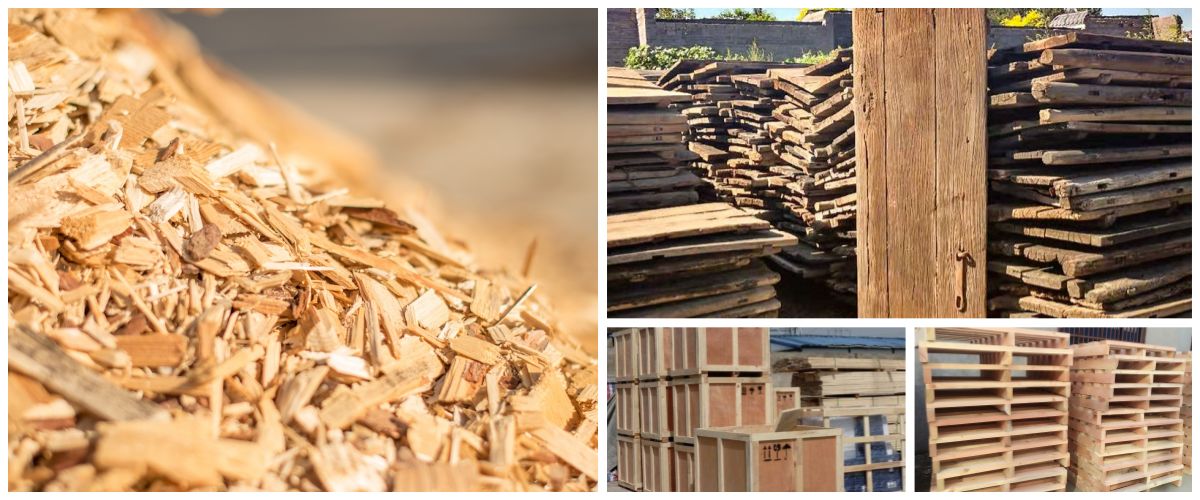 The source material of the RICHI pallet chipper can be used as fuel for thermal utilization, or it can be extended into a complete and fully automated system concept in combination with additional processing steps.
Features of wood pallet crusher
The wood pallet crusher is mainly composed of a frame, a shell, a rotating shaft, a hammer head and an induced draft fan. It has a simple design and is easy to replace. This is also a product carefully designed by Richi Machinery. We have unified output standards and can also be specially designed according to user needs.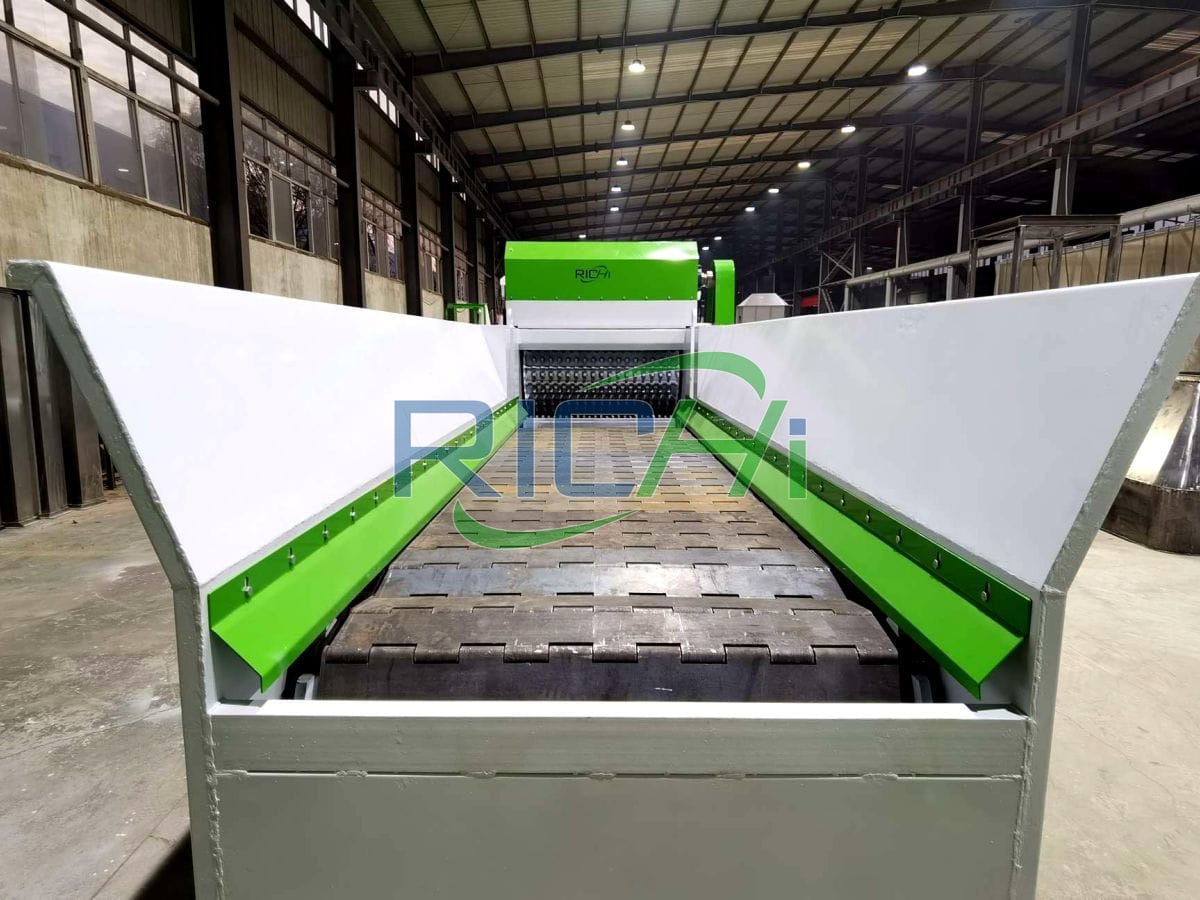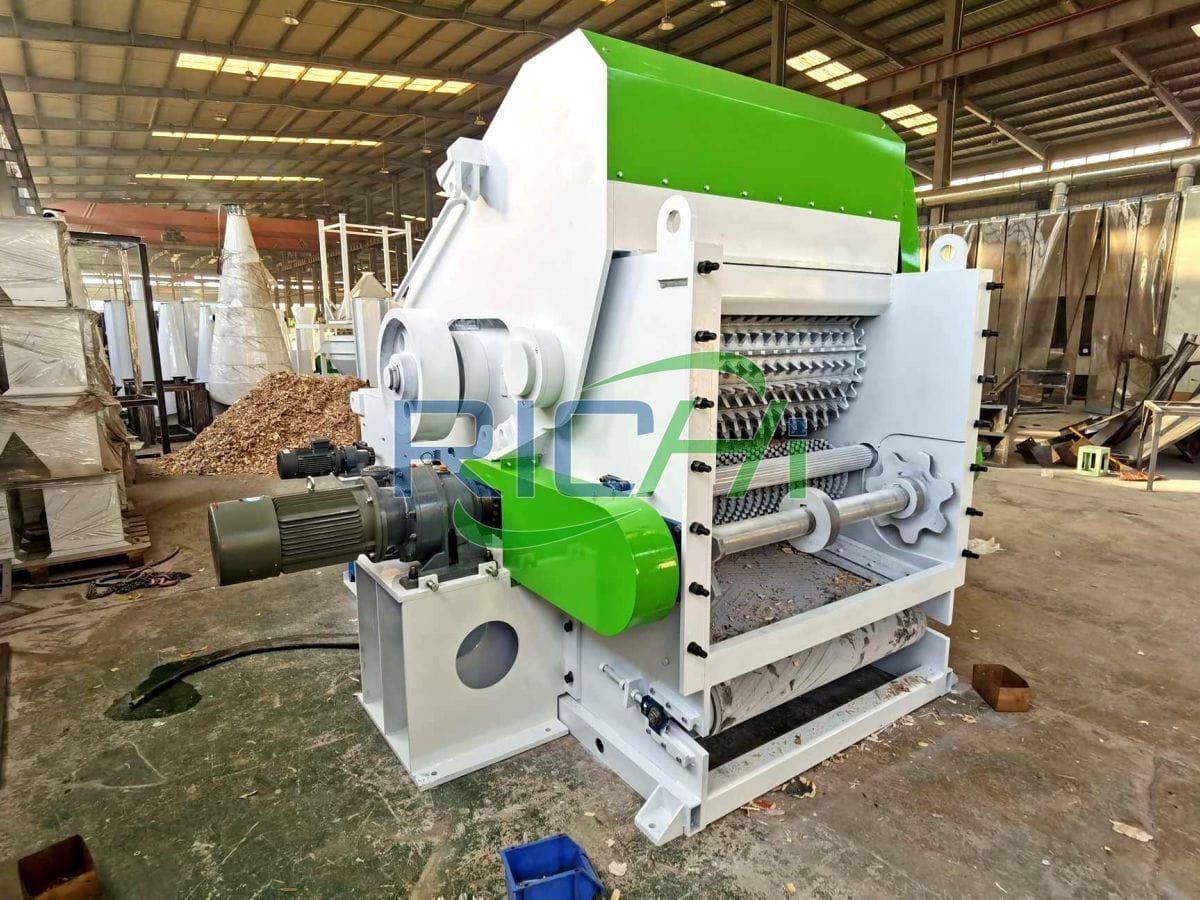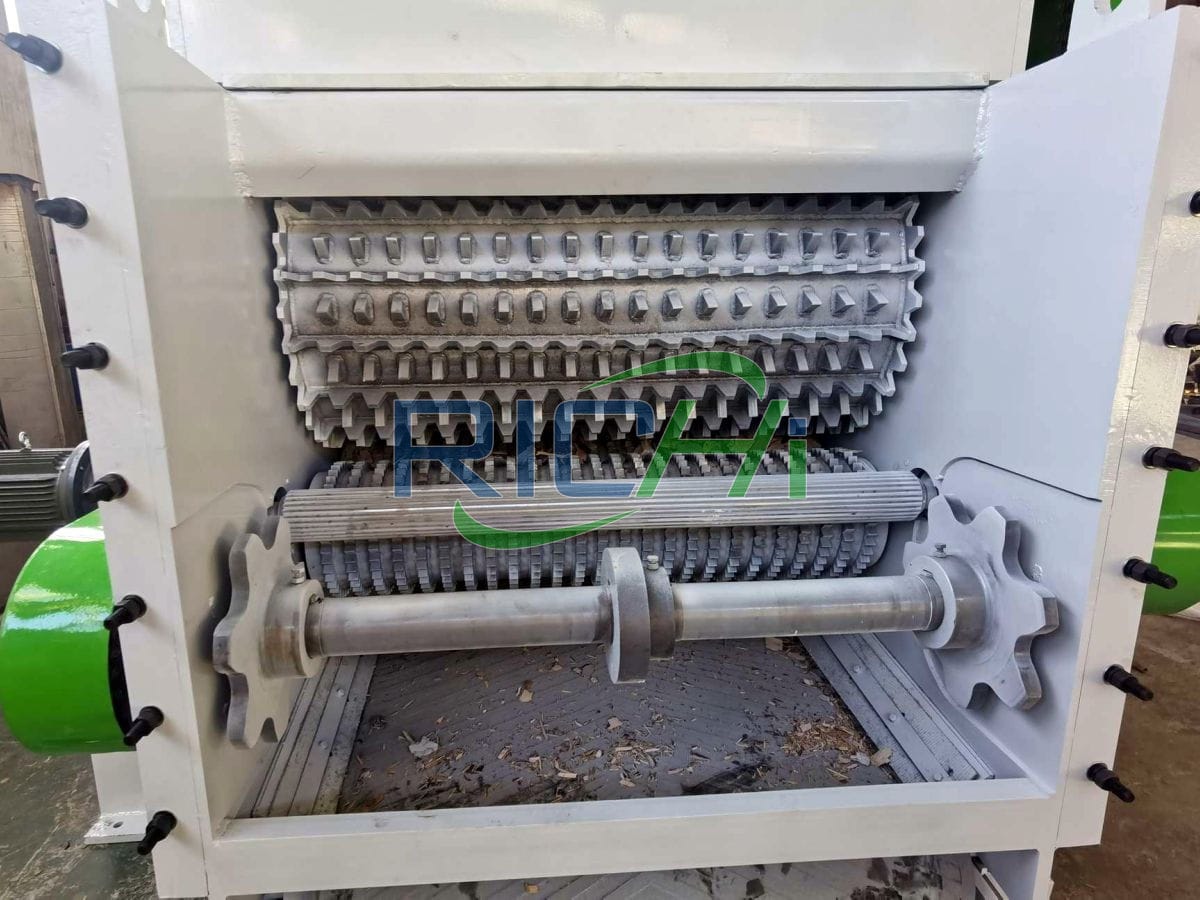 Mainly used for rough breaking, specially used to break large-sized wood with nails.
It adopts a forced feeding mechanism and uses the working principles of tooth roller extrusion and hammer crushing to specifically process large-scale, high-hardness wood with iron nails.
It adopts a large-size feed port design and is equipped with a feed conveyor belt with the same width as the feed port, so large-scale raw materials can be put in with confidence.
Using high wear-resistant alloy hammer head, it has high hardness, good toughness, strong crushing force, high output and good finished product quality.
Intermeshing blades can completely crush materials;
Choose special blades whose hardness is not less than HRC55 (the HRC hardness of the file is 51 degrees);
Strong structure, densely distributed reinforced ribs to ensure the strength of the box;
Automated button control, safe and convenient;
Safety signs and safety labels to ensure safe use;
Can be equipped with conveyor belt for feeding.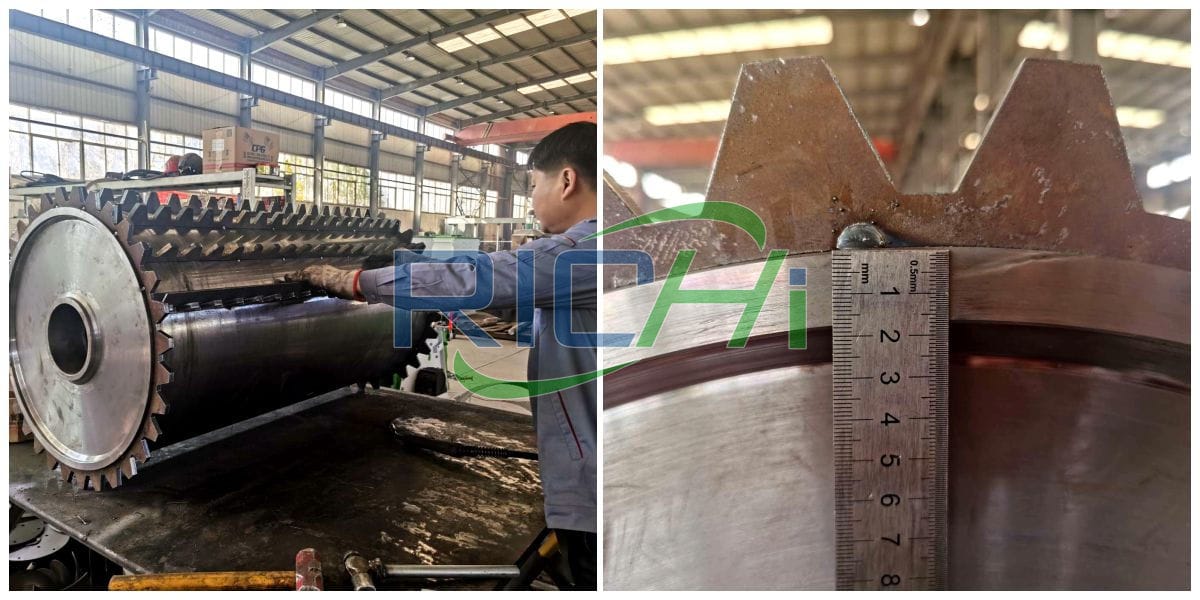 Based on the technology of the long-time established low-speed double-shaft system, these wood pallet shredders are characterized by excellent performance and flexibility.
The wood pallet chippers can be used for a wide range of applications such as pallet wood, demolition wood, various types of biofuel and much else besides. The hydraulic lifting table allows the feed cross-section of the machine and the feed volume to be significantly increased once again.
Advantages of wood pallet crusher
Easy to install, maintain and with a robust construction ensuring long service life, the RICHI wood pallet crusher provides a simple solution to save you a time, money and storage space.
Low maintenance costs, simple and fast maintenance work;
Small space required;
Increase of the throughput capacity up to 50%;
Reliable processing of large-volume feed material made of wood;
Save money disposing of waste wooden pallets;
Save time wasted on manually breaking-up wooden pallets to scrap or burn;
Helps a standard size shredder manage pallets, by pre-shredding the wood into more manageable pieces for the shredder to process;
Helps reduce manual handling, as pallets can be loaded into the wood pallet grinder with a forklift truck;
Save money on purchasing or upgrading to a larger wood shredder.
As with all RICHI's products, the wood pallet crusher has been designed, created and assembled in the China, using only quality parts and experienced labor to maintain the high quality and exceptional reliability that RICHI's reputation has been built upon. (Related post:wood chipper machine)
Technical parameters of wood pallet crusher
| Model | MCPS600 | MCPS1200 | MCPS1500 |
| --- | --- | --- | --- |
| Capacity(T/H) | 3-5 | 10-12 | 15-20 |
| Feeding conveyor width (mm) | 600 | 1200 | 1500 |
| Inlet size (mm) | 600*300 | 1200*500 | 1500*600 |
| Main motor power (kw) | 55 | 90/110 | 110 |
| The power of the feeding motor of the roller (kw) | 7.5 | 7.5 | 18.5 |
| Feeding speed (m/s) | 0.8 | 0.8 | 1.3 |
| Conveyor speed (r/min) | 650 | 650 | 650 |
| Speed ​​of crusher (r/min) | 680 | 680 | 680 |
Video of wood pallet crusher
Do you need to handle large, bulky wooden components such as pallets and crates and maintain high throughput in continuous operations? We can offer you an efficient solution for these jobs – RICHI supply pallet crushers.
Use this pallet shredder alone to achieve a high-yield wood chip product; combine this pre-crusher with our wood pellet hammer mill and you will have wood sawdust raw materials suitable for a variety of applications! You can also save a lot of floor space that larger machines would take up.
Wood pallet crusher projects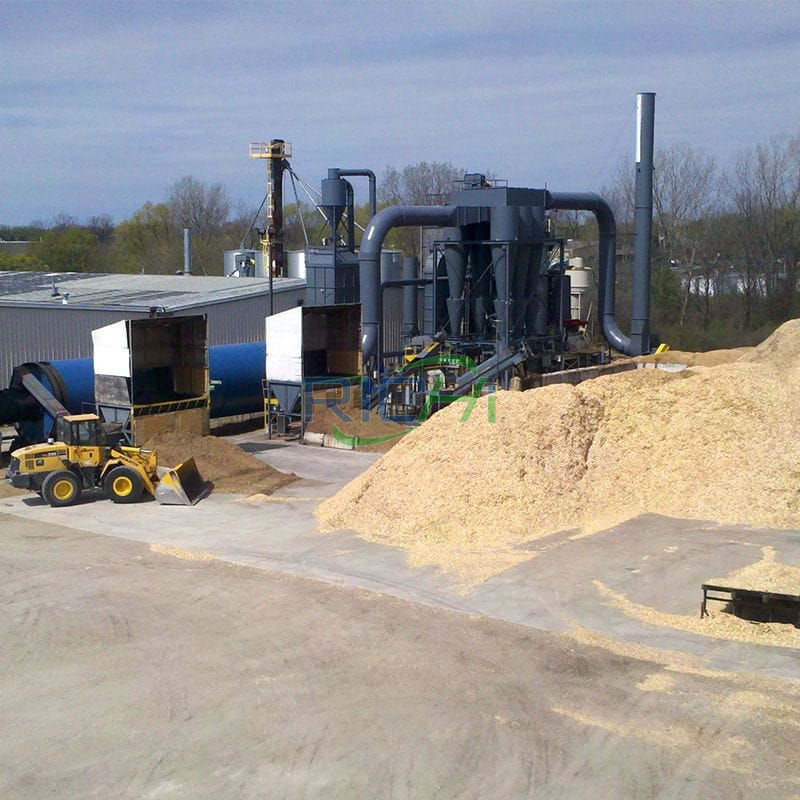 pallet crusher for sale Canada
Application: 8T/H wood pellet plant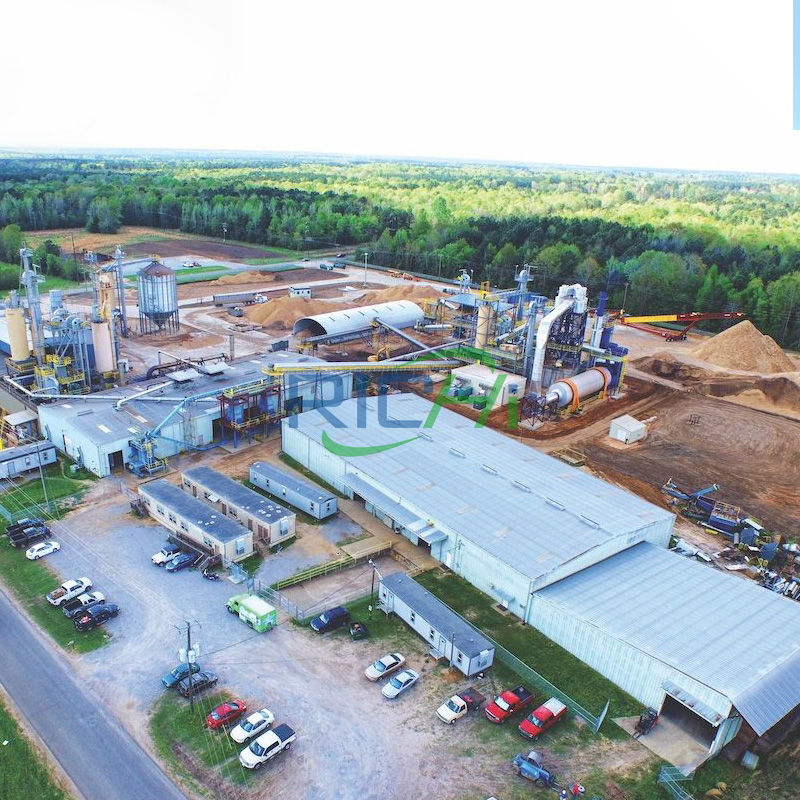 pallet chipper for sale United States
Application: 10T/H wood pellet plant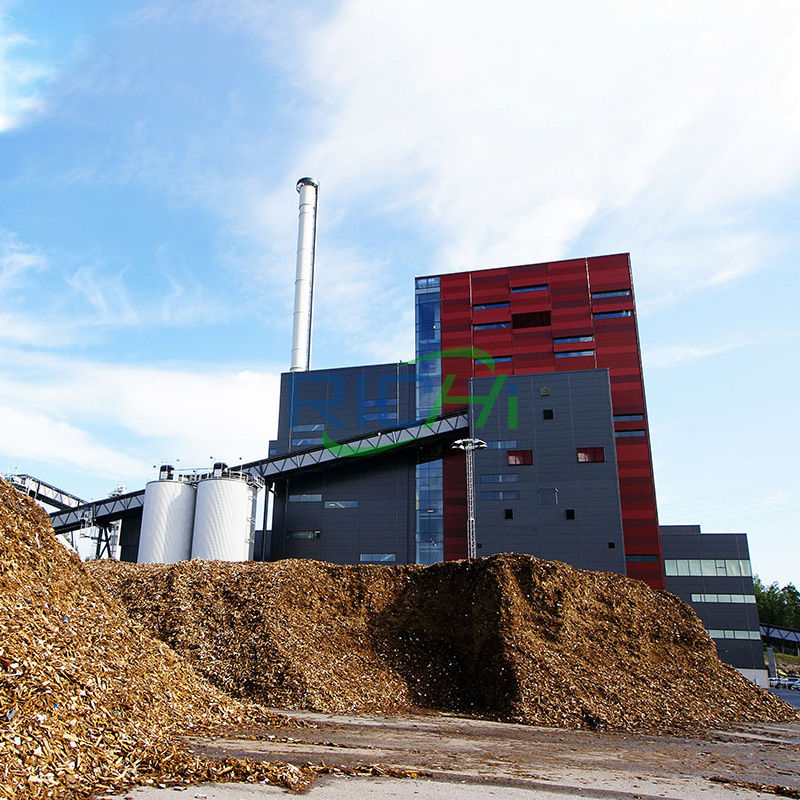 pallet crusher for sale indonesia
Application: 4-5T/H wood pellet plant
Structural composition of wood pallet crusher
The new pallet crusher has always been the key research and development product of our company. According to the market demand, a new generation of special formwork crushing was developed for the crushing of building formwork.
It mainly consists of a working platform, a feeding roller and a conveyor.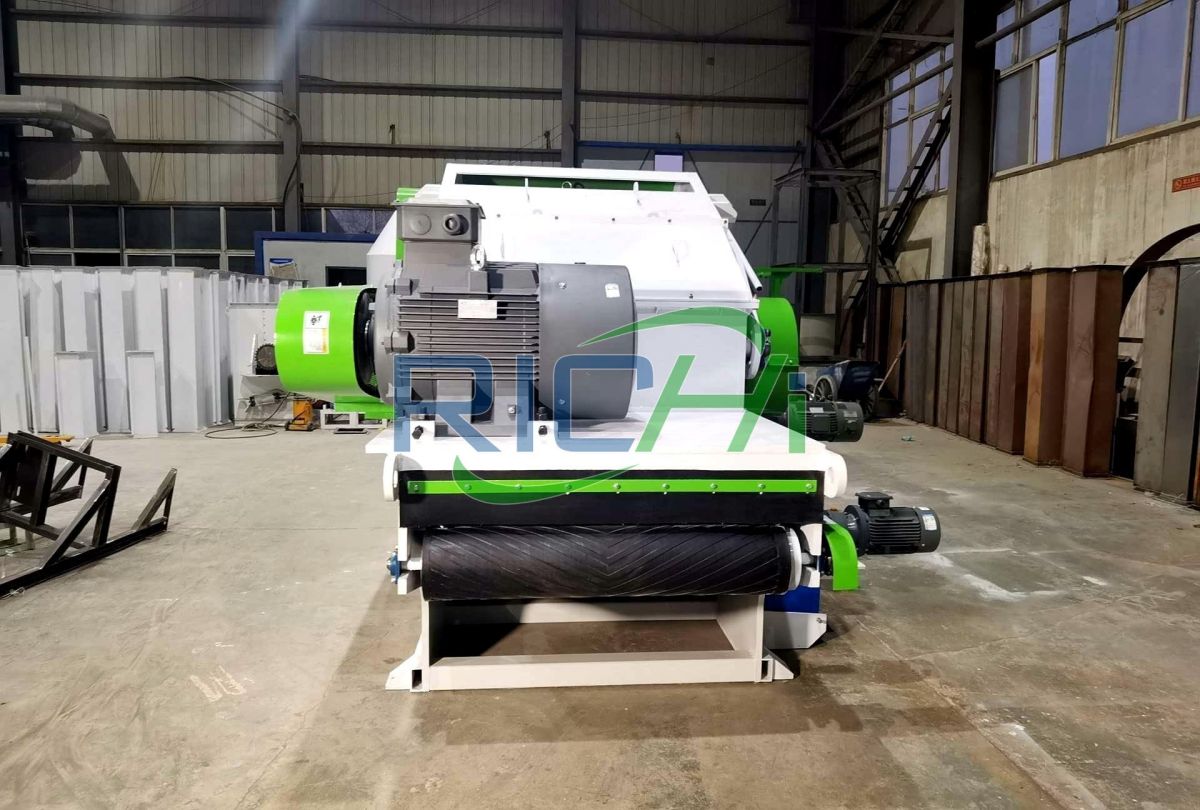 Feeding and conveying: placing boards to be broken;
Feeding pressure roller: controls the feeding speed and keeps the sheet from slipping and not feeding;
Spiral crushing roller: Welding cutters are evenly distributed on the roller along the circumferential direction to ensure that the crushing roller receives consistent force in the circumferential direction at all times;
The template crushing has the synchronization of feeding and crushing to achieve uniform crushing;
The feeding pressure roller adopts UCK series bearings and spring compression mechanism, which can be adapted to crushing different plate thicknesses;
The feeding pressure roller and crushing roller adopt different power systems, which are easy to control.
Working principle of wood pallet crusher
It is composed of three parts: the body, the middle body and the lower body.
The crushing knife consists of 7-type knives, 1-type knives and centrifugal knives.
The auxiliary machine consists of a fan, a powder collector and a dust collector.
The host crushing chamber adopts 7-type knives, 1-type knives and centrifugal knives. It has coarse crushing, fine crushing and centrifugal repulsive crushing.

The motor drives the crusher rotor to run at high speed, so that the pallet crushing equipment generates high-speed airflow to produce high-intensity crushing of the crushed materials. Impact force, compression force, cutting force, friction force to achieve unique crushing function.
During the cutting and crushing process of the three blades, the rotor generates high-speed airflow that rotates in the direction of the blades.

The material is accelerated in the airflow and repeatedly impacted and cut by friction. It is also subjected to three types of crushing effects. The crushed material enters the analyzer with the airflow for processing.

Due to the centrifugal force of the analyzer rotor and the centripetal force of the air flow, when the centrifugal force is greater than the centripetal force, the fine particles will enter the powder collector with the air flow for collection, and the coarse particles will enter the centrifugal grinding chamber and continue to be crushed until it reaches your satisfaction.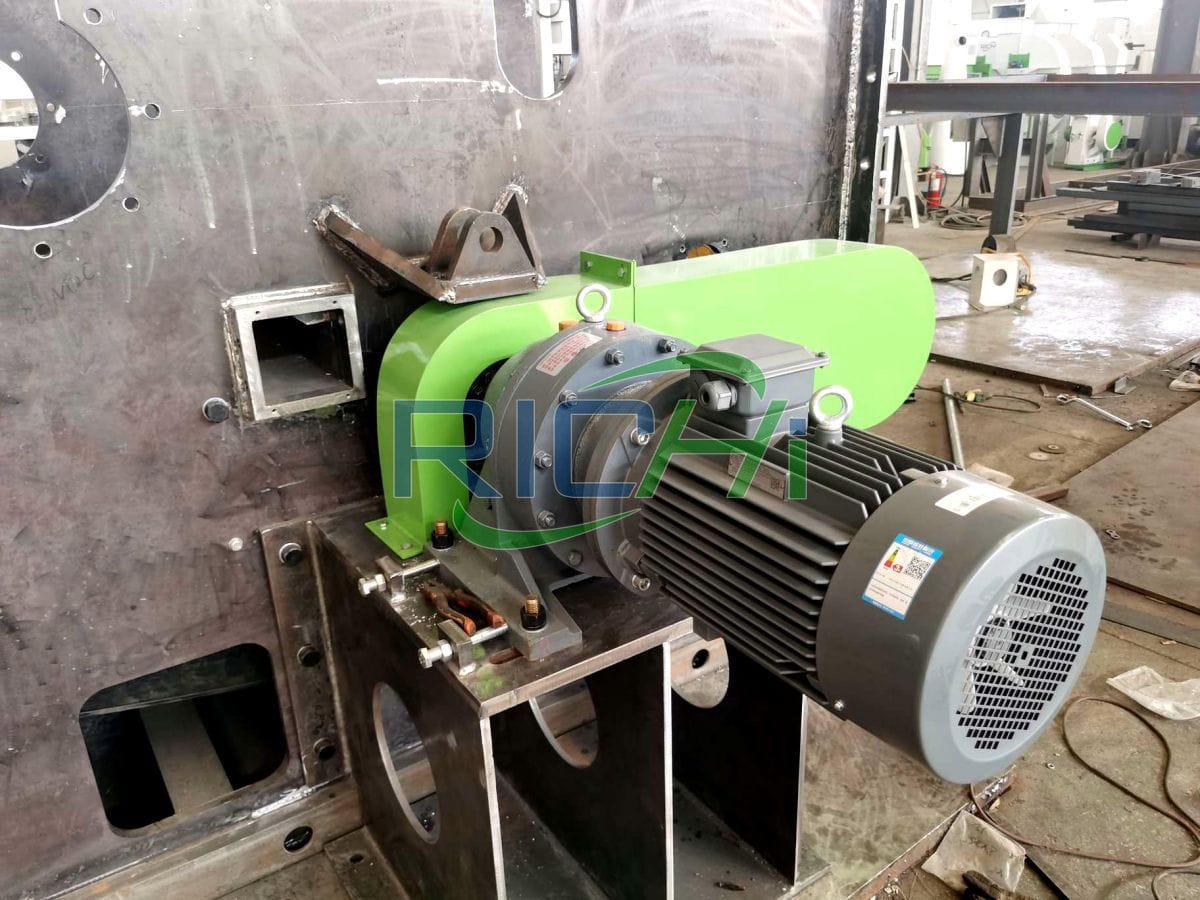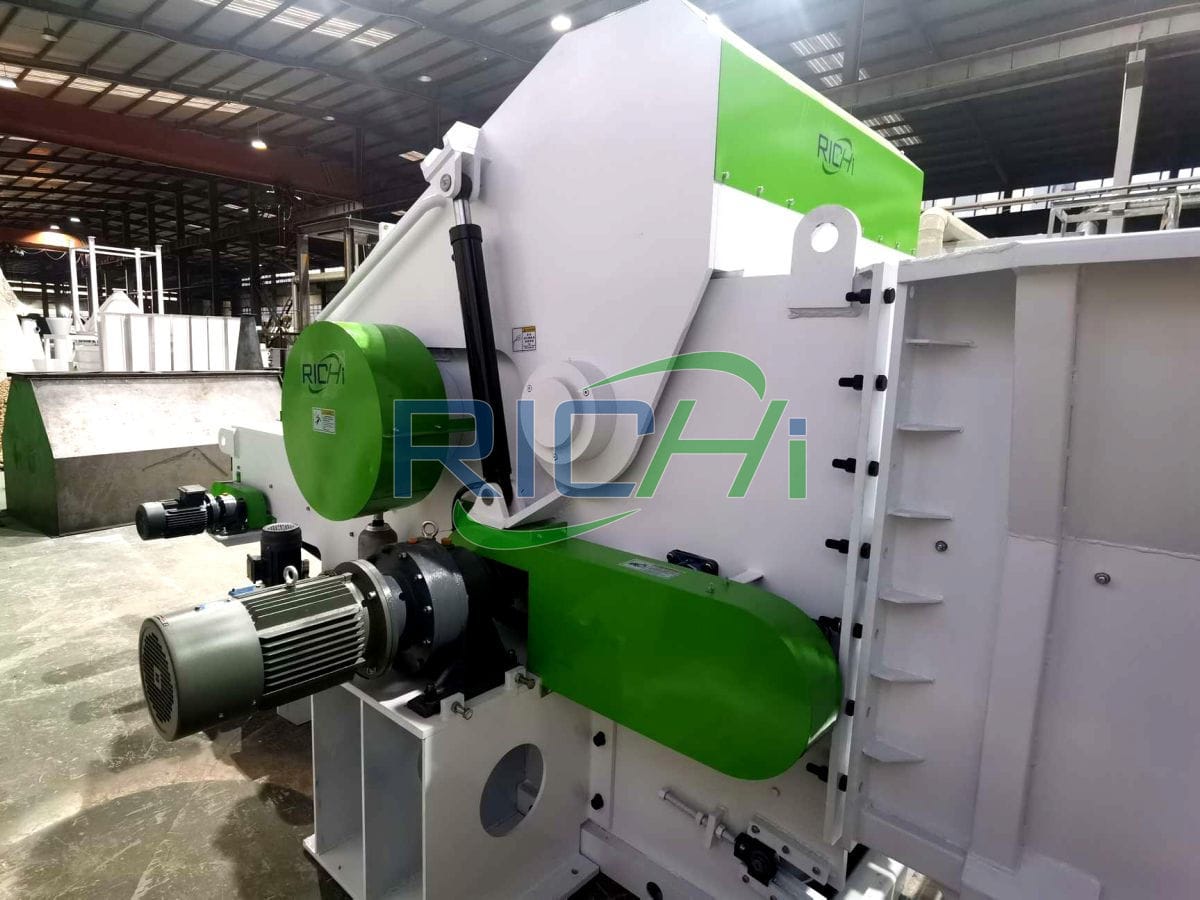 The pallet chipping machine mainly has a primary crushing system, a nail removal system, a secondary crushing system and an exhaust dust removal system.
It has an automatic conveyor belt and is a semi-automatic machine. Users need to note that the transformer must be configured according to the power requirements of the pallet grinder machine. (Related post: wood pellet hammer mill)
Installation of wood pallet crusher
Determine the form of production organization based on the characteristics and structure of the template crusher;
Determine whether to use a fixed pallet chipping machine or a mobile wood pallet shredder based on the material size and output;
Determine the supporting equipment and components of the wood pallet chipper according to the size of the work production site;
The material transportation method and channels at the wood crushing production site are very important;
Before installation, the site must be leveled and hardened if conditions permit. The wood pallet grinder must be placed stably, and the installation direction must be determined based on the actual conditions of the site and raw materials;
Check the circuit and oil circuit to confirm whether they are connected safely. The tension of each chain, V-belt and transmission mechanism should be checked frequently during future use;
Check the installation status of each part;
The pulleys and gears everywhere must be kept clear;
Familiar with the work flow of the pallet crushing machine and daily operation details;
Before working on the pallet shredder, a test run of the empty machine must be carried out.
Use Instructions of wood pallet crusher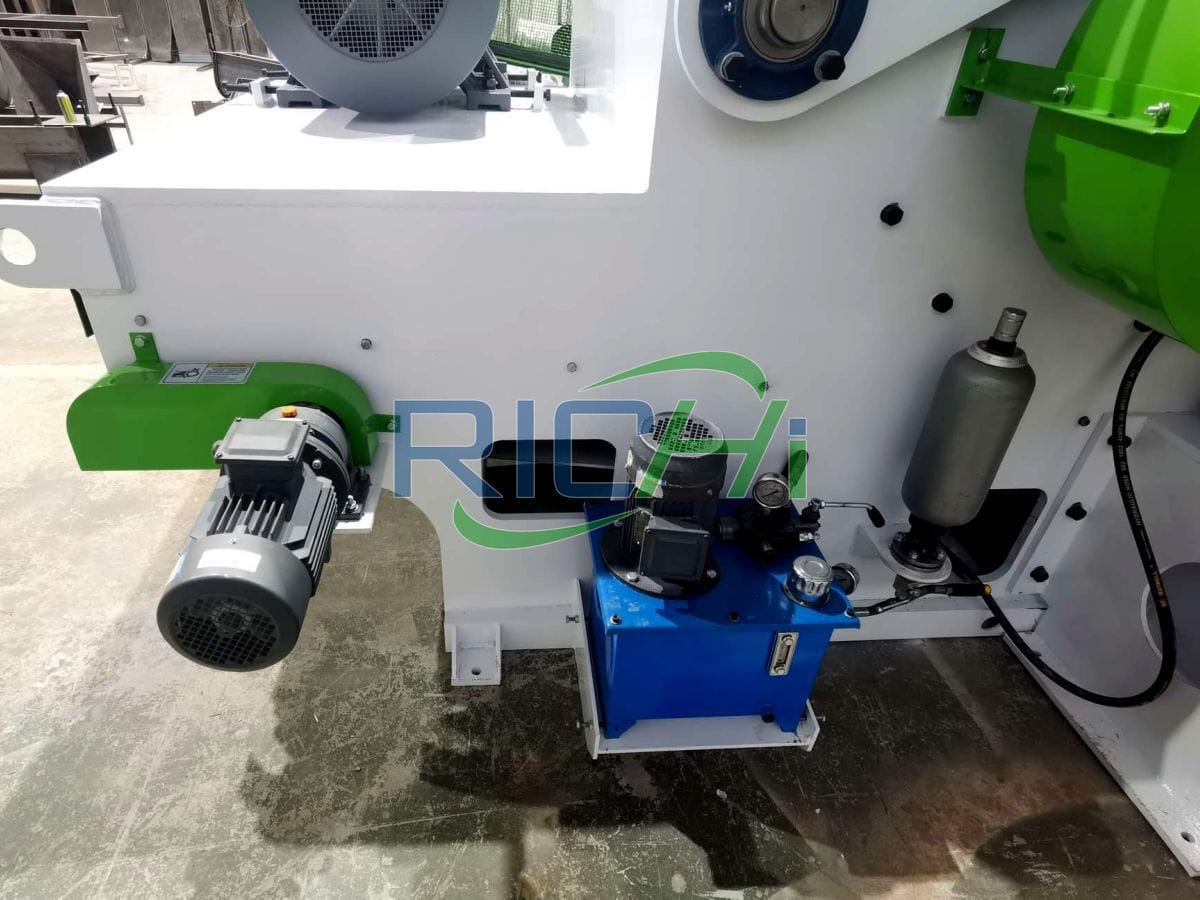 Turn on the power and check whether the steering is correct.
When installing and replacing the tool, the blade should extend 2-4mm from the cutterhead plane, and then tighten the bolts. If the thread of the pressure bolt is found to be worn, it should be replaced immediately to prevent damage to the cutterhead nut.
To change the expansion and contraction of the knife, the length of the extended knife must be consistent.
By adjusting the length of the knife, when the particles cannot reach the ideal level, replace the sieve with different apertures.
It is strictly forbidden to put wood containing stones and nails into the machine to prevent damage to the knife and internal parts.
Pay attention to check the hammer bolts. If they are loose, tighten them immediately. If the hammer and bolts are seriously worn, they should be replaced.
How is a wood pallet crusher better than an old-fashioned crusher?
Relatively widely used
The wood pallet crusher is mainly used to crush waste building formwork, doors and windows, wooden boards, pallets with nails, bamboo, branches, bark, straw, packaging boxes, etc. It is widely used in particleboard factories, density board factories, wood chip factories and other industries.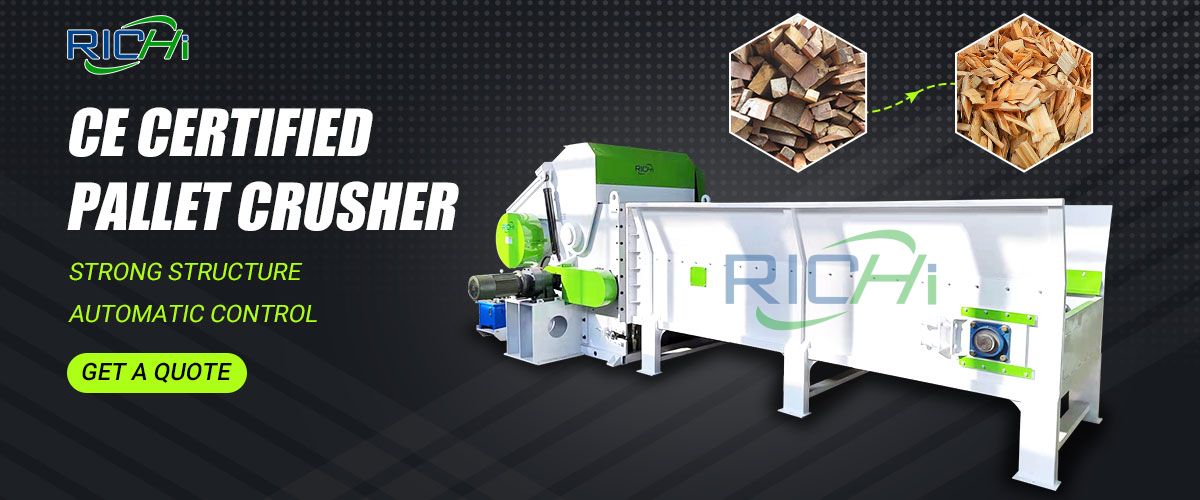 Cost saving
Old-fashioned crushers are afraid of metals such as nails in the materials, which will damage the parts of the crusher. However, the pallet crushing machine is not afraid of metal materials such as nails entering the machine, and there is no need to replace parts frequently, which reduces the cost.
High production capacity
The operation of the pallet grinder is relatively simple. It is controlled by an electric control cabinet and only needs to be loaded. The production capacity is much higher than that of the old-fashioned wood crusher.
Since the physical properties and structures of materials vary greatly, in order to adapt to the requirements of various materials, RICHI wood pallet crushers have been developing in the direction of fine crushing, crushing and high efficiency and energy saving, using modern technology to continuously improve, improve and improve wear resistance, so that our wood pallet crusher products achieve the goals of energy saving, high efficiency and longevity. (Find us on YouTube)
LEAVE YOUR NEEDS
Keeping in touch with us is an effective way to solve all your problems. If you have any needs or questions, please leave your contact information, then RICHI technical consultants will send design, quotation, videos to your mailbox. You can also contact us directly via WhatsApp: +86 13838389622